When most guitarists buy an amplifier, it's for their electric guitar. However, if you have an acoustic-electric guitar most amplifiers aren't optimized to work best in this application. Sure, it won't damage your guitar or amp, but may not really do justice to your acoustic's original rich tone either. Having an acoustic guitar amp specifically for your acoustic-electric guitar will make all the difference.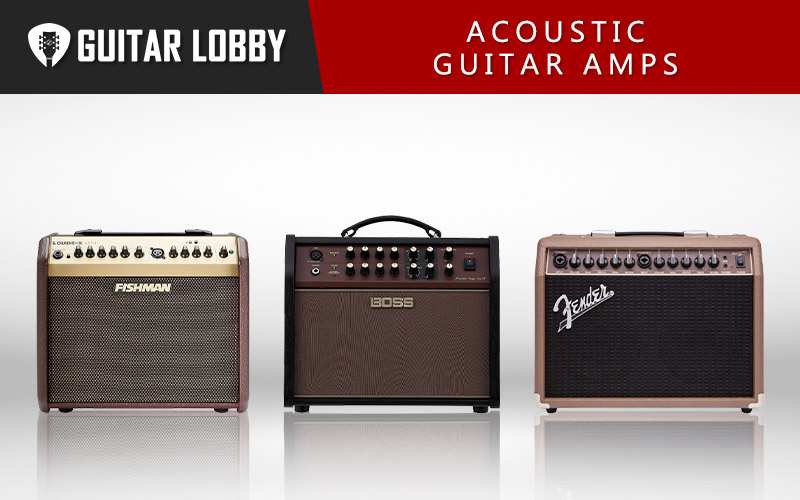 Today we'll give you an overview of the best acoustic guitar amps and explain how you can choose the right one for you. We've picked out our favorites from all price ranges, so whether you're a beginner guitarist on a budget, or a veteran looking for high-end options, we've got what you're looking for here.
If you'd prefer to do more research before jumping right into product reviews, you can start with our buying guide at the bottom of the page here.
Here Are the Best Acoustic Guitar Amps
1. Fishman Loudbox Performer (Best Overall)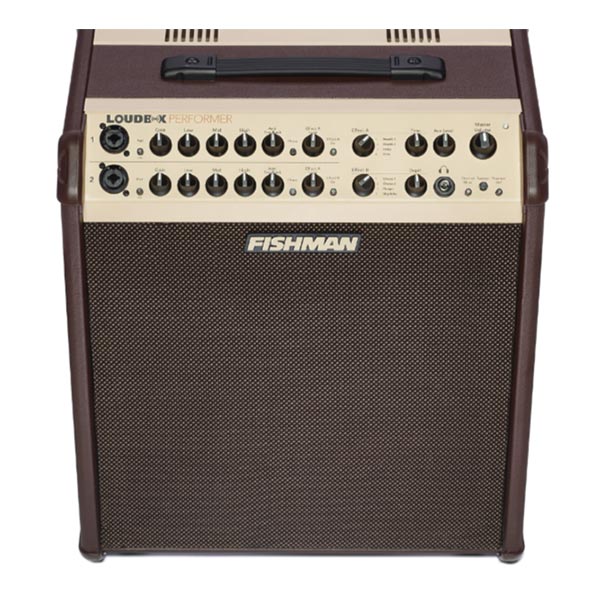 Estimated Price: $850
Output: 180W
Number of Channels: 2
Speaker: 1×8″ woofer, 1×5″ midrange, 1×1″ tweeter
Effects: Reverb, delay, chorus, flanger, and slap echo
Weight: 25 lbs
My Review: At an awesome 180 watts, the Fishman Loudbox performer is the most powerful acoustic guitar amp from Fishman, and we're mighty impressed by its design and versatility. One of the priciest amps on our list, this one is geared for musicians looking for a super powerful and loud acoustic guitar amp that preserves the true original tone of their acoustic even when amplified to really loud volumes. This 2 channel amp and sensitive speaker system projects a warm, balanced, and true acoustic tone, while also giving you plenty of cool effects to play around with. Finally, the Bluetooth connectivity lets you play a backing track wirelessly and perform alongside.
Overall Build: The Loudbox Performer is built for your sound to cut through a packed audience, and it does so pretty well. It has a unique integrated kickstand design that lets you tilt it by 50 degrees so that you can project a better sound even at shorter ranges. It has two separate channels that can be used for instruments or microphones, and both accept 1/4 inch as well as XLR inputs.
It comes with an additional phantom power switch to allow for the extra power needs of a condenser mics. You also have a headphone out for practicing by yourself, and the Bluetooth connectivity makes it quite easy to play your favorite backing track to jam or perform with. At 25 lbs, it's on the heavier side, but then again, it's a 180-watt amp – so we're not complaining.
Output and Wattage: At 180 watts, this amp is not only one of the most powerful acoustic amps on this list but also the most potent one by Fishman themselves. This level of output makes it perfect to perform for an intimate gig with a roomful of people, and can also be hooked to a PA system for a bigger audience. What we were really impressed by was how transparent its tone is even at the loudest volume settings, which is really the true measure of quality for a high-end acoustic amp.
Control and Built-In Effects: Each of the two channels in this amp has independent 3-band EQ controls, and anti-feedback knobs, and a separate midrange control that lets you add more definition to your tone. We also enjoyed its wide range of effects and how they enhance the tone – a tasty reverb, chorus, delay, flanger, and a slap echo.
2. Fender Acoustic 100 (Editor's Choice)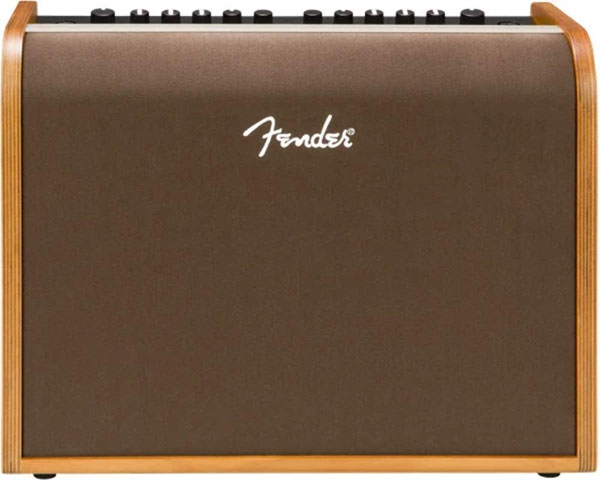 Estimated Price: $400
Output: 100W
Number of Channels: 2
Speaker: 1×8" full-range speaker
Effects: Room reverb, hall reverb, tape echo, delay with repeats, chorus, vibratone, delay, chorus and delay, hall reverb.
Weight: 17.6 lbs
My Review: Intelligently designed and sturdily constructed, Acoustic 100 is one good looking amp that has been a wildly popular choice for its sleek style and impressive list of features. This 100W Scandinavian influenced beauty accurately amplifies your guitar's true acoustic tone with superb sounding 8-inch full-range Whizzer cone speakers. The amp has two channels that can be used for the acoustic guitar as well as a dynamic mic, each with its independent set of effects and controls. A wide array of effects as well as in and out jacks makes this a truly versatile amp.
Overall Build: With AC 100, Fender has produced a distinguished-looking wood shell encased amp which makes it stand out from its Acoustasonic predecessors. The amp is packed with remarkable specs such as two channels to cater to a guitar as well as a microphone, an onboard tuner, a Bluetooth device to wirelessly stream backing tracks, a convenient USB jack and the list goes on. Weighing 17.6 lbs, it is not exactly easy to carry around but that's where the integrated handle comes into the picture to facilitate easy transportation. This all-rounder amp is a smart pick for anyone looking for a reliable, stage-ready acoustic amp that delivers a rich sound thanks to its high end enhancing 8" full-range Whizzer cone speakers.
Output and Wattage: The amp's 100 Watt output power and 8" flat frequency speakers deliver the full, natural tone of the acoustic and a sound loud enough to suit even large-format gigs. Fender has thoughtfully included a universal voltage operation in AC 100 to make its use all the more convenient for jet setting musicians.
Control and Built-In Effects: AC 100 boasts a host of onboard digital effects which include tape echo, delay, chorus, vibratone, and a room, hall reverb along with 3-band EQ lets you tweak and settle in on the exact tone which you have in mind. Thanks to such a wide variety of effects, experiment and hone the sound to your heart's content.
3. Marshall AS50D (Best Value)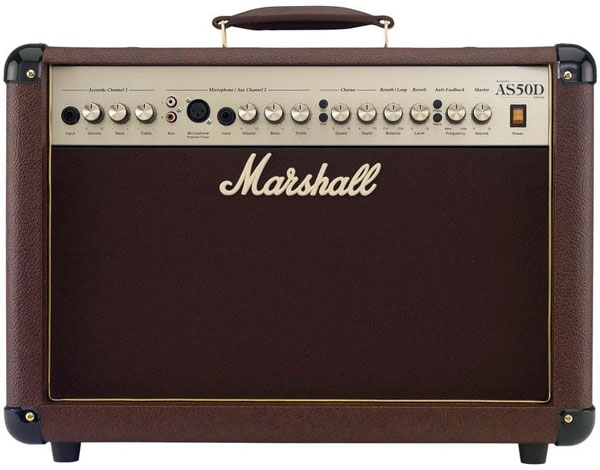 Estimated Price: $350
Output: 50W
Number of Channels: 2
Speaker: 2×8" speakers, 1 x tweeter
Effects: Reverb and chorus
Weight: 35 lbs
My Review: Founded in the 1960s, Marshall is an iconic name in the world of music, and rightly so! Their amplifiers are recognized as some of the best (and loudest!) in the industry. The Marshall AS50D is yet another model that doesn't disappoint. A workhorse on the stage as well as for smaller, intimate gigs, the Marshall AS50D comes with power and features that are hard to beat.
The control panel looks largely like that of any other Marshall amp; it features an XLR input, is intuitive, and quite easy to master. The tone of this powerhouse is quite transparent with that quintessential Marshall quality. All in all, the Marshall AS50D is one of the best acoustic guitar amps available as it offers a lot of value for money.
Overall Build: The AS50D is a solid stereo combo amp with a two-channel setup – one for your instrument, and the other for the vocal mic. You'll also find that the vocal mic channel has an additional phantom power switch as well. The two 8 " speakers, as well as a 1" high fidelity tweeter, give you a beautifully accurate and lush, full-bodied tone from your acoustic.
At 35 lbs, the Marshall AS50D is a heavyweight when compared to the rest of the options on this list, so keep that in mind – but then again, so are its features. The anti-feedback notch filter lets you cut out any annoying feedback that may spring up.
Output and Wattage: At 50 watts, this amp is perfect for small, intimate gigs, and can also be used for huge onstage performances when connected to a PA. At its price range, getting a solid 50-watt acoustic amp is pretty good value for money in our book.
Control and Built-In Effects: This amp comes with independent EQ controls and onboard effects for both its guitar and microphone channels. Its stereo quality reverb knob lets you decide how much of the effect you'd like to apply on either of the channels – turning the knobs fully to the left will apply the effect only to channel 1, while all the way to the right means it only applies to channel 2. You can also tweak the speed and the depth of the chorus thanks to two separate knobs.
4. Fender Acoustasonic 40 (Best Under $200)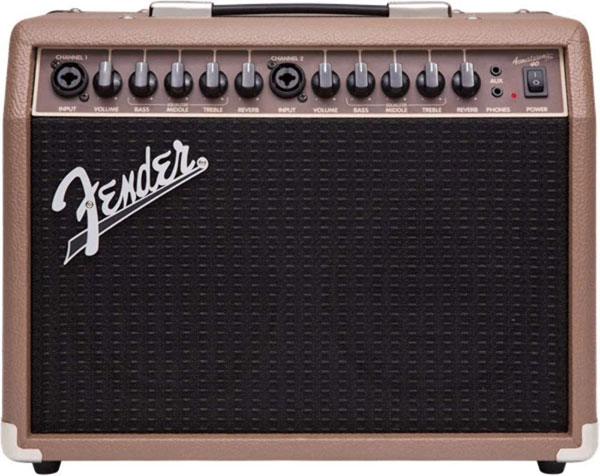 Estimated Price: $200
Output: 40W
Number of Channels: 2
Speaker: 1×6" speaker with Whizzer cone
Effects: Chorus
Weight: 17 lbs
My Review: If you're thinking of getting yourself a solid, lightweight, and dependable acoustic guitar amp under $200, then the Fender Acoustasonic 40 is worth a good look. Built with Fender's trusted electronics and knowledge, this amp projects an impressively clean acoustic tone. At 40 watts, it can easily be used for an intimate audience or at a large rehearsal room without a hassle. With neat controls, 2 separate 1/4″, XLR-capable channels, and an AUX as well as a mic input, this amp is fantastic value for money at its price point.
Overall Build and Controls: At a light 17 pounds, the Fender Acoustasonic 40 is quite a compact and portable amp – making it easy to carry to and from a jam room or a gig. The 2 channel setup offers you inputs for both your guitar as well as your mic, allowing you to play as well as sing – whether you're rehearsing alone or performing for a small gathering.
Its 6-inch speaker produces a rich and well-balanced sound, whether you plug in your acoustic guitar or even other acoustic instruments like the ukulele as well. This is also thanks to the special whizzer cone attached to the speaker, which enhances the higher frequencies better. A 3.5 mm aux input is quite handy, by letting you plug in your phone for a backing track to jam to. The brown and wheat finish is also a nice, subtle touch and a welcome break from the countless black amps out there.
Output and Wattage: While 40 watts may not seem like a lot, it's actually quite a decent output to go by. It's actually a sweet spot that lets you use it standalone for intimate audiences and large rehearsal rooms, as well as an onstage monitor on large stages when the amp can be hooked to a more powerful PA system.
Control and Built-In Effects: Each of the two channels has 3 band EQ controls – letting you control the bass, midrange, and treble to suit your preferences. Moreover, this amp comes armed with that legendary Fender reverb effect, adding a lush mood and layer to your overall tone. Just like the controls, the reverb settings are separate for both the channels. If you're looking for the best small amp for acoustic guitars this amp or the next one on this list are both great options.
5. Fishman Loudbox Mini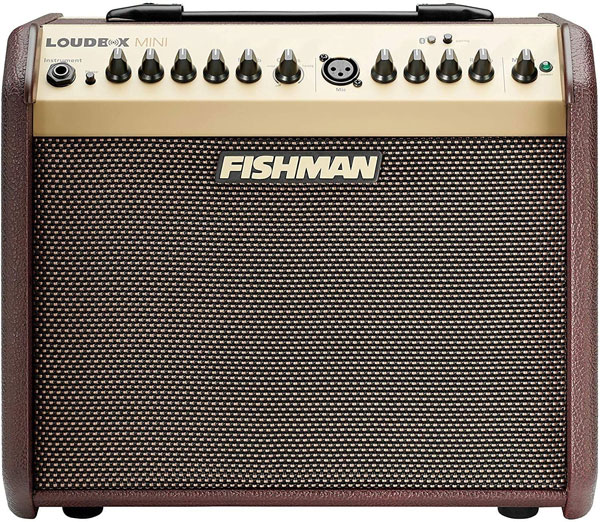 Estimated Price: $350
Output: 60W
Number of Channels: 2
Speaker: 1×6.5" woofer, 1×1" tweeter
Effects: Reverb, Chorus
Weight: 9 kg
My Review: It's a pretty well-established fact among guitarists that Fishman really knows how to amplify a guitar – be it acoustic or electric, thanks to literally every other guitar installed with a Fishman pickup. So if we're talking high-end amps that will preserve the clarity and integrity of your original acoustic tone even at loud volumes, then the Fishman Loudbox Mini is definitely worth a good look. Plus, it comes with Bluetooth wireless connectivity – a standout feature in and of itself.
At 60 Watts, this acoustic amp is perfect for playing to a fairly large audience at a pub and cuts through the noise without a hassle. Featuring Fishman's iconic preamp effects and tone controls, you'll enjoy the effects possible on this one. Despite its big sound, it's still compact and still lighter than the other big amps that project such a sound. The controls, effects, and clarity of tone make this one definitely worth the money.
Overall Build and Amp Type: The Loudbox Mini impressed us with its ability to pack in so much power in such a compact and lightweight. At 9 kg, it is quite easy to carry around for such a powerful amp. With a 6" woofer and 1" tweeter, you can expect a well-balanced sound that perfectly translates the tone of your acoustic guitar. This amp comes with two channels – one for your instrument and the other for your microphone. With an XLR input for dynamic mics and an AUX DI output, you have the option of jamming along your favorite tracks while recording performance as well.
Output and Wattage: At 60 watts, you'll get a big sound out of this little fella – enough to easily fill up a decently big room with a crowd. What's even better is the way this amp managed to produce a clear and clean tone even at the loudest volume settings, unlike other small guitar amps that might just distort the tone as you crank up the volume knob.
Controls and Built-In Effects: This is perhaps the most exciting part of this amp – Fishman has used their legendary expertise in amplification to get the best possible sound out of the Loudbox. While you can add a tasty digital reverb and chorus effects to its instrument channel, you can also add reverb to your vocals for that sweet auditory halo around your voice. The Loudbox also comes with a 3 band EQ for controlling your low, mid, and high tones, giving you pretty good control over your tone and letting you tweak it according to your preferences.
6. Fender Acoustasonic 15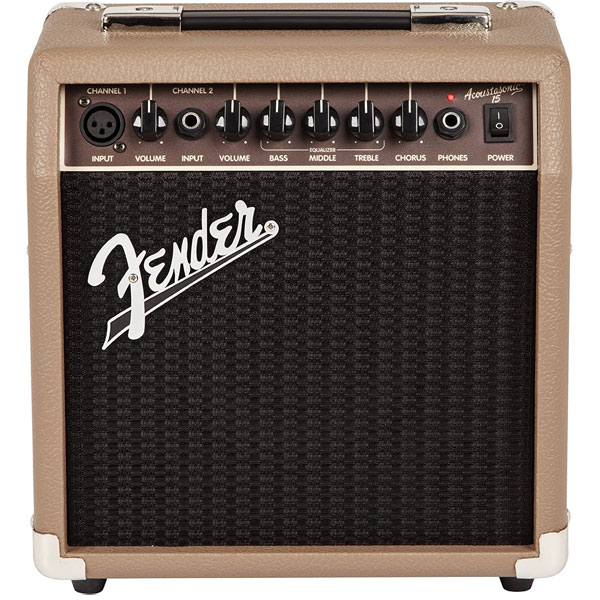 Estimated Price: $100
Output: 15W
Number of Channels: 2
Speaker: 1×6" Fender speakers
Effects: Chorus
Weight: 10.5 lbs
My Review: Fender Acoustasonic 15 is an easily transportable, sturdily built amplifier that is great at what it does and a smart choice for guitarists who want a lightweight, entry-level amp without breaking the bank. This 15-watt combo amp features 6" Fender-designed full-range speakers with an added Whizzer cone for producing and radiating high-frequency response. There are two channels with dedicated volume control, however, only the instrument channel has a 3-band EQ as well as a built-in chorus effect. This pocket friendly and easy to use amp had us impressed with its sweet and transparent tone and will serve great as a beginner or a practice amp.
Overall Build: The Acoustasonic 15 sports that classic fender style and is well built with a black grill cloth finish and weighs incredibly light at only 10.5 lbs. This Fender amp features a guitar channel with its own volume control knob, 3-band EQ, and chorus fx. The additional XLR microphone input lets you sing along as you play and makes this amp a great value for vocal as well as acoustic performances. The amp's 6" Fender speakers deliver good quality sound output while enhancing the high end. A ¼" headphone out jack will let you closely monitor what you play making it perfectly suited for practice use. Last but not the least, the amp has a nice little feature of an attached velcro pocket at the back to safely secure and tuck the power cables and keep them out of your way.
Output and Wattage: This compact amp's 15-watt power output when delivered through Fender special speakers results in an adequately loud sound tailor-made for practice rooms or intimate gigs at small venues.
Controls and Built-In Effects: The Acoustasonic boasts a 3-band EQ of bass, middle, and treble and an excellent built-in chorus effect allows you to shape the tone as your performance demands. The amp lacks the reverb but if you are someone who is content with getting a reliable, portable amp that sticks to the basics and delivers well on all of its features, then Fender Acoustasonic 15 is definitely worth exploring. I'd say that this is the best amp for acoustic guitars under $100.
7. Yamaha THR5A Acoustic Modeling Combo Amp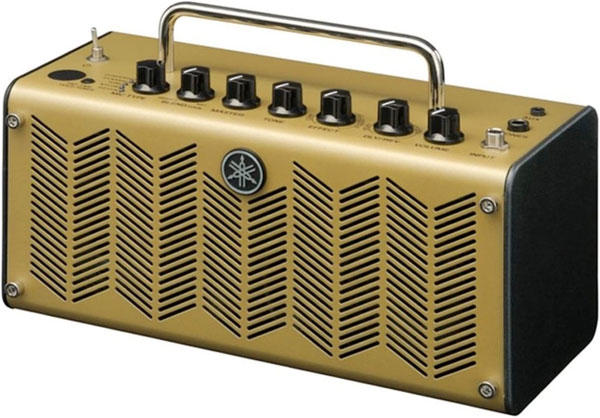 Estimated Price: $200
Output: 10W
Number of Channels: Single channel
Speaker: 2×3.1" speakers
Effects: Chorus, Phaser, Flanger, Tremolo, Tape Echo, 3 types of reverbs
Weight: 7 lbs
My Review: With its unique vintage-inspired look and gold grill design, the Yamaha THR5A is one of the most unique looking amps here – but that's not why it made us stop and take notice. At quite a budget-friendly price point, Yamaha's time tested engineering has managed to bring out an excellent acoustic modeling combo amp that's compact and light.
The THR5A's standout feature is that it has successfully simulated the classic tube condenser as well as dynamic mic, plus an array of effects to let you create and record pro guitar tone. Don't go by its 10-watt output – it can fill up a room with its wide and deep sound pretty well.
Overall Build: Light, compact and sturdy, the THR5A packs quite a punch in its tiny frame. Weighing only 7 lbs, it's incredibly easy to carry and travel with. It gives you the option to run on both AC power as well as AA batteries. Featuring two 8 cm speakers, its stereo technology gives you a surprisingly well-balanced, spacious, and lush sound. The aux input lets you jam to backing tracks as well.
Another cool feature is the built-in chromatic tuner in the amp, which lets you quickly tune up your guitar whenever, wherever. Finally, you can't mention this amp's Overall Build: without talking about its string looks. In a sea of cookie-cutter amps, this golden beauty is an instant standout with its unique grill design and burnished finish. Finally, it also has a 'virtual' tube illumination that lights up a bright orange from within the amp when you turn it on, adding a lot of pizzazz to your overall presence.
Output and Wattage: For a 10 watt output, the THR5A manages to put out a pretty good volume – good enough to comfortably practice as well as jam with your band for rehearsals. Another great feature of this amp is that if you use it in battery mode, and then plug it into the AC adapter, it will automatically switch to the AC mode, and prevent batteries from getting drained out.
Controls and Built-In Effects: The controls and built-in effects section is where this amp truly shines! This amp comes with a host of amazing effects – it offers four different acoustic simulations, as well as a clean amp modeling for electric guitars.
The THR5A features an eye-popping 10 built-in effects – everything from a chorus, reverb, flanger, phaser, tremolo, tape echo, spring reverb to a hall reverb. To sweeten this, even more, Yamaha's proprietary VCM (virtual circuitry modeling) processing adds a natural, real dimension to each of the effects – making them sound like the real thing.
As for controls, you'll find plenty to tweak to fine-tune your desired sound: a 3 band EQ, master volume, gain, delay/ reverb, and tone.
8. Vox VX50 AG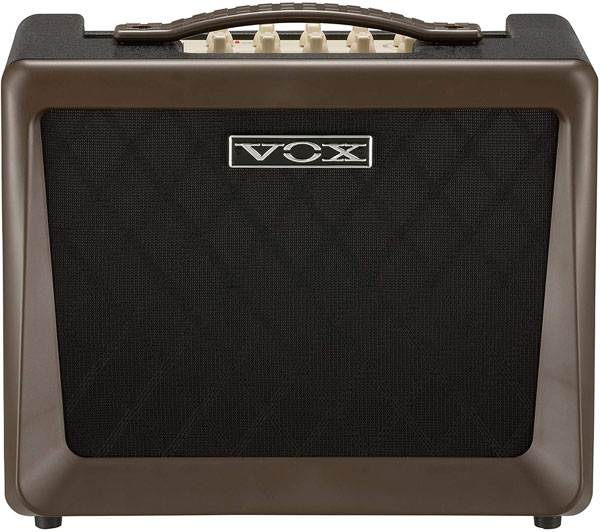 Estimated Price: $230
Output: 50W
Number of Channels: 2
Speaker: 1×8″ coaxial speakers, 1 x tweeter
Effects: Reverb, chorus
Weight: 9 lb
My Review: Founded in the 1950s, Vox has earned a great reputation for making innovative, world-class amplifiers, some of which have also been used by the likes of The Beatles and The Rolling Stones. In our review, we have discovered that VX50 AG is no exception, this featherlight acoustic guitar combo amp packs quite the sonic punch. This amp's 8" woofer and a high-frequency tweeter paired with bass reflex structure allow it to produce a powerful and well-balanced sound which comes as a wonderful surprise especially considering its compact dimensions. The feature that's got our hearts is its Nutube technology-backed preamp which processes and reproduces the pure and woody tone of an acoustic guitar like no other.
Overall Build: The VX50 AG weighs super light at just 9 lbs and is easy to carry around just anywhere and what's great is that this compact unit has a 50-watt output, so you are nowhere compromising on the sound with this one. Its 8" two-way coaxial speaker boosts the brightness by adding a punchy treble to the tone while the proprietary, optimized bass reflex structure enhances the low end. The amp's twin channels come with ¼" and XLR jack, the added bonus is that the XLR input supports phantom power making it ideal for vocalists. With the amp's headphone output and AUX input, you can practice and jam to your favorite tracks privately or just connect a Line out jack to your PA system and rock out.
Output and Wattage: Vox has cleverly integrated power-efficient, compact, and durable Nutube to keep the amp small in dimensions while delivering a high 50W output power. The Nutube technology does a remarkably good job of reproducing the rich and warm iconic tube amp tone while offering the durability and sturdiness of a solid-state amp.
Controls and Built-In Effects: This dual-channel amp comes with an independent EQ, the instrument channel has a three-band EQ with bass, middle and treble controls which lets you tweak and shape the sound to your liking. The Mic channel has a dedicated two-band EQ with bass and treble. That's not all, you also get independent effects for each channel with the instrument channel equipped with a built-in lush chorus effect, reverb as well as a feature to blend both chorus and reverb to more depth to the tone.
9. BOSS Acoustic Singer Live LT Guitar Amp
Estimated Price: $400
Output: 60W
Number of Channels: 2
Speaker: 1×6.5" woofer, 1 x dome tweeter
Effects: Delay, chorus, reverb
Weight: 26.4 lbs
My Review: This is an acoustic guitar amp that is stage-ready – The BOSS Acoustic Singer Live LT Amp is powerful, compact, and impressively versatile. Because this bi-amp allows you to get the best sound out of your mic as well as your acoustic guitar, it makes for a complete, end to end setup for a professional singer-songwriter-guitarist gig.
Thanks to a wide array of controls, EQ, and effects, you can tweak and play around with your tone and effects to create your own unique sound. The wattage is high enough to project a clear, punchy, and natural tone even at high volumes. The price may be a little higher than most on the list, but we feel that its tech specifications and controls justify it!
Overall Build and Controls: At 26.4 lbs, the Live LT definitely is not the lightest of acoustic guitar amps around, but we feel that its pro features and performance makes us want to excuse its heavy-set form. This 2 channel amp features a separate input for your guitar and the vocal mic, both of which have discrete analog input electronics to treat these two signals according to what they need.
As for the speakers, the custom-designed 6.5" woofer projects those rich and warm low-end and mid-range tones of your guitar, while the dome tweeter does a great job of reproducing the high-end with stunning clarity. Thanks to the phase filter as well as the notch filter, any pesky feedback from your instruments get cut off and suppressed.
Output and Wattage: With a 60-watt output, this amp is quite powerful for its fairly compact size. So much so that not only can you use it as a standalone to perform at a full-fledged professional gig to a crowded audience without a hitch. The powerful 50-watt woofer and 10-watt tweeter wonderfully reproduce your original, natural acoustic tone as well as your rich vocal tone even at the loudest levels.
Controls and Built-In Effects: Since the guitar and the vocal channels have their very own electronics, you have independent effects for both – which, in our opinion, allows you to get a professional-quality sound out of both your guitars and vocals, instead of having to strike a compromise.
The delay, chorus, and reverb effect on the guitar channel give you the freedom to play around with your tone, while the acoustic resonance works remarkably well in restoring the natural warmth of your acoustic guitar's tone. The delay, reverb effects are also available on the vocal channel, as well as a special 'enhance' effect that further defines your vocal tone.
10. Orange Amplifiers Crush Acoustic Guitar Combo Amp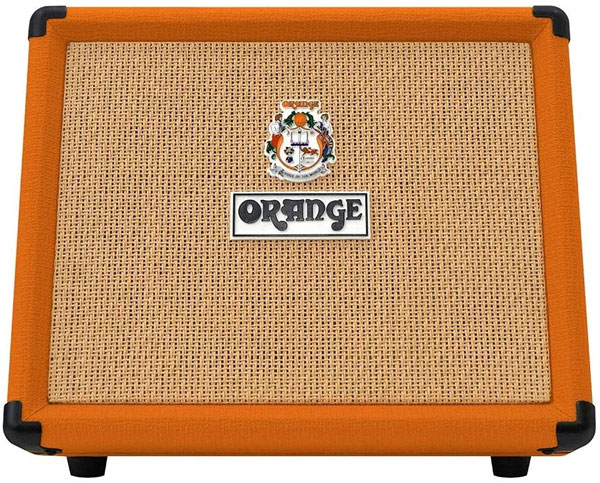 Estimated Price: $400
Output: 30W
Number of Channels: 2
Speaker: 1×8" voice of the world speaker with Whizzer cone
Effects: Reverb and chorus
Weight: 17.8 pounds
My Review: With over 50 years of experience in guitar tones and electronics, Orange enjoys a pretty unanimously legendary reputation in the musician community. With the Orange Crush 30, the brand has finally ventured into acoustic amp territory, and have done a bloody good job of it (hey, just honoring the brand's British roots). Lightweight, portable, battery-powered, and with a fabulous, clean tone, they seem to have thought of it all with this model!
You can use it to perform on the big stage, busk on the streets, or even rehearse in the comfort of your home. And it's all so elegantly packaged in a simple, intuitive design whose controls are really easy to figure out. The thought that has gone into designing this amp really makes us feel like it's especially devoted to the needs of acoustic guitarists. We'd give this one full marks at its price range if you ask us!
Overall Build: With the Orange Crush 30, the brand has kept up its time-tested tradition of packaging a powerful sound and tasty features in a simple, elegant design. Weighing a light 17.8 pounds, you can easily carry it around to your gigs or rehearsals without breaking your back. Its 2 channel setup has a channel input each – one dedicated to your instrument and the other acting as a mic input, though it can also be used for a second guitar.
This amp is fitted with Orange's proprietary 8" voice of the world speakers, which are known for their sweet, vintage top-end and a lush, full mid to low tone that is characteristic of Orange amps.
Output and Wattage: At 30 watts, you may be thinking whether this amp can deliver a loud and clean tone or not. Well, let us tell you that it sure does! The fact that this amp can also run on batteries is yet another one of the many things that we love about it. Powered by 10 AA batteries, you'll be able to play your guitar nonstop for 3 hours at its loudest volume before you need to plug it into its power adapter.
Controls and Built-In Effects: The Crush 30 comes with a host of useful and well thought out controls and effects, giving you more control over your tone. You can use this amp's built-in reverb and chorus effects on both its channels to blend it the way you'd like. IT also has a notch filter that lets you cut off unwanted feedback frequencies, giving a clearer, well-defined tone.
The instrument channel has a 3 band EQ to let you tweak your lows, mids, and highs to your liking. This channel also has a special switch that shaves off 10 watts from the signal, to ensure a clean, clear signal for your higher output instruments. We're still only talking about the first channel – and that's not all.
This channel also has an additional 'color' switch that boosts your tone's punchiness and presence by cutting off some midrange frequencies. Whew, that's a lot of thoughtfulness put in! Coming to the second channel, it has an XLR input and a 3 band EQ control of its own, an additional phantom power switch as well as a switch to shift between line and mic.
11. Roland AC-33 Acoustic Chorus Combo Amp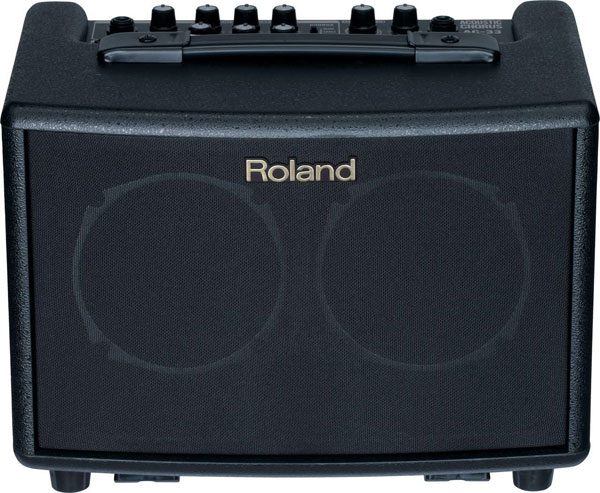 Estimated Price: $450
Output: 30W
Number of Channels: 2
Speaker: 2×5" speakers
Effects: Reverb, chorus, and ambiance
Weight: 10.36 lbs
My Review: Renowned for producing high quality and versatile amplifiers, Roland had us awestruck when they launched the world's first battery-powered acoustic amp, AC-33. Ultra-mobile and packed with 2 channels for mic and instrument inputs, it also has an AUX input, as well as built-in digital effects, an anti-feedback function, and an onboard looper.
To top it all, it comes with an integrated tilt stand to give a great sound projection. This transparent and rich sounding amp's 30-watt stereo and twin 5" speakers deliver a lovely sound coverage which makes it ideal for street busking or any such intimate gig format. If you are on the go, just armor it up with eight AA batteries and let it carry your acoustic's true sound to every ear around.
Overall Build: This super portable and lightweight amp weighs only 10.36 lbs and travels incredibly easy and comes in a standard black and a stunning rosewood finish. Roland has employed its DSP technology which enables the amp to deliver the rich and natural acoustic sound and a lovely projection that belies its little size.
The stereo amp is equipped with two channels: Guitar and Mic/Line which have dedicated control knobs for volume, multi-band EQ, and the chorus while the Mic/Line channel has both XLR and ¼" inputs. What's more, thanks to its multiple audio inputs, you get a great combo that functions as a guitar, vocal, and play-along music track amplifier as well as a portable PA.
Output and Wattage: AC-33's 30-Watt stereo output produces a sound that really fills up a small space such as a practice room or intimate gig venues. With 8 AA batteries, this amp can be powered for 8-9 hours of use at a stretch and can then be recharged as well, making AC-33 a popular pick for traveling guitarists and street buskers.
Controls and Built-In Effects: The acoustic amp comes loaded with Roland's swoon-worthy stereo chorus, depth enhancing ambiance as well as shimmering reverb effects. Acoustic instruments are quite susceptible to undesirable feedback loops, to this end Roland has equipped AC-33 with an impressive anti-feedback function that detects and eliminates unwanted acoustic feedback before it starts. The built-in phrase looper gives you the creative freedom to record your own live backing track with all the jazz and loop it up to 40 seconds at a time.
12. BUGERA AC60 Portable Acoustic Instrument Amplifier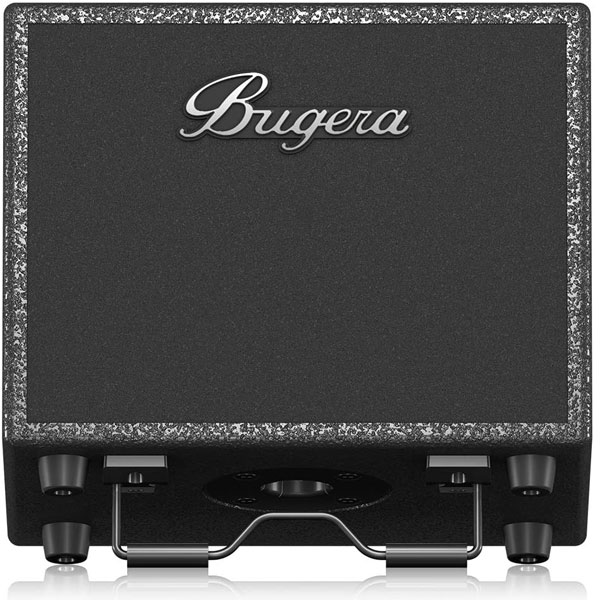 Estimated Price: $295
Output: 60W
Number of Channels: 2
Speaker: 1×8" turbosound dual-cone speaker
Effects: Reverb, delay, and chorus
Weight: 15.2 lbs
My Review: If you are scouting for a budget-friendly, portable amp with compact dimensions but also has a solid sound output then Bugera AC60 is a wise pick for you. This 60-watt amp features two channels with independent EQ and volume controls which give you the flexibility of performing with two instruments or a combination of an instrument and a mic.
The amp features impressive Turbosound dual-cone speakers along with a Klark Teknik multi-effects processor which works well in accurately projecting the true sound of the acoustic as well as shaping and adding a nice dimension to the overall tone. Whether you are a professional guitarist, hobbyist, or beginner, the AC60 with its clever engineering and easy to use controls is bound to win you over.
Overall Build: The AC60 comes with two independent channels, Channel 1 is a dedicated instrument channel, and Channel 2 features an XLR combo jack and Line/Mic switch input which can be used both for the guitar as well as a microphone. Each channel comes with impressive features making it incredibly easy to personalize the sound. The amp's speakers have been custom-engineered by leading British loudspeaker systems producer, Turbosound. The 8" dual cone speakers promise exceptional clarity and accurately reproduce the natural and authentic tone of your acoustic guitar. At 15 lbs, the amp is manageable and convenient to carry around to gigs or practice sessions.
Output and Wattage: The AC60 packs 60 watts of clear and consistent output power and projects an impressive volume loud enough for small intimate gigs as well as mid-sized venues.
Built-In Effects: The amp boasts a Klark Teknik built-in multi-fx processor with an effects loop to spice up your performance with the chorus, delay, and reverb effects as well as 16 fantastic presets. You can either assign the effects separately to the channels or blend them as needed. For enhanced control and convenient tweaking, Bugera has equipped each channel with its own multi-band equalizer, a 3-band EQ for channel 1, and 2-band EQ for channel 2.
Among AC60's generous selection of input and outputs, some features which have caught our attention are a balanced XLR DI output which can be plugged in directly to a mixer and a 3.5mm aux jack to jam to your favorite tracks.
13. Blackstar Sonnet 120 120W 1×8 Acoustic Combo Amplifier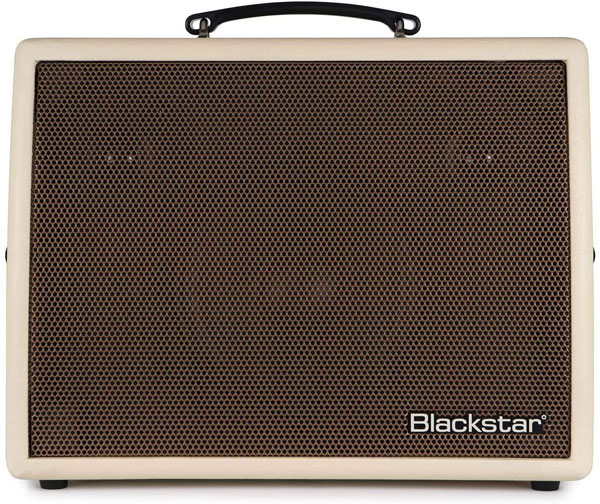 Estimated Price: $580
Output: 120W
Number of Channels: 2
Speaker: 1×8" and tweeter
Effects: Reverb- hall, and plate
Weight: 25.3 lbs
My Review: Blackstar is widely known to build stellar rock amps and have gained a firm foothold in the acoustic amp world with their Sonnet series. This 120-watt amplifier nails the most essential requirement from an acoustic amp to faithfully produce the instrument's natural sound. With Sonnet 120 amp what you hear is the true and transparent sound of your acoustic guitar at a powerful amplification.
There's a lot to like about this amp which comes equipped with unique Natural 120 speakers and two independent channels with their own EQ and reverb level settings to hone the tone to your liking. That's not all, the amp also features a super convenient built-in tilt stand for enhanced audio projection and Bluetooth connectivity to stream and play along to music and backing tracks.
Overall Build: The Sonnet 120 sports a compact design that's packed with features and power. Its dual-channel configuration is optimized for both instrument and mic inputs, with each having its own phantom power switch. Its 8" speaker and tweeter enhance and project a well-balanced, transparent tone that reproduces your unplugged tone without coloring it. Along with an aux input, it also has a Bluetooth audio playback which is a fantastic option for solo performers by letting you perform and jam over backing tracks wirelessly.
Output and Wattage: With a 120 watt output, this model is quite powerful and can be easily used not just for busking and rehearsing solo and with a group, but also to play for an intimate audience at a gig. Thanks to a balanced XLR output, you can connect it to a PA system for a louder projection for bigger performances.
Control and Built-In Effects: Both the channels on the amp have their own independent 3 band EQ controls, as well as gain knobs. You also get two reverb effects, plate and hall. Aside from all this, each channel also comes with its own anti-feedback knob to cut out unwanted noises. This is easily one of the best acoustic guitar amps out there.
14. NUX Stageman AC50 50W Acoustic Combo Amp with Bluetooth Pedal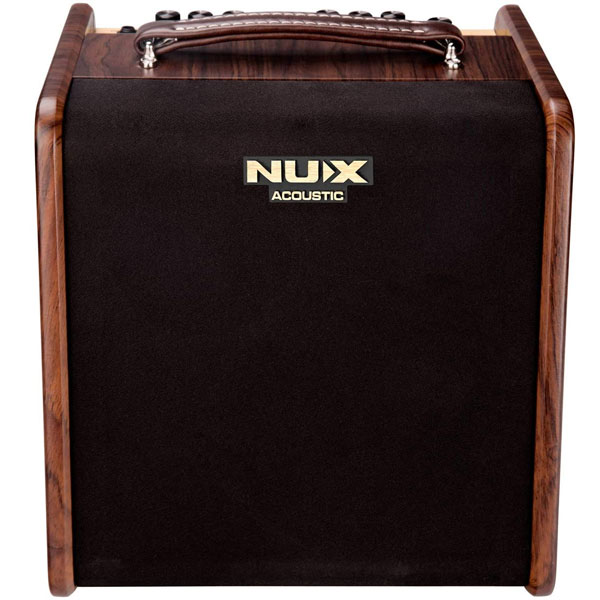 Estimated Price: $400
Output: 50W
Number of Channels: 2
Speaker: 1×6.5" woofer, 1×1" tweeter
Effects: Vintage chorus, hall reverb, 60-second looper, built-in drum rhythms
Weight: 26.5 lbs
My Review: The NUX Stageman AC50 is a powerful, versatile, and stylish acoustic amp that delivers a crisp and transparent acoustic tone. Replete with solid effects and a 3 band EQ, this two-channel amp gives you plenty of tools to tweak and polish your tone to your preferences. Packing a massive 50 watts in a relatively compact design, it's just the right size and power to perform at an intimate gig as well as a studio recording. Plus, the Bluetooth pedal gives you wireless freedom and connectivity.
Overall Build: The Stageman AC 50, like its name, is designed to deliver a great acoustic performance onstage. Weighing 26.4 lbs, it's slightly on the heavier side, but its features, output, and solid electronics make up for that. NUX went ahead and designed their own dynamic high-sensitive speaker system for this one – a 6.5" woofer for a rich and warm low to midrange, and a 1 tweeter for those bright, shiny highs delivers a full-bodied and transparent acoustic tone. Its two-channel system consists of an ¼" and XLR input each and each is optimized for vocals and guitar signals respectively. Plus the XLR DI output and line output can be used for studio recordings or hooking up to a monitor.
Output and Wattage: At 50 watts, this amp packs incredible power and projection in its compact design. It's loud enough to perform with great clarity for professional gigs for a substantial audience, and can also be hooked to a stereo PA system for an extra boost if needed. At the same time, you can use it for your personal practice sessions and band rehearsals.
Control and Built-In Effects: Each of the two channels come with their independent 3 band EQ controls, allowing you to tweak the bass, mids, and treble to your taste. As for the effects, the instrument channel comes with a sweet vintage chorus and of the best sounding hall reverbs we've heard in this price range. You can tweak the degree of effects you like with their respective knobs. The mic channel also has reverb and chorus effects, but its chorus has slightly less vibration to suit the vocals. Plus, you also get a 60-second loop station to build your tracks, and a wide array of drum rhythms to jam over.
15. Behringer ULTRACOUSTIC ACX1800 Acoustic Guitar Amplifier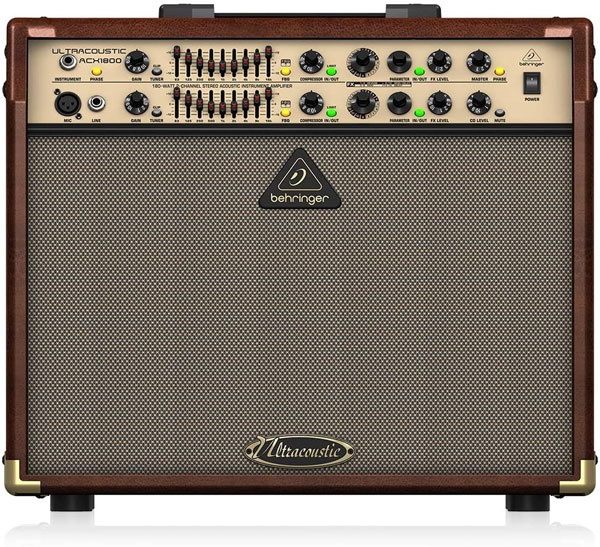 Estimated Price: $350
Output: 180W
Number of Channels: 2
Speaker: 2×8″ dual-cone speakers
Effects: Reverb, modulation, delay, and various effects combinations
Weight: 40.6 lbs
My Review: The only other amplifier on this list with a 180 wattage apart from the Fishman loudbox performer, the Behringer Ultracoustic is another all-powerful, durable, and versatile acoustic amp with standout features that most acoustic guitar players will appreciate. With a revolutionary 9 band EQ for both channels, you get unprecedented control over your amplified tone and the freedom to tweak it the way you want to. Plus an FBQ feedback detection system cuts out any pesky feedback from your acoustic. Finally, we loved the additional footswitch to switch between different effects as well as channels.
Overall Build: The Ultracoustic ACX1800 offers impressive power, controls, effects, and build at quite a competitive price point. Its two-channel setup is optimized for both acoustic instruments each with a wide array of controls (more on that later). It also has a switchable phase correction on channel 1 as well as a master knob for cutting out feedback. The dual-cone 8" speakers enhance your tone with two separate cones dedicated to projecting the higher and lower-end frequencies from the signal.
Output and Wattage: At 180 watts, this amp is powerful enough to project well at intimate gigs, and can also be hooked up to a PA system with no loss of tonal clarity. The balanced XLR line out along with the ground switch lets you directly connect the amp to the mixing console.
Control and Built-In Effects: This is where it gets really interesting – this amp is the only one that has a whopping 9 band EQ controls for each of its two channels. This gives you great creative control over your tone. Moreover, both channels have two independent effects processors with a whopping 16 effects such as reverb, delay, and several others. Additionally, both channels also have a mic as well as instrumental inserts in case you want to hook any external effects devices.
16. JOYO MA-10A Acoustic Guitar Amplifier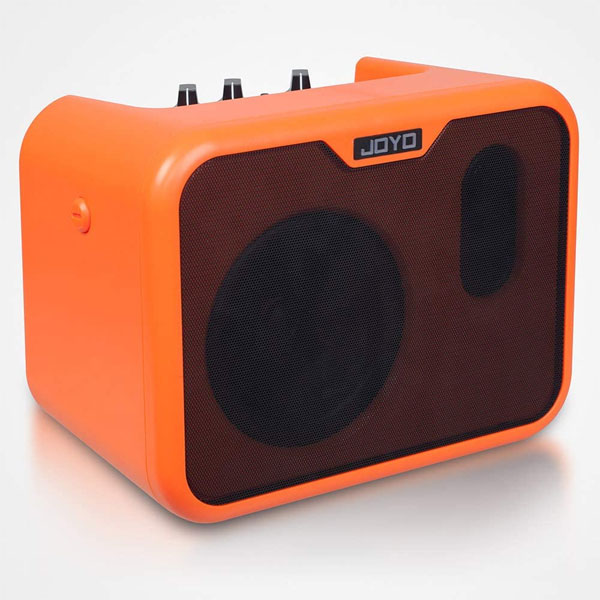 Estimated Price: $55
Output: 10W
Number of Channels: 2
Speaker: 5" full frequency speakers
Effects: None
Weight: 4 lbs
My Review: If you're looking for a small and acoustic amp on a real tight budget to practice your guitars on at a low volume, then the Joyo MA-10A is a good bet. Extremely compact and light, this amp sticks to basics well. With 2 sturdy shoulder straps attached to the body, it can be slung around your shoulders and carried without any hassles. At 10 watts, this one is built pretty much for practicing and jamming, but even then, it gives you a clean, natural acoustic tone.
Its Aux-in and headphone out jack let you practice comfortably on backing tracks. Even at its budget-friendly price, it comes with a tone and gain knob for you to tweak your sound to your liking. The dual power mode lets you use it on batteries when needed. Sure, it may not be incredibly versatile in its features of offerings, but at such a pocket-friendly price point, we'd it's not really meant to be either.
Overall Build: Weighing an incredibly light 4 lbs, the Joyo 10A is the lightest and the most compact amp on this list. While its low price point does limit the type of features available, it still does a pretty good job of being a dependable acoustic guitar amp to practice on. The 3.5 mm stereo headphone-out jack and the aux input lets you jam to your favorite backing tracks.
To help with the portability, it comes attached with 2 strong shoulder straps, so you can simply sling it over your shoulder as you carry it around. Its 5" full frequency speakers project a well-balanced and natural acoustic tone without distorting or interfering with it in any way. However, we recommend sticking to the low to the mid-volume range for perfect tone clarity.
Output and Wattage: Being a 10-watt amp, it's better suited for being a trusty practice amp that gives you a clean and natural acoustic tone, though you won't exactly be taking it onstage for a performance. Its electronics are geared to handle low to mid volumes pretty well while staying pretty responsive. You can plug this into its adapter to power it directly, or you can use it with 6 AA batteries. With a battery-powered setup, you'll be able to play non stop for around 3 hours before you need the batteries to be changed.
Controls and Built-In Effects: Being quite a low priced amp, it sticks mostly to basics and does it well. However, its dual-channel feature lets you choose between a normal, balanced tone and a brighter tone with the higher-end being more pronounced. For controls, you have a volume knob and a tone knob that cuts down the treble when it's low. You also have a gain knob in case you'd like to go a little heavier when practicing.
17. Roland MOBILE-AC Portable Battery Powered Acoustic Guitar Amplifier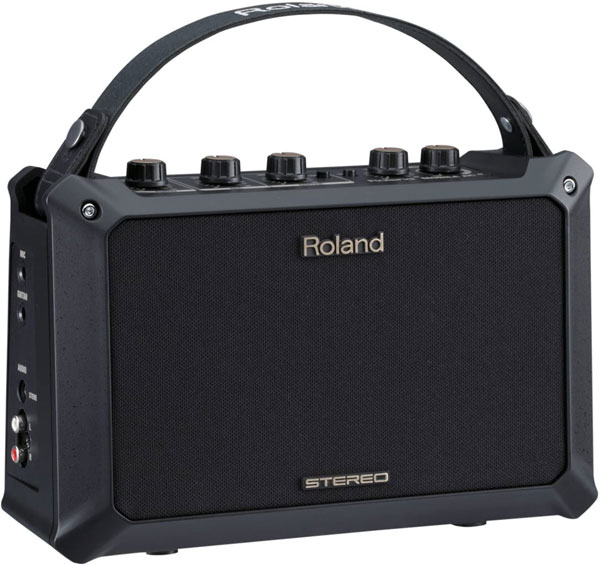 Estimated Price: $180
Output: 5W
Number of Channels: 2
Speaker: 1×4" speakers
Effects: Reverb, distortion, chorus, Center Cancel for karaoke
Weight: 5.5 lbs
My Review: The Roland Mobile AC has been wildly popular amongst musicians of all kinds as a portable and affordable easy to amplify instrument, and the popularity is well deserved. So if you're looking for a battery-powered amp that is light, and has a pretty big sound for its size, then Roland Mobile AC is a great solution for that. It's incredibly light and easy to carry around, and at 5 Watt, delivers good enough power to keep you playing for an intimate audience or rehearse for hours at end without having to change your batteries. This amp can just as easily be used for other instruments and even for your mic.
Overall Build and Amp Type: The Roland Mobile AC is one of the most compact acoustic guitar amps around. Weighing only 2.5 kgs, it's impressively portable and travel-friendly – letting you plug in your acoustic guitar and play it anytime, anywhere. A solid-state amp, It's two good quality speakers offer a clear stereo sound that does a good job of reproducing your original acoustic tone without distortions. The 2 channel configuration lets you plug in your headphones for all those late-night rehearsal sessions. A sturdy strap makes carrying around even easier.
Output and Power: The Mobile AC is a battery-powered amp that can function effortlessly for up to 15 hours on just 6 AA batteries. This feature adds to its portability all the more, even though you can only hook it up with an AC power adapter that is sold separately. The 5 Watt output is pretty good for rehearsing in a jam room, or even playing to a small gathering.
Controls and Built-In Effects: This amp has chosen to keep the controls simple, with only a volume control knob to adjust the sound levels. However, it comes with an array of pretty cool built-in stereo effects. The reverb and chorus effects will add a sweet dimension to your acoustic tone, while distortion may be a less often used effect for acoustics but is surprisingly good. Moreover, all those that want to use the amp to rehearse their vocals can use the center cancel feature that cancels out the main vocals of the track, letting you polish your vocals.
Choosing the Right Amp for an Acoustic Guitar (Buying Guide)
Adding an acoustic guitar amp to your collection is a great way to retain the original beauty of your unplugged acoustic tone, and amplify it for larger audiences without messing with it in any way. We hope our blog helped you zero in on the amp that works best for you! The perfect acoustic guitar amp would differ from person to person and depend on your budget, playing style, needs, and feature preferences. So remember to keep your own needs in mind when browsing through this list. Happy jamming!
Most Important Amp Features
Here are the factors you should keep in mind when choosing an acoustic guitar amp:
Output and Wattage
Acoustic guitar amps are available in a wide range of wattage – everything from a 5-watt model to a 60 and even a 100-watt amp. The wattage of your acoustic guitar amp will depend on what you'll be using it for and how loud you want your amplified tone to be. If you're planning to mostly use it to rehearse at home at low volumes, then a 5 or a 10-watt amp will serve your purpose well. But if you're planning to perform on stage to an audience, then we'd say you consider those with a mid output – from 30 onwards to a higher wattage – 100 or even 200 watts – depending on how loud you want your sound to project.
Channels and Inputs
Most of the acoustic guitar amps are 2 channel, though you'll also find single-channel and three-channel options as well. 2 channel amps are ideal because they not only give you a channel for your guitar, but also another to plug in your vocal mic to, making it a complete setup if you're a singing guitarist that wants to rehearse their entire performance. Also lookout for an AUX input to hook up a backing track to jam to, as well as a headphone out jack, for when you wish to rehearse by yourself to a track at low volumes.
Weight and Design
Most acoustic guitar amps come in a wide range of weights, from incredibly light at 4 lbs to pretty hefty at up to 30 lbs. In case you're planning to travel with your amp or carry it frequently to rehearsals, then you should ideally go for one that you're comfortably able to carry around without breaking your back.
In case, however, you plan to set your amp in place without moving around much, then you could opt for a heavier model. Of course, weight can't be looked at in isolation – you'll have to strike a balance with the features that the amp is offering as well – since amps with more features may typically weigh a little more as well.
Controls
While some acoustic amps come with a simple tone knob to adjust your EQ, others have a more elaborate 3 band EQ that allows you to tweak your lows, mids, and highs to your liking. It all depends on your preference and budget. Also, in the case of a 2 channel amp, it's a good idea to ensure that both your channels have an independent set of controls.
Effects
Most acoustic guitar amps come with a couple of built-in effects like reverb and chorus, while some may go the extra mile by adding in a flanger, delay, echo, and others. Since having built-in effects are not a must to get a clean, true acoustic tone, this feature mostly depends on your personal taste and preferences.
Price
Acoustic guitar amps come in a wide range of price points – anywhere between $60- 70 for the bare-bones, low-end models and can go up to even $800. The price point mostly depends on their features, effects, design, and brand. In case you're a beginner on a tight budget and looking for an amp mostly to practice at home or with your band, you can go for a simple acoustic amp for under $100.
If you'd like a more feature-rich amp with a quality stereo sound that's good for onstage performances, then you'll find some great options in the $200 to $300 range, with some falling between $300 to $400. In case you're looking for advanced, high-end models with plenty of effects and controls to play with, then you can shell out anywhere between $400 to $800, depending on the features.
Most Common Questions When Choosing an Amp for Acoustic Guitars
Why Do I Need An Acoustic Guitar Amp?
While every acoustic guitar player enjoys their original, unplugged tone, it can be quite tricky to translate that exact tone in an amplified setup without changing its color and sound. This is exactly where good quality acoustic guitar amps step in.
These amps are specifically designed to preserve and translate your guitar's original, true acoustic tone while it's amplified. This way, your signature acoustic sound can be heard by a much larger audience without its original tone being tampered with in any way.
Can You Use a Regular Amp For An Acoustic Guitar?
Technically, yes you can plug your acoustic guitar into a regular amp. But expecting your acoustic guitar's tone to sound exactly the same as it does unplugged is a bit far-fetched on a regular amp – simply because it's not built to do that. Electric guitar amps are not designed for acoustic guitar amplification and, as a result, will change the nature of your acoustic tone when amplifying it. Not to forget the pesky feedback issues that might spring up on your acoustic.
In contrast, acoustic guitar amps are designed to reproduce the purest, cleanest tone of your acoustic guitar without messing with or changing its nature in any way. Ideally, every acoustic guitar player would want their instrument to sound as close to its original tone even when it's plugged in – and that is exactly what acoustic guitar amps are engineered to do.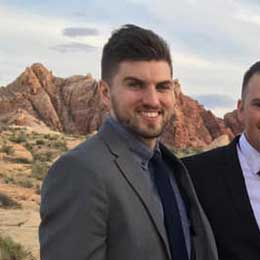 My name is Chris and I've had a passion for music and guitars for as long as I can remember. I started this website with some of my friends who are musicians, music teachers, gear heads, and music enthusiasts so we could provide high quality music related content as well as some of the most accurate and in-depth gear review and demo information on the internet.
I've been playing guitar since I was 13 (over 15 years now) and am an avid collector of all thing's guitar. Amps, Pedals, Guitars, Bass, Drums, Microphones, Studio, and recording gear, I love it all.
I was born and raised in Western Pennsylvania. My background is in Electrical Engineering earning a Bachelor's degree from Youngstown State University and with my engineering experience I've developed as a designer of guitar amplifiers and effects. A true passion of mine, I've designed, built, and repaired a wide range of guitar amps and electronics. Here at the Guitar Lobby, our aim is to share our passion for Music and gear with the rest of the music community.