When I was purchasing my first electric guitar, I didn't know much about the instrument. I looked around online and watched videos, but with so many models to choose from, the whole process was still overwhelming.
The good news for you is that I have learned a ton about electric guitars and tested dozens of them over the past decade. In this article, I will share exactly what a beginner should look for in a guitar. I'll also show you which models are best suited for a beginner. Keep in mind that the ideal guitar will differ from person to person depending on preferences, but overall, every great guitar should feel great, look great, play great, and just generally be inspiring to play.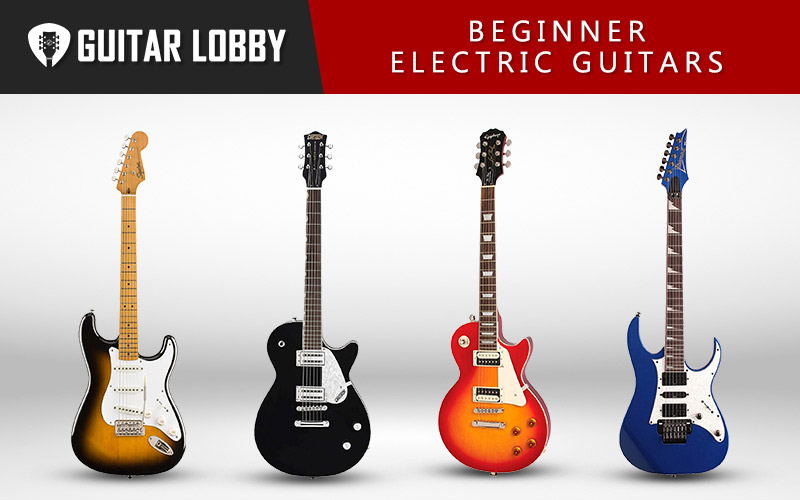 Choosing the right guitar will make it easier to develop technically and make playing the guitar a whole lot more enjoyable.
I'll start this article by reviewing the best beginner electric guitars at each price point, but if you want to learn more about how to choose a guitar, check out our guide on what to look for in a beginner guitar at the bottom of the page here.
Here Are the Best Electric Guitars for Beginners
1. Yamaha Pacifica 112V (Best Value)

| Criteria | Rating (1-10) |
| --- | --- |
| Build Quality | 8.5 |
| Sound | 8 |
| Versatility | 8.5 |
| Ease of Use | 9 |
| Value | 9 |
| Overall | 8.6 |
Build Quality and Design
Right out of the box, I was impressed with this guitar's build quality. When I first held it, I was surprised by how solid it felt, yet not too heavy. With a solid Alder wood double-cutaway body, the Pacifica is a great option in terms of build materials, durability, and playability. The gloss-finished Maple neck has a sleek C-shape that suited my hands very well. It comes with your choice of either a Rosewood or Maple fingerboard.
I personally got my hands on one with a maple fingerboard and loved it. It has almost a softer feel than the rosewood, which I'm a bit more accustomed to with some of the strat-style guitars in my personal collection. Everything about this guitar feels ergonomic and will be comfortable for most players, which is a big reason why I highly recommend this guitar to beginners. The Yamaha Pacifica 112V is perfect for any beginner looking for a classic Strat-type design with a relaxed vibe. The die-cast bridge and tuning hardware, along with the 6-point tremolo, seemed sturdy enough for first-timers and offered plenty of sustain. The workmanship and finish exceeded my expectations, considering the affordable price of this instrument; it's a great first guitar and one that can stay with you for years.
Sound
What I particularly liked about this guitar is its pickups, which punch well above its weight class. It's loaded with two single coils and one humbucker (an HSS config), all Alnico V, which provide a rich tonal spectrum. From shimmering cleans to gritty rock tones and thick leads, I was able to cover a broad spectrum of tones on the 112V. The humbucker offers great attack and clarity, while the single coils sparkle in the upper reaches. The neck pickup is particularly special; when I rolled off the tone control just a bit, it provided an incredibly warm, bluesy feel that felt right to my ears.
Versatility
The Yamaha Pacifica 112V doesn't box you into a single genre. With the HSS configuration, the 5-way pickup selector, and a push-pull coil-split on the tone knob, I was really impressed by just how versatile this guitar is. So, for beginners who don't know their niche and want to dip their toes in a little bit of everything, I think this model is a real winner. From blues and light jazz to soul, R&B, classic rock, and anything you want to try, the Pacifica lets you have at it.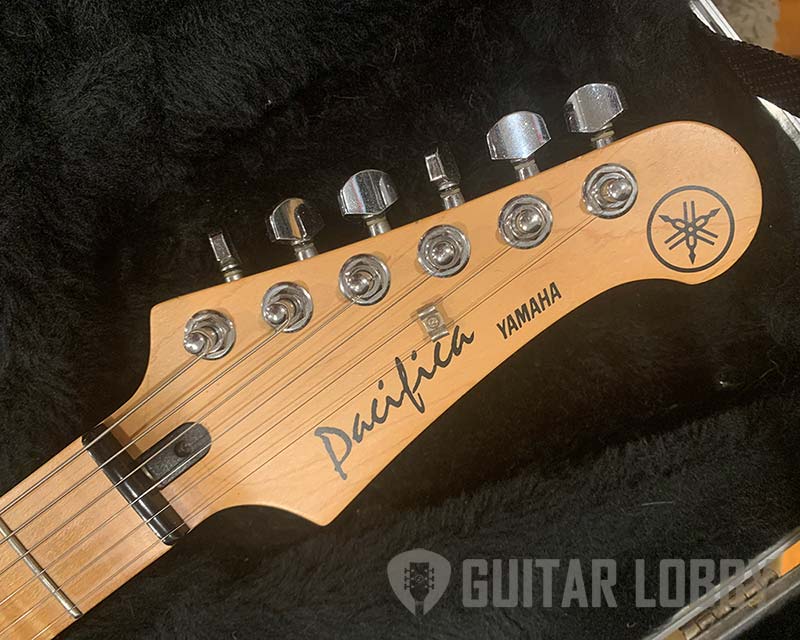 Playability and Ease of Use
This is where Yamaha tends to shine. This is a really well-built, ready-to-play guitar right out of the box. The factory setup on mine was very good, which I think is the most important thing for a beginner, so you don't have to do much setup to the action or intonation. Even the neck heel, which is often a spot of neglect for the design of budget guitars, was fairly smooth and the deep cutaway did make it easy to access all 22 frets. I played this guitar extensively in my home studio and even took it to a few practice sessions to put it through the paces along with a full band, and the 112V stood by my side reliably. It sounds like a really good guitar, has been fun to play, and should be a very good workhorse guitar for any beginner.
The body contours are comfortable for placing your arm, the fretboard feels smooth across, and the tremolo works quite well. The tremolo is sturdy enough and holds tuning well for regular use, but if used too heavily, like a "whammy" bar, the guitar is susceptible to falling out of tune. Players like Eric Clapton are notorious for boxing their Strat tremolo arm from moving and not using it at all, anyway. I would likely recommend simply removing the trem arm for a beginner. It easily threads on and off so it can be placed back on when a beginner player learns the subtle art of tremolo and is ready to add that style of playing to their arsenal.
Value and Target Market
For under $400, you can't do better than the Yamaha Pacifica 112V for your first electric guitar. It's hard to find another guitar that offers such a blend of quality, sound, and versatility for such an affordable price. It's clear that the Japanese manufacturer has beginners in mind with this model, and it's done a lot to make sure your first step is a strong, reliable one.
Pros:
Impressive build quality for the price
Versatile sound with coil-split feature
Smooth and comfortable neck profile
Vintage finish in a variety of colors
Cons:
Tremolo will knock the guitar out of tune if used too aggressively
Single-coil pickups can be a bit noisy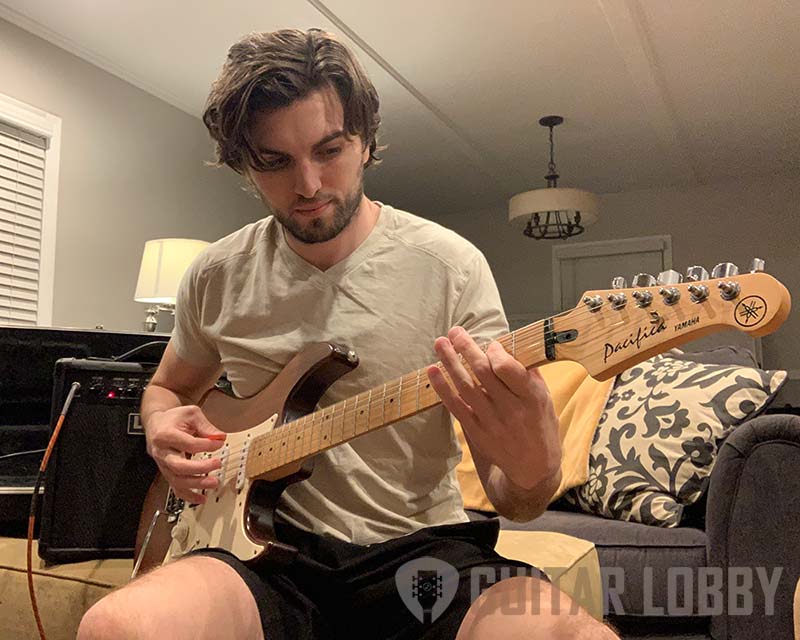 Bottom Line:
The Yamaha Pacifica 112V is an excellent choice for beginners. It combines quality, versatility, and affordability in a package that's hard to beat. It can stand the wear and tear of live gigs while also being an incredibly comfortable guitar to practice and learn on. The double-cutaway design is particularly helpful when you're learning all those scale shapes.
Whether you're exploring different genres or looking for your own unique sound, this guitar provides a solid foundation. I've played and reviewed many guitars, and the Pacifica 112V delivers everything in spades, standing out as a top pick for new players. Don't just take my word for it; try it out yourself.
| | |
| --- | --- |
| Estimated Price | $340 |
| Body | Alder |
| Neck | Maple |
| Fretboard | Rosewood |
| Scale Length | 25.5″ |
| Fret Count | 22, Medium |
| Pickups | Yamaha Alnico V Single-coil (neck and middle) and Yamaha Alnico V Humbucker |
| Bridge | Vintage Tremolo with Block Saddles |
Related Articles: Recommended Acoustic Guitars for Beginners
2. PRS SE Standard 24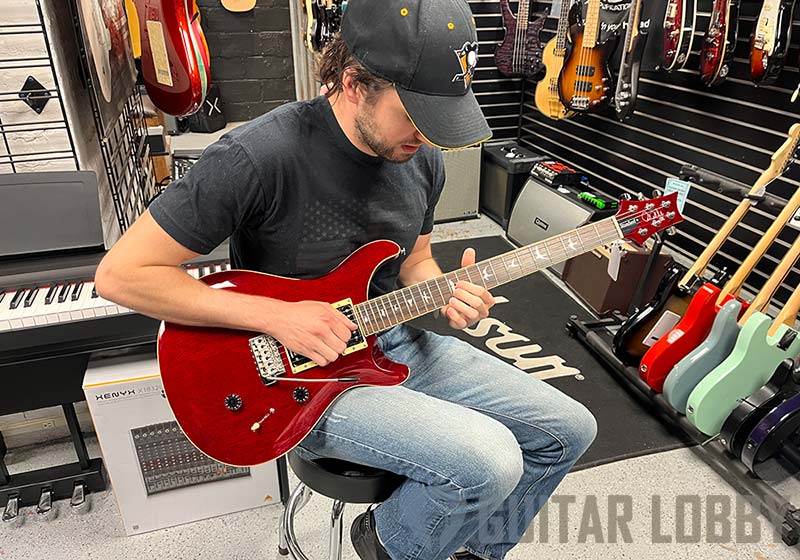 | Criteria | Rating (1-10) |
| --- | --- |
| Build Quality | 9 |
| Sound | 8.5 |
| Versatility | 9 |
| Ease of Use | 8.5 |
| Value | 8 |
| Overall | 8.6 |
Build Quality and Design
I've always been a fan of PRS; every one of their guitars is a looker. The SE Standard 24 model, despite being made in Indonesia, is one of the most gorgeous budget guitars I've seen. The curvy mahogany body feels solid and comfortable on my lap. The signature PRS bird inlays adorning the rosewood fretboard give this guitar an elegance. The "best" guitar for any beginner is whatever guitar they will be inspired to regularly pick up and play, and that was my first thought when I picked up this guitar. It feels inspiring to gallop up and down the neck across all 22 frets. The glued-in wide, thin neck profile felt comfortable, especially for my hands.
The weight is reasonable, too. This one weighed around 7.5 lbs, which felt much better on my shoulder than my 10 lbs Les Paul for sure. The finish is very glossy, but it doesn't feel too sticky or slippery. The PRS tremolo is another winner. For a sub $700 guitar, it's one of the best whammy bars I've used: very responsive, great for flutters, and still maintains tuning stability nicely. Overall, the guitar feels premium, even though it's an SE series.
Sound
This guitar is equipped with 85/15 "S" humbucker pickups, which were specially designed for PRS's 30th anniversary, providing a strong and well-rounded sound. The warm, full-bodied resonance of the mahogany body felt really pleasing to my ears.
When I pushed it to higher gain settings, it was aggressive but still articulate. Perfect for those who want to dabble in rock or even metal. And pulling up the knob gets you into single-coil territory, which worked well for blues and jazz during my jams.
Versatility
PRS somehow nails the versatility department. It's like if you took elements from 3 or 4 different guitars and put them together; the SE Standard 24 feels like a blend of different playing styles. From crystal cleans using the coil-split to thrashy distortion on the bridge pickup, this guitar can handle just about everything.
The 25″ scale length feels like a nice compromise between a Stratocaster and a Les Paul. While it won't replace a single-coil for funk or a hollow body for jazz, beginners can cut their teeth into just about any genre they please.
Playability and Ease of Use
This instrument came with a solid setup right out of the box. I didn't have to mess with anything at all. Navigating between the medium jumbo frets was a breeze, and even barre chords, often a beginner's nemesis, felt more accessible. The beveled body gives you just the right place to keep your arm while strumming and picking.
And, of course, the tremolo bar was my favorite; I gave that whammy bar a good workout, and it held up surprisingly well. The only thing I might consider is getting locking tuners if you plan on going nuts with it. As a beginner, you'll appreciate how forgiving and easy to play this instrument is.
Value and Target Market
For first-timers, investing in a quality instrument can make the learning process a lot smoother, and this guitar delivers on that promise. It has both the looks and the chops that rarely make it into affordable models. I've played guitars that cost twice as much and don't deliver half the satisfaction. Plus, with the PRS gig bag included, it's a great package.
Pros
Exceptional build lends itself to prolonged practice sessions
Coil-splitting offers a range of tonal possibilities
A wide thin neck profile makes for easier chord transitions
Best tremolo bar in the budget range
Cons
The plastic nut can be a letdown, considering the overall build quality
Limited single-coil capabilities
Bottom Line:
The PRS SE Standard 24 is a stellar choice for those eager to delve into the world of guitars. Built to last, designed for comfort, and delivering sound quality that can make your practice sessions sound like mini-concerts, it's great on all fronts. Though a bit more pricey than some of the other entries on this list, the added features and quality make it well worth the expense. Overall, it's easily one of the best beginner electric guitars.
| | |
| --- | --- |
| Estimated Price | $650 |
| Body | Mahogany |
| Neck | Maple |
| Fretboard | Rosewood |
| Scale Length | 25" |
| Fret Count | 24, Medium Jumbo |
| Pickups | PRS 85/15 "S" Humbucker (neck and bridge) |
| Bridge | PRS Molded Tremolo |
3. Epiphone Dot ES-335 Semi-Hollowbody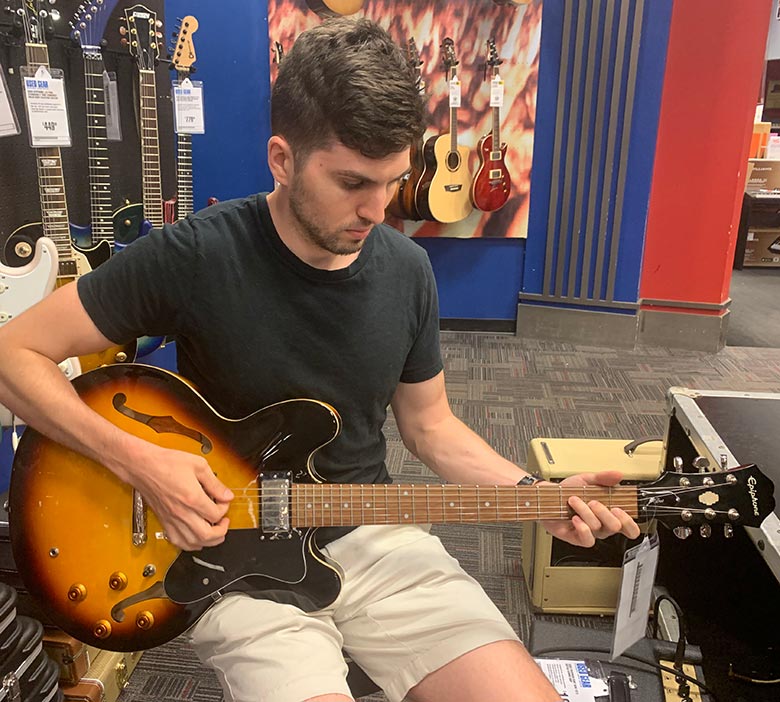 | Criteria | Rating (1-10) |
| --- | --- |
| Build Quality | 9 |
| Sound | 8.5 |
| Versatility | 7 |
| Ease of Use | 8.5 |
| Value | 8 |
| Overall | 8.2 |
Build Quality and Design
As soon as I picked up the guitar, its layered maple semi-hollow body felt just right. It captures the essence of the original Gibson Dot model beautifully. I picked up two of these guitars for review and demo; the first was a rich Cherry finish, and the second was a vintage Sunburst. Both guitars are stunning, instant head-turners for sure. The mahogany neck, topped with an Indian laurel fingerboard, is smooth and well-finished. The Epiphone Crown headstock inlay is a nice touch, adding to its vintage aesthetics. Honestly, it's hard to believe you're not holding a pricier guitar.
The modern hardware is a big plus, so I found the tuning stability to be pretty good, and changing strings wasn't difficult on the Tune-O-Matic bridge, either. The only quality complaint I had was the lacquer around the f-holes, which could've been a bit neater, in my opinion. Small quality control details can be found on this guitar, but overall, I am really satisfied with the Dot's build quality. Just looking at this guitar feels inspiring.
Sound
I picked up my first Dot at my local Guitar Center. When I plugged it in, I was greeted with a warm bell-like sustain, thanks to its semi-hollow design. Those Alnico Classic PRO humbuckers do pack a punch and also smoothen everything out. I found the tones to be rich and full-bodied, suitable for blues and jazz.
When I cranked up the gain, the Epiphone Dot responded beautifully with a crunchy overdrive, hinting at its rock capabilities. It won't do well for metal, but it can handle some dirty articulation just fine. While I personally perform well with this guitar over a wide tonal spectrum, I find it shines in the warm tones department.
Versatility
Now, if you want to play blues, jazz, soul, etc., this is the guitar for you. The semi-hollow body brings out depth and resonance from your playing in ways that no solid body ever could. I paired it with my Fender Blues Deluxe 40W combo amp, and the tones were sublime. The four-knob system with two volume and two tone knobs, like a Les Paul, does let you control each pickup individually, so that's great.
But it's not the most versatile guitar on this list by a long shot. It only has two humbuckers, it has some difficulty handling high-gain tones without being noisy, and there's no coil-split feature. As a beginner, you'll have to decide what styles of playing you want to dabble in. This guitar shines when playing cleaner tones or subtle bluesy dirty tones, but it might be a bit difficult to reign in for more "distorted" tones.
Playability and Ease of Use
Even for beginners, this guitar will be simple to tune and play. The rounded 'C' neck profile is comfortable, and the 12" radius on the laurel fingerboard makes chord transitions smooth. I ordered my Red Epiphone Dot online from Sweetwater and found the setup pretty good straight out of the box. Even without any fiddling with the setup, I gave a slight tuning adjustment, and then it played like butter. This guitar is pretty lightweight, so I have no shoulder pain while I stand up and play compared to my Les Paul, which is significantly heavier.
Some people may tend to worry the Dot would be big and bulky, but it's really not. It's a bit wider than many solid-body guitars, but it's slim and feels like it naturally contours with my body and sits on my lap very well, so it's comfortable for long hours.
Value and Target Market
For newcomers venturing into the world of electric guitars, especially those with a penchant for blues or jazz, this is an excellent choice. It offers a playing experience close to its high-end counterparts without burning a hole in your pocket. If you really want that vintage aesthetic with modern performance, the Epiphone Dot is definitely worth it.
Pros
Warm, rich tones are perfect for blues and jazz
Sturdy build with a premium feel
Great, smooth playability without any setup
Excellent value for money
Cons
Not the most versatile for all genres
Minor finish issues that may be unit-specific
Bottom Line:
The Epiphone Dot ES-335 Semi-Hollowbody guitar is a fantastic choice for those wanting a classic guitar to start their journey. It offers a blend of vintage aesthetics, robust build quality, and sounds that punch way above its price bracket. While it might have minor quirks, the overall package is unbeatable for its value. If you've got a soft spot for bluesy, jazzy tones and don't want to spend a fortune, this Epiphone might just be your new best friend.
| | |
| --- | --- |
| Estimated Price | $600 |
| Body | Semi-Hollowbody Layered Maple |
| Neck | Mahogany |
| Fretboard | Indian Laurel |
| Scale Length | 24.724″ |
| Fret Count | 22 Medium Jumbo |
| Pickups | 2 Alnico Classic PRO Humbuckers |
| Bridge | Epiphone LockTone Tune-O-Matic with Stop Bar Tailpiece |
4. Yamaha Revstar Element RSE20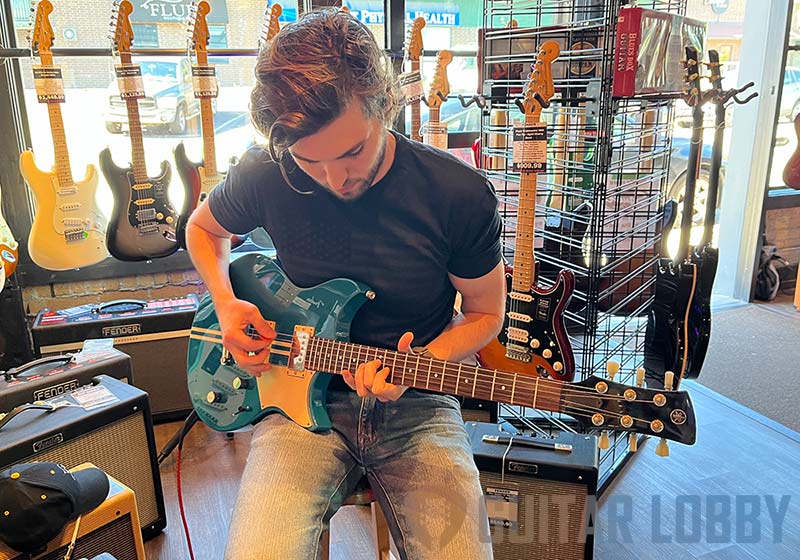 | Criteria | Rating (1-10) |
| --- | --- |
| Build Quality | 8 |
| Sound | 8 |
| Versatility | 7.5 |
| Ease of Use | 8.5 |
| Value | 8.5 |
| Overall | 8.1 |
Build Quality and Design
This new and improved Yamaha Revstar model includes a chambered mahogany body that felt a lot lighter to me and had a resonant sound. It feels like it was built to last. I liked the two stripes along the body; they add character without looking too conspicuous. What stood out was this guitar's angular body shape. It looks like something of a cross between a Strat and a Les Paul, with a double cutaway. Personally, I liked the feel both while sitting and standing.
This Yamaha Revstar comes with a 3-piece mahogany neck featuring a rosewood fretboard. The ergonomic design improvements over Yamaha's original Revstar series were immediately noticeable to me. The smooth satin neck allowed for effortless playability and felt great. The Tune-O-Matic bridge does its job well for increased sustain and easier string changes. However, the nut made of PPS plastic is a bit of a letdown. Then again, can't complain much when you're getting an excellent guitar on a budget.
Sound
The RSE20 comes loaded with VH3n and VH3b Alnico V humbucker pickups for the neck and bridge, respectively. I have been playing other Yamaha guitars for years. My first guitar ever was a Yamaha EG, and I have extensively played a Pacifica model. So, my expectations were high for this newer Yamaha model, and this guitar somehow managed to exceed my expectations. The pickups delivered a balanced tonal range that worked well with both overdriven rock and classic clean tones. For genres like country or funk, they might feel too "neutral," but I really liked the Dry switch they've included, which works like a high-pass filter. It clears up the low end and makes the guitar sound tighter. So that can add some clarity when I'm playing in a band setting.
Versatility
While this guitar shines in classic rock and gain-driven settings, it's pretty good for other genres. Blues and jazz can somewhat work on it. Using the Dry switch along with the 3-way pickup switch does give you more tonal possibilities.
However, if you want to explore a mix of traditional clean "Strat" like tones, it's probably not the best tool for the job. It handles gritty power chords and articulate leads with ease, but the lack of a coil split lowers its versatility. The Revstar is an excellent guitar for a beginner, and I would highly recommend weighing this guitar against Yamaha's Pacifica model to see which model might better suit your needs.
Playability and Ease of Use
Playability has improved significantly with newer Revstar releases. With a narrow nut width of 41.9mm, 22 jumbo frets, and a comfortable C-shaped neck profile, it's a dream for players with small hands or newbies who are just getting used to the fretboard.
Another thing I liked is that this guitar ships with Elixirs, which last forever and feel silky smooth even after months of playing. Definitely an advantage for beginners. From bending to vibrato, I liked my experience on this guitar when I used it in a casual jam session. It can keep up well with adventurous riffing.
Value and Target Market
Yamaha's Element series is all about value. Its combination of build quality, sound flexibility, and unique features make it a fantastic option, especially for beginners and intermediate players. If you're looking to explore classic rock tones and venture into high-gain territory without breaking the bank, this guitar is tailored for you. Its comfortable playability and impressive tonal range provide an exceptional platform for learning, practicing, and performing.
Pros
The chambered mahogany body enhances resonance and comfort
Alnico V humbucking pickups deliver balanced tones
Dry Switch high-pass filter for creative sound shaping
Striking visuals and ergonomic design improvements
Cons
It may not be ideal for players seeking a lot of tonal variety
Plastic nut feels cheap and may need to be changed
Bottom Line:
Summing up, the Yamaha Revstar Element RSE20 is a superb guitar for beginners. It's a refreshing guitar with a modern design that combines iconic shapes and feels comfortable. It plays remarkably well for a budget guitar, is dependable, and it won't break the bank.
| | |
| --- | --- |
| Estimated Price | $550 |
| Body | Chambered Mahogany |
| Neck | 3-piece Mahogany |
| Fretboard | Rosewood |
| Scale Length | 24.75″ |
| Fret Count | 22, Jumbo |
| Pickups | VH3n Alnico V Humbucker (neck) and VH3b Alnico V Humbucker (bridge) |
| Bridge | Adjustable Bridge with Stopbar Tailpiece |
5. Squier Affinity Series Stratocaster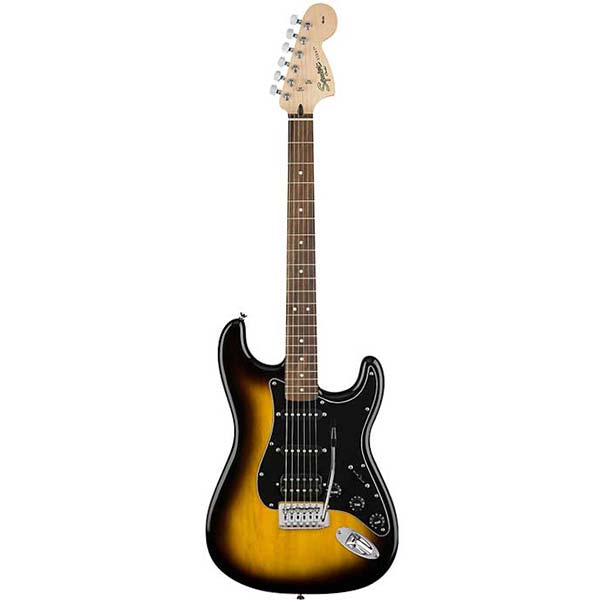 | Criteria | Rating (1-10) |
| --- | --- |
| Build Quality | 8.0 |
| Sound | 8.0 |
| Versatility | 8.0 |
| Ease of Use | 8.0 |
| Value | 8.0 |
| Overall | 8.0 |
Build Quality and Design
The Squier Affinity Series Stratocaster features a lightweight poplar body with a maple neck, fingerboard, and top. That's a lot of maple, but for good reason; it looks and sounds really good. Even though this is Fender's budget brand, the overall build quality was above my expectations. The Squier has the same iconic Strat body, neck, and headstock shape as a Fender, so I like that it felt really familiar on my lap. The C-shaped bolt-on neck with the 9.5" radius was comfortable to wrap my hands around for chords. But it's only got 21 frets, which is a bit of a limitation compared to the Pacifica. It features a 2-point synchronized tremolo bridge, which I found smooth and responsive while playing some bluesy licks. I was able to play double-stops and do simple dive bombs. But this one is a bit of a double-edged sword, as I discuss later (hint: tuning stability).
I gave a slight edge on build quality score to the Yamaha Pacifica over the Squier Affinity Stratocaster because the Yamaha felt a bit more "ready to go" right out of the box. The intonation on the Squier was good but not perfect, and the fret edges could have been filed a bit better, in my opinion. As I run my fingers up and down the neck of the Squier, I can feel the slightest edge to the frets. I personally would prefer a brand-new guitar to have the frets filled and polished so the fretboard edges are nice and smooth. It's a small gripe and one that should certainly not be a dealbreaker for anyone considering a Squier. What I do like about the Squier over the Yamaha is that the Affinity Stratocaster feels, sounds, and plays like a budget Fender.
Sound
This guitar is fitted with HSS ceramic pickups, which sounded better than my expectations. There's definitely a significant difference compared to Fender Alnico pickups, but they sound great for a lot of different tones.
The two single coils in the neck and middle have a lively twang with a lot of bite when mildly overdriven. The bridge humbucker has a punchy sound with a rich mid-range and depth to it. It does get a bit noisy if you crank up the gain, but that's expected at this price point. I felt it had a good balance between classic and modern tones, so any beginner should be able to cover a wide range of genres on this with ease. It's just not the best option if you want to learn metal and use high-gain tones.
Versatility
I found it held up well to genres like funk and blues, just like a Strat would. A beginner needs a playground to explore, and this guitar is just that. The model's remarkable adaptability comes from the inclusion of two single coils and a humbucker, and the 5-way switch helps you call the shots with just a few toggles. A "typical" Strat comes with an SSS pickup configuration, but the HSS configuration adds a level of versatility for when I play heavier rock tones, and I would say is certainly the more versatile option for a beginner.
The Strat controls offer flexibility as well as the opportunity for a beginner to become familiar with this relatively standard pickup tone control configuration. While it's not the best budget guitar for metal, it does hold up better than some other Squier models that only have single-coil pickups.
Playability and Ease of Use
With a 25.5″ scale length and a classic Strat-type "C" shaped neck, it felt incredibly familiar in my hands, reminiscent of my higher-end Fender guitars. The factory setup was decent, but I did make some minor adjustments to the truss rod with the included Allen wrench to suit my ears, but most beginners probably won't notice these smaller details.
The 21 medium jumbo frets were well-finished and mostly level, though I did feel a slight roughness on the edges, which is expected in this price range. The tremolo was responsive and had nice flutters, but its tuning stability was a bit low; I had to retune after each session as a few strings always went a bit out of tune.
Value and Target Market
If you're looking for an authentic Fender-style guitar to start your guitar journey, this is the one to go for. It's much better than other Squier models I've tested, with a great build overall. You can play a variety of songs on this guitar with no issues. It's perfect for cash-strapped students and even as a gift to any aspiring guitarist. Plus, the beginner pack adds value with the amp, cable, strap, and gig bag included: everything you'd need to start rocking.
Pros:
Punchy humbucker and warm ceramic single-coil pickups
Comfortable "C" shaped neck and iconic Stratocaster design
Versatile and good playability out of the box
Great value for money, especially for beginners
Cons:
Minor roughness on fret edges
Tremolo will knock the guitar out of tune if used too aggressively
Bottom Line:
The Squier Affinity Series Stratocaster is a beginner's best friend. With its comfortable design, diverse sound, and great value, it's hard not to recommend it. If you're just starting your guitar journey and need an affordable yet quality instrument, this is the one for you.
| | |
| --- | --- |
| Estimated Price | $300 |
| Body | Poplar |
| Neck | Maple |
| Fretboard | Maple |
| Scale Length | 25.5" |
| Fret Count | 21 |
| Pickups | Ceramic Single-coil (neck and middle) and Ceramic Humbucker (Bridge) |
| Bridge | 2-Point Synchronized Tremolo with Block Saddles |
6. Epiphone Les Paul Standard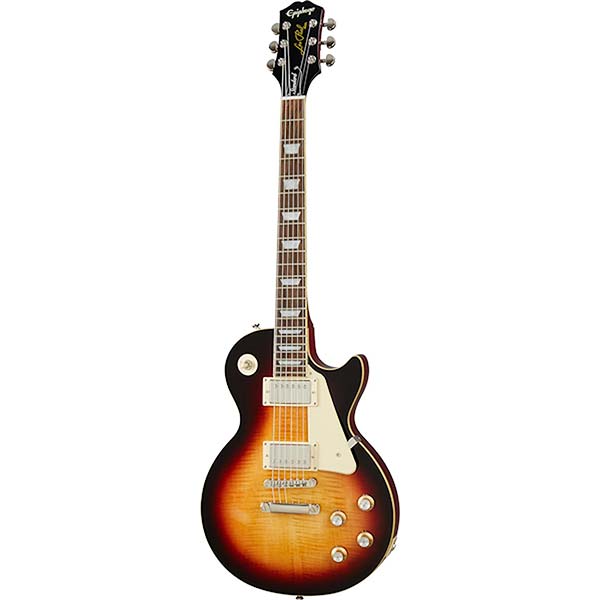 | Criteria | Rating (1-10) |
| --- | --- |
| Build Quality | 9 |
| Sound | 8.5 |
| Versatility | 7.5 |
| Ease of Use | 9 |
| Value | 8.5 |
| Overall | 8.5 |
Build Quality and Design
Time to move on to everybody's favorite guitar shape with the new 'Inspired by Gibson' Epiphone Les Paul Standard '60s. With its mahogany body, topped with a flamed maple veneer, the look and feel is unmistakably Gibson at first glance. The Indian laurel fingerboard felt smooth under my fingers, and those pearloid trapezoid inlays, reminiscent of the iconic Gibson Les Pauls, added to its old-school charm. Another classic element that's been added to this model is the Kalamazoo headstock, which was used by Epiphone decades ago.
The fixed bridge features a Tune-O-Matic design with a stopbar tailpiece. The hardware is all die-cast and nickel, which might be to save cost, but they all seem to work just fine. I sat down with this guitar while keeping my Gibson on the side, and considering this is a fraction of the cost, I was thoroughly impressed. But like any single-cut guitar, you're going to feel that 9 lbs weight after a few hours of jamming.
Sound
The ProBucker pickups, boasting Alnico II magnets, served me a plateful of warm and vibrant tones. The lows were rich, and the highs shimmered with clarity. Dialing back on the volume, I could get some creamy, bluesy tones perfect for some B.B. King licks. I must say, this guitar lives up to expectations and then some.
From clean strumming to gritty rock riffs, this guitar held its ground, and I was genuinely surprised by its sonic capabilities. That vintage PAF tone? It's all there! However, I noticed that while playing on the upper frets, the neck pickup felt a bit rough, a slight issue that might need some pickup height adjustment or maybe tinkering with the amp's EQ.
Versatility
In my view, this Epiphone is a powerhouse in genres like blues, rock, and even metal. But it falls short if you're also chasing those twangy single-coil tones, given the lack of coil-splitting. This is likely by design as it aligns with its 1960s Gibson inspiration, which makes this guitar feel more authentic, albeit a little limiting.
The classic 4 knob system works wonders; you can do a mix of tones just by controlling each pickup individually. I could even create a makeshift killswitch by rolling off one pickup and using the toggle switch mid-performance. For most beginners, the tone will certainly do the job unless country music is your main thing. I'd even bet this guitar will earn a lasting spot in your growing collection.
Playability and Ease of Use
For a newbie, the feel of a guitar is crucial, and this one nails it. The 60's slim taper C profile neck felt just right, neither too chunky nor too thin. And with a 12" radius, barre chords were a breeze all across the smooth fingerboard. Straight out of the box, the setup was nearly perfect, which is a godsend since new players are often afraid of damaging the instrument while making adjustments. Or you'd have to spend a ton of money just taking it to a professional guitar tech.
Value and Target Market
This instrument is a fraction of what a Gibson would cost you, but the experience is incredibly close. For beginners looking for that Les Paul experience without emptying their wallets, this is it. If you're inspired by players like Slash, Joe Bonamassa, Jimmy Page, etc., this guitar will excite you even more. It's durable, sounds fantastic, and will remain a solid asset even after you become an advanced player.
Pros
Iconic Les Paul design and feel with great value
Robust build quality using premium materials
Punchy and warm tones with clear top-end response
Individual tone and volume controls offer nuanced sound shaping
Cons
Neck pickup can feel a bit fuzzy in the upper register
Weight might be an issue for extended playing while standing
Bottom Line:
If you're a budding guitarist on the hunt for that single-cut, Les Paul magic without burning a hole in your pocket, the Epiphone Les Paul Standard '60s is your answer. With its rich heritage, stellar build, and impressive tonal palette, it's a guitar that will stand by you through your musical journey. Whether you're jamming in your bedroom or hitting the stage, this guitar is sure to leave an impression.
| | |
| --- | --- |
| Estimated Price | $700 |
| Body | Mahogany |
| Neck | Mahogany |
| Fretboard | Indian Laurel |
| Scale Length | 24.75" |
| Fret Count | 22, Medium Jumbo |
| Pickups | ProBucker-2 Humbucker (neck) and ProBucker-3 Humbucker (bridge) |
| Bridge | LockTone ABR Tune-o-Matic Bridge with Stopbar Tailpiece |
7. Gretsch G2420 Streamliner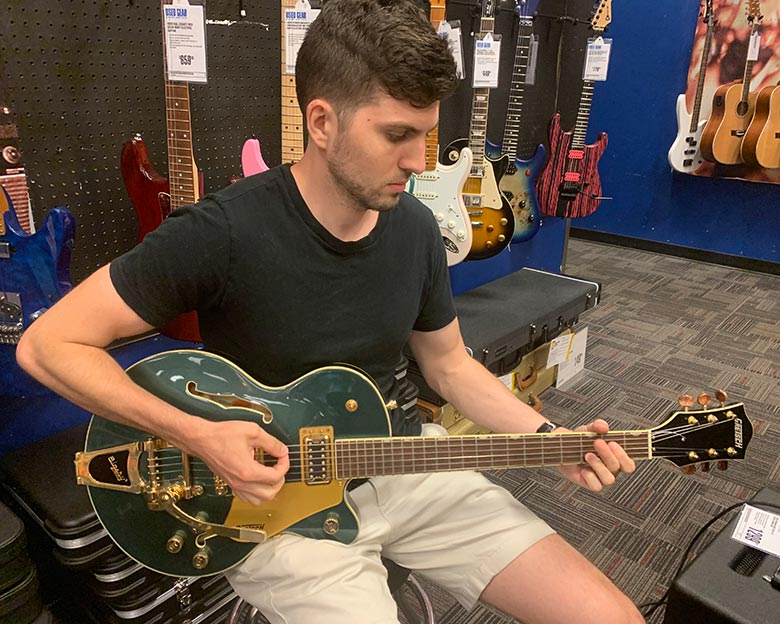 | Criteria | Rating (1-10) |
| --- | --- |
| Build Quality | 8.5 |
| Sound | 8.5 |
| Versatility | 7.5 |
| Ease of Use | 8 |
| Value | 8 |
| Overall | 8.1 |
Build Quality and Design
Gretsch guitars always scream vintage elegance, and the G2420 Streamliner is no different. This one is a full hollowbody, made using laminated maple, and has a single cutaway. As soon as I picked it up, it was like a flashback to the past. The soft C-shaped neck, made from Nato wood, felt comfortable for my hands and had a good grip. The laurel fingerboard, upgraded from the previous rosewood, played smooth under my fingers. It comes with 22 frets, which is plenty for a beginner to explore most songs. The Adjusto-Matic bridge and sealed die-cast tuners do their job well. Because of its hollow nature and the f-holes, the whole guitar weighs just about 6.5 lbs. That's really light, considering it looks a bit bulky on the exterior. And the beautiful resonance this leads to is what I'll discuss next.
Sound
Plugging this in, the results were clear. The Broad Tron BT-3S pickups (both neck and bridge) produce a notably strong and warm sound. They are quite adaptable, whether you're going for Larry Carlton-like nuances or more aggressive Pete Townshend-type chords.
I experimented with a range of tones and found that the G2420 excels in blues, jazz, and even rockabilly genres. The hollowbody adds a nice touch of natural resonance that you can feel even when the guitar is unplugged; almost like an acoustic guitar. Naturally, you can't expect a hollow guitar like this to excel at high-gain tones; it can be very susceptible to feedback noise. But it delivers well within its comfort range.
Versatility
The G2420 is pretty flexible too. It excels in delivering warm, jazz-inspired tones, but thanks to the push-pull coil-splitting feature, it can tackle several other styles, like funk, just as confidently. It's not just warm; it's dynamic.
The guitar's per-pickup volume controls, along with master volume and tone controls, give you a lot of fine-tuning capability too. That said, if you're looking to dive into a wider variety of genres, its range might not meet all your needs. For a beginner, though, it's a robust starting point to explore and hone your style.
Playability and Ease of Use
The hollowbody is large and thick, which makes it very friendly to anyone who's used to acoustic guitars. The neck, as I mentioned earlier, felt almost tailor-made, making it easy for chord transitions and solos alike. And the lightweight design means it's really comfortable to play it while standing up.
The nickel hardware and sealed die-cast tuners not only add to the guitar's aesthetics but also manage to maintain tuning very well during my review. But I must admit that one of the knobs was placed quite strangely, close to where the cutaway is, which takes some getting used to.
Value and Target Market
It's not often you find a guitar that looks this good, sounds this rich, and doesn't cost an arm and a leg. For beginners, especially those leaning towards blues or jazz, this is a dream come true. Sure, there are a couple of cheaper options out there, but with the G2420, you're getting a guitar that you won't outgrow in a hurry. It's pretty versatile, it's well-built, and it's got character – what more could a budding guitarist ask for?
Pros
Stellar build quality with vintage charm
Warm, vibrant tone perfect for blues and jazz
Push-pull coil-splitting adds tonal versatility
Intuitively designed for easy playability
Cons
A bit limiting for those looking to play heavy genres as well
Upper fret access could be improved
Bottom Line:
The Gretsch G2420 Streamliner is a great beginner's guitar, especially if you're interested in playing country or folk music. It's a vintage-style guitar with all the features of a modern-day, brand-new instrument at an affordable price. The sound it produces is rich and with a bit of bite, and it plays really well. If you're on the lookout for an instrument with a dash of flair and a lot of soul, this is where your search ends. This is an excellent beginner electric guitar that you really can't go wrong with.
| | |
| --- | --- |
| Estimated Price | $500 |
| Body | Laminated Maple |
| Neck | Nato |
| Fretboard | Laurel |
| Scale Length | 24.75" |
| Fret Count | 22 |
| Pickups | Broad'Tron BT-3S Humbucker (neck and bridge) |
| Bridge | Anchored Adjusto-matic |
8. Fender Player Series Telecaster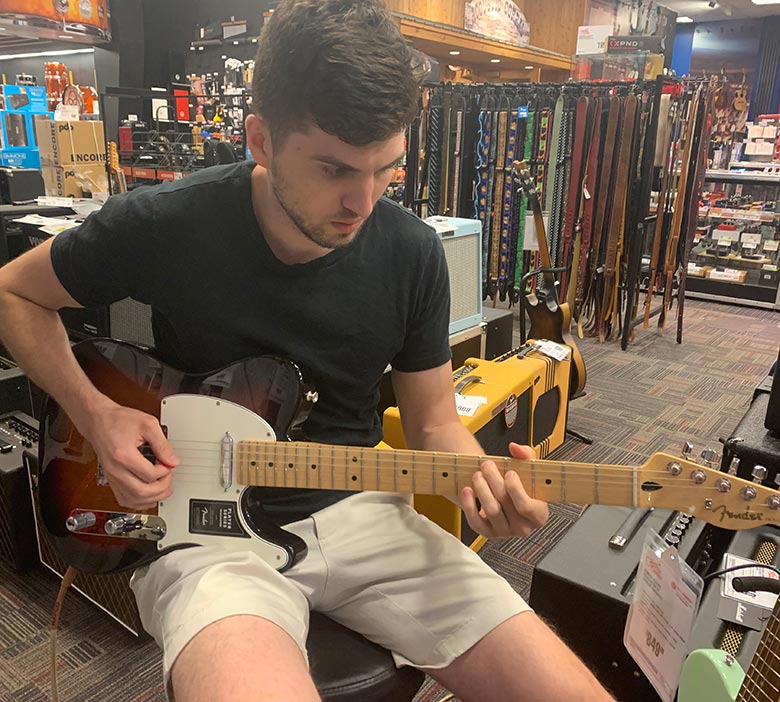 | Criteria | Rating (1-10) |
| --- | --- |
| Build Quality | 9 |
| Sound | 9 |
| Versatility | 7.5 |
| Ease of Use | 9 |
| Value | 8 |
| Overall | 8.5 |
Build Quality and Design
The Fender Player Telecaster I tested was in a 3-tone Sunburst finish that's just eye-candy right from the get-go. Made of an alder body with a maple neck and fingerboard, it's a classic T-style guitar with a lot of class, and it felt very sturdy in my hands. The satin finish on the bolt-on neck felt smooth and made it easy to play riffs that jump all over the fretboard. The 22 medium-jumbo frets were nicely rounded and polished, with no sharp edges, and the cutaway gave me easy access up the neck.
The hardware was all classic Tele style, so it works well. Tuning stability wasn't the best when I went at it hard with double-stops and 2-step bends, but it still holds its own. The 6-saddle string-through bridge adds to the guitar's sustain and brings out a lot of flavor. For a guitar that's made in Mexico, I'm definitely satisfied with its build quality. It's worth mentioning that the guitar is a bit of a fingerprint magnet. A nice plush cloth would help keep it clean.
Sound
With its 2 single-coil Alnico V pickups, this guitar offers a sound that strikes a great balance between robust and warm. Every note comes out distinct, with a crispness in the high-end due to the hot nature of the pickups. From crisp, jangly rhythms to smooth solos, there's a lot of room to play with. I experimented with various genres, and whether it was country twangs, jazz undertones, or the gritty sound of rock, this Telecaster held its own. The variability here is truly commendable. I paired it with a Friedman BE 100, and the results? Absolutely electrifying!
But yes, the lack of a humbucker pickup does mean that you're limited to a single-coil's capabilities. Crank up the gain too much, and you'll be in constant annoying hum territory.
Versatility
For a novice, having a guitar that covers a wide sonic range is crucial since you're likely still figuring out your preferred genres. But with this Telecaster, versatility is a bit of a mixed bag. It's great at what it's built for, and that's about it.
It's adept at providing soft, clean tones as well as crunchy sounds suitable for blues, country, funk, etc. There's a lot of bite in its pickups, but high-gain metal tones are a no-go here. For that, we could look at the HH version of the Tele. There's just a 3-way pickup switch and 1 knob each for volume and tone. So it's overall pretty basic, and you're not going to get a full range of sounds from this one.
Playability and Ease of Use
Now, playability is where the Fender Player Telecaster really shines. The modern "C"-shaped neck and the 9.5-inch-radius fingerboard makes it easy for beginners to grasp and learn chords, scales, etc. The setup was great without needing any adjustment on my end. But I felt that the action was a bit higher than I'm used to, and the curved fingerboard might limit just how low the strings can go.
There's an inherent simplicity to this guitar that makes it really easy to use. Just pick it up and play whatever comes to mind. There's not a lot of fiddling about as you might on a guitar that has too many control knobs and pickups to choose from.
Value and Target Market
If you want a Tele, and nothing other than a Fender would do, this is your best budget option. It is well under $1000 and features great pickups, an authentic shape, and simple functionality. There are other Tele-inspired models that are more affordable than this guitar, but they lack the authenticity of this machine. If you're leaning towards country and blues, this guitar is great for you.
Pros
Excellent build quality with a classic Tele look
Punchy and flexible Alnico V single-coil pickups
Available in six different vintage gloss finishes
Comfortable "C"-shaped neck for extended play
Cons
Limited versatility due to single-coil pickups
Fret material may require maintenance over time
Bottom Line:
The Fender Player Series Telecaster marries the allure of vintage aesthetics with contemporary upgrades. Given its playability, construction, and pricing, it stands out as a great choice for beginners venturing into electric guitars. This isn't merely an instrument; it's a commitment to your musical progression. Just don't expect it to be good for every single thing; it's specifically designed for a certain type of sound.
| | |
| --- | --- |
| Estimated Price | $850 |
| Body | Alder |
| Neck | Maple |
| Fretboard | Maple |
| Scale Length | 25.5" |
| Fret Count | 22, Medium Jumbo |
| Pickups | Player Series Alnico V Tele Single-coil (neck and bridge) |
| Bridge | 6-Saddle String-through Body Tele Bridge with Block Steel Saddles |
Popular Related Article: Roundup of the Best Cheap Electric Guitars
9. D'Angelico Premier Series DC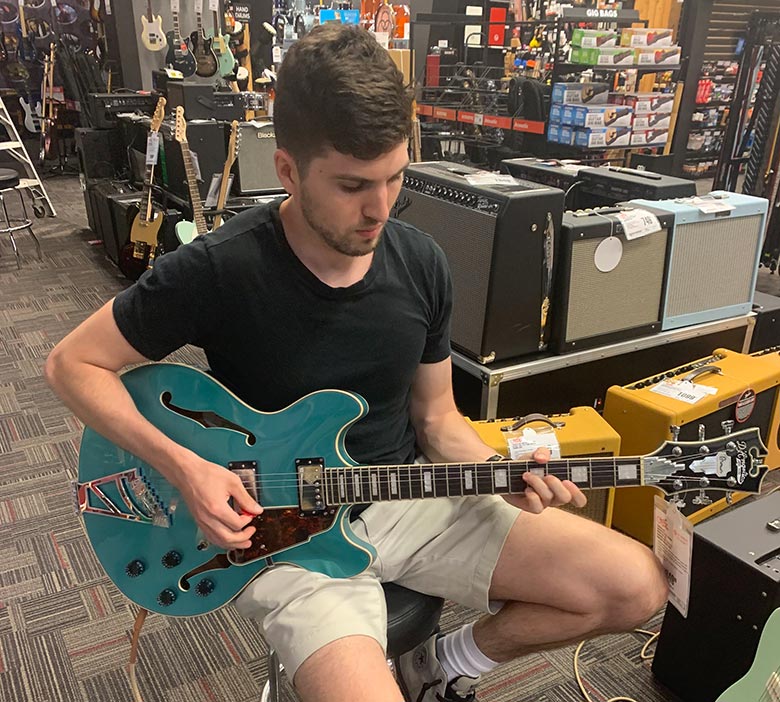 | Criteria | Rating (1-10) |
| --- | --- |
| Build Quality | 9 |
| Sound | 8.5 |
| Versatility | 7 |
| Ease of Use | 8.5 |
| Value | 7 |
| Overall | 8 |
Build Quality and Design
D'Angelico guitars may be more niche than many of the household names on this list, but their instruments reflect expert craftsmanship and delicate taste, especially their shimmering Hollowbody and semi-hollowbody models. The Premier Series DC is no exception. Its semi-hollow, double-cut design screams '60s vibes, which I absolutely love. The maple body and neck are both finished in gloss. The hardware is chrome all around on this guitar, and the tuning pegs are beautifully designed to complement the style of the headstock with its Skyscraper truss rod cover and beautiful ornamentation at the very top of the instrument.
The fretboard is Ovangkol, which is not a wood you see very often. Luckily, it complements the design perfectly and felt smooth to my hands, too. With a guitar like this, I guarantee your first performance will be memorable for the audience. But the PPS plastic nut was a bit of a letdown. I would have expected a higher-quality material for the nut at this price point and on an otherwise gorgeous guitar. The sustain and tuning stability is great, nonetheless.
Sound
Now, let's talk tone. The Seymour Duncan-designed humbuckers are the soul of this instrument. When I first plugged it in, the guitar produced a warm and rich sound, which was punchy when it needed to be, especially during those bluesy licks. Acoustically, the guitar resonates well, and you can feel the vibrations embracing you, even when unplugged.
For a beginner stepping into the world of jazz and blues, this guitar offers the perfect first step. The tonal clarity and depth are astonishing, especially at its price point. It's got a crisp, airy quality when you dial back the volume a bit. But again, as I would expect, this guitar can't handle much more than a simple overdrive. If you try pushing your amp too hard, it'll just have noisy feedback because of the hollow body.
Versatility
Like other hollow-body guitars (like the Gretsch), this guitar leans towards genres that require a warm, full-bodied resonant sound, like neo-soul. And if you're looking to hone your playing in these styles, it's definitely a great choice. The individual volume and tone controls for each pickup do help you dial in your sound exactly like you want it. Roll back the neck for a smooth lead, and then switch to the bridge for a crunchier tone. The lack of a coil-split is something I missed; it would've added more tonality to this guitar.
Playability and Ease of Use
From the get-go, this beauty felt inviting. Its weight, sitting comfortably at just over 7 pounds, ensured that I could play for extended periods without much discomfort. The slim C neck was also a breeze – smooth, accommodating, and a friend to both chords and solos.
The default setup was also decent, so no fiddling around with tools or paying a luthier. For beginners, this guitar will be an easy companion, helping you navigate the learning curve with grace. I found the 22 medium jumbo frets to be well-dressed, and I didn't experience any fret buzz.
Value and Target Market
The craftsmanship, sound quality, and historical art deco vibe it carries make the Premier Series DC a gem, especially for those just starting out. While it caters wonderfully to jazz and blues enthusiasts, rock enthusiasts may be disappointed by its lack of versatility. And I'll admit there are some good options available for cheaper, including a few right here on this list. But very few guitars look or feel quite like this boutique guitar.
Pros
Rich and warm tonal quality perfect for jazz and blues
Aesthetic design with a nod to vintage elegance
Comfortable and easy to play for extended periods
Reliable hardware and build quality
Cons
Not ideal for many modern or high-gain genres
A bit pricey for a beginner
Bottom Line:
The D'Angelico Premier DC is well-suited for anyone who wants to get started in indie rock, blues, R&B, soul, or jazz. The Seymour Duncan pickups guarantee an excellent tone out of the box. They provide a sound that's rich, warm, and resonant, and invites you to keep jamming till your fingers ache. From the gorgeously detailed headstock all the way down to the shape of the pickguard, this guitar embraces an art deco aesthetic that you can't find elsewhere. Though there are cheaper options for those looking for an archtop semi-hollow, it's an elegant guitar with few peers.
| | |
| --- | --- |
| Estimated Price | $900 |
| Body | Laminated Maple |
| Neck | Maple |
| Fretboard | Ovangkol |
| Scale Length | 24.75" |
| Fret Count | 22, Medium Vintage |
| Pickups | Seymour Duncan HB-102N Humbucker Neck HB-101B Humbucker Bridge |
| Bridge | Adjustable Bridge with Stopbar Tailpiece |
10. Ibanez Gio GRX70QA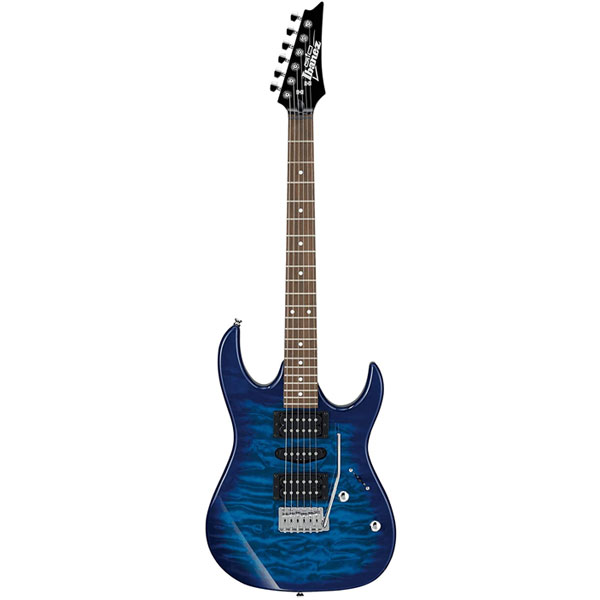 | Criteria | Rating (1-10) |
| --- | --- |
| Build Quality | 7.5 |
| Sound | 7 |
| Versatility | 7.5 |
| Ease of Use | 8 |
| Value | 9.5 |
| Overall | 7.9 |
Build Quality and Design
With a sub-$200 price, I was pretty skeptical about the Ibanez Gio's build quality. But the poplar body, with a quilted maple art grain on top, looked really good and felt quite robust in my hands. The maple neck in the GRX shape felt comfortable for fast licks across the purpleheart fretboard, allowing for a seamless transition between chords. The guitar has a double-cutaway style body making it easy to reach all 22 frets that are available with this instrument. However, I did find the bolt-on joint quite noticeable compared to other guitars I've tried.
The hardware includes an Ibanez T106 Tremolo bridge and closed-gear tuners, both of which work pretty well. Overall, I'd say the build quality is pretty great for the price. And there's even a left-handed version, which isn't all too common.
Sound
Ibanez has fitted this model with their own 'Infinity' series ceramic pickups with an HSH configuration. In my review, it delivered a decent sonic range, with punchy tones ideal for rock and heavy metal. The single-coil pickup added a jangly, bright tone to the mix. It's a bit noisy in this position, but then again, I might be biased because I've tested pickups that cost more than this guitar itself! The humbuckers have a raw, edgy feel to them.
Contrary to some opinions I read, this guitar is not 'exclusively' for metal guitarists. It definitely can help you learn other genres, too. It's just that the sound lacks character and depth. It's a bit flat at times. But it definitely is great for high-gain tones on a budget.
Versatility
While it shines in rock and metal scenarios, the 5-way blade switch opens up a few more sonic possibilities. From warm humbucker-driven tones to crisp single-coil sounds, this guitar can cover a lot of ground with some tweaking. I found it can also accommodate blues and pop better than expected. However, if jazz or country is your primary genre, you're definitely better off looking elsewhere. If you've got a higher budget, you could definitely consider swapping out the pickups on this for added versatility and more flavorful tones.
Playability and Ease of Use
Playability is one area where this guitar really surpassed my expectations. The neck feels fast and comfortable, so playing even advanced licks in the upper areas was not a problem. Plus, the guitar's overall lightweight ensures that prolonged practice sessions don't feel taxing.
The factory setup was as I had expected. You could mess with it a bit to improve it, but it's satisfactory. The tremolo is functional; I wouldn't count on it for more intricate modulation work.
Value and Target Market
As one of the cheapest guitars I've ever played, you definitely do get a whole lot of guitars. It's a great entry point for beginners who need versatility; this guitar can dabble in just about anything. And if you want to learn hard rock or heavy metal without breaking the bank, this is the one.
Pros
Visually appealing with its quilted maple art grain top
Comfortable neck profile suitable for beginners
Robust build quality
Excellent value for money
Cons
Tremolo could be more reliable
Bolt-on neck joint can feel a tad obtrusive
Bottom Line:
The Ibanez Gio GRX70QA offers a lot of guitar for not a lot of money. Its versatility and ease of use make it a fantastic choice for beginners or budget players. However, it's not without its flaws. The sound could be richer, and some of the components could be better. But at this price point, you're getting more than what you're paying for, and that's a win in my book. In my opinion, it's hands down one of the best electric guitars for beginners out there right now.
Estimated Price
$200
Body
Poplar
Neck
Maple
Fretboard
Purpleheart
Scale Length
25.5"
Fret Count
22, Medium
Pickups
Neck: Infinity R Ceramic Humbucker
Middle: Infinity RS Ceramic Single-coil
Bridge:Infinity R Ceramic Humbucker
Bridge
Ibanez T106 Tremolo
Choosing a Good Electric Guitar for Beginners (Buying Guide)
There are many factors to take into account when choosing a beginner electric guitar. With so many models and brands out there in the marketplace right now, it can be extremely difficult to know what exactly you should be looking for in your first electric guitar. We want to ensure that you are as prepared as possible before you hand over hard-earned money for your new purchase!
As there is so much information out there about electric guitars, and buying your first guitar, we have compiled all the necessary considerations you need to make. From my personal experience as a qualified guitarist and working in the music industry, I have noted the exact features you should be looking for in your first electric guitar. Below you will find this comprehensive list, with detailed information on why each feature is important.
The Most Popular Styles of Electric Guitar Right Now
If you have been following some of your favorite guitarists, you might recognize these models! Knowing what the most popular choices are right now will definitely help narrow your search down. If you are drawn to one of these guitars then you will find searching for the same model or a cheaper alternative much easier! While the models mentioned here are from huge brand names in electric guitars, Gibson and Fender, there are many cheaper alternatives on the market. If you can't afford one of these branded guitars, then you will certainly be able to find another great quality guitar at a cheaper price that is very similar!
Fender Telecaster (T Type)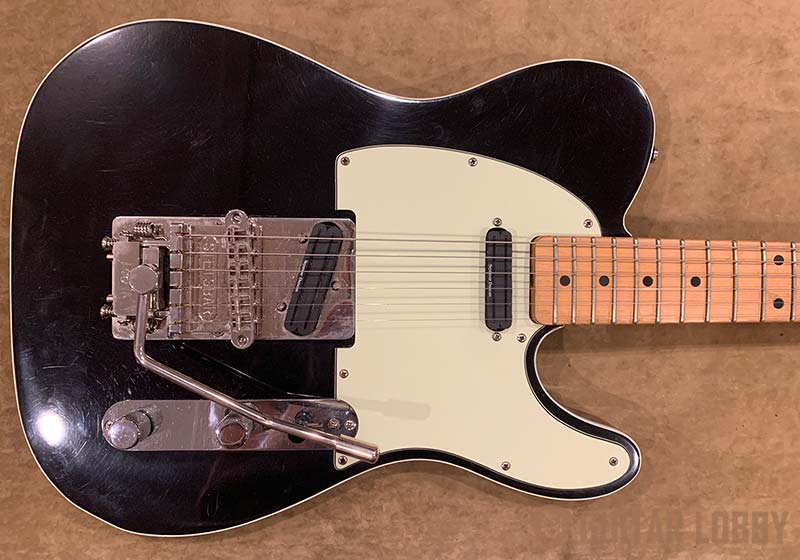 The Fender Telecaster is a famous model of guitar most known because of Joe Strummer from The Clash. If you are a punk fan, then this could be the guitar for you! The Fender Telecaster sound production is light and slightly 'twangy.' It is also famously played in country music because of this signature 'twanging' sound. The Fender Telecaster is considered an expensive guitar, and because of this may not be the best suited for beginner players. However, there are many cheaper copies out there. If this is your preferred style of an electric guitar, but you don't want to break the bank, check out some of Fender's cheaper Squier models.
Fender Stratocaster (S Type)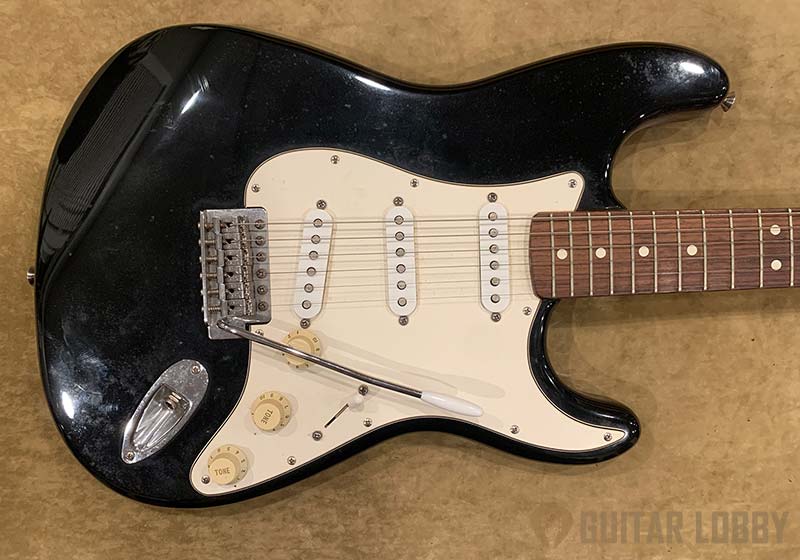 After the Les Paul, the Fender Stratocaster is one of the most iconic and popular electric guitars around. It is one of the most instantly recognized guitars within a variety of music genres. You may recognize it if you are a fan of Jimi Hendrix. The Fender Stratocaster is probably the most suited to beginner players. The body is thin and light making it easy to hold for an extended period of time. It features a double-cutaway so you can easily access the highest frets on the fretboard. The sound produced by the Fender Stratocaster is the cleanest and thin sound of all the most popular styles of electric guitars. As this guitar model is so popular, it can be a very expensive guitar. If you want an electric guitar in this style, but your budget will not allow you to buy the Fender, then check out some of the Squier models in this style.
Gibson Les Paul (Single Cut)
Probably the most iconic and recognizable electric guitar that has ever been made, the Les Paul is a favorite among many famous guitarists across a wide spectrum of music genres. If you are a fan of Guns N Roses guitarist, Slash, or Led Zeppelin guitarist, Jimmy Page, then you will immediately recognize the Gibson Les Paul. The Gibson Les Paul is definitely one of the bigger and heavier guitars, so this is something you need to think about as a beginner learner. The sound produced by the Gibson is thick and heavy, making it ideal for those heavy rock solos!
Gibson SG
The Gibson SG is a great alternative to the Les Paul. This particular style of electric guitar was made famous by Angus Young from AC/DC. This guitar still produces a heavy and thick rock tone but is generally a little bit smaller and lighter to hold. The body on the Gibson SG is much thinner than the Les Paul, meaning that if you are expecting to play your guitar while standing for hours in rehearsal or at a gig, this may be a better alternative for you. The Gibson SG also features a double-cutaway style, which makes it much easier for the beginner player to access the highest frets. Although for some, the Gibson SG may still be considered an expensive guitar, it is significantly cheaper than the Gibson Les Paul model.
Guitar Shapes Explained
If you have been watching videos online of your favorite guitar players you will have noticed the large variety of shapes of electric guitar out there. The shape of your guitar is an important aesthetic aspect that you will need to consider before you start researching models and brands, and, of course, before you make your purchase. You will want to choose a shape that you love the look of, but that will also be suitable for your level of playing. The shape of the guitar can influence how comfortable it is to play. There are a variety of shapes to choose from, but here I will mention some of the most common:
Double Cutaway: A Double Cutaway style guitar is one with two 'indents' in the body of the guitar near the neck. An indent makes it a lot easier to access some of the frets at the very top of the fingerboard.
Single Cutaway: A single-cutaway style guitar will only have one indent in the body of the guitar, but still offers ease of access to the top frets.
V Shape Guitars: V Shape guitars were made popular by the Beatles and then by McFly guitarists. They are a very unique style so if standing out is what you're after, this may be the perfect shape for you. However, this shape does make it very difficult to play these guitars sitting down, so this is something you should think about.
Guitar Body Style
As you may have noticed from seeing pictures and videos of others playing electric guitars, the style and aesthetics of an electric guitar can vary widely. Right now, there are so many styles to choose from, including a wide variety of colors, so you must narrow down what type of body style you would like. This will make the decision a whole lot easier!
The different body style is important depending on what style of music you would like to play also. Perhaps you're in the market for a guitar to play heavy metal, indie music, or blues. All of this will determine what kind of body style will be perfect for your first electric guitar.
There are two body styles in electric guitars – solid body and hollow body. Solid-body guitars are the most common and seen as the standard body style for most electric guitars. Solid-body guitars are made from solid wood and are considered the most versatile electric guitars. You could play pretty much any style of music on solid-body guitars and get away with it! Hollow body guitars can be bought as Semi-Hollow or Hollow.
Semi-hollow bodies produce a sound with increased resonance, and thus, sound more like an acoustic instrument. Semi-Hollow-bodied guitars are also pretty versatile and can be played in a range of musical styles including Jazz, Funk, Soul, Indie, Blues, and more. Hollow-bodied guitars have much larger bodies when compared to other electric guitar body styles. This may make it more difficult for a beginner or a small player, because it may seem bulky and less comfortable to hold. Hollow-bodied guitars produced the most acoustic sound of all the electric guitars out there. Hollow-bodied guitars are not commonly found in heavy types of music but are perfect for playing Jazz or Blues.
Tonewoods
Electric guitars are made from a variety of tonewoods, and these will affect the sound produced by your instrument. While the quality of tonewood is particularly important on an acoustic guitar, it is also something that you must think about before you purchase your first electric guitar.
The neck of the guitar will usually be built with a separate wood to the fingerboard. Generally, the fingerboard will need to be made from a harder wood to ensure it is durable enough.
Maple Fingerboard: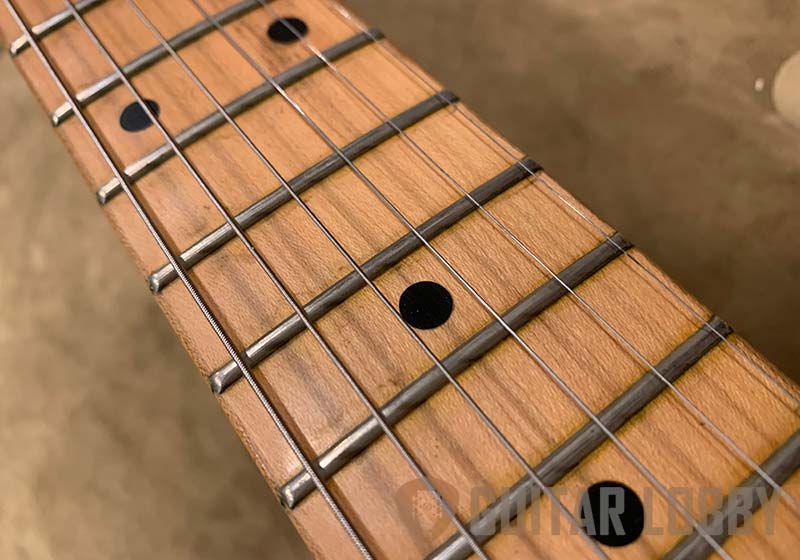 Rosewood Fingerboard: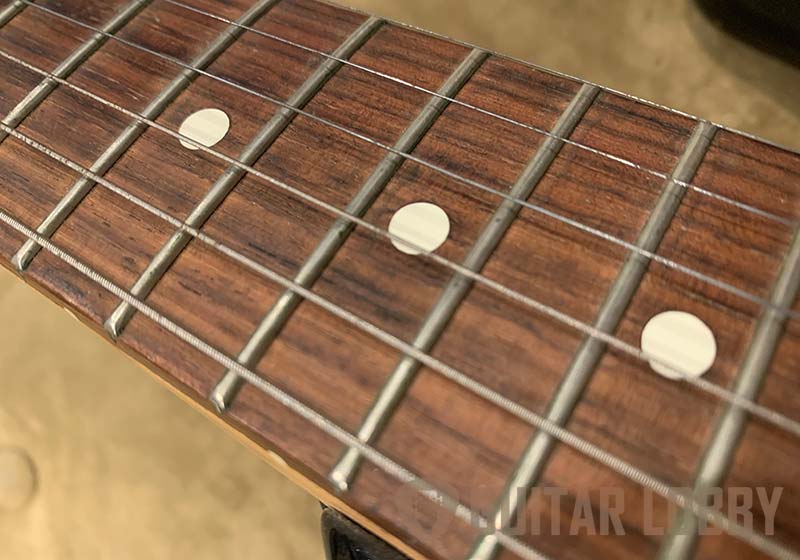 There is a lot to be said on the topic of tonewoods but here I will list the most commonly used in electric guitars and how they affect the sound quality produced.
Rosewood – Rosewood is commonly used for the fingerboard of electric guitars. It is dark in color and extremely durable, so you won't have to worry about your fingerboard wearing away too quickly with this material.
Mahogany – Mahogany will produce a warm sound to your electric guitar. It is most commonly used on the neck and the body of the guitar.
Maple – Maple produces a very clean and bright sound. It can be used for all parts of the guitar including the neck, body, and fingerboard.
Sound Production and Tone
Probably the most vital consideration that you need to make before you purchase your first electric guitar is the sound production and the tone that the particular instrument will produce. This can be tricky to decide yourself if you are a beginner player, as it does take some experience and time to be able to decipher what great tone and sound quality are on an electric guitar. However, that is why we are here to help you! Through our guidance, you will have a much easier time knowing what kind of sound and tone a certain electric guitar will have.
The tone is a commonly used term to refer to the general, overall sound that the electric guitar makes. You will hear this term thrown around a lot when experts are discussing guitars. There are varying tones and some tones will be more suited to certain styles of music. You will need to think about what kind of music you would want to play on your guitar, and thus, what kind of tone you will want your guitar to make. This will make the decision-making process of buying your first electric guitar much easier. You will be able to narrow down the diverse range of choices to the guitars that will make the specific tone that you want.
The Amplifier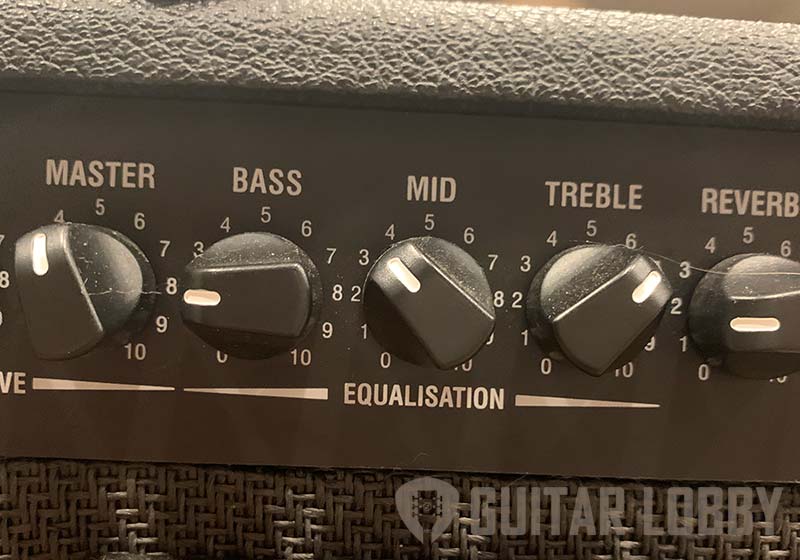 After all this discussion around your first electric guitar, it is easy to forget one vital thing; the amplifier! Obviously, due to you buying an electric guitar, an amp will be necessary to ensure that what you are playing is heard. Purchasing a guitar amp will be just as important as purchasing your guitar, and this process should not be overlooked. Some would even argue that your amplifier is more important than your guitar in producing the right tone and sound quality. You should ensure that you do your research on how much amplifiers cost and how much you are willing to spend. Having a set budget for the amplifier will make the entire decision-making process a lot easier.
The Anatomy of an Electric Guitar
Before we get into specifics about buying your first electric guitar, it is worth learning the anatomy of the instrument. We will be using a lot of terms that may be new to you in order to refer to specific parts of the guitar. Ensuring that you are aware of these parts and how they should look and sound will be the first step in purchasing your electric guitar.
Body: The body of the electric guitar is the largest aesthetic difference between guitars. Varying guitars will have a range of body styles and colors to choose from. The body of the guitar is usually made from wood such as maple, mahogany, or ash.
Bridge: The bridge is a piece of hardware that pulls the strings tight and anchors them to the front of the guitar body. The quality of the bridge is important in ensuring that your instrument stays in tune and the neck does not become warped over time. Depending on the guitar, the bridge may also pivot with a whammy bar, allowing you to produce vibrato.
Output Jack: The output jack is where you plug in the ¼" cable that connects the guitar to the amplifier.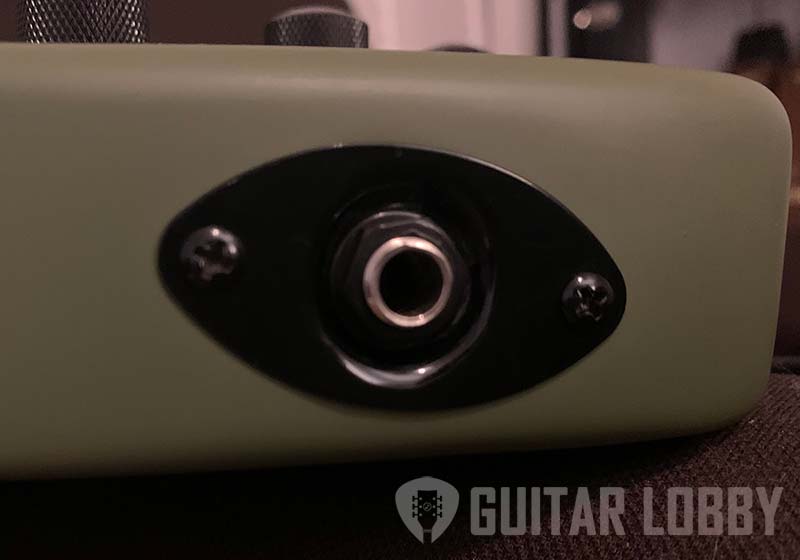 Control Knobs: Most electric guitars will have control knobs of some sort. These will allow you to control your volume and tone while you are playing. While these functions will be available on your amp, the control knobs on the guitar are particularly useful if you need to quickly control your sound output in the middle of a song. They enable you to adjust your volume and tone without having to work with your amplifier, which could be on the other side of the stage!
Selector Switch: The selector switch is also sometimes referred to as the pickup switch. The type of switch will differ depending on the brand and model of the guitar. The selector switch will allow you to easily choose which pickup is used. The sound produced by your guitar varies greatly on the type and placement of its pickups, so this switch is quite important in shaping your tone.
Pickups: The pickups are small magnets that are used to turn the strings' vibrations into electrical signals, allowing you to play your electric guitar through an amplifier. On the diagram listed above, the guitar has single-coil pickups, though there are a few different types.
Fretboard: The fretboard is on the front of the neck and is where you will place your fingers while playing. Fretboards will vary in size depending on the guitar brand and model, and therefore, they will vary in the number of frets. Usually, fretboards are made from woods such as rosewood, maple, or mahogany.
Frets: The frets are metal strips that are embedded in the fretboard. By placing your finger on the string behind a fret, you stop it at that point, which shortens the string and raises the pitch when it is played.
Truss Rod: The truss rod adjusts the bend (or relief) in the neck of the guitar. The neck must be slightly bowed to stop the strings from buzzing on the frets, so the truss rod is important for the overall setup of the guitar. It can be adjusted by a professional luthier if you are having problems with your neck. You should refrain from adjusting it yourself until you are more familiar with guitar setup because over-tightening or loosening of the truss rod can permanently damage the neck.
Tuning Pegs: There are six tuning pegs, one for each string. The end of each string is wrapped around a tuning peg. On electric guitars, the pegs are driven by a gear and a tuning key. These keys allow you to tune the instrument by tightening or loosening the string.
Nut: The nut is located at the top of the fretboard and it stops the string at the open-sounding length (or the amount of string that vibrates when it is played). Nuts can be made of bone or different types of plastic that imitate bone.
Pickups Explained
The pickups are located underneath the strings, on the face of the guitar. The pickups are small magnets wrapped in wire that convert the strings' vibrations to electrical signals. This is how electric guitars are amplified. Pickups are very important to ensure that the sound quality produced is at a good level. You should be looking for a guitar with good pickups for your first electric guitar. There are many different types of pickups, but, for the sake of this article, I will mention the top 3 choices below:
Humbucker: This is one of the most common types of pickups used in larger and heavier guitars. Humbuckers are much more powerful than the other types of pickups and can be seen on guitars used for blues, heavy metal, and rock music.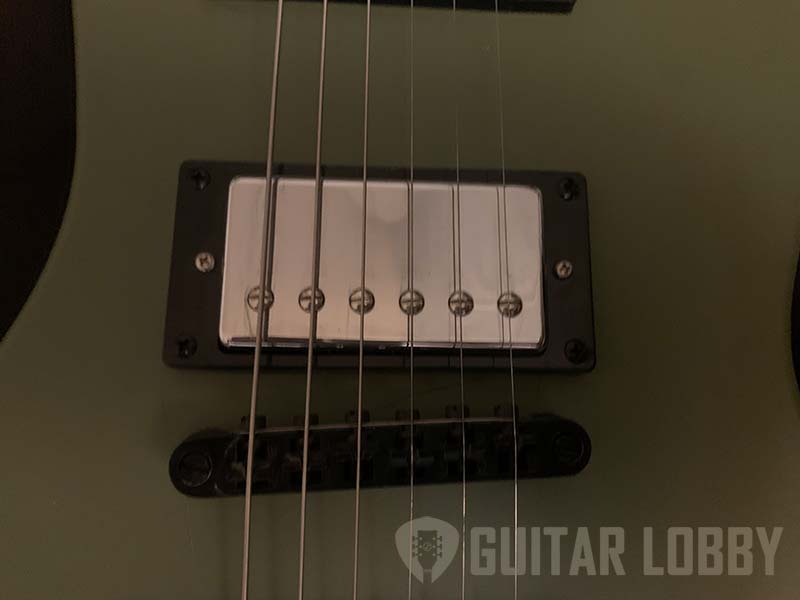 Single Coil: These pickups are most seen on fenders and smaller electric guitars. The single-coil pickups produce a brighter sound than humbuckers. The single-coil pickups are the most versatile and are used mainly in pop, funk, rock, and country music.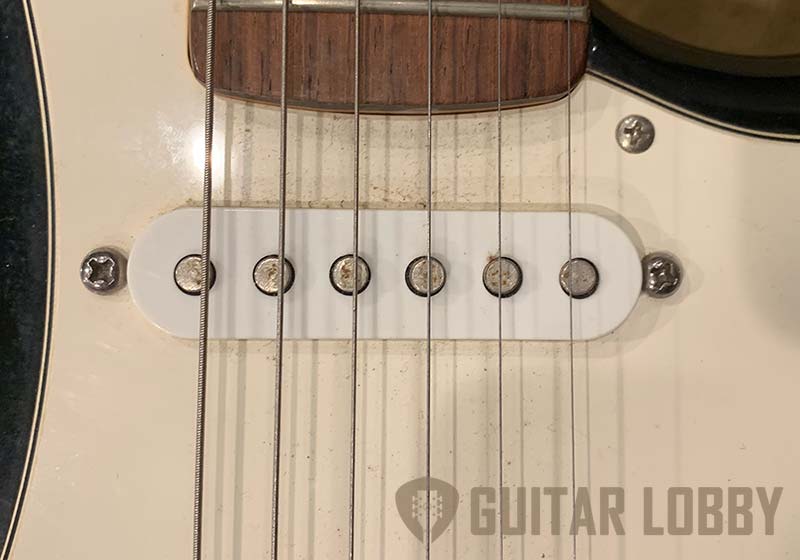 P90: A P90 pickup is a mixture between a humbucker and a single-coil pickup. The sound production is bright like a single-coil pickup, but with a little bit of edge, similar to a humbucker.
Neck: The neck of the guitar is a very important consideration to make as it can greatly affect the level of comfort you have while playing the instrument. There are two different styles of neck on electric guitars: Bolt-on neck and Set-neck. The Bolt-on neck is used in Fender guitars and many solid body guitars. The Set-neck style is most commonly found on Gibson guitars and hollow or semihollow models.
The neck on your guitar must be good quality as the most common way a guitar is damaged is when the neck snaps or is broken. A durable neck will ensure that the sound on your guitar is great and that you will not have to worry about it being too fragile to transport around to gigs and on tour.
Within these two styles of the neck there are also three primary shapes to choose from; C, V, or U Shape. The most popular shape is the C Shape, which has the smallest depth. The C shape is the most versatile for many playing styles and hand shapes. We would recommend purchasing a C Shape neck as a beginner, as it will make your playing experience a lot easier and more comfortable. The V shape is usually found on vintage guitars and is not commonly seen on modern guitars.
It is important to choose a neck style that will suit your level and your hand size. For beginner's a Bolt-On neck is probably the wisest choice as your hands will need to get used to playing the guitar before you can be comfortable playing on a larger style neck. If you have small hands, then a set-neck will probably cause you some discomfort due to its larger size.
Other Important Considerations
Quality Considerations
Obviously, the most important aspect of your new electric guitar should be the quality of the instrument. The materials used to make an electric guitar can vary widely depending on the price of the instrument and the brand. It is so important that you take your time to consider what kind of materials will be right for your level of playing, your style of playing, and, of course, your budget. Each material used to make an electric guitar will contribute to the overall sound quality of the instrument, and the level of comfortability when you are playing it. This is why it is vital to ensure that you are getting the best quality electric guitar for what your budget will allow.
Budget
Another vital thing to think about before you purchase your first electric guitar is your budget. You will need to think carefully about what you can afford before you even begin to search for models. Prices for electric guitars will vary widely depending on the style, model, and brand. Ensuring that you have set a strict budget before you start looking will narrow down your searches immensely.
Like most things, spending more money will get you better materials and better hardware all in a guitar made from a more reputable brand. However, this is not to say that you will need to spend thousands of dollars to buy a great electric guitar. There are many brands and models out there that are affordable and still of fantastic quality. That's where we come in! We will help you understand how to look for great prices, and exactly what electric guitars can be bought within a reasonable price range.
Another thing to think about when considering your budget is that you will not only be purchasing your guitar. As this is your first electric guitar there will be many extra accessories and products that you will need to purchase to ensure that you can play your guitar comfortably. You will need to purchase an amplifier because, without one, you will not be able to play your electric guitar at any sort of reasonable sound level! Amplifiers can also vary in price depending on the brand and the level of quality. It is vital that you also set aside some cash to purchase a decent quality amplifier. There is no point in spending all your budget on a fantastic guitar if you have to play it through a sub-par quality amplifier. This will greatly decrease the sound quality of the music you will be making.
Evaluating a Guitar
Now that we have given you all of our tips on what you should look for in your first electric guitar, you should have a much better understanding of the decision-making process. A large part of this process is also being able to go into a music shop, try out the electric guitars, and evaluate them for yourself. After all, you could read amazing reviews online about a particular electric guitar, but if you simply do not like the tone or how it plays, then there is no point in buying it.
Perhaps you are nervous about this and think that you would not be able to evaluate a guitar on your own, but you most certainly can. You can use your intuition. After all the information we have given you, you have a great foundation knowledge of what your first electric guitar should be like. You want to look for a guitar that has great reviews, solid craftsmanship, and that just feels right for you to play.
When you are looking at an electric guitar for the first time, the first thing you should do is ensure that there are no gaps or faults in any of the joints around the entire instrument. Ensure that the neck is perfect and does not have any cracks. Check the frets are snug to the fretboard and are not sticking out the side.
The tech in the shop will most certainly be able to walk you through various guitars and their features, and if you are going to a reputable music shop then you shouldn't run into too many problems. Tell the people working in the store that you are a beginner learner and you would like some help trying out different guitars. If you feel like you won't be able to play anything on the guitar, then you should bring along a friend who can play. A trusted friend will help you a lot in this situation.
If you choose to buy your first electric guitar online, that is perfectly fine too. Many online stores will have a period in which you can try out the guitar and send it back if it is not to your taste. Ensure that you choose a site with this option and a site that is reputable with good reviews.
Conclusion
We hope that you have found this article helpful and you are on your way to deciding what electric guitar is the right one for you. We have no doubt you already have in your mind what model your first electric guitar will be! Remember that while purchasing your first electric guitar can be a confusing and daunting task, it is also very rewarding! You are about to embark on a wonderful journey of musical education that will continue to benefit you for many years to come. Remember to stick by our top tips, and you will find your first electric guitar in no time.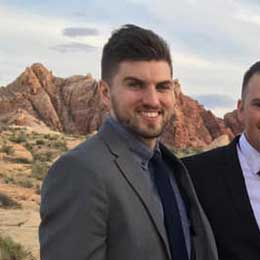 My name is Chris and I've had a passion for music and guitars for as long as I can remember. I started this website with some of my friends who are musicians, music teachers, gear heads, and music enthusiasts so we could provide high-quality guitar and music-related content.
I've been playing guitar since I was 13 years old and am an avid collector. Amps, pedals, guitars, bass, drums, microphones, studio, and recording gear, I love it all.
I was born and raised in Western Pennsylvania. My background is in Electrical Engineering, earning a Bachelor's degree from Youngstown State University. With my engineering experience, I've developed as a designer of guitar amplifiers and effects. A true passion of mine, I've designed, built, and repaired a wide range of guitar amps and electronics. Here at the Guitar Lobby, our aim is to share our passion for Music and gear with the rest of the music community.