Music without bass is grilling a fabulous-looking dish without any herb or spices enhance the flavor.
When we hear a great bass line we recognize its impact on the rhythm of the song, but bass frequencies are also critical to harmony (several musical notes being played simultaneously).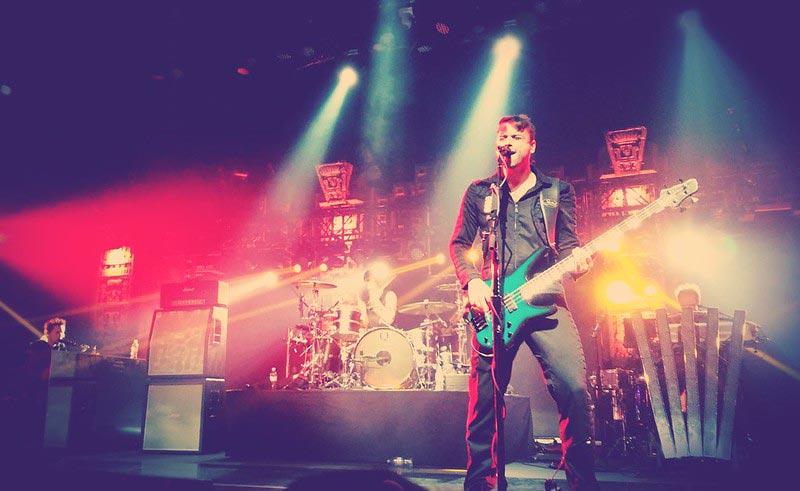 Fun fact: Our brains hear all of these notes within a harmony relative to the lowest note pitch, the Bass frequencies. Knowing this, it makes sense as to why the bass in a song has such a big impact on how we perceive that song. It has the ability to make you feel a sense of power and energy to where you can't help but move your body along with it.
Here Are 30 Pop and Rock Songs with Lots of Bass Guitar
1. Another One Bites the Dust by Queen
You wouldn't believe the inspiration for John Deacon's "Another One Bites the Dust". While the rest of the Queen did have substantial input into the development of the song, it was Deacon's fascination for soul music that jump-started it all. Of course, you've got to give credit to Freddie's superlative vocals. And while Roger did a drum loop, it was Deacon's powerful and soul-reaching groove that Freddie was so ecstatic about.
Here's another fun fact for you. When the band performed the music with Michael Jackson listening, they saw the King of Pop bobbing his head like some dance-crazed teen enjoying the beat on the dance floor. Even before the band finished the riff, Michael was already on his feet persuading – begging – the group to release the song as a single and not as a piece for their 8th studio album.
True enough, the song has been one of Queen's most defining works. It is the band's best-selling single, selling more than 7 million copies. Billboard ranks it Number 34 on its All-Time Top Songs.
And if you've ever been to any sporting event, you know that they always play this song, alluding to the defeated opponent. You don't even have to sing Freddie's lines. Just feel the vibe of Deakey's powerful bass and you'll know this is one of the greatest bass songs there is.
Why do I consider it the all-time best? Well, if you compare it with today's punchy songs, "Another One Bites the Dust" is as suave as a fine aged whiskey. The center of attention is Deakey's bass. Roger's drum is also muted and Brian has taken a backseat, except for occasional electrifying riffs. Now that is what you call bass music.
2. Billie Jean by Michael Jackson
This is another great hit with great bass. It has a very familiar beat that will have you tapping the edge of your seat or beating a pair of chopsticks on the table. The song is a perfect blend of dance pop, funk, rhythm and blues, and post-disco.
If "Another One Bites the Dust" showcased Deacon's bass prowess, "Billie Jean" blends the bass-producing capabilities of the bass drum and guitar. The notes of the bass guitar are very predictable in providing a characteristic rhythm. 
Louis Johnson did an excellent job in counterpointing the synth wash and subtle backing vocals. It starts with a smooth line that builds as it moves forward. The understated overall tone provides a great contrast to the emotional wails of the King of Pop.
I can't say that this song is my absolute favorite. It sure does fit in my list of the best. It is a Billboard Hot 100 hit and is one of the world's best selling singles in the history of music. The song sold more than 10 million copies that very few singles can match today.
3. Under Pressure by Queen and David Bowie
Is it becoming obvious that I'm a huge Queen fan? Well, you can't blame me. They're simply the best rock band ever to play on the world stage. And when you add another music legend in the person of David Bowie, then you've got magic in the air.
This song may not have the bass-centeredness of Queen's "Another One Bites the Dust". It offers a glimpse to the musical ingenuity of the group. The bass riff follows a classic D-A pattern. A piano stab counterpoints the bass and accompanied by a weird guitar and vocal that sounded like you're on live stage.
If you listen to the bass line of "Under Pressure", it sounds eerily similar to the bass rhythm of Vanilla Ice's "Ice Ice Baby". I can think of tens of other songs that "copied" the classic bass lines of Deacon in "Under Pressure". That's how popular this song is and that is exactly the reason why I included this Queen-David Bowie collaboration in this list.
4. Stand by Me by Ben E. King
Very few songs can capture the soul with a simple opening line like that of "Stand by Me". The bassline is like a soft knock on your heart. Once you hear it, it would be impossible to erase it from your memory. I have met people who were immediately entranced with the opening line. Even though it was their first time hearing the song, they could hum and beat to it like a pro.
That's how magnetic the bass of this song is. It is sweet and unhurried. Its rhythm follows the normal beating of the heart. And while the song has great vocal pyrotechnics, it is the bass that carried it throughout. 
It is true that the song did have guitar and organ music that may have drowned the bass. However, you will never miss the characteristic beat because you will be listening to it with your heart. That's how awesome this song is.
5. Come Together by The Beatles
Most people today think that a song that has lots of bass should be inherently noisy. You should feel your heart as if it is trying to burst its way out of your chest. While this may be true to some extent, a good bass song should also be clean. And nothing can be cleaner than "Come Together" from the boys of Liverpool.
What makes this song unique is its bass intro. You get exceptional bass hammer-ones, a bit of rustic wooden percussion, and a fancy studio echo all playing along to introduce you into the groove. 
You've got to admire Sir Paul McCartney's prowess on the bass. His mastery is something that no ordinary mortals can ever achieve. What astonishes most people is the fact that McCartney is best known as a songwriter. He doesn't worry that much about the bass sounding right or not. Only a musical genius can create such a masterpiece.
It goes without saying that "Come Together" is McCartney's bass playing masterpiece.
6. Sex Machine by James Brown
Most of us know this song by its uncanny bass and funky vibe. What many of us don't know is that "Sex Machine" has a longer official title – "Get Up (I Feel Like Being A) Sex Machine". Of course, who can blame the people who shortened the song title to include only the last two words?
Bootsy Collins provided the song's vibrant and very insistent bassline. And while the oomph pales in comparison to the hardcore music that we have today, the basslines of Bootsy still echo through the halls of music venues around the world. 
And why not? This song happens to be Number 326 on Rolling Stone's 500 of the greatest songs ever. Try adding the drum riffs of Jabo Starks and you've got a song that's worth dancing to. The bass is deep enough to touch the soul and move you to do your thing under the sheets.
7. Titanium by David Guetta featuring Sia
Moving on to the 21st century, David Guetta's "Titanium" is one excellent bass music for the masses. It has a vibe that is both empowering and enchanting from the very first chord and right down to the last note. 
If you're looking for a song with lots of bass and with intense beat styles that can rival that of the most popular dance club hits, then "Titanium" is it. You'll find Sia's vocals to be exceptional in adding a hint of intrigue and mystery to the melody. Sure, the tune has a somewhat vintage feel to it. However, Sia's vocals do give it a more enchanting vibe.
Seasoned musicians describe "Titanium's" bass as a throbbing pulse. I couldn't agree more. It is emotionally poignant and very unremitting. The booming excitement of "Titanium" deepens with the temperamental drops and heightened fervor of the explosive bass. You've got to admire the musician's well-thought out placement of the bass notes.
8. Radioactive by Imagine Dragons
Another modern favorite of mine is "Radioactive" from Imagine Dragons. This is the group's most popular song that shot them to fame. It has a catchy tune that is quite difficult to resist. It is so easy to dance along. The song features a nice blend of electronic rock and dubstep.
You'll love the powerful bass as it thunders throughout the song. The chorus is particularly interesting as the basslines move into soul-reaching depths. The lyrics of the song further add fervor to the emotions that the bass already generates with precision. 
This audio masterpiece will make you want to buy the sturdiest, toughest speakers' money can buy. You'll feel your soul vibrate with each beat of the basslines. It is a powerful sounding song with a serious message to match. The song is all about awakening and doing something new with your life.
With a powerful bass to drive the message, it is not surprising why many folks who listen to the song will be swayed to action. That's how powerful bass is.
9. Can't Hold Us by Macklemore & Ryan Lewis
You've got to love "Can't Hold Us" from Macklemore and Ryan Lewis. Most music industry insiders consider "Can't Hold Us" as a sleeper hit. While it did take time to take off, it skyrocketed the charts once it did. Spotify named it its most-streamed song in 2013. It also landed the top spot on the Billboard Hot 100. The song also got a nomination at the Grammy in 2014.
Buoyant and upbeat, Macklemore and Lewis' masterpiece can captivate its audience like some David Copperfield show. It can reel you using only its pounding and feisty bass. The vigor of the bass is a wonderful complement to the energetic lyrics of the song. 
I find the tune very catchy and quite addictive, but in a good way. The throbbing bass is both fresh and eclectic. And if you add the drums, tambourines, and piano that blends in harmony with the whimsical hand claps, you know that this song is a very inviting piece. There are thundering trombones and poppy trumpets, too.
Is there anything you will never like in this music?
10. Boom Boom Pow by Black Eyed Peas
A lot of folks love the music of Black Eyed Peas. There's "I Gotta Feeling", "Where Is the Love?", and "Shut Up". And who can ever forget the group's first ever Billboard Hot 100 No. 1, "Boom Boom Pow"? This song has a Grammy nomination and has won numerous awards, too. 
There are a lot of influences in the creation of "Boom Boom Pow". For starters, its beat is reminiscent of "Planet Rock" way back in the 80s. The electro sounds should also be very familiar to our brethren in the Land Down Under who frequent the nightclubs and other watering holes of Sydney. 
Technically, the song is as underground as it can be. It is leftist, but in a right way (kinda). The explosive bass gets even more superb with the addition of electronic simulated energy. And if you add Fergie and wil.i.am's electrifying vocals, you've got music that's perfect for underground pubs.
Try pumping up the volume of your bass and you'll see why they call this "Boom Boom Pow".
11. Hysteria by Muse
I bet you didn't know that the intricate bass line of "Hysteria" happens to be the 6th best bass line the world has ever heard. This is according to MusicRadar. And if that isn't enough to get your attention, this alternative rock hit also made it to both the US and UK charts. This song is very popular and many commercial entities use it in their products. 
Like Queen's "Another One Bites the Dust", Muse's "Hysteria" puts bass at the center of the song. You can feel it at the strike of the first note and weaves through the rest of the score until it finishes with the last tune. 
The real magic of "Hysteria" is in the mesmerizing arpeggio solos of the bass guitar. This is especially true after the song's second chorus. Expect to hear a bass riff that takes the spotlight from the rest of the elements.
12. Papercut by Linkin Park
I love Linkin Park's "In the End", "Numb", and "Iridescent". When it comes to extreme bass right from the start, I'd pick "Papercut" more than anything else. This rock metal hit has an immensely satisfying vibe to it. You will never be able to resist the temptation of bobbing your head or even swaying your body to the upbeat music.
The edgy bass complements the spine-chilling lyrics. And if you listen closely to the metallic bass riffs, you'll have this eerie feeling; albeit, in a good way. This Linkin Park masterpiece provides an easy excuse from everything monotonous. It adds color to a boring world in a way that only Linkin Park can guarantee.
You've got to tone down your amp and your subwoofer, though. The vibrations coming from this hit are sure to be a magnitude 10 on the Richter scale.
13. Above and Beyond Bassnectar
If you're looking for a different kind of bass experience that is like listening to music with an intense subterranean sound, then you've got to check out Bassnectar's "Above and Beyond". The electronic lows are unfathomable. It is like having a state-of-the-art machine sending shockwaves straight to your core.
Now, I also want you to pay attention to the piano and string melodies. These are quite unexpected. However, they do provide a relief to the deep bass of the song, giving it a rich complexity in the process.
Most of the people I know say that "Above and Beyond" is the ultimate expression of how bass and sound can create a massive explosion for the senses. I couldn't agree more. This song is worth listening to if you're after some butt-kicking bass.
14. Yeah by Usher
Usher may be known for his other hits. However, in my opinion, "Yeah" could very well be his most butt-kicking, soul-inspiring songs ever. I love the fast crunk tempo, complete with a thundering bass that is very notorious on the dance floors of the world's greatest party places.
And get this. The song also adds a hint of the exotic. There are triangle rings that help accentuate the highs. There are synth segments that are as sharp as a Samurai's Katana. But, it's the robust presence of its dominant lows that is strikingly enthralling to hear.
A certified platinum, "Yeah" is the perfect choice for those who want a unique blend of rhythm and blues music with a bit of hip hop. This is one of the best bass songs that can hit the dance floor like a bushfire. 
15. Symphony No. 7 by Anton Bruckner
So, this is not the kind of music that you would want to get your guests into the groove. However, if you're looking for bass that comes from a wide variety of instruments, you don't have to look far. Anton Bruckner's "Symphony No. 7" is a must-play.
I do have to caution you that the whole extravaganza takes more than an hour. However, I can promise you that it is an hour filled with huge peaks and deep troughs. These are enough to test the controls and dynamics of your sound system. 
Why is it a bass masterpiece? Well, how about blending the spine-chilling bass sounds of timpanis, tubas, oboes, and double basses? There are no deep sounds from a bass guitar or the characteristic beat of the drums. However, the low notes that these instruments play will stir your senses. 
16. Ain't No Mountain High Enough Marvin Gaye & Tammi Terrell
If you want some music to give you a real good feeling, then there's no better music to play than "Ain't No Mountain High Enough". Every time I hear this song, whether at a local coffee shop, the salon, or anywhere else, I cannot help myself but feel swaying to the beat.
I prefer Marvin Gaye and Tammi Terrell's original 1967 version over the Grammy-nominated 1970 rendition of Diana Ross. There is a unique tone in Gaye's voice that blends so well with the deep bass providing the backbone for the entire piece. It is a very carefree song and one that does well on the dance floor, too.
The deep bass can pass through the human body and touch one's soul. It is almost impossible to command your brain not to swing to the tune.
17. Around the World by Daft Punk
If you're craving for a song that is pure bass from start to finish, then you've got to listen to "Around the World". This is one of those songs that puts so much emphasis on low notes. What makes "Around the World" quite popular is the fact that it doesn't follow the conventional formula of effective songwriting.
Where else can you find a song that only has three-word lyrics from the very first note of the vocals to the last one? You see, this Daft Punk classic only has three words in it: 'around', 'the', and ''world'. In that order. You get these 3 words repeated throughout the song.
You won't mind it, though. The soulful beat is enough to put you in a trance.
18. Walk on The Wild Side by Lou Reed
This is one of my personal favorites. It has an easy vibe to it in an almost lullaby fashion for rock stars. I love the double tracks that play in perfect harmony. There's a bass guitar providing the basic rhythm and a soulful double bass to give it depth. 
You also must appreciate the sliding line of Herbie Flowers, which is now well-known all over the world. It adds a very subtle touch to one of pop songs' darkest pieces ever written. This is a song about transsexuals, at a time when being a part of the rainbow squadron was met with disgust and disdain.
It's not all that dark, though. Lou Reed still provides a cheery vocal. Plus, the baritone-like voice of Reed also complements the low notes of the song. This gives you an excellent bass-filled song to fill your room.
19. Ramble On by Led Zeppelin
Led Zeppelin's bassist and keyboardist, John Paul Jones, had both the nerve and the cojones to upend the not-surprisingly fantastic acoustic intro by Jimmy Page for the group's hit "Ramble On". While your ears may be busy listening to the acoustic riff of Page, your heart will be beating to the ascending motif of Jones' upper register bass.
As if this was not enough, Jones also spewed a three-note clobber right after "Ramble On's" first chorus line. The move sets Jones for lightning quick hammer-ons that put additional energy to the already-intense music piece. Jones essentially turned the bass as the focus of the chorus line, even though Robert Plant's wailing vocals are already getting things going.
What can I say? This is Jones' way of stamping his legacy. Today, modern bassists who want to make their presence known in a band, have Jones to thank for.
20. Money by Pink Floyd
Roger Waters was never known as a very technical bassist. However, he does have a unique understanding of the nature of low frequency sounds in the creation of beautiful music. Pink Floyd's bassist is more of a songwriter, often creating world-class bass in 7/4. This is exclusive of the guitar solo that Waters also writes. The 4/4 guitar solo is a welcome respite to the heart-stopping dynamics of "Money".
Prog-loving bassists take "Money" as an important piece to learn. The bass lines have exceptional clarity. This is surprising considering the chaotic noise of cash registers creating one hellish cacophony.
Don't punish yourself for not learning how to play the lines. You can still immerse yourself and marvel at the luscious darkness of the song.
21. Good Times by Chic
Don't ever think that "Good Times" is the only song that Bernard Edwards of Chic can rightfully call his masterpiece. I know of many Edwards creations that are the perfect examples of his musical ingenuity. 
However, the pure genius of Edwards' "Good Times" is the unparalleled bassline of the song. Unlike most songs that have bass that only set the rhythm of the song, "Good Times" has that twang that resonates through the rest of the body. You'll appreciate your heartbeat a lot better listening to every deep note that Edwards plays.
It is not surprising that many musicologists and bassists consider "Good Times" as one of the all-time bass songs. The sound is clean and distinct, without the unnecessary noise of metal against metal. That's what you call a good bass.
22. Peaches by The Stranglers
You only need two seconds of listening to "Peaches" to know exactly what kind of song it is. Add another 5 seconds or so and you will already find yourself cussing Jean-Jacques Burnel for having such an awesome talent. Then you will be kicking yourself and squeezing your brain to determine how you can also get that fantastic tone.
Most folks will use a guitar amp. Some might even try their luck at an overdrive, complete with high-mids to give the tone its nasty-but-nice sound. It's punk, but in a good way.
Regardless, one can never deny the power of Burnel's bass masterpiece. That intro is enough to send aspiring bassists into a frenzy. The rest of the song isn't bad either. Punks still love the song's ability to blend anti-establishment sneer with a perverse attitude. 
23. Longview by Green Day
There were plenty of bands that came out in the 1990s. Each one offered their own signature pieces. One of the most exciting songs to listen to was Green Day's "Longview". It has this upbeat sound to it that is perfect for showcasing your moves on the dance floor.
What I find interesting is the depth of the low sounds. You get introduced to some fancy drum work in the opening seconds before the characteristic lows of the bass guitar kicks in. By the time you reach the chorus, that's the only time you get to hear an electrifying acoustic. The basslines remain steady, accelerating and becoming more explosive in the chorus.
This song is worth playing in your home to test the bass capabilities of your system.
24. Sloop John B by The Beach Boys
From "Surfin' USA", "California Girls", and "I Get Around", the Beach Boys were one of the groups to beat in the 1960s. And while the boys' "Sloop John B" started on a high note, you get a recognizable low note beat by the third line. And boy, what a bass!
It is another great song that employs just enough bass without ever sounding harsh or trash. The boom of the bass is so resounding that you could feel your heart pushing itself towards your spine with every thump. And who can ever resist the feel-good vibe of the Beach Boys?
The instrumentals are brilliant and the vocals have that character that can only come from the boys of Cali. It is not surprising that the track outperformed its album.
25. Give It Away by Red Hot Chili Peppers
The intro to this song may give you goosebumps and hit the Stop button right away. It's so surreal that you begin imagining things. As soon as you get through the first 4 seconds, you'll find yourself slapping your thighs with your open palms.
I love the very funky beats of this song. Such a rhythm is made even more legendary by its powerful bass. It is an explosive rock that never fails to stir the souls of would-be rock stars for many generations. The drums take center stage on the first few lines. Beyond that, it takes a backseat to give emphasis to the bass guitar.
Beat-wise, "Give It Away" is perfectly executed. A few lines of the song and you'll already be dancing to the groove.
26. Smooth Criminal by Michael Jackson
The King of Pop truly deserves his title. There is no mistaking the iconic basslines of "Smooth Criminal". You'll find your body still swinging to the beat several hours after the song has ended. The mix of beats is superlative and it is hard to resist the vibe.
I do recommend listening to the original version of the song; although its music video isn't bad at all. They only differ in the opening line, punctuated by a deathly silence, before slipping into one of Michael Jackson's most recognizable beats. The audio-only version has the human heart beat in a steady 14-second ascending gallop with an electrifying background.
With low-pitched sounds that are set-up throughout the composition with precision, this song is as smooth and enjoyable as it can get.
27. Politician by Cream
What do you get if you blend the sound of Eric Clapton, Ginger Baker, and Jack Bruce? You get Cream, of course. This is a mid-1960s band that became the springboard for Eric Clapton as a phenomenal solo artist. Each of these artists is a master of his own instrument. Their musical ingenuity and harmony are best summed up in the song "Politician", which Bruce and Pete Brown wrote.
This 4-minute masterpiece features a bassline that is more languid than energetic. For some folks, the bass line may sound lethargic. However, there's no denying that there's class in every pick. 
It is Bruce's way of telling punks that only fools will show off their bass playing skills. You can play it slow and steady and still sound cool in the process.
28. Golden Years by David Bowie
This song has elements of soul music, rhythm and blues, and jazz in a disco kind of vibe. Bowie wrote the song to bridge the gap between his Berlin Trilogy's experimental notes and his Young Americans' funk and soul.
You'll love the soft persuasive bass that comes from a variety of instruments. There are drum fills that catch you by surprise, as well as startling woodblock clacks. The intro features the rhythmic rattling of drumsticks on the hi-hat. The verses have an Elvis Presley kind of spirit in them. This results in a more strident and haughty tone.
What else can you expect from one of the 20th century's most influential musicians?
29. M.A.D. by Hadouken!
If you're the type of person who finds excitement in pandemonium and chaos, then you've got to listen to Hadouken!'s "M.A.D.". I must caution you that this piece has one of the most excessive electronic hypes I have ever heard.
The bass can crack the skull, giving you a throbbing headache if you're not at ease with such crackling and electrifying sound. The drum also gives you a steady, albeit very forceful beat. Both the bass guitar and the drum accentuate the mayhem-like vibe of the song.
This is a song that's best played on the toughest speakers with their bases bolted securely to the floor. There is madness in every second of the track. The enigmatic rises and nauseating drops will surely keep you on the edge.
30. Sail by Awolnation
While its melody easily translates to a simple framework, "Sail" never fails to highlight the natural beauty of low notes. The bass is both heavy and catchy. It is the song's driver, allowing it to develop into an easy-to-love tune. The vocals aren't bad either. In fact, the bass is a wonderful accompaniment to the vocals.
The haunting vocals lend greater depth to the free and unobstructed bass. The crashing cymbals punctuate the song at the right spots, driven by the force and momentum of the bass.
This is a song worth checking if you're into songs with lots of bass.
I know you may not agree with some of my selections. However, as there are thousands of songs that have lots of bass, I decided to limit it to those that are popular or have made significant contributions to the advancement of music in the 20th to the 21st century.
If you have songs that you think I should have included in this list, feel free to share your views. Who knows we can expand this list to the Top 100 or so?
For now, let us all enjoy the soul-touching depth of these phenomenal songs.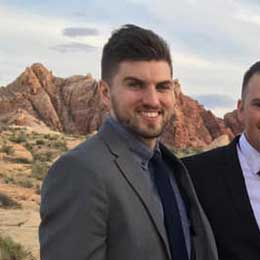 My name is Chris and I've had a passion for music and guitars for as long as I can remember. I started this website with some of my friends who are musicians, music teachers, gear heads, and music enthusiasts so we could provide high-quality guitar and music-related content.
I've been playing guitar since I was 13 years old and am an avid collector. Amps, pedals, guitars, bass, drums, microphones, studio, and recording gear, I love it all.
I was born and raised in Western Pennsylvania. My background is in Electrical Engineering, earning a Bachelor's degree from Youngstown State University. With my engineering experience, I've developed as a designer of guitar amplifiers and effects. A true passion of mine, I've designed, built, and repaired a wide range of guitar amps and electronics. Here at the Guitar Lobby, our aim is to share our passion for Music and gear with the rest of the music community.