If you're a metalhead like me you probably don't just love metal music, you want to play it too! There are so many great guitars out there for playing metal music. Generally speaking, you'll be looking for something with a fast neck and hot pickups, possibly even active pickups! You'll want a guitar designed for shredding those killer riffs. And you're probably here wondering which guitar to buy.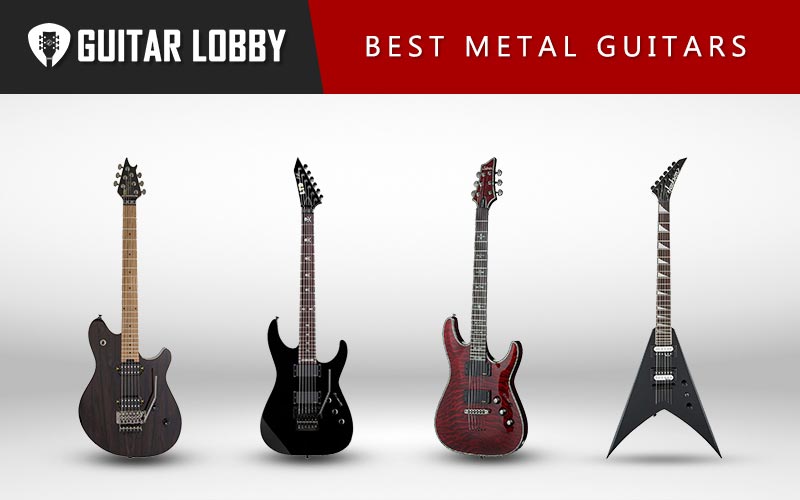 I'll start this article by jumping straight into reviews on the best metal guitars at each price point, but if you want to learn more about what makes a guitar great for metal music, check out our metal guitar buying guide at the bottom of the page. It will get you up to speed on all the terminology and features.
Here Are the Best Metal Guitars
1. EVH Wolfgang Standard (Best Value)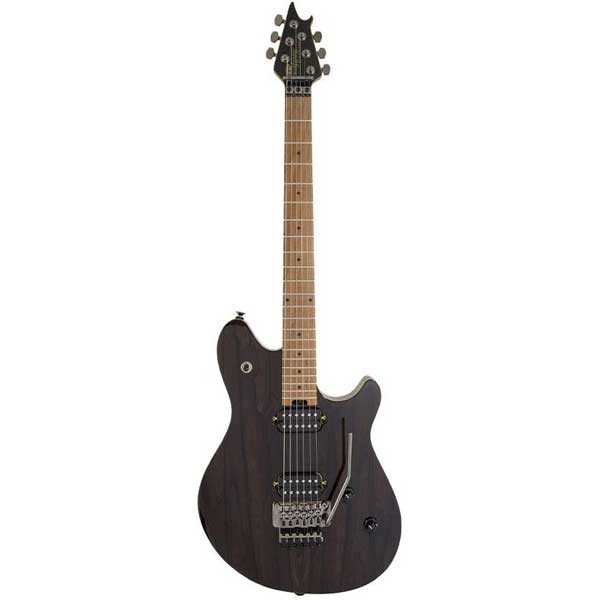 Estimated Price: $600
Pickup Configuration: 2x EVH humbucker
Bridge: EVH Floyd Rose Special Tremolo Bridge
Scale Length: 25.5″
Body Material: Basswood body, maple top
Neck: One-piece maple neck
Fret Count: 22 Jumbo
Fretboard Radius: 12-16"
Country of Origin: Indonesia
My Review: EVH recently introduced its most affordable version of the Wolfgang guitar yet, the new EVH Wolfgang WG Standard. As a lover of Van Halen, this just hits the spot for me. The guitar is very comfortable to play, either sitting or standing. The playability is amazing. The guitar has a lot of power, tone, and sustain. Single notes are well defined, and chords seem to just jump out. You can solo on it effortlessly, and playing chords is so smooth it makes you feel like you are playing a high-end instrument. The light body and forearm contour make the Wolfgang WG Standard really comfortable.
Key Specs and Features: The EVH Wolfgang WG Standard is available with a basswood body and Maple quilted top. The finish is gloss polyurethane. The Double cutaway body design serves great for higher fret access. The body is shaped in the same distinctive body style that Eddie personally designed. It has a comfortable shallow C-shaped profile bolt-on one-piece maple neck with 22 jumbo frets, and a 12″ to 16″ compound radius. The scale length is 25.5″. There is also a spoke wheel truss rod adjuster located above the 22nd fret. Topping it off is a maple fretboard with dot inlays. It has two EVH branded humbuckers that provide a fierce tone. For the tonal control, there is a master volume and tone control knob, and a three-position pickup switch selector. It has an EVH-branded Floyd Rose Special tremolo with EVH brand tuners that work really well in keeping the intonation stable.
Target Customer: If you are a fan of Eddie Van Halen, if you love to burst out those solos this is the stuff for you. Some would say it is an entry-level guitar, but I would disagree, both beginners and intermediate players will find this guitar a handful.
Bottom Line: If you are looking for one of the best affordable metal guitars this is the guitar for you. The Wolfgang WG Standard may lack a few of the high-end details but its sound and playability are what make it stand out. With the EVH Wolfgang Standard, you'll get an incredible guitar with many of the same features that more expensive guitars have.
2. Jackson JS22-7 Dinky (Best Cheap)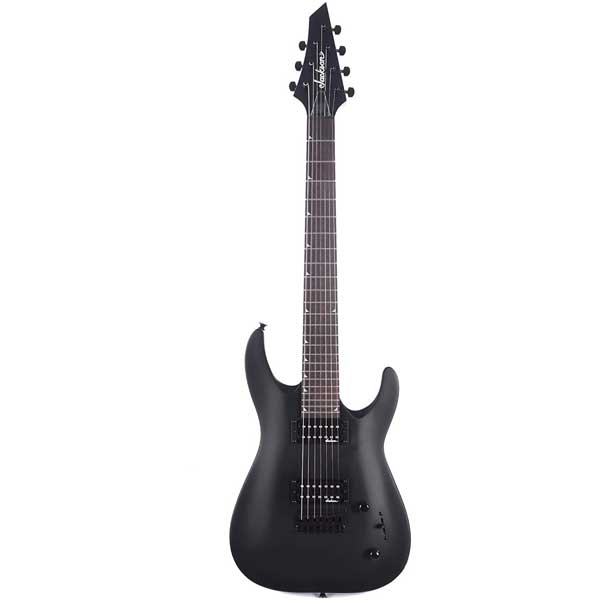 Estimated Price: $200
Pickup Configuration: 2x humbucker
Bridge: Hardtail bridge
Scale Length: 26.5″
Body Material: Poplar body
Neck: One-piece maple neck
Fret Count: 24 Jumbo
Fretboard Radius: 16"
Country of Origin: China
My Review: For a low-price 7 string guitar, you can squeeze a lot of from this one as it offers a reasonable tonal palette. The Jackson pickups in the JS22-7 are fairly balanced. Sometimes it can be a little too bright or too brash but doesn't matter because you are not going to use it to play clean stuff anyway. The guitar resonates really well. It has some nice cleans on the neck pickup and the bridge pickup can be aggressive just enough when distorted. The tone can get muddy with higher gain but that's expected from a budget guitar.
Key Specs and Features: The body is made from solid poplar and features an arched top finished in a deep Gothic black with a matte coat. The one-piece neck is made from hard maple, with sturdy bolt-on construction and a reinforced graphite rod, and 24 jumbo frets on the rosewood fretboard. The neck is a nice slim "D" shape with a relatively flat 16″ fretboard radius. The double-cutaway body shape is quite sleek and it allows for great access to the highest of frets on the fretboard. It has two passive high-output humbuckers designed by Jackson for 7-string guitars. You can control the tonal variations with a three-way selector switch, master volume, and tone control. The hardtail bridge keeps the tuning as tight as possible.
Target Customer: Great guitar to have for practice or even if you are transitioning to a 7-string. If you are looking to jump into the seven-string world without spending too much coin this is the guitar for you.
Bottom Line: For an affordable 7-string guitar is sure does have some problem which is expected but still, it's hard to criticize it because the build and playability are excellent, making it very suitable for beginner players who don't need something too crazy, a solid guitar that provides massive bang-for-buck value. This is easily one of the best metal guitars out there for the money!
3. Ibanez Genesis Collection RG550 (Editors Choice)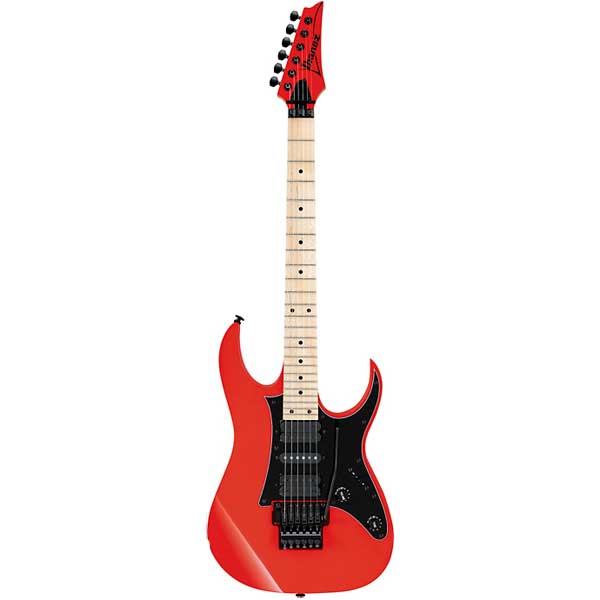 Estimated Price: $1000
Pickup Configuration: HSH pickups
Bridge: Edge Locking Tremolo Bridge
Scale Length: 25.5″
Body Material: Basswood body
Neck: 5-piece maple/walnut Super Wizard neck
Fret Count: 24 Jumbo
Fretboard Radius: 16.9"
Country of Origin: Indonesia
My Review: In my eyes, Ibanez was always the brand made for newer generations, and this guitar accomplishes that perfectly. The guitar's price is something that makes you crave it, expensive but still something you can afford. Everything you need to shred and play metal music is in this guitar, it is ridiculously easy to play and it feels like you are cheating. The neck is smooth and super fast and the frets are like butter.
Key Specs and Features: The guitar has some really cool features. The body is made out of basswood which produces a warm, growling tone with defined mids. The body is sleek and comfortable, and the deep cutaway really offers unrestricted access to all 24 frets. Unlike the older version which had a one-piece maple Wizard neck the designers this time chose a 5-piece maple/walnut Super Wizard neck that has amazing playability with a scale length of 25.5″. The Super Wizard contains a maple fretboard that has 24 jumbo frets and black dot inlays. The RG550 features a classic-style tilt neck joint with a stamped metal plate. It has three single-coil pickups. A V7 pickup in the neck position delivers a tight, biting sound, while an S1 in the mid position has a high-output single-coil tone and a V8 bridge pickup that supplies a warm yet articulate sound with sizzling overtones. A guitar clearly made for metal and rock music. It has great playability and tonal variety. Ibanez Edge locking tremolo provides really good control and fine intonation.
Target Customer: This guitar is for players that like fast action guitars that are in the normal budget area. Even beginner players can try it out, but still, it's place is more on the stage than practicing in the room.
Bottom Line: The RG550 proves that you can remake a vintage model into a more modern version that still keeps the feel and soul of its predecessor. The Ibanez RG series shows once again why it has been a rock and metal standard in the guitar world.
4. ESP KIRK HAMMETT SIGNATURE KH-2 (Best Overall)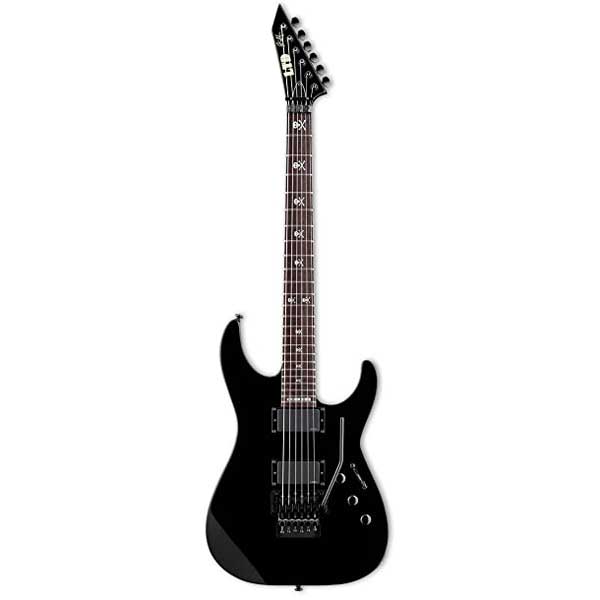 Estimated Price: $1200
Pickup Configuration: EMG 81, EMG 60
Bridge: Floyd Rose Original Bridge
Scale Length: 25.5″
Body Material: Alder body, maple top
Neck: 3-piece maple neck
Fret Count: 24 X-Jumbo
Fretboard Radius: 16"
Country of Origin: Japan
My Review: I was always a skeptic when it came to signature guitar models, they can be very pricy and limited but this Kirk Hammett model is something else. It sure can deliver, and even more. Bringing that classic Kirk sound it delivers an amazing crunchy sound that is so good for any style of metal and rock music. The sound and the build are premium quality, with a really smooth neck with a flying fingerboard. The aggressive sound is something to fall in love with. You can shred on it, divebomb, and play solos as much as your heart desires.
Key Specs and Features: The attention to detail is really exceptional. The guitar's body is made out of alder wood with a flamed maple top and a 3-piece maple bolt-on neck that brings out that more aggressive metal sound. The alder wood provides a brighter overall sound and sufficient punch. It has a sleek black body finish and black hardware. The rosewood fingerboard has Kirk's famous skull and crossbones inlays. The scale length is 25.5 and it has 24 extra-jumbo frets followed up by an extra thin U-shaped neck. The neck is super fast designed especially for playing classic metal riffs and lightning-fast leads. It has separate volume controls and a flatter fretboard radius of 16″ which is a change to the more basic 12″. It utilizes a classic Floyd rose bridge with the locking nut, which is just perfect for going all out and still keep the guitar in tune. The driving force of this metal destroyer is the EMG humbucker pickups, EMG 81 at the bridge position, and EMG 60 at the neck position. It comes with standard Gotoh tuners, a pair of volume controls, and tone control, along with a 3-way switch.
Target Customer: This guitar is for anyone who is willing to pay a little more and get a lot more. Experienced shredders are going to love this instrument.
Bottom Line: The ESP KH-2 is primarily a metal guitar, it can handle and type of metal music, from trash, progressive, or death metal. It provides quality sound for any kind of aggressive music, including hard rock, punk, or heavy grunge.
5. ESP LTD EC-256 (Best Under $500)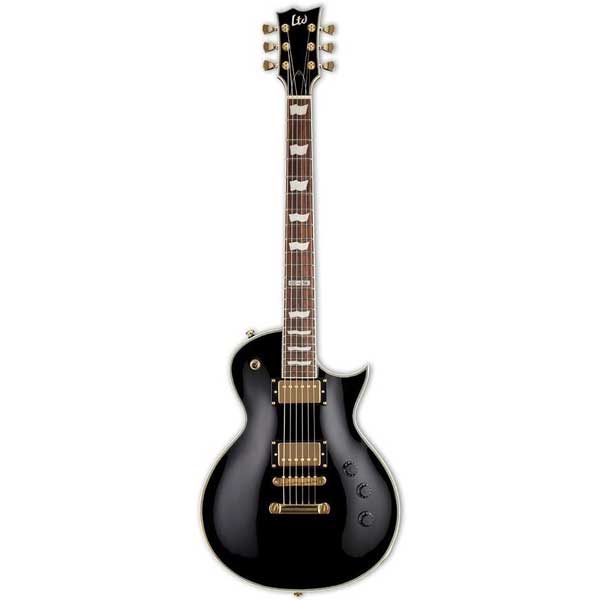 Estimated Price: $450
Pickup Configuration: 2x ESP LH-150
Bridge: Tune-o-Matic Bridge
Scale Length: 24.75″
Body Material: Mahogany body, maple top
Neck: 3-piece mahogany neck
Fret Count: 22 X-Jumbo
Fretboard Radius: 14"
Country of Origin: South Korea
My Review: Let me tell you, this is not a high-end guitar, but rest assure assured this guitar is of great quality, has great classic looks, and great sound quality at an affordable price I've decided to put it on this list. The design is according to my taste, you can see that the designers put the time to combine the vintage looks of Les Paul with the metal vibes. Just the single-cutaway body shape is what first caught my attention. The guitar feels and plays so smoothly, and it packs quite a punch. I like the versatility of it. You can easily use it in all aspects of metal and rock music. You can achieve various tones from the pickups and the splitting ability, it has plenty of sustain. It's perfect for heavy metal riffs and even for soloing.
Key Specs and Features: The first thing you'll notice is the resemblance to Les Paul guitars, the ESP LTD EC-256 features a single-cutaway design with a solid body built form mahogany with a and flamed maple top that can come in three colors. The neck is also built from solid mahogany and it packs a rosewood fretboard, it has a 24.75″ scale length. The U-shape neck is slim and great for fast playing. The fretboard comes with 22 extra-jumbo frets that allow great string bending. The overall light weight of the guitar increases playability a lot. The ESP LTD EC-256 sports two humbucker pickups that are positioned at the neck and at the bridge. Both of the pickups are passive LH-150s and are designed by ESP, great for the price. The master tone knob features a coil-split with a push-pull mechanism, allowing you to choose single-coil tonality to your pickups. The bridge is tune-o-Matic and on the other end, it contains chrome die-cast tuners. It holds the intonation really well.
Target Customer: If you want to shred metal and rock, or even dip your toes into some sweet blues this is the guitar for you. Great for jamming or doing gigs, it can be useful to beginner to intermediate players.
Bottom Line: An awesome guitar, with great looks, plenty of sustain, amazing build quality, and adequate pickups.
6. Schecter Omen 6
Estimated Price: $400
Pickup Configuration: 2x Schecter Diamond Plus humbucker
Bridge: TOM w/Thru Body Bridge
Scale Length: 25.5″
Body Material: Basswood body
Neck: Maple neck
Fret Count: 24 X-Jumbo
Fretboard Radius: 14"
Country of Origin: Indonesia
My Review: This guitar is out to prove that with careful engineering and precise attention to detail you can get an affordable very capable instrument that future metal shredders can get their hands on. You can tell they took their time with this guitar. The way this guitar is built is primarily for metal music. With hot pickups that tend to get a little muddy, they produce a crunchy and heavy sound. If you're a metal player, you'd feel right at home with this guitar around your neck. While it is certainly not on the same level as high-end Schecters, I feel confident saying that it blows other similar guitars in its price range out of the water.
Key Specs and Features: Schecter Omen was built in South Korea with a setup designed in the U.S. Every part of the guitar is designed to work well in all styles of metal and rock. The guitar is designed with a Schecter "C" body style. It is made of basswood for the body which is economic and even standard for affordable guitar woods. Basswood is a thick, resonant, great for metal and hard rock. The guitar has the finish and colors of this premium instrument. The walnut satin finish with that black body binding. The Omen 6 is a 25.5" scale guitar with 24 extra-jumbo frets and Pearloid Gothic dot inlays on a rosewood fretboard. It has a bolt-on maple neck while many other Schecters have set necks. The highlight of its hardware is the thru-TOM" bridge, string-through bridge design that helps the strings have less friction, this bridge is reliable, simple, and keeps intonation well. The two Schecter Diamond Plus humbuckers give the guitar aggressive high output that pushes your amp over the edge and into the shredding realm.
Target Customer: IF you are a beginner, if you want to jam at your house with the crew or go to a gig and make some people headbang, you are going to love this guitar.
Bottom Line: The guitar is definitely aimed for the metal market but Even though Schecter makes some of the best guitars for metal I think Omen can sound great in almost every style of music.
7. Schecter Hellraiser C-1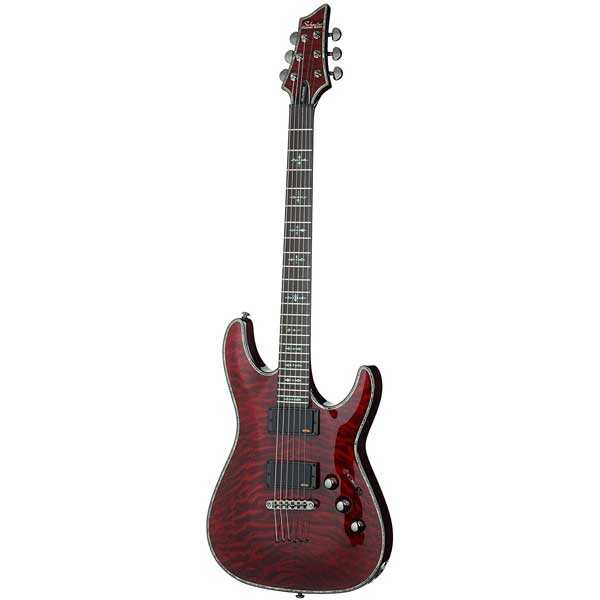 Estimated Price: $900
Pickup Configuration: EMG 81TW and EMG 89
Bridge: TonePros TOM bridge with through-body construction
Scale Length: 25.5″
Body Material: Mahogany body
Neck: 3-piece mahogany neck
Fret Count: 24 X-Jumbo
Fretboard Radius: 14"
County of Origin: South Korea
My Review: This Schecter blew my mind on how much you get for such a medium-priced instrument. The guitar reminded me a little of Les Paul, it feels solid with an unbelievably low action with absolutely zero fret buzz. It packs a monstrous amount of sustain. Access to upper frets is awesome and the neck, body interface is very well sculpted. The guitar is so resonant when plucking a string and you will feel the body resonate. One thing that really sets this guitar apart is the 25.5″ scale. The scale not only makes the very high registers of the 24 fret fretboard more easily playable, but it adds to the purpose for which it was intended. When plugged into a solid amp and some decent pedals you can just hear how impressive the guitar is. You get a very refined, saturated tone that can be used in heavier riffs or classic metal. If you even want to play blues you will get that dirty sound you need.
Key Specs and Features: The body design is essentially a fatten up model of a Stratocaster. The body is made out of mahogany, with a sweet looking quilted maple top. The warmth of the mahogany body spills over to the rest of the tones, creating a well rounded, beautiful sound for the guitar. The neck is set and sports a somewhat standard rosewood fretboard with rather interesting inlays. Mahogany is not light but the guitar is balanced perfectly even so. The main selling points of this guitar are the humbuckers that come with it. It has EMG 81TX at the bridge and a very lively EMG 89 at the neck that offers great versatility and tone properties. One of two cool features on the Hellraiser C-1 that came as a surprise is the 3-piece mahogany neck that offers great playability and stability, and the second one is the TonePros TOM bridge with through-body construction. The bridge provides extra stability for the strings and is rather neat to looking with a great raise for awesome action.
Target Customer: Awesome for both professional and intermediate players, it is capable of keeping up with just about anything.
Bottom Line: A hard guitar as I like, a solid guitar for every penny you pay. It's versatile, playable, great sustain, great action, it performs amazingly in different metal departments. What more can you ask for?
8. Ibanez RG421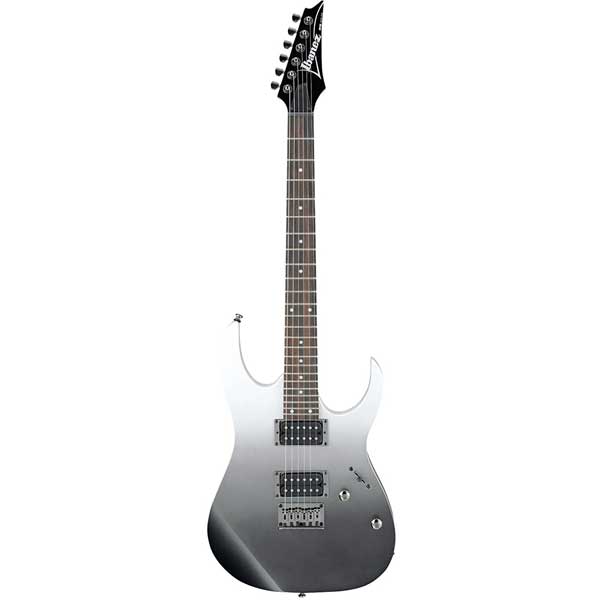 Estimated Price: $300
Pickup Configuration: 2x Quantum humbucker
Bridge: Hardtail bridge
Scale Length: 25.5″
Body Material: Basswood body
Neck: Wizard III maple neck
Fret Count: 24 X-Jumbo
Fretboard Radius: 15.7"
Country of Origin: Indonesia
My Review: As a trustworthy brand Ibanez sure can deliver affordable quality guitars. One of the most reliable guitars in this Ibanez series is the Ibanez RG421. The guitar feels really solid and very comfortable even with long hours of practice and jamming. I like that it is quite light and the neck is smooth and you feel comfortable playing faster things. The quantum pickups are what stand out about this guitar. There is almost no hum and the tonal variations are good for different musical styles. Of course, you wouldn't play jazz on it, but for some power chords and lead playing it works awesome. The 5-way selector switch can really take you from metal to blues but It is more suitable for metal shredding than anything else. For pickups that are passive, you get huge power, with a rich and chunky overdriven tone.
Key Specs and Features: It is obvious that this guitar is from the RG series as it has a double-cutaway Superstrat body. RG421 is made of a mahogany body and it comes with a thin and sturdy Wizard III maple neck that has great playability. The neck is known to be fast and that is for a reason. The rosewood fretboard with white dot inlay features 24 jumbo frets. The tonal range of the guitar is no joke, full two octaves to play with. The RG421 is fitted with two of Ibanez's high-output Quantum humbuckers. The passive pickups are controlled by volume and tone control knobs, as well as a selector switch for the pickups. Interestingly enough they went for a fixed bridge hear instead of a tremolo.
Target Customer: In my opinion, both beginners and more experienced players will find great use from it as it is. It's packed with basic things you would need in order to learn how to play metal and rock.
Bottom Line: A very solid guitar with a price tag under $300, compared to the other higher-priced guitar it certainly lacks a few things but if your budget is under $300, the RG421 is a seriously good choice.
9. Epiphone SG Special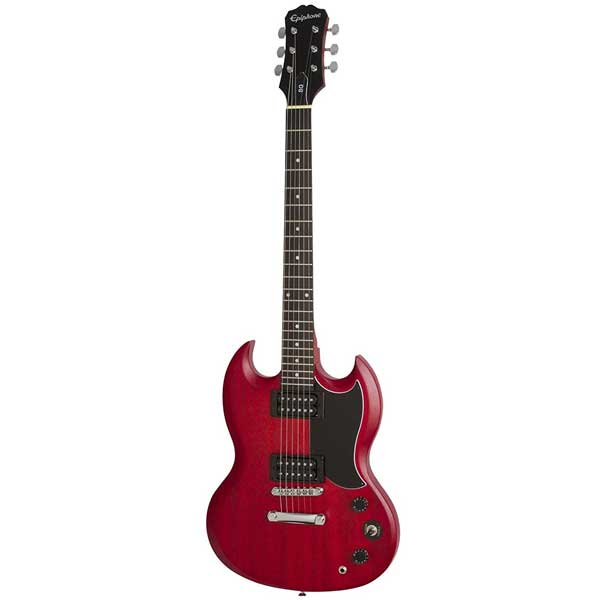 Estimated Price: $300
Pickup Configuration: Epiphone 700T humbucker, Epiphone 650R humbucker
Bridge: LockTone Tune-o-Matic
Scale Length: 24.75″
Body Material: Alder body
Neck: Maple neck
Fret Count: 24 M-Jumbo
Fretboard Radius: 14"
Country of Origin: China
My Review: The SG series always meant one thing. Loud rock music. It has been seen in the hands of some of the most legendary guitar players and I came to like it too. If you love the Epiphone SG, the SG Special is no doubt a guitar for you. The really noticeable thing about the guitar was how powerful the sound was and that is why most people will buy this guitar. It can really hold its ground in hard rock and metal. The Epiphone SG Special is designed to be filled with overdrive and distortion, so don't look for clean and clear sound here.
Key Specs and Features: The Epiphone SG Special is made out of alder and it features the famous double-cutaway that gives the guitar its main styling point. All of the hardware on the SG Special is chromed. The chrome look combined with the worn finish gives the guitar an interesting vibe to the body. The neck is D-shape made from hard maple, with a 24.75″ scale length. The satin-finished neck is a bolt-on, fast, and easy to play. It has a rosewood fretboard with 22 frets and pearl dot inlays. The LockTone Tune-o-Matic bridge serves great and holds intonation nicely. The tail end is completed with a stop bar tailpiece. As for the pickups, it has an open coil Epiphone 700T at the bridge position and an open coil Epiphone 650R at the neck. The pickups are bright with high output which makes them great for metal.
Target Customer: Entry-level guitarists if you want to know what to look for look no more further. This is the guitar that you want, and exactly that you should buy. If you are a beginning guitarist, an intermediate player, or someone who loves to jam out all night long on stage, this is an amazing guitar for the price.
Bottom Line: Sleek design with an attractive finish, it has a timeless look and feel and it costs under 300$. What more do you want?
10. ESD LTD MH1000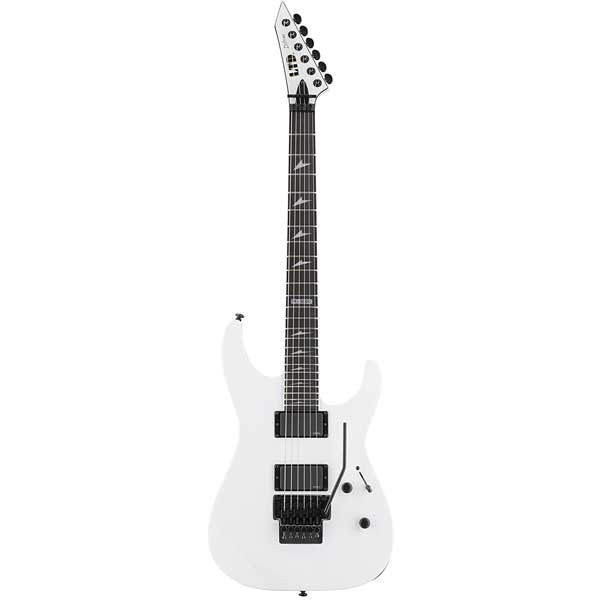 Estimated Price: $1000
Pickup Configuration: 2x Seymour Duncan humbucker
Bridge: Floyd Rose 1000 Series bridge
Scale Length: 25.5″
Body Material: Mahogany body, maple top
Neck: 3-piece maple neck
Fret Count: 24 X-Jumbo
Fretboard Radius: 14"
Country of Origin: South Korea
My Review: ESP continues to just absolutely blow me away with their designs and quality. The first thing that caught my eye was the flame maple top that really makes this guitar look incredibly appealing. It is just effortless to play and so smooth. The guitar resonates when you play it, it has great sustain and articulation. The thing I love about it is the versatility, I just feel it can perform even outside metal and rock music. You can even dip your fingers in some of that smooth jazz.
Key Specs and Features: The ESP LTD MH-1000 is made out of mahogany with a beautifully carved maple top and it features a set-thru 3-piece maple neck with a rosewood fretboard. The thin, U-shaped neck has 24 extra-jumbo frets that are all about comfort and speed. The Set-thru neck construction is and quite innovative. The neck is glued to the body and this makes access to the upper frets and the neck-to-body transition much smoother. The finish is flawless the frets have no sharp edges and are polished to be smooth as possible. The locking nut and Floyd Rose bridge are doing their job perfectly, you can push the intonation to the limits. The guitar sounds perfectly balanced especially when distorted. The guitar is equipped with two Seymour Duncan Pickups, a Hot Rails humbucker in the neck position, and a Pegasus humbucker in the bridge position. These two are controlled by a 3-way pickup switch and there is also a coil tap function that you can activate by pulling the tone knob.
Target Customer: If you are looking for this style guitar don't hesitate. It is by far one of the most versatile guitars. For people who just want to dive-bomb and bend this guitar will not go out of tune easily. From technical brutal death metal to rock you can do it all with this guitar.
Bottom Line: Beautiful, powerful, versatile you are hardly going to find a better guitar for the price. It is the perfect guitar for a serious shredder.
11. Jackson JS32 Rhoads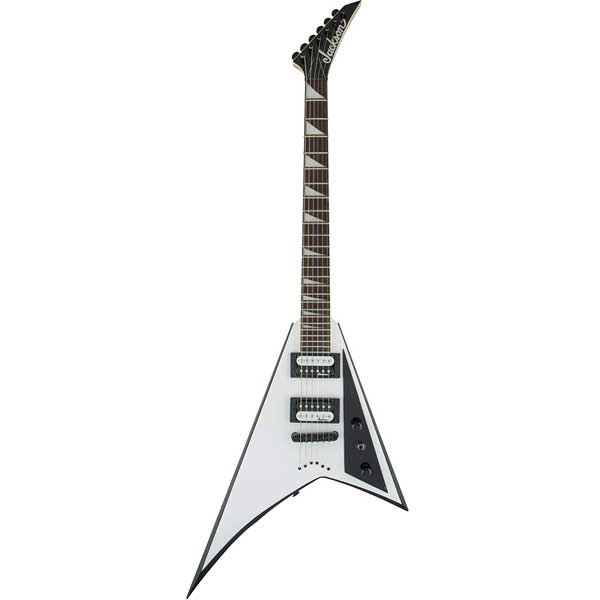 Estimated Price: $300
Pickup Configuration: 2x Jackson High Output humbucker
Bridge: Jackson Compensated and Adjustable Strings-Through-Body bridge
Scale Length: 25.5″
Body Material: Basswood body
Neck: Maple neck
Fret Count: 24 Jumbo
Fretboard Radius: 12"
Country of Origin: China
My Review: A simple guitar for a simple metalhead. With this guitar, I like just the raw meaty tone you get from it, and the pointy look is just awesome. It has a great balance of function, style, and budget. The weight balance and contour of the body are a little awkward, to be honest, but who cares. You can use it from rhythm to lead when playing in a band easily. It is a little troubling to play sitting but that's what you can expect from the blade-like body design.
Key Specs and Features: The sleek body of the JS32T Rhoads is made out of basswood which is quite light. It comes with a range of finishes you can choose from. The addition of all-black hardware gives it even more of a mean look. The bolt-on maple speed neck with graphite reinforcement is super playable. The rosewood fingerboard with 24 jumbo frets and Pearloid sharkfin inlays has a compound radius of 12″. The dual high-output Jackson humbucking pickups with ceramic magnets are the main factors that give the guitar its roar. The pickups sound bright, with plenty of snap and presence, providing the definition to handle distorted playing of all styles. They are controlled by a three-way toggle switch, and master controls for tone and volume. A double-locking tremolo bridge can hold intonation quite well even when taking a lot of abuse on the whammy bar. A set of pretty strong tuners on the headstock assists the bridge.
Target Customer: I would highly recommend this guitar to rock/metal guitarists who are looking for a standout instrument that's not too expensive. The guitar's tone is perfect for beginners and experienced players that want that biting sound that goes with the appearance.
Bottom Line: You get value for money, one of the best affordable metal guitars on the market, if not the best. Killer visuals with a thick metal sound, it can't get better than that.
12. Schecter Omen-8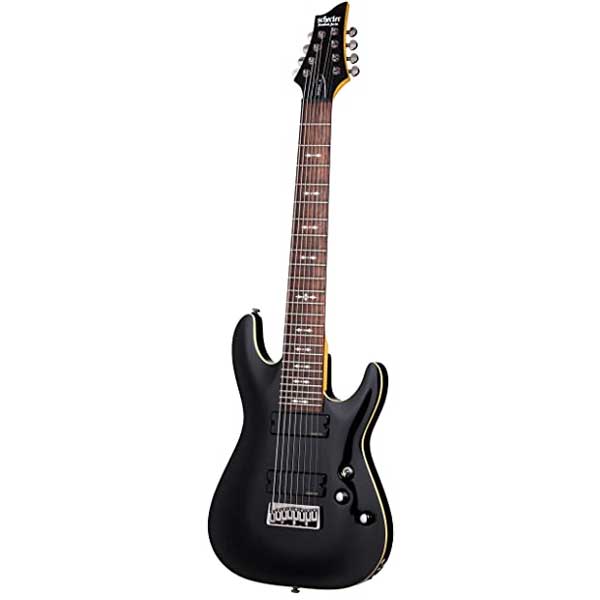 Estimated Price: $500
Pickup Configuration: 2x Schecter Diamond Plus humbucker
Bridge: Schecter CTM-8 Bridge
Scale Length: 26.5″
Body Material: Basswood body
Neck: Maple neck with carbon fiber reinforcement rods
Fret Count: 24 X-Jumbo
Fretboard Radius: 16"
Country of Origin: Indonesia
My Review: As someone who loves Schecter guitars, I wasn't surprised by the quality of Schecter Omen-8. This 8-string guitar has a hard-hitting tone. The output of the pickups is powerful and the instrument does a great job of having a good, defined sound. With the distortion cranked, the naturally chunky tone just comes out. It is perfect for drop-tuned metal playing. The guitar is quite light and you don't notice the neck length that much and it's not as thick as you might fear.
Key Specs and Features: Schecter stuck with their double-cutaway Stratocaster imitation design on the Omen-8. The body of the guitar is made out of basswood. This provides the instrument with some great qualities. The exceptional low tone resonance of the guitar provides great bass tones which I like. It gives the guitar a fat sound very good for metal riffs. It has a scale length of 26.5″ with a C-shaped bolt-on maple neck that is incredibly sturdy. The carbon fiber reinforcement rods help to keep the neck in place. There's a rosewood fretboard with 24 extra-jumbo frets and gothic cross inlays. The guitar comes with a Schecter CTM-8 bridge designed specifically for 8 string guitars. It has exceptional string stability and some great action The Omen-8 is equipped with two Schecter Diamond Plus humbuckers, placed at the bridge and neck positions. The massive passive humbuckers sound heavy and they give plenty of bite without limiting the low-end impact. Simple controls, single master volume and master tone control knob, and a three-way selector switch.
Target Customer: If you've always wanted an 8-string but couldn't afford this is the guitar for you. You can experiment with the Omen-8, play some metal, rock, or even some jazzy stuff. The guitar provides the player with a level of sound that they can enjoy.
Bottom Line: Compared to Schecter's more expensive 8-strings, it's understandable that compromises have been made to bring this one in on budget. The Omen-8 is a simple but stylish model that delivers on tone, playability, and value.
13. Epiphone Flying V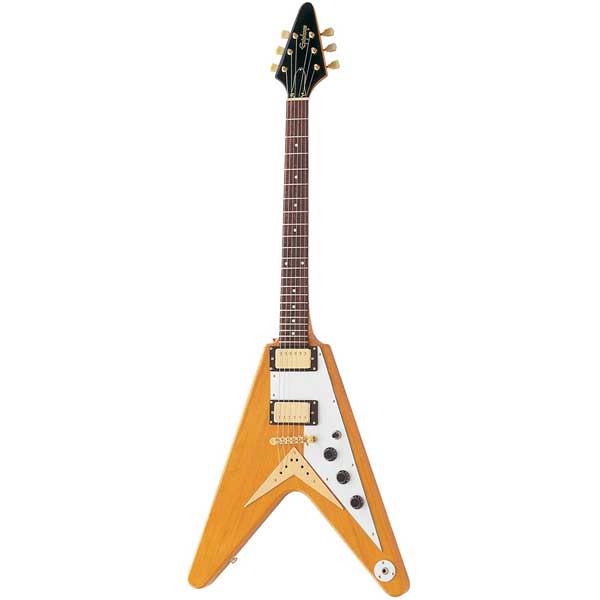 Estimated Price: $600
Pickup Configuration: 2x ProBucker humbucker
Bridge: LockTone Tune-o-Matic
Scale Length: 24.75″
Body Material: Mahogany body
Neck: Mahogany neck
Fret Count: 22 M-Jumbo
Fretboard Radius: 12"
Country of Origin: China
My Review: The Epiphone Flying V recreates the classic Flying V model that players such as me love. The Flying V is a classic design by Gibson. The dimensions are slightly different than its predecessor. It feels great playing standing and the guitar is so light. The V-shape is really comfortable for the right arm and the guitar is well balanced when standing. When sitting down you have to adopt a classical guitar position which is a little bit of a nuisance but well. The body is as light as a feather which I like a lot. The upper fret access is pretty killer given that there's no cutaway or no real neck heel to get in the way. The body-through string concept, which is a unique feature of the Flying Korina adds clarity and sustain to the instrument and when you plug it in it sounds like a classic Gibson.
Key Specs and Features: This Flying V body is made out of mahogany with a gloss finish. The mahogany construction gives it impressive sustain and a punchy midrange and a warm, resonant tone. The SlimTaper C-shaped mahogany neck has a scale of 24.75 and 22 frets, with a radius of 12″ and a fretboard made out of laurel. With cutaways on both sides, you get unrestricted fret access. The sleek SlimTaper C-shaped is designed so you can literally fly over it. The Epiphone Flying V is equipped with two ProBucker humbuckers that provide the powerful sound of the guitar that performs best when utilized with some drive. It has individual volume controls and a master tone, as well as a 3-way toggle switch. LockTone Tune-o-Matic keeps the guitar's intonation stable and it comes with a string-thru tailpiece that provides longer sustain and better tone.
Target Customer: For people who care about the look as well as just getting a loud sound, this is definitely a guitar for them. For players that like to play around with rock, blues, and metal.
Bottom Line: For an affordable price you get a rather good guitar. It is very hard to justify spending thousands and thousands on a guitar when you can get pretty much the same guitar for this kind of price. This is a great guitar for metal players.
14. ESP LTD EC-Black Metal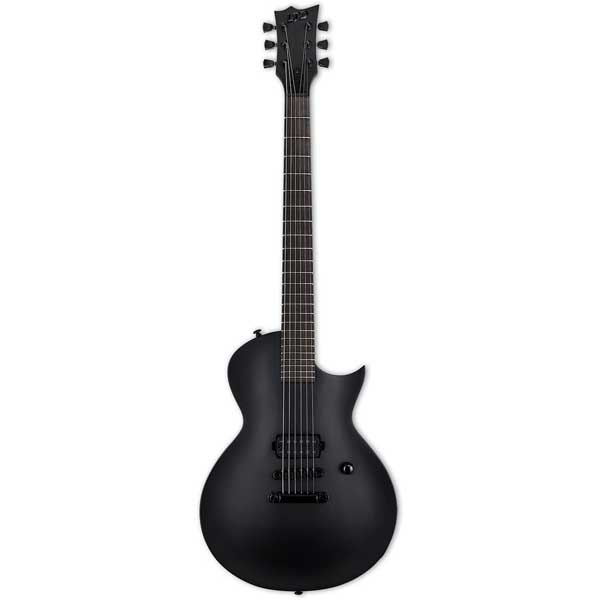 Estimated Price: $850
Pickup Configuration: Seymour Duncan Black Winter humbucker
Bridge: TonePros Tune-o-Matic Bridge
Scale Length: 24.75″
Body Material: Mahogany body
Neck: 3-piece mahogany neck
Fret Count: 24 X-Jumbo
Fretboard Radius: 13.77"
Country of Origin: South Korea
My Review: Well just by the name of this thing you can guess what it is made for. You guess it right, METAL. This black destroyer is everything a metal had can dream for. It's ominous with its simple looks and the sound that is just made to melt. With one pickup and one control, it may not be as versatile as other guitars in this price range but it certainly does the one thing that is designed for. It is perfect for most if not all branches of metal music whether industrial, black, speed, death, or thrash. For one passive humbucker, it certainly has a lot of bite. One of the most comfortable guitars I've ever played. The neck is slim and fast, the action came pretty low on the guitar with almost zero feet buzz. The guitar is of a similar quality as an EC 1000.
Key Specs and Features: The guitar has the standard ESP single-cutaway body design stripped down of any decoration with an all-black, all-satin finish. The only decoration is the metal LTD logo on the headstock. It has a solid mahogany body with a three-piece U-shaped mahogany neck rocking a satin finish. The 24.75″ scale length fits perfectly with dark Macassar ebony fretboard that contains 24 extra-jumbo frets and LTD snub inlays. When it comes down to hardware simplicity is the key. The guitar is equipped with a Seymour Duncan 'Blackened' Black Winter humbucker in the bridge position that provides a lot of power and just one single master volume knob on the lower bout. TonePros Tune-o-Matic bridge and tailpiece at the bottom and set of locking LTD tuners keep the tuning stable.
Target Customer: It is perfect for metal rhythm guitar players that love full, tight, and responsive dynamic playing. If you want to play clean on it which I wouldn't understand it can also do that.
Bottom Line: The guitar growls and bites for every penny. It is a flexible instrument that offers superb playability and killer looks.
15. Squier Jim Root Telecaster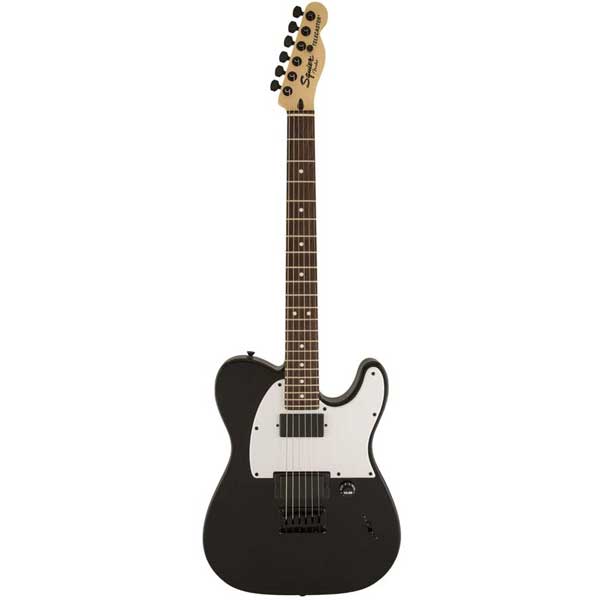 Estimated Price: $500
Pickup Configuration: 2x Covered Passive Humbucker
Bridge: 6-saddle Standard String-thru Tele Bridge
Scale Length: 25.5″
Body Material: Mahogany body
Neck: Mahogany neck
Fret Count: 22 Jumbo
Fretboard Radius: 12"
Country of Origin: Mexico
My Review: The iconic Fender Telecaster might not be the first guitar you think of when it comes to metal. Jim Root would beg to differ. His work in Slipknot is a testament to that. Slipknot has been churning out some of the hardest-hitting metal riffs for over two decades, so this guitar went from blues to metal really fast. The first thing I noticed when played acoustically, you can hear the midrange and resonance that it produces. It has an aggressive, thick, and full sound perfect for metal. The choice of putting passive pickups gives the guitar a bit of an edge and makes it quite versatile. It is impressive that the stock pickups work well when playing complex chords
Key Specs and Features: While most Telecasters have historically had an alder body now they decided to put a solid mahogany body. The body has a nice hefty weight and a lot of sustain that is beautiful and is incredibly smooth and responsive. They kept the design popularized by the classic '72 Thinline electric. The comfortable satin-finished C-shaped neck is made out of maple and it has a 12″ radius Indian Laurel fretboard with 22 jumbo frets that give this Telecaster unique Jim Root tone. It's a joy to play, super sleek for metal and rock. The dual passive humbucking pickups with black covers come with a three-way pickup switch and master volume knob. A 6-saddle Standard String-thru Tele bridge is an obvious choice as it keeps the intonation stable.
Target Customer: If you love Slipknot this guitar is for you. Maybe not too flashy with its traditional looks but trust me it gets the job done perfectly. You can use it when doing gigs or when just practicing those riffs at home.
Bottom Line: Like many of the other signature models you're getting a pretty unique guitar that you won't find anywhere else. It has great playability and an affordable price.
16. Jackson JS32T King V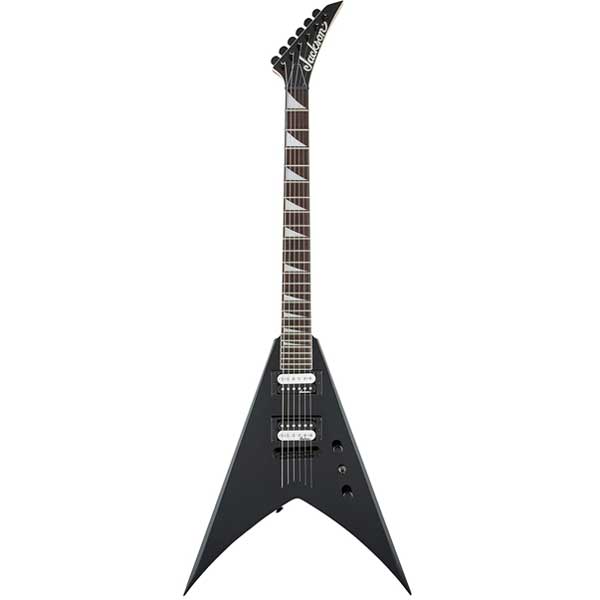 Estimated Price: $250
Pickup Configuration: 2x Jackson High-output Humbucker
Bridge: Jackson Floyd Rose Double-locking Tremolo Bridge
Scale Length: 25.5″
Body Material: Basswood body
Neck: One-piece maple neck
Fret Count: 24 Jumbo
Fretboard Radius: 12"-16"
Country of Origin: China
My Review: The Jackson JS32T King V is an affordable option from the King V series, known for its symmetric V shape with pointy wings. The guitar design is very sharp symmetrical V shape points that come out at the base looking really cool. It is pretty lightweight. As with any V shape guitars sitting down to play takes some real getting used to. The guitar has a really versatile sound. It has no problem getting into those growling lows but still screams on the high end. In my opinion, it can work well as a rhythm or a lead guitar with the stock pickups it's equipped with.
Key Specs and Features: The Jackson JS32T King V has a solid body with basswood that has good resonation capabilities and is quite lightweight. It has a maple one-piece neck with a satin finish that is very smooth. This guitar is equipped with a rosewood fretboard with Sharktooth inlays and jumbo frets. The neck has a compound radius that ranges from 12″ to 16″. The Jackson JS32T King V has a pair of high output humbucking pickups that are designed and built by the company itself. Double-locking Floyd Rose licensed tremolo provides good stability that can stand up to serious abuse.
Target Customer: Jackson Guitars have been closely related to the metal and hard rock genres for a long time so anybody who wants to get their hands into those genres of music is surely going to love this guitar, great guitar for beginners, and pros alike. You won't be disappointed in the least.
Bottom Line: This is a budget affordable guitar but that doesn't mean it is made poorly. The guitar brings the excellent Jackson build quality, great looks, and aggressive sounds to correspond with those looks, a perfect guitar for its price.
17. ESP James Hetfield Signature Snakebyte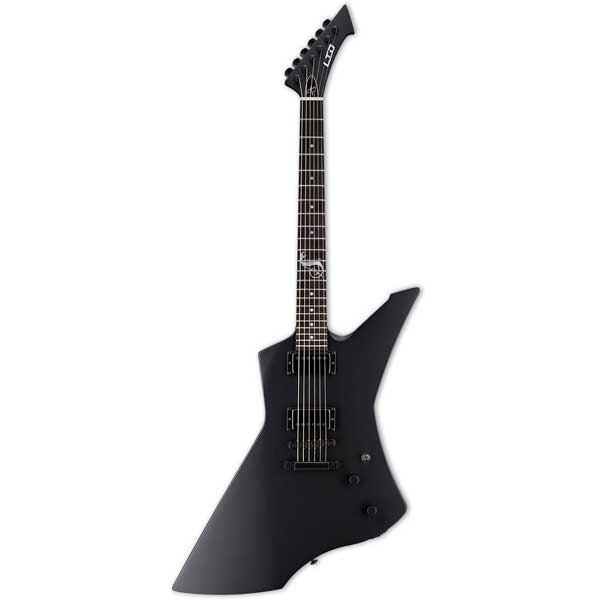 Estimated Price: $1200
Pickup Configuration: EMG 60, EMG 81
Bridge: TonePros locking Tune-o-Matic Bridge
Scale Length: 24.75″
Body Material: Mahogany body
Neck: One-piece mahogany neck
Fret Count: 22 X-Jumbo
Fretboard Radius: 13.7"
Country of Origin: South Korea
My Review: The newest offering, the Snakebyte is a unique instrument with flair and character. Hetfield designed the Snakebyte's body shape, headstock, and other aesthetic elements. The first thing that I noticed when I tried on the Snakebyte was how light it was even though the body and neck are built entirely from mahogany. Hetfield's sound has always been primarily about power and aggression and this guitar delivers that perfectly. The neck is so compact and it sits in the fretting hand perfectly. Playing in a seated position can be challenging but when standing though, the guitar sits perfectly against the waist. The sound is where the guitar shines. With heavy chugging riffs and shredding leads the guitar's potential comes out.
Key Specs and Features: The guitar is made of solid mahogany with a one-piece mahogany set neck, featuring a thin U-shape, which is very fast and comfortable. With 22 extra-jumbo frets set into a deep ebony fretboard, the neck's 24.75″ scale length and thin shape feel super comfortable. Every single note is easily reachable. The hardware is just premium quality which is to be expected with an expensive guitar like this. It has a TonePros locking tune-o-Matic bridge and a stopbar tailpiece. The Snakebyte is equipped with two excellent active EMG 60 and 81 humbuckers at the neck and bridge positions. The active electronics provide huge output, with tons of tone and aggression.
Target Customer: It's built to pummel, and make the player feel comfortable doing so for extended gigging and recording sessions. The neck and fretboard couldn't get any more comfortable, and the weight is perfect for those long gigs that put demands on your hands, shoulders, and stamina.
Bottom Line: The ESP Snakebyte is a guitar fit for metal shredders that just love to play and enjoy while doing it. Every part of this beautiful guitar is made out of quality materials and it is worth every buck.
Choosing the Right Guitar for Playing Metal Music (Buying Guide)
So if you are starting and you want to get your part of those mean riffs it is best if you start on an electric guitar. Playing metal on an acoustic guitar isn't as effective as you would guess.
This opinion of mine is based on logical thinking. If you want to play metal learn to do so, on a suitable guitar for the music style. That means you should start learning on an electric guitar. First of all, it is going to be more enjoyable and more fun, and at the same time, you are going to develop your feel for the instrument.
You need something comfortable, something that is going to allow for your fingers to fly over the fingerboard, no matter if you are playing riffs or soloing. Think of something comfortable while standing up playing but also when you are having practice time sitting down. You are going to spend a lot of time sitting learning those killer guitar lines. Metal guitars come in various shapes so pay attention to that comfort level.
Comfortable doesn't mean expensive just so you know. Of course, if you are looking at those signature models from famous guitar players they can be quite expensive, they can cost thousands, but for a nice tone and playability, you don't need to spend that much.
I know, everybody wants their favorite guitar from the start, I was like that and you are probably too. There are plenty of guitars that are just as good at a far lower price, and also you can always modify your guitar by changing the pickups, putting in some new electronics. You can play around with the setup of your guitar adjusting it so it suits your style better. Expensive doesn't always necessarily mean better.
Now I'm going to explain the main features and parts a guitar has just so you know what to look for in a metal guitar. Features can make a big difference in how a guitar feels to play and what you can play on it.
Guitar Pickups Explained
Every guitar is equipped with pickups, one of the main components of the guitar that produces sound. Different types of pickups produce different tones. There are two most commonly used types of pickups, single-coil, and humbucker.
Single-coil pickups are popular and used in many different musical genres. They have a bright clean sound and tend to sound great for clean tones or lightly driven tones. The note definition between strings and their snappy sound makes them ideal for playing blues, country, funk, etc. Many people avoid single-coils when playing metal but some guitarists prefer them because they give them brighter and crisper tones and have more bite than humbuckers have. Single coils are essentially two magnets wrapped with wire which makes them easy to build and to experiment on. Combined with the correct equipment single-coils can produce tones that can suit any type of genre you want to play, even metal.
Humbucker pickups have a thick and punchy tone with higher output, and they handle distortions better. They use two separate coils wound around a magnet and are great for hard or classic rock and also metal. The name comes from their effective removal of hum noise that you can often find in single-coil pickups. Their hum removing capabilities allow you to crank your override pedal and not worry about background noise. Many metal guitarists prefer the high-output humbucker pickups as they have that metallic crunchy distorted sound. Two humbucker pickups are the configuration you will see most often with metal guitars, the setup that is in my opinion the best to start with.
Passive or Active
The next thing you need to know whether the pickups are passive or active. Basically, electric guitars are equipped with passive or active pickups.
The passive pickups are the most common type you will come across on electric guitars. Passive pickups are built by wrapping coils of copper wire around a magnet. The string vibration is then picked up by the pickup creating an electric signal. Passive pickups do not use any active circuitry or a preamp within the electronics meaning passive are naturally lower in output but have the benefit of offering a different tone and flavor when it comes to dynamics. Although they have a weaker output the fact is that passive pickups have a more alive sound and respond differently compared to an active pickup for the drawback of having to use slightly more gain and distortion from an external source.
Passive pickups are also great for lower gain crunch tones as well as heavily saturated tones covering the wide variety of metal sounds and playing styles. They can sound warm and punchy when applied with high distortion. The good thing is that you don't need a 9V battery to charge them unlike the active ones, and also you are spared the headache of thinking about is your battery is drained or if your guitar is unplugged.
A big downside of passive pickups is that they're sensitive to interference. Sometimes the humming in passive single-coil pickups can be extreme, but even passive humbuckers can produce hum or noise.
Active pickups are the less common type of pickups on electric guitars. Undoubtedly, active humbucker pickups are more used by metal guitarists. Active pickups are built by wrapping coils of wire around a magnet with far fewer windings. The signal then goes through a built-in preamp that boosts the signal level making them high-output, which is good for playing metal. But the thing to pay attention to is that this boosting also compresses the signal, which means you end up with less dynamic range than a passive pickup. The pickup itself produces a low output with little interference such as humming noise or feedback. With the boost from the pre-amp which is powered by a 9V battery, the pickups get that high output signal that makes them louder than passive ones. Why is important that they have a high output? Because the high output active pickup naturally produces more gain than a regular passive pickup. Meaning players can reach a higher level of saturation without having to crank the amps or pedals distortion allowing the player to get more distortion and bite from the guitar. Active pickups are the usual choice for metal players searching for high gain and saturated metal tones.
The really good thing for metal is that the active pickups are designed to cancel out hum noises and interference making them virtually silent, which is amazing when you pump up your tone with high gain and distortion. Active pickups are arguably one of the best pickups when it comes to sifting through gain for the optimal string definition with a tone that is rolling in a ton of distortion.
Active pickups are usually powered by a 9V battery. You can use rechargeable 9V batteries or standard disposable batteries and both will work fine.
Bridges Explained
As the hardware is the section of the guitar you should look into, I'm going to explain in short some of the basics regarding guitar bridges, different types, and what they are best used for.
So what is a bridge? The guitar bridge is the part of the hardware that has the role of anchoring the guitar strings to the body of the guitar. The bridge is found on the lower bout of the guitar body and places the string over the pickups before it reaches the fretboard.
With the correct bridge positioning, you control the action and the playability of the guitar. Some bridges are more comfortable than others, depending on your playing style. The bridge allows for a better vibration of the strings and amplifies the sound. There are two types of bridges, fixed bridges, and floating bridges or also known as tremolo bridges.
Fixed bridges are the first that have been placed on a guitar. There are different types of fixed bridges:
Hardtail bridges
Tune-O-Matic Bridges
Wrap-Around Bridges
Bigsby
And also different types of tremolo bridges:
Synchronized Tremolos
Locking Tremolos
Stetsbar Tremolo
Let's talk about the most commonly used and the ones that are best for metal.
Hardtail Bridges
The simple option is a hardtail bridge, easy to understand, and to use, the staple mark of Fender guitars.
A hardtail bridge consists of a sole unit rather than a disjointed bridge and tailpiece which means it is attached to the body (usually by two screws) and it doesn't move. It contains 6 saddles that can be adjusted for fine-tuning and that is the main advantage of fixed hardtail bridges. They are easier to tune and restring, and in my experience, they tend to keep in tune well compared to other bridges. The setup is simple as there is no need for springs at the back of the guitar to keep the bridge balanced, a good choice of a bridge for new inexperienced players who are just getting their fingers hurting.
If you are looking to skip those boring solos and play those fat juicy riffs a fixed bridge is for you. Keep things simple and shred away.
Tune-O-Matic Bridges
A tune-o-Matic bridge is another type of fixed bridge. A lot of different companies use both designs these days but we can attribute the hard-tail to Fender, and credit Gibson with the tune-o-Matic. The tune-o-Matic bridge is the standard bridge Les Paul used in 1954 on the Les Paul Custom.
Tune-o-Matic's are mostly designed for fretboards with a radius of 12″ and the main thing on this type of bridge is that it has fully adjustable individual saddles. Each saddle is adjustable by turning a small screw, which brings the intonation of guitars to near perfection. A tune-o-Matic bridge is typically accompanied by a stop bar tailpiece in which the strings are anchored. Gibson Les Paul has this type of bridge that is placed higher up on the body and closer to the neck of the guitar. There are two types of tune-o-Matic bridge including standard and roller.
The tune-o-Matic design provides tuning stability and great sustain, restring, and adjusting action. Like the hard-tail bridge, once it is set up it requires no further tinkering. Good choice for beginner players that need stability in their playing.
Synchronized Tremolo Bridges
The type of bridge mostly seen on Fender guitars, we can thank Fender for the design of the vintage-style and modern synchronized tremolo system. The synchronized tremolo bridge is a floating bridge that uses the tremolo system that sets to motion both the bridge and the tailpiece. Similar to the hardtail, it incorporates six saddles with adjustments for each string, but the entire bridge itself can be manipulated with a tremolo arm. The design is made so that the string's loop over the bridge and through the tailpiece block which extends through the guitar. On the underside of the guitar, there are usually six springs (depending on the model design) that are mounted inside the guitar body and they apply tension that counteracts the string tension. By pushing or pulling on the bar you increase the tension and change the pitch of the string, bending the string combined with the tremolo you get a greater range of pitch changes.
This pitch-altering capability of a synchronized tremolo system is quite appealing to lead guitarists that like to play solos. The Fender design proved to be the most stable in use, and less prone to tuning and intonation issues.
Floyd Rose Bridges
Maybe the most famous type of bridge in metal and rock music is the Floyd Rose. The Floyd Rose floating bridge system has been developed in the late '70s and it quickly gained popularity amongst guitar players. The main cause of developing such a system was the lack of tuning stability in other tremolo bridges. Its ground-breaking design proved to be very effective and is considered the top option for metal guitar shredders.
Similar to the standard Fender tremolo bridge, the string tension is changed by a set of springs located within the guitar body, with a pivot fulcrum that is used to manipulate the pitch of the strings. The key difference is the locking nut rather than a standard nut. Three clamps hold the strings fixed and do not allow them to move, which eliminates one of the major sources of friction that leads to going out of tune. The Floyd Rose design allows you to increase and decrease string tension severely without having to retune your guitar every time you use the whammy bar. In addition, Floyd Rose also incorporates enclosed strings with locking nuts, which keep the string in their right position at the headstock.
Of course Floyd Rose can go out of tune, but when set up and used properly by an experienced guitar player they perform almost perfectly. Floyd Rose allows you to do dive bombs and this is due to the tremolo system having springs allowing the movement of the bridge. I wouldn't recommend it to a novice player, as it is quite complex and it takes time getting used to it and figuring out how it works. You need to know all the little tweaks for the setup, but once you nail that down it pays off. Floyd Rose is just fun down the line.
If you are a beginner, there is nothing wrong with a fixed bridge. If you plan on using several alternative tunings, consider skipping a locking tremolo. If you really want a Floyd Rose or other complex system, make sure you got the knowledge to handle it efficiently.
Scale Length Explained
A very important thing to know when getting a new guitar is the scale length. In short, what is the scale length?
A guitar's scale length is the distance between the nut and the bridge. There are different scale lengths according to different types of guitars. For example, the most know one is the 25.5″ scale that the famous Fender guitars use. There is no regular scale length as it can vary from 24″ to 30″. Above 30″ are usually bass guitars.
Scale length is important because it impacts the playability of the guitar, different scale lengths can affect how the guitar feels under your fingers. How does scale length affect playability? There are a couple of factors that I'm going to explain.
The most important impact scale length makes is on the tension of the strings. Logically the longer the scale the higher the tension needs to be to bring the string to the right pitch. Vice-versa shorter scale needs less tension. When the scale is shorter it is easier to bend the strings and make vibrato come out, and when longer the guitar feels tighter and better for chord playing and strumming.
The next thing is the string action. String action is a result of the tension in strings. Low tension strings need more room to vibrate and without that room, you'll hear fret buzz. Longer scale length guitars increase tension and that way you can get lower action without string buzz. A short scale guitar requires higher action when using light strings or else the strings will buzz.
Best Metal Scale Length
What is the best scale for metal you are probably wondering? Well during my research I discovered that metal guitarists mostly prefer a scale of 26.5″ or higher. These scales have increased string tension which is very good for playing fat heavy tight riffs. Of course, that doesn't mean that's the right scale for you, but it can give you an idea of where to start.
Number of Strings for Metal
The one question that needs an answer is how many strings are enough? People have been asking since the ages, how much is too much? With the expansion of 7/8 strings guitars, I think the answer is pretty clear. A lot of bands have started to transition to 7, 8, and even 9 string guitars, chasing that fat punchy killing sound.
The number of strings you have on your guitar can impact your range and playability a lot. Not only do you have more range than that of a 6 string, you have more dynamic sound, the ability to experiment, additional unique tonal properties, and the ability to experiment with complex scales and chords. In my opinion, they offer a much fuller sound. A 7 string guitar for example allows you to play more complex ad heavier chords, while at the same time allowing you to solo effectively. Interesting fact, a lot of jazz guitarists had played with the idea of an extended range guitar in the 70s and 80s, which means more strings are not only applicable for metal music but for different genres of music.
At the end of the day the number of notes you play, or strings you use, doesn't matter, what matters is your feel for the music and the way you use the instrument to its fullest by mastering the fingerboard with your technique. Just remember to keep in mind what style you want to play, how you want the instrument to feel, and use the knowledge I provided you with to get the best possible guitar you always wanted.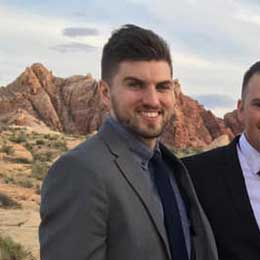 My name is Chris and I've had a passion for music and guitars for as long as I can remember. I started this website with some of my friends who are musicians, music teachers, gear heads, and music enthusiasts so we could provide high quality music related content as well as some of the most accurate and in-depth gear review and demo information on the internet.
I've been playing guitar since I was 13 (over 15 years now) and am an avid collector of all thing's guitar. Amps, Pedals, Guitars, Bass, Drums, Microphones, Studio, and recording gear, I love it all.
I was born and raised in Western Pennsylvania. My background is in Electrical Engineering earning a Bachelor's degree from Youngstown State University and with my engineering experience I've developed as a designer of guitar amplifiers and effects. A true passion of mine, I've designed, built, and repaired a wide range of guitar amps and electronics. Here at the Guitar Lobby, our aim is to share our passion for Music and gear with the rest of the music community.