Bass guitars are instruments designed to give the deep low frequencies that help drive and shape the music a band is playing. Bass strings can make a big difference in the tone that you want your bass to produce.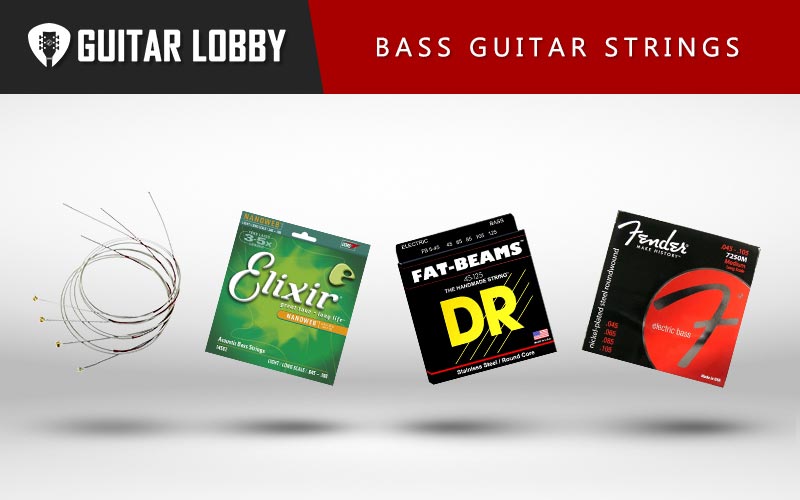 The strings you choose for your electric bass have a powerful influence on its tone and playability. Some strings are brighter and deliver a punchier tone that is ideal for some styles of music while other strings produce a more warm subdued tone that offers a fuller, fatter bottom end that's perfect for jazz, reggae, and that old-school rock and Motown sound.
Strings are one of the most important features of your bass in terms of tone creation. With so many choices on the market sometimes it can be confusing as to which set you should buy and which set is right for your playing style.
I'll start this article by reviewing the best bass strings for general use, metal, and fingerslapping. I have also put together a bass strings buying guide at the bottom of the article here for those of you who want to learn more about what to look for before reading reviews.
Here Are the Best Bass Guitar Strings
1. Ernie Ball Regular Slinky Bass Strings (Best Value)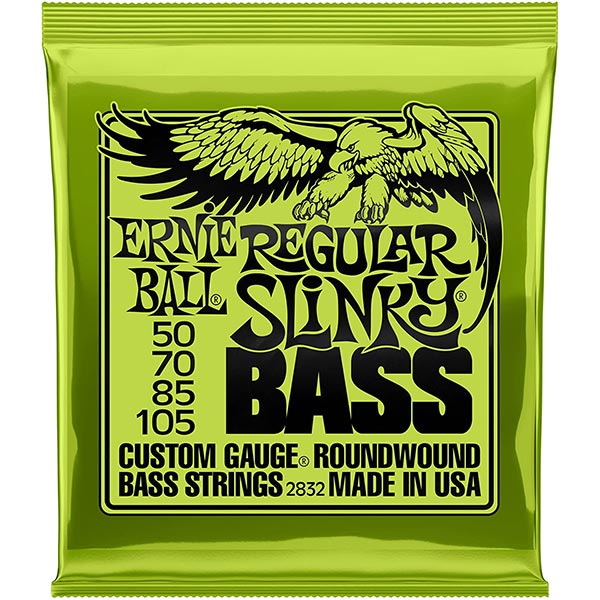 | | |
| --- | --- |
| Estimated Price | $15 |
| Best for | General Use, Metal, Fingerslapping |
| String Material | Nickel steel |
| String Winding | Roundwound |
| String Gauge | Medium |
My Review: Ernie Ball's Regular Slinky Nickel Bass is a classic set of strings, used by countless pros the world over. You might say they're something of an industry standard. Renowned for their contemporary sound with growling lows and a bright top end, these Slinkys are best suited to modern rock, pop, and metal, rather than warmer vintage tones. They lend themselves well to slap too.
If you are into something more casual, there is always the Ernie Ball Regular Slinky. These come across as run of the mill set, but they are much more than that. The gauge chosen for this package includes a 50-70-85-105. Generally speaking, this is probably the most neutral gauge you can find out there.
Ernie's manufacturing process has been perfected over several decades, which has led to a battle-proven set of strings such as these. We are looking at a nickel-plated, steel-wound, high-carbon hex core.
Ernie Ball stands out thanks to the way they wind their strings. These are so precisely manufactured that you'll get rather impressive consistency across different strings and batches. In practice, Ernie Ball Regular Slinky brings the crispest "new strings" sound you can hear. Best of all, that sound stays around for a long time. If you are a person who swaps their strings regularly, these will be an awesome match for you.
Ernie Ball is one of the standard go-to brands for electric lead and bass guitars. That's not just because they're among the best budget bass strings around. It's just that for the last 50 years, their strings have been consistently excellent.
That's especially true of their Slinky series, which have been the favorite of many noted bass guitarists for many years now. This set ranges from 50-105 gauge and it's an extra thick version that's great for metal.
The iconic Slinky sound is quite punching, and it seems tailor-made for rock. At the same time, it offers a rather well-rounded sound so it can be used for other musical styles aside from metal.
However, this version is a bit thicker. So you get more of a low-end groove, and it sounds stronger too. That's the kind of sound that works for every subgenre of heavy metal, including truly fanatical types of deathcore metal.
These strings are made with tin-plated high carbon steel core, around which you have nickel-plated steel. It's the use of high carbon steel that makes it strong and easier to control, so you can push the strings into any type of musical style you want.
If you've never restrung your bass before, this set of Ernie Balls is a solid starting point; bright, but not overly so, they're a great low to mid-price string and a benchmark to assess other strings by. There are easily some of the most popular and best bass guitar strings out there. Pick them up and you will not be disappointed.
2. Rotosound Jazz Bass 77 (Best Flatwound Bass Strings)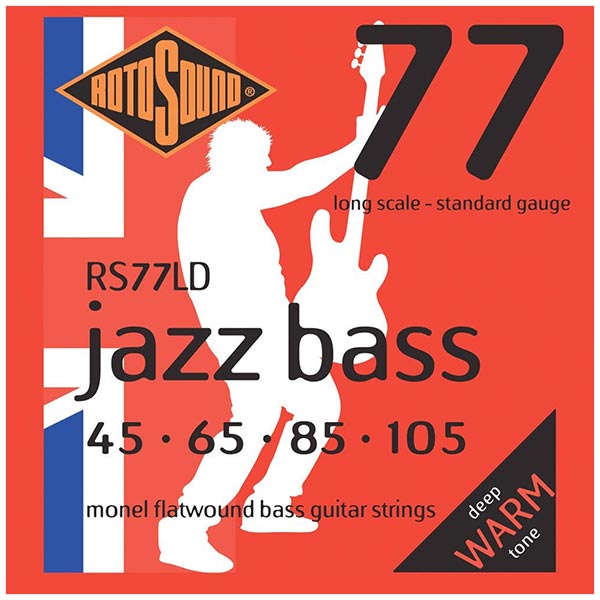 | | |
| --- | --- |
| Estimated Price | $30 |
| Best for | General Use |
| String Material | Nickel steel |
| String Winding | Flatwound |
| String Gauge | Medium |
My Review: Rotosound's Jazz Bass 77 strings have been used by the likes of Phil Lynott, Roger Waters, John Deacon, Glen Matlock, Sting, and Dee Murray, amongst many others. This esteemed selection of players alone should give you some idea of the kind of sounds you can dial in with a set of Rotosound's classic bass strings.
These strings are brighter and deeper than the traditionally warm sounding flatwounds. The Roto 77s hit the sweet spot for '70s rock. But there's enough juice at the frequency extremes for contemporary blues-rock and modern jazz too. They are a great balance of flatwound warmth with a nod to the more up to date styles.
All in all, these are easily some of the best flatwound bass strings money can buy.
3. Ernie Ball Regular Slinky Cobalt (Best For Metal)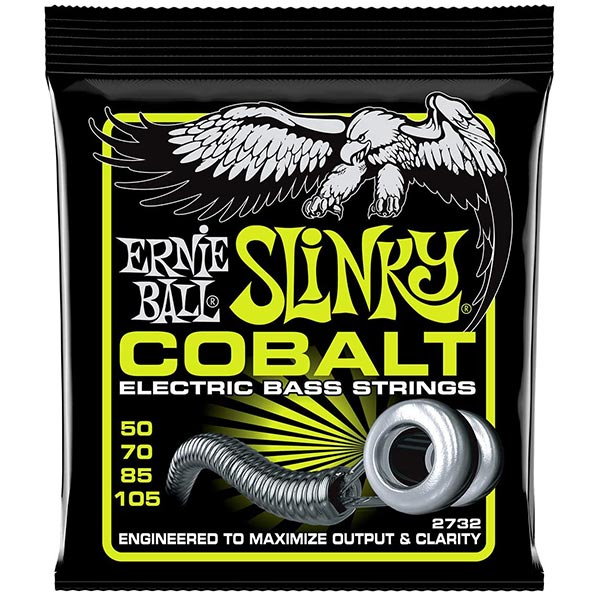 | | |
| --- | --- |
| Estimated Price | $30 |
| Best for | Metal |
| String Material | Cobalt |
| String Winding | Roundwound |
| String Gauge | Medium |
My Review: Ernie Ball caused quite a stir when they released their Slinky Cobalts a few years ago. So do they live up to the hype? Well yes, by and large. If you want a high output string with deep lows and crystal clear highs with a slight scoop in the midrange, then the Cobalts are a great option. Prog and metal, funk and slap are all on the cards but think contemporary rather than classic.
There's no vintage warmth here.
The Cobalts play well too. The iron/cobalt alloy feels smoother and, er, slinkier than anything short of a set of flatwounds, making for great progress across the fretboard. However, you do pay quite a price for Ernie Ball's technological innovation these are among the most expensive strings on this list.
Overall, I would say these are easily some of the best bass strings for metal.
4. DR Strings Lo-Rider (Best for Slap)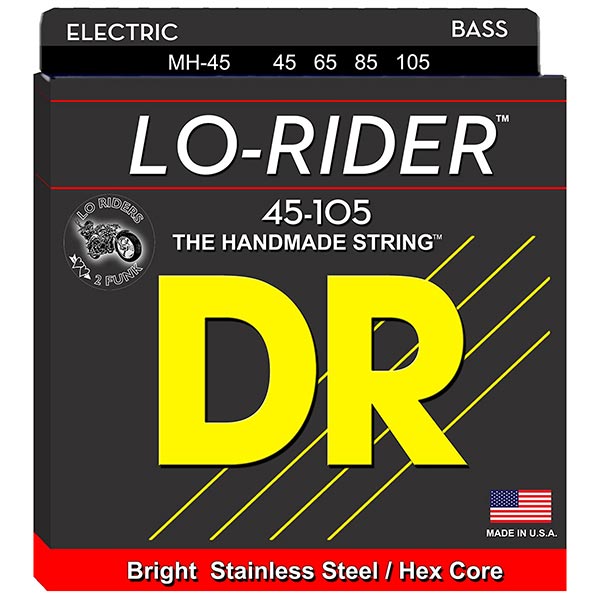 | | |
| --- | --- |
| Estimated Price | $25 |
| Best for | Fingerslapping |
| String Material | Stainless steel |
| String Winding | Roundwound |
| String Gauge | Medium |
My Review: Bass players who love to slap, pop, and tap will be drawn to this set from DR. With the typical forthright tone of stainless steel, the crystal clear chiming treble makes this a great string for virtuoso techniques. DR says that the higher tension of these strings makes for accurate harmonics as well as a great feel for the slap too. Pair them with an active preamp for a great high-end setup.
And they're not just about the high end. Sting is a Lo-Rider user, their modern tone ideally suited to his late-career material so these can sure be a versatile everyday option. You might just need to roll off the tone occasionally. In my opinion, these are easily some of the best bass strings for slap.
5. La Bella Deep Talkin' Bass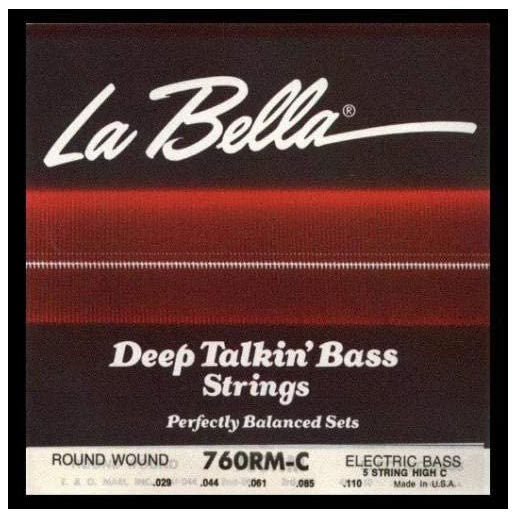 | | |
| --- | --- |
| Estimated Price | $50 |
| Best for | Fingerstyle |
| String Material | Stainless steel |
| String Winding | Roundwound |
| String Gauge | Medium |
My Review: A classic bass string to those in the know, Flatwound La Bellas was the go-to choice of legendary session players James Jamerson and Donald "Duck" Dunn. Opt for a heavy gauge set and make sure to give them at least a couple of months for that new string tone to wear off and their trademark thud to bed in.
They're in their sweet spot with warmer sounds, so don't be afraid to roll off your tone pot or follow Jamerson's lead and jam a piece of foam under the strings beside the bridge for a punchy staccato feel to every note you play. And don't worry about that high price, you can find them much cheaper online.
6. D'Addario NYXL Bass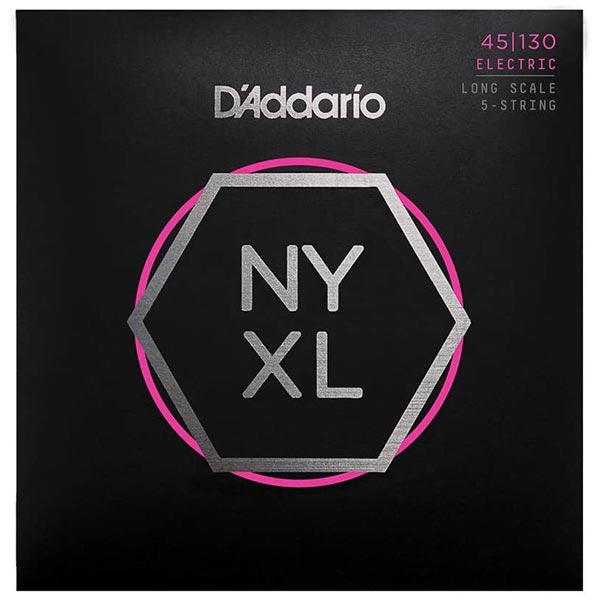 | | |
| --- | --- |
| Estimated Price | $30 |
| Best for | General Use |
| String Material | Nickel steel |
| String Winding | Roundwound |
| String Gauge | Medium |
My Review: Designed as an all-round bass string with a balanced tone suitable for all styles, the NYXLs are competing in the fiercely fought mid-price market but, crucially, at a higher price than the perennial Ernie Ball Slinkys.
Well, these strings may be just the job if you find Slinkys on the bright side, this set is warmer from the get-go, without too much new string 'zing', but with plenty of midrange clarity and harmonic richness. Fairly smooth to the touch, finger noise should be fairly low too. This generally balanced tone makes the NYXLs ideal for the five- or six-string bass player too, where players will be exploring the extended range.
7. Elixir Nanoweb Acoustic Bass Strings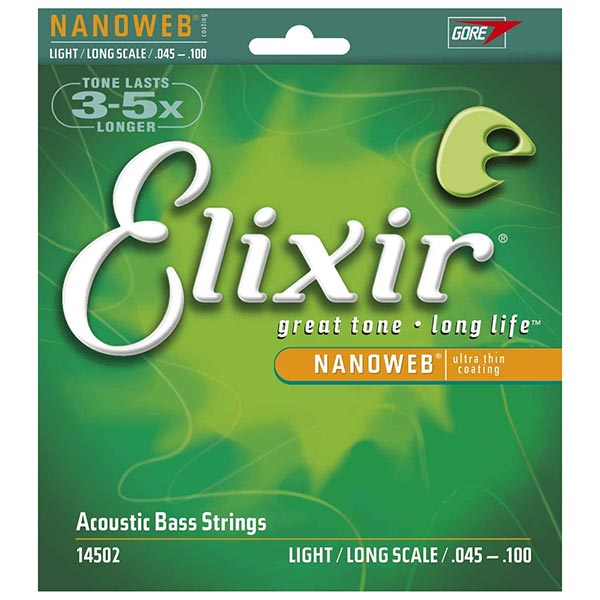 | | |
| --- | --- |
| Estimated Price | $40 |
| Best for | Acoustic Fingerstyle |
| String Material | Nickel steel |
| String Winding | Roundwound |
| String Gauge | Medium |
My Review: Highly respected for their range of coated strings for standard six-string acoustic guitar, Elixir has brought their know-how to acoustic bass. There's a crisp, lively tone from the 80/20 (copper/zinc) bronze strings a tone that'll be familiar to users of the company's standard guitar sets.
Elixir's ultra-thin coating protects the string, preventing grime from accumulating between the windings – that means long life and lasting tone. Probably for the best when you're looking at nearly 40 dollars a set.
Some might say these are over-bright, but I'd argue that's a matter of taste. I can't remember the last time we changed the strings on our acoustic bass, so long-lasting tone sounds good to me.
8. Rotosound Tru Bass 88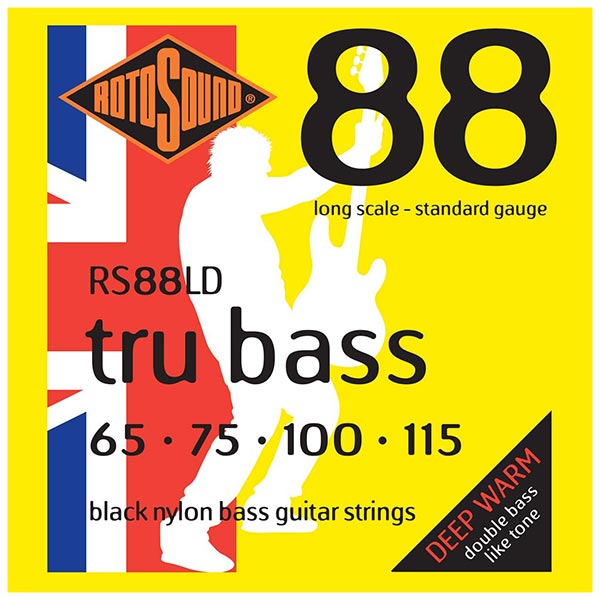 | | |
| --- | --- |
| Estimated Price | $35 |
| Best for | General Use |
| String Material | Nickel steel |
| String Winding | Roundwound |
| String Gauge | Heavy |
My Review: For acoustic and upright style sounds from a regular electric bass you just can't beat a set of tapewounds – and these Rotosounds are the real deal. Check out their signature tones on The Beatles' Abbey Road with the great Paul McCartney, The Jam's All Mod Cons with Bruce Foxton, David Bowie's Diamond Dogs, and Lou Reed's Transformer, Herbie Flowers played on both.
The Tru Bass 88's metal core is wrapped in a flatwound nylon winding, offering a deep warm tone with a buttery smooth feel, plus increased dynamic range and touch sensitivity that metal strings simply can't match. I wouldn't describe these as versatile strings but if it's an acoustic vibe you're after, it just has to be a set of tapewounds.
9. DR Strings DDT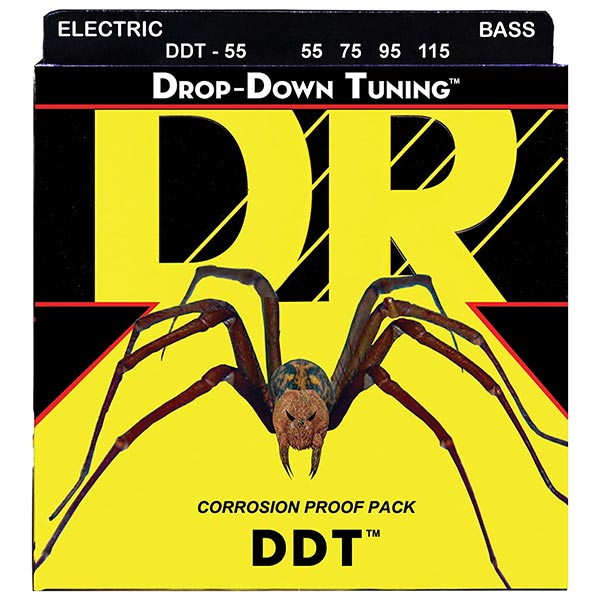 | | |
| --- | --- |
| Estimated Price | $25 |
| Best for | Metal |
| String Material | Nickel steel |
| String Winding | Roundwound |
| String Gauge | Heavy |
My Review: DR claims their DDT or Drop-Down Tuning strings maintain intonation and offer more natural string tension in drop tunings. Traditionally, you'd bung on a set of heavy gauge strings to drop tune, which, throwing up potential setup issues, isn't always practical. The idea here is that you don't have to. A single set of DDT's can handle a broad range of tunings, feeling neither too tight in standard nor too floppy when drop-tuned.
Getting more out of a set of strings can only be a good thing. If you find yourself regularly changing your tuning there's a lot to be said for the DDTs. They're perhaps a little warmer than other stainless steel sets, but it's no big issue.
10. D'Addario ETB92 Nylon Tapewound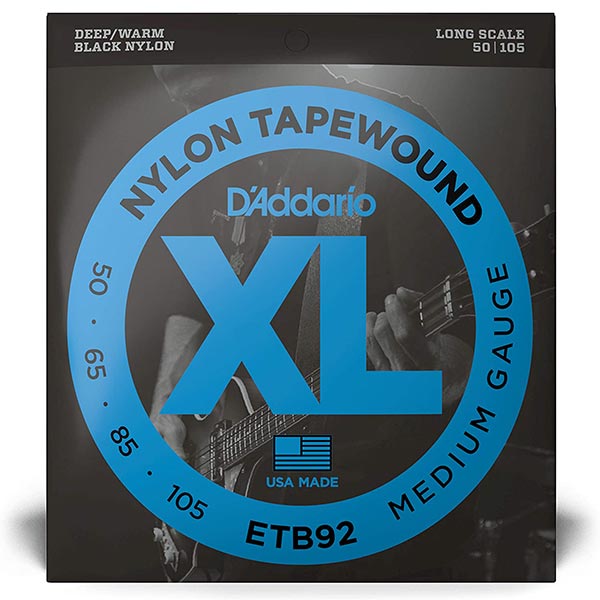 | | |
| --- | --- |
| Estimated Price | $40 |
| Best for | General Use, Fingerstyle |
| String Material | Nylon |
| String Winding | Tapewound |
| String Gauge | Medium |
My Review: Tapewounds are more specialized and not as widely used. If you find that ordinary strings feel and/or sound too harsh, tapewound strings are what you're looking for. The nylon-wrapped around these D'Addario strings makes them smooth and subdues the sound.
They're among the best bass strings for beginners, because the surface is so smooth that hurting fingers and fret noise won't be much of a problem. The sound is a bit muffled compared to ordinary strings, a mellow thud with shorter sustain and reduced upper harmonics. It's still a rich tone with plenty of articulation, just a bit toned down, making them great bass guitar strings for jazz. Smooth is the word. You can still get a nice punch out of them if you play harder. They're quite responsive and dynamic.
Tapewound strings have more advantages as well. First of all, the tape helps protect the string and extend its lifespan. It also protects your fretboard from the grating effect of bare metal strings. ETB92 strings fit all normal scale lengths, and there is a five-string option. The medium string gauge set has diameters of 050-065-085-105.
11. Fender Super Bass 7250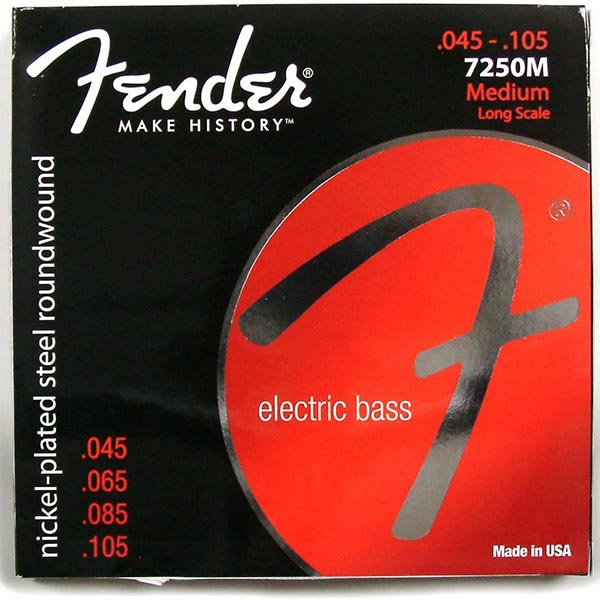 | | |
| --- | --- |
| Estimated Price | $15 |
| Best for | General Use |
| String Material | Nickel steel |
| String Winding | Roundwound |
| String Gauge | Medium |
My Review: The sound is crisp and punchy with plenty of dynamic output, owing to the combination of steel and nickel. The combination gives the strings a nicer feeling than pure steel strings while retaining most of the brilliant tone. If you've ever bought a proper Fender bass, you've probably played these strings since it's often their stock strings. And you were probably impressed by their tone, compared to the cheap stock strings on most bass guitars. They have a nice growl to them, making them ideal for funk and rock.
The lightest gauge is 40-95, and the heaviest is 58-110. The lighter ones offer very high playability without sacrificing too much tone, but some users report that they break faster than average. However, these strings are pretty cheap, so it won't be a problem.
12. DR Strings Fat-Beams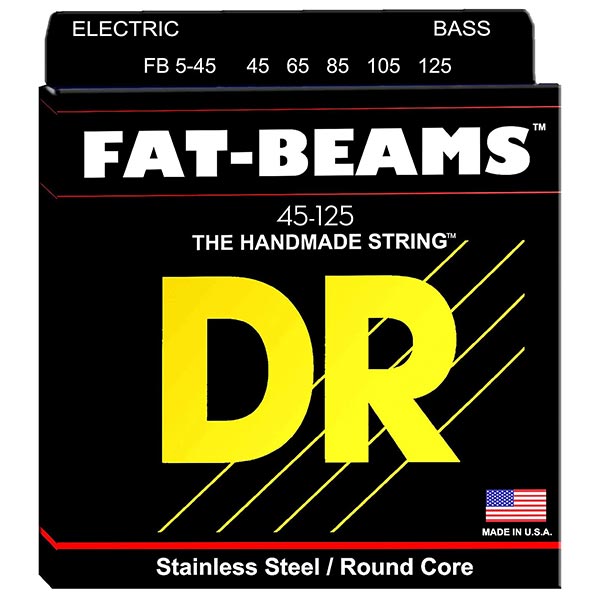 | | |
| --- | --- |
| Estimated Price | $30 |
| Best for | General Use |
| String Material | Stainless steel |
| String Winding | Roundwound |
| String Gauge | Medium |
My Review: Handmade, compression wound stainless steel strings with a round core. The sound of these strings is rich, deep, and, well, fat. Since the strings are made by humans and not machines, you can be sure that any error that may have occurred during production was noticed and corrected. So these are top-quality bass strings.
They bring out the lows and produce a rich midrange with a long sustain, and just the right amount of treble to stand out in a crowded mix without sounding too metallic. They have a subtle piano-like character to them, but not too much. If you like a punchy low end and a rich midrange, you'll love the fat tone of these strings. The playability is nice. Being compression wound they combine the smoothness of flatwounds with the precision of roundwounds.
Fat beams are, as the name implies, quite thick strings, but not too thick. The light gauge is 100 while the medium is 105 gauge. There are five- and six-string options as well. All made from the finest American stainless steel. The consistency and balance between strings are great. Fat Beams fit all long-scale basses.
13. Dunlop DBN45105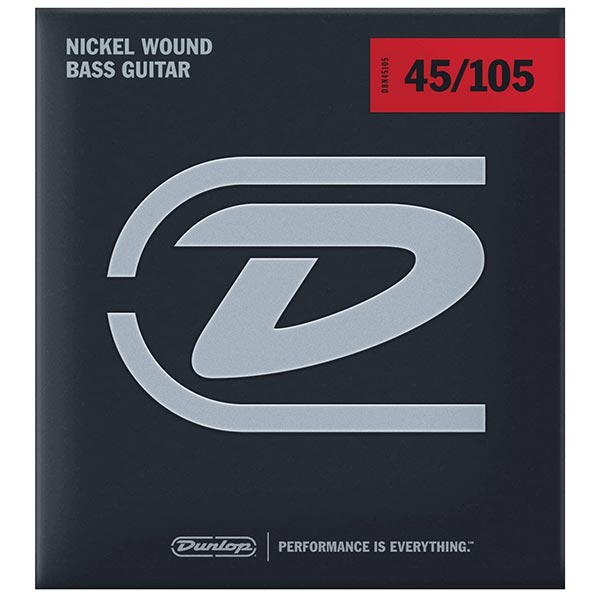 | | |
| --- | --- |
| Estimated Price | $15 |
| Best for | General Use |
| String Material | Nickel steel |
| String Winding | Roundwound |
| String Gauge | Medium |
My Review: When you think of Dunlop, bass strings are probably not the first things that come to mind. But these nickel-wound strings deserve more recognition. The tone is well-rounded and even, with a clear distinction between the lowest notes. And they have a smooth surface for easier fretting.
The strings are even in volume and harmonics, and more responsive than many other strings. Depending on the force and the way you pick the string, you get a different tone and output. This is true for all strings, of course, but some are more responsive than others. The tone is balanced and warm in general, with a powerful fundamental, as is typical for nickel strings. They produce enough overtones to cut through any soundscape, without sounding too aggressive.
If you're a casual bass player with sensitive fingers, you'll like the feel of these strings. The smooth nickel winding is gentle on your fingertips, even compared to many other strings of the same general type. And all strings feel the same, except for the thickness. This makes things easier for beginners since adapting to the different feel of each string can be a bit of a challenge. There are six-string gauge options to choose from, the lightest is 45-100 and the heaviest is 60-120.
14. GHS Strings Bassics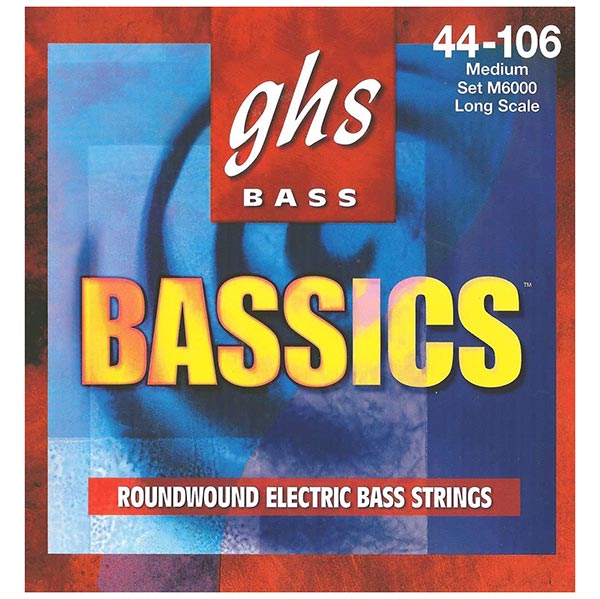 | | |
| --- | --- |
| Estimated Price | $10 |
| Best for | General Use |
| String Material | Nickel steel |
| String Winding | Roundwound |
| String Gauge | Medium |
My Review: There's very little to dislike and plenty to be pleased about with GHS's budget set of bass strings. A general-purpose offering, the GHS Basics offer a balanced tonal response with an extra punch in the low-mids. Don't expect grinding lows or zingy highs, just a solid all-around tone that'll see you through any blues, rock, pop, or jazz set.
The small-diameter core gives a feel that's not too stiff. Opt for a medium gauge set and you'll strike a balance of playability and tone which is perfect for beginners or anyone who prefers not to go too far down the tonal rabbit hole. And at this price, the Basics represent a bit of a bargain!
15. GHS Bass Boomers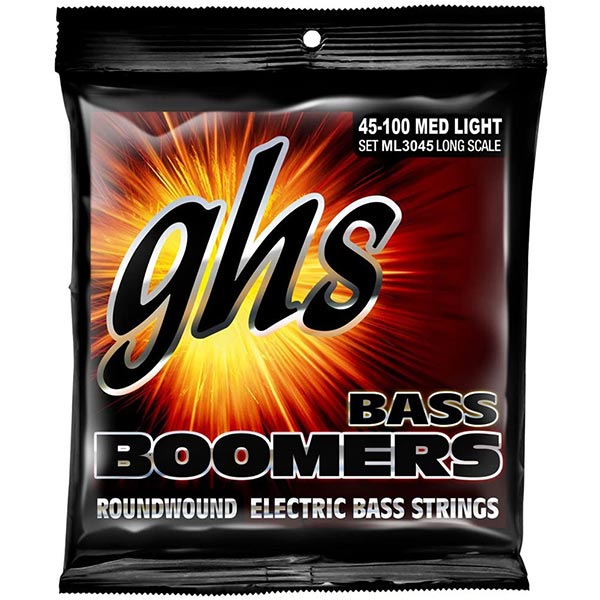 | | |
| --- | --- |
| Estimated Price | $20 |
| Best for | Flingerslapping |
| String Material | Nickel-plated |
| String Winding | Roundwound |
| String Gauge | Medium |
My Review: If there is one guy who really moved slapping into mainstream music, it's Flea. The GHS Boomers his signature model. This package of strings includes Flea's gauge selection of 045-065-085-105. In other words, it's a fairly standard configuration, but one that works great for slapping.
On a more technical level, GHS used a Hex core with a nickel-plated steel round wound outer layer. What matters the most is how these strings behave when you mount them up.
16. DR Strings Black Beauties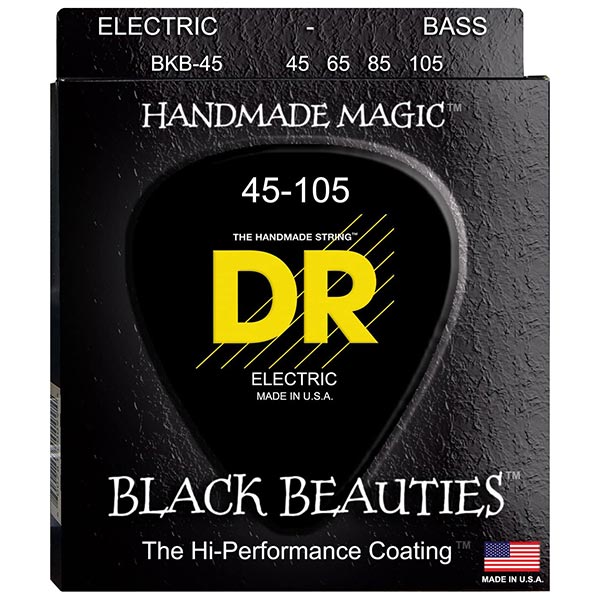 | | |
| --- | --- |
| Estimated Price | $22 |
| Best for | Flingerslapping, Metal |
| String Material | Stainless steel |
| String Winding | Roundwound |
| String Gauge | Medium |
My Review: DR strings are a bit more expensive, but then there are good reasons why that's so. This is especially true of these "Black Beauties". When you're playing heavy metal, it does seem right to have black strings, doesn't it?
What's more, the higher cost of these strings can be explained by how they're made. These are handmade, and so they're not just produced in factories. They're crafted, and the craftsmanship explains its distinct character.
The tone is crispy and especially aggressive. For metal, that's entirely suitable. The sound is affected by the super-thin coating applied on the plain strings and the wrap wire. This coating also adds extra life to the strings, which you will need when you're playing metal music with savage abandon.
17. D'Addario EXL160 Nickel Wound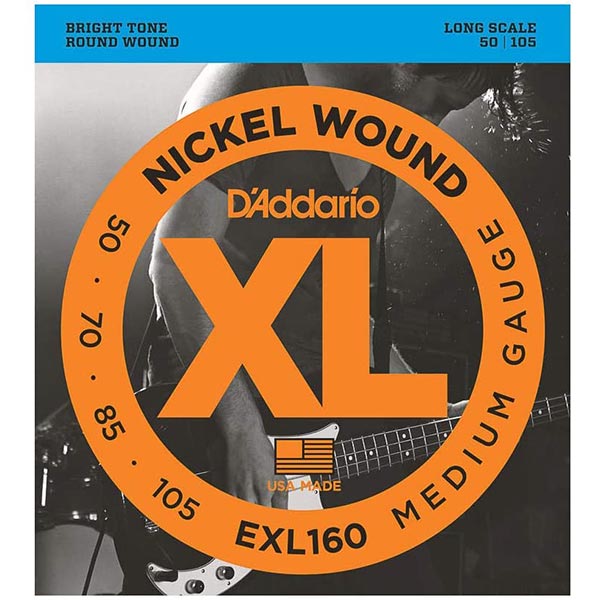 | | |
| --- | --- |
| Estimated Price | $20 |
| Best for | Metal |
| String Material | Nickel steel |
| String Winding | Roundwound |
| String Gauge | Medium |
My Review: Among bass players all over the world, the D'Addario brand is quite well-known and highly regarded. Their XL Nickel Electric Bass strings are especially esteemed, and the EXL160 is their top-selling heavy bass string set. Just about all D'Addario will work for metal, but you really can't go wrong with the EXL160.
These are medium-long scale 50-105 strings. They're designed to fit any long scale guitar, up to a scale length of 36.25".
These strings will give you amazing clarity to your tones, with a brightness that sounds delightful for metal. At the same time, they're also reinforced by the well-defined bottom end.
The round wound strings are wrapped in nickel-plated steel. This gives you a very distinct sharp and bright tone with clear basics. The bass section is quite tight and booming too. If you're a bassist who's bass guitar is a kicking and screaming monster, this is your set of bass strings.
It's affordable too, and it's also made in the US. It's easy to understand why this is the brand's bestseller.
Choosing the Right Bass Strings (Buying Guide)
There are several ways you can choose strings for your bass guitar. One especially common way is to just go to a music store and ask a helpful seller to make some recommendations. Of course, that can go awry especially when the seller is just out to make money.
A more effective way to pick bass strings is to ask around. You may have friends in your local music scene who also play bass. Ask the better ones about the strings they use.
You can also do some research on what strings are used by your favorite bass guitar metal heroes. The judicious use of Google and your research should offer some juicy details.
Once you've made a list of the strings used by your favorite bassists, you can then do research online on their features and price. You should read customer reviews to see how well they fare in performances and how good they sound.
The most important factors to consider in shopping for bass guitar strings are:
The number of strings on your bass
The scale length of your bass
The style of music and your playing style
How often you play and practice
The sound character and tone you want to achieve
Several factors impact the above things. These factors include:
String construction materials
Type of string winding
The type of coating
Core
String gauge
We'll look into and break down the string parts that are the most important for you to know so you can easily find the ones that suit you the best.
Bass String Names and Orders
Let's do just a fast check through as some beginners are reading this guide. Each of the bass guitar strings is usually named for the keynotes produced when the open string is played. An open string is one string that is not pressed down on top of any fret. Beginning at the apex of your bass guitar here is the order of the strings and the open note associated with each.
For a four-string bass that order would go like this:
The 4th string produces the E note
The 3rd string produces the A note
The 2nd string produces the D note
The 1st string produces the G note
For a five-string like this:
​The 5th string produces the B string note
The 4th string produces the E note
The 3rd string produces the A note
The 2nd string produces the D note
The 1st string produces the G note
And, for a six-string like this:
​The 6th string produces the B note
The 5th string produces the E string note
The 4th string produces the A note
The 3rd string produces the D note
The 2nd string produces the G note
The 1st string produces the C note
Some players like to play around with their string setup, setting up their five-string or six-string to be more bass-oriented or better for soloing by adding higher note strings.
Bass String Materials
Bass strings aren't that different from guitar strings except that they're bigger. There's not a whole lot to a bass string, but all the individual components come together to create the lifeblood of your sound. Running through the middle of the string is a metal core wire. The core of the wire is affixed to a ball end and the ball end is what typically holds the string on to the bridge. Around the metal core wire is another round wrap wire, which is the part that your fingers press against the fingerboard. All of these pieces combine to produce the type of sound that the different kinds of strings can make. The metal alloys used in strings impact their feel, tone, and durability. Different materials have different characteristics. The two main types of electric bass strings that players use have windings made from nickel/steel alloy or pure stainless steel. A nickel/steel alloy string has a slightly more subdued sound than a pure steel string, with steel typically being brighter. These metals are used for electric bass strings because the metals are ferromagnetic, which means that their vibrations will be detected and transmitted by a magnetic pickup. In recent years, some manufacturers have begun making strings from cobalt and other materials, which reportedly provide more output and clarity than a nickel/steel or pure steel strings.
Some of the materials usually used:
Nickel-Plated Steel: Nickel-plated steel is probably the most popular string material. These strings have a comfortable feel and bright tone that's the choice of bassists in many different music genres.
Pure Nickel: As pure nickel is less magnetic than steel strings it produces a warmer, vintage tone. They have been used to produce the sound of '50s and early '60s pop, rock, and country bass.
Stainless Steel: These types of strings produce a very bright tone with good corrosion resistance. They are very popular with rock, jazz, and metal bass players.
Copper-Plated Steel: Copper-plated steel strings retain the bright, sparkly response of steel and their thin copper coating produces rich acoustic overtones which are great for acoustic basses and unplugged playing.
The Type of Coating
Here are some of the most commonly used coating and its characteristics:
Polymer-Coated Strings: As many manufacturers use synthetic coating materials that extend string life by protecting them from corrosion the effect on the tone you get can vary from one brand to the other.
Color-Coated Strings: Some coatings have coloring agents that can add some spice to your instrument's visual impact while also offering extended life and smooth playability.
Type of String Winding
The type of string winding is important so you can get the sound you want, as the string send the vibrations over the frets to the body of the instrument the wire that is around the core of the string is the first thing that comes in contact with the frets.
Roundwound strings are the most commonly used. They can be used for anything from rock to jazz to country. The flatwounds aren't so uncommon and are found more often used by the bass player than they are used by guitar players. Flatwound strings are great on fretless basses, both sonically and because they cause less wear and tear on the fingerboard. An anomaly in bass strings is the tapewound string, where a nylon wrap is put on the string over the normal roundwound wrap, giving the string a shorter decay and more "thud." Like acoustic and electric strings, coated bass strings are also available.
The most common winding metals are stainless steel and nickel. The type of winding is important because it affects both the feel and tonal qualities of the string.
The most popular windings are:
Roundwound: By far the most popular, roundwound strings have round wrap wires made of stainless steel or nickel. Stainless steel offers a brighter, louder sound that enhances slapping and popping techniques. They were originally developed by Britain's Rotosound company for The Who's bassist John Entwistle who wanted clear, piano-like tones to complement his lead bass playing style. Roundwounds are popular with rock and funk bassists and have a ridged or knurled texture like the edge of a quarter. This texture wears down frets over time and tends to produce more finger noise.
Flatwound: Popular with jazz and old-school soul bass players. The flatwounds have a steel core wire wrapped with a flat wire that has a smooth feel and produces a mellower, rounder tone than roundwounds. They were the only type of bass strings available until the 1960s, then the roundwounds were developed and overtook them in popularity. However, they continued to be used by jazz, country, and blues to this day. They're also often used on fretless basses since their smoother finish causes less fretboard wear.
Groundwound: Also called half-round, they are manufactured like roundwound strings, but are then ground or pressed to produce a partially flattened surface that reduces finger noise and fret wear while offering most of the brightness of roundwound strings.
Tapewound: This least common type of bass string has a layer of nylon wrapped around the metal winding wire. Aside from having the softest touch, they produce a dark and soft tone that is similar to that of an upright bass. They're usually black.
Taperwound: Not to be confused with tapewound strings, taperwounds are available in all of the winding methods mentioned above. They taper gradually or abruptly at the bridge so that the core wire makes direct contact with the bridge saddles to enhance sustain. It's particularly important to purchase taperwound strings that match your scale length so the tapered portion of the string falls in the correct place concerning your bridge.
Core
The typical bass string core is made from steel. The core is the center of the string. Windings go around the core to create larger, wound strings. The two basic cores are round and hex. Round cores offer a fatter, vintage-like tone that is balanced and more flexible. Hex cores, the most common type of core, "hold" on to the windings better giving you a brighter sound, more consistent performance, and stiffer tension.
Bass String Gauges
An important element in both the tone and playability of your bass, string gauge how "heavy" or "light" your strings are can make a real difference in your sound. String gauges or better as the diameter of the string is expressed in thousandths of an inch. The heavier a gauge the lower the tone it is capable of producing. Generally speaking, heavier gauges produce richer tones but demand more strength in your fingers.
Most medium-gauge 4-string bass sets range between .045 and .105. However, there are many variations. Gauge refers to the thickness of the string. Usually, players will refer to the size of the fourth string (the low E in standard tuning) when referencing their gauge preference. For example, a player that says, "I use 105s" means that the gauge of the fourth string is .105.
Some manufacturers take a mix-and-match approach in creating their string sets. For example, you'll find 4-string sets in which the G and D strings are of medium weight while the A and E string gauges are typical of light sets. Similarly, an otherwise light 5-string set may contain a heavier .130 gauge B string.
Some bassists prefer to buy individual strings in gauges that match their preferences rather than being limited to those gauges found in string sets.
There is no simple formula that can tell you what strings will sound best to your ears and feel best to your fingers. As with the various string compositions and wraps that we'll discuss next, experimentation is the key to finding the right gauges. A good place to start is with a medium set —the weight most commonly factory installed on new basses.
So how does gauge come into play when you're choosing strings? Typically, the thicker the string, the more string tension; the more string tension, the harder it will be to fret. Some players have been known to use unusually large strings, but it's not advisable to jump up to one of these gauges until you've played for a while and developed calluses. And it should be noted that switching gauges can cause your bass's neck to need adjustment due to more or less string tension.
Electric bass strings are manufactured in a range of thicknesses or gauges. The thickness of an electric bass string has a large influence on the playability and sound in addition to other factors like the string material. As with electric guitar or acoustic guitar strings, there are no set rules for choosing the perfect gauge. To determine the correct gauge, first, decide what sound you're trying to achieve and what feel you prefer.
Light/Medium Gauge:
Good for fast lead bass or walking bass lines
Good for country or funk/slapping techniques
Heavy Gauge:
Good for heavier styles like metal
Preferred if you like to tune your E string down to D
Choosing the Right Scale Length
Scale length refers to the relationship between the length and diameter ("gauge") of the strings and the pitches they produce. Scale length is the measurement from the bridge saddles (or ferrules on string-through basses) to the nut at the end of the fretboard. Many bass strings are sold in specific lengths to match the scale length of your bass guitar. Short-scale basses are generally defined as having scale lengths between 30′ and 32′. Long-scale basses conventionally have a 34′ string length. Remember that we are talking about string length the distance between the bridge and the nut, not neck length, although one affects the other.
Most basses such as Fender's Precision and Jazz Bass have a 34" scale which is considered a long scale. Short scale basses are less common, Hofner's Violin bass models with their 30" scale and Gibson EB basses at 30.5" being examples. Five- and six-string basses sometimes have 35" or longer scales.
The first and most obvious reason to use a short-scale bass is physical size. With their shorter necks, less distance between frets, and more compact general dimensions, short-scale basses are a good choice for young players, and anyone challenged by the extra reach a long scale instrument requires.
However, many studio pros have long known a secret about the sound of short-scale basses. The shorter strings demand lower string tension be properly tuned. This gives the strings a kind of soft and floppy feeling, but it also creates fatter, "blooming" low notes and what musicians perceive as sweet upper notes.
If in doubt, check your manufacturer's website or measure the length between the nut and bridge saddles. However, if your strings are routed through the body of the bass, things get a bit more complicated. Since bass bodies vary in thickness and the cup-like ferrules that hold the ball end of the string in place have different depths, it's necessary to measure the lowest pitched string removed from the bass. First, with the string installed, mark the spot where it contacts the nut. Then remove the string from the bass and measure it from the inner end of the ball to the point you just marked. This will give you a precise measurement when shopping for strings.
Up to 32″ Short
32" to 34" Medium
34" to 36" Long
36" to 38" Super Long
While it's possible to cut bass strings to the correct length, you risk causing the wrap to separate from the core wire. Many guitar techs and bassists also feel that wrapping an excess string around the tuner post can potentially deaden tone and cause poor intonation. You also risk the string slipping off the post causing sudden detuning—an embarrassment in mid-performance.
Scale-specific strings usually are tapered with a thinner portion that wraps more easily around the tuner's post and on the bridge end for enhanced sustain. On those strings that have silk wraps at each end be sure that the silk does not make contact with either the bridge or nut.
How Often Should I Change My Bass Strings?
There's no one answer to this eternal question. This is a question with a different answer for almost every bass player. The kind of sound you're after and how frequently you play will largely dictate how often you should change your strings.
Some players find that once or twice a month is often enough, while others may go a year or more without requiring a change of strings. While on tour, many bass players will change strings every day. You've probably heard stories about bassists who haven't changed their strings in decades. These are usually players who love the flat, overtone-free sound that was the signature of old-school soul bassists. Listen to old Motown and Stax recordings and you'll hear that unique sound, deep thud with little or no resonance. What you're likely hearing is essentially the sound of dead strings. And that just maybe what you want. But keep in mind that ancient, rusted strings are likely to infect your frets and pickups with corrosion that can cause more damage and be far more costly than a new set of strings. If you're looking for that relatively dead-sounding "thud", a set of pure nickel strings will give you that. Another option is to add a piece of felt like a makeshift mute to your bridge that produces a more deadened string response. For example, some Rickenbacker basses have mutes built into the bridge saddles to reproduce old-school bass sounds.
If you play rock, pop, jazz, fusion, reggae, or especially funk, you'll likely want more character and "zing" in your bass tone. If a bright, glossy sound is what you're after, then you'll probably change strings more often. Dead strings can't deliver the pop, punch, and harmonically rich overtones that "lively" strings produce.
When you install a new set of strings on your bass, you may be shocked by their brightness if it's been a while since your last string change. It's sort of like cleaning your windshield after a lot of grunge has accumulated. It's only in retrospect you realize how much visibility was missing. It's the same with your bass: you'll be amazed by the amount of tonal clarity that was missing.
That said, the tone may seem too bright at first. But give the new strings a break-in period; they'll become less bright the more you play them. You'll also notice that you need to retune more often with new strings due to their tendency to keep stretching. Because of this, it's a good idea to install new strings well in advance of any gigs. You'll also want to let the stretch factor settle down before making any adjustments to your intonation.
It ultimately depends a lot on the individual's preferences. Each bass player produces salts, acids, oils, and a wide variety of other chemicals normally released in sweat, so if you're frequently playing onstage in hot clubs or halls, then you'll probably have to change strings more often than someone who only plays in a studio environment. Veteran players always wipe down the fingerboard well with a dry cloth after every gig to help extend their string life, and they always carry several sets of new strings with them.
Difference Between Bass Guitar Strings and Electric Guitar Strings
Those who are new to the guitar world it is hard to understand the primary difference between a bass guitar and electric guitar as both instruments are very similar.
The difference between an electric guitar and bass guitar strings comes from the standard tuning and gauge of the strings, rather than anything to do with materials and construction.
The electric guitar has a standard tuning EADGBE using 6 strings, while the standard 4 string bass guitar is tuned EADG and have a whole octave that is down in pitch.
Strings are such an important part of your bass guitar that you'll want to experiment with different types, materials, and gauges until you find the ones that you prefer. As a beginner, you probably won't be able to tell the difference, but as you become more experienced you'll start to notice every minute variations in sound, feel, and quality.
Best strings for slap bass
When bassists pop and slap they want to produce a percussive sound that is loud, bright, and crisp. Popping and slapping allow bassists to create distinct, zingy tones that otherwise can't be produced by plucking or picking the strings.
I would recommend roundwound strings for slap techniques. In general, flatwound strings will produce a sound that emphasizes mid-range and low-range tones. They have less high-end punch and produce a more mellow tone. Roundwounds produce tones with a balance of high-end detail, low-end thump, and less mid-range. They can produce a more aggressive sound with more attack. Overall they are the best for getting that crisp, bright sound with a lot of bite when you are slapping the bass.
String gauges in the light to the medium range are most commonly preferred for slapping and popping. Lighter gauge strings produce a thinner, crisper sound that allows for a more distinct, zingy tone that bassists want to produce when they are slapping and popping.
Bassists are known for using slapping techniques usually use a similar set of string gauges. Larry Graham the "King of Slap" uses a 40-65-85-105 set. The "Prince of Slap" as I like to call him, Flea uses a similar but thicker set, 45-65-85-105. Marcus Miller uses an almost identical set as Flea with an addition of 130 when playing a five-string. The amazing Victor Wooten uses a lighter range of 40-55-75-95. Mark King uses a unique set of 30-50-70-90. And let us not forget the crazy Les Claypool who uses a 40-55-75-95-100 set.
As you can see, these bassists prefer string gauges in the lighter to medium ranges:
So why get bass strings for slap and pop? Well, the bass guitar, although often considered to be a simple instrument, is full of nuances. When it comes to playing styles, none is more dynamic than slapping. To get that trademark sound, you will need a decent set of strings. In a way, it has much more to do with your selection of strings than it does with your guitar.
Slapping is easily one of the most satisfying bass styles you can choose. Finding a good set of strings for this purpose isn't that hard, but it requires some commitment. For starters, you will have to change strings regularly. That is simply the truth of the matter.
If you are new to slap bass, I would strongly suggest you go with a medium-gauge nickel-plated steel set. In other words, just about any set from the list. The main reason for this is the fact that medium-gauge is just perfect for this playing style, and that nickel-plated steel gets you the most bang for your buck.
You will see some smooth strings out there with a polished surface. Those won't work for slapping. You need to have grip for those pops and that can only be found in standard, roundwound strings. Keep experimenting with strings. No matter how good a particular set sounds, it's a good practice to keep an eye out for other strings.
After a while, it all comes down to subtle pros and cons. That type of taste is acquired over time, but it also makes finding the "'perfect" set of strings a bit more difficult. With time you will find the one that is best suited for you and until then stay funky!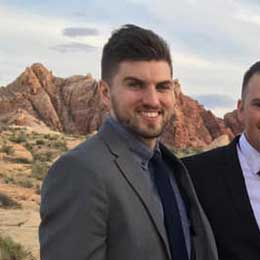 My name is Chris and I've had a passion for music and guitars for as long as I can remember. I started this website with some of my friends who are musicians, music teachers, gear heads, and music enthusiasts so we could provide high-quality guitar and music-related content.
I've been playing guitar since I was 13 years old and am an avid collector. Amps, pedals, guitars, bass, drums, microphones, studio, and recording gear, I love it all.
I was born and raised in Western Pennsylvania. My background is in Electrical Engineering, earning a Bachelor's degree from Youngstown State University. With my engineering experience, I've developed as a designer of guitar amplifiers and effects. A true passion of mine, I've designed, built, and repaired a wide range of guitar amps and electronics. Here at the Guitar Lobby, our aim is to share our passion for Music and gear with the rest of the music community.