Along with the choice of guitar model and amplifier, a guitarist's pedalboard is one of the most important factors when it comes to creating your sound. Effects pedals provide you with sonic options that can completely transform the tone of your guitar. Regardless of the genre or style of guitar you play, a delay pedal is a highly useful addition to your overall setup.
Why should you add a delay pedal to your pedalboard? Well, there are multiple reasons. Delay pedals are great for thickening your tone when you set the delay time to be short lasting. They create a double-tracked effect when used in this way, giving you a more full-bodied output. Alternatively, you can use long delay times to create psychedelic or ambient tones, and there are many other options in between these two extremes.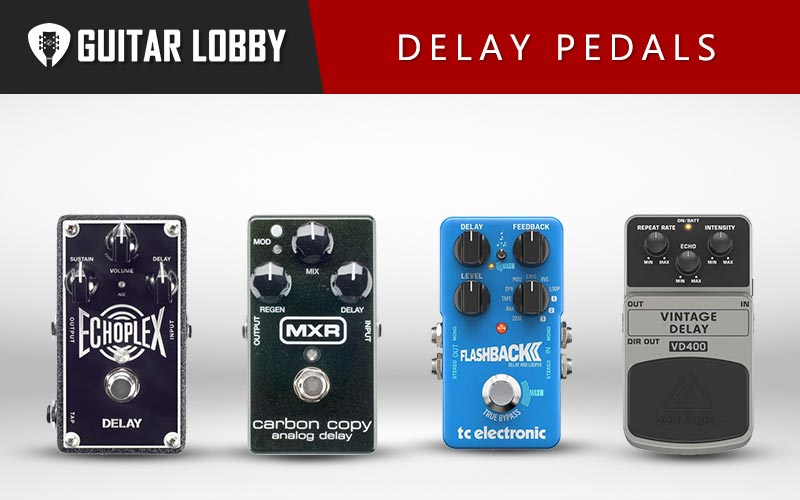 If you want the option of beefing up your tone, building suspense, or adding some vintage tape delay to your guitar output, you've come to the right place. The issue many guitarists face when choosing a delay pedal is that the sheer number of options out there can be overwhelming. There are so many high quality delay pedals with differing attributes that it can be difficult to know where to start. In this comprehensive guide, I will begin by reviewing the best delay pedal at each price point. If you would like more information on these pedals before reading reviews, you can check out our delay pedal information guide at the bottom of the page here.
Here Are the Best Delay Pedals (All Price Ranges)
1. Boss DD-7 Digital Delay Pedal (Best Overall)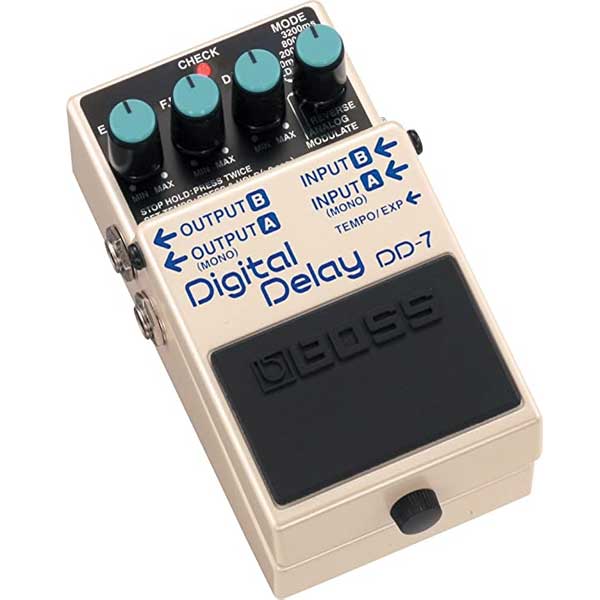 | | |
| --- | --- |
| Estimated Price | $190 |
| Type | Digital |
| Max Delay Time | 6.4 Seconds |
| Effects | Delay, Modulation |
| Connectivity | 1 x 6.35mm Jack Input, 2 x Outputs |
| Power | 9 Volt |
My Review: The Boss DD-7 is one of the most popular delay pedals among guitarists, and for good reason. Building on their best-selling range of delays, the DD-7 has all of the popular features from previous pedals with some useful additions including analog delay mode, modulation delay mode, and external pedal control options.
One of the most impressive attributes of the DD-7 is its maximum delay time of 6.4 seconds. This allows you to create expansive sounds, and when the hold mode is utilized you get up to 40 seconds of input which is perfect for layering sound upon sound. The innovation modulation delay provides you with chorus-like effects and the analog delay is based upon a modeled simulation of the iconic warm tone of the Boss DM-2.
The standout quality of this delay pedal is its simplicity. It doesn't take long to familiarize yourself with the controls, and although there's a multitude of delay options available to you, it's unlikely that you will feel overwhelmed as can be the case with some pedals. Another noteworthy feature of the DD-7 is its tap tempo capability, which can be hooked up to an external footswitch for ultimate timing control.
Who is this best suited for: There's not a lot that the DD-7 can't do in terms of producing delay sounds. Whether you intend to add a hint of the effect to your guitar in order to thicken the sound, or you want to create stacked layers of ambient tones, this Boss pedal can do it all.
Bottom Line: The Boss DD-7 is the complete package and easily one of the best delay pedals for the money. The easy to use nature of this pedal combined with its wide array of delay creating potential makes it a worthy addition to any guitarist's pedalboard. It's especially effective when linked with a tap tempo footswitch.
2. Donner Yellow Fall Vintage Analog Delay Pedal (Best Value)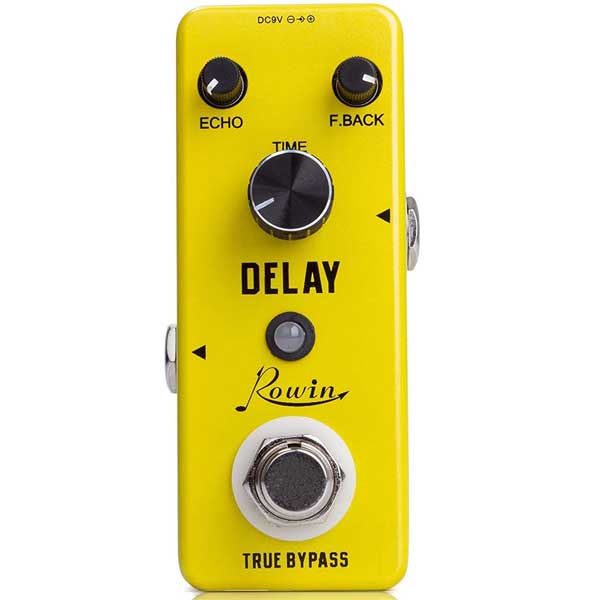 | | |
| --- | --- |
| Estimated Price | $40 |
| Type | Analog |
| Max Delay Time | 620 Ms |
| Effects | Delay |
| Connectivity | 1 x 6.35mm Jack Input, 1 x Output |
| Power | 9 Volts DC |
My Review: When it comes to value for money, the Donner Yellow Fall Vintage Analog pedal is hard to beat. It's a small, compact delay pedal with all of the most important controls and functions readily available. The first thing that strikes you is the bright yellow aluminum housing and the minute size of the pedal. Indeed, it is smaller than the majority of delay pedals, but don't let this fool you into thinking it isn't capable of producing huge sounds.
Where the Yellow Fall really shows its class is when you start to play around with the three basic controls. By tweaking the echo, feedback, and time you can create tight slapback delays or long, spacey effects and basically everything in between. It produces a very clean sound, with no unwanted noise or hum occurring. The delays produced have a rich vintage quality to them, and although the 620 milliseconds of maximum delay time isn't as long as some digital options, in my opinion, it's a worthy tradeoff for the analog warmth.
Who is this best suited for: The Donner Yellow Fall is ideal for guitarists who already have a packed pedal board, thanks to its tiny dimensions. It's a no-nonsense pedal that produces a handful of quality delay effects, so if you want endless options then a digital alternative would probably be better suited.
Bottom Line: At around $40, this pedal is brilliant value. It proves that you don't have to break the bank in order to get high quality analog delay. Although there are a limited number of controls and presets, this pedal still gives you a number of options and is definitely worth implementing into your rig. This is easily one of the best analog delay pedals for the money.
3. MXR-M169 Carbon Copy Analog Delay (Best Under $150)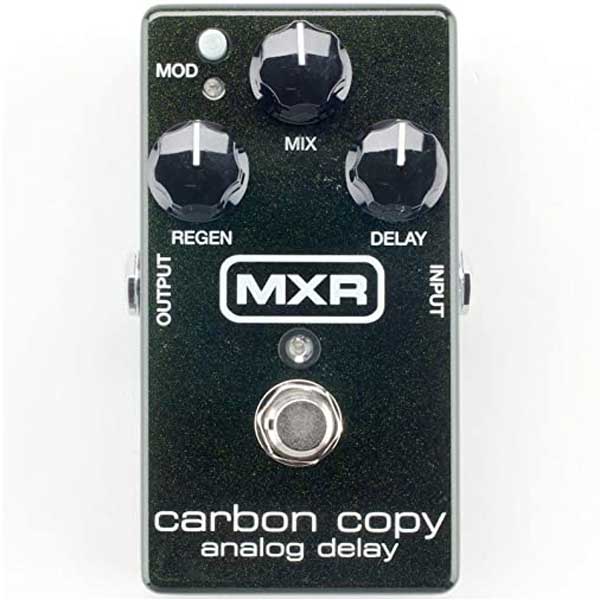 | | |
| --- | --- |
| Estimated Price | $150 |
| Type | Analog |
| Max Delay Time | 600 Ms |
| Effects | Delay, Modulation |
| Connectivity | 1 x 6.35mm Jack Input, 1 x Output |
| Power | 9 Volts DC |
My Review: The MXR Carbon Copy Analog Delay was very close to getting the top spot on this list, but I ultimately went with the DD-7 due to the sheer amount of options it provides in a simple manner. However, if you prefer the full-bodied warmth of analog delay then this MXR pedal is a brilliant option. Featuring an exclusively analog audio path, it gives you access to all of the classic vintage delay sounds of decades gone by.
With an impressive 600ms of delay time, a top-mounted modulation switch, and the classic three-knob layout, the Carbon Copy is a joy to use. The thing that sets it apart from the competition is the inclusion of two internal trim pots which basically allow the guitarist to adjust the rate control and with of the modulation. This creates a seemingly limitless number of possibilities so you can create your own unique delay sounds with relative ease. When combined with some dirt in the form of a distortion or overdrive pedal, the Carbon Copy sounds huge!
Who is this best suited for: Guitarists searching for that elusive Gilmour inspired delay sound will love the MXR Carbon Copy. There's no limit to the analog tones it can produce, so it would be a worthy acquisition for any guitarist who loves that old-school, original warmth of analog delay.
Bottom Line: At under $150, this analog delay pedal is a bargain in my opinion. Not only will it help you to thicken up your sound on stage, but it's also a handy tool in the studio. Recording with the Carbon copy straight into a direct output produces some interesting results.
Popular Related Article: Top 17 Reverb Pedals
4. Koogo Analog Delay (Best Under $50)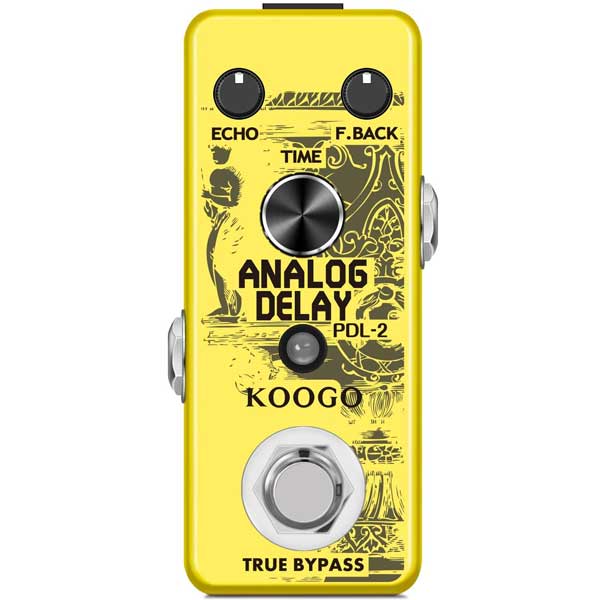 | | |
| --- | --- |
| Estimated Price | $35 |
| Type | Analog |
| Max Delay Time | 620 Ms |
| Effects | Delay |
| Connectivity | 1 x 6.35mm Jack Input, 1 x Output |
| Power | 9 Volts DC |
My Review: The Koogo Analog Delay is quite similar to the Donner Yellow Fall pedal I previously reviewed, with a simplistic and compact design. The delay pedal produces a range of natural sounding vintage delays, with a particularly impressive tape delay. The delay time control can be set to anywhere between 20ms and 620ms, which makes it compatible with a variety of musical genres.
For the price, the Koogo Analog Delay delivers remarkably authentic tape delay. By tweaking the echo control you can affect the sustain it produces, and if you crank the feedback all the way up you get a positive feedback loop that is perfectly suited to the end of a show.
Although Koogo is a relatively new manufacturer of pedals, that isn't reflected in the overall performance of the Analog Delay. The true bypass nature of this pedal ensures that there is no tone coloration. It's also housed in durable zinc alloy, so will have no problems handling the inevitable rigors of rehearsing and touring.
Who is this best suited for: Guitarists with a soft spot for natural, vintage delay sounds will love this pedal. It has a limited number of controls, but there's a lot that can be done when they are used in various combinations. If you want a simplistic, straight forward delay pedal that packs a punch, the Koogo Analog Delay may well be the perfect option.
 Bottom Line: Extremely durable, authentic analog sound, capable of creating positive feedback loops and it takes up hardly any space on your board. And all of this for less than $50, what's not to love about this delay pedal? Admittedly, it lacks the extensive number of options found in some of the alternatives on this list, but in terms of performance, it's a real bargain.
5. Electro-Harmonix Canyon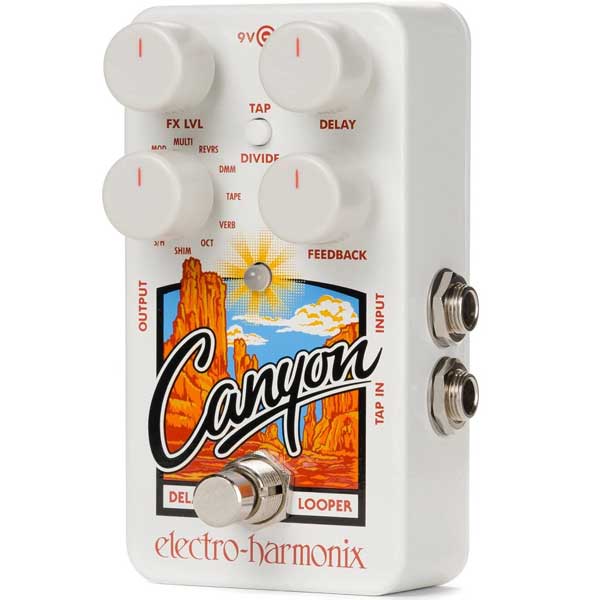 | | |
| --- | --- |
| Estimated Price | $170 |
| Type | Digital |
| Max Delay Time | 600 Ms |
| Effects | Delay, Looper |
| Connectivity | 2 x 6.35mm Jack Input, 1 x Output |
| Power | 9 Volts DC |
My Review: If you're into effects pedals, you've probably heard of Electro-Harmonix. Responsible for some of the most innovative pedals ever made, EHX has carried their decades of sound-sculpting knowledge into the Canyon Delay and looper pedal. Featuring a collection of ten unique sounding effects, the Canyon gives you complete control over the delay sounds produced by your guitar.
Let's discuss what this pedal has to offer. Firstly, it includes ten different effects all based around delay. They are echo, modulated, multi-tap, reverse, deluxe memory, tape, reverb plus delay, octave, shimmer, and looper mode. As you can see, Electro Harmonix has packed this pedal full of every variation of delay imaginable. By simply toggling through the presets with the selector knob, you can quickly find the effect you're looking for.
The looping capability of the Canyon is what takes this pedal to the next level. Not only can you create a variety of delay effects, but you can also use it as a songwriting tool. Simply choose the length of your loop, then record in whatever you like. This is a great way to work on a melody for a chord sequence you have written, or you can use it to create a wall of atmospheric delay sounds.
Who is this best suited for: I'd recommend this pedal to any guitarist due to the wide range of sounds it can produce. If you play psychedelic music, the Canyon is a must have pedal. The reverse delay control and the added reverb make it perfect for dreamy, off-center guitar melodies.
Bottom Line: You can expect ultimate quality with an Electro-Harmonix pedal, and the Canyon Delay and Looper once again cement their position in the top tier of FX pedal manufacturing. It's the kind of pedal that once you have it, you wonder how you coped when it wasn't present on your board!
Popular Related Article: Top 17 Delay Pedals
6. TC-Electronic ND-1 Nova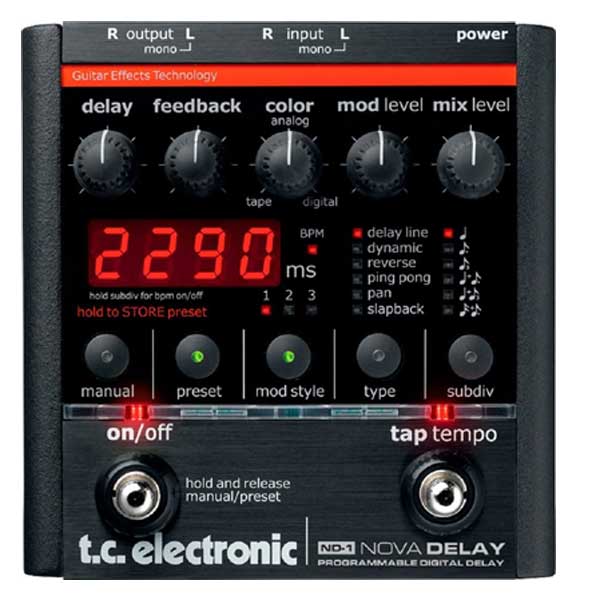 | | |
| --- | --- |
| Estimated Price | $250 |
| Type | Digital |
| Max Delay Time | 2290 Ms |
| Effects | Delay, Modulation |
| Connectivity | 2 x 6.35mm Jack Input, 2 x Output |
| Power | 9 Volts DC |
My Review: Next we have a truly brilliant delay pedal from TC-electronics. The ND-1 Nova is primarily focused on getting the best tone possible out of your guitar. With a range of 6 stereo delay types and the ability to store 9 customizable presets, the Nova more than justifies its price tag. So what are the various delays that this pedal can produce? You get the classic thickness of slap back delay, pan delay, ping-pong, reverse, dynamic and linear delay. It's almost as detailed as the delay rack in your favorite Digital Audio Workstation!
In order to create the Nova, TC went on a nostalgic journey and took all of the best features from their revered TC 2290 Dynamic Digital Delay pedal. With the addition of some modern features, they have created a much-improved version that produces exceptional studio quality digital delay effects without being overly bulky.
When using the aforementioned 6 delay effects, you can mix them together using the delay style control. If you come across a cool sound, simply save your edited sound to one of the 9 presets so you can go back to it later. With up to 2.9 seconds of delay time and audio generated tap-tempo, there's nothing that the Nova Delay pedal can't do.
Who is this best suited for: Guitarists who want to experiment and create unique, original delay sounds. It would be a shame to purchase the Nova pedal and simply use the provided presets, as it has so many options that can be achieved through experimentation.
Bottom Line: Although this pedal is more expensive than the previously discussed competitors, there's a reason for that. The level of detail it allows is extensive, and you'll never run out of options when playing around with the Nova. The presets are high quality and this pedal encourages you to create your own sounds which can be a valuable learning experience.
7. Dunlop EP103 Echoplex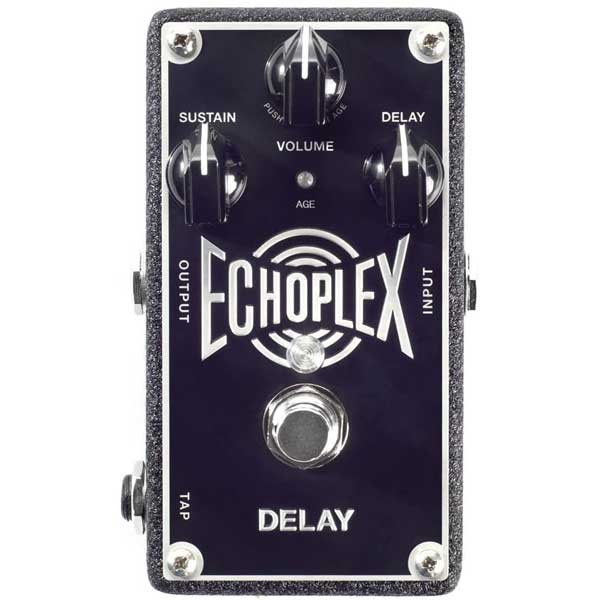 | | |
| --- | --- |
| Estimated Price | $200 |
| Type | Digital |
| Max Delay Time | 750 ms |
| Effects | Delay, Modulation |
| Connectivity | 1 x 6.35mm Jack Input, 1 x Output |
| Power | 9 Volts DC |
My Review: Known for their range of top-quality effects pedals, Dunlop has created a wonderful delay option with their EP103 Echoplex. Based on the original Echoplex EP-3, this pedal utilizes all of the best aspects of its predecessor in a smaller, more compact form. Purists will be skeptical of how well that legendary analog delay system can be transformed into a digital pedal, but somehow Dunlop managed to pull it off.
In some ways, calling this pedal digital is slightly misleading. Although that's technically true, it uses a fully analog dry path to make sure the much love tones of the EP-3 are still prevalent. The high quality digital path used for the wet signal provides you with the best of both worlds – analog warmth and digital options. One unique feature of the EP103 Echoplex is the age control. This creates a variety of delay tones, ranging from sparkling clarity to dark and chaotic. The delay time ranges between 65-750ms, and the low noise floor makes this a great option for recording. To conclude, this delay pedal also has tap tempo capabilities.
Who is this best suited for: If you are torn between analog and digital delay sounds, the Echoplex is the perfect middle ground. You can create understated, vintage delays, or weird and wonderful tones with this pedal. If you intend to use your delay pedal for recording via a D.I, this is an awesome option for the studio due to its low noise output.
Bottom Line: It's rare that such a detailed number of controls can be fitted onto a small delay pedal without it becoming confusing and overcrowded. The Echoplex looks simplistic, but in reality, it's brimming with sound manipulation functions that will keep you entertained for long periods of time. For the money, this is easily one of the best digital delay pedals.
8. NUX Atlantic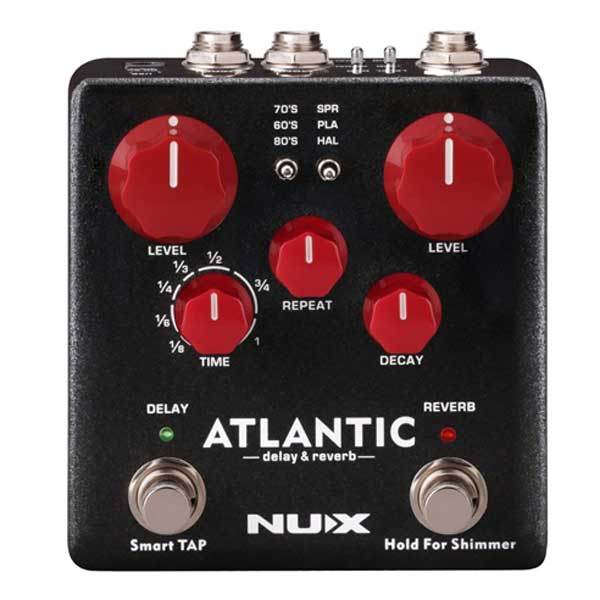 | | |
| --- | --- |
| Estimated Price | $150 |
| Type | Digital |
| Max Delay Time | 800 ms |
| Effects | Delay, Reverb |
| Connectivity | 1 x 6.35mm Jack Input, 2 x Output |
| Power | 9 Volts DC |
My Review: I'm a big fan of NUX pedals, which have improved dramatically in recent years. With their Atlantic pedal, they have combined arguably the two most compatible audio effects – delay and reverb. The beautiful thing about combining these two effects is that they both compliment each other so well. Adding a touch of reverb to your delay has a transformative effect. The design of the NUX Atlantic is concise and logically set out. On the left side of the pedal, you have all of the necessary delay controls and a smart tap footswitch to activate the effect or tap out your desired tempo. On the right-hand side, you have all of the reverb controls, and the footswitch is dedicated to creating a shimmer effect when you hold it down.
Although this is very much a digital pedal, it still pays tribute to the vintage delays which so many guitarists crave. Just next to the delay level control, there is a small switch with three settings: 60s tape, 70s analog, and 80s digital. Once you've selected your preferred era, you can customize the sound using the time, level, and repeat controls. Similarly, on the right of these switches is another one which allows you to select one of three reverb variation. These are; spring, plate, and hall.
Who is this best suited for: Those who love the sound of dreamy, reverb-drenched guitar melodies in the style of David Gilmour. Also a very useful pedal for guitarists who play rhythmic styles of music, due to the easily accessible "smart tap" switch which requires no external footswitch.
Bottom Line: Reverb and delay go hand in hand. The options available increase dramatically when you add reverb into the mix with delay. The fact that this pedal has three era-defining settings makes it easy to choose your preferred sound. But unlike many other simplistically designed pedals, it gives you a multitude of sonic options thanks to the combination of these two effects.
9. Donner Cruncher Multi Effects Pedal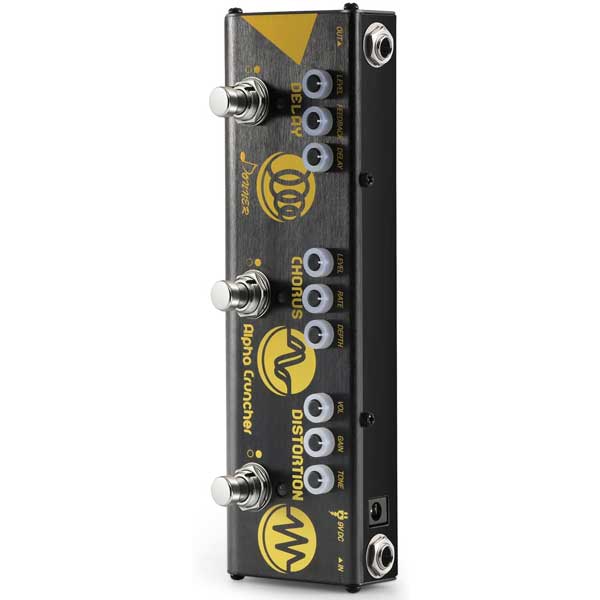 | | |
| --- | --- |
| Estimated Price | $65 |
| Type | Digital |
| Max Delay Time | 1000 ms |
| Effects | Delay, Distortion, Chorus |
| Connectivity | 1 x 6.35mm Jack Input, 1 x Output |
| Power | 9 Volts DC |
My Review: The first multi-effects pedal on our list is the Donner Cruncher. Although not solely a delay pedal, I've included this because it provides a number of delay options which when combined with the other effects it is capable of producing, can result in some awesome sounds. There are many features I could discuss regarding this pedal, but it's important to start by praising the analog circuitry. Donner has made it possible to combine a variety of effects to make innovative guitar tones, all the while there is an underlying analog presence to the sound.
Included in the Cruncher Multi Effects pedal are delay, chorus, and distortion. Each of these effects has its own separate footswitch, and three control knobs to manipulate the sounds. Combining delay with dirt creates some incredible tones, and with the addition of chorus, you can quickly thicken your sound with the push of a switch. Many multi-effects pedals are large in dimensions, but somehow despite the variety of options, this pedal won't take up much space on your board.
Who is this best suited for: Guitarists who love to play solos with long sustained notes will love the combination of delay and distortion that you get with the Donner Cruncher Multi-Effects pedal. For 80's style, overly dramatic guitar playing this pedal is perfect.
Bottom Line: Multi-effects pedals can sometimes lack quality when it comes to individual effects. However, this Donner pedal only has three, two of which are a form of delay. Consequently, you get great sounding chorus and delay effects which can be transformed with the addition of distortion.
Popular Related Article: Recomended Beginner Electric Guitars
10. Behringer VD400 Vintage Analog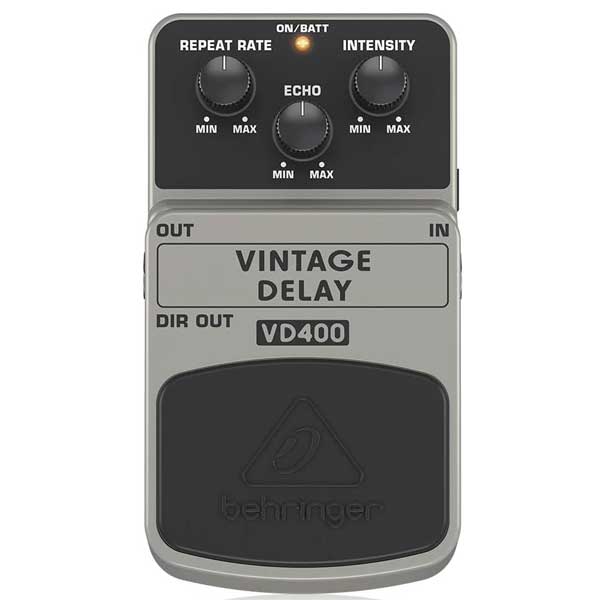 | | |
| --- | --- |
| Estimated Price | $40 |
| Type | Analog |
| Max Delay Time | 300 ms |
| Effects | Delay |
| Connectivity | 1 x 6.35mm Jack Input, 2 x Output |
| Power | 9 Volts DC |
My Review: Another budget option, the Behringer VD400 gives you all of the authentic delay sounds of the golden days of rock n' roll. This primitive stompbox doesn't have a large selection of controls, but there's still room for experimentation. The three-knob setup includes repeat rate, echo, and intensity. Within these three parameters, you can blend analog delay sounds in order to either replicate the classic tones of years gone by or create your own blend.
The simple on/off switch retains the signal integrity when the pedal is in bypass mode, so you don't have to worry about undesirable noise coming out of your amp. The Behringer VD400 delivers a maximum delay time of 300ms. It produces rich vintage delay tones which can really add another element to your overall sound. This pedal runs off either a 9V DC adapter or can alternatively be powered by batteries. The advanced noise reduction circuit maintains a steady level even when the pedal is not in use.
Who is this best suited for: Fans of 60s rock n roll will love this pedal. It manages to produce authentic "old school" delay tones while using digital components to minimize noise even when the pedal is bypassed.
Bottom Line: The Behringer VD400 is an easy to use pedal with no added fluff. Granted, you can't produce layer upon layer of ambient delay with it, but for simple vintage sounds, it does a splendid job.
11. Empress Effects Tape Delay Pedal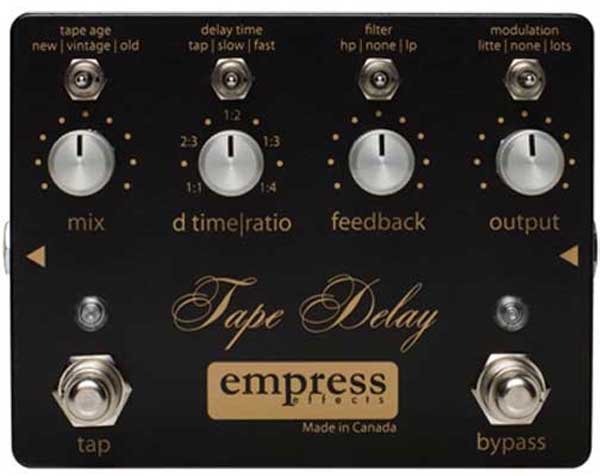 | | |
| --- | --- |
| Estimated Price | $250 |
| Type | Digital |
| Max Delay Time | 600 ms |
| Effects | Delay |
| Connectivity | 1 x 6.35mm Jack Input, 1 x Output |
| Power | 9 Volts DC |
My Review: Canadian pedal producers Empress Effects have created a detailed pedal with their tape delay offering. With three individual flavors of tape eras, you can quickly jump between sounds by using the top layer of toggle switches. The variations are categorized into old, vintage, and new. The old setting produces an Elvis style slapback tape delay, the vintage has a slightly longer sustain and the new has more of a digital sounding, psychedelic rock tone. With a tap tempo switch and true bypass in the bottom corners of the pedal, you get complete control over the tempo and output of the pedal.
This pedal uses an all-analog dry path, but it also has many modern options. Next to the era selection switch, there is a delay time selector, with tap, slow and fast options. You can tailor the delay time in more detail using the knob below, but this switch allows you to quickly switch between the presets before fine tuning the output. The third switch controls a filter, so you can create a high pass or low pass effect. Finally, on the top right corner of the pedal is a modulation switch. The advantage of having these switch presets along with the separate knob controls is that you can create numerous variations within each delay type. For such a small pedal, the Empress Tape Delay certainly isn't lacking in possibilities.
Who is this best suited for: Guitarists who want to use multiple delay settings during a show will find the Empress Tape Delay to be very useful. The four toggle switches create sonic anchors that you can quickly access, then build upon using the more detailed mix, time/ratio, feedback, and output controls.
Bottom Line: At $250, this pedal is more expensive than many of the other options I've reviewed so far. In this instance, I think it's justified due to the generous number of controls you get access to. Unlike some control-filled pedals, the Empress Tape Delay doesn't look overly complex, and it's not oversized either. If price isn't a huge factor for you, this is hands down of the best delay pedals out there.
Popular Related Article: Recommended Cheap Electric Guitars
12. TC-Electronic Flashback Delay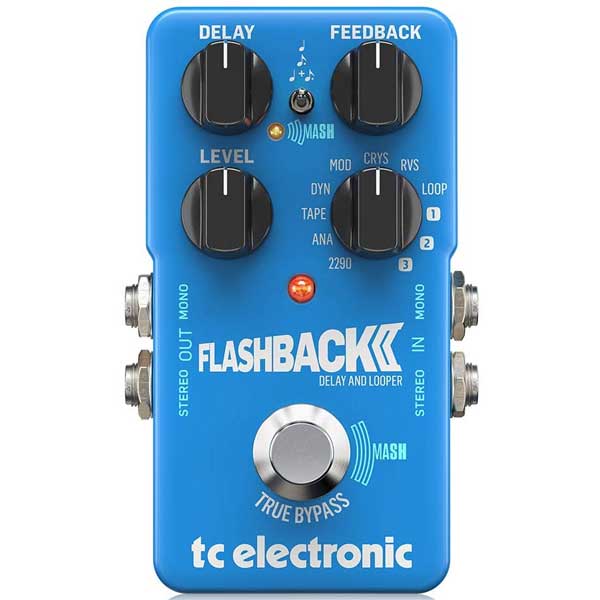 | | |
| --- | --- |
| Estimated Price | $170 |
| Type | Digital |
| Max Delay Time | 6 Seconds |
| Effects | Delay, Looper, Modulation |
| Connectivity | 2 x 6.35mm Jack Input, 2 x Output |
| Power | 9 Volts DC |
My Review: Another offering from renowned effects pedal manufacturers TC-Electronic, is their Flashback Delay. This digital pedal has a massive 11 classic delay types which cover all of the classic sounds of days gone by with more modern, processed variations. You get tape delay, analog, and emulations of the iconic 2290 delay machine. In addition to the many effects presets, this pedal also has built-in audio tapping. Unlike the standard tap tempo that I've previously touched upon in this article, audio tapping works by gauging the tempo from the strums on your guitar. The advantage of this that if the tempo drifts mid-song, you can quickly activate this setting, strum in time with the drummer and you didn't even miss a beat.
As you would expect with a TC-Electronics pedal, there are a number of other digital variations you can make to the effects. Each of the three delay subdivisions have quarter note, dotted eighth note, and combination settings which are great for creating trippy rhythmic delays. There's no need to worry about digital noise, thanks to the true bypass which ensures that none of the high end is lost when you turn the pedal off. The delay time on this pedal has an impressive maximum of 7 seconds, so you can create everything from old school slapback to endless echoes.
Who is this best suited for: Those musicians who are fascinated by possibility. With all of the options available, the Flashback Delay could become overwhelming for people who prefer a simplistic design. But if you enjoy figuring out new sounds and exploring the world of audio processing, this pedal is a fantastic option.
Bottom Line: There really are no limitations on what this pedal can produce. You could simply use the provided presets, or mess around until you find some crazy sound that's never been produced before. For a mid-priced pedal, TC-Electronics have included a lot of features you'd expect from a more expensive option.
13. Strymon El Capistan Tape Echo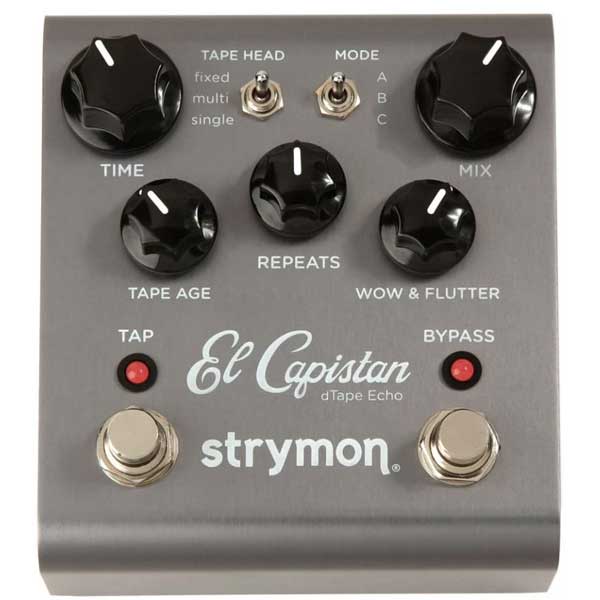 | | |
| --- | --- |
| Estimated Price | $300 |
| Type | Digital |
| Max Delay Time | 620 ms |
| Effects | Delay |
| Connectivity | 1 x 6.35mm Jack Input, 2 x Output |
| Power | 9 Volts DC |
My Review: Since their origination in 2008, Strymon has quickly established itself as a leading producer of high-end effects pedals. They describe the El Capistan Tape Echo as a "magnetic monster", referring to the years of study which went into this hand-crafted pedal. After spending long periods in the Strymon sound design labs trying to capture the saturated, distinctive details of classic tape echo machines, they finally settled on the SHARC DSP processing power.
This extensive research period resulted in three different variations of tape machines being installed into the pedal. With a total of ten adjustable parameters, you have full control over the tape quality, tone shaping, and machine health settings. Whether you want to add clear, studio quality tape echo to your guitar or recreate the sound of a vintage, worn out tape, the El Capistan has the capabilities to do both. The DSP driver ensures that each sound is authentic and realistic. The inclusion of "Sound on Sound" further emulates an original tape machine by recording the audio then allowing you to choose the length of the delay, before triggering it back out through your amplifier. All of this is controlled by two buttons so you don't need to get down to the pedal's level to utilize the effects.
Who is this best suited for: Fans of original tape machines and guitarists who want to produce a lo-fi, vintage sound. This pedal can give you modern sounding delays, but it's best suited to the retro worn-out tape sound which is popular in garage rock.
Bottom Line: You can tell that a large amount of care, research, and thought went into the design of the El Capistan pedal. It looks the part and does an incredible job of reproducing the exact delay sounds associated with primitive tape machines.
14. Rowin Analog Vintage Delay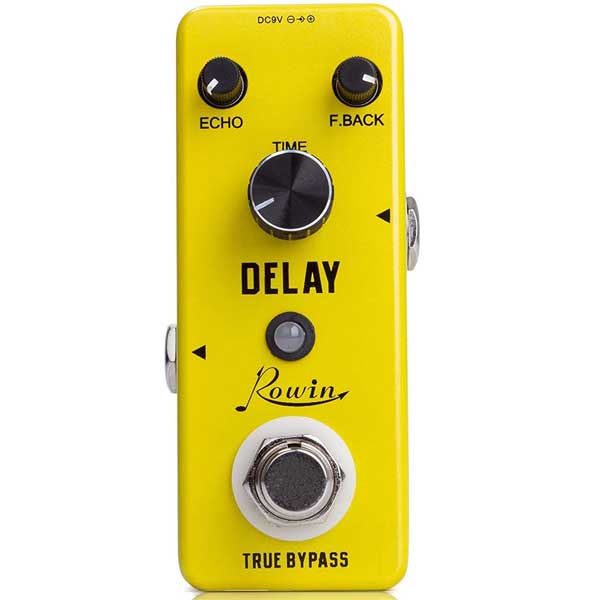 | | |
| --- | --- |
| Estimated Price | $35 |
| Type | Analog |
| Max Delay Time | 620 ms |
| Effects | Delay |
| Connectivity | 1 x 6.35mm Jack Input, 1 x Output |
| Power | 9 Volts DC |
My Review: It's clear from the previous entries in this list that lower-priced delay pedals generally don't have the number of controls that the more expensive options. However, their simplicity doesn't mean that they aren't worthy of consideration. The Rowin Analog Vintage Delay pedal produces a clean, smooth vintage delay sound with a few interesting features. The delay time of the pedal ranges from 20-620ms, and it has true bypass which helps to preserve the tone of your guitar. There's also an LED indicator which shows the working state of the pedal, and three function knobs for controlling the echo, feedback, and delay time.
The advantage of these smaller sized pedals is that they take up minimal space on your pedalboard. The Rowin Analogue Vintage Delay is more than just a budget option though. By turning up the feedback and echo controls, you can create a loop of delay which is useful for creating pad sounds or building suspense. In terms of connectivity, this pedal has a standard ¼ inch jack input and an identical output.
Who is this best suited for: For guitarists who are just starting out with effects pedals, the Rowin Analogue Vintage Delay is a great option. It provides you with the most basic delay controls so you can learn about their functions without the confusion of having a myriad of knobs at your disposal.
Bottom Line: This low-priced delay pedal doesn't have the capabilities of more expensive models, but it still produces a clean, warm vintage delay effect that would enhance any guitarist's sound. There's nothing flash about its design, but for the price, it produces good quality.
15. Boss DD-8 Digital Delay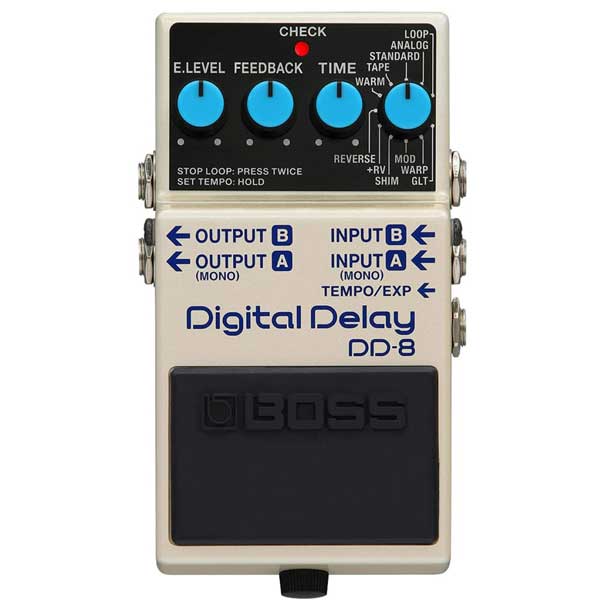 | | |
| --- | --- |
| Estimated Price | $170 |
| Type | Digital |
| Max Delay Time | 6 Seconds |
| Effects | Multipattern |
| Connectivity | 2 x 6.35mm Jack Input, 2 x Output |
| Power | 9 Volts DC9 Volts DC |
My Review: The updated version of the Boss DD-7 is loaded with a wide range of features. With multiple additions in terms of sounds and control options, this pedal leaves nothing to the imagination. The standout quality of the DD-8 is its impressive versatility, packing a diverse selection of delays into a small pedal. The reason I prefer the previous model to this one is simply down to the fact that the DD-8 has so many options available that it can be hard to know where to start. But if you're experienced with pedals, you'll love the limitless number of possibilities it provides. The built-in looper is particularly useful, as it allows you to reproduce what you've just played back through your amplifier. This is a great way to enhance your songwriting or check your sound through the front of house speakers at a gig.
Let's take a look at the numerous delay modes that the DD-8 is capable of producing. There's the classic analog delay that Boss is renowned for, along with vintage tape, warm digital delay, reverse, shimmering pitch-shifted delay, and a newly developed glitch delay. The pedal also has improved connectivity options, with smart functionality inputs and outputs allowing you to create dry/wet setups if you like to use multiple amps on clean and dirty settings.
Who is this best suited for: I'd recommend the DD-8 for guitarists who have experience using multi-effects pedals. The extensive range of controls that are crammed into this pedal is great if you are comfortable with all of their functions, but for lesser experienced musicians the DD-7 is probably a better choice.
Bottom Line: Probably the pedal with the most functions out of all of the options on this list, the DD-8 is akin to having Ableton or Logic on your pedalboard. Although it may seem complex, it's a worthy investment that will be a real asset to your setup once you learn to navigate all of its capabilities.
16. Wampler Ethereal Delay Pedal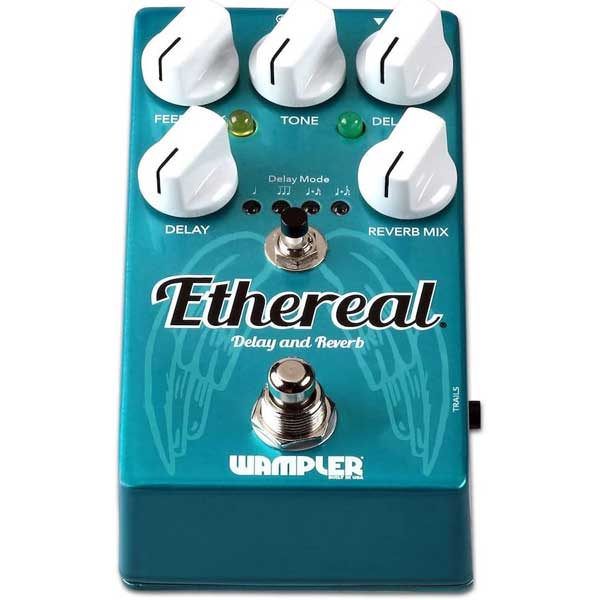 | | |
| --- | --- |
| Estimated Price | $200 |
| Type | Digital |
| Max Delay Time | 1000 ms |
| Effects | Delay, Reverb |
| Connectivity | 1 x 6.35mm Jack Input, 1 x Output |
| Power | 9 Volt DC |
My Review: The Wampler Ethereal Delay Pedal is both aesthetically pleasing and sonically satisfying. It produces complex delay sounds without an overcomplicated layout. The 5 controls on the face of the pedal allow you to adjust the feedback, tone, delay mix, delay amount, and reverb mix. The addition of reverb is a great asset that complements the two built-in delay settings of the pedal. When you combine the three, you get a spaced-out, ambient effect which is great for textural guitar parts.
The two delays that are embedded in the Ethereal Delay Pedal have contrasting characteristics. The first delay provides the foundation with a constant rhythm of quarter notes. The second is layered over the top and can be reproduced either as triplets, dotted 8th notes, or a self-oscillating dotted 8th pattern which is ideal for psychedelic music. Another feature worth mentioning is the tiny switch that is positioned to the right of the stomp. When activated, this button makes the delay, and reverb gradually fades out after you have turned the pedal off.
Who is this best suited for: Pysch-rock guitarists who want to create soundscapes. This pedal is capable of all the standard effects you'd expect from a top-end delay pedal, but what makes it really unique is its ability to produce loops of sound that can be gradually faded in and out of the overall mix.
Bottom Line: The Wampler Ethereal gives you many complex options, but the design is pretty straightforward and easy to familiarize yourself with. At $200 it's on the expensive side, but for the particular strain of trippy delays it provides, you'll struggle to find a more capable equivalent.
17. Boss DD-500 Digital Delay Pedal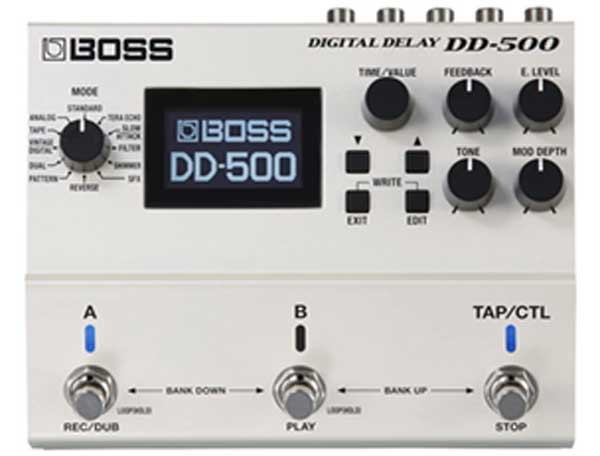 | | |
| --- | --- |
| Estimated Price | $350 |
| Type | Digital |
| Max Delay Time | 6 Seconds |
| Effects | Delay, Modulation |
| Connectivity | 2 x 6.35mm Jack Input, 2 x Output |
| Power | 9 Volts DC |
My Review: The final addition to our list is the unique Boss DD-500. Arguably the most powerful delay pedal on the market today, this stompbox delay offers you a selection of 12 delay modes which are all of the highest audio quality. It's hard to categorize the DD-500 as a pedal, because it is so immersive and detailed that it feels more like a piece of software. With a 96 kHz sampling rate and studio-level 32-bit processing, you can rest assured that this delay pedal will provide you with any delay sound you require.
With freely assignable controls, you can tailor the DD-500 to suit your personal preferences. There's a large sound bank that can be used to store presets that you have created, and two of these patches can be used at once to create unique arrangements. More than just a delay pedal, the DD-500 is also a great asset in the studio. Along with guitar it can be used for synths, vocals, and bass. There's really no limit to the functionality of this Boss pedal.
Who is this best suited for: Musicians who intend to use their delay pedal in the recording studio as much as in a live setting. The DD-500 is the perfect tool for experimentation due to its seemingly limitless number of options.
Bottom Line: The DD-500 is an advanced delay pedal that will require some time to learn how it works. Once you understand its functions, it can transform your sound beyond imagination. There's no doubt it's the most feature-rich pedal on this list, which also makes it the most complicated to use. But if you enjoy a challenge, I'd definitely recommend considering it.
Choosing the Right Guitar Delay Pedal (Buying Guide)
As you can see from our comprehensive list, delay pedals vary greatly in terms of their aesthetics, capabilities, and features. I understand that some of the terms used to describe the different variations of delay can be confusing, so in the guide below I will go over the main aspects of delay pedals so that you have all the information required to choose the best suited option for your needs.
Analog vs. Digital Pedals
Delay pedals come in two varieties: analog and digital. Which is better? Well, that ultimately comes down to personal preference. Both of these types of delay pedals have their respective strengths and limitations, so it's important to establish what it is that you're looking for before making a purchase.
Let's start with analog pedals. Technically speaking, analog delay pedals are usually reliant on a device known as a bucket-brigade. This is a small chip that transmits the analog signal through a number of capacitors at one step for every clock cycle. With each step, the repeated delays become gradually darker and warmer in tone. Many music purists prefer analog delay pedals because of their vintage, authentic sound. One of the downsides to analog is that the maximum delay times are generally shorter than their digital counterparts, due to the limitations of the bucket-brigade chips.
Digital delay pedals work by using digital signal processing chips in order to produce an echo effect. This gives the manufacturers complete dominion over the abilities of the delay pedal, such as the minimum and maximum length, transparency, and overall color. The main advantage of digital delay pedals is that they offer more options than those of an analog variety. The sound is more processed than analog, but some guitarists feel that this is a worthy tradeoff for the numerous options that digital provides.
Whether analog or digital delay pedals are the better choice is a subjective matter. If you're looking for a vintage, warm sounding delay and don't require dramatic presets then analog is probably the right choice for you. However, if you need flexibility, precision, and more extreme forms of delay, then digital will likely suffice.
The Different Types of Delay
Delay has been used as an effect ever since recording music became a possibility. From the pre-digital days of tape delays to more modern, processed varieties, there is a multitude of delay types that are commonly featured on pedals. I'll explain some of the most common kinds, what they are used for and the effect that they produce.
The earliest form of delay used for recording was tape delay, which originated when rock n' roll was in its infancy back in the 1950s. Recording engineers would capture audio onto machines using magnetic tape reels. The recordings would be played back on the tape strips which resulted in a naturally occurring delay. Eventually, analog tape delay would be emulated by digital machines like delay pedals.
Still to this day many musicians and producers prefer to use tape delays in their recordings due to their authentic, vintage sound. Digital delay pedals come very close to reproducing analog tape delay, but there is an undeniable charm associated with the original method which still sounds great decades after its discovery.
Slapback Echo delay is another popular variety that is commonly featured on delay pedals. This type of delay has a distinctive punch to it, due in large to its quick attack and short sustain. It's similar to the echo you get in a large room and was made famous by artists like Elvis Presley. On a modern digital delay pedal, slapback echo can be achieved by turning down the feedback control and cranking the delay control up. This provides a short, sharp delay, thickening the sound.
Another popular type of delay that you may come across on a pedal is looping delay. You've probably seen artists using a looper to track multiple instruments and create a full production before your eyes. These loop delay pedals work in the same way as all other forms of delay – by receiving audio then playing it back retrospectively. By doing this, you can create multiple loops which can then be internally stored in the memory of the pedal to be triggered later.
Doubling echo is another popularly featured variety on delay pedals. This form of delay has similar characteristics to slapback echo, the only difference being that its delay time is shorter. This produces a double track effect, which is commonly used on vocals to iron out any blemishes in pitch or strengthen the overall tone. When used with a guitar via a delay pedal, doubling echo thickens the sound.
Digital multi-delays are the most popular variety among guitarists today. They usually feature a mixture of emulations of the classic delay sound I previously mentioned, but the advantage of a digital pedal is this you get complete control over the characteristics of the delay. Many of these pedals are compatible with USB so you can connect to a computer and tweak their settings within your preferred DAW. Purists would argue that digital delay will never come close to the original analog sound, but in terms of flexibility, they're hard to beat.
Tap Tempo
You'll find that many delay pedals have a function known as tap tempo. This means you can hook the pedal up to a footswitch and tap in time with a song, so that each repeat of the delay is synchronized in timing with what you're playing.
A common issue with pedals that don't have built-in tap tempo is that your delay can drift out of time with the tempo of the song you're playing. The reason some delay pedals don't have this function built-in is that it takes up a considerable amount of space on the pedal. The way around this issue is to tweak the delay time manually on your pedal, but the downside to this is that you can't use the same effect across multiple songs like you could with a tap tempo.
Which Type Of Delay Pedal Should You Buy?
Now that you've learned the basics about delay pedals, you might be wondering which particular ones will produce the sounds you're looking for. In the section below, I will advise you on what types of delay pedals will provide your desired results. The commonly produced sounds by delay pedals are:
Vintage Delay Pedals
Ambient Delay Pedals
Slapback Delay Pedals
Rhythmic Delay Pedals
Soloing Delay Pedals
If you want to produce vintage delay from your effects pedal, you ideally need one which is of the analogue variety. It is possible to get those classic tones from some digital models too, but ensure that it has a tape echo unit. The main characteristic of vintage, analog delay is that the cycles gradually degrade with each repetition, giving it a warm overall feel. This thickens up the overall sound of a band and makes this type of delay a popular choice among guitarists.
Ambient delay pedals should come with a disclaimer – you may lose many hours of your life sitting in a trance experimenting with the psychedelic sounds they create. The most effective way to produce this type of delay is by choosing a pedal which also facilitates reverb. Basically, the more effects you can combine with the delay, the more ambient sounds you will come across. There's nothing more fun than playing around with modulation controls create otherworldly sounds from your amp.
I previously described the characteristics of slapback delay, now we'll discuss how to produce it with a pedal. The simplest way to do this is by shortening the delay time so that the sound repeats almost instantaneously. It's then important to turn up the overall delay level so that there's minimal volume difference between the original clean audio and the delay. The feedback setting should be turned down so that sound isn't repeated multiple times. Most delay pedals have the facilities to create slapback using this method.
One of the most effective ways to utilize delay is by creating rhythmic sounds with it. In order to do this, you'll need a pedal with tap tempo so that the delay stays locked in with the timing of a song. There are a variety of delay pedals which allow you to create more complex rhythms, rather than just your standard quarter or sixteenth notes. Most rhythmic delay pedals are digital, as they need to process the patterns your program in.
If you're like me, then the main reason you want a delay pedal is to take your guitar solos to the next level. An effective way to cut through the mix when soloing is by adding a touch of delay with a short sustain, as this creates a doubling effect and beefs up your tone. Alternatively, you might be more interested in creating a beautiful mess when soling. By this, I mean adding longer delays so that each note plays back and gradually fades out. This is a great technique to use when you are playing a more intimate solo, and most delay pedals will have the ability to produce this sound. Learn more about types of audio delay here.
Controls and Parameters
There are a staple set of controls and parameters included on nearly all delay pedals. These are:
Effect Level
Delay Time
Feedback
The effect level is pretty self-explanatory. It's basically the amount of delay you want to allow to be added to the signal. Much like a wet/dry control, this allows you to add or remove the effect from your overall sound.
The delay time affects the duration that the repeated signal lasts for. For example, if you were to turn the delay time all the way up, you would increase the amount of time between playing a note on your guitar and the repeated or delayed version being reproduced.
The feedback parameter controls the amount of delay that is produced. It essentially determines how long the sustain of the repeated note occurs, so if you wanted the delay to be more subtle, you would turn down the feedback control and vice versa.
Multi-Effects Pedals
Many multi-effects pedals have delay built-in, as you will have seen on the list at the top of this article. The advantage of multi-effects pedals is that they combine all of your effects into one hub, saving space on your pedalboard and making it easier to quickly toggle through each setting. The majority of these pedals have effects like chorus, reverb, phase, flange, modulation, and others installed.
A word of warning however, multi-effects pedals don't usually provide you with the detailed controls that you would find on a pedal that is exclusively for delay. Due to the multitude of effects available, the options available to you will most likely be reduced, so if you're looking solely for a delay pedal it's probably best to overlook one which has a combination of audio processing options and instead choose a more specific model.
Signal-Chain Placement
One of the common questions regarding any effects pedals is where should you position them in the chain? There's no definitive answer to this, as you may find that sometimes accidental placement creates interesting and unique tones. However, there are a few rules of thumb that will make sure you get the best out of your delay pedal.
Commonly, guitarists will position dirt before delay. If you use overdrive, distortion, or fuzz, these pedals should be placed before your delay pedal in the chain as this means that the distorted signal is affected by the delay so there' no risk of the sound becoming muddy. Distortion pedals have the biggest impact on your signal, so putting delay before them would create a mess. To reiterate, you might be searching for weird and wonderful sounds so feel free to disregard my advice and tear up the rulebook, after all, that's what many of the most innovative guitarists have done!
Connectivity and Signal Splitting
A number of the delay pedals that featured on our list have what is called dual-outputs. Why would you need two outputs? Well, let's say you play in a three-piece band with one guitar, a bass, and drums. Or a two piece with just a drummer and guitarist. The chances are you're going to want to add some more body to your guitars tone in order to fill the space adequately.
A great way to do this is by using two amplifiers. A pedal with two outputs allows you to split the signal and have a dry version playing through one amp and the manipulated signal playing through another. This is useful because it means that the dry, clean version of what you are playing carries on even when you use your delay pedal or other effects, giving you an overall beefier sound and avoiding losing power when you switch your pedals on.
Preset Saving
Saving presets allows you to fine-tune your delay settings then store them within the pedal's memory so that you can easily access them again. Not all delay pedals have this capability, but there is a good number that do. When you combine a preset saving pedal with a footswitch, this is where the magic really starts to happen. You can save all of your favorite delays into the pedal, then toggle through them using the switch for seamless transitions on stage without the need to bend over and handle the pedal.
Reverse Delay
One of the most interesting types of delay which is commonly found on a pedal is reverse delay. This is created by passing the input signal through a memory buffer which delays it for a short time and then sends the reversed signal back to the output to create a trippy effect.
Powering Your Delay Pedal
The majority of delay pedals run off 9 volt DC power, with some able to be powered by a battery. If you plan on setting up multiple pedals, I would recommend considering a power pack. This is basically an electronic hub that has multiple powered outputs of varying voltages.
Power packs are particularly useful because they can be fixed permanently to your pedal board, so all you need to do is plug it into the mains and all of your pedals are ready to go. There are lots of options out there, but in order to get the right one, you need to determine the number of pedals that require powering.
Trusting the Manufacturer
With so many options on the market and new manufacturers popping up all over the place, it's important to choose one with a history of producing high quality pedals. I've fallen victim to some cheap alternatives which have stopped working after a short period of use before, simply because I didn't research whether the brand had a solid reputation.
All of the pedals I listed earlier in this article are, in my opinion, solid and reliable choices. I hope that the information provided has helped you to determine which type of delay pedal is best suited to your needs. All that's left to do now is enjoy the process of experimenting with your new pedal. I hope it brings you many hours of satisfaction and helps you improve your songwriting and performing!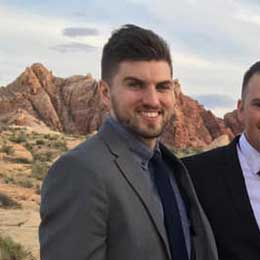 My name is Chris and I've had a passion for music and guitars for as long as I can remember. I started this website with some of my friends who are musicians, music teachers, gear heads, and music enthusiasts so we could provide high-quality guitar and music-related content.
I've been playing guitar since I was 13 years old and am an avid collector. Amps, pedals, guitars, bass, drums, microphones, studio, and recording gear, I love it all.
I was born and raised in Western Pennsylvania. My background is in Electrical Engineering, earning a Bachelor's degree from Youngstown State University. With my engineering experience, I've developed as a designer of guitar amplifiers and effects. A true passion of mine, I've designed, built, and repaired a wide range of guitar amps and electronics. Here at the Guitar Lobby, our aim is to share our passion for Music and gear with the rest of the music community.