While shopping for an acoustic guitar, the choices can seem limitless. There are so many different types of acoustic guitars and it can be difficult to choose the one that will compliment you and your playing style.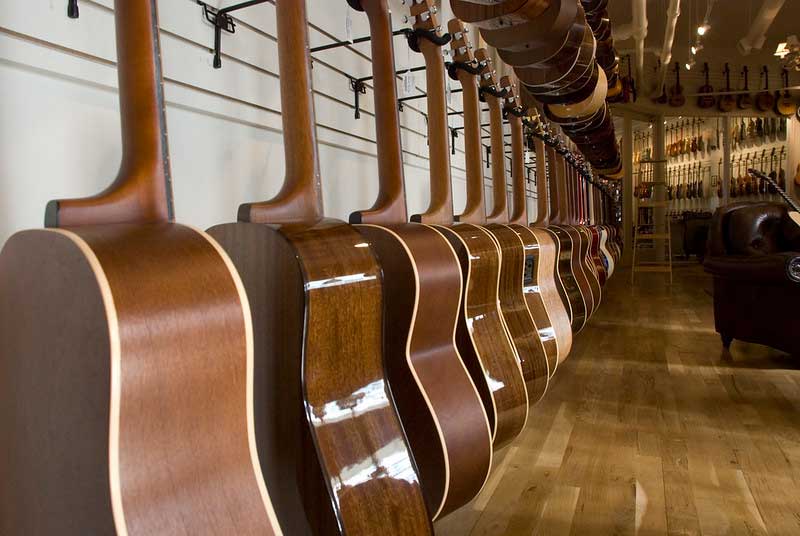 Figuring out which type will best suit your needs can be challenging, which is why we are here to help you out.
In the next few paragraphs, we are going to explore all the different kinds of acoustic guitars and some of the features that can help you distinguish and choose between them.
Here Are the Types of Acoustic Guitars
1. Dreadnought Guitars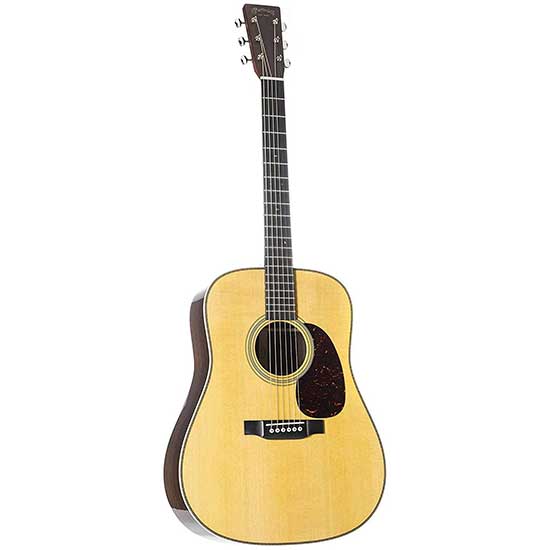 This is the most common guitar body shape and has the most volume and the highest amount of bass frequencies. If you walk into any guitar shop today, chances are the first guitars you will see are Dreadnought ones. They are available in budget-friendly options as well as the expensive ones such as the Martins and Taylors.
The Dreadnought was created by Martin in 1916 who then named it after the HMS Dreadnought after the massive battleships. This was done to reflect the big build of the Dreadnought guitar and also its large, wide soundboard. Typically, a Dreadnought will have a body length of 20" and a width of 16", with a scale length of 25.4".
Here is a video of a Kurt Cobain playing his Martin D-18 Dreadnought style acoustic guitar:
The shape of this guitar has the capacity to produce big, bold sounds due to its large internal cavity which accentuates the bass frequencies. The sound it produces is a powerful low-end, snappy midrange and bright trebles. This guitar is popular with country, rock, and bluegrass musicians.
The dreadnought has mahogany on back and sides and spruce tops, 12 or 14 frets "clear to the body" which means that the neck joint is attached to the body at the 12/14th fret. The two most recognizable models in the dreadnought history are the Hummingbird, built by Gibson and the D-28 (or HD28), built by Martin.
Martin guitars have been embraced by a long list of musicians from Elvis Presley to Kurt Cobain of Nirvana, these guitars have been embraced by almost every generation and continue to do so. Most recently, you may have seen Ed Sheeran with these guitars.
Mumford & Sons have also embraced the dreadnought guitars as it goes beautifully with their folk rock songs. The songs, "Little Lion Man," "I Will Wait" and "The Cave" are some of the most popular songs by the band. Mumford & Sons uses their Martins in a bombastic way, allowing quieter verses to explode in full on strumming grandeur.
The Lumineers are also a band that has used these guitars time and again to accompany their sweet yet sorrowful songs. Their music might come in the alternative rock or indie genre, but the use of the guitar lends to brilliant melodies that make a warm mood. Their music is such which can be played around the campfire or at a party with old friends.
You cannot go wrong with a Dreadnought and they are not limited to a Bluegrass genre too. These guitars are truly very versatile and can be used in any genre where players want a bold and strong sound that cuts through.
This guitar is great for aggressive strummers and flat-pickers. While it may not be the best choice for finger styling. Also, due to the larger body size, Dreadnoughts are not as comfortable to hold for smaller players, including children. So, if you have a small built, then the guitar itself might be difficult for you to play and master due to its huge body size.
2. Jumbo Guitars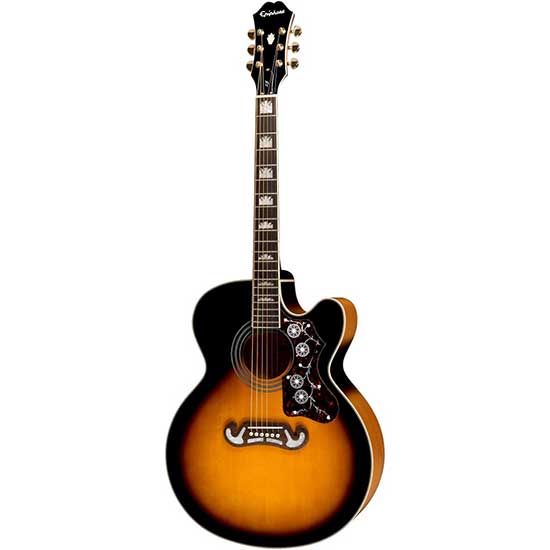 Let us take a deep dive into the largest acoustic guitar which is the Jumbo acoustic guitar. Originally introduced by Gibson in the late 1930s as the J-200, this guitar was released for musicians who were looking for a big sound. The guitar is more rounded, giving it a big cavity which produces a huge, booming sound. The main benefit of these guitars is that the volume they produce is loud!
A video of a Luke Combes playing his Gibson J-200 Jumbo style acoustic guitar:
These are great guitars if you want to be heard over a crowd or if you regularly perform in front of huge crowds. These guitars are great for soft picking and even hard strumming, making them very versatile. The style hit its peak in the middle of the 20th Century but gradually saw its decline as acoustic amplification systems made significant advancements. However, these jumbo guitars are still very much available in shops and the sales are still happening.
Expect widths of up to 17" on the lower bout, which provides huge projection and a high volume ceiling. Since these guitars are huge, you can expect detailed decoration on Jumbos compared to other styles, including specially-designed bridges, fretboard inlays, and headstocks.
These guitars are great for sure if you are big framed, have a solid belting voice, and need an instrument to match up to your vocals or if you just want a loud guitar. If any of the above is you, then the Jumbo guitar might be the perfect fit for you. If we talk about the tone of the guitar then a Jumbo is generally very well-balanced with a big low-end boom. These guitars were popular with country singers who have belting voices and were a favorite of Elvis Presley, who used this style throughout his career. His favorite guitar was customized 1956 J-200 jumbo acoustic guitar which he used often throughout his career. It matched his low baritone voice and volume of the guitar played to his strengths.
Bob Dylan is also another singer who widely used the Jumbo acoustic guitars. The guitar also matched his low baritone voice, just like Elvis's. Dylan got his Gibson SJ-200 from George Harrison which would later be converted to create a "Bob Dylan SJ-200 Player's Edition". The Gibson Super Jumbo is a big, fancy, and most importantly, loud guitar.
The Gibson J-200 is a great guitar to own and many musicians like Elvis also owned this guitar.
If you are on a tighter budget, then the Epiphone range by Gibson may be a good choice. Not only is the quality great, but it is significantly budget-friendly.
To sum up, Jumbo acoustic guitars are great for those who want to perform to a larger group of people with no additional amplification. People who are into busking can really benefit from such guitars. Because of the bigger size, Jumbo acoustics won't be very comfortable for smaller players. Plus, they aren't;t too great for quiet practice sessions. If you are regularly on the road, traveling with this huge instrument can definitely be a hassle.
3. Auditorium Guitars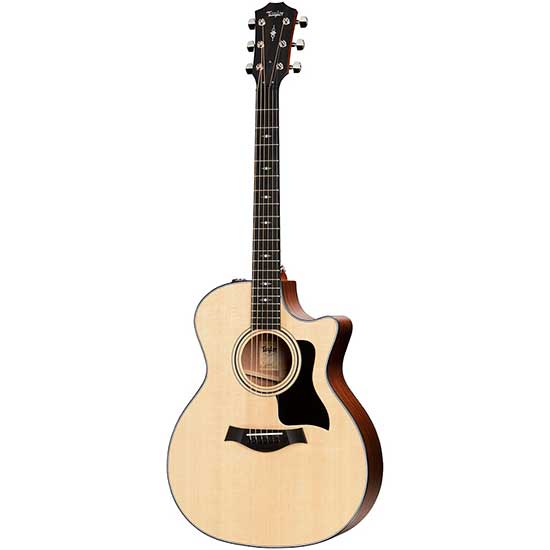 One of the most popular guitar styles in today's day and age, apart from the Dreadnought, Auditorium guitars are a classic choice. Also, referred to as "orchestra", the auditorium style was introduced in the early 1920s and was one of the largest guitars through the end of that decade. Now, the guitar comes in the medium-sized category with a thinner waist than a dreadnought and a broad upper bout with flatter shoulders.
A video of Eric Clapton playing his Martin OOO-28 Auditorium style acoustic guitar:
This is also a C.F Martin design, the tight waist makes the sound a bit different from the Dreadnought. The sounds of the guitar is a big one with a good treble-bass balance that makes it great for fingerstyle playing. The guitar's popularity in today's market can be credited to its tone and the performance they provide.
They offer a warm, well-balanced tone and the auditorium guitars with their thin waist are extremely comfortable for those who want to sit and play. As such, they prove popular for all styles of music, from rock and blues to country and folk.
The most famous artist who uses the auditorium guitars is Eric Clapton in his famous "Unplugged" album. He uses strumming, subtle fingerpicking, bluesy lead licks which all sound superb on an auditorium guitar. This shows how versatile this instrument can be.
Do note that this shape of the guitar is also known as "O" guitars. These guitars come in ranging sizes from "O", "OO", "OOO".
It is best to go to a shop and see which style of guitar you like best and which one suits your tonal quality. You might be stuck between a Dreadnought and an auditorium guitar and the best way to decide is to sample the guitars at the shop.
Auditorium styles (like the Taylor 214ce Deluxe) have less bass and a more defined midrange than dreadnoughts or concerts. These guitars are generally way more manageable in size than the Dreadnoughts, which makes these great guitars for people who regularly travel.
If you are just starting out and want to explore strumming patterns and fingerpicking, an auditorium guitar can be an excellent choice. These are also very good for those with a lighter touch. They also have a pickup/preamp system and they are also one of the nicest sounding guitar styles plugged in.
These guitars would probably not be a good choice for people who have a loud singing voice and need a guitar that matches that volume and tone. The lower volume ceiling of this guitar may be tough to work with for such musicians.
Related Article: The Different Types of Electric Guitars
4. Classical Guitars
These Nylon stringed beauties is a category in itself. Classical guitars are known for their soft Nylon string tone and are made by many manufacturers in the world. Generally used to play classical music, have smaller dimensions than that of a dreadnought, being closer in size to that of a parlor guitar. They are specialties of brands such as Cordoba, Kremona, and Yamaha.
Classical guitars are identified by open slotted tuners. Plus, the neck and fretboard are wider on a classical guitar (usually with a nut width of around 2" or more) providing a more spacious surface area to play with. In terms of the scale length, the guitar tends to be a bit longer than a steel-string acoustic at around 26". Style-wise, nylon-stringed models are usually joined to the body at the 12th fret.
A video of Ana Vidovic performing on a Jim Redgate Classical style acoustic guitar:
If you love the soft sounds in a guitar and enjoy f the traditional European orchestral music, the Classical guitar is definitely your type of guitar. Andres Segovia and Christopher Parkening use classical guitar and this type of guitar is a lot more popular than you think. Guitarists such as John Williams and Andres Segovia were known as pioneers of the classical genre. Boss Nova, which hails from Brazil, also uses the Classical Guitar.
Classical guitars with Nylon strings are often used in styles such as traditional Classical guitar and Flamenco.
If you are a beginner, then take into mind that a classical guitar, the fretboard is very flat. This often makes it difficult to play chords as it goes against the natural curvature of your hand. Also, the gaps between each string are much wider than a normal acoustic. However, the soft nature of Nylon strings allows the player to use flamboyant playing techniques.
Classical guitar is great for, you guessed it, classical players. Or any player who wants the softer, balanced sound of nylon strings including Spanish, fingerstyle, and Flamenco players. If you like strumming, you probably would not enjoy this guitar so much. Players with small hands may struggle to make chords due to the larger fretboard as well. Children might not like this guitar for the very same reason.
Willie Nelson is a classical guitarist who you may recognize. His unique guitar style remains rememberable to this time.
5. Parlor Guitars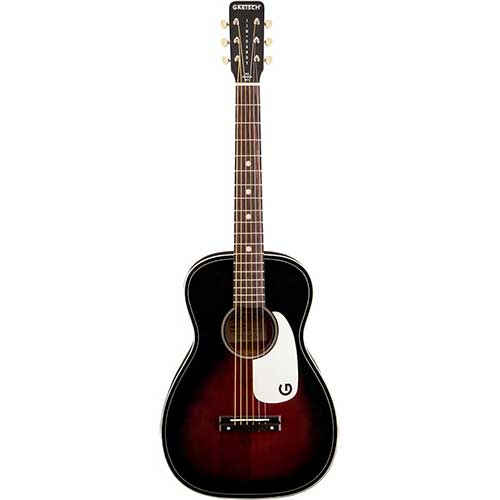 The petite Parlor guitars are the opposite of Jumbo. The parlor guitar rose to fame in the late 1800s. These types of guitars have smaller body frames and are suitable for children as well. While its popularity dipped from the 1950s onwards, these models still have its fanbase. Parlor guitars are made by brands such as Fender, Washburn, and Ibanez.
A video of Pete Honore and Ariel Posen Demonstrating Parlor size guitars:
Some people think that these tend to be a little boxy when compared to a dreadnought, however, this guitar has its own pros. If you love finger styling, then this might be the perfect guitar for you. Due to its smaller dimensions, it is easier to do plucking. This compact style of guitar tends to have a small overall length and an elongated body, which actually makes it suitable for all styles of playing. From strumming to finger plucking. If we talk about the tonality of the guitar, then it is light, focused, and quite well balanced. There might be less bass and more midrange emphasis though.
The same boxy sound which we talked about is actually loved by vintage players. These parlor guitars still have an audience as it appeals to blues, slide, and folk players. Of course, you can expect a quieter sound than let's say a dreadnought. A lot of folk artists pick these guitars as they can sound very intimate to a small audience if the singer likes to pick the strings using softer vocals.
The parlor body shape was invented by C.F. Martin in the 19th century. You must have heard this guitar while listening to old Blues players. American folk singer Joan Baez used a parlor guitar and gained popularity as one of the most popular female folk singers of her time, with over five and a half decades worth of performances and 30 albums under her name. In the 21st Century, there are many takers for the ever-so-tiny parlor guitar. From Taylor Swift to Ed Sheeran, there are many takers for this type of guitar. John Mayer has also recently made the switch from dreadnoughts to parlor guitars. Martin even made him a signature parlor guitar that quickly sold out. "Something Like Olivia" is a great song featuring a parlor guitar.
parlor guitars are of course great for children, but adults also can try this guitar if they want a "vintage" sound. parlors are also a good call for singer-songwriters, as the lighter projection means you don't have to compete with the guitar when playing. parlor guitars are also great for musicians on the move, as they can be easy to travel with. It is not great for those looking for a dynamic range in a guitar.
Popular Related Article: Guitar Neck Shapes Explained
6. Grand Auditorium Guitars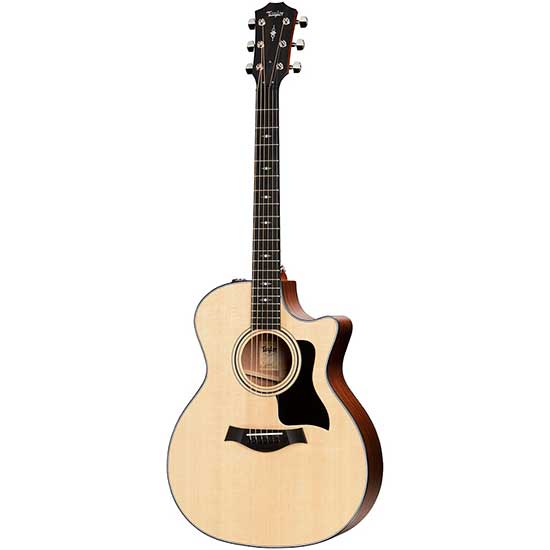 We have already discussed the Auditorium guitars above and you may have guessed it that Grand Auditorium guitar is the bigger version of the Auditorium guitar. It is similar to the equally proportioned Dreadnought as well. When you must have heard about the Grand Auditorium, you may have wondered that the Grand Auditorium guitar might be playing in grand auditoriums and concerts, but of course, that is not true.
The Grand Auditorium is a steel-strung flat-top guitar and is traditionally made from a variety of tonewoods. They are also one of the most popular guitars in the market apart from the Dreadnought. The Grand Auditorium is a Taylor creation and the tone and versatility these guitars provide might be one of the best.
A video of Taylor Swift performing on her Grand Auditorium style acoustic guitar:
In terms of size, these guitars sit roughly between a Dreadnought and a Concert (below), with a typical lower bout width of around 15" (Auditorium) to 16" (Grand Auditorium). When compared to a Dreadnought, they have a narrower waist, which makes these guitars excellent to play when seated. The Grand Auditoriums offer a well-balanced, warm, and clear tone and make for a well-rounded sound. The guitar can do very well with strumming, flat-picking, and fingerstyle.
If you're a musician looking for one guitar to travel, the Grand Auditorium can be a great choice. It performs well on the stage and in the studio. There are quite a few pros of this guitar. It is easier to hold while sitting, plus, the Grand Auditorium has a great balance to use when writing, performing, or recording. Additionally, it has well-defined mid, low, and treble notes. Plus, it uses the most standard fret scale length.
Taylor claims to be the original producer of the Grand Auditorium in the 1990s. However, Taylor hasn't been around as long as Martin. Martin has a model that could arguably fit the specs of a Grand Auditorium which they made decades before Taylor's. Regardless, all the big players in the market have perfected this guitar.
If you want to understand how a Grand Auditorium sounds, check out the early songs of Taylor Swift, where she usually used to use the Grand Auditorium. This guitar may not be great for aggressive strummers who may found the lower volume register tough to work with.
7. Travel Acoustic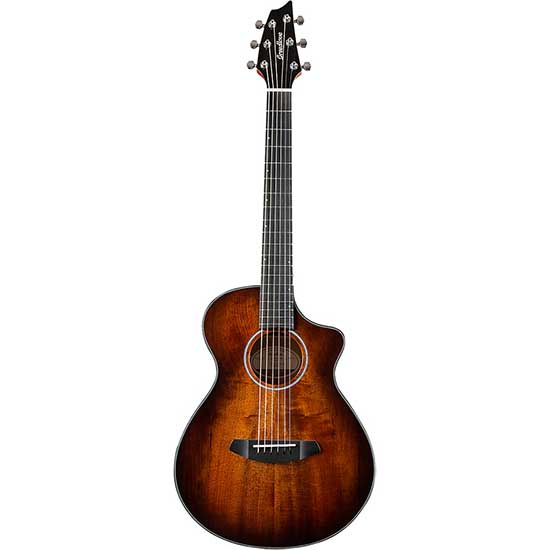 If you are traveling the world, then a travel acoustic would be the best choice of guitar for you. Even though a Parlor guitar is the smallest of all acoustic guitars, a travel acoustic would also be well suited for a musician who travels and wants a hassle-free experience taking a guitar along. The majority of these guitars feature a full-size fretboard and a close to full-size scale length. They might be small, but they are definitely not cheap. In some cases, they may be more expensive than a regular guitar.
A video demonstration from Yamaha featuring one of their Travel style acoustic guitars:
Don't expect traditional shapes in this category. Of course, you can find the Little Martin or the Baby Taylor, which both look like mini guitars. Most travel acoustic guitars are made of laminated woods to ensure they are light and resistant to temperature and humidity changes. They aren't totally bad, but you definitely cannot compare then to a full-sized acoustic guitar. Though these guitars are great for travelers, they are also really quiet. Just like a Parlor guitar, these are not suitable for a performance of more than a few people. They can also be a little tricky to play if you are a bigger player.
Related Popular Article: Recommended Acoustic Guitars for Beginners
8. Electronics or Unplugged or Acoustic-Electric Guitar
Another guitar type which is an important one in itself is the acoustic-electric guitar or Electronics guitar or the Unplugged guitar. An acoustic-electric guitar is a type of guitar that is an acoustic guitar that has a microphone attached so that it can be plugged into an amplifier.
Electric acoustic guitars feature the traditional fingerings of the unplugged models, but also have additional onboard electronics and pre-amps for plugging in if needed. Some models come with equalizers and other sound adjustments. Though you might wonder why would you pay more for a model which can be plugged in, it makes a real difference if you are an aspiring guitarist or a musician.
Usually, an acoustic-electric guitar will have piezoelectric pickups, requiring a preamplifier incorporated into the guitar body to amplify the signal before it travels to the main guitar amplifier.
9. Dreadnought Variants
After the introduction of Dreadnought guitars by the Martins, other companies followed suit and many made their own versions of this popular guitar shape. Gibson, especially, made another variant to this guitar type that became extremely popular.
The Gibson J-45 surged in popularity after its introduction. This guitar was affordable yet maintained all of the excellent features that came with the more costly Martin D Models. These guitars have a handsome appeal and the price is affordable as well. The price of the instrument helped it to rise to popularity and the warm tone of the guitar also has a lot of takers.
Now the Gibson J-45 has become as popular among players as the Martin Dreadnought. This also means that this type of guitar is expensive and you can expect to pay quite a bit for this one. This is because the quality it offers is also really great. The most well-known player of the Gibson J-45 player of all time has to be the one and only John Lennon of The Beatles.
Now that we know all the different types of acoustic guitars, let us explore what factors should you consider while deciding to buy the perfect guitar for yourself.
How To Choose The Perfect Guitar
If you are a beginner, this task may sound even more daunting as you may not know much about how your own music style will develop or even what kind of guitars you like to play. This is why we have compiled a list of factors where we tell you how to choose the perfect guitar for yourself.
Choose the right size
This is probably the most important one. When you go to a store to buy a guitar, it is important to choose the guitar which suits your body type the most. A guitar that is too big for yourself or for your child might make it difficult to play and therefore cumbersome to learn. This might end up hindering the entire process of learning an instrument. Overreaching your fingers on the fretboard will make the process difficult because their muscles are already stretched out making it difficult to properly move their fingers on the fingerboard.
Choose the kind of guitar that interests you the most
Many people might go for the inexpensive guitar as this is their first guitar, however, you should go for the guitar that suits you the most and the guitar that you want. If you, for example, buy a guitar that you don't want, you might be setting yourself up for failure. A cheaply made acoustic guitar will certainly lead you to quit because it is physically just too hard to play.
Plus, playing the guitar that interests you will keep you motivated and also focused. You can also choose your guitar based on the kind of music that you like. If you like mellow music which is slow and mostly acoustic, then you can choose an acoustic guitar or nylon string classical guitar. If you are into country music or rock, then you can go for an electric guitar too.
Avoid low priced guitars
If it seems too good to be true, that the price is super cheap, the guitar looks excellent, then you know what is wrong. You should see red flags when presented with guitar packages valued at $800.00 and selling for only $199.00. Just like cheap quality cloth, the guitar also will be like that. A $289.00 package at $199.00 is a much more realistic price.
Don't fall in the "Brand name" trick
Of course, it is always enticing as a beginner to go for the big brands and the stellar guitars. However, you also need to be realistic about your budget and do the research accordingly. Most major brand name companies compete with minor brand name companies for entry level and intermediate level players. However, smaller brands rely on social media marketing and the knowledge of the dealer. These brands may make good quality guitars but may lose out on the big brands as people think high price is equal to high quality.
However, that is certainly not true. We all know that the cost of media advertising is included in the overall cost of the instrument. You may end up paying more for the brand name while the quality is the same or paying a competitive price for an instrument of less quality.
An expensive guitar of some brand name does not always guarantee a better guitar. You may end up paying way more when the quality of the instrument is not that great or different from the other lesser known brand.
As a side note, many major brand guitar makers provide free guitars to recording artist to use in concert, which is a very effective marketing tool. Beginner guitar players often start associating the name brand with their favorite performers, not realizing that the expensive instruments they use share very little (except the name) with the entry-level models.
Choose your guitar color and finish which you love
A guitar is also a lot about the looks along with the quality of the sound and the acoustics. If you want a wood finished guitar in a certain tone, go for it. Or even if you want a particular color, go for it.
Include a tuner if required
If you are a beginner or are getting an instrument for your child, make sure to buy a guitar with an in-built tuner. Keep your guitar tuned to standard tuning for the best sound quality.
Guitars are manufactured and set-up to withstand the tension of standard pitch, which produces the best musical tone. If your guitar is tuned too high above standard pitch the excessive tension can damage your instrument and at the very least break your strings.
Too high or too low string tension can cause irreparable damage to your guitar. If it is too high strung, the string can most definitely break. If it is too far below standard pitch can cause the neck to move backward resulting in unacceptable string buzz against the frets.
Conclusion:
Now that you know the A to Z of the acoustic guitar world, you can choose the perfect guitar meant for you based on the size, tonality, your style, or the style of music you prefer. Though the most popular guitar types are Dreadnoughts and Grand Auditorium. Both the guitars have great tonality and volume ceiling which can lovely for people who are looking to perform. Jumbo guitars are also a nice choice for people with a low baritone or high volume while singing. And if you are agile or petite, then Parlor guitars are truly the best bet. They are also really well-suited for children.
If you want to travel with your guitar and have no qualms about the volume ceiling being low, then a travel acoustic guitar would be really great for you. And if you are a classical guitar player, then obviously, go for the classical guitar. Auditorium guitars are also really popular today as they have a thinner waist than a dreadnought and a broad upper bout with flatter shoulders. Their tone is great as well. Let us know your favorite types of acoustic guitars below, and as always feel free to drop any comments you have below.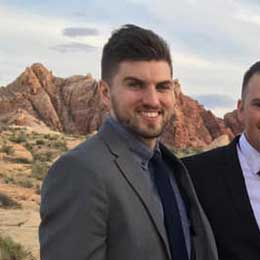 My name is Chris and I've had a passion for music and guitars for as long as I can remember. I started this website with some of my friends who are musicians, music teachers, gear heads, and music enthusiasts so we could provide high-quality guitar and music-related content.
I've been playing guitar since I was 13 years old and am an avid collector. Amps, pedals, guitars, bass, drums, microphones, studio, and recording gear, I love it all.
I was born and raised in Western Pennsylvania. My background is in Electrical Engineering, earning a Bachelor's degree from Youngstown State University. With my engineering experience, I've developed as a designer of guitar amplifiers and effects. A true passion of mine, I've designed, built, and repaired a wide range of guitar amps and electronics. Here at the Guitar Lobby, our aim is to share our passion for Music and gear with the rest of the music community.