Whether you're out on a road trip or jamming with friends, a lightweight, and portable guitar amp is a handy piece of gear. With modern advancements in digital technology, a portable guitar amp can still give you some great classic amp tones that are perfect for practicing on the go or rehearsing at home.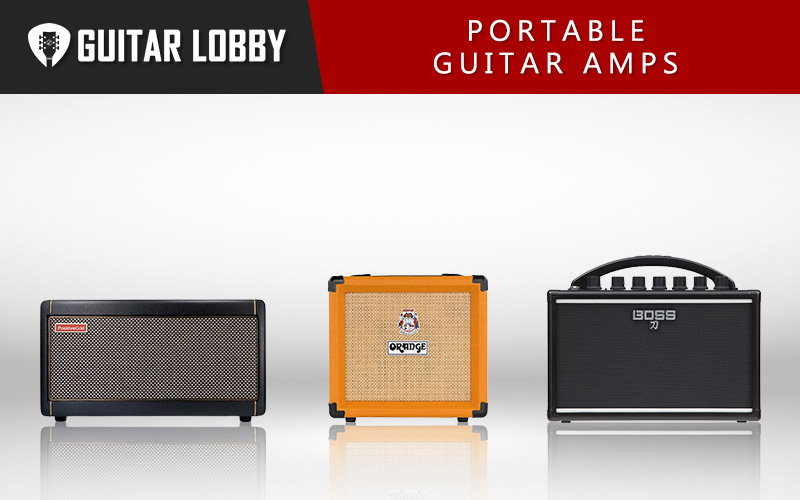 Whether you're a beginner or a veteran guitarist, I'm sure you'll find something that meets your playing style and specification preferences on this list.
We'll start this article by discussing the best portable guitar amps at each price point, but for those of you who want to learn more about amps before reading reviews, we also have a buying guide at the bottom of the page.
Here Are the Best Portable Guitar Amps
1. Positive Grid Spark Amp (Best Overall)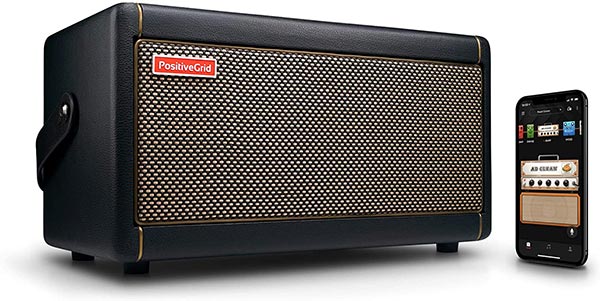 | | |
| --- | --- |
| Estimated Price | $300 |
| Output | 40W |
| Number of Channels | 4 programmable |
| Speaker | Bluetooth Smart HD Speaker |
| Weight | 15.57 lbs. |
My Review: The award-winning Spark amp by Positive Grid is, without a doubt, one of the most versatile small amps on the market. It's packed with high-quality features and valuable practicing tools that many portable amps lack. This amp is perfect for practicing at home or packing up to take on the road. All the effects and amp models you could need are loaded on the amp software. Just download the Spark app on any IOS or Android device, connect, and dial in your tones using the presets that come ready to go, or start from scratch and build your own digital rig. You can then save your setup in one of four programmable channels.
I found the tones on this little amp to be really great. It's almost intimidating at first how many effects and amp models options come loaded on this little amp, but it didn't take long to dial in a few tones that I really liked. The app is pretty intuitive and I got the hang of it in no time. Just bring along the small power supply as well as your phone or device and you have everything you need to dial in high-quality guitar tones for your small gig or jam session. This amp also works great for electric guitar, acoustic guitar, or bass guitar.
The Spark is also loaded with practice tools such as Auto Chord Recognition and Smart Jam Technology. I found the Smart Jam Technology in particular to be an extremely useful feature, and it's something that's really unique about this amp compared to other portable practice amps. There wasn't even much of a learning curve for me to get used to it. Just turn the feature on, start jamming a chord progression and the software automatically generates a bass and drum track for you to continue jamming along with. It's an incredibly fun and easy way to get a Jam track going to practice your different scales and riffs along with, in an effectively infinite loop. You can also get the chords for millions of songs and play along with the app in real-time. I can't say enough about what an incredible practice tool this amp is.
Overall Build: Measuring roughly 14″ x 7″ x 7.5″, the Spark is a nice desktop size amp with classic good looks. Black textured vinyl, brown grille cloth, and removable leather handle. The handle is heavy duty and great for portability, however, Positive Grid also offers a heavy duty traveler gig bag for added protection and portability, specifically sized for the Spark. The gig bag does not come standard when you order the amp and is considered an optional accessory.
Output and Wattage: At 40W output power, this is more than just a desktop amp. Along with being possibly the best practice amp on the market, the spark is also an incredible travel amp for parking up and taking to a jam session, party, or small gig. Overall this is one of the very best guitar portable amps on the market.
Controls and Built-In Effects: There are 40 built-in effects pedals including Overdrives, Distortions, Noise Gates, Delay, Reverb, Chorus, Flanger, Phaser, Tremolo, etc. as well as 30 different amp models for all different types of tones from clean, crunch, metal, as well as some optimized for acoustic guitar and bass guitar. There are literally thousands of different tone combinations you can dial in using the Spark Amp.
2. BOSS Katana Mini (Best Value)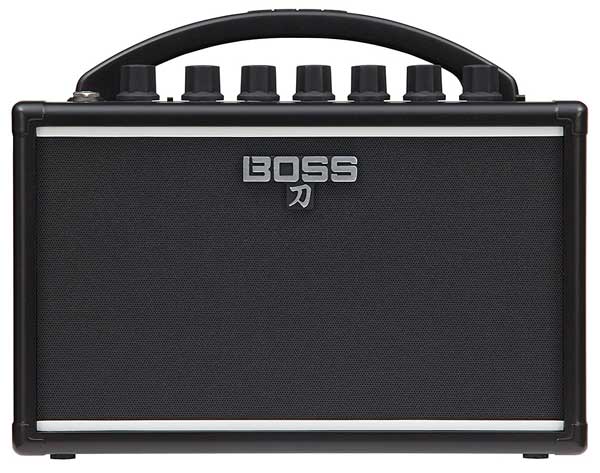 | | |
| --- | --- |
| Estimated Price | $110 |
| Output | 7W |
| Number of Channels | 1 |
| Speaker | 1 |
| Weight | 3.3 lbs. |
My Review: Japanese-headquartered BOSS has enjoyed widespread acclaim for decades for their pedals, effects, processors, and their Katana series of amps. The BOSS Katana mini takes this reputation one step further by packing the versatility and power of the Katana series in a significantly more travel-friendly form and weight. In fact, it sounds so rich that it's hard to believe that it's such a compact and mobile model. With a proprietary analog circuit for a huge projection and analog EQ, it gives you great creative control over your tone and overall sound. Given its pocket-friendly price, this amp makes for great value for money, given its wealth of effects and features and solid construction.
Overall Build: Weighing just 3.3 lbs and measuring 4.2 x 2.7 x 3.7 inches, the Katana-mini is built for effortless mobility. It can be used both with an AC power adapter (sold separately) or with batteries. This is a solidly built amp with an instrument input as well as an aux input that lets you jam with backing tracks as well, whether you're busking or practicing scales at home.
Output and Wattage: Its 7-watt output is supported by an original multi-stage analog circuit design. Together, it delivers incredibly rich and full projection that is hard to get at such a low price point and small dimensions. This means that you can use this for small gigs as well as for group and private practice sessions.
Controls and Built-In Effects: The three amp types brown, crunch, and clean, give three quite versatile tone styles that will fit a wide range of genres and playing preferences. The built-in tape-style delay offers an awesome warm ambiance to your tone, while the three-band analog EQ stack lets you tweak your lows, mids, and highs to your liking.
The time and level of the delay can also be tweaked specifically, as can the overall volume with the master volume knob. Given the range of controls to play around with, this amp offers a lot of customizability for your sound, especially for an amp of this size.
3. Yamaha THR10II Desktop Amp (Editor's Choice)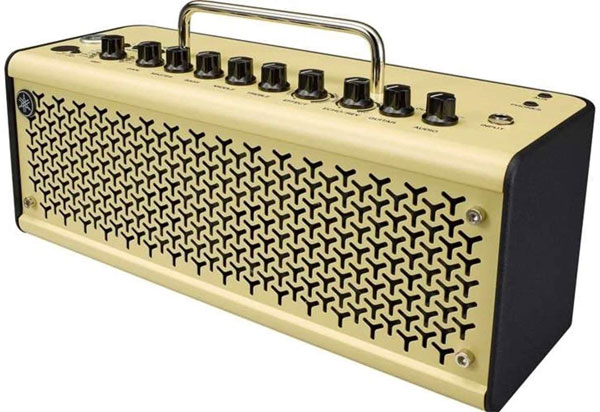 | | |
| --- | --- |
| Estimated Price | $300 |
| Output | 20W |
| Number of Channels | 1 |
| Speaker | Hi-fi speakers |
| Weight | 8 lbs. |
My Review: The Yamaha THR10II may be on the pricier side vs the rest of the options on this list, but then again, this is the only one here that can deliver a realistic tube amp tone in such a compact size. The pioneers of the 'desktop amp' concept, the THR1011 throws open several sonic possibilities thanks to several amp models for electric guitars, bass guitars, acoustic-electric as well as a nice flat tone for all other instruments. Plus, its striking finish and design are quite unlike most other amps that you usually come across. If you want serious power, versatility in a travel-friendly format, then this model is worth taking a look at.
Overall Build: Measuring a compact 14.5 x 5.5 x 7.2 inches and weighing a light 8 lbs, this amp can neatly fit onto your desktop, car, or baggage space. The most noteworthy feature of this model is the realistic tube amp effects its able to achieve in such a compact form. Thanks to the Bluetooth functionality, you can perform wirelessly, while also being able to tweak your tone with mobile apps if needed. With a newly redesigned speaker enclosure, the amp's bass response has got significantly boosted, leading to a rich, balanced tone with tasty lows. Finally, the brand has gone the extra mile to give it a new aesthetic look which makes it an instant visual standout.
Output and Wattage: At 20 watts, it's one of the most powerful of the portable amp mentioned on this list, allowing it to be way more than a desktop amp practically speaking. Its hi-fi speaker has stereo tech that projects a crystal clear, rich, and balanced sound that can fill up an entire room easily, making it ideal not only for solo or band rehearsals but for busking and other intimate performances as well.
Controls and Built-In Effects: This is where it really gets interesting. The THR1011 is a treasure trove of tones that will blend seamlessly with a wide spectrum of genres and playing styles. First off, its selection of realistic tube amp tones and feels is pretty much one of a kind in this category and price point, letting you enjoy the pristine tube amp sound in a portable setup as well.
Secondly, it also comes with an array of other built modeled effects that'll serve you well whether you're playing live or recording your tracks. It has modeled 15 different amps, 3 bass amps, 3 mic models as well as a pristine flat tone for every other instrument and style. The sheer number of possibilities makes it one of the most versatile amps on this list, and well worth the price if it's your style. This is easily one of the best portable guitar amps out there.
4. VOX MINI 3 G2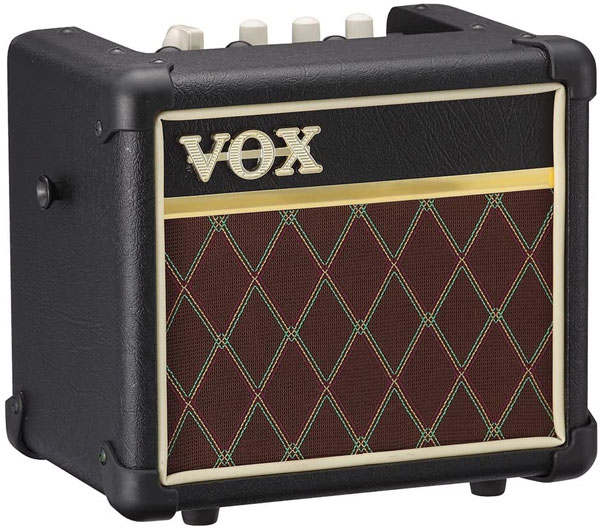 | | |
| --- | --- |
| Estimated Price | $150 |
| Output | 3W |
| Number of Channels | 1 |
| Speaker | 1 |
| Weight | 8 lbs. |
My Review: A brand that's gained legendary status for being the preferred choice of The Beatles, Rolling Stones, and many more, Vox has a long-standing reputation for peerless quality and design. And they've lived up to the reputation with the Mini3 G2 amp. With lightweight, compact dimensions, and versatile controls, this amp makes it possible to take your signature tone and sound with you wherever you go. Fitted with Vox's proprietary circuitry, it's impressively powerful for its size.
Overall Build: Weighing a pretty light 8 lbs and measuring 10.6 x 7.5 x 11.8, the Mini3 is an impressively versatile and feature-rich amp with travel-friendly dimensions. It gives you the option to use it with an AC adapter (included with the amp) as well as 6 AA batteries for added mobility, allowing you to play for up to 10 hours uninterrupted before you have to replace them. Another amazing feature about it is the fact that it is fitted with Vox's proprietary 'Bassilator' circuit design, letting you enjoy heavy sounds with distinct low frequencies even at a lower volume. The Aux input jack lets you plug in your audio device and practice with backing tracks whenever you want.
Output and Wattage: At 3 watts, you may think that this output may not be enough for an intimate gig, but you'd be surprised. This tiny amp is impressively powerful for a mobile amp, and that makes it quite versatile whether you're planning to practice or perform. actually has a huge sound that belies its size. It has enough sound to fill up an entire roomful of the crowd. And unlike other battery-powered amps, its tonal quality doesn't suffer on battery mode or at higher volumes, you enjoy a rich tone even then.
Controls and Built-In Effects: You can choose from 11 different amp models to suit your playing style from a clean crisp tone to dirty heavier sounds depending on the genre or instrument you're playing. Other built-in effects such as chorus, flanger, compressor, tremolo, reverb, and delay are of exceptional quality that Vox is known for. The solid low-end holds its own even after low volumes. All these features have the potential to make your playing impressively versatile, regardless of your choice of genre.
5. Orange Crush 12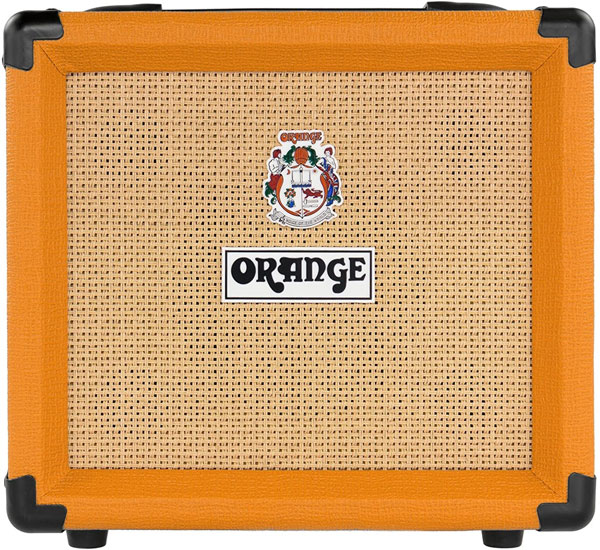 | | |
| --- | --- |
| Estimated Price | $120 |
| Output | 12 W |
| Number of Channels | 1 |
| Speaker | Custom 6-inch voice of the world speakers |
| Weight | 12.3 lbs. |
My Review: With Crush 12, Orange has really 'crushed' it in the mobile amps market by packing its full format setup in an impressively compact size. Sleek, vibrant, and powerful, this amp is perfect for musicians looking for a great analog tone in a travel-friendly amp. The tone and effects possible on this little beast are truly remarkable, ranging from a crisp clean sound to a grungy dirty tone. If you want a great tone in a compact design at a budget-friendly price point, then do give this one a serious look.
Overall Build: Don't be mistaken by this amp's compact size, unlike other mobile amps that may have forgone some of their functionality in favor of a compact design, this amp is a full format Orange Crush model but in an incredibly portable size. For its power, features, and capabilities, Crush 12 is remarkably compact and easy to carry around. Measuring 11.4 x 6.8 x 12 inches and weighing 12.3 lbs, you can easily fit it in your boot space or overhead baggage without a hitch.
With 1 channel for your instrument, it is fitted with a Cab sim headphone output that lets you enjoy world-class tone and sound even when practicing with headphones by yourself. The reason behind its impressive projection is the brand's custom voice of the world 6-inch speakers that deliver a full-bodied, balanced sound that doesn't falter at very high or low volumes.
Output and Wattage: At 12 watts, the output of Crush 12 is quite big for a portable amp, and that's what separates it from the rest of the travel-friendly amps here. The custom voice of the world speakers offers a rich and loud projection that travels really well and makes for a great busking and practicing partner alike.
Controls and Built-In Effects: First and foremost, the Crush 12 has a fabulously powerful distortion tone that's hard to find in amps this size. It offers a 3 band EQ, letting you modify the bass, mid, and treble intricacies of your tone. Along with the master volume control knob, you can also modify your gain and overdrive to add the right amount of bite depending upon the sound you're going for. This lets you enjoy a goody-two-shoes clean tone to a grungy, heavy tone that's in a class of its own.
Popular Related Article: Our Favorite Battery Powered Guitar Amps
6. Orange Micro Terror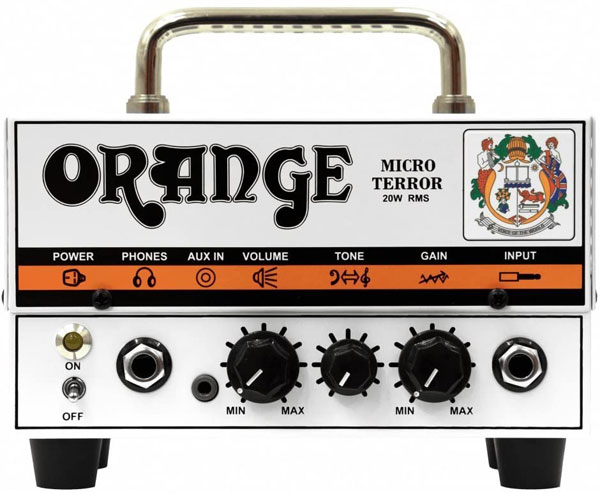 | | |
| --- | --- |
| Estimated Price | $150 |
| Output | 20W |
| Number of Channels | 1 |
| Speaker | N/A |
| Weight | 2 lbs. |
My Review: The Orange micro terror is 20 watts of terrifyingly awesome power in such a compact size, but do keep in mind that this is just the amp head and has to be paired with a speaker cabinet first to be amplified. Inspired by the original tiny terror model, this amp head combines a valve preamp along with a solid-state output that brings out fantastic tones that are fun to play and an asset to any traveling musician. Easy controls let you modify your volume, tone, and gain for a sound that is distinctly your own, while it's incredibly lightweight makes it a breeze to carry wherever you go.
Overall Build: Weighing a featherweight 2 lbs and measuring 11 x 6 x 7 inches, the Orange micro terror is a massive repository of tones and power bundled up in a tiny, tiny size. As we said, this amp head needs to be hooked up to a speaker cabinet, but once you do that, you've truly unleashed a beast of powerful, vibrant Orange tones. The headphone output lets you practice with the signature orange guitar tones privately, while the AUX input lets you plug in and play alongside any track you want. The neat, white, and orange design with a rock-solid handle makes for a striking sight as well.
Output and Wattage: With 20 watts of pure powerful Orange tones to offer, this amp head holds a lot of power that can be unlocked with good quality cabinet speakers ranging between 8 to 16 ohm. The 12AX7 tube preamp and solid-state power amp supply a heavy-duty tone, depth, and projection that lives up to the 'terror' in its name.
Controls and Built-In Effects: You'll find the master volume knob to control your projection, as well as tone and gain to tweak your sound as light and heavy as you'd like. By default, this amp gives you a really lush midrange tone with loads of headroom that will fit right in with a variety of genres and playing styles. All you have to do is plug your instrument into it, and you are good to go with a solid, luscious tone that you can be proud of.
7. VOX AP2CR amPlug 2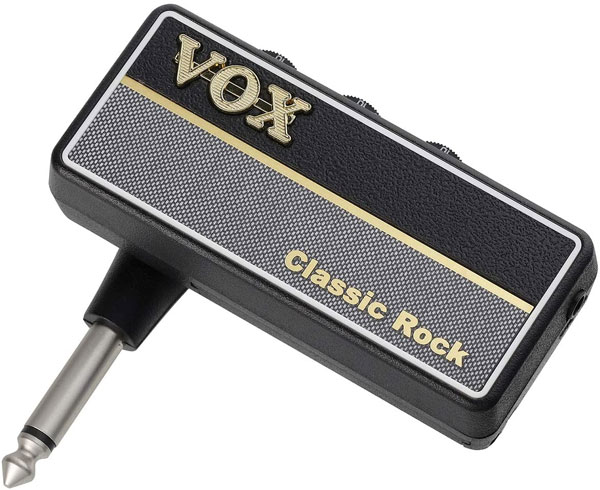 | | |
| --- | --- |
| Estimated Price | $40 |
| Output | 3W |
| Number of Channels | 1 |
| Speaker | NA |
| Weight | 3.04 oz. |
My Review: A great combination of ultra-portability and convenient features, Vox amPlug 2 Classic Rock embodies innovation. It is part of Vox's amPlug G2 series, which comes in 7 variants to deliver a tailor-made tone as per your taste. Despite its palm-sized dimensions, the Classic Rock model gives a powerful and crunchy sound that can compete well with a 100W amp.
The amPlug 2's three amp modes and a bouquet of 9 effects of chorus, reverb, and delay offer a variety of tones at your disposal to add your own creative flair to your sound. Being a headphone amp, amPlug 2 makes for a great private practice and travel mate, all you need are two AAA batteries, and you are good to go for an impressive duration of time. Add to it the ultra-reasonable price tag, and this amp is quite a steal.
Overall Build: If a headphone amp is what you are looking for, amPlug 2 is probably one of the most portable ones out there, weighing a mere 3.04 ounces and measuring 7 x 1 x 5 inches. This little wonder has Vox's proprietary fully analog design that produces a rich and complex sound akin to high-end tube amps. There's no need for a guitar cable with amPlug 2 as it can be conveniently plugged right into your guitar and adjusted up to 180 degrees to get it into an ideal position.
The plug is also foldable and makes the amp fit easily inside the gig bag. You can also connect your MP3 or a metronome to this little guy and strum away. The convenience factor is nicely rounded off with an auto power-off functionality that shuts down the amp if left idle for 30 mins.
Output and Wattage: The amPlug 2 is a 3-watt micro guitar amp that needs only 2 AAA batteries to get the magic going. It can run up to 11 hours if you use the effects and a good 17 hours without them. Of course, being a headphone amp, it's designed exclusively for private practice sessions with your headphone plugged in, ruling out group rehearsals or performances.
Controls and Built-In Effects: For its size, we are pleasantly surprised with the range of onboard features.
The amp boasts three amplification modes, with the Classic Rock variant featuring a mid-boost. Vox has ensured that the players get great tonal versatility by equipping the amp with three effects- chorus, delay, and reverb and each of these having three different modes. So you get nine different sounds out of this compact amp. In addition to the volume, gain, and tone controls, the amp also has an fx button, which lets you cycle through all of the effects with great ease. Overall, I'd say that this is easily one of the best portable amps.
8. Fender Frontman 10G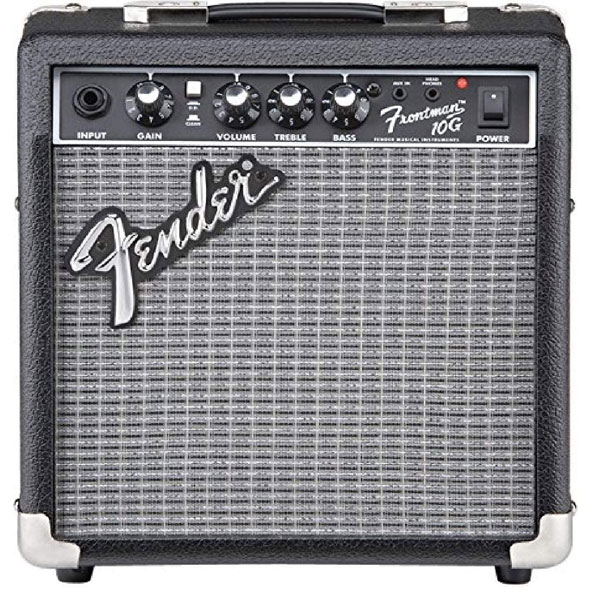 | | |
| --- | --- |
| Estimated Price | $70 |
| Output | 10W |
| Number of Channels | 1 |
| Speaker | 1 X 6" special design speaker |
| Weight | 8.5 lbs. |
My Review: Fender's smallest amp, Frontman 10G is also one of the most popular practice amps amongst guitar enthusiasts thanks to its compact dimensions and excellent tonal quality at a pocket-friendly price. The 10-watt lightweight amp is equipped with 6" special design speakers, giving out a clean tone similar to larger sized Frontman amps. What we loved most about this amp is the built-in overdrive effect, making it perfect for players who love some distortion. With the headphone output and aux-in jack, you can practice privately to the backing track in a practice room or on-the-go.
Overall Build: Frontman 10G sports the classic Fender look with black textured vinyl, silver grille cloth, and the brand's logo on the face. This no-frills amp features a single channel with an overdrive switch, which renders the signature clean tone quintessential to the brand. 6" special design speakers are loud enough to fill up a decent-sized room. The closed-back design casing works well to deliver a good bass response. The control panel includes two ⅛" input jacks to plug in the headphones and mp3 players and jam to your favorite songs. The amp's 8.5 lbs weight and 5.75 x 10.25 x 11 inches dimensions make for a fairly portable setup.
Output and Wattage: The amp's 10-watt output and small 6" speakers make it more suited for practice rooms or similar-sized spaces than full-blown performance. However, we are pleased with the tone quality, which is pretty good for its price tag.
Controls and Built-In Effects: The amp has 2- band EQ with treble and bass, which can be tweaked around to brighten or dampen the tone to suit your style and the instrument. Apart from these, the control panel also features a master volume known and a selectable overdrive switch with a gain knob to modify the level of crunch and heaviness in your tone. The push-button channel switch lets you distort and crunch the tone to suit any style from blues to metal. Although the amp does not have a lot of effects to play around with, its clean interface, reliable features, ultra-portability, and affordable price tag make it a great practice and beginner amp.
Popular Related Article: 17 Great Practice Amps You Need to Know About
9. Blackstar Fly3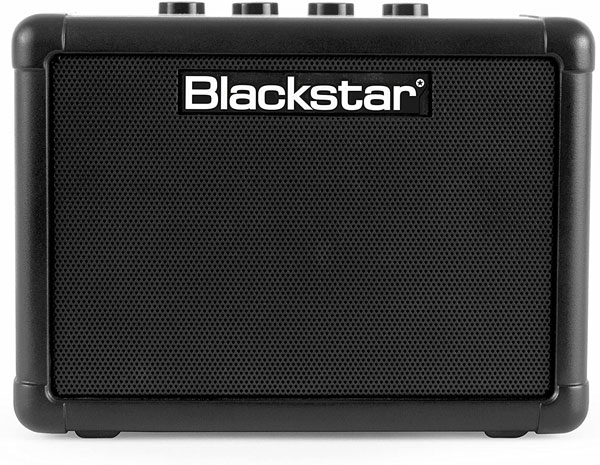 | | |
| --- | --- |
| Estimated Price | $70 |
| Output | 3W |
| Number of Channels | 2 |
| Speaker | 1 X 3" |
| Weight | 1.98 lbs. |
My Review: Blackstar Fly 3 is undeniably one of the most revered portable amplifiers out there in the guitar market. And here's why- the amp is incredibly compact yet fantastic sounding thanks to the awe-worthy sound honing Blackstar patented Infinite Shape Feature (ISF), which offers superb tonal variety to the players. A digital tape delay effect provides a distinctive resonance during play. The amp is incredibly lightweight and travels friendly, thanks to its battery-powered design. All in all, we are quite impressed with the sonic punch packed in this ultra-compact body.
Overall Build: We are struck by the construction quality of this amp. The fly 3 is sturdily built and has a solid and weighty feel to it. It is a better sounding amp than similar amps on the market, and we believe it has to do with its sturdy and smart design. It boasts 2 channels which offer clean and overdrive tones. There is an emulated output jack for late-night silent practice or recording and an aux-in for jamming to your choice of tracks. The amp measuring 7.59 x 5.59 x 4.29 inches, weighs only 1.98 lbs and is easy to carry around, and can be conveniently stashed into a guitar case or a gig bag.
Output and Wattage: The amp delivers a sound that belies its miniature size. The sound is loud and powerful, considering it has a 3-watt output, 3-inch speaker, and battery-powered. With Fly3, what you get is excellent sound quality, which can give other similar-sized amps quite a run for their money. In addition to 6 AA batteries, the amp can also run on an optional power supply, the adapter for which is sold separately.
Controls and Built-In Effects: The amp boasts the cutting-edge Infinite Shape Feature that works in tandem with the tone control. The ISF control lets you choose the character of the tone ranging from an American characteristic with a tight bottom end and more aggressive middle to a British tone which is woodier and less aggressive.
The control panel features a gain knob to adjust the level of overdrive, dial it up for rock, and mellow it down for blues. An overdrive switch instantly cranks up the volume and distortion to accompany rock and metal styles. Other than that, the controls are pretty straightforward with volume, delay level, delay time, and power switch.
10. NUX Mighty Lite BT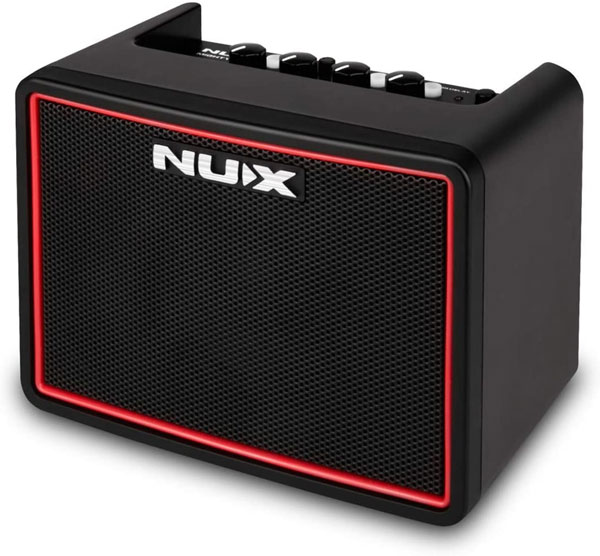 | | |
| --- | --- |
| Estimated Price | $100 |
| Output | 3W |
| Number of Channels | 3 |
| Speaker | 1 X 3" |
| Weight | 2.25 lbs. |
My Review: True to its name, NUX Mighty Lite BT Mini portable modeling amp is indeed a super lightweight and ultra-mobile amp with a host of impressive features. We found this amp to be quite player-friendly and versatile, featuring 3 channels, built-in digital reverb, and delay fx, along with the flexibility to power it through batteries or USB connection. Its 3-watt output is delivered through 3" speakers and sounds quite good for its size. The amp's stand out feature of built-in drum beats along with an aux-in jack and Bluetooth connection makes this an excellent pick for guitar enthusiasts looking to hone their jamming skills.
Overall Build: Right off the bat, let's talk about the star advantage of this amp- it is effortless to move around with measuring 6.54 x 3.86 x 4.88 inches with 2.25 lbs of weight and flexibility of both battery and USB power. That's not all, this desktop amplifier offers you the freedom to play and jam to any track of your choice thanks to its 3.5mm aux, headphone input, and Bluetooth connectivity. The amp has 3 great sounding channels- clean, overdrive, and distortion which throw open the types of sounds you can get out of your guitar. NUX has also included a convenient android and iOS app that lets you tweak controls, effects, and drum machine with your smartphone via Bluetooth functionality.
Output and Wattage: The amp's 3-watt output at 3" tiny speakers make up for the low volume and punch with great tonal flexibility. The overall sound is quite solid, considering its small dimensions and price tag. We love the fact that the Mighty Lite BT Min is so easy to power; you can use a 9V power adapter at home or 6 AA batteries if you are on the go.
Controls and Built-In Effects: NUX Mighty Lite BT is a compact modeling amp that offers its players a range of tones to suit their styles. The onboard drum feature offers 9 different drumming styles to play around with and a metronome to improve your jamming skills. The control panel has gain, volume, tone, delay/reverb knobs, and a tap tempo button to set delay and drumming speed. The coolest bit is that all of the parameters and onboard effects can also be managed from the Mighty Lite app. It lets you control the drums, customize reverb and delay effects, adjust the noise gate, and add 4 awesome modulation effects- phaser, chorus, tremolo, and vibe.
11. Sawtooth 10W Guitar Amp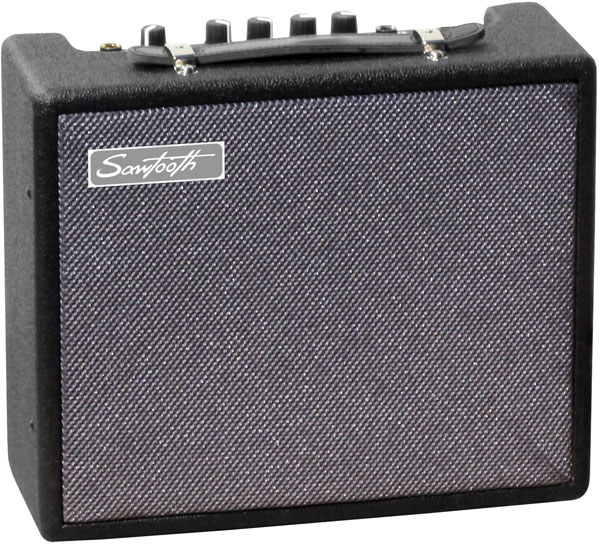 | | |
| --- | --- |
| Estimated Price | $60 |
| Output | 10W |
| Number of Channels | 1 |
| Speaker | 1 X 6.5" |
| Weight | 6.1 lbs. |
My Review: If you are hunting for a practice amp that is compact, reliable, and easy on the pockets, then do give the Sawtooth 10-Watt amp a go. The amp boasts 3-band EQ and overdrive switch which makes it an excellent value for money. The crystal clear sound produced by this little guy is quite impressive for its size. A mono input jack lets you plug in mp3 players and play along to your favorite tracks, while the headphone out jack makes it convenient to practice without disturbing anyone. We like that Sawtooth has included a10ft Chromecast instrument cable with the amp as a value addition while allowing more leeway to move around while playing.
Overall Build: The combo amp sports a sophisticated look and a sturdy build with a vinyl-covered wooden frame, making it durable and well-suited for everyday use. Sawtooth has cleverly designed the amp with an open weave grill to pack a greater sonic punch than its small size would have otherwise allowed. A closed-back design works well in enhancing the bass response by giving it a more low-end punch while ensuring no back spill or side leakage or the sound. The amp has a single channel with a built-in drive effect. It weighs just 6.1 lbs and measures 10.5 x 6 x 11 inches and has a reinforced handle, which allows easy transportation. This well-built amp has a decent set of specs which makes it a popular practice amp for beginners.
Output and Wattage: The 10-watt output of this amp is a pretty neat wattage for a portable guitar amp that is not only suitable for private practicing but also good enough for a busking session or an intimate gig. The amp's 6.5" speakers deliver a powerful sound with a remarkable degree of projection.
Controls and Built-In Effects: The amp boasts a 3-band equalizer that lets you modify the lows, mids, and highs to find the sweet spot that you'll enjoy playing with. Moreover, the overdrive switch lets you instantly kick in the heavy-duty distortion which can be adjusted to your playing style with help of the gain knob. All in all, this is a no-frills model that keeps it simple. It may not have a range of built-in effects to choose from but it sticks to the basics and does it well.
12. Orange Amplification Crush Mini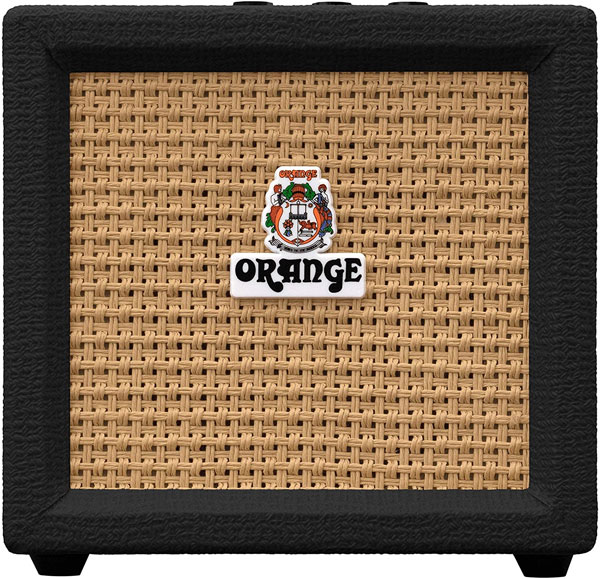 | | |
| --- | --- |
| Estimated Price | $70 |
| Output | 3W |
| Number of Channels | 1 |
| Speaker | 1 |
| Weight | 1.99 lbs. |
My Review: Orange Crush Mini 3 is the perfect solution for musicians that want to enjoy a solid, formidable tone even when on the go. This battery-powered amp is ideal for at-home practicing as well as backstage warmups right before you head for your performance. not only sounds good but looks amazing as well. A simple but very effective 3 control setup gives you a lot of power to mold your tone the way you want to, even on such a small setup. If you're looking for a durable and high-quality portable practice amp that doesn't break the bank, then this is a seriously good contender for your attention.
Overall Build: Orange has managed to condense its iconic tone in an impressively compact amp with the Crush Mini 3. This single-channel amp is powered by a single D battery that lasts a good enough duration before having to be switched. At only 2 pounds and measuring 3.2 x 6 x 5.7 inches, this little wonder packs a big punch with its classic British tone and versatility in its travel-friendly size. The amp comes with a very helpful built-in tuner as well as a headphone output that switches from the speaker, letting you practice in silence. Finally, the AUX-in lets you jam along to your favorite tracks and polish your skills.
Output and Wattage: In its 3 watt output, this Crush mini 3 delivers a staggering projection and sound. Moreover, if you hook a cabinet speaker to its speaker output jack, then you can effortlessly use it as an amplifier for larger audiences as well.
Controls and Built-In Effects: The Crush mini 3 bears the signature easy-to-grasp and versatile control system that the brand is well known for. Aside from a master volume knob, you also have gain and shape controls to tweak your tone. The gain knob can be used to tweak just the right amount of that classic crunchy tone, while the shape knob is perfect for shaving off lows or highs from your overall tone, giving you the freedom to decide how fate or thin your tone sounds.
13. Fender Mini Deluxe Electric Guitar Amp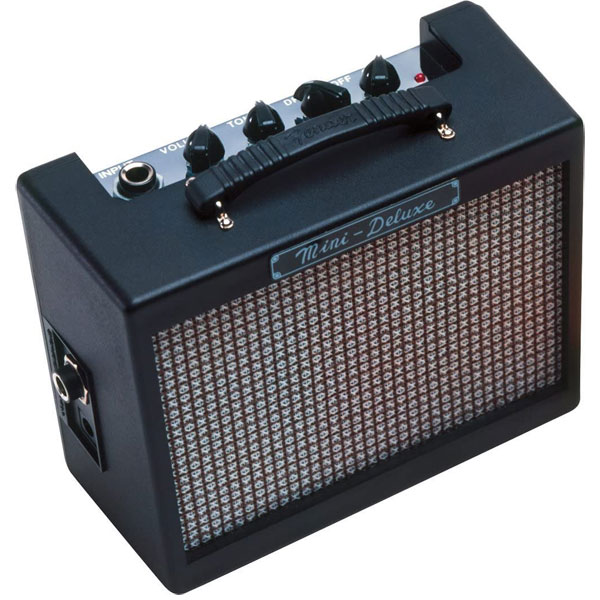 | | |
| --- | --- |
| Estimated Price | $35 |
| Output | 1W |
| Number of Channels | 1 |
| Speaker | Dual 2" speakers |
| Weight | 0.4 lbs. |
My Review: Lightweight, portable, and no-fuss, Fender keeps it nice and simple with the mini deluxe amp. A no-frills and affordable option for a practice amp, it has an extremely portable design that lets you take it along with you without giving it a second thought. With a solid handle, quintessential Fender looks, and classic tones, this model has been specially designed keeping electric guitars in mind. At such an affordable price point, it is a good value for money purchase for the on-the-go beginner to the intermediate guitarist.
Overall Build: At less than half a pound in weight and measuring 11.4 x 7.4 x 3.5 inches, the mini deluxe is a seriously portable model. This single-channel amplifier comes with dual 2" speakers that deliver a well-balanced sound that's ideal for practicing. The 1/4 inch headphone jack makes it perfect for late-night solo practice sessions, and also comes with a 9V adapter jack. The build is no-frills and bears the classic Fender styling, with black chicken head knobs for controls and a simple red 'jewel' light to indicate when it's powered on. The overall construction is done with Nato wood, which is a fairly solid material, and with a black finish.
Output and Wattage: This is a single watt amp, so it would be unfair to pit it against the more powerful variants in terms of projection. But it does its job pretty well as a practice amp for the traveling musician. Powered by a single 9V battery, you can use it to pay for hours without needing to hook it up to an adapter.
Controls and Built-In Effects: Aside from the classic volume control knob, you can also use the gain and the tone knobs to play with a clean, crisp tone, a crunchier, heavy sound, or a blend of the two by tweaking the levels to your liking.
14. Marshall MS2 Micro Amp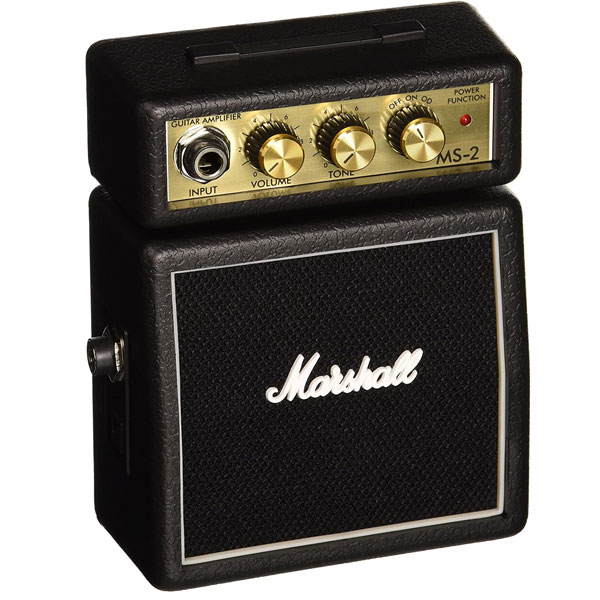 | | |
| --- | --- |
| Estimated Price | $130 |
| Output | 1W |
| Number of Channels | 1 |
| Speaker | 1 |
| Weight | 0.34 lbs. |
My Review: This is really as compact as it gets! The Marshall MS2 micro guitar amp is the lightest and the tiniest amp on this list. This battery-powered beauty delivers just enough power and amplification that you need to practice comfortably on the move or even perform to an intimate gathering, and we think a pocket-sized amp like this one deserves to be in every guitarist's collection. The extremely affordable price point just sweetens the deal even more.
Overall Build: Weighing merely 0.34 lbs and 2.36 x 4.3 x 5.5 inches in dimensions, the MS-2 is a featherweight and compact amp that's designed for the practicing guitarist that's on the road or wants a tiny practice setup at home. Powered by a single Polaroid 9V battery, you can practice comfortably for hours before it's time to switch the batteries. This one-channel amp also comes with a headphone jack to practice in solace without disturbing anyone else around you.
Output and Wattage: Being a micro amp, the output is only 1 watt, but then again, this is exactly what Marshall's tiny amps are built for. And even then, you are greeted with the iconic Marshall tone, all-be-it, a miniature version. What else could you ask for in a micro setup? This makes it perfect for practicing by yourself, whether you're at home or on the go in between concerts. Not just that, it's in fact good enough for performing to a small gathering or in the subway. You'll be able to project a decent volume in a 30-foot radius, after which the projection gets weaker. But then, this is more than what we could ask for in a 1-watt amp. Even with its limited output, this little wonder packs quite a punch with its volume and overall output.
Controls and Built-In Effects: Despite its diminutive measurements, Marshall has fitted the MS-2 with all the practical and controls that a guitarist would need while practicing. You can choose from both clean as well as overdrive channels, while a single tone control knob lets you tweak the exact sound to your personal preferences. We love the fact that at such an affordable price point, you still get to enjoy the legendary Marshall sound and tone.
15. Roland Mobile Cube Battery-Powered Stereo Amplifier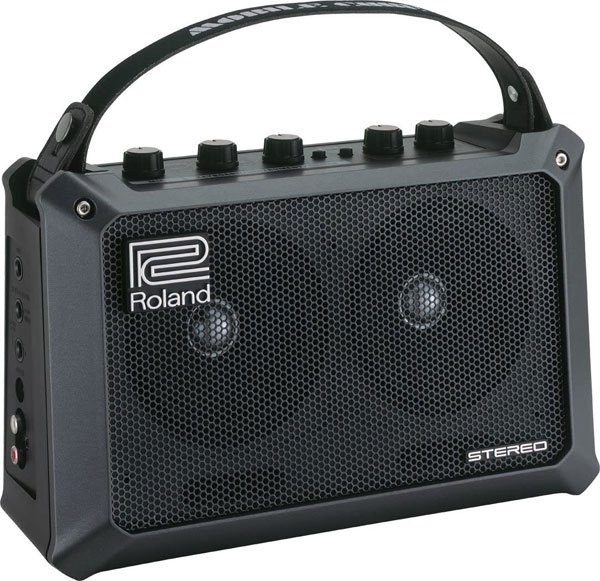 | | |
| --- | --- |
| Estimated Price | $180 |
| Output | 5W |
| Number of Channels | 1 |
| Speaker | 1 |
| Weight | 1 lb. |
My Review: One of the most portable guitar amps on this list, the Roland mobile cube is extremely light and compact. And with 'mobile' in the name itself, we're sure you would've guessed that already. Extremely lightweight and tiny, this stereo amp is battery powered and works like a dream if you're planning to busk or even rehearse with a group. For an amp this small, it has a great sound and comes with a sweet set of built-in effects to tweak your guitar and vocal tones as you like.
Overall Build: One of the things we love most about this amp is that this little wonder weighs only 1 lb. That's right, only 1 lb! With 14 x 6 x for dimensions, this little fella can literally be carried around and taken anywhere you want without thinking twice. Despite its size, this is a stereo amp with a pretty neat sound and can run for hours on 6 AA batteries. It's also compatible with a host of instruments aside from the guitar. Microphones, keyboards, drum machines, and MP3 players can all be plugged into it without a hassle.
You'll find two variations of this model, one with a handle and one without, the handle version costing slightly more. It's up to you but we recommend shelling out slightly more and taking the one with the handle to truly benefit from its portability. This is a page about portable amps after all and this is just a really nice option feature that adds value in the portability category. The model comes in a sleek design in black with the classic Roland logo on the speaker.
Output and Wattage: The Roland Mobile cube has a modest output wattage of 5 watts, and with this small, it's not fair to expect anymore, to be honest. This makes it ideal for a solo practice session at home, as well as band practice in a jam room. But not just that, it can also be used for busking on the street as its sound projects pretty well. The best part is that this amp can be hooked to a mini PA to massively boost its sound and even be used for a small gig type performance.
Controls and Built-In Effects: Along with the master volume control knob, you will also find a series of cool built-in effects to enjoy. You can choose from reverb, chorus, overdrive, and delay. For an amp this tiny, this is a wonderful range of styles and effects to choose from, giving you the freedom to play around with your tone. Finally, the center cancels feature is godsent for everyone that wants to sing along on karaoke with this amp since it cancels the main vocals on the track.
Popular Related Article: Our Favorite Easy Songs to Play on Guitar
16. Marshall MG10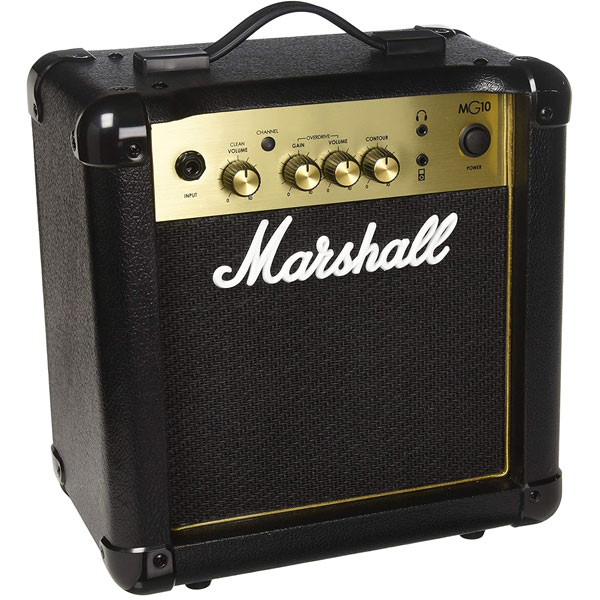 | | |
| --- | --- |
| Estimated Price | $90 |
| Output | 10W |
| Number of Channels | 1 |
| Speaker | 1 X 6.5" speaker |
| Weight | 11.53 lbs. |
My Review: The Marshall 10W combo amp is the perfect example of the saying "great things come in small packages". Far from merely being a practice amp, this model goes above and beyond to give you a solid value for money. With sleek, portable dimensions and the iconic Marshall tones, this amp offers both contemporary and classic tones effortlessly. You can easily carry it along to an intimate gig, band rehearsal, or simply to a road trip without it hardly taking up any space. Given its quality, design finish, and features, this neat little monster is priced really well in our opinion.
Overall Build: With a no-frills design aesthetic, this amp looks quite unassuming at first. But this portable amp packs a lot of punch with its features. Weighing only 11.3 pounds and with 14" x 12" x 9" for dimensions, its light and compact enough to easily be carried around in the trunk of a car and cabin baggage. Fitted with a custom 6.5" speaker, this 1 channel model also comes with a headphone jack for those late-night silent practice sessions. Plus, another aux in is perfect for jamming over backing tracks as well. The classic Marshall gold metal finish and gold piping add an unmistakable clean aesthetic appeal.
Output and Wattage: With a 10W output, it's powerful enough to work well for a personal or band practice session. It also works pretty well for playing with a cozy group of friends. Simply put, it's a small amp with a BIG sound for its size.
Controls and Built-In Effects: This is a 1 channel amp with a master volume knob for the clean tone, and a gain and volume knob for the overdrive, plus a contour control for the gain channel as well. This gives you a nice and wide range of both clean, crisp tones as well as heavier sounds while letting you control and tweak the finer aspects of your sound. For a mobile amp, this is a great selection of tones to choose from.
Choosing the Right Portable Guitar Amp (Buying Guide)
The biggest advantage of a portable amp is precisely that it is extremely light and easy to carry! These amps can pack quite a punch and can easily fit in your car trunk or flight cabin baggage. They're not just light in weight, but also much more compact in their dimensions when compared to regular amps.
And just because portable amps are tinier doesn't mean they are a compromise in any way. Most travel-friendly amps are fitted with solid features, controls, and built-in effects. This lets you be in control of your tone and play around with effects even when working with a much smaller model.
In fact, the output of some of these amps can even be hooked up to bigger cabinet speakers to deliver a great sound and projection that could be good enough for a decently sized audience.
What Features To Go For When Buying A Portable Amp?
When thinking of buying a portable amp, there are a couple of features that you should look out for to make the best choice. While some features are common with other regular-sized amps, there are others that you should pay special attention to when buying an amp that you'd like to be easy to travel with:
Weight: When picking a portable guitar amp, it's crucial to choose a model that is lightweight. Otherwise, the entire point of getting a mobile amp gets defeated if it's heavy and cumbersome to carry around. While some amps are extremely lightweight, some even weighing under 2 lbs, they may have to shave off some features and controls to keep it light. So, it's a good idea to balance the weight with the features you'll be getting in your amp.
Dimensions: Aside from the weight, the overall measurements of your amp also have to be compact. The dimensions are what will make your portable amp truly portable after all, it will have to be tiny enough to easily fit into limited space, be it a trunk of your car or a congested overhead cabin on your flights. So do look out for the L x H x W.
Controls and Effects: Just because you're going for a light and portable amp doesn't mean it has to be bare-bones or devoid of any effects. There are plenty of portable amps that are lightweight, compact, and still let you modify your tone and sound with gain, overdrive, EQ controls as well as other built-in effects. Of course, do keep in mind that a fancier selection of effects may slightly nudge the overall weight of the amp higher, but that isn't always the case.
Wattage: Last but not the least, you will find a considerable range of wattage to choose from amongst portable guitar amps ranging from 1 watt to 20 watts as well. There is single correct wattage, and the right output completely depends on your personal preferences and what you'll be using the amp for. If you're picking a portable amp to simply be able to practice your chops while on the move, then a lesser wattage will do just fine. However, if you're planning to use it for smaller gigs or busking, then it may be a good idea to also explore models with higher wattage.
Bottom Line: Whether you're practicing in your bedroom or want to warm up when on the road, a light and portable guitar amp is a must-have for every guitarist regardless of their skill level. The perfect portable amp differs from person to person and is quite a personal choice that depends on what they're looking for in their setup.
But if you're asking us for some quick recommendations, then here goes. For the amp that packs the most power in the smallest possible size, go for the Orange Crush Mini 3-Watt amp. For those ok with a little more weight but a healthy mix of compact dimensions but with rich features, the Marshall Amps Guitar Combo Amplifier is a good bet. The most value for money option would well be the BOSS Katana mini amp.
We hope our in-depth review and guide helps your zero in on the model that best serves your playing style and needs. Happy jamming!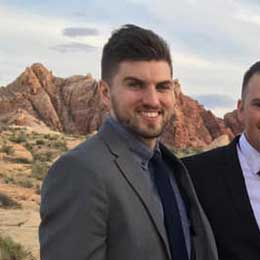 My name is Chris and I've had a passion for music and guitars for as long as I can remember. I started this website with some of my friends who are musicians, music teachers, gear heads, and music enthusiasts so we could provide high-quality guitar and music-related content.
I've been playing guitar since I was 13 years old and am an avid collector. Amps, pedals, guitars, bass, drums, microphones, studio, and recording gear, I love it all.
I was born and raised in Western Pennsylvania. My background is in Electrical Engineering, earning a Bachelor's degree from Youngstown State University. With my engineering experience, I've developed as a designer of guitar amplifiers and effects. A true passion of mine, I've designed, built, and repaired a wide range of guitar amps and electronics. Here at the Guitar Lobby, our aim is to share our passion for Music and gear with the rest of the music community.