Selecting the individual components of your guitar rig is a process that hugely impacts your tone, style, and sonic possibilities. Needless to say, amplifiers are a major part of your setup, as are the guitars you use. Along with these two choices, your range of effects pedals also has the ability to transform the output of your instrument in countless ways.
Compressor pedals are perhaps the most widely used among guitarists, in the studio or on the stage. They are the unsung heroes of the pedalboard, subtly controlling the dynamics of an instrument and interacting with all of the other elements of your rig to enhance the power and clarity of your tone.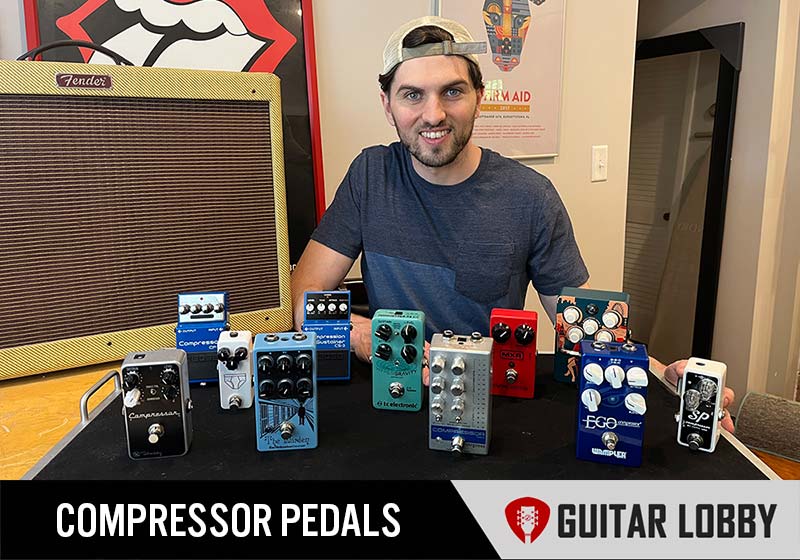 In comparison to other effects, compressors don't receive enough credit in my opinion. More extreme effects like distortion, wah-wah, or spacey reverb produce very noticeable results; therefore, they are considered somewhat more exciting. The results of a compressor pedal are perhaps less obvious but undoubtedly as important. Some would argue even more so!
In the following article, I'll present the best compressor pedals at each price point and describe their strengths and weaknesses so you can decide on the perfect one to add to your pedalboard. Regardless of whether you are experienced in the realm of effects pedals or not, you'll find this detailed guide helpful in your search for a quality compressor. If you're a bass guitar player, I recommend checking out our page specifically dedicated to bass compressor pedals here.
If you want to learn more about compressor pedals before reading reviews, we have a guide at the bottom of the page on how to choose the perfect pedal for your needs.
Here Are the Best Compressor Pedals
1. Wampler Ego V2 (Best Overall)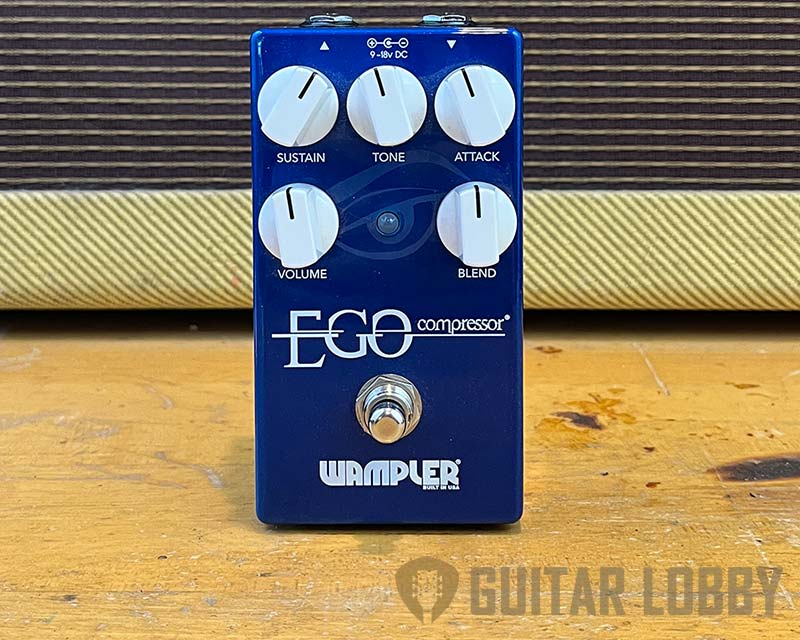 | | |
| --- | --- |
| Estimated Price | $200 |
| Type | Analog |
| Effects | Compression |
| Connectivity | 1 x 6.35mm Jack Input, 1 x Output |
| Power | 9 Volts DC |
My Review: Build quality, ease of use, excellent tone, good value price point, the brilliant Ego compressor pedal by Wampler has it all. Brimming with versatility, this second-generation pedal has been the perfect tool for taming the dynamics of many electric guitars while enhancing my guitar's tone.
With the Ego, I'm able to create a similar style of compression that you get from a tube amplifier cranked up to its limits without sacrificing any definition. It's my go-to choice for heavy blues licks and saturated tones, and I've also found it to be well adept at thickening a clean tone, ironing out any spikes in the volume. The best settings I've found for my clean tone are having the "Blend" at just over halfway, the "Attack" set to around 40%, the "Volume" and "Sustain" set to just under halfway, and the "Tone" knob set to 75%. These settings are perfect for jangly, melodic guitar parts.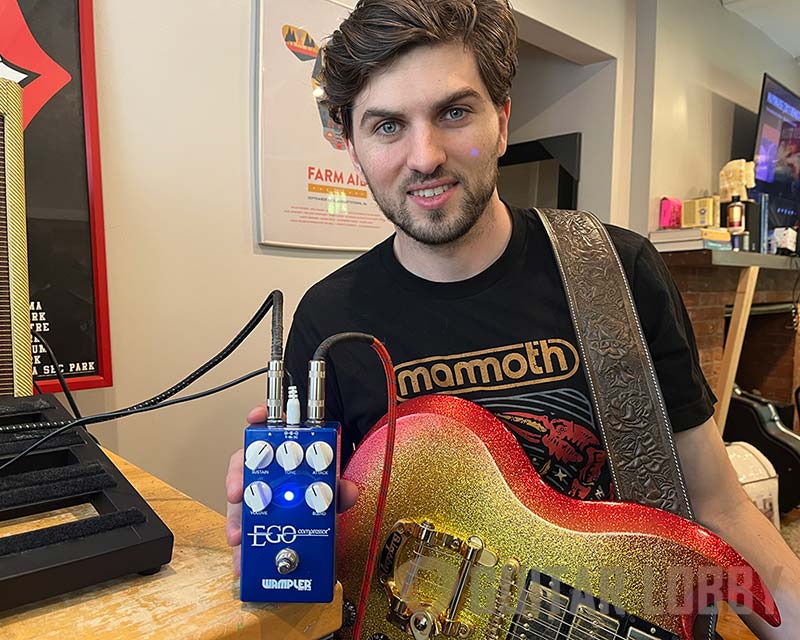 Another thing I love about this pedal is that the sustain control is useful if you are playing single-note melodies and need to ensure that your guitar doesn't get overpowered by other instruments as the note starts to decay. I sometimes like to turn the sustain up to around 90% when using my fuzz pedal, as this produces a classic Hendrix-style wail that is ideal for shredding.
Another thing that I really like about the Ego is that the Blend control allows you to create ideal combinations between your dry signal, the signal produced by other effects pedals, and your compressed signal. Then there's the Tone control, which I commonly use to compensate for any higher frequencies that may be dampened during the process of compression. If you don't mind spending a little extra to get the best possible compressed tones from a pedal, I think the Wampler Ego might be a perfect choice. It's been designed to provide you with many tonal and dynamic options, and I also love that it is hand-assembled – you can tell a lot of thought has gone into the design.
Bottom Line: The Wampler Ego compressor pedal is a true bypass offering that provides ample sustain and dynamic control. With various parameters that create a wide range of sounds and outcomes and stunning attention to detail in the handmade construction process, it's one of the best options out there.
2. Keeley K-Comp Compressor Plus (Best Value)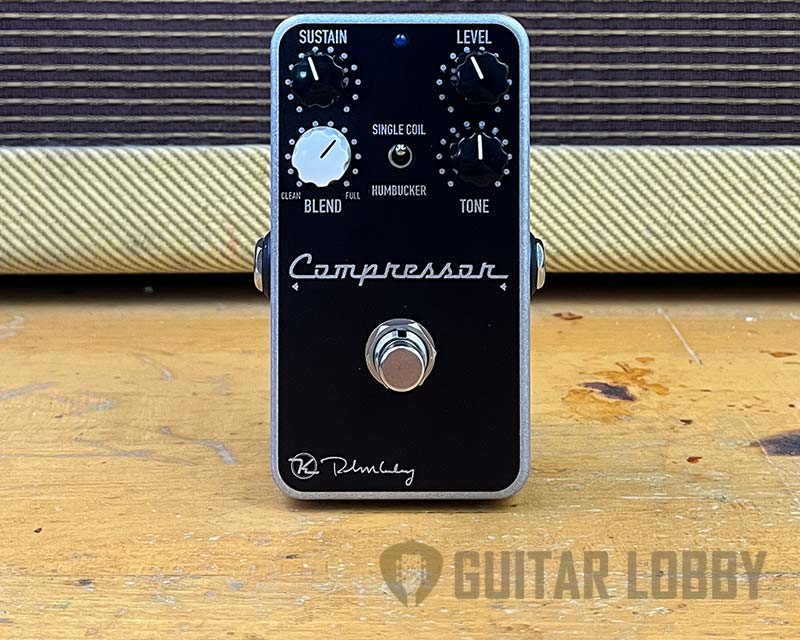 | | |
| --- | --- |
| Estimated Price | $130 |
| Type | Analog |
| Effects | Compression |
| Connectivity | 1 x 6.35mm Jack Input, 1 x Output |
| Power | 9 Volts DC |
My Review: Keeley's small range of world-class compressor pedals is hugely popular amongst guitarists worldwide. With the K-Comp Compressor Plus, they have arguably produced their best offering. I like that the brand has continued the trend from the former models rather than trying to change too much about the classic design. When first analyzing the pedal, I instantly noticed that the Compressor Plus includes several new features to improve efficiency and performance.
The first newly added feature that I became aware of is the Blend control. Although I wouldn't usually expect to find this control on a compressor, after testing the way it works, I think it's an excellent addition. The Blend control allowed me to add specific amounts of my guitar's dry signal into the mix with the compressed signal by simply turning the rotary knob, and this gave me absolute control over the extremeness of the effect. Then there's the Tone control, which affects the color of the compression and is a great tool for ensuring that it interacts with your other pedals cohesively. I'd recommend using this control and the EQ settings on your amplifier to ensure no harsh frequencies are pushed to the forefront by the compression process.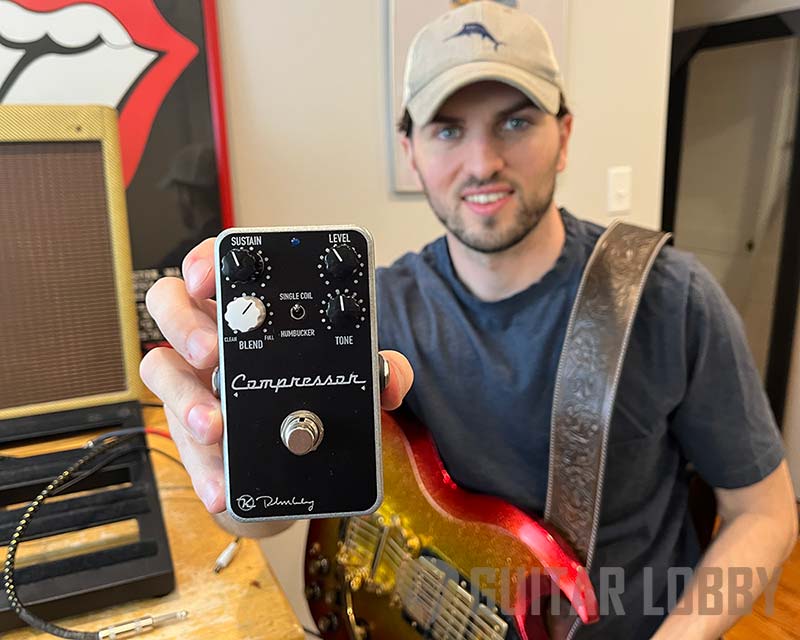 The brilliance of the Keeley Compressor Plus is largely down to the meticulous approach that has gone into its design. I wondered whether the pedal would live up to its hype, but it didn't take me long to be left awestruck by its exceptionally clean operation. The combination of metal film resistors and capacitors gives the pedal a solid, durable feel, and I wouldn't have any reservations about taking it on tour. After doing some research, I learned that one large aspect of the excellent sound of the pedal is that its transistors have been hand-matched with less than 1% tolerance, which shows Keeley's commitment to detail.
Although some compressor pedals are crammed with useful additional controls, many guitarists – myself included, prefer simplicity when it comes to controlling their dynamics. The Keeley Compressor Plus is ideal for those who value tone and function over having many complex options. As someone who uses multiple guitars for different projects, I appreciated including the "humbucker" and "single-coil" switch on this pedal. I've never seen this on a compressor pedal before, but including these two presets makes perfect sense when considering the different tonal and dynamic results of these two pickup types. I tested the humbucker setting with my Telecaster, which has a HH pickup configuration, then tested the single-coil setting with an SSS-configured Strat. I definitely noticed improvements in both cases.
Bottom Line: The Keeley Compressor Pedal has been designed with great detail. Every component has been specifically chosen to enhance the overall performance of the pedal, and this can be heard in the results it produces. With four simple controls that are easy to operate, you can experiment to create a variety of compressed results using this pedal. Overall, I'd say this is the best compressor pedal for the money.
3. Empress Compressor MKII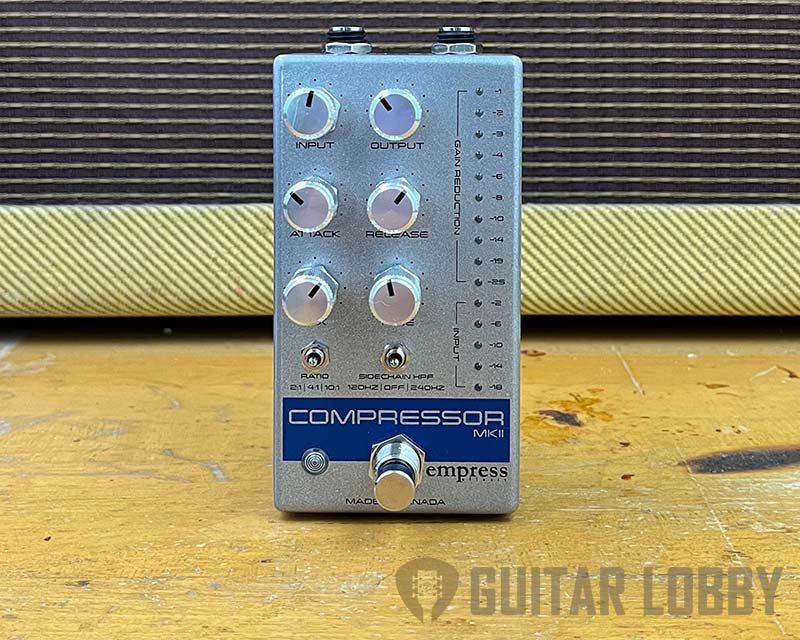 | | |
| --- | --- |
| Estimated Price | $280 |
| Type | Analog |
| Effects | Compression |
| Connectivity | 1 x 6.35mm Jack Input, 2 x Output |
| Power | 9 Volts DC |
My Review: The Empress Guitar Compressor MKII is an incredible compressor stompbox with some standout capabilities I'm excited about. Firstly, it's great for creating a snappier response, particularly when the "attack" is turned down and the "release" is turned up. By increasing the attack to around the halfway mark, this pedal tightens up my playing, minimizing any looseness or slight mistakes that I make. The "tone" control is another vital part of this device, altering the color of the compression. By tweaking it, you can create some great-sounding lo-fi guitar parts.
At first sight, aesthetically, the Empress Guitar Compressor MKII reminded me of a preamp or effects unit that wouldn't look out of place in a recording studio in the 1980s. Despite its retro appearance, this pedal utilizes all of the benefits of modern technology. I found the layout of the six controls sectioned into three pairs to be a very intuitive setup. The order feels very deliberate and natural, with the Input and Output on the top row, Attack and Release in the center, and Mix and Tone on the lower row.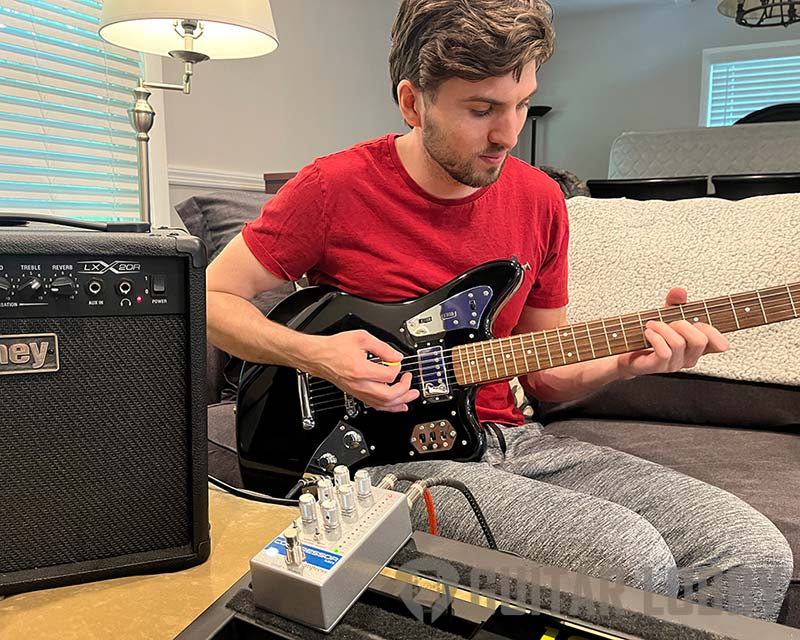 Some of the other features and capabilities that I find useful include the high pass filter switch, which provides quick removal of the lower frequencies, the three onboard compressor ratios, which consist of 2:1, 4:1, and 10:1; and finally, the external input for a sidechain, which expands the dynamic possibilities of the pedal considerably. In particular, the "Sidechain HPF" is an excellent addition by Empress. When I'm playing guitar parts that use a low of lower notes, I like to activate this feature, usually setting the high pass filter to the gentler 120Hz setting, which is less intense than the 240Hz setting. Then, if you want to add sidechain compression, simply connect another device to the dedicated input, and you can control the compression using that device or another instrument.
It may seem like the pedal layout is insignificant compared to other aspects, but in this case, it's what made the Empress Compressor stand out to me. When I was attempting to shape the sound of the effect, it made sense to start with the dynamics, from the signal that goes into the pedal from my guitar to the signal that leaves it and enters the result of the chain. Then, I tweaked the Attack control to alter how quickly the compression kicked in after a note or chord was struck by my plectrum before adjusting the Release to impact how long it lasts after the sound is made. Then I found the final piece of the puzzle was altering the more transformative aspects of the pedal by tweaking the Blend and Tone controls.
The visual meter allows you to see the amount of gain reduction being applied, and the input signal level is another thing that sets this Empress pedals apart from many of its competitors. It allows me to set the controls with the precision and accuracy that is usually only possible when you're using a mixing desk or VST plugins.
Bottom Line: This pedal encapsulates everything I love about Empress. It has an intuitive layout of useful controls, it produces a smooth and refined tone, and you can customize the effect in many different ways to suit your requirements.
4. Xotic SP (Best Under $150)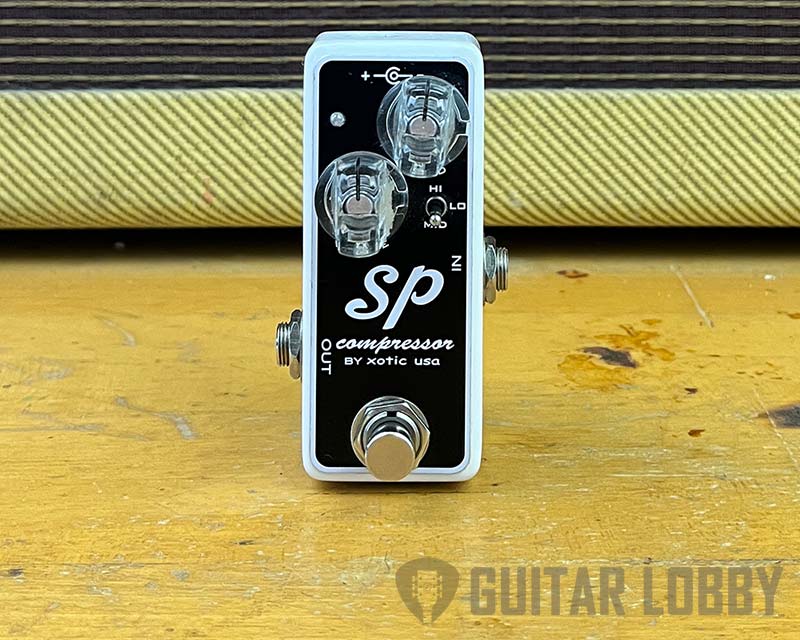 | | |
| --- | --- |
| Estimated Price | $135 |
| Type | Analog |
| Effects | Compression |
| Connectivity | 1x 6.35mm Jack Input, 1 x Output |
| Power | 9 Volts DC |
My Review: After testing the Xotic SP Compressor with various amps and guitars, I'd recommend it to guitarists of all musical styles and genres. Based on the renowned "Ross" compression circuit that is known for its transparency, this pedal keeps your dynamics evenly balanced and adds a harmonic sweetness to your tone.
By moving the three-position switch that toggles between a trio of compression settings, I was able to tailor the performance of the Xotic SP to suit the sound I was trying to create. In addition to the preset switch, I also like the fact that the variable blend control and internal dip switches all interact with each other to give you dominion over the intensity of the compression. I was most impressed by this pedal's suitability for playing funky rhythm guitar on my tube amp's clean channel – it tightened up the dynamics perfectly and helped to highlight the percussive aspects of this style of guitar playing.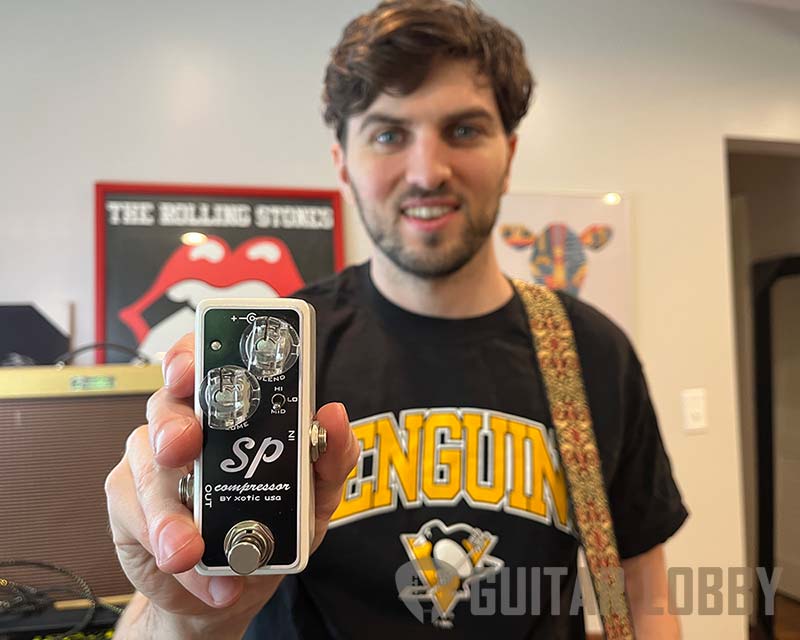 The SP Compressor runs off of standard 9-volt DC power and can also be powered by a battery, which is always a bonus! Its tiny dimensions led me to assume that it may be limited in performance, but Exotic's design has reminded me that looks and size can be deceiving! The minimalist control layout makes it a convenient addition to your pedalboard, no matter how much experience or knowledge you have about compression. Despite its modest size, there's plenty of room for tweaking the results it produces to suit your needs.
Overall, I can confidently say that the Xotic SP Compressor is a mini pedal that is well suited to guitarists who want reliable compression with no unnecessary filler. If your pedalboard, like mine, is already crowded, this pedal might be the perfect addition. I used it as part of my stripped-back effects chain, as it's highly reliable and more space effective than the bulkier compressor pedals I own. I've also found it to be a great option for recording guitar, particularly if you're going straight into an audio interface and then using VST instruments and amp modeling software to shape the tone. When I've used it for this purpose, the Xotic SP ensures that there are no dynamic inconsistencies as the signal is being recorded, making it much easier to process retrospectively.
Bottom Line: The Xotic SP, Mini Compressor pedal, is a great value for the price. This little pedal is deceptively versatile with high-end compression circuitry, a limited number of useful controls, and internal dip switches that dial in your tone. It performs at a high level no matter what your style of the genre is and is a great option for those who want to avoid overcrowding their pedalboard.
Popular Related Article: The Best American Made Guitars on the Market
5. MXR Dyna Comp M102 (Best Under $100)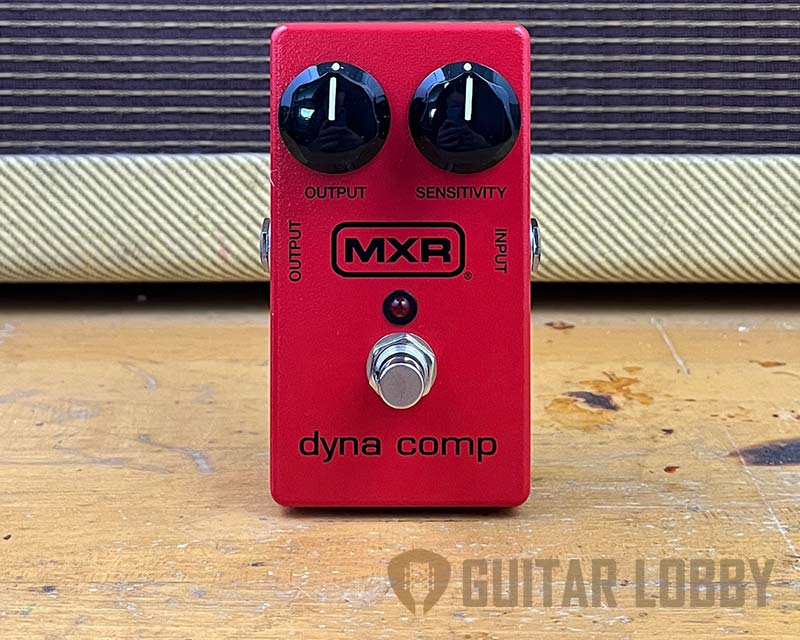 | | |
| --- | --- |
| Estimated Price | $100 |
| Type | Analog |
| Effects | Compression |
| Connectivity | 1 x 6.35mm Jack Input, 1 x Output |
| Power | 9 Volts DC |
My Review: Some guitarists prefer to have lots of controls on their pedals, and while there is certainly a benefit to this in some cases, I don't think it's always necessary with compressors. I've known about the MXR Dyna Comp for several years, and it has a reputation for being a well-rounded compressor pedal that is perfect for adding a touch of sustain to guitar solos. After running it through a solid-state amp, then later a tube amp, I was highly impressed by this versatile pedal and its effectiveness at adding more body to an electric guitar's tone.
As I predicted before even using the pedal, its simple, dual-knob setup is very easy to navigate. Firstly, it has an Output knob that controls the overall volume of the pedal, and then there's the Sensitivity knob which adjusts the ratio and the amount of compression applied to the signal. You might be wondering whether the Dyna Comp is limited due to having only two controls. I'd agree that compared to more advanced, high-end compressors, this pedal is less versatile. Still, at the same time, I found the impact of the two controls quite remarkable, and the simplicity is definitely a strength rather than a weakness.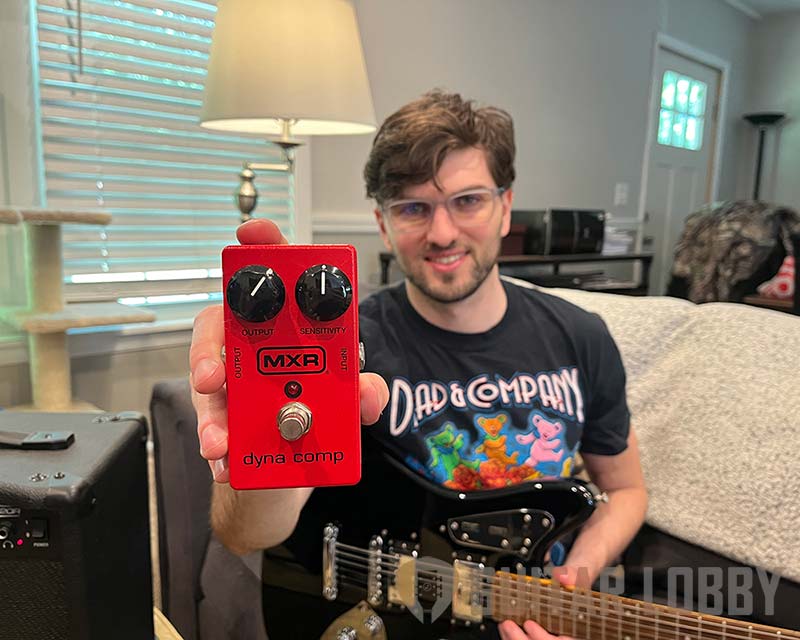 I could wax lyrical about the transparency and clarity of this pedal, but ultimately its biggest strength is how straightforward it is to use. When you set the Sensitivity control to a high level, your guitar is subjected to the maximum amount of compression – I'd only recommend setting this above 75% if you're using the pedal with other effects that need taming, such as phasers or flangers. When I cranked the Sensitivity up beyond this level, it resulted in a normalized, highly processed tone that may suit modern, digital styles of guitar playing.
I would recommend the MXR M102 Dyna Comp to any guitarists who need high-quality compression at a reasonable price. Due to the limited number of controls on this compressor pedal, it's well suited to beginners or those who value simplicity and easy operation, but don't let this put you off – it still can control the dynamics of your signal with precision and accuracy.
Bottom Line The MXR Dyna Comp Guitar Compression Pedal is simplistic, easy to use, and capable of producing warm, natural-sounding compression. It's the perfect pedal for boosting your guitar and adding sustain for melodies or solos. Despite its modest size, the tones it produces aren't lacking in power and clarity. If you're looking for the best cheap compressor pedal, this is easily one of the best in the under $100 category.
6. Earthquaker Devices Warden V2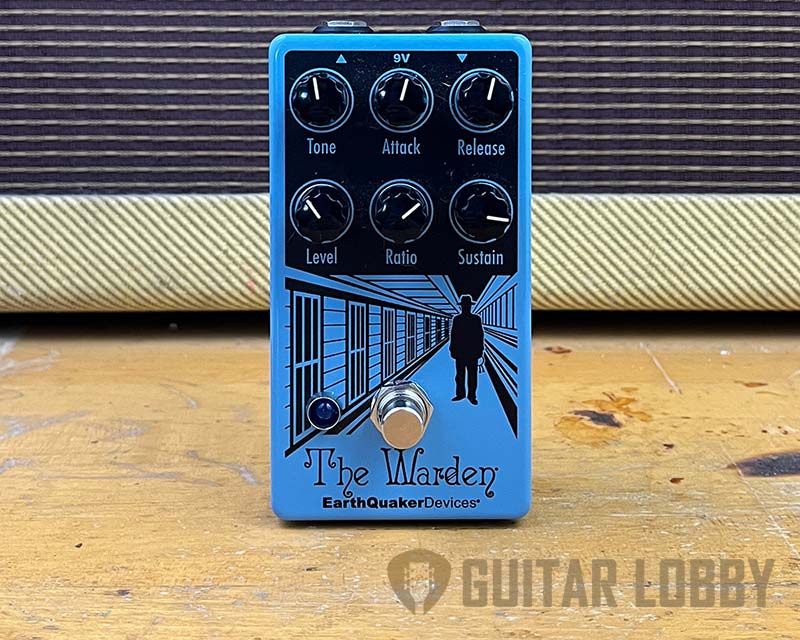 | | |
| --- | --- |
| Estimated Price | $200 |
| Type | Analog |
| Effects | Compression |
| Connectivity | 1 x 6.35mm Jack Input, 1 x Outputs |
| Power | 9 Volt |
My Review: Efficient, detailed, and musical, the Warden V2 by Earthquaker Devices is an exceptional compressor pedal. Its primary function is to control the dynamics of your guitar or bass, but after experimenting with the advanced set of controls, I found that this device offers plenty of room for maneuver. Using classic feedback-style circuitry and six transformative rotary knobs, the Warden V2 is the perfect start to your signal chain.
As soon as I got my hands on it, I could tell that the components used to construct this compressor pedal had been specifically chosen by Earthquaker Devices due to their high-grade quality. Powered internally by 18 volts, The Warden V2 can add plenty of sustain and gain to your tone. The first thing I noticed when testing the controls of the pedal was that when the sustain is dialed in, the compression is less extreme, which was useful when I needed to keep a consistent volume when playing melodies and chord sequences. When I cranked the sustain up, this resulted in heavier compression and a limited dynamic range. I found this setting very useful when using my gain-based pedals, like fuzz and distortion, for a highly saturated tone.
The six rotary knobs on the Warden V2 provided me with complete control over the Tone, Attack, Release, Level, Sustain, and Ratio of the pedal. Whether you intend to add gentle compression to your guitar to smoothen the transients or you require some extreme compression that normalizes your dynamics, this pedal can do both with ease. A common problem I've experienced in the past with compressor pedals is that they can cause some unwanted noise issues, especially if the circuitry isn't made to a high standard. I was surprised to find that this potential pitfall has been prevented with the Warden V2, thanks to its optical compressor design. I've come across several optical compressors in the past, but this pedal outshines them all. I love how transparent the compression is and how natural it sounds, as this allowed me to tighten up the dynamics of my guitar without making it sound overly processed.
From time to time, I come across those rare types of effects pedals that work with every style of playing with equal efficiency- the Warden V2 Optical Compressor is one of those devices. After testing it out through several amplifiers and combined with a mixture of other effects pedals, I was left highly impressed by its versatility and the way it effortlessly blends into whatever musical genre it is used for. In my experience, compressor pedals are commonly best suited to single notes or chords, but I found this stompbox to be equally proficient in both situations.
A particularly interesting thing I noticed about this pedal is that it blends excellently with two specific effects, spring reverb, and tape delay. By setting the Attack parameter to around 75%, then setting the Ratio and Release to roughly 50%, the Warden V2 produces a gentle form of compression that kicks in after you strike the note. This worked perfectly with the soft, airy sound of these two timing-based effects and was great for melodic rhythm and lead guitar playing.
Other than the quality of the sounds they produce, one of the reasons I'm a huge fan of Earthquaker Devices is their ability to keep the control layout of their pedals simple, while still providing the flexibility musicians need to sculpt their sound. Each of the six controls significantly altered the dynamics and sound of my guitar, but I didn't need to go through a long process of figuring them out or researching how to get the best sounds. This blend of simplicity and versatility is, in my opinion, what separates this optical compressor from most other options in its price range.
Bottom Line: The EarthQuaker Devices Warden V2 is a perfect blend of simplicity, versatility, and tonal quality. By tweaking the six onboard controls, you can create just about any form of compression imaginable. It interacts with other pedals seamlessly and operates in a low-noise manner, making it one of the best all-rounders available.
7. BOSS CP-1X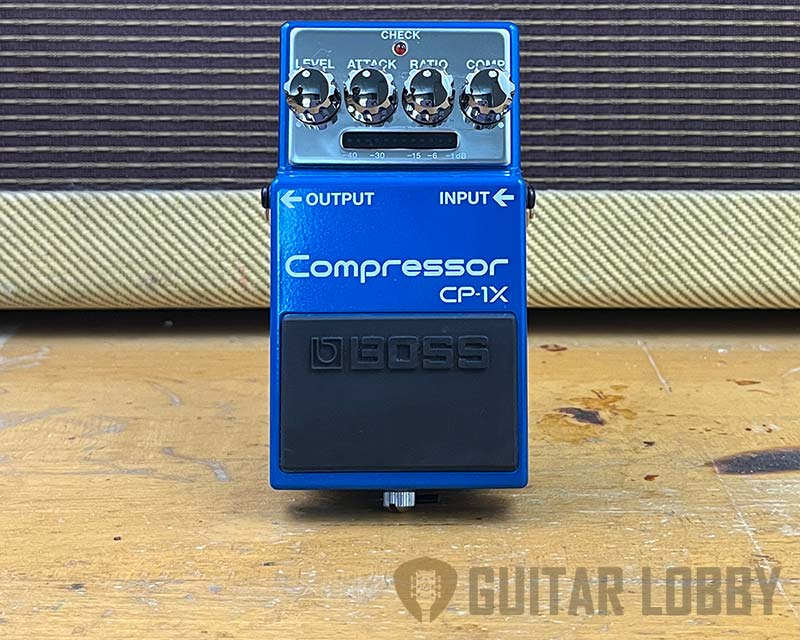 | | |
| --- | --- |
| Estimated Price | $150 |
| Type | Digital |
| Effects | Compression |
| Connectivity | 1 x 6.35mm Jack Input, 1 x Output |
| Power | 9 Volts DC |
My Review: Being a long-time collector of Boss' legendary pedals, I couldn't wait to get my hands on the CP-1X. While it's not the most flashy device I've ever used, as I expected, this Boss pedal is a reliable compressor in the classic stompbox design that its manufacturer is known for. When designing the pedal, Boss used their other, more primitive compressors as a point of reference and added some modern aspects to its design.
Straight off the bat, I noticed that at the heart of the CP-1X is its multi-dimensional processing. This feature allowed the pedal to analyze the frequencies produced by my guitar and then control the dynamics of the output without making it sound artificial. The result is musical compression that sounds natural and authentic – perfect if you love to play styles like blues and jazz as I do. After taking a closer look at the specs and the design, I learned that the electronic components of the CP-1X work to ensure that it has adequate headroom for different styles of playing. It also features the classic 4-control design, with each rotary knob responsible for tailoring a certain aspect of the compressor's performance. The 18-volt electronics means that the CP-1X can handle any style of pickups and is even compatible with electric-acoustic guitars, which came as a pleasant surprise to me!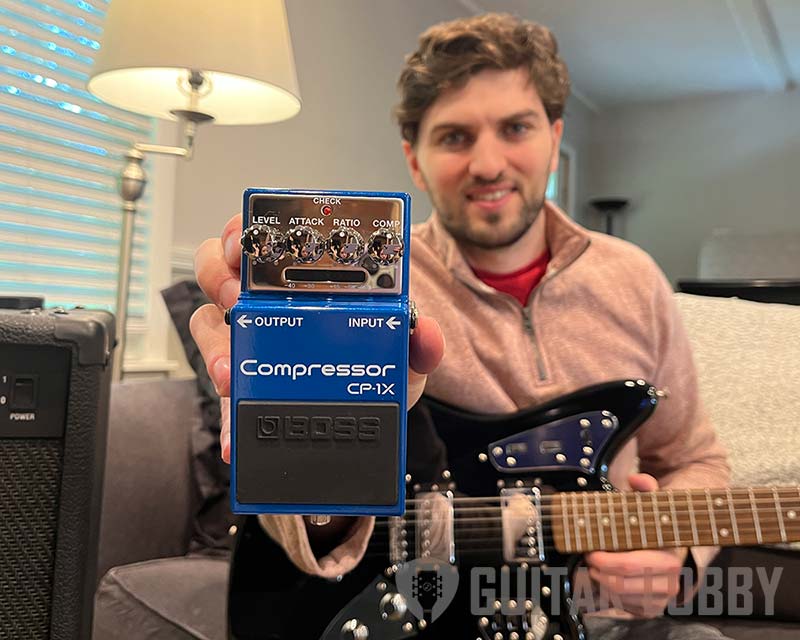 I love the simplicity of Boss pedals, and this compressor fits their blueprint. The included controls are Level, Attack, Ratio, and Comp. The Level control is pretty self-explanatory, affecting the amount of volume that the pedal produces. The Attack control decides how long it takes for the compression to kick in once the volume exceeds the threshold. The Ratio decides how compressed the dry signal gets, and the Comp level determines the harshness of the compression that it is subjected to. I like that many combinations can be created by adjusting these four controls, but you don't need too much technical knowledge to get a good sound out of the pedal.
If there's one thing I'd say Boss' range of pedals is best known for, it's their reliability. Although the CP-1X has some more advanced features than many of the brand's other simple stompboxes, I'd recommend it to guitarists who want to plug in, tweak a few settings to get their desired sound, and start playing with improved dynamics and clarity. Thanks to its durability, I think this compressor is a great choice for touring musicians.
Bottom Line: One thing about Boss that you can rely on is their consistency. Their pedals provide a good middle ground between cheap, entry-level models and the more extortionate advanced pedals. The CP-1X offers reliable, authentic-sounding compression in a robust and simple stompbox.
Popular Related Article: The Best Multi Effects Pedals on the Market
8. JHS Whitey-Tighty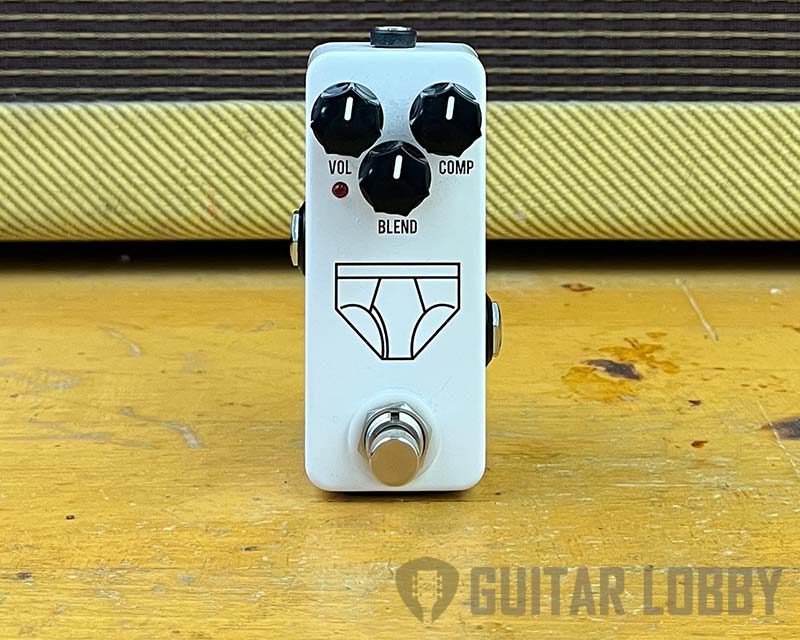 | | |
| --- | --- |
| Estimated Price | $135 |
| Type | Analog |
| Effects | Compression |
| Connectivity | 1 x 6.35mm Jack Input, 1 x Output |
| Power | 9 Volts DC |
My Review: In my experience, FET compressors, such as the JHS Whitey Tighty, are valuable tools both on the stage and in the recording studio. I've frequently relied on this variety of compressor pedals when recording because the unique design is highly effective at causing extreme compression to an audio signal without diminishing the tone or overly altering the frequency response. As a long-term admirer of JHS devices, I had high expectations of the Whitey Tighty, and it lived up to the hype. I'd even go as far as to say that it has all of the details and capabilities you'd find in a VST plugin compressor while still benefiting from the physical qualities of a pedal!
With a simplistic 3-knob control, my first thoughts were that this JHS pedal would be fairly limited in the range of compression it produces. However, following further inspection, it became apparent that this was no ordinary compression pedal.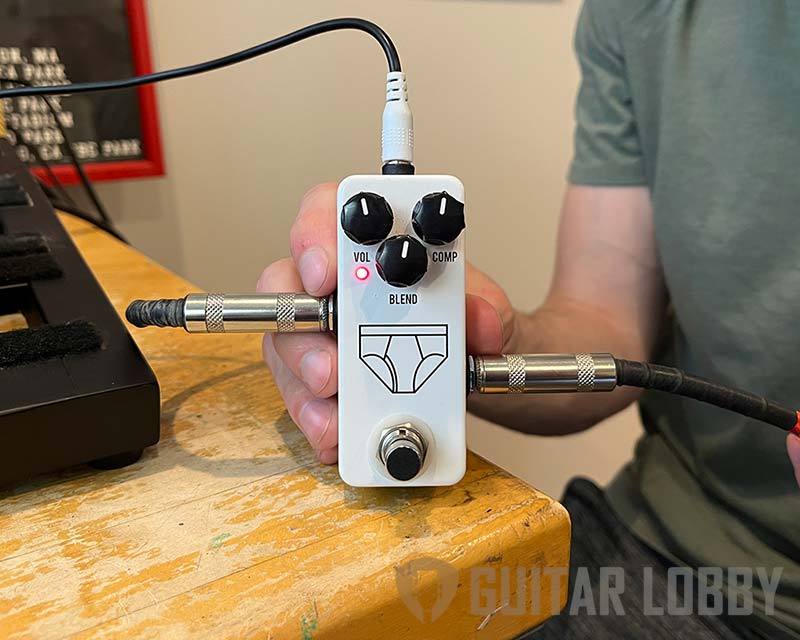 I can see why JHS went with a minimalistic layout – it makes adjusting the sound produced by the Whitey Tighty very straightforward. Without needing to read instructions or watch any tutorials, and by simply tweaking the three rotary knobs, I was able to transform the output of the pedal to my liking. First of all, I found that the Volume control is great for achieving unity gain and matching the pedal to your other effects in terms of dynamics. Unlike many compressors I've used, there is no sudden drop-off when tweaking this control, meaning you can be incredibly precise when balancing the levels of the effects in your signal chain. I then moved on to experimenting with the Comp control, which allows you to choose between delicate, smooth compression or extreme, hard-squashed varieties that reminded me of a hard limiter. Once I set the first two controls, I started to tweak the Blend control, which provides a useful way to dial in some of the compression, mixing it with your dry signal to suit the needs of a song.
Another thing that drew me to this device, and as is the case with the majority of JHS pedals, is that the Whitey Tighty compressor is hardwired with high-quality circuitry and components. Physically, it feels solid to hold and is made of rugged metal to ensure that it stands the test of time. If you intend to use heavy compression to get your desired sound, the JHS Whitey Tighty is certainly worth considering. It's well suited to more extreme effects, and the FET design is great for thickening up your guitar in the studio and on the stage.
Bottom Line: The JHS Whitey Tighty compressor pedal is durable, reliable, and multi-faceted. The simple 3-knob layout makes it easy to use, and by playing around with the controls, you can create a wide range of compressed styles that suit most styles.
9. Orange Kongpressor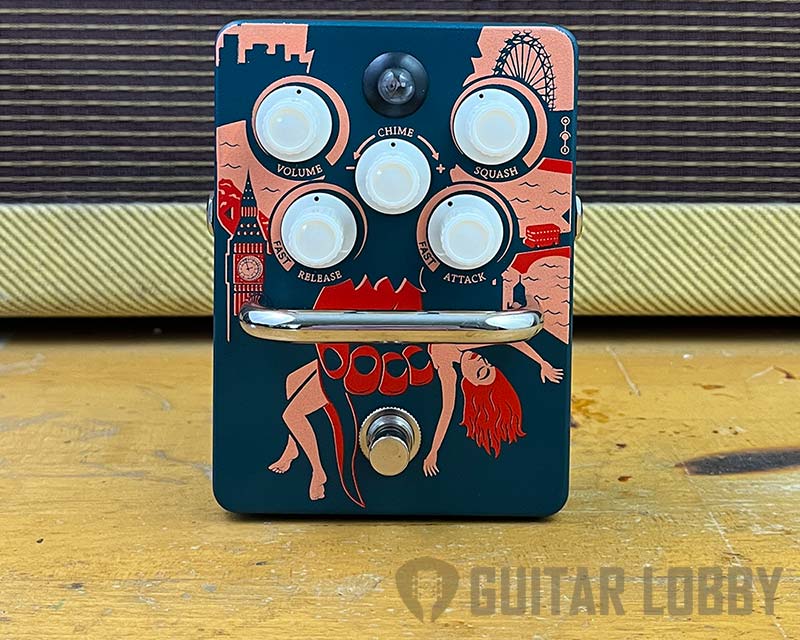 | | |
| --- | --- |
| Estimated Price | $155 |
| Type | Analog |
| Effects | Compression |
| Connectivity | 1 x 6.35mm Jack Input, 2 x Output |
| Power | 9 Volts DC |
My Review: Best known for producing an exceptional range of Amplifiers, Orange has been at the forefront of the world of guitar and bass for over five decades. It's no surprise to me that their venture into effects pedals has produced some quality offerings. The Kongpressor Optical Class A compressor pedal is a prime example, and I couldn't wait to try it through my tube amp.
My initial impression of the Kongpressor was that it looks unique, with stylish artwork printed on the front. Then I learned that it uses optical compression, and it became pretty clear that Orange has designed this pedal to stand out from the crowd. Unlike many other compression pedals I've used, the 5-control layout that is underneath a sparkling LED indicator gives this stompbox a more distinguished appearance, but aesthetics don't count for much if the sound quality doesn't match!
The controls of the Kongpressor are a joy to use. You have the standard Volume control for gain consistency, then in the center is a Chime control, which I loved messing around with. This uncommon parameter adds or removes brightness from the mix, transforming my guitar into a bell-like sound with plenty of sustain or dulling the tone to create a haunting, dark style of compression. To get the best sound out of this pedal, I found that combining it with a touch of reverb helped soften the effect and emphasized its warm color.
After spending much longer than I intended experimenting with the Chime control, I moved to its right, where there was another knob labeled "Squash." Although I was initially unsure of what this control was for, I quickly realized that it is essentially a ratio controller. It adds more compression the more it is cranked up, literally squashing the signal until the dynamics are totally flat – perfect if you like to make your guitar sound like a synth. Next, there's the Release control, which easily allows me to determine how long the compression sticks around after a note has been played. Finally, there's Attack, which affects the gap between the threshold being crossed and the compression starting after I hit a note or strum a chord.
In my opinion, Orange is on par with the likes of Fender and Marshall in terms of their amplifiers, and drawing from their experience in this field, they have designed the Kongpressor to produce up to 12dB of clean gain to boost the front of an amp. I've found that this is very useful for those on-stage moments when you need to quickly stand out in the mix without your tone becoming too harsh.
I love the classic British sound of Orange amplifiers, and the Kongpressor is certainly an extension of the brand's iconic sound. With all the grittiness and character that you'd expect from this legendary manufacturer, it's the perfect tool for controlling your dynamics while enhancing your tone.
Bottom Line: Orange's Kongpressor uses optical compression to create a wide array of styles and dynamic-shifting options. The controls are labeled and laid out uniquely, and each of the parameters forms separate pieces of the puzzle so that you can experiment to create original results.
10. TC-Electronic Hyper Gravity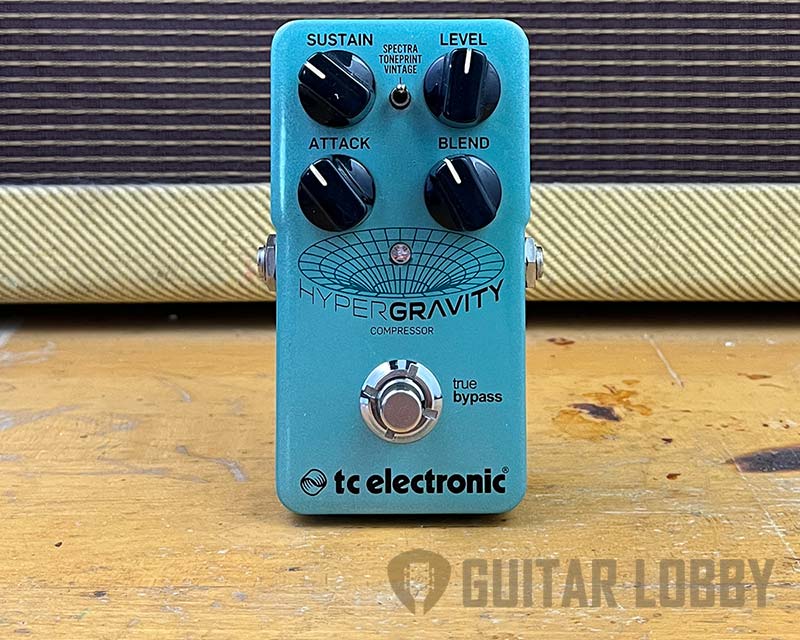 | | |
| --- | --- |
| Estimated Price | $130 |
| Type | Hybrid |
| Effects | Compression |
| Connectivity | 1 x 6.35mm Jack Input, 1 x Output |
| Power | 9 Volts DC |
My Review: I've been lucky enough to use many of TC Electronic's impressive range of effects pedals, and am constantly amazed by their innovative designs. The brand covers pretty much every processing possibility you can imagine, and the HyperGravity is their premium compressor, so I was eager to see if it could match the likes of my Warden V2. Like most of my TC Electronic pedals, the HyperGravity uses the renowned TonePrint technology to create various options to control your instrument's dynamic output – a feature that sets it apart from most of the other devices I've used.
One of the things that intrigued me about this pedal is that it borrows the highly advanced multiband algorithm from the TC Electronic System 600. As soon as I placed it in between my tuner and my overdrive pedal in the signal chain and stomped on the footswitch, I was blown away by its performance. The HyperGravity functions with razor-sharp precision and boasts immense clarity. While experimenting further, I noticed that there are three compression tones activated by a tiny switch in the center of the pedal's upper row. These preset consist of Spectra, Vintage, and Toneprint. Due to the slightly mysterious names of these settings, I wasn't sure what to expect when switching between them.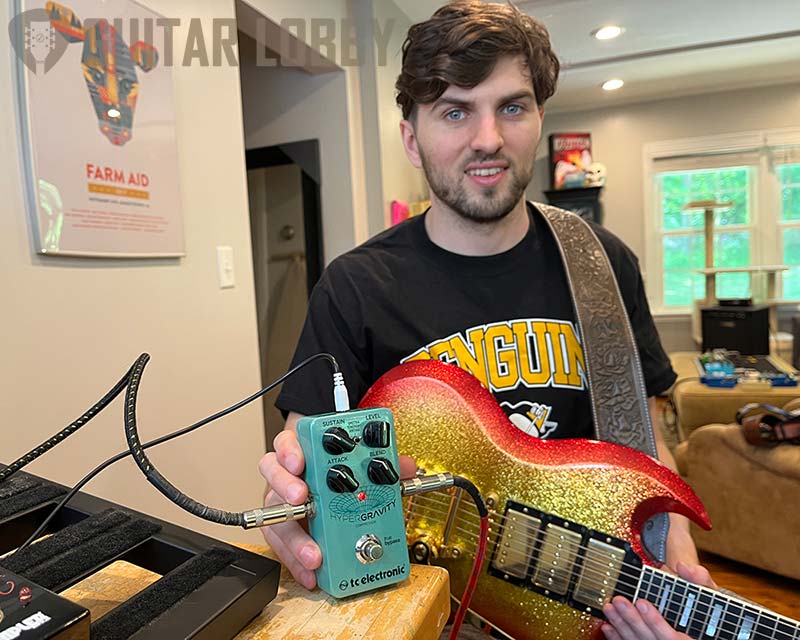 Firstly, I found that the Spectra setting produces transparent and light compression, which perfectly suited the jangly sound of my Stratocaster. This preset sounded great when I played through some indie rock classics, and it wasn't overpowering or too intense. Then there's the Vintage preset, which mimics analog compression from the '60s and '70s very convincingly, making it a great choice for some of the rock n' roll and blues riffs I've composed. Furthermore, the TonePrint control allows me to personalize the settings and create a specific flavor of compression, which I've found useful when recording into my DAW. The Blend function allows you to mix your dry and wet signals to keep the sound as authentic as possible, and you can choose between buffered or true bypass depending on the layout of your other pedals.
The Hypergravity uses a DSP, but I wouldn't say it sounds like your average digital compression stompbox. TC Electronic set out to create a pedal that blurs the line between digital and analog, combining the best possible aspects of both technologies. The Blend function allows you to mix your dry and wet signals to keep the sound as authentic as possible, and you can choose between buffered or true bypass.
If you sit on the fence regarding the issue of digital vs. analog effects pedals, the TC Electronic HyperGravity provides a good middle ground. I would recommend it to musicians who enjoy experimenting to find their desired sounds.
Bottom Line: The HyperGravity is a detailed compressor pedal by TC Electronic. It allows you to choose between buffered or true-bypass mode, customize the settings using the TonePrint technology, and tailor the output towards analog or digital preferences.
11. BOSS CS-3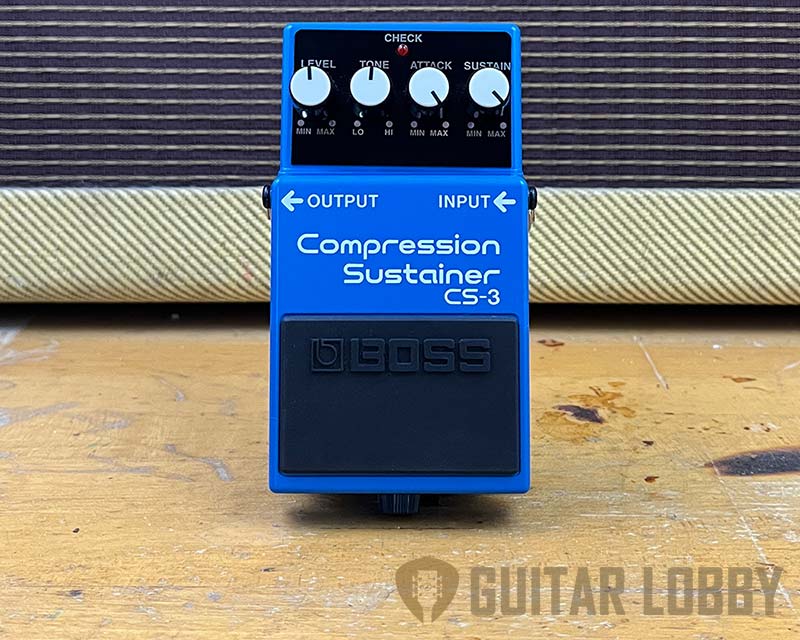 | | |
| --- | --- |
| Estimated Price | $110 |
| Type | Analog |
| Effects | Compression |
| Connectivity | 1 x 6.35mm Jack Input, 1 x Output |
| Power | 9 Volts DC |
My Review: The two main qualities that I look for from a compressor pedal are improving my instrument's dynamic consistency while preserving its tone. After comparing it to a vast range of other compressors, I can safely say that the Boss CS-3 is a highly detailed compressor pedal that enhances the sustain and thickness of an electric, acoustic, or bass guitar. The first thing that drew me to this pedal is the fact that it's housed in the classic Boss stompbox enclosure, which is usually a good indicator that it will sound great! Like many of the Boss pedals I've played in the past, the CSS-3 has four basic controls that give you total dominion over the various aspects of the compression effect.
This pedal has the challenge of living up to the quality of Boss' CP-1X compressor, and in certain areas, I think it's even better. The name stands for "Compression Sustainer," which I found intriguing, as sustain is not usually the main focus of this type of pedal. To better understand how the pedal performed, I went through each of its four controls individually and assessed their impact. Firstly, there's the Level control that doesn't require an explanation. Moving on, I found that the Tone control can be used to adjust the color of the pedal's output, ranging from dark and understated, which is ideal for heavier styles of rock and metal, to bright and detailed, which better suits pop, country, and funk guitar. Then there's the Attack control, which I found useful for adjusting the time it takes for the compression to kick into action. Finally, the control that I found most useful is the Sustain. Not only is this a great tool for keeping my dynamics strong when ringing out chords, but I also love the way it made my solos more dramatic by allowing me to bend and hold notes for much longer.
Housed in a robust aluminum chassis and built like a tank, the CS-3 is ready to handle any of the inevitable rigors of touring, practicing, and recording. If you're looking for a mid-range, fairly priced compressor pedal that covers all bases, then the Boss CS-3 would be a good option. Like all Boss stompboxes, it can withstand a lot of punishment, so it's ideal for musicians who will use it frequently.
Bottom Line: One quality that I love about Boss pedals is that you know exactly what you're getting – durability, functionality, and quality tones. The CS-3 may not be littered with advanced options like some of its more expensive competitors, but it covers all the key guitar or bass compression pedal requirements and offers abundant sustain! The Boss CS-3 is easily one of the best compressor pedals out there.
Choosing the Right Compressor Pedal (Buying Guide)
The majority of recorded music, regardless of genre or style, uses compression in some way, shape, or form. It's, without a doubt, one of the most commonly used audio processing effects that have ever been discovered. Guitars, drums, vocals, bass, and pretty much any other instrument you can think of will benefit from at least a touch of compression.
Compression pedals allow guitarists and bassists to tighten up their on-stage sound, ensuring their instrument's dynamics remain smooth and consistent. Although all compression pedals essentially perform the same function, there's a lot of variance from one model to another in terms of their quality and efficiency.
The following section of this article will present all of the information you need on the subject of compression, both as an effect in the studio and as a pedal on the stage. It doesn't matter what your current level of knowledge is on compression; you'll find some useful information in the following pages as I cover the basics and the more advanced concepts.
What is Compression?
Compression is the process of reducing the dynamic range within an audio signal. By using a process called attenuation to limit loud noises or by amplifying quieter noises, the compressor produces a more consistent and tight dynamic range.
Dynamic Range Explained
If you have any experience recording music, you'll probably have heard the term "dynamic range" before. Simply put, the dynamic range is the ratio between the loudest part of an audio signal before distortion occurs and the noise floor. The human ear can hear volumes of to around 140 decibels and is unable to hear noises quieter than 0dB at 1000Hz. So that is the dynamic range of human hearing. To put this into context, the sound of heavy rainfall has a volume of around 50-60 decibels, and the sound of a plane firing up its engine reaches close to the limit of 140 decibels. An everyday conversation reaches around 70 decibels, and a hairdryer is somewhere around 100 decibels. All of these sounds exist within the dynamic range of human hearing.
The way we hear sound is not quite as simple as the louder the decibels, the more we perceive it. The term masking describes the way that our ears focus on certain sounds despite other background noises being louder in terms of decibels. This explains how we can have a conversation with someone when there are many other sounds in the background and still understand what each other is saying.
The Purpose of Compression
Reducing the dynamic range of an audio signal seems counterproductive. Logically, one would assume that to make a sound louder; you would want to expand the dynamic range, thus raising the overall volume. However, the opposite is true.
One simple function of compression is to bring down the volume of transients that are too loud in comparison to the rest of the waveform. When looking at an audio waveform, you can see where these transients spike, causing harsh increases in the volume. This may lead to clipping, where the transient exceeds the maximum number of decibels, usually an undesirable effect unless you are intentionally trying to create saturation.
Downwards Compression
The term downwards compression describes the process of attenuating the overall volume of an audio signal when it reaches a certain point, known as a threshold. This is a common function of compression pedals. When the sound reaches above the threshold, it is downwardly compressed, and consequently, the dynamic range is reduced. This type of compression brings down the volume of any harsh points of a recording so that the listener doesn't suddenly get a shock when an overly loud part plays in their headphones!
A simple solution to this problem would be to never sing, play, or record anything loud, but this is utterly unrealistic. Music has to be played loudly sometimes to achieve certain tones or evoke particular emotions from the listener, so downward compression pedals provide a solution without diminishing the expressive nature of the audio. Plus, no musician likes to be told to turn down – it's not in our nature!
Upwards Compression
Upwards compression is the alternative variety that a compression pedal or software can produce. Instead of limiting the volume of the audio when it reaches the threshold, as we covered with downward compression when upwards compression is used, the signal's volume is boosted at the point where it drops below the threshold.
This form of compression is less commonly used on a compression pedal and more likely to be utilized when chopping up drum samples in a DAW. For example, if you have selected multiple samples from a range of sources, and they all differ in terms of volume, upwards compression is the perfect solution. You can simply set the threshold of the compressor to be slightly above your loudest sample, and all of the quieter sounds will be boosted to match the desired level.
Downwards Expansion and Compression
When audio is subjected to downwards expansion, the volume of the signal is reduced at the point where it drops below a threshold, therefore increasing the dynamic range. This is performed by a special device known as a gate. The gate essentially lowers the level of the noise floor.
Using a gate to produce downward expression is useful if you have some unwanted quiet noises in your recording or coming through an amplifier. Most compressor pedals are fitted with a gate, and this allows the main body of sound (your guitar) and minimizes the appearance of any background noises like electronic hums or buzzes.
Upwards Expansion and Compression
Upwards expansion, as you can probably guess, performs the opposite function of downward expansion. In short, it causes the volume of the audio signal to be boosted when it reaches a certain point above the threshold. This creates a more dynamic range. This form of expansion is usually used on drums to make them sound punchier.
Sidechain Compression
Another form of compression that is commonly used is called sidechain. Some more advanced compressor pedals will have this mode enabled, but it's generally used in recordings when mixing kick drums and bass. When sidechain mode is activated, the compressor responds to external input rather than the audio that passes through the compressor. The external input acts as a trigger for the compression, creating a pulsating effect and allowing bass a kick drum to interact with each other efficiently.
Multiband Compression
Granted, multiband processing isn't associated specifically with compressor pedals, but it is still useful to understand, especially if you intend to use compression when mixing audio. Multi-band processing is a method that makes it possible to alter various frequency bands independently.
When using multi-band compression, you can compress the low, mid-range, and higher frequencies with independent settings. This provides more control over the different aspects of the audio and is a particularly popular mastering trick.
The Commonly Found Controls & Parameters on Compressor Pedals
Compressor pedals are likely to feature similar controls and parameters, although some more expensive models may have additional advanced controls. You'll generally find the following on most of the pedals.
Threshold
Ratio
Attack
Release
Makeup
The threshold is an adjustable parameter that lets you decide the volume that triggers the compression. If you were to set the threshold to -10dB, for example, this would mean that any audio that goes through the compressor and reaches a peak of above 10dB will be subjected to compression.
When you set the ratio on a compressor pedal, this determines how much compression will be applied to the audio signal. A ratio of 11 would produce no compression, 21 would produce minimal compression, 41 would produce a medium amount of compression, and 101 would heavily compress the audio.
The attack parameter on a compression pedal decides how much time it takes for the compressor to fully kick in and affect the audio signal after it has passed the set threshold. The shorter the attack time, the quicker the compressor applies the maximum amount of compression on the audio spike that has reached your chosen threshold. Faster attack times are usually best used for cleaning up harsh transient spikes. If you set the attack to be slow, this will increase the amount of time it takes for the compression to occur, making the effect less harsh and noticeable.
Release essentially determines how long it takes for the compressor pedal to stop acting upon the audio signal once it drops below the set threshold. The quicker the release, the less time the compressor will continue to affect the audio after the threshold has been reached. Slower release times are often used for bass because you want a sustained tone to continue after the audio has passed through the compressor.
Positioning a Compressor Pedal in Your Signal Chain
When it comes to positioning effects pedals in your signal chain, I'm a strong advocate for experimentation. After all, the tone is a subjective matter that is individual to a guitarist, and only you know what sounds you intend to produce. With that being said, there are some guidelines that most musicians would agree on.
Usually, a signal chain would be with any dynamically based pedals. Compressor pedals fall into this category, as do any equalization pedals. Any dirt-based pedals, such as distortion, overdrive, or fuzz should be positioned next in the signal chain. Then comes modulation pedals, which include phasers, chorus, or flangers. Finally, time-based pedals like delays or reverbs should be positioned toward the end of your chain.
The reason that this order is recommended is that it allows each of the pedal types to function whilst being minimally affected by the pedals that come after them in the chain. For example, if you were to place your reverb pedal at the start of the signal chain, all of the subsequent pedals would be affected by it, creating a more unpredictable and messy outcome.
Compression Pedals and Signal Splitting:
When looking through the list of compressor pedals earlier in this article, you might have spotted that some of them offer two outputs rather than one. This makes it possible to split your signal using the compressor pedal. Why is this useful? Well, splitting the signal allows you to send a clean channel that isn't processed into one amplifier whilst directing an FX channel into another separate amp.
The advantage that this provides is that you can keep your clean tone constantly playing underneath any effects that you use. This creates the illusion that two guitars are playing at once and results in a thicker, fuller tone.
Many guitarists and bassists use this technique if their band has a limited number of guitarists. When you activate your FX channel, it adds a substantial amount of power and contrast to your clean channel and creates a bigger sound.
Using Compression Pedals in the Studio:
Although all DAWs come with built-in digital compression units in the form of VST plugins, this doesn't necessarily render a compressor pedal redundant when you are recording music. Some would argue that using your pedal rather than a software-based alternative would foster more reliable results.
The main advantage of using your compressor pedal in the recording studio is that it promotes consistency between your live tone and your studio recordings. For the modern musician, it's more important than ever that their live performances stand up to the quality of studio recordings because gigs and shows are the most lucrative pursuit in most cases. Consequently, using a compression pedal with similar settings to a live setup lets you preempt your sound and avoids there being a noticeable gulf between your live and recorded tone.
On top of that, another reason that compressor pedals are a useful addition to the recording studio is their compatibility with multiple instruments. The bass guitar almost always needs some compression to tighten up the dynamics and keep the low-end sounding strong and full-bodied. Vocals also benefit from some compression, as do drums. If you were to use your compressor for these two disciplines, it would probably be best to re-amp the recordings retrospectively. This is the process of recording the audio clean, then running it back from the DAW through the compressor pedal, and finally recording back into the input of your DAW.
Using Compressor Pedals Alongside Other Effects
Some effects pedals are best used as standalone, especially when they produce dramatic, tone-altering results. On the other hand, dynamic pedals like compressors are highly compatible with other effects. Due to the unobtrusive nature of compressor pedals, you can use them together with more extreme effects without your tone becoming overly muddy.
Perhaps the most frequently paired effect with the compressor pedal is EQ. These two pedals go hand in hand because the EQ allows you to tailor the frequency response of your instrument, then compression accentuates the subtle changes by boosting or reducing parts with anomalistic volumes.
Distortion-based pedals like overdrive and fuzz already compress your signal in some respects. Using them with a compressor pedal will help to smoothen out the effect, making it less harsh and chaotic. If you use a lot of compression on an already saturated signal, this can produce some interesting results too.
Using compressor pedals with reverb or delay can be problematic if the compression is applied after these two effects. This is because reverb and delay create new undertones and trailing sounds which are meant to be lower in volume than the clean tone. So when compressor pedals are applied, the low-volume spacey tones are pushed up to match the dynamics of the original tone, which adversely affects the clarity. However, if you are looking for ambient, tension-building tones, this method will work very well.
Power Requirements:
You'll find that a high percentage of compressor pedal requires 9 volts of DC power to operate, although, on rare occasions, they may need 12 volts. Most manufacturers recommend purchasing a specific power supply for their compressor pedal, but you can use any as long as it meets the voltage recommendation.
Another option is to simply use 9-volt batteries to power your compressor pedal. Indeed, this is a more convenient method in the short term, but bear in mind that if the batteries run out on stage, this will cause the pedal to stop working and potentially kill your signal chain. Therefore, the most reliable method is to combine a power supply with batteries so that if one fails, the other steps in and prevents a dreaded cut-out!
Final Thoughts:
Compressor pedals are sometimes overlooked due to their subtle nature. Other pedals may indeed produce more exciting and noticeable results, but a compressor pedal is an integral piece of your overall sonic foundation. When used properly, compression allows all the other effects to work to their maximum attention. It's the unsung hero of a pedalboard, and adding one to your setup is a very wise decision indeed.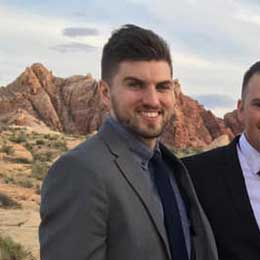 My name is Chris and I've had a passion for music and guitars for as long as I can remember. I started this website with some of my friends who are musicians, music teachers, gear heads, and music enthusiasts so we could provide high-quality guitar and music-related content.
I've been playing guitar since I was 13 years old and am an avid collector. Amps, pedals, guitars, bass, drums, microphones, studio, and recording gear, I love it all.
I was born and raised in Western Pennsylvania. My background is in Electrical Engineering, earning a Bachelor's degree from Youngstown State University. With my engineering experience, I've developed as a designer of guitar amplifiers and effects. A true passion of mine, I've designed, built, and repaired a wide range of guitar amps and electronics. Here at the Guitar Lobby, our aim is to share our passion for Music and gear with the rest of the music community.