Tuner pedals are the unsung heroes of a guitarist's pedalboard. They perform the critical function of helping you keep your guitar pitch-perfect during a gig, or in between recording takes. Learning to tune by ear is a skill that all guitarists would benefit from developing, but it's not practical in environments where you need to tune your strings quickly, or when there is a lot of background noise to contend with.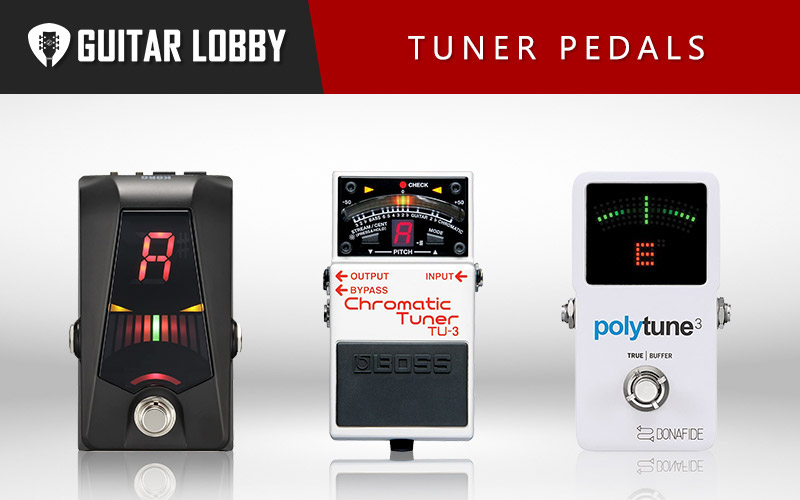 Although it may seem logical that tuner pedals all do the same thing, in reality, there's a lot of variances with each pedal. Some use complex circuitry and electronics to offer precise tuning, while others are less accurate but also less costly, and simpler to operate. If you were to survey a large number of guitarists who play live, the one pedal that most, if not all, would likely use would be a tuner. It may not transform your tone and create exciting, dramatic results, but there is nothing more critical than staying in tune.
I'll start this article by reviewing the best tuner pedals at different price points and delve into their strengths, drawbacks, and technical capabilities. For those of you who want to learn more about tuner pedals before diving into product reviews, you can find our detailed tuner pedal buying guide at the bottom of the page here.
Here Are the Best Tuner Pedals
1. TC Electronic PolyTune 3 (Best Overall)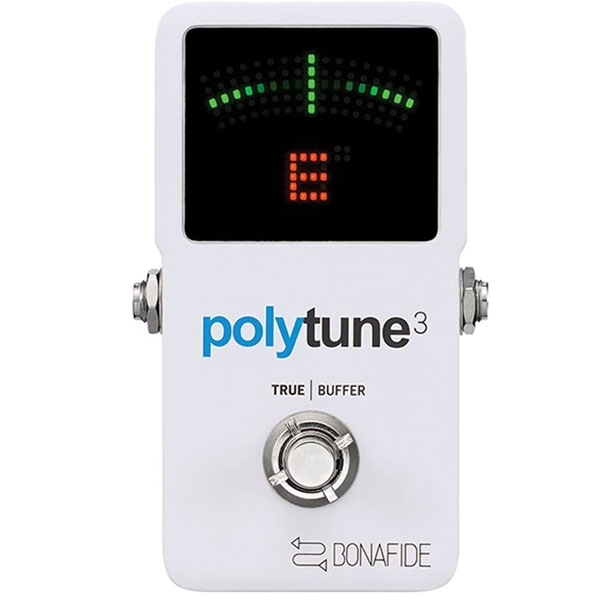 | | |
| --- | --- |
| Estimated Price | $120 |
| Type | Digital |
| Effects | Tuner |
| Connectivity | 1x 6.35mm Jack Input, 1 x Outputs |
| Power | 9 Volt |
My Review: When it comes to polyphonic tuner pedals, there's one model that sets the standard for all others to follow. The PolyTune 3 by TC Electronics is a legendary tuner that boasts impeccable accuracy, and straightforward operation.
The original model was highly popular amongst guitarists and bassists when it was first produced in 2010. Since then, TC Electronic has improved the pedal further, perfecting the strum-and-tune technology to make tuning your guitar effortless. It now comes with multiple tuning modes to cater to guitarists of all genres and styles.
The tuning modes include standard chromatic, polyphonic, strobe, and a series of altered tunings for more experimental musicians. The beauty of the PolyTune 3 is that you simply have to strum all of your strings at once, and it instantly indicated which strings require some attention and whether they are sharp or flat.
In addition to the vast array of tuning modes, the PolyTune 3 has an onboard buffer for ultimate tonal preservation. For guitarists with long cable runs and stacked pedalboards, this provides the perfect remedy to those seemingly random cut-outs in the higher registers.
Visibility is also an important factor when choosing a tuning pedal, and TC Electronics have ensured that this was not overlooked. With an ultra-bright LED display, you can see the state of your string's tunings, whether you are playing in a dimly lit venue or with the sun beaming down onto the pedal at an outdoor festival.
Who is this best suited for: If you often need to tune your instrument quickly between songs, the PolyTune 3 is an ideal choice. This innovative tuner pedal is perfect for guitarists who like to use a variety of tunings.
Bottom Line: Now and then, a pedal comes around and it completely raises the standard of the effect in question. The TC Electronic PolyTune 3 is one of those pedals, with its intuitive strum-and-tune functionality, and the vast number of options it offers. Polyphonic tuning is undoubtedly the quickest and most efficient way to tune your instrument, and this pedal has nailed it.
2. Boss TU-3 (Best Value)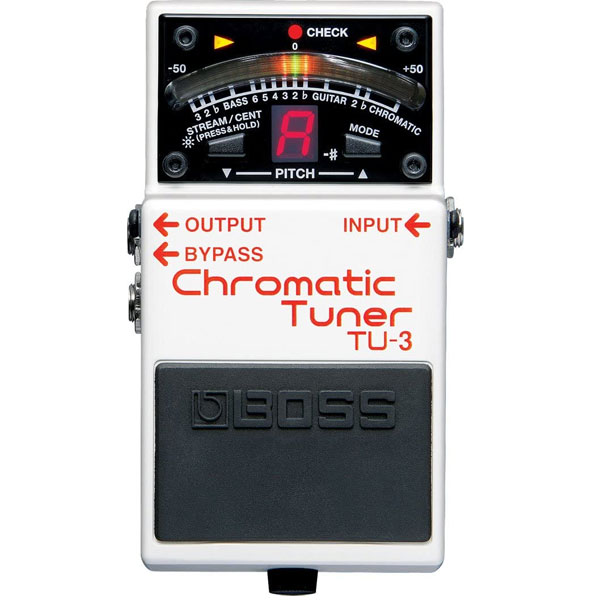 | | |
| --- | --- |
| Estimated Price | $100 |
| Type | Digital |
| Effects | Tuner |
| Connectivity | 1 x 6.35mm Jack Input, 2 x Output |
| Power | 9 Volts DC |
My Review: Boss' TU-3 chromatic tuner pedal features the popular robust stompbox design that the manufacturer is renowned for. Simple and effective, the TU series is described as being the world's top-selling tuner pedal, and its popularity is a result of several reasons.
The previous model was revered by guitarists and bassists for its outstanding accuracy and reliability. With the newly improved third edition, Boss has added a smooth LED meter that contains 21-segments for maximum detail. The two main modes of the pedal are Chromatic or Guitar/Bass. The former allows you to tune your string to the nearest semitone, while the latter tailored to the most common tunings for guitarists and bassists to choose from.
The TU-3 is also a highly accurate tuner. Thanks to the Accu-Pitch mode, you can see the number of cents that your tuning is out by, and adjust accordingly. To further enhance to display aspect of the pedal, Boss has introduced a convenient Note Name Indicator that can show you up to 7 strings at once in polyphonic mode.
Arguably the standout feature of the Boss TU-3 is its innate ability to provide power to other pedals. Power supplies can be costly, so having a tuner that doubles up as one is extremely convenient for a guitarist. The pedal can power up to seven other compact stompboxes with 9-volt power requirements, a brilliant add-on by the manufacturer.
Who is this best suited for: Boss' pedals are best suited to no-nonsense guitarists who value functionality over flashy features. The TU-3 blends multiple tuning modes with practical, east-to-operate functionality.
Bottom Line: Boasting tuning accuracy of up to +/- one cent, the TU-3 is as precise as they come. Its bright and clear display screen allows you to see the status of each string, and you can see up to 7 strings at once! This detailed tuner pedal also offers you the possibility of powering other pedals by using it as a power supply.
3. Korg PB-AD (Best Under $100)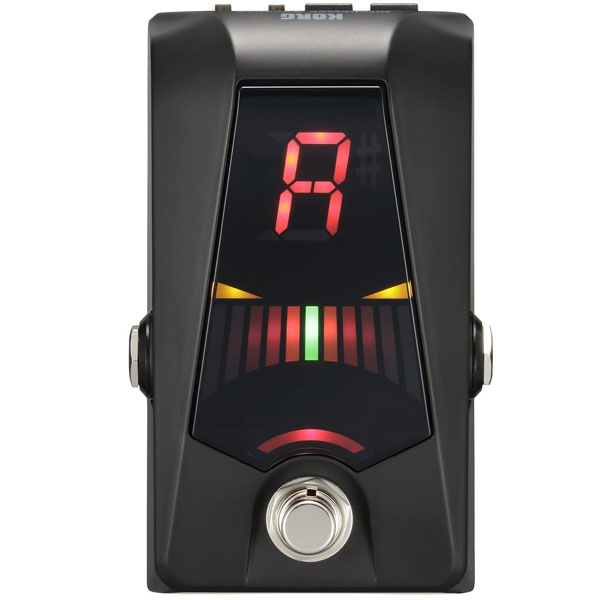 | | |
| --- | --- |
| Estimated Price | $65 |
| Type | Digital |
| Effects | Tuner |
| Connectivity | 1x 6.35mm Jack Input, 1 x Output |
| Power | 9 Volts DC |
My Review: The Korg Pitchblack Advanced tuner pedal features a modern design, versatile display options, and clear visibility. The PB range has been a popular tuner for guitarists and bassists for many years, and with every updated model Korg has managed to improve the pedal's functionality.
One of the most impressive aspects of the PB-AD is its ability to run for up to 60 hours of continuous use when being powered by a singular 9-volt battery. For musicians who are likely to partake in impromptu performances, this capability is highly valuable.
The Pitchblack Advanced tuner offers a total of four-meter display modes. These can be toggled through depending on the setting you are playing in, with some better suited to environments where there isn't much light, and others specifically designed to contend with direct light.
The tuning accuracy of this Korg pedal is hard to beat. It allows you to tune each string to within +/- 0.1 cents, giving you complete control over the pitch of your instrument. To preserve a guitar's clean tone and minimize the risk of high-end frequency loss, the pedal uses true bypass circuitry.
Additionally, the Korg PB-AD doubles up as a power supply via a parallel connection. Isolated power supplies tend to cause some unwanted electronic noises, but when you use the PB-AD to power other pedals, it operates silently with no interference whatsoever.
Who is this best suited for: I would strongly recommend the Korg PB-AD to musicians who want a stylish, subtle tuning pedal that is capable of powering other effects. If a power supply is on your wish list, purchasing this pedal is a great way to save time and money.
Bottom Line: The Korg Pitchblack is one of the most popular tuner pedals on the market today, and for good reason. It's sleek, understated design means it will slot onto your pedal without drawing any attention to itself, and the choice of four distinctive meter display modes makes it efficient in a variety of settings. Overall, I would say this is the best tuner pedal under 100 dollars.
Popular Related Article: Awesome Guitar Tuners of All Types
4. KLIQ TinyTune (Best Under $50)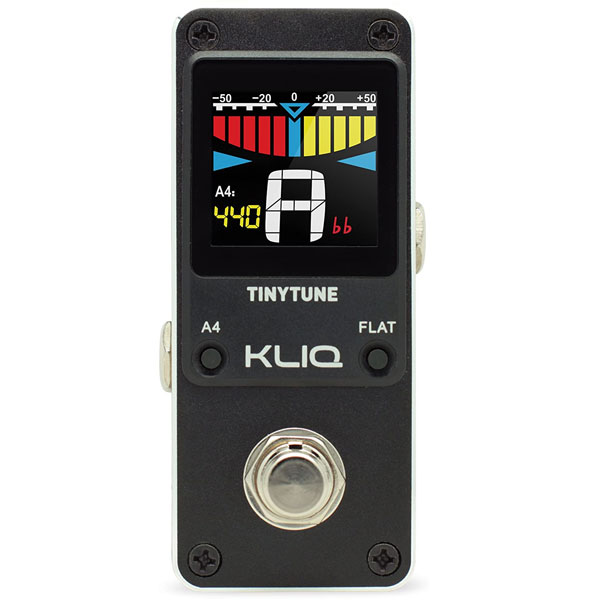 | | |
| --- | --- |
| Estimated Price | $30 |
| Type | Digital |
| Effects | Tuner |
| Connectivity | 1 x 6.35mm Jack Input, 1 x Output |
| Power | 9 Volts DC |
My Review: Kliq has risen from being relatively unknown to a popular provider of affordable effects pedals in recent years. The TunyTune pedal is a prime example of their ability to compete with more expensive pedals by well-established manufacturers.
In all honesty, the TinyTune is nothing flash – but that's a big part of its appeal. It provides fast and accurate reading of your guitar's tuning status, clearly indicating the frequency, note, and several cents that the string is out of tune by.
The display screen is designed to be visible under any lighting, catering for all types of live performances or recording environments. The pedal also offers zero-noise and acts as an effective mute pedal for your instrument. It does this by directly routing the signal to the output of the pedal when it isn't active, resulting in no tonal coloring or electronic hums.
Housed in rugged aluminum, the TinyTune is built to stand up to all of the inevitable wear and tear that a pedal is subjected to when used by a touring musician. It requires a standard 9-volt power supply to run and has tuning precision of +/-0.5 cents, which is exceptionally accurate. There are two tuning modes built into the TinyTune, which cater for standard and alternative tunings.
Who is this best suited for: Some musicians prefer pedals that do the job they are intended for, with no unnecessary add-ons overcomplicating things. The Kliq TinyTune is an ideal choice if you fall into that category.
Bottom Line: Simple and efficient, the Kliq TinyTune boasts great value for money. Its tuning accuracy rivals that of more expensive options, and with an ultra-bright display screen, you can clearly see the status of each string and adjust the tension accordingly.
5. Donner DT-1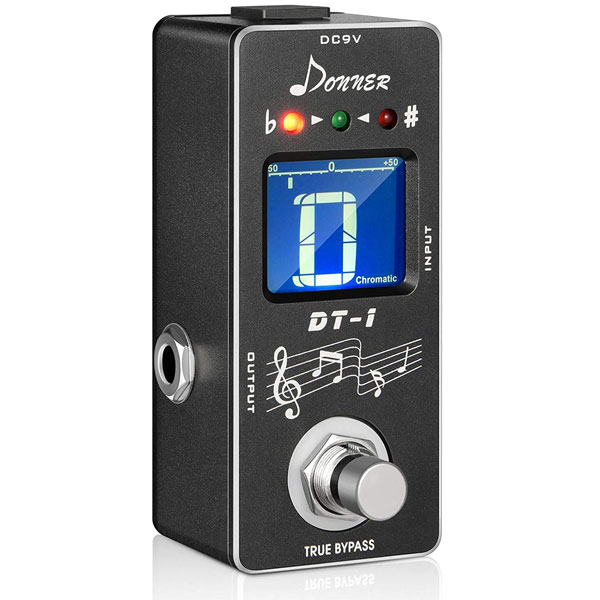 | | |
| --- | --- |
| Estimated Price | $25 |
| Type | Digital |
| Effects | Tuner |
| Connectivity | 1 x 6.35mm Jack Input, 1 x Output |
| Power | 9 Volts DC |
My Review: Donner is quickly becoming one of the most popular providers of low-priced effects pedals. Granted, their pedals usually lack the detailed options that you find on more expensive offerings, but this isn't a problem for a tuner pedal.
The DT-1 is a chromatic tuner pedal that boasts great reliability and pint-point accuracy. Although the DT-1 doesn't offer strobe or polyphonic tuning modes, the chromatic mode is all that you need to tune an electric guitar.
Compatible with both guitar and bass, the Donner DT-1 presents the current status of your instrument's strings on its bright LCD. Whether you are performing in a dimly-lit venue, a darkened recording studio, or direct sunlight on an outdoor stage, the LCD display will still be visible.
True bypass switching has been installed in the circuitry of the DT-1 to avoid any potential drops in sound quality caused by using multiple effects pedals. The DT-1 requires 9 volts DC of power, and it can detect your pitch with the precision of +/-1 cent. At under $25, this tuner pedal is well worth considering.
Who is this best suited for: Donner pedals are great for inexperienced guitarists or bassists who want to learn how effects work without having to spend a small fortune. Simple, robust, and affordable, this is the perfect tuner pedal for a beginner.
Bottom Line: The Donner DT-1 tuner pedal features accurate chromatic tuning to within +/-1 cent. It can be used with an electric guitar or bass and has true bypass switching built in to preserve your tone. For such an affordable tuner pedal, the DT-1 is surprisingly durable and solidly constructed.
Popular Related Article: Incredible Guitar Pedals You Need To Consider
6. Peterson StroboStomp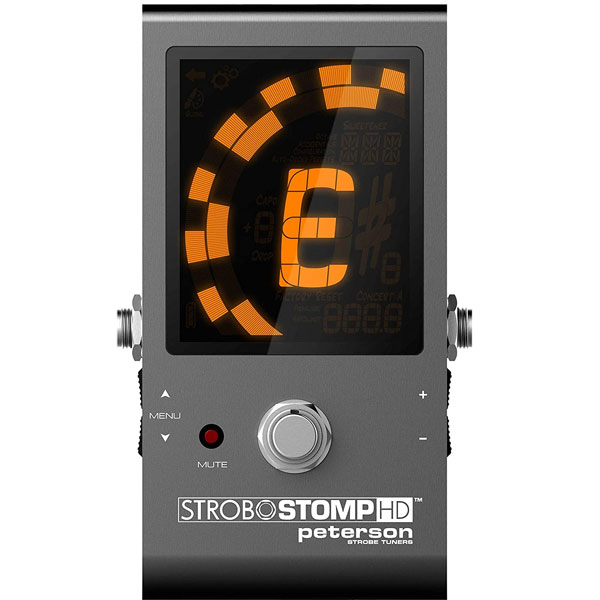 | | |
| --- | --- |
| Estimated Price | $140 |
| Type | Digital |
| Effects | Tuner |
| Connectivity | 1 x 6.35mm Jack Input, 1 x Output |
| Power | 9 Volts DC |
My Review: The Strobostomp boasts the largest tuning display that Peterson Tuners has ever installed into any of their well-respected pedals. With a high-definition, LCD screen which uses changeable color LED backlight for the ultimate boost of visibility.
The color scheme of the backlit LED can be adjusted to suit your personal preferences. If you are playing in a relaxed environment, you can switch to one of the ambient lighting settings that are easy on the eye. Alternatively, you could choose a brighter and harsher light for an outdoor gig.
Tone purists will love the Peterson StroboStomp. It uses true bypass circuitry and guarantees 100% silent operation, even if you have a crowded pedalboard. By using a series of specifically designed time relays within its inner circuitry, the StroboStomp can prevent the dreaded "pop" noise that notoriously occurs with many tuner pedals.
Perhaps the field in which the Peterson Strobostomp excels the most is its choice of tuning presets. A rarity amongst tuner pedals, there are over 100 "Sweetened Tunings" built into the internal memory of the pedal, allowing you to experiment with alternative methods, or find the ones that best suit your style as a guitarist. You can use the pedal to tune a range of instruments, and there are even numerically expressed scales to expand your theoretical knowledge.
Who is this best suited for: Tonal purists will love the Peterson StroboStomp. It's an exceptional tuner that promises to protect your natural tone and avoid any pops of electronic hums thanks to its buffered and true bypass circuitry. It's also a great choice for those who want to delve into the world of alternative tunings, with over 100 presets to choose from and plenty of educational features.
Bottom Line: Peterson Tuners' StroboStomp is an exemplary tuner pedal, jam-packed with useful parameters and user-customizable features. With true bypass circuitry, a buffered output, adjustable color schemes, and over 100 tuning settings, there's nothing this tuner pedal can't do.
7. TC Electronic PolyTune 3 Mini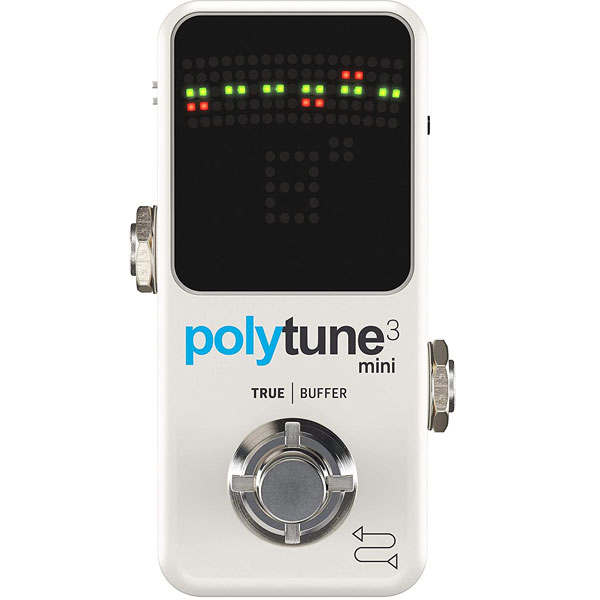 | | |
| --- | --- |
| Estimated Price | $90 |
| Type | Digital |
| Effects | Tuner |
| Connectivity | 1 x 6.35mm Jack Input, 1 x Output |
| Power | 9 Volts DC |
My Review: TC Electronic's popular PolyTune range features some of the best tuner pedals available, with each one offering slightly different qualities to a guitarist or bassist. The PolyTune 3 Mini is a compact, accurate, and speedy tuner.
Tonal preservation is of paramount importance, and TC Electronic is aware of that. When designing the PolyTune 3 Mini, they wisely installed a Bonafide Buffer to protect your tone. This buffer prevents the dreaded high-end loss that can occur with un-buffered pedals. It's an especially useful feature for those who use a lot of effects pedals and long cable runs.
Bulky pedals take up large spaces on a pedalboard. When investing in distortion, reverb, delay, multi-effects, or modulation pedals, it's easy to fill up all of the space pretty quickly. That's why compact tuners are the best option for most guitarists – and the Polytune 3 Mini ticks that box.
Like most of the tuner pedals in the PolyTune range, the 3 Mini is based around a trio of tuning modes. These are chromatic, polyphonic, and strobe. Each has distinctly different qualities, so having all three present on one tuner is convenient.
Who is this best suited for: If you like the look of the PolyTune 3 pedal, but would rather spend a little less and get a more compact version; the Mini is worth considering.
Bottom Line: The TC Electronic PolyTune 3 Mini is a condensed version of its larger sibling, but still offers three detailed tuning modes. With a high-quality buffer, there's no chance of this pedal adversely affecting the tone of your instrument.
8. Ernie Ball Black VP Jr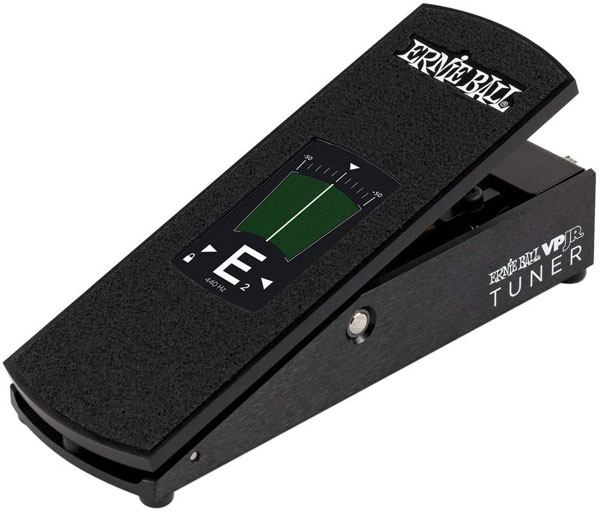 | | |
| --- | --- |
| Estimated Price | $200 |
| Type | Digital |
| Effects | Tuner |
| Connectivity | 1 x 6.35mm Jack Input, 1 x Output |
| Power | 9 Volts DC |
My Review: Ernie Ball is best known for its hugely popular range of guitar and bass strings. Their super slinky strings are some of the best strings to ever be produced, in my opinion. With this level of expertise, it's easy to understand how they could produce one of the best tuning devices on the market, too.
This digital guitar tuner has the appearance of a wah-wah or expression pedal. Its unique design isn't just aesthetically pleasing, however – the VP Jr is a highly functional tuner. When the pedal is positioned with the heel-end down, the touch-sensitive display screen automatically enters tuning mode.
When the pedal is pushed forwards, the screen switches to volume mode. It then displays a graphic volume meter and can be used to control your dynamics. Housed in a durable metal and built to last, the VP JR is a strange and impressive tuner pedal.
Who is this best suited for: I'd recommend the Ernie Ball VP Jr to guitarists who enjoy controlling their pedals without having to tweak settings by hand. Fans of expression pedals and volume pedals will find the VP JR to be a useful addition.
Bottom Line: The Ernie Ball VR Jr is an unusual-looking tuner pedal. Its expression pedal-style mechanism is designed to blend the control of your dynamics and the tuning accuracy of your instrument. It features a smart touch-screen where the various modes and options can be toggled through.
Popular Related Article: Must Have Guitar Pedals
9. Korg Pitchblack Mini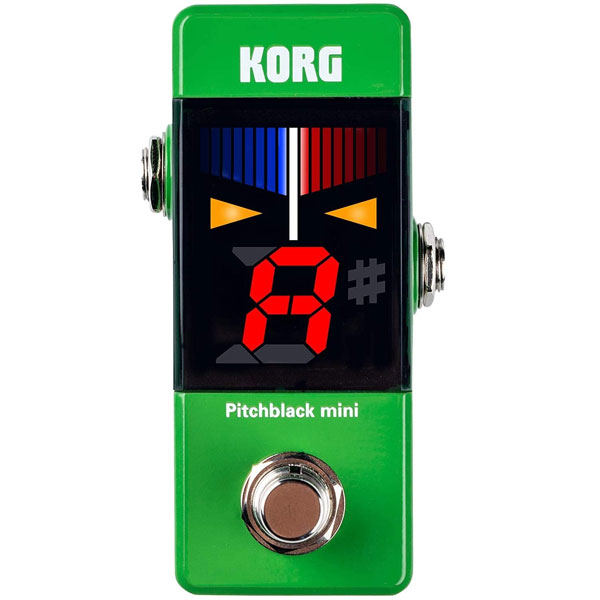 | | |
| --- | --- |
| Estimated Price | $60 |
| Type | Digital |
| Effects | Tuner |
| Connectivity | 1 x 6.35mm Jack Input, 1 x Output |
| Power | 9 Volts DC |
My Review: Korg's Pitchblack tuners are trusted by guitarists and bassists globally, thanks to their undeniable quality, durability, and reliable operation. The mini version of this revered line of pedals condenses all of the best features of its full-sized counterpart into a practically-sized model.
Indeed, the Pitchblack mini has smaller dimensions than boost tuners, but it packs in an impressive number of functions. With a large, clear LED display that is visible in all lights and a choice of three-meter display modes, it makes tuning your instrument simple and efficient.
Korg's Pitchblack range of tuners all boast exceptional tuning precisions, and the Mini is no different. It offers ultra-high accuracy of +/-0.1 cents. The pedal can be powered either by the power supply of a singular 9 volt DC battery. It also has adjustable calibration so you can tweak the tuning presets to suit your needs. The pedal also comes with stabilizers to keep it sturdily mounted on your pedalboard.
Who is this best suited for: The Korg Pitchblack Mini is recommendable to any guitarists or bassists who want a quality tuner in a compact housing. It offers all of the best qualities found in the larger models, without taking up excess space on a pedalboard.
Bottom Line: The Mini version of Korg's Pitchblack tuner pedal allows you to tune your instrument to within +/-0.1 cents. It supports battery operation and has convenient stabilizers to prevent it from being unstable onstage. True bypass circuitry ensures that the pedal has no negative effects on your tone and sound.
10. Ibanez BigMini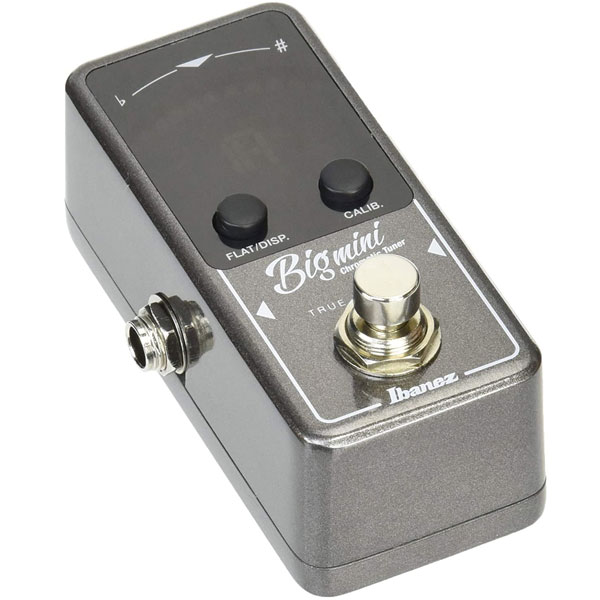 | | |
| --- | --- |
| Estimated Price | $50 |
| Type | Digital |
| Effects | Tuner |
| Connectivity | 1 x 6.35mm Jack Input, 1 x Output |
| Power | 9 Volts DC |
My Review: The Ibanez BigMini is a capable tuner pedal that is flexible in terms of the options it provides. Suitable for guitar, bass, or any other electronic instrument, the BigMini offers highly accurate tuning within +/-1 cent.
The tuning range of the BigMini rangers between 27.5Hz to 4.1kHz. Its smartly designed LED display can be switched between Strobe or Needle tuning modes depending on your preferences. The needle is a more conventional tuning mode, while strobe caters for the less common tunings.
The BigMini also boasts true bypass switching, so you don't need to worry about the clarity of your clean tone being compromised due to the inner circuitry of the pedal. The calibration of the tuner pedal can be adjusted between 435Hz to 445Hz, and with a durable metal housing, it will stand up to the inevitable wear and tear.
Who is this best suited for: The Ibanez BigMini, as the name suggests, has a large number of options housed in a small pedal. It's therefore perfect for the guitarists or bassists with limited space on their pedalboard, but who still require numerous tuning possibilities.
Bottom Line: With the BigMini by Ibanez, you can toggle between two distinct tuning modes: firstly there's Needle mode which offers visual precision, and secondly the Strobe mode which caters to more unusual methods of tuning. It also has true bypass switching, a bright LED display, and tunes to within an accuracy of 1 cent. This is easily one of the best guitar tuner pedals on the market.
11. D'Addario Chromatic Tuner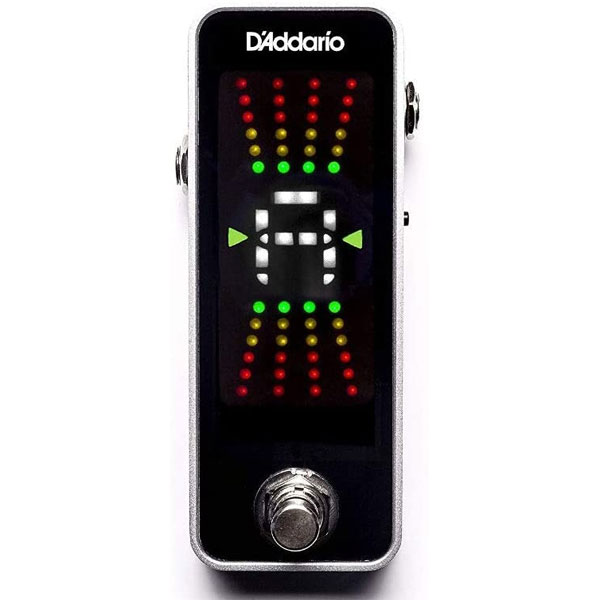 | | |
| --- | --- |
| Estimated Price | $80 |
| Type | Digital |
| Effects | Tuner |
| Connectivity | 1 x 6.35mm Jack Input, 1 x Output |
| Power | 9 Volts DC |
My Review: D'Addario's Chromatic Tuner pedal combines innovative features, simple operation, and stylish aesthetics. It has a slightly futuristic look, due largely to its narrow shape and multi-colored display screen.
Housed in a durable aluminum enclosure, the pedal can handle years of constant usage. It can detect the note you are tuning to with lightning speed and is accurate to within 1 cent. Suitable for both bass and guitar, this D'Addario pedal is a versatile option.
The full-color display is intuitive and easily visible, even on a dark stage. It's narrow dimensions mean it will easily slot into a small space on your pedalboard, and with trustworthy true-bypass switching, there's no danger of the pedal taking away from your instrument's natural tone. It's a great addition to your studio or live setup.
Who is this best suited for: If design and aesthetics are important to you, then you'll love the sleek D'Addario Chromatic Tuner pedal. With its modern look and reliable performance, this elegant stompbox is useful on the stage and in the recording studio.
Bottom Line: D'Addario's Chromatic Tuner pedal provides guitarists and bassists with highly accurate and precise tuning, easy-to-understand operation, and compact sizing. It works as an effective mute switch for your instrument while keeping the signal preserved using true bypass circuitry. For fast and effective tuning, the D'Addario Chromatic tuner is a great option.
12. EX PT-21 High Definition LED Tuner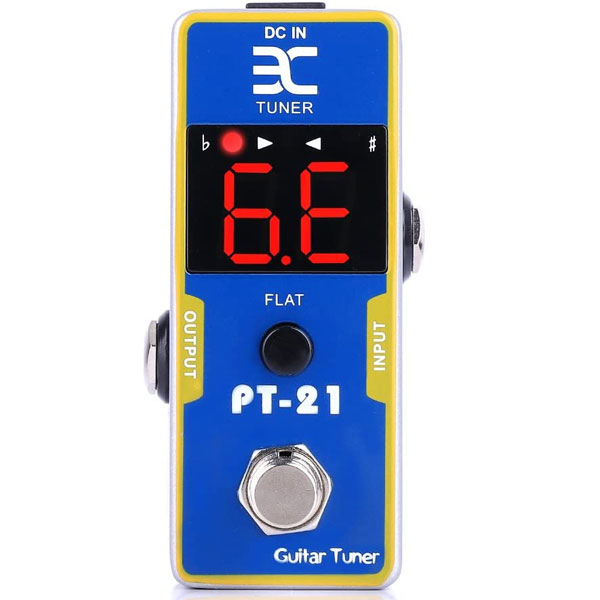 | | |
| --- | --- |
| Estimated Price | $25 |
| Type | Digital |
| Effects | Tuner |
| Connectivity | 1 x 6.35mm Jack Input, 1 x Output |
| Power | 9 Volts DC |
My Review: Affordable, accurate, and reliable, the EX High Definition LED tuner is a great entry-level option. Although this pedal is very modestly priced, there's not a huge difference in terms of quality between it and some of the more extortionate tuner pedals on the market.
The LED screen on the tuner presents the status of each string using a clear number and letter format. The arrows then indicate whether the note is sharp or flat, and when you find the perfect frequency a green light becomes visible.
In terms of the tuning tolerance, the EX High Definition Tuner offers +/-1 cent, this is more than accurate enough for an electric guitar. It has one jack input and one jack output and can be powered using a 9 volt DC supply. True bypass circuitry has been used to construct the pedal, ensuring that your clean tone is well preserved and doesn't suffer any loss of frequency strength.
Who is this best suited for: The EX High Definition LED Display tuner pedal is highly accurate for such an affordable model. If you would rather not spend a fortune on a flashy tuner pedal, this one is worth considering purely for the value for money it provides.
Bottom Line: With all of the features and capabilities you'd expect from a more expensive tuner pedal, the EX High Definition tuner is a solid and reliable choice. With true bypass circuitry, a minimalistic layout, clear LED display, a tuning accuracy of up to 1 cent, and a robust metal housing, this pedal is certainly worth considering.
13. TC Electronic Polytune Noir 3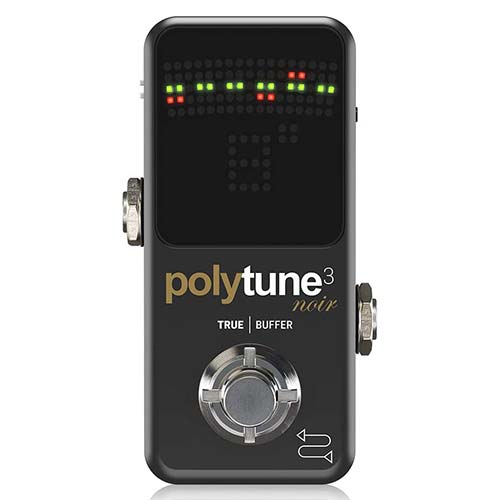 | | |
| --- | --- |
| Estimated Price | $150 |
| Type | Digital |
| Effects | Tuner |
| Connectivity | 1 x 6.35mm Jack Input, 1 x Output |
| Power | 9 Volts DC |
My Review: With its sleek design, compact dimensions, and classy black color scheme, the TC Electronic Polytune Noir 3 builds on the success of its predecessor with some newly added features. The dark colors are complemented by the ultra-bright LED display.
Accuracy is arguably the most important quality of a tuner pedal, and the Noir 2 delivers on this front. The strove tuner allows you to tune each string with meticulous accuracy. Additionally, the polyphonic tuning mode provides a quick and easy way to check the status of each string, simply by strumming all of them simultaneously and presenting the status on the bright display screen.
Alongside the strobe and polyphonic tuning modes, the TC Electronic Polytune Noir boasts a highly accurate chromatic mode too. This mode is best suited to tuning your instrument to alternative tunings, or tuning one string, for example, when it has been recently changed and is struggling to hold tension.
It's worth mentioning that Noir 2 is known to be the smallest polyphonic tuner in the world. Saving space on your pedalboard is of paramount importance, especially if you susceptible to acquiring new sound-shaping toys frequency, as I am.
Who is this best suited for: If you're a little tight for space on your crowded effects pedalboard, the Noir 2 by TC Electronic will slot into the smallest of gaps and go unnoticed.
Bottom Line: The Polytune Noir 2 is a tiny tuner pedal, but what it lacks in size it more than makes up for in performance. You can choose from polyphonic, chromatic, or strobe tuner modes, and power additional pedals using the DC output.
14. Korg PB05

| | |
| --- | --- |
| Estimated Price | $95 |
| Type | Digital |
| Effects | Tuner |
| Connectivity | 1 x 6.35mm Jack Input, 1 x Output |
| Power | 9 Volts DC |
My Review: Korg's PB05 is an anomaly in the world of instrument tuners. Incredibly detailed, this tuning hub is a direct descendant of the first every rack-mounted tuner, the innovative DT-1 pro, which was first produced by Korg way back in 1987.
To call the PB05 a tuner pedal would be to do it a disservice. It goes beyond the usual confinements of a tuner pedal, providing you with an experience that makes tuning your instrument a joy to behold. It has a unique 3D visual meter that adds another element to your performance.
Although the PB05 is designed to be a rack-mounted tuner, its surprisingly lightweight chassis can be installed straight onto your pedalboard, or placed in the recording studio for convenience. It has a buffered output to minimize any anomalies in audio quality, and the mute function can be used to tune silently.
Who is this best suited for: If you intend to use a tuner in the studio more often than the stage, the Korg PB05 Pitchblack Pro is an option I would strongly recommend. It can be rack-mounted to your effects unit in the studio so that you never need to root around for a tuner in between takes again!
Bottom Line: The Korg PB05 Pitchblack Pro is unique in many ways. Its three-dimensional display has a distinctive visual quality that is mesmerizing to look at, and the way this rack-mounted tuner preserves the clarity of your tone is very impressive.
15. Monoprice Guitar Tuner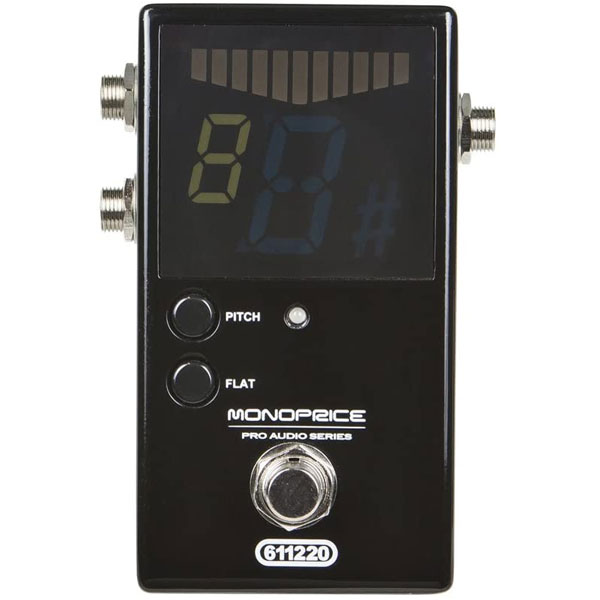 | | |
| --- | --- |
| Estimated Price | $30 |
| Type | Digital |
| Effects | Tuner |
| Connectivity | 1 x 6.35mm Jack Input, 1 x Output |
| Power | 9 Volts DC |
My Review: Low-priced pedals are often overlooked, cast-aside, and categorized as flimsy and unreliable. The Monoprice Guitar Tuner defies this logic, performing at a level you'd expect from a much more expensive option.
Compatible with both electric guitar and bass, this tuner pedal displays the status of each string with an accuracy of within 1 cent. Conveniently, it can be powered either by using a dedicated 9-volt power supply or using a singular 9-volt battery.
Housed in heavy-duty metal, the Monoprice Guitar Tuner has a durable activation footswitch that is used to turn the pedal on or off. When it is turned off, true bypass circuitry ensures that your guitar's natural tone is left unscathed by the inner circuitry and its interactions with your other effects pedals.
Who is this best suited for: The Monoprice Guitar Tuner is an ideal choice for musicians who want a quality tuner pedal without having to break the bank. I'd recommend it to those who simply want to plug in, tune-up, and get back to playing.
Bottom Line: At around $30, the Monoprice Guitar tuner is an absolute steal. For such an affordable pedal, it's surprisingly durable and well-built. Additionally, it houses two tuning modes and performs accurate chromatic tuning of a guitar or bass. It can be powered by either battery or power supply, adding to the versatility of the pedal.
16. Korg Pitchblack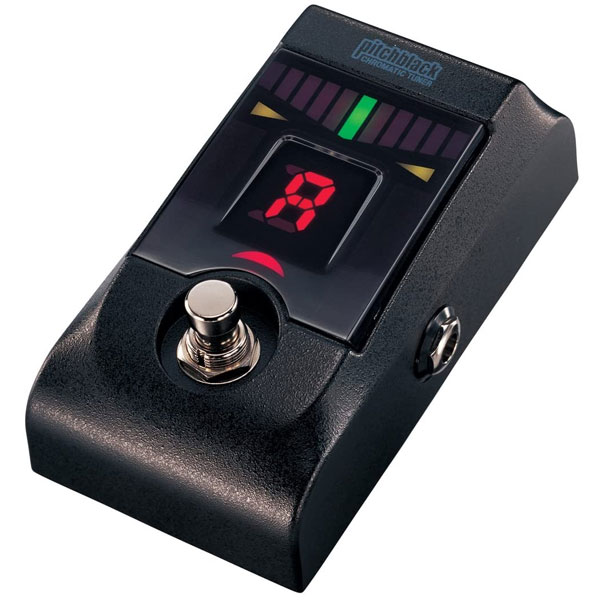 | | |
| --- | --- |
| Estimated Price | $90 |
| Type | Digital |
| Effects | Tuner |
| Connectivity | 1 x 6.35mm Jack Input, 1 x Output |
| Power | 9 Volts DC |
My Review: Korg's Pitchblack is their flagship tuner pedal and a popular acquisition for professionals and casual musicians for the past decade. The original in the revered line, this pedal performs all of the basic functions required of a tuner pedal: accurate pitch detection, clear visibility, and easy operation.
The Pitchblack is slightly smaller than the advanced model, which is great for musicians who are pressed for space on their pedalboard. Its high visibility is thanks to the large LED meter display that presents every tuning discrepancy instantly and accurately.
With true bypass switching, you can trust that the Pitchblack won't tax any of your high-end clarity, as is the case with some tuner pedals. The 9 volt DC output can be used to provide power to other pedals in your rig, and with four types of display modes including full strobe, half strobe, meter, and mirror, there's a variation that suits everyone's preferences.
Who is this best suited for: Sometimes, as far as guitar pedals are concerned, the originals are the best. If you're the kind of musician who values straightforward operation, compact dimensions, and solid construction, you'll enjoy the legendary Korg Pitchblack tuner pedal.
Bottom Line: It's easy to understand why the Korg Pitchblack is one of the world's most popular tuner pedals to ever be manufactured. It combines simplicity, elegance, and accuracy while remaining versatile enough to be tailored to suit the individual needs of a musician.
17. Vox VTX1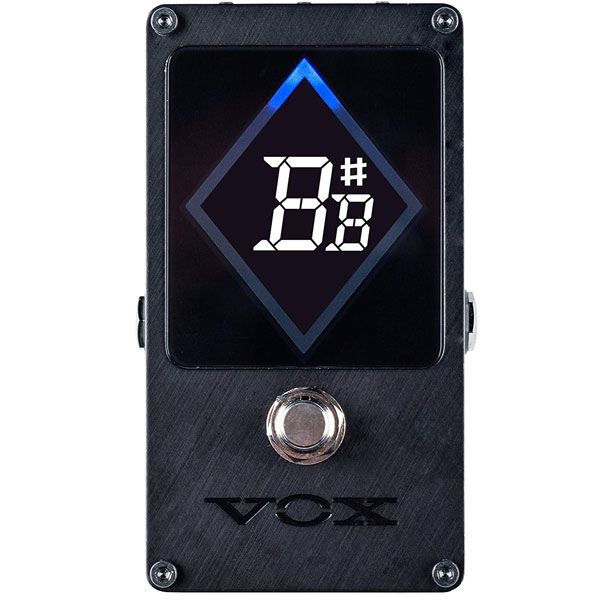 | | |
| --- | --- |
| Estimated Price | $100 |
| Type | Digital |
| Effects | Tuner |
| Connectivity | 1 x 6.35mm Jack Input, 1 x Output |
| Power | 9 Volts DC |
My Review: Vox may be best known for its range of gritty, genre-defining amplifiers, but their collection of guitar pedals is also commendable. The VT X1 tuner pedal is both versatile and robust, with its solid die-cast aluminum housing and ten offset modes for alternative tunings.
The VT X1 can be used in chromatic mode, tuning your strings to the nearest semitone, or if you prefer, you can use the set tunings that cater to more conventional methods. With a highly accurate tuning detection ability that has a tolerance of +/-0.02 cents, it's impeccably precise.
The three main tuning modes that you can choose from with the Vox VT X1 are strobe, rhombus, and vertical. Each lends itself to a different setting, and the visibility is provided by the immersive, diamond-shaped LED display. A DC output is installed for powering additional effects pedals, and true bypass circuitry completes this high-quality tuner pedal.
Who is this best suited for: Guitarists or bassists who like to use a variety of tuning methods for their instrument will find the Vox VXT1 to be a useful addition to their pedalboard. Doubling up as a power supply for additional pedals, it is a convenient choice.
Bottom Line: Elegant in appearance, reliable in performance, and detailed in tuning modes, the Vox VXT1 is a top-of-the-line tuner pedal that caters to all electronic instruments. With three main tuning modes and ten additional alternatives, it provides a musician with countless options.
Choosing the Right Tuner Pedal (Buying Guide)
One of the most underrated pieces of gear that a guitarist or bassist can acquire, tuner pedals play a vital role in any performance or recording sessions. Their function is indeed simplistic, and they may not be as exciting as a multi-effects stompbox that transforms your guitar into an unrecognizable blur of delays, reverbs, and modulation, but they are still a pivotal component of your rig.
One of the challenges faced by musicians when considering which tuner pedal would best suit their requirements is the sheer volume of options available. It's a common misconception that tuner pedals all do the same thing – in reality, there's a lot of variation from model to model.
Some tuners use innovative technology to ensure absolute precision, while others focus more on other aspects like visibility, versatility, and aesthetics. The visual displays of tuners are what give them their uniqueness, and there are many different methods to choose from, depending on your preferences. In the following section of this article, I'll discuss all of the relevant information regarding tuner pedals, how they work, the different types, and the keywords that require understanding.
How Do Tuner Pedals Work?
A guitar tuner pedal performs the function of tuning the instrument to a particular pitch. Pitch is measured by frequency, and the generally accepted pitch of music is 440Hz. The reason that there is a standard frequency is so that a band or ensemble play the same notes on the scale, and therefore don't clash with each other.
When a guitarist plays an "A" on their instrument, the keyboardist, synth player, bassist, and any other accompaniment play the same note at the same frequency. If instruments were tuned differently to each other, it would be difficult to perform cohesively, and the sound would become dissonant.
A tuner pedal detects the note that a guitar is currently tuned to, and indicates how much the tuning peg needs to be tightened or slackened to bring the note into the right frequency that fits with standardized 440Hz tuning. That is their function, but there is variation in the methods, visual aspects, and capabilities of tuner pedals.
Types of Tuner Pedals
Chromatic Tuners
Chromatic tuners are the most common type. They come in many variations, including pedals, clip-on tuners, and microphone tuners. To understand how they operate, we need to establish what the chromatic scale is.
The chromatic scale refers to all twelve notes that fall between octaves. Chromatic tuners can tune to all of these notes, rather than being limited to the standard EADGBE tuning or the tuning of a certain scale.
The main advantage of chromatic tuners is that they allow guitarists to tune to any tuning they desire. Alternative tunings, like DADGAD or drop-D, are popular in certain genres of guitar music, and chromatic tuners can easily facilitate these.
Chromatic tuners require very little background knowledge of music theory and do most of the work for you. The only drawback is that these tuners will present to you the nearest note that your guitar string is tuned to, so may result in you tuning to an undesirable note if you have a lapse in concentration.
If, on the other hand, you intend to use the auto-tune as a subtle way to improving the pitch of your vocals without anyone being able to notice that you are using it, then more gentle levels of other effects are probably a better option.
Strobe Tuners
Another common type of tuner pedal is the strobe tuner. These are generally considered to be the most precise incarnations, and this is reflected in the price. The pin-point accuracy of strobe tuners is unrivaled, and therefore they are the most popular choice amongst professional guitar technicians or producers.
Strobe tuners work by establishing a frequency to use as a reference, then displaying the difference between that and your instrument's note. If there is even the slightest difference between the two frequencies, the strobe tuner will display how much you need to alter the tuning to rectify this.
Polyphonic Tuners
Polyphonic tuners are a relatively new form of the tuner, first made famous by Korg and TC Electronic. The advantage of using a polyphonic tuner is that it allows you to strum every string on your guitar or bass and displays which strings are out of tune.
For guitarists who need to tune quickly between or during songs, polyphonic tuners are efficient and convenient. They provide you with the whole picture instantaneously, so that valuable time isn't wasted going through the strings individually trying to gauge where the pitch issues lye.
Microphone Tuners
Microphone tuners rely on a built-in mechanism that picks up the exact frequency that your instrument is tuned to. Compared to the aforementioned types of tuners, this variety is considered to be the least accurate, but arguably the most convenient.
The issue with microphone tuners is that they are susceptible to being tarnished by background noise. They require an almost silent environment to tune accurately because they will become confused by the pitch of other sounds.
Microphone tuners are the cheapest option, but they are not recommended for live shows, or performances where there is a crowd present. For practicing alone, they will suffice, but pedal tuners are considerably more accurate.
Positioning a Tuner Pedal in Your Signal Chain
Tuner pedals should always be positioned at the very start of your signal chain. The position of other effects pedals is up for debate and comes down to personal preference, but tuner pedals will simply not perform to the best of their ability if they are not positioned at the very beginning.
The simple reason for this is that tuner pedals need to detect the pitch of your guitar as accurately as possible, so the cleaner your signal when it enters the tuner pedal, the better it will be able to perform this function.
If, for example, you were to position your tuner pedal somewhere in the middle of your signal chain, it would be adversely affected by all of the effects that preceded it. It would be very hard for a tuner pedal to detect your pitch if your tone was draped in reverb, fuzz, or worse still, effects that detune your guitar slightly like a chorus or octave pedals.
True Bypass:
You might have stumbled across the term "true bypass" when looking for tuners or other effect pedals. This is a common feature that protects your tone and is especially important if you are using multiple effects pedals as part of your rig.
A traditional tuner pedal or other effects pedal, without true bypass, worked simply. When the footswitch was activated, the pedal is turned on. The instrument's signal is then sent through the inner circuitry of the pedal, and the effect is generated before the signal reaching the output. When the footswitch is pressed again and the pedal is turned off, the signal still passes through the pedal but it is not triggered, as the circuitry that produces the effect is bypassed.
The problem with older pedals was that they were designed so that the signal wasn't able to fully bypass the effect's circuitry completely, and this resulted in it negatively impacting the high-end frequencies, even when the pedal was turned off. This inspired the creation of a true bypass, to rectify the issue.
A true bypass pedal uses a special form of electronic switching that sends the signal through the circuitry that produces the effect, directly from the input to output. To get technical, it uses a double-pole and double-throw switch for the signal routing. When the footswitch is activated, the effect is present, and when it is turned off, the signal bypasses through the extra circuit. This results in no loss of high-end frequencies and maximum preservation of your clean tone.
Nowadays, tuner pedals that don't have true bypass switching are likely to contain a buffer or preamp circuit. This is a good alternative for longer signal chains, as a buffer provides the signal with a slight boost so that it can travel through a packed pedalboard without losing strength or clarity.
Alternative Tunings:
Some tuner pedals will provide you with the option of tuning your guitar to alternative tunings. If you're unfamiliar with alternative tunings, I'd recommend trying some out – it's a really fun way to experiment with a guitar, and can open many doors for songwriting or composing.
Chromatic tuner pedals are generally considered to be the best for facilitating alternative tunings. This is because they tune your guitar to the nearest note, rather than sticking to a predetermined scale or standard EADGBE tuning.
There is a myriad of alternative tuning options out there. DADGAD is popular amongst acoustic guitarists, and you can even tune all of the strings to form a major chord, which is commonly done by slide guitarists in blues genres.
Muting Your Guitar with a Tuner Pedal:
Tuner pedals are not only useful for monitoring and correcting the pitch of your instrument. They also completely kill the signal of your guitar and thus act as a mute pedal. This is highly useful at the end of a song when a dead silent stop is required.
As guitarists, we've all been in the unfortunate situation where our instrument starts to feedback onstage, or one of your effects pedals produces unexpected noise that threatens to ruin a live performance. By simply turning the tuner pedal on, all noise is instantly killed before the audience heads for the door!
Display & Visibility:
For most guitarists and bassists, a tuner pedal must be visible when onstage and in the studio. You need to be able to clearly see the current state of your tuning, to quickly rectify any issues in between songs, or even in some cases, during a song.
LCD screens are commonly used, but some are better than others. If you are likely to play outdoors in sunlight, the display screen needs to be extra bright so that it remains visible when the light is shining on it.
Tuning Accuracy:
The accuracy of a guitar tuner is displayed in cents. To put it into perspective, a single semitone contains 100 cents, so for example, an A sharp would be measured at 100 cents higher than an A. Tuners are rated in terms of accuracy, with the most accurate offering around +/-3 cents.
It would be practically impossible for a tuner pedal to be 100% accurate, but truth be told, the human ear can't tell the difference when the margins are so slight. With that being said, the more accurate the tuner is the better.
Powering Your Tuner Pedal:
Tuner pedals don't require large amounts of power like a multi-effects pedal or vocal processing pedal does. It's most common to find that tuner pedals require 9 volts DC power to operate, and this can be supplied using a power pack or in many cases, a singular 9-volt battery.
It's advisable not to rely solely on batteries because they always run the risk of dying when you are onstage. A sensible method would be to install a battery as a backup and use a power supply. This way, if either of the power supplies cut out unexpectedly, the other acts as a backup and takes over before your signal cuts out.
The Origins of Tuner Pedals:
Until the mid-1960's when significant developments were made in the field of guitar effects pedals, musicians traditionally used ear-tuning to tune their instruments. This was especially common in classical music, as tuning by ear was seen as a necessity and a skill that all classical musicians should be able to perform.
Other methods, like using tuning forks or bells to match the pitch of an instrument were also commonly used. Once one instrument was perfectly in tune, other musicians were able to tune to that instrument to ensure that an orchestra was playing in the same pitch.
The need for tuner pedals originated as a consequence of the invention of electric guitars. Rock musicians often played to very loud audiences with minimal amplification power, and therefore needed a way to tune their instruments that wouldn't be adversely affected by the crowd's noise. As a result, tuner pedals were invented and quickly became integral to a guitarist or bassist's setup.
Wrap Up:
Choosing the right tuner pedal depends on what you intend to use it for. If you require complex tunings, it's best to go for a polyphonic or strobe model. If you simply want to use a tuner for standard tuning, you can choose a more simplistic offering.
Although more complex additions to your pedalboard may steal some of the glory, a tuner pedal is the most likely to stick around for the longest, so choosing wisely is very important!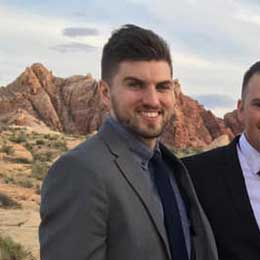 My name is Chris and I've had a passion for music and guitars for as long as I can remember. I started this website with some of my friends who are musicians, music teachers, gear heads, and music enthusiasts so we could provide high-quality guitar and music-related content.
I've been playing guitar since I was 13 years old and am an avid collector. Amps, pedals, guitars, bass, drums, microphones, studio, and recording gear, I love it all.
I was born and raised in Western Pennsylvania. My background is in Electrical Engineering, earning a Bachelor's degree from Youngstown State University. With my engineering experience, I've developed as a designer of guitar amplifiers and effects. A true passion of mine, I've designed, built, and repaired a wide range of guitar amps and electronics. Here at the Guitar Lobby, our aim is to share our passion for Music and gear with the rest of the music community.