The single most effective way to revolutionize your guitar tone is through the use of effects pedals. Sure, your choice of amplifier and guitar model will have an impact, but having access to powerful effects while on stage gives you an abundance of options to take your songs to the next level.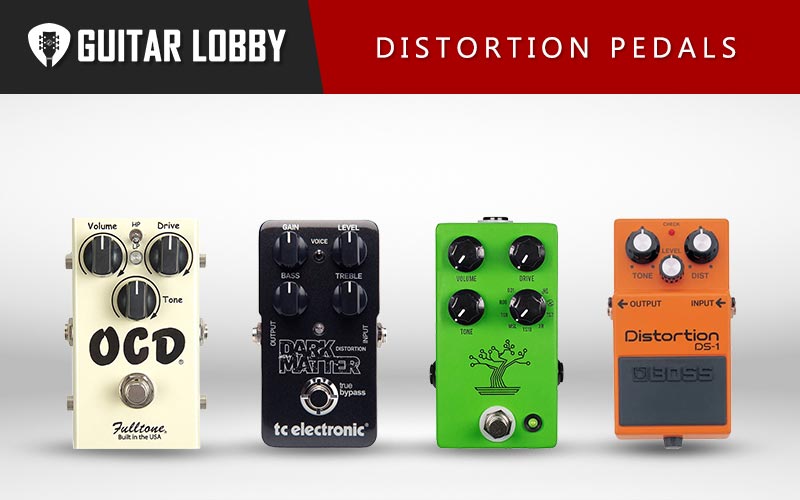 So why is a distortion pedal a worthy addition to your pedalboard? Distortion is perhaps the most commonly used effect on guitars, for the simple reason that it grabs attention. There's a time and place for clean, understated guitar playing, but when you want to really engage with the crowd and emphasize a riff, nothing achieves this better than a distortion pedal. And when distortion pedals are combined with other commonly used effects such as wah, reverb, or delay, the results can be mind-blowing.
If you would like to add more character to your tone or melt some faces with a roaring solo, then keep reading through this detailed guide of the best distortion pedals available today. Distortion pedals come in a variety of packages with contrasting capabilities. This list covers all bases so you can identify the perfect choice to produce your desired tones. You'll be cutting through the mix in no time. I'll start by reviewing some of my favorite pedals in each price range, but if you want to learn more about distortion pedals before reading reviews, check out our buying guide at the bottom of the page.
Here Are the Best Distortion Pedals
1. JHS Bonsai 9-Way Screamer (Best Overall)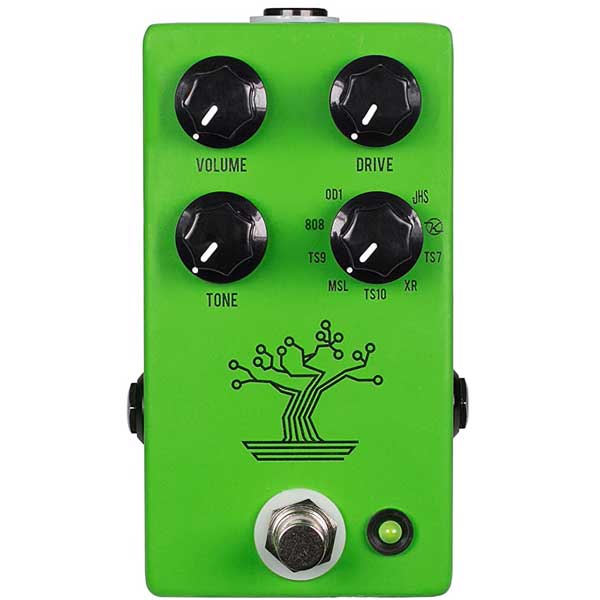 | | |
| --- | --- |
| Estimated Price | $230 |
| Type | Digital |
| Effects | Distortion, Overdrive |
| Connectivity | 1 x 6.35mm Jack Input, 1 x Outputs |
| Power | 9 Volt |
My Review: The Bonsai pedal by JHS pays homage to 9 of the finest distortion and overdrive pedals to ever be produced. With 9 individual modes that are all based on a separate iconic pedal, the Tube Screamer is filled with sound-sculpting options and that's why I've placed it at the top of this list.
With a simple rotary knob, you can select one of the presets then tweak the output using the three other controls on the pedal's face. The detail of each preset is outstanding, moving in chronological order from primitive Japanese distortion pedals like the legendary OD-1, to John Mayer's favorite TS-10, and into the modern era with the JHS Strong Mod. Each of these settings has distinctive characteristics, and you essentially get nine pedals in one.
The remarkable thing about the Bonsai Tube Screamer is that despite its extensive range of distortion and overdrive sounds, it is relatively compact and will easily fit onto your board. The apple green aesthetics give it a unique look, and there is a green LED light next to the footswitch which indicates whether the pedal is on or is in bypass mode.
Who is this best suited for: Guitarists who want to have multiple distortion options will love the Bonsai. If you enjoy experimenting with pedals, you'll have a blast familiarizing yourself with each of the nine presets. For authentic tub distortion which pays homage to vintage guitar tones, this pedal performs impeccably.
Bottom Line: Manufacturers are rarely able to cram so many effects into a small pedal, but somehow JHS has achieved this without making it overly complex or overcrowded. Despite the range of distortion effects it provides, the quality of each setting hasn't suffered. It's a detailed pedal that will keep you occupied for many hours.
2. Boss DS-1 (Best Value)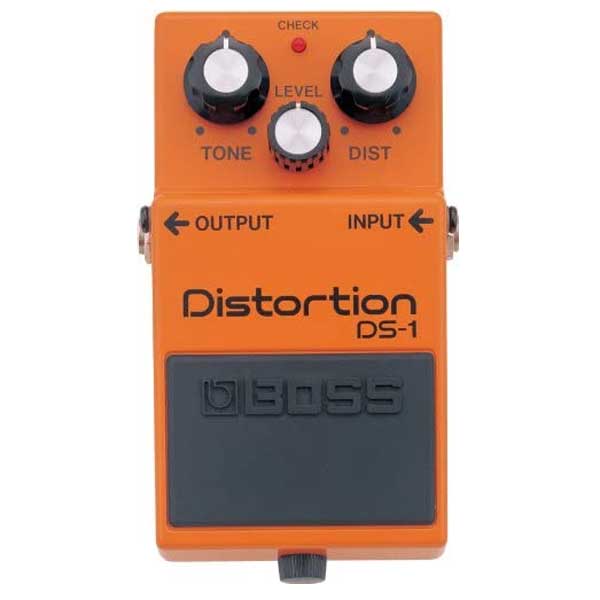 | | |
| --- | --- |
| Estimated Price | $65 |
| Type | Digital |
| Effects | Distortion |
| Connectivity | 1 x 6.35mm Jack Input, 1 x Output |
| Power | 9 Volts DC |
My Review: If you're familiar with guitar pedals, the chances are you've come across Boss before. Their range of effects pedals boast great value for money and the DS-1 is no exception to this. With the classic minimalist Boss design, this distortion pedal provides you with all of the essential controls required to create everything from subtle warmth to aggressive tones. The housing is durable as you would expect with a Boss pedal, and the stompbox design makes it easy to bypass or activate the effect.
On the top left corner of the DS-1 is the tone knob. This is used to modify the overall sound of the distortion produced and can be adjusted with impressive accuracy. On the right side of the pedal, there's a distortion control that impacts the amount of crunch present in the output. When this knob is cranked up, you get burning distortion that cuts through the mix nicely. The level control can be tweaked to ensure that there's no dramatic difference between the dynamics of your clean guitar and the processed signal produced by the DS-1.
Who is this best suited for: The Boss DS-1 is perfect for musicians who want great sounding distortion without any unnecessary filler. It's a roadworthy pedal that will have no problem handling the inevitable rigors of touring and practicing.
Bottom Line: At $65, it's hard to find a distortion pedal that is a better value than the DS-1. Boss are specialists in producing guitar FX, so you can rest assured that the output from this pedal will satisfy your needs. Granted, it lacks the number of options featured on some of the other pedals on this list, but the quality and simplicity make it a great choice. Overall, I would say that this is the best distortion pedal for the money.
3. Ibanez TS9 Tube Screamer (Best Under $100)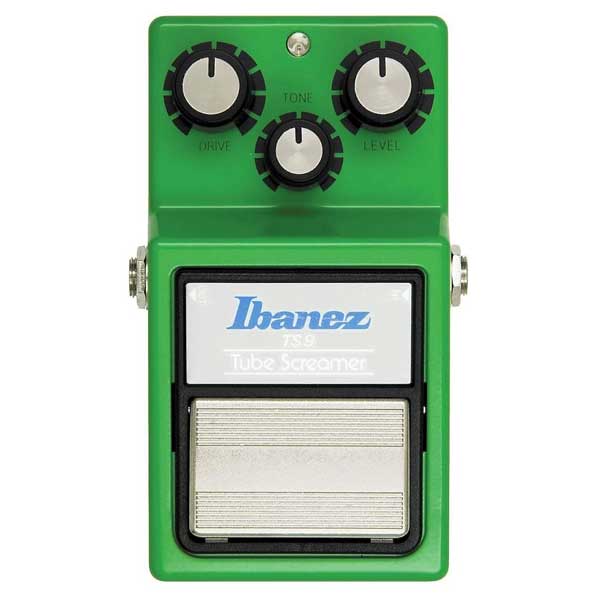 | | |
| --- | --- |
| Estimated Price | $80 |
| Type | Digital |
| Effects | Tube Distortion, Overdriv |
| Connectivity | 1 x 6.35mm Jack Input, 1 x Output |
| Power | 9 Volts DC |
My Review: The Ibanez Tube Screamer is hugely popular among guitarists due to its beautiful range of overdriven sounds that enhance the midrange. This frequency boost is especially useful for guitarists who play solos and lead lines, as it allows you to pop out of the mix with stunning clarity. The Tube screamer is usually used for one of two purposes: to produce smooth overdrive that fits perfectly into blues and rock or as a boosting pedal to push the output of your amp.
One standout quality of this Ibanez distortion pedal is its ability to boost your clean channel. Even when the volume is turned all the way down, the TS9 Tube Screamer produces a tiny amount of overdrive whilst retaining the natural clarity of your clean tone. If you find that the midrange boost is too harsh for your liking, you can simply turn down the tone knob to produce a smoother distorted tone. If you prefer more extreme forms of overdrive, the TS9 provides screaming tones when the controls are turned up to their limits.
Who is this best suited for: Players of blues guitar or metal will find the TS9 to be a great addition to their setup. It boasts great tonal versatility and can save you money that would have been spent on a volume booster pedal because it has that ability too.
Bottom Line: The TS9 Tube Screamer is an affordable distortion pedal that provides you with several functions. It's not stacked with controls, but the few that it does have produce an impressive array of options that will add thickness and body to your sound. In my opinion, this is the best distortion pedal under 100 dollars currently on the market. It's also a great distortion pedal for metal.
Popular Related Article: 17 of Our Favorite Fuzz Pedals (All Price Ranges)
4. TC Electronic MojoMojo (Best Under $50)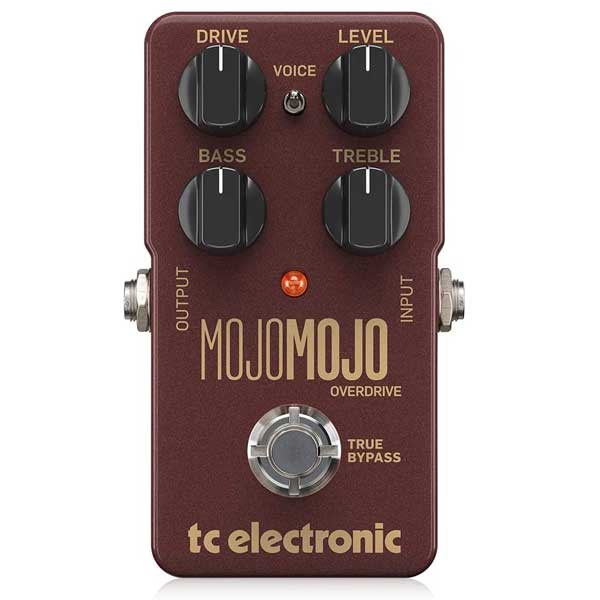 | | |
| --- | --- |
| Estimated Price | $35 |
| Type | Digital |
| Effects | Distortion, Overdrive |
| Connectivity | 1 x 6.35mm Jack Input, 1 x Output |
| Power | 9 Volts DC |
My Review: Legendary FX producers TC-Electronic have created a monster with the MojoMojo. Building on their highly popular distortion pedals from the past such as the novadrive, they've compacted all of their best qualities into a compact box with true bypass.
The MojoMojo sounds like a ramped-up tube amp, and this authenticity is in my opinion its greatest quality. It has an open character and subtle compression, allowing the slight nuances of your guitar playing to be apparent in the mix. Unlike many other distortion and overdrive pedals, the MojoMojo even adds color to chords without making them too muddy and chaotic.
When designing the MojoMojo Distortion pedal, TC Electronics used a special circuit that produces 3 – 4 more voltage than your average distortion pedal. This wasn't done to boost the drive of the pedal, but rather to create a more dynamic range and headroom. The result is a pedal that is full of character, with easy to navigate controls in retro housing.
Who is this best suited for: If you play a mixture of rhythm and lead guitar parts, the MojoMojo is definitely worth considering. Due to the large amount of headroom it has, you can play multiple notes at once and still get the distinctive clarity that is usually lacking with distortion pedals. The true bypass switch makes it ideal for guitarists with a full pedalboard who want to preserve their clean tone.
Bottom Line: Durable, understated, and high quality, the MojoMojo is a brilliant little distortion and overdrive pedal. Whether you want slight warmth adding to your clean tone or you need roaring overdrive that sounds like an old worn-out tube amp, this TC Electronic pedal will have no problems providing you with both.
5. Boss MT-2 Metal Zone Distortion Pedal (Best for Metal)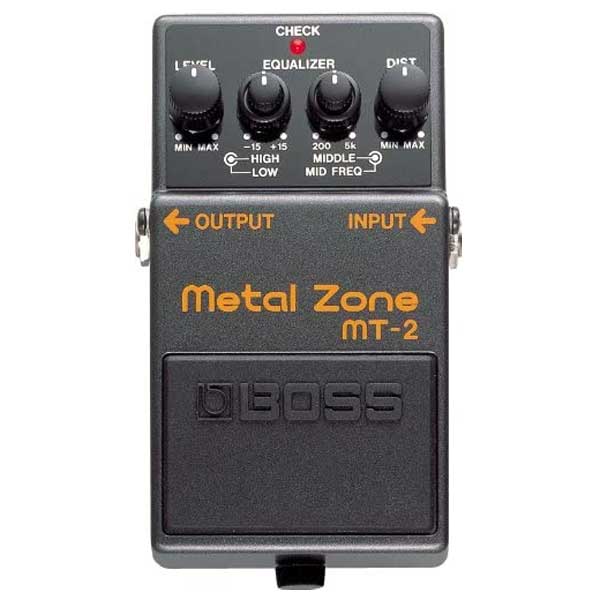 | | |
| --- | --- |
| Estimated Price | $115 |
| Type | Digital |
| Effects | Distortion, EQ |
| Connectivity | 1 x 6.35mm Jack Input, 1 x Output |
| Power | 9 Volts DC |
My Review: If you're a metal guitarist, look no further than the MT-2 distortion pedal by Boss. This stompbox provides outrageous and over the top distortion tones, you can't even imagine. It's not for the fain-hearted! The Mt-2 is built around dual-gain circuitry which allows it to produce such thick sounding distortion. It has the capability to produce long-lasting sustain too, so you can shred your solos or let the notes ring out without losing any of the power. There's also a 3-band EQ built-in so you can dial the tone in if it gets too harsh, or alternatively add in more of the bass, mids, or treble to make the effect even more extreme.
There's a long list of iconic guitar players who have used the MT-2, including Prince and Dan Donegan, which should provide some verification of its quality. The overall output of the MT-2 is similar to a stack of overdriven amps in terms of thickness, drive, and power. There are very few distortion pedals specifically designed for metal music because it's such a difficult tone to produce, but Boss has done an impressive job with this pedal.
Who is this best suited for: Straight up metalheads will fall in love with the MT-2. It's not going to produce understated, warm distortion suitable for blues licks, but for tapping, shredding, and screaming this pedal is perfect.
Bottom Line: The MT-2 will certainly make your solos stand out. It can be piercing when cranked up, but once you've mastered the controls it's capable of producing some insanely good metal guitar sounds and is highly durable too. If you're looking for the best distortion pedal for metal this is going to be a top contender, especially considering its value.
Popular Related Article: Roundup of 27 Top Guitar Pedals (All Types)
6. Boss BD-2 Blues Driver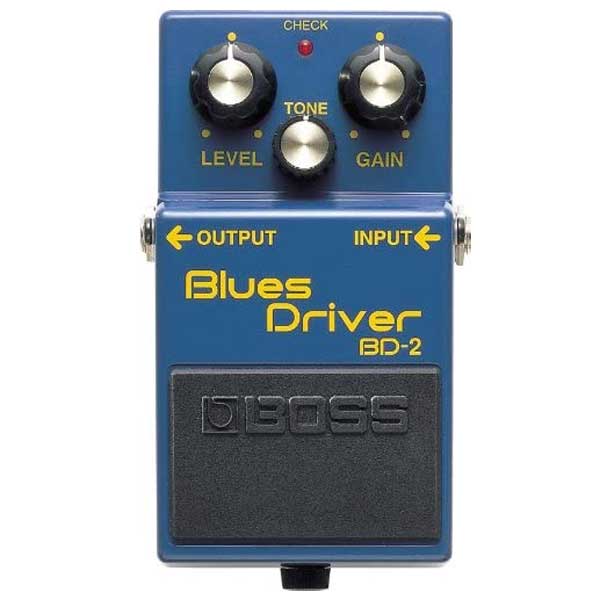 | | |
| --- | --- |
| Estimated Price | $120 |
| Type | Digital |
| Effects | Distortion, Overdrive |
| Connectivity | 1 x 6.35mm Jack Input, 1 x Output |
| Power | 9 Volts DC |
My Review: Boss makes another appearance on our list, this time with the BD-2 Blues Driver distortion pedal. Think of this pedal as a ramped-up version of the aforementioned DS-1, with more grit and power. This stompbox is perfect for pushing your amp to its limits and creating a saturated tone that lends itself to blues and heavy rock. Even when the gain is high, there's very little muddiness produced by the BD-2.
Similar to the DS-1, the layout of the Blues Driver pedal is quintessentially Boss. The three controls at the top of the pedal are for adjusting level, tone, and gain. Although this may seem minimalistic compared to some of the more complex distortion pedals on the market, you'll be surprised at how much tonal flexibility you have with this trio of knobs.
There's no danger of the BD-2 Blues Driver being damaged by the wear-and-tear of being in a band. It's built like a tank and comes with 5 year warranty to ensure its longevity. The distorted tones produced by this pedal sound like a genuine tube amp from years gone by, full of warmth and character. It's small enough to squeeze onto your board next to a tuning pedal, and the stompbox design makes triggering the pedal a breeze.
Who is this best suited for: The BD-2 is the holy grail of distortion pedals for blues-rock guitarists. If you're after the classic warm tones of Stevie Ray Vaughn or John Mayer, this Boss pedal will suffice. It's simple, straightforward to use, and gives you an authentic tonal edge.
Bottom Line: This distortion pedal provides you with numerous tonal options. The no-nonsense design is backed up by the warm, vintage sound it produces. It's the kind of pedal that makes you wonder how you coped when it wasn't present on your pedalboard, and $120 I'd say it's a steal.
7. Donner Morpher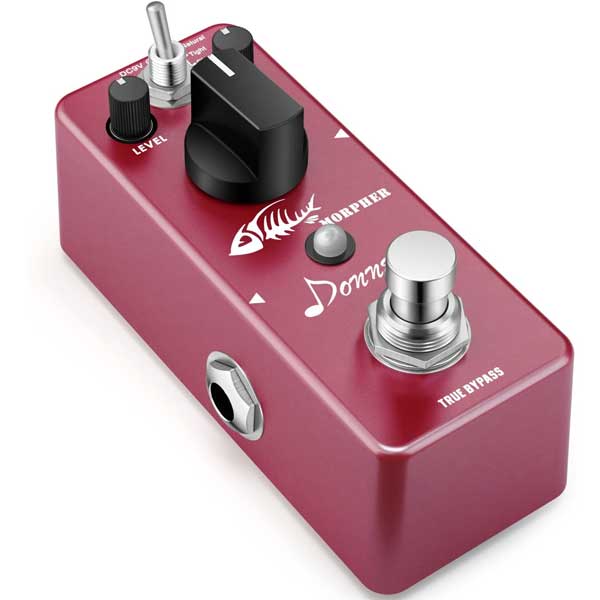 | | |
| --- | --- |
| Estimated Price | $30 |
| Type | Digital |
| Effects | Distortion |
| Connectivity | 1 x 6.35mm Jack Input, 2 x Output |
| Power | 9 Volts DC |
My Review: Next up on our list is the Morpher by fast growing Donner. This pedal is bursting with expression despite its minute size. Stylishly designed, the Morpher has three control knobs and a switch located at the top of the pedal. The level control can be used to create dynamic consistency between the processed signal and your clean sound, while the tone knob on the opposite side affects the thickness of the distortion produced.
The three-way selector switch at the top center of the pedal provides natural, tight, and classic distortion settings. The natural preset sounds warm and subtle, the tight preset gives your signal a thick undertone that has very little sustain, and finally, the classic setting is a more common distortion sound which is perfect for giving your solos a tonal boost. You then have a large gain control in the middle of the pedal, which when turned up transforms your sound into a burning inferno of distortion.
The main concern with cheap distortion pedals is that they lack durability. The Donner Morpher defies this preconception thanks to its whole aluminum-alloy housing. With a true bypass switch built-in, you don't have to worry about it having a negative impact on your clean sound when the pedal isn't active.
Who is this best suited for: If you're looking for decent-sounding distortion on a budget, I'd recommend the Donner Morpher. It's well suited to guitarists who already have a busy pedalboard due to its small size and large true bypass switch.
Bottom Line: It's true that in most cases you get what you pay for when it comes to FX pedals, but the Donner Morpher produces a range of quality distortion options that belie its low price tag. It has strong expression and is capable of high gain distortion that will make your solos and riffs stand out and capture the attention of an audience.
Popular Related Articles: 17 Delay Pedals You Need to Check Out (Digital and Analog)
8. Caline CP-15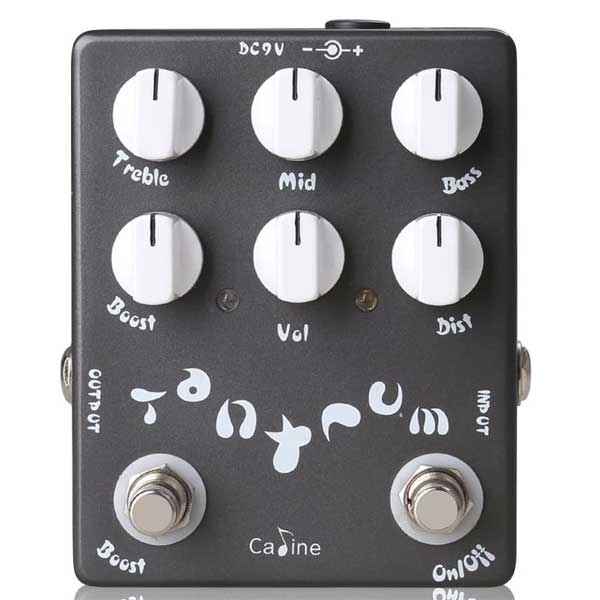 | | |
| --- | --- |
| Estimated Price | $30 |
| Type | Digital |
| Effects | Distortion, EQ |
| Connectivity | 1 x 6.35mm Jack Input, 1 x Output |
| Power | 9 Volts DC |
My Review: Another highly affordable option, the Caline CP-15 offers a generous number of controls that suit all styles of guitar playing. The best thing about this pedal is that it has a built-in three-way EQ which can be tweaked using the treble, mid, and bass control knobs. Having the power to fine-tune your frequency output is highly valuable, especially on a distortion pedal. Sometimes, we think that our sound is perfectly constructed in the practice room but when we get on stage the acoustics of the room can undo all of the hard work.
Thankfully, the smartly designed CP-15 allows you to accurately roll-off or boost the frequency range to suit your playing environment. Underneath the EQ controls, you have the standard boost, volume, and distortion level knobs. Interestingly, this Caline pedal has two footswitches in each bottom corner. The left one is for boosting your signal and can be used as a volume pedal when you want to stand out in the mix without overly distorting your tone. The second switch turns the pedal on and off.
Who is this best suited for: People who are very particular about their tonal output will love the Aline CP-15 due to its built-in EQ and volume boosting capabilities. If you're the kind of guitarist who pays attention to detail, you'll enjoy tweaking the settings to find the exact levels of distortion that you desire. It's also great if you don't have a volume booster pedal, as the left-sided switch provides you with this function.
Bottom Line: $30 is an absolute bargain for a distortion pedal that also has EQ and volume boosting built-in. I really like the shape and aesthetics of the CP-15, and from its appearance, you'd be forgiven for thinking it is much more expensive than its modest value.
9. JOYO JF-14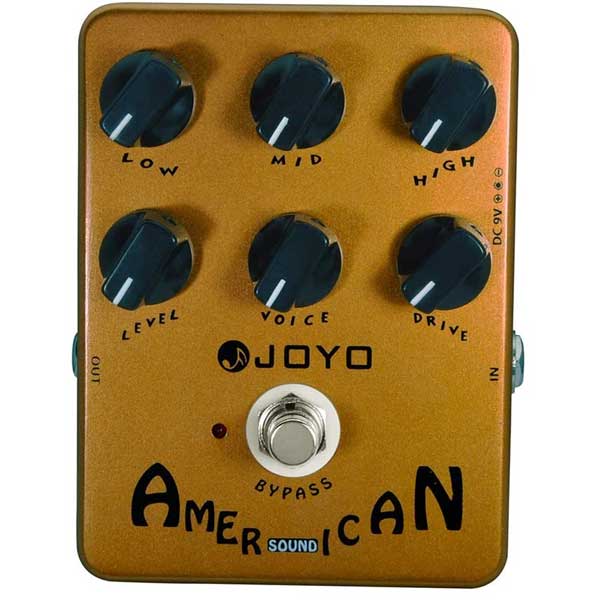 | | |
| --- | --- |
| Estimated Price | $40 |
| Type | Digital |
| Effects | Distortion, EQ, Volume Boost |
| Connectivity | 1 x 6.35mm Jack Input, 2 x Output |
| Power | 9 Volts DC |
My Review: JOYO's range of guitar pedals has improved a lot over recent years, and the JF-14 American Sound Distortion pedal demonstrates its quality. The thing that makes this pedal different from most of the other entries on this list is that it is essentially an amp simulator. The goal was to produce a pedal that simulated an alnico-12 inch speaker nearing its limits, and I'd say that JOYO has done just that. The distorted tones produced by this pedal are reminiscent of a saturated tube, full of the natural warmth associated with the 60s surf-rock era.
To compensate for the natural dark sound of the pedal, JOYO has included a useful 3-band EQ so that you can tailor the output and build the exact tone you want. By cranking the distortion control you get the classic sounds of early Fender amps, brimming with the growling saturation that made tweed amps so popular. Another cool thing about the JF-14 is that it has cabinet emulation built-in. This basically means you can go from the pedal into a mixing desk or digital interface and record with its original sound quality. It can also be used as a clean boost, adding a touch of compression to your tone to make it more full-sounding a prominent in the mix.
Who is this best suited for: Guitarists who are fans of early 60s surf rock, crunching country guitar from the 50s, or the warm breakups of original Fender Tweed amps. Along with being a great enhancement to your live setup, the JF-14 is also a useful tool if you record into a DAW using an interface.
Bottom Line: You can't argue with the number of options included on this JOYO pedal, especially when you consider its relatively low price. With a 3-band EQ, recording capabilities, and a range of distortion tones modeled on some of the most iconic amplifier sounds of all time, it's definitely worth considering.
Popular Related Article: 17 of Our Favorite Electric Guitars Under $1000
10. Fulltone OCD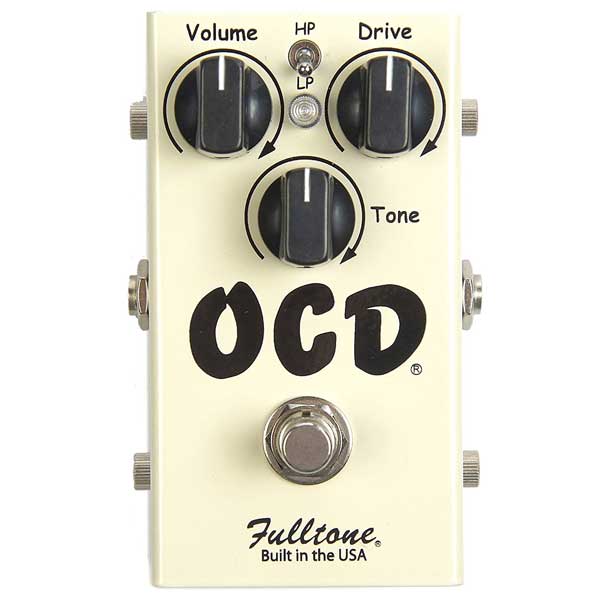 | | |
| --- | --- |
| Estimated Price | $130 |
| Type | Digital |
| Effects | Distortion, Overdrive |
| Connectivity | 1 x 6.35mm Jack Input, 1 x Output |
| Power | 9 Volts DC |
My Review: Since its initial production in 2004, the Fulltone OCD has been tweaked many times to create the brilliant current version of the pedal. It still offers the classic distorted tones that made it so popular, but now has some interesting modern enhancements to further improve its performance. This compact pedal has the most essential control with no fluff. You got standard volume, drive, and tone knobs along with a high peak/low peak switch. This switch transforms the pedal from a slight clean boost to a sustain-rich, burning distortion.
There's a multitude of distorted tones that can be produced with the OCD. Everything from compressed cleans to powerful crunch is well within the pedal's realm of possibilities. You get the natural sound of a tube amp breaking up whilst retaining the sensitivity of your playing. It also features true bypass switching so your clean signal isn't adversely affected by the pedal when it's deactivated. There is also a newly installed output buffer in the OCD which stops it from being influenced by other pedals that are positioned after it in the signal chain.
Who is this best suited for: The OCD is so versatile that I would recommend it for all styles of guitar. You can use it to subtly boost your clean signal, or alternatively push it to the limits to create extremely distorted tones.
Bottom Line: There's a reason the Fulltone OCD pedal has been so popular for the past 15 years. It produces a brilliant array of distortion and is overly complicated to use.
11. ProCo RAT2 Distortion Pedal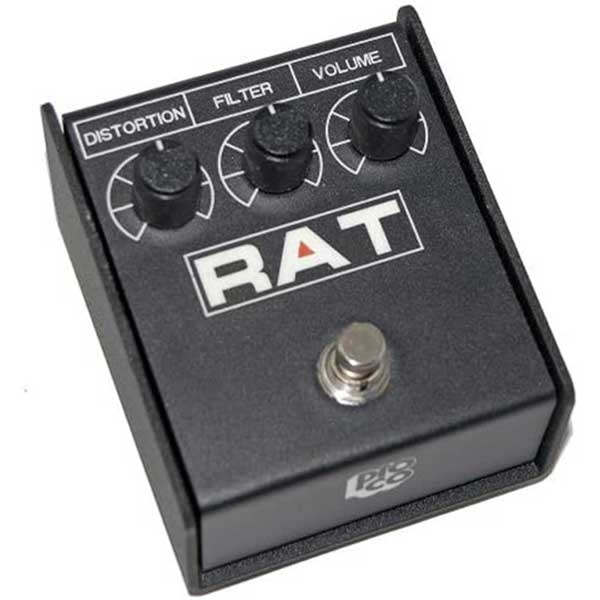 | | |
| --- | --- |
| Estimated Price | $70 |
| Type | Analog |
| Effects | Distortion, Filter |
| Connectivity | 1 x 6.35mm Jack Input, 1 x Output |
| Power | 9 Volts DC |
My Review: The ProCo Rat 2 is the perfect middle ground for guitarists who enjoy blending melodic clean tones with crunch-laden solos. It's a versatile pedal that can hold its own in any guitar-based genre, whether you play blues, jazz, punk, or straight-up rock. The Rat tone is a thing of legend among guitarists, acting as the benchmark for other distortion pedals. The Rat 2 takes all of the best components from its predecessor and builds upon them, offering even more tonal flexibility and high quality distortion.
One of the main reasons so many guitarists love the Rat pedal is its unique filter control. If you turn this knob all the way up, it filters out any unwanted high-end frequencies that may be weakening your overall sound. When the filter control is turned down, the natural brightness of your guitar is enhanced making it cut through the mix with sparkling clarity.
The two other controls featured on the Rat 2, distortion and volume, allow you to add the ideal amount of gain to the output without running the risk of creating inconsistent levels between the processed tone and your clean tone. With a 100% analog signal path, this pedal sounds more authentic than its digital competitors. The LED on/off indicator is a handy addition too, making it easy to see when the pedal is active even on a dimly lit stage.
Who is this best suited for: All varieties of guitarists will enjoy using the Rat 2, but it's especially well suited to those who have a powerful amp that has too much headroom for a venue. It produces a realistic representation of the amp breaking up.
Bottom Line: The ProCo Rat 2, like the previous version, is a top quality distortion pedal that sounds authentic. The filter control is what really makes it stand out among the crowd, and its versatility is almost unrivaled. At $70, it's an absolute steal in my opinion.
Popular Related Article: Reverb Pedal Roundup (All Price Ranges)
12. TC-Electronic Dark Matter Distortion Pedal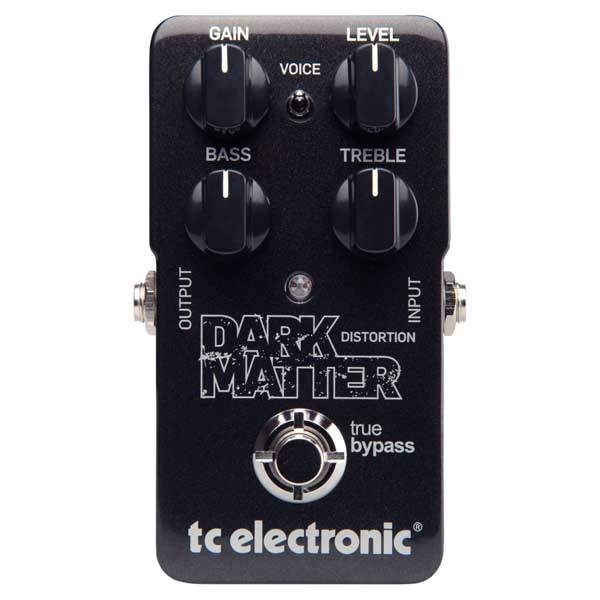 | | |
| --- | --- |
| Estimated Price | $70 |
| Type | Analog |
| Effects | Distortion, EQ |
| Connectivity | 1 x 6.35mm Jack Input, 2 x Output |
| Power | 9 Volts DC |
My Review: Another entry from TC-Electronic, the Dark Matter Distortion Pedal is a unique option that boasts an extreme dynamic range. It's the kind of pedal that you struggle to walk away from once you start playing, due to the variety of sounds it can produce. Built around all-analog circuitry, the Dark Matter delivers classic distorted sounds with some sprinklings of modern flavor thrown into the mix. There are four controls on the face of the pedal. On the top row, you have gain and level knobs which determine how much of the effects are present in your mix. Then, on the bottom row, you have a useful 2-band EQ which lets you dial in the bass and treble or give them a boost. The EQ controls are what make this pedal so versatile because they allow you to create unique tonal blends.
Sandwiched between the four controls is a voice switch, which when activated produced a vintage tube distortion with a lively response so that the finer details of your playing don't get lost in the compression. You can also add extra bass to your sound using the toggle switch. It's hard to believe that all of these controls are housed in such a small and compact pedal. The Dark Matter also has true bypass to ensure optimal clarity and no loss of high-end frequencies when you turn off the pedal.
Who is this best suited for: Musicians who love the sound of old-school tube amps breaking up under stress, but also want access to sharper, modern variations of distortion. The Dark Matter is versatile and allows you to sculpt your sound with great accuracy.
Bottom Line: The TC Electronics Dark Matter has everything you need in a distortion pedal. With the 2-band EQ, you can design your tone to perfectly match the idea in your head. At a fairly affordable price, I think it would be a good addition to any guitarist's set up whether you want a slight dynamic boost or high levels of saturation.
13. Caline CP-12 Pure Sky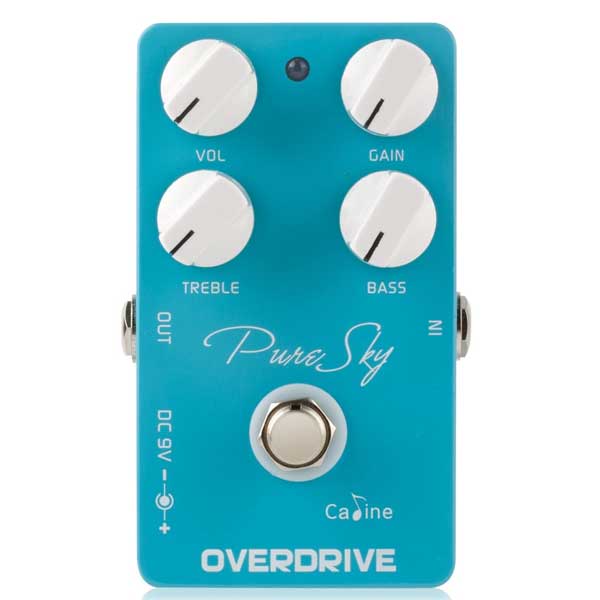 | | |
| --- | --- |
| Estimated Price | $35 |
| Type | Digital |
| Effects | Distortion, Overdrive, EQ |
| Connectivity | 1 x 6.35mm Jack Input, 2 x Output |
| Power | 9 Volts DC |
My Review: Caline's eye-catching CP-12 Pure Sky pedal sounds as good as it looks. Producing crystal clear high end distortion with a good level of transparency, this pedal can either be used to create overdrive and distortion or to tweak your sound using the 2-band EQ parameters. There is a total of four controls on the CP-12. Firstly, you have the classic combination of volume and gain. When the gain is turned up, that's when this pedal really starts to flourish. It produces a lo-fi distortion that wouldn't sound out of place on an early Black Keys album.
The 2-band EQ controls are positioned on the bottom row. The great thing about this pedal is that you can simply use it for a slight volume boost and then adjust your clean tone using the EQ settings. It's essentially two pedals in one – overdriven distortion and accurate EQ. It also has true bypass for maintaining the integrity of your clean tone, and a smart LED indicator to tell you when it's turned on or off. Housed in a petit sky-blue aluminum casing, it's a durable pedal that won't take up excess space. Whether you want to produce pristine clean tones or smooth and compressed distortion, the CP-12 Pure Sky is capable of both.
Who is this best suited for: Guitarists who prefer subtle distortion rather than over-the-top effects. The CP-12 allows for great flexibility when it comes to designing your sound. It's perfect for giving your guitar output a little edge rather than completely obliterating the signal.
Bottom Line: You can tell that a large amount of care, research, and thought went into the design of the El Capistan pedal. It looks the part and does an incredible job of reproducing the exact delay sounds associated with primitive tape machines.
14. Fender MTG Tube Distortion Pedal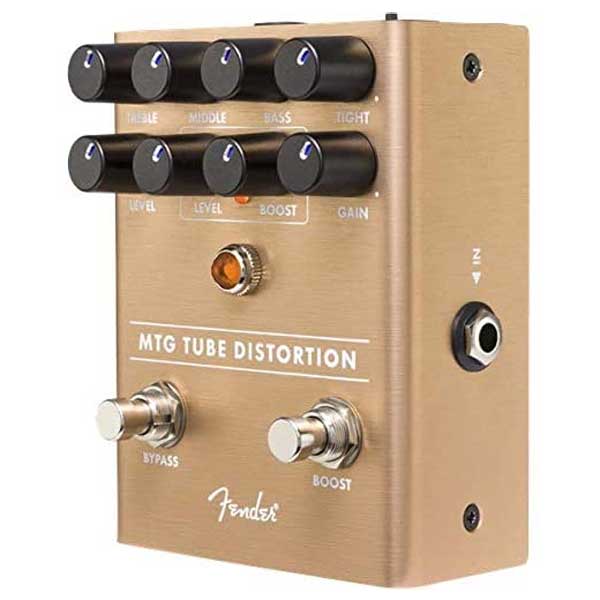 | | |
| --- | --- |
| Estimated Price | $200 |
| Type | Analog |
| Effects | Tube Distortion, EQ |
| Connectivity | 1 x 6.35mm Jack Input, 1 x Output |
| Power | 9 Volts DC |
My Review: Although it's one of the more costly pedals on this list, the Fender MTG Tube Distortion lives up to its price. After all, if anyone knows how to produce authentic tube tone it's Fender. Their valve amps are renowned for the warm, natural distortion that occurs when pushed to their upper dynamic limits. What sets the MTG apart from the competition is its use of genuine vacuum tubes. At the heart of the pedal is a 6205 preamp tube, which provides distortion that is very close to the tones produced by a Fender amplifier.
The compact MTG has a total of eight adjustable tones so that you can create the perfect amount of tube distortion. There's a 3-band EQ across the top row which allows you to adjust the bass, middle and treble frequencies. Next to those is a "tight" control which affects the amount of sustain produced. There's a switchable boost which also has its own level control and true bypass for consistent dynamics. You'd be forgiven for thinking that a pedal containing its own valves would be bulky in size, but the MTG will easily fit onto any pedalboard.
Who is this best suited for: Those who are fond of vintage, authentic distortion produced by Fender's extensive range of tube amps. If you enjoy the distorted sounds of the late 60s and early 70s rock, this is the pedal for you.
Bottom Line: It's a given that any guitar product produced by Fender has been made to the highest standard. The MTG encapsulates all of their expert knowledge from decades of producing amplifiers, packed into smartly designed, detailed distortion pedal.
15. JHS Morning Glory V4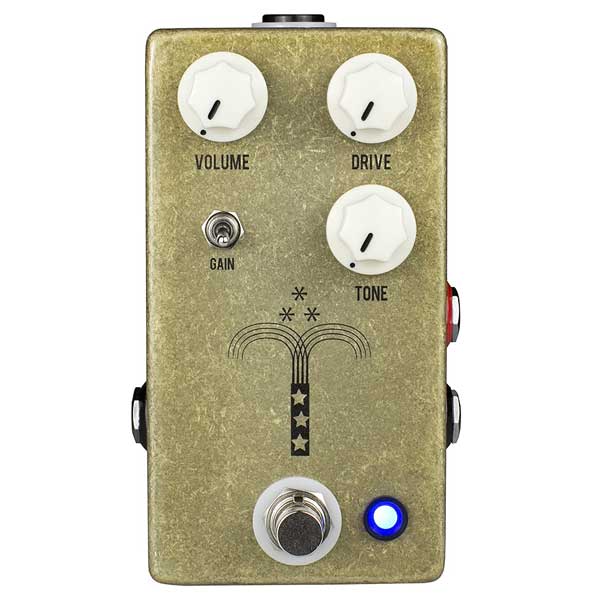 | | |
| --- | --- |
| Estimated Price | $200 |
| Type | Digital |
| Effects | Distortion, Overdrive |
| Connectivity | 1 x 6.35mm Jack Input, 2 x Output |
| Power | 9 Volts DC |
My Review: One of JHS' finest creations, the Morning Glory V4 takes distortion and overdrive to new heights. Compared to the previous model, this pedal is capable of producing two times more headroom. The tone produced by the V4 is crisp and warm. Thanks to its completely transparent drive it adds a grainy crunch to your guitar without boosting the midrange frequencies as is the case with many stompbox distortions and overdrive pedals. Don't be fooled by the simplistic 3-knob design of this pedal, the variation you can create by adjusting the volume, drive, and tone controls is pretty extensive.
There's also a built-in gain switch which can be used to quickly change your tone. When activated, it adds more crunch and bite to your output. This is particularly useful if you're playing a show and feel that your guitar isn't projecting well enough. You can simply flick on the boost switch and suddenly you have more power at your disposal. In addition to the three controls, there's a true bypass footswitch and a blue LED on/off light. You also get two outputs which make it possible to use this pedal as a signal splitter, so you can send your clean signal to one amp while the FX channel is played out of another.
Who is this best suited for: If you want to split your distortion from your clean output and send them both to separate amplifiers, this JHS pedal is perfect for that. Otherwise, I'd recommend the Morning Glor V4 to any guitarist who wants a mature overdriven tone without the usual mid range boost that can sometimes make distortion pedals a little too harsh.
Bottom Line: If we're talking purely about the tonal quality produced by a pedal, the JHS Morning Glory V4 is up there with any other entry on this list. At $200 it's on the pricey side, but you won't be disappointed with the array of warm distorted, and overdriven tones that this pedal has in its arsenal.
16. Ibanez Tube Screamer Mini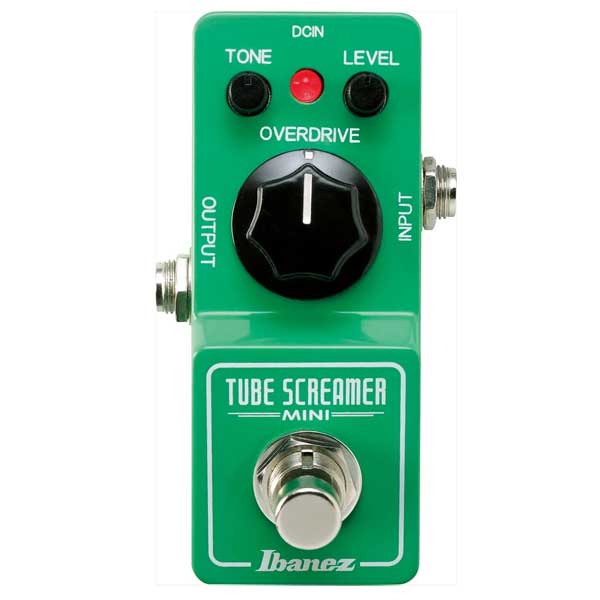 | | |
| --- | --- |
| Estimated Price | $80 |
| Type | Digital |
| Effects | Distortion, Overdrive |
| Connectivity | 1 x 6.35mm Jack Input, 1 x Output |
| Power | 9 Volt DC |
My Review: Probably the smallest pedal on our list, the Ibanez Tube Screamer is a hugely popular option due to its simple functionality and high quality sound producing abilities. You can use this pedal in one of two ways, firstly it makes a great gain booster when you combine it with your clean signal, or if you crank up the controls you get fuzzy overdrive that is thick and full of character. The Tube Screamer has become an industry standard distortion pedal thanks to its compact size and notable power.
When the overdrive is present, provides a nice boost in the midrange. By simply lowering the tone control, you can minimize this boost, leaving you with a smoother distorted tone perfect for rhythm guitar playing. Even when the gain is turned down to zero, the Ibanez Tube Screamer gives a noticeable boost to your clean signal while maintaining the characteristics of your guitar's natural sound. This pedal isn't made for overly distorted fuzz, but it will provide you with a smooth and warm crunch that gives your riffs and licks more flavor.
Who is this best suited for: Guitarists who play a combination of lead and rhythm parts and need to add some character to their tone. It's also useful for those who simply want a subtle dynamic boost to their clean signal.
Bottom Line: The Ibanez Tube Screamer Mini is one of the best pedals when it comes to adding a slight amount of overdrive to your tone. It produces well rounded distorted sounds and also gives you the option of reducing the mid range boost that occurs with most pedals of its kind. Its tiny size makes it unnoticeable on a pedalboard.
17. Electro-Harmonix Little Big Muff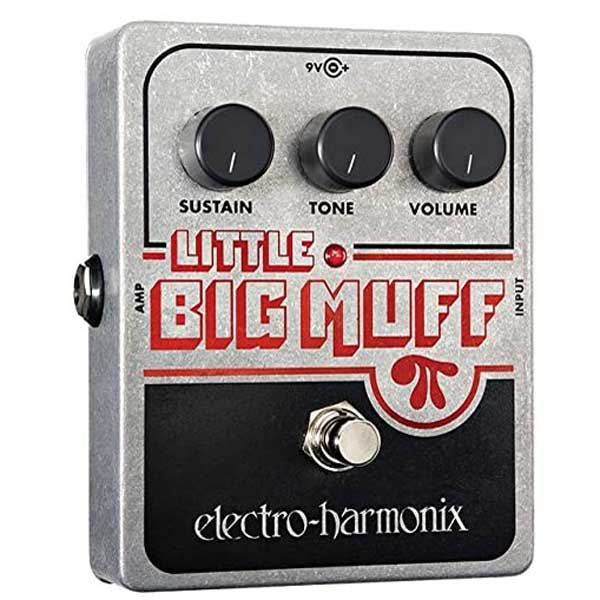 | | |
| --- | --- |
| Estimated Price | $90 |
| Type | Digital |
| Effects | Distortion |
| Connectivity | 1 x 6.35mm Jack Input, 1 x Output |
| Power | 9 Volts DC |
My Review: I'm a huge fan of the Electro Harmonix Big Muff range, whether it be the Bass Big Muff or this Little Big Muff Fuzz Pedal. Out of all of the distortion pedals I've reviewed, this is probably the most extreme in terms of the tones it produces. Based on extensive research into what made the original Big Muff of the 1970s such an iconic pedal, Electro Harmonix has redesigned it in a modern and smaller unit. The die-cast box has the classic smoothed corner design, and the tones it is capable of producing are a fitting tribute to the original model of 50 years ago.
The Little Big Muff has three controls – volume, tone, and sustain. The sustain control is particularly useful for shredding out solos. When it is cranked up all the way, you get long, drawn-out notes which maintain their power for impressive periods. The tone control provides you with a lot of tonal variation, from thin-sounding lo-fi distortion to full-blown out of this world fuzz that sounds like your amplifier has blown.
Who is this best suited for: This pedal is perfect for guitarists who love to shred. It provides you with huge-sounding distortion that will fill a room in an instant. If you play heavy rock, metal, or dirty blues, the Little Big Muff is a great option to consider.
Bottom Line: The Electro Harmonix Little Big Muff Fuzz Pedal produces insanely powerful tones perfect for fuzzy riffs and solos. It's straightforward to use and doesn't have any unnecessary controls to over complicate things. With the classic Big Muff design of the 1970s, it looks and feels like a vintage pedal. You'll be amazed by the sheer aggression that comes out of this pedal when it's pushed to its limits.
Choosing the Right Distortion Pedal (Buying Guide)
Distortion pedals come in a variety of shapes and sizes, with differing capabilities and functions. Before choosing the best-suited addition to your pedalboard, it's important to understand what the various controls and specifications mean in relation to your guitar's tone. In the following section, I'll present a detailed overview of everything you need to know about distortion pedals so that you can make an informed choice.
What Exactly is Distortion?
As guitarists, we tend to know what effects sound like but when it comes to understanding why that sound is produced things become a little more complicated. Distortion is a generic term that basically describes a deviation that occurs in an audio waveform between two points of a signal path.
This broad definition means that effects such as compression and EQ are technically classed as distortion, along with more commonly associated effects like overdrive or fuzz. Unwanted distortion can be present if clipping occurs in the recording process, but other variations of the effect such as tape saturation are deliberately caused by musicians and producers for the warm, broken up, sound that they deliver.
It would be accurate to say that distortion occurs when the peaks of your audio waveform are compressed by adding large amounts of gain to them. Visually, this will cause the waveform to have a "thicker" body with less variation in the dynamic range. The more the waveform is compressed, the more distortion will occur due to the clipping that results from this process.
Distortion pedals reproduce the effect by working in the way I just described. When the pedal is used subtly, the signal from your guitar is slightly compressed and a small amount of clipping occurs, causing the sound to break up at certain points. If you turn the distortion pedal up towards its maximum level, the signal will be affected more dramatically and a lot of compression will cause the sound to break up more frequently as a result of more clipping. Learn more about what a Distortion pedal is and how it works here.
How and Why Distortion Is Produced
Indeed, unwanted distortion is every producer or mixing engineer's nightmare. I've been in the unfortunate situation where you think you've recorded the perfect guitar or vocal take, only to find that the input was set too high and the waveform has clipped in places. There are certain styles of music, such as lo-fi garage rock, where some unintentional distortion wouldn't be an issue. But for more polished genres, it will glaringly stand out in the mix.
Unwanted distortion is a problem, but when we use this effect with intention it can produce some brilliant results. The most natural way for guitarists to produce distortion is through the use of a tube amplifier. On the whole, tube distortion is probably the most versatile form of distorted guitar. The warm break-ups produced by these amplifiers are more subtle than digital forms of distortion, and different tubes produce varying tones.
Thankfully, the extensive range of distortion pedals available today means you don't need to spend a fortune acquiring a tube amp in order to authentically reproduce the effect. As you've probably gathered from the previous list of reviews in this article, all distortion pedals are different. There are so many variations of the effect that you can find specific pedals tailored to certain genres, styles, or eras.
Unlike tube amplifiers which distort due to the overloading and heating up of these internal valves, distortion pedals use digital technology to reproduce the effect. Although some guitar purists may claim that there's a huge difference between the natural distortion of a tube amp and the specifically designed distortion of an FX pedal, it's fair to say that both of these incarnations are similar to a degree, as they are both produced by essentially overloading an electronic circuit to create clipping.
Digital distortion is caused by clipping of digital audio, and generally produces a harsher, extreme distortion than that of a tube amp. For example, overdrive distortion pedals work by applying an increase in gain at certain points in the audio output. Much like a compressor, these pedals usually have thresholds built in to determine which parts of the guitar input are quiet or loud and then adding distortion to the louder notes.
Unlike overdrive pedals, standard digital distortion pedals don't rely on controlled clipping. Instead, these stomp boxes adjust the shape of the audio wave to create certain patterns, whilst not being dependent on the amount of gain. This creates more of a flat response without the warmer overtones of a tube amplifier or an overdrive distortion pedal.
Distortion vs. Saturation
When searching for a distortion pedal, it's likely that you'll have come across the term saturation. Although technically speaking saturation is a form of distortion, it's a good idea to establish what exactly saturation is and why it is such a commonly used effect across multiple genres of music.
To understand saturation, we need to go back to the days of analog recording. In these times, recording engineers had to ensure that the signal level which was recorded onto tape reels was at a good level. If it was too low, the unwanted "tape hiss" would be too noticeable in the final mix. If the input was too high, saturation would occur.
As the input signal gets louder, tape essentially reaches a point where it's incapable of recording any more signal. Contrary to digital distortion which occurs suddenly as a result of harsh spikes in the audio, saturation on an analog tape is much more unpredictable and harder to control. When the input gets too hot, compression and distortion occur as a result. These two effects then behave in a way that isn't in sync with the characteristics of the original audio.
Which Type of Distortion Pedal Best Suits Your Needs?
Since we've discussed the basic principles of distortion, why it occurs, and why it is used, I'll now provide an overview of the most popular variations found on guitar pedals. Some distortion pedals are loaded with multiple capabilities, while others specialize in one particular form of distortion. Some of the most commonly found variations of this effect are:
Overdrive Distortion Pedals
Fuzz Distortion Pedals
Tube Distortion
Tape Saturation
Bitcrusher Pedals
If you want to produce natural levels of distortion similar to the sound of valves breaking up in an amp, then you need a distortion pedal which has overdrive producing capabilities. These pedals are responsive to your playing. If you play softly the gain will hardly be noticeable, but if you play with more power the signal will start to break up in exactly the same way that a tube amplifier would. Overdrive is essentially a softer variation of distortion, with less extreme clipping occurring. It adds a dynamic, smooth tone to your guitar output.
If you'd like to produce extreme, high gain distortion then you need a pedal that offers fuzz. Unlike overdrive, fuzz takes the dry signal and makes it clip much harder. This produces a square wave and compresses the distortion until it is completely unrecognizable from the original clean sound of your guitar. Distortion pedals with fuzz capabilities sound aren't intended to sound natural, and instead, they produce tones that are extreme and more artificial sounding, which is great for playing huge riffs or solos but sounds too messy when you're playing chords.
We've touched upon the basic characteristics of tube distortion when it is produced by an amplifier, but thanks to the advances in music technology you can produce this sound with certain types of distortion pedal. If you'd like to get as close to the authentic tube distortion sound, you need a pedal that utilizes vacuum tubes within its makeup. These distortion pedals have preamp tubes built-in and some come with EQ shaping controls so that you can tweak the sound to your liking.
As I previously described, tape saturation is the unpredictable distortion that occurs when audio is recorded onto tape and the input signal gets too hot. Although this is sometimes an undesirable occurrence, many guitarists love the warm sound of tape saturation. Thankfully, there are pedals which simulate this effect. By compressing the audio, saturation is produced. Sometimes, these distortion pedals come with delay producing capabilities in order to get even closer to the authentic tape sound,
Another popular type of distortion used by guitarists is the bit crusher effect. These pedals have the ability to reduce the sample rate of the original signal by sampling it and giving it a lo-fidelity sound. This results in a square-like wave being produced, and you can usually control the frequency control to make the effect more or less extreme. With most bit reducing pedals, the input signal is sampled in 8-bit and then can be lowered to 1-bit audio. Much like fuzz, this effect is well suited to one-off riffs rather than the playing of multiple notes and chords.
Commonly Found Controls on Distortion Pedals
Here are three controls that you'll find on almost all distortion pedals:
Volume Level
Tone Control
Gain Amount
I'm sure you can guess what the volume level does. This control determines the level of the output signal from the pedal. It's a handy feature because some distortion pedals cause a significant boost in the overall volume when turned on, which isn't consistent with your clean volume. To avoid this, you can tweak the volume level on the pedal until it is well balanced with your clean guitar sound or your other pedal levels.
The tone control on a distortion pedal allows you to shape the sound of the effect. Much like a tonal knob on a guitar, it acts like an EQ, boosting certain frequencies and removing others. You can use the tone control to accurately create the exact distortion sound that you desire, from thin and tinny to thick and full bodied.
The gain amount essentially increases the amount of drive that is added to the original signal. When the gain is cranked up, the signal is compressed more and clipping occurs more frequently, creating more extreme versions of the distortion.
Multi-Effect Distortion Pedals
The advantage of using multi-effects pedals is that you have once localized hub where you can control a number of effects. Distortion is one of the most commonly featured effects on these types of pedals, along with reverb, delays, octave, phase, chorus, and others. The great thing about choosing a distortion pedal that can produce some of these other effects is that you can blend them to create unique tones with pinpoint accuracy.
It's worth noting however that multi-effects pedals are usually not as detailed regarding distortion, due to the fact that the controls are split across several audio processing functions. They're great for providing you with a little bit of everything but less focused than a pedal that serves a specific purpose.
Where Should You Position a Distortion Pedal in Your Signal Chain?
Once you've identified your chosen distortion pedal, then the debate of where to position it in your signal chain arises. This is especially important if you have a pedalboard that is stacked with effects pedals. The positioning of certain pedals will have a huge impact on their performance, and if not considered you could end up with unwanted noises being produced.
Let me start by saying that there's no set-in-stone, right or wrong answer to this question. Oftentimes, I've found the most interesting guitar tones by accidentally doing things in a way that most musicians would consider to be "wrong". That being said, if you [position a distortion pedal at the end of your signal chain, every other pedal is going to be affected by it. This would lead to harsh tones and an, overall, messy output. Positioning the distortion pedal closer to the beginning of the signal chain – preferably after any compressors or dynamic-altering pedals, you will get the cleanest distortion possible which other effects can then be added to.
Splitting the Signal
When looking through the distortion pedal reviews earlier in this article you may have noticed that some of the options had two outputs. This is a great tool for guitarists who use lots of effects but would like to preserve the clean tone at the same time as playing the processed signal.
With a dual-amplifier setup, you can split the signal from the distortion pedal and send the effect into a separate amp to your clean channel. This technique is commonly used by bassists who want to use effects without losing the solid foundation of their clean signal. It creates a thicker sound that doesn't become less powerful when effects are turned on, as can be the case sometimes with a one-amplifier setup.
Many pedals offer the possibility of signal splitting, but an easy way to tell is by looking for two jack outputs on the right-hand side of the pedal.
Combining Distortion with Reverb or Delay
In my opinion, there are few better effect combinations than distortion mixed with ambient pedals like reverb or delay. The combination of dirt and space has long been used by guitarists across all genres because the ambient effects soften the distorted signal and give it more of a well-rounded tone.
Kevin Parker, who is the sole artist behind Tame Impala, is well known for setting up his pedals in the "wrong" order when it comes to distortion and reverb. By positioning the reverb pedal before the distortion in his signal chain, the sounds of his guitars have a unique dreamy quality with a crunchy overtone.
Experimenting with distortion pedals, reverb and delay is a lot of fun. The only way to find the sound you desire is by messing around with the various functions of these pedals and in the process figuring out what the combinations produce.
Distorted Vocals
If you combine your distortion pedal with a feedback suppressor, you can create some awesome vocal effects. Distortion has been used on vocals since the early 60s, due to its ability to make the track sound rough around the edges.
Power
Almost all of the aforementioned distortion pedals require 9V DC power to run. Some of the pedals come with their own specific power supplies, but if they are sold separately then consider looking for cheaper options as they all do the same thing.
Some of the pedals can be powered with the use of 9V batteries. It's always a good idea to have fresh batteries in your distortion before a gig, even if you have it plugged into a power supply. That way, if for some reason the power supply malfunctions your pedal won't cut out unexpectedly.
Trusting the History
Distortion is one of the most used effects on guitars, and as a result, there's a myriad of options out there for you to choose from. With more and more manufacturers emerging every year, it's important to do some research on the quality of their previous pedals in order to make an informed decision.
The pedals listed in this article are all from reputable producers and in my opinion, are all built to a high standard. Hopefully, after reading this comprehensive guide you've learned everything you need to know about distortion, and can now decide which of the options will provide you with the results you're looking for.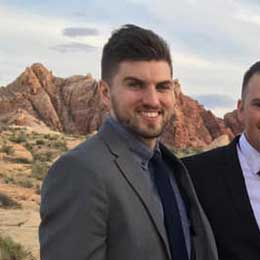 My name is Chris and I've had a passion for music and guitars for as long as I can remember. I started this website with some of my friends who are musicians, music teachers, gear heads, and music enthusiasts so we could provide high-quality guitar and music-related content.
I've been playing guitar since I was 13 years old and am an avid collector. Amps, pedals, guitars, bass, drums, microphones, studio, and recording gear, I love it all.
I was born and raised in Western Pennsylvania. My background is in Electrical Engineering, earning a Bachelor's degree from Youngstown State University. With my engineering experience, I've developed as a designer of guitar amplifiers and effects. A true passion of mine, I've designed, built, and repaired a wide range of guitar amps and electronics. Here at the Guitar Lobby, our aim is to share our passion for Music and gear with the rest of the music community.