Whether you're a beginner or an experienced guitar, chances are that you might not be fully convinced with your guitar tone as yet. That beginner amp no longer does justice to your playing and maybe you want to hear yourself in a recording or try various guitar sounds/amps and see how they work for your sound.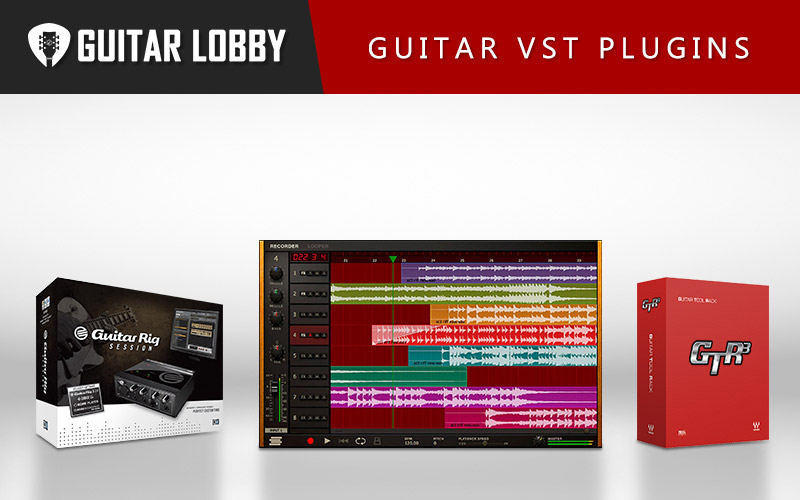 If any of the above situations apply to you, then guitar amp simulators or amp sims are a great way to extract more out of your guitar than was ever possible before. Let's understand the technology that powers guitar tones on computers and then track the best guitar amp software on the market!
Here Are the Best Guitar VSTs
1. Positive Grid BIAS FX/AMP/Free (Editor's Choice)
| | |
| --- | --- |
| Estimated Price | $99 for FX 2, or AMP |
| Versions | Standard, Professional, Elite – VST/AU/AAX/Standalone |
| Free Version Available | Yes (Basic) |
| OS Compatibility | Windows and MacOS |
My Review: Positive Grid is a San Diego based company that changed the guitar software game with its JamUp iOS app in 2013. The kind of high-quality emulation was never heard before in devices with such low processing power. Their new flagship product, called BIAS FX 2 rules the roost when it comes to high-quality and accurate emulations of amps and pedals. You could say I'm slightly biased about this one!
Amps & Effects Library: Bias comes in 2 flavors, AMP 2 offers in-depth tweaking of all the Amp modelers parameters, from changing the tube amps to making minute adjustments to the transformers. Perfect for those who need a reliable/customizable amp sim that works with their existing pedal/FX rig. Bias FX 2, on the other hand, offers a full suite of pedal effects and amps (although with slightly less advanced controls) for a one-stop software rig. Both AMP and FX offer crystal clear signal quality. AMP offers 36 Amp models with various cabinets and microphones, whereas FX includes 30 amps and over 43 pedals in the standard version. The pro and elite version come with even more options.
Interface and Usability: Bias has quite an easy to use GUI for something that offers so much functionality. In FX 2, you can design a signal chain complete with pedals, amps, and post-FX like reverbs on a deceptively powerful open surface where you can drag and drop units. No limits. Their Tone-matching features were already quite well known but the new versions also can match Guitar shapes! This means your Ibanez or Fender can be used to replicate a hollow body guitar should the need ever arise. The Tonecloud feature allows you to create, buy, and sell presets on their marketplace in the app itself. Quick and easy!
Who Is It For?: Bias is for all those guitar players who think software doesn't cut it or doesn't sound like the real thing. And if not to prove them wrong, it is one of the best guitar VST plugins available today. Their constant innovation keeps them 2 steps ahead of everyone else and if you can't decide over what plugin to get, I'd suggest getting this one.
Notable Features:
Best-In-Class emulations of many popular amps and pedals
High Degree of Customisation
Tone Match, and Guitar Match functionality
Tone Cloud service to buy and sell presets
Reasonably Priced
Will Fool Amp Purists 100%
Here is a good video review of Positive Grid BIAS FX 2
Here is another good video:
2. GTR3 and CLA Guitars by Waves Audio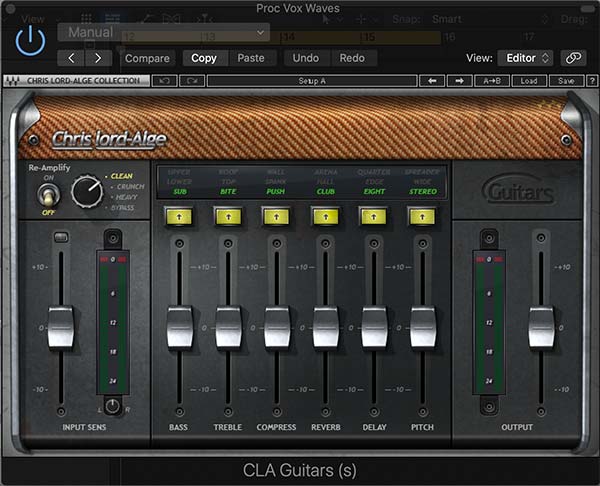 | | |
| --- | --- |
| Estimated Price | $130 (GTR3), 29 USD (CLA Guitars) |
| Versions | VST/AU/AAX |
| Free Version Available | No |
| OS Compatibility | Windows and MacOS |
My Review: One of the oldest players in the VST game, Waves has been at the fore-front of DSP technology, and their guitar simulation plugin called GTR3 is well-known for its solid performance and frugal CPU usage. Their other alternative comes from the signature Chris Lord Alge line of DSP plugins, called CLA guitars. CLA is considered the king of radio rock producers, and his plugin also brings a lot to the table.
Amps and Effects Library: The GTR3 (Guitar Tool Rack) plugin used to have 3 separate plugins for the stompboxes/pedals, amps, and effects units separately, but now they are all integrated into one plugin for convenience. Despite being an older plugin, the GTR3 boasts of 30 amp models, multiple stompboxes, and mics and cabinets.
CLA guitars, on the other hand, has limited functionality, but for rock guitar players, the reamplify function unlocks CLAs radio-ready rock sounds heard on multiple platinum winning records, all the click of the button. There are 5 parameters to dial in the sound to your taste.
Interface and Usability: There's no doubt that GTR3s interface is quite dated. The amp modeling, however, is the usual Waves quality and performs adequately. The signal chain allows you to have up to 2 amps in stereo, with 6 stomp slots per amp and the ability to customize amp and cab settings to your heart's content. All the major amp models and pedals are included. The IR section of GTR3 is unlike most modern plugins and you can't finetune the mic placement on the GUI, but the included IRs are of super high quality.
Difference Between CLA Guitars and GTR3:
CLA guitars, on the other hand, is a barebones plugin, mainly for big rock guitar sounds, but the reamping sounds are so good, that it takes an average guitar tone and supercharges it into LA rock goodness within a minute. There are 5 main sliders to control various parameters such as dynamics and bite and a few of CLAs choicest cabinet IRs are included for re-amping.
Who Is It For?: Waves GTR3 has been around for quite some time, and for older DAW users, it still remains a solid choice for all their guitar needs. While it does not have some of the newer bells and whistles, the algorithms under the hood are rock solid (as CLA would say) and perform with no problems whatsoever. Newer guitar players, however, can find better options on this list.
Notable Features:
Trusted GUI and emulation
Rock Solid Performance
Legendary CLA sound (CLA Guitars)
3. Native Instruments Guitar Rig Player / Pro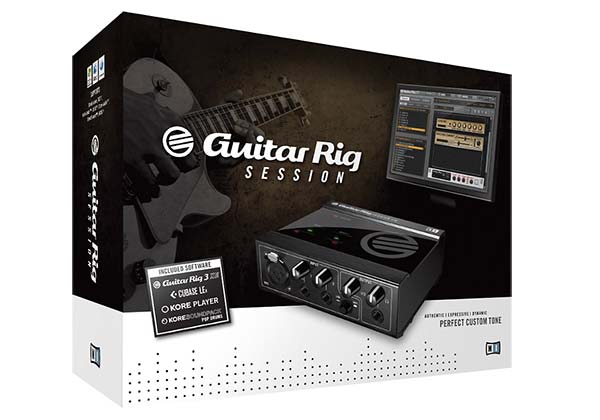 | | |
| --- | --- |
| Estimated Price | $200 |
| Versions | VST/AU/AAX/Standalone |
| Free Version Available | Yes (Player is free to use) |
| OS Compatibility | Windows and MacOS |
My Review: The next amp sim/FX combo comes from the old german workhorses in the audio technology space, Native Instruments. Best known for their Komplete range virtual instruments and samples. Guitar Rig 5 Pro is their flagship product in the amp simulator space with the Guitar Rig Player offering a free alternative with some basic functionality.
Amps and Effects Library: All the usual suspects from Marshall, Fender, Orange, Peavey and Mesa Boogie are available – up to 27 amps. Guitar rig offers a wider selection of heavier sounding amps in general. There's also a stunning range of effects including some weird ones like Quad-delay for granular tone control. Their Control Room Pro has the option of blending signals from multiple mics and offers many options as to their placement. The matched cabinets work really well off the bat if you don't like to spend too much time on mic setup.
Interface and Usability: Guitar Rig Pro boasts of one of the easier interfaces to use. The signal chain is designed in a top-down fashion (users of Reason will relate) and all the rack units can be dragged and dropped onto the patch. The ability to split the signal via the handy split modules is also much welcome. All the beautiful graphics though make GR5 one of the more CPU hungry options on this list. While you won't notice it initially, running more than 5 instances can make the session quite resource-heavy.
Who Is It For?: Guitar Rig offers you all the pedal and amp emulations that you'll ever need, at the cost of a pretty interface and some heavier processing. That said, the plugin sounds great, and the emulations are more forgiving than the actual gear might suggest. They also have a literal ton of presets to choose from and include almost every popular guitar tone out there today. Beginners and even more experienced people will find their worth when shelling out the slightly pricey USD 200 for Guitar Rig 5 pro. This is easily one of the best guitar vst plugins on the market today.
Notable Features:
Lots of Presets
Beautiful and Easy to Use GUI
Amp and FX all-in-one
High Degree of Customisation
Popular Related Article: Incredible DAWs You Need To Try
4. LePou Plugins (Best Free Guitar VST Plugin)

| | |
| --- | --- |
| Estimated Price | Free |
| Versions | VST/AU |
| Free Version Available | Yes |
| OS Compatibility | Windows and MacOS |
My Review: Ah good old LePou, this plugin pack was the starting point for many an amateur like myself all the way back to 2009-10 when they first surfaced. I owe many an insight into this great sounding free plugin pack and including it on this list seemed like a no brainer. A lot of the first generation of guitar players dabbling with FX and processing on computers used LePou, and while the original website is no longer functional, these plugins are available on vst4free.com. Let's take a look at the LePou Amp sim pack.
Amps and Effects Library: LePou made customized and tweaked versions of the most popular amps out there, including those from Marshall (HyBrit), Soldano (SoloC), Mesa Boogie (Lecto), and ENGL (LE456). These became quite popular in conjunction with their cab IR loader (LeCab2) to offer a free alternative to commercial amp sims that often ended up sounding as good if not better. Metal guitar players in particular really appreciate LePou for the high degree of tonal control offered.
Interface and Usability: LePou plugins might not be glamorous to look at but they are highly functional and really lean on system resources. The knobs do they should and there are no weird hiccups. In conjunction with LeCab2, you can load up to 8 impulse responses to dial in the exact tone and room required. All these plugins come with a Low-Quality switch to save even more CPU power should you need it.
Who Is It For?: Well, this one is completely free, so it should not cost you anything to try. Don't be fooled by the old-style interface or the DIY aesthetic, LePou has essentially set the standard for amp emulations since 2009. Particularly for connoisseurs of high-gain amps, LePou offers a decent alternative to even some commercial products and is definitely worth a go. If you're looking for the best free guitar VST plugin, look no further!
Notable Features:
Free
High-quality emulations of High Gain Amps
Lecab2 IR loader can load up to 8 Impulse Responses
5. STL Tones- ToneHub/AmpHub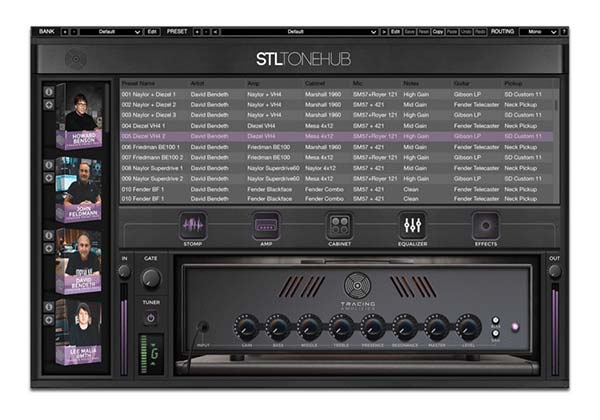 | | |
| --- | --- |
| Estimated Price | ToneHub – $200, AmpHub – 10$/month |
| Versions | VST/AU/Standalone |
| Free Version Available | No, but there is a 10-day trial |
| OS Compatibility | Windows and MacOS |
My Review: A lot of the other brands on this list will offer you emulations of popular amps or even boutique ones for that matter, but Nashville-based STL tones change up the game by offering software emulations of its custom amp models designed for extreme metal musicians. Emissary was their most recent free model after which they've designed AmpHub, which is a plugin/service that allows you to download various amp models and pedal emulations, and ToneHub, which gets you custom presets from some of the top names in hardcore/metalcore sub-genres.
Amps and Effects Library: ToneHub focuses mostly on presets, so their library and expansions all include hundreds of ready-to-use guitar signal chains, already dialed in by expert guitar players. They also include Tone packs specific to a particular amp, like a Soldano SLO100. The core library includes 60 preset tones across various amps and styles. Expansion packs include producer presets from the likes of David Bendeth (Paramore) and Andy James.
Amphub on the other hand, expands this workflow into a fully-integrated amp modeler, with a high degree of customization and the subscription service gives you access to all the amp models and stompboxes available (which is a wide selection). You can also purchase the models separately if the subscription doesn't make sense.
Interface and Usability: ToneHub is brilliantly easy to use, there's a wide range of presets available at the click of a button. And the Tracing Amplifier technology used to model the different amps also sounds great. Why wouldn't it as the makers of this tech (Ignite Amps) have been big in the guitar VST game for a long time. The Tracing tech, allows you to customize the bias and poweramp settings to suit your playstyle, and the stomp, cab, and FX customizations can tailor the preset to your unique taste. On the other side, Amphub boasts of some incredibly sophisticated amp models and the ability to really finetune amp settings to get them to where you want.
Who Is It For?: Tonehub is aimed at those players who need quick tone changes or a lot of options but may lack the know-how to get amps to work for them. It's a process that takes time but in the meantime, Tonehub helps to bridge that gap quite easily. Amphub is more geared towards the more experienced guitar player who knows his way around amps and pedals but needs a solid software alternative to work with.
Notable Features:
ToneHub is great for presets, lots of them
Quick changes and ready to use
Lots of Artist Packs
AmpHub provides more advanced usability for experienced players
Popular Related Article: Amazing Gifts For Musicians and Music Lovers
6. Joey Sturgis Tones – Toneforge Misha Mansoor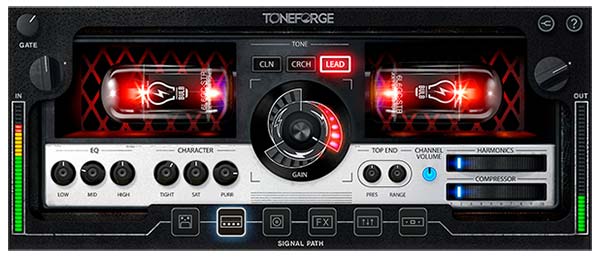 | | |
| --- | --- |
| Estimated Price | $150 |
| Versions | VST/AU/RTAS/AAX |
| Free Version Available | No |
| OS Compatibility | Windows and MacOS |
My Review: Joey Sturgis and Misha Mansoor, are two names that have garnered much popularity in the heavy/thrash/djent/progressive metal space in the last decade. Particularly known for their unique approaches when it comes to producing metal, these 2 giants have come together to bless us, guitar plebs, with the Toneforge Misha Mansoor edition. And what a plugin it is. Let's check it out.
Amps and Effects Library: The Toneforge series operates on a simple principle. Distill the essence of a guitar player's sound into one plugin, pedals, amps, and FX included. When it comes to Toneforge MM, that means a single 3-channel amp with a unique infinity gain knob that does something slightly different than just cranking the gain up. It also comes with an emulation of Misha's signature Precision Drive pedal. And his signature Cabinets in the cab room along with an external impulse loader.
Interface and Usability: The interface is really simple to use, and although you're only dealing with one Amp essentially, this particular one can be tweaked to really get any modern guitar sound if required. The main amp head section has 3 modes – CLN, CRCH and LEAD, and the cab room have 4 mic choices. There's also an FX section to get those ambient clean sounds using customized delay, chorus, and reverb pedal emulations.
Who Is It For: For any guitar player who is a fan of Periphery, Haunted Shores, Animals as Leaders, or any of the modern metal bands in the US today. At the same time, you also get a modern and polished guitar sound that can work in other situations as well. Misha is considered one of the pioneers of this sound and this plugin can do almost anything that he has managed to do with his gear.
Notable Features:
Signature Misha Mansoor/ Periphery Sound
Super modern and clear aesthetic
Unique infinity gain knob
That 'Djent' sound
7. IK Multimedia Amplitube 4/ Amplitube Custom Shop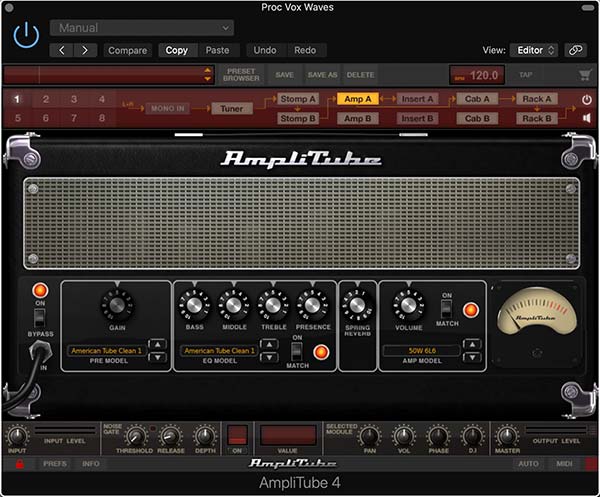 | | |
| --- | --- |
| Estimated Price | $180, with the free version, included that has a few common amps, cabinets, and FX pedals included |
| Versions | Amplitube 4 – VST/AU/RTAS/AAX/Standalone |
| Free Version Available | Yes (basic version) |
| OS Compatibility | Windows and MacOS |
My Review: This one comes from the Modena based Italian software powerhouse, IK multimedia. Started in 1996, IK specializes in making software versions of the popular studio and live equipment and was the first company to release officially licensed amp models in collaboration with Fender. Their popular amp modeler and simulator, Amplitube 4 tops most guitar VST lists, and for good reason.
Amps and Effects Library: The base version of Amplitube contains the following types of modeled gear.
10 Stompbox Models including a full suite of effects like Acoustic Sim, Chorus, Flanger, Opto Tremolo, Delay, Wah Pedal, Overdrive, Compressor, Graphic EQ, and a Volume Pedal.
9 Amplifiers including 5 Classic British Amps and a smattering of old American tube classics. Up to 10 different cabinets including 29 vintage and modern individual speaker models.
4 Microphone models namely Double Dynamic 57, Dynamic 57, Condenser 414, Condenser 87. 2 Rack Effects Units – Digital Delay & Parametric EQ, and 2 Tuners.
Customizability: Amplitube is designed to be a one-window solution to designing the entire signal chain. The top of the interface shows the entire setup in 4 different modules from the tuner, to the stomp A and B sections that can accommodate 5 pedals each, followed by the Amp section (with an FX return included) and the dedicated cab room where you can customize the room and mic placement, followed by a rack section for any other effects like digital delays or reverbs. Every module has its own individual volume, phase, and pan controls. It also includes a dedicated noise gate for the input signal. Basically, everything a guitar player would ever need all in one space.
Sound Effects Quality: The emulation in Amplitube is above-average. Most Fender amp models sound really great and so do all the British "Orange" amps. But after using it for a few days, I definitely got the feeling that the folks at IK are better at modeling classic and evergreen amps more than the high gain behemoths popular in the metal scene today. The heavier amps still tend to get a little fizzy and while it's nothing that a little processing won't fix, Amplitube definitely can do better when it comes to more modern guitar applications. That being said, if you can dial in a tone on an amp, you can do it in Amplitube as well.
Who Is It For?: Amplitube is a great start point for any guitar player trying out sim software today, the amp and cab models are HD in all the right ways, the GUI and workflow are conveniently laid in a setup familiar to most guitar players, and the presets and customization is almost infinite. The only gripe I have is the high cost of expansions. New amp model sets cost a decent bit and some might find the stock selection a bit lackluster. Even then, do not miss out on giving this old racehorse wearing fancy new clothes, a fair chance.
Notable Features:
Complete signal chain integrated into 1 plugin
GUI is user friendly
Amp selection sounds great, especially classic and low gain amps
HUGE selection of great-sounding presets
Tons of customizability
Popular Related Article: Awesome Vocal Effects Processor Pedals
8. Toontrack EZMix 2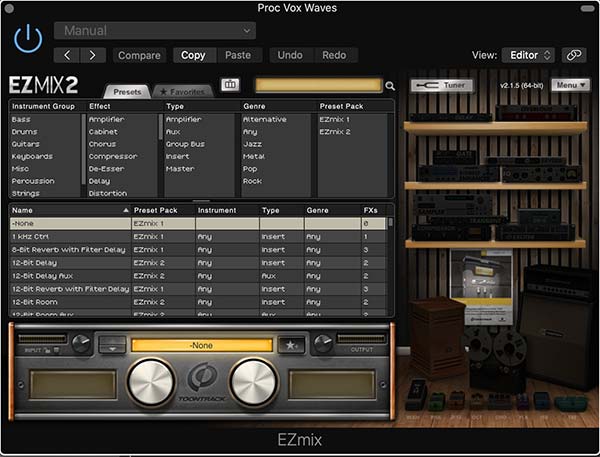 | | |
| --- | --- |
| Estimated Price | $200 |
| Versions | EZMix 2 – VST/AU/RTAS/AAX/Standalone |
| Free Version Available | No |
| OS Compatibility | Windows and MacOS |
My Review: The next entry comes from one of the leaders in drum sampling technology, Toontrack, who's EZdrummer series has taken over the audio production world. Featuring some of the best sampling and DSP technologies, their EZmix series is a multi-effect plugin focused on presets, made by some of the top names in the recording industry. EZmix amp presets are some of the most musical, and quick to use amp tones I've heard in quite a while.
Amps and Effects Library: EZMix 2 is much more than a guitar amp sim, in fact, you'll find presets for vocal processing, drums, buss processing, and even mastering. All of which are plug-and-play with only 2 tweakable parameters. In the case of the guitar presets there's a healthy selection of both vintage and modern sounds across the musical spectrum. Although I do recommend purchasing at least one of the dedicated amp expansions to maximize your choices.
Interface and Usability: The interface is a breeze to use, preset window up-top, 2 knobs at the bottom. Just select, tweak, and go. Great for beginners who just want to play, or musicians who need to bust out a quick demo before rehearsal. EZmix also works as a standalone plugin and even includes a tuner (wonder who that is for) so users don't need to fiddle around with other software.
Who Is It For?: Toontrack essentially wants you to forget the question "What does this knob do?" with EZmix 2. The 40-odd guitar presets sound great off the bat, and there are a ton of expansion packs available to suit your tastes. While not the best amp emulation out there, it is more than enough to get the job done. And it is definitely quite EZ to use.
Notable Features:
Over 40 Ready-to-use guitar presets
Large selection of effects
Does a lot more than your usual Amp Sim
9. Logic Pro X – Amp/Pedalboard Designer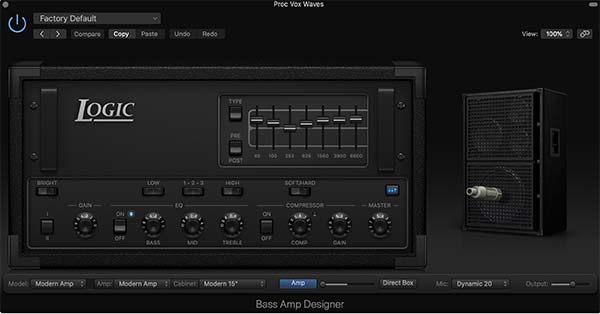 | | |
| --- | --- |
| Estimated Price | $199 – Logic Pro X, Free – Garageband |
| Versions | Garageband – Free, Logic Pro X – 199 USD |
| Free Version Available | Garageband |
| OS Compatibility | MacOS only |
My Review: Why did I include a stock plugin on this list? Good Question, because it happens to be one of the best in the business. If you're a Mac user, overlooking Logic/Garageband's built-in guitar sounds is a big mistake.
Amps and Effects Library: Between the different Guitar and Bass amps available, Logic Pro boasts of over 150 presets, which is more than enough for most musicians. The amp models are of high quality and the built-in pedalboard plugin has most of the usual OD and effects pedals and even some boutique ones.
Interface and Usability: Amp designer is a brilliantly simple plugin to use, even if it's not loaded with too many features. Whenever you load a preset patch, it shows up as a channel strip/track with all the requisite routing, compressors, reverbs, and delays to make it shine. Logic's amp sounds are highly authentic and I know many a studio musician who's pulled off a last-minute session using them.
Who Is It For?: For anyone already invested in the Apple ecosystem, it's a better place to start than anywhere else. Moreover, for 200 USD you get a fully functioning DAW with all the bells and whistles, not to mention, over 75gb of ready-to-use sounds. Garageband uses the same DSP tech, except that it's totally free. You can also use these sounds on the iPad app as well. Good deal if you ask me.
Notable Features:
Garageband is free with any Mac
Studio-grade emulation in Logic Pro X
Great variety of amps and effects
10. Revalver 4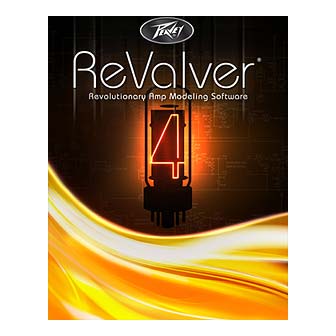 | | |
| --- | --- |
| Estimated Price | Free, Producer Pack Upgrade -$99 |
| Versions | VST/AU/AAX/Standalone |
| Free Version Available | Yes, Producer Pack Upgrade – USD 99 |
| OS Compatibility | Windows and MacOS |
My Review: Peavey is one of the older amp builders in the business and boasts of some widely used amps such as the 5150, 6505+ among others. And they've also been making guitar amp emulation software for a long time. Revalver has actually been around since before 2009. The latest version 4.0 launched in 2017 provides a precursor to many features found in other plugins much later. So as the guys who did it first, Revalver deserves a special mention on this list.
Amps and Effects Library: Revalver 4 is free to use, with amp models being sold as separate reasonably priced packs. In fact, most expansions won't cost you more than a few bucks. The stock sound set is obviously quite lacking as it just has one amp, a couple of effects, and a few cabinet responses.
Interface and Usability: Revalver's emulation was considered best-in-class during its heyday and even in 2020, the software more than holds up against the competition. While the included IRs don't sound that great, the amp emulation is really top-notch. Revalver was also one of the first plugins to offer customization on the schematic level, which is still there in all its glory. The ability to tweak any parameter within the amp can be easily done in Revalver. The GUI itself, however, doesn't work quite well on HD screens so be prepared to strain your eyes a bit.
Who Is It For?: Revalver from Peavey offers many advanced features at a fraction of the price of most other software solutions. The schematic level editing is great for folks who like to extensively tweak their sounds. The amp models sound great for the most part and other features like the GIG mode and much-touted Amp Cloning Technology (similar to Positive Grid's Amp Match and Guitar Match) make Revalver a strong contender in this race.
Notable Features:
Reasonably Priced
Schematic level editing of Amps and other components
Faithful emulations of Peavey Amps
Decent workflow
11. Line 6 Helix (Native)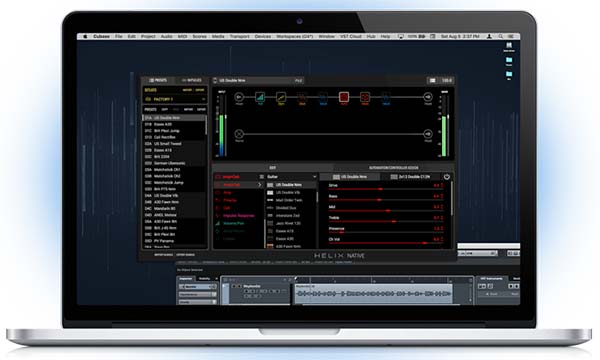 | | |
| --- | --- |
| Estimated Price | $200 |
| Versions | VST/AU/RTAS/AAX |
| Free Version Available | No |
| OS Compatibility | Windows and MacOS |
My Review: Line 6's original guitar processor, the Pod "Bean" and the accompanying plugin POD farm became the de-facto standard for many a bedroom guitar player back in the day. Their latest flagship processor titled 'Helix' blurs the line between analog and digital with its hyper-accurate component modeling and superior processing power. But if you don't want to shell out for expensive hardware, they do offer the same capable processing but in a much healthier plugin format. Enter Helix Native.
Amps and Effects Library: Line 6 boasts of 60+ amps, 30+ cabinets, and over 100 effects models on the Helix. Add to that the hyper-realistic HX modeling means the Helix comes out swinging through the gate. The plugin is also marketed to sound designers, composers, and producers meaning this plugin can end up being a lot more versatile than is usually the case.
Interface and Usability: The Helix interface is an ominous reminder of just how powerful the DSP behind this plugin really is. While most components are where they need to be, a peek behind a few of the options reveals just how much is really possible with Helix. Almost every tone imaginable on the planet can be replicated with decent accuracy. The multitude of effects onboard can seem intimidating at first but becomes second nature the more you get used to it.
Who Is It For?: If you're a beginner, then throwing yourself down this rabbit hole may not be the best option. There's a lot to uncover with Line 6 Helix and the plugin with its multiple signal paths, myriad of routing options, and more will definitely be discouraged. But for users of POD farm or for people who are used to complicated guitar and DAW workings, it is a great tool to achieve almost any sound on your guitar.
Notable Features:
Powerful DSP and routing options
High-quality component modeling
Advanced routing and patch construction
Tons of effects
12. Scuffham S-Gear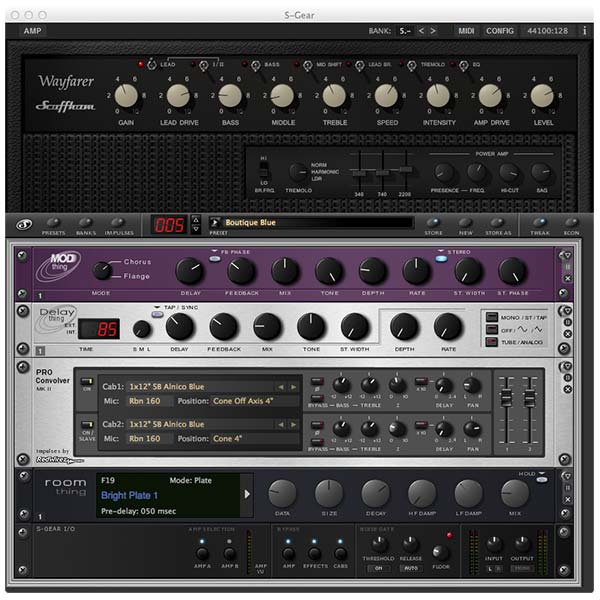 | | |
| --- | --- |
| Estimated Price | $130 |
| Versions | VST/AU/AAX |
| Free Version Available | 10-day trial for Full version |
| OS Compatibility | Windows and MacOS |
My Review: Scuffham Amps was founded in 2011, by former Marshall designer Mike Scuffham, with an intention to bring the sound of vintage amps into the digital domain. Their Amp modeler, S-Gear, definitely was a huge step in that direction when it launched that same year. S-gear offered models of boutique and vintage amps in an easy to use and intuitive interface and is still considered one of the best products out there when it comes to replicating vintage amps.
Amps and Effects Library: S-gear comes with 5 main amps, all modeled after famous vintage amps like the Fender Bassman, but most of them have channels that are a combination of 1-2 types of amps and not complete copies. The amp models are super dynamic, as is often required in styles like Blues, R&R, and Bebop. S-gear also features a large variety of cabinets and microphones.
Interface and Usability: S-Gear is all about the amps. The emulation at varying degrees of gain was astonishing. To think that such accurate modeling was available as early as 2011 is quite a revelation. Simply flicking the volume knob on the guitar completely changed the tonality, something that is expected of most modern guitar emulations. And, while it doesn't feature any kind of stompboxes or pre-FX, there are some high-quality post-FX like reverbs available. The interface itself is similar to Guitar Rig (as in a rack-mounted setup) but is a little less finicky.
Who Is It For?: S-gear is a great plugin at the great price if you're primarily into blues or jazz, and appreciate the guitar sounds from the 50s to the 70s. Anything beyond that (read high gain) is probably not its cup of tea but you could get it to work given the high-quality modeling under the hood.
Notable Features:
Reasonably priced
High-quality AMP and CAB simulation
13. Blue Cat Destructor/Axiom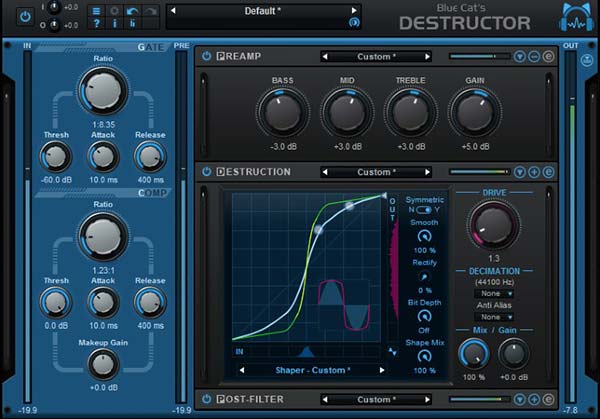 | | |
| --- | --- |
| Estimated Price | $200 |
| Versions | VST/AU/AAX/Standalone |
| Free Version Available | No, but check out FREEAmp from Blue Cat |
My Review: The next plugin follows a slightly different approach to guitar amp sims. Some beginner guitar players might be unaware, but distortion is not an effect exclusive to the guitar. In fact, it produces unique and musical results on synths, and drums/percussion. Saturation, a much milder distortion effect is routinely applied to vocals as well. This modular approach to tone shaping was adopted for French company Blue Cat's renowned Destructor amp plugin. And Destructor forms the heart of their latest guitar amp modeler, Axiom.
Amps and Effects Library: Axiom boasts of some wild tone shaping abilities. With over 40 amps and 44 effects to choose from, Destructor allows you to customize and shape any amp model however you want. There is deep integration with Blue cats Re-guitar plugin for effects and amazing delays with their Late Replies module. The possibilities seem endless.
Interface and Usability: The interface differs slightly from most guitar sims, as the workflow is skewed towards effects and tone manipulation. There are 2 parallel amp simulation channels with 12 pre and post-FX that can be blended seamlessly to create custom tones. You can even integrate external VST plugins into Axiom's FX chains to really tailor your sound. Axiom even includes a built-in drum machine! All of this functionality still doesn't make Axiom super heavy on the CPU as idle signals generate no CPU overhead.
Who Is It For?: This is not your average guitar plugin, Axiom offers a lot more tonal possibilities for folks who like to tinker with their guitar sounds. The huge bundle of presets included serve as a great starting point for beginners, but the real power in Axiom is the ability to accurately generate any guitar sound on the planet. The multitude of synthesis features makes Axiom one of the most capable Amp sims on this list.
Notable Features:
Legendary Blue Cat Quality
Highly customizable Destructor plugin
Ability to load third party effects into Axiom
Focus on Tone Shaping and Tweaking
14. Softube Amp Room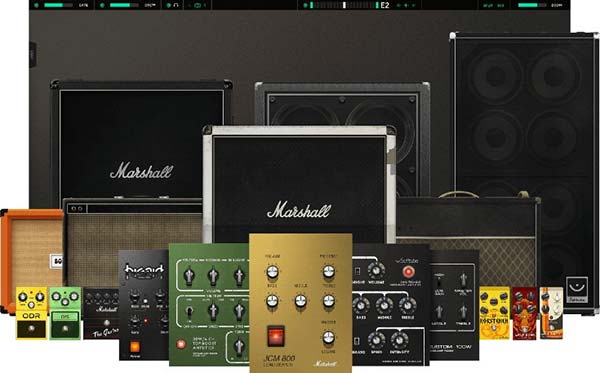 | | |
| --- | --- |
| Estimated Price | $150 |
| Versions | VST/AU/AAX/RTAS |
| Free Version Available | No, Trial available |
| OS Compatibility | Windows and MacOS |
My Review: Softube, the Swedish makers of some of the world's most renowned DSP software, continue to enjoy high support among audio equipment manufacturers like Marshall, due to their history of carefully component modeled plugins. Their newly revamped Amp Room suite, brings to the table some officially modeled Marshall amps and a lot more vintage goodness.
Amps and Effects Library: The stock sounds in Amp room, feature 6 highly detailed Amp models, including the famous JCM 800, 16 cabinets with multiple microphone options, up to 3 post-FX models like delay and reverb, and more than 250 presets representing the most famous sounds from the 1950s onward. A lot of official expansion packs are also on the cards featuring official Amp models from other manufacturers.
Interface and Usability: Amp Room, with its beautiful GUI is designed to give the luxury studio feel right on your screen. The ability to audition various Amps and Cabs is quick and easy, and placing microphones to tailor your sound is conveniently placed. The FX suite also features some high-quality amp models from Softube, and some of their popular EQ and compression plugins like the American Class-A are already built-in. I really liked the dedicated headphones mode, which adds subtle stereo room effects to make working on headphones less clinical-sounding.
Who Is It For?: For existing users of Vintage Amp Room, this upgrade is a no-brainer as the newer interface and models are a great improvement over the last generation. However, the stock amp selection may not be for everyone, especially players of modern genres. But if you're looking for licensed emulations of some great vintage gear, look no further than Softube's Amp Room. While this isn't my topic choice on this list, it's still one of the best guitar VST plugins available.
Notable Features:
Licensed emulations of vintage Marshall amps
Renowned Softube quality
Dedicated headphones mode
Choosing the Right Guitar Plugin (Buying Guide)
This section is for those of you who want to learn more about guitar plugins before reading reviews.
What Exactly Is a Guitar Plugin / Amp Simulator?
A guitar plugin or amp simulator is designed to mimic or emulate the circuitry of a traditional guitar amp. By modeling the component layout or schematic inside software, the amp is then able to 'behave' just like a guitar amp. Most guitar sims are modeled after popular amps from the 50s all the way to the 90s.
Amps like the Fender Bassman, Tweedman, Marshall JCM800/900, to more recent amps like the Peavey 5150 or 6505+ have been modeled to perfection in modern times. Every component like the tube or poweramp is carefully modeled in software so that it behaves just like the real thing.
Apart from Amp Models, you will also find modeled stompboxes such as the famous Ibanez TS-808 tube screamer pedal, various delays and reverbs, and even some boutique gear that is rare to find. The newer amp simulators are so detailed in their modeling, down to every single vacuum tube in an amp sometimes, that most folks are no longer able to hear the difference between the VSTs and the real thing.
More modern interpretations of amp sims, forego all the amp model stuff and focus completely on sounds and presets. STL tones and EZmix are great examples of plugins that offer ready to play tones, with only simplified tweaks needed to essential parameters like gain, or drive. Makes sense as not all guitar players have access or experience with amps and may not know how to get the sounds they want. Amp Simulators come in most major plugin formats, like VST, AU, AAX, and more.
What Can Guitar Plugins Do For Your Sound?
Guitar sims can be designed to accommodate the entire signal all the way from a tuner pedal, to a pedal rig, amp, poweramp, cabinet, and even post-FX rack-mounted units like delays, choruses, and reverbs. This allows guitar players to fine-tune every aspect of the signal chain however they want. Most amp sims want to give you a replicated feel of being in a studio with gear, and amp models looking similar to their real-world counterparts.
With these plugins, you'll also find options to run a stereo rig, or 2 separate rigs in mono, to fatten up the sound of the guitar. Many plugins offer a ton of routing options within the plugin so you can route the signal whichever way you choose.
There are also some plugins that take a more synthesis-based approach to guitar tones, like Blue Cat Audio's Destructor plugin or Voxengo's Boogex (free) for those who are into synthesis and other tone-shaping ideas not conventional in the guitar world.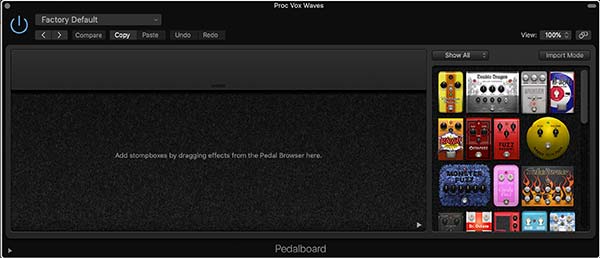 Convolvers: How Guitar VST Plugins Recreate Legendary Cabinets
The process by which amp sims emulate cabinet speakers or the room in which they are played is called Convolution. It is an essential DSP (Digital Signal Processing) technique used to replicate the reverb or ambiance of a particular place (caves, cathedrals, clubs, etc).
IRs, or impulse responses, are essentially sonic signatures of a particular amp, set up with a specific microphone in a specified room. This IR is combined with your amped guitar sound using convolution to generate the final guitar tone as if you're playing through that same amp/mic/room combo. Modern innovations like dynamic convolution also help to provide a more dynamic response to your playing, making the software feel more 'dynamic like a real amp'.
Most paid guitar sim products will come with their own cabinet IRs, and emulations of popular studio rooms, and high-end microphones. However, a lot of folks have made their own custom IRs of boutique and rare gear that can be loaded into IR loaders like Boogex, Ignite Amps NadIR, which are free to use.
How To Use Guitar VST Plugins?
Most guitar plugins will require you to use a DAW, and for most recording applications that work well. But lately, many plugins also offer a standalone version that works straight from the desktop without the need for a DAW host. Most of the major players like Amplitube 4, Guitar Rig, S-gear offer this feature but double-check whether your next investment offers such an option on their website.
Wrap Up:
As you can see, there is a multitude of options both new and old, when it comes to guitar sims. As more innovation takes place, the realism and features offered by most major players continue to improve. Even die-hard analog purists at this point have foregone the debate about the authenticity of the sounds of modern plugins. While not every plugin has every feature, most of the essential sounds can be crafted from both the free and paid options listed above with impressive results. Hope you enjoy your time exploring these sims and find a worthy fit for your digital guitar rig.
If you're looking for the best guitar VST plugins, look no further! Over the years I have tested dozens of them, and in this article, I share my favorite free and paid ones.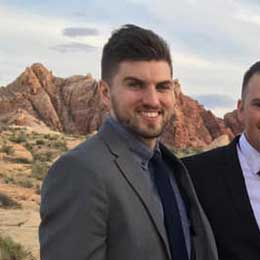 My name is Chris and I've had a passion for music and guitars for as long as I can remember. I started this website with some of my friends who are musicians, music teachers, gear heads, and music enthusiasts so we could provide high-quality guitar and music-related content.
I've been playing guitar since I was 13 years old and am an avid collector. Amps, pedals, guitars, bass, drums, microphones, studio, and recording gear, I love it all.
I was born and raised in Western Pennsylvania. My background is in Electrical Engineering, earning a Bachelor's degree from Youngstown State University. With my engineering experience, I've developed as a designer of guitar amplifiers and effects. A true passion of mine, I've designed, built, and repaired a wide range of guitar amps and electronics. Here at the Guitar Lobby, our aim is to share our passion for Music and gear with the rest of the music community.