Learning to play an instrument is an extremely beneficial learning experience for kids. Think about all the toys and activities over the years that kids pick up briefly and move on from, where a musical instrument has the chance to last a lifetime. Choosing which guitar to buy can be overwhelming with so many options available, so in this article, I'll be showing you the best guitar for kids at each price point.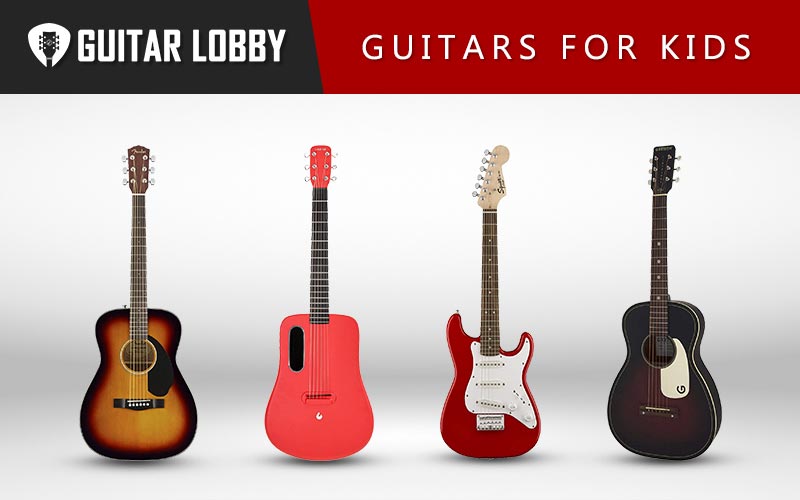 Because there are so many parameters for kids' ages, abilities, and musical interests all I can really do is show you some great guitars at different price points. If you're unsure of exactly what to look for, or if you should choose an electric or acoustic guitar, I recommend checking out our guide on choosing a guitar for kids at the bottom of the page here.
Here Are the Best Guitars for Kids (Acoustic and Electric)
1. Epiphone Les Paul SL Starter Pack (Best Overall Electric)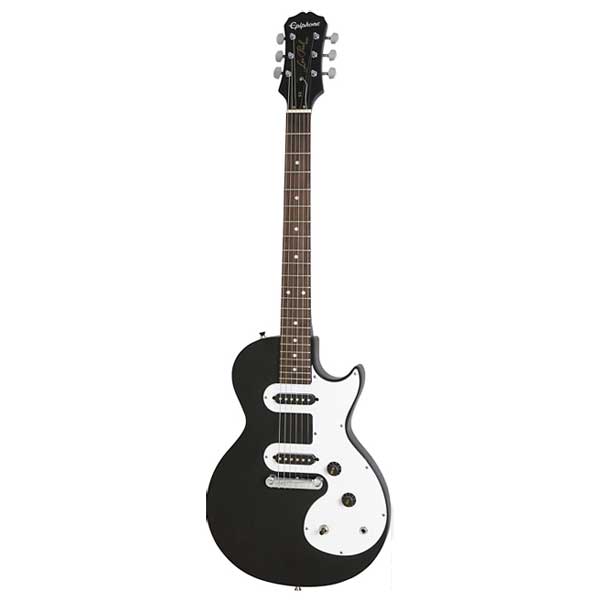 | | |
| --- | --- |
| Estimated Price | $200 |
| Weight | 16 lbs. |
| Length | 50 inches |
| Guitar Style | 3/4 electric |
| Top | Alder |
| Back and Sides | Alder |
| Neck and Fretboard | Maple and carbon |
| Finish | Sunset Yellow |
| String Material | Steel and nickel |
| Pickup | Single coil |
My Review: While this is a little on the heavy side it is still a great buy for a first-time guitarist looking to play an electric. Of course, this is a mini copy of the famous Les Paul. It's is a little heavier, but otherwise, the guitar and all the added extras are perfect to get a new player moving right along. You can also find other similar Epiphone models in the same price range if you don't like this one.
This Epiphone model has plenty of reviews by adult players so it is right on that borderline of a guitar for kids. This may be a good thing for that aspiring player who will likely take to music, with a model like this they may not have to upgrade as soon. And like other instruments of this price range, even the best places make the occasional bad instrument, so as long as you check yours thoroughly it should be fine.
Key Features: Besides the mostly alder and maple wood this guitar uses two single-coil pickups and comes with every accessory you need. It has a gig bag, strap, tuner, mini battery operated amp, cord, and extra picks.
Who Will Use This the Most: If your child loves electric guitars, but not the Fender or Ibanez styles, they may love this model. But most kids who want an electric will be happy with any of the three.
Bottom Line: If it fits your budget and the design is appealing then it is a great first guitar. Comes with a great bundle too to get you started.
2. Martin LX1 (Best Overall Acoustic)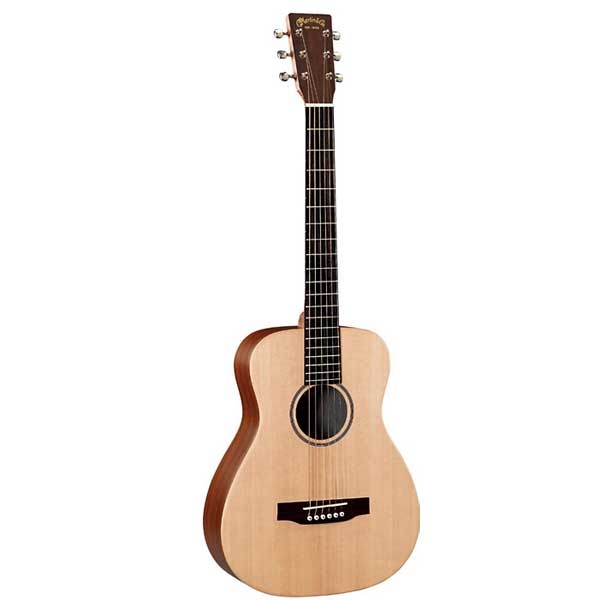 | | |
| --- | --- |
| Estimated Price | $350 |
| Weight | 7 lbs. |
| Length | 45 inches |
| Guitar Style | Acoustic concert |
| Top | Solid Sitka spruce |
| Back and Sides | Mahogany |
| Neck and Fretboard | Birch and richlite |
| Finish | Unfinished partial hand-rubbed |
| String Material | Phosphor Bronze |
| Country of Origin | Mexico |
My Review: You'll find Martin on almost every best guitar list as they have quite the history. For over a century they have made incredible acoustic guitars. And make no mistake these aren't often first time buys, usually you wait to see if a student does well, and then you give them a Martin! But if you have the budget, this is a wonderful beginner guitar to start on.
The LX1 is their smallest model but similar in price to the backpack model and the traveler. Even if you are not a child and just want a small size guitar, this Martin will be perfect! It's not easy to find solid top guitars at low prices. If you can afford it this model is the best value. Its superior craftsmanship gives it actual resale value.
Key Features: While the sides are laminate mahogany that top is solid spruce so you know it will have a better tone. It also comes with a gig bag but with a guitar like this, you need a real case. Martin guitars are very simple with no bells and whistles, just quality craftsmanship.
Who Will Use This the Most: This a great first-time guitar, for travel, and for easier practice. Just keep in mind that a very nice instrument like this needs more care than other cheap laminate tops.
Bottom Line: If you can afford a Martin guitar, do it. Overall, I'd say that this is the best acoustic guitar for kids.
3. Squire Fender Mini Stratocaster Beginner (Best Value Electric)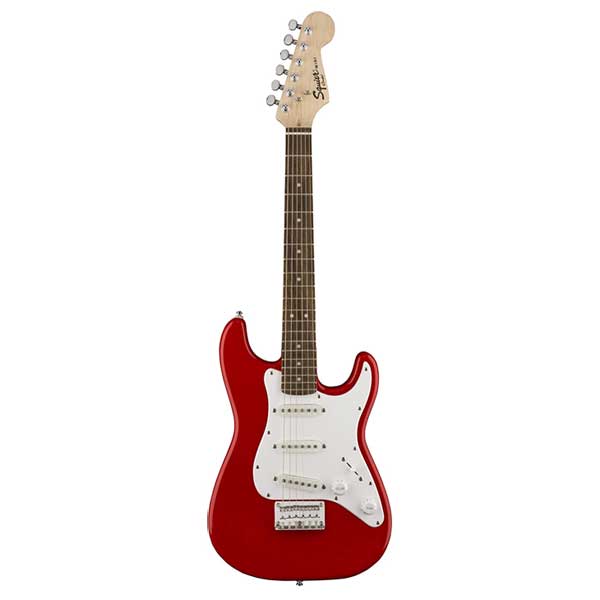 | | |
| --- | --- |
| Estimated Price | $180 |
| Weight | 3.3 lbs. |
| Length | 44 inches |
| Guitar Style | 3/4 size electric |
| Top | Poplar |
| Back and Sides | Poplar |
| Neck and Fretboard | Laurel |
| Finish | Satin and Various Colors |
| String Material | Nickel Steel |
| Pickup | Three single-coil |
My Review: Fender is one of the top names in the business and while they have lost a little quality over the years they are still great guitars. Of course, these junior-sized beginning Squires are mass-produced, but as long as you check your intonation and action you will likely get a great kids guitar. And that Stratocaster look suits many genres if you aren't sure what kind of electric guitar to get.
If your child doesn't like the Strat look or they want a different style or pickup there are many other Fender student models to choose from. They have a telecaster, mustang, jazz master, and a variety of Strat variations. All with different specs and sounds. If you want to stick with a reliable company go to Fender and find the exact guitar for your kid. And usually the better model you buy the more likely it will have resale value, which many cheap instruments don't.
Key Features: With the vintage style C shaped neck, hardtail bridge, and single-coil pickups this Strat has similar features as a regular adult model. And like all Fender guitars, it comes with their online learning platform Fender Play.
Who Will Use This the Most: Young students who want the classic electric guitar look. It comes in multiple colors and will get a student used to playing a Fender. So they can easily switch to something bigger and better in the future. Most early and mid-teen ages should be fine with this model.
Bottom Line: This is the best electric guitar for kids in terms of overall value.
Popular Related Article: The 17 Best Guitars for Small Hands
4. Fender CC-60S Acoustic (Best Value Acoustic)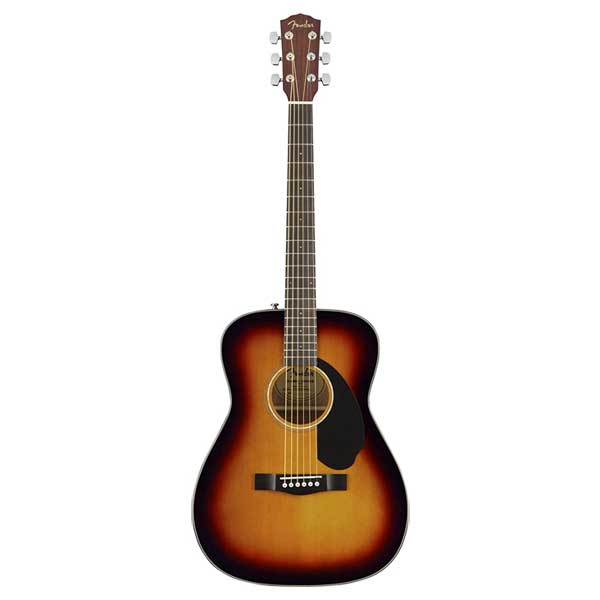 | | |
| --- | --- |
| Estimated Price | $200 |
| Weight | 6.6 lbs. |
| Length | 45 inches |
| Guitar Style | Acoustic concert size |
| Top | Mahogany and solid spruce |
| Back and Sides | Mahogany and spruce |
| Neck and Fretboard | Mahogany and walnut |
| Finish | Sunburst |
| String Material | Bronze |
| Country of Origin | USA/China |
My Review: This Fender is a concert size acoustic with a select solid spruce top, which means the sound should be pretty good with lots of sustain. This guitar can be fingerpicked or strummed with a regular plectrum depending on the style of play. And the small neck will help tinier hands stretch across all 6 strings. This guitar is definitely geared to a teenager as it is the perfect size for most.
As usual, Fender has a great reputation, but these guitars are stamped out of a factory line so they need to be checked thoroughly. But once they show they have good action and intonation you can be sure they are perfect for a young budding guitarist. Don't forget a case with some protective abilities will be necessary for a guitar like this.
Key Features: A basic looking concert guitar with sunburst and solid spruce. No cases are included in this purchase but Fender sells a huge array of accessories and lessons. That is the key feature with sticking with a big company, you have a lot of choices and backup.
Who Will Use This the Most: For the kid that wants a simple songwriting style acoustic guitar to play, this is a perfect buy.
Bottom Line: Great value here for a quality brand name acoustic guitar. Concert size perfect for kids.
5. Lava Me 2 Electric (Editor's Choice)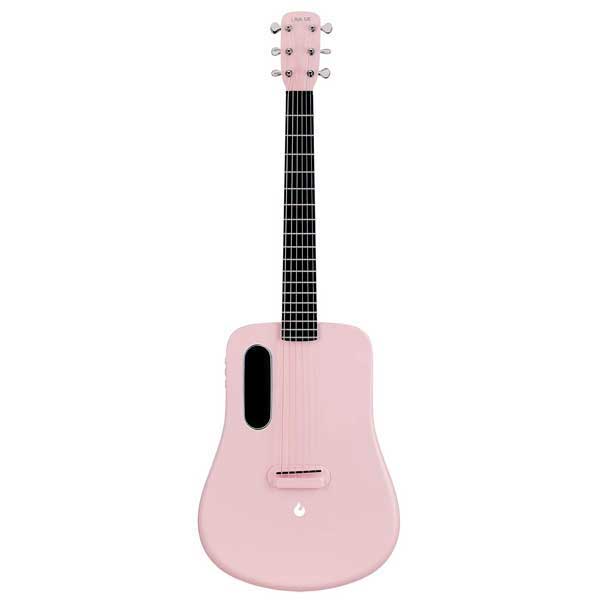 | | |
| --- | --- |
| Estimated Price | $800 |
| Weight | 12 lbs. |
| Length | 37 inches |
| Guitar Style | 3/4 carbon fiber acoustic electric |
| Top | Carbon fiber |
| Back and Sides | Carbon fiber |
| Neck and Fretboard | Carbon fiber |
| Finish | Various colors |
| String Material | L2 pickup system |
| Country of Origin | USA/China |
My Review: If you have the budget you must check out these new styles of guitars. Everything about them is different from their designs to the building materials. It looks odd, but if you listen it sounds ok! And you can play using effects that are already built into the guitar. Despite all the other odd features they did keep the neck nice and slim for easy playing. It's a similar idea to Loog, except here they are incredibly costly!
This guitar is meant to withstand crazy extremes and temps, so it should likely be pretty resilient for a young player. However not only do they have to learn a new instrument like guitar they will have to figure out this weird item. There is no doubt it has many more great features and interesting points but at the end of the day the novelty may be too expensive for some. It sure would be fun to at least get a chance to play it!
Key Features: A mostly carbon fiber body made of space-age materials and with tech that allows you to play with effects without plugging it in. Many of the features are far too advanced for a child.
Who Will Use This the Most: People with high budgets that want something truly unique for their children to play.
Bottom Line: If you can afford it and like something quirky but practical, this is awesome! It's a little on the heavy side but the size is still mini which is ideal for young students. If you're looking for the best beginner guitar for kids this is a great option, and there are a ton of colors to choose from.
Related Article: Recommended Acoustic Electric Guitars Under $500
6. Mitchell TD100 (Best Budget Electric)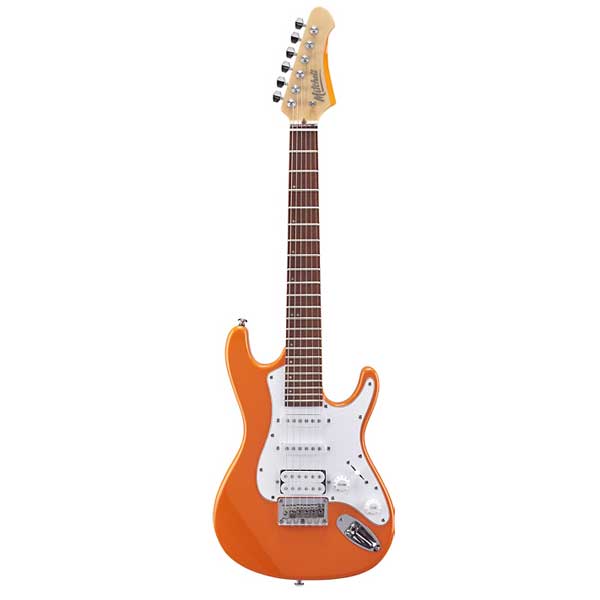 | | |
| --- | --- |
| Estimated Price | $130 |
| Weight | 4 lbs. |
| Length | 40 inches |
| Guitar Style | 3/4 double cutaway electric |
| Top | Poplar |
| Back and Sides | Poplar |
| Neck and Fretboard | Maple |
| Finish | Orange or powder blue |
| String Material | Steel |
| Pickup | 2 single coil and 1 humbucker |
My Review: Yes this guitar has both single-coil and humbucker pickups, a low budget way to really immerse your kid in an electric guitar! Like many other cheap models, these are mass-produced as entry-level instruments. Assuming the intonation and action are ok then you shouldn't have any problems.
You also have to make sure the electronics are not sounding scratchy as the soldering can be a little poor on these cheap models. If you are buying this as a gift I would spend a tad more and get another major brand as the recipient may not know what problems to keep an eye out for! And the options are only orange or blue so they have limited choices.
Key Features: It has the double-cutaway for playing higher up the frets and of course the variety of pickups. It also has a slim taper neck and hardtail bridge. For the price, it has quite a lot added to it. It is similar in features to other 3/4 electrics on the list.
Who Will Use This the Most: There are some Fenders and Epiphones near this price range but these Mitchells seem to be suitable super low budget guitars. Perhaps some will prefer the Mitchell look.
Bottom Line: Great low cost budget pick for your child's first electric guitar.
7. Yamaha JR1 Acoustic (Budget Pick Acoustic)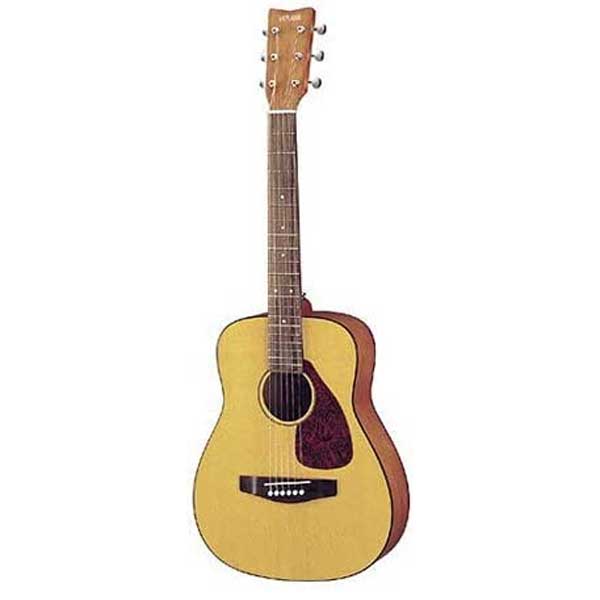 | | |
| --- | --- |
| Estimated Price | $150 |
| Weight | 5 lbs. |
| Length | 40 inches |
| Guitar Style | 3/4 acoustic |
| Top | Spruce |
| Back and Sides | Mahogany |
| Neck and Fretboard | Nato |
| Finish | Various |
| String Material | Bronze |
| Country of Origin | Japan/USA |
My Review: This particular acoustic Yamaha comes in a few smaller sizes; this one is 3/4. You can't go wrong with a Yamaha as a first instrument so this guitar should be a great buy. As usual, thoroughly check the action and intonation when you get it, but other than that it should play fine. Normally at this low of a price, we would expect some problems but they have figured out how to make it affordable and great sounding.
The different sizes also come in a few colors and finishes in case this model looks too bland. For being such a low-cost guitar these have good sound and projection. Not only are they best buys for kids they also make an excellent travel or camping guitar. This guitar belongs at the top of the list because it simply has hundreds of great reviews. And many other models at the same low price are often terrible.
Key Features: With a hardtail bridge and spruce top this Yamaha is very basic looking, it also comes with a gig bag and clip-on tuner. They put more time into a quality build compared to a fancy looking instrument!
Who Will Use This the Most: For those teens looking to get into guitar and have their heart set on an acoustic this JR1 will be the one to buy. Especially for the kids who are looking to write their own songs.
Bottom Line: A tried and true model and company. If you don't like this Yamaha style there are plenty more to choose from!
Related Article: The 17 Best Acoustic Guitars Under 500 Dollars
8. Yamaha CGS Half-Size (Best Classical)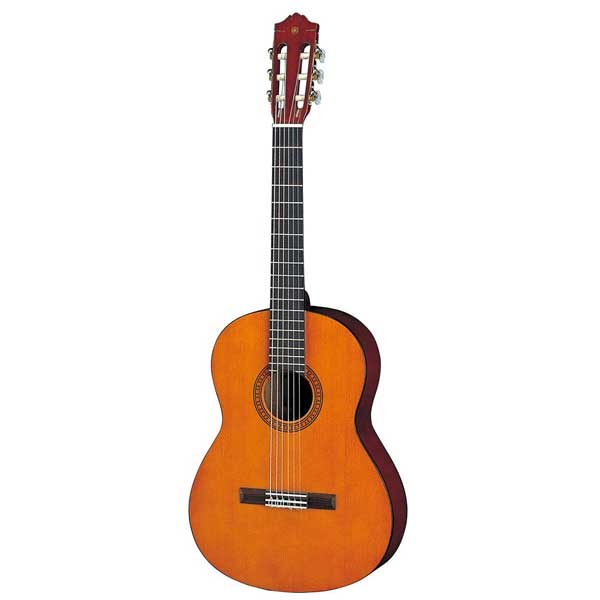 | | |
| --- | --- |
| Estimated Price | $130 |
| Weight | 4 lbs. |
| Length | 37 inches |
| Guitar Style | 1/2 size classical acoustic |
| Top | Spruce |
| Back and Sides | Meranti |
| Neck and Fretboard | Nato and rosewood |
| Finish | Natural |
| String Material | Nylon |
| Country of Origin | Japan/USA |
My Review: Yamaha has a great reputation for student instruments and this is the cheapest guitar on the list. Because it is a half size and classical it requires fewer materials and time, despite the price it is a decent sounding guitar. With its nylon strings, it will be a lot more forgiving on the fingers of new players.
Of course, if your child wants to play hard rock or metal this will be a bad choice. But if they aren't sure and just want to try a guitar to see how they like it; this cheap Yamaha is a great buy. It is nothing spectacular looking but it will sound good and let you know whether your kid should advance to a steel string or better model. These also are great instruments to take camping or traveling for those times where you don't want to worry about something pricey.
Key Features: The spruce top and meranti sides are nothing special yet they still produce a quality tone. It has a hightail bridge but otherwise, it is a basic classical guitar. It also comes in 3/4 size for those who find the half-size to be a little too small.
Who Will Use This the Most: While this may be geared towards students who want to play classical music it is actually a suitable first-time guitar for many tweens and younger teens. Those with the most sensitive fingers will like this the best.
Bottom Line: These small classical guitars can be a real blast to play, you don't have to play classic, try folk, flamenco, and maybe even some funk!
9. Loog Pro Electric Mini Guitar (Best Electric for Young Children)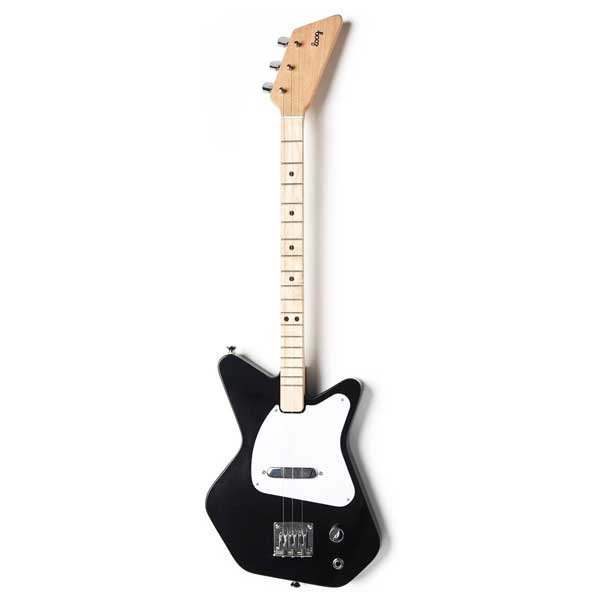 | | |
| --- | --- |
| Estimated Price | $200 |
| Weight | 3.5 lbs. |
| Length | 29 inches |
| Guitar Style | Electric mini |
| Top | Basswood |
| Back and Sides | Basswood |
| Neck and Fretboard | Maple |
| Finish | Various colors |
| String Material | Steel |
| Pickup | Combination |
My Review: As mentioned the Loog guitars are quite popular and sell out very fast. According to the Loog website, they are going to release a new electric in September 2020. So you may want to hold off on the Pro electric here. Either way, it is similar to the acoustic In that they are a miniaturized three-string version of a regular electric. These are more suited for age 8 compared to the Loog acoustics.
Despite it being so tiny it boasts great intonation and low action, which are essential regardless of the player's age. They really want young kids to learn the guitar, even with just three strings and knowing major and minor chords your child will have a pretty easy switch over to a larger 6 string guitar in the future. There are more than just two Loog models available, the others are worth checking out.
Key Features: Slender basswood neck with only three steel strings so small fingers can easily access and press them down. They have plenty of accessories like special strings, the amp to plug the guitar into, and multiple teaching methods including apps and flashcards.
Who Will Use This the Most: Perfect for kids under the age of 10, especially those still not big enough to hold a junior-sized classic guitar. And it is common for the adults who buy these too often end up playing them also, they are simply that fun to play.
Bottom Line: If your kid is too small for a regular parlor guitar and you don't want to try ukulele, then give one of the Loog models a shot.
Popular Article: 17 Best Acoustic Guitars for Beginners
10. Loog Acoustic Mini (Best Acoustic for Young Children)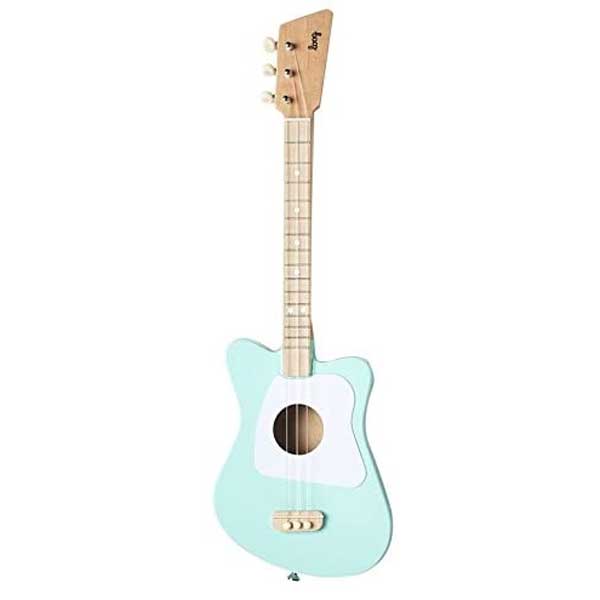 | | |
| --- | --- |
| Estimated Price | $80 |
| Weight | 15 oz |
| Length | 22 inches |
| Guitar Style | Acoustic Mini |
| Top | Basswood |
| Back and Sides | Basswood |
| Neck and Fretboard | Maple |
| Finish | Various Colors |
| String Material | Nylon |
| Pickup | USA |
My Review: Loog is a guitar company that had a successful Kickstarter campaign and they have been growing ever since. These are mini guitars with only three strings, allowing kids to play easy major or minor chords. For those parents who want the smallest size guitar possible this is likely the best pick for a young child. It is essentially like taking the three lowest strings off a regular guitar, which are the hardest and fattest strings to press down on.
It is actually pretty amazing that another company didn't capitalize on this mini guitar style. With basic wood products like basswood and maple, they are relatively affordable. Loog also makes their own special strings, which are a little expensive. They also sell special Loog amps (which most acoustic models can also be plugged into as they have a pickup included) to go along with the whole set. Due to the affordability, you may see these taking off as guitars for the youngest students.
Key Features: Loog acoustic guitars are lightweight with three nylon strings and the simple but durable construction perfect for toddler and younger child use. It also comes with flashcards, large chord diagrams, and an app to help children learn. Loog has a whole array of accessories for their guitars.
Who Will Use This the Most: Younger children who are suited to playing ukulele will do fine on this mini Loog guitar.
Bottom Line: If you have a kid that is still too small for a 3/4 or parlor size, but is motivated to pick up a guitar, these are perfect. They are very popular and sell fast so you may have to wait if they arent in stock.
11. Ibanez PN12E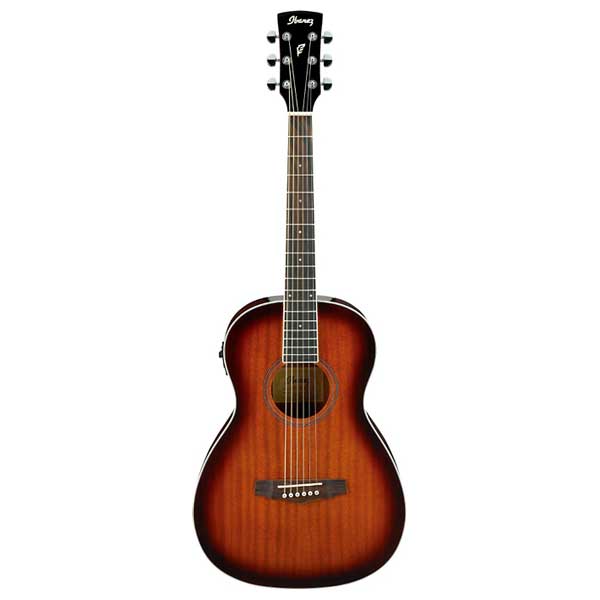 | | |
| --- | --- |
| Estimated Price | $200 |
| Weight | 5.5 lbs. |
| Length | 46 inches |
| Guitar Style | Acoustic electric parlor |
| Top | Mahogany |
| Back and Sides | Mahogany |
| Neck and Fretboard | Mahogany and rosewood |
| Finish | Gloss sunburst |
| String Material | Coated Bronze |
| Pickup | Ibanez saddle pickup |
My Review: This is another parlor guitar that may be suited for kids, but it can be just as awesome for adults. You will see many reviews from buyers who purchased for the reasons of travel or camping. For a young teenager just getting into playing the guitar a simple parlor size like this Ibanez will be perfect. The pickups aren't the best but suitable for a first-time player.
As long as the intonation and action are working great when you get your PN12E this will be a fine learning guitar. In this price range, it is common to get some flaws, of course, the cosmetic ones aren't as serious as the intonation or frets popping out. Like all the big guitar makers Ibanez has a variety of models aimed at children, teens, and first time players. If you don't happen to like this style there are many others to choose from.
Key Features: With a hightail bridge, piezo pickup in the saddle, and a vintage look this simple parlor guitar has great projection despite such a small body.
Who Will Use This the Most: For those new players that really can't decide between an acoustic or electric this is a nice compromise.
Bottom Line: It's a great little parlor guitar with a nice vintage look. If you like it aesthetically and it fits your budget, you will be a happy guitar player with this.
Related Article: Recommended Electric Guitars for Beginners
12. Jim Dandy Parlor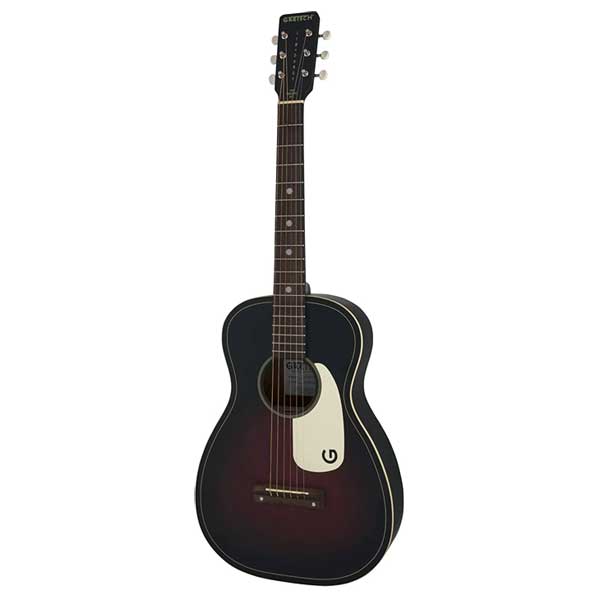 | | |
| --- | --- |
| Estimated Price | $170 |
| Weight | 2.2 lbs. |
| Length | 35 inches |
| Guitar Style | Parlor acoustic |
| Top | Agathis |
| Back and Sides | Agathis |
| Neck and Fretboard | Nato and rosewood |
| Finish | Vintage sunburst |
| String Material | Steel |
| Country of Origin | USA/Japan/Korea |
My Review: This incredible guitar called the Jim Dandy is found on many best of guitar lists, in fact, it is occasionally on backorder. It is mostly sold to adults as a parlor guitar for playing old delta blues, but it works fine with other genres as well. Gretsch has the same reputation as other guitar brand greats so it's lucky the price is so low. Despite the name on it, the Jim Dandy has a great tone like many other parlor's.
They are trying to replicate their parlor guitars of the past and they do a pretty good job of it. If you buy an old parlor off a used site you run the risk of a lemon. Here you get classic parlor sound in a modern lightweight guitar. It is perfect for teens, campers, and street busking as it is totally worth the money. As usual, keep an eye out for any problems when you first get it. Return it right away if there are flaws and then you have no worries.
Key Features: It uses cheap tonewoods but has a screened purfling and rosette design. The C shaped neck makes it easy for beginners and the small size will allow most kids a chance to hold it.
Who Will Use This the Most: Despite it being a hit with adults doesn't mean that your teen won't like it. If they have any interest in blues, especially out of Mississippi this is the guitar to start them on!
Bottom Line: You will probably start playing this guitar too. There may be a chance two are purchased just so there's no fighting over the sharing.
13. Luna Safari Muse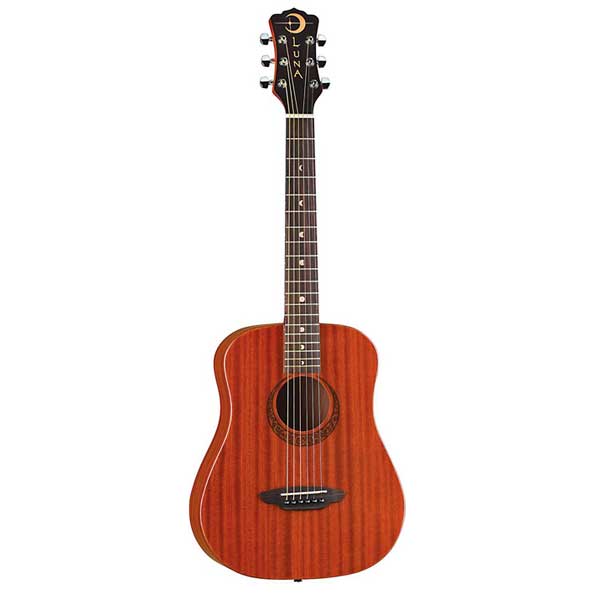 | | |
| --- | --- |
| Estimated Price | $150 |
| Weight | 4 lbs. |
| Length | 33 inches |
| Guitar Style | 3/4 acoustic dreadnought |
| Top | Mahogany |
| Back and Sides | Mahogany |
| Neck and Fretboard | Mahogany and walnut |
| Finish | Satin |
| String Material | Steel |
| Country of Origin | China/Korea |
My Review: Luna is also known as a ukulele maker, their ukes often have interesting designs and ornamentation. They know how to make small but great sounding instruments so their guitar is no surprise. But keep in mind even though this is a 3/4 size guitar it is still the dreadnought body style so it may be too much for some teens still. Otherwise, if they like this style of guitar this model has a beautiful tone and projection.
It is also a model bought for traveling and quick jam sessions. Despite the compact design, the volume makes it great for adult players or those just starting out. If your teen wants a nice looking steel string, have them look into the Luna guitar line.
Key Features: It has a dual-action truss rod and set neck construction with mother of pearl moon phase inlays and a rosette design around the soundhole.
Who Will Use This the Most: If your kids want a small steel-string acoustic, but with a little different look these guitars will be suitable.
Bottom Line: If guitars don't seem to work for your child you can always look into buying a ukulele and Luna is a great place to start.
14. Recording King RPS 9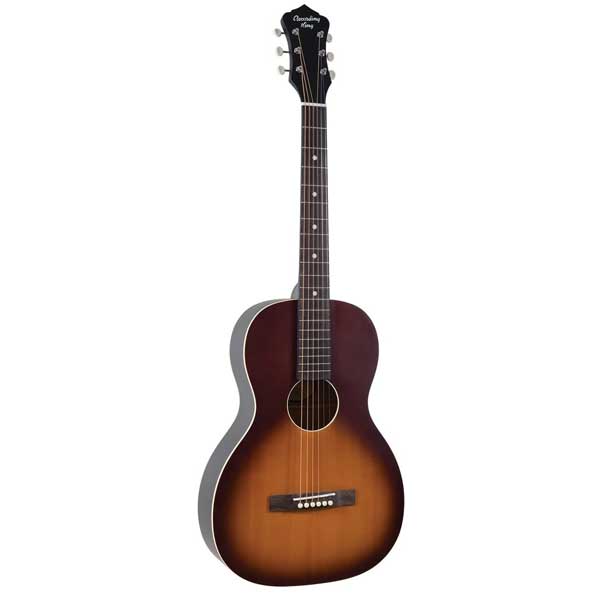 | | |
| --- | --- |
| Estimated Price | $230 |
| Weight | 4.5 lbs. |
| Length | 39 inches |
| Guitar Style | 3/4 parlor size acoustic |
| Top | Solid Sitka spruce |
| Back and Sides | Spruce |
| Neck and Fretboard | Spruce and rosewood |
| Finish | Tobacco sunburst |
| String Material | Steel |
| Pickup | China |
My Review: Recording King has a few instruments they make to replicate older versions especially guitars and banjos. Here they have a simple replica parlor guitar from the 30's jazz era. This model is a little pricier than some of the other acoustics because it uses a solid spruce top. And usually, solid wood tops always sound better than laminated. Which is why they always cost more!
This parlor here is another common guitar bought by adults for camping and traveling. But if your teen is looking for a nice sized steel string acoustic they may just end up liking this style. Once again it is very similar to other acoustics so it may all boil down to aesthetics. In general, Recording King gets ok reviews so they are as good as the other companies on the list.
Key Features: The solid spruce top with real bone nut and saddle add to a deep and warm tone from this small guitar. And other than the hardtail bridge it has quite the vintage look.
Who Will Use This the Most: Those looking to play steel-string acoustic guitar for blues, rockabilly, or country. In general, it will be a great size for most teens.
Bottom Line: Look at all the parlor guitars on the list and whichever you think looks the best will be your best choice!
15. Winzz Acoustic Cutaway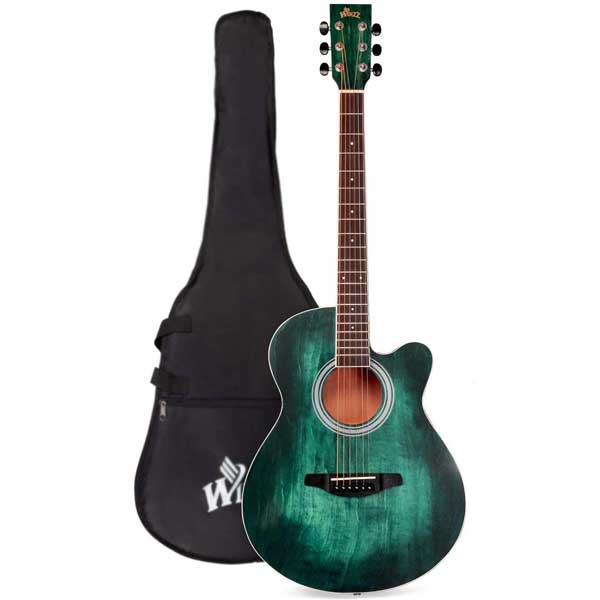 | | |
| --- | --- |
| Estimated Price | $160 |
| Weight | 8 lbs. |
| Length | 40 inches |
| Guitar Style | 3/4 cutaway acoustic |
| Top | Linden plywood |
| Back and Sides | Linden plywood |
| Neck and Fretboard | Okoume |
| Finish | Green, red, or black |
| String Material | Steel |
| Pickup | China |
My Review: This is another new brand popping out of China. As usual, the instruments are made of the cheapest tonewoods and products. However, it doesn't mean that these guitars are necessarily bad! This guitar comes in 3/4 and regular size depending on your needs and the budget is pretty low for an acoustic guitar. And so far a decent number of customers seem happy with them.
As usual with these companies, the reviews can go both ways. Most are great while a few are really bad guitars off the assembly line. As long as they have a good return policy the risk may be worth it. However, it would be wise to save a little more in your budget and get a better brand name guitar.
Key Features: It comes in dark hunter green or black and as quite a unique look. It also comes with a lot of accessories like a tuner, pickup, straps, gig bag, picks, lessons, and a music stand. Of course with all that it means less production went into the guitar!
Who Will Use This the Most: People on a very strict budget who want something flashy may gravitate towards this guitar. Just first make sure that the action and intonation are good and there are no other problems.
Bottom Line: It's risky but if this guitar appeals to you then go for it. Keep in mind the woods they are made out of are really bottom of the barrel!
16. Ibanez AVT1 Tenor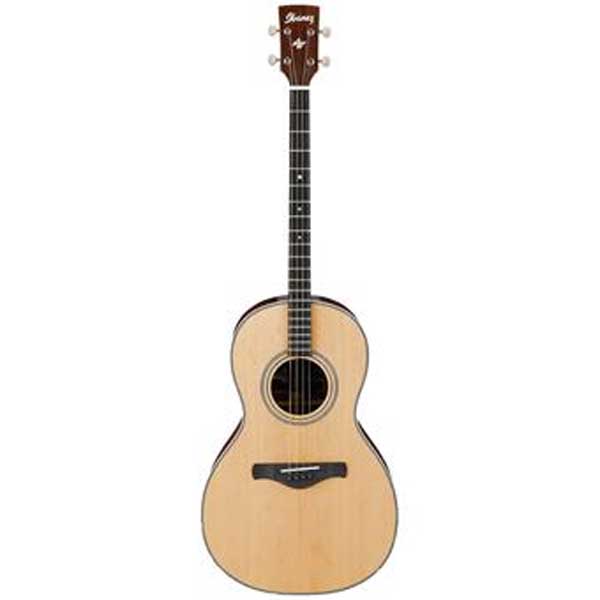 | | |
| --- | --- |
| Estimated Price | $330 |
| Weight | 3 lbs. |
| Length | 40 inches |
| Guitar Style | 4 string tenor parlor acoustic |
| Top | Solid Sitka spruce |
| Back and Sides | Mahogany |
| Finish | Natural |
| String Material | Steel |
| Pickup | Japan/USA |
My Review: Remember guitars are normally 6 string but when it comes to tenor guitars we only use 4. This of course is not the only tenor guitar out there; it is simply put here so you know it is an option. Not only are tenors usually a little smaller, but they may also be easier for kids to play with fewer strings. So check a few other models out and you may find a suitable tenor.
As far as this Ibanez goes it has a very small body for kids that may have trouble with large guitars. It is a little on the pricey side but it also has a solid spruce top so the sound is going to be much better than some laminated instrument. Whether your child dives deep into tenor guitar playing or if they just use it as a stepping stone to a bigger guitar this Ibanez model is a worthy model to pick up.
Key Features: Solid Sitka spruce top and mahogany neck make for easy playing yet a warm and projecting tone. With just four strings you will need to decide which tuning you wish to use before buying strings.
Who Will Use This the Most: Children who perhaps can't fit a regular parlor body guitar may be best suited for a small tenor guitar like this. Or even teens who happen to like American and Irish folk.
Bottom Line: If you have the budget and like the small body this Ibanez is fine. And if you aren't sure you can check out the other Ibanez models first.
17. Kala Ziricote Baritone Ukulele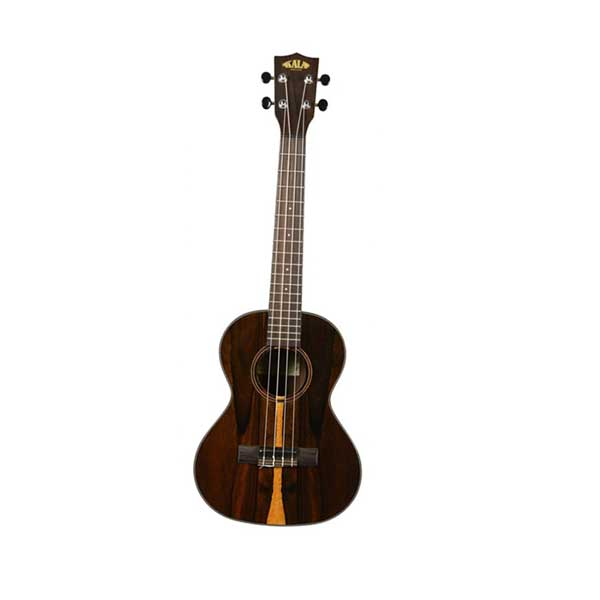 | | |
| --- | --- |
| Estimated Price | $260 |
| Weight | 2.7 lbs. |
| Length | 31 in |
| Guitar Style | Baritone Ukulele |
| Top | Ziricote |
| Back and Sides | Ziricote |
| Neck and Fretboard | Mahogany and walnut |
| Finish | Natural |
| String Material | Nylon and phosphor bronze |
| Pickup | USA/China |
My Review: Usually when parents want their kids to play the guitar, they mean just that and not a ukulele. But the fact is that the baritone ukulele is very similar to a four string tenor guitar. It has the tuning of DBGE so it is totally fine for your child to play the baritone uke. If you find the 1/2 size guitars are just too big, that's no problem at least they will be playing something!
The baritone ukulele has mostly nylon strings and is very easy to fret and play, in some cases for very young children it is a better instrument to start on rather than a guitar. And if they learn to play this way it will be no problem transferring over to a regular guitar. There are many baritone ukes out there, we choose this one because of its very unique wood and design. It sort of has a little more of a mini guitar look to it!
Key Features: The ziricote wood is the main feature of this ukulele. Yes, it also has a walnut fingerboard and mahogany neck, but they are not what captures your attention.
Who Will Use This the Most: Players that can't even manage a small 1/2 size or parlor guitar may need to resort to the baritone ukulele.
Bottom Line: It may be technically a uke but it is still similar in size and tuning to most parlor guitars.
Selecting the Right Guitar for Kids (Buying Guide)
If you have already played guitar before then you might have some of the basics down. And it's ok if you want to get a guitar for both yourself and your child. Honestly many of the parlor and concert guitars below are used by adults who either need a small travel guitar or for easier practice and transport. Either way, take a moment to review some guitar pointers and then you will be ready to buy the best guitar for the potential musician you have in mind!
Buying a guitar for a kid will not involve some of the details that an adult guitar will. While not as simple as ukuleles, they can be mass produced just the same. Tension is low so there is little worry about special bracing and usually, the cheapest tonewoods are used. Inexpensive materials are ok to use as long as the final intonation and action are fine (more about that below). Also, don't fret about the fret scale length, most kids will not be concerned with the higher notes, worry more about their small hand size fitting on the neck.
Acoustic vs Electric Guitars for Kids
It's going to be up to you to decide whether an electric or acoustic guitar better suits your child's personality and interests. Some teachers will argue that a beginner needs to begin on an acoustic to build a strong foundation for finger strength and dexterity and begin to build disciplined practicing habits. Others stress that keeping any student excited to pick up and play is key to them continuing to enjoy the learning experience and progress as a player. In which case, an electric guitar is a perfectly acceptable starter guitar as long as it's what the student is genuinely excited to play.
Acoustic Guitars
Parlor: Roughly half size to a little larger these are perfect lengths and neck widths for young players. If made with the right tonewoods these little guitars can have some serious warmth and sound projection. You can occasionally find old Silvertone and Harmony parlor guitars on social media sale sites. If you get lucky and find a good one they have wonderful aged wood and warm tones!
Concert: Don't confuse this one with a concert ukulele when buying! The concert-sized guitar is around the 3/4 size and is a little bigger and fatter than the parlor. Both parlor and concert are not just for kids they are great choices for adults who find regular guitars to be bulky and awkward. Once we get past the concert size they are usually too big for a child or teen.
Tenor/Baritone Ukulele: The baritone ukulele and tenor guitar can both be tuned to DGBE, these are the same four high notes of the guitar. While a tenor guitar and baritone may be technically different if you have a small child these are suitable instruments to get them going in the guitar world.
Acoustics can come with steel strings or nylon, the latter being far more forgiving on beginning and young fingers. They are also usually the best guitar to get a kid started on. Plus if you start them on acoustic and then move to electric, they will find it way easier as the action is so much better!
While knowing the measurements of specific guitars is helpful to have an idea if it may fit your kid, it is not a foolproof solution. Guitars can be awkward for being long, deep if a large sound body, and sometimes wide. You will simply not know if it is a good fit for your kid until they try it. And if you find that nothing fits it simply means they are not ready. In that case, find smaller instruments and just be patient!
Electric Guitars
Even though Electrics don't need a large soundhole, the wood body resonates. Yes, the wood used matters, but the electrics transfer sound wave in a different way than a hollow body acoustic. The metal strings are plucked and a magnetic coil picks up the frequency of the string. The strings interups the magnetic field of the pickups and the signal is input to an amplifier that drives a speaker. There are some hollowbody guitars that have electric pickups so sound is produced as a hybrid of acoustic-electric amplified sound waves
Generally speaking, an electric has better action and smother fretboards, this helps for fast solos and quick picking techniques. There are also many different electronic effects that can be applied to give the player more tone options. If your kid wants to play an electric guitar its probably best if they initially practice with a clean tone and sprinkle in effects as they improve and look for their own unique tone.
And if your child is left handed most manufacturers do make lefty guitars. However it is not always essential, many left-handed musicians play right-handed as they have limited options depending on circumstances. The market for kids guitars is so huge that you can find any type of guitar you need if you have the right budget. In fact, some of the bigger companies allow you to put the specs in you want and they make you the best guitar.
Strings
It is not important to nitpick about strings, just be mindful of the main kinds your child will use. Classical guitars always have nylon, they will break if you put steel strings on them. And acoustic steel is very hard on new players, but with time they will adapt and the pain will subside. Some guitars also use bronze mixtures for warmer tones, these aren't as painful as steel. Just remember that strings are an important part of the instrument's sound and it is a bad idea to be cheap on strings. Most musicians know that phenomenal strings can make a low-quality instrument sound much better.
Pointers When Buying Your Kid a Guitar
Do not be cheap and buy a toy. In the music world, there is an acronym GSO, which stands for "guitar-shaped object." These are the crap items sold online for low prices that will likely not be playable. A musician needs a real and quality instrument to play on. If you are going to be cheap you might as well not buy one! The number one culprit of new students giving up is a poorly set up or garbage instrument. And skill level means nothing, a pro guitarist can't play with frets hanging out!
If you aren't sure what cheap is, a good marker for an acoustic price is $200 while an electric may go from there to $300. In general, it isn't necessary to spend over $500 on either style for children. There are a few deals below $200 on our list as they are decent models with a lot of great reviews. Avoid dipping below $100 as that is getting into unplayable areas. For the most part, the list below is very modestly priced and shouldn't break any budgets.
Unless your child has a specific guitar in mind, don't surprise them with the gift. Involve them in picking it out, help them pick the music genres they want to play, and go to a store so they can try different models. You want to be sure this is a good fit that way the match leads to many happy hours of guitar practice. Also, don't push any genres or styles of music you like, that just loses their interest.
Read reviews and make sure the store has a great return policy. Pay attention to the reviews with substance and ignore any overly negative or positive ones that sound fake. Besides guides like this one, the best way to educate yourself on new products is by reading lots of reviews. Sometimes a past customer will have noticed a feature or flaw that you may normally miss. (And after you buy a guitar, help the world out with a solid review!)
Accessories are necessary. Lessons and tuners can be found online, that isn't a problem. But a nice strap and a good amp are essential if the guitar has a pickup. And a hard case is a must if you purchase something nice. For lower price guitars you should at least have a padded gig bag. Sometimes lower-priced guitars will pad their product with garbage extras, so make sure the accessories are worth it.
Whether you buy online or locally check the build and inspect the guitar the best you can. Assuming you ordered it from a proper place with legit returns it's no problem to get another. Don't brush off major problems just to avoid shipping it back. A little nick or finish faux pas isn't going to be as big as a bowed neck or loose bridge.
Once you get the instrument the action must be set up right. The action is how far the strings are from the frets, too high and it's impossible to press them down, too low and the frets will buzz. On a cheap guitar with a nonadjustable bridge, bad action is a death sentence and worth sending back. Since you are likely new to the world of guitar do not attempt to adjust yourself, just get a proper one.
Not only do you want your notes to be fretted and played easily you also want them to sound proper! Each fret you press you should play specific notes that raise by a semitone as you move up. This is easy to check with a tuner, just play the open string like A, and then the next fret will be A#, B, C, C# and so on up the fretboard. If you are unsure, have a music store check your intonation. That is another death sentence if it is off by too much. If it is off whenever you go to fret a chord, it will never sound proper.
While it is always important to have an instructor or someone to get feedback from, make sure your child has a private area to practice in. As a young musician, there was nothing more cringing and embarrassing when trying to practice. Especially with mistakes you feel self-conscious and can't focus on learning. Give them a place where the squeaks, squawks, and wrong notes are never heard.
Be prepared for complaints and pain! Strings, especially the steel ones make your fingers hurt like crazy at first! The wrist will be sore and the fingers will feel fat and incapable of stretching! Make sure your child knows this is just like sports or other games where they need to overcome a threshold. If they persevere great guitar playing is in their future!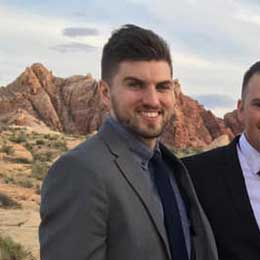 My name is Chris and I've had a passion for music and guitars for as long as I can remember. I started this website with some of my friends who are musicians, music teachers, gear heads, and music enthusiasts so we could provide high-quality guitar and music-related content.
I've been playing guitar since I was 13 years old and am an avid collector. Amps, pedals, guitars, bass, drums, microphones, studio, and recording gear, I love it all.
I was born and raised in Western Pennsylvania. My background is in Electrical Engineering, earning a Bachelor's degree from Youngstown State University. With my engineering experience, I've developed as a designer of guitar amplifiers and effects. A true passion of mine, I've designed, built, and repaired a wide range of guitar amps and electronics. Here at the Guitar Lobby, our aim is to share our passion for Music and gear with the rest of the music community.