Albums are great and all, but it's impossible to beat the energy and passion at a live concert. Throughout time, people have loved sitting around listening to others play music. Of course, things have changed with the invention of amps, speakers, and microphones.
Now, music superstars can perform for bigger crowds than ever before, with some venues even climbing into the millions! How big are they, you ask? You're in luck, We've compiled this list of the 30 biggest concerts of all time.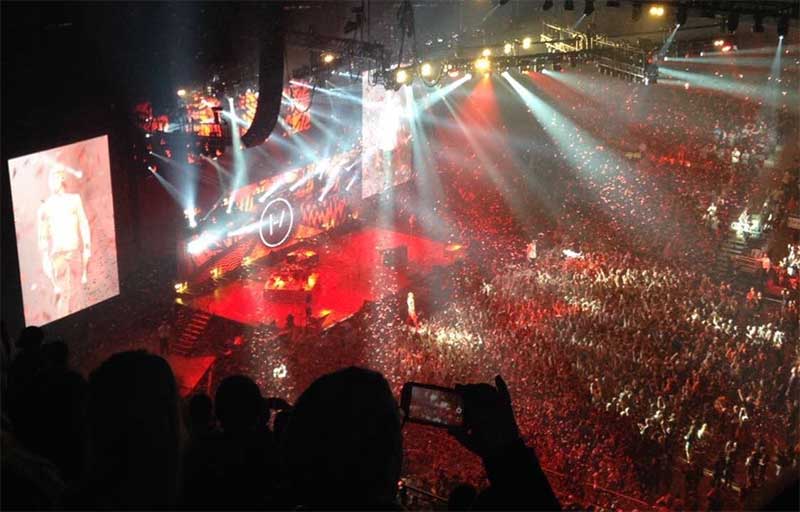 In this list, we're going for the biggest and baddest concerts, no holds barred. These are the record-setters performed for masses that will go down in history as some of the greatest musical shows of all time. So, strap in.
List of the Largest Concerts Ever
1. Rod Stewart at Copacabana Beach (1994) – 4.2 Million Attendees
| | |
| --- | --- |
| City | Rio De Janeiro, Brazil |
| Date | December 31, 1994 |
| Number of attendees | 4.2 million |
| Artist | Rod Stewart |
| Venue | Copacabana Beach |
If you think speaking to a room full of people is scary, imagine being Rod Stewart on December 31st, 1994. The British rocker was set to perform the New Year's Eve show on the pristine Copacabana beach in Rio De Janeiro, Brazil. New Year's Eve fireworks shows already drew major crowds to the location, but adding a legendary rock star to the mix turned out to be a record-setting combination.
Much to everyone's surprise, the New Year's Eve concert drew out more than 4.2 million attendees, making it officially the largest concert of all time! It even earned a spot in the Guinness World Records.
Despite the inherent stage fright putting on the world's largest concert might entail, Rod Stewart, put on one heck of a performance that left the quite-literal masses in a frenzy. It will forever go down as one of the best and largest musical performances of all time.
If you're curious what 4.2 million people looks like, check out this video footage from Copacabana Beach on New Year's Eve, 1994.
2. Jean Michel Jarre at State University of Moscow (1997) – 3.5 Million Attendees
| | |
| --- | --- |
| City | Moscow, Russia |
| Date | September 6, 1997 |
| Number of attendees | 3.5 million |
| Artist | Jean Michel Jarre |
| Venue | State University of Moscow |
In case you weren't aware, Moscow is really old. Back in 1997, the city had its 850th birthday! To celebrate the momentous occasion, they needed a performance that would be just as momentous, and they found just the guy.
Jean Michel Jarre is a French pioneer in electronic music and, by that time, was well-renown for his incredible stage performances with full orchestras, lasers, fireworks, and light shows. If there was any musician who could create a worthy spectacle, it was him.
Even though Russia was still wary of outside visitors at the time, the mayor of Moscow reached out to Jarre to see if he was available. Jarre had just finished up his Oxygene Tour and agreed to put on the performance of a lifetime.
On September 6th, 1997, more than 3.5 million people came to the State University of Russia to watch and listen to Jean Michel Jarre's electrifying performance. The show featured everything you'd expect from the master composer, including laser shows, fireworks, and even a direct satellite link with the Russian Space Station during the concert!
If you're wondering what kind of show would attract such an incredible crowd, check out this video from the Moscow TV Broadcast, and you'll see exactly what made this show so spectacular.
Of course, this wasn't Jean Michel Jarre's first run-in with million-plus person shows. In fact, he has broken the "largest concert" record several times over his incredible career. Out of the X concerts on this list, four are his! But we'll get to those later.
3. Jorge Ben Jor at Copacabana Beach (1993) – 3 Million Attendees
| | |
| --- | --- |
| City | Rio De Janeiro, Brazil |
| Date | December 31, 1993 |
| Number of attendees | 3 million |
| Artist | Jorge Ben Jor |
| Venue | Copacabana Beach |
Just one year before Rod Stewart's record-setting performance, another musician set the record for the largest open-air concert in the exact same location. This time, it was Jorge Ben Jor.
Jorge Ben Jor is a Brazilian pop singer who mixes funk, rock, samba, and bossa nova to create uniquely Brazilian pieces that speak of the struggles of the country and the Brazilian way of life — often in humorous or satiric ways. He's been a major part of several musical movements in Brazil since the 1960s.
In 1993, Jorge Ben Jor was booked to play the New Year's Eve show at the iconic Copacabana Beach. The location was already a major tourist (and local) destination for the holiday, and city officials were hoping that hiring a major act would help draw in more tourists. It worked.
On New Year's Eve, 1993, more than 3 million people crowded the Rio De Janeiro beaches to hear Jorge Ben Jor play his set. This was the first concert to ever break the 3 million attendee mark, and only a handful have beaten it ever since.
4. Jean Michel Jarre at La Défense (1990) – 2.5 Million Attendees
| | |
| --- | --- |
| City | Paris, France |
| Date | July 14, 1990 |
| Number of attendees | 2.5 million |
| Artist | Jean Michel Jarre |
| Venue | La Défense |
The brilliant mind of Jean Michel Jarre is at it again. This time, it was in Paris, France in 1990.
Four years before his record-setting performance at the State University of Moscow, Jean Michel Jarre was getting ready to perform in his native France for the 200th anniversary of the French Revolution, also known as Bastille Day. Again, a moment so historic needs a historic performance, and that's exactly what he did.
Jarre's free public concert on July 14th, 1990 featured a pyramidic stage designed specifically to fit in front of La Défense right between the Parisian skyline.
In typical Jarre fashion, the stage and surrounding skyscrapers were constantly lit up with lights, lasers, special effects, and around 65 tons of fireworks as electronic music filled the entire city. Oh yeah, and there were definitely giant metal puppets walking around during the entire two-hour performance!
This incredible spectacle drew in crowds from all over the city and surrounding areas. Estimates put attendance at around 2.5 million people, which was a world record at the time!
Since this is definitely one of those performances you have to see to believe, check out this video of the full concert.
But as mentioned before, this wasn't Jean Michel Jarre's first run-in with record-setting performances. He had already done it twice before and was ready to do it again in just seven years.
5. Monsters of Rock (1991) – 1.6 Million Attendees
| | |
| --- | --- |
| City | Moscow, Soviet Union |
| Date | September 28, 1991 |
| Number of attendees | 1.6 million |
| Artist | AC/DC, Metallica, Pantera, The Black Crowes, E.S.T. |
| Venue | Tushino Airfield |
Rock and roll has always been a unifying force, and on September 28, 1991, several world events collided to create one of the greatest rock concerts in the history of music.
The Monsters of Rock music festival was a yearly hard rock festival that got all the best heavy rock bands in the world together to play one epic concert. The festivals first started in England in 1980 and eventually spread to other cities around the world, including the Netherlands, Spain, Poland, Sweden, Argentina, Brazil, Chile, and the United States.
After a few years of several individual festivals around the world, the various Monsters of Rock festivals came together for one mega concert in the Soviet Union in 1991.
There were plenty of speedbumps to get the festival together. The Soviet Union was struggling to maintain control of the country and tried to postpone the event several times. But if there's one thing you know about hard rock fans, it's not easy to stop them. The festival commenced on September 28, 1991, at the Tushino Airfield just outside of Moscow.
Headliners AC/DC, Metallica, Pantera, The Black Crowes, and E.S.T. played to an incredible crowd of 1.6 million fans — many of whom were angry locals who needed to let off some serious steam because of the political unrest. All the rage and emotion on the airfield that day, coupled with a few legendary rock bands, made for one incredible performance the world will never forget.
Although it's not quite as good as being there in person, check out this video of the full-length 1991 Monsters of Rock performance (and try to hold back the goosebumps).
Just three months after the concert, the Soviet Union fell.
6. Love Parade Festival (2008) – 1.6 Million Attendees
| | |
| --- | --- |
| City | Dortmund, Germany |
| Date | July 19, 2008 |
| Number of attendees | 1.6 million |
| Artist | Various – Moby, Anja Schneider, Armin van Buuren, Audion, Carl Craig, DJ Hell, Dubfire, and more |
| Venue | Bundesstraße 1 highway |
The Love Parade is a major electronic music festival that takes place in Germany every year starting in 1989. It had its ups and downs, but every year, it became more and more popular. In 2008, the Love Parade reached its attendance peak.
The 2008 Love Parade took place in Dortmund, Germany on a closed-down highway. Because of the venue location, the motto for this year's festival was the Highway of Love. The festival was actually a weekend-long parade with dozens of artists, vendors, and parties throughout the area, drawing in an incredible 1.6 million people.
Almost every artist at the Love Parade performs electronic music. The 2008 artist list included some of the top electronic artists in the world:
2 Elements
Alex Bau
Moby
Alex M.O.R.P.H.
Anja Schneider
Armin van Buuren
Audion
Dubfire
And more
Although there were dozens of different concerts going on simultaneously over the weekend, 1.6 million attendees still makes it one of the largest concerts ever. And while it might not earn the top spot as the biggest concert of all time, the 2008 Love Parade does hold the world record for the largest parade in history.
Want to get a taste of what these festivities felt like? Check out this video highlighting the events from the incredible 2008 Love Parade.
7. Live 8 Philadelphia (2005) – 1.5 Million Attendees
| | |
| --- | --- |
| City | Philadelphia, PA, United States |
| Date | July 2, 2005 |
| Number of attendees | 1.5 million |
| Artist | Various – Kanye West, The Black Eyed Peas, Dave Matthews Band, Will Smith, Bon Jovi, Destiny's Child, Toby Keith, Alicia Keys, Linkin Park, Def Leppard, Sarah McLachlan, Maroon 5, Keith Urban, Rob Thomas, Stevie Wonder, and more |
| Venue | Philadelphia Museum of Art |
Live 8 was a series of worldwide benefit concerts following the 2005 G8 conference summit. It was designed to raise awareness for the fight against poverty around the world. As an added bonus, it was also the 20th anniversary of the legendary 1985 Live Aid performance.
To follow in Live Aid's footsteps, the 2005 Live 8 concert series brought in dozens of music superstars from all over the world to play concerts simultaneously throughout the day. The only venue to participate in the United States was the Philadelphia Museum of Art in Philadelphia, Pennsylvania.
Live 8 Philly (as it has become known) attracted tons of fan attention because of the incredible lineup set to perform over an incredible eight hours. Some of the acts included:
Bon Jovi
Dave Matthews Band
Def Leppard
Linkin Park
Maroon 5
Rob Thomas
Stevie Wonder
And more
Because of the incredible acts, the Live 8 Philadelphia concert drew in more than 1.5 million fans that stretched down the Benjamin Franklin Parkway for over a mile — and that doesn't even count the millions tuning in on their TVs around the world.
Since it was a world televised event, there are tons of videos available online of the various performances. Check out this video of Keith Urban rocking the stage at Live 8 Philly.
8. The Rolling Stones at Copacabana Beach (2006) – 1.5 Million Attendees
| | |
| --- | --- |
| City | Rio De Janeiro, Brazil |
| Date | February 18, 2006 |
| Number of attendees | 1.5 million |
| Artist | The Rolling Stones |
| Venue | Copacabana Beach |
In 2006, the Rolling Stones were off on their Bigger Bang world tour to promote their 24th studio album of the same name — which ended up being their last album with Charlie Watts on drums. You'd think after 44 years of playing together (at the time), there's no way they could make even more of a bang than they already had. Well, they pulled it off.
On February 18, 2006, the Stones booked the legendary Copacabana Beach in Rio De Janeiro, Brazil. You know, the venue that produced the most-attended concert of all time. Mix a great venue with a great band, and you get a great turnout.
More than 1.5 million fans turned out to see Mick Jagger, Keith Richards, Ronnie Wood, and Charlie Watts take the stage and do what they've done best for over half a century. The result? One incredible show!
You can watch the entire performance in this video and see why the Brazilian crowd just couldn't get enough satisfaction from the Rolling Stones.
9. Jean Michel Jarre at Rendez-vous Houston (1986) – 1.3 Million Attendees
| | |
| --- | --- |
| City | Houston, Texas, United States |
| Date | April 5, 1986 |
| Number of attendees | 1.3 million |
| Artist | Jean Michel Jarre |
| Venue | Downtown Houston |
The year was 1985. The city of Houston, Texas was celebrating its 150th anniversary, and they needed a big performance to really showcase the city. When you need a big performance, you turn to the one-and-only Jean Michel Jarre.
The concert was also supposed to celebrate the launch of the Challenger Space Shuttle launch, and NASA's 25th anniversary, but after the shuttle exploded above the launch pad, it turned into a night of remembrance for those lost. Ron McNair, an astronaut who died in the Challenger disaster and a personal friend of Jarre's, was even supposed to play saxophone from space during the concert.
For this concert, Jean Michel Jarre had the entire city as his stage. The event took place right in downtown Houston and was named the Rendez-vous Houston: A City in Concert. And that's exactly what it was.
Massive canvases were hung from many of the skyscrapers in the city which showed light and laser shows synchronized to the electronic music. Spotlights and fireworks shot up all over the city as the entire skyline dazzled for this incredible performance. How many times in history has an entire city been the stage for a concert?
An approximate 1.3 million people showed up for the incredible spectacle, which was a world record at the time. Jarre even got his name in the Guinness Book of World Records. In the video of the concert, you can see miles of traffic in both directions trying to get into Houston to see the show — and who could blame them!?
The event was broadcast all over the world, making Jean Michel Jarre a bonafide mega-concert legend.
10. Paz sin Fronteras II (2009) – 1.1 Million Attendees
| | |
| --- | --- |
| City | Havana, Cuba |
| Date | September 20, 2009 |
| Number of attendees | 1.1 million |
| Artist | Various – Juanes (headliner) |
| Venue | Plaza de la Revolución |
In 2008, a major diplomatic crisis emerged in South America between the governments of Ecuador, Venezuela, and Columbia after Columbian forces invaded territory that belonged to Ecuador following the death of Raúl Reyes, the number two in the Colombian Revolutionary Armed Forces.
While the governments of the South American countries were at war, the people of the countries were largely against the actions of their respective governments. In 2009, musician Juanes organized a series of free outdoor concerts called Paz sin Fronteras, which translates to Peace without Borders, to promote a nonviolent message that all Latin and South American countries are brothers and should get along.
The first concert took place along the Colombian-Venezuela border and drew a crowd of around 300,000 people. While that might be impressive, it was nothing compared to the major turnout for the second concert of the series, Paz sin Fronteras II.
Paz sin Fronteras II took place in Cuba in front of the Plaza de la Revolución. It featured Juanes along with several other musicians from around South America and Latin America. This free concert drew in an incredible 1.1 million people, which is about 10% of the entire population of Cuba! Almost every single person wore white to symbolize peace.
The concert lasted a whopping 5.5 hours. It was definitely a musical event on a scale that hasn't been seen before or since on the little island of Cuba. You can see the excitement of the massive concert in this video from the finale.
A third Paz sin Fronteras concert was planned for Caracas, Venezuela in 2013, but it never came to fruition.
11. The Beach Boys Independence Day Concert (1985) – 1 Million Attendees
| | |
| --- | --- |
| City | Philadelphia, Pennsylvania, United States |
| Date | July 4, 1985 |
| Number of attendees | 1 million |
| Artist | The Beach Boys (with special guests Jimmy Page, Joan Jett, Christopher Cross, Keith Knudsen, and others) |
| Venue | Philadelphia Museum of Art |
Philadelphia was one of the major sites of revolution during the American fight for independence back in 1776. Heck, that's where the Declaration of Independence and The Constitution were signed! So it would only make sense that the city would go all-out in celebration of the 4th of July.
In 1985, the city of Philadelphia wanted to throw an epic 4th of July bash with a free concert filled with some of the biggest rock stars of the time, including Jimmy Page, Joan Jett, Christopher Cross, and others. But what could be more American than the headlining band: The Beach Boys!
The city was feeling the "good vibrations" that Independence Day because more than 1 million people showed up for the incredible event, making it one of the biggest concerts of all time.
If you want to get a feel for the energy during the performance, check out this video of The Beach Boys playing Little Richard's song "Lucille" with Led Zeppelin guitarist Jimmy Page shredding several solos.
12. Jean Michel Jarre Bastille Day (1979) – 1 Million Attendees
| | |
| --- | --- |
| City | Paris, France |
| Date | July 14, 1979 |
| Number of attendees | 1 million |
| Artist | Jean Michel Jarre |
| Venue | Place de la Concorde |
Even the masters of open-air mega-concerts have to start somewhere. For Jean Michel Jarre, it started on July 14, 1979 in Paris, France.
Bastille Day is a big holiday for the people of France, and they needed a larger-than-life performance to celebrate the holiday in style. Up to that point, Jean Michel Jarre had only played in a few rock bands throughout his teen, but he was about to set a new standard for open-air concerts.
The venue was in front of the Place de la Concorde in downtown Paris with plenty of room for tons of spectators. When Jarre took the stage, it was just him and his synthesizers. But of course, the show was anything but small.
In typical fashion (for the first time), Jarre lit up the entire city with lasers, light shows, and fireworks, captivating the hoards of onlookers. All in all, over 1 million people showed up to watch the incredible performance.
This was Jarre's first open-air show and his first concert to break one million attendees. Not only was it personally record-breaking for Jarre, but the performance also made its way into the Guinness World Records as the largest concert at the time.
The show was such an astounding success that it drew the attention of cities all over the world and made Jarre a concert-creation visionary to be reckoned with. Whenever a city needed something incredible, they'd call Jarre. He would go on to break the largest concert record three more times over the course of his career!
If you want to catch a glimpse of the show that made Jarre a legend, check out this video of the entire performance from 1979.
13. Antonello Venditti (2001) – 1 Million Attendees
| | |
| --- | --- |
| City | Rome, Italy |
| Date | June 24, 2001 |
| Number of attendees | 1 million |
| Artist | Antonello Venditti |
| Venue | Circus Maximus |
European countries love their soccer. Everyone knows that. The only thing they love more than soccer is watching their team win. And what's better than winning? Winning three annual championships — otherwise known as a scudetto.
In 2001, the Associazione Sportiva Roma soccer team (A.S. Roma) pulled off the miraculous feat of winning its third scudetto. Naturally, everyone in Rome was ecstatic, and they needed to celebrate with a major live performance.
Antonello Venditti is an Italian singer/songwriter who became famous in the 1970s for his hard-hitting songs that touched on countless social themes. Over the years, his popularity grew, and he became one of the biggest singers in all of Italy.
When A.S. Roma won their third championship, they naturally called Venditti to perform. In 2001 at the Circus Maximus, Venditti performed to a rowdy crowd of more than a million A.S. Roma fans. The concert was so big that it still holds the record for the busiest free concert to ever be held in Italy.
If you want to check out this energetic concert, here's a clip from the performance.
14. The Black Eyed Peas at Copacabana Beach (2006) – 1 Million Attendees
| | |
| --- | --- |
| City | Kostrzyn nad Odrą, Poland |
| Date | August 3, 2019 |
| Number of attendees | 1 million |
| Artist | Prophets of Rage, Ziggy Marley (and many others) |
| Venue | Pol'And'Rock Festival |
The historic concert 1969 concert in Woodstock has inspired countless venues and musicians over the years, but one of the most successful variations of the iconic concert is perhaps the Pol'And'Rock festival — otherwise known as the Woodstock Festival Poland.
The Pol'And'Rock festival started in 1995 and has been a major annual event ever since. Acts from around the world come together to put on dozens of incredible performances over the course of the festival. In fact, the festival has an aggregate attendance of more than 750,000 people, making it one of the largest music festivals in the world.
In 2019, the Pol'And'Rock festival took "largest music festivals" to a new level. With incredible headliners including Ziggy Marley and rock supergroup Prophets of Rage, around 1 million people showed up to enjoy the festivities.
Want to get in on the action yourself? Listen to Tom Morello and his friends in the Prophets of Rage shred through their set in this video from the 2019 concert.
16. Diana Ross Worldwide From New York: For One and For All (1983) – 1,200,000 Attendees
| | |
| --- | --- |
| City | New York |
| Date | July 21, 1983 |
| Number of Attendees | 1.2 million |
| Artists | Diana Ross |
| Venue | Great Lawn, Central Park |
Rain swept and drenched New York's Central Park Great Lawn when Diana Ross launched onto a worldwide broadcast stage. When it was announced on the New York Times headlines that none other but Miss Ross would be giving a free concert on July 21st, crowds took to the streets, and in no time, Central Park was cluttered to celebrate one of the most charismatic performers of all time.
This live event was held as a charitable one that would donate 7.5 percent of its proceeds to the restoration of a Central Park Playground near West 81st Street, something Diana described as a long-time dream of hers, to participate in such a project.
The concert was brewing with energy in a massive landscape of humanity, where Diana entertained and delivered what many consider the performance of a lifetime. However, as threatening skies began their downpour in the rain, a soaked Miss Ross called for calm, pointing out that "this rain is for the flowers. It'll make us grow". However, the showstopper couldn't fully contain the growing unrest of the audience, as 100,000 injuries were reported, sadly, some product of violence.
Controversial as it may have been, Diana Ross accomplished a stunning feat, harnessing 1.2 million attendees in tally. Eight hundred thousand of them, which packed Central Perk, a venue designed to host 400,000. The remaining spectators would pay their attendance through television, all under the banner of a noble cause by one of the most humanitarian showstoppers the industry has ever seen.
17. Statue of Liberty Weekend Concert (1986) – 800,000 Attendees
| | |
| --- | --- |
| City | New York City |
| Date | July 4,5,6, 1986 |
| Number of Attendees | 800,000 |
| Artists | Johnny Cash, John Denver, Yo Yo Ma, Placido Domingo, John Williams, Kenny Rogers, Melissa Manchester, Joel Grey, Whitney Houston, Willie Nelson, Liza Minelli, and more. |
| Venue | Lincoln Center, Central Park Great Lawn, Governor's Island |
Following the three-year-long restoration of New York's favorite lady, an all-weekend-long celebration of its centenary and renovation ensued as part of a fundraising event for its work. The musical presentations of this weekend transcended the traditional notion of what a concert is, with multiple events ranging from Americana, classical, and swing to pop from every generation.
Garnering new yorkers, visitors from across the county, and international travelers in Central Park's Great Lawn, the Lincoln Center, and Liberty State Park to enjoy diverse shows each day, these were the days were NYC was truly the place to be. Needless to say, the crowd's participation was massive during this 4th of July weekend; 800,000 attendees took to the streets of New York to celebrate the grandeur of the Statue of Liberty and the patron date of the U.S.A.
John Williams inaugurated the event with a rendition of his Liberty Fanfare, followed by a choreographed number in Governor's Island with the likes of Frank Sinatra, Kirk Douglas, Helen Hayes, Neil Diamond, Jose Feliciano, Kenny Rogers, Mikhail Baryshnikov, and Elizabeth Taylor dramatizing all things related to liberty in a once in a lifetime performance.
The classical show took place on Central Park's Great Lawn, with Yo Yo Ma, Placido Domingo, Leona Mitchell, and Zubin Mehta, his Philharmonic and soloists, including Marilyn Horne, Sherrill Milnes, to name a few, delighted Saturday night. On the other hand, Johnny Cash, John Denver, Melissa Manchester, Joel Grey, Whitney Houston, and many others treated attendees on independence day at the Liberty State Park for the Americana segment of the weekend.
Its closing ceremony was grounded in the Giants Stadium, headlined by Willie Nelson and Liza Minelli, while 200 marching Elvis lookalikes would establish the climax of the weekend with an overt pop concert. With such an overwhelming schedule, the liberty weekend turned into something for the books, with a palpable atmosphere that has inspired many events in modernity to celebrate America but never duplicating its massive appeal.
18. Isle of Wight Festival (1970) – 700,000 Attendees
| | |
| --- | --- |
| City | Afton Down |
| Date | August 26,27,28,29,30,31, 1970 |
| Number of Attendees | Between 650,000 and 700,000 |
| Artists | Various – Jimi Hendrix, The Who, The Doors, Joni Mitchel, Miles Davis, Joan Baez, Caetano Veloso, Black Widow, Rory Gallagher, Ray Owen, Taste, Lighthouse, Sly and the Family Stone, Ralph McTell, Jethro Tull, Leonard Cohen, Richie Havens and more |
| Venue | Afton Down Terrain |
Britain usually has a response to the phenomena that occur in America, and such is the case with this particular event. If there has ever been a festival in music history that has been comparable to Woodstock, it's the Isle of Wight Festival, an event that echoed the summer of love while providing a window for the shifting mentality of the time, attracting 700,000 attendees to an island with only 100,000 inhabitants at the moment.
Not only was this the very first great festival of the 1970s, but it also provided a palette cleanser from the tragedies that occurred a year before in Altamont. This would also mark the first time such an event would take place in England; just at the south of the mainland, attendees literally swarmed the seas and convoluted the reduced space of what was, traditionally, a retirement settlement.
Logistically, locals would do everything in their power to stop people from going to the festival in this third rendition of the Isle of Wight. For the organizers, Ron and Ray Foulk, things turned bleak when attendance tripled their expectations, with many just setting up their tents in nearby terrains to enjoy the music for free. This would eventually culminate in a disheartened yet furious host denouncing the abuse of those who broke down the walls to enforce themselves into the festival, further highlighting that part of what made this a memorable event in history was a palpable change in mentality, signaling the beginning of the end for the hippie movement and culture.
Musically, however, the Isle of Wight was a massive success. It saw the first time that The Doors would play in one of the major festivals of its age just a few months before Morrison's death. Hendrix himself shares a similar fate; soon after playing, he would pass away three weeks later, a poignant and poetic finale to the age they had belonged to.
On the other hand, acts such as Caetano Veloso would become the first Latin American artist to expose tropicalia to British and American audiences alike and Jethro Tull would replace endless solos with their organized chaos among many other artists that introduced a new age of psychedelia and music into the cultural landscape.
19. New Orleans Jazz & Heritage Festival (2001) – 650,000 Attendees
| | |
| --- | --- |
| City | New Orleans |
| Date | May 3, 4, 5, 6, 2001 |
| Number of Attendees | 600,000 |
| Artists | B.B King, Bob Dylan, Dave Matthews Band, The Neville Brothers, Paul Simon, Mystikal, moe., Galactic, Widespread Panic, Celia Cruz, and more |
| Venue | New Orleans Fair Grounds and Race Track |
Few cities know how to throw a party the way New Orleans does. In recent years, the New Orleans Jazz & Heritage Festival has been continuously growing from its ongoing tradition for over 50 years and editions, given its innate allure for its cultural allure. 2001 saw the festival's record attendance of over 650,000 people and an iconic line-up that, as per usual, consisted of both established and up-and-coming acts.
Headlined by an eclectic mix including B.B. King, Bob Dylan, Dr. John, Willie Nelson, Dave Matthews Band, The Neville Brothers, Celia Cruz, and even Paul Simon, the festival showcased its commitment to capturing the diverse tapestry that defines New Orleans in contemporary times. Notably, it's worth highlighting that Jazzfest pioneered the concept of a truly inclusive festival, rallying artists from every corner of the globe, regardless of their stature, to share the stage over its multi-day spam. This edition, it would include the South African Mahotella Queens and Nigerian Afrobeat icon, Kuti.
Naturally, the New Orleans Jazz Festival was filled with massive interludes and processions from locals that would set up Jazz jams that gave this festival a sublime air, combining both the euphoria of the occasion with the feeling of a traditional New Orleans party. It was this edition the one that marked a consistent growth for one of America's greatest music festivals, garnering such legends and fostering a palpable sense of community.
Additionally, much of the success that surrounds the New Orleans Jazz Festival is owed to the fact that not only is it set in such a music-loving city, but it also boosts tourism and overall patronage, making $300 million in just one weekend for local and independent businesses.
20. Michael Jackson Dangerous World Tour, Mexico City (1993)- 550,000 Attendees
| | |
| --- | --- |
| City | Mexico City |
| Date | October 29, 31, November 7, 9, 11, 1993 |
| Number of Attendees | 550,000 |
| Artists | Michael Jackson |
| Venue | Estadio Azteca |
The King of Pop concluded his largest world tour in the Estadio Azteca back in 1993, completely packing the Olympic dimensions of the football stadium for five consecutive days. Initially, the Dangerous World Tour would come to its climax in three days, but – to nobody's surprise- Michael Jackson's presence would attract enough people to force Pepsi as a sponsor to acquire the venue for two extra days. Making it one of the most successful tours and concerts by a single artist in the music industry.
In the span of five days, 110,000 people would fill the grounds and court of the Estadio Azteca with one of the most eclectic shows in history, as this presentation came under three conditions imposed in a press conference. Jackson demanded his partners to put up the biggest stage the world's ever seen, the biggest FX show ever, and to allow him to have fun. While these demands may come as no surprise knowing the man, it would set a precedent in what it meant to embark on a world tour, breaking several records while doing so.
However, the occasion wasn't free of controversies. Back in 1993, Jackson stirred excitement and fan frenzy but also mediatic scrutiny due to the many allegations he faced during the tour. This ultimately ended up in a divided media focus, with some networks celebrating the second coming of the King of Pop now as a solo behemoth, bringing the world's attention to Mexico, while more conservative media condemned the artist.
21. Oasis Live at Knebworth (1996) – 250,000 Attendees
| | |
| --- | --- |
| City | Parish of Knebworth |
| Date | August 10, 11, 1996 |
| Number of Attendees | 250,000 |
| Artists | Oasis, Manic Street Preachers, John Squire, The Prodigy, The Chemical Brothers, Ocean Colour Scene |
| Venue | Knebworth House |
One of the most astonishing sights to behold, Knebworth House, was the landmark that hosted this major event in the 90s. Oasis was riding high on the success of their second studio release and casually announced that they would be playing Knebworth house for two nights, August 10 and 11.
Reportedly, 2.6 million people applied for tickets, roughly 5% of the country's population at the time. As you might guess, only a quarter million people were lucky to attend a show that would outnumber and outclass the likes of Queen and Led Zeppelin, who in the past made massive events in the venue, but none of this caliber.
Oasis was one of the biggest bands of the moment, and they managed to put up a massive supporting lineup that included names such as The Prodigy, The Chemical Brothers, Ocean Colour Scene, and Manic Street Preachers. Finally, the show climaxed when The Stone Roses' guitarist, John Squire, made a guest appearance for the encore, Champagne Supernova.
Noel Gallagher recalls the event, pointing it out as the highlight of his life, as when he walked on stage pronounced that they were all making history that night, and he was right at that. Noel lived the aftermath of Knebworth, claiming that once you get to that point of fame, you "fade into boredom," meanwhile, Liam noted that he recalls absolutely nothing about those special nights.
Oasis set the record for the largest audience attending a show in Britain, something that they upheld proudly up until 2003, when Sir Robbie Williams would take over the venue for three consecutive nights, setting a new record that remains to this day.
22. Woodstock Festival (1969), 400,000 Attendees
| | |
| --- | --- |
| City | Bethel, New York |
| Date | August 15, 16, 17, 18, 1969 |
| Number of Attendees | 400,000 |
| Artists | Various – The Jimi Hendrix Experience, Creedence Clearwater Revival, Janis Joplin, The Who, The Band, Santana, Joan Baez, Richie Havens, Sweetwater, Tim Hardin, Ravi Shankar, Melanie, Mountain, Canned Heat, Grateful Dead, Sly & The Family Stone, Jefferson Airplane, Joe Cocker and the Grease Band, Ten Years After, Crosby Stills Nash & Young, Sha Na Na |
| Venue | Yasgur Dairy Farm |
Without a doubt, the most legendary festival of all and a referent that stands up until this day. Woodstock's Music and Art fair in 1969, hosted at Max Yasgur's dairy farm just 40 miles southwest of Bethel, New York, was initially prepared for 50,000 attendees, a number that escalated to 500,000 after the organizers decided to make it a free concert for everyone to enjoy.
The four days of peace, love, and music were a serendipitous surprise for the organizers, as it was a logistical nightmare that, curiously, people seemed to enjoy. From improvised latrines to makeshift food stands and miraculous pickle sandwich supply provided by the locals, the essence of the legendary festival is no short on the bizarre anecdotes that kept it going.
Among the iconic artists that made the bill, one can only scratch the surface by mentioning the likes of Santana, Mountain, The Grateful Dead, Creedence Clearwater Revival, Janis Joplin, Crosby Stills Nash & Young, The Band, The Who, among so many others. On the same note, it's worth noting the one headliner to rule them all, Jimi Hendrix, who experienced a reduced audience due to heavy rain forcing him to perform at 8:30 in the morning in front of a dwindled crowd of 30,000. For obvious reasons, it's easy to assume why not everybody would rise and shine for an early show.
As the years went by, Woodstock seems more and more like a myth as festival culture has evolved in many aspects. Furthermore, the notion of such a sublime congregation had many attempts to recapture through a few renditions of the festival, but such good things seem to only happen once.
23. Robbie Williams Live at Knebworth (2003) – 375,000 Attendees
| | |
| --- | --- |
| City | Parish of Knebworth |
| Date | September 29th, 2003 |
| Number of Attendees | 375,000 |
| Artists | Robbie Williams |
| Venue | Knebworth House |
The biggest event in British music history is associated with a single artist. Robbie Williams' live presentation at Knebworth House would top Oasis' previous performance at the same venue, amassing 375,000 fans over the course of three days.
By this point, Robbie Williams was an all-star performer, consecrated for his emotional yet humorous performances. Reportedly, when he got to Knebworth, he had just played in Sweden, where he was boasting with confidence until he arrived in a helicopter and stood over the massive terrain that would be swamped with concert attendees, instantly making him feel "terrified and quite queasy."
Yet another fabulous anecdote about the origins of this concert was the fact that Robbie would have become friends with Oasis. He playfully suggested that he should outdo their performance in the venue by simply adding an extra date. Well, he did – now he holds the record for concert attendance of a single artist in Britain.
Perhaps the most memorable moment of this event was when Williams invited his former Take That bandmate, Mark Owen, where they performed a rendition of their tune Back For Good. It would be the very first time they would sing together since the band had split in 1996 – subsequently, this did wonders for Owen as it would put him back in the limelight.
The aftermath was a glorious event for Robbie, he wouldn't only become a record holder for his live shows, but he would also produce the second-fastest-selling live album in the United Kingdom. Funny enough, he recalls this as just another gig.
24. Fatboy Slim Live at Big Beach Boutique II, Brighton Beach (2002) – 250,000 Attendees
| | |
| --- | --- |
| City | Brighton & Hove |
| Date | July 13, 2002 |
| Number of Attendees | 250,000 |
| Artists | Fatboy Slim |
| Venue | Brighton & Hove Seaside |
The most massive rave that England had ever experienced, created by a single artist. Norman Cook, better known as Fatboy Slim, organized a single live event that cost him £275,000 to set up and eventually clean, as the streets and seaside of the beachside city of Brighton & Hove would end up reeking of urine for a week.
Many of these live events end up on the list because the turn up ends up exceeding the venue's capabilities, this time around is no different, but it ended up leaving a lasting impact on an entire town. Brighton's pier seaside sector can withstand roughly 100,000 people at the same time, and Fatboy Slim expected a moderate 60,000 due to his previous experience just a year before, but in this occasion, the call was so huge that it attracted more than 250,000 people to the event.
The aftermath of the 2-hour-long show left the streets of the city cramped, with train lines and buses alike cramped and leaving chaos in charge of an entire night. As for Cook, he was advised to leave the country for a couple of weeks following the increasing discontent of authorities against him.
25. Vasco Rossi Modena Park (2017) – 220,000 Attendees
| | |
| --- | --- |
| City | Modena |
| Date | July 1st, 2017 |
| Number of Attendees | 220,000 |
| Artists | Vasco Ross |
| Venue | Modena Park |
Vasco Rossi is one of the most beloved national artists in Italy, boasting 30 albums and over 250 songs penned under his name. Most notably, he has partnered up with the likes of Dave Grohl, Taylor Hawkins Jovanotti, and Lucio Dalla. In 2016, the prominent singer-songwriter announced that he'd be taking back his hometown of Modena after 15 years of absence from the town that saw him rise to stardom. Within just 48 hours of his initial ticket sale going live, he had pulverized the European record, selling 215,000 tickets, leaving a final block that would sell out within three hours.
Fans could be found camping nearby the venue as early as three days prior to the show, and a man even claimed to have been camping a month prior to the date. For those who weren't lucky enough to get their hands on tickets, the Moderna Park 2017 would be broadcasted live for an additional 5,633,000 viewers on television. A live rendition was also adapted for 197 movie theaters across the country and different sports venues, all transmitted live as well.
The event that swept an entire country would last for almost 4 hours, as Vasco would perform 40 songs in celebration of each decade of his career. Vasco managed to celebrate his career with an astonishing box office success amounting to a revenue of € 12.000.000, and an event that would still be remembered fondly to this day in the city of Modena.
26. Paul McCartney Live at Maracanā Stadium (1990) – 184,000 Attendees
| | |
| --- | --- |
| City | Rio de Janeiro |
| Date | April 20, 1990 |
| Number of Attendees | 184,000 |
| Artists | Paul McCartney |
| Venue | Maracaña Stadium |
A date fondly remembered by McCartney's resilience in the face of hard weather, Paul refused to cancel his massive presentation at Brazil's largest football stadium after a cyclone struck Rio de Janeiro and flooded the venue. As both audience and artist alike persisted with inclement weather, the rain suddenly stopped as soon as Maca took to the stage leading his band onwards, which ultimately inspired a massive roar from a packed stadium in full attendance.
The size of the mythical Maracaña can be intimidating for anyone, even for the former Beatle, who recounts being intimidated by the sheer atmosphere of the venue. Moreover, few dates have been as significant as this one for Sir Paul, as he recalls facing large skepticism prior to showtime: "One of the journalists said, What are you going to do about the weather, Paul? I gave it a straight face and said, It will clear up. Which sent them off giggling while they wrote their notes."
Nevertheless, it was a tense couple of days for an exhausted Paul, who had just flown from Japan to attend the South American leg of his tour. The story has it that he and his band were sitting at the top floor restaurant of their hotel as they witnessed a storm ravishing Rio de Janeiro, wondering if this show was going to be a possibility. However, nature conspired in favor of the artist, and history was made that day. At the time, only two other artists managed to play at this venue, but only McCartney and Tina Turner managed to get Guinness World Records out of their presentations.
27. Bruce Springsteen Live at East Berlin, Weißensee (1988) – 165,000 (ticketed) and Estimated 500,000 Attendees
| | |
| --- | --- |
| City | East Berlin |
| Date | July 19, 1988 |
| Number of Attendees | Between 165,000 and 500,000 |
| Artists | Bruce Springsteen |
| Venue | Weissensee Cycle Track |
The boss is known for his larger-than-life personality and community spirit above all. However, Berlin would host his greatest concert ever, vast beyond attendance with a cultural importance that would transcend the presentation. With 165,000 people witnessing the first large-scale rock concert in their lives, Springsteen would sing songs of unity among the political and physical divide that marked a new healing wound in East Berlin.
July 19th was a muggy and overwhelmingly hot summer day, with temperatures scaling over 30 degrees and 50,000 people crowding the restricted venue. It was a complete reinvention of a landmark that had remained enclosed following the divide between East and West, with nothing but a makeshift stage on the large terrain and a massive video screen installed so everybody could enjoy the show. However, many accounts share that despite audio and video being delayed and logistical complications that ended up in the biggest traffic jam in the German Democratic Republic, the crowd was boasting with joy at the sight of the first Western concert they had experienced in their lifetime.
Cherno Jobatey, a foreign journalist who was credited with attending the show, spoke about the palpable air and wind of change that was in the streets the day of that faithful Springsteen concert, "Everywhere you saw couples kissing wildly. The atmosphere was just amazing. You immediately had the feeling of witnessing a very special event. Something you only experience once in your life. The organizers obviously hadn't expected these crowds, but nobody seemed to mind the hour-long march."
Soon after the permitted forum of 165,000 people was let in, the organizers realized that something had happened. Double the number would have made their way into the venue. Something that couldn't be officially communicated, or else the officials in charge would get in trouble. Roland Claus, a then minister and now member of the Bundestag, pointed out that his estimates garnered that even 500,000 concert-goers had managed to get into the venue, the largest congregation of people that the GDR had ever witnessed and had to censor for obvious and lamentable reasons. Nevertheless, the damns were broken, and these people would never be the same after experiencing Springsteen live.
28. Roger Waters' Concert at the Berlin Wall (1990) – 150,000 Attendees
| | |
| --- | --- |
| City | Berlin |
| Date | July 21, 1990 |
| Number of Attendees | Over 150,000 |
| Artists | Various – Roger Waters, Bryan Adams, Cyndi Lauper, Scorpions, Rudfunk Orchestra & Choir, Ute Lemper, Sinead O' Connor, The Band, Jerry Hall, Paul Carrack, Van Morrison, The Alexandrov Assemble, Western Army Band. |
| Venue | Potsdam Platz |
Few artists in history have been able to get the point across the way Roger Waters does and has been doing for half a century. In 1989, he had refused to ever play The Wall live again if it meant he would have to do it in a stadium or closed venue, claiming it would defeat the purpose of his opus. However, a year after the Berlin Wall had been torn down by its people, he saw the perfect opportunity to commemorate this turning point in modern history and rallied a vast array of guest artists to his side to interpret with them each song of the album.
The production of this special concert was something for the ages, amounting to 150,000 tickets sold and a little over exceeding the initially expected. With a massive logistic operation, Waters managed to set up a 550-foot-long wall prior to the show, with the rest being built as it progressed.
As for its guest artists, Roger has pointed out that the lengths he had to go to get some of his guests nearly killed him. By the end of the day had succeeded in confirming the attendance of Sinead O'Connor, Cyndi Lauper, Brian Adams, and even Scorpions, among others that saved the bill, while others such as Rod Stewart and Bruce Springsteen had canceled in the midst of yet another controversy, between Waters and his former bandmates.
The was calculated, to say the least, with the theatrical reenactment of the film played by the likes of Tim Curry, Ute Lemper, and Thomas Dolby followed by larger than life performances of guest artists with Waters at the helm. The former Pink Floyd singer and bass man had cemented himself in the memory of Berlin with a visceral rendition of his magnum opus accompanied by the Rundfunk Orchestra & Choir and a wrenching presentation of Empty Spaces/What Shall We Do Now? Accompanied by Bryan Adams. Waters was at the cusp of his artistry, delivering the largest sold-out show at the time that could only be topped by its cultural significance.
29. U2 Live at the Reggio Emilia (1997) – 150,000 Attendees
| | |
| --- | --- |
| City | Reggio Emilia |
| Date | September 20, 1997 |
| Number of Attendees | 150,000 |
| Artists | U2 |
| Venue | Reggio Emilia Campovolo |
During the promotional PopMart world tour in support of their 1997 studio release Pop, U2 made their mission to visit every corner of the world they could manage, shifting from traditional venues like football stadiums to makeshift massive stages. However, on September 20, they got to Reggio Emilia in Italy, where 150,000 fans garnered to out the Irish band in the record books as one of the biggest-selling and attended acts.
U2's performance at the Reggio Emilia airport shocked Bono and Larry upon arriving at the venue, as they were quickly jumped by local press to interview and inform them of the fact that they had made history. As for the show itself, U2 had been shocking audiences with their colorful response to the more "brown sounding tinctures of American rock music" as appointed by Bono, marking a full circle on their trajectory with PopMart.
The show itself presented a mix of U2's greatest hits with an emphasis on the songs from Pop, making for a carefully calculated setlist that would enmesh powerful music with a visually captivating production. During an interview with MTV Europe, Bono praised the fact that as the tour progressed, they were aiming for a very particular feeling that would appeal to the sublime in the fans, "Letting them know they're part of something bigger in this world," and that is precisely what they did.
30. Madonna Live in Paris (1987) – 131,100 Attendees
| | |
| --- | --- |
| City | Paris |
| Date | August 29, 1987 |
| Number of Attendees | 130,000 |
| Artists | Madonna |
| Venue | Parc de Sceaux |
The Material Girl's first time outside of America crowned her as the queen of pop, and it became all the more evident when she set the record for the highest-attended ticketed concert back in 1987, breaking her own record in Rio de Janeiro. A massive Parisian crowd flooded Parc de Sceaux on August 29th, leaving Madonna with a sweeter-than-heaven first time in Paris.
Parc de Sceaux, as a venue for Madonna, is not only suitable but a prestigious backdrop for the occasion. The park's lush, historic surroundings provided a unique harmonious contrast for her performance, adding to the overall allure. The location had never hosted this massive number of people, and who's better to achieve that than Madonna?
After 25 shows, She appeared on stage with a relentless charisma paired with a stunning visually choreographed spectacle that was dubbed "the most invigorating live show in the world." Though many may put that as a debatable statement this Paris show cemented her as a global pop icon both critically and commercially. To this day, this live show still holds the record for her most attended performance, and that is a lot for an artist of this caliber.
If you want to take a look at the astonishing amount of people that crowded Parc de Sceaux take a look at this excerpt.
Honorable Mention: Live Aid (1985) – 1.9 Billion Viewers
| | |
| --- | --- |
| City | London, England and Philadelphia, Pennsylvania, U.S.A. |
| Date | July 13, 1985 |
| Number of attendees | 1.9 billion |
| Artist | Various — Queen, Sting, Phil Collins, U2, Dire Straits, David Bowie, The Who, Elton John, Paul McCartney, Joan Baez, Billy Ocean, Black Sabbath, Run-D.M.C., The Beach Boys, Santana, Tom Petty and the Heartbreakers, Madonna, Neil Young, Led Zeppelin, Eric Clapton, Hall & Oats, Bob Dylan, Mick Jaggar, and more |
| Venue | The World |
While it might not officially count as one of the largest concerts of all time in terms of attendance (since most people were just tuning in on their TVs), it'd be difficult to have a list of legendary mega-concerts without mentioning Live Aid from 1985.
In 1984, millions of people were starving to death in Ethiopia due to what has been described as a "biblical famine in the 20th century." Millions of people from all over the world worked together to raise aid and awareness for those impacted. One of the biggest ideas was to throw a worldwide charity concert headlined by the biggest musicians around the world and have it broadcast simultaneously around the world from two stages in separate cities.
The two cities participating were London, England and Philadelphia, PA in the United States. Major music superstars took the stage in both cities, and the concerts were streamed live all over the world.
Here are just a few of the artists involved in the 1985 Live Aid concert:
Black Sabbath
Tom Petty and the Heartbreakers
And many, many more
In Wembley Stadium in London, around 72,000 people showed up to hear the acts live. In the U.S, almost 90,000 fans appeared at John F. Kennedy Stadium. While the combined 162,000 attendees is far from making a record, the 1.9 billion people watching live from their homes all over the world certainly would!
That's right, 1.9 billion (with a B) was the estimated viewership for the Live Aid 1985 concert, which is around 40% of the entire Earth's population! If that's not enough for at least an honorable mention on a list of the biggest concerts of all time, nothing is.
While there were countless legendary musicians, Live Aid was also the incredible reunion of Queen with Freddie Mercury and his show-stopping performance that has been dubbed "the greatest live gig of all time." It was so good, they had to make a movie out of it!
Watch Queen take the stage like never before in this video from Live Aid 1985, and you'll easily see why 1.9 billion people just had to tune in and see it for themselves!
Quick Recap: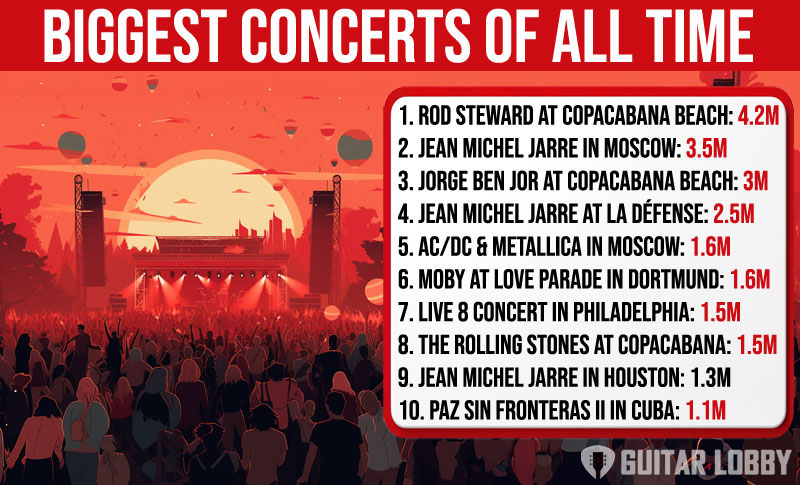 | | |
| --- | --- |
| Event | Attendance |
| Rod Stewart's New Year's Eve Concert at Copacabana Beach | 4,200,000 |
| Jean-Michel Jarre's 850th Anniversary of Moscow Concert at State University of Moscow | 3,500,000 |
| Jorge Ben Jor's New Year's Eve Concert at Copacabana Beach | 3,000,000 |
| Jean-Michel Jarre's Bastille Day concert at La Défense | 2,500,000 |
| Monsters of Rock concert at Tushino Airfield (AC/DC, Pantera, Metallica, The Black Crowes, E.S.T.) | 1,600,000 |
| Love Parade Festival at Bundesstraße 1 highway | 1,600,000 |
| Live 8 at the Philadelphia Museum of Art | 1,500,000 |
| The Rolling Stones, A Bigger Bang Tour at Copacabana Beach | 1,500,000 |
| Jean-Michel Jarre's Rendez-vous Houston in Downtown Houston | 1,300,000 |
| Paz Sin Fronteras II at Plaza de la Revolución | 1,100,000 |
| The Beach Boys Independence Day concert at the Philadelphia Museum of Art | 1,000,000 |
| Jean-Michel Jarre's Bastille Day at Place de la Concorde | 1,000,000 |
| Antonello Venditti, AS Roma's 3rd Serie A victory at Circus Maximus | 1,000,000 |
| The Black Eyed Peas New Year's Eve concert at Copacabana Beach | 1,000,000 |
Million-Plus Mega-Shows: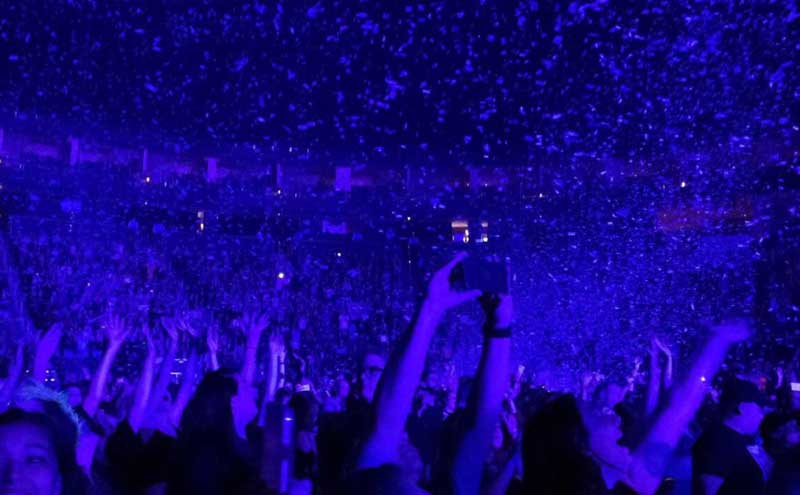 Gathering a million people in one place almost seems like an impossible task, but music is the great unifier. There have been several performances throughout history to achieve a million or more attendees, making them the largest concerts of all time. Will any venue be able to break Rod Stewart's 4.2 million attendees? Only time will tell!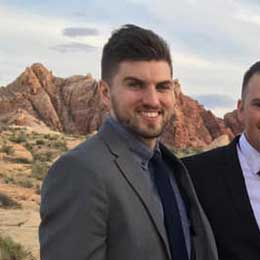 My name is Chris and I've had a passion for music and guitars for as long as I can remember. I started this website with some of my friends who are musicians, music teachers, gear heads, and music enthusiasts so we could provide high-quality guitar and music-related content.
I've been playing guitar since I was 13 years old and am an avid collector. Amps, pedals, guitars, bass, drums, microphones, studio, and recording gear, I love it all.
I was born and raised in Western Pennsylvania. My background is in Electrical Engineering, earning a Bachelor's degree from Youngstown State University. With my engineering experience, I've developed as a designer of guitar amplifiers and effects. A true passion of mine, I've designed, built, and repaired a wide range of guitar amps and electronics. Here at the Guitar Lobby, our aim is to share our passion for Music and gear with the rest of the music community.