If you are a musician, an avid music aficionado, or a frequent concert-goer, at some point or another you've probably asked yourself "What are the Biggest Concerts of all Time?"
Biggest Concert of All Time
To save you time and answer the question that brought you here. The Biggest Concert of all time came at the hands of legendary rock musician Rod Stewart.
In 1994, Rod Stewart took the stage at Copacabana Beach (Brasil) with 3,500,000 people in attendance. And just in case you miscounted the zeros, that is 3.5 Million!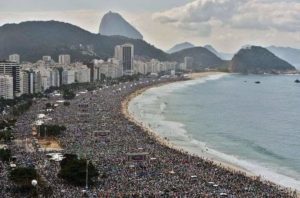 To this day, the free New Years Eve concert holds the Guinness World Record for Largest Open-Air concert. Even more mind-blowing is the fact that some estimate that the crowd may have been as large at 4.2 Million. It's safe to say that its going to take quite a bit to dethrone Sir Rod Stewart for the biggest gig of all time.
Biggest Concerts of All Time
Live music comes in many forms. From street corners and dive bars, where local musicians are trying to make a name for themselves. To auditoriums and ballrooms with exciting stage setups, light shows, and a more refined sound mix.
These type of settings offer an excellent intimate experience for concert goers and performers alike, however there's nothing quite like a packed stadium or a massive airfield packed. More People, more Energy, more epicness!
Biggest Concerts Criteria
For this list we decided to focus solely on ticketed concerts. It's not that we don't like free concerts or festivals, but there is no consistent metric to base the numbers off of.
This list for biggest concerts of all time includes ticketed only concerts for a single band/ artist. No music festivals (pay to see many different bands), and no free concerts (anybody can stumble over to the show) were included. We figured it means more if you got skin in the game and the epic concert is put on for one band/ artist.
Also, Just to be clear, Rod Stewart's Copacabana beach concert does not make our list because it was free. However, if you are looking for the biggest concert regardless of whether or not it is free, there you have it!
List of the Largest Concerts of All-Time
Ok, let's get on with it and find out what the biggest music concerts in history are. Below is a chart highlighting the biggest gigs of all time which includes the band/ artist, year, venue, tour title, and attendance. Below that we dive a bit deeper into the details of each show.
| Date | Artist | Attendance | Venue | City |
| --- | --- | --- | --- | --- |
| July 1, 2017 | Vasco Rossi | 225,173 | Parco Enzo Ferrari | Modena |
| June 28, 2005 | Bijelo Dugme | 220,000 | Belgrade Hippodrome | Belgrade |
| July 31, 1999 | Glay | 200,000 | Makuhari Messe | Chiba |
| April 21, 1990 | Paul McCartney | 184,000 | Maracanã Stadium | Rio de Janeiro |
| January 16, 1988 | Tina Turner | 180,000 | Maracanã Stadium | Rio de Janeiro |
| January 26, 1980 | Frank Sinatra | 175,000 | Maracanã Stadium | Rio de Janeiro |
| September 10, 2005 | Luciano Ligabue | 165,264 | Aeroporto di Reggio Emilia | Reggio Emilia |
| July 19, 1988 | Bruce Springsteen | 160,000 | Radrennbahn Weissensee | Berlin |
| September 19, 2015 | Luciano Ligabue | 151,395 | Aeroporto di Reggio Emilia | Reggio Emilia |
| September 20, 1997 | U2 | 150,000 | Aeroporto di Reggio Emilia | Reggio Emilia |
| March 20, 1981 | Queen | 131,000 | Estádio do Morumbi | São Paulo |
| August 29, 1987 | Madonna | 130,000 | Parc de Sceaux | Paris |
| August 5, 1995 | The Rolling Stones | 126,742 | Strahov Stadium | Prague |
| September 11, 1988 | Michael Jackson | 125,000 | Aintree Racecourse | Liverpool |
| September 7, 1996 | Michael Jackson | 125,000 | Letná Park | Prague |
| August 10, 1996 | Oasis | 125,000 | Knebworth Park | Stevenage |
| August 11, 1996 | Oasis | 125,000 | Knebworth Park | Stevenage |
15. Oasis at Knebworth (1996) – 125,000 people
The biggest gig for the one of the biggest bands of the 90's. The Britpop rock n' roll stars from Manchester played two shows at Knebworth Park in Hertfordshire, England during the summer of 1996.
Related: Best Oasis Concerts [Top 10]: Full Concert Videos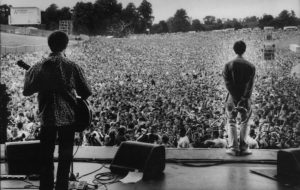 Oasis was more than just a band for the UK (still is). They were an attitude, a feeling of a whole nation, especially during their prime in the 90's. "This is history, this is history, right here, right now. This is history", Noel Gallagher, the lead guitarist and songwriter for the group, exclaimed as they took the stage on night 2.
Related: Liam Gallagher's Why me? Why Not
Liam Gallagher, the lead vocalist and frontman of Oasis, took the stage and said "I wanna hear ya, are yer mad for it?". Indeed England was mad for it. 4.5% of the UK's population applied for the tickets. That's roughly 3 million people. Enough to sell out over a weeks worth of gigs with 125,000 people at each. Biblical to say the least.
Oasis Performs Champagne Supernova at Knebworth 1996
14. Michael Jackson in Prague (1996) – 126,000 people
The King of Pop's first concert to make the list of the biggest shows of all-time. For the opening show for his HIStory World Tour, Jackson performed in front of a whopping 125,000 fans in Letná Park. Letná Park is located along the Vltava River in Prague, Czech Republic.
Michael Jackson Prague 1996 Full Concert
13. Michael Jackson in Liverpool (1988) – 127,000
Michael's second concert to make this list edged out his previous number of people by a mere 1,000 people. His show at the Aintree Racecourse in Liverpool England comes in at #13 on our list at 127,000 people.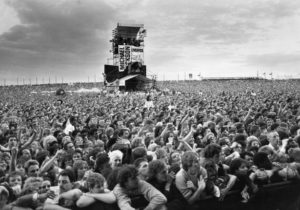 Michael Jackson's Biggest Concert of all time
"I have always considered Liverpool the home of contemporary pop music, by virtue of its being the birthplace of the incomparable Beatles," he said. At the height of his prime the King delivered once again for what turned out to be the biggest audience he ever performed for.
12. The Rolling Stones in Prague (1995) – 127,000
Switching gears from pop to good old-fashioned classic rock, we head back to Prague. Here the "Greatest Rock n' Roll Band in the World", the Rolling Stones played an epic show in front of 127,000 concert attendees.
Related: How Many Shows Have The Rolling Stones Played?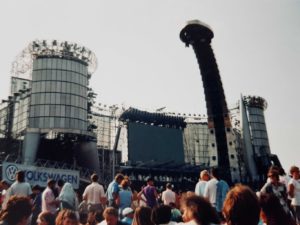 It should be no surprise The Stones made our list as they have been selling out stadiums since the 70's. However, it was a surprise to us that it was only once, as this was The Rolling Stones' largest crowd the band had ever played for (ticketed event). The Prague concert at Strahov Stadium came during the Voodoo Lounge Tour on August 5th, 1995.
Related: Mick Jagger Workout & Fitness Routine
11. Madonna in Paris (1987) – 130,000
The "King of Pop" had two of his shows make the list, but the "Queen of Pop" edged him out with a bigger crowd. Madonna was equally as big as Michael Jackson during the late 80's. Her "Who's that Girl Tour" was 38 shows worldwide and showcased a seasoned, and more confident stage presence from Madonna.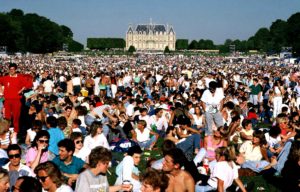 The show at Parc de Sceaux, France was attended by 130,000 people. Madonna's largest crowd ever at the height of her popularity.
10. Queen in Sao Paulo (1981) – 131,000
On March 20th, 1981, one of, if not the greatest frontman of all-time, Freddie Mercury lead Queen out onstage in Estádio do Morumbi.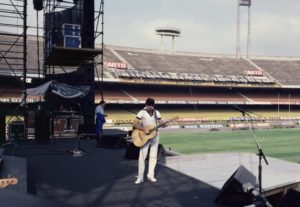 The stadium in Sao Paulo, Brasil was jam-packed with 131,000 wild fans most of whom were seeing Queen perform live for the first time! Mercury's Godly stage presence was on full display as he and band were lights out as always! Oh, and by-the-way, they played back to back here as well. Total attendance was ~251,000 people in two nights.
9. U2 in Reggio Emilia (1997) – 150,000
The Mighty U2 come in on the list at #9 for their massive show in Reggio Emilia. The relatively small town in Northern Italy played host to the largest concert crowd U2 has ever played for (non-festival crowd that is!).
The event took place on September 20th, 1997 at Aeroporto di Reggio Emilia for U2's PopMart Tour of 1997.
U2 PopMart Tour – Reggio Emilia
8. Luciano Ligabue in Reggio Emilia (2015) – 151,395
Now having just listed U2's 1997 gig at Reggio Emilia you may be familiar with the venue, but unless you're Italian your probably have not heard of the next artist.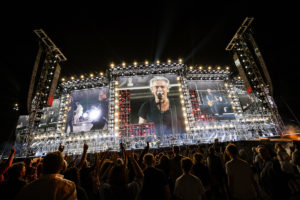 Well in my opinion in you're doing a concert with over 150,000 people you're kind of a big deal. Luciano Ligabue is Italy's most prominent rock star. He rose to fame throughout the 90's and has been very popular ever since. Learn more about him here!
7. Bruce Springsteen in Berlin (1988) – 160,000
The Boss makes his only appearance on the list of biggest concerts of all-time for his gig in Berlin in 1988. In front of a whopping 160,000 people, in what was very tumultuous time in Berlin (Cold War/ Berlin Wall), Bruce Springsteen and the E-Street Band did what they do best.
The band brought it for 3 hours. In the middle of the show Bruce stepped up to the mic and had some words for the massive crowd. "I want to tell you I'm not here for or against any government," Springsteen said, as he pointedly introduced his rendition of the Bob Dylan ballad Chimes of Freedom. "I came to play rock 'n' roll for you East Berliners in the hope that one day all the barriers will be torn down."
Bruce Springsteen – Chimes of Freedom – East Berlin 1988
It really puts it in perspective how music transcends time and politics, and truly forms bonds between people. His performance of Born in the U.S.A is also notable from this show!
6. Luciano Ligabue in Reggio Emilia (2005) – 165,264
Well wouldn't you know it the Italian Rock star Luciano Ligabue makes another appearance on the list. Turns out this guy is an even bigger deal than we originally mentioned. This record-breaking concert crowd took place at the exact same location as his gig in 2015, and almost exactly 10 years prior.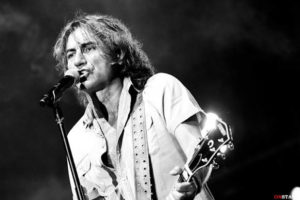 The only difference was the crowd since. Ligabue had about 15,000 more people in attendance for his 15th anniversary show in 2005 than his 2015 gig. Regardless, it's safe to say that Italy, Reggio Emilia in particular, loves this guy!
5. Frank Sinatra in Rio de Janeiro (1980) – 175,000
We are finally at the top 5 biggest concerts of all-time. We crack into the top 5 with one of the most successful artists in modern music history – Frank Sinatra. Sinatra is one of the best-selling artist of all-time, having sold ~150 million records. He was also known for his acting, winning a golden globe for his performance in the 1957 classic "Pal Joey".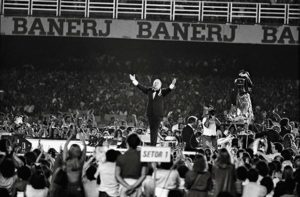 By 1980, Sinatra was already 10 years retired, however like most artists, he had a bit of a comeback period during the 1970's. Who would have thought his biggest concert ever comes in the twilight of his career? Well I guess it's not all that surprising seeing as people go crazy for stuff like that!
Largest Live Paid Audience Ever for a Solo Performer
Anyway Sinatra performed at the Maracanã Stadium in Rio de Janeiro on January 26th, 1980 in front of 175,000 people. At the time it broke the record for the "largest live paid audience ever recorded for a solo performer".
4. Tina Turner in Rio de Janeiro (1988) – 180,000
Eight years after Frank Sinatra graced the staged at Maracanã Stadium in Rio de Janeiro, Tina Turner topped him. An additional 5,000 people were recorded at Turners gig in Rio, breaking Frank's record. The R&B Legend graced the crowd of 180,000 strong with her impeccable vocals and stage presence for a night they'd never forget!
Tina Turner Live in Rio 1988 Full Concert
4. Paul McCartney in Rio de Janeiro (1988) – 184,000
Another record-breaking crowd at the same venue for #4 on the list of biggest concerts of all time. 2 short years after Tina Turner played Maracanã Stadium in Rio de Janeiro, Sir Paul McCartney showed up to the party and played in front of 184,000 people. The former Beatle put on a stellar performance as always. Check it out below!
Paul McCartney Live in Rio 1990 Full Concert
3. Glay in Chiba (1999) – 200,000
Our first concert on the list to reach 200,000 ticketed attendees. For those of you who don't know, Glay is a Japanese rock band that formed in 1988. They have sold over 50 million records over the course of their career and are one of the best selling artists of all-time in Japan.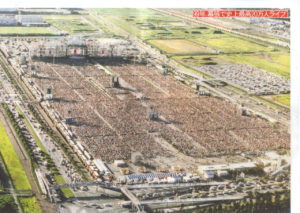 On Jult 31st, 1999 Glay took the stage at Makuhari Messe (Convention Center) in Chiba, Japan in front of 200,000 people for the Glay Expo '99 Survival. The audience of 200,000 broke the world record for largest ticketed concert for a single act!
2. Bijelo Dugme in Belgrade (2005) – 220,000
Bijelo Dugme was a Yugoslav rock band that was active from 1974 to 1989. The band was at the forefront of Yugoslavia's emerging new wave scene in the early 1980's, remains one of the most important rock bands in the country's history.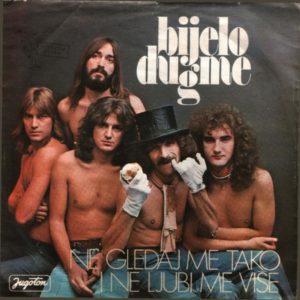 Amid political and social tensions in Yugoslavia in the late 80's the group disbanded leaving a massive legacy behind. 25 years later the band for a reunion concert in the capital city of Belgrade at the Belgrade Hippodrome. The reunion show drew an attendance estimated at 220,000 for the beloved band!
1. Vasco Rossi in Modena (2017) – 225,173
Finally we have reached the #1 spot on our list for the biggest concerts of all time. Now as we stated at the beginning it is important to note that this list includes individually ticketed acts, and not festival crowds.
Biggest Concert of All Time for Individually Ticketed Event
The biggest concert of all-time took place at Parco Enzo Ferrari in Modena, Italy on July 1st, 2017. The artist; Vasco Rossi. For sure take a look at the video below – the crowd size almost inconceivable!
Vasco Rossi Modena Park Full Concert 2017
Rossi is an Italian singer-songwriter who has released 30 albums and sold over 35 million albums over the course of his career. He announced his retirement from touring in 2011, but as we've stated before "everyone loves a reunion concert". Why would it be any different for Vasco?
In 2017, he celebrated the 40th year of his career with a massive concert in front of 225,173 concert attendees in Modena. This show broke every prior record on our list! Almost a quarter-million people in one place, at one time, listening to one act! It doesn't get bigger than that (as of 2019).
Hope you enjoyed the list of biggest concerts of all-time. If you have any comments or suggestions, or if we've made a mistake, feel free to drop us a line on our contact page!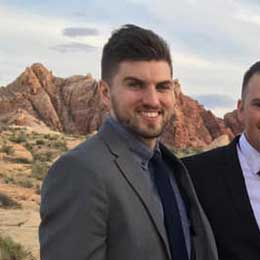 My name is Chris and I've had a passion for music and guitars for as long as I can remember. I started this website with some of my friends who are musicians, music teachers, gear heads, and music enthusiasts so we could provide high-quality guitar and music-related content.
I've been playing guitar since I was 13 years old and am an avid collector. Amps, pedals, guitars, bass, drums, microphones, studio, and recording gear, I love it all.
I was born and raised in Western Pennsylvania. My background is in Electrical Engineering, earning a Bachelor's degree from Youngstown State University. With my engineering experience, I've developed as a designer of guitar amplifiers and effects. A true passion of mine, I've designed, built, and repaired a wide range of guitar amps and electronics. Here at the Guitar Lobby, our aim is to share our passion for Music and gear with the rest of the music community.