When you're first learning to play the guitar, it's tough to know where to begin. As a guitar teacher, I recommend beginners start with super easy guitar songs that only have a few chords. These types of songs are perfect for building confidence and fundamental guitar-playing skills.
I would be lying if I told you that you could be a master of the string overnight. You need to master a few basic tricks like the correct strumming, picking, and fingering techniques.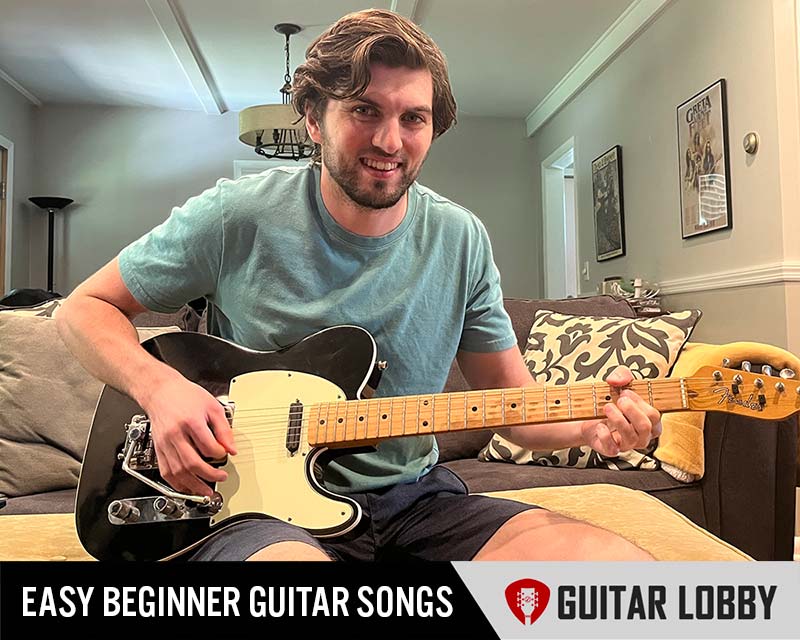 The songs I am about to share with you are easy enough to play, and their rhythm is predictable enough for the average beginner guitarist.
Before we get into the list, keep in mind that this list will include songs for both acoustic and electric guitar. The tabs and lesson videos may be geared specifically for one or the other. You might want to check our easy acoustic guitar songs list, easy electric guitar songs list, or easy bass guitar songs list, depending on which type of guitar you play. This list will also have many songs across all genres, including rock, pop, country, and more.
Here is a List of Easy Guitar Songs (All Genres)
1. Take Me Home, Country Roads by John Denver

John Denver's Take Me Home, Country Roads is a song that can give you a sense of nostalgia wherever you are or whatever stage of life you are in. West Virginia's official state anthem, "Take Me Home, Country Roads," also happens to be an easy song to play on a guitar.
The verses are a breeze to play. They follow a G-Em-D-C-G pattern. By the time you reach the chorus, the chords change a bit to include G-D7-Em-C-G-D-C-G. The rhythm is not that fast. Absolute beginner guitarists can easily follow at their own pace.
You can try some fancy finger techniques in the future. However, this is hardly necessary as the song is already rich enough in melodies. This is an all-around great song for parties and get together as well as in bars or small venues. Just have fun with it.
2. Sweet Home Alabama by Lynyrd Skynyrd

I think "Sweet Home Alabama" is a great piece for people who want a classic rock song that's easy to learn and master. You can play this almost anywhere, and your audience will be clapping their hands and singing along. It's great for bonfires or while your time during road trips.
Nothing can be simpler than "Sweet Home Alabama." The rhythm is predictable. The song itself is open to different variations. You only need to master the basic chords before you can move on to more complex guitar playing techniques.
This 1974 Southern rock hit only has three chords to play. There's a G, followed by a C, and then finished off with a D. You then start all over again. How easy is that?
Of course, you can try pull-offs and hammer-ons later to provide the song with texture. What is sufficient for beginners is to master the strumming of the chords. Get these chords right, and everything should be easy. This is one of my favorite easy guitar songs for beginners, and almost everyone will recognize it.
3. Seven Nation Army by The White Stripes

There is no mistaking the guitar riff that Jack White of The White Stripes popularized. While the riff has a very uncanny name (earworm), it is one of the easiest pieces any beginning guitarist can play.
The song only calls for 7 notes that you play in succession. The best part? Well, these 7 notes are all on the fifth string. In case you don't know where the 5th string is, that is the second string from the top. It's the second fattest one.
With your finger on the 5th string, try to press on the 7th fret, 7th fret, 10th fret, 7th fret, 5th fret, 3rd fret, and the 2nd fret. Play these frets in that order (7-7-10-7-7-5-3-2). Those are the 7 notes for Jack White's famous earworm. Finish it off with a G5 and an A5 power chord, and you are off to a blistering start.
4. Boys 'Round Here by Blake Shelton

With only two guitar chords to play, Blake Shelton's "Boys Around Here" is one of the easiest pieces to master. A child who can reach his fingers on the fretboard should easily play the A and D chords of the song. It's that crazy simple.
Strumming isn't that difficult, either. You can go as lazy as you want for a more laid-back vibe. Or, if you're feeling more upbeat, you can strum the strings with a greater force to rock your neighborhood.
I couldn't care less whether you can sing like Blake Shelton does or not. What is important here is for you to get the correct rhythm. You can even have your pals play along with their own instruments or perhaps an improvised one.
Jamming with your friends is now more fun. You can also replace the lyrics with your own to give the song a nice twist.
5. Born in the U.S.A. by Bruce Springsteen

I know what you're thinking. How can a rock song with a very popular fingerstyle guitar riff become a good piece for absolute newbies to learn? Well, guitar songs can be played in different ways. The fingerstyle is just one of them. If you're a beginner, you don't want to go down this route. Fingerpicking is for more advanced players. This doesn't mean novice guitarists can no longer play this piece using a good, old-fashioned strumming technique.
There's a much better reason why I consider this 1982 Springsteen classic to be great for newbie guitar players. You will only use two major chords that require three strings to press – A major and E major. What can be tricky is the strumming technique. You would want it to sound melodic enough to give your friends a good reason to sing along.
This is a nice piece of music that you can always play with the rest of your buddies.
Popular Related Article: Our Favorite Easy Country Songs to Play on Guitar
6. All about that Bass by Meghan Trainor

It doesn't matter if you don't know how to play the amazing bassline of this 2014 doo-wop song. You can always devote several sessions to mastering that part. What is important as a beginner guitarist is to get the rhythm right.
This song also has three very easy guitar chords that any beginner guitar player can execute without any fuss. What you need to train your fingers in is how to perform the strumming pattern. The intro requires a D-DDU-UD-DUDU pattern. It is quite a handful, I know. However, I am confident you'll have this in the bag within an hour or so.
This Trainor song is a favorite of many. And I am sure you also have friends who have this in their playlists. The song's bass lines are perfect for playing on your car's stereo system. And when you play such a song on your guitar, you'd have the rest of the neighborhood dancing along.
7. You Are My Sunshine by Jimmie Davis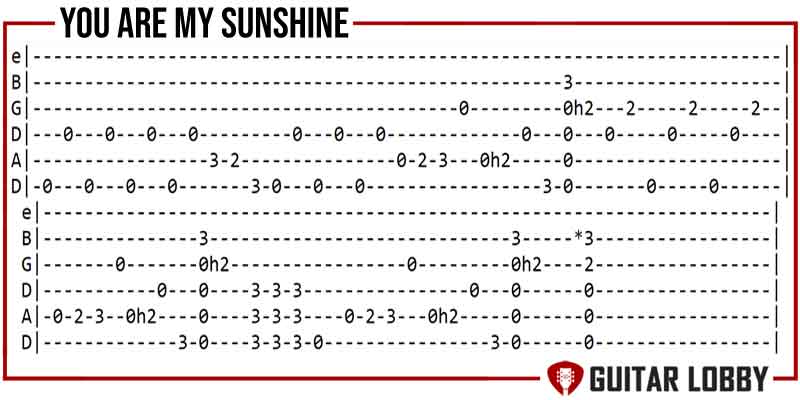 You Are My Sunshine is another one of my favorite super easy guitar songs for beginners that almost everyone will recognize. I have yet to meet a person who doesn't know this song. It is an enduring song that has been recorded and remixed countless times. Even the great Nat King Cole, Ray Charles, Anne Murray, Aretha Franklin, and Chuck Berry wanted to have a piece of history by recording their own version of this 1939 country song.
If you think the lyrics are easy to belt, you should see the guitar chords of this piece. All three chords are open, allowing absolute beginner guitar players to learn the song in minutes. The technique for strumming the chords isn't that complicated, too. It's basically a D-D-UDU pattern. All newbie guitarists will ever need is to follow the rhythm.
This music piece is perfect for practicing your switching technique. The chords make it easy to practice this skill. You'll feel more confident about playing other songs once you've gained mastery of switching between different chords.
8. Love on the Weekend by John Mayer
Here's a great song you can play and sing along with your friends when you go to the beach or have a fantastic barbecue party over the weekend. It has a bluesy flair and a carefree vibe that will make you want to shout TGIF every single day. It's also a great background song to your weekend road trips.
You can play this 2016 pop rock song using the arpeggio if you like. However, if this is your first time playing guitar, it would be more appropriate to start with the more conventional strumming technique. Most beginners can strum the chords with the precision of an advanced guitar player after only several minutes. I won't be surprised if you can do the same.
Focus on the strumming, which is simple enough for kids. You might also want to learn the guitar riff to make the song even more beautiful on your guitar.
9. Stand by Me by Ben E. King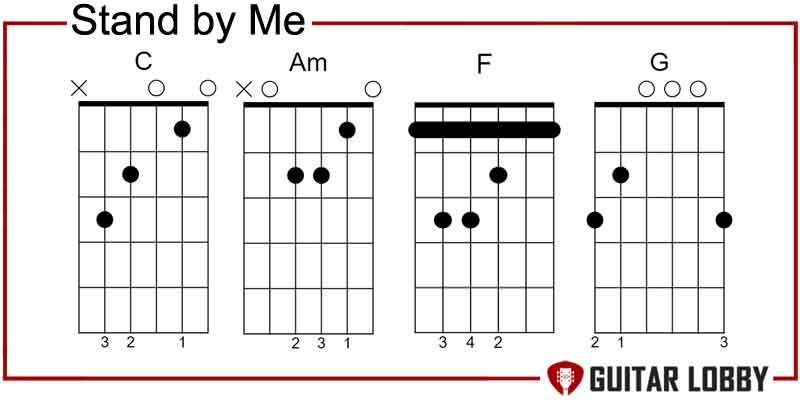 A favorite among best buddies, Ben E. King's "Stand by Me" is a classic that has stood the test of time. First recorded in 1960, the song still enjoys significant airtime in popular radio stations and music streaming platforms that specialize on the hits of the yesteryears.
And why not? The message still rings true to this very day. Almost everyone I know cannot help but tap their feet to the rhythm while singing the phrase "stand by me" in a beautiful chorus.
Not only is this Ben E. King's masterpiece a great song choice for any occasion. It is also a good stepping stone for aspiring guitarists. There are four chords to play that follow the 4-beat pattern of G-G-Em-Em-C-D-G-G.
You can put a twist, too. I have met guitarists who played with the chords to make the sound more 'contemporary', complete with a thump on the face of the guitar body that mimics the beat of a drum.
Popular Related Article: A Full List of Easy Pop Songs on Guitar
10. All Apologies by Nirvana
Who doesn't love the beat of Nirvana's rock classic, "All Apologies"? It is a grunge/rock tune that is ideal for aspiring guitarists, regardless of age. The song is one of the greatest hits ever to come out of the 90s. It took the pre-millennium decade by storm.
If you want to master this classic, I suggest checking out the Unplugged Version. The strumming pattern is so easy both on the electric and the acoustic guitars. You're welcome to try both versions to give you that rock star sound.
The simple rhythm that forms the backbone for the C, F, and G chords should make learning fast. There's good harmony and the rhythm lends a basic structure to the song's melody. Strumming is straightforward, although you might be tempted to perform guitar riffs in the future.
If you're looking for a great song to sing along to, then you've got to consider "All Apologies". It's one of those easy beginner guitar songs that I recommend to anyone that likes this genre of music.
11. Wild Thing by The Troggs

Most of the aspiring rock bands I have known started their journey mastering the explosive groove of the "Wild Thing". With such a catchy title, there is no way this The Troggs' masterpiece will not ring a bell in the minds of people across generations.
This 1960s rock classic still rules the airwaves of stations and channels that play rock. Many of the rock legends of our time also have their own versions of this classic, including Jimi Hendrix.
Playing the "Wild Thing" is not that difficult. After all, there are only three very simple major chords to play. You'll strum to the chords of A, D, and E all throughout the song. You can go soft on the strings or strum it with all your might.
Want to know if you have that rock star spirit in you? Master "Wild Thing" by taking it slow. Move on to power strumming for greater dynamics once you're done with the basics.
12. I Wanna Be There by Blessid Union of Souls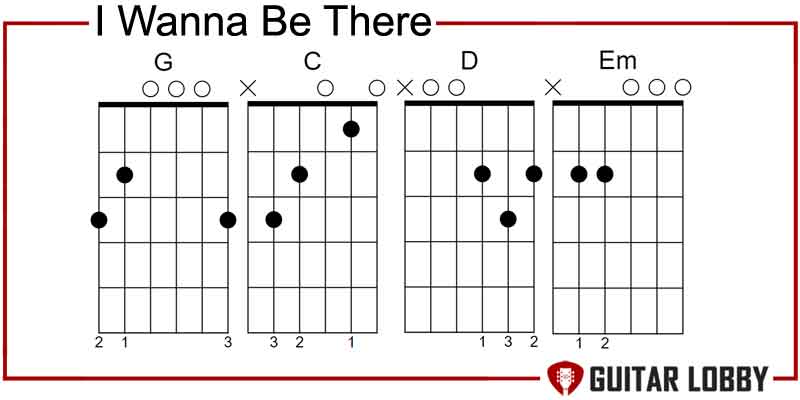 Another easy song to learn to play on a guitar is "I Wanna Be There". Blessid Union of Souls first released the song in 1997 and the raves started coming. It's easy to see why. The message was relatable and the sound itself was something that even a 5th grader can play.
The song only has three major chords that aspiring guitarists need to play. These chords include G, C, and D. It is as easy as playing blocks of A-B-C. There are no riffs, bends, and hammers, too. It's all plain strumming.
You only need to play G-C-D-G in progression. Start with the basic strumming techniques before moving on to some fancy fingering. This should set you on the path to becoming a good balladeer.
Play this song when you're on a date.
13. Love Me Do by The Beatles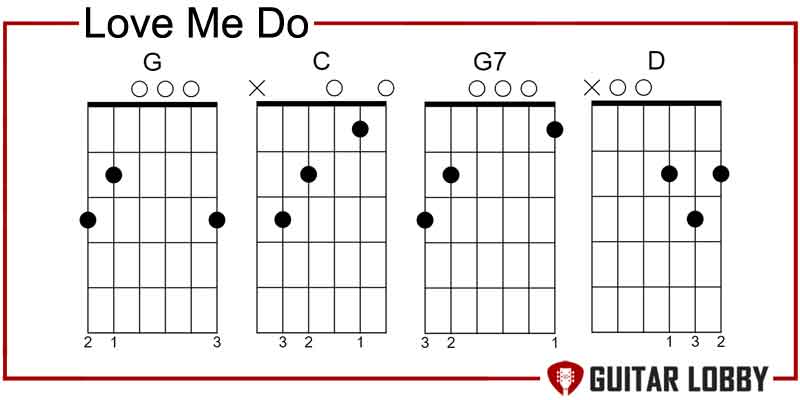 There is something about the songs of The Beatles that seem so magical. The lyrics are simple and very relatable. The chords are also very easy, both on the fingers and on the ears.
One of the first songs I have ever played with my guitar is "Love Me Do". It has this upbeat vibe that is very characteristic of Beatles songs of the mid-20th century.
Learning to play "Love Me Do" is as easy as playing two major chords: G and C. When you get to the bridge, you will only add a D to the pattern and you're already gunning it.
However, I do have to emphasize that you will have to learn the correct strumming pattern. Some guitarists employ straightforward down-up strokes. Others use a different stroke. My recommendation is to familiarize yourself with the song, especially its rhythm. This will help you decide on the strumming pattern.
Popular Related Article: Our Favorite Easy Rock Songs on Guitar
14. Brown Eyed Girl by Van Morrison

This song is a favorite during parties and weddings. It has a fun vibe to it that gives you a sense of having a carefree lifestyle. The chords are also easy and are open to a lot of improvisations. You can integrate detailed plucking techniques once you've mastered the basic strumming of the song.
There are only four notes in the song: G, D, C, and E-minor. You only add the Em chord when you're ready to sing the "My brown-eyed girl" line of the chorus. The pattern is G-C-G-D, followed by C-D-G-Em.
Okay, so the pattern is a bit more complex for starters. However, the four chords are still very easy to memorize and play. You should be able to play the song within an hour of continuous practice.
I don't need to reiterate the importance of rhythm here. Your strumming pattern will help you solidify your role as a guitarist.
15. Leaving on A Jet Plane by John Denver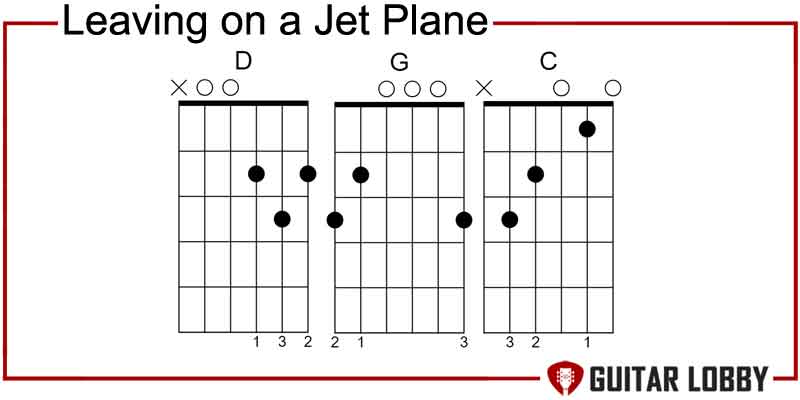 One of my personal favorites, "Leaving on A Jet Plane" is a classic piece that is perfect for absolute beginners to guitar playing. The strumming pattern is simple.
I taught a youngster in our neighborhood once and he was playing it like a legend in less than an hour. If this bloke can gun this piece, then anyone who has enough passion for music can learn to play it, too.
What makes "Leaving on A Jet Plane" easy to master is its 3-chord tab. The chords are also easy to play on the fret board, requiring very modest finger movements. You have G, C, and D strummed in progression throughout the song. The chords are the same whether it is the verse or the chorus of the song.
I still listen to John Denver's 1966 classic as it never fails to remind me of the beautiful nature of folk and country songs.
16. Knockin On Heaven's Door by Bob Dylan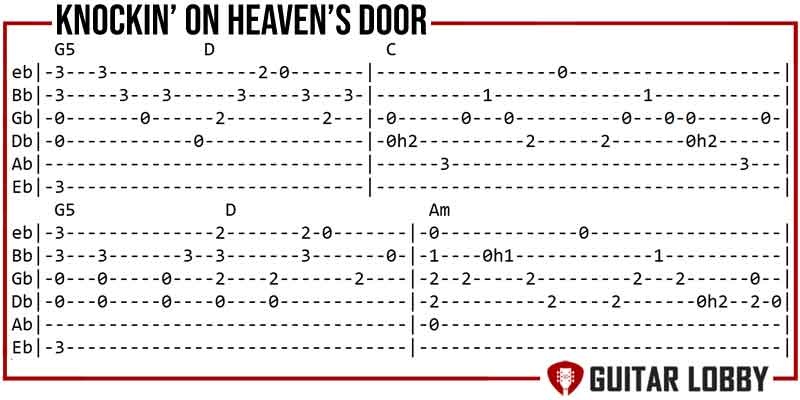 Every time someone plays this Bob Dylan classic, I cannot help but find myself swaying to the beat. It is not as hard as metal rock. But it sure is one of the best sounds there is. As it turns out, playing the chords is also as easy as finding your rhythm with the song.
There are only 4 chords that you play. However, I have seen guitarists make variations in their chord plays to give the song a different vibe.
The chords follow a typical G-D-Am pattern and followed by G-D-C. You play these chords alternately. You may want to vary the positioning of your fingers to get a different C and Am7. However, I do recommend mastering the chord progression first if you're just beginning.
It is important to feel your rhythm. The strumming motions are straightforward. It's all down-up with a 16th note pattern. Keep on practicing this and you could be strumming your way to fame.
17. Three Little Birds by Bob Marley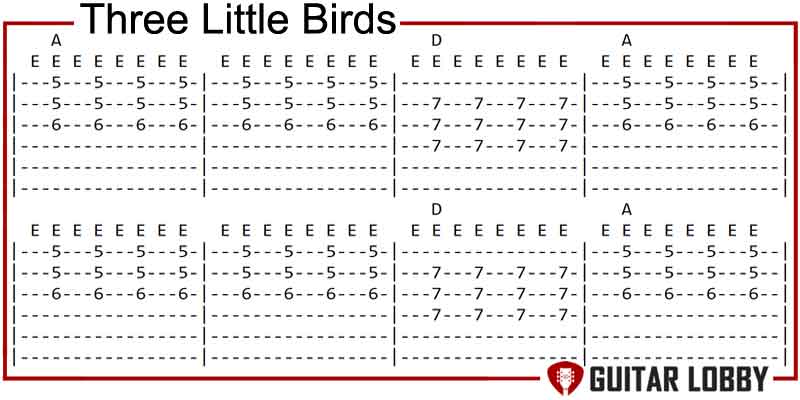 The "Three Little Birds" is a Bob Marley classic of the late 1970s. It reached the UK Top 20 at the 17th spot and has been rendered by different artists of the modern era.
The latest artist to give their own take of Marley's masterpiece was Maroon 5 in 2018. Today, the song remains a favorite among young children because of its feel-good vibe.
One thing you should know about this reggae is that it is also easy to play. There are only three chords to master: A, D, and E. It's perfect for anyone who loves reggae or those who simply want a rhythm that can rock the soul like a lullaby.
Strumming to the rhythm of the "Three Little Birds" feels like getting transported to the white sandy beaches of the Caribbean. It has this distinct 'island' vibe to it that makes you feel so relaxed and in the mood.
18. Talkin' Bout A Revolution by Tracy Chapman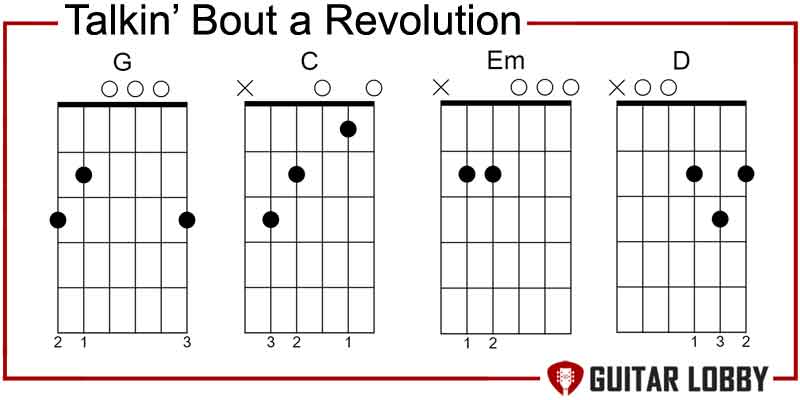 This song is a classic folk song with a protest style undertone. The progression is very simple; perhaps, even simpler than the other songs I listed here.
The G-C-Em-D arrangement of chords is perfect for newbies. This is the only sequence that you will have to concern yourself with. From the opening to the verse and straight to the end of the song, these chords are everything.
Now, don't think that it is that easy. The key to playing this song is understanding its dynamics. You must know when to strum the strings loud and when to turn it down. The song calls for a soft start. It gradually builds in strength, reaching a full pelt by the 75th second.
One trick you can employ is to practice your strumming. Try to vary the strength of your strumming to get a feel for the right dynamic. You'll eventually get it right.
19. Sweet Caroline by Neil Diamond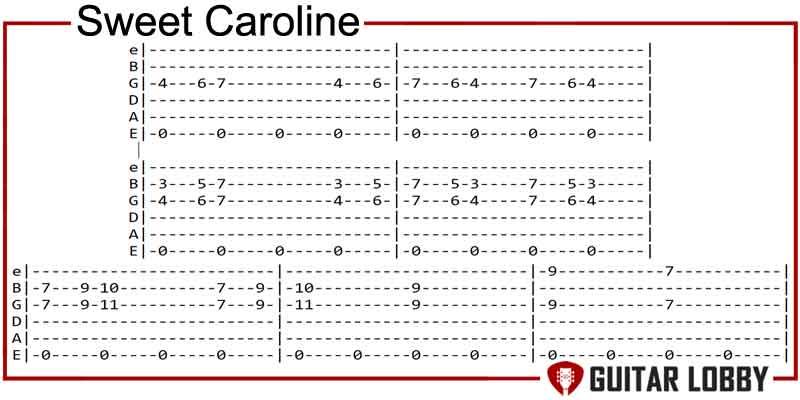 What do the NFL's Carolina Panthers, the MLB's Boston Red Sox, and the Premier League's Arsenal and Aston Villa Football Clubs have in common? Well, aside from being big-name professional sports organizations, these clubs have also adopted Neil Diamond's "Sweet Caroline" as the official song in their home games.
Putting the trivia aside, "Sweet Caroline" is an iconic song that has earned a lot of recognition for its vibrant melody and well-conceived acoustic theme. It is also relatively easy to play, requiring only three chords for the verse. They follow a predictable A-D-A-E pattern.
The pre-chorus comes with a different pattern: A-A6-E-D-E before moving into the A-D-E-A-D-E-D-C#m-Bm pattern of the chorus. The verse is easy. However, I do recommend spending some time making the transitions in the last line of the chorus. It may require some fancy fingerwork.
Regardless, "Sweet Caroline" remains a favorite of mine because of its feel-good vibe. You should try it, too.
20. Wonderful World by Sam Cooke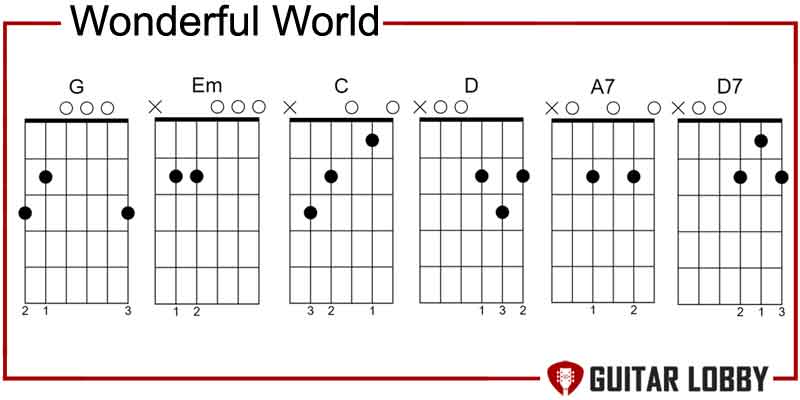 Please don't confuse "Wonderful World" with "What a Wonderful World" by Louis Armstrong. Armstrong's song has more of a mellow tune to it, while Sam Cooke's masterpiece is more upbeat. Plus, while they allude to the same thing, they differ in the manner of expressing it.
I chose Sam Cooke's "Wonderful World" because of its more vibrant melodies. Like most of the songs of the 60s, "Wonderful World" has a very predictable pattern. Any kid who knows how to strum a guitar should be able to follow the basic rhythm of the song.
There are 6 chords for the song, including G, Em, C, d, A7, and D7. The verse follows the G-Em-C-D pattern, while the chorus comes with a G-C-G-C-D-G pattern. It is easy enough to memorize and master in under an hour.
Sam Cooke's "Wonderful World" also requires no fancy strumming, although you can apply variations once you have mastered the basics.
21. Hand in My Pocket by Alanis Morissette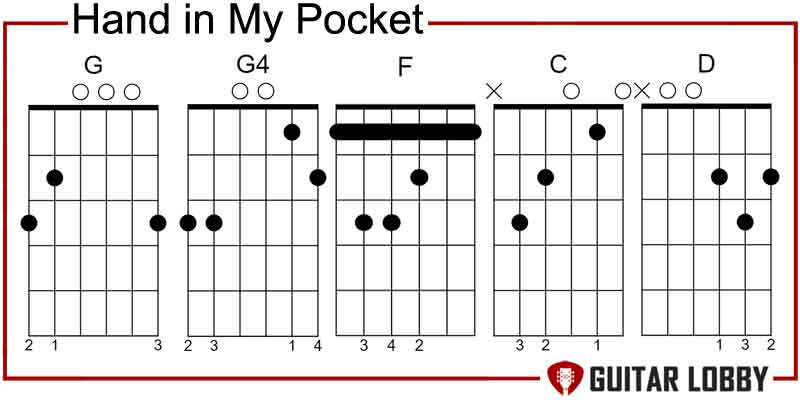 You couldn't be any happier even though you're broke whenever you're playing Alanis Morissette's "Hand in My Pocket". This 1990s rock song has reached a classic status because of its remarkable contrasts of sorts. The song goes against many of the established formulas of songwriting, yet still finds a way to touch the hearts of even the harshest critics.
What is more amazing about this song is that newbie guitarists always find it so easy to play. With only five chords that span the whole song, mastering Morissette's masterpiece is a cinch.
The verse has a very simple 2-chord, G-G4 pattern that is a breeze to strum. The last line of the verse only requires the G-F-C pattern to open into the G-G4-G-F-C-D-G-G4-G pattern of the chorus.
You've got to love the simplicity of the rhythm. And when you add a percussion instrument to the mix, you know that everyone else in the room will be dancing to the beat.
Popular Related Article: Ultimate Guide to Basic Guitar Chords
22. Achy Breaky Heart by Billy Ray Cyrus

Who would've thought that another country song would make it to the Billboard Hot 100 and follow in the footsteps of "Islands in the Stream"? Yet, "Achy Breaky Heart" defied all odds and topped the charts at number 4 in 1992. Not only did the song get people jumping up and down in their respective places. The tune also led to the boom of the now-iconic line dance.
Now, imagine if you can play this. You will need a bigger floor area in your home for your friends to showcase their line dancing prowess.
The "Achy Breaky Heart" is easy enough to master. I cannot think of any other song that only has two very basic guitar chords to make it work. You only need C and G and some simple strumming techniques to get everyone dancing to the groove.
The pattern is easy to follow, making it great for beginners.
23. Perfect by Ed Sheeran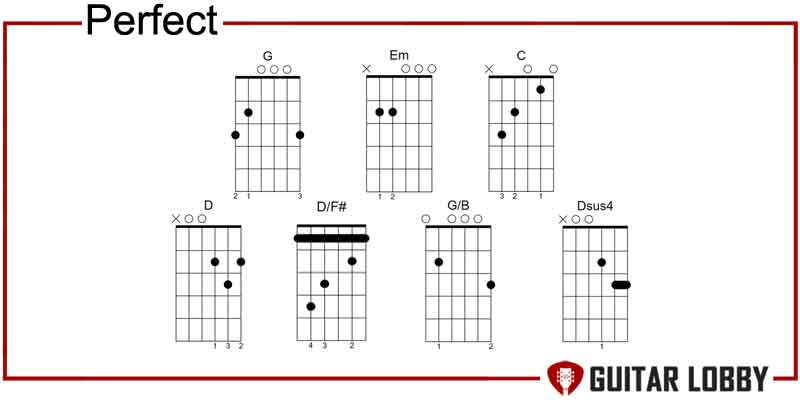 Anyone who aspires to become a good guitarist should include Ed Sheeran's "Perfect" in their beginner's repertoire of songs. The first time I heard the song, I knew it would be an instant hit. I know it can be cheesy, but you have got to love both the lyrics and the melody.
It is not surprising that the song has found its way into many wedding celebrations and other gatherings that need soft music to set the mood. It is a definite crowd-pleaser and a very simple song to master with the guitar.
Strumming G-Em-C-D is enough to get your chords right. You'll never get lost in the rhythm, either. The chorus still follows the same chord pattern, although there were some minor additions to give the song the depth that it deserves.
24. Matchbox by Carl Perkins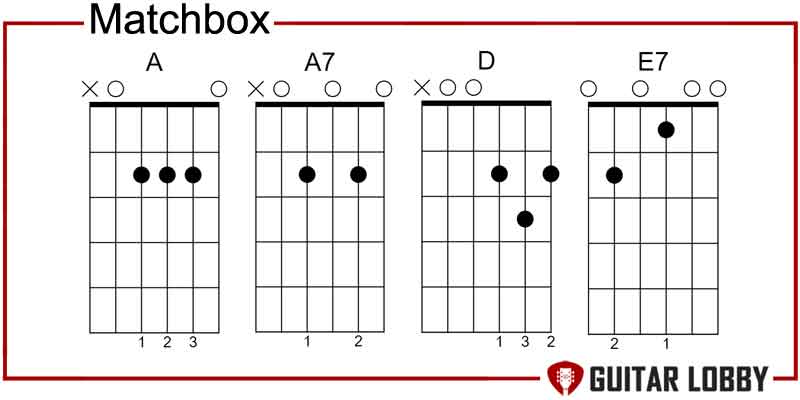 You might not know the song, but "Matchbox" was a huge hit in the 1950s. It heralded the dawn of rockabilly songs that combined jazzy rhythm and blues with the distinct melodies of country music. I can understand if Millennials don't know the song. However, it is one of the easiest and most fun songs you can ever play on a guitar.
For starters, the song only has three chords. These chords are also not the difficult ones that require some serious finger flexibility. Playing A, D, and E on the fretboard couldn't get any easier.
Perhaps the only tricky aspect of the song is its rhythm. It can be quite fast to the absolute newbie. That is why I recommend practicing the chords first. You can always find your own rhythm by listening to the song several times.
"Matchbox" may not ring a bell to Millennials. But it is one of the best songs to play.
25. Wonderful Tonight by Eric Clapton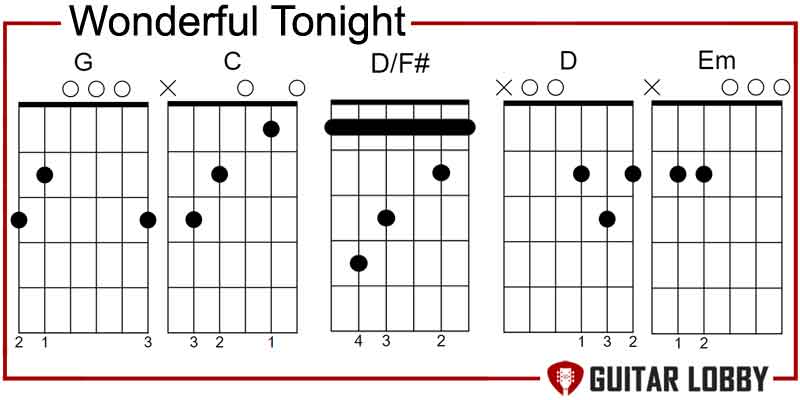 One of the first songs I ever learned to play is Eric Clapton's classic, "Wonderful Tonight". I love the wailing intro and I find it perfect for those who are just beginning to play guitar. The only tricky part is how to properly bend the strings to get that excellent vibratory feel.
I have seen experienced guitarists fluffing the fluent bends of Clapton's classic. This is how tricky this simple technique can be. Get it right and you can be wowing the crowd. Get it wrong and you'd earn their wrath.
You can always practice the correct string bending techniques later. What is sufficient for now is to get a feel for the different notes. Try to master the unbent target notes first. Once you have mastered these notes, you can then try bending the string with each hit.
Always listen to the notes as you bend the strings.
26. Twist and Shout by The Beatles

The swinging 60s was one of the most fun eras of the modern time. With the Beatles providing upbeat music, it was almost impossible not to stand up and haul your date to the dance floor. One of the hippest music ever to be covered by the Liverpool Fab Four is the "Twist and Shout".
What makes this song so great for beginner guitarists? How about having only three notes with a very predictable pattern? You see, "Twist and Shout" only comes with D-G-A. That should not be very difficult to remember.
Playing it is also easy. There are no fancy fingering techniques. It's plain and simple strumming of the guitar strings.
You're welcome to give it a riff if you want. You only need to play George Harrison's opening line. You'll have your fingers playing on the 5th, 2nd, and 4th frets before you start heading to the D-G-A pattern.
Popular Related Article: Our Favorite Easy Guitar Solos
27. Imagine by John Lennon

There are plenty of reasons why John Lennon's "Imagine" has won many awards, including a Grammy Hall of Fame and the Rock and Roll Hall of Fame. Released in 1971, the message of "Imagine" resonates to this very day, especially at a time when there is inequality from all fronts.
It goes without saying that the song is one of the most important masterpieces that any musician must play in the early stages of his career. And even if you're not going to play guitar professionally, learning to play "Imagine" is sure to get the whole room singing along with you.
The chords for the verse of "Imagine" are quite simple. They follow a typical C-Cmaj7-F pattern that starts from the introduction. Only when you get to the bridge will the chords can turn a bit tricky. There's F, Am/E, Dm7, and F/C on the first line and followed by G, C/G, and G7 on the second line.
28. Mannish Boy by Muddy Water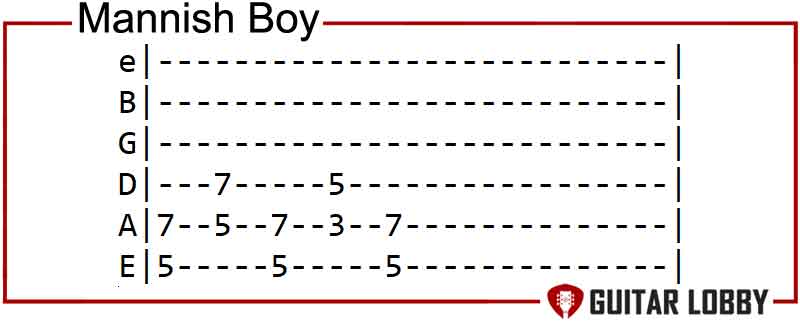 Long before Jack White popularized the ear worm, there was Muddy Waters in the 1950s. The group created one of the greatest guitar riffs of all time. The "Mannish Boy" is one that would define Chicago blues. In fact, I think this guitar riff defines all blues.
What makes the Mannish Boy so easy to play is that it only comes with five chords in a sustained rhythm. A straight down strum of A-D-A-C-A is all that's needed to play the song.
Technically, the guitar riff does not provide any melodies to the song. It serves more as a tool for establishing and sustaining the rhythm. If you want to make it more fascinating, you can add F# to the D and E to C.
If you do try to play this, I implore you to have your friends play bass and harmonica as well. Such a combination will give your song color and harmony.
29. House of The Rising Sun by Animals

There was a time in my youth when we could play "House of The Rising Sun" all day long. I remember it so well. Me and the gang kicked it out at the park with a guitar and several bottles of soda in tow. Then we'd play and sing the Animals' classic for endless hours.
The pattern is a bit complicated for absolute beginners. However, I was able to learn it in a few hours. I have seen different chords, but the simplest are Am, C, D, F, and E. I've seen tabs that use Fmaj7 instead of simply F. You should start with the F if you're having problems with the Fmaj7.
The introduction is a bit different from the verse. It typically follows the Am-C-D-F-Am-E-Am-E pattern. The verse, on the other hand, has the following progression: Am-C-D-F-Am-C-E-E-Am-C-D-F-Am-E.
I know it is quite tricky to memorize. You can nail it with constant practice, nevertheless.
30. All of Me by John Legend

This pop song is not really that easy to play if you are going to look at the number of chords you need to memorize and master. There are about 14 different chords required to play this ballad.
However, I was compelled to include it in this list because the chords are not really that difficult to play. I also think the slow tempo of the song can make it super easy for beginner guitarists to transition between chords.
This is unlike rock songs with a more upbeat tempo. You can easily lose track of your finger movements. You will not have that issue with this John Legend hit.
As always, I recommend focusing first on the mastery of the different chords. This will pave the way to the easy integration of the rhythm. Sooner or later, playing the song by feel will be almost second nature. Doing so will easily melt any lady's heart. If you're looking for easy songs to play on guitar, this is an excellent choice.
Popular Related Article: Easy Love Songs on Guitar
31. Don't Let Me Down by The Beatles
Not only is this 1969 blues rock classic of the Beatles an excellent song for anyone who is new to playing the guitar. It is also a favorite of old-timers and veteran guitarists who want a piece that is easy to strum when you're a bit lazy and can still offer a lot of opportunities for fingerpicking when you're in the mood.
Yes, this is a song that appeals to different guitarists across the spectrum. On one end are the beginners. The two-chord pattern of this Beatles song will never put a strain on a newbie's fingers. Strumming E major and F-sharp minor is also something that even a kid can execute with ease. And if you're more than ready to take this song to the next level, Don't Let Me Down can give you that chance, too.
For now, it is best to have fun learning the basics of this Beatles song. This is one of my favorite beginner guitar songs by The Beatles.
32. Bad Moon Rising by Creedence Clearwater Revival
CCR's "Bad Moon Rising" is another song that's ridiculously easy to learn. There are only three chords to play. The usual pattern is D-A-G-D, although you will need to add G when you're about to play the "Don't go around tonight" line in the chorus. This gives it a D-A-G-D-G pattern, before reverting to the usual D-A-G-D.
Like any other song played on the guitar, it is important to learn how to strum. This is very basic. I suggest listening to the song a few times to get a feel for its rhythm. You can then create your own strumming technique.
The song has a nice feel to it that somehow marries light rock with a country vibe. It is not unusual for anyone who hears the song to find themselves tapping their foot. It's a great piece to play at the camp or even during a weekend of barbecue fun.
33. What's Up by 4 Non Blondes
You might consider "What's Up" as a musical piece lacking in structure and largely incoherent and meaningless. However, when Linda Perry wrote the song way back in the early 1990s, she thought about a song that people of non-English-speaking countries can also understand. That's the beauty of "What's Up".
What makes it even more beautiful is that you can learn to play it in a matter of minutes. The chord progression follows the E-Am-G-D-B pattern. These chords are very easy to play. Absolute beginners may find the B quite tricky at first. Once you master your finger techniques, everything will come together.
Get-togethers and big parties can come alive when playing this song. Everyone can sing along. Some may even accompany your guitar playing with their own brand of rhythm. Some would clap their hands, while others may be more inclined to beat something else.
This is a song worth learning.
34. A Horse with No Name by America
Another song that has only two chords to play is "A Horse with no Name". It only involves E-minor and D69/F#. Most of the beginner guitarists I know get intimidated by the second chord. In theory, the chord signifies the D note in six, nine chords complemented with a bass note in the F-sharp.
You'd kick yourself in the butt if I told you that D69/F# only requires two fingers. One finger plays the second fret on the sixth string. The other finger plays the third string, also on the second fret.
And since E-minor also plays on the second fret, the song requires very minimal finger movement. It's all about sliding those two fingers from the 4th and 5th strings of the Em chord to the 2nd and 6th strings of the D69/F# chord. Once you get the feel of the slide, you should be able to rock the song.
That's what we call easy-peasy.
35. Shake It Off by Taylor Swift
Fans of Taylor Swift can play the pop star's "Shake It Off" to get them on the fascinating journey of guitar playing. The song is one of Swift's biggest hits with its video receiving more than a billion views on YouTube.
Most people don't consider the pop icon's songs as great for beginner guitarists. You'd be surprised at how easy the "Shake It Off" really is. It only requires three basic chords: Am7, Cmaj7, and G6.
All three of these chords only require two fingers on the fretboard. The G6 and Cmaj7 chords are also strikingly similar. On the G6 chord, one finger is on the 6th string on the third fret and the other finger is on the 5th string on the second fret. The Cmaj7 chord is similar, except that you will only move your fingers one string lower than the G6.
The pattern is simple and very easy to follow, too. What's not to like?
36. Eleanor Rigby by The Beatles
Some of you may not consider this song as a good piece for beginner guitarists. For starters, this 1966 art rock song is one of the few Beatles songs that the Fab Four didn't use any of their instruments to play the piece. This song used an ensemble of string instruments that you would normally hear played by an orchestra. No wonder they call it baroque pop.
However, just because it doesn't have the conventional pop music instruments for the backing doesn't mean it can no longer qualify as a guitar piece. The mere fact that you only need a C major and an E-minor to play this song already makes it a good song for absolute beginners.
Also, you'll find the strumming technique of this piece to be somewhat different from what you're accustomed to. You'll get to learn a strumming technique that will give you the distinct punchy bass licks of the song.
Popular Related Article: Easy Blues Guitar Songs
37. Bye, Bye Love by The Everly Brothers
There's no shame in learning this 1957 song on your guitar. The song may have a very simple beat and a pretty basic structure. However, its groove is something that even 21st century audiophiles find appealing. The upbeat vibe is worth dancing to and the chorus is as catchy as any other hook that all great rock and roll songs have.
Playing this Everly Brothers song should be a piece of cake if you are only going to look at its chords. There are a pair of easy chords – D major and A major – that you don't even have to worry about barre chords. What you would really love to learn here is the intro guitar riff as it involves a brief fingerstyle.
38. Jambalaya (On the Bayou) by Hank Williams
I honestly think that Jambalaya is the most fun song anyone can ever play on the guitar. This is a 1952 country song that has become almost a standard. What many people may not know is that this song is one of the most remixed and covered musical pieces of all time. While Hank Williams recorded the original, other artists have covered the piece. Even the Carpenters gave the song their own take in 1973.
You will never have issues with the chords of this song. You have an open C major and an easy G7 chord that you will be playing throughout the song. It cannot get more complicated than that. What can be tricky, however, is the strumming pattern. You need to hit the bass notes before you strike the rest of the strings.
Jambalaya is a very exciting song to play for beginners, especially learning the bass picking trick. It's a very fun guitar piece, too.
39. Jailhouse Rock by Elvis Presley
A hit from music land's King of Rock n Roll, Jailhouse Rock is the epitome of music that helped shape the genre in the late 1950s. It's an all-time great and a huge favorite of any music-lover anywhere and across the generations. City watering holes and local rural pubs still play this 1957 Presley song whenever they can. In other countries, you can still hear the song every weekend in every street corner.
That's how enduring this song is. And what makes it so enduring is its ease of playing on the guitar. Three chords make up the song. As soon as people familiarize themselves with the strumming pattern and the chord progression, they can pass the knowledge on to others.
It is not surprising if you'll pick the basics of this song within minutes. If any, it's the sliding technique of the intro that you may find tricky. Not if you put your mind and heart to it.
40. Johnny B. Goode by Chuck Berry
Some people would argue that Chuck Berry should be the King of Rock n' Roll. Berry is both a singer and a songwriter, while Presley only sings the songs that other people write. You can debate all you want. However, there's no denying that Johnny B. Goode is a phenomenal song that is even more popular than Jailhouse Rock. Johnny sits on the 7th spot of the all-time greats, while Jailhouse is on the 67th spot.
This song is also a lot easier to play. And if you can get your hands on a vintage Gibson ES-350T, you'll be playing this song as close to the original. Don't worry if you don't have this fascinating electric guitar. An acoustic will do just fine. Just keep your mind peeled on the notes and the rhythm and you will be fine.
Like Jailhouse, Johnny B. Goode has three simple chords, an easy-to-memorize progression, and an easy-on-the-fingers style of strumming.
41. The Gambler by Kenny Rogers
You've got to adore the rhythm of this 1978 country song. While Kenny Rogers was instrumental in the success of the song, he wasn't the only one who recorded it. There's Johnny Cash and Bobby Bare, too. This song may already be older than your parents. However, it remains very strong in digital platforms.
The Gambler is what beginner guitar players often use to learn a few tricks. There's always the basic strumming and the switching between chords. The rhythm allows for easier chord switching because there are only 96 beats per minute in the music piece. You do have to keep track of the strumming pattern to get the song's melody.
Play this song with your buddies. They can sing along if they like. Better yet, they can play other instruments to accompany your guitar playing. That would make learning the song even more fun and meaningful for you.
42. La Bamba by Ritchie Valens
Here's a song that will have everyone feeling like they're transported to famed dance halls of the 1950s and 1960s. La Bamba has an energetic vibe that is quite difficult to resist. Even if you're a mile away, people will still be humming along or even tapping their feet the moment their ears catch wind of the song's melody.
Strumming the chords of C major, F major, and G major aren't difficult. It's what every beginner guitarist can accomplish within a few minutes. If you want to be a great player of the guitar, then you should strive to learn the fingerstyle of the intro.
The tempo can make nailing the fingerstyle of the iconic intro guitar riff a bit difficult. I strongly suggest slowing it down to get your fingers well acquainted with the movements. Don't worry. You can strum as you wish when you get to the verses and chorus.
43. Hound Dog by Elvis Presley
Fancy some blues to add to your growing list of must-learn beginner guitar songs? Then you should never forget to include Elvis Presley's 1956 Hound Dog. Just so you know, he didn't write this. It isn't even a Presley original. The original version of this song is by Big Mama Thornton in 1952. Regardless, it was the King's version that propelled the song to 17th of all-time greats.
Loving the song is natural. It has this very punchy vibe and a lyrical set that will make you want to growl. It's a lament song that tells the story of a woman who's fed up with her good-for-nothing partner. I think some of us can relate to the message quite well. And even if it doesn't, the rhythm is sure to get you buck-dancing all you want.
Playing Hound Dog isn't difficult either. That is if you don't consider A, D, and E as difficult-to-play chords.
44. Hot Legs by Rod Stewart
I know what you're thinking. Hot Legs is not something that any beginner guitar player should attempt to learn. It is a rock song that has plenty of electrifying guitar riffs and arpeggios that can fracture some of your fingers if you're not careful. While this may be true, fingerstyle isn't the only technique you can use to play Hot Legs.
Beginners can always learn this 1977 song using a more conventional strumming technique. It is also important to recognize that the strumming technique will only require 3 basic chords: G major, C major, and D major. And if you still think that is difficult, then the strumming pattern will make it cinch for you.
I cannot say that Hot Legs is an absolute favorite of ours. However, it is a musical piece that we find very entertaining when it comes to getting everyone else on the floor to start swinging to the beat.
45. When You Say Nothing at All by Keith Whitley
Here's a great country song for beginner guitar players to try. It has three major open chords – G, D, and C – that follows the same pattern of G-D-C-D throughout the song. Strumming these guitar chords won't be a problem either. It's mostly downstrums, punctuated every now and then by an upstrum.
This song can strengthen your chord switching skills, all while strumming the chords in a very beautiful way. While the strumming is easy, it's the addition of bass notes to every strum that beginners should strive to learn. This is crucial as it gives the song a melodic and harmonic quality that is as beautiful as the original.
Speaking of the original, don't ever think that Allison Krauss is the originator of this musical piece. It's not even Ronan Keating. We always credit the original song to Keith Whitley. Grammy award-winner country songwriter Don Schlitz and country singer-songwriter Paul Overstreet wrote the song in 1988.
46. I'm Yours by Jason Mraz
I believe this is one of the most fun songs ever to come out in 2008. It has a very nice blend of Jawaiian, soft rock, and folk pop influences that add color to its already catchy lyrics. Some would consider it a love song, while others look at, I'm Yours as a dance piece. No matter how you view this song, it remains a very interesting music piece on the guitar.
First-time guitar players will find the chords to be easy picking. There's G major, D major, E minor, and C major that never changes in their progression. There are no tricky fingerstyles or complicated strumming patterns to perform, too. The best part is that you'll find the rhythm to be just right.
47. Fall for You by Secondhand Serenade
If you can sing like John Vesely, go on and play this 2008 alternative rock song. It is one of those musical pieces where the instrumentals provide a very beautiful background to an amazing, next-door-neighbor kind of vocals. And if you have a naturally high-pitched voice, singing this song should be easy-peasy. Don't worry if you're not into singing. Playing Fall for You on your guitar is hassle-free.
There are several versions of playing this song. The easiest for beginners is a 4-chord structure that utilizes a simple strumming pattern and an easy-to-follow progression. Most novice guitar players can learn the song in less than 30 minutes. That's how ridiculously easy this song is.
The confidence you build playing the strumming version of this song can pave the way for learning the song's arpeggio. Doing so will make the piece even more beautiful that you'll find yourself engrossed in its melody.
48. Counting Stars by OneRepublic
I know that this 2012 folk pop song is not as easy to play as it sounds. It requires excellent finger coordination to pick the correct strings that will produce a piano-like note. However, the arpeggio is one technique that all beginner guitarists must learn at some point in their guitar playing journey.
Don't fret if you don't get it right the first few times. You'll eventually get used to it. You can always revert to the conventional strumming technique to relax your fingers. You can then attack the song again with another try at fingerpicking. This is a catchy tune and rhythm that everyone is sure to love hearing you play.
49. Photograph by Ed Sheeran
I find this 2014 acoustic folk pop song very relaxing during those times when I want to be by my lonesome. I'm not saying that it's a very sad song. However, the message hits the heart dead center when you're alone. This song can stir the emotions of people who are currently away from their loved ones and that their photograph is the only thing that is bridging their memories with fondness.
Don't get teary-eyed when you play this Ed Sheeran song. You can always forget the lyrics and pay more attention to the chords. The guitar chords include D major, B minor, A major, and G major. You'll play these chords in that order throughout the song, making it a cinch of a piece to accomplish.
What's so beautiful about this song is its lynchpin line, underscoring the true nature of loving as having to feel hurt sometimes. Overall, this is one of my favorite super easy guitar songs for beginners because it's fun to play and easy to learn.
50. You Belong with Me by Taylor Swift
Even if you're not a fan of Taylor Swift, you'll still find yourself falling in love with the very catchy rhythm of this 2009 country pop song. The arpeggio at the beginning of the song is often enough to set everything else in motion.
The strumming pattern is also quite unusual as only a select number of strings are strummed. A capo is also a must on the 4th fret to obtain the high-pitch note of the original. There's no fretting if you cannot find a capo to place on your guitar. With or without a capo, this song will still sound fantastic on a properly tuned guitar. So, pick up your guitar and give the song a few strums. .
51. Payphone by Maroon 5
Although the tempo of this 2011 R&B pop song from the pop rock sensation, Maroon 5, is a fast 110 beats per minute, you'd be forgiven for playing it slow the first time. It's the only way you can find the confidence to play the song. Once you do, there's nothing that can ever hold you back from learning other guitar playing tricks and techniques.
I found a 4-chord version of this song that should be easy-peasy for newbies. The strumming technique is also not as complicated as other versions. The music piece should serve as a great stepping stone to learning other styles of playing the guitar. Having fun with this piece is a given. The opening verse can be a very simple downstrum. Once you get to the following verses, it's you'll get to work on different strumming patterns.
52. Rooster by Alice in Chains
I think it would also be wise to include an easy song for aspiring heavy metal guitarists in this list. Most of the heavy metal songs are quite difficult to play because of their intense guitar riffs and very upbeat tempos. However, I find Alice in Chain's 1992 alternative metal grunge song, Rooster, to be perfect for wannabe metal bands.
There are several chord versions of this piece. The easiest I have ever seen uses only E major, G major, A major, and C major. All of these are open chords that beginner heavy metal guitar players will find a pleasant surprise. Of course, you won't be able to achieve the electrifying feel of the song if you'll only play the strumming part. That's why I believe this is a song that's perfect for learning the fingerpick, slide, and hammer-on techniques.
53. I Love It by Icona Pop
Some beginner guitarists may find the 126 BPM tempo of this 2012 dance pop piece to be intimidating. However, one should always learn it like any other beginner guitar song. Take it slow and build on your skills as you go. This should be a piece of cake since it only has three open chords (G major, C major, and A minor) and a single barre chord (B flat).
I always tell people who want to learn this song to start with a basic strumming pattern. You can employ a simple D-DU-U-DU pattern throughout the song. There is one minor variation in the verse where one cycle is followed by a D-DU pattern before you resume strumming as usual. You shouldn't have too difficult of a time. It is always easy to play the chords once you get a hang of the strumming.
54. Zombie by The Cranberries
There are several ways you can play this 1994 alternative rock protest song. Beginner guitarists can choose any style of playing that is more comfortable for them. What is important is to have fun playing the different chords of this rock song.
When it comes to the guitar chords, the easiest set will include an E minor, an open C major, a G major, and a D major. Pretty simple, right? Switching between these chords is a breeze. You also have several strumming patterns that you can employ. This makes it very appealing to absolute beginner guitar players.
You'll also appreciate the fact that the progression of the chords is straightforward. You only need to follow the same chord pattern from the very first note up to the last. You cannot get a simpler song structure than that.
55. Just the Way You Are by Bruno Mars
I really had to include this 2010 R&B soft rock piece on this list. Not only does this Bruno Mars song have a very lovely melody. It also happens to be a must-learn for anyone who wants to become a great guitar player.
Strumming is the most obvious technique that beginners will have to use for this piece. However, I implore you to find the confidence to play the fingerpick style of this musical piece. I can guarantee that it will be worth trying. You will not only make the song sound more beautiful. You'll also be adding a critical guitar playing technique to your skill set.
The chorus is always a great piece to sing along to. It also has a pulse that can light up the dance hall. The song has an undeniable feel-good jam that works so well with its catchy lyrics. You can call it cheesy. I'd call it musical poetry.
I encourage you to include these songs into your repertoire. They are very easy and fun to play, whether in a group or just practicing at home. The best part is that you get to build the confidence you need to play songs with more complicated chords, patterns, and rhythm.
56. Creep by Radiohead
Some people may not like this song. However, I can say that it is one of our favorite musical pieces because of its ease of playing and catchy rhythm. I have seen beginner guitarists learn the art of incorporating arpeggiated chords in the playing of the song's verses. There are a couple of power chords, too, that will prove instrumental in developing the necessary skills of a future rock and roll guitarist.
Of course, I am not going to let you play the arpeggios, power chords, and the ostinatos of this song yet. What I want you to focus on is the strumming of the G major, B major, C major, and E minor chords. There are other chords that you can play for this 1992 grunge song. You can learn all the other tricks once you feel comfortable with these 4 easy chords. So, get ready to unleash your inner rock star.
57. Livin' on a Prayer by Bon Jovi
You don't have to be a Bon Jovi fan to like this 1986 arena rock-glam metal masterpiece. You can swear at the band members' shaggy hairdo or their metal rock band-wannabe image, but you can never deny the power of their signature song. This is an ingenious musical piece that still enjoys a significant following more than 3 decades after its release.
I think this Bon Jovi classic is one of the best pieces a novice player can use to learn a few basics of guitar playing. There are complicated chords that you can transpose into easy ones. My suggestion is to start with the chords that you're most comfortable with. You can then slowly add arpeggios and slides in your playing techniques.
58. Chasing Cars by Snow Patrol
"Chasing Cars" is Snow Patrol's best-selling single. Released on 2006's Eyes Open, the band's song was featured in the medical drama Grey's Anatomy season finale. It is rumored that lead singer Gary Lightbody penned the song after a night of binge drinking. In an interview with Rolling Stone magazine, he called it the "purest love song that I've ever written."
Absent from the songwriter's tendency to write music with a "dark edge," the song is perfect for beginner guitarists because of its simple chord progression. Although chords like E/G#, Dsus2, and Dmaj7 might seem intimidating, they are relatively easy to finger on the fretboard. Try your hand at playing this tender song.
59. When You Say Nothing at All by Alison Krauss
"When You Say Nothing at All" was a hit shared by four different artists. Released at different times, the versions were inspired by the original, written by Paul Overstreet and Don Schlitz. Here, we look at Alison Krauss' 1995 rendition, which peaked at number three on the Billboard Hot Country Singles & Tracks chart. Krauss won Single of the Year at the Country Music Awards that same year.
For guitarists just starting, "When You Say Nothing at All" is a great song to learn. Place a capo on the first fret if you want to play along with the recording. The intro guitar part will require some easy fingerpicking. The pattern on the strings goes low to high. After that, switch over to strumming the chords.
60. Fallin' by Alicia Keys
"Fallin'" was a young Alicia Keys' debut single from her debut album Songs In A Minor. The song, released in 2001, has become one of her signature songs. It was highly acclaimed by critics and won three Grammy Awards, including Song of the Year, Best R&B Song, and Best Female R&B Vocal Performance. It also helped her earn a nomination for Record of the Year.
Although Keys played piano, "Fallin'" can be performed on guitar. In fact, it's incredibly easy. The song requires two chords, Em and Bm7. The first chord should be familiar, but the second might be new. Study the chord diagram and practice this new chord shape. This chord appears in many R&B songs, so it is best to be introduced.
61. Paperback Writer by The Beatles
The backstory behind "Paperback Writer" is trivial. Paul McCartney wrote the song while remembering what his Aunt Lil asked him. She pressed the singer, "Why do you always write songs about love all the time? Can't you ever write about a horse or the summit conference or something interesting?" Sitting backstage at a concert, McCartney saw Ringo Starr reading a book. At that moment, he declared his intention to write a song about a book. Hence, "Paperback Writer."
It's not surprising that we see a lot of Beatles songs on our lists of easy guitar songs. "Paperback Writer" reminds us why. The song calls for two chords, G7 and C, chords you should have under your belt. If you don't, this song should be one of the first songs you learn as a budding guitarist.
62. High and Dry by Radiohead
"High and Dry" almost didn't make the cut. The song, written by Thom Yorke of Radiohead," was played in early renditions during the late 1980s. While working on their first album Pablo Honey, a live engineer said the song sounded "too Rod Stewart." Radiohead released their second album, The Bends in 1995 and included the "too Rod Stewart" song as a single. It saw modest success then but has since grown a cult following.
Impress your friends by learning this mildly deep Radiohead cut. Grab your acoustic guitar, and let us study the chords. The song has some unique-sounding chords. They will make you sound like a sophisticated guitarist. Try playing the intro riff with octaves when you've mastered the verse and chorus.
63. Give Peace a Chance by John Lennon
The narrative about what broke up the band has been overused. Many blame John Lennon's lover Yoko Ono as being the reason they split up. Looking at it in 2023, we realize that that is unfair. Lennon is just as much to blame as other interpersonal conflicts. Following the split, Lennon wrote "Give Peace a Chance" with Ono. The song became an anthem during the Vietnam War in 1969 and is used continuously to portray anti-war sentiment.
The song above is one of the easiest songs to learn on guitar. It requires two chords. The simple progression makes it perfect for the absolute beginner. Many guitar teachers will give students exercises such as switching between two chords. Knowing they are playing real music like this song, the student will be more motivated to practice.
64. I Have a Dream by ABBA
"I Have a Dream" was a single released by the Swedish pop group ABBA. The song was their sixth single from 1979's Voulez-Vous. Written by Benny Andersson and Bjorn Ulvaeus and sung by Anni-Frid Lyngstad, the single topped the charts in many countries. "I Have a Dream" is included on ABBA Gold: Greatest Hits and was featured in the musical Mamma Mia! for which the two songwriters composed the music.
You should be able to knock "I Have a Dream" out of the park. There are only three open chords. The strumming pattern is simple and follows a strict beat. If you have difficulty playing the rhythm, practice saying the pattern: "Down Down-Up Down Down-Up." Then mimic the strumming while you say it. Strike the strings and play the chords, and you've got it.
65. Royals by Lorde
New Zealand singer Ella Marija Lani Yelich-O'Connor is better known by her stage name, Lorde. In 2012, she released "Royals" on The Love Club EP. She included the song the following year on her debut album Pure Heroine. Widely considered an anthem for millennials, the song mocks the sumptuous lifestyles portrayed by pop and hip-hop artists. The single sold ten million units worldwide, christening it as one of the best-selling singles of all time.
Denounce the 1% by learning this song. It can be effortlessly done. The song calls for three basic open chords. Review the chord shapes and practice switching between them. Once comfortable, take a look at the strumming pattern. The pattern requires a few syncopated accents. Listen to the song and get it in your ear before you attempt to play it.
66. I'd Rather Go Blind by Etta James
In the mid-60s, Etta James visited her friend Ellington "Fugi" Jordan in prison. She heard him working on a song and took it home to write the rest. The material became the blues song "I'd Rather Go Blind." Recorded at the renowned FAME Studios in Muscle Shoals, Alabama, the song reached number 10 on the Billboard R&B charts and 23 on the Hot 100.
You could probably play this song with your eyes closed. There are only two chords you need. The A chord should be easy, but the Bm might cause trouble. Press your pointer finger down hard at the second fret, and press down only the strings necessary. Use the weight of your arm to help add pressure.
67. Break On Through by The Doors
During the late 60s, hippie counter-culture was becoming mainstream. Peace and love sentiment influenced many of the great bands at the time, and so did drugs. In 1967, the Doors released "Break On Through (To the Other Side)," a clear metaphor for drug use. Although the song had little impact on record sales, it became a staple at their live shows.
"Break On Through (To The Other Side)" of your guitar playing after learning this classic rock essential. Consider this a gateway song because it requests only two chords. Practice switching between the chords slowly. Don't rush. Watch your left hand and fingers. Move intentionally. When we learn things slowly, we can monitor bad habits forming. You do not want to go to guitar rehab.
68. Songbird by Oasis
Most people know Oasis from their mega-popular song "Wonderwall." On their fifth studio album Heathen Chemistry, released in 2003, critics heralded a different song, "Songbird." Liam Gallagher was praised for his superb songwriting; one writer even called it the "most compelling song" on the album. Written as a tribute to his then-fiancee Nicole Appleton, it was one of the songwriter's simplest and brightest songs he had ever written.
Learn this lesser-known easy Oasis song before you learn "Wonderwall." The song's chords, with a cool bass movement, are easy to play. After you play your basic open G chord, shift the lowest note down a fret. Then switch to Em. Then you got it!
69. Molly's Lips by Nirvana
"Molly's Lips" by Nirvana is a cover song from the band the Vaselines. Released in 1991 on Sub Pop records, the song was featured on a split single with the band the Fluid. Frontman Kurt Cobain contested its release stating that their version was weak. Nonetheless, it was released in a contract buyout deal that would launch the band's career.
Kurt Cobain has never claimed to be a guitar hero. This is why many Nirvana songs are easy to play on guitar. Their version of "Molly's Lips" demands open chords G and C. Make sure you can switch between the two comfortably. You will see these chords elsewhere on our list, so makes sure you know them well.
70. What I Got by Sublime
Who knows how far Sublime's star could have risen. In the late 90s, their singer and principal songwriter Bradley Nowell died from a heroin overdose. Their song "What I Got," released posthumously, became a huge success in radio rotation, reaching number one on the Billboard Modern Rock Tracks chart. Rolling Stone magazine listed the song at 83 on their list of 100 Greatest Guitar Songs of All Time.
Although the band struggled with drug addiction, the feel-good vibes of "What I Got" made everything seem okay. All you need is two chords. Be able to switch effortlessly between them while keeping the strumming pattern. This song may be challenging because the D chord uses three fingers. But put in the work, and you will be rewarded.
71. Closer by Ne-Yo
With the release of "Closer" in 2008, the American recording artist Ne-Yo pivoted to dance-pop. The song was more rhythmic and urban sounding than any other song he produced. As the lead single from his third studio album, Year of the Gentleman, the song depicts a growing attraction between a man and a woman. The song accounts for a burning desire to "come closer" to her. The song reached number seven on the Billboard Hot 100 and was featured in TV shows Gossip Girl and 90210.
Learn this song with four simple chords. Three of them will be from your basic open chords. The C5, better known as a power chord," only requires two notes. Switching from open chords to power chords might be strange, so practice it carefully. Once you get it, you'll become "closer" to becoming a guitar hero.
72. Tulsa Time by Eric Clapton
In 1978, songwriter Danny Flowers and country artist Don Williams were staying at a hotel in Oklahoma when they were suddenly snowed in. With nothing better to do than to wait out the storm, they spent a half-hour writing this two-chord song. While Eric Clapton was opening for Don WIlliams, he came across the song and was instantly transfixed. He wanted to record it "right away," but not after Don Williams recorded his version first.
Had mother nature not reared its ugly head, we would have never heard "Tulsa Time." Like so many others on our list, this easy song only asks for two chords. It's another song for absolute beginners. Spend some time with "Tulsa Time," and you'll get it.
73. Lady in Black by Uriah Heep
The "Lady in Black" was the fourth track off of 1971's album Salisbury. The single, written by the English rock band Uriah Heep, was written as a rock ballad and tells a story about a mysterious visit. Ken Hensley says the inspiration came from a surprise visit from a vicar's daughter when he was depressed. Although the song was never released as a single in the UK or US, it achieved great success in Germany and Russia.
Sometimes all a songwriter needs is two chords. "Lady in Black" doesn't follow a typical verse-chorus structure. Instead, it relies on a repetitive vamp. Uriah Heep's song "Lady in Black" may not be well-known in America, but it's a great song for beginner guitarists to learn.
74. Something in the Way by Nirvana
If you've watched Showtime's recent TV series Yellowjackets, you heard this song. The song was featured in an episode. Its haunting sound played into the emotions of the storyline. "Something in the Way," from Nirvana's 1991 album Nevermind, was never released as a single. That didn't stop it from appearing on the Billboard charts in 2022.
Learn another great Nirvana song with only two chords. The Em chord should be memorized by now. The C/G, maybe not so much. Make things easier by thinking about the chord as a standard C chord, but put a finger on the third fret of the sixth string. You might need to rearrange your fingers, but it will become an easy chord to grab.
75. When Love Comes to Town by U2
Few people can forget that U2 tried to pull a fast one by including their album on an Apple iTunes update. No one asked for it. But before they thought this was a good idea, the Irish rock band recorded "When Love Comes to Town" with blues legend B.B. King. Released in 1989 on Rattle and Hum, the song reached number the top ten on the Irish Singles Chart, UK Singles Chart, Dutch Top 40, and US Mainstream Rock Tracks Chart.
Learn this simple, simple, simple U2 song with two chords. As the last song on our list, you should be able to play both E and A in your sleep. Listen to the recording to match the strumming pattern. It shouldn't be too hard to master; it's only two freaking chords!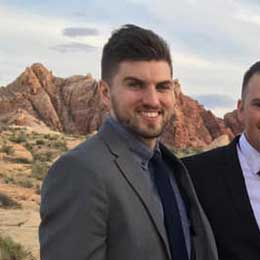 My name is Chris and I've had a passion for music and guitars for as long as I can remember. I started this website with some of my friends who are musicians, music teachers, gear heads, and music enthusiasts so we could provide high-quality guitar and music-related content.
I've been playing guitar since I was 13 years old and am an avid collector. Amps, pedals, guitars, bass, drums, microphones, studio, and recording gear, I love it all.
I was born and raised in Western Pennsylvania. My background is in Electrical Engineering, earning a Bachelor's degree from Youngstown State University. With my engineering experience, I've developed as a designer of guitar amplifiers and effects. A true passion of mine, I've designed, built, and repaired a wide range of guitar amps and electronics. Here at the Guitar Lobby, our aim is to share our passion for Music and gear with the rest of the music community.