A high-quality amplifier is one of the best ways to improve your metal tone. When it comes to choosing a metal amp, you have a lot of options. You can opt for a high quality all-tube amp, but when talking about high distortion tones solid-state amps can be just as good of an option in some cases. The bottom line is that you need something that fits your application as well as tone desires.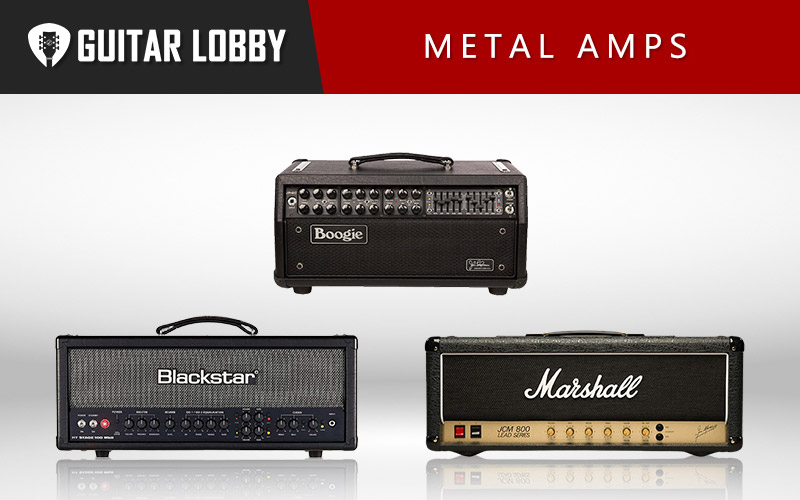 Are you looking for a gigging amp or do you need to be able to practice in a small apartment? Some guitarists prefer massive power when it comes to metal amps, while others are looking for more built-in effects and tone control options.
I'll start this article by reviewing the best metal amps at each price point. I will cover options that will meet a wide range of applications and help you choose the right amp for your needs. If you'd prefer to learn more before diving straight into product reviews, you can start by reading our buying guide at the bottom of the page here.
Here Are the Best Guitar Amps for Metal
1. The Marshall JCM800 2203 (Best Overall)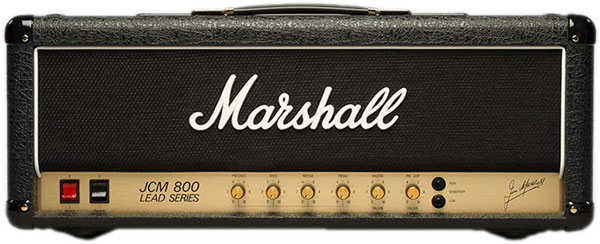 | | |
| --- | --- |
| Estimated Price | $3250 |
| Type | Tube head |
| Number of Channels | 1 |
| Total Power | 100W |
| Weight | 45 pounds |
My Review: This amp has been known to be a beast of hard rock and metal music for decades. It packs that classic Marshall tone, earning its reputation since the late '70s and the early '80s. And today, the Marshall JCM800 remains one of the most iconic guitar amps to exist. It has been used by an incredible lineup of notable musicians who find these amps to be worth every penny. Guitarists such as Angus Young from the band AC/DC, Kerry King from Slayer, and Tom Morello of Rage Against the Machine and Audio Slave have astonished audiences with their performances using this metal amp.
Key Specs and Features: The JCM800 comes with 100-watts of pure power. It's an all-tube amplifier, providing unparalleled volume and purity of tone. Classic Marshall design with the black and gold coloring is always lovely to look at. It's one channel, 3-band EQ amp that runs at 100 watts, meaning you can play anything but the largest of stadiums. The 2203 also comes with a series of effect loops. The JCM800 is known for its "tonal tenacity," in part because it was one of the first amps to feature a master volume and because it's one of the few vintage reissues to feature the same. The EQ settings are extremely versatile, so even if you're not playing heavy metal or rock, you'll still appreciate the bright cleans of the sound coming from the speakers. It also features the iconic gold front panel and the white Marshall logo front and center. It's considered a "players amp" since the controls are so simple and straightforward to use. There are a few on the back, but most are lined up on the front, easy to turn and easy to reach. Speaking of controls, the JCM is single-channel so that you won't be dealing with any footswitches. Plus, you'll probably have just as much fun as we do with the master volume since it will crunch louder as you drive it harder. The series effects loop is on the back, which is helpful, and great for musicians who rely heavily on pedals and especially musicians who like to switch pedals in and out.
Target Customer: If you're someone who prefers metal amps for clean tones, this amp can do the job as a pedal platform. However, if you're looking for preamp tube distortion, that classic Marshall crunch, then this Marshall JCM800 2203 is for you as that is where this amp truly shines.
Bottom Line: You're not buying this amp for a wide variety of effects. You're buying it for the back end power and tonal quality that it offers. One of the best amps for hard rock and metal music out there.
2. Mesa Engineering JP-2C (Editor's Choice)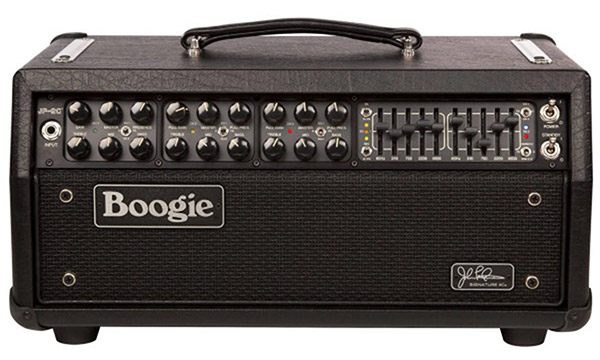 | | |
| --- | --- |
| Estimated Price | $2750 |
| Type | Tube head |
| Number of Channels | 3 |
| Total Power | 100W |
| Weight | 39 pounds |
My Review: Mesa has now broken with tradition and produced its first-ever non-limited signature model, the JP-2C, in recognition of Petrucci's outstanding association. The JP-2C powers on quietly and smoothly, with practically no hum. While the channels lose some of the Mark V's multi-mode functionality, there's no loss of tone. Mesa Engineering is in a league of its own.
Key Specs and Features: The JP-2C is contained in a short head cabinet, faultlessly finished in black vinyl. The internals is typical modern Boogie with a neatly laid-out main PCB incorporating some of the quirks that date back to the original Mark IIC+, supported inside a beautifully finished aluminum chassis. All the usual Mesa components are here. Custom resistors, Orange Drop decoupling caps, and a lot of relays, topped with a mains transformer that's about the same size and weight as a Mini Cooper. But the most obvious and striking external feature of the JP-2C is its control panel, which comprises three independent channels and two separate five-band graphic EQs. The EQs can be assigned to any combination of channels, as well as working off the supplied six-button foot controller, or through MIDI, which governs most of the JP-2C's switched functions. Each channel has identical (though differently voiced) controls for gain, master, bass, mid, treble, and presence, together with an EQ assign toggle. Channel 2 and the slightly higher-gain Channel 3 have push/pull switches on the gain and presence controls, which govern a gain boost and increased presence range. Finally, you'll see a large toggle that selects either 60 watts output or the full 100 watts.
Target Customer: Signature products are sometimes double-edged swords. The artist's name is there to hopefully boost sales, but special features don't always appeal to a broad range of players. Either way, this amp is supposed to be used by skilled guitarists that can use all of its features to the fullest.
Bottom Line: Mesa has hit a home run here, teaming one of its biggest metal guitarist ambassadors to bring us a truly killer amp head that's way better than I could have imagined.
3. Mesa Boogie Mini Rectifier (Best Value)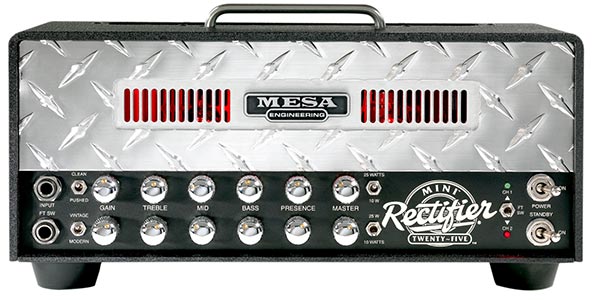 | | |
| --- | --- |
| Estimated Price | $1250 |
| Type | Tube head |
| Number of Channels | 2 |
| Total Power | 25W |
| Weight | 12 pounds |
My Review: Mesa Boogie has been ever-present in the world of heavy metal, crafting some of the best metal amps to ever grace a stage. Cannibal Corpse, Ministry, Lamb Of God, Suicide Silence, the list is far too long to go on, but the Mesa Boogie metal family is extensive. This is thanks to the brands' focus on boosted, high gain articulation, and the ability to create amps that sound amazing when cranked into gritty distortion. Put simply, they perform best at high-gain levels and are designed for metal guitarists.
Key Specs and Features: The Mini Rec is housed in a black powder-coated metal lunchbox-style case, lightly textured for an industrial feel. The Rectifier's now-legendary truck-ramp metal plate texture adorns most of the front panel, through which you can see a menacing red glow when powered up rock. Despite the tiny size, the Mini Rec features two independent channels, each with two modes, offering everything from Fender-derived cleans, through more British crunches, heavily saturated classic rock distortion, and modern metal crunching high-gain. Channels one and two are foot-switchable, but the modes need to be set via mini switches on the front panel. Besides, each channel has a choice of either 10- or 25-watt operation. The lower power mode, according to Mesa, runs the Mini Rectifier's pair of EL84 output valves in class A/B triode mode, while 25 watts uses Mesa's patented Dyna-Watt circuit, class A/B pentode, for maximum power and more pronounced attack with notes. Completed with two rows of identical, self-explanatory control knobs, there's nothing here to confuse you. And what about that cabinet? Shaped like a Recto 412 but in miniature, it houses a single Celestion Vintage 30 driver.
Target Customer: For lovers of heavy metal with limited space, the 25 watt Mesa Boogie Mini Rectifier is a great choice for practicing your riffs at home with a small cab. The sound you get out of it makes it one of my favorite metal amps ever crafted. Its ability to drop the wattage from 25 to 10 means you get the same bone-crushing tone at a lower volume that won't destroy your windows or annoy your neighbors, a perfect choice for gigging small and medium sized venues as well as practicing at home.
Bottom Line: In any real-world playing situation where a 50- or 100-watt valve amp is just too much, this little box does a thoroughly convincing job for all rock styles. It lacks reverb, and the omission of a speaker-emulated direct out feels like an oversight, but if what you seek is a go-anywhere, no-fuss rock amp for small gigs, the Mini Rectifier fits the bill.
4. The Blackstar HT Stage 100 Mk II (Best Under $1000)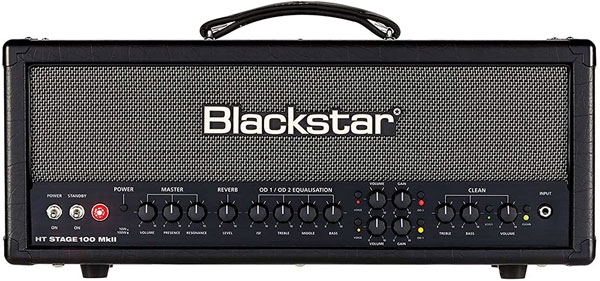 | | |
| --- | --- |
| Estimated Price | $999 |
| Type | Tube head |
| Number of Channels | 3 |
| Total Power | 100W |
| Weight | 39.2 pounds |
My Review: Blackstar's new HT Stage 100 MKII boasts so many improvements over the previous HT Stage 100 introduced eight years ago that they could have given the model an entirely new name. But it shares so many of its predecessor's most beloved features. It includes a similar control panel, functionality, and affordable price. Keeping the model name was a solid decision. This metal amp hosts an incredible amount of versatility and can adapt to any stage or studio you prefer. Each of the metal amp's channels has a voice switch, which helps enhance its versatility.
Key Specs and Features: Like its predecessor, the Blackstar HT Stage 100 MKII is a 100-watt all-tube head powered by four EL34 output power amp tubes, but the preamp/effects loop/phase inverter section gets rid of one ECC82 tube while retaining the two ECC83 tubes. The Blackstar HT Stage 100 MkII's clean channel is incorporated with a voice switch, allowing you to choose whether you prefer a British Class A clean tone or a US Dynamic one. Its overdrive channels also have this voice switch and allow you to choose between a classic sound and more of an energetic modern one. The metal amp also comes with a 3-foot switchable option, which lets you range from a clean tone to a metal one to the one you prefer, the metal amp is sure to assist you with it. The metal amp has a USB audio output with it, as well. Controls are basically the same. It has volume, treble, and bass knobs and voice switch for the clean channel, individual volume, gain and voice switch controls for overdrive 1 and 2, shared treble, mid, bass, and ISF EQ controls for overdrive 1 and 2, and master volume, presence, resonance and reverb level controls. Some of the other significant upgrades include the addition of a 10-watt/100-watt switch, being able to access not only individual channels but also each channel's voice switch for a total of six voicing options accessible via footswitch, a USB jack for recording applications, and reduced weight and cabinet dimensions.
Target Customer: If you are looking for a medium-priced amp that's quality and versatile, you can go wrong with this one. It is perfect for gigging musicians even though it is not so light.
Bottom Line: With outstanding clean, overdrive, and distortion tones that rival the quality of amps costing up to four times as much. Versatile selection of professional features, the Blackstar HT Stage 100 MKII is one of today's best amp values. Overall, l I would say that this is best guitar amp for metal under $1000.
5. The PRS MT15 Mark Tremonti (Best Low Watt)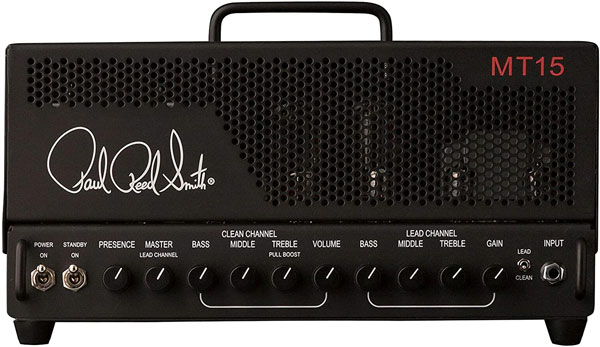 | | |
| --- | --- |
| Estimated Price | $750 |
| Type | Tube lunchbox head |
| Number of Channels | 2 |
| Total Power | 15W |
| Weight | 17.8 pounds |
My Review: This Paul Reed Smith MT15 Mark Tremonti is sure not to disappoint as it has a 15/7-watt tube amplifier with a high-gain antenna, vivid and precise tones, and sound quality, plus versatility. You could even manage your performances and switch it from an extreme 15-watt to a doable 7-watt one. Its tones have a broad and extensive range. The PRS MT15 Mark Tremonti's clear channel would be able to give you the clean and precise tones; in fact, these tones are the one which furnishes Tremonti's signature tone. The MT 15's clean channel illustrates this perfectly, with plenty of headroom to cater for any guitar while pulling the channel mid-boost function adds a sweet vintage Fender overdrive with a medium-fast response that's great for country picking or blues.
Key Specs and Features: If you switch to the back part of the metal amplifier, you'd be able to see more of its features, which makes it more convenient every time you'd have a performance. Its external bias controls are easy to configure every time you'd want to fine-tune the performance of your tubes. Meanwhile, the amp's loop's transparent nature indicates that it will never intervene with the original tone of your guitar. The MT 15 has clean and lead foot-switchable preamp channels, with gain and master volume on the lead channel, and volume on the clean channel. Both channels have their bass, mid and treble controls with a master presence control and a pull boost on the clean channel to add a mild overdriven edge. Inside the chassis, the electronics are typically neat and robust; most components sit on a large PCB which also supports the front panel controls and six 12AX7 preamp valve bases, with short ribbon cables to a pair of smaller boards for the rear panel sockets. The resistors in our sample have been marked with small dots, sometimes an indicator that they've been hand-selected. Around the back things are kept simple with a series effects loop plus a half-power switch which drops the MT 15 from 15 watts RMS down to around seven watts.
Target Customer: For its latest signature amp, PRS has thankfully stayed at the affordable end as they introduce its first all-steel lunchbox head in the shape of the MT 15, making it a perfect amp for people who are on a budget. Other than that, the metal amplifier's dimensions make it easy to bring and use wherever the place you wish to perform in.
Bottom Line: Overall, the build standard and features inspire confidence, and thanks to a pair of generously-sized transformers, the MT 15 feels as solid as it looks, capable of handling anything constant gigging may throw at it.
6. Boss Katana 100/212 MKII (Best Combo Amp)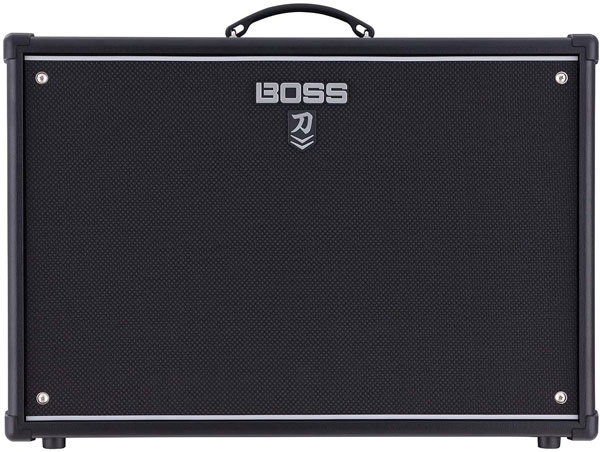 | | |
| --- | --- |
| Estimated Price | $500 |
| Type | Combo |
| Number of Channels | 5 |
| Power | 100W |
| Weight | 32 pounds |
My Review: Roland broke with tradition just over a year ago when it unveiled its Katana range of amplifiers and the extraordinary Waza Craft head, using the Boss brand for amplification for the first time. Since the BOSS Katana series of amplifiers were released, guitarists of all levels have enjoyed these high-quality solid-state amps. The ability to dial in any of the 5 selectable amp characters and utilize any of the preloaded 55 BOSS effects within the flagship range has been a huge draw for BOSS fans and fans of high-quality amplifiers in general– especially metal guitarists. The Katana's core amp sounds are impressively authentic, from fat, juicy blackface-inspired cleans to responsive tweed-based crunches that are great fun for blues and classic rock, while the lead and brown amp models will satisfy any gain fiend's desire, especially when you remember there are 20 overdrive and distortion stompbox models to add to the mix.
Key Specs and Features: The Katanas have simple but smart cosmetics, with black vinyl, white piping, and a silver stripe to the top and bottom of the speaker grill cloth. The control panel is textured black with white lettering and has a clear, functional layout. There are no LCDs, just small marker LEDs that tell you which amp sound and effects are in use. The electronics are a mix of discrete and miniature surface-mount components, which are definitely not user-serviceable. The loudspeakers are custom-made for the Katana range, with large ceramic magnets ready to push a lot of air. There's a nice touch on the bottom of the cabinet: a pair of pop-up legs tilt the amp back a few degrees, making it easier to hear from the floor.
The Katana's controls are deceptively simple; there's an amp type knob with five settings including Clean, Crunch, Lead, Brown, and Acoustic. The first three are self-explanatory, Brown is a higher gain lead sound derived from Boss's stunning boutique Waza Craft head, while Acoustic puts the Katana into a special mode that's ideal for acoustic instruments. There are familiar knobs for gain, volume, bass, mid and treble, followed by a trio of controls for the Katana's built-in effects. The Katana 100's rear panel features include a USB socket that doubles as a data and recording connector, a pair of send/return sockets for the effects loop, a headphones/recording output, a MIDI in DIN socket, an aux-in, and a line out, with a pair of jacks that allow connection of simple channel select footswitches or the GA-FC foot controller, together with an expression pedal. It all looks simple enough, and indeed it is. However, hidden behind the controls is a seriously powerful tone engine, which is only properly appreciated when you connect the Katana to its software editor, the Boss Tone Studio app.
Target Customer: The BOSS Katana 100/212 MkII is ideal for hard rock and metal guitarists of all levels and sub-genres thanks to its plethora of built-in effects. We think this is one of the best metal amps due to the Crunch and Lead sounds, which are capable of some huge high gain tones.
Bottom Line: While the original Katana was impressive enough, this version 2 upgrade has upped the ante, with more onboard patches, new effects, and useful functions like cabinet resonance/air options for the line out. In many ways, the Katana has all it takes to be everyone's ideal modeling amp. It's simple to use with plenty of great sounds and a tempting price. Overall, I would say that this is the best combo amp for metal.
7. The Hughes & Kettner Black Spirit 200

| | |
| --- | --- |
| Estimated Price | $940 |
| Type | Analog solid-state/digital hybrid head with built-in effects |
| Number of Channels | 4 |
| Total Power | 200 W |
| Weight | 7.9 pounds |
My Review: Hughes & Kettner has distilled its considerable experience into a new amp that might replace all that came before it. The Black Spirit 200 is a compact, digitally-controlled analog amplifier, producing its sounds from something H&K calls the Black Spirit Bionic Tone Generator and delivering them via a whopping 200-watt power stage that can be tamed to 20 watts or even 2 watts for offstage use.
Key Specs and Features: Its Spirit Tone Generator feature is one that enables you to recreate iconic amp tones over 60 years. Aside from that, the Hughes & Kettner Black Spirit 200 is claimed to be the pioneer amplifier that comes with a sag control for fine-tuning tube-like compression. the Black Spirit 200 offers spaced-out delays, lush modulations and impressively realistic reverbs, which can all be selected and controlled from the front panel, or fine-tuned from the Bluetooth app in real-time. Connecting this amplifier to your other wireless devices could also be done since it's integrated with a Bluetooth feature, allowing you to audio stream with it, as well. It can run on 100 volts to 240 volts power without the tone being affected at all. There's volume to spare for live use, while the low-wattage settings are great for practice and home use. The Red Box cabinet simulator is one of H&K's most well-known products and the Black Spirit features the latest AE+ version, which delivers highly authentic ready-to-rock sounds direct to recording desks, computers, PAs, or in-ears. The Black Spirit also offers a 'Sag' feature that replicates the squashed dynamics of coveted vintage valve amplifiers, together with presence and resonance controls, an aux-in, and a headphones socket.
Target Customer: What makes this metal amp stand out from the others available is that this one would most likely suit anyone's taste – that's just how versatile the amp's features could get. It's a great choice for those grab and go gigs, when you're not sure what kind of backline to expect, while the tones have enough authority to satisfy any player, from bedroom hero to pro artist.
Bottom Line: The Hughes & Kettner Black Spirit 200 metal amplifier is inarguably one of the most flexible ones to exist among other metal amps. The Black Spirit 200 head is a brilliant addition to the H&K catalog, offering the sonic depth you'd expect from valves with none of the usual drawbacks. That's a lot of functionality and Hughes & Kettner has done an excellent job of creating a head that looks smart and sexy while keeping it easy to access and use all of those features.
8. Peavey Invective 120

| | |
| --- | --- |
| Estimated Price | $1,900 |
| Type | Tube head |
| Number of Channels | 3 |
| Total Power | 120W |
| Weight | 48 pounds |
My Review: Packed with an outrageous variety of tones, from the cleanest cleans to impressively dense distortion textures and providing extremely versatile functions and performance features, the Peavey invective .120 truly satisfies the needs and desires of today's modern progressive metal guitarist. The people at Peavey created an amazing amp that sounds nasty.
Key Specs and Features: The Peavey invective .120 features a power amp section driven by four JJ 6L6 tubes to provide 120 watts of output. Designed in collaboration with Periphery's Misha Mansoor, let's welcome the Invective 120. This amp features heavily-populated front and rear control panels that remain clear and easy to follow, thanks to minimalist styling with white knobs on a white background. There are three channels for clean, crunch, and lead, with a separate EQ for the clean channel and shared EQ for the drive channels, which have separate pre- and post-level controls. All three channels have separate boost functions with controls for level and tone, and there's also a master boost level control on the rear panel. Four 6L6 power amp tubes provide 120 watts of output while six 12AX7 preamp tubes provide up to six stages of gain.
The Clean channel remains clean even at the highest gain settings, while its Boost function can dial in varying levels of overdrive. The Crunch and Lead channels feature a noise gate function for dialing in tight, noise-free decay for playing responsive, percussive rhythm patterns and riffs. The included footswitch can control individual channels and functions, provide instant access to nine user-programmable presets, or control an external MIDI device. Other cool features include half-power switching, two assignable series effects loops, a noise gate on the drive channels, and master presence and resonance controls. Controlling all those functions is easy because the Invective is MIDI-powered; most switched functions are accessed from the supplied 10-button foot controller, which can also store and recall up to nine preset patches.
Target Customer: If you are into replicating the machine-like blasts of Mansoor's rhythm playing or you have a similar style, this is the amp for you. The Crunch and Lead channels are aggressive, but even with the Pre gain maxed, individual notes in chords retain definition and clarity, allowing for you to shred like never before.
Bottom Line: Many consider this to be the best amp for metal out there. It's a simply stunning rock weapon from Peavey.
9. The Orange Micro Dark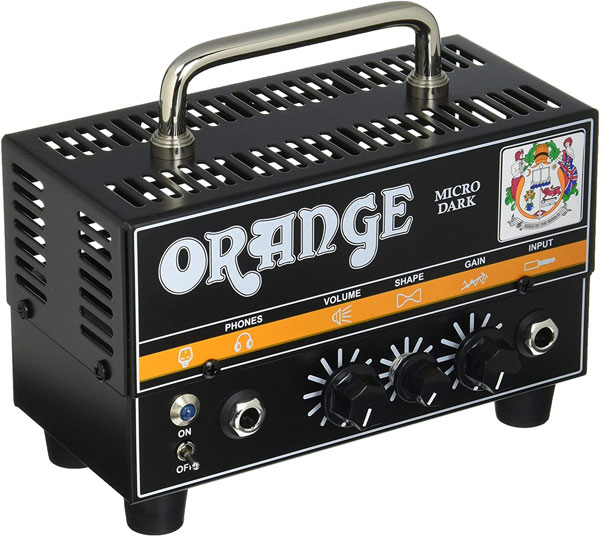 | | |
| --- | --- |
| Estimated Price | $200 |
| Type | Tube micro head |
| Number of Channels | 1 |
| Total Power | 20 watts of power |
| Weight | 1.72 pounds |
My Review: Beyond any doubt, the Tiny Terror was a major boost to small 'lunchbox' amp popularity, and today practically every manufacturer has one in its catalog. Now there's a new product from the legendary British manufacturer that threatens to do it all over again and create a new cult for even smaller amps. The controls of the Orange Micro Dark metal amp are easy to navigate around and configure. The Dark series' tones are focused more on heavy metal, but with a few changes with its controls on the front panel, you'd be able to get a variety of tones that ranges from the usual heavy metal to more thorough cleans. If you find yourself not being satisfied with these, however, you could still opt to accompany your amp with a guitar amp cabinet. Plugged into a Vintage 30-loaded 4×12, the first thing that the Micro Dark impresses me with is its volume. It is easily one of the biggest-sounding 20-watt heads I've tasted in a long time, with an impressive dynamic range not far off a valve output stage.
Key Specs and Features: It may look like a toy, but the Micro Dark is every inch a real amplifier, with a very usable 20-watt solid-state power stage coupled to a preamp that uses a single 12AX7 for authentic valve-overdrive timbres. It has the same heavy-duty enameled steel chassis and a cover of its bigger cousins and is built to last, with all the internal components mounted on one very high-quality PCB. One of the reasons the Micro Dark is so small is that it relies on an external power supply: a laptop-style brick providing 15 volts. This aside, everything else is where you'd expect to find it. The Micro Dark is a straightforward single-channel design with controls for gain and volume, together with Orange's very versatile Shape tone control, which boosts mids in one direction and scoops them in the other. There's also a very usable headphone output that features Orange's authentic CabSim speaker emulation, in addition to speaker output, and a fully buffered effects loop.
Target Customer: If you're perhaps looking for a metal amplifier tube head that would be convenient to bring to all sorts of places where you could perform, then the Orange Micro Dark amplifier would be the best one for you.
Bottom Line: Despite the Micro Dark's diminutive appearance, it's capable of tone and volume out of all proportion to its size. At less than the cost of many high-end overdrive pedals, here's a proper amp that's small enough to live in any gig bag, yet powerful enough to handle almost any situation.
10. Egnater Tweaker 15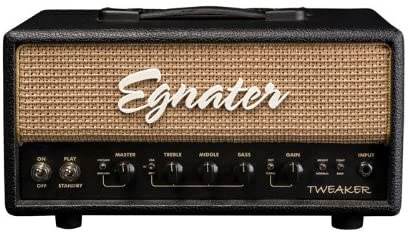 | | |
| --- | --- |
| Estimated Price | $400 |
| Type | Tube head |
| Number of Channels | 2 |
| Total Power | 15W |
| Weight | 16 pounds |
My Review: It always baffled me that the Egnater Tweaker range wasn't more widely celebrated. To me, this little basket-baffled marvel offers the perfect blend of wonderful tones, endless tweak ability. The result is a beautifully styled, solidly built little 15W tube amp head that is surprisingly affordable, and which sounds good at both modest studio levels and when played live at smaller venues. I tested the Tweaker with its optional 1 x12 speaker cabinet, which has the same black vinyl finish, and woven 'basketwork' grille.
Key Specs and Features: 15W head version is powered by a pair of 6V6 power tubes, and offers individual controls over pretty much every element of the tone. You can choose between British, American, or AC style EQ stacks, how bright you want the tone, whether you want it tight or deep, and whether you want a more modern or classic voicing. Built with the same vinyl-covered wooden sleeve and steel chassis construction as a larger amp head, the Tweaker uses printed circuit boards rather than point‑to‑point wiring, but the standard of construction is extremely high. The valve line-up comprises three ECC83s (12AX7s) and a push‑pull pair of 6V6 output valves, and the speaker output can be switched to 4Ω, 8Ω, or 16Ω to accommodate alternative or additional speaker cabinets.
In essence, the Tweaker is a single-channel amplifier with bass, middle and treble tone controls, and a gain knob to set how much preamp drive is used. At higher settings of the master control, the output stage starts to saturate, and eventually, the power‑stage distortion dominates the tonality, but at lower levels, various flavors of preamp character really shine through. The Tweaker head has a switchable output impedance, for use with different speakers, and there's a line-level effects loop too. I know that I'm not alone in wishing the Tweaker had a footswitch to bring in the extra gain, though in the studio it's easy enough to record the cleaner parts and the overdriven parts separately. When playing live, I found that this amp responded well to a good gain boost or overdrive pedal.
Target Customer: When playing live, I found that this amp responded well to a good gain boost or overdrive pedal. I'd have been happy to pay a little more for a model with a nice spring reverb but again you can use the effects loop when playing live, and there are always plug‑ins when working in the studio.
Bottom Line: Given its boutique sound and tonal flexibility, the Egnater Tweaker has to come close to being the ultimate studio amplifier. For live use, a good overdrive pedal will make up for the lack of a gain footswitch, and you can add effects either via the effects loop or at the mixing stage. The basic sound is excellent, and those three EQ choices do change the amp's character, to the extent that it's just like having three different amplifiers.
11. Roland Blues Cube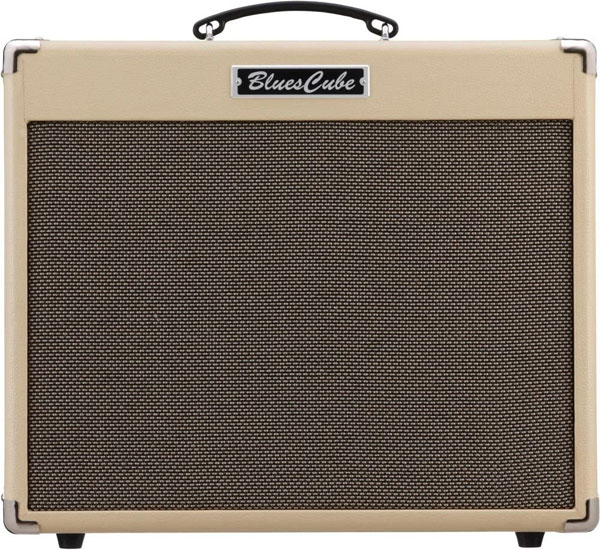 | | |
| --- | --- |
| Estimated Price | $500 |
| Type | Combo |
| Number of Channels | 1 |
| Total Power | 60W |
| Weight | 30 pounds |
My Review: The long-running Cube series of amps has always represented great value. These amps are compact, portable and the Roland badge means excellent quality and reliability. While Roland is one of the most popular solid-state amp brands, there's still a general opinion that even good solid-state amps never have quite the same feel and response as valves. However, the Blues Cube could change that. Great for metal in so many ways the Blues Cube deserves a place on this list.
Key Specs and Features: More than just modeling, Tube Logic is Roland's new design philosophy, and a radical development from the Blues Cubes of the 1990s. This philosophy starts at the input socket and extends to the speaker. In between, Roland has duplicated not just the tone, but the organic response and dynamic envelope of a vintage tweed valve amp, using a clever mix of analog and digital circuits. The Blues Cube Hot is a single-channel design with foot-switchable boost and EQ, as well as four output levels, from 30 watts down to around 0.5 watts, to properly reproduce the sound of a valve power stage driven into cut-off at any volume level. The smart control panel is easily understood: there's a single input jack, with knobs for volume, bass, mid and treble, reverb, and master output level. Two small illuminated buttons control the Cube's boost and tone features. Next to the shielded power switch is the four-position pointer knob that selects 0.5, 5, 15, or 30 watts of output power. On the rear, there are sockets for a two-button footswitch, together with a headphones socket, line out, and a handy USB recording outlet.
Target Customer: Are you looking for a solid amp that is affordable and reliable then this is the one for you. This amp is perfect for musicians to look for that unique sound on the stage or in the studio.
Bottom Line: Solid-state has come a long way in the last decade, and when amps as good as this one come along, it's hard to deny the benefits. Portability, reliability, consistency, and affordability are a given, but a great tone is what counts. But this sounds and responds like a top boutique valve amp, with none of the valve drawbacks.
12. Yamaha THR 30 II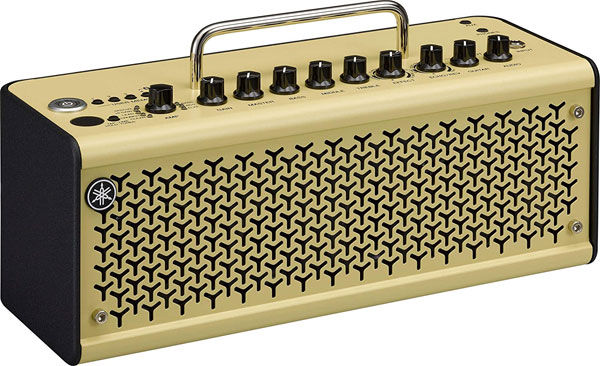 | | |
| --- | --- |
| Estimated Price | $500 |
| Type | Solid state |
| Number of Channels | 2 |
| Total Power | 30W |
| Weight | 9.48 lbs. |
My Review: Users love this amp for a lot of reasons, but all of these reasons can be summed up to this: it provides a solution for the needs of modern guitarists who sit in front of their computers. Many are impressed with the tones they get, while others are happy with the sonic options it provides. Coming from Yamaha, build quality is also consistently praised, even from those who have put the amp's portability to the test. The THR 30II is a digital amplifier. The series II family combines the three different color offerings of the series I into a single amp. This is awesome as the series always felt to me like a bit of pocket-picking.
Key Specs and Features: In addition to the amp and cabinet modeling there are built-in effects from the Line 6 pantheon. To gain access to all of them, you need to be using the THR Remote app on your smart device. The compressor and noise gate are only available this way. The Gate works fine, the Compressor is ok. Modulation effects include Chorus, Flanger, Phaser, and Tremolo. They sound decent, although not high end and are more than adequate for the use case that the THR 30II is designed for. The onboard Echo offers up to 100ms of delay and tap tempo, plus basic EQ for the delay signal as well as a mix control. I found that setting it to a slapback level very effective to give some spacing in a small room. The reverb has four options (two via the knobs) including Spring, Room, Hall, and Plate. Not studio-grade reverbs, but more than sufficient for the use cases. The amp has three amp families, Modern, Classic, and Boutique. Each family has a variety of default tone presets available by rotary switch. You use the same switch to access the bass and acoustic models.
Target Customer: If you're looking for a guitar amp that'll complement your desktop workspace, then this is for you. A metal guitarist is going to find a lot of uses for this amp.
Bottom Line: A solid little amp that is going to provide you with hours of fun.
13. VHT Special 6 Tube Combo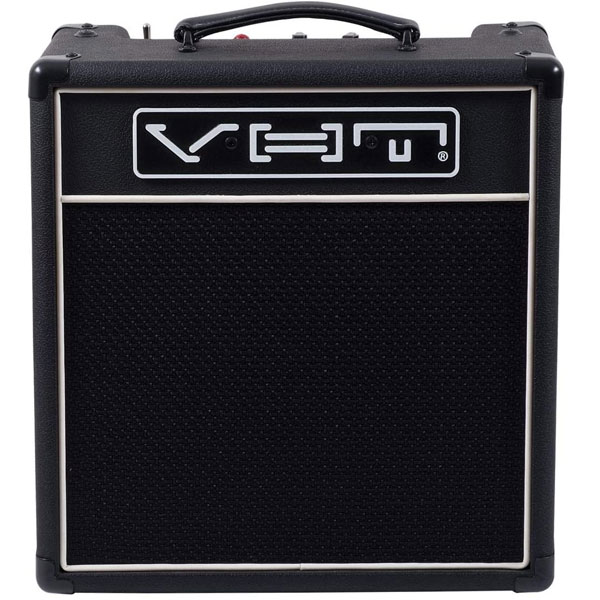 | | |
| --- | --- |
| Estimated Price | $350 |
| Type | Combo |
| Number of Channels | 3 |
| Total Power | 6W |
| Weight | 25 pounds |
My Review: Amp heads are usually something reserved for those who have bigger budgets at their disposal. Even so, that is more of a suggestion rather than a rule. VHT Special 6 is a perfect example of an awesome tube amp, of all things, that is pretty affordable. There are many reasons why this is the case and we are going to go into several of them right now.
Key Specs and Features: When it comes to features, VHT Special 6 is one very interesting beast. This small head packs some 6 Watts of power, which you have probably already figured out from its name. They've installed one 6V6 tube in the power stage and one 12AX7 in the preamp stage. At a first glance, Special 6 looks like a single channel amp. However, with the addition of the footswitch that comes with a gain boost button, it becomes a standard two-channel setup. Hand-wired, VHT's Special 6 comes with a pretty mod-friendly board. If you are prone to experimenting with your equipment, this head will give you lots of room to do so.
Finally, you have the attenuation switch and 4/8/16 Ohm speaker jacks in the back. One thing you will quickly notice about tube amps in this price range is that they come with fairly basic controls. VHT Special 6 follows that ideology as well. Aside from the hi/low power switch, you only get a single volume knob and a single tone knob. In the context of what this amp was designed to do in the first place, having such limited controls is not all that bad or detrimental to what you can do. VHT cut down on just about everything to give you a genuine tube experience in what is essentially still an affordable price range. If you are familiar with tubes and how to make them work in your favor, you won't have an issue with this head.
Target Customer: If you are looking for a great rig to use at home or in a studio, VHT Super 6 is definitely worth checking out. With that said, it might be a bit underpowered for gigging.
Bottom Line: VHT Special 6 might be a pretty cheap tube amp, but it is also one of the most versatile ones you can get in this price range. We are talking hand-wired circuitry with room for expansions, great tone, and a compact size.
14. Marshall DSL40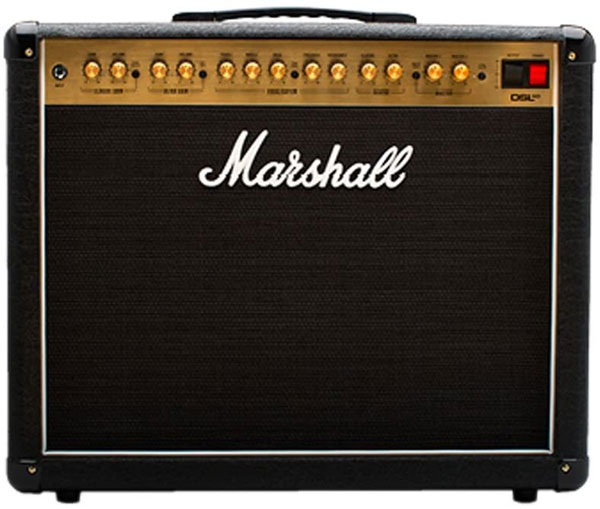 | | |
| --- | --- |
| Estimated Price | $800 |
| Type | Combo |
| Number of Channels | 2 |
| Total Power | 40W |
| Weight | 50 pounds |
My Review: It wasn't long ago that metal players had one serious choice when it came to an amp: Marshall. There is a good reason for that too. That Marshall roar almost single-handedly shaped the sound of hard rock and metal throughout the 70s and 80s, and even today many guitarists will play nothing else. But there was also a time when you had to put a distortion pedal in front of your Marshall to get the high-gain sounds you needed for heavy music. Those days are long gone, and today and the Marshall DSL series have the sound you need straight out of the box.
Key Specs and Features: This is quite the tube monster for an amp with a single speaker, giving your playing so much clarity. It's preamp rocks three ECC83s, while its power amp rocks another EC883 and two EL34s. That's quite a lot for such a modestly sized amp. It comes with a single 12-inch speaker, a Celestion Seventy 80, and runs at 40 watts. For most of us, that really will be plenty. The key feature here will be the Ultra Gain channel. I guess the name of that channel gives its intention away. There aren't too many surprises on the top panel. You've got your usual EQ controls, with a not so usual knob for resonance, and a Reverb control for each channel. Each channel has its own gain and volume controls, and the Ultra Gain channel comes with additional Lead 1 and Lead 2 controls. It also includes a footswitch for you to switch from one sound to another while you're playing onstage. Of course, the DSL40 combo is one way to easily tote that tone with you wherever you go. The new DSL40CR is an upgraded version of the legendary DSL40C.
Target Customer: In my opinion, this amp is better suited for classic metal and hard rock players, though with a little tweaking modern extreme metal guitarists may be just fine with it. If you are into anything from old-school 'Priest to old-school Metallica the Marshall DSL40 is a great choice. Modern players may dig it too, but really this amp gets my top recommendation for those looking for more of a classic, British metal sound.
Bottom Line: It wasn't long ago that metal players basically had one serious choice when it came to an amp: Marshall. There is a good reason for that too. That Marshall roar almost single-handedly shaped the sound of hard rock and metal throughout the 70s and 80s, and even today many guitarists will play nothing else.
15. Peavey 6505 Plus 112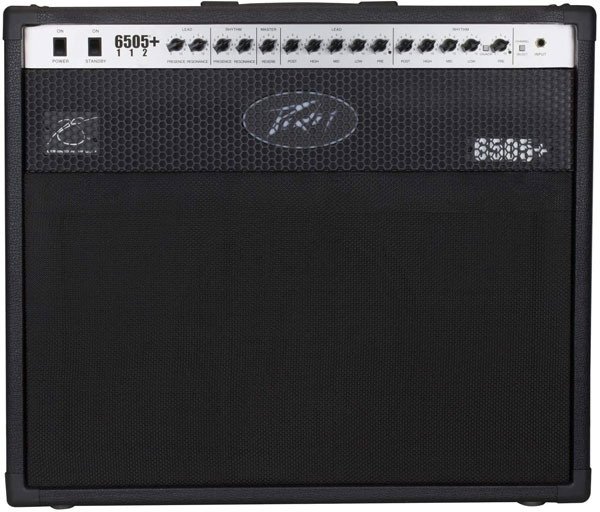 | | |
| --- | --- |
| Estimated Price | $1300 |
| Type | Combo |
| Number of Channels | 2 |
| Total Power | 60W |
| Weight | 64 pounds |
My Review: This Peavey 6505 series once went by the name 5150 and was originally billed as a top rock amp developed in conjunction with the great Eddie Van Halen. But it didn't take long for guitar players to realize that the rich, harmonic, high-gain sounds Eddie made famous were also perfect for extreme metal. So, back in the 1990s, many metal players began to trade in their Marshalls for Peavey 5150s and I was one of them. The 6505+ 112 combo brings all of that extreme Peavey tone down to an affordable, portable package. The Peavey 6505+ 112 Combo gets my top spot when it comes to the best tube amp for metal, and has been my favorite for extreme music for a long time. This is my main guitar amp for metal today.
Key Specs and Features: The 6505+ 112 shoves 60 watts of Peavey power through a single 12" Sheffield speaker. Sheffield's are a little darker sounding than Celestians, and in the closed-back design, they sound fantastic. In my opinion, this is one of the things that set the 6505 apart. Of course, the other thing is that American high-gain tone is brought to you via five 12AX7 preamp tubes and a pair of 6L6GC power-amp tubes. Keeping with the "Plus" format, the 6505 combo gives you two channels, each with separate EQ settings. There is even a universal spring reverb control. With the pre-gain cranked the 6505+ 112 is as subtle as a punch in the face. However, if you dial back the pre-gain on the rhythm channel the amp is capable of some sweet, bluesy sounds. =It comes with two foot-switchable channels, each with its EQ controls. The footswitch is sold separately, which is standard, but I always feel that's a bit of a pain. Built-in reverb on an amp is no big deal, but the reverb on the 6505+ is a little bit special. It's a genuine old school spring reverb, made with three actual springs! It's very rare you'll find that these days, usually it is a digital feature. It does also add to the weight of the amp, which will already be heavy enough with all of those tubes.
Target Customer: If you play extreme metal the 6505+ 112 is your best bet, but even hard rock players will be impressed. Let's not forget where this amp gets its pedigree.
Bottom Line: Despite its ferocious reputation, it's actually a fairly flexible and versatile little tone machine.
16. Blackstar HT Club 40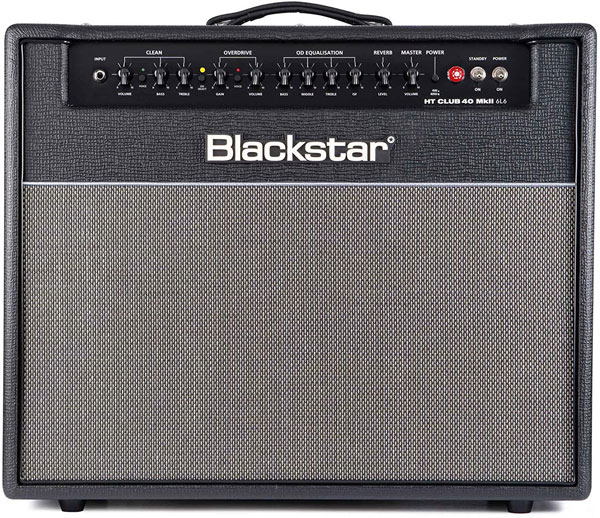 | | |
| --- | --- |
| Estimated Price | $800 |
| Type | Combo |
| Number of Channels | 2 |
| Total Power | 40W |
| Weight | 53 pounds |
My Review: Blackstar is another British company and a relative newcomer to the guitar amp world. I consider the HT Club 40 somewhat of a dark horse when it comes to metal amps, but I do think it is worth checking out. I was very impressed when I tried it. This is a very versatile amp with some warm, rich overdrive sounds. With the gain cranked, it has more than enough guts to get the job done for just about any subgenre of heavy metal.
Key Specs and Features: The HT Club 40 boasts EL34 power tubes and a distinctly British vibe, but thanks to the ISF control you can also dial in some of those hot midrange harmonics and thick crunch that are more indicative of an American high-gain amp. In some ways, it's the best of both worlds, and it is probably the most flexible amp in this review. If you also play a little rock and blues you may appreciate the ability to switch between genres with a couple of turns of a knob. With 40 watts of power, it has more than enough oomph for most band situations. This is the sweet spot, where we can crank an amp up to rehearsal volume and get those tubes cooking. More powerful amps often need to be turned up to insane volume levels to get the same effect, which is why some guitarists use power attenuators. In my opinion, tube amps in the 40-60 watt range are just about perfect. There is a three-band EQ, along with the aforementioned ISF control. The ISF knob intends to further shape your overall tonal signature, and it gives you a range from a more British sound to a more American sound. If you are having trouble deciding between the nasty growl of a Marshall and the barely controllable harmonics of the Peavey this knob may be your decision-maker. The controls you have at your disposal are gain, volume, EQ, and reverb, as well as a button for overdrive. It's all very tidy. The EQ isn't like a regular EQ though. It's Blackstar's trademark ISF control, for deciding whether you want a UK sound, or an American sound, or a blend of both.
Target Customer: This may not be a gigging amp, but it packs more than enough of a punch for practicing your shredding and for recording sessions.
Bottom Line: This is not an amp that will intimidate. It only has a single eight-inch speaker, and with that in mind, this little combo certainly won't disappoint. In case the name didn't give it away, this little amp has been voiced and set up to play all of the metal.
Choosing the Right Guitar Amp for Metal (Buying Guide)
The amps on our list all have characteristics that make them perfect for metal music. In this section, we'll talk more about those characteristics. Some of the listed amps are tube amps and some solid-state amps, so there are alternatives for everyone in our list of metal amps. Here's some extra info about solid-state vs. tube amps.
I believe solid-state amps, with their all-digital technologies, are almost as good as vintage tube amps. And like all things, digital technologies will surpass their analog counterparts. Metal amps are usually designed for lower tunnels and extremely high gain settings, thus they require fewer pedals for the overdrive, which in turn gives the player even more headroom and more space on their pedalboard for additional effects.
There're plenty of options for metalheads out there and my round-up suits all budgets. I tend to go for uncompromising mid-level choices, amps that have everything you could ever need at understandable prices and without cutting corners. We have dependable amps, affordable alternatives, and top-notch workhorses with all of the options you'll ever need from brands like Marshall, PRS, Orange, Peavey, and Fender.
Lastly, when looking for the best guitar amp for metal, we're essentially looking for one big thing and that is distortion. If you're looking to play those meaty, heavy tones, a distortion channel that retains clarity and tightness with fuzz is what you want.
That's a big ask and something hard to pin down simply by looking at the specs of the amp. Hence, I made this investigation for you, and each of these items delivers rich distorted tones with enough resonance to handle any kind of metal you try. From seven-strings djent to classic Led Zeppelin to Metallica's modern riff, all the way back to Queens of the Stoneage stoner fun.
Solid State or Tube Amps for Metal
One of the biggest divisions in the world of guitar amps is between solid-state and tube-driven ones. These two categories come with their own sets of advantages and disadvantages. But here, we'll focus on the bedroom practice use.
Solid-state amplifiers rely on transistors and diodes to amplify the sound from your guitar with fidelity. The main advantages of these amplifiers are that they tend to be less expensive and more reliable than tube amps for metal. Solid amps aren't as good as tube amps for making extremely distorted sounds, but if your metal music involves a cleaner sound profile then a solid amp can be an excellent choice. You can also choose a hybrid amplifier, like the VOX amp, which uses tubes in the preamp section and solid-state electronics for the power drive.
These amps are typically middle-of-the-road in price, but they are also intermediate in reliability. To use their full potential, you don't need to turn them up that much, even if you have a 50 or 100-watt solid-state amp. Since they get this saturation at lower volumes, they're more suitable for home use. Many of the solid-state metal practice amps also come with onboard effects and lots more tonal options and features compared to a tube amp.
It needs to be noted that solid-state amplifiers are way more suitable for home use. This is because they're generally quieter compared to tube amps at the same output wattage. And especially if you like distorted tones, solid-state practice amps will serve you better at lower volumes.
Tube amps can be useful too, but only if they're really low wattage. We're talking 1 watt or under if you want to get a fully saturated tone at bedroom volumes using a full tube amp. But even with this, tube amps require more maintenance, they're more expensive and come with fewer features. Their tones are excellent, but they're more complicated, more expensive, and less versatile.
One of the biggest differences between amplifiers for metal is whether they use solid-state electronics or a tube amplifier to amplify your sound. Tube amps are the classic guitar amplifier for metal. These amps use vacuum tubes to amplify your guitar's sound, and these tubes allow you to create a high-distortion sound that many guitarists believe is unique to tube amplifiers.
Tube amps are also louder than solid-state amplifiers for the same power input. The main downside to these amps is that they are expensive. Besides, tube amps can be somewhat finicky, so you might want to have a backup amp if you're playing big gigs with some frequency.
Tone, Distortion, and Presets
If you're looking for the best amp for metal to practice with, you need to have a lot of tone-shaping options, especially the high-gain settings. After all, this is the staple tone for almost every metal subgenre. As far as small metal practice amps go, you can find some examples that feature both factory and user presets.
In many cases, these amps are pretty versatile and give you anything from sparkling cleans and up to crushing heavy leads. For metal guitars, it's crucial to have a boost and a lot of control in the mid-range. It's not all about gain but also about having that punch in your sound.
At the same time, it's also important to have that response and thickness in the low end. Otherwise, they'd sound too thin and "weak." With enough tone-shaping options and quality speakers, you'll be able to create a heavily distorted tone without it being too "fizzy" or harsh.
How Many Watts?
When it comes to guitar amplifiers for metal, power is a tricky question. Having more power available in your amp means that you can play at higher output volumes without oversaturating the tubes and electronics, at which point distortion kicks in. While the distorted sound is a staple of metal music, many guitarists also need the option to play clean sounds. So, whether you need more or less power depends on the type of sounds you need to make and the volumes that you plan to play. If you prefer to get your distortion from pedals rather than your amp, you may need 100 watts of power or more, like the Marshall and Peavey amp heads provide.
On the other hand, if you want to get as much distortion as possible out of your amplifier, an amp head like the model from Orange may be a better option. 40- to 50-watt combo amps like the models from Fender, VOX, and Marshall represent a good compromise for distortion at higher volumes. One other thing to keep in mind is that some amps, like the Orange amp head, offer switchable powers. This can be extremely important if you are getting distortion from your amp since you can easily alter the amount of distortion you create at any given volume.
You don't need higher output for bedroom use, but you'll need to use the full potential of your metal practice amp. With solid-state amps, you can do that even at a lower volume level. Amps with 75 or more watts can do both loud and quiet settings well. However, if you're using this amp for home practices only, there's no need to spend a lot on more powerful practice amps. If you want to have something for both practice and gigging, then go with 50 watts or more.
Tube amps can get pretty loud even at lower wattages. There are some smaller amps of 1 to 5 watts that can be a good option for home use. If you need a tube amp for gigs and home use, look for those that have onboard attenuators that let you play at 0.1 to 5 watts, with their maximum output being 20 or more watts.
Combo or a Separate Head and Cabinet?
Another major decision you'll need to make is whether you want an all-in-one combo amp or an amp head, which requires a separate speaker. Metal guitarists have chosen amp heads like the Marshall, Orange, PRS, and Peavey heads, rather than combo amps for many years.
That's because combo amps simply haven't offered enough power to use for gigs in the past, so combo amps were always limited to practices and home use. They're not only compact and practical but are cheaper than the head and cabinet format. You'll pretty much achieve the same results for home use and you won't really need to bother with different cabinets and wasting more of your space.
Amp heads still offer an impressive amount of amplification power for their size, but combo amps have begun to catch up. The Fender amp in particular is available in a 200-watt model, which can compete with any of the amp heads we produced. Still, keep in mind that all that power in a combo amp makes for a very large and heavy unit. So, whether an amp head or a combo amp is better for you also comes down to how you plan to use the amp, and whether you need to travel with it.
Other Essentials on a Practice Amp
Aside from wattage and technology, they rely on home amps and should have a few other features. For instance, it's always a good idea to have a headphone output, especially for late-night practice sessions. It's also useful if your practice amp has a DI output which is useful for recording.
Many amps these days even have USB outputs and you can utilize them as audio interfaces for recording music in real-time using your computer. This also allows for more tone-shaping options and even preset downloads from any company's official website. Having a footswitch on your practice amp is also useful, especially if you're practicing how to switch effects during songs.
Chief on your priorities when choosing the best amps for metal should be the budget, which is why we have amps listed at different prices. As for any amp, you have to take into consideration how and where will you be using the amp. If your home is your main stage, you wouldn't want to invest in a 100-watts amp. Going for the right amount of watts you can always save some money. Also, remember wattage power comes with a price, as well as a weight and advanced features.
Here are some guidelines among the various best amps for metal:
For practice at home: 5 watts to 20 watts.
For rehearsals: 20 watts to 50 watts.
For small gigs (60 people max): 40 watts to 80 watts.
For medium gigs (200 people max): 100 watts to 200 watts.
Now, tube amps are typically louder than solid-state amps. You could even calculate tube amps are twice as loud as solid-state amps. For bigger gigs, you would need a PA system. It means you can microphone your small amp and send this signal to bigger speakers.
More so, this advice is only if you don't have a PA, because it's always better to microphone a lower-wattage quality amp than being very, very loud with a bigger amp without any microphone. Furthermore, keep in mind opting for lower wattage best amps allows you to drive the valves or the digital engine further, which means you will hear how it can truly modify and amplify your sound, rather than just being loud.
About Vacuum Tubes
Next, you must consider the kind of high gain you're after.
Tubular amps use the vacuum inside their tubes to deliver the final output.
These pre-amp valves play a big role, then:
EL34 and EL84: Tubes are generally creamier and sound like old British boxes. These valves are good for low-gain rhythm guitars or low-gain solo/instrumental parts. There's metal with soft distortions right now, for example, bands like Ghost and Mastodon handle it pretty well.
6L6: Valves sound clean, crunchy, and punchy, like a Fender Stratocaster guitar. You can achieve high gains with these valves, good for stoner rock, blues, and other acid and fiery genres.
EVH 515: Valves give the highest amount of precision and vintage Van Halen metallic thunder. It can go to Gojira levels of madness to Van Halen rock and roll. However, it's crunch and clean sounds are somehow disposable.
V30: Tubes are made for distortions and have a lot of headroom. Plus, they offer pristine distorted tones.
12A7X7: Tubes provide high-gain with an ultra-low noise feature. They have the most detail and precision and are considered as the overall better tubes.
Solid-state amps are different, though, because every brand makes its digital circuits differently. More so, you can get modeling amps that imitate or simulate the sound of valve amps digitally; or you can get hybrid amps, which have valves as their pre-amp and digital circuits on the output.
Ease of Use
I also have to add a quick foreword about ease of use. Usually, money buys you features and quality tones. Sometimes it doesn't have as many features as others but delivers a tone you might like better.
Either way, it's all a matter of personal choice. How easy do you want your amp to be? With the more features and effects it has, it's going to become more complicated to use and customize, especially when you add pedals and your guitar's onboard knobs into the mix.
I tend to go for simpler alternatives rather than going for an amp with many effects and presets. Then, I choose my guitar pedals carefully to build the sound I desire. Sometimes, less is more. However, as I said, it's all about personal taste when choosing the best amps for metal.
Key Terms Related to Metal Amps
I'm going to mention the terms that are commonly used when talking about amps in metal music.
Here are the ones you should pay attention to the most:
Cabinet: Chassis that holds the speakers. Cabinets have no knobs and no options to modify the sound.
Head: The upper part of the amp, where you can see the knobs. Heads have very small speakers as their purpose is to modify the sound, rather than amplifying.
Stack: A combination of two or more cabinets with a single head.
Combo: The most standard option: it brings the head and the cabinet in a single unit.
You can also mix any head with any cabinet, although not always you'll get a nice combination. Keep in mind the heads and cabinets I listed below can all match. Although that's always the more professional option (carefully building your sound with an amp head plus an amp cabinet), you can also go for combo amps if you intend to go for a cheaper, easier alternative.
Amp Controls
The controls on most amplifiers are similar. You can change the tone, gain, reverb, and often the bass and treble settings. However, some amps for metal go above and beyond when it comes to offering control knobs so you can take full ownership over your sound.
The Peavey amp head, for example, takes controls to the next level by offering numerous controls for the clean portion of your sound, the distorted portion of your sound, and the frequency-filter gate. More controls can be replaced by pedals aftermarket, but having more control is generally better for metal guitarists.
Included Effects and Presets
Most guitar amps for metal allow you to connect your amp to an effects loop so you can create an endless variety of sounds. But some amps, like the VOX combo amp, come with a handful of presets and effects so you can get started playing around with your sound immediately. Having onboard presets and effects is especially helpful if you don't have an effects panel to connect your amp to.
Extra Features
Some modern amps like those from Fender come with onboard Bluetooth and WiFi so you can connect to a program on your computer or smartphone. That makes it easy to add presets and keep your amp running smoothly. However, keep in mind that metal guitarists have gotten by without WiFi on their amps for decades, so these extras are truly extra.
Dimensions and Weight
Guitar amps, and especially combo amps, can be extremely heavy. That may not be a problem if you only use your amp at home, but keep size and weight in mind when choosing an amp if you frequently travel to gigs. This can also affect your decision about whether to go with a combo amp or amp head.
Warranty
Warranties on guitar amps for metal aren't extremely common, but they're worth looking for. Having a warranty can protect your investment in an amp in case anything is wrong, which can be especially important for tube amps.
Commonly Asked Questions about Amps for Metal
Should I prefer an amp head or a combo amp to play metal?
Most metal guitarists prefer amp heads because they offer more power, or a wider variety of power settings, than most combo amps. That gives you more control over the distortion and volume of your sound, which is essential for playing metal. However, combo amps can save you the hassle of investing in a speaker stack. I need an amp for practice.
How powerful it needs to be?
If you're just practicing at home or with a band, amp power is not all that important. Five watts or less can be plenty of power for practicing in a home setting. Keep in mind that if your band includes a drummer, you may need closer to 30 to 40 watts to be heard over the percussion.
What amp would be loud enough to play gigs?
If you need an amp to play gigs, you'll want at least 40 watts of power. Many professional metal guitarists prefer amps with up to 100 watts for gigs, even if they will never actually use the full power of that amp. Make sure that your amp gives you enough volume to be heard over your drummer and to take advantage of the available speaker stack.
Why get a good amp if you play metal?
Every metal guitarist knows that producing a sound that will reach out into an audience and drive the music forward requires extreme sound quality and volume. In fact, the vast majority of cheap, poorly built amps can't actually create the distortion and tone gain needed to produce a distinctive metal sound. An amp for metal needs to be capable of boosting distortion without losing sound quality.
What does all that mean for you? The short answer is that it's well worth spending a bit of extra money on your guitar amp if you're using it to play metal. Still, you'll have a lot of options and choices to make, so you need to think about how you plan to use your amplifier and what type of metal sound you want to create.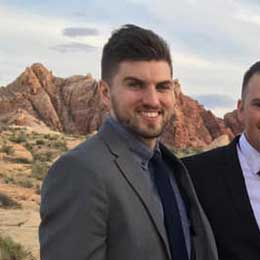 My name is Chris and I've had a passion for music and guitars for as long as I can remember. I started this website with some of my friends who are musicians, music teachers, gear heads, and music enthusiasts so we could provide high-quality guitar and music-related content.
I've been playing guitar since I was 13 years old and am an avid collector. Amps, pedals, guitars, bass, drums, microphones, studio, and recording gear, I love it all.
I was born and raised in Western Pennsylvania. My background is in Electrical Engineering, earning a Bachelor's degree from Youngstown State University. With my engineering experience, I've developed as a designer of guitar amplifiers and effects. A true passion of mine, I've designed, built, and repaired a wide range of guitar amps and electronics. Here at the Guitar Lobby, our aim is to share our passion for Music and gear with the rest of the music community.