Having a choice of top quality effects pedals provides you with more options when it comes to creating unique tones with your guitar. Whether you require a subtle boost to emphasize a melody, or you need spacey ambient effects to build tension, the single most effective way to achieve this is with pedals.
Effects pedals can be categorized into three different groups. You've got dynamic pedals like compressors, gain boosters, and limiters. Then there are timing pedals like delay, reverb, and chorus. Finally, we have the more extreme types of effects like distortion, phase, or wah-wah. Reverb pedals are without a doubt one of the most transformative additions you can make to your guitar rig.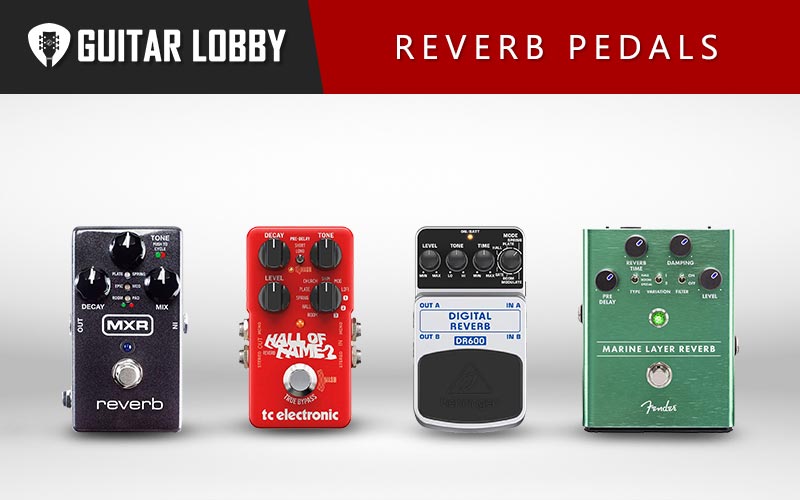 The great thing about reverb pedals is the versatility that they provide. Reverb is added to pretty much every instrument or vocal track in a recording studio to some extent. It can provide a subtle softness to a track, or alternatively, you can use it to make your guitar sound like it's being played in a cathedral. In the following article, I'll provide you with a comprehensive list of the best reverb pedals at each price point, so you can choose the right addition for your pedalboard. If you want to learn more about reverb pedals before jumping into reviews, check out our reverb pedal information guide at the bottom of the page here.
Here Are the Best Reverb Pedals
1. MXR M300 (Best Overall)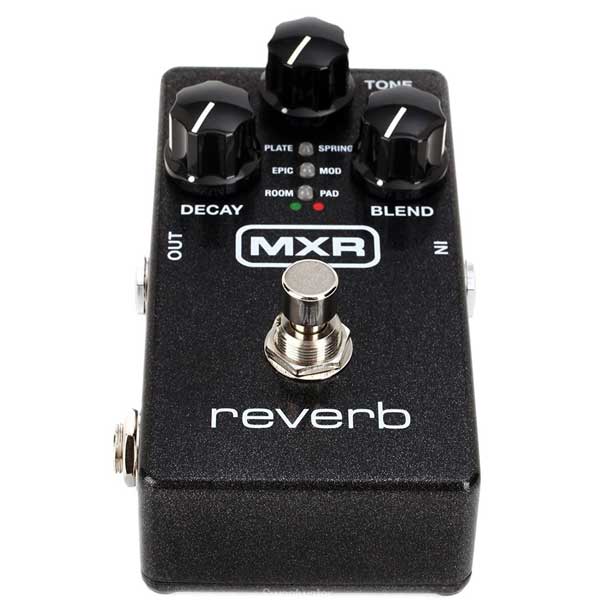 | | |
| --- | --- |
| Estimated Price | $200 |
| Type | Analog |
| Effects | Reverb |
| Connectivity | 1 x 6.35mm Jack Input, 2 x Outputs |
| Power | 9 Volt |
My Review: The MXR M300 pedal produces six individual reverb styles, each meticulously designed and crafted by the renowned MXR designers. Despite its extensive range of sonic options, the M300 is housed in a compact, standard-sized pedal which is laid out in an easy to navigate style.
One of the main reasons I've chosen this as the best overall reverb pedal is down to the h-fi analog dry path which ensures maximum sound quality whether the pedal is bypassed or activated. With an impressive 20 volts of headroom thanks to the innovative Constant Headroom Technology, this pedal performs with clarity even when the dry signal comes in at a high volume.
With the M300 you'll find that each of the reverb styles is very similar in quality to the top-rated plug-ins or rack units. The plate setting gives you a smooth, spacey reverb that shimmers like an authentic sheet of metal. The spring setting accurately recreates the reverb found in high-end valve amplifiers. Then there's the epic setting, which combines analog delay with modulation effects. You can easily toggle through these reverb settings by pushing the tone control, and with two outputs, this pedal can be used to split the dry/wet single into multiple amps.
Who This is Best Suited For: If you want access to the most popularly used types of reverbs with no overly complicated controls, the MXR M300 is a perfect choice.
Bottom Line: Although there are many other options that boast a greater number of controls and parameters, the MXR reverb pedal delivers everything you could possibly need in a compact housing. Where this pedal really excels is in the quality of each individual setting. The six variations all sound authentic and powerful, and there's plenty of room to experiment to find your desired tones.
2. BOSS RV-6 (Best Value)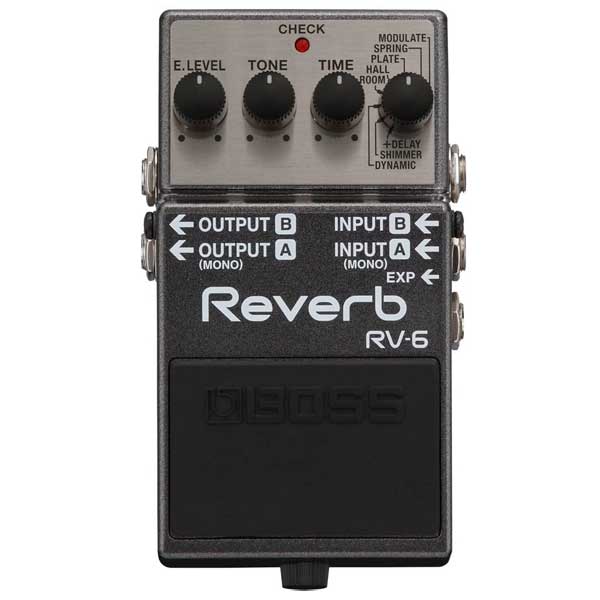 | | |
| --- | --- |
| Estimated Price | $150 |
| Type | Digital |
| Effects | Reverb |
| Connectivity | 2 x 6.35mm Jack Input, 2 x Output |
| Power | 9 Volts DC |
My Review: No matter what the effect is that you're looking for, you can guarantee that Boss has produced a quality option. The RV-6 is a versatile reverb pedal that produces studio-quality sounds. Building upon the previous generations in the RV series, this powerful stompbox provides you with instant access to a range of reverbs.
In total there are eight separate reverbs built into the RV-6. You can thicken up the sound of your guitar using the standard varieties like room, hall, and plate, create swirling tones with the modulation control, or if you prefer more vintage types of reverb you can achieve this with the rich spring setting. There's also the dynamic mode that automatically tweaks the depth to suit your playing velocity while avoiding any unwanted muddy sounds from creeping into the mix.
Who This is Best Suited for: Fans of simple guitar pedals will enjoy using the RV-6. If you prefer to set up your pedals and play without having to adjust them in real-time, the dynamic mode is an ideal solution as it edits the characteristics of the reverb in response to your playing touch.
Bottom Line: The Boss RV-6 is a highly versatile option that won't break the bank. It features the classic Boss stompbox design and is filled with a variety of modern and vintage sounding reverbs that sound authentic and natural. In my opinion, this is the best reverb pedal out there for the money.
3. Zoom MS-70CDR (Editor's Choice)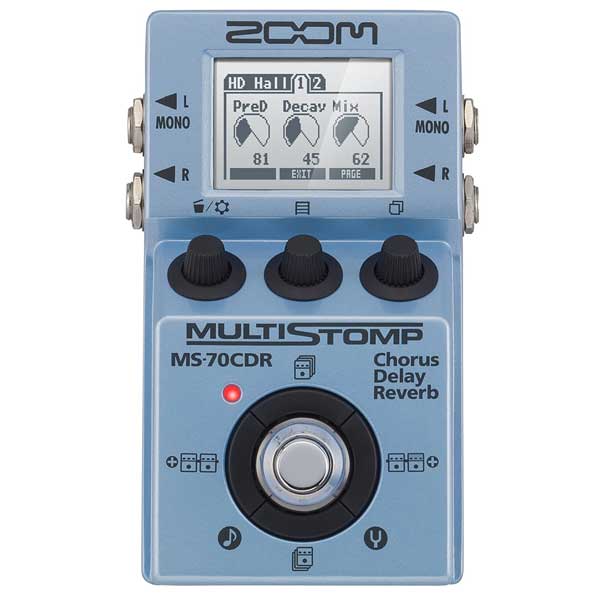 | | |
| --- | --- |
| Estimated Price | $130 |
| Type | Digital |
| Effects | Reverb, Delay, Chorus |
| Connectivity | 2 x 6.35mm Jack Input, 2 x Output |
| Power | 9 Volts DC |
My Review: Zoom's MS-70CDR is a unique multi-effects pedal that combines reverb with delay and chorus. Think of it as a rack-mounted multi effects unit contained in a stompbox housing. With a massive 86 guitar and bass effects to choose from, this extensive pedal is great value for money. The reverb settings are enhanced by this pedal's state of the art DSP microchip which provides 32-bit floating-point calculations, so it can produce 25 studio-worthy reverbs. With a mixture of hall, arena, plate, and spring options, you can create spatial guitar layers with ease.
Another thing worth mentioning about this Zoom pedal is that it offers several vintage reverb emulations too. Legendary pedals like the TC Electronix Hall of Fame and the Digitech RV-7 are recreated within the MS-70DCR. On top of this extensive range of reverbs, you also get 31 individual chorus and modulation effects to choose from. There's everything from phasers to flangers to analog chorus emulators. You can even add auto panning to your guitar with this pedal!
Remarkably, in addition to the 25 reverb and 31 chorus settings, this Zoom multi-effects pedal also offers 26 mono and stereo delays. The maximum delay time stretches to 4 seconds, so you can create ambient guitar tracks and switch between delay and reverb in real time.
Who This is Best Suited For: If you intend to add chorus and delay to your setup at some point, why not combine them with reverb? The MS-70CDR doesn't sacrifice any quality despite the extensive range of effects it produces. For guitarists who love to combine effects and have many options available to them on stage, I'd highly recommend this Zoom pedal.
Bottom Line: Considering that the Zoom MS-70CDR costs around $130, it's incredible how many effects you get for that price. Sometimes, the trade-off with multi-effects pedals can mean that the quality of the individual effects suffers, but that's not the case here. This pedal gives you access to weird and wonderful sounds centered on delay, chorus, and reverb in one place.
Popular Related Article: 17 Best Distortion Pedals (All Price Ranges)
4. Behringer DR600 (Budget Pick)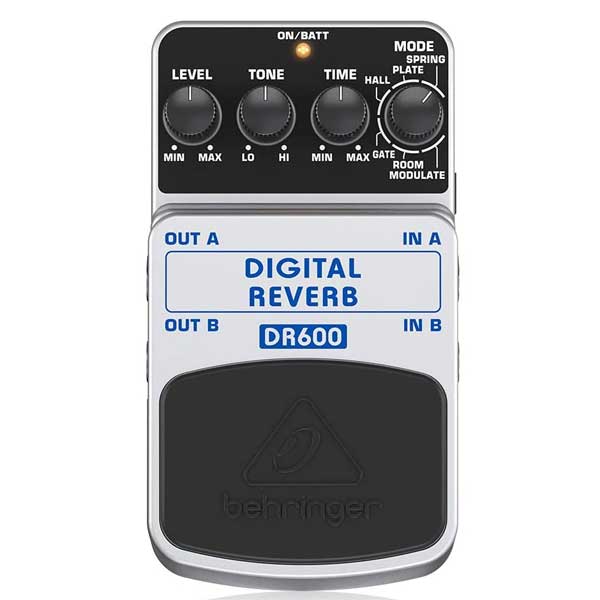 | | |
| --- | --- |
| Estimated Price | $35 |
| Type | Digital |
| Effects | Reverb |
| Connectivity | 1 x 6.35mm Jack Input, 1 x Output |
| Power | 9 Volts DC |
My Review: As far as budget FX pedals go, Behringer produces a range of options that combine affordability with decent quality. The DR600 gives you all of the features of a studio processor in a compact 24-bit pedal. The individual reverb settings include spring, plate, hall, gate, room and modulate.
Not only do you get access to all of these reverb settings, but there's also several other useful parameters that provide even more flexibility. The dedicated mode, time, tone, and level controls can be used to accurately shape the pedals sound to ensure that it interacts with your clean tones in the most efficient way.
There's also a status LED which signifies whether the pedal is on or off – particularly useful if you're playing on a dimly lit stage. The DR600 has a first-class electronic on/off switch which maintains the highest possible signal integrity in bypass mode, so you don't have to worry about your tone being adversely affected when the pedal isn't in use.
Who This is Best Suited For: If you're looking for a budget reverb pedal that still provides you with all of the controls and features of more expensive models, look no further than the Behringer DR600. This pedal is well suited to all kinds of guitarists thanks to the array of reverb sounds it produces.
Bottom Line: The Behringer DR600 can be used to add a touch of spring reverb to your guitar, or you can create spacey effects using the modulation and timing controls. For such a fairly priced model, it has an impressive range of sound-producing capabilities that would be a good addition to any guitarist's pedalboard.
5. Fender Marine Layer Reverb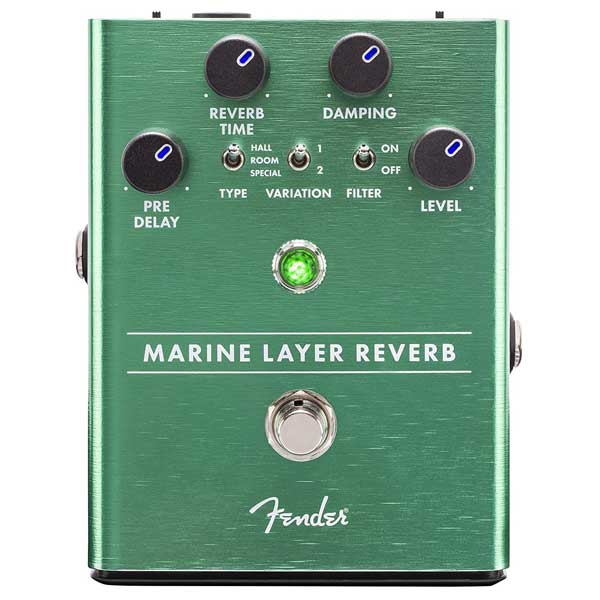 | | |
| --- | --- |
| Estimated Price | $170 |
| Type | Digital |
| Effects | Reverb |
| Connectivity | 1 x 6.35mm Jack Input, 1 x Output |
| Power | 9 Volts DC |
My Review: The Fender Marine Layer is without a doubt one of the most detailed reverb pedals on our list, with a unique blend of high quality processing possibilities. Whether you want to drench your guitar in ambient reflection or add thickness to the sound, this pedal can do it all.
Hall, room, and shimmer reverb settings form the foundation of this pedal. The hall variation can be used to create dramatic, resonant effects perfect for textural guitar tracks. The room setting is better suited for beefing up your tone and creating a more full bodied sound. The shimmer reverb is great for adding color to your melodies and sounds especially good when played in the higher octaves.
Made from lightweight yet durable anodized aluminum, the Marine Layer Reverb is constructed to the level that you would expect from a Fender product. It can be powered either by a 9-volt power supply, or a 9-volt battery. The battery door is magnetically latched and opens open hinges, minimizing the risk of damaging the pedal if you need to quickly swap the batteries for fresh ones. There's also a pair of LED backlit lights so you can clearly see the status of the pedal in a darkened practice room or stage.
Who This is Best Suited For: Guitarists who are mainly concerned with tonal quality should definitely consider the Marine Layer Reverb pedal. It's easy to navigate, durable, and produces a high standard of natural sounding reverbs.
Bottom Line: The Fender Marine Layer performs a handful of functions, but it does them extremely well. The first thing that strikes you about this pedal is the robust aluminum housing and the vintage, worn design. Thankfully, the quality of the reverb matches the interesting aesthetics.
Popular Related Article: 17 Best Electric Guitars Under $1000
6. TC Electronic Hall of Fame 2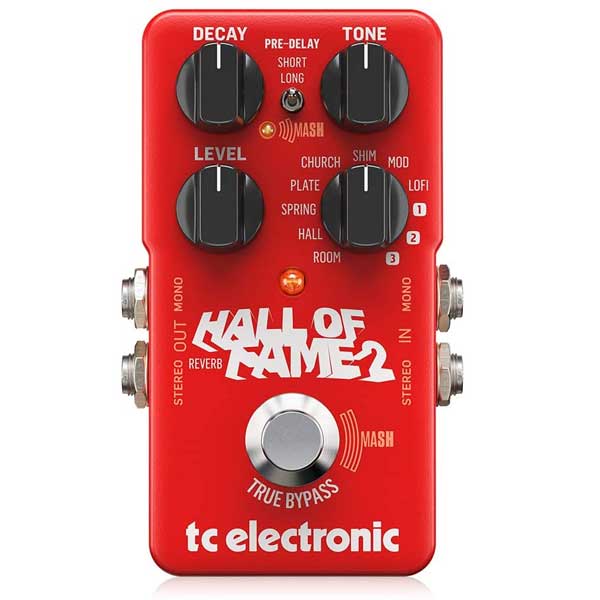 | | |
| --- | --- |
| Estimated Price | $140 |
| Type | Digital |
| Effects | Reverb |
| Connectivity | 2 x 6.35mm Jack Input, 2 x Output |
| Power | 9 Volt DC |
My Review: With its striking red design and array of onboard controls, the TC Electronic Hall of Fame 2 is like having access to a DAW on stage. The level of detail provided by this pedal is astonishing, and this is largely due to the learning process that the manufacturer has benefitted from when making the previous edition. There are a total of 10 reverb settings built into the Hall Of Fame 2, including church, plate, lo-fi, spring, hall, and room.
An interesting feature of the Hall Of Fame 2 is the innovative MASH Technology, which basically turns the footswitch of the pedal into an expression controller that reacts to the pressure that you apply. There's also a brand new shimmer reverb algorithm that takes your original signal, pitches it up by an octave, and then processes it through a feedback loop to produce a weird and wonderful tone. If you find a combination of reverb settings that you like the sound of, you can store up to three of your own custom presets using the dedicated TonePrint slots. This is really useful if you like to use unique reverb presets at different points during a set.
Who This is Best Suited For: As I just mentioned, the Hall of Fame 2 has the capacity to store your own unique reverb settings. If you like to make sure that your sound is exclusive to you, I'd highly recommend considering this pedal for that reason alone.
Bottom Line: The TC Electronic Hall Of Fame 2 is a truly exceptional reverb pedal. Not only does it provide you with a handful of high quality presets, but it also lets you experiment and create your own variations as you would when producing in a recording studio.
7. Walrus Audio Slo Multi Texture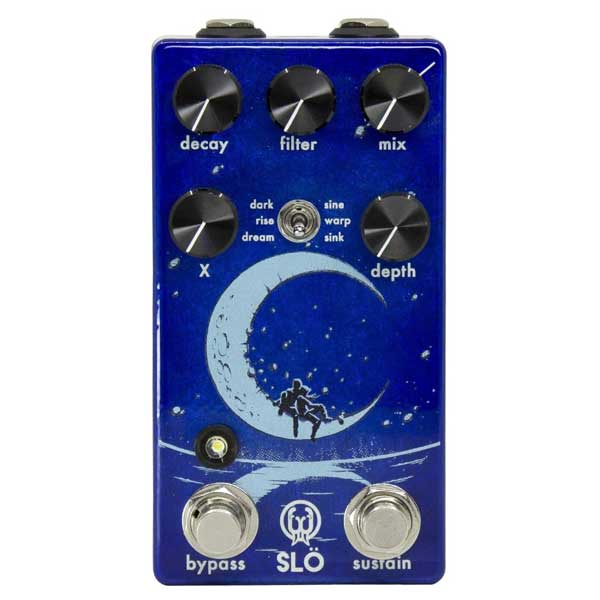 | | |
| --- | --- |
| Estimated Price | $200 |
| Type | Digital |
| Effects | Reverb, Modulation |
| Connectivity | 1 x 6.35mm Jack Input, 1 x Output |
| Power | 9 Volts DC |
My Review: Walrus Audio is fast becoming one of the leading producers of guitar FX pedals, and the Slo Multi Texture continues this impressive rise. Designed to give guitarists access to smooth, ambient soundscapes, this pedal has a somewhat unique ability to produce textural reverb. With three onboard algorithms that have been specifically designed to bring the dreamy reverbs of your imagination into sonic reality, the Slo Multi Texture boasts impressive depth.
The three modes can be alternated between using the toggle switch. There's the dark mode which is best suited to lower octaves, the rise mode which creates ambient swells of reverb and the dream mode which resembles a latching pad. The secondary functions of the switch give you access to various wave shapes so you can modulate the tone and characteristics of your chosen reverb setting.
Additionally, this Walrus Audio pedal has a sustain switch when can be used to capture a section of your guitar's input, freeze it, and create a pad-like reverb from the original audio. I'm a huge fan of using your own sounds to create effects, and it's quite rare for this to be possible using a standard stompbox style pedal without connecting to a DAW. You can also let the reverb taper off gradually by tweaking the position of the decay knob.
Who This is Best Suited For: Guitarists who love to create dreamy ambient soundscapes will absolutely love the Walrus Audio Slo Multi Texture pedal. If you play textural melodies or pad sounds then this is the perfect pedal for you.
Bottom Line: This Walrus Audio reverb pedal is unique because it goes beyond the standard settings featured on most stompboxes. Although it doesn't provide you with conventional types of reverb, it produces a brilliant array of psychedelic tones that are perfect for creating space within your guitar tracks.
Popular Related Article: 17 Best Delay Pedals (Digital and Analog)
8. Fender Tre-Verb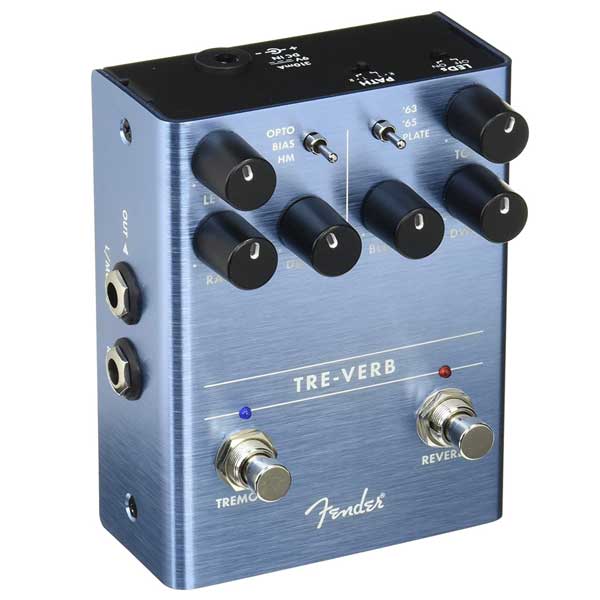 | | |
| --- | --- |
| Estimated Price | $270 |
| Type | Digital |
| Effects | Reverb/Tremolo |
| Connectivity | 2 x 6.35mm Jack Input, 2 x Output |
| Power | 9 Volts DC |
My Review: The natural sound of a Fender amp's reverb and tremolo is instantly recognizable. The dynamic, warm effects tone produced by their range of top-end valve amps is highly sought after by guitarists. With the Tre-Verb pedal, Fender has condensed the reverb and tremolo of their amplifiers into an easy to use pedal. You get access to the classic sounds of the spring reverb units between 1963 and 1965, with additional tremolo settings that add more color to your guitar output.
In total there are six adjustable parameters on the Tre-Verb pedal. Firstly, you have level and tone controls which can be used to shape the foundations of the effects. On the bottom row of knobs, there's a rate control that adjusts the tremolo speed. Then you have the depth and blend controls which make sure that the chosen effect interacts nicely with your guitar's clean tone. Finally, there's the dwell parameter which basically decides how long the reverb sticks around for after you've played a note.
The great thing about the Fender Tre Verb is that the two built-in effects are independently activated by footswitches. This gives you the freedom to localize the sounds or combine them for more dramatic effects. The tremolo channel also three classic variations optical, bias, and harmonic vibrato. By using the tap tempo function you can ensure that the reverb or tremolo stays locked in with the rest of the band.
Who This is Best Suited For: Fans of Fender spring reverb units that are found in their top-end amplifiers will enjoy the recreated effects of the Tre-Verb pedal. If you play 60s style rock guitar, the pristine tremolo effects will enhance your tone too.
Bottom Line: Although the Fender Tre-Verb pedal is fairly expensive, the quality of the effects it produces justifies the price tag. It's durable, detailed, and easy to use. The wide range of sparkling reverbs and tremolos that can be achieved with this pedal make it a brilliant choice for any guitarist.
9. Donner Digital Reverb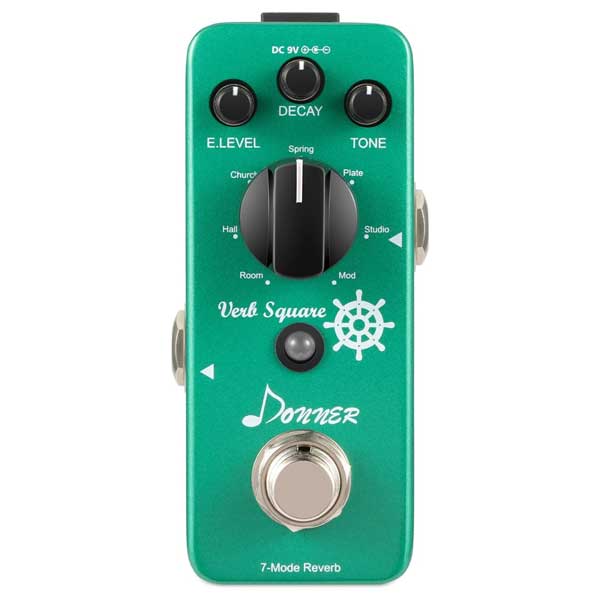 | | |
| --- | --- |
| Estimated Price | $45 |
| Type | Digital |
| Effects | Reverb |
| Connectivity | 1 x 6.35mm Jack Input, 1 x Output |
| Power | 9 Volts DC |
My Review: With their digital reverb pedal, Donner has proven that you don't need to spend a small fortune to get a range of authentic-sounding reverbs. With a digital circuit design and a wide variety of effects, this pedal adds character to the clean tone of your guitar. There are a total of 7 reverb settings that can be toggled by using the large knob in the center of the pedal. These settings include your standard varieties such as room and hall, with more extreme forms of reverb like church, plate, spring, and modulated rounding off the selection.
In terms of function parameters, you can customize the reverb presets using the e-level, decay, and tone controls. Although this pedal is minute in size, it provides an extensive number of sound sculpting possibilities. Additionally, the Donner Reverb pedal also has a visible LED on/off light and true bypass capabilities so your tone won't be compromised when the pedal isn't in use. Overall this compact option would be a useful addition to your pedalboard, and it's so small that you won't even notice it's there!
Who This is Best Suited For: I'd recommend the Donner Reverb Pedal to guitarists who have limited experience with this effect. The reason for this lies in the simplicity of the pedal's functions, coupled with the high quality presets it offers. I think this pedal is a great starting point for musicians who want to gain a better understanding of reverb without being overwhelmed by a large number of controls.
Bottom Line: At less than $50, you can't argue with the value for money of the Donner Reverb Pedal. It's simplistic in nature but has all of the basic capabilities that you need from a reverb pedal housed in a small format that doesn't feel overly crowded.
Popular Related Article: 22 Best Guitar Amps (Tube and Solid State)
10. Electro Harmonix Oceans 11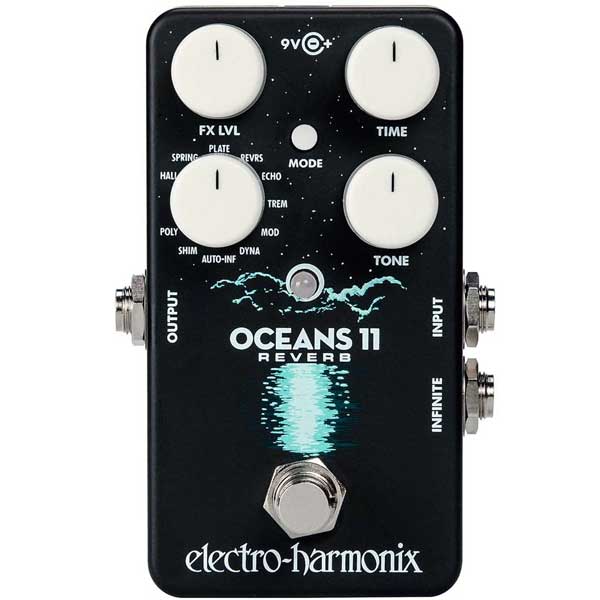 | | |
| --- | --- |
| Estimated Price | $180 |
| Type | Digital |
| Effects | Reverb, Tremolo, Modulation |
| Connectivity | 1 x 6.35mm Jack Input, 2 x Output |
| Power | 9 Volts DC |
My Review: The Oceans 11 by Electro Hamrmonix is a brilliantly detailed stompbox containing 11 individual reverb settings. A highly versatile option, the Oceans 11 is ideal for creating experimental reverb soundscapes or simply adding a touch of decoration to your guitar. Along with the extensive number of reverbs with this pedal, it also has a handy tail witch which controls the sustain of the effect after you've hit the true bypass switch. This makes for smoother transitions and a more consistent fade-out that doesn't sound artificial.
Let's take a closer look at the specific reverbs available with the Oceans 11. Firstly, you get the standard group of spring, plate, and hall settings, perfect for creating classic reverb undertones to merge with your clean tone. These variations are highly compatible with other FX pedals like distortion, due to their subtle nature. If you want to produce more extreme forms of reverb, you can use the reverse, modulated, and dynamic modes. These ambient effects each sound unique, inspiring you to innovate with the pedal.
There's also the auto-infinite effect which I find particularly interesting. This works by triggering a wash when you play a note or chord, creating pad-like, atmospheric reverbs to add thick layers to your tracks. Each of the settings can be tweaked to your liking using the depth, tone, and duration controls on the face of the Oceans 11 pedal.
Who This is Best Suited For: Musicians who like to create atmospheric, spacey layers of reverb will have a great time experimenting with the comprehensive set of controls on the Electro Harmonix Oceans 11. If you have some experience with pedals, this option provides you with a step up in quality.
Bottom Line: There's no doubting the quality of Electro Harmonix guitar pedals, and the Oceans 11 reinforces this notion. This is a highly detailed pedal that produces a seemingly infinite number of spacey reverbs and is guaranteed to interact well with the other pedals on your board.
11. VSN Ocean Verb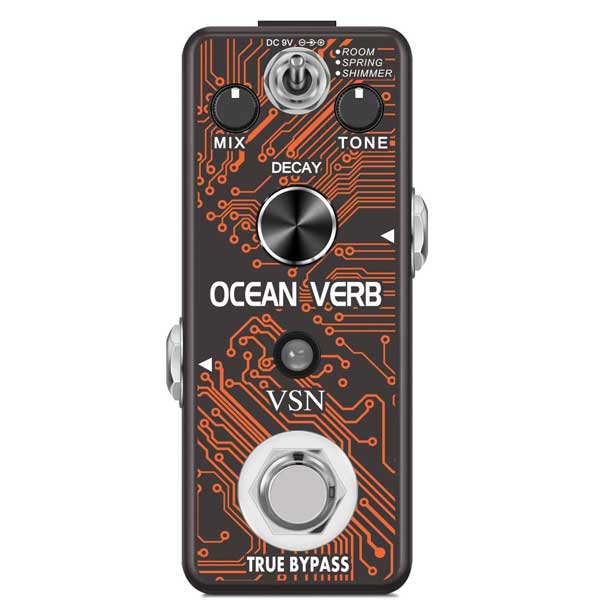 | | |
| --- | --- |
| Estimated Price | $45 |
| Type | Digital |
| Effects | Reverb |
| Connectivity | 1 x 6.35mm Jack Input, 1 x Output |
| Power | 9 Volts DC |
My Review: I was introduced to VSN pedals only recently, and after doing some research it seems that many guitarists are choosing their products due to the low price and high quality effects that they are capable of producing. The Ocean Verb is made with efficiency in mind. This tiny stompbox has only the necessary controls with no filler taking up space. It's not flashy, but as far as budget options go, it does everything that you would want from a reverb pedal.
This 24-bit high resolution pedal is home to three reverb types. Firstly, you have the room preset which produces a tight and warm reverb to add thickness to your guitar. Then there's the spring setting which does a great job at reproducing genuine spring reverb that you would find in a high-end tube amplifier. Finally, there's the intriguing shimmer preset. I'm always a little skeptical of shimmer reverbs, as they can sound overly processed sometimes, but VSN has managed to create one that sounds elegant and natural.
Along with the three individual reverb settings, there's also a toggle switch positioned in the top center of the pedal. This switch allows you to quickly jump between dedicated mode, normal mode, and fixed mode. Each of these presets acts like a filter, emphasizing certain frequency ranges and aspects of your chosen reverb setting.
Who This is Best Suited For: Guitarists who don't want a large number of controls and would prefer a minimalist pedal that performs all of the necessary functions with efficiency.
Bottom Line: The Ocean Verb by VSN is affordable and reliable. There's nothing flashy about this pedal except the interesting design on its face, but the reverb that it produces is expressive and natural sounding.
Popular Related Articles: 17 Best Headless Guitars (All Price Ranges)
12. Caline Snake Bite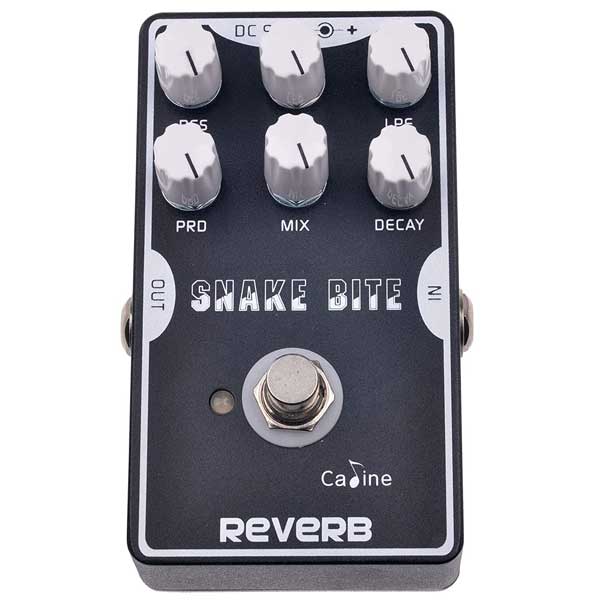 | | |
| --- | --- |
| Estimated Price | $40 |
| Type | Digital |
| Effects | Reverb, Delay |
| Connectivity | 1 x 6.35mm Jack Input, 1 x Output |
| Power | 9 Volts DC |
My Review: The Caline Snake Bite is an ambient reverb pedal that offers digital, analog, and tape delays. Housed in a classic mini stompbox pedal, the Snake Bite is durable enough to withstand the rigors of touring and practicing. With six function knobs, you get complete control over the nature of your chosen reverb setting. In the top left hand corner of the pedal, there's the RES control which can be used to adjust the amount of reverb present on your guitar. Then there's the CFR knob which shapes the tone of the effect positioned next to the LPF knob which adds or removes warmth.
On the bottom row of controls, you have the PRD knob which is used to set the delay time, the MIX knob which boosts the presence, and finally, on the right side, you have a DECAY knob which sets the length of the reverb. The Caline Snake Bite also comes with true bypass, so tonal preservation is guaranteed. For the price, this is a worthy addition to your rig thanks to the extensive control you get over the reverberation settings.
Who This is Best Suited For: The Caline Snake Bite is a happy medium between basic reverb pedals and the more expensive, control-heavy pedals on this list. If you want complete control over the characteristics of the effect without having to spend a lot of money, this pedal might be the right choice for you.
Bottom Line: It's rare that an affordable pedal like the Snake Bite has 6 control knobs that all provide unique options for adding reverb to your guitar. And despite the range of functions available, it's designed in a simplistic way.
13. JOYO Vision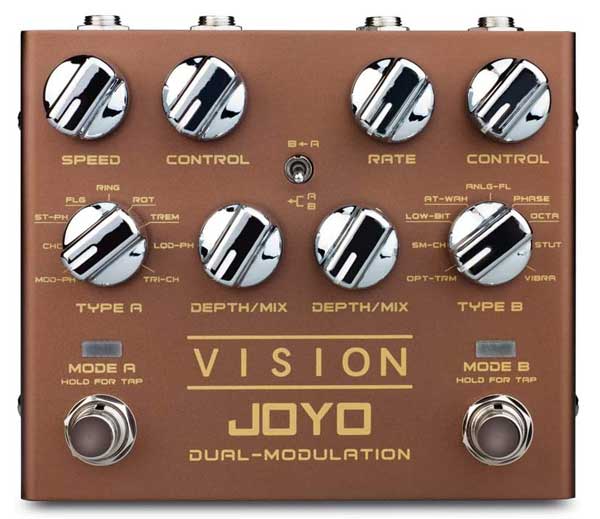 | | |
| --- | --- |
| Estimated Price | $90 |
| Type | Digital |
| Effects | Multi-Effects |
| Connectivity | 2 x 6.35mm Jack Input, 2 x Output |
| Power | 9 Volts DC |
My Review: The JOYO Vision is more than just a reverb pedal. Granted, it does produce smooth sounding varieties of reverb but there's also an additional 17 effects built into this pedal. You get 2 types of modulation which are built-in A and B channels, with a number of controls available to blend the effects with your dry signal. Each of the modulation channels can be controlled with the depth, speed, and control parameters either as a standalone effect or in conjunction with other effects.
Let's take a closer look at the individual effects this pedal has to offer. Along with reverb, on Channel A you get phase, chorus, and flangers which can add a psych-rock feel to your guitar tone. There's also a warm sounding tremolo preset which can be used at different speeds to suit the tempo of a song. On Channel B there are some more experimental effects, mainly based around filters and dynamic processing. Wah, low-bit and vibrato are just a few of the effects on this channel.
Another quality worth mentioning about the JOYO Vision pedal the Sync feature, which when hooked up to a footswitch can be used to tap out the tempo of your song so that the chosen effect seamlessly blends with the rest of your band or backing track. There's an LED indicator that clearly displays the selected effect, and the dual in/outputs are useful for splitting your wet and dry signals.
Who This is Best Suited For: If you want quality reverb and tremolo but also desire to bathe your guitar in a number of other trippy effects, the JOYO Vision will do a great job.
Bottom Line: The Joyo Vision Multi-FX pedal provides guitarists with a remarkable number of processing tools at a very good price. The only downside to the pedal is that it can get a little overwhelming while you are learning what all of the individual functions do, as is the case with most multi-FX pedals. Once you become familiar with the mechanics of this pedal, it is a hugely valuable weapon to have in your arsenal.
14. NUX Atlantic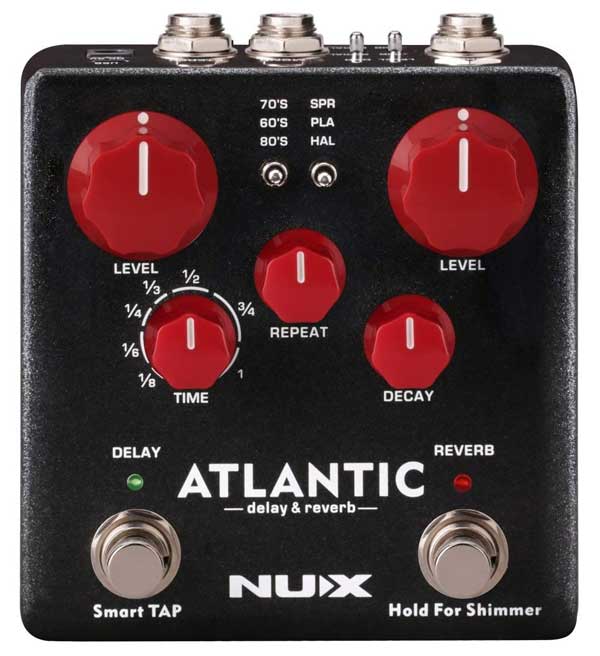 | | |
| --- | --- |
| Estimated Price | $150 |
| Type | Digital |
| Effects | Delay, Reverb |
| Connectivity | 1 x 6.35mm Jack Input, 2 x Output |
| Power | 9 Volts DC |
My Review: The quality of NUX pedals has improved greatly over the past few years. With their Atlantic pedal, they have blended arguably two of the most popularly used effects – delay and reverb. The beautiful thing about combining these two effects is that they both compliment each other so well. Adding a touch of reverb to your delay can really transform the overall feel of your guitar.
The NUX Atlantic is designed in a simple and concise manner. On the left of the pedal, you have all of the main delay controls and a smart tap footswitch to activate the chosen effect or tap the tempo out. On the right hand side, you have all of the reverb controls, and the footswitch is dedicated to creating a shimmer effect when you hold it down.
Although this is very much a digital pedal, it still pays homage to the vintage delays which so many guitarists crave. Adjacent to the delay level control, there is a small switch with three settings 60s tape, 70s analog, and 80s digital. Once you've decided on the era you want to replicate, you can then tweak the output using the level, time, and repeat parameters.
Who This is Best Suited For: Guitarists who love smooth, drawn out tones that are dreamy in nature. This pedal blends delay and reverb which are both perfect for adding color and character to your melodies and guitar solos.
Bottom Line: The NUX Atlantic is basically two pedals in one. With the capacity to produce sparkling reverbs and warm delays, this pedal delivers both at a very high quality. It's easy to use and makes a great tool in the studio too.
15. Valeton Coral Verb IIC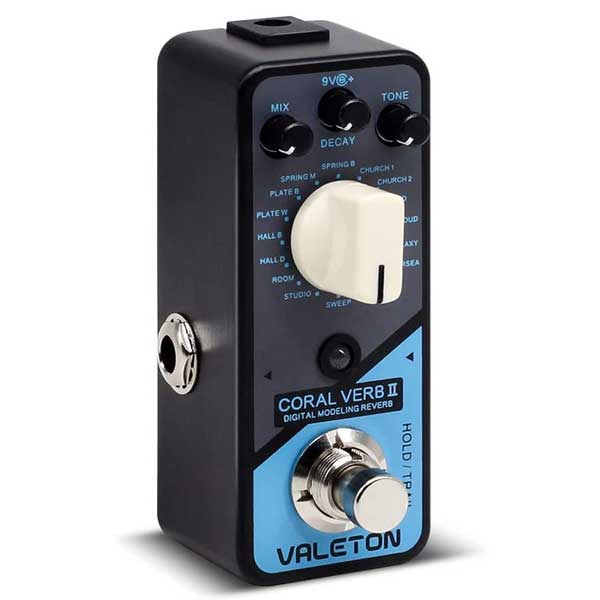 | | |
| --- | --- |
| Estimated Price | $70 |
| Type | Digital |
| Effects | Reverb |
| Connectivity | 1 x 6.35mm Jack Input, 1 x Output |
| Power | 9 Volts DC |
My Review: The small Coral Verb II pedal by Valeton provides you with 16 specifically selected reverb algorithms in a compact stompbox. This affordable pedal is filled with processing capabilities. There's a pair of spring reverb settings, one with a slightly darker tone than the other. There are also two plate reverbs, which both produce an authentic metallic shine. Then you get two variations of hall and church reverbs which add ambiance to your tone, without making it too muddy. Additionally, there is a number of more experimental reverb settings like modulated, cloud, galaxy, undersea, and sweep.
To toggle through the 16 reverb variations you simply rotate the large control knob in the center of the pedal. Positioned above the main knob are three controls – decay, tone, and mix. The decay controls how long the reverb remains after a note has been played, the tone controls the color and brightness of the reverb, and the mix provides you with an easy way to add or take away some of the effect. To turn on the trail effect you simply hold down the footswitch, so that the reverb doesn't cut out abruptly when the pedal is bypassed. There's also an LED light which makes it easy to see if the pedal is on or off.
Who This is Best Suited For: If you're short of space on your pedalboard, the tiny Valeton Coral Verb is the perfect solution. Although it's modest in terms of size, it still provides you with a wide range of reverbs that vary in tone and character.
Bottom Line: It's an impressive achievement to cram 16 reverb settings into such a small pedal, and somehow Valeton has pulled it off without compromising the quality. This pedal can be used to create pretty much any type of reverb that your mind can imagine, and at around $70 it's a steal.
16. Electro-Harmonix Holy Grail Nano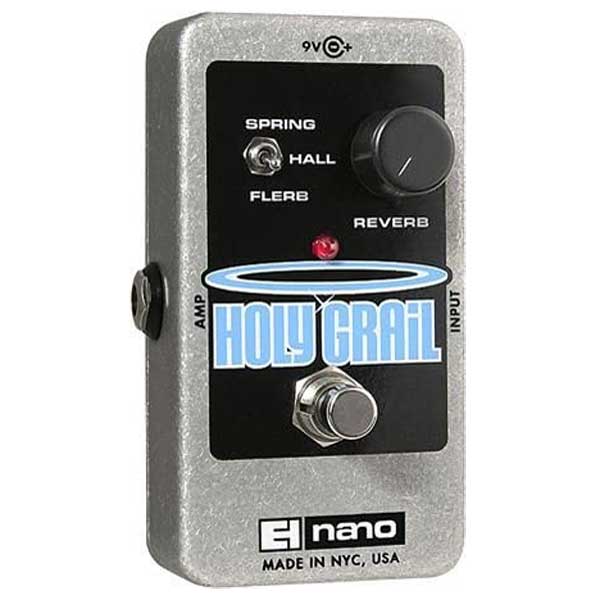 | | |
| --- | --- |
| Estimated Price | $160 |
| Type | Digital |
| Effects | Reverb |
| Connectivity | 1 x 6.35mm Jack Input, 1 x Output |
| Power | 9 Volts DC |
My Review: Electro Harmonix makes another appearance on our list, this time with the Holy Grail Nano. This pedal is remarkably simplistic, with no extra controls added just for the sake of it. Let's get straight to the point. The Holy Grail Nano offers three high quality reverb presets that can be alternated using the small toggle switch on the right of the pedal. Firstly, there's a spring reverb that is sharp and reflective in sound. Then there's the more ambient hall reverb setting that provides a more spacey, psychedelic vibe. Finally, there's the interesting addition of flerb, which is a more wobbly variety of spring reverb.
Once you've chosen your desired type of reverb, you can use the singular control knob to make the effect more or less prominent in the mix. Say for example you chose the hall setting, cranking the control all the way would produce a long-tailed, atmospheric reverb sound. If you dialed the control down, you would get a slight undertone of gloss added to your guitar output. With true bypass capabilities, there's no danger of your tone suffering when the pedal is turned off.
Who This is Best Suited For: If you're the kind of guitarist who doesn't want to spend valuable time setting up the various controls on an effects pedal, the minimalist design of the Electro Harmonix Holy Grail Nano will suit you to a tee. Its small dimensions make it easy to position on a busy pedalboard too.
Bottom Line: You might think that $160 is expensive for a pedal that only offers the bare minimum in terms of controls and parameters. However, the Electro Harmonix Holy Grail Nano justifies its price tag by producing tones of pristine quality. In reality, there are still a good number of options provided by the trio of reverb settings and the control knob, so don't be put off by the primitive design.
17. Electro-Harmonix Cathedral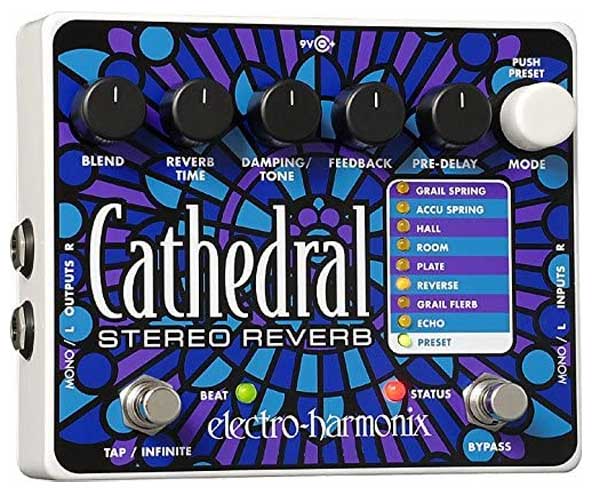 | | |
| --- | --- |
| Estimated Price | $225 |
| Type | Digital |
| Effects | Reverb |
| Connectivity | 2 x 6.35mm Jack Input, 2 x Output |
| Power | 9 Volts DC |
My Review: To finish off our list of the best reverb pedals on the market today, we have the eccentric-looking Cathedral by Electro Harmonix. Arguably the most detailed pedal that I've reviewed in this article, the Cathedral provides you with a total of 8 distinctive reverb variations, 6 control parameters, and two footswitches. It's a bold pedal that is designed to be noticed and to be a main component of your pedalboard.
The 8 reverb settings that you get with this pedal range from spring, hall, and room to reverse, plate, and echo. It is capable of producing understated touches of reverb, or extreme trippy tones that are perfect for creating thick soundscapes on stage. You can tweak the wet/dry settings of the pedal with the blend control, shorten or lengthen the tail of the effect using the reverb time control, or produce multiple echoes similar to the effect produced in a long tunnel by adjusting the feedback knob.
Who This is Best Suited For: The Electro Harmonix Cathedral pedal isn't for the faint-hearted. If you value simplicity then look elsewhere, but alternatively, if you enjoy playing around with effects and creating unconventional sounds, then there are few better options than this pedal.
Bottom Line: The Electro Harmonix Cathedral provides you with stereo reverb of the highest quality. The great thing about this pedal is that it is equally suited to producing subtle reverb tones as it at creating out of this world space-age effects. It's bulkier than most of the pedals on this list, but that shouldn't deter you. The Cathedral is the type of pedal that becomes the centerpiece of a guitarist's pedalboard, thanks to the extensive number of tone-crafting possibilities it reveals to you.
Choosing the Right Reverb Pedal (Buying Guide)
Distortion pedals come in a variety of shapes and sizes, with differing capabilities and functions. Before choosing the best suited addition to your pedal board, it's important to understand what the various controls and specifications mean in relation to your guitar's tone. In the following section, I'll present a detailed overview of everything you need to know about distortion pedals so that you can make an informed choice.
What Is Reverb?
Reverb is without a doubt one of the most popularly used effects across all musical genres. There's not an instrument that doesn't benefit from at least a touch of reverb to make the sound friendlier to the human ear. Where guitars are concerned, reverb can completely transform your sound or add slight warmth to the tone. But what exactly is reverb and why is it such a popular effect?
Technically speaking, reverb – which is short for reverberation, is the result of soundwaves reflecting off a physical surface. The sound is then reflected and sent back to the human ear, with the reverberations coming so closely after the original sound that it is interpreted as one singular sound. Reverb is present not only in music but in all facets of everyday life.
You could say that reverb is the interaction between a sound and the materials, objects, or surfaces in its direct environment. For example, if you are in a large hall and clap your hands, the original sound would reflect off all the walls and you would hear the sound of the clap interacting with these surfaces.
When we use reverb pedals, we are simply synthesizing this natural process using digital technology. The main reason that reverb is such a popularly used effect by guitarists is that it softens the decay of the sound, making it more ambient and adding thickness. Although the science behind reverb is pretty simple, there are numerous variations of this effect that can range from subtle to extreme. All of the variations of reverb are based on genuine naturally occurring sounds, reproduced, and programmed into an effects pedal so that you can control the type and amount of reverb on your guitar.
The Origins of Reverb In Music
One of the pioneers of reverb-draped guitar was Pink Floyd's innovative guitarist David Gilmour. In the early days when recording studios and music technology was in its formative period, there was no way to artificially produce reverb. Therefore, producers and guitarists like Gilmour had to create reverb intentionally using natural methods in order to make their tracks more spacey and resonant.
Back in those days, the type of reverb used was referred to as acoustic chamber reverb. To produce the effect, musicians would use the characteristics of a physical space to create a natural echo chamber. These echo chambers have been responsible for some of the most iconic guitar effects in music history, with each recording studio having its own unique chambers where variables such as decay time and reverb tone were purposefully created.
Usually, a reverb chamber is composed of dense materials like brick or concrete with layers of plaster on the inside. This combination of materials results in the midrange frequencies having a decay time of a number of seconds. The size of a reverb chamber directly impacts how quickly the onset of reverberation occurs. A smaller chamber produces colorful frequency responses and reflections, whereas a larger space produces more favorable acoustics.
Plate Reverb
The next development after echo chambers was plate reverb. Due to the cost of building a room especially for reverberation, the invention of plate reverbs like the EMT 140 revolutionized the process for producers.
Plate reverbs achieve their desired effect by sending sound through a sheet of thin metal. As the metal vibrates, the sound is recorded by some pickups, mimicking the sound of natural reverb pretty convincingly. However, plate reverb has its own distinct sound that is warm in tone when picked up by a microphone.
Spring Reverb
Shortly after the first plate reverb unit was created, spring reverb provided another alternative method. Instead of using a sheet of metal and capturing the reflections, this technique uses a spring that is much smaller than the materials needed for plate reverb. The two types of reverb share some sonic qualities, but the spring variety is more tinny and metallic in nature.
Around this time, many guitar amp manufacturers started to incorporate springs into their amplifiers. This gave guitarists access to reverb while on stage or recording. When the dry signal of the guitar passes through the springs inside the amplifier, it causes them to vibrate and produce an echo like effect.
The Common Types of Reverb Found on Reverb Pedals
Now that we've touched upon the origins of reverb used in music recording, it's time to look at the various forms that this effect is reproduced within a reverb pedal. Like all digital guitar FX, reverb pedals work by synthesizing the process electronically to produce a similar or identical outcome. There are numerous types of reverb used on these pedals, with some of the most common being
Hall Reverb
Room Reverb
Ambiance Reverb
Cathedral Reverb
Chamber Reverb
Hall or concert hall reverb is the result of a large space that has usually been designed with specific acoustics in mind. This produces a long decay time that is usually around 2 seconds, with some pre-delay built-in so that there is a slight pause before the earliest reflections occur. The bulk of the effect comes at the tail end rather than early in the sound, creating a spacey, distant type of reverb. Hall is commonly built into reverb pedals and sounds great on ballads or slow bluesy guitar solos.
Another variation commonly found on guitar pedals is room reverb. This refers to the effect that happens when a sound is played in a small space like a bathroom or living room. Although the reverb produced is less polished and intentional than that of a concert hall, room reverb has a familiar sound because it recreates the reflections that we are used to hearing when spending time indoors. The decay time of room reverb is generally short, at around ¾ of a second, and the early reflections are more prominent than the tail end.
Ambiance refers to a type of reverb that has a very short decay time. In fact, the tail is so short that it is hard to hear without focusing on it specifically. Ambient reverb is more focused on the early reflections and doesn't alter the original sound too much. It's basically a middle ground between room reverb and no reverb at all, with very little alteration to the character of the sound source. Despite its very subtle effect, it is commonly found on reverb pedals because it smoothens out the tone without drawing attention away from a guitarist's playing.
A cathedral preset can also be found on most reverb pedals. This type of reverb has a longer, more prominent effect than hall does. As you can guess by the name, it is based upon the acoustics of a large cathedral with highly reflective materials that are usually shaped as squares or triangles. This produces a long decay time, reaching anywhere up to ten seconds before the sound dies out. Cathedral reverb sounds thick and chaotic, as the numerous tones merge over a long decay time. It is highly effective for playing dreamy guitar melodies and creating warmth within the mix.
We've already covered chamber reverb and how it was initially produced, so I won't repeat myself here. It's worth noting, however, that chamber reverb is a staple of guitar pedals because the original form was used on so many iconic recordings that many guitarists strive to replicate this natural effect. Thankfully, reverb pedals allow us to do that without having to hire out Abbey Road Studios for the day! Learn more about the types or reverb here.
Common Controls on Reverb Pedals
On a reverb pedal, you'll find that there are several adjustable parameters that allow you to control different aspects of the effect. Although these controls may seem complex at first, when broken down they're quite easy to understand. The main parameters found on a reverb pedal are
Pre-Delay
Decay Time
Dry/Wet amount
EQ
The pre-delay control on a reverb pedal affects the amount of time it takes for the input signal to reflect off the surface, then return to your ears. In a natural environment, the original sound is made, then there is a period of time where the soundwaves are traveling to the surface. When this control is turned up, it will recreate the predelay of a larger room and vice versa.
The Decay parameter controls how reflective the room is. It is the amount of time that the reverberations carry on after the original sound has come into contact with the surfaces. If you were to crank this control on a delay pedal, it would simulate a larger, more reflective room.
The Dry/Wet amount is pretty self-explanatory. Sometimes, you won't want to completely drown your guitar in reverb as this can make it sound muddy and chaotic. A good way to combat this is by finding your desired reverb sound by tweaking the pre-delay, decay, and EQ settings, then adjusting the wet/dry control to choose how much of the effect is present in your overall mix.
EQ settings are commonly featured on reverb pedals. This is a highly useful control as it allows you to shape the frequency response of the effect to make it blend nicely with your guitar's natural tone. By cutting off problem frequencies or unwanted bass traps caused by a reverb pedal, you can create smoother, cleaner tones accurately.
Tempo-Syncing Your Reverb Pedal
A great way to make reverbs more compatible with the other elements of a song is by adjusting the individual settings until the tempo is synchronized. This is especially useful if there are multiple instruments in a band using reverb at once. When they are all out of synch with each other, the reverb can become messy and interfere with the groove of your playing.
Unlike delay pedals which sometimes come with a tap tempo function to simplify the process, tempo-syncing a reverb pedal requires more manual work and calculations. Thankfully, it's not too complicated and once you've memorized the method it will become second nature.
Some reverb pedals allow you to adjust the pre-delay to be a certain note value, for example, 16th notes. The decay time could be adjusted to whole notes or half notes, depending on the tempo of the song. This is a simple way to tighten up the tempo of your reverb pedal, but it's not the most accurate.
Many reverb pedals present values in terms of ms (milliseconds). In order to synchronize the reverb to your desired tempo, you need to convert the note values into milliseconds. This is where it can get a little complicated but stay with me here. Basically, a quarter note, half note, or whole note will be valued differently in milliseconds depending on the tempo of your track. For example, a quarter note would equate to 600ms if your song was at 100BPM, or 461.54ms if the tempo was 130BPM.
There are many online calculators and apps that will work this out for you so that you don't need to spend time figuring the settings out for each individual song.
Positioning a Reverb Pedal In The Signal Chain
After selecting the right reverb pedal to add to your pedalboard, the next question that arises is where should it be positioned in the signal chain? In reality, there's no correct answer. In many cases, the most unique and interesting guitar tones are a result of experimentation and going against what is considered to be the norm. With that said, there is some theory behind the positioning of your reverb pedal which will greatly impact the sound it produces.
More often than not, guitarists will position time based effects like reverb and delay at the end of their signal chain. The reason for this is that reverb provides color to the signal, and is usually set to certain timing. By adding this effect last, all of the other pedals in your signal chain will be affected by its presence. It sounds less messy if you add reverb to an overdriven signal, rather than distorting the reverb. Because reverb creates a number of tones and reflections, adding other effects to it subsequently will amplify the inconsistencies of the sound.
Dual Output Reverb Pedals
You might have noticed that some of the aforementioned reverb pedals in this article come equipped with two outputs. This isn't a necessity, but it can be a useful tool especially if the style of music you play requires the guitar to maintain a certain level of thickness in the mix.
A common issue for guitarists is that when they activate effects pedals, the overall tone can become weaker and less full-bodied. By utilizing dual outputs, you can split the signal and send the dry output into a separate amplifier to the effects channel.
This allows the unprocessed sound of your guitar to play underneath the effects, ensuring that the overall tone remains thick and consistent. If you would like to use two amplifiers to achieve this, look out for two jack outputs on the right-hand side of a pedal.
Shimmer and Gated Reverbs
Along with the staple varieties of reverbs that you will usually find on a pedal, some are capable of producing mechanical reverbs that have been subjected to processing.
Shimmer is a bright sounding reverb that gets its tone from being processed by pitch shifters. The actual reverb itself can be from any setting, but it sounds unique after being shifted up an octave to emphasize the higher frequencies.
Gated reverb has a similar coloration to room reverb but differs in the length of decay time. The signal is passed through a noise gate that cuts off the tail before it naturally decays. By gating the reverb you get complete control over its rhythmic nature and you can create arpeggio like patterns using this effect.
Reverb for Vocals
Using guitar pedals for vocal processing is generally not recommended because they usually create feedback and unwanted noise. However, you can get some interesting results by using a reverb pedal on vocals. By plugging a microphone into the input via an XLR/Jack adaptor cable, you can experiment with the different varieties of reverb on your voice and create psychedelic sounding vocals tracks.
Power Requirements
The majority of the reverb pedals reviewed earlier in this article require 9V DC power. In most cases, this can come from a power supply or a 9-volt battery. Having a fresh set of batteries in your pedal will prevent the dreaded cut-out from occurring if your power supply malfunctions on stage.
Time to Experiment
Once you've decided on the best reverb pedal for your needs, it's time to enjoy hours of experimenting with the settings to find your desired sounds. Reverb is one of the most fun effects to play around with, simply because of the endless possibilities it provides. You might find that certain types of reverb suit the neck pickup of your guitar, or that other varieties are best suited to fingerpicked styles of playing. Whatever your aim is, it's inevitable that you will find some unique sounds to take your guitar playing to another level.
If you're looking for a high quality reverb pedal, look no further! I have tested dozens of them and compiled a list of my favorites at all price points.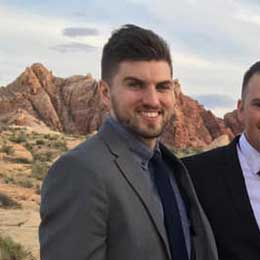 My name is Chris and I've had a passion for music and guitars for as long as I can remember. I started this website with some of my friends who are musicians, music teachers, gear heads, and music enthusiasts so we could provide high-quality guitar and music-related content.
I've been playing guitar since I was 13 years old and am an avid collector. Amps, pedals, guitars, bass, drums, microphones, studio, and recording gear, I love it all.
I was born and raised in Western Pennsylvania. My background is in Electrical Engineering, earning a Bachelor's degree from Youngstown State University. With my engineering experience, I've developed as a designer of guitar amplifiers and effects. A true passion of mine, I've designed, built, and repaired a wide range of guitar amps and electronics. Here at the Guitar Lobby, our aim is to share our passion for Music and gear with the rest of the music community.