So as a bass player myself I have been the target of jokes made by guitarists for quite some time. But then, when a bass player joins a band, those quips invariably fade to black. You wonder why?
Well because it becomes crystal clear fast to even the most cynical wannabe metal guitarists that the bassist along with the drummer hold the whole musical foundation on which the bandstands. It is always a hard pill to swallow. But yeah all jokes aside it is true. Even though it may seem the role of the bass is not something that you should pay attention to metal music, in reality, it is important.
In simple words, a bassist can make or break a band by not only the notes chosen but also where they're placed and how they are played. The notes you don't play can also often prove to be just as pivotal. Just think about it for a second. Can you imagine any metal band without a bass player? For example Iron Maiden without Steve Harris? Metallica without Robert Trujillo? Black Sabbath without Geezer Butler? The Red Hot Chili Peppers without Flea? Pantera without Rex Brown? Or the mighty Motorhead without the late Lemmy? Of course not.
Choosing a bass guitar can be challenging because there are so many out there, and when looking for a bass for playing a certain type of music it's even harder. No worries, though, all of the guitars on this list are perfect for metal music. I'll start this article by reviewing the best bass guitar for metal at each price point, but if you want to learn more about what features to look for before reading reviews, check out our bass guitar information guide at the bottom of the page here.
Here Are the Best Bass Guitars for Metal Music
1. Schecter Hellraiser Extreme-4 (Best Overall)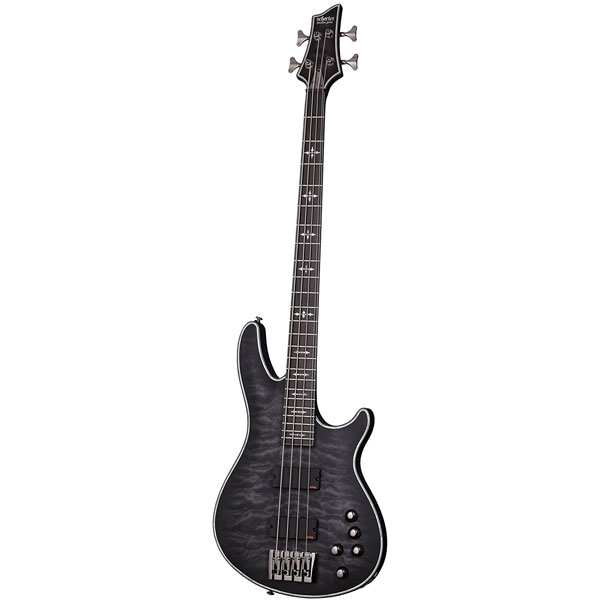 | | |
| --- | --- |
| Estimated Price | $1100 |
| Body Material | Mahogany body with a maple top |
| Neck Material | Multi-ply walnut and maple neck-thru-body |
| Fretboard | Ebony 24 jumbo frets |
| Pickup Configuration | 2x EMG 35TW |
My Review: This Schecter Hellraiser Extreme 4 is an absolute steal in terms of value. The bass feels solid with an unbelievably low end for metal. It is just perfect for playing with a pick and packs a monstrous fat rough sound. Access to upper frets is cool if you are into some Dream Theater stuff and the neck is super fast. One thing that sets this guitar apart is the 34″ scale. The scale not only makes the very high registers of the 24 fret fretboard more easily playable, but it adds to the purpose for which it was intended. When plugged into a solid amp and some decent pedals you can just hear feel the massive thump you get from it. You get a very refined, solid tone that can be used in heavier riffs or classic metal. If you even want to genres you will get a good response but it certainly does its best work in metal and rock.
Key Specs and Features: The body is made out of mahogany, with a sweet looking quilted maple top. The warmth of the mahogany body spills over to the rest of the tones, creating a well rounded, beautiful sound for the bass. The neck is set and sports a not so standard ebony fretboard with rather interesting Mother of Pearl gothic cross inlays. Mahogany is not light but the bass is balanced perfectly. The main selling points of this guitar are the EMG 35TW pickups that come with it. EMG 35TW pickups offer great versatility and tone properties. One of two cool features on the Hellraiser Extreme-4 that came as a surprise is the Multi-ply walnut and maple neck-thru-body that offers great playability and stability, and the second one is the TonePros EMG active 18v B64 3-band EQ. The Grover Bass tuners top off this bad boy. They provide stable intonation along with the bridge.
Target Customer: Awesome for both professional and intermediate players, this bass is capable of keeping up with just about anything. From classic to heavy metal bassists will find this axe to be more than enough.
Bottom Line: This is a solid bass that's worth every penny you pay. It's versatile, playable, with a heavy low-end, it performs amazingly in different metal departments.
2. Fender Steve Harris Precision Bass (Editor's Choice)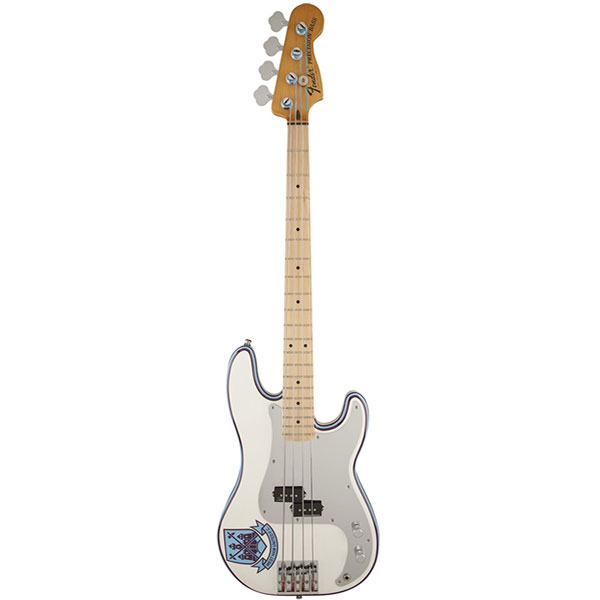 | | |
| --- | --- |
| Estimated Price | $1250 |
| Body Material | 2-Piece Maple |
| Neck Material | Maple |
| Fretboard | Maple, 20 jumbo frets |
| Pickup Configuration | Seymour Duncan Steve Harris Signature P-Bass SPB-4 Split Single-coil |
My Review: This bass brings the Iron Maiden vibes and I love it. As someone who loved the band from a young age, I just had to include it on the list. Fender did a great job with this Steve Harris model and I think Iron Maiden fans can be proud. I didn't expect the punch this bass can deliver with its Seymour Duncan Steve Harris Signature P-Bass SPB-4 pickup. You get a tone that is so close to the original sound of the Iron Maiden bassist.
This bass can do well in a lot of different styles of music with its warm and rich tone but it works best in heavy metal. It carries the low end so well, of course as it can be expected from a Steve Harris model. Being a Precision model you get a lot of girths, thumping power and clarity thanks to that Seymour Duncan pickup.
Key Specs and Features: For a signature model bass I'm really surprised how sturdy it is, the body is double-cutaway made from solid 2-piece maple and it's quite light, the neck is slim U-shape made out of one-piece maple with a gloss polyester finish that provides a solid tone and is very comfortable to play. As it's a long-scale it has the depth, and the sound it produces is so focused to produce that girth Iron Maiden is known for.
The fretboard is also made from maple and it has 20 jumbo frets which are good for beginners, the radius of the fretboard is 7.25". As expected from a long-scale bass, you get a lot of range of notes. It has just one specially designed Seymour Duncan Steve Harris Signature P-Bass SPB-4 Split Single-coil magnet that shapes the sound of the bass with the passive setup. With the Fender '70s, vintage-style stamped open-gear tuning on the bass holds up fine as long as you don't start digging in too much. It contains a master volume knob, and a master tone knob similar to a P-bass. All of the hardware is in nickel/chrome finish.
Target Customer: This bass is just a must-buy for Iron Maiden fans. It is perfect for both beginner players or intermediate. The long scale provides really good playability, it is perfect if you want to jam or do some gigging. With this one, you can come close to producing the perfect sound you need for heavy and classic metal.
Bottom Line: As far as simplicity goes you can't go much farther than this bass, less hardware fewer problems, keep it simple. An axe anyone can play, for a good amount you will get a bass that carries those Iron Maiden vibes with it.
3. Schecter Stiletto Studio-5 (Best 5 String)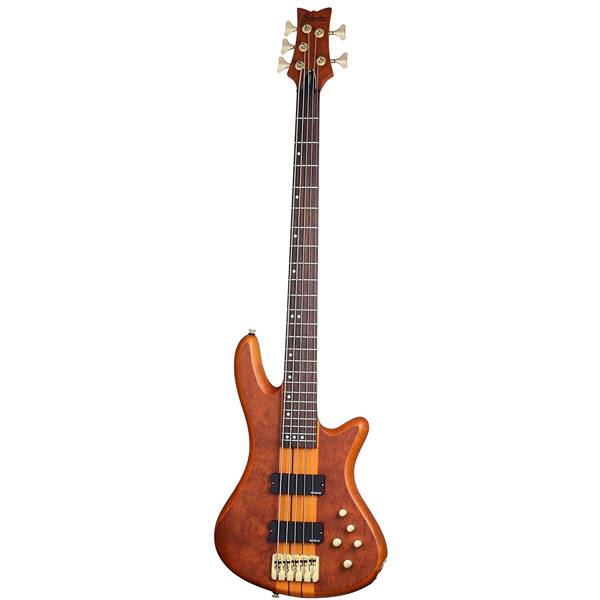 | | |
| --- | --- |
| Estimated Price | $900 |
| Body Material | Mahogany body with a Bubinga top |
| Neck Material | Multi-ply walnut and maple neck-thru-body |
| Fretboard | Rosewood, 24 X-jumbo frets |
| Pickup Configuration | 2x EMG 40HZ |
My Review: This guitar is out to prove that with careful engineering and precise attention to detail you can get an affordable middle-range very capable instrument that future metal bassists can headbang with. The way this guitar is built is primarily for metal music. With the EMG pickups, you will get a low punchy, and heavy sound. If you're a metal bassist, you'd feel right at home with this bass around your neck. While it is certainly not on the same level as high-end Omen Extreme 5, I feel confident saying that it blows other similar basses in its price range out of the water. The build quality combined with the EMG pickups this bass is a must. It can work well in genres outside of metal and rock music.
Key Specs and Features: Schecter Stiletto Studio-5 was built in South Korea with a setup designed in the U.S. Every part of the bass is designed to work well in all styles of metal and rock and other similar genres. The bass is designed with a 35" scale length which is just perfect as it gives you a little bit more of range when playing heavy riffs. It is made of mahogany for the body and a Bubinga top as some other Schecter models. Mahogany is a thick and heavy, with awesome resonant properties great for metal and hard rock. The bass has the finish and colors of this a premium instrument. The black satin finish with that black body binding makes it all the cooler. The Studio-5 is a 35" scale guitar with 24 x-jumbo frets and Pearloid Abalone Offset Dots on a rosewood fretboard. It has a Multi-ply walnut and maple neck-thru-body while many other Schecters have set necks. The highlight of its hardware is the EMG Active 18V 3-band EQ. This bridge is reliable, simple, and keeps intonation well. The two EMG 40HZ pickups give the bass a high output that pushes your amp over the edge and into the deep low-end realm.
Target Customer: IF you are an advanced bass player and you want to get some greasy fat sound on your hands this is the bass for you. If you want to jam at your house with the crew forget about this bass. It is made to go to a gig and make some people headbang. You are going to love this axe.
Bottom Line: The bass is aimed at the metal market but even though Schecter makes some of the best instruments for metal I think Schecter Stiletto Studio-5 can sound great in almost every style of music.
4. Ibanez SR500 (Best Value)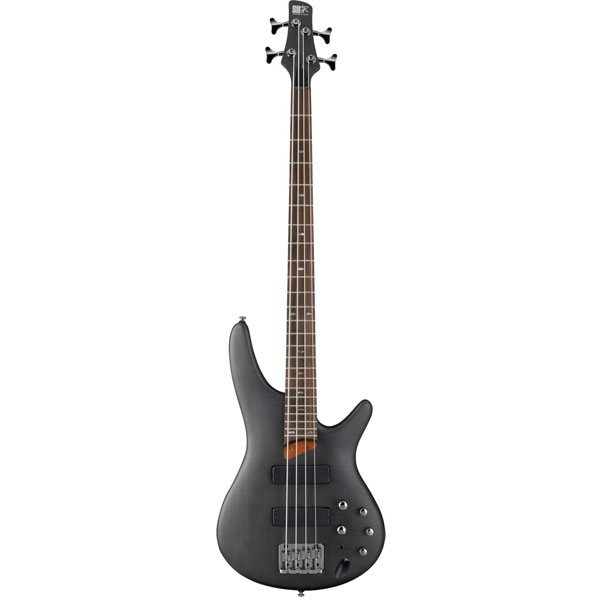 | | |
| --- | --- |
| Estimated Price | $650 |
| Body Material | Mahogany |
| Neck Material | 5-piece Jatoba/Walnut |
| Fretboard | Rosewood, 24 medium frets |
| Pickup Configuration | 2x Bartolini BH2 Humbucker |
My Review: Ibanez introduced the Soundgear or SR series in 1987. The idea was to build a smooth playable instrument that musicians can put their trust into. This Ibanez bass came as surprise to me considering they decided to put an active set of electronics, unlike most other brands, with the strange pickup set up this bass stands out from the rest in its price range. It has a pair of Bartolini MK1-4 pickups that provide a wide range of tone shaping.
The sound you get from these bad boys is extremely good for rock and metal. They give the bass a nice warm sound with a good low-end response with a lot of punch and girth. For the price you get a bass axe that is perfect for aggressive music but still, it fairs quite well in different genres of music. Ibanez tried to make a bass with a little bit of everything and they succeeded. You can play around and experiment with the sound and make your optimal tone for different kinds of metal.
Key Specs and Features: The body is straightforward, made out of mahogany which is always a good pick. It is sturdy and it gives the bass a warm tone with good presence. The body has rounded edges which make it comfortable to hold and play with a bevel in the top corner where your armrests. The thin neck is made out of a 5-piece combination of jatoba/walnut with cool oval abalone inlays on a nice rosewood fretboard.
There are 24 medium frets with a scale length of 34". It has a standard plastic nut and a set of Ibanez Machine Heads. The pickup setup is interesting. You get two Bartolini BH2 Humbucker with Bartolini MK1 active 3-band EQ and a bunch of control knobs. It comes with active electronics which is not so rare for this price range but still awesome. One of the standout features of this guitar is the Bartolini MK1 active 3-band EQ which gives you an extra bass boost and tonal shaping possibilities.
Target Customer: It is an overall great intermediate bass that can be utilized even by beginners. With good playability, smooth neck, and design this is a perfect axe. It is perfect for players that are just diving into metal and rock genres.
Bottom Line: Great for jamming with friends and building those shredding metal skills, this bass by Ibanez hits the spot with its qualities in the affordable range of instruments. Its sturdy, loud, and bassy, everything you need from a metal axe. All in all, if you're looking for the best bass for metal music, this one should definitely be on your radar.
5. Epiphone Toby Standard-IV (Budget Pick)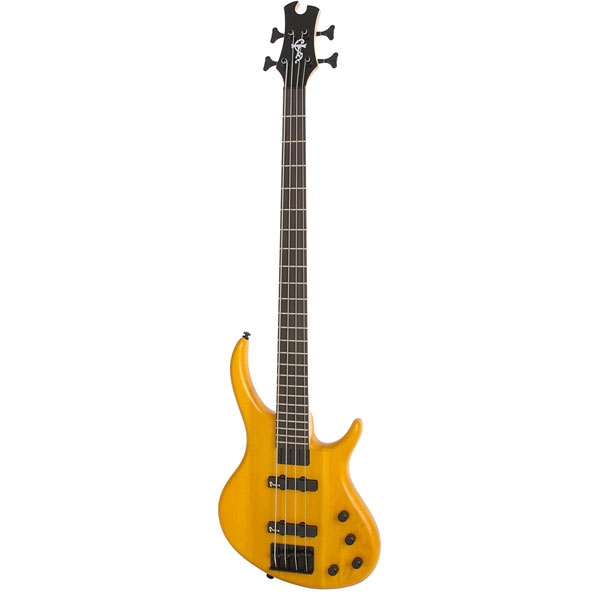 | | |
| --- | --- |
| Estimated Price | $200 |
| Body Material | Radiata |
| Neck Material | Maple |
| Fretboard | Rosewood, 24 frets |
| Pickup Configuration | 2x TBT Dual Rail humbuckers |
My Review: This bass intrigued me because Tobias is a high-end bass manufacturer. What is amazing is that it has a bass and treble control, but not active electronics which is awesome for playing those thick metal riffs. It means you can have the tone control of an active bass without worrying about the battery going dead or the electronics simply pooping out at a gig. If you are looking for something fancy you won't find it here. The smooth and fast neck suits playing fast lines. The Toby Standard IV is a great bass that has that rock/metal vibe going and is playable and fun.
Key Specs and Features: The bass is designed in a very interesting shape, the contours and sleek lines are designed for comfort, but good looks as well. The tonewood, as used by the manufacturer, is pretty rare radiata, though some would say it's made out of pine. The body is quite light with a nice balance to it. The bolt-on neck made out of maple is somewhat asymmetrical, its thin neck design allows for faster playing. The fretboard of the guitar is made out of rosewood with 24 frets without fret markers and a 34" scale. The fully adjustable bridge provides the bass with some nice string stability, as well as a good level of action and flexibility with sound. The hardware is all black. Toby Standard-IV contains a set of TBT Dual Rail humbuckers that deliver a pretty neat and versatile tone. There are four knobs, master volume control, bass cut, treble cut, and pickup switch.
Target Customer: This is bass for metal players that are looking to get a pretty neat instrument in the lower price range that is going to last. It has that mean look as well as the sound that you just want to headbang with.
Bottom Line: This bass holds its own as one of the best in the range of entry-level bass guitars for music such as rock and metal. It brings a great balance of style, functionality, and great tone. If you're looking for a good bass for metal music and are on a tight budget, this is one of my top choices.
6. ESP LTD F-205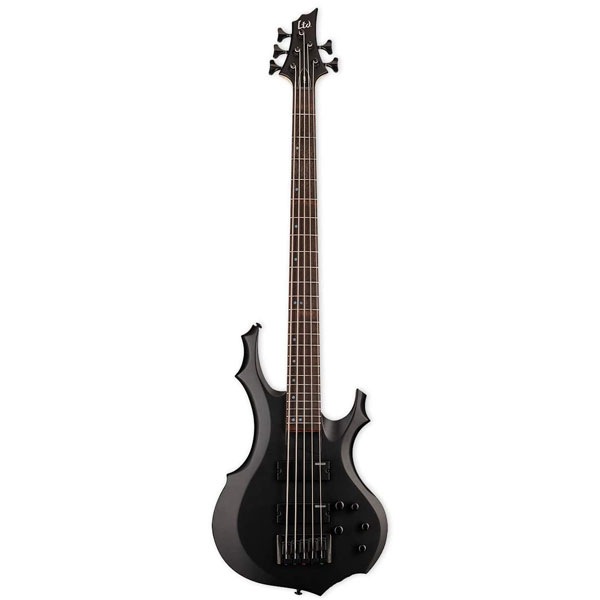 | | |
| --- | --- |
| Estimated Price | $600 |
| Body Material | Ash body with maple top |
| Neck Material | 5-Piece maple jatoba |
| Fretboard | Roasted jatoba, 24 extra-jumbo frets |
| Pickup Configuration | 2x ESP Designed SB-5B humbucker |
My Review: ESP continues to just absolutely blow me away with their designs and quality. The first thing that caught my eye was the body design that is made out of Ash body with a spalted maple top that makes this bass look incredibly menacing. It is just effortless to play and so smooth perfectly made for metal. The bass growls when you play it, it has great low end and articulation. The thing I love about it is the versatility, I just feel it can perform even outside metal and rock music. The ESP Designed SB-5N Humbucker pickups work so well in a metal or rock setting.
Key Specs and Features: The ESP LTD F-205 body is made out of Ash with a beautiful spalted maple top and it features a 5-Piece maple/jatoba neck with a roasted jatoba fretboard which is neat. It contains Abalone offset dots that help you to find the way around the fretboard. The thin, U-shaped neck has 24 extra-jumbo frets that are all about comfort and speed. The neck construction is and quite innovative and the radius of the fretboard is 15.7". The satin finish is flawless the frets have no sharp edges and are polished to be smooth as possible. LTD BB-605 bridge does the job perfectly, keeping the intonation well. The bass sounds perfectly balanced especially when amped up. The bass is equipped with two specially designed ESP Designed SB-5N humbucker pickups and a 3-band active EQ. The controls along the 3-band active EQ are a master volume knob and one balance knob.
Target Customer: If you are looking for a metal style bass don't hesitate. It is by far one of the most affordable menacing-looking basses out there. For people who just want to hold that low-end and growl this axe will is a perfect choice. From technical brutal death metal to rock you can do it all with this axe.
Bottom Line: Beautiful, powerful, versatile you are hardly going to find a better bass for the price. It is the perfect axe for a serious metalhead.
7. Peavey Milestone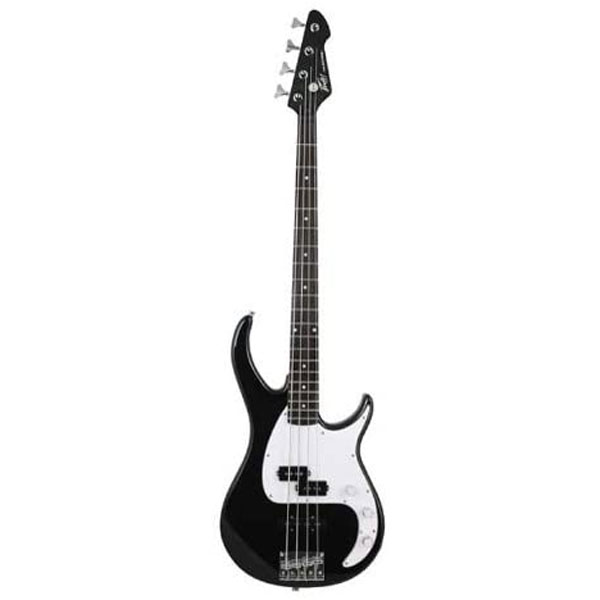 | | |
| --- | --- |
| Estimated Price | $200 |
| Body Material | Maple |
| Neck Material | Maple |
| Fretboard | Rosewood, 20 frets |
| Pickup Configuration | Split-coil, single-coil |
My Review: With the modern design of the Peavey version of J-bass, this bass can stand amongst some of the best affordable axes in this price range. With its versatile and functional sound, you can use it well in a heavier music setting. The body is quite well rounded, a little bit heavier but it is still comfortable and sleek. Although it has a Jazz bass feel with the slim neck and narrow nut this makes it a perfect axe to play around with.
With passive electronics, it sounds warm and welcoming with a good degree of old school thump perfect for holding the low-fat end. As well as the looks the tone is also designed to have similarities with the Fender Jazz bass, it has enough punch to satisfy any fan of a more aggressive tone. It is quite capable of providing some pretty deep tones.
Key Specs and Features: Compared to Fender's timeless design the body of the Peavey is a little bit stretched out. While the extended upper horn improves balance the deep lower cutaway offers decent access to the upper frets which is great for soloing. The body is made out of solid maple while the C-shape neck is a standard maple with a 12" radius rosewood fretboard containing 20 medium-jumbo frets. Peavey Milestone comes with the standard flush bridge that sports four fully adjustable saddles and standard dies cast tuners. The split and single-coil pickup arrangement offers some tonal flexibility and being passive, the two-volume/one tone control set is quite easy to use.
Target Customer: For anyone that is starting their bass journey to the bottom end, or for players that are already there this is the axe for you. It plays well, is relatively comfortable, and will get you up and playing quickly. Awesome for jam sessions and rock/metal music, this bass can fare well in a lot of different settings.
Bottom Line: It's a shame Peavey is not more popular, the bass is well balanced for any entry-level shredder that wants to bang that low end. As a first bass, you can't go wrong with it. Peavey Milestone is among the most promising options on the market.
8. Yamaha TRBX204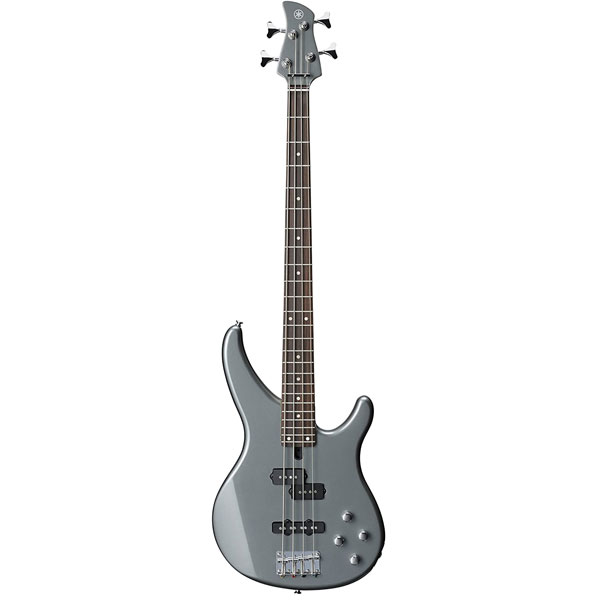 | | |
| --- | --- |
| Estimated Price | $300 |
| Body Material | Mahogany |
| Neck Material | Maple |
| Fretboard | Rosewood, 24 frets |
| Pickup Configuration | Split-coil, single-coil |
My Review: The thing I like about this Yamaha TRBX204 is that its tone punches way above the price. It has a wide range of sounds that you can create with the tone controls perfect for creating that fat juicy rough tone needed for metal. It fares quite well in live and studio sessions. The tone definition is great and I especially love how it can hold the low-end spectrum of tones. It offers features like an active preamp, classic tonewood construction, and a design that looks great.
Key Specs and Features: The shape of the bass is a standard Yamaha design, with a deep cutaway under the neck joint. The full-body single coloring, with several options available for sale, is great since it allows a whole lot of options to the buyer. The body of the guitar is built out of mahogany, a great choice in my opinion. Mahogany gives the bass strong resonance with a thick and full tone. The body is quite sturdy and strong. The bolt-on neck is a standard maple piece with a rosewood fretboard and a very comfortable profile. The overall quality of the hardware is good and every component does its job more than well. It has a set of pretty decent active pickups, the standard P-Bass setup with a single-coil in the bridge position, and split-coil at the neck. The output is not as strong as with a humbucker but the sound is still powerful. The overall quality of the hardware is good and every component does its job more than well.
Target Customer: It's affordably priced so it'd be a great beginner bass but it's a good choice for general use for more advanced players that want to test those muddy metal waters. You might want to eventually consider a pickup swap to something a little more distinctive and wide-ranging but if you are just into the metal there is no need for that. For anybody that is looking for a bass that will last them for a long time.
Bottom Line: Considering that it is an active bass in this price range, it's a must buy. A solid quality bass that offers a balanced performance this Yamaha proves again why they are still holding the standard in the industry. Their instruments can adapt and be used in all kinds of settings as proven with this bass. When discussing the best bass for metal, the Yamaha TRBX204 certainly deserves a spot in the discussion.
9. Daisy Rock Candy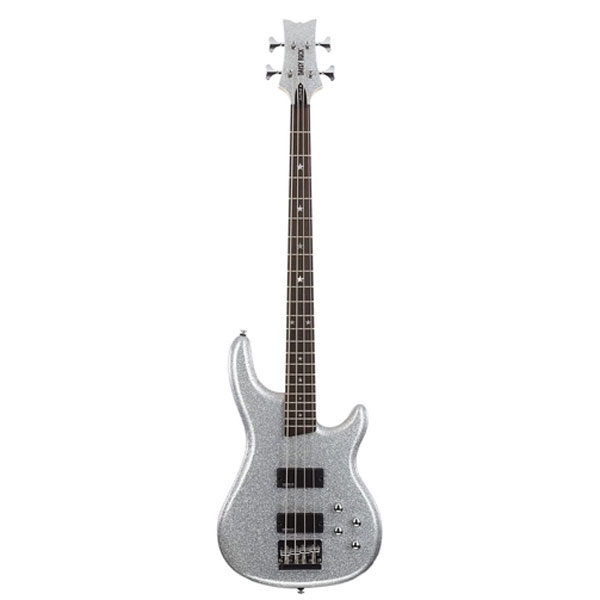 | | |
| --- | --- |
| Estimated Price | $300 |
| Body Material | Sycamore |
| Neck Material | Maple |
| Fretboard | Rosewood, 22 frets |
| Pickup Configuration | 2x EMG pickups |
My Review: Oh this bass is something let me tell you. Most basses are designed to be played by man but not Daisy Rock Candy! This one is all about girl power! Don't be fooled by the playful image, trust me it can make some noise. This axe is just perfect for any metal or rock type of playing style. Not only does it look ready to rock, but it also sounds.
Key Specs and Features: It has a body that is slightly modified to suit girl players more, but still it is not such a different bass than most. The P Bass style double-cutaway body is made from sycamore, which is a light mixture between maple and mahogany in terms of density. The C-shaped neck is slim and smooth, quite narrow for smaller hands. The neck is made out of maple with a 34" scale length and it features a rosewood fretboard with 22 medium-sized frets. Of course, it has star inlays that bring out its girly character. You get a pair of Select by EMG pickups with active EQ that work well in delivering nice smooth sound with high output. In terms of controls, you have a master volume knob with two 12db cut/boost knobs for bass and treble and a pickup blend control that allows for more versatility. All of the hardware is chromed which adds even more to the sparkly girly look.
Target Customer: This bass is great for practice and even your first band jamming sessions. Despite not having the quality of tone of some similarly priced basses it still can offer more versatility than many other basses in its price range. I think female metal/rock players will find this bass a must buy.
Bottom Line: It's sweet, rocky, and ready to deliver some punchy attitude on the stage. It's about encouraging young girls to pick up a bass and start their shredding journey.
10. Squier by Fender Affinity Series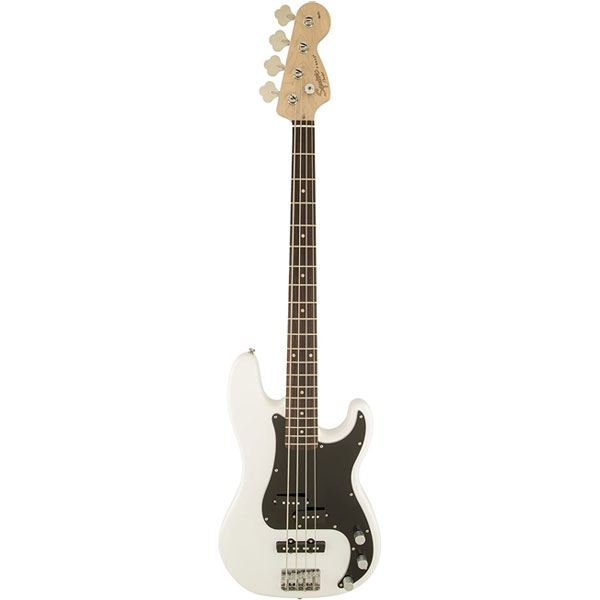 | | |
| --- | --- |
| Estimated Price | $230 |
| Body Material | Poplar |
| Neck Material | Maple |
| Fretboard | Indian laurel, 20 frets |
| Pickup Configuration | Split-coil, single-coil |
My Review: With the look of the early P-basses and its vintage body you cannot but give this bass some love. It's sleek and light, playable and it has that old school vibe. The punchy fat tone is still there and is perfect for heavy music. Some people would disagree with that but I assure you this axe can fare extremely well in a metal/rock setting. The body is quite comfortable, and the C-shape neck fills out the hand and feels just right. Its smoothness is perfect for playing fast metal riffs alongside the guitar player.
Key Specs and Features: With the comfortable contoured body shape it provides great stability when playing standing or sitting. The body is made out of poplar with a nice vintage gloss finish, while the bolt-on neck is made out of maple with a beautiful Indian laurel fretboard that is something to be desired. It has 20 narrow-tall frets and a long-scale length. The nut is made from a bone that is a nice interesting touch as it transfers the vibrations through the bass. The standard split-coil passive pickup you would expect on a P-bass, Fender yet again found a way to produce that legendary fat punchy tone. The 4-Saddle hardtail bridge with threaded steel saddles works quite well. All of the other hardware is in the style of the P-bass, bridge, and neck control knobs with the master volume knob.
Target Customer: For players who love that classic P-bass look and sound but want to use this bass for rougher/punchier music, this is a great buy at an affordable price. Intermediate players who like to play around with different styles of music are going to love this bass.
Bottom Line: As a P-bass lover myself I can tell you this is a solid bass that goes beyond the expectations considering the price. Squier Affinity Bass still sets the affordable standard in electric bass guitars and proves that their basses can be utilized in different settings.
11. Yamaha TRBX 305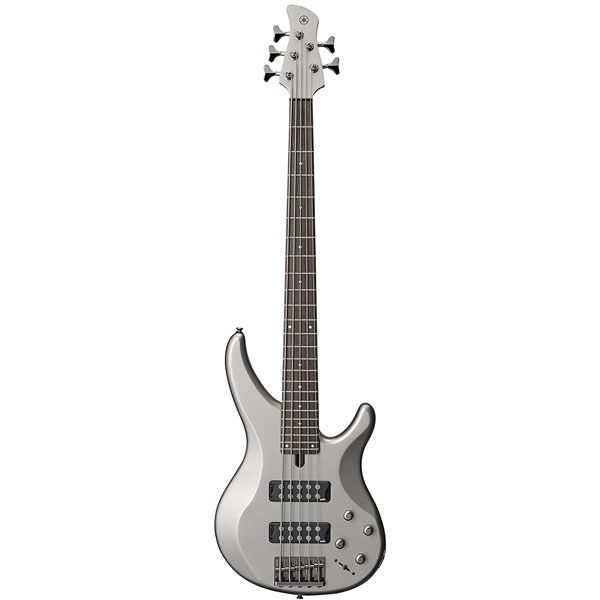 | | |
| --- | --- |
| Estimated Price | $420 |
| Body Material | Mahogany |
| Neck Material | Maple/Mahogany 5-piece neck |
| Fretboard | Rosewood, 24 frets |
| Pickup Configuration | 2x MHB3n (Ceramic) |
My Review: It's one solid axe, it has a nice curvy body shape with a fine cutaway for fretboard access when soloing and playing mean riffs. It looks sleek and easy to wear, and the finish looks nice. It has a great powerful tone, clean and resonant perfect for holding the low end. I think it can do well in most musical areas and especially metal/rock. It lacks a little finesse but for this price range, it sure does play well and sounds punchy. I like the slap feature it has on its EQ switch, really cool addition.
Key Specs and Features: The guitar ways around 12 pounds, which is an above-average weight for a five-string bass. The body is made from mahogany and it has a deep cutaway that looks stylish and has a good function. TRBX uses a precision fitted bolt-on neck joint for maximum adjustability and clear, punchy tone, the 5-piece mixture between maple and mahogany is quite comfortable for faster fingerboard action. It is a long-scale (34") bass with a smooth rosewood fretboard with 24 frets and it has dots on the fretboard that allow for better playability. It has an active 2-band EQ and a 5-way performance EQ switch which is a unique addition that surprised me, it allows for better tone control and tone creating when playing different musical styles. The 5-way EQ switch has built-in presets for different playing techniques, solo feature, finger, flat, pick and slap. Each one of the presets changes the tone significantly. The two M3 oversized ceramic humbuckers perform quite well and deliver a solid tone without any hum. The pickups also have a built-in thumb rest which is a nice feature.
Target Customer: Yamaha sure does know how to produce quality instruments in the more affordable price range as the Yamaha TRBX305 MGR is an instrument for bass players that want to shred on stage and in the studio as well. This axe can do well in both settings.
Bottom Line: Easy to play, good tone controls, looks nice, well balanced, a very good axe to get.
12. Jackson Signature David Ellefson Concert Bass CBX IV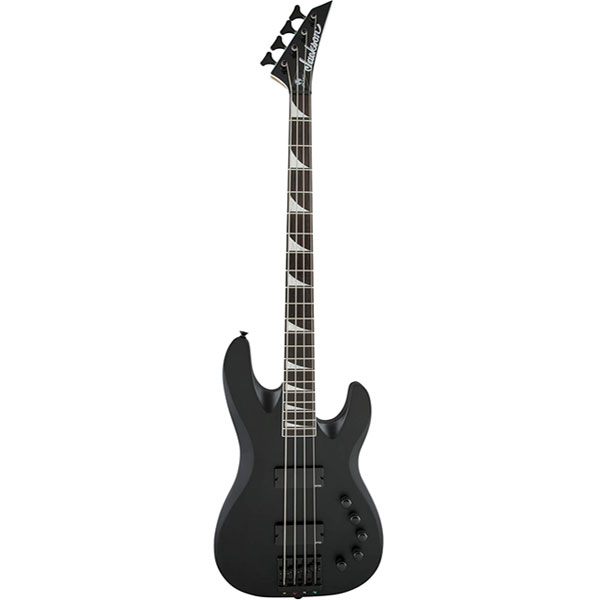 | | |
| --- | --- |
| Estimated Price | $600 |
| Body Material | Poplar |
| Neck Material | 1-piece maple |
| Fretboard | Laurel, 21 jumbo frets |
| Pickup Configuration | 1x EMG HZ35N Humbucker, 1x EMG HZ35B Humbucker |
My Review: Jackson designed and built the David Ellefson CBX IV Signature Series Bass to the Megadeth co-founder's exacting specifications. Not a simple axe to say the least but awesome. With this bass, you get as much low-end as you dreamed of along with the awesome design that is just perfect for metal. It has a great balance of function, style, and budget. The weight balance and contour of the body are superb. You can use it in any setting when playing in a band easily.
The EMG pickups along with the Jackson HiMass bridge deliver a whole lot of sustain and fat punchy sound. The bass gives you effortless access to upper registers which makes it great for soloing.
Key Specs and Features: The David Ellefson Concert design body of the CBX IV is made out of poplar which is quite light and affordable. It comes with a range of finishes you can choose from. The addition of all-black hardware gives it even more of a mean look. The bolt-on maple speed neck with graphite reinforcement is super playable. The rosewood fingerboard with 21 jumbo frets and Pearloid sharkfin inlays has a compound radius of 12″.
It has an interesting set of pickups. One EMG HZ35N Humbucker at the neck position and one EMG HZ35B Humbucker at the bridge. The pickups sound bright, with plenty of low-end and presence, defining to handle those thick metal riffs. They are controlled by an Active 3-band EQ, and master controls for tone blend and volume. The Jackson HiMass bridge along the Jackson Sealed Die-cast tuners keeps the intonation on this bass well.
Target Customer: I would highly recommend this bass to rock/metal bass players who are looking for a standout instrument that's not too expensive. The tone is perfect for beginners and experienced players that want that thick punchy sound that goes with the appearance.
Bottom Line: As a fan of Megadeth this bass is a must. You get value for money, one of the best affordable basses on the market, if not the best in its price range. The visuals are awesome and with a thick metal sound, it can't get better than that.
Choosing a Bass for Metal Music (Buying Guide)
This section is for those of you who want to learn more about how to choose a good bass guitar for metal before reading reviews.
Preamps Explained
If you are new to playing metal music you must be thinking, what is better? Active or passive preamp?
The first thing to know is if the bass has passive or active preamps. Meaning that you can shape your tone using a two or three-band EQ located right on the bass itself. As a bassist, I love the sound of a passive bass for everything from hard rock to jazz. The leader in the passive realm of basses is of course the Fender Jazz bass, but as we are focusing on metal music there can be some alternatives out there. When it comes to extreme metal styles I think an onboard preamp gives you the extra flexibility for creating just the right sound you need.
So active preamp is usually powered by and 9-volt battery or in some cases 18-volt(two batteries) depending on the manufacturer. Having an active preamp especially for metal allows for better sound control over your bass in a way that you can boost or cut your bass frequencies and also your signal output is much stronger than on passive pickups. With active preamp, you can be creative and play around with the sound and meld just the right one you need to give the band that growling sound. Just keep in mind that this is only possible while you have a charged battery powering them, always keep in mind to unplug your bass when not using to avoid getting your battery drained.
The traditional basses like the Fender Jazz bass have passive preamps. This has been proven to work so well and has been in use for a long time, giving those all-time classic bass lines that punchy, fat dynamic sound. They don't offer too much control over your bass except the bass and treble. You will have fewer options for shaping your tone in exchange for that vintage sound in many cases, which is not a bad trade considering that you can always upgrade your bass with high-quality pickups later on. Still, I would opt for an active preamp system just because of the range of possibilities it provides.
Take time to explore both, and you going to get a feel on what is best for you.
Four-string or a Five-string Bass for Metal?
So as you already know what style of music you are going to immerse yourself in, there is still a question should you get a four-string or a five-string? It all comes down to how low or high you want your sound to go basically. I think naturally as a bass player you should more focus on the low end and following that logic let's see what option is better.
The four-string is a great option for you if you want to have a normal range of things you can do with the bass and not complicate things too much. It isn't necessarily easier to play but it does make finding the way around the fretboard somewhat more simple than on a five-string. You have fewer options to explore in terms of the low-end spectrum of notes but of course, you can tune it down to get more of those lower frequencies if you need for it. For metal and rock music a four-string is enough, but if you are just that kind of person that you need more fat and grease as I would say, a five-string is a must. For some metal sub-genres, you need those low notes, you should get a 5 string in my opinion, it just opens up a lot more in terms of versatility and things you can do especially when you start to play around with the tuning of your bass. For example, you can switch from a standard 5 string BEADG to EADGC getting more versatility in terms of soloing or even go a level deeper. The same can be done on a 4 string, going from EADG to BEAD adding more deep bass notes to the bass. There is also an option of getting a 6 string which opens a whole lot of different possibilities.
As some popular metal bassists proved to us, there are no limitations to what you can do. It all comes down to your creativity and imagination.
Which Strings Should I Use for Metal?
We talked about which bass you could play, but now we need to figure out which strings you should use. There are a lot of different types of strings you can use and also a lot of factors that decide the sound and quality of the string. The importance of getting the right strings can be crucial for the sound of your bass especially when playing aggressive sounding music such as metal where it is crucial to get that rough sound. If you are playing with a pick or with fingers it doesn't matter, the sound should be approximately the same.
The material of the string influences the sound a lot. Most commonly strings are made from nickel, cobalt, stainless steel, or a combination of the three. If you need a brighter sound you should get a nickel, cobalt ones have a wide dynamic range and stainless steel have a crispy bright sound.
When putting strings on your bass you'll discover that they are categorized in gauges. The gauge determines the thickness of the strings. The thickness has a large influence on the playability of the bass along with the string material. Light gauge strings are more suitable for styles like funk slapping or walking bass lines while heavy gauge strings are more for heavy metal and if you want to tune your bass lower, from E to D for an example. The light gauge ones are also a little lighter on the fingers which is important if you are a new player.
In my opinion, you should play around with string types and figure out what is best for you.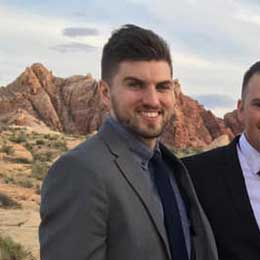 My name is Chris and I've had a passion for music and guitars for as long as I can remember. I started this website with some of my friends who are musicians, music teachers, gear heads, and music enthusiasts so we could provide high-quality guitar and music-related content.
I've been playing guitar since I was 13 years old and am an avid collector. Amps, pedals, guitars, bass, drums, microphones, studio, and recording gear, I love it all.
I was born and raised in Western Pennsylvania. My background is in Electrical Engineering, earning a Bachelor's degree from Youngstown State University. With my engineering experience, I've developed as a designer of guitar amplifiers and effects. A true passion of mine, I've designed, built, and repaired a wide range of guitar amps and electronics. Here at the Guitar Lobby, our aim is to share our passion for Music and gear with the rest of the music community.