The sound of an electric guitar interacting with a wah pedal is one of the most recognizable tones in rock music. Since their initial creation in the mid-1960s, wah pedals have stood the test of time, and continue to grow in popularity over fifty years later.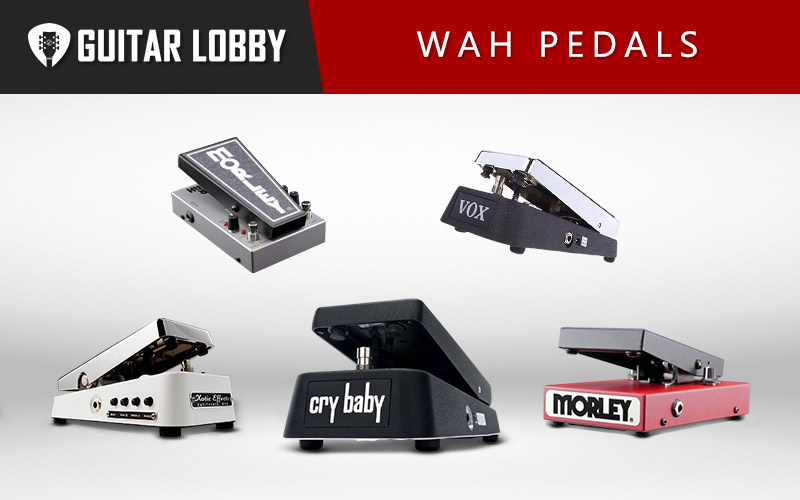 One of the interesting qualities of wah pedals is that every guitarist uses them differently. The combination of controlling the effect with the motion of your foot, and the notes you are playing at that very second, makes wah a highly personal effect that is unique to the individual.
In this article, I'll present the best wah pedal at each price point, and explain exactly what qualities they offer. Whether you're just starting as a guitarist, or are experienced with effects pedals, you'll find the perfect wah to add to your rig. If you want to learn more about them before reading reviews, check out our wah pedal buying guide at the bottom of the page here.
Name of Product
Image of Product
Description
Price Range
Full Review
1. Dunlop Crybaby 535Q Mini (Best Overall)
Type: Digital
Effects: Wah
$150
Read Full Review Below
2. Dunlop Crybaby GCB95 (Best Value)
Type: Digital
Effects: Wah
$80
Read Full Review Below
3. Vox V847A (Best Under $150)
Type: Digital
Effects: Wah
$110
Read Full Review Below
4. Xotic XW-1 (Editor's Choice)
Type: Digital
Effects: Wah
$240
Read Full Review Below
5. Electro-Harmonix Wailer
Type: Digital
Effects: Wah
$80
Read Full Review Below
6. BOSS AW-3 (Best Auto Wah Pedal)
Type: Digital
Effects: Auto Wah
$140
Read Full Review Below
7. Mad Professor Snow White Auto Wah Pedal
Type: Digital
Effects: Auto Wah
$200
Read Full Review Below
8. Fulltone Clyde Standard
Type: Digital
Effects: Wah
$195
Read Full Review Below
9. MXR MC404
Type: Digital
Effects: Wah
$170
Read Full Review Below
10. Hotone Soul Press
Type:

 Digital


Effects:

 Wah

$105
Read Full Review Below
11. Morley Steve Vai Bad Horsie
Type: Digital
Effects: Wah
$170
Read Full Review Below
12. Boss PW-3
Type: Digital
Effects: Wah
$130
Read Full Review Below
13. JOYO Multimode Wah II
Type: Digital
Effects: Wah
$80
Read Full Review Below
14. Dunlop 105Q Crybaby Bass
Type: Digital
Effects: Wah
$130
Read Full Review Below
15. Dunlop Crybaby Slash
Type: Digital
Effects: Wah
$150
Read Full Review Below
16. Sonicake VolWah
Type: Digital
Effects: Wah
$60
Read Full Review Below
17. Dunlop KH95 Kirk Hammet
Type: Digital
Effects: Wah
$160
Read Full Review Below
18. Morley 20/20
Type: Digital
Effects: Wah
$170
Read Full Review Below
19. Mooer Funky Monkey (Best Cheap Auto Wah Pedal)
Type: Digital
Effects: Auto Wah
$100
Read Full Review Below
20. Behringer Hellbabe
Type: Digital
Effects: Wah
$75
Read Full Review Below
Here Are the Best Wah Pedals (Auto and Manual)
1. Dunlop Crybaby 535Q Mini (Best Overall)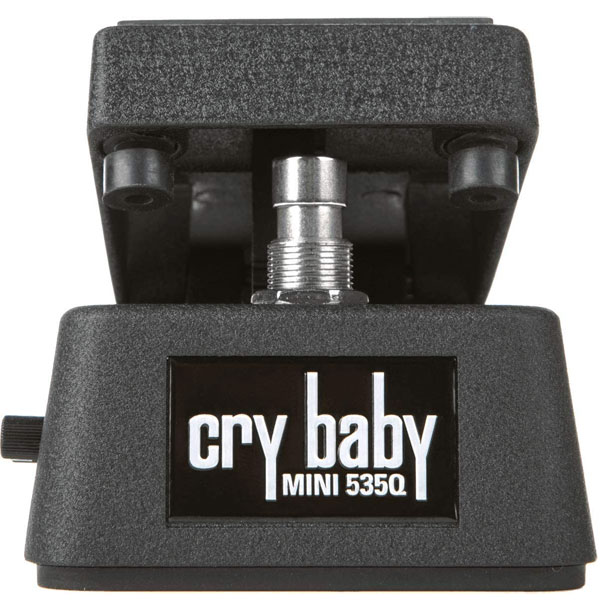 | | |
| --- | --- |
| Estimated Price | $150 |
| Type | Digital |
| Effects | Wah |
| Connectivity | 1 x 6.35mm Jack Input, 1 x Outputs |
| Power | 9 Volt |
My Review: Dunlop's Crybaby range is considered to be the gold-standard of wah pedals. Since the first Crybaby pedal was produced back in 1966, the selection has continued to grow in popularity amongst guitarists. The 535Q Mini is perhaps Dunlop's best wah-wah pedal, with its compact design and exceptional responsiveness.
With the Crybaby Mini 535Q, there are some really useful user-adjustable features. To change the overall tone of the wah effect, you can simply change the central frequency of the pedal, and also decide how wide you would prefer its sweep to be.
There's also an adjustable boost switch which is ideal for those onstage moments when you need to protect your guitar above the rest of the band. It's hard to believe that such a small wah pedal could offer such smooth playability, but the ergonomic design of the expression pedal is surprisingly easy to use.
The Crybaby Mini requires 9 volts DC power to successfully run, and it has the standard set of singular ¼" input and output. It features all-analog inner circuitry and produces an array or variable wah tones that are compatible with other effects.
Who is this best suited for: The Crybaby range is best suited to guitarists who are seeking the original, screaming wah-wah sound that was popularized by Hendrix in the 60s. However, this mini version is also a great choice for those who don't have a lot of space for a bulky wah pedal and would prefer a more compact size.
Bottom Line: Although it may seem counterintuitive to make a wah pedal smaller, the Crybaby Mini 535Q defies that logic. This is an extremely playable guitar wah pedal that provides guitarists with the ability to tweak the Q dial and control the tone, adjust the width of the frequency range, and add a little dynamic boost for solos or lead lines. It's a truly wonderful little pedal.
2. Dunlop Crybaby GCB95 (Best Value)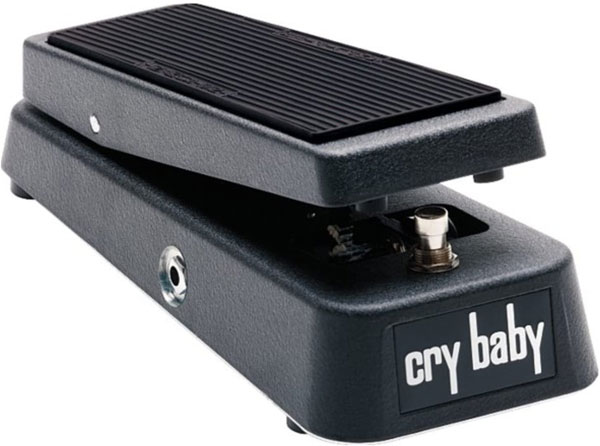 | | |
| --- | --- |
| Estimated Price | $80 |
| Type | Digital |
| Effects | Wah |
| Connectivity | 1 x 6.35mm Jack Input, 1 x Output |
| Power | 9 Volts DC |
My Review: Dunlop's GCB95 is another quality offering from their Crybaby range. This is no ordinary version, however. The GCB95 is the original wah by Dunlop, and arguably the most sought-after wah pedal to ever be produced.
With its simple functionality, robust housing, and expressive rocking plate, the GCB95 is the perfect tool for creating classic rock tones or exploring some unchartered territory. Used by Clapton and Hendrix to name a couple, you're in good company if you decide to add this Crybaby wah to your pedalboard.
With a heavy-duty die-cast housing, the Crybaby wah is built to last. It offers a Hot Potz potentiometer that runs at 100k ohms and allows for the quick, aggressive, and sudden wah sound that flavored legendary guitar riffs of the 1960s. The pedal can also be powered by a 9-volt battery, which is useful for musicians who play impromptu shows on the road.
Who is this best suited for: If you believe in the old saying "the original is the best" then the GCB95 Crybaby wah pedal is likely a good choice for you. It's not overly expensive, so if you don't want to spend a fortune but still require a reliable wah, then it is worth considering.
Bottom Line: The original wah pedal is still going as strong as ever. Used to create some of the most iconic wah-draped rock riffs of all time, this Crybaby offers a wide variety of warm and abrupt wah tones and smooth expression. Not to mention, it can be powered by a power supply or simply with a 9-volt battery. Overall, I would say that the Dunlop Crybaby GCB95 is the best wah pedal under 100 dollars.
3. Vox V847A (Best Under $150)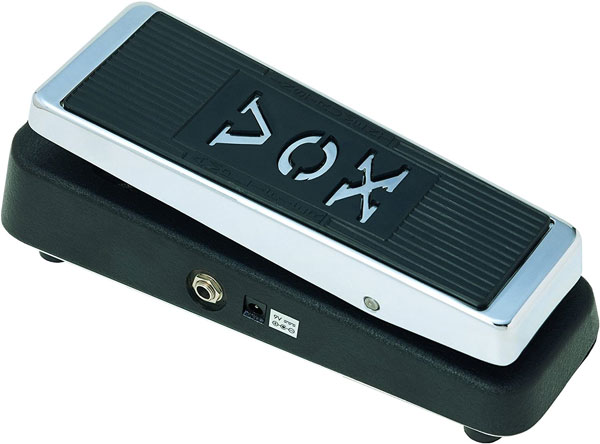 | | |
| --- | --- |
| Estimated Price | $110 |
| Type | Digital |
| Effects | Wah |
| Connectivity | 1 x 6.35mm Jack Input, 1 x Output |
| Power | 9 Volts DC |
My Review: Vox played a pivotal role in the creation of the very first Wah pedal back in the mid-1960s. Unfortunately for them, they failed to register the Crybaby trademark before Dunlop, and the rest is history.
Still, that hasn't prevented Vox from creating some of the best wah pedals on the market today. The V847 was a hugely popular wah pedal, and with the newly improved X847A, you get all of the best aspects of the original with some additional features to make it even better.
The inductor inside the pedal has been redesigned to mimic the ones used in the original wah pedals decades ago. There's also an added input buffer to fight against high impedance and preserve the natural tone of your guitar. The V847-A manages to stay true to the 60's ear wah pedals while offering some classy modern updates.
Who is this best suited for: I'd highly recommend the Vox V847-A wah pedal to guitarists who use many effects pedals simultaneously. The added input buffer is a great tool for protecting your signal strength and integrity, which is especially important when you are using long cable runs.
Bottom Line: With a striking vintage wah sound and a redesigned inductor that matches those of the original 60s pedals, the Vox V847-A is more than just a tribute to its legendary predecessor. The newly added inner circuitry components have combated the noise issues that came with the original, and the tone is as sharp and inviting as ever.
4. Xotic XW-1 (Editor's Choice)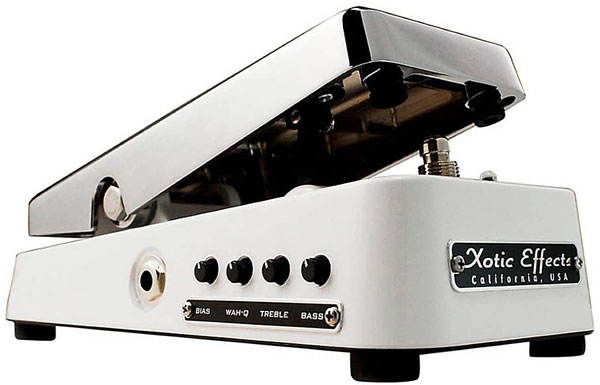 | | |
| --- | --- |
| Estimated Price | $240 |
| Type | Digital |
| Effects | Wah |
| Connectivity | 1 x 6.35mm Jack Input, 1 x Output |
| Power | 9 Volts DC |
My Review: The Xotic XW-1 is a classy, elegant wah pedal that is amongst the most versatile offerings on this list. With a circuit closely resembling the iconic Clyde McCoy wah from the 60s, the pedal looks and sounds the part.
Multiple onboard controls make the Xotic XW-1 a joy to use. Using the various parameters, you can adjust the bias, Q, resonance, and frequency range of the pedal. This is very useful for guitarists who like to switch up their sound from song-to-song.
The Xotic Effects XW-1 is also designed to interact with your chosen fuzz pedal. This combination can sometimes get a little messy, but thanks to the inner circuitry used to create this wah pedal, it's perfectly suited to handle some heat.
Who is this best suited for: The Xotic XW-1 is best suited for guitarists who don't like to be limited in terms of the tones they produce. The pedal offers plenty of room for adjustment and produces a wide range of effects.
Bottom Line: The XW-1 is a marvelous wah pedal that combines the best aspects of vintage models with some smartly-designed modern features. With several added controls, the pedal allows you to control almost every aspect of the wah effect, whether that be the frequency range, the depth, or its "Q". Boasting true bypass, it doesn't color your tone when deactivated either.
5. Electro-Harmonix Wailer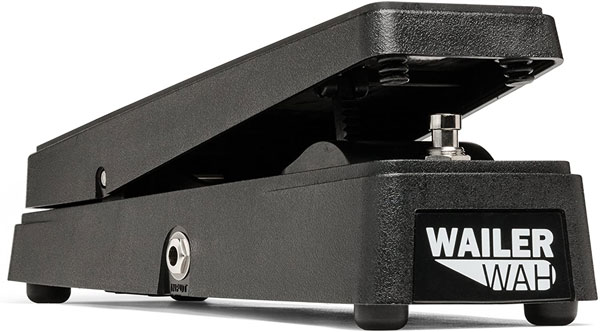 | | |
| --- | --- |
| Estimated Price | $80 |
| Type | Digital |
| Effects | Wah |
| Connectivity | 1 x 6.35mm Jack Input, 1 x Output |
| Power | 9 Volts DC |
My Review: With their extensive selection of effects pedals, it's no surprise that Electro-Harmonix produces several high-quality wah pedals, too. The Wailer is their flagship wah and is capable of producing thick, warm wah tones that sing with coloration.
Cased in the familiar rack and pinion-style housing, the Wailer is constructed from a robust polymer that is sure to withstand the inevitable wear and tear of playing shows, recording, and rehearsing. This material is also lightweight in comparison to the heavy-duty metals that are sometimes used for wah pedals, so it's easy to transport.
The tone of the Wailer is without a doubt its most appealing quality. It produces a sweep that is rich in vowel sounds and remains well-balanced across the wide frequency range. When combining with overdrive or fuzz, the Wailer turns into a fire-breathing beast that is sure to turn some heads in the audience.
Who is this best suited for: The EHX Wailer is suitable for all guitarists. It's versatile enough to be used in any genre of guitar-based music. The robust and lightweight polymer housing makes it a perfect choice for musicians who spend a lot of time out on the road.
Bottom Line: With its mixture of warm, rich wah tones, a conveniently mobile casing, and inner circuitry that is of a very high standard, it's easy to understand why the Electro-Harmonix Wailer is such a popular choice amongst guitarists. It features rack and pinion functionality, a very even sweep across the frequency range, and has true-bypass switching for combating tonal degradation.
Popular Related Article: 20 Incredible Multi-Effects Pedals
6. BOSS AW-3 (Best Auto Wah Pedal)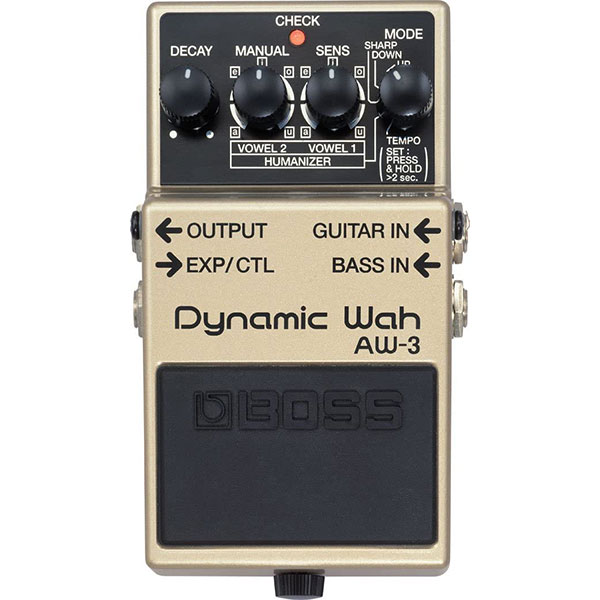 | | |
| --- | --- |
| Estimated Price | $140 |
| Type | Digital |
| Effects | Auto Wah |
| Connectivity | 2 x 6.35mm Jack Input, 2 x Outputs |
| Power | 9 Volts DC |
My Review: The BOSS Dynamic Wah Guitar Pedal produces authentic sounding wah without the need for an expression pedal. It is essentially two pedals crammed into one, with inputs dedicated specifically for electric guitar and bass.
There are two separate modes to choose from: firstly, the Fixed Wah setting can be used to produce a consistent, rhythmic wah that you play in time with. Alternatively, you can use the Auto Wah setting to allow the pedal to interact with your playing, responding to the dynamics by triggering the wah effect.
The Dynamic Wah Pedal is cased in the reliably solid Boss metal housing. It also offers the possibility of being linked with a tempo control or expression pedal if the need arises. Another interesting feature is the Humanizer effect, which transforms your guitar or bass into a wah-inspired vocoder.
Who is this best suited for: The Boss Dynamic Wah pedal produces responsive auto wah, so it's perfect for those who don't want the hassle of having to control the effect using an expression pedal.
Bottom Line: The BOSS AW-3 stompbox wah pedal offers BOSS's renowned durability, with two distinct modes. Guitarists or bassists can set the pedal to create auto wah based on their playing dynamics, or alternatively use the fixed wah setting to keep the results more constant and predictable. Overall, I would say this is the best auto wah pedal.
7. Mad Professor Snow White Auto Wah Effect Pedal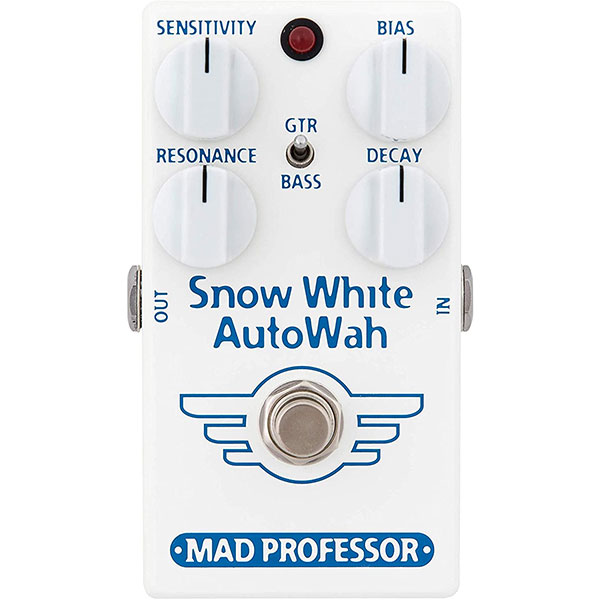 | | |
| --- | --- |
| Estimated Price | $200 |
| Type | Digital |
| Effects | Auto Wah |
| Connectivity | 1 x 6.35mm Jack, 1 x Output |
| Power | 9 Volts DC |
My Review: The Snow White Auto Wah Effect Pedal is a high-quality offering from a manufacturer who continues to add to its impressive range of processing pedals. Compatible with both guitar and bass, the Snow White Auto Wah features four control knobs so that users can tailor the pedal to suit their style.
The filter trigger level can be altered using the Sensitivity control. This decides when the wah kicks in, based on the note frequency being played. The useful Decay control can then be used to adjust the speed of which the filter frequency returns to neutral. When this parameter is set to a high value, the wah becomes more constant and affects every note.
To change the pedal to suit either guitar or bass, you simply flick the central switch. This adjusts the frequency range that the Auto Wah interacts with. True bypass switching is included, so you don't need to worry about signal degradation.
Who is this best suited for: Due to the multi-functional abilities of the Snow White Auto Wah pedal, I'd recommend it to those who play both guitar and bass. For recording purposes, the toggle switch that controls which instrument the pedal is set to work best with is of great value.
Bottom Line: Mad Professor's Snow White AutoWah pedal provides an easy way to add a variety of wah-based effects to your output. With four detailed parameters each significantly altering the pedal's ability, there's an ideal platform for creating individual, unique tones. This is another one of my favorite auto wah pedals.
Popular Related Article: 17 Of Our Favorite EQ Pedals
8. Fulltone Clyde Standard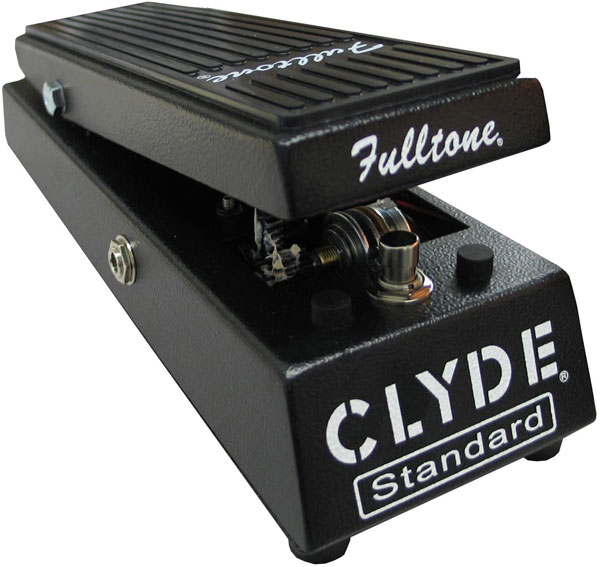 | | |
| --- | --- |
| Estimated Price | $195 |
| Type | Digital |
| Effects | Wah |
| Connectivity | 1 x 6.35mm Jack Input, 1 x Output |
| Power | 9 Volts DC |
My Review: The Fulltone Clyde Standard Wah is based on the renowned Clyde McCoy signature. With a tuned-core, hand-constructed inductor that is identical to the ones used in the 60s era vox wah pedals, it can produce a familiar vintage tone.
The Clyde Standard also offers a useful add-on, which allows you to control the internal resonance of the pedal and tailor its frequency response to match your needs. There is also a large trimmer that can add bass to the output.
Another of the user-tweakable functions is the gain adjuster, which can be used to store the settings of your favorite tones. The potentiometers within the pedal are of the highest standard, ensuring that they last for a long time even if the pedal is used heavily.
Who is this best suited for: The Fulltone Clyde Standard has been a staple wah pedal of multiple generations of rock, from the 60s to the grunge era. It's a versatile pedal, so I'd recommend it to guitarists who don't want to be limited to a single wah tone.
Bottom Line: With high-quality inner circuitry that closely resembles that of the original Vox guitar wah pedals from the 60s, the Fulltone Clyde Standard offers pristine wah effects and comfortable usability. Its hand-made tuned-core inductor ensures that the pedal boasts impressive longevity and performance.
9. MXR MC404
| | |
| --- | --- |
| Estimated Price | $170 |
| Type | Digital |
| Effects | Wah |
| Connectivity | 1 x 6.35mm Jack Input, 1 x Output |
| Power | 9 Volts DC |
My Review: Versatile, high-grade, and expressive, the MXR MC404 is a top-tier wah pedal that suits a variety of styles. Installed within the MC404 is the famous MXR MC401 Line Driver/Boost function, which ensures that your guitar can rise above the mix at any moment.
Featuring two switchable voices thanks to the dual Fasel inductors, the MC404 wah can produce treble-heavy tones or more resonant, mid-range heavy wah sounds. This makes it great for ambient textures or lead lines.
With internal pots catering for Q and gain tweaking, the MC404 can be customized to your liking. It sounds great no matter what settings you choose, and the inductors can be quickly switched between using the side-mounted kick switch. It also boasts a true bypass for maximum signal integrity.
Who is this best suited for: The MC404 is a great option for guitarists who like to dramatically switch up their tone. With an inductor selector, you can quickly transform the sound produced by this pedal without having to use your hands.
Bottom Line: Boasting quality true-bypass switching, a mixture of high-end inner circuitry components, and the ability to produce a wide span of inviting wah tones, the MXR MC404 is an outstanding wah pedal. The Boost/Line Driver feature is especially noteworthy and can save you having to purchase a volume booster for your rig.
10. Hotone Soul Press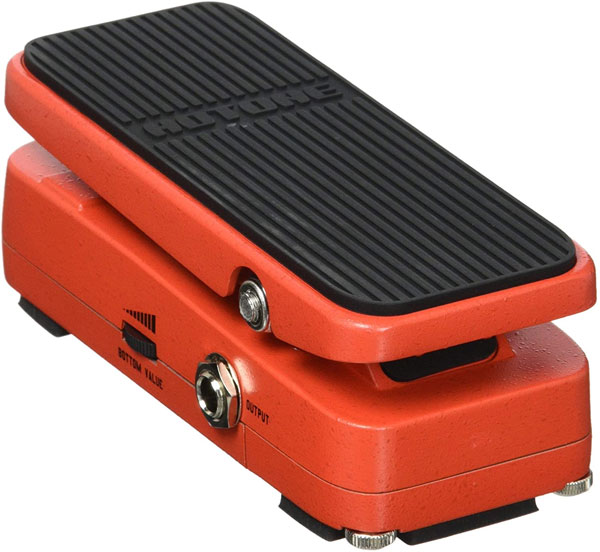 | | |
| --- | --- |
| Estimated Price | $105 |
| Type | Digital |
| Effects | Wah |
| Connectivity | 1 x 6.35mm Jack Input, 1 x Output |
| Power | 9 Volts DC |
My Review: The Hotone Soul Press is a unique offering in the field of wah pedals. Essentially a three-in-one effects pedal, it performs the function of a volume, expression, and pedal condensed into a compact housing.
When you select the wah mode, you get access to vocal sweeps and smooth harmonics, or the classic biting wah tones of rock n roll. Alternatively, if you decide to use the pedal as a volume limiter, it provides you with complete control over your guitar's dynamics without the usual issue of high-end frequency loss.
The pedal is fitted with visible LED lights which indicate which function is selected at any given time. It also boasts true bypass switching, an adjustable control range, and passive expression mode which can operate without using an external battery or power supply.
Who is this best suited for: If you intend to purchase a volume and expression pedal at some point in the future, why not combine them with a quality wah pedal and save space on your pedalboard for other effects?
Bottom Line: The Hotone Soul Press is a smartly-designed 3-in-1 effects pedal that offers volume control, wah, and expression. This multi-faceted pedal contains high-quality inner components, and switching between the trio of functions is easy and quick.
11. Morley Steve Vai Bad Horsie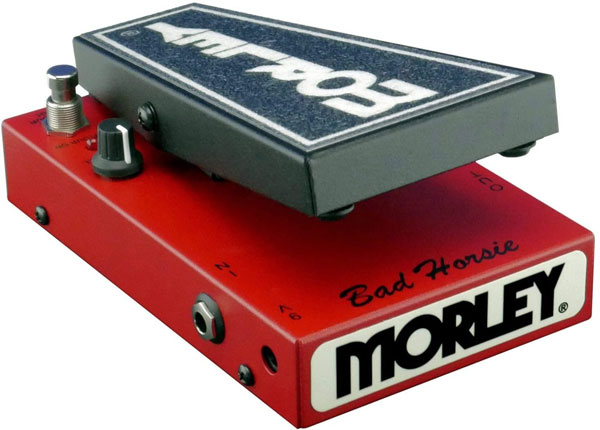 | | |
| --- | --- |
| Estimated Price | $170 |
| Type | Digital |
| Effects | Wah |
| Connectivity | 1 x 6.35mm Jack Input, 1 x Output |
| Power | 9 Volts DC |
My Review: Steve Vai is considered to be one of the most virtuosic players to ever touch a guitar, and for good reason. His ability to sustain tones and his technical prowess are unquestionable. Not to mention, his ability to use a wah pedal is just as exceptional.
The Bad Horsie is the latest version of Vai's signature wah collaboration with Morley. It is built to the full-sized dimensions of the original and features two distinctive modes. Firstly, there's the revered Bad Horsie mode, which is filled with Vai's specifically chosen settings. Then, there's the second mode which caters to user-customization of the frequency width and output.
With no switches, the Bad Horsie is very straightforward to use. It has a fluorescent backlit design that makes engaging the effect easy even on a darkened stage. There's also a Clear-Tone buffer circuit to minimize any signal strength loss, whether the pedal is bypassed or active.
Who is this best suited for: If you've ever listened to Steve Vai's guitar playing, you'll know that he is a master of the wah pedal. He uses it in unique ways, so if experimenting with new techniques is something that piques your interest, this pedal is probably well suited to you.
Bottom Line: The Bad Horsie is a unique wah pedal made in collaboration with a genius guitarist. With user-friendly features like a glow in the dark display, two switchable preset modes, and plenty of room for adjustment, the Steve Vai signature is a highly sought after wah.
Popular Related Article: 17 Awesome Octave Pedals
12. Boss PW-3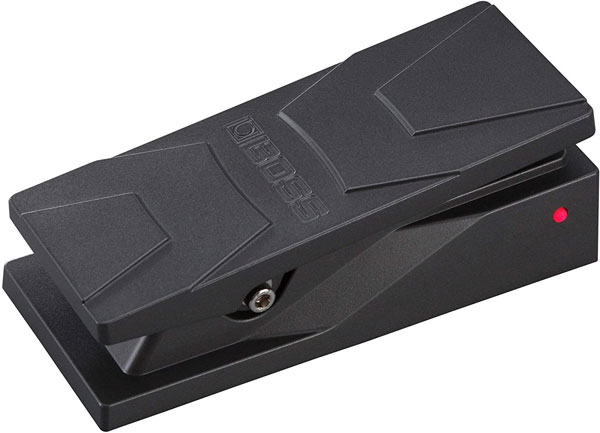 | | |
| --- | --- |
| Estimated Price | $130 |
| Type | Digital |
| Effects | Wah |
| Connectivity | 1 x 6.35mm Jack Input, 1 x Output |
| Power | 9 Volts DC |
My Review: Boss' range of high-quality effects pedals is world-renowned. These processing experts from Japan have covered every effect you can think of, with their popular selection of durable stompboxes and amplifier models.
It should come as no surprise, then, that the PW-3 wah pedal is also of a very high standard. With the classic Boss robust housing, reliable functionality, and a nice blend of wah-wah tones, it's a great choice for any guitarist.
The PW-3 houses two main voicings which can be switched between at any time. The first is a voice that boasts ultra-clarity, sharp treble, and vocal qualities. The second is less clear, warmer, and more subtle than the former. With these two voicings at your disposal, you can conjure up any wah tone in a matter of seconds.
Who is this best suited for: Boss pedals are renowned for their usability, and the PW-3 wah further reinforces this. It's the perfect wah pedal for guitarists who want a selection of modern and vintage wah voicings. Not to mention, it's built like a tank, so if you're likely to be on the road frequently, this wah pedal is worth considering.
Bottom Line: The Boss PW-3 provides a guitarist with everything they could need from a wah pedal: durability, multiple tone-switching options, and a compact design. It houses both vintage and modern sounding wah effects and has an LED light to show the status of the pedal. Also, its low-noise design is perfect for those who have long cable runs and busy pedalboards.
13. JOYO Multimode Wah II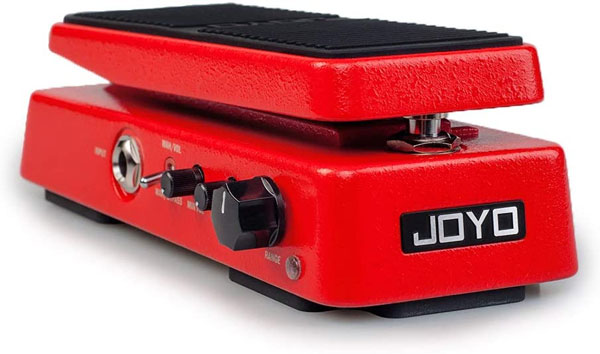 | | |
| --- | --- |
| Estimated Price | $80 |
| Type | Digital |
| Effects | Wah |
| Connectivity | 1 x 6.35mm Jack Input, 1 x Output |
| Power | 9 Volts DC |
My Review: JOYO's range of affordable effects pedals continues to grow in popularity. These recently-established manufacturers have quickly become one of the leading producers of entry-level pedals that are perfect for those first getting into the world of effects.
The Multimode WAH II doubles up as a standard guitar wah pedal, and a volume controller. The dual-mode wah has an adjustable Q control and a value pot that ramps up the prominence of the effect. Additionally, there are a total of 6 wah frequency ranges to choose from.
The volume mode simply turns the pedal into a dynamic controller and is great for creating textural swells. There's a convenient LED indicator positioned on both sides of the pedal, so you can quickly check which mode is selected. Finally, the pedal offers true bypass when set to wah mode.
Who is this best suited for: Guitarists shopping on a budget should consider the JOYO Multimode Wah. It combines wah effects with a volume pedal, so if you need some extra control over your dynamics, this could be the perfect solution.
Bottom Line: The Multimode wah/volume pedal from JOYO includes all of the attributes you'd expect from a much pricier pedal. With two switchable modes, six wah-wah frequency ranges, and true bypass switching; it's great value for money.
Popular Related Article: 17 Reverb Pedals That Are Crazy Good
14. Dunlop 105Q Crybaby Bass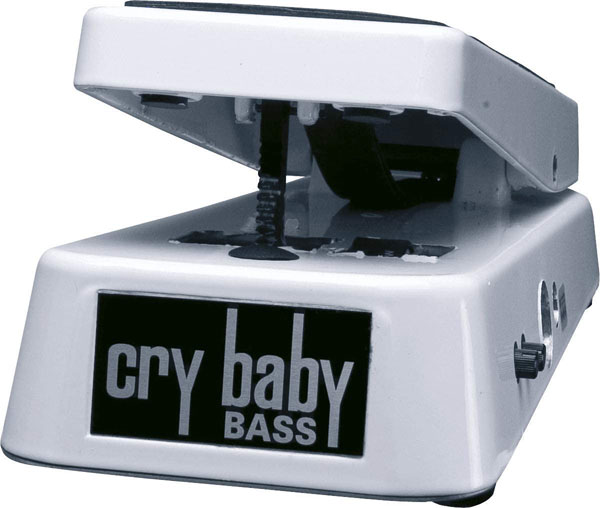 | | |
| --- | --- |
| Estimated Price | $130 |
| Type | Digital |
| Effects | Wah |
| Connectivity | 1 x 6.35mm Jack Input, 1 x Output |
| Power | 9 Volts DC |
My Review: The 105Q is another quality wah pedal from Dunlop's Crybaby range, but unlike the previous examples, this pedal is specifically designed for bass guitar. With special tuning that suits the lower frequency range of a bass, the pedal allows you to get that classic crybaby wah tone without losing any of the low-end power.
If you've ever attempted to use a guitar wah pedal with a bass guitar, you'll know that it doesn't interact with the bass frequencies very well, and makes the overall tone sound think and lacking in substance. With the 105Q, Dunlop has ensured that this isn't the case.
The wah effect focuses more on the midrange and top end of your bass guitar's tone. The lows are left relatively unaltered so that your sound remains thick. The addition of a Q control makes it easy to change the focus of the wah effect, and with an auto-off switch, there's no danger of you forgetting to deactivate the pedal mid-set.
Who is this best suited for: The Dunlop 105Q is primarily for bassists. It's a perfect choice for those who want to add a little extra flavor to their bass tone, without sapping all of the energy out of the low-end frequencies.
Bottom Line: Bassists shouldn't be left behind when it comes to wah. Thankfully, Dunlop has recognized the demand from bassists for this effect and used their revered Crybaby technology to produce a pedal that not only sounds great in the mid and high frequencies but also protects your low-end from any signal strength loss.
15. Dunlop Crybaby Slash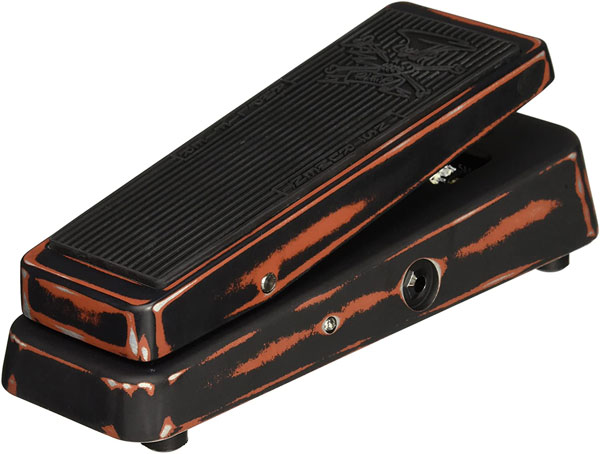 | | |
| --- | --- |
| Estimated Price | $150 |
| Type | Digital |
| Effects | Wah |
| Connectivity | 1 x 6.35mm Jack Input, 1 x Output |
| Power | 9 Volts DC |
My Review: Legendary Guns n' Roses guitarist Slash teamed up with Dunlop to create an awesome-sounding wah pedal with some interesting additional features. More than just your standard wah pedal, the Slash signature also houses high-gain distortion for red-hot lead tones.
Slash advised Dunlop on exactly how to design the pedal to create his highly-sought-after combination of wah and Distortion. The manufacturer used high-gain circuitry to add heat to the output and made it possible for the wah and distortion modes to be used simultaneously.
You can also separate the two channels if you wish, to only produce one of the effects at a time. The pedal also has bright LED indicators to signify whether the distortion or wah is active, and battery access is made easy by the clip-secured door at the top of the rocker.
Who is this best suited for: If you're a fan of distortion/wah combinations, you'll likely find the Slash signature an interesting offering from Dunlop's Crybaby range.
Bottom Line: The Dunlop Crybaby Slash signature pedal combines red-hot distortion with smooth and immersive wah. The two effects can either be run together to create wild combinations or separately, simply by switching between the circuits. With gain and volume controls also housed on the pedal, it's easy to tame the effects when they inevitably get out of control!
Popular Related Article: Top 17 Delay Pedals (Digital and Analog)
16. Sonicake VolWah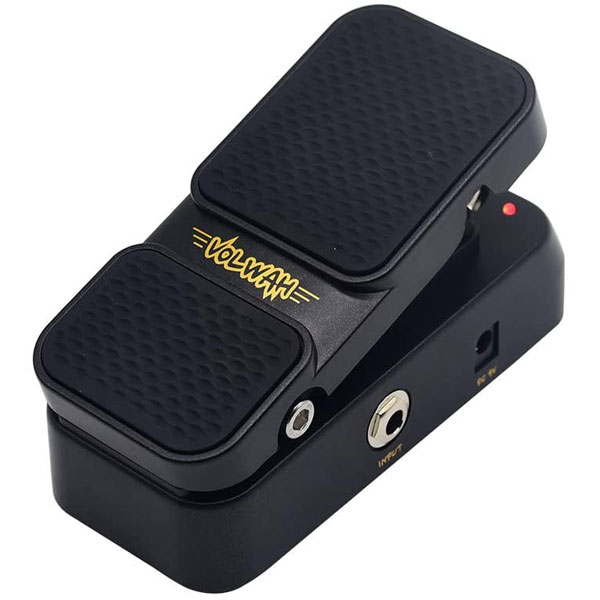 | | |
| --- | --- |
| Estimated Price | $60 |
| Type | Digital |
| Effects | Wah |
| Connectivity | 1 x 6.35mm Jack Input, 1 x Output |
| Power | 9 Volts DC |
My Review: Sonicake has quickly built a reputation as a quality alternative to more expensive, established manufacturers. Their pedals are known for their simplicity, and reliable performance. The VolWah is a 2-in-1 effect pedal that produces articulate wah whilst also controlling your guitar's dynamics.
The common criticism of cheap wah pedals is that they often produce excess unwanted noise due to lesser quality components being used for the inner circuitry. This, however, is not the case with the VolWah. Thanks to the pure analog circuit design and true bypass switching, noise issues don't even come into the equation.
The wah tones produced are based on Dunlop's Crybaby style. They are heavy in the treble end when the pedal is positioned nose-up, and more dampened when the nose is positioned down. The conveniently hidden footswitch allows you to toggle between the Volume and Wah modes easily and discreetly.
Who is this best suited for: If you're looking for an entry-level wah pedal at a very reasonable price, Sonicake's VolWah is a great choice. It combines wah with a volume pedal, saving you the hassle of purchasing both separately.
Bottom Line: With its range of affordable effects pedals, Sonicake is growing in popularity amongst guitarists of all abilities. Their VolWah pedal is a combination of wah and volume control and produces many interesting wah-wah based tones.
17. Dunlop KH95 Kirk Hammet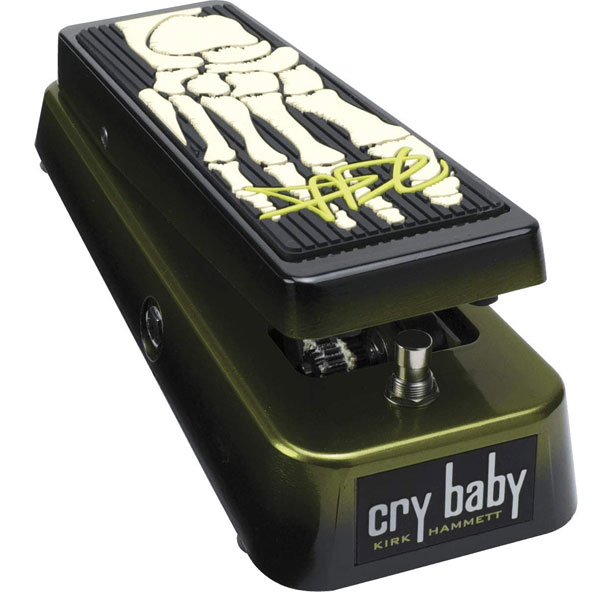 | | |
| --- | --- |
| Estimated Price | $160 |
| Type | Digital |
| Effects | Wah |
| Connectivity | 1 x 6.35mm Jack Input, 1 x Output |
| Power | 9 Volts DC |
My Review: Another awe-inspiring signature collaboration from Dunlop, the KH95 provides you with the iconic tones of Metallica's lead axe-shredder, Kirk Hammett. With a single stomp on the pedal, you suddenly have access to some of the best wah-draped tones to ever grace rock music.
The Kirk Hammett Signature was developed closely with the legendary metal guitarist, and he insisted that the wah-wah sound was tuned perfectly to match his powerful output. It not only reproduces his wah sound, but also his EQ, volume, and tone settings.
Despite the wildness of the pedal, it produces a remarkably even response across the frequency range. With one foot sweep, you can go from moody and mellow to bright and energetic. It also has an eye-catching green design that fits the guitarist's eccentric style.
Who is this best suited for: I'd highly recommend this pedal to metal-heads. Unlike your average rock n roll wah pedal, the Kirk Hammett signature is fittingly brimming with attitude and bite. If you're a fan of Metallica, you'll have lots of fun using the KH95 Signature.
Bottom Line: The KH95 is likely to be a devise pedal. Those who like their output to be as energetic and full-bodied as possible will love it, whilst those who prefer more laid-back styles of wah are likely to find it a little too confrontational. Either way, it provides you with a near-perfect replicate of Hammett's legendary wah-induced tone.
18. Morley 20/20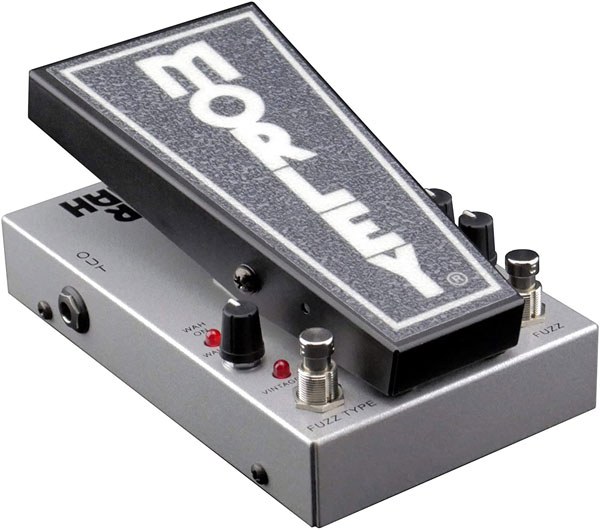 | | |
| --- | --- |
| Estimated Price | $170 |
| Type | Digital |
| Effects | Wah |
| Connectivity | 1 x 6.35mm Jack Input, 1 x Output |
| Power | 9 Volt DC |
My Review: Morley's 20/20 is a perfect blend of fuzz and wah. Compact and conveniently sized, the 20/20 edition comes with all of the classic Morley components. The difference between this version and previous ones is that now the pedal houses the Switchless Activation feature.
This widens the frequency sweep of the wah, and when the fuzz effect is added into the mix, it creates a powerful blend that will push your amp to its limits. There's also a buffer circuit installed to ensure that the addition of fuzz doesn't cause any unwanted noise problems. With an LED indicator, Wah level control, Fuzz intensity control, and a glow in the dark display, the 20/20 is a modern classic.
Who is this best suited for: I'd highly recommend the Morley 20/20 to guitarists who want to combine wah with fuzz. This pedal takes care of all the potential noise issues that can occur if you try to combine two separate wah and fuzz pedals, thanks to its buffer circuitry and separate volume/gain controls.
Bottom Line: The Morley 20/20 wah and fuzz pedal let you transform your guitar into a Hedrix-like blend of the two best guitar effects to ever be discovered, in my opinion. It's a high-quality pedal that has been built using durable components and offers you, complete control over, the two independent effects while also working to preserve the signal integrity of your guitar.
19. Mooer Funky Monkey (Best Cheap Auto Wah Pedal)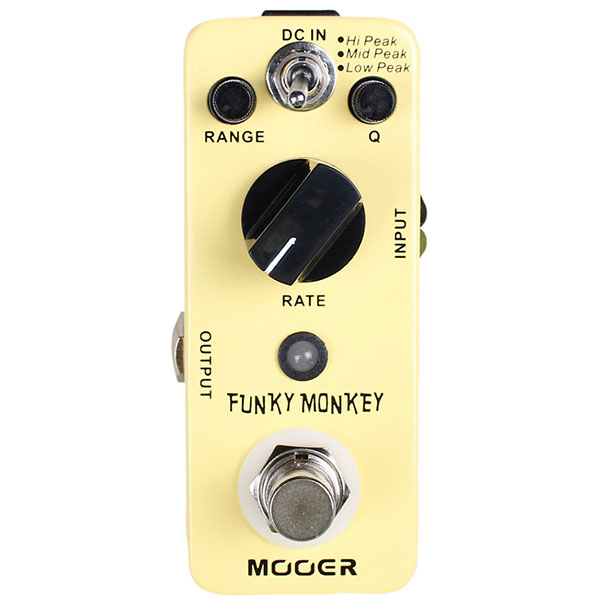 | | |
| --- | --- |
| Estimated Price | $100 |
| Type | Digital |
| Effects | Auto Wah |
| Connectivity | 1 x 6.35mm Jack Input, 1 x Output |
| Power | 9 Volts DC |
My Review: Mooer's Funky Monkey is a straightforward auto wah pedal in a conveniently sized housing. It offers a wide selection of tweakable auto wah effects, which are categorized under three main Peak Modes.
By adjusting the centrepiece Rate control, you can speed up or slow down the auto wah effect. This allows for absolute precision, so that you can ensure the wah matches the tempo and feel of a song.
The three Peak Modes consist of Low, Mid and High. Low is best suited to bass, or riffs played in the lower registers of a guitar. Mid and High are great for chords or melodies. The Range and Q controls can then be used to further tailor the response of this auto wah pedal to suit your individual style.
Who is this best suited for: If you're looking for a simplistic auto wah pedal that doesn't require much maintenance, the Mooer Funky Monkey is a great option. It has a limited number of controls, so things don't get too complicated, but it still produces a wide variety of auto wah effects.
Bottom Line: With three Peak modes, a Rate control, and smaller Range and Q parameters, the Mooer Funky Monkey allows you to adjust the foundational features of its auto wah-based effects. True bypass switching preserves the integrity of your guitar/bass' signal, and the minute size of the pedal makes it easy to squeeze onto your pedalboard.
20. Behringer Hellbabe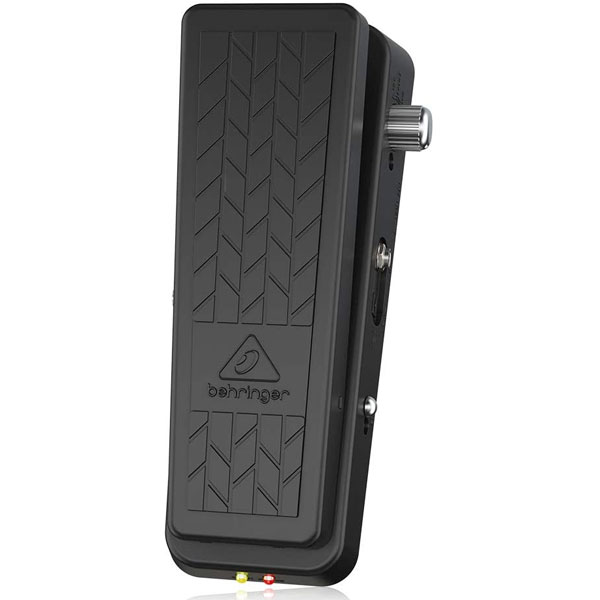 | | |
| --- | --- |
| Estimated Price | $75 |
| Type | Digital |
| Effects | Wah |
| Connectivity | 1 x 6.35mm Jack Input, 1 x Output |
| Power | 9 Volts DC |
My Review: Renowned for their comprehensive selection of affordable effects pedals, Behringer's attempt at a wah-wah pedal yielded impressive results. The Hellbabe wah utilizes complete optical control. This essentially means that no mechanics potentiometers or switches have been used – and consequently, they can't be worn out over time.
This added longevity is a useful attribute for guitarists who are likely to use their wah pedal very often, either onstage, in the studio, or rehearsal. Additionally, the Hellbabe has several controls that you can adjust to tailor its output.
There's the Range control, which widens or narrows the frequency range that the expression pedal covers, and the useful Fine-tune control, which lets you hone in on those sweet-spots in the frequency range and focus the wah around them.
Who is this best suited for: The Behringer Hellbabe is the perfect wah pedal for touring musicians who are likely to extensively use their wah pedal. Its inner circuitry is durable and built to last, making the pedal a good long term investment.
Bottom Line: The Hellbabe is a straightforward wah pedal from Behringer. Although it's not as flashy as some more expensive wah pedals, it still performs to a high standard and provides you with instant access to vintage-style tones. The two independent range and fine-tune controls also allow you to tweak the characteristic to your liking.
Choosing the Right Wah Pedal (Buying Guide)
Wah pedals continue to grow in popularity, despite the fact they first burst onto the scene over half-a-century ago. Revered for the coloration and unique effect that they produce, these rhythmic filter pedals are amongst the most innovative guitar effects of all time.
There are so many exceptional guitarists that frequently use wah to bring their riffs and chord sequences to life, that it's hard to name just a few. Jimi Hendrix was undoubtedly a pioneer of wah pedals, combining it with fuzz to create his signature tone. Tom Morello of Rage Against The Machine and Audioslave also frequently used the effect, as did John Frusciante on the later of his Chili Peppers records.
This comprehensive guide will provide you with all the relevant information you need on wah pedals, starting from the fundamentals and moving into more advanced concepts. After reading the remainder of this article, all of your questions regarding these wonderful pedals will be answered.
Auto Wah Pedals vs Manual Wah
When deciding on which pedal is best suited to your needs, the first question you need to answer is whether to go for an auto wah or a manual wah pedal. Although both of these pedals produce the same basic effect, there is a myriad of contrasts that should be considered.
It helps to think of an auto wah pedal as being essentially the same as a fixed envelope effect. This means that the attack cannot be adjusted, so when the wah is produced, the pedal automatically sets the attack rate, making it sound more rhythmic, predictable, and less humanly influenced.
The obvious advantage of an auto wah pedal over its manual counterpart is that it requires very little real-time effort to produce the desired effect. You simply tweak the onboard parameters of the pedal, activate it, and it will interact with your guitar or bass playing based on the settings you have chosen.
The downside is that you lose the ability to deliberately make the wah interact with your own individual playing. When using a manual wah pedal, you can open or close the filter at any point, giving it an exciting, unpredictable element. It leaves the door open for improvisation based on things that may occur naturally during a performance or recording.
Auto wah is great for those who want a constant effect. Conversely, manual wah pedals are great for those who want to retain complete control over how the pedal responds to the notes they are playing, and the timing of those notes.
Combining Wah Pedals with Other Effects
Wah is indeed compatible with many other effects. It can be used in conjunction with timing-based effects such as delays or reverbs to soften the tone and build tension within a song. Modulation effects like chorus, phase, and flangers are also usable alongside wah, especially in psychedelic genres of music.
One frequent topic of debate amongst guitarists is whether or not wah can be used with distortion-based effects, notably fuzz. Fuzz and wah are both fairly unpredictable effects in their own right, so combining the two is not for the faint-hearted.
The thing with wah and fuzz is, when the combination is blended well, it sounds incredible. Hendrix's iconic sound was a result of these two effects being mixed, but he was an example of how to do it well.
If you add too much fuzz into the mix with a wah pedal, things can quickly become a little too messy. If the wah pedal is placed after the fuzz in the signal chain, it's almost impossible to tame. This is due to the high output impedance of a wah pedal, which is adversely affected by the fuzz.
A solution to this problem would be to combine the two pedals with a buffer of some sort. Buffers are responsible for protecting your signal and ensuring that certain pedals don't suffer due to the impedance level of others. Numerous buffer pedals are specifically designed for the wah-fuzz combo that leaves so many guitarists scratching their heads!
Wah Pedals and Bass
An interesting way to use a wah pedal is to combine it with bass guitar. This adds a funky rhythmic quality to the bass and sounds great with the slap technique.
The only problem with using wah with the bass guitar is that it is likely to weaken the low-end frequencies. Some wah pedals are specially designed to preserve the low-end frequencies of a bass, so this would be a better option.
Wah Pedals in the Record Studio
Using a wah pedal in the recording studio is common. Unlike other effects such as delay, reverb, distortion, or modulation, it's incredibly hard to add wah to a guitar track after it has been recorded, using VST plugins or built-in effects in your chosen DAW.
Due to the real-time nature of wah, it requires the guitarist to move the expression pedal as they are playing the notes. For this reason, the most common way to record a wah guitar track would be to do it live, with the guitar going into the pedal and then out into either an amplifier or a direct input.
Wah is a rhythmic effect that responds to the notes and frequencies of a given guitar part. The only way to add it retrospectively would be to re-amp the recording, run it back through the wah pedal, and record the effect while the dry guitar track is playing. Although this is a good way to add wah to a solid guitar take without having to re-do the recording, it's generally considered better to record the pedal with the original take.
A guitarist is presented with two options when using a wah pedal for recordings. Firstly, they could go down the more conventional route of simply plugging into the amplifier, placing a microphone in front of the speaker, and recording the audio into their interface. The advantage of this method is that it produces the closest representation of their live sound, providing they are using their live amp to record through.
The alternative method simply requires output from the pedal straight into the direct input of the audio interface or preamp. This is certainly quicker and better for on-the-go recordings where an amplifier isn't an option, but you lose the color and natural tone that is produced by using an amp/mic combination.
True Bypass Wah Pedals
The majority of effects pedals are fitted with true bypass switching. This term is often misunderstood and may seem complex at first, but in reality, it provides a simple function that improves the performance of a guitar pedal and minimizes the risk of signal integrity being negatively affected.
When effects pedals were first made available to the public, one of the common issues associated with them was that they caused the signal to be weakened, especially in the higher frequencies. This problem was present even if the pedal was not in use, and when long cable runs were used to connect multiple pedals, it marred the overall tone.
To combat the problem of signal integrity being compromised, pedal manufacturers developed a smart circuitry technique known as a true bypass. This unique method of switching was installed within the pedals, allowing the signal to be split, with one being routed through the inner circuitry. By using a mechanism called a double-pole/double-throw switch, the processed signal was able to bypass the pedal's main circuit even when it is not active.
This results in the signal being sent straight from the pedal to the amplifier, and in the process, the clarity is preserved. No coloration is caused to the tone and the common issue of high-end frequency loss is minimized significantly.
Wah pedals commonly feature true bypass switching, as do most other stompbox-style effects pedals. If you are using long cable runs with multiple effects, it's a good idea to ensure that the wah pedal you choose does have true bypass switching.
Signal Chain Positioning
The positioning of effects pedals in your signal chain is ultimately down to your personal preferences. With that being said, some generally-accepted rules are followed to produce the standard results expected from certain pedals.
Wah pedals should be integrated into your signal chain as early as possible, after only your tuner. The reason for this is that the wah pedal is then able to alter your signal before distortion-based pedals. Distortion, overdrive, and fuzz are highly transformative effects, so if your wah was to be positioned after them, it could get messy, to say the least!
It's worth noting, however, that some of the most innovative and exciting guitar tones have been produced as a result of the guitarist tearing up the rulebook and taking matters into their own hands. For the conventional wah tone that has been a staple of rock music for decades, positioning it at the start of the signal chain is your best bet.
Conversely, positioning it later in the chain can provoke some interesting results. The wah sound becomes more exaggerated and extreme the later you position it in the signal chain because it is then able to alter the effects that precede it.
For psych-rock tones, gradual swells, or ambient textures, placing your wah pedal after distortion, modulation, reverb, and delay pedals will likely produce what you are looking for. You can experiment with different combinations to find unique tones to add to your guitar repertoire.
Dual Outputs
Some wah pedals are fitted with dual outputs. Although this is less common than on, say, a distortion pedal, it is still the case with some of the offerings, especially the Crybaby range. You might be wondering, why would I need two outputs?
Having two outputs effectively allows you to split your signal. This technique is commonly used by guitarists who play in large venues. They use two amplifiers, one exclusively for their clean channel, and the other for their wet signal where all their effects pedals are routed to.
The advantage of this method is that it keeps your clean tone playing constantly, and when you activate an effect, it only comes out of the second amplifier, therefore thickening the sound. This creates the illusion that two guitars are playing at once, and a kind of double track effect occurs.
It also makes it much easier for a sound engineer to mix the outputs of the two amps. If you simply run all of your effects through a single amplifier, the sound engineer has to contend with the different nature of each pedal, their default level, and the frequencies they produce when interacting with your guitar.
If, on the other hand, you choose to split your signal using a wah pedal with dual outputs, they can mix the FX amp separately to your clean amp, and ensure that one doesn't interfere with the other.
Auto-Wah VST Plugins
If a guitarist or producer is unable to get hold of a wah pedal, they may turn to a digital option instead. As with the majority of audio-processing effects nowadays, it's possible to get good-quality virtual instrument plugins of wah, which automatically subject audio to the effect.
The only downside to using an auto-wah plugin is that it lacks the human interaction of physically rocking the pedal back and forth. This ability plays a large role in producing the revered wah effect, so the VST version shouldn't be considered a worthy replacement.
Despite that, there are still several high-end auto-wah plugins that are worth adding to the effects rack of your DAW. They won't get close to the pedal-format, but can certainly add a touch of wah to your audio tracks.
When looking for a wah VST plugin, it's important to ensure that it is equipped with fast-tracking ability. If it is not, the effect will sound labored and no matter how accurately you set the automation, it will interact with the audio messily and ineffectively.
All things considered, it's best to use a physical wah pedal. This affords you complete control over the rhythmic elements of the effect, along with the EQ and frequency response. Auto-wah plugins are a good solution if a pedal is out of the question, but shouldn't be relied on in the long term and not in a live setting!
Wah Pedals and Keyboards
In genres like funk, jazz, R&B, or soul music, keyboardists commonly use wah pedals to add expression to their instrument. This sounds especially great on Wurlitzers, Rhodes, or other electric pianos. The wah interacts with the frequency response of a keyboard differently than it does with a guitar.
Some electric keyboards will include presets that already have a wah-style filter applied to the stock sounds. In some cases, these will sound fine, but the only issue with automated wah is that it doesn't allow you to control the motion as a pedal does.
The great thing about purchasing a wah pedal is that it isn't exclusively useful for an electric guitar, as many effects pedals are. You can experiment by using it with keyboards, organs, synths, and any other electronic instrument to come up with your unique tones.
Wah for Atmospheric Guitar
One of the most effective ways to use a wah pedal is to create ambient textures. You can do this by using the pedal more subtly, instead of the usual, rhythmic, and extreme way that is used in rock music. By rocking back and forth slowly on the expression pedal, you can use the Wah as a filter, allowing certain frequencies to gradually build then reducing them by moving your foot the opposite way.
Combining wah with other atmospheric effects like reverb or delay is also a great way to add texture to your guitar playing. It can even be used as a kind of hi-pass or low-pass filter, if you very gradually open and close the pedal to fade out the low or higher frequencies.
Power Requirements
Commonly, effects pedals with large internal processors will require 12v or 18v DC to provide enough power for them to run efficiently. The best way to do this is by using an external power supply, preferably with multiple outputs so that you can power all of your effects pedals.
Wah pedals don't usually require this much power, and will commonly run off 9v DC. Again, the most efficient way to power a wah pedal is by using a dedicated power supply. If you use separate power supplies for your different effects pedals, things can get a little messy on stage.
By using one power supply with many outputs, you can attach it to your pedalboard and keep all of the pedals plugged in ready to go. This saves you a lot of time and effort when you get to a live show, practice session, or recording studio. You simply plug your power supply into the mains and all of your pedals will be instantly active.
Some wah pedals also offer the option for battery power. This is riskier, obviously due to the chance that a battery could die mid-performance. To combat this, I would recommend using both and 9v DC battery and your power supply, so that if one is to cut out, the other takes over and the performance continues without any mishaps.
How is Wah Produced?
Wah works in the same way as a filter. It essentially creates an adjustable peak in the EQ of an instrument, which can be controlled by moving an expression pedal. This causes a dramatic alteration of tone and color, ranging from dull and dampened to treble-rich screams.
The name "wah-wah" describes the way the effect sounds through onomatopoeia. It produces the sound of an elongated "a", which magnified when the pedal is swept from closed to open position. Wah produces a wailing, crying sound, that is resembling of a human voice in many ways.
When the heel side of the wah pedal is positioned down, the tone it produces is more trebly and high-end heavy. Some guitarists prefer to leave the pedal in this heel-down position because it makes the guitar cut through the mix with improved clarity.
When the nose end of the expression pedal is pointed down, the sound is dulled and more subdued. Gradually opening the filter is a common technique for creating swells and build-ups for breakdown sections.
The rhythmic wah sound occurs when a guitarist quickly moves the expression pedal from the heel-down position to the nose-down position. When this is done in time with the notes being played, it creates an exaggerated effect where the attack of the notes is softened.
Wah pedals feature pretty straightforward inner circuitry. There's a single electrical resistor fitted with a rotating contact and a potentiometer built-in to the pedal. The potentiometer creates a division in the internal voltage of the pedal when the level is altered.
The rocking plate is then hooked up to the potentiometer, and when the plate is moved, it causes the internal voltage to be changed abruptly, creating the wah sound. This gives the guitarist complete control over the frequencies that the wah pedal effects, simply by moving the rocking plate back and forth.
Most wah pedals utilize a simple footswitch to activate the effect. When the expression pedal is pressed forcefully down, the footswitch clicks and either activates or turns off the wah pedal. The majority of wah pedals are much more simply-designed than other popular effects, only housing the expression pedal with very little in the way of additional parameters and controls.
An additional ability that is commonly featured on wah pedals is a boost function. This acts in the same way as a volume booster, increasing the output level when the pedal is activated. This is especially useful for lead guitarists who require a little extra boost when playing solos or melodies.
It's also common to find that many wah pedals contain a function called Q-knobs, which are responsible for widening the sweeping capabilities of the pedal and increasing the frequency that it peaks at.
Dunlop CryBaby Range – an Iconic Wah Pedal
It's impossible to discuss wah pedals without mentioning the Dunlop CryBaby. This would be like trying to describe the electric guitar without mentioning Fender, or the automobile industry without mentioning Ford.
One of the most popular effects pedals to ever be produced, the Crybaby was first created way back in 1966, after Vox missed out on the opportunity to register the name as a trademark. Dunlop quickly took that opportunity, and the rest is history.
The Crybaby range spans a multitude of pedals, with many signature models made in collaboration with guitarists who use the effect. To name a few, these include Jimi Hendrix, Buddy Guy, Slash, Zakk Wylde, Kirk Hammet, and Jerry Cantrell. An elite list of alumni, if you ask me!
The Crybaby range continues to go from strength to strength in the modern era of guitarists. There have been numerous updates and improvements made to the original models from the 60s, with the pedals now performing more reliably and producing less excess noise thanks to advancements in inner circuitry and technology.
The History of Wah
Wah pedals, or wah-wah as they are sometimes called, can be traced back to the 1920s. When trombone and trumpet players stumbled across their instrument's ability to produce a wailing-like tone by muting in and out of the bell, they probably had no idea that the sound they had discovered would be replicated within a pedal that would go on to revolutionize the guitar and popular music as we know it.
It wasn't until late 1966, however, that the sound would be created in pedal format. An engineer by the name of Bradley J. Plunkett used special circuitry contained within the housing of a Vox organ pedal managed to build upon the attempts of several musicians to successfully bring wah into an effects pedal.
By the time Jimi Hendrix got his hands on a wah pedal in 1967, it had already been used by several musicians, including Cream guitarist Eric Clapton on their single "Tales of Brave Ulysses". Hendrix went on the make the effect famous in many ways, with his legendary riff in Voodoo child perhaps being the best-known example of wah in popular music, even to this day. Rumor has it that Jimi heard about the wah pedal from none other than Frank Zappa, a musician known for being ahead of his time.
Wrap Up
Wah pedals are an invaluable tool to add to your rig. They have been used to produce some of the most iconic and recognizable guitar riffs of all time. Even though they've been around for half a century, these pedals continue to be popular and inspire guitarists to this day.
Now that you've read through this comprehensive guide to wah pedals, all that's left to do is enjoy the experimentation process with your new addition. Whichever wah you decide on, I'm certain it will bring you countless hours of fun as you get familiar with your new pedal!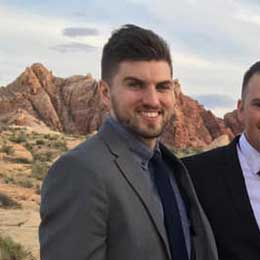 My name is Chris and I've had a passion for music and guitars for as long as I can remember. I started this website with some of my friends who are musicians, music teachers, gear heads, and music enthusiasts so we could provide high-quality guitar and music-related content.
I've been playing guitar since I was 13 years old and am an avid collector. Amps, pedals, guitars, bass, drums, microphones, studio, and recording gear, I love it all.
I was born and raised in Western Pennsylvania. My background is in Electrical Engineering, earning a Bachelor's degree from Youngstown State University. With my engineering experience, I've developed as a designer of guitar amplifiers and effects. A true passion of mine, I've designed, built, and repaired a wide range of guitar amps and electronics. Here at the Guitar Lobby, our aim is to share our passion for Music and gear with the rest of the music community.