As a guitarist, the pedals you choose to put on your pedalboard will determine the styles, tones, and options that you have at your disposal. Selecting specific combinations of effects that complement each other is of paramount importance when it comes to sculpting your sound.
What's so special about fuzz pedals? One of the most dramatic and powerful effects you can add to your guitar rig, fuzz has the potential to blow the mind of everyone in the audience. Whether you need to thicken up your sound for a chorus or you want to make your guitar sound like it's been set on fire, fuzz is the key. On top of that, it's also a useful tool to have in the recording studio.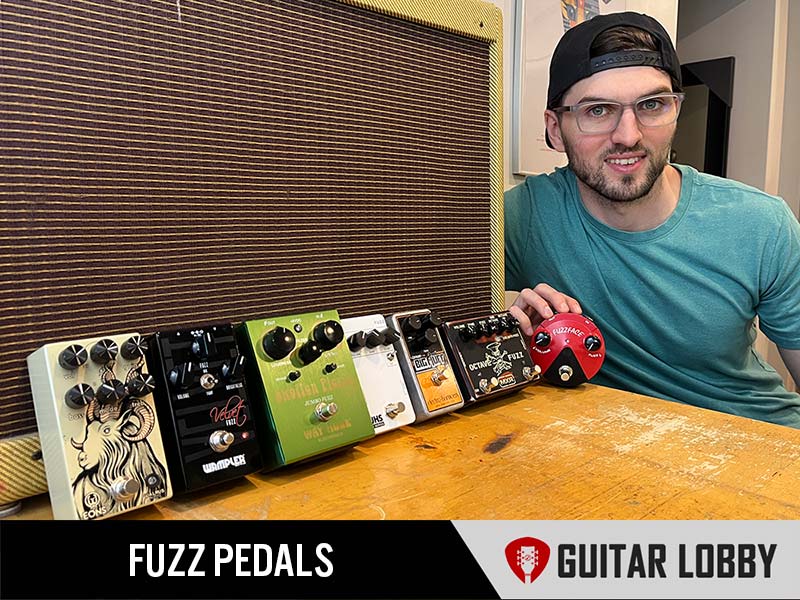 These pedals vary greatly in terms of their capabilities, parameters, and functions, so I've included options on this list for every genre and style of guitar playing. Keep reading to find the perfect option for you, so you can start producing mind-blowing fuzzy riffs in no time.
I'll start this article by showing you the best fuzz pedals at each price point, but if you want to learn more about fuzz pedals before reading reviews, check out our guide at the bottom on how to choose the right one for you.
Here Are the Best Fuzz Pedals
1. Electro-Harmonix OP-Amp Big Muff Pi (Editor's Choice)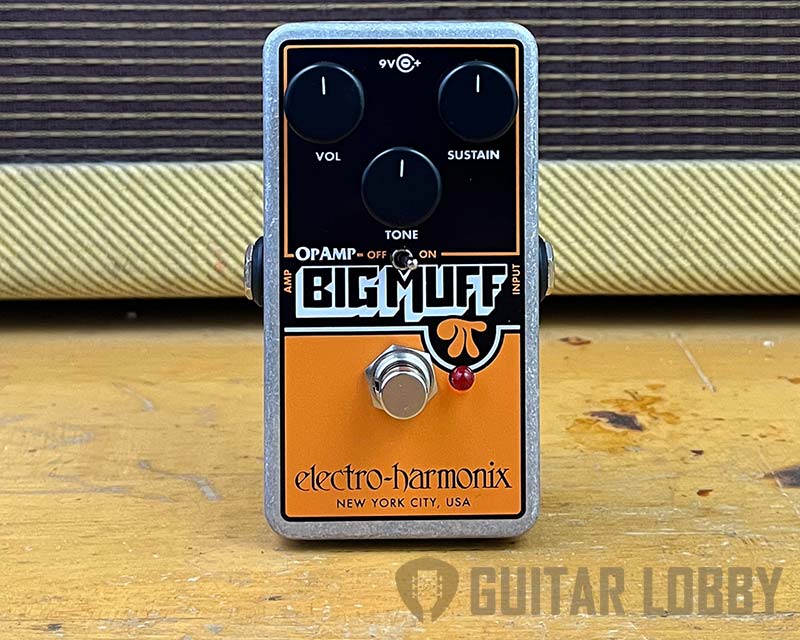 | | |
| --- | --- |
| Estimated Price | $100 |
| Type | Analog |
| Effects | Fuzz |
| Connectivity | 1 x 1/4″ Input, 1 x 1/4″ Output |
| Power | 9 Volts DC 5mA |
My Review: Gone are the days when a good fuzz tone meant pushing your broken amps to get a blown-out distortion. We now have a wide array of fuzz pedals with different topologies to add extra dirt and sonic textures to your guitar's tone. Here are my top recommendations, starting with the crowd-favorite Big Muff. As a fan of the Smashing Pumpkins, I'd spent some time trying to emulate Billy Corgan's fuzzy guitar tones. It's well known that Corgan's sound in the band's Siamese Dream album was created by running an Opamp Big Muff into a tube-driven Marshall JCM 800. So, I thought, what better way to kick off this list than the reissue of the same fuzz pedal that promises to recreate Corgan's signature tone?
Besides Corgan, many other icons like Jack White, David Gilmour, and John Frusciante have inspired me through their use of Big Muff pedals. When I learned that Electro Harmonix had introduced the Opamp, which is the third version of the nano Muff Pi in 2018 to celebrate the manufacturer's 50th anniversary, I couldn't wait to get my hands on one. My eagerness to test out this pedal increased further when I learned that Corgan had played a part in its design. I wasted no time getting one for my effects chain, and it's been a staple of my board ever since.
In my experience using many effects pedals, first impressions matter. I was instantly drawn to this pedal's orange, black, and white color scheme and its simple design. The pedal's enclosure is built like a tank, which I'd expect from an EHX stompbox. I also like the minimalistic layout of the controls, with three simple yet vital knobs for tweaking the volume, tone, and sustain. Another feature that has become integral to how I use this pedal is the tone stack selector switch. When I need to cut through the mix and push my amplifier's vacuum tubes to their limits, I flick this switch in the on position. Alternatively, I like to leave the switch off when I'm looking to add some fuzzy warmth to a melody without obliterating the signal.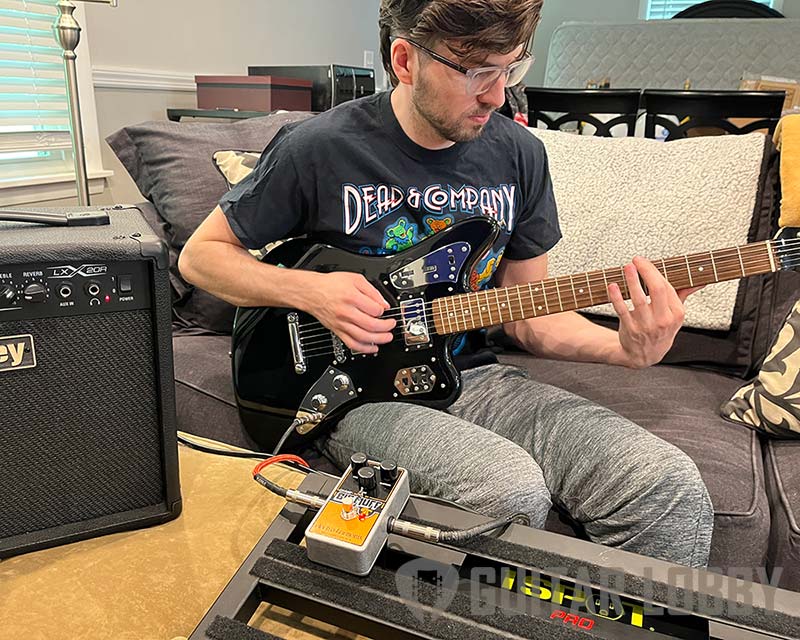 One of the ways I love to use the OP-Amp Big Muff, particularly when recording, is to place it after my reverb pedal in the signal chain. I'm aware that in most cases, it's not advised to put reverb before dirt, but if you use a reverb type with a shorter decay, such as hall or spring, then set the tone control on the Big Muff to around 60%, you can gradually increase the sustain until you get the perfect blend of spacey saturation that sounds incredibly good for '60s style rock guitar parts. Unlike some fuzz pedals I've previously used, the Opamp Big Muff doesn't produce any noticeable noise issues. Therefore, I've had no issues recording it directly into the preamp on my audio interface.
I believe that this fuzz pedal trumps many others because it's the result of decades of slight tweaks to the original design, which have allowed Electro Harmonix to consider every aspect of its performance. I love its dirty, gritty tone and the fact that it is able to add such intense fuzz to my guitar while retaining an impressive amount of clarity and control. Even though I've been using this stompbox for a while now, I still find myself constantly impressed by the fact that such a compact and easy-to-operate stompbox like this one could have such a powerful arsenal of timeless fuzzy tones. It's the kind of pedal that makes you wonder how you ever coped without it on your board.
Who This is Best Suited For: I think the OP-Amp Big Muff Pi would be a worthy addition to any guitarist's pedalboard, beginner or professional. It's a well-rounded fuzz pedal, which is great for all genres of rock, blues, or country guitar playing. Plus, the incredible tone it packs at a price tag of just $96 makes it a real bargain for anyone who wants to add saturated vintage Billy Corgan-esque fuzz to their arsenal.
Bottom Line: Although it's not crammed with fancy controls, this pedal still produces multiple fuzz tones that sound full-bodied and powerful. You can hear the influence of the original vintage Big Muff pedals from the 70s, but Electro-Harmonix has managed to bring it into the modern era with this sleek stompbox. It carries its complex circuitry legacy, making it more stable than most fuzz pedals. You can put it anywhere on your signal chain, and it'll still sound awesome.
2. Way Huge Swollen Pickle (Best Value)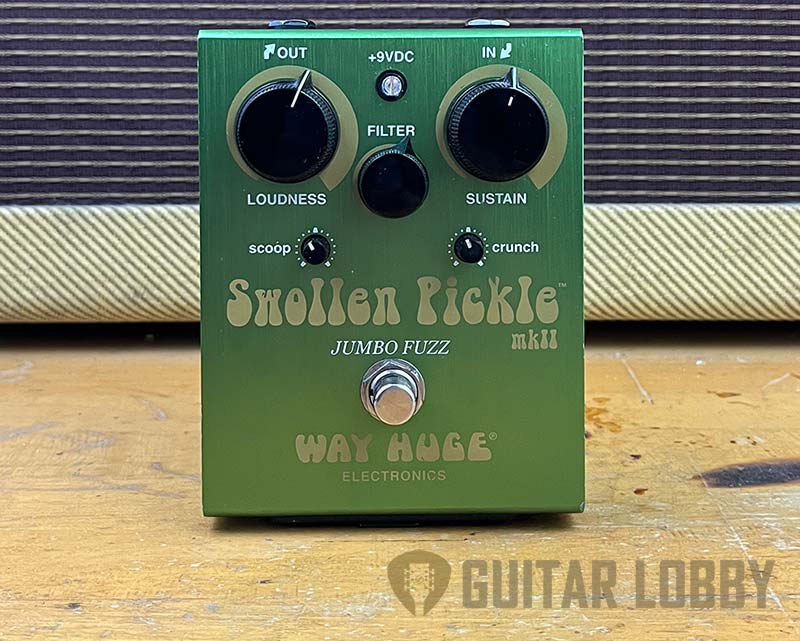 | | |
| --- | --- |
| Estimated Price | $150 |
| Type | Digital |
| Effects | Fuzz, Filter |
| Connectivity | 1 x 1/4″ Input, 1 x 1/4″ Output |
| Power | 9 Volts DC |
My Review: Dunlop's Way Huge Swollen Pickle Jumbo Fuzz MKII may have a slightly bizarre name, but don't let that put you off this pedal. I'd heard many guitarists raving about how good the original was and how disappointed they were when it was discontinued, so I had to get my hands on one when I heard that Dunlop was bringing it back into production. At around $150, it's hard to argue with the value that the Way Huge Swollen Pickle provides, considering just how feature-packed it is. Within a couple of hours of experimenting with the pedal, I knew that it possessed the quality to back up its hype. The first thing that struck me about this pedal was its physical quality. Everything about it feels solid, from the enclosure to the controls and inputs. It's the kind of pedal that I wouldn't be worried about using night after night on tour.
After checking out the specs of the pedal and comparing them to the original, I discovered that the first edition had a standard sustain-filter-loudness layout. In contrast, this reissue has four more controls thrown into the mix, giving significantly expanding its tonal range. The four controls consist of scoop, crunch, and two internal controls under the hood – The clip internal control switches between smooth and open clipping diodes. Meanwhile, the voice internal control works to smoothen out the fuzz's sustain and voice, which decides the level of intensity that the scoop controls perform at. Although this makes the pedal slightly more complicated to use than some of the more simple fuzz pedals I own, once I figured out how these controls impacted the sound of my guitar, I began to value the dominion they gave me over every aspect of the effect.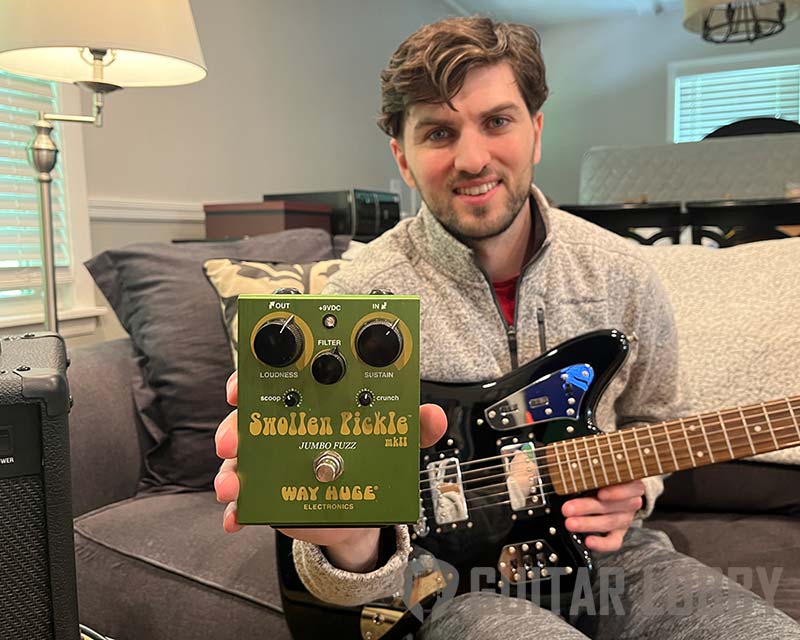 There are many ways that I like to use this pedal to make my guitar tone more interesting, but my preferred method is as follows. I start by setting the "Loudness" and "Sustain" knobs to 60% and 75%, respectively, ensuring that these dynamic settings will allow the fuzz to be heard amongst other instruments in the band. Then, I set the "Scoop" control to just over 25% and leave the "Crunch" set to halfway. These settings provide the foundation for the fuzz effect, which is not too extreme but perfect for adding excitement to your riffs and chords. Next, I use the "Filter" control to gradually alter the frequency output of the pedal. This control is a lot of fun to adjust in real time, particularly when you're ringing out a chord or a note with lots of sustain. The bandpass filter gives a sense of motion to the fuzz effect, making it an excellent tool for psychedelic guitar parts.
Another feature that I like to use frequently is the new scoop tone stack parameter: After taking some time to become accustomed to it, I found that this is essentially a frequency sweep control, which can be used to scoop out some of the mid-range or perform a flat mid-frequency sweep.
Who This is Best Suited For: While I was able to find plenty of usable tones right out of the box, it's not one of those pedals that everyone will like instantly. It's not a plug-and-play pedal and takes some tweaking to unlock its full range of sounds. It also has a lot of controls, so for fuzz-curious beginners, this might be a bit of an overkill. That said, I highly recommend this pedal for guitarists who love to experiment to create individual and unique sounds.
Bottom Line: The Swollen Pickle is undoubtedly one of the most extensive pedals on this list. With an array of adjustable parameters, you can essentially create unique blends of fuzz and filters that are individual to you. It's a flamboyant pedal in terms of appearance, and at $150, I'd say it's easily one of the best fuzz pedals for the money. With the Swollen Pickle, you can create any variation of Fuzz that your mind can conceive.
3. Jim Dunlop Mini Germanium Fuzz Face (Classic Fuzz)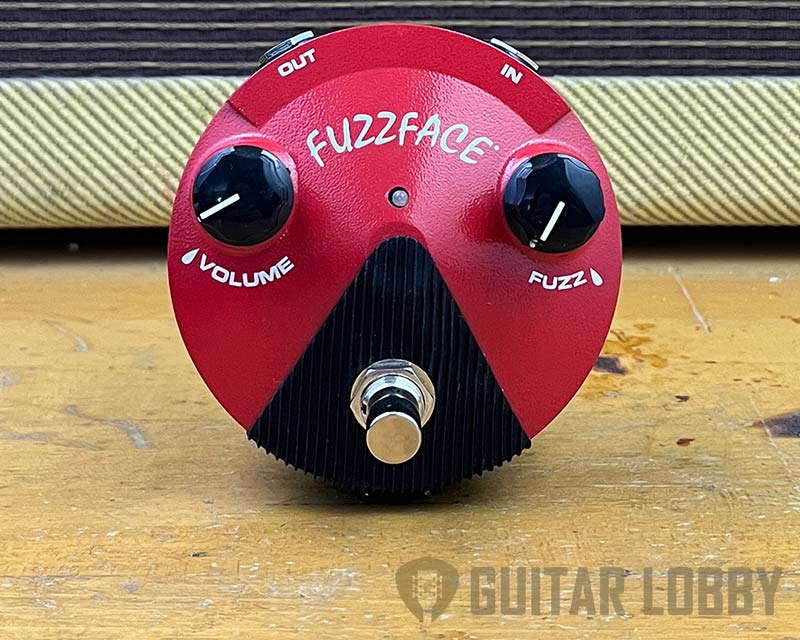 | | |
| --- | --- |
| Estimated Price | $170 |
| Type | Digital |
| Effects | Fuzz |
| Connectivity | 1 x Instrument, 1 x 1/4″ Output |
| Power | 9 Volts DC 3.4mA |
My Review: At the risk of triggering the age-old germanium vs. silicon transistors debate, I bring you my next favorite fuzz pedal: the iconic Fuzz Face. I'm a huge admirer of the way this pedal balances modern functionality with vintage saturation, and I've had the Fuzz Face Mini FFM2 in my collection for quite some time now. Initially, I expected the pedal to lack the power of its larger predecessor, which Jim Dunlop introduced in the 1960s. However, I was pleased to discover that all of the power and character of the germanium fuzz era was still present in this updated stompbox.
Having used an abundance of fuzz pedals over the years, I found myself leaning towards the distinctive sound of a Big Muff, but my experience using the Fuzz Face Mini made me reconsider my preferences. The fuzzy distortion that this pedal produces gives me a harmonic richness that is both unique and versatile. I love to crank up the "Fuzz" control when I'm soloing over an overdriven rhythm guitar part and have found that adding more mids either by using an EQ pedal or the onboard EQ on my amp is an excellent way to get a vintage, warm tone from this pedal.
Another thing that drew me to this Fuzz Face model is that it is based on the 1966-1968 era, which in my opinion, was a golden time for heavy, fuzz-draped guitar tones. This was before the day of silicon, and the slightly unpredictable germanium transistors gave these pedals a unique sound that Jim Dunlop has done a great job of recreating.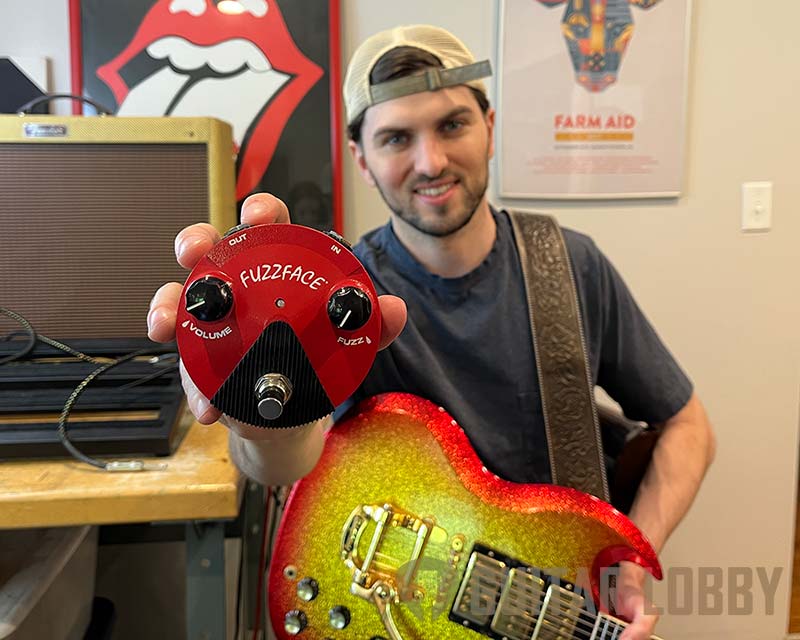 Another noticeable characteristic I've become very fond of when using this pedal is its sensitivity to the input. Rather than just creating a block of saturation as some fuzz pedals do, the Fuzz Face reacts to the volume of my guitar, and this makes me feel more in control of the effect. I like to tweak my volume control to match the heaviness of the song I'm playing, and the fuzz is altered accordingly. Playing around with the volume knob is the key to experiencing the versatility of this pedal. When I crank it up all the way, it provides square-wave distortion that easily nudges my tube amp into break-up territory. By dialing the volume knob in a little, I can scale back the prominence of my guitar in the mix if necessary.
One of my only criticisms of the Fuzz Face Mini is that it doesn't offer you a lot of sound sculpting options, with only two controls. However, it certainly delivers premium-quality fuzz tones, and this makes up for the lack of advanced features. I often use it to make my single-note solos stand out in a busy mix.
Its low input impedance is also the reason why I felt it sounded its best as the first in my signal chain. The circuit isn't as complex as a Big Muff's and tends to get pretty noisy, picking buzz when hit by other pedals. I've found that a Fuzz Face and a Strat or similar solid-body guitar results in an excellent combination.
Who This is Best Suited For: If you're a fan of Jimi Hendrix and want to emulate his range of dynamic tones, this pedal will get you the responsiveness you're looking for. I've never played with a pedal that's as responsive to a guitar's volume as a germanium Fuzz Face. These timeless transistors also make this pedal a real treat for vintage purists. All in all, a compact, good-looking pedal for the authentic 60s warm low-gain fuzz sounds.
Bottom Line: The Jim Dunlop Fuzz Face Mini is a beast. Despite its compact design, it packs quite a punch. The tones this pedal produces a sound like they've come straight from the late 60s, with no artificial undertones marring the authenticity of the sound.
Popular Related Article: 17 Best Distortion Pedals (All Price Ranges)
4. Walrus Eons (Most Versatile)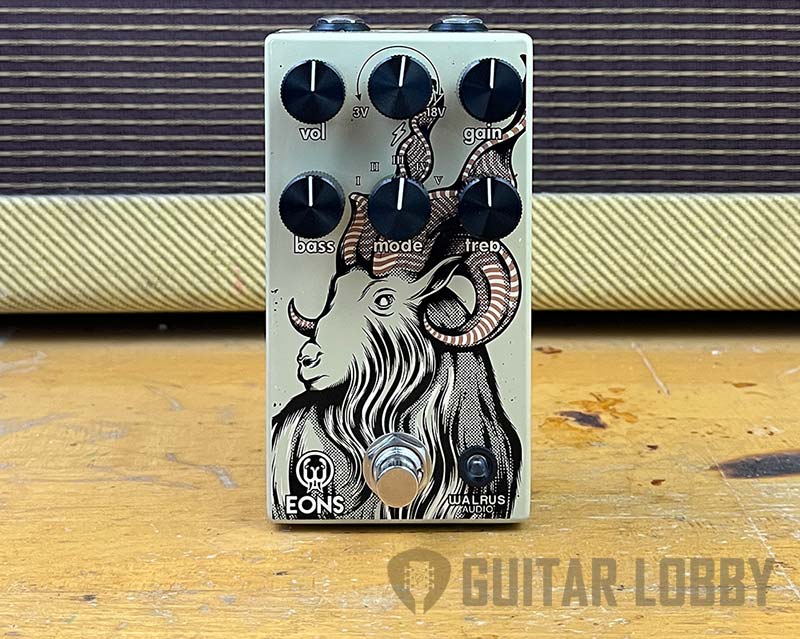 | | |
| --- | --- |
| Estimated Price | $229 |
| Type | Digital |
| Effects | Fuzz |
| Connectivity | 1 x 1/4″ Input, 1 x 1/4″ Output |
| Power | 9 Volt DC 100mA |
My Review: Ever since 2020, when Walrus Audio released their multi-stage overdrive pedal, the Ages, and then followed it up with a multi-stage distortion pedal in 2021, I was very excited to get my hands on these pedals. Then just a few months ago, somewhere in late 2022, Walrus announced completed their impressive dirt pedal series with the Eons – a five-stage fuzz pedal in a compact, eye-catching enclosure.
I found The Eons' design quite similar to its predecessor, with a stage selector mode switch bang in the middle of the pedal surrounded by treble, bass, volume, gain, and a variable voltage switch. I'll share my experience with each of them, starting with the mode switch.
It didn't take me long to figure out that this switch is central to the overall functionality of the pedal. Each mode sounds like an entirely different pedal with varying transistors, clippings, and diodes. The first is a classic fuzz with silicon clipping, well-rounded and smooth; when I moved to the next stage, the fuzz was Big Muff-like, compressed, and crunchier with an extra bass boost for low-end. The next stage, mode 3, is described by Walrus as "what if distortion and fuzz had a kid." I say they are spot on! This germanium clipping mode feels like a hybrid with astonishing clarity and note definition, and for many players, this might be the sweet spot.
After spending a good chunk of time on mode 3, I was ready to explore the remaining two. I found mode 4 to be definitely darker with a higher-end cut thanks to the LED clipping diodes. If you're looking to tame your bright-sounding guitars or amps, this mode is a great place to start. The last mode on the block is downright the rowdiest, angriest, with heaps of gain fueled by hard-clipping silicon transistors and a combination of silicon and LED soft-clipping diodes. If you ask me, my current favorites are modes 2 and 4.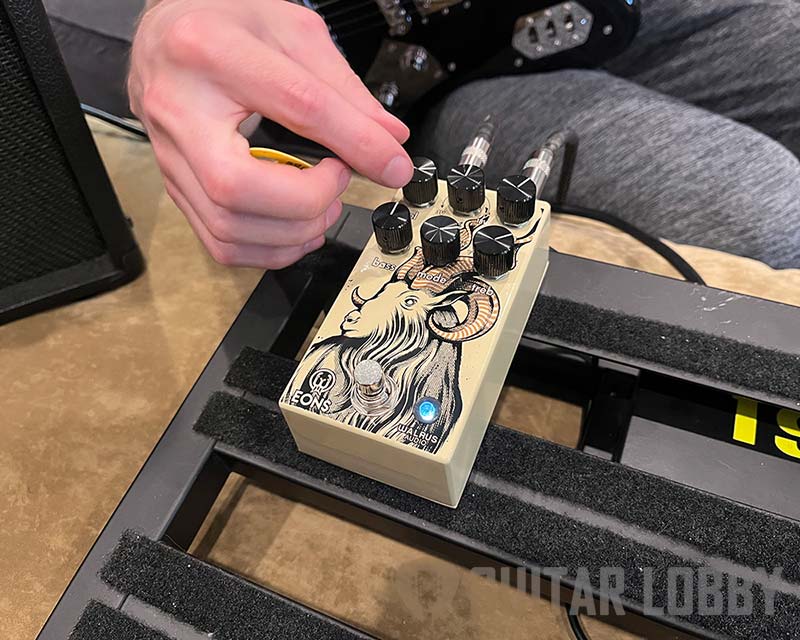 One of my favorite things about this pedal is how extensive it is. I'm still discovering different ways that the five fuzz flavors let you tap into a tremendous amount of sonic versatility, especially when combined with the variable voltage feature. The variable voltage knob is the one with the lightning bolt sign under it, and this is my favorite feature of this pedal. It comes into play once you're done deciding the mode and have adjusted the bass, treble, and gain. By tweaking the voltage knob, you can dial in your ideal fuzz, from gated, sputtery Velcro fuzz at 3V to a full, biting, open sound by cranking the voltage to 18V.
The Eons lacks a blend knob, which was a feature I enjoyed in the Ages and the Eras, but this is the only minor complaint I have. On the whole, this stompbox remains flawless in its performance. Over the past few months, it's proved to be an exciting and versatile addition to my pedal collection, and I plan to use it both in the studio and on the stage going forwards.
Who This is Best Suited For: Because it's so functional and versatile, it's impossible to narrow down to just one set of people who'll benefit from the Eons. Let's just say anyone who loves heavy, intense fuzz tones and want plenty of them at their disposal should add the pedal to their rig.
The five stages rotary knob paired with the voltage knob gives you endless fuzz styles. What's more, the Eons compact build will save space on your pedalboard, while the quirky animal artwork makes it stand out.
Bottom Line: Walrus' Eons gets my vote for being one of the most versatile fuzz pedals I've ever tried. The thing is that, unlike overdrive and gain, finding the perfect fuzz flavor can be a little tricky. With five state modes made up of various combinations of silicon, germanium, and LED clipping configurations, the Eons is one of the most functional fuzz pedals out there. The voltage starving feature is an added bonus that lets you change the fuzzy quotient of each mode. From splatty, Jack White-like gated fuzz reminiscent to chaotic to crushing fuzz sounds, this pedal will take you wherever you want to go. If you're looking for a pedal that's super versatile, this might just be the best fuzz pedal for you.
5. Wampler Velvet Fuzz (Best Boutique Fuzz Pedal)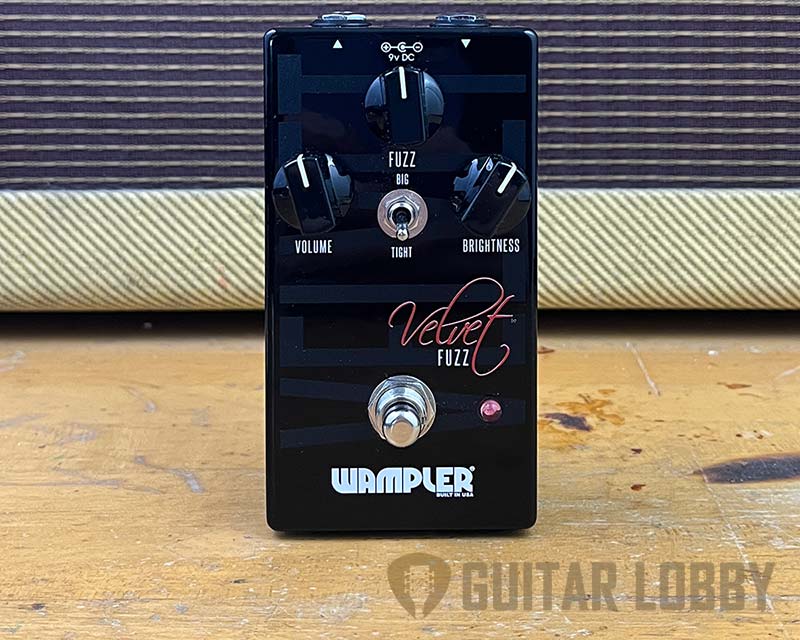 | | |
| --- | --- |
| Estimated Price | $200 |
| Type | Analog |
| Effects | Fuzz |
| Connectivity | 1 x 1/4″ Input, 1 x 1/4″ Output |
| Power | 9 Volts DC 23mA |
My Review: There are certain fuzz pedals that can make even the simplest of guitar riffs sound interesting and epic, like the Wampler Velvet Fuzz. This pedal has a deceptively minimalistic control layout, but once you start to experiment with the combinations of settings, you'll experience its undeniable versatility. I like to use it when I'm playing solos that include long, drawn-out notes with lots of sustain, as it adds perfect saturation and color to the tone.
The Velvet Fuzz is quintessentially Wampler offering a vast range of usable fuzz tones out of a sleek, gorgeous housing. I like the simplicity of this pedal's control layout – there are three knobs on this pedal to hone the sound: fuzz, volume, and brightness, which is pretty standard and reminiscent of the Big Muff's design. Fuzz is a pretty straightforward effect, and therefore I find it refreshing that Wampler has avoided overcomplicating the design of this pedal.
The thing that sets this pedal apart from the majority of fuzz pedals out there is the Big/Tight toggle switch. This feature allows me to tap into two independent clipping modes, opening up plenty of new sounds to play with. I've found that the "Big" setting is perfect for fat, bluesy riffs in the lower registers, while the "Tight" mode is an excellent option when I'm recording directly into my audio interface and need to keep the dynamics more consistent to make the mixing process easier.
I was impressed by the way that Wampler has managed to deliver on its promise and accurately emulate the vintage '60s fuzz sound of the EL34-driven Marshall stack. Many pedals make claims like this and fall short, so it's refreshing for me to use one that has achieved what it set out to do!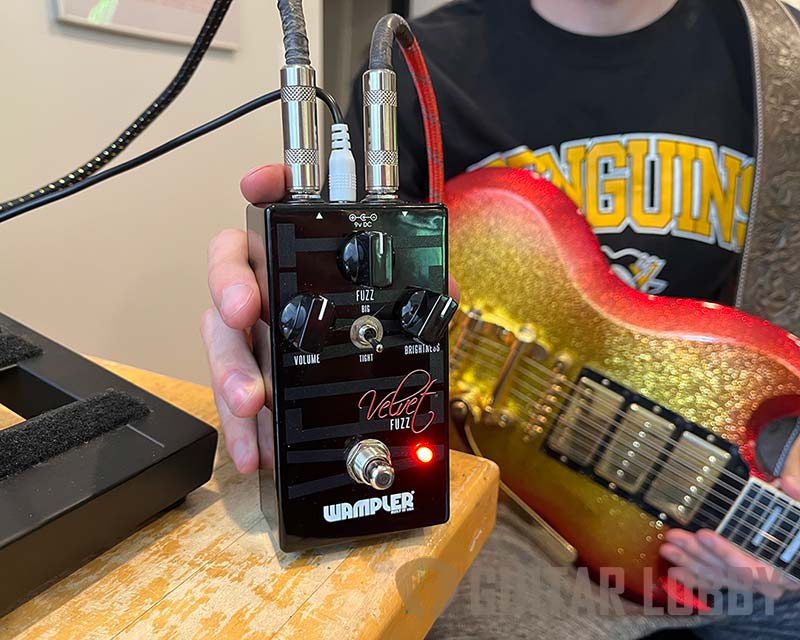 I've experimented with placing this pedal in different positions in the signal chain and have been impressed by its versatility in this regard. My favorite position is just after my dynamic and filter pedals, before modulation. This allows me to use the Velvet to produce creamy textures, which make my riffs and solos stand out.
Who This is Best Suited For: Wampler Velvet Fuzz is tailor-made for guitar players who are used to distortion pedals but want to venture into the fuzz world. It's especially great for those who play with clean amps and don't want the unpredictable fuzz sounds to get in the way. For straight-up, untamed fuzzy tones, flip the switch to Big and Tight if you're looking for distortion-leaning fuzz tones with no side effects.
Honestly, I couldn't decide which setting I liked more, Big or Tight, and it depends on your rig (guitar, amp, and pedal stack) and the tunes you're planning on playing.
Bottom Line: True to its name, Velvet Fuzz delivers smooth, velvety, fuzzy tones with the option to choose between pure fuzz and fuzz distortion courtesy of the two independent clipping circuits. Since its launch, this pedal has been hailed for its consistent performance and versatility, allowing players to tap into the tones of legends like Jimi Hendrix, David Gilmour, and Eric Johnson. If the mainstream buzzy fuzz tones are not your jam and all you want are classic fuzz tones, this might be the pedal you've been looking for.
6. JHS 3 Series Fuzz (High Quality and Affordable)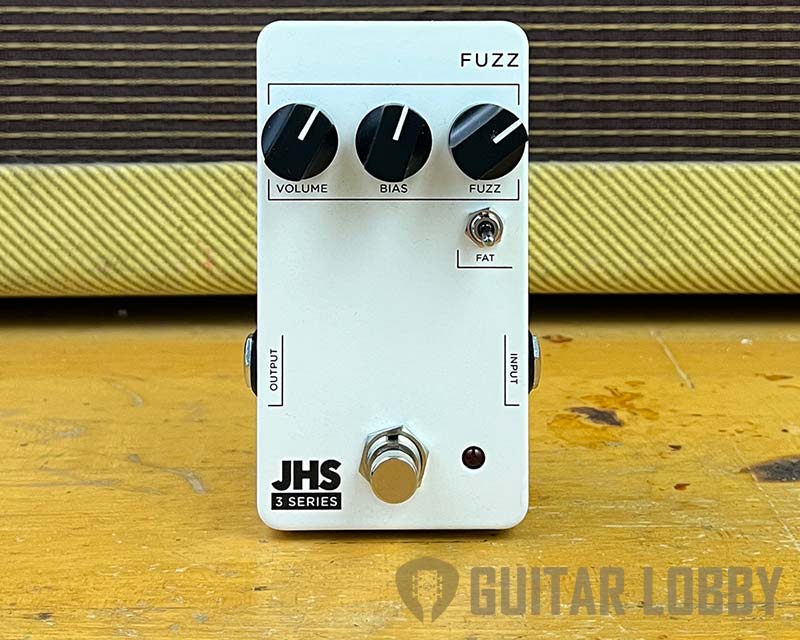 | | |
| --- | --- |
| Estimated Price | $99 |
| Type | Digital |
| Effects | Fuzz |
| Connectivity | 1 x 1/4″ Input, 1 x 1/4″ Output |
| Power | 9 Volts DC 9mA |
My Review: JHS is a prolific manufacturer of reliable and affordable pedals, and I've used many of the brand's devices over the years. When I incorporated the JHS 3 Series Fuzz into my signal chain, I was anticipating great things, and thankfully I wasn't disappointed.
In terms of looks and layout, I like that the 3 Series Fuzz twins with the others in the series with its simple white canvas, sort of a design reflective of the brand's focus on keeping its gear simple but functional. The fact that it's blank without any artwork worked in the pedal's favor, making it stand out on my pedalboard.
Another thing I like about the unit is that it features four simple yet intuitive controls like the rest of the pedals in the series. The "Bias" control is the feature I use the most to tweak the sound of the pedal, and then I add the volume and fuzz into the signal until I achieve my desired tone. Turning the bias up instantly transforms the pedal into glitchy saturation that borders on digital clipping. Furthermore, when I need to reduce the noise, I dial this control down to achieve a cleaner, more penetrative fuzz sound. The bias feature works by starving the voltage, so the output becomes more unpredictable when you boost it.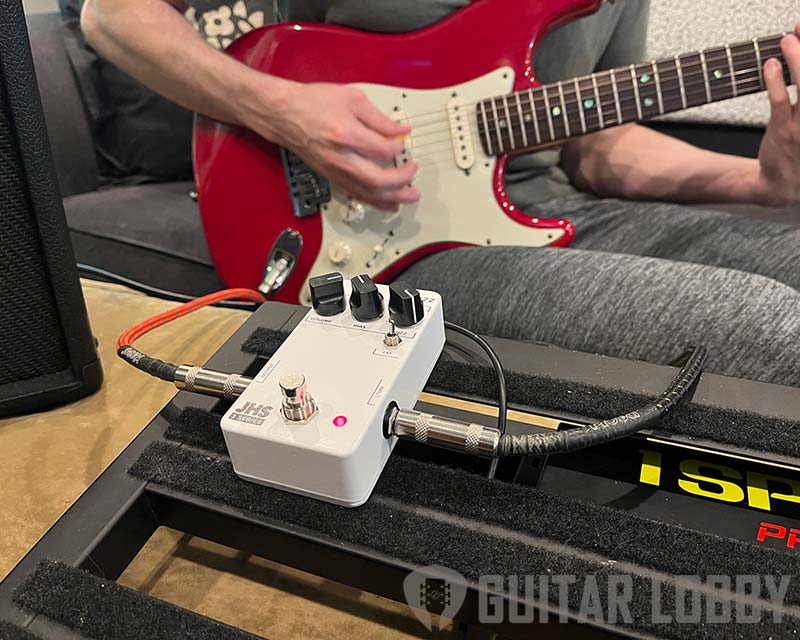 For me, this pedal's fuzz tones and sweeping bias worked as well for heavy grunge chord patterns, along with singing leads and everything in between. Also, unlike most classic fuzz pedals, the fuzz knob is usable across its range. My only slight criticism of this pedal is the clean-up. It doesn't interact with the volume knob on my guitar as well as some other pedals, but it makes up for this through the array of interesting fuzz tones I can get from tweaking the three onboard controls.
Another noteworthy feature is the "Fat" toggle, which I like to keep on most of the time to beef up the low end, but I turn it off when I need a thinner tone for lo-fi riffs and licks. Another thing I like about this is its compatibility with my wah pedal, which is a game-changer when I'm shredding out solos.
Who This is Best Suited For: Priced at just $99, this pedal is for anyone who appreciates a good value and doesn't mind the no-frills aesthetics. Sound-wise, growling grunge and soaring solos, it's all here. The bias knob opens up a wide library of sounds, giving you a gated, cutting fuzz the more you dial it up. If you're looking for a Big Muff sound, this might not be it. It sits somewhere in the middle of Big Muff and glitchy, unpredictable fuzz mayhem. You can get unruly classic fuzz as well as sputtery velcro rips out of this one.
Bottom Line: Understated looks with high usability, minus the gimmicky bells and whistles, is the best way to describe this pedal. It is compact and stripped down, but an enormous amount of attention to detail has gone into building it. With its highly-interactive controls and a fat toggle switch, the JHS Series 3 Fuzz serves you a wide range of vintage as well as modern tones with great voicing at half the price of what you'd typically shell out for something like this!
7. Dunlop MXR Slash Octave Fuzz (Best Octave Fuzz)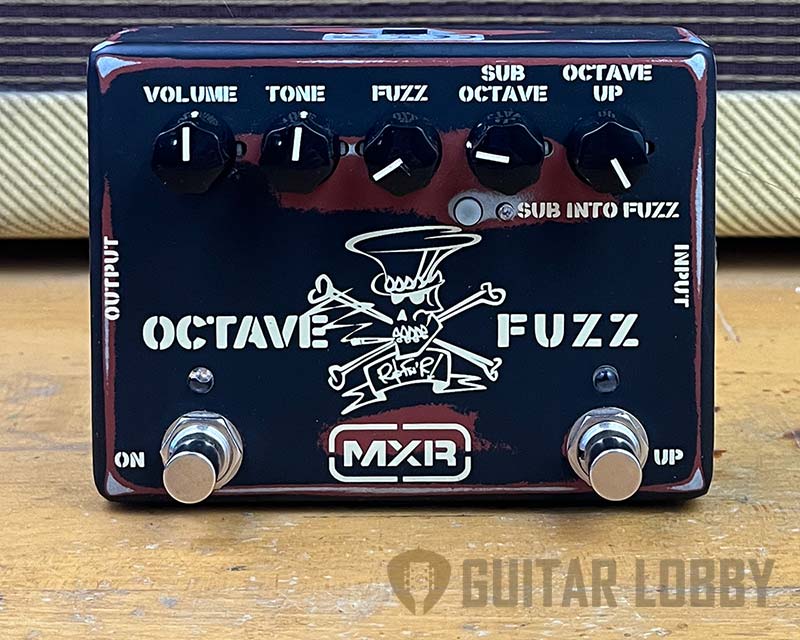 | | |
| --- | --- |
| Estimated Price | $170 |
| Type | Analog |
| Effects | Octave Fuzz |
| Connectivity | 1 x 1/4″ Input, 1 x 1/4″ Output |
| Power | 9 Volts DC 17mA |
My Review: Although fuzz is an effect that I'd commonly associated with Guns n' Roses guitarist Slash, I was intrigued by the prospect of checking out this pedal after hearing his use of the effect in his 2012 album Apocalyptic Love.
This pedal initially caught my attention with its unique aesthetics. Slash's signature skull logo is printed on the front, and the edgy appearance of this pedal sets it apart from most MXR stompboxes. However, appearances can be deceiving, and I was more interested in how this pedal sounds. Initially, I struggled to balance obliterating my guitar's signal and keeping its natural tone. Thankfully, after jamming with the pedal for a few hours, I discovered the key to this pedal's fuzz capabilities – the "Octave Up" control. Adding the higher octave into the mix allows my guitar parts to be elevated above the muddy frequencies occupied by the bass guitar and drums, and this is perfect when you really need to stand out for a solo.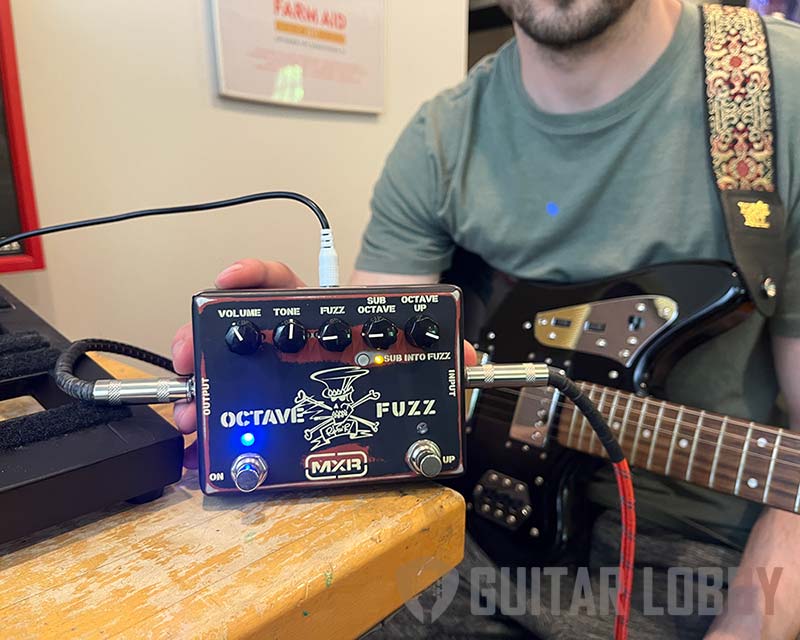 Another way I like to use this pedal is by hitting the "sub into fuzz" switch when I want to go from a dry voice to a thick '70s-style, slightly over-the-top fuzz that can then be tamed a little using the other controls. This feature is my favorite part about this pedal; it gets me into the aggressive fuzz zone that's perfect for powerful riffs and chunky melodies.
Fuzz pedals are notorious for drowning the sound of a guitar in a live band setting, but I haven't found this to be the case when using this stompbox. It's got an accentuated mid-range that helps take your riffs and solos to every ear around, which I guess is one of the perks of getting creative inputs from a legendary guitarist like Slash. If the tone gets a bit too brash for your liking, you can always tweak it with the tone and fuzz control knobs.
In my experience, I'd recommend putting your octave fuzz pedal as close to the beginning of your signal chain as possible for the best sound and a clear signal. Other than that, make sure you experiment a lot, as this one has a bit of a learning curve. Messing around with the octave effects is serious fun once you've got the hang of it, and it's allowed me to create some awesome fuzzy tones that I'll continue to use in the future.
Who This is Best Suited For: If you play on-stage with your band and dig monstrous fuzz tones, this pedal is perfect for you. It's a good representation of Slash's edginess and grittiness in looks and sound. It's pretty versatile with lots of character and particularly great for riffing. Not in the mood for octave fuzz tones? Just turn the octave effects off and use this as your regular fuzz stompbox.
Like Swollen Pickle Jumbo Fuzz, this pedal demands a bit of patience to unlock its potential. When it first arrived, I found it easy to tweak the mains, but cracking the octave effects took time. It's chock-full of features and controls and would be more suited to seasoned guitarists who can work their way around the knobs to find the tones they love.
Bottom Line: The MXR Slash Octave Fuzz pedal is angry, gritty, and growly, but in a musical way. If you're on the hunt for a good octave fuzz pedal, you'll be hard-pressed to find an octave pedal that has as many features and sounds this good. While most octave fuzz pedals in the market only provide an octave-up option, this formidable fuzz machine lets you tap into sub-octaves as well.
Name of Product
Image of Product
Description
Price Range
Full Review
1. Electro-Harmonix OP-Amp Big Muff Pi Fuzz Pedal (Editor's Choice)
Type: Analog
Effects: Fuzz
$100
Read Full Review Above
2. Way Huge Swollen Pickle (Best Value)
Type: Digital
Effects: Fuzz, Filter
$150
Read Full Review Above
3. Jim Dunlop Mini Germanium Fuzz Face (Classic Fuzz)
Type: Digital
Effects: Fuzz
$170
Read Full Review Above
4. Walrus Eons (Most Versatile)
Type: Digital
Effects: Fuzz
$229
Read Full Review Above
5. Wampler Velvet Fuzz (Best Boutique Fuzz Pedal)
Type: Analog
Effects: Fuzz
$200
Read Full Review Above
6. JHS 3 Series Fuzz (High Quality and Affordable)
Type: Digital
Effects: Fuzz
$99
Read Full Review Above
7. Dunlop MXR Slash Octave Fuzz (Best Octave Fuzz)
Type: Analog
Effects: Fuzz, Octave
$170
Read Full Review Above
Choosing the Right Fuzz Pedal (Factors to Consider)
Although fuzz was initially produced to imitate the tones produced by a tube amplifier that has been pushed to its limits, the effect has developed its unique array of sounds. Most guitarists know that fuzz is an extreme variation of distortion utilized by some of the greatest guitarists in rock history over the past half-century or so. But before deciding on which fuzz pedal would best suit your needs, it's important to understand the basic principles of this guitar effect. In the remainder of this comprehensive article, I'll provide you with all of the information you need to make a calculated decision and learn how to use a fuzz pedal for maximum effect.
The Different Transistors in Fuzz Pedals
In my opinion, there are few better sounds in music than a broken, warm, and fuzzy guitar tone. There's something about this effect that adds attitude and character to the sound of an electric guitar. Unlike some effects, fuzz can be used in many different ways to achieve varying results. One of the main influencing factors on a fuzz pedal's sound is the type of transistor that is used. The two options are germanium or silicon transistors. Let's take a look at their differences.
Before I get into comparing the two types of transistors used in a fuzz pedal, let me remind you that it's completely subjective. As with all guitar tones and effects, it all comes down to personal preference. Hopefully, after reading this comparison between germanium and silicon, you'll have a better understanding of which fuzz pedals produce the results you desire and which ones you should probably avoid.
Germanium Transistors
If we go back to the most primitive fuzz pedals, they all used germanium transistors. This is the reason that music purists still rave about the sound this type of pedal produces. To generalize, the tone produced by fuzz pedals with germanium transistors is warmer and more full-bodied. The mid-range frequency response is particularly powerful with these pedals. They are also more responsive to the human elements of your playing, like picking or strumming velocity and individual style.
Due to them being constructed to closely resemble the fuzz produced by a broken old amp that was cranked up, germanium transistor-based pedals have a vintage and authentic sound. They are also very compatible with the volume and tone knobs on a guitar which can be used to reduce the harshness of the effect or boost its presence.
Those are the good qualities of germanium transistors, but what about the downsides? Well, one of the main cons is that they are influenced by changes in temperature. For example, if you were playing a gig in a humid club or practicing in a small, hot rehearsal space, the pedal's sound would change. If you were playing an outdoor show in the colder months, it would be completely different again. Because germanium transistors are also known to hold an electrical charge, this can make the performance fluctuate even more. This sonic inconsistency can be frustrating for guitarists who need a reliable tone for every show.
Silicon Transistors
The alternative to germanium is known as silicon transistors. Originally developed to be a more reliable option, silicon varieties are generally more consistent than their germanium counterparts. They're much easier to produce, and this is reflected by their lower price range.
In terms of sound, silicon transistors produce a bright fuzzy effect that focuses more on the higher frequencies rather than the mid-range. This makes them more effective at cutting through the mix and making the guitar stand out among the other instruments in the band. Silicon transistors also produce more gain, resulting in an abundance of power. Most of the fuzz pedals produced today use silicon transistors rather than germanium due to their increased reliability and how much easier they are to produce.
Germanium vs. Silicon – The Final Verdict
Germanium transistors are the favored option among lovers of vintage fuzz. Here's a breakdown of their main characteristics
Authentic, vintage fuzz sound based on cranked tube amps
More presence in the mid-range frequencies
Can be controlled using the volume knob on a guitar
Inconsistent sound
Affected by temperature changes
On the other hand, silicon transistors are more popularly produced today due to their reliability. The main characteristics of these pedals are
Produce more gain to cut through the mix
More presence in the top-end frequencies
Easier to produce
More affordable
Unaffected by temperature changes
Fuzz vs. Distortion vs. Overdrive The Differences
Technically speaking, fuzz and overdrive are variations of the effect known as distortion. Although these three effects all fall under the same umbrella, there are notable differences between them all. Some guitarists will use a combination of these three effects, especially when playing heavier genres such as hard rock, garage rock, or metal. It's important to understand the differences between these three types of effects pedals and the results they can achieve.
As I touched upon earlier in this article, fuzz is the most extreme version of distortion. By taking the input signal of your guitar and causing it to clip very heard, a square-wave is created. The distortion is compressed heavily to produce a powerful and cutting tone. Fuzz is a form of saturation, which is where it gets its name. The guitar is saturated until there is a "fuzzy" layer to it. Another characteristic of fuzz is its generous amount of sustain. Although fuzz was originally made to replicate the broken sound of a cranked tube amp, in the pedal form, it produces a more artificial tone than distortion or overdrive. Due to the hard clipping, fuzz doesn't lend itself too well to chords or multiple notes but sounds great with a riff or guitar solo.
Many guitarists get confused by distortion because, as I stated previously, it is technically the umbrella term for these three effects. But when talking about effects pedals, distortion is better understood as an individual effect that is different from fuzz or overdrive. When compared to overdrive, distortion pedals are usually more aggressive sounding. The original guitar tone is transformed into a completely different animal, with more grit and bite. One of the main things you'll notice about distortion is that it makes no difference how soft or hard you play the guitar. The signal is compressed until hard clipping occurs, admittedly in a less extreme way than fuzz, but still enough to create a heavy and dark tone that is full of power.
Finally, overdrive is the less extreme of these three effects. Overdrive pedals were invented to recreate the sound of the valves being driven to the point of distortion without having to splash out on a genuine tube amp. Unlike distortion, the overdrive effect responds to the touch and velocity of your guitar playing. Instead of hard clipping, the audio, like fuzz or distortion does, overdrive causes soft clipping, which is much less extreme. These pedals are ideal for blues, country, and rock guitarists to add a little bit of authentic-sounding warmth to their tone.
The Common Parameters and Controls on a Fuzz Pedal
Here are some controls that are present on the majority of fuzz pedals
Gain
Volume
Tone
Gate
Bias
Gain controls are featured on pretty much all varieties of fuzz pedals. This parameter adjusts the amount of fuzz that is present in your mix. If you were to crank the gain control all the way, the result would be a heavily saturated, hard clipping output with a good amount of sustain.
The volume control is pretty self-explanatory but an important feature nonetheless. Tweaking the volume of the pedal is a great way to ensure that you don't come in too loud when the effect is in use and can be used to balance your dynamics with the rest of your band. When using a geranium transistor-based fuzz pedal, you can use the volume control on your guitar for the same function.
Another common parameter on fuzz pedals is tone control. This provides a straightforward way to filter out certain frequencies or to boost the presence of the lows, mids, or high-end frequencies. Think of the tone control as a simple EQ. By adding a little bit more mid-tones into your fuzz pedal output, it is more likely to cut cleanly through the mix and stand out among the other instruments. Some more expensive fuzz pedals may have multiple tone controls, and they are sometimes labeled as balance or body instead.
Some fuzz pedals also have the addition of gate control. This provides a way to reign in some of the more extreme elements of the fuzz through the use of a noise gate that affects the voltage within the pedal. Alternatively, gates sometimes create an entirely different circuit to achieve this result. By creating a ceiling, the gate then allows the sound to pass through at a specific volume, much like a compressor. There are many options when it comes to gate controls, and the effects produced can be wild and wonderful.
Finally, although featured on fuzz pedals less frequently than the aforementioned controls, bias is still worth mentioning. It's particularly popular on a germanium transistor-based fuzz pedals, as it balances out the inconsistencies and temperature variations. It works by creating balance when the fuzz pedal starts to distort and completely alters the tone that's produced by the pedal.
Combining Fuzz with Other Effects
Over the years, guitarists have combined fuzz pedals with a multitude of other effects to create unique and interesting tones. The great thing about "dirt" effects like fuzz, overdrive, and distortion is that they are compatible with timing-based effects like reverb or delay and filter effects like a wah-wah pedal.
Some multi-effects pedals will include fuzz, but the quality will likely be lesser than a pedal that is exclusively dedicated to that effect. One of the most fun aspects of setting up your pedalboard is experimenting with different mixtures of effects to find some interesting tones that might end up being your signature sound!
Positioning a Fuzz Pedal in Your Signal Chain
When you've chosen your chosen fuzz pedal, then the debate of where to place it in your signal chain arises. This is especially important if you have a pedalboard that is stacked with effects pedals. The placing of certain pedals will have a large impact on their performance, and if not considered, you could end up with unwanted sounds being created.
Let me start by saying that there's no set-in-stone, right or incorrect answer to this question. Sometimes, I've stumbled across the most interesting guitar tones by accidentally doing things in a way that most musicians would consider being "incorrect." That being said, if you [place a fuzz pedal at the end of your signal chain, every other pedal is going to be impacted by it. This would lead to harsh tones and overall messy output. Placing the fuzz pedal closer to the start of the signal chain – preferably after any compressors or dynamic-altering pedals, you will get the cleanest fuzz possible which other effects can then be added to.
Dual Amplifiers and Fuzz Pedals
Using dual amplifiers is a common tactic used by guitarists who want to thicken up their sound. Perhaps you're in a two-piece garage rock band or a three-piece with only one guitarist, and you would like to keep the full-bodied tone of your guitar when using your effects.
Some of the fuzz pedals on the earlier presented list include the two outputs which can be used to split the signal. This means you can send the FX channel into one amplifier while the clean tone of your guitar is sent to another.
The result is that you preserve your clean tone, and it keeps playing underneath the affected signal. So you could have extreme fuzz coming out of one amplifier while the other amp plays the natural clean tone of your Gibson SG, as an example.
Recording a Fuzz Pedal D.I or Amp?
One of the main reasons a fuzz pedal, or any effects pedal for that matter, is such a worthy investment is because they make equally useful tools in the recording studio as they do on the stage. Indeed, with the rise of VST plugins, it's become less necessary to use pedals when recording guitars, but I've found that you can produce some really interesting tones by running your guitar through a fuzz pedal straight into the direct input of your audio interface.
The great thing about doing it this way rather than recording through an amplifier is that the signal is completely clean before it is subjected to the fuzz, so you hear every small detail when the effect is applied. You can then tweak the EQ or add some other processing to the recording afterward in your preferred DAW.
Using Fuzz on Vocals
If you use your fuzz pedal with a feedback eliminator, it's possible to create some interesting vocal effects. Distortion has been used on vocals for decades due to its ability to make the track sound rough and ready. Fuzz takes this to a whole other level!
Combining Fuzz with Reverb or Delay
In my opinion, there are few better effect combinations than fuzz mixed with ambient pedals like reverb or delay. The combination of dirt and space has long been used by guitarists across all genres, because the ambient effects soften the distorted signal and give it a fuller sound.
Many musicians achieve their signature sounds by setting up pedals in the "wrong" order when it comes to fuzz and reverb. By positioning the reverb pedal before the fuzz in his signal chain, the sounds of a guitar have a unique dreamy quality.
Experimenting with fuzz pedals, reverb, and delay is a lot of fun. The only way to find the sound you desire is by messing around with the various parameters and, in the process, figuring out what the combinations produce.
Power Requirements
Many fuzz pedals can be powered by 9V batteries. It's always wise to have new batteries inside the pedal before playing a show, even if you have it plugged into a power supply. If, for some reason the power supply cuts out, the pedal will stay on, and you won't be muted!
Almost all of the aforementioned distortion pedals require 9V DC power. Some of the pedals come with their specific power supplies, but some are sold separately by the manufacturer.
How Fuzz pedals Came to Be:
Fuzz, like many of the most commonly used guitar effects, was discovered accidentally. In 1960, a Nashville recording engineer called Glenn Snoddy was recording a bass solo through a tube mixer. He became intrigued by the strange fuzzy tone that was being produced and chose to keep it in the otherwise toned-down country production by Marty Robbins.
When the song was released, it became a great success, thanks largely to people's interest in the short-lasting fuzzy bass solo. Glenn Snoddy then went on a mission to find a way to recreate the effect and make it available to musicians and producers in the studio.
Around the same time, a musician and audio technician by the name of Orville Rhodes was busy developing the first-ever fuzz circuit to be used in recording studios. The two discoveries were eventually condensed into the first-ever fuzz pedal, which was known as the "Fuzz-Tone" and was produced by Maestro, a sister company of guitar heavyweights Gibson. Over the next few years, British guitarists like Keith Richards, Pete Townsend, and Jimmy Page added fuzz pedals to their rig, hugely impacting the sound and direction of rock n roll music.
Fast forward to today, and fuzz has been used across just about every genre of music you can imagine. It became a staple sound of the lo-fi garage rock revival of the early 2000s and has been used in multiple hip-hop and electronic productions since it became more readily available with the invention of VST plugins and DAWs.
Conclusion:
Fuzz is one of the most used pedals on guitars, and as a result, there are a plethora of options out there for you to choose from. With many manufacturers emerging every year, it's imperative to do some research on the quality of their previous pedals to make the right decision.
The pedals listed in this article are all from well-known brands and, in my opinion, are all built to a high standard. Also, to make sure this review actually adds value to your fuzz shopping, every pedal on this list was bought and thoroughly tested. Some classic-inspired pedals like the Op-Amp Big Muff Pi, the Mini Germanium Fuzz Face, and Way Huge Swollen Pickle Jumbo Fuzz have been a part of my pedal board for quite some time. Meanwhile, boutique pedals like Walrus Eons were recent additions to my rig.
Hopefully, after reading this comprehensive guide, you've learned everything you need to know about fuzz and can now choose which of the options will give you the tones you're looking for.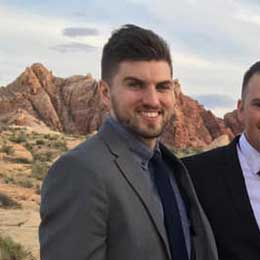 My name is Chris and I've had a passion for music and guitars for as long as I can remember. I started this website with some of my friends who are musicians, music teachers, gear heads, and music enthusiasts so we could provide high-quality guitar and music-related content.
I've been playing guitar since I was 13 years old and am an avid collector. Amps, pedals, guitars, bass, drums, microphones, studio, and recording gear, I love it all.
I was born and raised in Western Pennsylvania. My background is in Electrical Engineering, earning a Bachelor's degree from Youngstown State University. With my engineering experience, I've developed as a designer of guitar amplifiers and effects. A true passion of mine, I've designed, built, and repaired a wide range of guitar amps and electronics. Here at the Guitar Lobby, our aim is to share our passion for Music and gear with the rest of the music community.