As a guitarist, the pedals you choose to put on your pedalboard will determine the styles, tones, and options that you have at your disposal. Selecting specific combinations of effects that complement each other is of paramount importance when it comes to sculpting your sound.
What's so special about fuzz pedals? One of the most dramatic and powerful effects you can add to your guitar rig, fuzz has the potential to blow the mind of everyone in the audience. Whether you need to thicken up your sound for a chorus, or you want to make your guitar sound like it's been set on fire, fuzz is the key. On top of that, it's also a useful tool to have in the recording studio.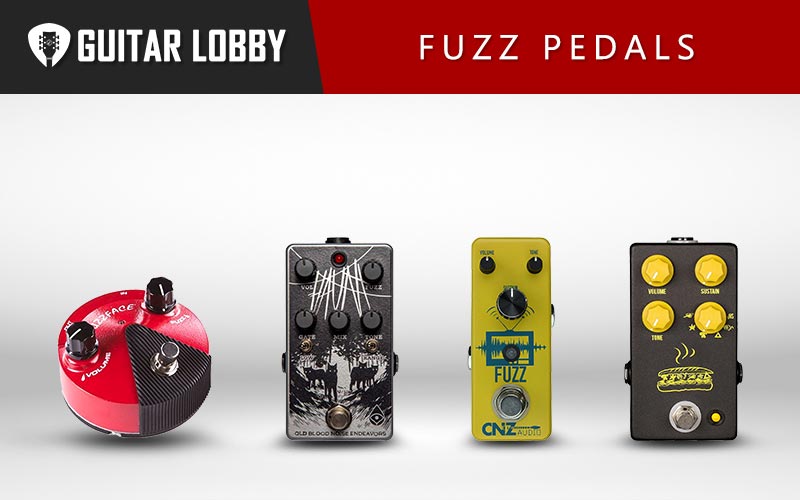 These pedals vary greatly in terms of their capabilities, parameters, and functions, so I've included options on this list for every genre and style of guitar playing. Keep reading to find the perfect option for you, so you can start producing mind-blowing fuzzy riffs in no time.
I'll start this article by jumping straight into reviews on the best fuzz pedals at each price point, but if you want to learn more about fuzz pedals before reading reviews, check out our buying guide at the bottom of the page here.
Here Are the Best Fuzz Pedals
1. Electro-Harmonix OP-Amp Big Muff Pi Fuzz Pedal (Editor's Choice)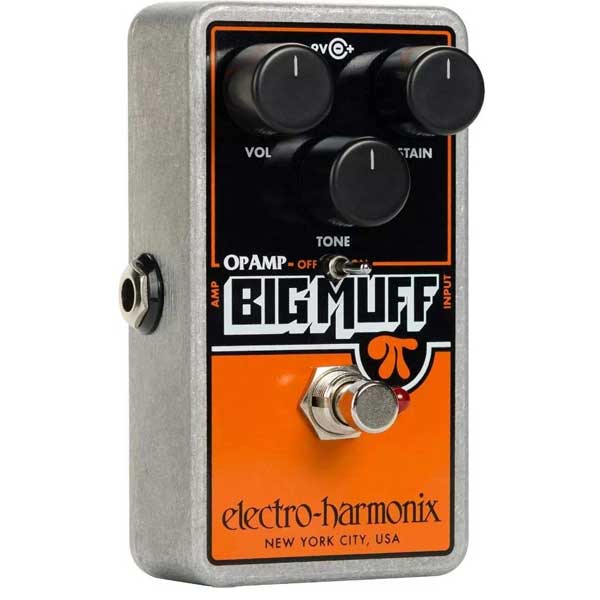 | | |
| --- | --- |
| Estimated Price | $110 |
| Type | Digital |
| Effects | Fuzz |
| Connectivity | 1 x 6.35mm Jack Input, 1 x Outputs |
| Power | 9 Volt |
My Review: To start off our list we have the OP-Amp Big Muff Pi by renowned FX manufacturers Electro-Harmonix. This pedal was created to provide guitarists with all of the best aspects of the legendary original OP-Amp Big Muffs from the late 1970s. With a recreated circuitry, newly added die-cast chassis, and true bypass switching, Electro-Harmonix has succeeded in their endeavor.
Instead of relying on transistors with three gain stages like the majority of fuzz pedals, the OP-Amp Big Muff Pi uses op-amps to create its distinctive tone. The result is a huge, crushing sound that is perfect for heavy lead lines or stomping guitar riffs. There are three controls on the face of the pedal; Tone, Sustain, and Volume. This minimalistic design makes it easy to familiarize yourself with.
The main reason I've chosen the Electro-Harmonix OP-Amp Big Muff Pi as the standout fuzz pedal on this list is the quality of tone it produces. It's hard to believe that such a concise and minimalistic stompbox could have such a powerful arsenal of sounds, but somehow its quality is greater than the competition. It's the kind of pedal that makes you wonder how you ever coped without it on your board.
Who This is Best Suited For: The OP-Amp Big Muff Pi would be a worthy addition to any guitarist's pedalboard. It's a well-rounded fuzz pedal, which is great for all genres of rock, blues, or country guitar playing.
Bottom Line: Although it's not crammed with fancy controls, this pedal still manages to produce multiple fuzz tones that sound full-bodied and powerful. You can hear the influence of the original vintage Big Muff pedals from the 70s, but Electro-Harmonix has managed to bring it into the modern era with this sleek stompbox.
2. Way Huge Swollen Pickle (Best Value)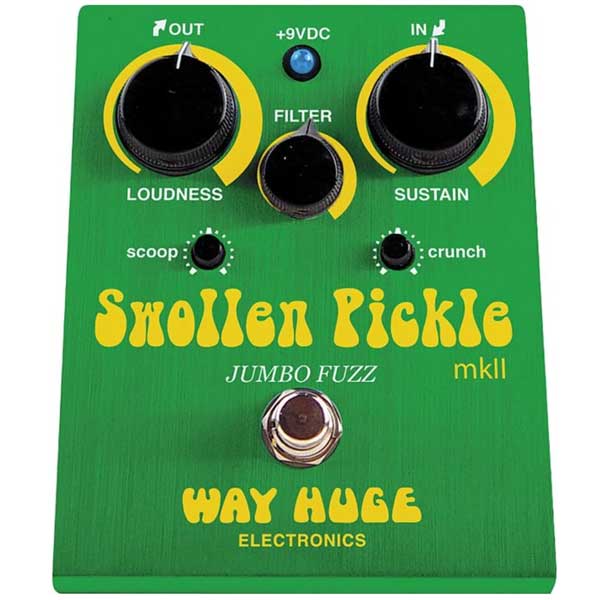 | | |
| --- | --- |
| Estimated Price | $130 |
| Type | Digital |
| Effects | Fuzz, Filter |
| Connectivity | 1 x 6.35mm Jack Input, 1 x Output |
| Power | 9 Volts DC |
My Review: At around $130, it's hard to argue with the value that the Way Huge Swollen Pickle provides. This unique fuzz pedal is highly versatile, with several controls that can be tweaked to your liking. Firstly, the sustain control can transform your tone from a gentle crunch to absolute chaos. Then there's the filter control which gives you access to a range of bandpass-filter sounds, full of warmth and thickness. The loudness control can be cranked to push your amplifier to its absolute limits if you're into that kind of sound.
Along with these four basic controls on the Way Huge Swollen Pickle, there's also the unique scoop tone stack parameter. This is essentially a frequency sweep control, which can be used to scoop out some of the mid-range or perform a flat mid-frequency sweep. There's then the crunch knob which can be used to adjust the intensity of the compression. To round off the extensive controls on this pedal, you also get two internal controls – clip, which switches between a pair of clipping diodes to smoothen out the fuzz's sustain, and voice, which decides the level of intensity that the scoop controls performs at.
Who This is Best Suited For: I'd highly recommend this pedal for guitarists who love to experiment to create sounds that are individual to them.
Bottom Line: The Swollen Pickle is undoubtedly one of the most extensive pedals on this list. With an array of adjustable parameters, you can essentially create unique blends of fuzz and filters that are individual to you. It's a flamboyant pedal in terms of appearance, and at $130 I'd say it's easily one of the best fuzz pedals for the money. With the Swollen Pickle, you can create any variation of Fuzz that your mind can conceive.
3. Jim Dunlop Mini Germanium Fuzz Face (Best Under $150)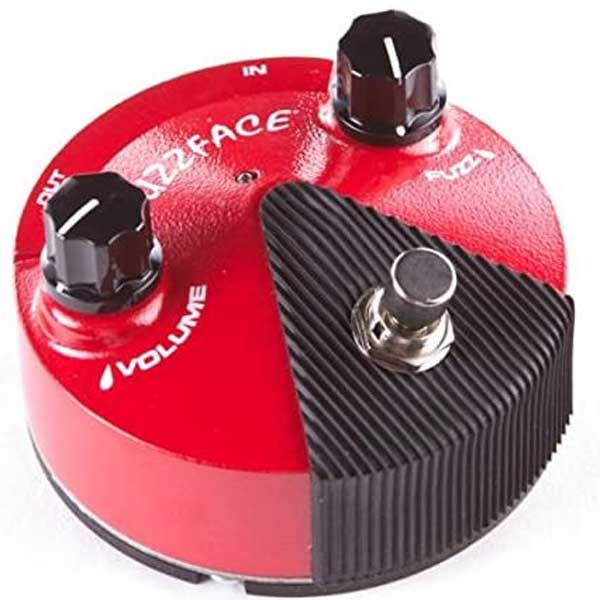 | | |
| --- | --- |
| Estimated Price | $140 |
| Type | Digital |
| Effects | Fuzz |
| Connectivity | 1 x 6.35mm Jack Input, 1 x Output |
| Power | 9 Volts DC |
My Review: Fuzz Face pedals were hugely popular in the golden days of psychedelic rock, with their instantly recognizable circular design and simple set of controls. Although the Fuzz Face Mini doesn't offer you a lot of sound sculpting options, it certainly delivers premium quality fuzz tones. Compared to its predecessors, the Fuzz Face Mini is much more compact and will take up little space on your pedalboard.
This variation of the Fuzz Face Mini series is based on the 1966-1968 era. This was before the day of silicon, and the slightly unpredictable germanium transistors gave these pedals a unique sound that Jim Dunlop has done a great job of recreating. The pedal has a pop-open battery lid, plenty of space for the footswitch, and two knobs controlling the volume and fuzz amount. It's housed in the classic red and black metallic casing which improves the durability of the pedal. There's also a status LED light to signify whether the Fuzz Face Mini is on or off.
Who This is Best Suited For: Due to the use of germanium transistors, I'd recommend the Fuzz Face Mini to musicians who fall into the purist category. You'll love the vintage, authentic 60s fuzz sounds that this compact pedal produces.
Bottom Line: The Jim Dunlop Fuzz Face Mini is a beast. Despite its compact design, it does pack a punch. The tones this pedal produces sound like they've come straight from the late 60s, with no artificial undertones marring the authenticity of the sound.
Popular Related Article: 17 Best Distortion Pedals (All Price Ranges)
4. Electro Harmonix Nano Big Muff Pi (Best Under $100)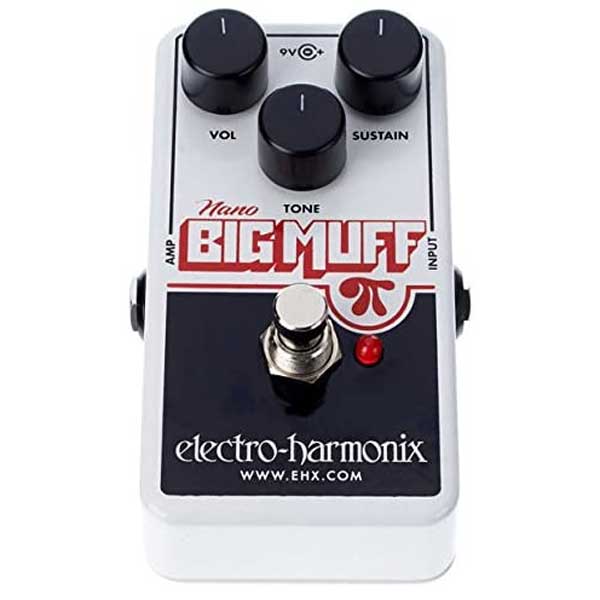 | | |
| --- | --- |
| Estimated Price | $90 |
| Type | Digital |
| Effects | Fuzz |
| Connectivity | 1 x 6.35mm Jack Input, 1 x Output |
| Power | 9 Volts DC |
My Review: I remember being blown away the first time I played my bass guitar through a Big Muff pedal, amazed at the sheer power and character that is provided. I've always had one on my pedalboard ever since, and this Nano Big Muff makes me even fonder of the Electro-Harmonix line of pedals.
Designed to sound like the classic NYC Big Muff Pi, this compact version provides you with all of the bites without the bulky dimensions. Electro-Harmonix shrunk the circuitry without making any modifications to the rich array of sounds it produced. With three classic controls, you can make adjustments to the volume, tone, and sustain. The sustain control is particularly effective, as it allows you to create long, drawn-out fuzzy melodies where the note continues for a while without losing any velocity.
It's quite incredible to look at the original Electro-Harmonix Big Muff pedals alongside this Nano version. The size difference is huge, and yet the sound difference is minimal. I'm not sure how they've managed it, but if anyone is capable of such a feat then it would be Electro-Harmonix!
Who This is Best Suited For: Fans of no-nonsense pedals with simple controls will love the Big Muff Nano. Stylistically, this pedal lends itself to many genres. Whether you need to add grit to your low-end blues riffs, cut through the mix when playing screaming solos, or simply accent rhythmic sections of your band's songs, this pedal can do it all and more.
Bottom Line: There's a reason that the Electro-Harmonix Big Muff range has stood the test of time and continues to be one of the most popular effects pedals for guitarists and bassists alike. The legendary design, the simple controls, and the handful of reliable, high-quality fuzz and distortion tones they produce make them a great choice for any musician. Overall, I would say this is the best fuzz pedal under $100.
5. JHS Muffuletta (Best Overall)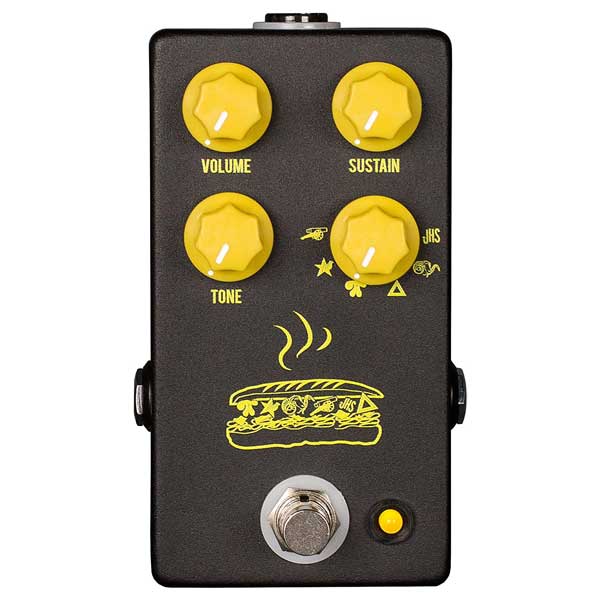 | | |
| --- | --- |
| Estimated Price | $230 |
| Type | Analog |
| Effects | Fuzz |
| Connectivity | 1 x 6.35mm Jack Input, 1 x Output |
| Power | 9 Volts DC |
My Review: The Big Muff has been used by guitarists for over half a century, in many varieties. Sometimes, it can be hard to know which version of that legendary pedal to choose. With the Muffuletta, JHS has combined all of the fuzz sounds from the Big Muff line into one digital pedal which is compact and easy to use.
With 6 analog fuzz circuits reproduced in one digital pedal, the Muffuletta is perhaps the most detailed pedal on this list. To produce these 6 circuits, you'd have to spend a lot of money and search far and wide for the respective pedals. Somehow, JHS has managed to recreate these iconic fuzz tones so that you can activate them with the simple turn of a knob. These presets can then be adjusted using the standard 3-control setup which consists of volume, sustain, and control parameters.
So what are the 6 fuzz circuits included with the Muffuletta? Firstly, there's the Civil War setting. This spikes the midrange frequencies and has a bright tone, with low gain. Secondly, we have the PI, which is arguably the most popular Big Muff circuit, with aggression in abundance. Then there's the 73 Rams Head which has a dark tone and low gain, with some reductions in the midrange. Next, there's the Triangle, which is articulate and powerful in the low end. The fifth circuit is the Russian, another iconic fuzz tone that is intentionally messy. Finally, we have the JHS 2015 which has lots of power, a heap of mid-range, and minimal compression.
Who This is Best Suited For: Guitarists who like to chop and change their sound frequently during a set should strongly consider the JHS Muffuletta. It provides so many options that it could get overwhelming, but if you have experienced with effects pedals it could revolutionize your sound.
Bottom Line: The JHS Muffuletta is an incredibly detailed fuzz pedal that provides you with 6 pedals in one. You won't get bored of experimenting with the presets that this pedal offers, and it's a handy tool in the studio as well as on the stage.
Popular Related Article: 27 Best Guitar Pedals (3 of Each Type)
6. Old Blood Noise Endeavors Haunt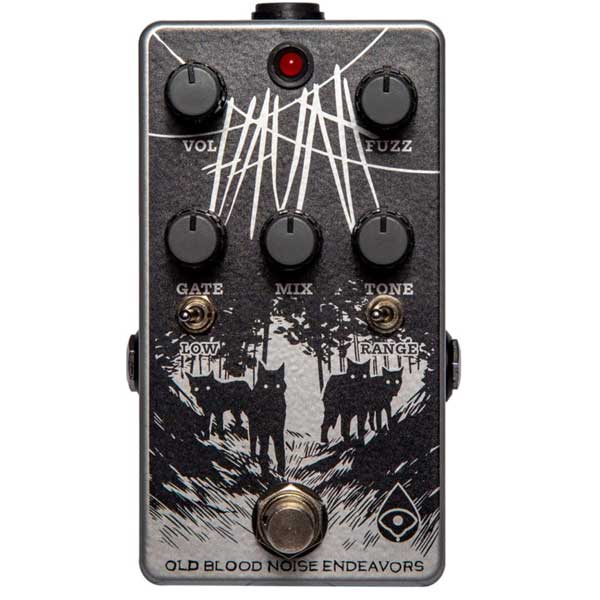 | | |
| --- | --- |
| Estimated Price | $330 |
| Type | Digital |
| Effects | Fuzz |
| Connectivity | 1 x 6.35mm Jack Input, 1 x Output |
| Power | 9 Volts DC |
My Review: The Old Blood Noise Endeavors Haunt is an interesting pedal that uses gated fuzz to produce a wide range of heavily saturated tones. Whether you require a light fuzz to spice up your riffs or raging saw sounds to wow the crowd during a guitar solo, this detailed pedal will suffice.
One the face of the pedal there is 5 control knobs. Firstly, in the top left corner, you have the volume control, which is parallel to the fuzz amount control. These two parameters provide the foundation of the pedal and can be adjusted to add or remove some of the effects. On the bottom row, you have the gate control. This unique parameter allows you to create several compressed fuzz tones, from understated to outrageous. Next, there is the mix control, which is effectively a wet/dry adjustment knob. Then to top it off you have the tone control, which transforms the character of your guitars sound.
There are also two switches positioned under these parameters – one which can be used to boost the low frequencies and the second which widens the frequency range of the fuzz pedal. All of these options are impressively squeezed into a concise pedal that looks as good as it sounds.
Who This is Best Suited For: If you want to produce "out there" fuzz tones that are sure to surprise an audience, the Old Blood Noise Endeavors Haunt pedal is worth considering. It's well suited to psychedelic guitar styles and prog-rock riffs.
Bottom Line: The Old Blood Noise Endeavors Haunt pedal is built around gated fuzz, with the capability of producing an array of tonal options. Although there are 5 controls and 2 switches, it won't take long to familiarize yourself with the different combinations that produce unique and extreme fuzzy guitar tones. For the price, it's a great little pedal.
7. Koogo Fuzz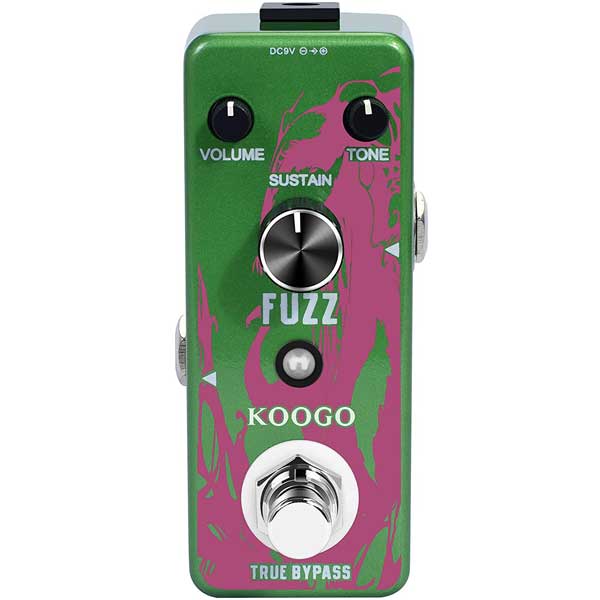 | | |
| --- | --- |
| Estimated Price | $30 |
| Type | Digital |
| Effects | Fuzz |
| Connectivity | 1 x 6.35mm Jack Input, 1 x Output |
| Power | 9 Volts DC |
My Review: The next addition to our list is by recently emerging pedal manufacturers Koogo. I've been admiring their range of affordable pedals for a while now, with each new model seeming to improve upon the last. This minimalistic fuzz pedal gives you access to all the classic rock fuzz tones in a tiny housing, with no unnecessary controls overcomplicating things.
The three-control set up of this pedal features the standard volume, sustain, and fuzz parameters. By tweaking the larger fuzz control, you can create sounds ranging from warm undertones to ferocious hard clipping saturation. The tone knob affects the depth of the overall tone, and when used in conjunction with the volume control it allows you to achieve the perfect blend.
I understand that some guitarists are skeptical of cheap pedals, but this Koogo Fuzz produces a quality that belies its cost. The slimline design ensures that it will slot onto your pedalboard with no hassle, and the true bypass switching preserves your guitar's clean tone when the pedal isn't activated. To see when the pedal is turned on or off, there's a clear LED light that indicates this.
Who This is Best Suited For: Those who are on a tight budget, or don't have a lot of space on their pedalboards. Of course, this Koogo Fuzz pedal doesn't provide the number of options that a more expensive model does, but it still does the job to a good standard.
Bottom Line: As far as affordable fuzz pedals go, you'd be hard-pressed to find an option that boasts better value for money than this Koogo stompbox. Its ability to produce fuzz tones is solid, and the construction of the pedal ensures its longevity. If you'd like you can check out a review of this pedal on YouTube here.
Popular Related Article: 17 Best Delay Pedals (Digital and Analog)
8. Donner Fuzz Seeker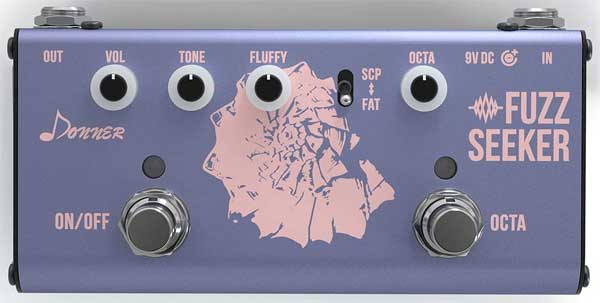 | | |
| --- | --- |
| Estimated Price | $50 |
| Type | Digital |
| Effects | Distortion, EQ |
| Connectivity | 1 x 6.35mm Jack Input, 1 x Output |
| Power | 9 Volts DC |
My Review: Another affordable option, the Fuzz Seeker is the latest offering from fast-growing pedal producers Donner. With a dual-footswitch design, this pedal looks unique. Both of the footswitches have LED indicators above them so that you can see the on/off status or the status of the octave effect.
Equally well suited to guitar or bass, the Donner Fuzz Seeker is an octave pedal and a fuzz pedal in one. Simply step on the Octa footswitch and your sound is transformed with the addition of higher octaves. When this effect is combined with a touch of fuzz, it suddenly sounds like the wailing tone of Hendrix's legendary Octafuzz. There is a random element to the octave effect that gives it a unique and unpredictable sound. It's perfect for grabbing the attention of an audience during a guitar solo.
Who This is Best Suited For: If you love the octave-driven fuzz tones of guitarists like Jimi Hendrix or Jack White, the Donner Fuzz Seeker provides close reproductions at a very fair price. I'd recommend this pedal to those who like a little bit of unpredictability from their guitar tones.
Bottom Line: At $50, it's hard to deny the value for money that the Donner Fuzz Seeker offers. Unlike most of the other options on this list, it is based more around octave shifting that fuzz alone. When the two effects are combined, the results are sure to make your guitar stand out in the mix.
9. Boss FZ5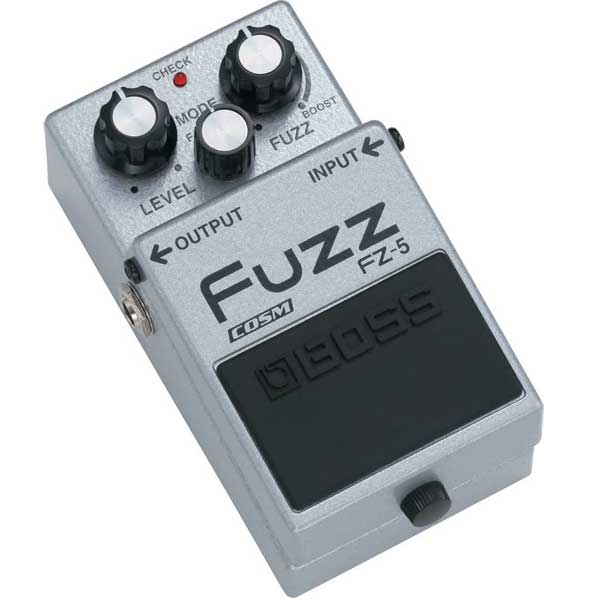 | | |
| --- | --- |
| Estimated Price | $100 |
| Type | Digital |
| Effects | Fuzz |
| Connectivity | 1 x 6.35mm Jack Input, 1 x Output |
| Power | 9 Volts DC |
My Review: I'm a huge fan of Boss's range of guitar pedals, largely due to their simplistic design and reliable tones. The FZ-5 features its classic aesthetics, with a blend of modern characteristics and vintage fuzz tones. Inspired by the golden era of rock'n'roll in the 60s and 70s, Boss has recreated vintage fuzz through their state of the art COSM technology. Taking inspiration from pedals like the Fuzz Face, Octavia, and Maestro FZ-1A, they have succeeded in creating a detailed pedal that you won't get bored of experimenting with.
In terms of control and parameters, the Boss FZ-5 has a level knob on the top left, a mode selector in the center, and the fuzz boost control on the right-hand side. The mode control is worth noting, as it allows you to choose between a selection of presets which can then be further manipulated using the boost and level knobs. The LED check light allows you to see when the pedal is switched on or off on stage, and true bypass stompbox ensures that there's no lack of quality when the pedal isn't active.
The FZ-5 also comes with Boss's generous 5-year warranty and is built to withstand the rigors of touring. The boost control is useful if you want to quickly ramp up the aggression of your guitar's tone at certain points during a set.
Who This is Best Suited For: Guitarists who are already familiar with Boss' legendary stompbox pedals will be very fond of the FZ-5. Thanks to the boost control, it's a perfect fit for those who play heavier styles of rock and need plenty of bite from their fuzz pedal.
Bottom Line: This Boss pedal is a good middle ground between the more expensive fuzz pedals on this list and the basic cheaper options. It's simple to use, doesn't take up too much space, and has power in reserve. Thanks to the durable housing, there's no danger of this pedal getting damaged while on the road.\
Popular Related Article: 17 Best Electric Guitars Under $1000
10. Behringer Super Fuzz SF300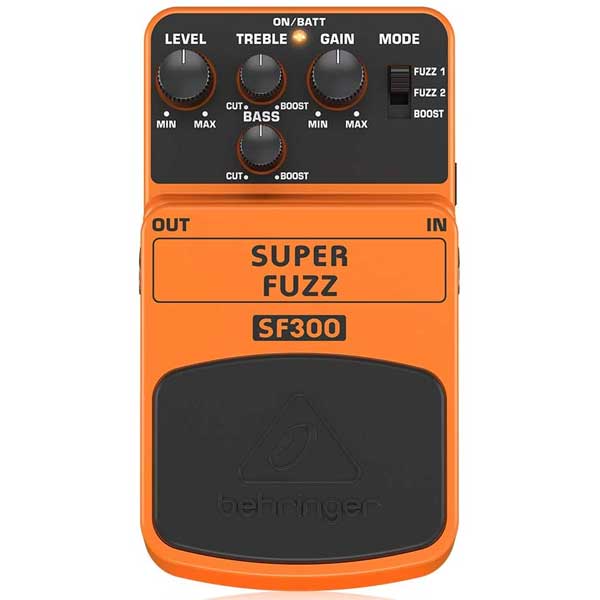 | | |
| --- | --- |
| Estimated Price | $70 |
| Type | Digital |
| Effects | Fuzz |
| Connectivity | 1 x 6.35mm Jack Input, 1 x Output |
| Power | 9 Volts DC |
My Review: For some reason, many guitarists avoid Behringer pedals as there seems to be some stigma around their quality. Indeed, their entry-level pedals can't compete with much more expensive ones, but for the price, I think they're a great addition to anyone's board. The SF300 is their standard fuzz pedal, featuring three individual modes. This pedal was made to reproduce a variety of infamous fuzz tones of the 60s and 70s, and in my opinion, it does a great job of that.
With a first-class electronic on/off switch, your signal integrity is maintained to the highest level when the pedal is in bypass mode. There's a small LED light that indicates the status of the pedal, and the familiar Behringer large stompbox pedal design is present. The three different sound modes are classic fuzz, grunge, and gain boost. The latter is a great tool for suddenly adding fuzz to your tone, and is guaranteed to turn a few heads in the audience. The grunge mode adds grit and character to your guitar, without making it overly muddy. Finally, the classic fuzz sounds like it has come straight out of a 1967 recording studio with blown tube amps all over the place.
Who This is Best Suited For: If you want a pedal that isn't overly expensive but still does a great job of recreating the classic fuzz tones that we all love from the 60s and 70s, I'd recommend considering this Behringer stomp box.
Bottom Line: The Behringer SF300 may not have a multitude of tone-shaping controls, but the ones it does have are very detailed and malleable. The 2-band EQ is a handy addition that allows you to fine-tune the sound, and the three high-quality sound modes are instantly recognizable.
11. Electro-Harmonix Octavix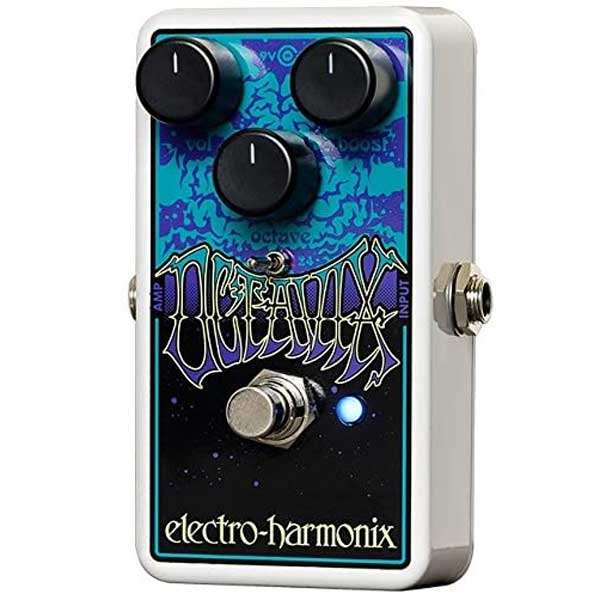 | | |
| --- | --- |
| Estimated Price | $140 |
| Type | Digital |
| Effects | Distortion, Overdrive |
| Connectivity | 1 x 6.35mm Jack Input, 1 x Output |
| Power | 9 Volts DC |
My Review: The Octavix by Electro-Harmonix is a truly wonderful pedal. Designed to bring the "Hendrix Era" into a fuzz pedal, you'll instantly recognize the saturated sounds that his pedal produces. The impressive thing about the Octavix is that it blends the vintage fuzziness of decades gone by with modern enhancements such as volume, boost, and octave controls. The volume knob decides the overall level of the output, the boost adds fuzztone into the mix and the octave control adjusts the volume of the higher registers.
Another cool feature of the Octavix pedal is that you can switch between 9 or 24-volt power rails, changing the voltage supply for the circuit. This is a rare feature that I have to admit I've never seen before, but it produces interesting results. When the toggle switch is set to 9 volts, it acts as a classic fuzz box. When you change it to 24 volts, the sound becomes crisper and the octave tone gains clarity.
Who This is Best Suited For: If you're a huge fan of Jimi Hendrix's guitar tone like I am, you'll have countless hours of fun with the Electro-Harmonix Octavix. For all rock guitarists, this pedal offers an authentic 60s fuzz tone that is warm and versatile.
Bottom Line: The Electro-Harmonix Octavix is a brilliant little pedal that brings the classic fuzz sounds of the rock n roll era to your pedalboard. The fact that you can choose between different power settings is a unique feature that makes a big difference to the overall output of your guitar.
12. ZVEX Effects Fuzz Factory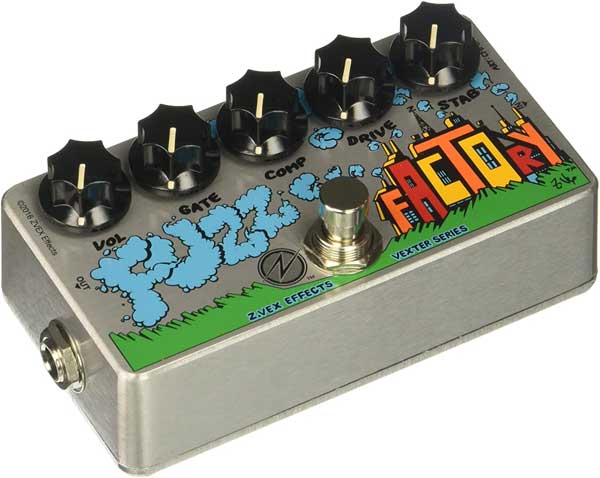 | | |
| --- | --- |
| Estimated Price | $200 |
| Type | Digital |
| Effects | Fuzz |
| Connectivity | 1 x 6.35mm Jack Input, 1 x Output |
| Power | 9 Volts DC |
My Review: ZVEX's standout pedal is the Fuzz Factory, thanks to its exceptional quality. Originally manufactured in the 90s, this pedal has grown in popularity ever since. It's capable of producing insanely powerful gain in the high-end, making it perfect for dramatic styles of guitar playing. With a control-set that promotes flexibility, you can achieve an array of tones with the Fuzz Factory. Whether you want to produce subtle fuzz tones to spice up your guitar playing, or wild oscillating sounds that hardly resemble an electric guitar, this ZVEX pedal will do the trick.
With the 4 detailed parameters that are built into the Fuzz Factory, you get complete control over your guitar's tone. The gate control squeezes the signal when the note's sustain is over and can be used to create intentional feedback or to remove noise from the output. The compress control boosts the attack of your guitar when dialed down, or tightens the dynamics when cranked up. The drive parameter boosts the level of fuzz that is present in the mix, and finally, the stability control can be used to affect the pitch of the feedback.
Who This is Best Suited For: Fans of Matt Bellamy of Muse's guitar tone will love this pedal. He's used it for the bulk of his career, for the operating and otherworldly tones it is capable of producing.
Bottom Line: The ZVEX Fuzz Factory is not for the faint-hearted. This pedal is an absolute monster, and when pushed to its extremes can make your guitar sound more like a roaring synth than a stringed instrument. The detail of the individual controls is very impressive, and it's laid out intuitively so you don't get overwhelmed by all of the possibilities.
13. Mooer Triangle Buff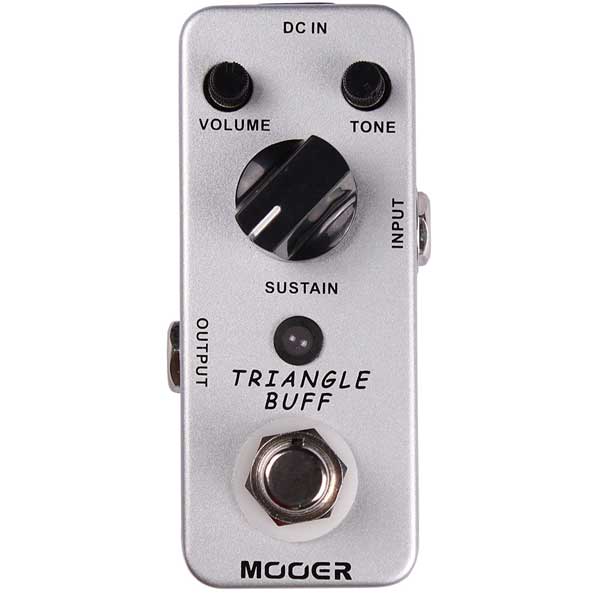 | | |
| --- | --- |
| Estimated Price | $75 |
| Type | Digital |
| Effects | Fuzz |
| Connectivity | 1 x 6.35mm Jack Input, 1 x Output |
| Power | 9 Volts DC |
My Review: Mooer's Triangle Buff is a small fuzz pedal that produces a small number of tones, but makes up for the lack of option with its quality. This no-nonsense pedal has the standard volume, tone, and sustain controls found on the majority of fuzz pedals. What makes the Triangle Buff unique is its ability to produce rich and sweet fuzz tones that almost resemble a violin. It's housed in durable metal to ensure longevity, and its small dimensions make it an easy addition to a busy pedalboard.
Due to the compact size of the Triangle Buff, it doesn't have space for batteries, unfortunately. It is compatible with any 9-volt power supply though, so don't be put off by this. The large sustain control is the centerpiece of the pedal, and when cranked up it produces a long tail-end that can sound dreamy and smooth. There's a little LED indicator light just above the footswitch that is easily visible, even on a darkened stage. Although there are a limited number of options or presets with the Mooer Triangle Buff, it performs to a high standard. There's still room for maneuver when adjusting the three controls to come up with interesting fuzz-rich guitar tones.
Who This is Best Suited For: If you like smaller pedals with limited options, the Mooer Triangle Buff is probably the best quality option that fits this description. Guitarists who aren't interested in toggling through a variety of presets and prefer to simply plug in and play will likely enjoy this pedal.
Bottom Line: The Mooer Triangle Buff is simplistic and limited in the number of options it provides, but the violin-like tones that it produces are unique and interesting. With a minuscule design, it's the kind of pedal that is worth having for when the perfect moment arises.
Popular Related Article: 17 Best Reverb Pedals (All Price Ranges)
14. CNZ Audio SFZ-20 Fuzz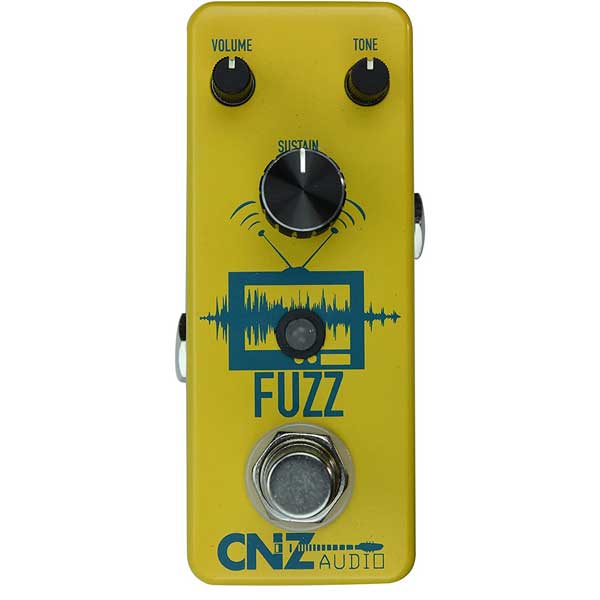 | | |
| --- | --- |
| Estimated Price | $45 |
| Type | Digital |
| Effects | Fuzz |
| Connectivity | 1 x 6.35mm Jack Input, 1 x Output |
| Power | 9 Volts DC |
My Review: Affordable and robust, the SFZ-20 Fuzz pedal by CNZ Audio provides long-lasting sustain and rich harmonics. On the face of the pedal, there are three variable controls volume, tone, and sustain. The volume control is responsible for boosting or limiting the overall output of the SFZ-20, allowing you to make sure your level is consistent with the rest of the band. The tone parameter controls the color of the fuzz effect. By tweaking this knob you can create dark, duller fuzz tones, or by turning it up you get screaming fuzz that sounds like a broken tube amp.
The highlight of this pedal is its ability to produce sustain. One of the most effective ways to use fuzz is by sustaining the notes long after you play them. This produces a powerful tone that is ideal for dark bluesy riffs at the bass end of the guitar. With the onboard sustain control; you can adjust the sensitivity of the distortion. When the control is turned down, the pedal produces a cleaner sound, when it is cranked up you get a lot of dirt and increased sensitivity. The small LED light above the true bypass switch adds a nice finishing touch to this minimalistic pedal.
Who This is Best Suited For: As with most of the budget pedals on this list, I'd recommend the CNZ Audio SFZ-20 to those guitarists who have little interest in spending lots of time figuring out the various functions of a pedal.
Bottom Line: There's nothing flashy about the SFZ-20 Fuzz pedal by CNZ Audio. Kitted out with the three basic controls that are featured on most fuzz stompboxes, it provides reliable fuzz tones with true bypass and a smart LED display light.
15. Electro-Harmonix Soul Food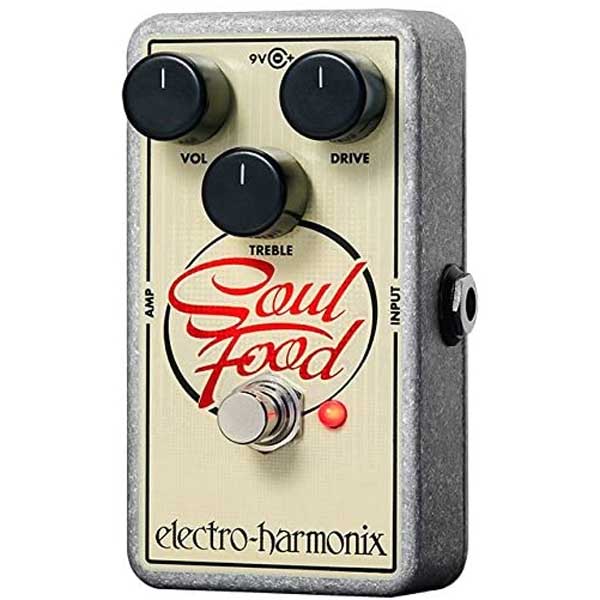 | | |
| --- | --- |
| Estimated Price | $100 |
| Type | Digital |
| Effects | Fuzz, Overdrive, Distortion |
| Connectivity | 1 x 6.35mm Jack Input, 2 x Output |
| Power | 9 Volts DC |
My Review: Next up on our list we have another premium quality FX pedal by Electro-Harmonix. Designed with a vision of making a pedal similar to the legendary Klon Centaur but without the hefty price tag, this pedal provides you with clear and defined tones that become ambient and spacey when you tweak the parameters.
There are essentially two ways to use the Electro-Harmonix Soul Food pedal. Firstly, it can perform as a standard fuzz or distortion pedal, boosting your clean channel to thicken the overall sound. Alternatively, you can use it to push your tube amp to its limits, using the high drive settings to add more mid-range into the mix and subsequently create a massive, powerful output.
The Soul Food pedal is very similar to the Electro-Harmonix Big Muff pedal that I covered earlier, but the main difference is that this model isn't as harsh sounding. You could argue that it leans more towards distortion and overdrive than fuzz, but when the drive control is pushed up and the treble is boosted, there's no questioning the huge tones that are produced.
Who This is Best Suited For: If you want a fuzz that bites but doesn't get too messy, then the Soul Food by Electro-Harmonix could be the pedal for you. It sounds great when combined with Wah Wah and a compression pedal, and can also be used for bass guitar. I'd also recommend this pedal for guitarists who like to record straight into the D.I on their audio interface, as you can get some really interesting results this way.
Bottom Line:It's a given that any Electro-Harmonix pedals will add quality to your pedalboard, and the Soul Food is no exception to this rule. At $100, it's well worth investing in this overdrive pedal that becomes a fuzz stompbox when the controls are pushed to their limits.
16. MXR JHW1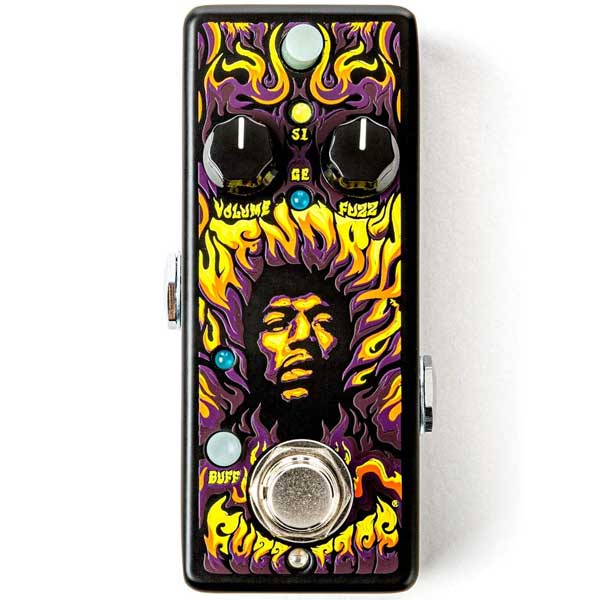 | | |
| --- | --- |
| Estimated Price | $130 |
| Type | Digital |
| Effects | Fuzz, Distortion |
| Connectivity | 1 x 6.35mm Jack Input, 1 x Output |
| Power | 9 Volt DC |
My Review: The JHW1 by MXR pays homage to one of the most innovative guitarists of all time, none other than Jimi Hendrix. With a psychedelic design and several Hendrix inspired fuzz tones, this pedal is a fitting tribute to the iconic musician. Interestingly, this pedal combines multiple smooth germanium tones that Hendrix used early in his career, and the later used silicon tones. Inspired by Jimi's favorite fuzz pedal the Fuzz Face, the JHW1 manages to reproduce his famous wailing psych-rock tones.
The circuitry of the MXR JHW1 closely resembles that of the Dallas Arbiter Fuzz Face that was used by Jimi Hendrix in the late 1960s. MXR has brought that pedal into the modern era by installing a status LED light, 9-volt power jack, true-bypass switching, and a more compact housing which is decorated by legendary artist Gered Mankowitz. There's a lot of room for maneuver with this pedal, especially if you tweak the fuzz control. Combined with reverb and wah-wah, the resemblance to Jimi's fuzz-draped guitar tone is quite uncanny!
Who This is Best Suited For: If you love Jimi Hendrix's tone, look no further than the JHW1 by MXR. This pedal produces an authentic representation of the great man's sound whilst also paying tribute to him with the psychedelic artwork that is etched on the face of the pedal.
Bottom Line: When guitarists set out to imitate another guitarist's tone, many think of this as a way of cheating. However, there are a few musicians that it is completely acceptable to want to sound like, and Jimi Hendrix is one of them. This MXR pedal gives you access to the psychedelic fuzz that came out of Jimi's favorite Dallas Arbiter Fuzz Face pedal in the late 1960s. You can use this sound like the building blocks for your original tone by adding other effects pedals into the mix and experimenting with the results.
17. Electro-Harmonix Little Big Muff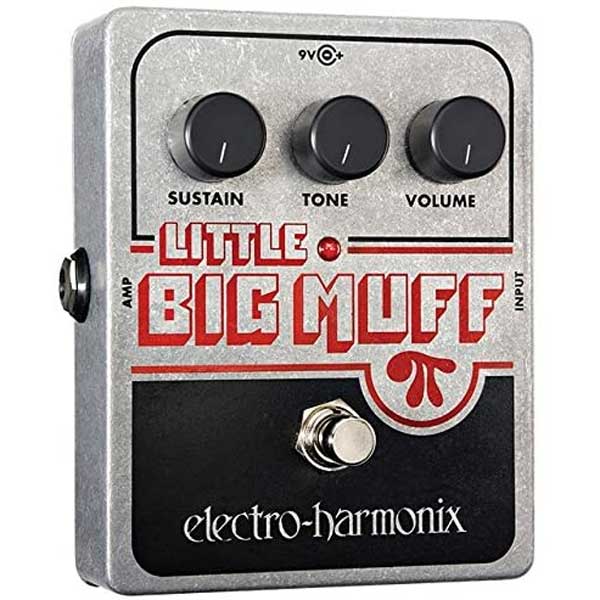 | | |
| --- | --- |
| Estimated Price | $90 |
| Type | Digital |
| Effects | Fuzz, Distortion |
| Connectivity | 1 x 6.35mm Jack Input, 1 x Output |
| Power | 9 Volts DC |
My Review: I'm very fond of the Big Muff line by Electro-Harmonix, whether it is the Bass Big Muff or this Little Big Muff Fuzz Pedal. Out of all of the fuzz pedals I've reviewed, this is probably the most full-bodied in terms of the tones it produces. Based on extensive research into what made the original Big Muff of the 1970s such an iconic pedal, Electro Harmonix has redesigned it in a modern and smaller unit. The die-cast box has the classic smoothed corner design, and the tones it is capable of producing are a fitting tribute to the original model of 50 years ago.
The Little Big Muff has three parameters – volume, tone, and sustain. The sustain knob is particularly useful for soloing out solos. When it is cranked up all the way, you get long, drawn-out notes which maintain their power for impressive periods. The tone knob provides you with a lot of tonal variation, from thin-sounding lo-fi fuzz to full-blown out of this world fuzz that sounds like your amplifier has blown.
Who This is Best Suited For: This pedal is perfect for guitarists who love to solo. It provides you with huge-sounding fuzz that will fill a room in an instant. If you play heavy rock, metal, or dirty blues, the Little Big Muff is a great option to consider.
Bottom Line: The Electro Harmonix Little Big Muff Fuzz Pedal produces insanely full-bodied tones perfect for fuzzy riffs and solos. It's straightforward to use and doesn't have any unnecessary parameters to over complicate things. With the classic Big Muff design of the 1970s, it looks and feels like a vintage pedal. You'll be delighted by the sheer aggression that comes out of this pedal when it's pushed to its limits.
Choosing the Right Fuzz Pedal (Buying Guide)
Although fuzz was initially produced to imitate the tones produced by a tube amplifier that has been pushed to its limits, the effect has developed its unique array of sounds. Most guitarists know that fuzz is an extreme variation of distortion, utilized by some of the greatest guitarists in rock history over the past half-century or so. But before deciding on which fuzz pedal would best suit your needs, it's important to understand the basic principles of this guitar effect. In the remainder of this comprehensive article, I'll provide you with all of the information you need to make a calculated decision, and to learn how to use a fuzz pedal for maximum effect.
The Different Transistors in Fuzz Pedals
In my opinion, there are few better sounds in music than a broken, warm, and fuzzy guitar tone. There's something about this effect that adds attitude and character to the sound of an electric guitar. Unlike some effects, fuzz can be used in many different ways to achieve varying results. One of the main influencing factors on a fuzz pedal's sound is the type of transistor that is used. The two options are germanium or silicon transistors. Let's take a look at their differences.
Before I get into comparing the two types of transistors used in a fuzz pedal, let me remind you that it's completely subjective. As with all guitar tones and effects, it all comes down to personal preference. Hopefully, after reading this comparison between germanium and silicon you'll have a better understanding of which fuzz pedals which produce the results you desire, and which ones you should probably avoid.
Germanium Transistors
If we go back to the most primitive fuzz pedals, they all used germanium transistors. This is the reason that music purists still rave about the sound this type of pedal produces. To generalize, the tone produced by fuzz pedals with germanium transistors is warmer and more full-bodied. The mid-range frequency response is particularly powerful with these pedals. They are also more responsive to the human elements of your playing, like picking or strumming velocity and individual style.
Due to them being constructed to closely resemble the fuzz produced by a broken old amp that was cranked up, germanium transistor-based pedals have a vintage and authentic sound. They are also very compatible with the volume and tone knobs on a guitar which can be used to reduce the harshness of the effect or boost its presence.
Those are the good qualities of germanium transistors, but what about the downsides? Well, one of the main cons is that they are influenced by changes in temperature. For example, if you were playing a gig in a humid club or practicing in a small, hot rehearsal space, the pedal's sound will change. If you were playing an outdoor show in the colder months, it would be completely different again. Because germanium transistors are also known to hold an electrical charge, this can make the performance fluctuate even more. This sonic inconsistency can be frustrating for guitarists who need a reliable tone for every show.
Silicon Transistors
The alternative to germanium is known as silicon transistors. Originally developed to be a more reliable option, silicon varieties are generally more consistent than their germanium counterparts. They're much easier to produce, and this is reflected by their lower price range.
In terms of sound, silicon transistors produce a bright fuzzy effect that focuses more on the higher frequencies rather than the mid-range. This makes them more effective at cutting through the mix and making the guitar stand out among the other instruments in the band. Silicon transistors also produce more gain, resulting in an abundance of power. Most of the fuzz pedals produced today use silicon transistors rather than germanium, due to their increased reliability and how much easier they are to produce.
Germanium vs. Silicon – The Final Verdict
Germanium transistors are the favored option among lovers of vintage fuzz. Here's a breakdown of their main characteristics
Authentic, vintage fuzz sound based on cranked tube amps
More presence in the mid-range frequencies
Can be controlled using the volume knob on a guitar
Inconsistent sound
Affected by temperature changes
On the other hand, silicon transistors are more popularly produced today due to their reliability. The main characteristics of these pedals are
Produce more gain to cut through the mix
More presence in the top-end frequencies
Easier to produce
More affordable
Unaffected by temperature changes
Fuzz vs. Distortion vs. Overdrive The Differences
Technically speaking, fuzz and overdrive are variations of the effect known as distortion. Although these three effects all fall under the same umbrella, there are notable differences between them all. Some guitarists will use a combination of these three effects, especially when playing heavier genres such as hard rock, garage rock, or metal. It's important to understand the differences between these three types of effects pedals, and the results they can achieve.
As I touched upon earlier in this article, fuzz is the most extreme version of distortion. By taking the input signal of your guitar and causing it to clip very heard, a square-wave is created. The distortion is compressed heavily to produce a powerful and cutting tone. Fuzz is a form of saturation, which is where it gets its name. The guitar is saturated until there is a "fuzzy" layer to it. Another characteristic of fuzz its generous amount of sustain. Although fuzz was originally made to replicate the broken sound of a cranked tube amp, in the pedal form it produces a more artificial tone than distortion or overdrive. Due to the hard clipping, fuzz doesn't lend itself too well to chords or multiple notes but sounds great with a riff or guitar solo.
Many guitarists get confused by distortion, because as I stated previously it is technically the umbrella term for these three effects. But when talking about effects pedals, distortion is better understood as an individual effect which is different from fuzz or overdrive. When compared to overdrive, distortion pedals are usually more aggressive sounding. The original guitar tone is transformed into a completely different animal, with more grit and bite. One of the main things you'll notice about distortion is that it makes no difference how soft or hard you play the guitar. The signal is compressed until hard clipping occurs, admittedly in a less extreme way than fuzz, but still enough to create a heavy and dark tone that is full of power.
Finally, overdrive is the less extreme of these three effects. Overdrive pedals were invented to recreate the sound of the valves being driven to the point of distortion, without having to splash out on a genuine tube amp. Unlike distortion, the overdrive effect responds to the touch and velocity of your guitar playing. Instead of hard clipping, the audio like fuzz or distortion does, overdrive causes soft clipping which is much less extreme. These pedals are ideal for blues, country, and rock guitarists to add a little bit of authentic-sounding warmth to their tone.
The Common Parameters and Controls on a Fuzz Pedal
Here are some controls that are present on the majority of fuzz pedals
Gain
Volume
Tone
Gate
Bias
Gain controls are featured on pretty much all varieties of fuzz pedals. This parameter adjusts the amount of fuzz that is present in your mix. If you were to crank the gain control all the way, the result would be a heavily saturated, hard clipping output with a good amount of sustain.
The volume control is pretty self-explanatory, but an important feature nonetheless. Tweaking the volume of the pedal is a great way to ensure that you don't come in too loud when the effect is in use and can be used to balance your dynamics with the rest of your band. When using a geranium transistor-based fuzz pedal, you can use the volume control on your guitar for the same function.
Another common parameter on fuzz pedals is the tone control. This provides a straightforward way to filter out certain frequencies or to boost the presence of the lows, mids, or high-end frequencies. Think of the tone control as a simple EQ. By adding a little bit more mid-tones into your fuzz pedal output, it is more likely to cut cleanly through the mix and stand out among the other instruments. Some more expensive fuzz pedals may have multiple tone controls, and they are sometimes labeled as balance or body instead.
Some fuzz pedals also have the addition of gate control. This provides a way to reign-in some of the more extreme elements of the fuzz, through the use of a noise gate that affects the voltage within the pedal. Alternatively, gates sometimes create an entirely different circuit to achieve this result. By creating a ceiling, the gate then allows the sound to pass through at a specific volume, much like a compressor. There are many options when it comes to gate controls, and the effects produced can be wild and wonderful.
Finally, although featured on fuzz pedals less frequently than the aforementioned controls, bias is still worth mentioning. It's particularly popular on a germanium transistor based fuzz pedals, as it balances out the inconsistencies and temperature variations. It works by creating balance when the fuzz pedal starts to distort and completely alters the tone that's produced by the pedal.
Combining Fuzz with Other Effects
Over the years, guitarists have combined fuzz pedals with a multitude of other effects to create unique and interesting tones. The great thing about "dirt" effects like fuzz, overdrive, and distortion is that they are compatible with timing-based effects like reverb or delay, and filter effects like a wah-wah pedal.
Some multi-effects pedals will include fuzz, but the quality will likely be lesser than a pedal that is exclusively dedicated to that effect. One of the most fun aspects of setting up your pedalboard is experimenting with different mixtures of effects to find some interesting tones that might end up being your signature sound!
Positioning a Fuzz Pedal in Your Signal Chain
When you've chosen your chosen fuzz pedal, then the debate of where to place it in your signal chain arises. This is especially important if you have a pedalboard that is stacked with effects pedals. The placing of certain pedals will have a large impact on their performance, and if not considered you could end up with unwanted sounds being created.
Let me start by saying that there's no set-in-stone, right or incorrect answer to this question. Sometimes, I've stumbled across the most interesting guitar tones by accidentally doing things in a way that most musicians would consider being "incorrect". That being said, if you [place a fuzz pedal at the end of your signal chain, every other pedal is going to be impacted by it. This would lead to harsh tones and overall messy output. Placing the fuzz pedal closer to the start of the signal chain – preferably after any compressors or dynamic-altering pedals, you will get the cleanest fuzz possible which other effects can then be added to.
Dual-amplifiers and Fuzz Pedals
Using dual-amplifiers is a common tactic used by guitarists who want to thicken up their sound. Perhaps you're in a two-piece garage rock band or a three-piece with only one guitarist and you would like to keep the full-bodied tone of your guitar when using your effects.
Some of the fuzz pedals on the earlier presented list include the two outputs which can be used to split the signal. This means you can send the FX channel into one amplifier, while the clean tone of your guitar is sent to another.
The result is that you preserve your clean tone and it keeps playing underneath the effected signal. So you could have extreme fuzz coming out of one amplifier, while the other amp plays the natural clean tone of your Gibson SG, as an example.
Recording a Fuzz Pedal D.I or Amp?
One of the main reasons a fuzz pedal or any effects pedal for that matter is such a worthy investment is because they make equally useful tools in the recording studio as they do on the stage. Indeed, with the rise of VST plugins, it's become less necessary to use pedals when recording guitars, but I've found that you can produce some really interesting tones by running your guitar through a fuzz pedal straight into the direct input of your audio interface.
The great thing about doing it this way rather than recording through an amplifier is that the signal is completely clean before it is subjected to the fuzz, so you hear every small detail when the effect is applied. You can then tweak the EQ or add some other processing to the recording afterward in your preferred DAW.
Using Fuzz on Vocals
If you use your fuzz pedal with a feedback eliminator, it's possible to create some interesting vocal effects. Distortion has been used on vocals for decades, due to its ability to make the track sound rough and ready. Fuzz takes this to a whole other level!
Combining Fuzz with Reverb or Delay
In my opinion, there are few better effect combinations than fuzz mixed with ambient pedals like reverb or delay. The combination of dirt and space has longed been used by guitarists across all genres, because the ambient effects soften the distorted signal and give it a fuller sound.
Many musicians achieve their signature sounds by setting up pedals in the "wrong" order when it comes to fuzz and reverb. By positioning the reverb pedal before the fuzz in his signal chain, the sounds of a guitar has a unique dreamy quality.
Experimenting with fuzz pedals, reverb and delay is a lot of fun. The only way to find the sound you desire is by messing around with the various parameters and in the process figuring out what the combinations produce.
Power Requirements
Many fuzz pedals can be powered by 9V batteries. It's always wise to have new batteries inside the pedal before playing a show, even if you have it plugged into a power supply. If for some reason the power supply cuts out, the pedal will stay on and you won't be muted!
Almost all of the aforementioned distortion pedals require 9V DC power. Some of the pedals come with their specific power supplies, but some are sold separately by the manufacturer.
Fuzz The History
Fuzz, like many of the most commonly used guitar effects, was discovered accidentally. In 1960, a Nashville recording engineer called Glenn Snoddy was recording a bass solo though a tube mixer. He became intrigued by the strange fuzzy tone that was being produced and chose to keep it in the otherwise toned-down country production by Marty Robbins.
When the song was released it became a great success, thanks largely to people's interest in the short-lasting fuzzy bass solo. Glenn Snoddy then went on a mission to find a way to recreate the effect and make it available to musicians and producers in the studio.
Around the same time, a musician and audio technician by the name of Orville Rhodes was busy developing the first-ever fuzz circuit to be used in recording studios. The two discoveries were eventually condensed into the first-ever fuzz pedal, which was known as the "Fuzz-Tone" and was produced by Maestro, a sister company of guitar heavyweights Gibson. Over the next few years, British guitarists like Keith Richards, Pete Townsend, and Jimmy Page added fuzz pedals to their rig, hugely impacting the sound and direction of rock n roll music.
Fast forward to today, and fuzz has been used across just about every genre of music you can imagine. It became a staple sound of the lo-fi garage rock revival of the early 2000s and has been used in multiple hip-hop and electronic productions since it became more readily available with the invention of VST plugins and DAWs.
Conclusion:
Fuzz is one of the most used pedals on guitars, and as a result, there are a plethora of options out there for you to choose from. With many manufacturers emerging every year, it's imperative to do some research on the quality of their previous pedals to make the right decision.
The pedals listed in this article are all from respected producers and in my opinion, are all built to a high standard. Hopefully, after reading this comprehensive guide you've learned everything you need to know about fuzz, and can now choose which of the options will give you the tones you're looking for.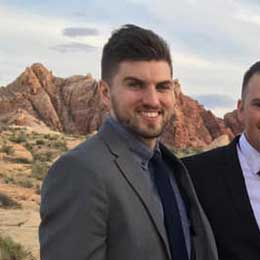 My name is Chris and I've had a passion for music and guitars for as long as I can remember. I started this website with some of my friends who are musicians, music teachers, gear heads, and music enthusiasts so we could provide high-quality guitar and music-related content.
I've been playing guitar since I was 13 years old and am an avid collector. Amps, pedals, guitars, bass, drums, microphones, studio, and recording gear, I love it all.
I was born and raised in Western Pennsylvania. My background is in Electrical Engineering, earning a Bachelor's degree from Youngstown State University. With my engineering experience, I've developed as a designer of guitar amplifiers and effects. A true passion of mine, I've designed, built, and repaired a wide range of guitar amps and electronics. Here at the Guitar Lobby, our aim is to share our passion for Music and gear with the rest of the music community.