When it comes to shaping your guitar's tone, there are few more valuable tools to have in your arsenal than an EQ pedal. Graphic equalizers are commonly used in the mixing process in a recording studio, but recent advances in technology have now made it possible to have EQ on your pedalboard.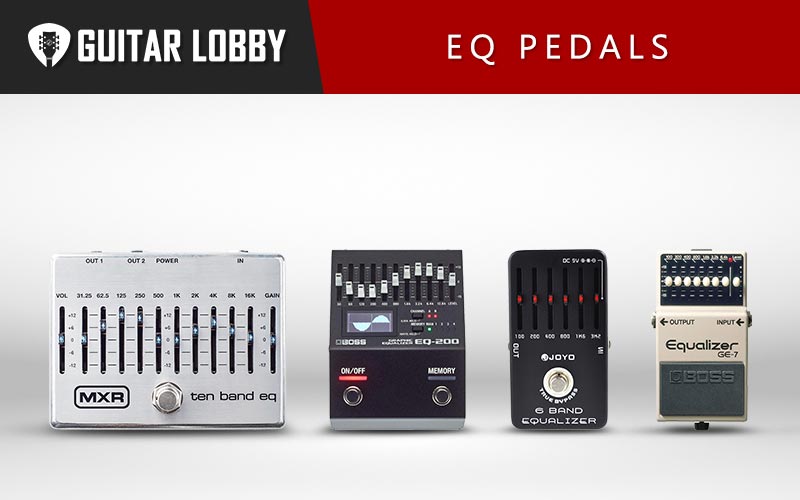 It can be difficult to sift through all of the options available when purchasing new effects pedals, due to the sheer volume of quality products available. It's important to establish what functions you require from a pedal before deciding on the right one for your needs.
I'll start this article by reviewing the best EQ pedals at each price point. I'll go into detail on the best aspects of each model, and how they can enhance your live guitar setup. If you want to learn more about EQ pedals before reading reviews, check out our buying guide at the bottom of the page here.
Here Are the Best EQ Pedals
1. MXR M108S (Best Overall)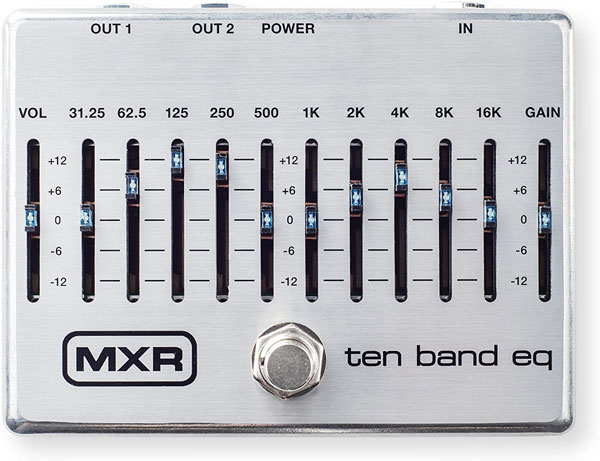 | | |
| --- | --- |
| Estimated Price | $130 |
| Type | Digital |
| Effects | EQ |
| Connectivity | 1 x 6.35mm Jack Input, 2 x Outputs |
| Power | 9 Volt |
My Review: The MXR M108S is a detailed 10-band EQ pedal that gives you complete control over the tone of your guitar or bass. With 10 independent sliders that are responsible for specifically selected frequency bands, this graphic EQ boasts great precision.
Each EQ slider on the MXR M108S can be boosted or cut by up to 12dB, so there's plenty of room for maneuver. The pedal allows you to tailor the output of your instrument to suit the acoustic environment that you are playing in. For example, if there is a bass trap in the room, you can easily remove some of the problem frequencies by adjusting one or multiple faders.
There's also the useful addition of dual outputs on this EQ pedal, so you can use it to split your wet and dry signals into two amplifiers. Due to the power of the pedal, it operates at 18-colts of power to ensure that you get maximum headroom even if you run multiple pedals into the M108S.
In addition to the frequency-adjusting sliders, there is also additional volume and gain controls to keep your levels consistent. There's also true bypass switching to preserve the integrity of your dry tone, and the pedal is housed in rugged aluminum so it'll have no issues enduring the rigors of touring, recording, and practicing.
Who This is Best Suited for: Whether you play electric guitar, electric-acoustic guitar, or bass, this pedal will revolutionize your tone. It's like having a VST plugin on your pedalboard. The 10-band EQ is highly detailed, so if you're the kind of musician who likes to fine-tune their sound with absolute precision, this is the pedal for you!
Bottom Line: The MXR M108S 10-band EQ pedal is an accurate and intuitive graphic equalizer. It's pretty straightforward to operate and is solidly built to ensure longevity. No matter what type of sound you want to create, the 10 adjustable faders give you the freedom to cut or boost a range of frequencies until you find the sweet spot of your instrument.
2. BOSS GE-7 (Best Value)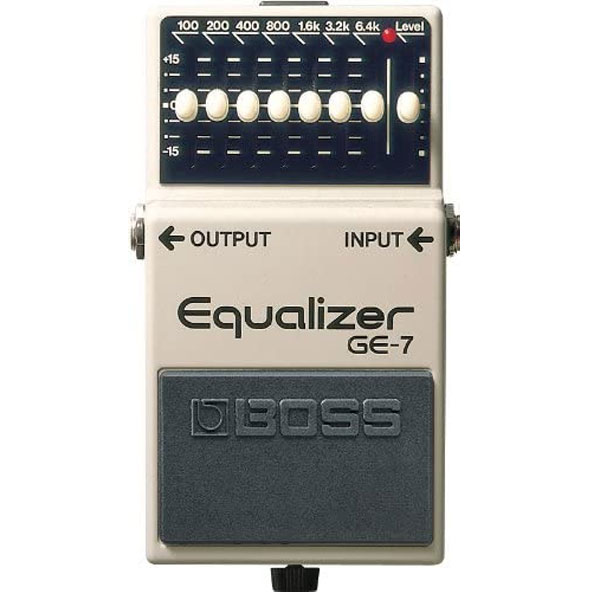 | | |
| --- | --- |
| Estimated Price | $120 |
| Type | Digital |
| Effects | EQ |
| Connectivity | 1 x 6.35mm Jack Input, 1 x Output |
| Power | 9 Volts DC |
My Review: It seems that BOSS has a pedal to suit every need of a guitarist, and the GE-7 furthers their range of stompboxes into the world of equalization. BOSS' pedals are popular for a few reasons – firstly, they are known to be exceptionally durable and road-worthy. Secondly, the classic stompbox design is easy to use and uncomplicated. Finally, they're always great value for the price.
The GE-7 is a 7-band graphic EQ pedal that lets you tweak all of the main frequency bands of your chosen instrument. Whether you play guitar or bass, this pedal will do the job. With seven individually adjustable faders, you can quickly shape the frequency response to suit your needs.
With up to 15 decibels of boost/cut capabilities, this BOSS pedal gives you plenty of headroom to work with. The graph design is laid out in a simple fashion, so you can see the shape of your EQ as you adjust it. The level control on the far right-hand side of the pedal provides an easy way to balance the output with your clean signal, and the visible LED light signifies when the GE-7 is active.
Who This is Best Suited for: Fans of simplistic, easy to use pedals will love the BOSS GE-7. It has all of the basic controls you need from a graphic equalizer, and with 15 decibels of cut/boost, it's capable of shaping your tone with pinpoint accuracy.
Bottom Line: The BOSS GE-7 is a straightforward pedal, with the signature stompbox design that the manufacturer is known and loved for. 7-bands of graphic EQ is more than enough to sculpt your tone, and the level control also comes in handy. There's nothing flashy about this pedal, but it functions at a high level and is well worth the cost. Overall, I would say it is the best EQ pedal for the money
3. MXR M109S (Best Under $100)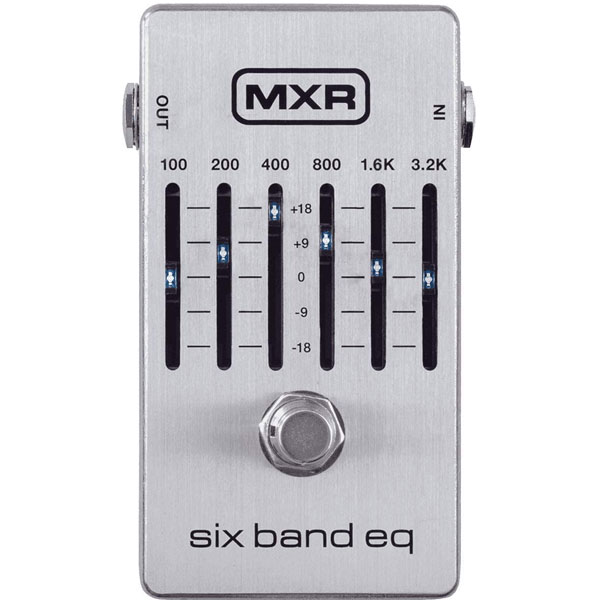 | | |
| --- | --- |
| Estimated Price | $90 |
| Type | Digital |
| Effects | EQ |
| Connectivity | 1 x 6.35mm Jack Input, 1 x Output |
| Power | 9 Volts DC |
My Review: The MXR M109S is the smaller sibling of the M108S that kicked off our list – these pedals are so good that MXR created two versions! If you don't have the budget to splash out on the former, this more concise version provides you with all of the main qualities for a lesser price, whilst taking up less space on the pedalboard.
The M109S has 6 adjustable sliders rather than 10, but it's still capable of adding and removing the main frequency bands that are produced by an electric guitar. Ranging between 100Hz – 3.2kHz, there's plenty of options when it comes to fine-tuning your sound.
With true bypass switching, LED lights on each fader, and a durable metal housing, this pedal is a bargain. It is also well suited to a bass guitar, thanks to the low-end cuts and boosts that can be made. MXR is growing rapidly in popularity and with the two pedals featured already on our list, it's clear to see why.
Who This is Best Suited for: I would recommend the MXR M109S to anyone who wants a top quality graphic EQ pedal at a reasonable price. It's well suited to a crowded pedalboard too, thanks to the slimline design.
Bottom Line: The MXR M109S Six Band EQ Pedal is a more concise version of the number one option on this list, with fewer faders but at a more affordable price. It still gives you the ability to tweak the main frequency bands of an electric guitar or bass, and requires less power to run, while still providing a good amount of headroom.
Popular Related Article: Our Favorite Overdrive Pedals (All Price Ranges)
4. Ammoon EQ7 (Best Under $50)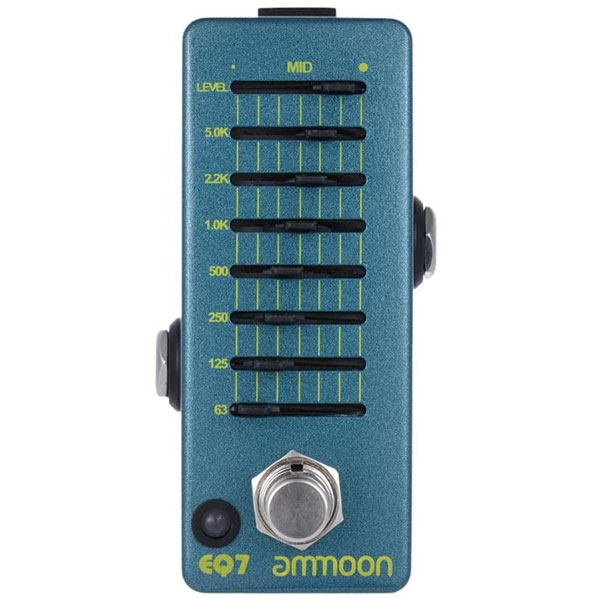 | | |
| --- | --- |
| Estimated Price | $40 |
| Type | Digital |
| Effects | EQ |
| Connectivity | 1 x 6.35mm Jack Input, 1 x Output |
| Power | 9 Volts DC |
My Review: The EQ7 from ammoon is a good quality budget pedal that will cater to all your tone-enhancing needs. With its slimline design and interesting aesthetics, this pedal will seamlessly slot onto your board.
The best quality of the EQ7 is its extensive range of adjustable frequency bands. 7 sliders control the output of the main frequencies of your guitar. These frequency bands are 63Hz, 125Hz, 250Hz, 500hz, 1kHz, 2.2kHz, and 5kHz.
In recent years, ammoon have established themselves as one of the leading providers of affordable pedals, and the EQ7 continues their growth. The true bypass switching ensures the preservation of your dry signal, and the full metal housing makes this pedal a durable and mobile option.
Who This is Best Suited for: It can be difficult to find good quality pedals at a reasonable price, as there are so many sub-par offerings out there. I'd recommend this ammoon pedal to anyone who doesn't want to spend a lot of money on an EQ pedal but still needs plenty of options for sculpting their tone.
Bottom Line: The ammoon EQ7 is easy to operate, durable, and detailed. Not to mention, its price belies its quality. You get 7 graphic EQ sliders that cover all bases of an electric guitar, a smart LED on/off indicator, and true bypass switching. Not to mention it's compacted into a narrow and concise housing.
5. Tech 21 Q-Strip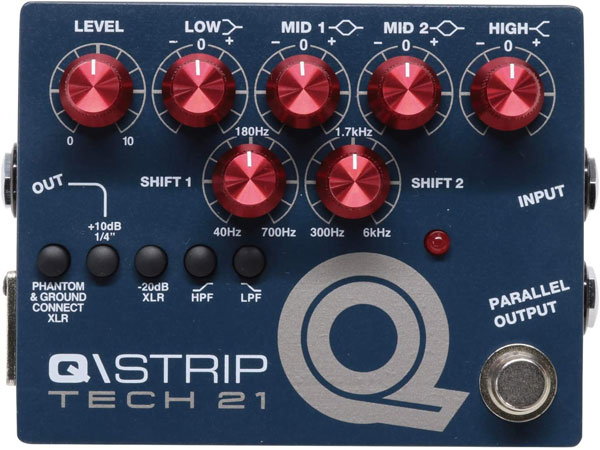 | | |
| --- | --- |
| Estimated Price | $250 |
| Type | Digital |
| Effects | EQ |
| Connectivity | 1 x 6.35mm Jack Input, 2 x Output |
| Power | 9 Volts DC |
My Review: Tech 21's Q Strip EQ pedal is a force to be reckoned with. This vintage-style equalizer is brimming with tone-tweaking possibilities. Inspired by the original recording consoles of the 60s and 70s, the Q Strip delivers all of the warmth and punch that made those legendary consoles so special.
The boards within the pedal are hand-wired, with maximum care being taken over the design and construction. The Q Strip is essentially a direct input box that is kitted out with MOSFET analog circuitry. The result is an authentic, warm EQ pedal that is capable of completely invigorating your guitar's tone.
There are four bands of studio-quality EQ onboard the pedal. Each one was inspired by a particular classic console module, and the definition is instantly audible when you flick between the settings. The bands are split into two parametric mids and singular high and low shelving filters, giving you complete control of the output.
There's also separate highpass and low pass filters that can be used to quickly shape the frequency response of your instrument. When the LPF is used with the EQ section, you can simulate various curves of speaker cabinets and blend the results with your other effects pedals. The HPS is useful for sweeping filters or cutting out any of the problematic low-end frequencies that sometimes occur when using an instrument with direct input.
Who This is Best Suited for: If you consider yourself to be an experimental guitarist, the Tech 21 Q strip could be the perfect EQ pedal for you. It's slightly complex to get your head around at first, so prior experience with pedals would be advisable, but once you get into the swing of things it's pretty easy to operate.
Bottom Line: This pedal is a truly dynamic EQ. It covers all of the fundamentals that you would want from a parametric EQ pedal, but also provides you with a platform to experiment and find your unique uses for the various controls.
Popular Related Article: The Best Looper Pedals Currently on the Market
6. Donner-EQ-Seeker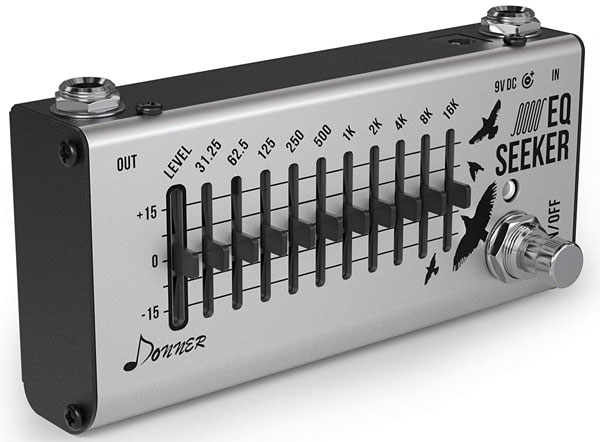 | | |
| --- | --- |
| Estimated Price | $50 |
| Type | Digital |
| Effects | EQ |
| Connectivity | 1 x 6.35mm Jack Input, 1 x Output, 1x MIDI Output |
| Power | 9 Volts DC |
My Review: There's an old saying when it comes to effects pedals – "you get what you pay for". That's true in most cases, but Donner's range of affordable pedals challenges that statement convincingly. The EQ Seeker pedal is as detailed as they come, providing 10 adjustable sliders across an extremely wide frequency spectrum.
The uniquely designed pedal is well suited to any genre of music, and its comprehensive range of adjustable frequency parameters lends itself to guitar or bass. It also boasts true bypass switching and the LED indicator on the front of the pedal gives you a clear indication when the pedal is turned on or off.
There's also plenty of headroom with the EQ Seeker pedal. You can cut or boost each of the 10 sliders by 15 decibels. The solid aluminum housing ensures that it can handle the wear and tear of touring and rehearsing too.
Who This is Best Suited for: For guitarists or bassists who are on a tight budget, the Donner EQ Seeker pedal provides great value for money.
Bottom Line: The Donner EQ Seeker is as comprehensive as any of the more expensive options on this list, providing you with a huge frequency range and ten adjustable EQ bands. It's a detailed pedal that is well suited to the studio or the stage.
7. JHS Clover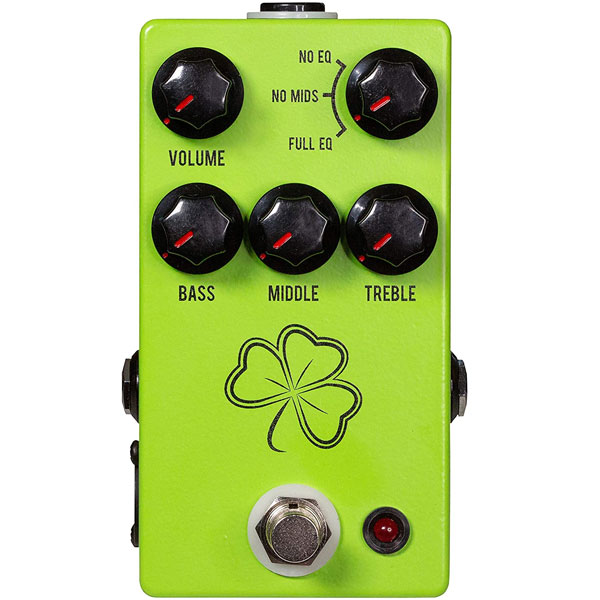 | | |
| --- | --- |
| Estimated Price | $70 |
| Type | Digital |
| Effects | Overdrive, Distortion |
| Connectivity | 1 x 6.35mm Jack Input, 1 x Output |
| Power | 9 Volts DC |
My Review: If you're an effects pedal fanatic like myself, chances are you've heard of JHS. Their range of top-end pedals is hugely popular among guitarists for their pristine quality and attention to detail. The unique-looking Clover pedal acts as both a parametric EQ and a preamp.
The knob in the top right corner of the pedal acts as a selector, allowing you to set the pedal to Full EQ, No Mids, or No EQ. When set to Full EQ, the three frequency parameters are activated, and you can roll off the bass, middle or treble frequencies. When set to No Mids, it cuts out any of the mid-range frequencies and thinks out your tone. When No EQ is selected, the pedal acts solely as a preamp, compressing your signal.
This JHS pedal is made from durable metal and has a bright LED indicator letting you know that the pedal is on. It also comes with true bypass switching so you can rest assured that your dry signal won't be compromised in any way, shape, or form.
Who This is Best Suited for: The JHS Clover is ideal for guitarists who aren't overly concerned with tweaking the individual frequency bands of their instrument, but would rather have a simple way to quickly roll-off or boost the chosen aspects of their tone.
Bottom Line: The JHS Clover is a dual-purposed pedal, acting as both a preamp and a parametric EQ. It's got all of the qualities you'd expect from a JHS model, with true bypass switching, a rugged housing, and warm, clear output.
Popular Related Article: The Best Reverb Pedals (All Price Ranges)
8. Caline USA CP-24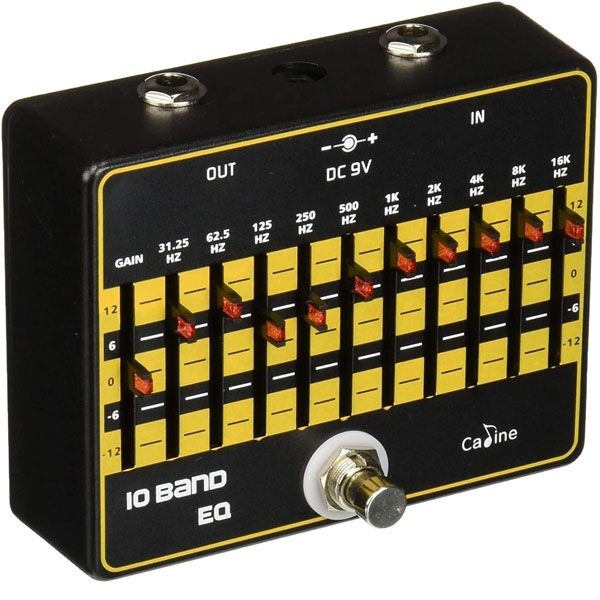 | | |
| --- | --- |
| Estimated Price | $40 |
| Type | Digital |
| Effects | EQ |
| Connectivity | 1 x 6.35mm Jack Input, 1 x Output |
| Power | 9 Volts DC |
My Review: Another affordable offering, the Caline USA CP-24 looks and performs like a much more expensive EQ pedal. With an intriguing, retro design, it will get some attention on your pedalboard.
Arguably the best quality of this pedal is its attention to detail. With a huge range of adjustable frequencies, no aspect of your guitar or bass can't be processed by the CP-24. In total 10 adjustable sliders range from 31.25Hz up to 16kHz, impressive for such a low-priced pedal!
In terms of headroom, you get 12 decibels of boost or cut to work with. This is more than enough to make a noticeable impact on the tone of your instrument, and it could even double up as a vocal or drum EQ in the studio.
The pedal runs off a standard 9-volt power supply and is also capable of being powered by a battery. It's enclosed in a durable metal housing and is designed to withstand heavy usage on the road. For the price, this Caline USA graphic EQ pedal is hard to beat.
Who This is Best Suited for: The Caline USA CP-24 is ideal for those who don't want to spend a fortune on an EQ pedal, but want all of the main aspects offered by a more expensive model.
Bottom Line: This pedal is extremely detailed, especially considering the low price. With 10 adjustable sliders and visual graphic-EQ design, it gives you complete control over the sound produced by your guitar or bass. Additionally, it's also a useful tool to have in the recording studio, and because of its extensive frequency band range, it can be used on basically any instrument or vocal track.
9. JOYO JF-11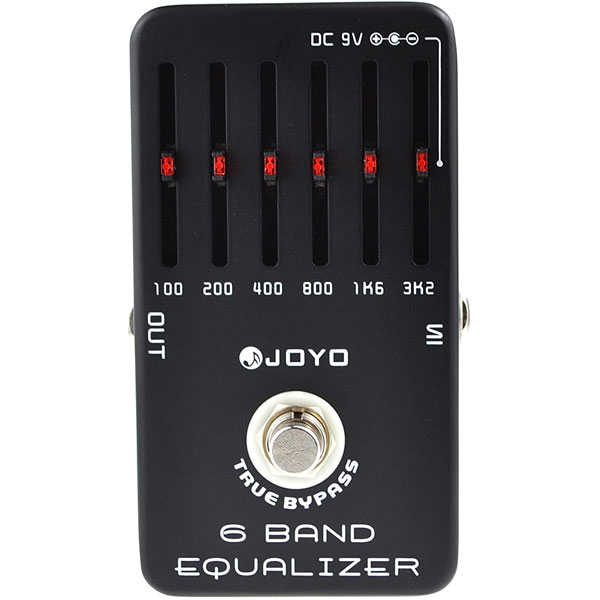 | | |
| --- | --- |
| Estimated Price | $40 |
| Type | Digital |
| Effects | EQ |
| Connectivity | 1 x 6.35mm Jack Input, 1 x Output |
| Power | 9 Volts DC |
My Review: The JOYO JF-11 is a 6-band EQ pedal that is designed to help your guitar cut through even the busiest of mixes. It's well suited to taming a bright sounding guitar or removing some of the low-end to make the mid-tones more prominent.
Each of the six bands provides you with up to 18dB of range, so you can adjust your sound accordingly. The frequency bands have been selected specifically to highlight the main characteristics of an electric guitar.
It can sometimes be the case that cheaper pedals produce unwanted background noise or don't have the same warmth as more expensive alternatives. JOYO has proven that this isn't always the case, and their JF-11 is a worthy competitor to more well-known manufacturer's offerings.
There's a useful LED power indicator on the face of the pedal so that you can tell if its switched on or off even on a dimly lit stage. There's also the addition of true bypass switching to minimize the tone loss between the wet and dry signals. The frequency bands range from 100Hz, 200Hz, 400Hz, 800Hz, 1.6kHz, and 3.2kHz. You also get a 9-volt battery included with the pedal so it's ready to go as soon as it arrives.
Who This is Best Suited for: If you want a reliable EQ pedal without having to break the bank, the JOYO JF-11 is a solid option. It's a good entry-level equalizer for those who maybe don't have a lot of experience with processing.
Bottom Line: The JOYO JF-11 is a decent 6-band EQ pedal that gives you up to 18 decibels of cut/boost capabilities. With true bypass switching, it won't adversely affect your dry tone, and the addition of an LED power indicator also comes in handy when you're playing in a darkened environment.
10. Stax Guitar EQ Pedal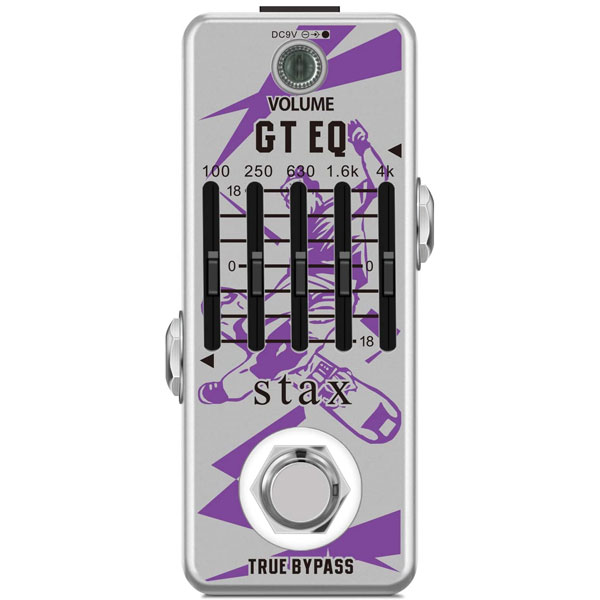 | | |
| --- | --- |
| Estimated Price | $35 |
| Type | Digital |
| Effects | EQ |
| Connectivity | 1 x 6.35mm Jack Input, 1 x Output |
| Power | 9 Volts DC |
My Review: With its eccentric design and compact size, the Stax Guitar EQ pedal will slot nicely onto your pedalboard. In total there a 5 adjustable parameters, each designated to a different frequency band. The bands that this pedal provides you with are 100Hz, 250Hz, 640Hz, 1.6kHz, and 4kHz.
Each of the five sliders has a maximum boost/cut of 18dB. It's an impressive amount of headroom for such a tiny pedal. The true bypass switching provides a transparent tone that doesn't deviate from your clean sound.
This pedal is specifically designed for electric guitars, but thanks to the wide frequency range, it is also capable of equalizing a bass. It requires 9 volts of power to run, and this can be provided by either a power supply or a singular 9-volt battery.
Who This is Best Suited for: The minute dimensions of the Stax Guitar EQ Pedal make it a worthy addition to any guitarist's pedalboard. It would be useful as a way to control the output of other effects pedals like overdrive or fuzz, so if you frequently use those effects, I'd recommend considering it.
Bottom Line: The Stax Guitar EQ pedal is a decent option that is easy to operate and functions reliably. It's not filled with innovative features, but it certainly does a solid job of sculpting your guitar or bass' tonal output.
11. BOSS EQ-200 (Editor's Choice)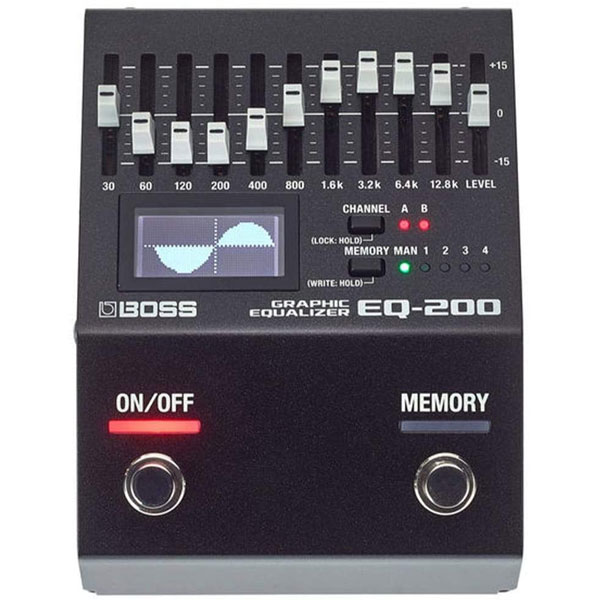 | | |
| --- | --- |
| Estimated Price | $250 |
| Type | Digital |
| Effects | EQ |
| Connectivity | 1 x 6.35mm Jack Input, 2 x Output |
| Power | 9 Volts DC |
My Review: When BOSS deviate from their renowned stompbox design, it's usually for good reason. The EQ-200 is a graphic equalizer with some useful digital features and a frequency range that covers all bases. It has four independent memory slots that can be used to save your preferred EQ settings. This saves lots of time and effort, allowing you to simply plug in, select your setting, and start playing.
The standout quality of the EQ-200 is its pristine sound quality. There's no unwanted noise caused by the pedal, and it accentuates the natural tone of your guitar or bass. With a stereo input/output, it could even be used for a keyboard too. The
The EQ-200 has two onboard EQs that you can configure to use in numerous ways. There's the standard stereo setting, parallel operation, series, or by using the insert function you can integrate external effects pedals and use the EQ-200 for pre/post equalization. The versatility doesn't stop there – this BOSS pedal offers up to 15 dB of boost or cut per slider, and with the global level control you can use it as a gain booster if the need arises.
Who This is Best Suited for: If you're already a fan of BOSS' range of stompboxes, you'll be amazed by the design and functionality of the EQ-200. It's a very detailed pedal, and in my opinion, would be best suited to someone who has a clear idea of the EQ settings they desire. It's also great for multi-instrumentalists.
Bottom Line: The BOSS EQ-200 graphic EQ pedal gives you complete freedom over your instrument's tone. With two independent 10-band EQ engines, you can store your preferred presets and access them with the press of a button.
12. J.Rockett Audio Designs Melody OD 6-Band EQ
| | |
| --- | --- |
| Estimated Price | $200 |
| Type | Digital |
| Effects | EQ, Overdrive |
| Connectivity | 1 x 6.35mm Jack Input, 1 x Output |
| Power | 9 Volts DC |
My Review: If you love the sound of overdriven guitars and need an EQ to tweak your tone, why not combine the two with the J.Rocket Audio Designs 6-Band EQ pedal. Instead of needing to purchase multiple EQ pedals to tailor the frequency response of your wet/dry signals, you get the best of both worlds with this J.Rocket option.
The Melody OD offers warm and authentic overdrive that lends itself to jazz, blues, or rock guitar. The saturation levels aren't too extreme, adding slight breakups to your tone similar to the valves being pushed to their limits in a tube amplifier.
Along with the high-quality overdrive capabilities offered by this pedal, it also has a 6-band graphic EQ. You get a generous 18 dB of boost or cut on each frequency, and the bands have been selected for maximum compatibility with the overdriven tones produced by the pedal. There's also true bypass switching to keep your tone consistent.
Who This is Best Suited for: If you intend to purchase on overdrive pedal at some point, it might be worth considering doubling up with the Melody OD. It offers a 6-band EQ so you can adjust the frequency response whilst adding some crunch to your guitar.
Bottom Line: The J Rockett Audio Designs Melody OD is a unique pedal, in that it combines overdrive and graphic EQ. Many guitarists recommend using separate EQ pedals specifically for controlling the tone of your dirt pedals, but with this offering, you can combine the two. The overdrive produced is warm and natural sounding, and with 6 bands of equalization, there's plenty of sound tweaking options.
13. Fishman Platinum Pro EQ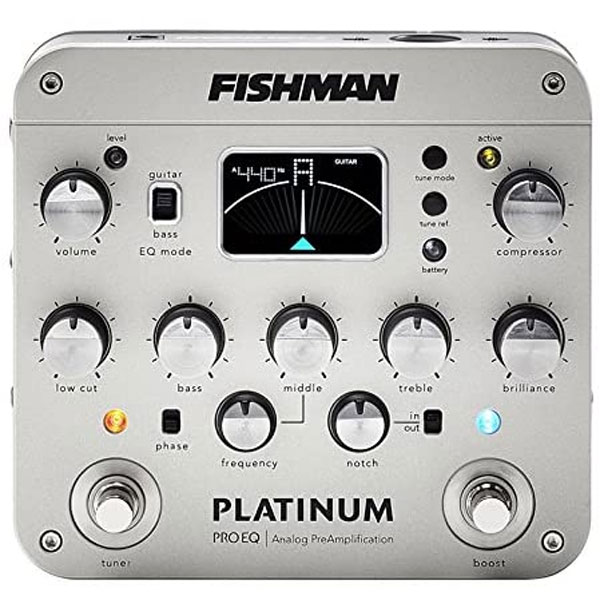 | | |
| --- | --- |
| Estimated Price | $300 |
| Type | Digital |
| Effects | EQ |
| Connectivity | 2 x 6.35mm Jack Input, 1 x Output |
| Power | 9 Volts DC |
My Review: If you're an acoustic guitarist, you might be feeling slightly neglected by the majority of EQ pedals I've listed so far. Although most of them are compatible with an electric-acoustic, I thought it was only fair to include an option that is specifically designed for a steel-string.
Legendary acoustic experts Fishman have shown their class once again with the Platinum Pro. This direct input pedal has a futuristic appearance, with an array of useful controls and functions spread out across the pedal. Despite the undeniable detail, the controls on the Platinum Pro are very easy to operate. In terms of connectivity, there's a balanced XLR output with a pre/post switch and a ground lift switch.
The 5-band equalizer includes sweep-ready mids and several filtering options. There's also a singular-knob compressor so you can even out the sound after making adjustments to the frequency response. If that isn't enough, Fishman has also included on the onboard tuner, effects loop, and a boost that can be triggered by a footswitch.
Who This is Best Suited for: If you play electric-acoustic guitar, the Fishman Platinum Pro is arguably the best guitar EQ pedal out there. Unlike many other EQ pedals, it has features that specifically cater to an acoustic instrument, and is very easy to use despite its high number of detailed functions.
Bottom Line: The Fishman Platinum Pro is an EQ/preamp pedal specifically geared toward the amplified acoustic guitar. It's a great tool on the road or in the studio, and with the built-in compressor, you can use it to iron out any dynamic inconsistencies that your instrument may produce. The 5-band EQ covers all of the most pertinent aspects of an acoustic guitar.
14. Biyang EQ-7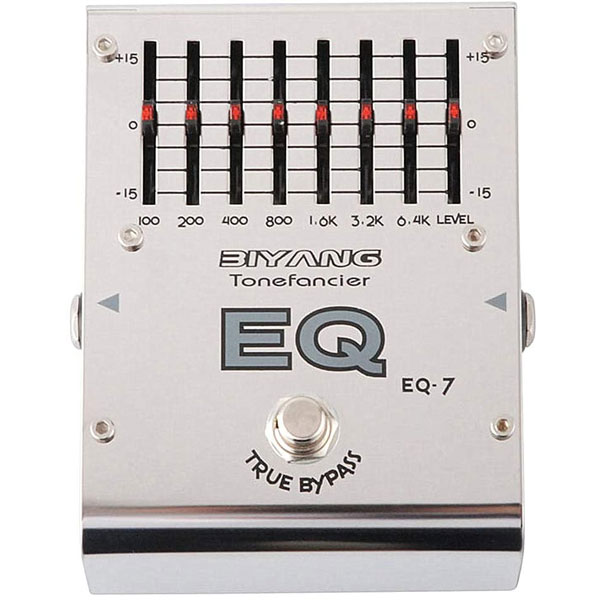 | | |
| --- | --- |
| Estimated Price | $60 |
| Type | Digital |
| Effects | EQ |
| Connectivity | 1 x 6.35mm Jack Input, 2 x Output |
| Power | 9 Volts DC |
My Review: The Biyang EQ7 Graphic Equalizer looks like it was made in the 70s, with its shiny metal design and simplistic layout. This affordable pedal gives you 7 bands of EQ, each with up to 15dB of boost or cutting capabilities.
The most impressive thing about the Biyang EQ7 is the way it preserves your guitar and amplifiers a clean tone. True bypass switching is of the highest quality, so you don't need to worry about undesirable noises making their way into the mix.
The inner electronics are also made to a high standard. With top-quality chips and a WIMA circuit, the Biyang EQ-7 competes with some of the more expensive options on this list. It's made from durable metal and isn't overly bulky in size. The pedal runs off 9-volt power and this can be provided by either a dedicated power supply or a battery.
Who This is Best Suited for: I'd recommend the Biyang EQ7 for musicians who want a straightforward equalizer with no complicated controls. It won't take long to familiarize yourself with the functions of this pedal.
Bottom Line: The Biyang EQ7 is an affordable graphic EQ pedal that allows you to adjust 7 bands spread across a wide frequency range. Granted, it lacks some of the more detailed controls found on more expensive options, but it does have high-quality inner circuitry and reliable true bypass switching.
15. Mooer EQ Effects Pedal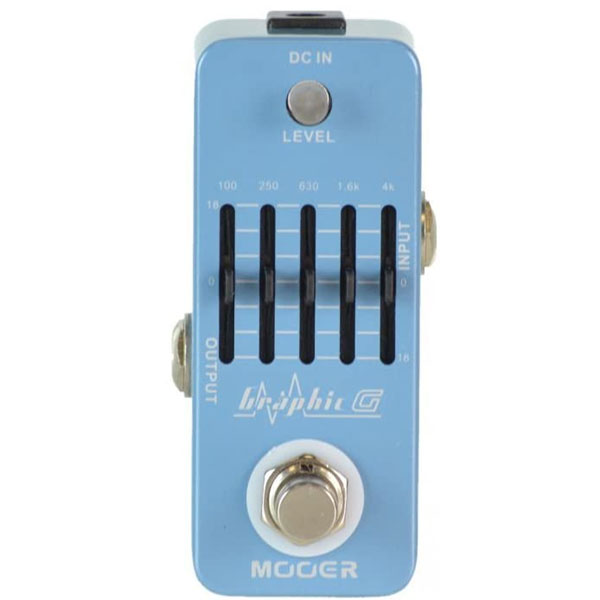 | | |
| --- | --- |
| Estimated Price | $70 |
| Type | Digital |
| Effects | EQ |
| Connectivity | 1 x 6.35mm Jack Input, 2 x Output |
| Power | 9 Volts DC |
My Review: Mooer's reputation as a leading provider of low-priced entry-level effects pedals has been constantly growing in recent years. Their pedals are known for their lightweight design, simplistic controls, and good quality components. On their EQ pedal, Mooer provides you with 5 detailed bands of graphic equalization. The frequency range comfortably covers all of the sweet spots of an electric guitar, and since the lowest band is set to 100Hz, you could use this pedal for a bass guitar too.
I have to admit, I'm impressed that Mooer has managed to cram 5-bands of EQ onto such a tiny pedal. Despite its compact nature, there's still plenty of room to adjust the sliders and it doesn't feet particularly crowded. You also don't have to worry about your dry/wet signal potentially being noticeably different from each other in terms of dynamics, as this EQ pedal has onboard true bypass switching for maximum signal integrity.
Who This is Best Suited for: Mooer pedals are renowned for the reasonable prices and ease of use. I'd therefore recommend this pedal to entry-level guitarists who maybe don't have a lot of experience when it comes to effects pedals and processing audio. It's a great starting point for anyone to familiarize themselves with equalization.
Bottom Line: The Mooer Graphic EQ pedal is a concise offering from a recently established manufacturer. The pedal has a limited number of controls, but this simplicity is perhaps its greatest asset. You don't need to read the user manual with this pedal, simply plugin, tweak the 5 band EQ to your liking, and you're ready to go. It's also equipped with true bypass switching to protect your signal transparency at all costs!
16. JHS Haunting Mids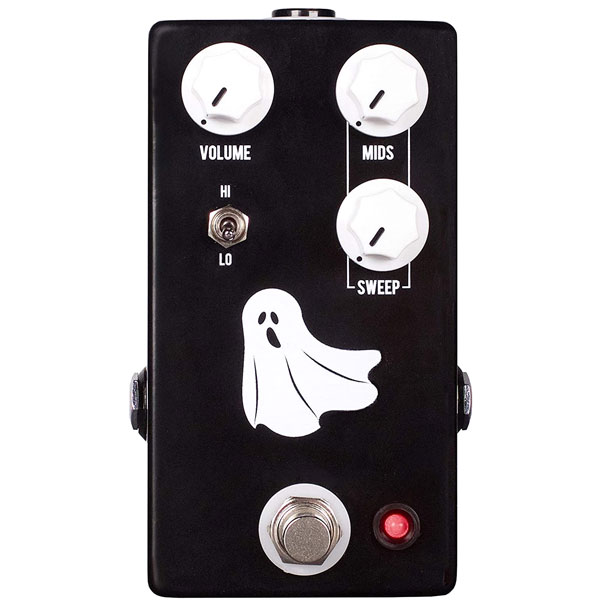 | | |
| --- | --- |
| Estimated Price | $150 |
| Type | Digital |
| Effects | EQ |
| Connectivity | 1 x 6.35mm Jack Input, 1 x Output |
| Power | 9 Volts DC |
My Review: Another quality offering from JHS, the Haunting Mids EQ is focused on enhancing the mid-range frequencies of a guitar. This preamp pedal works perfectly in conjunction with an overdrive, distortion, or fuzz pedal, as it hones in on the most prominent frequencies that these effects produce, and gives them a new lease of life.
Featuring a continuously sweepable midrange, up to 15 decibels of cut or boost, and a broad or narrow Q toggle, the Haunting Mids pedal transforms your tone into a whole new monster. Using EQ pedals specifically for fine-tuning other effects is often overlooked by guitarists, but when you consider it, it seems like an obvious way to get the best out of them.
In addition to acting as a mid-range EQ pedal, the JHS Haunting Mids also makes a great gain booster. It offers up to 10dB of clean boost with flat EQ, so you can quickly boost your dynamics to cut through the mix for a solo or melody. The lo/hi toggle switch activates wither a broad or narrower bell curve, too.
Who This is Best Suited for: I'd highly recommend this pedal to guitarists who use a lot of "dirt" based effects like distortion, overdrive, or fuzz. It performs best as an EQ pedal that is tasked with getting the best out of your other effects, especially if they are bathed in saturation!
Bottom Line: JHS keep on pumping out quality pedal time after time. The Haunting Mids pedal is unique in that it is best suited to enhancing your grittier pedals, thanks to its exceptional ability to boost the midrange frequencies. It also has several other interesting functions, like 10 decibels of clean gain and a lo/hi toggle for affecting the bell curve.
17. Aguilar Tone Hammer EQ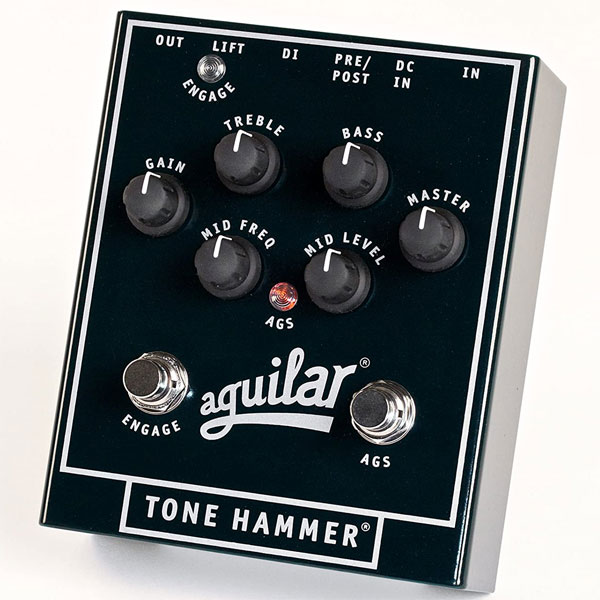 | | |
| --- | --- |
| Estimated Price | $250 |
| Type | Digital |
| Effects | EQ |
| Connectivity | 1 x 6.35mm Jack Input, 2 x Output |
| Power | 9 Volts DC |
My Review: This direct box has the capabilities of both a parametric EQ pedal and a standard preamp.
In total there are six adjustable knobs on the face of the pedal. The Gain control cranks up the aggressiveness of the compression. The Treble, Bass, Mid Freq, and Mid Level controls all affect their designated frequency range, allowing you to boost or cut their presence within the mix. Master control affects the overall output of the pedal and is useful for blending it with other effects.
The great thing about this Aguilar pedal is that you can connect it straight to your audio interface and use it to boost the presence of your instrument. It removes the need for an amplifier and recreates the tone of an expensive tube amp convincingly. It's so convincing that you could use it as a direct input for a gig and I'd be very surprised if anyone could tell the difference!
The inner circuitry and mechanisms are based on the much-loved OBP-3 preamp. You get sweepable midrange, bass, and treble controls and the patented Adaptive Gain Shaping circuitry adds to the overall quality of the tones produced by this pedal.
Who This is Best Suited for: This pedal is predominantly for bassists, but it can still perform well when used with an electric guitar. I'd recommend it to any bassists who are tired of lugging a bulky amp to and from shows, as the Hammer pedal makes a worthy replacement when used as a direct input.
Bottom Line: The Aguilar Tone Hammer is a versatile pedal that is equally as useful in the recording studio as it is on the stage or in the practice room. With a simple 3-band parametric EQ, gain, and volume settings, it provides bassists with everything they need to create the perfect blend of frequencies. Although more expensive than most others on this list, I would say this is easily one of the best EQ pedals out there right now.
Choosing the Right EQ Pedal (Buying Guide)
EQ pedals are a hugely useful tool when it comes to creating your desired tone. They are arguably the most transformative addition you can make to your pedalboard, affecting the sounds produced at their core. Not only do EQ pedals allow you to remove problem frequencies from your output, but they are also effective at controlling the frequencies produced by your other pedals.
For many years, Equalizers were mainly used in the recording studio to mix instruments and vocal tracks. In the early days of recording, engineers would use analog desks with faders that removed or added certain frequencies from the mix. It's more common for producers to use digital plugins for their EQ now, and it's used in basically every recording you hear.
In the next section of this article, I'll describe in detail everything you need to know about EQ pedals, their functions, and why they are so important when it comes to sculpting your tone. We'll go through the basic principles of EQ and get into some of the more advanced features too.
What is EQ?
When searching for effects pedals, it's important to have some knowledge of what the specific effect does to your tone and how it is produced. Learning the theory behind an effect not only makes it easier to decide on the right option for you, but it is also valuable when it comes to recording music in the studio.
EQ or equalization as it is technically known is one of the most commonly used effects in a recording studio. It allows mixing engineers to shape the frequencies of a chosen sound with expert precision and prevents different tracks from clashing with each other. Without EQ, a mix would be chaotic and not particularly ear-friendly.
So what exactly is EQ and why is it so important? EQ is essentially the process of adjusting the frequencies that make up an audio signal. The human ear is capable of detecting frequencies between 20 Hz to 20 kHz, and music is comprised of instruments that fall within that range. Equalization allows you to tailor the frequency content of a song, or in the case of pedals, a guitar or bass.
You might be wondering, what happens when two instruments produce the same frequency. Concert A on the piano is 440Hz, so if a guitar and piano both play that particular note, how come they still sound identifiable? The answer is, they have a different timbre.
To understand EQ, we must consider timbre. Timbre affects the way the human brain processes a sound and allows us to differentiate between two instruments or sound sources even when they produce the same frequency.
This brings us to partials. When we alter a sound using EQ, what we are doing is editing the volume of the sound's particles. If a sound is composed of partials that are closely related to each other, you get a consistent, smooth, and harmonic sound, like a violin. On the other hand, if a sound is composed mostly of uneven partials, you get an inharmonic sound like a crash cymbal or open hi-hat.
Where does EQ fit into the equation? Let's say that our electric guitar and piano are playing the same notes at the same frequencies. Although both of these instruments have distinctive timbres, they may overlap when recorded through a microphone. This overlapping can make it hard to hear the individual parts, a problem known as masking. EQ removes certain frequencies from the instruments to reduce the masking and making them audible within a mix.
It's important to establish the EQ does not produce new frequencies. It can appear like this sometimes, but what it is doing is editing the existing characteristics of a sound rather than shaping it into something new.
The Origins of EQ
The origins of EQ date back to the 1930s, when recording and playback were in their formative stages. A sound technician named John Volkman designed the first notable external equalizer that included several adjustable frequencies.
As the decades passed, equalizers became a staple of recording studios all over the world. They were used to add clarity to vocal tracks and in the post-production process of mixing audio. When the Langevin EQ-251A came out, it marked the birth of the graphic equalizer, an invention that would revolutionize the way music and sound were mixed and produced. However, these EQs were still fairly primitive and engineers still found themselves limited to only being able to adjust certain numbers of frequency bands.
Fast forward to 1967, and the API 550A was brought into existence by Saul Walker. This model allowed mixing engineers to alter the bandwidth of recordings concerning the boosted signal. Although it still relied on fixed sections of frequencies that could be boosted or cut, it was a step up compared to previous models.
The real breakthrough came in 1966 when a team of engineers produced a sweep-tunable EQ that would remove the need for switches. The resulting 3-band EQ was frequency adjustable, providing more control over the characteristics of the sounds.
Filters, Bands & EQ pedals
Technically speaking, EQ is simply a filter that is used in a specific way. EQ uses filters to cut or boost certain frequencies. An individual EQ band is comprised of three main elements – gain, type, and slope.
As with other effect pedals, the gain adjusts how much of the EQ is present in the mix. Just as a distortion pedal's gain control would determine how much saturation was present, the same control on an equalizer determines the amount of cut or boost the sound is subjected to.
One thing to keep in mind when using the gain control on an EQ pedal is that it affects the overall gain of your instrument's signal. In this way, it's similar to a gain booster. An EQ pedal has the power to change your levels dramatically, so its important to consider the amount of headroom you have/need on stage.
The type of filter has a massive impact on the way the EQ works. It refers to the shame of the band, and the most commonly used varieties are high/low pass, notch, bell, or high/low shelf. High pass and low pass filters allow the frequencies in their name to be unaffected by the filter, cutting the opposite frequencies. High pass and low pass filters are commonly used by DJs during breakdown sections to create tension.
The slope aspect of an EQ pedal determines the aggression of the filter where the chosen frequencies drop off. This is measure in decibels per octave, and the higher the number, the steeper the slope. For example, a slope of 6 decibels per octave would sound less severe, whereas a slope of 96 decibels per octave would be more aggressive and precise.
When it Comes to EQ, Less is More
When you first get your hands on an EQ pedal, it's easy to fall into the trap of wanting to boost frequencies to make them more prominent in the mix. Although this seems logical, EQ is not simply a volume control, so adding more frequencies has a counteractive effect.
There are two categories that EQ falls under – these are:
Additive EQ
Subtractive EQ
When using an EQ pedal, it's important not to go overboard. This effect should be used as subtly as possible, and paradoxically, the less you use it, the more power it has over your tone. Additive EQ is the practice of boosting certain frequencies to make them more audible. Subtractive EQ is when you cut out certain frequencies to make others more audible.
If you asked 100 sound engineers whether they prefer to use an additive or subtractive EQ, you'd likely get a mixed response. As is the case with all audio processing techniques, it's a matter of personal preference. However, using subtractive EQ is generally considered to be a less aggressive way to equalize a sound. Additive EQ reduces the headroom and can cause clipping to occur if you're not careful.
Going back to the "less is more" philosophy, if you imagine a situation where you would like to boost multiple bands on the frequency spectrum, instead of using additive EQ to make them more prominent in the mix, you could simply use subtractive EQ to cut some of the frequencies that don't need boosting. The result is similar, but the difference is that you haven't affected more frequencies than is necessary on your quest to boost the desired bands.
It's important to bear in mind that EQ is not capable of transforming an undesirable sound. If your tone doesn't sound good in the first place, EQ won't fix that. It works most effectively when the sound source is close to the finished product that your desire, then EQ pedals are great for tweaking and refining the sound rather than correcting it.
When considering EQ as a standalone effect in the studio, a good way to think of it is as a coloration tool. A guitar track may be dull in some areas, but you may find a "sweet spot" somewhere in the mid-high frequencies. This is where EQ proves its worth, as you can minimize the appearance of the unwanted frequencies, therefore drawing the listener's attention to the best parts of the sound.
Common EQ Pedal Terminology – Summary
After reading through the previous sections, you should now have a grasp on EQ, the different aspects of it, and the terms used to describe its functions. You'll find that some EQ pedals have all of the aforementioned qualities, whereas more basic models may be limited to only a few. Either way, it's a good idea to familiarize yourself with the terms used to describe equalization so that you can use your pedal to the best of your ability and transfer that knowledge into your recordings.
Graphic EQ and Parametric EQ
Generally speaking, EQ pedals fall under two categories – graphic and parametric. Both ultimately perform the same function but have different appearances and parameters. In the list at the start of this article, I included a mixture of both varieties, so it's a good idea to learn about the contrasting qualities of both types of EQ pedals.
Graphic EQ pedals have several onboard sliders. They vary from 5-band to 10-band models. The band simply means the number of sliders that are present on the face of the pedal. Stompbox EQ pedals are almost always of the graphic variety, and allow you to visually see the settings in a way that represents a waveform. The advantage of graphic EQ pedals is that you can visualize the frequencies and create clear curves to either boost or cut desired frequency bands.
Parametric EQ pedals are closely based on what you would find on an original mixing desk in an analog recording studio. They have knobs instead of sliders and are better suited to guitarists who want to be as precise as possible when using their EQ pedal. The advantage of using parametric EQ is that you can perform sweeps, which allow you to find "sweet spots" within the frequency spectrum. These pedals are generally more expensive than their graphic EQ counterparts.
Recreating Lo-Fi Tones with an EQ Pedal
Another great thing about EQ pedals is that they are capable of transforming your tone to suit different styles of music. Lo-Fi is a term that describes sounds that have been edited to sound more primitive and less polished, giving them an authentic feel. It's the opposite of hi-fi, where the instruments are mixed clearly and sound pristine.
EQ pedals are very effective at turning your guitar tone lo-fi. In terms of frequencies, lo-fi guitars are usually lacking in the low-end, due to the sub-par recording techniques used to capture them. To reproduce this kind of sound, you can roll off some of the low and low-mid frequencies from around 500Hz and below, so your EQ pedal is acting as a high-pass filter.
Filter Sweeps
Another popular effect that you can reproduce using an EQ pedal is a filter sweep. This is a technique used by electronic musicians when dealing with synths, but it can also sound interesting on a guitar. It's used as a transitional effect in many styles of music, blending two sections seamlessly.
It's harder to create a filter sweep effect if you are using a graphic EQ pedal because it only allows you to adjust the individual sliders of one frequency band. However, a parametric EQ pedal is more than capable of performing this effect.
The knob-styled controls on parametric EQ pedals are much easier to tweak. As you adjust the parameters, the chosen frequencies are either boosted or cut. To create a filter sweep, you need to consistently move the knobs from their lowest to the highest point. This creates a dramatic swoop between the frequency points.
Positioning an EQ Pedal in Your Signal Chain
The positioning of effects pedals in a signal chain is a frequently debated topic among guitarists. The beautiful thing about music is that there's no one-size-fits-all approach, and it comes down to what sounds you intend to produce.
Although pedal positioning is a subjective matter, that doesn't mean there aren't particular methods that most musicians would agree to be the "correct" way of doing things. I'm a big believer in learning through experimentation, so feel free to disregard the next couple of paragraphs if you'd rather take a D.I.Y approach.
It's generally accepted that dynamic pedals like compressors or gain boosters should be positioned at the start of your chain. Next comes any "dirt" based pedals like distortion, overdrive, or fuzz. EQ pedals don't have a set position, for this reason – when you shape your sound using an EQ pedal, it will affect every other pedal that comes after it in the chain. This means you need to be selective with which other effects are positioned before the EQ.
Some guitarists use multiple EQ pedals so that they can shape the sound before and after certain effects. This is a good way to ensure that there is consistency across the output of your pedalboard, but not everyone has space or budget to purchase more than one EQ pedal.
Personally, I would favor positioning an EQ pedal towards the end of the signal chain, simply because you can then use it to its full capacity and control the frequency output of every other pedal on your board.
EQ and Vocals
There are specific pedals made for vocal EQ, but usually, it would be the job of a sound technician to set this up on the mixing desk at a venue. They have access to the level meters and so can see which frequencies need to be cut or boosted.
If you're playing a show where there is no sound technician present for some reason, a vocal EQ pedal is a very handy solution. If you find that the acoustics of the room make some frequencies stand out more than others when you're singing, you can simply roll them off to smoothen out the overall tone.
Signal Splitting
Signal splitting is a useful process to learn about, as it applies not only to pedals and amplifiers but mixers and other recording studio equipment too. So what is signal splitting? Basically, it's where you send a dry and wet output from the same sound source into a pair of inputs, creating two signals from one source.
In the case of overdrive pedals, you might have noticed that some of the options I previously presented in this list were fitted with two outputs. This makes it possible to split the signal, and send the wet/dry into separate amplifiers.
The reason that guitarists and bassists use this trick is mainly to give them a thicker, more full-bodied sound. When using a dual-amp setup, your clean tone is constantly playing even when you turn on an effects pedal. So the dry signal forms the foundation of your tone, then when an effect is turned on the wet signal is sent to a separate amp. This gives the illusion that two guitars are playing the same thing with differing tones.
Splitting the signal is a great way to compensate for the lack of a second guitar in your band, or if you play the bass, you can use your effects channel as a replacement for a guitarist while maintaining the fullness of your low-end frequencies.
Using EQ in the Recording Studio
The main difference between using EQ pedals on stage and using EQ in the studio is that the latter usually consists of DAWs and plugins. The principles remain the same, but mixing songs within your Digital Audio Workspace gives you more accuracy and freedom.
There are a number of brilliant EQ plugins available, some free and some for a cost. In all honesty, you can simply use the EQ that comes with your preferred DAW, as they all do the same thing. The more high-end options usually have more advanced graphics and presets, but if you spend some time learning and experimenting with EQ you can get the same results from a more basic option.
Using your EQ pedal in the studio might be a good idea if you want to preserve and replicate your exact live tone when recording. The chances are your EQ pedal settings which stay pretty consistent once you decide on the right sound, so using the pedal to record will get you closer to the sound your guitar produces on stage.
If you decide to use your EQ pedal rather than a plugin, you have two options. Firstly, you could run your guitar straight into the pedal, then into the direct input on your audio interface. The advantage of this method is that your tone isn't colored by an amplifier. The exact sound of your guitar and pickups is affected by the EQ, which gives you more of a blank canvas to work with when mixing the track.
Alternatively, you can run the EQ pedal into an amplifier and set up a microphone to record. This provides a more consistent sound to your on-stage tone, but it's harder to edit the recording afterward as the characteristics of the amp will impact the captured audio.
Bass Guitar and EQ Pedals
Another great thing about EQ pedals is that they are usually compatible with electric guitars, acoustic guitar, and bass guitars. The key when using EQ with bass, is to be aware of the different frequency properties compared to a standard electric guitar.
The "sweet spot" of a bass guitar is found towards the low-end of the frequency spectrum. Anywhere between 200Hz-800Hz is a good place to start. By adjusting the EQ parameters whilst playing your bass, you can figure out which frequencies could do with a little boost and which need to be cut.
Anything under 100Hz is generally considered to be redundant, as the human ear struggles to pick up these frequencies. If your bass is heavy in the low-end, it might be worth rolling off anything below 100Hz to avoid the tone from becoming muddy.
The best way to use effects pedals with a bass guitar is to utilize a dual-amp set up by splitting the signal, as I mentioned earlier in the article. This allows you to separate the clean and dirty channels, giving you more control over the output.
Power Requirements
EQ pedals generally require 9 volts of power. There are a few exceptions that run off 12 volts, but this is rare. Some come with a purpose-built power supply made especially by the manufacturer, others require you to purchase one externally. Most power supplies do the same thing, so there's nothing wrong with picking up an affordable option.
It's also common that EQ pedals can be powered by 9 bolt batteries. This is useful for situations where mains power is limited, and it can also provide some peace of mind when you're on stage. By fitting a fresh battery into the pedal before each show, you eliminate the risk of the pedal cutting out if the power supply somehow malfunctions.
Conclusion:
EQ pedals are a highly useful addition to your setup, providing you with a platform to sculpt your tone with precision. They may not be as exciting as a fuzz or delay pedal, but they are equally, if not more important.
After reading this definitive guide to the best EQ pedals available today and the information section covering all of the information on the topic, you should now be in a position to make an informed choice. All of the options on this list would greatly improve your sound, so I'm, sure you'll be happy with whichever one you choose.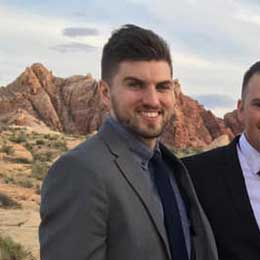 My name is Chris and I've had a passion for music and guitars for as long as I can remember. I started this website with some of my friends who are musicians, music teachers, gear heads, and music enthusiasts so we could provide high-quality guitar and music-related content.
I've been playing guitar since I was 13 years old and am an avid collector. Amps, pedals, guitars, bass, drums, microphones, studio, and recording gear, I love it all.
I was born and raised in Western Pennsylvania. My background is in Electrical Engineering, earning a Bachelor's degree from Youngstown State University. With my engineering experience, I've developed as a designer of guitar amplifiers and effects. A true passion of mine, I've designed, built, and repaired a wide range of guitar amps and electronics. Here at the Guitar Lobby, our aim is to share our passion for Music and gear with the rest of the music community.