There's no more effective way to add sonic options to your guitar playing than investing in some quality effects pedals. Although there are certain situations where playing clean is required, the more pedals you have at your disposal, the better equipped you are to respond to any situation that arises during a live set or in the studio.
Chorus is an instantly recognizable effect that divides opinion. I think every guitarist should have a chorus pedal. It's such an immersive effect that manages to completely alter the feel of a guitar, without obliterating the natural, clean tone.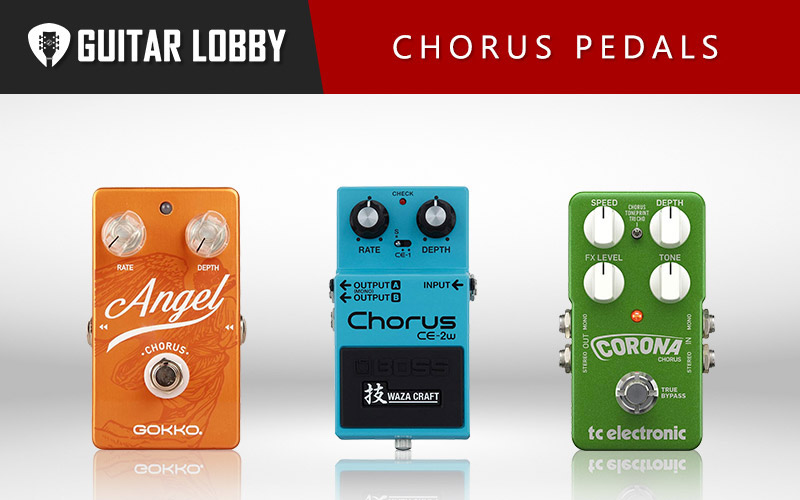 A multi-dimensional effect, there are several options provided by chorus pedals. It's equally as effective when used subtly to add depth to your instrument, or when used more prominently. In the following guide, we'll take a look through some of the best chorus pedals at each price point. If you want to learn about them before reading reviews, check out our chorus pedal buying guide at the bottom of the page here.
Name of Product
Image of Product
Description
Price Range
Full Review
1. Boss CE-2W Waza (Best Overall)
Type: Analog
Effects: Chorus
$200
Read Full Review Below
2. MXR M234 (Best Value)
Type: Analog
Effects: Chorus
$100
Read Full Review Below
3. Walrus Audio Julia V2 (Editor's Choice)
Type: Digital
Effects: Chorus, Vibrato
$200
Read Full Review Below
4. Mooer Ensemble King (Best Under $100)
Type: Digital
Effects: Chorus
$60
Read Full Review Below
5. Danelectro D-5 (Best Under $50)
Type: Digital
Effects: Chorus
$30
Read Full Review Below
6. TC Electronic Corona
Type: Analog
Effects: Chorus
$130
Read Full Review Below
7. Chase Bliss Warped Vinyl Hi-Fi
Type: Analog
Effects: Chorus/Vibrato
$350
Read Full Review Below
8. Electro-Harmonix Small Clone
Type: Digital
Effects: Chorus
$120
Read Full Review Below
9. Fender Bubbler
Type: Digital
Effects: Chorus
$150
Read Full Review Below
10. Ibanez Mini Chorus Pedal
Type: Analog
Effects: Chorus
$120
Read Full Review Below
11. Old Blood Noise Endeavors Reflector V3
Type: Digital
Effects: Chorus, Reverb
$200
Read Full Review Below
12. Boss WAZA DC-2W
Type: Digital
Effects: Chorus
$240
Read Full Review Below
13. ZVEX Effects Instant Lo-Fi Junky Vexter
Type: Analog
Effects: Chorus
$240
Read Full Review Below
14. JHS 3 Series Chorus
Type: Digital
Effects: Chorus
$100
Read Full Review Below
15. Gokko Audio GK-23
Type:

 Digital


Effects:

 Chorus

$40
Read Full Review Below
16. Electro-Harmonix Neo Clone
Type: Digital
Effects: Chorus
$200
Read Full Review Below
17. Rowin Analog Chorus Pedal
Type: Analog
Effects: Chorus
$35
Read Full Review Below
Here Are the Best Guitar Chorus Pedals
1. Boss CE-2W Waza (Best Overall)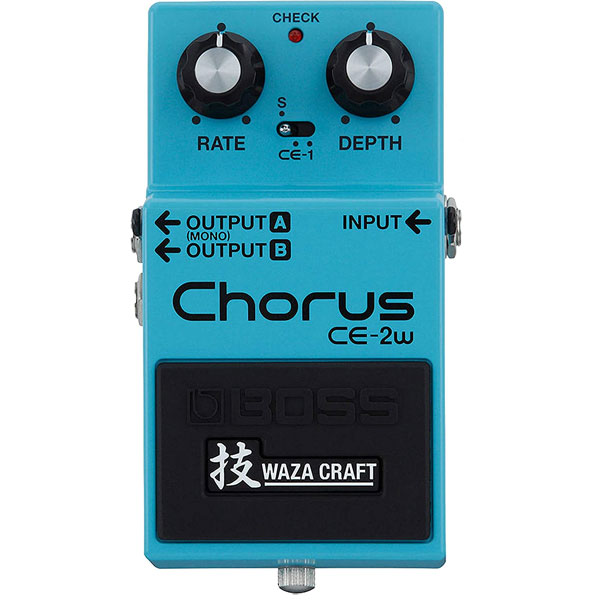 | | |
| --- | --- |
| Estimated Price | $200 |
| Type | Analog |
| Effects | Chorus |
| Connectivity | 1 x 6.35mm Jack Input, 2 x Outputs |
| Power | 9 Volt |
My Review: If there's one manufacturer who could be considered as the leading pioneers of chorus pedals, it would stompbox experts Boss. They first released the revered CE-1 in the mid-1970s, and since then have gone on to produce some exceptional chorus offerings, like the CE-2. The CE-2W edition builds upon the best features of previous models, retaining the legendary robustness of Boss' range of effects pedals.
The Waza pedal is based around two modes: Standard and CE-1. The latter recreates the original CE chorus pedal, boasting authentic analog tone with high-quality vibrato. The Standard mode is more detailed, producing the sound of the CE-2 pedal.
Both of the modes can then be edited using the various parameters on the Waza pedal. Rate and Depth controls can be used to completely transform the chorus's characteristics, ranging from a slightly detuned double-tracking effect to a thick, warble-filled chorus.
The Japanese work "Waza" translates as artistry or technique. It's an appropriate name for this wonderfully-designed chorus pedal. The inner components, such as the transistor and capacitor are of the highest standard, and the circuitry is designed to produce the most authentic and transparent analog effects possible. With dual outputs, you can also use the CE-2W as a signal splitter for a multi-amp setup.
Who is this best suited for: Boss stompboxes are known for being durable, solid, and reliable. Therefore, I'd recommend the CE-2W chorus pedal to guitarists who are likely to use the pedal a lot. Touring musicians will know the importance of using well-built and robust pedals due to the inevitable bumps that occur during transportation. Built like a tank, the CE-2W can withstand almost anything.
Bottom Line: Inspired by what is considered to be the original chorus pedal that set the standard for decades to come, the CE-2W Waza Craft Chorus Pedal is one of Boss' finest creations. Simple and effective, it provides you with versatile chorus tones that suit a wide range of styles and genres.
2. MXR M234 (Best Value)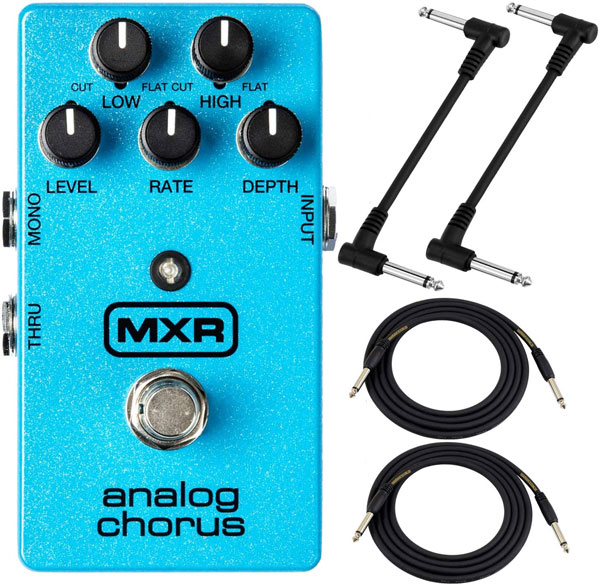 | | |
| --- | --- |
| Estimated Price | $100 |
| Type | Analog |
| Effects | Chorus |
| Connectivity | 1 x 6.35mm Jack Input, 2 x Output |
| Power | 9 Volts DC |
My Review: MXR's range of brilliant pedals spans across a wide variety of effects. The high-end sound their pedals produce is largely down to the quality of the inner components of the pedal. The M234 is their flagship chorus offering.
An all-analog pedal, the M234 houses exceptional inner circuitry without the need for digital technology. The advantage of this exclusively analog design is that the chorus produced by the pedal is reminiscent of the vintage rock tones that popularized the effect.
You can use the trio of transformative controls to tweak the performance of this chorus pedal. The Rate control ramps up the speed of the warbling effect and is very useful for creating a rhythmic, vibrato-style chorus. The Level control allows you to tame the dynamics of the M234, ensuring that its volume matches that of your other pedals. Finally, the Depth control completely alters the tonal makeup of the effect.
Additionally, you also get a primitive EQ section where you can reign in some of the high or low frequencies. The MX234 is housed in a heavy-duty metal casing and all of its witches, controls, inputs, and outputs are built to last.
Who is this best suited for: I'd recommend the MXR M234 Analog Chorus Pedal to guitarists who are fond of vintage chorus tones. A simple and easy-to-operate pedal, it's ideally suited to those who want to plug in, find the right settings, and start jamming.
Bottom Line: The MXR M234 boasts the level of quality that we have come to expect from this ever-growing manufacturer of pedals. With solid metal housing, three adjustable parameters, and a 2-band EQ, it's a worthy addition to your pedalboard.
3. Walrus Audio Julia V2 (Editor's Choice)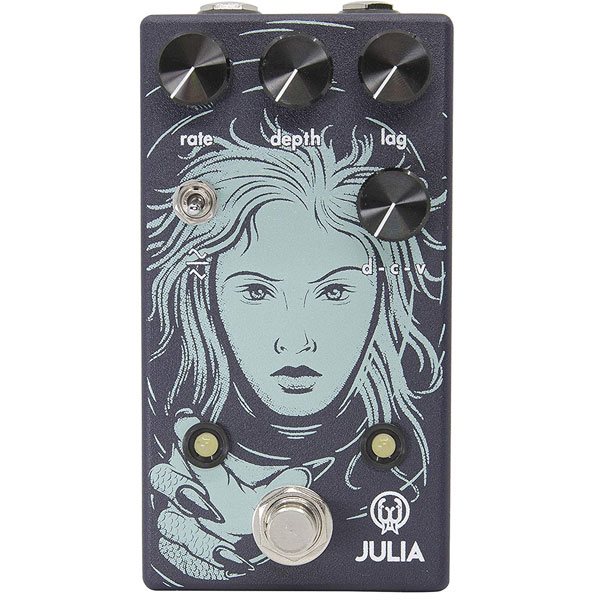 | | |
| --- | --- |
| Estimated Price | $200 |
| Type | Digital |
| Effects | Chorus, Vibrato |
| Connectivity | 1 x 6.35mm Jack Input, 1 x Output |
| Power | 9 Volts DC |
My Review: The Julia V2 is a top-tier chorus and vibrato pedal that brings motion to your clean tone, with variable intensity. Malleable and flexible, Julia is kitted out with several controls that affect the tones it produces.
There are the frequently found rate and depth parameters that can be used to adjust the movement of the chorus effect, and form the basis of the pedal. Additionally, there's the less common trio of parameters that give Julia its unique edge.
Firstly, you can toggle between sine or triangle waves to create smooth or chaotic chorus and vibrato sounds. Then there's the Lag control, which moves the effect back and forth to create a rhythmic pulse of the chorus. Finally, you can use the Dry-to-Wet blend to affect the subtlety of the Julia pedal. Smart bypass switching ensures that your tone is only affected when the pedal is turned on.
Who is this best suited for: The Julia V2 is perfectly suited to guitarists who want to switch between slight and understated chorus, and extreme, pulsating modulation. With three newly added controls, it's ideal for those who enjoy the process of discovery with effects pedals.
Bottom Line: Walrus Audio continue their line of high-end effects pedals with the second and improved version of their Julia chorus pedal. With all of the basic controls included along with additional wave selection and rhythmic lag, this robust offering can produce a range of chorus and vibrato-based tones.
Popular Related Article: 15 Must Have Guitar Pedals
4. Mooer Ensemble King (Best Under $100)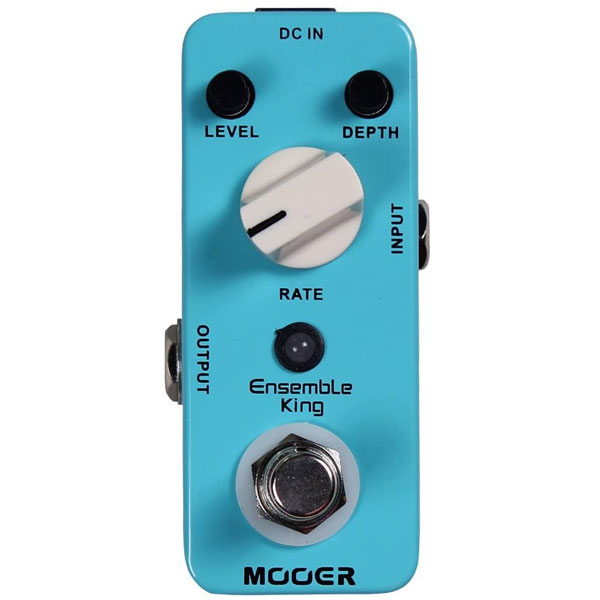 | | |
| --- | --- |
| Estimated Price | $60 |
| Type | Digital |
| Effects | Chorus |
| Connectivity | 1 x 6.35mm Jack Input, 1 x Output |
| Power | 9 Volts DC |
My Review: With their selection of affordable and reliable effects pedals, Mooer's reputation continues to rise amongst musicians and technicians. The Ensemble king offers warm, dreamy chorus tones, simple operation, and numerous adjustable qualities.
Featuring a wide range of chorus tones, the Ensemble can produce everything from understated double-tracking to otherworldly pulsating vibrato. The Depth control provides you with an easy way to tame the effect, to make it more extreme depending on your preferences.
This Mooer chorus pedal requires 9V DC power. Its small and compact dimensions make it easy to slot into a small gap on your pedalboard, and with a full metal shell, it is durable enough to handle heavy usage.
The inner circuitry of the Ensemble is 100% analog. This ensures that the chorus tones it produces sound authentic and preserve the natural color of your guitar's sound. With true bypass switching, there's no danger of your signal being compromised when the pedal isn't active.
Who is this best suited for: If you require a high-quality, vintage-sounding chorus but don't have unlimited funds to spend, the Mooer Ensemble is a good compromise between price and performance. Its compact size makes it ideal for busy pedalboards.
Bottom Line: A useful tool both in the studio and on the stage, the Ensemble analog chorus pedal by Mooer offers fantastic modulation effects at a fair price. With true bypass, a durable metal housing a pure analog circuitry, this pedal performs to a very high standard. Overall I would say that this is the best chorus pedal under 100 dollars.
5. Danelectro D-5 (Best Under $50)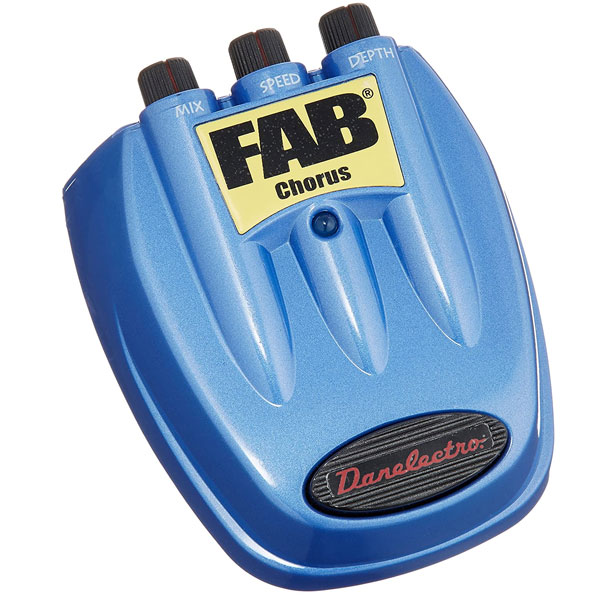 | | |
| --- | --- |
| Estimated Price | $30 |
| Type | Digital |
| Effects | Chorus |
| Connectivity | 1 x 6.35mm Jack Input, 1 x Output |
| Power | 9 Volts DC |
My Review: Now and then a pedal comes along that is ridiculously good for its price. The D-5 by Dandelectro is one of those pedals. At around $30, it performs to a remarkably high standard and produces a detailed range of chorus effect tones.
With a unique design that is brimming with character, the D-5 FAB Chorus pedal houses a plethora of rich analog chorus sounds, with plenty of room for maneuver. Switch between conventional, grunge-style chorus that brings your riffs and melodies to life and wild-sounding modulation that makes your guitar sound completely detuned (in a good way!).
Despite the low-cost of this Dandelectro pedal, it's still pretty robust. Granted, its housing isn't quite as durable as the pedals that cost four times its price, but for the money it will certainly last for a considerable length of time, providing you look after it. With Mix, Depth, and Rate controls, you can adjust every aspect of the chorus effect, and create your unique blend.
Who is this best suited for: If you're on a tight budget, the Dandelectro D5 Fab Chorus pedal is probably your best bet. It performs very well considering the cost, and with its eccentric, sci-fi inspired design, it's a great choice for musicians who love to stand out.
Bottom Line: Affordable, weird, and versatile, the D5 Fab Chorus pedal brings a plethora of chorus effects to your pedalboard. Inspired by retro chorus sounds, the D5 is home to three main controls that can be used to create combinations of modulation effects, to bring your instrument's tone to life.
6. TC Electronic Corona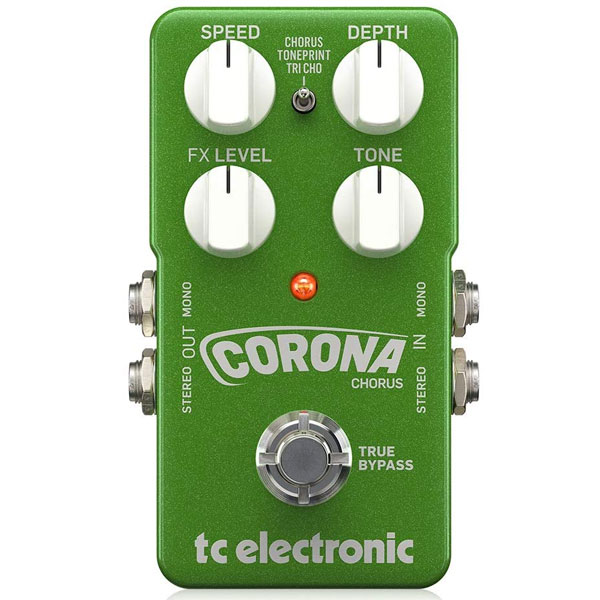 | | |
| --- | --- |
| Estimated Price | $130 |
| Type | Analog |
| Effects | Chorus |
| Connectivity | 2 x 6.35mm Jack Input, 2 x Output |
| Power | 9 Volts DC |
My Review: TC Electronic's Corona is part of the direct lineage of the now legendary SCF Stereo Chorus Flanger pedal, designed initially over four decades ago by two brothers in a remote town in Demark. That pedal was way ahead of its time, and it became the spark that ignited the flame of TC Electronic.
The Corona Chorus bears a stark resemblance to the SCF pedal, but many modern improvements have been made based on the knowledge gained by the manufacturer over the years. There are two main settings on the Corona pedal; firstly you have the SCF option which is full of analog character and vintage warmth.
Alternatively, you can switch over to the rich-sounding Tri-Chorus. This mode retains the analog quality of the original but offers several tone-sculpting options that sound more experimental. If you're feeling experimental, you can even combine the two modes and use the parameters to create your desired mixture of the pair.
Who is this best suited for: The TC Electronic Corona Chorus pedal is best suited for guitarists who want both vintage, analog chorus, and more modern, processed chorus sounds. It also produces flange, so if you were thinking of purchasing a flanger pedal too, you can save yourself some money and effort by getting the Corona.
Bottom Line: TC Electronic are world-renowned for their wide selection of high-end effects pedals, but it all started with a chorus pedal back 40 years ago. The Corona keeps the legacy of that pedal well and truly alive, with all of the best aspects extracted and combined with new improvements to create this warm-sounding pedal.
7. Chase Bliss Warped Vinyl Hi-Fi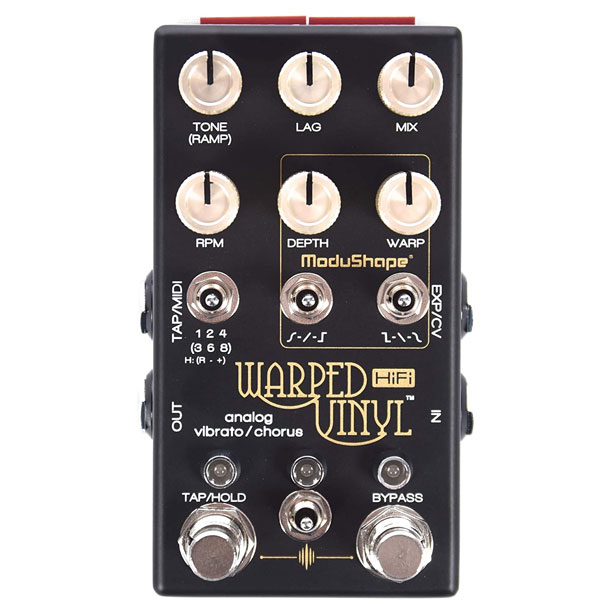 | | |
| --- | --- |
| Estimated Price | $350 |
| Type | Analog |
| Effects | Chorus/Vibrato |
| Connectivity | 2 x 6.35mm Jack Input, 2 x Output |
| Power | 9 Volts DC |
My Review: The Chase Bliss Warped Vinyl Hi-Fi is a sublime modulation pedal that is capable of producing a huge range of effects. The pedal was originally designed by Chase Bliss Audio to create a similar effect to a warped vinyl, but as they progressed with the process, they decided to make it much more than that.
With an all-analog signal path, the Warped Vinyl Hi-Fi can be dialed in to produce a plethora of chorus and vibrato tones. The pedal has rows of rotary knobs across the top of its face. Firstly, the TONE (RAMP) control affects the prominence of the chosen chorus of vibrato. The LAG control is particularly interesting, allowing you to affect the delay time of the chorus and therefore alter its tonal properties, making your instrument sound more bright or transparent.
Each of the controls installed on this analog chorus and vibrato pedal is connected to a small section of digital circuitry. This doesn't affect the analog signal path of the pedal, but it opens up many more possibilities that can only be produced by digital technology. There's also a trio of switch controls that allow you to tap out the tempo of the vibrato, transform the waveform properties of the effect or cause it to warp beyond recognition.
Who is this best suited for: If money isn't an issue and you want one of the best chorus pedals on the market, then the Warped Vinyl Hi-Fi is probably a good option. It combines vibrato and chorus and features some pretty complex parameters that are ideal for musicians who enjoy experimenting to create their tones.
Bottom Line: At first glance, the Warped Vinyl Hi-Fi looks very complicated. That's because it is – but its complexity is directly correlated to the quality effects it produces. Once you've figured out how all of the switches and knobs work, the pedal is an indispensable tool for adding modulation to your guitar in a unique manner.
Popular Related Article: Our Favorite Synth Pedals
8. Electro-Harmonix Small Clone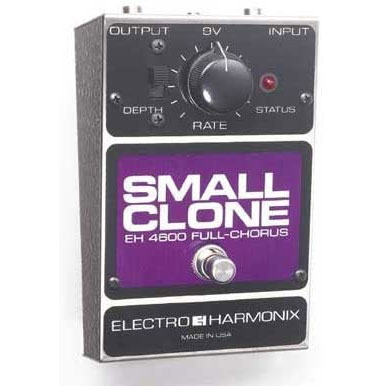 | | |
| --- | --- |
| Estimated Price | $120 |
| Type | Digital |
| Effects | Chorus |
| Connectivity | 1 x 6.35mm Jack Input, 1 x Output |
| Power | 9 Volts DC |
My Review: Electro-Harmonix has nailed every modulation pedal they've produced, with the Small Stone phaser pedal one of their finest offerings. Similarly, the Small Clone chorus pedal is extremely simple to use and sounds great.
With a simplistic one-knob design, the Small Stone doesn't over complicate things. You can create a range of chorus-effects by adding or removing some of the Rate, and then by flicking the switch that resides next to the rotary control, it activates the depth. This can then be adjusted to change the overall tone and color of the chorus, varying from subtle and smooth to noticeable warbles.
A smart LED light indicates when the pedal is active, and like all EHX pedals, the solid nickel steel housing provides ample protection to the inner analog circuitry. The Small Clone can be either powered by a 9-volt battery or an external power pack, depending on your preferences.
Who is this best suited for: Simplicity is sometimes the best quality of an effects pedal. If you agree with that statement, the Electro Harmonix Small Clone is probably worth considering. With its one rotary knob design, it's extremely easy to operate and familiarize yourself with.
Bottom Line: The Small Clone offers high-quality analog chorus tones, without any unnecessary clutter. It can operate either on a 9-volt battery or a power supply and is housed in extremely durable nickel-plated steel. With a Depth switch and Rate knob, the pedal offers versatile performance at a fair price.
9. Fender Bubbler
| | |
| --- | --- |
| Estimated Price | $150 |
| Type | Digital |
| Effects | Chorus |
| Connectivity | 1 x 6.35mm Jack Input, 2 x Output |
| Power | 9 Volts DC |
My Review: Fender's expertise in the field of guitars and amplifiers is unquestionable, but they are also responsible for some premium effects pedals. Their Bubbler Chorus and Vibrato feature the classic wide-design, simple controls, and numerous tone-shaping possibilities.
This analog pedal offers guitarists two speeds to work with. Not only does this make it easy to control the sound of the chorus or vibrato, but it ensures that no matter what genre or style you play, there's a setting that will cater to it. You can use these controls to customize the independent depth and rate of the effects.
The Bubbler doesn't just give you dominion over the speed of the chorus effect; it also allows you to manipulate the individual aspects of each setting. Alongside these tone-altering capabilities, there's also a wave selector switch that includes traditional Sine and Triangle waveforms.
The modulation rate of the Fender Bubbler is dynamically responsive – meaning it interacts with the volume and velocity of your playing. It also has a highly visible Amp Jewel LED, giving the pedal the classic Fender look that is loved by so many guitarists.
Who is this best suited for: I'd recommend the Fender Bubbler to guitarists who want to add some psychedelic flair to their tone. It's also a great choice for those who play a lot of chords because the gentle rhythmic chorus and vibrato it produces add another element to the grouped notes.
Bottom Line: If a product has Fender before its name, you can bet that it's going to be up to scratch. Although they're best known for their premium axes and amplifiers, the Bubbler is another reminder of their expertise in the field of effects pedals. You can flick between sine and triangle waveforms, fast and slow speed settings, and further alter your tone using the Rate and Depth controls.
10. Ibanez Mini Chorus Pedal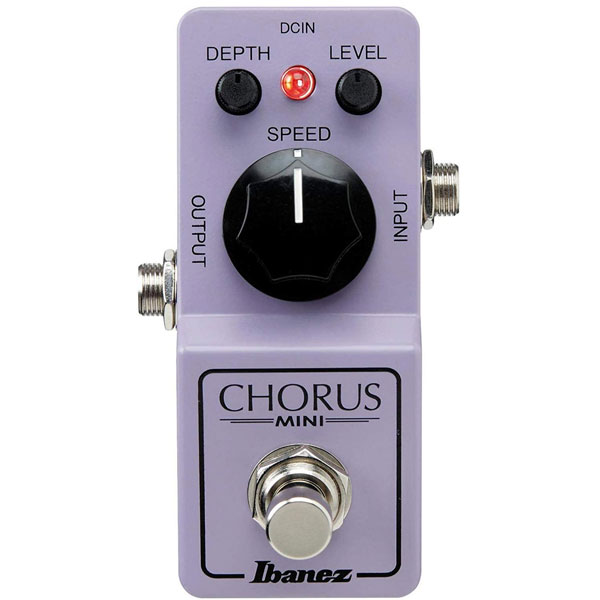 | | |
| --- | --- |
| Estimated Price | $120 |
| Type | Analog |
| Effects | Chorus |
| Connectivity | 1 x 6.35mm Jack Input, 1 x Output |
| Power | 9 Volts DC |
My Review: The Ibanez Mini Chorus pedal us a compact offering that boasts simple operation and won't take up excess space on your pedalboard. It is based around a large rotary knob positioned in the center of the pedal, which controls the speed of the chorus effect.
Above the speed control are two small rotary knobs that affect the Depth and Level respectively. By experimenting with different combinations of rate and depth, you can transform your guitar's clean tone into a detuned warble or simply use them to add a little thickness to your tone.
The Level control is useful for keeping tabs on the dynamic output of the pedal, and ensuring that it interacts well with any other effects pedals that make up your guitar rig. With singular inputs and outputs that are solidly built, this Ibanez pedal performs reliably.
Who is this best suited for: The Mini Chorus pedal's convenient size makes it a good choice for guitarists who are pressed for space on their board. It is very easy to set up and use, so if you prefer not to spend hours figuring out the various controls and parameters of a pedal, then it might be the perfect solution.
Bottom Line: Despite its miniature size and simple setup, the Ibanez Mini Chorus pedal isn't lacking in tonal-altering options. By adding and removing the amounts of the three featured parameters, you can create a range of chorus tones that all sound authentically analog.
11. Old Blood Noise Endeavors Reflector V3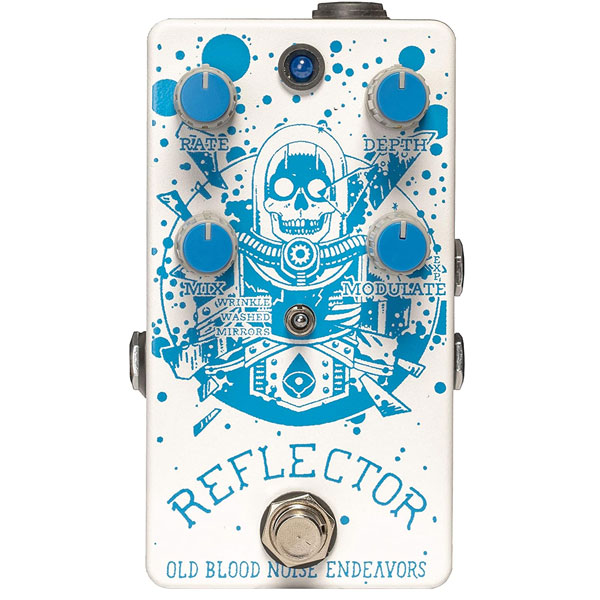 | | |
| --- | --- |
| Estimated Price | $200 |
| Type | Digital |
| Effects | Chorus, Reverb |
| Connectivity | 1 x 6.35mm Jack Input, 1 x Output |
| Power | 9 Volts DC |
My Review: The third edition of Old Blood Noise's Reflector pedal includes all of the strange and exciting features of the original and its predecessor, with newly added capabilities further improving its performance.
This pedal is crammed full of tonal possibilities. You can simply use it to create conventional chorus tones, or crank up the parameters to produce crazy amounts of modulation. A unique aspect of the Reflector V3 is the inclusion of reverb. The combination of reverb and chorus sounds lusciously smooth, adding a whole new element to your tone.
With a trio of switchable modulation modes, you are presented with the possibility of creating unique chorus and reverb effects. The pitch-shifting control can be used to add a sub or higher octaves into the mix, the resonant filter sprinkles your tone with psychedelic undertones, and the reverb mode brings a dimension of spaciousness to your guitar.
The four knobs that are positioned on the face of the pedal control the standard parameters: Rate, Depth, Mix, and Modulation. By adjusting these, the pedal can quickly be transformed from subtle to confrontational! Finally, there's the useful addition of an expression pedal input, so you can control the effects produced by the Reflector V3 hands-free and with absolute precision.
Who is this best suited for: The Old Blood Noise Reflector V3 is best suited for guitarists who want to push the chorus effects to its limits. With added reverb producing capabilities, it's a great choice for anyone who is considering purchasing a reverb pedal.
Bottom Line: With three switchable modes, a range of modulation-based effects, four tweakable parameters, and input especially for expression pedals, the Reflector V3 is more than just your average chorus pedal. The combination of chorus and reverb works nicely together, and when you add the resonant filter into the mix, you get some weird and wonderful sounds.
12. Boss WAZA DC-2W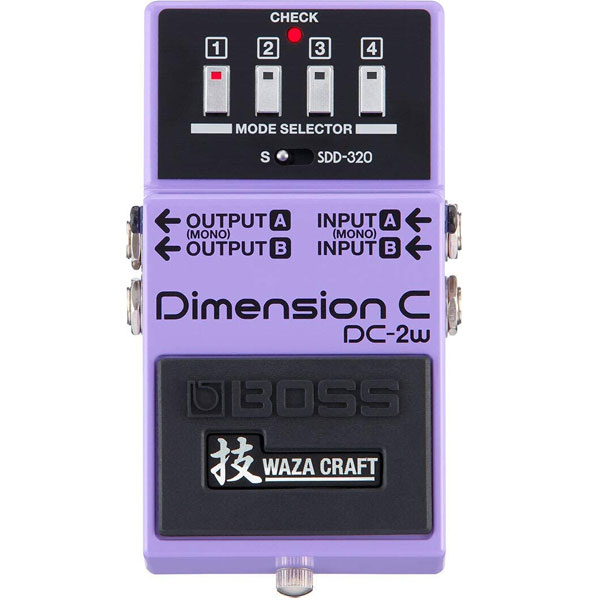 | | |
| --- | --- |
| Estimated Price | $240 |
| Type | Digital |
| Effects | Chorus |
| Connectivity | 2 x 6.35mm Jack Input, 2 x Output |
| Power | 9 Volts DC |
My Review: The DC-2W by Boss is a specially designed Waza Craft recreation of the legendary SC-2 Dimension, which was first released back in 1985. That iconic pedal was only produced for four years and subsequently has become highly sought after by guitarists, prompting Boss to make a tributary reissue.
Although this pedal may look like a simple chorus offering at first, you soon realize that it has much more depth and possibilities. Not only does it add detuned double tracking to your guitar, but it also expands the instrument's depth to levels that are hard to do justice with words.
Waza Craft installed a second analog mode on the DC-2W, alongside the original singular analog circuitry. It, therefore, uses two independent circuits, the SDD-320 and the S modes, resulting in a wider sonic horizon. To protect the integrity of your clean tone, the pedal is also fitted with a premium buffer, resulting in low-noise, the pure transference of signal, and bypass.
The controls on the pedal consist of four switches numbered 1-4. The higher the number you select, the more width is applied to your tone. Each setting is distinctively different from the next, so you won't get bored experimenting and figuring out what they all do.
Who is this best suited for: Waza Craft pays serious attention to detail when constructing Boss pedals, so if you enjoy discovering hidden gems of functionality within pedals, the DC-2W is a worthy choice. Whether you love the vintage 80s style chorus or prefer more modern varieties, this pedal can do both.
Bottom Line: Demand for a pedal rarely gets so high that the manufacturer decides to recreate the original, but that's exactly what happened with the Boss DC-2W. By extracting all of the best qualities from the revered DC-2 Dimension pedal and sprinkling some modern technology onto it, Boss has created a truly fantastic chorus and modulation pedal.
Popular Related Article: 17 Top of the Line Tuner Pedals That You Should Know About
13. ZVEX Effects Instant Lo-Fi Junky Vexter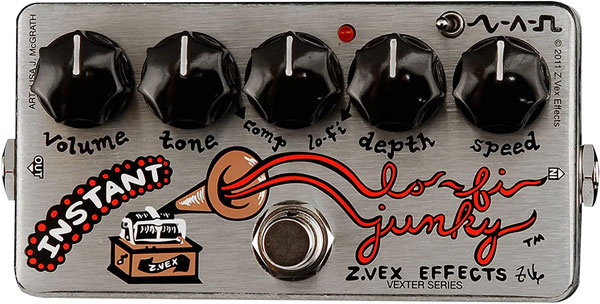 | | |
| --- | --- |
| Estimated Price | $240 |
| Type | Analog |
| Effects | Chorus |
| Connectivity | 1 x 6.35mm Jack Input, 1 x Output |
| Power | 9 Volts DC |
My Review: ZVEX Effects' Instant Lo-Fi Junky Vexter pedal is exactly what you'd expect from this experimental manufacturer – otherworldly, strange, and brilliant! It's a unique pedal that squashes and warps your guitar signal with rhythmic modulation and sharp, vintage-style compression.
The thing that separates the Vexter from other chorus stompboxes is its reliance on compression. Ultra-tight and crackly, the compressor ensures that the dynamics of your instrument are kept in check so that the modulation can work its magic.
There are a total of six controls on the Lo-Fi Vexter, each performing a vital role. The Volume control is self-explanatory, affecting the level of the effect in your mix. The Tone control alters the brightness of the selected effect, but it doesn't impact the compressed signal. The Comp/Lo-Fi parameter uniquely adjusts the compressor or leans the output towards the vibrato effect, thus softening it. Speed is used to adjust the rate of the vibrato but again doesn't impact the compressed signal. Depth affects the nature of the vibrato, and Waveform changes the characteristics of the modulation.
The ZVEX Effects Vexter Instant Lo-Fi can be powered using either a 9 volt DC battery or a dedicated power supply. It's has a small LED indicator to let you know when the pedal is on or off, and utilizes true bypass switching for tonal preservation.
Who is this best suited for: I'd highly recommend the Vexter Instant Lo-Fi to musicians who enjoy extreme levels of modulation. Due to the pedal being fitted with a tight compressor, every effect is highlighted with greater clarity and the chorus and vibrato are much more noticeable than your average pedal.
Bottom Line: The Instant Lo-Fi Junky, with its eye-catching artwork and range of modulation-based effects, is arguably the most unique pedal on this list. It combines compression with modulation and a mixture that adds power and substance to the tone of your instrument. With 5 adjustable parameters and a waveform toggle switch, there's no limit to the sounds that can be produced with this pedal.
14. JHS 3 Series Chorus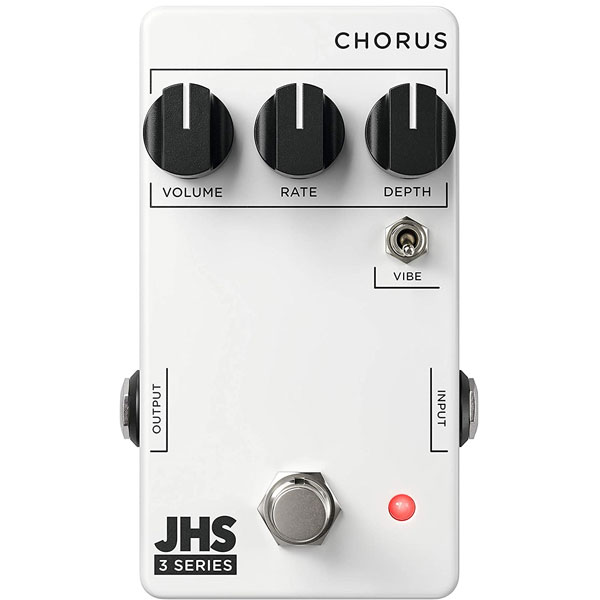 | | |
| --- | --- |
| Estimated Price | $100 |
| Type | Digital |
| Effects | Chorus |
| Connectivity | 1 x 6.35mm Jack Input, 1 x Output |
| Power | 9 Volts DC |
My Review: JHS' Chorus pedal from their 3 Series is a force to be reckoned with. From gentle warble to full-on modulation, this streamlined pedal is built around a simplistic 3-knob design, which all interact with each other and provide several tonal-adjusting possibilities to play around with.
The three controls featured on the pedal are Volume, Rate, and Depth – the standard trio for chorus pedals. You can control the dynamics of the pedal using the volume knob, adjust the speed of the chorus using the rate control, or manipulate the color of the effect using depth.
Perhaps the best quality of this JHS stompbox is how easy it is to operate. By adjusting the aforementioned parameters, you can quickly change the tone of your guitar without needing prior technical knowledge. Whether you want to drown your dry signal in the thick chorus or add a slightly detuned double track, the 3 Series Chorus pedal will suffice.
There's also a Vibe switch installed on the pedal. This provides you with a quick and easy way to remove your entire dry signal from the mix, leaving only the chorus effect. It's a great tool for highlighting melodies or chord sequences.
Who is this best suited for: Recommendable to guitarists who take a no-nonsense approach to processing, the JHS Chorus pedal boasts simple operation and complex tonality.
Bottom Line: This JHS stompbox covers all bases as far as the chorus is concerned. It's a versatile offering that is capable of producing dramatic modulation or subtle tone-thickening. The Vibe switch allows you to remove all of your dry signals and leaves only the wet signal, which is an uncommon and interesting feature for a chorus pedal.
15. Gokko Audio GK-23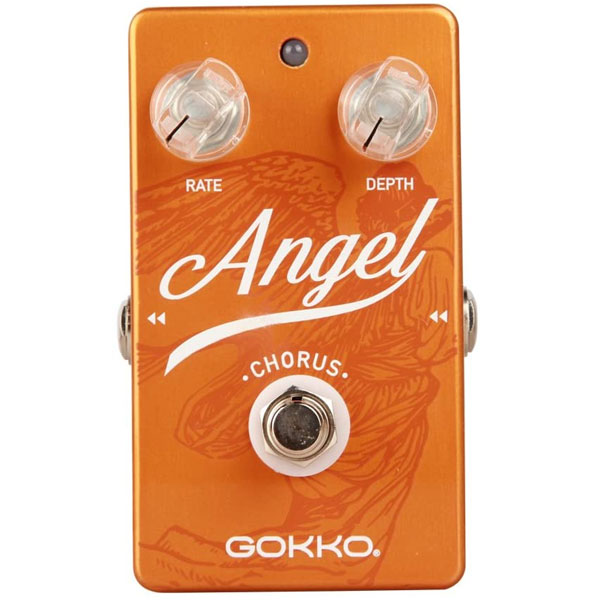 | | |
| --- | --- |
| Estimated Price | $40 |
| Type | Digital |
| Effects | Chorus |
| Connectivity | 1 x 6.35mm Jack Input, 1 x Output |
| Power | 9 Volts DC |
My Review: The GK-23 is an affordable chorus pedal with a stylish design and minimalistic controls. It's the type of pedal that does what is required without creating any unnecessary complications. Compact and convenient, the pedal has two core controls that form its foundation.
The first of these controls is a rotary Rate knob. When this parameter is cranked up, the chorus becomes more aggressive and takes on a slight pulsating, rhythmic feel. The second control adjusts the Depth, and this can be used to sculpt the coloration of the chorus, making it darker or brighter to suit your stylistic needs.
Additionally, the GK-23 uses a BDD chip to produce high quality, authentic-sounding chorus. It does a great job of producing very little noise and has a true bypass design to keep your tonal integrity firmly intact.
When the pedal is active, you are notified by a bright LED indicator positioned at the top center of its face. Boasting decent durability, this Gokko Audio pedal is housed in robust metal, and the inputs are solidly installed to improve its longevity.
Who is this best suited for: The Gokko Audio GK-23 is perfectly suited to musicians who are looking for a simple way to add high-quality chorus to their tone, without excess complications. Its relatively low price makes it a wise choice for those who are shopping on a budget, or those who want to purchase other effects pedals and therefore need to save money to put towards them.
Bottom Line: Although it's a primitive and minimalist chorus pedal, Gokko Audio's GK-23 still offers guitarists several options for modulating their tone. With two rotary controls that affect the main aspects of the effect, true bypass switching for tonal protection, and solid construction, this pedal is great value for money.
16. Electro-Harmonix Neo Clone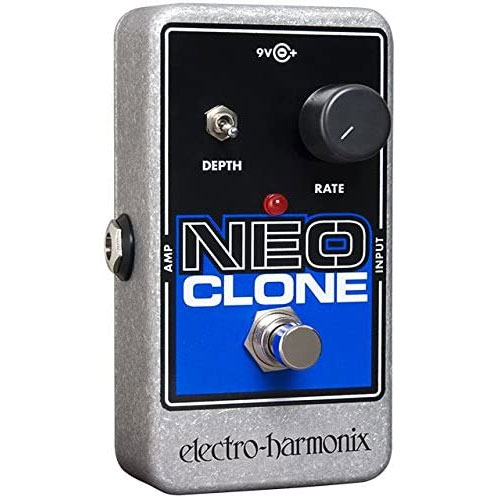 | | |
| --- | --- |
| Estimated Price | $200 |
| Type | Digital |
| Effects | Chorus |
| Connectivity | 1 x 6.35mm Jack Input, 2 x Output |
| Power | 9 Volt DC |
My Review: The Neo Clone is the smaller sibling of the previously reviewed Small Clone by legendary stompbox gurus Electro-Harmonix. As with all EHX pedals, simplicity is the order of the day, but that doesn't mean the tonal possibilities are compromised.
The Neo Clone is capable of producing lush analog chorus whilst taking up minimal space on your pedalboard. With a Depth switch and a single rotary knob controlling the Rate of the chorus, it's one of the simplest pedals you'll ever use. Featuring total analog circuitry and design and the ability to be powered by a 9-volt battery, this convenient chorus pedal will slot nicely into your rig and add warm layers of the slightly detuned chorus into your output.
Who is this best suited for: Electro Harmonix's Neo Clone is perfect for musicians who maybe lack experience with effects pedals, and want an easy introduction into the world of the chorus. With one single control and a switch that adjusts the depth, this pedal is incredibly straightforward to use.
Bottom Line: The EHX Neo Clone compacts all of the sonic goodness of the Small Clone pedal into a tiny and convenient housing. Despite its minimalistic layout, you can create a surprising number of chorus-draped tones using the singular Rate control and Depth switch. With high quality inner analog circuitry and true bypass switching, it's a fantastic little stompbox at a fair price.
17. Rowin Analog Chorus Pedal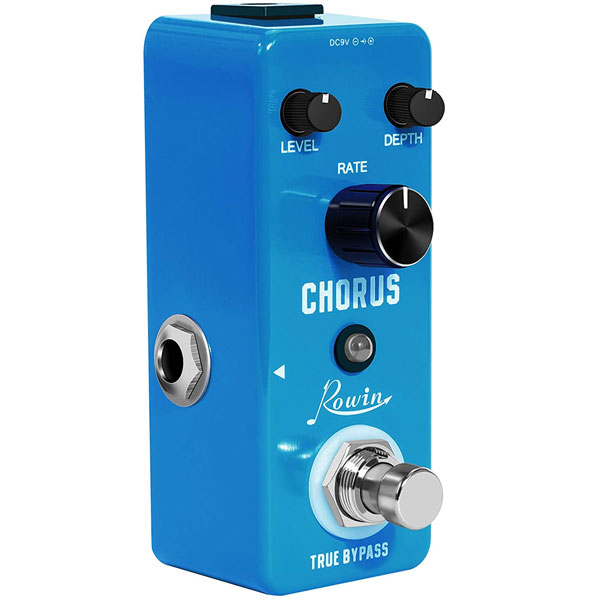 | | |
| --- | --- |
| Estimated Price | $35 |
| Type | Analog |
| Effects | Chorus |
| Connectivity | 2 x 6.35mm Jack Input, 2 x Output |
| Power | 9 Volts DC |
My Review: Budget effects pedal extraordinaire Rowin offers their Analog Chorus, which aims to bridge the gap between pricier models in terms of quality and performance. Small and compact, this blue stompbox functions using a trio of rotary controls. The first is the large knob positioned in the center of the pedal, which adjusts the rate of the chorus.
Then there are two smaller controls, which are responsible for tweaking the level and depth of the effect. By experimenting with different combinations and amounts of these controls, you can conjure up some pretty unique sounding chorus tones to layer over your clean guitar.
The Rowin Analog Chorus also has true bypass switching to ensure that there's no compromising of the clarity of your clean tone when the pedal is on or off. It's housed in a robust metal and is powered by a standard 9 volt DC power supply.
Who is this best suited for: Although the Rowin Analog Chorus pedal is very simplistic, it still produces a decent range of chorus tones that will be of value to a beginner or someone who wants a bargain pedal.
Bottom Line: The Rowin Analog Chorus pedal is very easy to use. It includes three simple controls that adjust the Level, Depth, and Rate of the chorus effect, alongside true bypass switching for tonal integrity, a single input and output, and durable metal housing.
Choosing the Right Chorus Pedals (All Price Ranges)
Chorus pedals fall into the category of modulation-based effects. Similar in nature to flangers and phasers, these pedals add color to your guitar's tone using certain processing methods. There are few effects as unique and recognizable as the chorus.
If you're new to chorus pedals, it might be worth doing some research to gain an understanding of how the effect sounds. Some famous examples of the chorus were produced in the 90s grunge era. Nirvana's "Come as You Are" is a prime example, as is John Frusciante's delightful guitar playing in "Under The Bridge" by the Red Hot Chili Peppers.
In this ultimate guide, I'm going to describe every detail regarding chorus pedals, starting from the basics and moving into more advanced territory later on. After reading the next section, you'll have a grasp on the chorus, and be in a position to identify the perfect pedal for your requirements.
What is Chorus and How is it Produced?
Adding chorus to your guitar makes the tone richer, and creates the illusion of double-tracking. The effect sounds artificial but doesn't invade your tone like other more extreme pedals do. It's generally best suited to clean tones and is compatible with lead lines, melodies, riffs, or chords.
The way that a chorus pedal achieves the desired effect is by essentially splitting the signal of your guitar in two. The first signal is left unaltered, and acts as the foundation of your tone, staying true to the clean sound of your guitar. The second, the artificially produced signal is subjected to slight detuning or modulation and is usually delayed very slightly. Chorus, like its phaser and flange counterparts, is produced using a device known as a low-frequency oscillator. Commonly shortened to "LFO", this mechanism forms the basis of almost all modulation effects.
Chorus was heavily popular in the over-the-top rock era of the 1980s. Guitarists would commonly use it to make their instrument sound more dramatic and off-center. This influence them bled into the grunge scene of the 1990s, and the chorus was used in a darker, more mysterious manner by bands like Pearl Jam, Alice in Chains, Soundgarden, and of course, Nirvana.
Chorus vs. Flangers vs. Phasers
When searching for a chorus pedal, you're likely to notice that they are often grouped with flangers and phasers. As I previously mentioned, all three of these effects are classed as "modulation" effects. Modulation means the clean signal of your instrument is reproduced with slight (or sometimes extreme) differences compared to the original.
Phaser pedals use the same mechanism as chorus pedals but produce a noticeably different result. Using an LFO, phasers split your signal in two and then phase shift one of the signals. The two signals are then layered into a double track, and as they are played together simultaneously, phase cancellation occurs, and notches are created within the signal. These notches then pulsate in a rotary manner, creating the classic phase "sweep".
Flangers work similarly but are slightly more subtle than phaser pedals. Again, the signal is taken, split into a pair of identical copies, then one of them is delayed by no more than 20ms. This results in a slightly more complex harmonic tone being created, with a little saturation occurring too.
Chorus is arguably the least intense of these three popular modulation effects. Although it works in the same way, the difference is caused by the use of pitch-shifting and detuning, which gives the chorus pedals their distinctive, slightly "off" tone.
Commonly Found Controls on a Chorus Pedal
Let's take a look at the controls and parameters you're likely to see on a chorus pedal:
Level
Rate/Speed
Depth
Feedback
It's always a good idea to familiarize yourself with the various controls and parameters that feature on an effects pedal before you purchase it. Some may prefer to simply learn on the job, which is also fine, but I find that having at least a vague idea of what the controls do speeds up the process.
The Level control is a staple that you'll find on all chorus pedals. As the name suggests, this controls the overall volume of the mix of the chorus effect compared to your clean, unaltered sound. By using the level control, you can predetermine your volume settings before playing and ensure that the dynamics are in line with all of your other pedals.
The Rate or Speed control is responsible for adjusting how quickly the LFO rotates, and thus, how aggressive the chorus effect is. If you were to crank the speed up high, the result would be a vibrato, wobbling effect that fluctuates quickly and has a slightly rhythmic nature to it. Alternatively, turning this control down will result in a more relaxed, lo-fi style of the chorus being produced.
The Depth control is similar to the Level control, but instead of affecting the volume of the chorus pedal, it affects how intensely the warble effect occurs. The more this parameter is turned up, the more prominent the chorus will become in your mix, and vice versa.
There may be additional controls added to some chorus pedals, especially if they house multiple effects. Feedback is a fairly common one, and this can be used to add ambient layers to the chorus, making it sound thicker and more substantial in the mix.
Multi-Effect Chorus Pedals
It's quite common to find that modulation pedals also can produce multiple effects. Combination pedals usually feature phasers, vibrato, and flangers, because all of these effects fall under the modulation category and use similar mechanisms for their production.
Although multi-effect chorus pedals undeniably provide you with more sound-tweaking options, it's worth noting that because the attention of the manufacturer has been dispersed more widely, the individual chorus effect may not be of the same quality as a pedal that focuses solely on that effect.
If you intend to purchase multiple effects pedals shortly, choosing a multi-processing option may be your best bet. On the other hand, if you want the best possible chorus pedal and don't mind acquiring other effects separately, I'd stick to single-effect offerings.
Chorus Combined with Other Effects
One of the best qualities of chorus pedals is their unrivaled ability to interact with a range of other effects. Due to the chorus generally being a subtle effect that isn't too overpowering, it blends very well with other effects that are more noticeable and extreme.
Adding distortion to the chorus produces warm, saturated tones that sound great with the slight detuning. You can even add pretty extreme levels of fuzz or overdrive to a chorus-drenched signal, a recipe for a powerful and unique sounding solo.
Due to the chorus not having any timing-based qualities, it also interacts well with delays and reverbs. Dynamic-taming effects like compressors or EQ are also highly compatible with chorus pedals and can be used effectively to control the volume or iron out any tonal inconsistencies that the pedal may produce.
Using Chorus Pedals in the Recording Process
If you decide to use your chorus pedal for recording purposes, you have two options. Firstly, you could simply send the output of the pedal directly into your audio interface, and then send your guitar into the pedal's input. This method ensures that the chorus interacts with your instrument in the cleanest possible way, with very little color or alteration occurring. It also gives you more flexibility when it comes to mixing your recording.
Alternatively, if you desire to reproduce your live sound as closely as possible, it might be a better idea to mic up your amplifier, run the chorus pedal into the amp and your guitar into the pedal's input, exactly as you would on stage. The advantage of this method is that it allows you to predetermine your tone by adjusting the settings on the amplifier or the tonal controls of your guitar. Bear in mind, however, that your recording will be affected by the coloration of the amplifier and the microphone you choose to employ for this purpose.
Indeed, the only way to figure out which of these methods will produce your desired results is to dive in and give them both a try. You might find that for certain songs or styles of playing; using the direct input method is best suited. For a raw, live recording that needs plenty of energy, using your amplifier is likely to fit the bill more effectively.
True Bypass Chorus Pedals
On your quest to find the best possible chorus pedal, you've probably come across the term "True Bypass". This can be confusing if you are unaware of what true bypass means, what it does to your tone, and why it is installed on pedals.
In the early days of effects pedals, electronic noise and signal issues were rife. Most pedals would cause diminishment of the quality of your tone, signal strength, and commonly, the high-end frequencies of your instrument. It was an issue that guitarists simply had to live with until true bypass switching was discovered.
True bypass pedals include a special form of switching which essentially routes a separate signal through the inner circuitry of the effect pedal, or sometimes directly from the input to the output. Why is this necessary? Well, this method requires a double-pole/double-throw switch, which is a mechanism that allows the effect to bypass the main circuit of the pedal when it is switched off using a footswitch.
The result is that the signal gets sent straight to the amplifier, and doesn't mar the performance or clarity of other pedals in any way. The signal remains uncompromised and passes through the circuitry of the effects pedal without coloring the tone or weakening the signal or particular frequencies.
Chorus pedals with true bypass switching are very common. It's harder to find one that doesn't use this technology nowadays. But are there any downsides to true bypass? Some music purists would argue yes, they are unnecessary for guitarists who don't use many pedals, and with improvements in the designs of the circuitry in most effects pedals, it could be argued that they aren't required, or that a buffer may provide a better alternative.
Signal Chain Positioning
Modulation-based effects such as chorus, phasers, and flangers are usually placed towards the back-end of a signal chain. As a general rule of thumb, the only variety of effects pedal that should be positioned after a chorus pedal are timing-based effects like reverbs and delays.
The main reason for this is that whatever effects pedals are placed after the chorus pedal will be affected by it. If, for example, you were to place distortion-based pedals after your chorus pedal, the already saturated signal would then be subjected to modulation, making it less predictable and more chaotic.
Of course, there's no one-size-fits-all approach to positioning your pedals. Many of the most interesting and iconic guitar tones have been produced as a result of an accident, or going against the grain and tearing up the rulebook.
Dual Outputs
You might have noticed that some of the chorus pedals reviewed in this article have two outputs. The reason for this is that it gives a guitarist the option of splitting their signal and sending separate outputs to a pair of amplifiers.
If you've never heard of this concept before, it may seem a little confusing at first. In reality, it's pretty simple though. You isolate your guitar or bass' clean signal and send that to one amplifier, then isolate the wet signal that is affected by your pedals and send that into a separate amplifier.
As a result, your clean tone is always playing underneath the processed signal. This is especially useful for those who are in bands with only one guitarist, or for bassists who want to thicken up their sound. Because the clean signal continues to play all the time, it creates the illusion of having an extra guitar and adds more substance to the overall tone.
This is an especially useful method for bassists who want to create the illusion that a guitar is double-tracking them when their effects are present in the mix. It's also commonly used in bands that have one guitarist and require a boost in certain sections of their live set.
Analog vs. Digital Chorus Pedals
The age-old discussion of whether you should go for analog or digital effects pedals is a frequent topic of debate amongst guitarists. Whether a pedal is classed as analog or digital depends on the inner circuitry that is employed by the manufacturer.
Music purists would argue that analog pedals produce a more authentic, warm tone than their digital counterparts. This is true in most cases, and as far as chorus pedals go, the majority feature some form of analog circuitry to produce that vintage, genuine sound.
Chorus pedals that also offer other effect-producing options are more likely to use digital circuitry. Although these pedals may lack a little of the quality produced by analog pedals, they generally provide more options and more tweakable parameters.
Chorus and Bass Guitar
Chorus is most commonly used on electric guitar, but combining it with bass can also produce some interesting results. Although the chorus interacts most noticeably with higher frequencies, when it is applied to bass, it slightly detunes the higher notes, resulting in a more expressive tone.
When using a chorus pedal with the bass guitar, it's a good idea to split the signal and apply the effect exclusively to the mid-tones and treble end of the instrument. That way, the low-end power is still intact and the tuning of the bass isn't overwhelmingly altered.
Power Supplies and Batteries
Some larger, more extensive pedals, like multi-effects processors, require 12 volt or 18 volts of power and are rarely capable of being powered by batteries. Chorus pedals, however, don't usually need high amounts of power, especially if they are single-effect producing pedals.
It's more common that a chorus pedal requires standard 9 volt DC power to run smoothly. This can usually be produced by a recommended external power supply, although there's not much difference between manufacturer-recommended models and less expensive power packs – they all perform the same function.
It's also likely that some of the chorus pedals you come across will facilitate the possibility of being powered by a 9-volt battery. This is particularly useful for guitarists who are likely to be playing impromptu gigs or performances where power is scarce. An effective method is to always keep a battery inside your pedals, that way even if your power supply malfunctions onstage, the battery will take over and keep the show running smoothly!
Wrap Up:
The beautiful thing about chorus pedals is that they sound equally as good when you use them subtly as they do use more extremely. Chorus tilts your guitar's tone slightly off-center, giving it more character and warmth.
The most enjoyable aspect of acquiring a new effects pedal is the initial stage of experimentation. No matter which of the previously mentioned chorus pedals you decide to add to your pedalboard, I'm sure that you'll conjure up some smooth chorus-draped tones to color your riffs and melodies.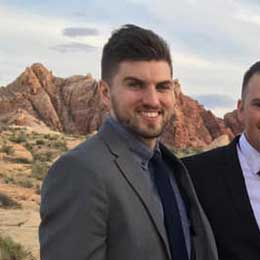 My name is Chris and I've had a passion for music and guitars for as long as I can remember. I started this website with some of my friends who are musicians, music teachers, gear heads, and music enthusiasts so we could provide high-quality guitar and music-related content.
I've been playing guitar since I was 13 years old and am an avid collector. Amps, pedals, guitars, bass, drums, microphones, studio, and recording gear, I love it all.
I was born and raised in Western Pennsylvania. My background is in Electrical Engineering, earning a Bachelor's degree from Youngstown State University. With my engineering experience, I've developed as a designer of guitar amplifiers and effects. A true passion of mine, I've designed, built, and repaired a wide range of guitar amps and electronics. Here at the Guitar Lobby, our aim is to share our passion for Music and gear with the rest of the music community.