With such a wide variety of effects pedals available to guitarists in this day and age, it's easy to become overwhelmed. Much like guitars and amplifiers, pedals can completely alter your sound and tone, so it's imperative to choose them wisely.
Guitar synth pedals are arguably the wildest, most transformative pedals a guitarist can get their hands on. Unlike other more commonly used effects pedals, they give your instrument a synth-like quality that blends the worlds of rock and electronic music brilliantly.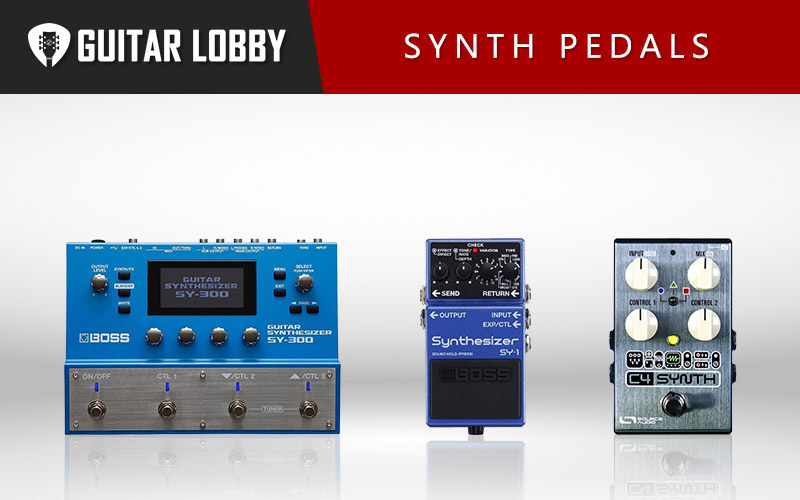 If you have any experience with guitar synthesizers, you'll know that they vary massively in their capabilities, functions, and tonality. That's why choosing the best possible guitar synth pedal can be tricky. In this detailed article, I'm going to simplify the selection process by presenting you with the best possible synth pedals on the market, and explaining exactly what they can offer you.
No matter what shape, size, or functions you require, this article will contain the perfect guitar synth pedal to suit your needs. I'll start off by reviewing the best guitar synth pedals at different price points, but if you want to learn more about them before reading reviews, check out our synth pedal buying guide at the bottom of the page here.
Here Are the Best Guitar Synthesizer Pedals
1. Empress Effects Zoia (Best Overall)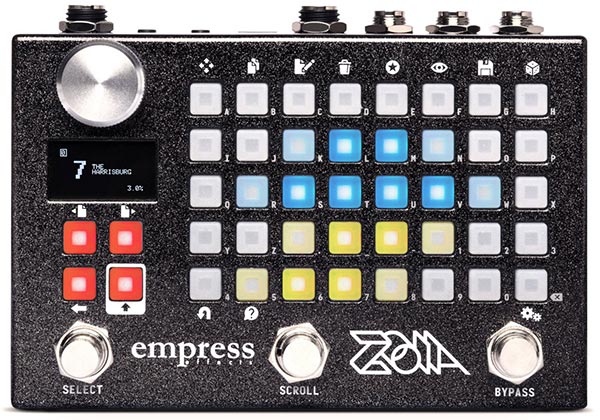 | | |
| --- | --- |
| Estimated Price | $500 |
| Type | Digital |
| Effects | Synth, Multi-Effects |
| Connectivity | 2 x 6.35mm Jack Input, 2 x Output |
| Power | 9 Volts DC |
My Review: Undeniably versatile and detailed, the ZOIA is one of the finest guitar synth pedals on the market. It's essentially a fully-fledged modular synthesizer condensed into an effects pedal, providing you with the ability to build just about any synth-based tone you can imagine.
Empress Effects has designed the ZOIA to offer maximum flexibility. You can use the onboard presets and modules, of which there are over 80 in total, to inspire new creations or find the exact tone you're looking for.
Featuring an array of useful features such as 64 user patches, an interactive OLED display screen for editing, pre-built effects modules, and an abundance of LFOs and filters, the ZOIA is an impressively extensive tool.
Who is this best suited for: The ZOIA by Empress Effects is best suited to guitarists who want complete freedom over their synth-based tones. It's a complex pedal that requires some knowledge on the subject of synthesizers and effects, but once you become accustomed to it, the possibilities are endless.
Bottom Line: Everything about the ZOIA guitar synth pedal has been meticulously designed to create the best possible quality and operation. With over 80 modules, a wide range of adjustable parameters for customizing the sounds, and plenty of space to save your creations, this is the ultimate guitar synth pedal.
Who This Pedal is Best Suited for: If you're into sampling and have some experience using touchpads, you'll love the unique and intuitive layout of the Empress Effects Zoia.
Bottom Line: The Zoia by Empress Effects is one of those rare pedals that combines a multitude of processing, sound-sculpting options, with easy use and quality tones. It's designed so that you can use the pedal as a blank canvas and create your unique sounds.
2. BOSS SY-1 (Best Value)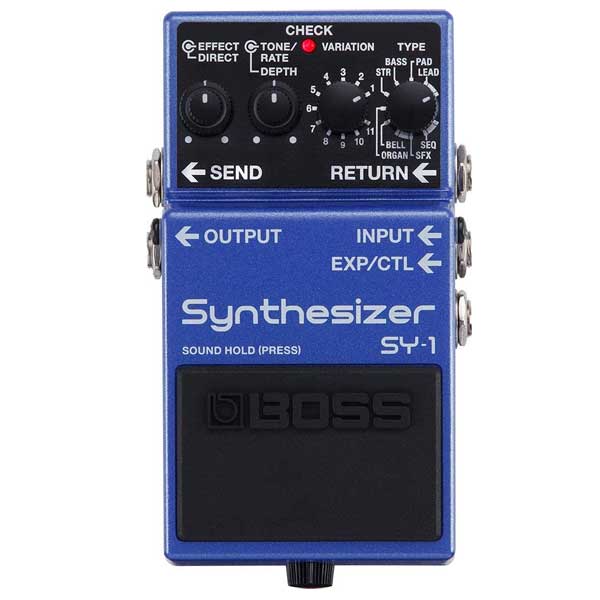 | | |
| --- | --- |
| Estimated Price | $200 |
| Type | Digital |
| Effects | Synth |
| Connectivity | 2 x 6.35mm Jack Input, 3 x Output |
| Power | 9 Volts DC |
My Review: Featuring the classic, robust stompbox design, simplistic controls and multiple connectivity options, the SY-1 by Boss is a quality guitar synth pedal at a very fair price. Packed into the pedal is a wide range of synthesizer presets that pay homage to the most iconic sounds used in electronic music in decades gone by.
A tool to enhance your creativity and broaden your sonic horizons, the SY-1 doesn't require any background knowledge of synthesizers. It's the type of pedal that encourages experimentation, and the simple 4-control design doesn't take long to become familiar with.
In total, there are 121 synth sounds to choose from. These range from primitive analog tones, to modern leads, with sweeps, filters, and arpeggiators galore. You can add electronic subtleties to your guitar tone, or completely obliterate it and create an unrecognizable hybrid instrument. The pedal has been optimized for both guitar and bass and performs well for both of these purposes.
Finally, the send/return loop is worth mentioning. If you're a bit of an effects pedal collector like myself, you'll love the fact that you can open up a new world of possibilities by using the dedicated loop. This allows you to add other effects pedals into the SY-1, creating thick layers of tonal madness!
Who This Pedal is Best Suited for: Boss stompboxes are renowned for their simplicity and durability, consequently the SY-1 would be best suited to the touring musician who needs quick and easy access to premium quality synth sounds without having to spend valuable time tweaking the settings every time they get on stage.
Bottom Line: The Boss SY-1 boasts great value for money. Packed with over 120 synths presets that cover just about every era and variation of electronic music, the pedal offers guitarists or bassists a simple way to transform their instrument's output.
3. EarthQuaker Devices Bit Commander V2 (Best Under $200)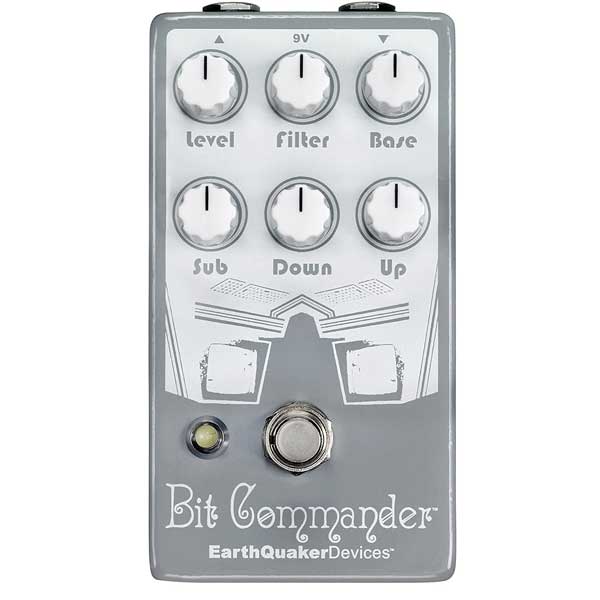 | | |
| --- | --- |
| Estimated Price | $190 |
| Type | Analog |
| Effects | Synth, Octave |
| Connectivity | 1x 6.35mm Jack Input, 1 x Output |
| Power | 9 Volts DC |
My Review: With the Bit Commander V2 by EarthQuaker Devices, you can turn your guitar into a retro mono synth that resembles the glory days of electronic and dance music. This pedal works by blending the signal of your guitar with sub-octave and octave-up generators, creating an array of glitching tones that become brilliantly chaotic in the lower frets.
With six controls, you gain complete control over the makeup of the pedal. The three-octave shifters on the top row add analog layers to your guitar or bass, while the modulation and dynamic-shifting controls on the bottom row allow you to reign it in a little.
The fascinating thing about the Bit Commander V2 Guitar Synth Pedal is that it interacts with a guitar if a completely different way depending on the notes you are playing. Used above the seventh fret, the results are tight and crisp. However, when you drop below that fret, all kinds of stuttering and unpredictable sounds begin to appear.
Who This Pedal is Best Suited for: If you like predictability and consistency, this EarthQuaker Devices synth pedal probably isn't the best choice for you. However, if you like to be surprised and keep an audience on their toes, then this wild and wonderful pedal is recommendable!
Bottom Line: The EarthQuaker Devices Bit Commander V2 is a unique synth pedal, thanks to its ability to produce primitive-sounding mono sounds that interact with your instrument completely differently depending on the position you find yourself at on the fretboard.
Popular Related Article: Our Favorite Multi Effects Pedals on the Market
4. Mooer E7 (Best Under $100)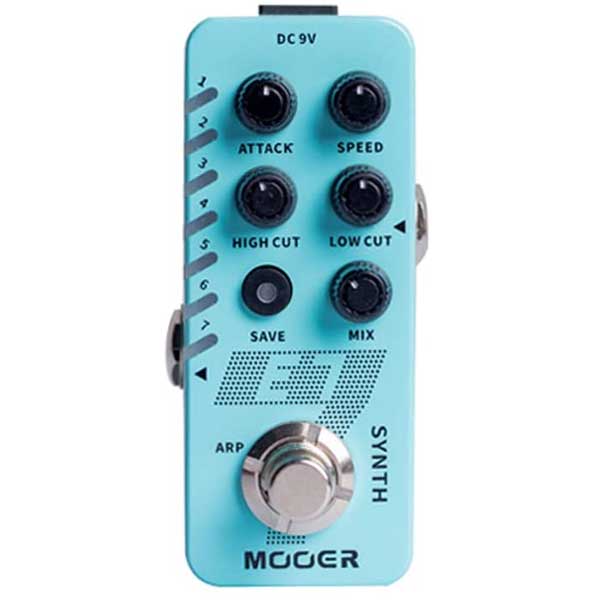 | | |
| --- | --- |
| Estimated Price | $100 |
| Type | Digital |
| Effects | Synth |
| Connectivity | 1 x 6.35mm Jack Input, 1 x Output |
| Power | 9 Volts DC |
My Review: Mooer's E7 provides guitarists with an affordable synth pedal that simplistically produces powerful results. The first thing that strikes you about this pedal is its compact, minute size. Pocket-sized, it will pose no problems when integrating it into your pedalboard, even if you're already tight for space.
The E7 provides you with seven distinctive synthesizer tones, all of which are user-customizable. You can adjust the characteristics of these presets using the Attack, Speed, and Filter controls that are present on the face of the pedal. The presets cover everything from organs to EDM synths.
Alongside the seven onboard presets, there's also space to save seven of your unique blends, so they can be instantly accessed at future shows, practices, or recording sessions. Each of the presets comes with a dedicated arpeggiator for tweaking the rhythms, a high/low pass filter, and several other adjustable qualities.
Who This Pedal is Best Suited for: Minimalistic, compact, and affordable, the Mooer E7 is the perfect choice for those shopping on a budget. This guitar synth pedal provides only the necessary options, to avoid overcomplicating things.
Bottom Line: The E7 may not have all of the processing options provided by its more pricey competitors, but what it does offer is seven high-quality synth sounds and the possibility to create and store your individual presets. At under $100, it's hard to argue with the pedal's value.
5. Source Audio C4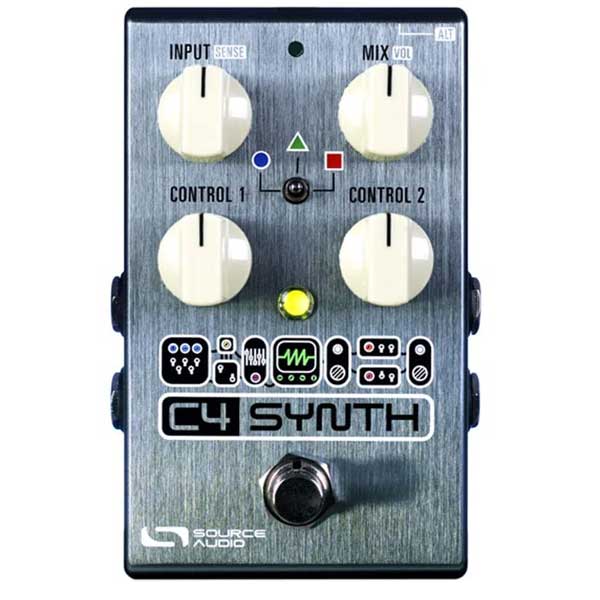 | | |
| --- | --- |
| Estimated Price | $240 |
| Type | Digital |
| Effects | Synth, Flange |
| Connectivity | 2 x 6.35mm Jack Input, 2 x Outputs |
| Power | 9 Volt |
My Review: The brilliant C4 synth pedal by Source Audio blends the world of synthesizers and guitars in a simple and easy-to-operate manner. Based around four rotary knob controls, this pedal provides you with a trio of synth effects that are compatible with both guitar and bass.
The driving force behind the C4 synth pedal's smooth operation is its impressively fast response. Unlike some synth pedals that fall victim to lag due to the complex nature of the processor, the C4 has impeccable tracking and doesn't take any time to buffer, producing synth-like tones instantaneously.
Another noteworthy aspect of the Source Audio C4 is its compatibility with the Neuro Editor software. Available on desktop or mobile, this program links up to the pedals and gives you the power to create a wide range of old-school or futuristic synth tones. There's plenty of presets already installed on the pedal, but if you enjoy experimenting to conjure up some unique tones of your own, the editor will be of great value to you.
Alternatively, you can modify the presets and sounds using the controls present on the pedal. It allows you to assign any of the voices to an oscillator waveform, add a harmonizer or pitch shifter, or even add other processing effects like distortion, tremolo, and filters. The C4 may look minimalist at first glance, but its synth-building possibilities are limitless.
Who This Pedal is Best Suited for: I would highly recommend the Source Audio C4 to any guitarist. It doesn't matter what genre or style you predominantly play, this high-end synth pedal combines value, quality, and possibilities that are bound to enhance your tone dramatically.
Bottom Line: The Source Audio C4 is the gold standard when it comes to guitar synth pedals. It has just the right amount of controls without becoming overwhelming, which can sometimes be the case with more extensive options. The Neuro Editor software takes the pedal to the next level and gives a guitarist complete control over its tonality and performance.
6. BOSS SY-300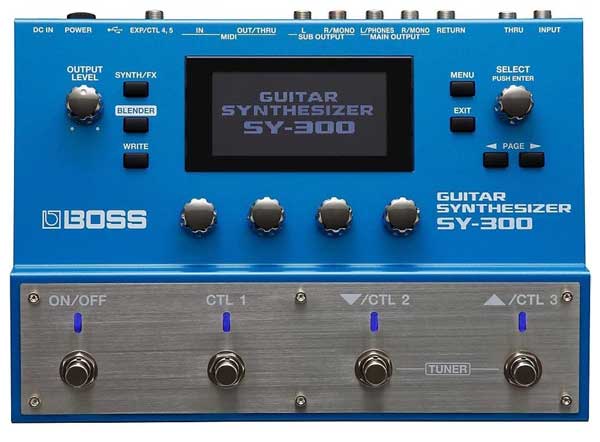 | | |
| --- | --- |
| Estimated Price | $700 |
| Type | Digital |
| Effects | Synth |
| Connectivity | 2 x 6.35mm Jack Input, 4 x Output |
| Power | 9 Volts DC |
My Review: When it comes to guitar synth pedals, it's hard to find a more detailed and extensive offering than the Boss Sy-300. A departure from their popular stompbox pedals, the SY-300 wouldn't look out of place on effects rack in a top-end recording studio.
Although it comes with a hefty price tag, you only have to glance at the incredible range of synth-creating possibilities to see that this is a premium pedal. Offering zero-latency, hundreds of analog-style polyphonic synth sounds, and a multitude of filters, amp simulators, and LFO's, the SY-300 is a force to be reckoned with.
Perhaps the field in which this pedal excels the most is its ability to make your guitar sound like a genuine synthesizer. Unlike some synth pedals that aim to blend into two instruments, the SY-300 produces incredibly realistic synth tones that can be edited at your will. Its intuitive design makes hundreds of parameters straightforward to operate, and all of the settings can be saved for convenience.
Who This Pedal is Best Suited for: If adding synth tones to your guitar is a priority and you want the best possible sounds, then the Boss SY-300 will suffice. The price may deter some guitarists, but it's the type of pedal that stays with you for a lifetime and you never tire of using.
Bottom Line: The Boss SY-300 has so many features that it's hard to cram them onto the page. If you can think of a particular synth sound, the chances are, this pedal can produce it. With remarkably fast processing and absolutely no latency, it truly is a wonderful guitar synth pedal.
Popular Related Article: The Top Phaser Pedals on the Market Right Now
7. Electro-Harmonix Synth9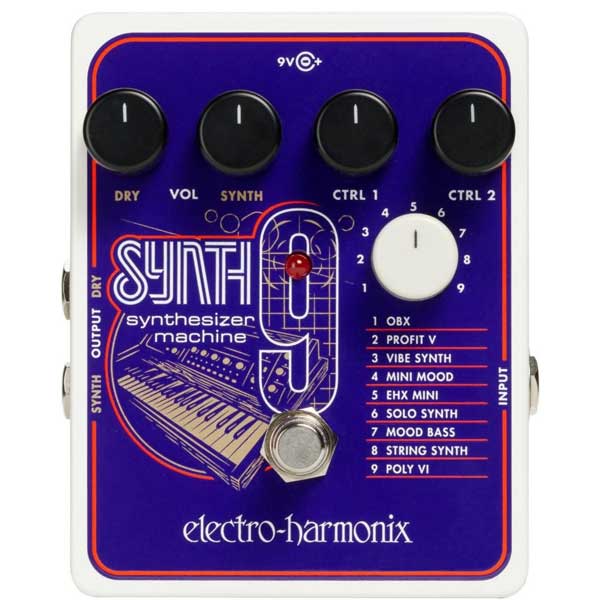 | | |
| --- | --- |
| Estimated Price | $220 |
| Type | Digital |
| Effects | Synth |
| Connectivity | 1 x 6.35mm Jack Input, 2 x Output |
| Power | 9 Volts DC |
My Review: Electro-Harmonix is amongst the most prolific producers of effects pedals, especially within the niche of guitar-synth offerings. The Synth 9 brings the world of classic electronic tones to your pedalboard, equally suited to an electric guitar or bass.
As the name suggests, the pedal provides you with a total of nine presets that emulate iconic synths from the 70s and 80s, two decades which are considered by many to be the "golden era" of electronic music. The wide playable range of this pedal means that it responds accurately to the whole frequency range of your instrument.
At the heart of the Synth9's reliable performance is its ability to track quickly and precisely. This encourages glitch-free performance with no unpredictable sounds creeping into your output. With dual outputs, you can use this Electro-Harmonix pedal to split your signal chain and cater for dual amplifier setups.
Who This Pedal is Best Suited for: The Electro-Harmonix Synth9 pays homage to the vintage synthesizer tones that came to prominence in the '70s and '80s. With an array of nine presets, it's perfect for guitarists who enjoy retro sounds and value simplicity.
Bottom Line: With four rotary-knobs for adjusting the individual characteristics of each synth preset, ultra-fast and accurate tracking, and the easily operable Electro-Harmonix design, the Synth9 is a reliable pedal that will transform your bass or electric guitar in an instant.
8. Roland GR-55GK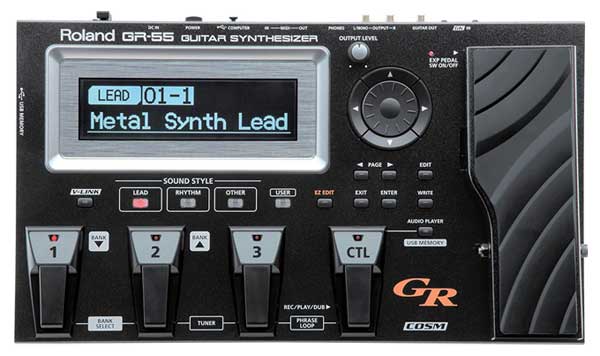 | | |
| --- | --- |
| Estimated Price | $800 |
| Type | Digital |
| Effects | Synth, Reverb, Delay, Looper |
| Connectivity | 1 x 6.35mm Jack Input, 2 x Output |
| Power | 9 Volts DC |
My Review: Packed with processing options, expressive footswitches, and sophisticated processing, Roland's GR-55 is an impeccable guitar synthesizer. Using their wealth of experience in the world of effects and electronic instruments, the manufacturer has aimed to create the ultimate guitar-synth hybrid pedal, and they may well have been successful in that endeavor.
With newly-developed pitch-detecting technology, the GR-55 is reliable and highly accurate. It comes with the renowned GK-3 hex pickup to further enhance the performance of the pedal and make it compatible with any guitar model.
Not only does this pedal have synth-like qualities, but it also provides you with a multitude of other effects. Choose from seven variations of delay, five reverbs four choruses, and a detailed EQ to perfect your tone. You can store 297 user presets, or select one of the existing 270 guitar patches. Additionally, there are 90 bass presets, and 910 synth tones! It doesn't get much more extensive than the GR-55.
Who This Pedal is Best Suited for: If budget isn't an issue, the Roland GR-55 is worthy of consideration. It's so detailed that one could argue that it is more of a multi-effect pedal than a synth pedal, so if you desire various processing options, you can tackle many effects with this pedal.
Bottom Line: The Roland GR-55 is one of those rare effects pedals that can do just about everything, to the highest standard. With an incredibly vast range of presets, storage space for user presets, and processing options, this all-in-one pedal is likely to blow your mind.
Popular Related Article: The Top Overdrive Pedals on the Market
9. Electro-Harmonix Guitar Mono Synth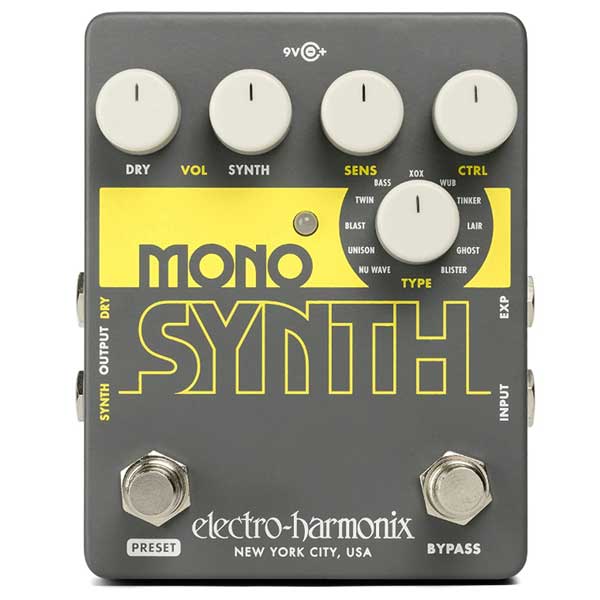 | | |
| --- | --- |
| Estimated Price | $220 |
| Type | Digital |
| Effects | Synth |
| Connectivity | 2 x 6.35mm Jack Input, 2 x Output |
| Power | 9 Volts DC |
My Review: Electro-Harmonix returns to our list of the best guitar synth pedals with the concise Mono Synth pedal. Much like the Synth9 that we previously recommended, it features a simplistic 4-knob layout with several presets available.
The presets included with the Mono Synth cover a wide range of synth-sounds. From modern, sweeping leads to subtle, vintage-style tones, this pedal takes you on a trip through the decades. The 11 presets can all be manipulated to suit your taste using the sensitivity and control parameters, and with space to save an additional 11 user presets, you can customize the pedal's performance.
Who This Pedal is Best Suited for: I would recommend the Mono Synth to guitarists or bassists who are into the sounds of the 80s, but also enjoy adding their touch to presets.
Bottom Line: The Electro-Harmonix Mono Synth pedal provides user preset-saving capabilities, in addition to 11 high-quality synth tones. With true bypass switching to preserve your signal integrity and four adjustable controls, this pedal provides a perfect middle ground between entry-level offerings and pricier alternatives.
10. DigiTech Dirty Robot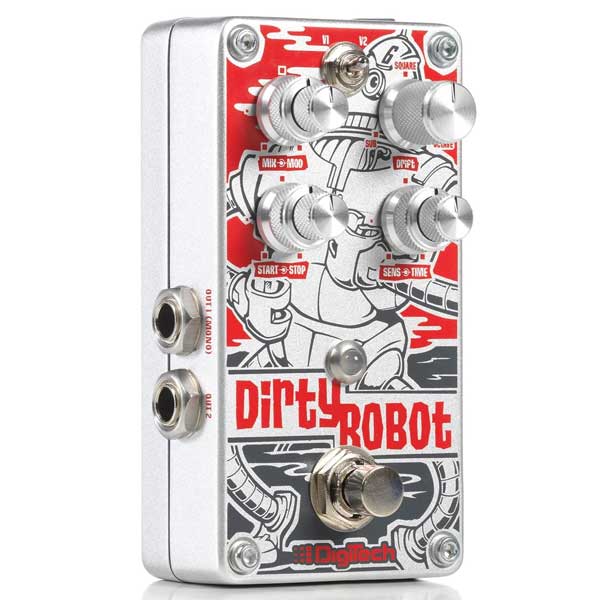 | | |
| --- | --- |
| Estimated Price | $150 |
| Type | Digital |
| Effects | Multi-FX |
| Connectivity | 2 x 6.35mm Jack Input, 2 x Output |
| Power | 9 Volts DC |
My Review: With its eccentric, eye-catching artwork, the DigiTech Dirty Robot pedals are a weird and wonderful synth-generator that keeps things nice and simple. Based on two basic synth voicings, the pedal uses standard envelope synthesis to manipulate the tone of an electric guitar.
Indeed, there are more extensive options on this list. But for the price, the Dirty Robot competes with the high-end models, thanks largely to its ability to respond to the dynamics of your playing brilliantly. The harder you dig into the strings, the more apparent the synth-like effects become, providing you with a level of control that is missing from many other pedals.
The tracking of the Dirty Robot is impeccable, too. It caters to fast riffs and runs as well as it does rung-out chords. The vocal formant setting is also useful for playing in the lower-registers of your guitar, producing a talkbox-like sound that is unique and intriguing.
Who This Pedal is Best Suited for: If you desire to add quality-synth-like tones to your pedalboard without having to break the bank, then I'd highly recommend this DigiTech pedal. It's precise and simple, and provides enough options to keep you occupied for a long time!
Bottom Line: The DigiTech Dirty Robot aims to produce synth sounds that push the boundaries of what a guitar should sound like. It does this thanks to its impeccable tracking and fast processing, creating seamless blends of synths and effects that knock a guitar off-center.
Popular Related Article: Our Favorite Reverb Pedals
11. Mooer GE300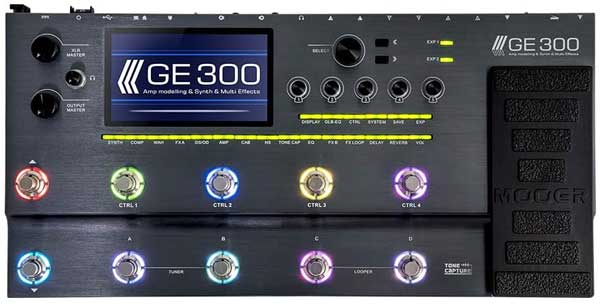 | | |
| --- | --- |
| Estimated Price | $750 |
| Type | Digital |
| Effects | Synth |
| Connectivity | 2 x 6.35mm Jack Input, 2 x Output |
| Power | 9 Volts DC |
My Review: The GE300 is a departure from Mooer's usual compact effect pedal design, representing a huge advancement for the manufacturer. With a vast array of features and processing options to create synth-like tones, this pedal is highly impressive.
At the heart of the GE300 is arguably the most efficient and sophisticated interface Mooer has ever designed. If combine dual DSP processors with ToneCapture technology, providing fast, accurate and malleable options to a guitarist.
A polyphonic synth mode is a great tool for transforming your instrument into an old-school, authentic-sounding synth. You can choose from various genre styles, spanning from electro and dance to west-coast hip-hop style synths of the early '90s. In total there are 108 onboard preamp presets, 43 responsive presets, and 20 spaces to save your own. Additionally, the GE300 features a looper with a max time of 30 minutes.
Who This Pedal is Best Suited for: The Mooer GE300 is recommendable to anyone who wants the maximum number of tone-sculpting options available from a guitar synth pedal.
Bottom Line: With several smartly-designed features and processing options, the GE300 is Mooer's premium synth pedal that leaves a lot of its competition in its wake. With numerous presets and stylistic synths to choose from, it's a highly versatile pedal. Overall, while this is one of the most expensive pedals on this list, that extra price is justified, as this is easily one of the best guitar synthesizers on the market
12. Electro-Harmonix Superego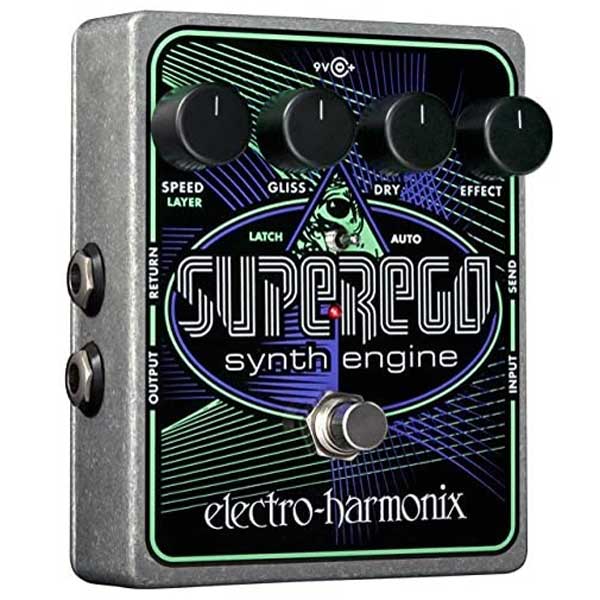 | | |
| --- | --- |
| Estimated Price | $395 |
| Type | Digital |
| Effects | Multi-FX |
| Connectivity | 2 x 6.35mm Jack Input, 2 x Output |
| Power | 9 Volts DC |
My Review: Continuing their range of synth guitar pedals, Electro-Harmonix returns with the Superego. Designed to create atmospheric, ethereal synth tones, the pedal features simple controls that allow you to tailor the presets to suit your proffered style.
The Auto mode is useful if you don't want to spend time figuring out the ways to create your synth sounds, and instead would rather simply use the array of presets onboard the pedal. Each preset is different from the next, but they all retain a spacey quality perfect for psychedelic styles of playing.
The oscillator effects can be stacked with other tones to create seemingly infinite sustain, and you can further adjust the characteristics of the sounds by tweaking the attack and decay settings. The Superego also comes with an effects loop that makes for easy experimentation.
Who This Pedal is Best Suited for: If you would rather create dreamy, ambient synth tones with your guitar rather than the stereotypical lead synths that many pedals offer, the Electro-Harmonix Superego will suffice.
Bottom Line: The Superego by Electro-Harmonix is a unique guitar synth pedal, due to its ability to combine the synths with long sustains, making it perfect for building tension during a song or creating atmospheric pad sounds to fill up the frequency range of performance.
13. Earthquaker Devices Data Corrupter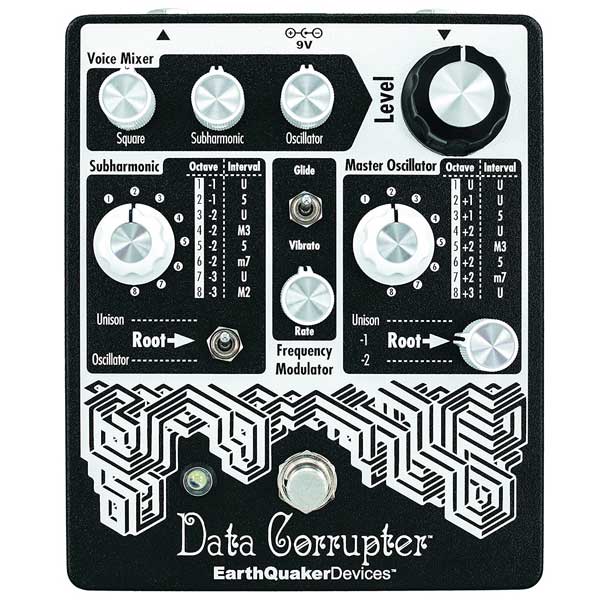 | | |
| --- | --- |
| Estimated Price | $230 |
| Type | Digital |
| Effects | Synth, Octave |
| Connectivity | 2 x 6.35mm Jack Input, 2 x Output |
| Power | 9 Volts DC |
My Review: With a name like the Data Corrupter, you'd expect this Earhqwwuaker Devices synth pedal to have aggressive, extreme qualities, and indeed it does. This monophonic analog modulator takes your input signal and angrily amplifies it, creating a crushed square wave that resembles a fuzz tone.
The resulting fuzz tone is then modulated and morphs into a guitar synthesizer with three distinct voices. Central to the Data Corrupter is the master oscillator. This device inputs your signal into the pedal and then reproduces it with varying up or down octave options.
Once the octave input has been selected, you can then take the wheel and personalize the synth tone using the frequency modulator. This can then be blended with any of the eight sub-harmonic intervals and mixed with the fuzzy square wave that was created at the start of the process. It's a unique pedal in every sense of the word.
Who This Pedal is Best Suited for: The Data Corrupter is the perfect middle-ground between cheap, basic guitar synth pedals and some of the more extortionate, advanced models. It's well suited to guitarists who like aggressive fuzz-tones.
Bottom Line: With an all-analog circuitry, a powerful master oscillator and a blend of individual octave-based synth tones, the Data Corrupter by Earthquaker Devices is a great way to bring a little bit of synthesizer distortion into your pedalboard.
14. Electro-Harmonix Bass Mono Synth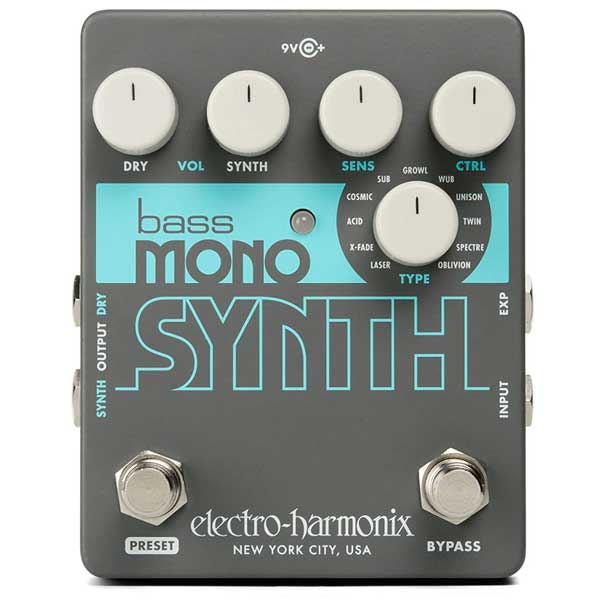 | | |
| --- | --- |
| Estimated Price | $170 |
| Type | Digital |
| Effects | Multi-FX |
| Connectivity | 2 x 6.35mm Jack Input, 2 x Output |
| Power | 9 Volts DC |
My Review: The Bass Mono Synth is similar to the previously mentioned Guitar Mono Synth pedal by Electro-Harmonix, except all of the characteristics have been specifically edited to suit the lower frequency range of a bass guitar.
Featuring the intuitive layout that we've come to expect from EHX, this bass synth pedal has a set of easily operable controls. Firstly, the DRY knob controls the volume of your clean bass signal as it enters the pedal. The SYNTH control adjusts the overall volume of the synthesizer effect, and the SENS control adds or removes sensitivity to the dynamics of your playing and how they affect the pedal's performance.
The CTRL knob can be used to toggle between the 11 synths presets. These presets vary in style and can be adjusted using the other controls. With an expression pedal input, you also get the option of controlling the pedal's output hands-free in real-time.
Who This Pedal is Best Suited for: The Bass Mono Synth pedal is recommendable to just about any bass guitarist looking to spice up their dry tone. It retains the low-end power of your bass while adding coloration to the mid and treble frequencies.
Bottom Line: Bass synth pedals tend to become muddy, especially in the lower registers. The Mono Bass Synth by Electro-Harmonix doesn't have this issue, and in fact, it produces consistent clarity across the fretboard even when the presets are pushed to their extremes.
15. EarthQuaker Devices Rainbow Machine V2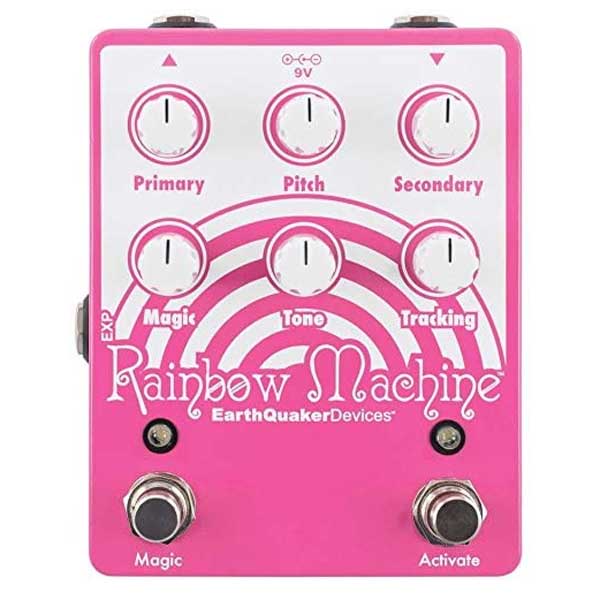 | | |
| --- | --- |
| Estimated Price | $230 |
| Type | Digital |
| Effects | Synth, Octave |
| Connectivity | 1 x 6.35mm Jack Input, 1 x Output |
| Power | 9 Volts DC |
My Review: Flamboyant in appearance, the Rainbow Machine V2 is another quality guitar-synth offering from EarthQuaker Devices. This polyphonic pitch-shifter uses octave controls to create artificial sounding synths that would be well suited to the breakdown of an 80's dance track.
Let me be clear, the Rainbow Machine is not designed to create natural-sounding synths. Its purpose is to do the complete opposite. The tones it produces are out-of-this-world, completely bonkers, and are sure to capture the attention of an audience.
The most interesting control on this EarthQuaker Devices pedal is the Magic rotary knob. Accompanied by a footswitch with the same label, the Magic function essentially regenerates your tone by feeding the primary and secondary signals into each other, creating an inversion that is impossible to understand but sounds fascinating.
Who This Pedal is Best Suited for: The Rainbow Machine V2 pushes the boundaries when it comes to guitar synth pedals. I'd recommend it to those who like to take the road less traveled, and revel in being unique and, somewhat strange!
Bottom Line: Possibly the most individual, unique pedal on this list, the Rainbow Machine V2 by Earthquaker Devices is a wild synth pedal that will leave you scratching your head wondering how it produces such outrageous tones.
16. BOSS SYB-5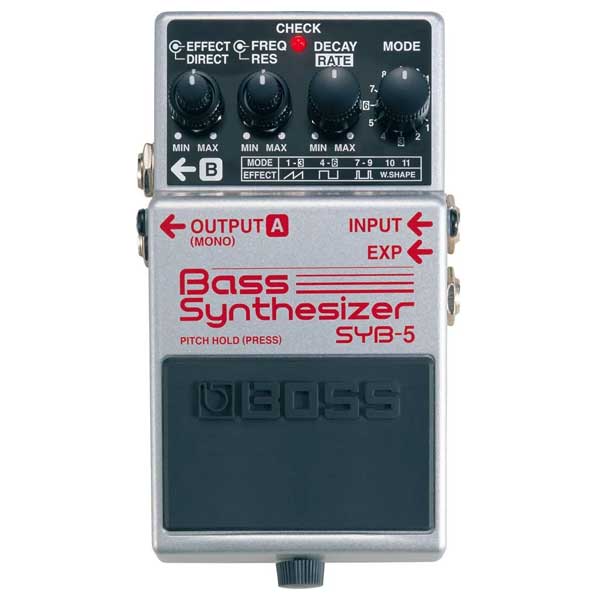 | | |
| --- | --- |
| Estimated Price | $180 |
| Type | Digital |
| Effects | Synth |
| Connectivity | 2 x 6.35mm Jack Input, 2 x Output |
| Power | 9 Volts DC |
My Review: The SYB-3 is a revolutionary bass synth pedal that packs an impressive range of tones into compact stompbox housing. Leaning towards experimentation, the pedal can be used to venture into unchartered territory as far as bass tones are concerned.
The processing power of the SYB-3 comes from its use of the latest DSP technology, ensuring that it runs smoothly and minimizes the risk of lag or latency. In terms of the tones it produces, this Boss pedal takes your clean bass tone and emulates powerful, punchy analog synthesizers found in electronic music.
With 11 SEP variations of the square, saw, and pulsating synth waves, the pedal is versatile. You can use the footswitch to hold notes, sustaining them so that you can jam over the top – an invaluable practice tool.
Who This Pedal is Best Suited for: If you're a little bored of your clean bass tone, and have tired of the usual distorted effects, you might find that the SYB-5 by Boss sparks some creativity within you.
Bottom Line: The Boss SYB-5 is specifically designed for bass guitar, and it brings out the hidden qualities of the instrument. With filter cutoffs and LFOs, you can create dubstep-like sounds that are rich with low-end power.
17. Zoom MS-70CDR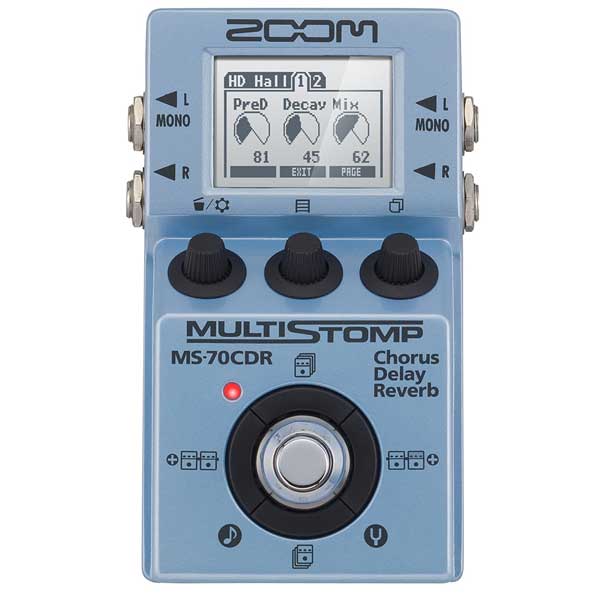 | | |
| --- | --- |
| Estimated Price | $130 |
| Type | Digital |
| Effects | Synth, Multi-Effects |
| Connectivity | 2 x 6.35mm Jack Input, 2 x Output |
| Power | 9 Volts DC |
My Review: To conclude our list of the best guitar synth pedals available today, we have the compact MS-70CDR by Zoom. Compatible with boss guitar and bass, this diverse pedal is bursting with sonic-adjusting controls and parameters.
There are 86 options available with this Zoom pedal for sculpting your tone. These include 31 different chorus and modulation effects, including phasers, flangers, temp log, vibrato, detune, and auto-panning. The level of detail is quite remarkable, especially when you consider the relatively low-price.
Additionally, you also get access to a total of 26 mono and stereo delays, with a max time of up to four seconds. These range from reverse delays, to tap tempo varieties. Then there's the 25 reverb presets too, and the multiple filters to complete the pedal's extensive number of processing possibilities.
Who This Pedal is Best Suited for: If you don't have too much space left on your pedalboard but still require plenty of processing options, the Zoom MS-70CDR is a perfect choice.
Bottom Line: The MS-70CDR is affordable, comprehensive, and easy to use. It features a stunning number of modulation, delay, reverb, and filter effects to make your guitar or bass sound like a genuine synthesizer.
Choosing the Right Guitar Synth Pedal (Buying Guide)
Guitar synth pedals are transformative, radical, and unique. These pedals possess the ability to completely alter the characteristics of a guitar, and in the process make it sound like a synthesizer. Unlike some other effects pedals which simply add to the signal, a synth pedal completely revolutionizes it and can make it unrecognizable if that's the desired result.
With crossover genres becoming increasingly common thanks to the instant access to different styles through streaming platforms and the internet, more and more musicians are looking for ways to combine sounds to produce unique and innovative results.
The following sections of this article will provide you with all of the necessary information you need on guitar synth pedals. We'll go over the origins, the primary functions, and delve into some of the more advanced concepts surrounding these uniquely interesting effect pedals. If you're unsure as to which variety of synth pedal would best suit your guitar and ambitions, rest assured, by the end of this guide you will be well versed on the subject.
What is a Guitar Synth Pedal?
Guitar synth pedals aim to blend the qualities of a synthesizer with those of a guitar. Due to the versatile and varying nature of synthesizers, there are many pedals with differing abilities and functions. These pedals are great for enhancing a guitarist's creativity, forcing them to think outside of the box, and bringing new sonic ideas into their compositions.
A guitar synth pedal aims to transform the instrument and make it sound more like a synthesizer than a guitar. However, some pedals do this to a more extreme level than others. Some may aim to create a hybrid sound that is a mixture of the two instruments, whereas others are designed specifically to emulate the huge-sounding synthesizers commonly found in genres of dance and electronic music.
Ultimately, these pedals bridge the gap between electronic music and rock music. They're weird in a wonderful way, and produce results that can't be replicated with the use of any other effects.
How Synth Pedals Work
Guitar synth pedals provide guitarists with a range of tones. Whether you desire to pay homage to the glory days of dance music and turn your instrument into a retro 80s synth or incorporate more modern genres of dance music into your tonal repertoire, a synth pedal is will suffice.
You might be wondering, how exactly does a synth pedal work? The most common way that synth pedals transform your tone is by using pitch detection. When the pedal has detected the pitch of the guitar's signal, it then uses tuning and pitch-shifting combined with oscillators. This generates a synthesizer circuit inside the pedal, creating authentic results.
Good quality synth pedals should provide an array of tonal options that emulate a genuine synthesizer. Waveform shapes, decay, attack, and release are some of the common controls that can be tweaked by the guitarist to build their desired sound and add plenty of harmonic substance to their tone.
Analog vs Digital Synth Pedals
When discussing synthesizers, the term analog refers to signals or hardware that employs variable waveforms. Put more simply, this refers to the ability of the waveform to morph into any shape, and in turn, producing multiple sounds.
Analog signals are generally considered to be smoother than their digital counterparts.
Some music purists argue that analog is far superior to digital, but in reality, it's a matter of personal preference. Analog indeed has a more consistent and fluid sound, but digital is usually capable of producing a wider range of processing options.
Filters
The purpose of a filter on a guitar synth pedal is to affect the coloration and shape the tone that the pedal produces. The method it uses to do this is by filtering out specific harmonics and frequency bands, which causes a dramatic difference in the overall sound. Most commonly, filters on guitar synth pedals will focus on letting particular frequency ranges pass through whilst blocking the others.
High pass filters are arguably the most commonly used with synthesizers. As the name suggests, these filters allow the higher frequencies in the treble end to pass through freely, resulting in the mid, low-mid, and bass frequencies being filtered out.
Low pass filters perform the opposite function, trimming off the high end and mid frequencies, resulting in only the bass coming through. This produces a similar dampened and muffled sound to when music is playing inside a nearby vehicle or you can hear it from a noisy neighbor next door. It's a commonly used technique for breakdowns and building tensions within dance music.
Bandpass filters work in the same way, but the difference is you can select a particular frequency band which allows those frequencies to pass through and blocks the rest. This is useful for isolating a particular instrument or section of a guitar's fretboard.
Positioning a Guitar Synth Pedal in Your Signal Chain
When considering where to position a synth pedal in your signal chain, it's best to think of the pedal as a filter pedal. For the best results, it's generally accepted that synth and filter pedals should be placed as early as possible in the chain. The reason for this is that it ensures that the cleanest signal is entering the input of the synth pedal, thus making it easier for it to process the signal, and producing the purest tone possible.
Another advantage of placing the guitar synth pedal early in the signal chain is that it improves the efficiency of the pedal's tracking. Tracking describes the pedal's ability to identify the guitar signal, and the speed at which it can process it. A pedal with good tracking ability should highlight notes, transients, and small details effectively, with minimal latency or issues. The earlier the pedal is in the signal chain, the better the tracking will perform.
On another note, I always encourage guitarists to experiment with the positioning of their pedals within the signal chain. Although there a general rules which are accepted to produce the best results, this preconceives that the stereotypical result is what you want from a pedal. Innovative musicians are those who go against the grain so to speak, and in the process stumble across hidden gems which make their sound uniquely theirs.
Using a Guitar Synth Pedal for Signal Splitting
Many guitar synth pedals are armed with dual outputs. The reason for this is that it makes it possible to use the pedal as a signal splitter – sending two independent outputs to separate amplifiers. It's a technique used by most guitarists who play on large stages, as it produces a thicker, more full-bodied output.
Using two amplifiers is beneficial in several scenarios. If a band has only one guitarist, their sound may lose substance when the guitarist plays single-note melodies or solos with their effects pedals turned on.
The lack of a second guitarist may make it difficult to keep the sound of the band full and powerful.
By sending separate outputs to two amps, the guitarist's clean signal keeps playing when their effects are in use. This creates a double-tracking effect, with one amplifier playing the clean, unaffected signal, while the other plays the processed signal.
This technique is also useful for bassists. It minimizes the common issue of basses losing their power when effects like distortion are used. The clean, low-end heavy bass tone can keep playing while the distorted sound plays over the top, creating the illusion of two separate instruments playing at once, and thus, producing a fuller, more powerful tone.
Using Guitar Synth Pedals When Recording
Some guitarists see their pedalboard as a tool purely for enhancing their live performances. With the accessibility of DAW software and VST plugins, it is sometimes more convenient to process audio using these means rather than using effects pedals. With that being said, guitar synth pedals produce results that are difficult to replicate when relying purely on software.
To understand the impact a guitar synth pedal can have on recordings, the musician must establish the results that they are aiming for. Indeed, the purpose of these pedals is to transform a guitar and give it synthesizer-like qualities. However, these pedals do not aim to replicate a synthesizer, they combine aspects of a guitar with aspects of a synth.
If one's aim is to simply incorporate synthesizers into their recordings, the easiest way to do so would be to use a synth plugin or an analog synth in the first place. But synth guitar pedals produce unique results that blend the two instruments.
Consequently, they are valuable tools in the recording studio that are capable of creating unique tones.
Strictly speaking, a musician has two options available to them when recording with a guitar synth pedal. The first method involves using an amplifier, inputting the guitar into the pedal, and out into the amp, then placing a microphone in front of the speaker and capturing the results. The main advantage of this method is that the results it produces will be consistent with the musician's on-stage tone. If the musician's sound in the studio must be as close to their sound on the stage as possible, then using an amplifier would be the best way to achieve this.
The alternative way to use a guitar synth pedal in the recording studio is by removing the need for an amplifier, plugging the guitar into the pedal, and out into an interface or preamp. This method is known as direct inputting, and its main advantage is that it allows the musician to record their guitar part without any of the coloration or alterations caused by the specific amplifier. The signal is captured in its most primitive state, and this allows for more processing options retrospectively.
The other advantage of recording straight into the direct input is that the musician always has the fallback of re-amping the audio later in the recording process if they decide that it would sound better through an amplifier. If the amp is used initially, the amplification cannot be undone at a later stage in the process.
Guitar Synth Pedals & Compatibility with Other Effects
The nature of guitar synth pedals makes them very compatible with other effects on your pedalboard. Blending effects pedals are one of the most effective ways to create tones that are unique to you. Due to the various parameters and tweakable controls on guitar synth pedals, the possibilities are seemingly endless.
As a general rule of thumb, it's best to combine effect pedals that are characteristics that are dissimilar to each other. For example, if you were to use two modulation-based effects such as phase and flange simultaneously, the result would likely be chaotic and muddy. Likewise, combining reverb and delay can be effective in small doses, but because both effects are based around timing and space, the sound can soon become overwhelming.
The great thing about using a guitar synth pedal with other effects is that it is mixed well with pretty much every variety, thanks to its nature. Synth pedals essentially aim to make a guitar sound less like a guitar and more like an electronic synthesizer, and in that respect, the resulting tone can be treated as a DJ would treat a synth.
Adding reverbs or delays to a guitar synth pedal is a great starting point. These two effects are great for softening the sound, making it appear more dreamy and aloof. On the contrary, you could take a completely different approach and combine the synth effect with a distortion based pedal. This would likely add aggression to the tone, making it powerful and more likely to prevail in a busy mix on stage.
Another effect that produces interesting results when combined with a guitar synth pedal is wah-wah. This combination transforms your guitar into a wailing synth that wouldn't sound out of place if you heard it in a house track. Filter-based effects are common in all genres of dance music, so using these with a synth pedal will bring some of that style into your guitar playing.
Power & Voltage
Guitar synth pedals usually require 9, 12, or 18 volts DC power. 9 volts is the most common requirement, but it's worth noting that some of the larger and more detailed pedals will need 18 volts to provide ample headroom and to successfully power all of the various components.
Some guitar synth pedals can be powered by batteries in addition to a dedicated power supply. This is useful for busking or playing in a setting where there is limited electricity available. Keeping a set of fresh batteries in your pedal is a fool-proof way to prevent it from cutting out if there are any unforeseen issues with your power supply.
Final Thoughts
All of the guitar synth pedals that I reviewed earlier in this article are of the highest quality, and I'm certain that no matter which you decide on, your sonic options will be greatly improved. When it comes to deciding on which pedal would best suit your needs, it's important to establish what type of synth tone and tweakable parameters are required to produce the results you're chasing. All that's left to do now is enjoy the experimenting period when you get your new synth pedal!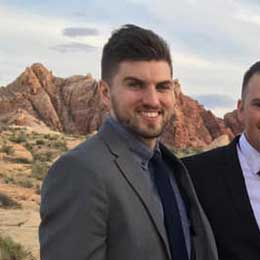 My name is Chris and I've had a passion for music and guitars for as long as I can remember. I started this website with some of my friends who are musicians, music teachers, gear heads, and music enthusiasts so we could provide high-quality guitar and music-related content.
I've been playing guitar since I was 13 years old and am an avid collector. Amps, pedals, guitars, bass, drums, microphones, studio, and recording gear, I love it all.
I was born and raised in Western Pennsylvania. My background is in Electrical Engineering, earning a Bachelor's degree from Youngstown State University. With my engineering experience, I've developed as a designer of guitar amplifiers and effects. A true passion of mine, I've designed, built, and repaired a wide range of guitar amps and electronics. Here at the Guitar Lobby, our aim is to share our passion for Music and gear with the rest of the music community.