It's a pretty frequently asked question from beginner and somewhat intermediate guitar players, what are some easy guitar solos for beginners?
Guitar solos are typically the most difficult part of the song to nail, so it's a great way to practice and improve, and it also typically means you can play the song from beginning to end. Call the band, it's time to rehearse!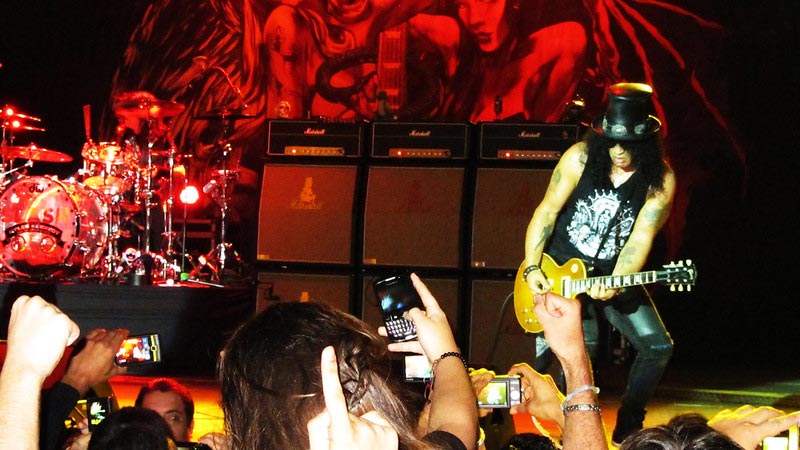 If you are bent on introducing guitar solos in your songs and jam sessions, then you've got to find a place to start. Now I will disclaim that when I say "easy" in this article, I don't mean that learning these solos will be a cakewalk, 5-minute sit-down.
However, the list I have compiled are songs that you probably know and love, will feel a great sense of accomplishment in learning, and are very learnable for beginners, compared to other solos, as long as you are willing to sit down and put in some proper practice.
These songs will vary somewhat in difficulty and are not ranked in any specific order, but they are all very doable!
Here is a List of Easy Guitar Solos
1. Californication by Red Hot Chili Peppers
Whenever Red Hot Chili Peppers perform on stage, it would be nearly impossible for them not to play "Californication." The audience will be screaming for the band to play the song one more time. That's how popular this RHCP song is. And why not? It has a message that most people can relate to and a groove that is so hypnotic you will forget you're in your office cubicle.
This Red Hot Chili Peppers song is a wonderful example of how a simple guitar solo can be very beautiful. There are no unnecessary notes that can distract your brain. The melody is smooth, the rhythm is predictable, and the tones are perfect for the human mind.
While this song is quite simple, its overall tonal quality is still more interesting and fascinating than many modern songs. Focus on getting the bends right, and you can be on your way to developing and strengthening your technique.
2. Wonderful Tonight by Eric Clapton
Perfect for serenading your loved one, "Wonderful Tonight" is one of those songs that never fails to soften the heart. It has this lovely melody that is made even more amazing by the use of guitar riffs that bring everything together.
Absolute newbie guitarists can learn to play the guitar solos of "Wonderful Tonight" with relative ease. The key here is to start with the iconic intro. It is simple yet requires bends and vibratos to deliver the unique tone of the song. I suggest starting with the basic strumming first. You can then start practicing with the bends, slides, and a few hammer-ons.
For all its worth, I'd say play the song as if you were adoring your girlfriend or spouse. The song is all about feelings. And if you can master the solos, then you'd be that much closer to winning the heart of the one you admire.
3. Maybellene by Chuck Berry
What better way to start off our list of easy guitar solos than with one of the Father of Rock and Roll's greatest hits, "Maybellene"? You may love "Roll Over Beethoven" or even "Johnny B Goode" more than this 1955 classic. However, when it comes to learning how to become a great guitarist, I strongly recommend "Maybellene." This song also happens to be the piece that heralded the arrival of rock and roll guitar playing in the modern world.
The song has many of Berry's trademark chordal jabs that make you wonder where the artist got his talent. The pentatonic riffs have that authentic Bluesy vibe to them. These are all testaments to Chuck's strong rhythm and blues roots.
Many artists consider "Maybellene" as the epitome of a complete package. I know only Berry can deliver such a piece with excitement and electrifying enthusiasm. The guitar-driven combo complements the clear diction of Berry's vocals while serving as a glue for the rest of the song.
4. Jailhouse Rock by Elvis Presley
Here's another one from the King of Rock and Roll. Rolling Stone considers "Jailhouse Rock" as one of the greatest songs ever, putting the Elvis Presley classic at number 67. And while the video version of the song is quite different from its audio-only version, it remains one of the best pieces to get you started on playing a guitar solo.
You will notice the distinct Chuck Berry licks in the solo. It is proof of Berry's influence on artists at that time. There are also sliding chords and boogie bass riffs that make up the song's rhythm parts. These are what you can call the quintessential building blocks to a good guitar solo and one that should propel you to greatness one day.
And even if you cannot master the solo, just have fun. This is a music piece that is worth playing with your friends and acquaintances around.
5. La Bamba by Ritchie Valens
The 1987 biographical film, La Bamba, introduced many of us to the wonderful music of Chicanos. Who would have thought that such a phenomenal song would come from an unassuming Pacoima, CA lad? True enough, many Chicanos today consider Ritchie Valens as a pioneering rock and roller in the Chicano community.
Valens took inspiration from a classic Mexican folk song in writing "La Bamba." He tweaked the beat to give the song a more 'rocky' feel. Hitting the charts in 1958, "La Bamba" remains one of the easily recognizable tunes today. And that is one of the reasons why you can learn to play the guitar solo.
Now, if you want a more modern guitar solo of the same song, then you should check out the Los Lobos version. It was the soundtrack of the film and featured flashy and brilliant open-string runs, tremolo picking, pull-offs, and hammer-ons of Cesar Rosas. This is an easy guitar solo that's great for beginners.
6. Peter Gunn by Duane Eddy
You have two choices here. You can listen to the original version by Henry Mancini or the guitar instrumentals version of the song performed by Duane Eddy. The original also uses a guitar in the composition. However, the notes from the piano and saxophone tend to drown out the melodies from the guitar. So, if you're after mastering a guitar solo, I suggest hitting the Eddy version of "Peter Gunn."
Eddy's version has that characteristic twangy sound. He struck only the bass chords of his lead guitar to recreate the tonal qualities of Mancini's masterpiece. The song is perfect for those who are just starting to play the guitar. They can focus more on creating the rhythm. The top line is also super simple. You could nail this piece in under an hour if you like.
This is one song that you would love to play when you want to spook your friends.
7. Smells Like Teen Spirit by Nirvana
I cannot deny that "Smells Like Teen Spirit" is one of my favorites. Many countries all over the world also recognize the unique tune of the song, especially its introduction. And while it does have a hint of heavy metal to it, Kurt Cobain tempered it in such a way that the song took on a dance-friendlier vibe.
You won't see any fancy fingering techniques in this song. There are no crazy sound effects, either. Most people would ask, how could a simple song like this be so good? Nirvana didn't cram the song with notes and fancy stuff. The solo is a testament to this Nirvana philosophy.
If you're looking to mimic the solo of this song, then you've got to focus on the bends. This is not your traditional bend. There are no specific pitches that you can aim for. You will have to play it by feel.
8. Johnny B Goode by Chuck Berry
Oh, you've got to love the '50s. And if you're a big fan of Rock n' Roll, you really have to include Chuck Berry as one of your all-time greats. Not only is Chuck well ahead of his time. He also had this uncanny ability to create wonderful melodies using only the most basic of instruments.
I consider this song one of Chuck's all-time hits. You can hear radio stations hit the airwaves every Sunday to give listeners a more nostalgic feel. Chuck's flashy Blues runs, and mesmerizing licks give this piece that feel-so-good vibe.
The first time you listen to the song, you might think the solo is tricky. The reality is that this song is as fun and easy as any other guitar piece you will ever play. Try playing the video, head to the 1:25 mark, and you'll see how fun this is.
9. Heartbreak Hotel by Elvis Presley
Guitarist Chet Atkins and pianists Floyd Cramer provided the all-important musical background for Elvis Presley's first-ever single for RCA Victor in 1956. The chord progression of this song follows the classic eight-bar blues style. Atkins also added heavy reverb throughout the song to help imitate the nature of Presley's recordings with Sun Studio.
While the song has a very morbid inspiration to it, one cannot deny the powerful bends of Atkins. There are double-stops that can be tricky to get right. And the bends are more of the quarter-note. However, the intermediate-level nature of the song doesn't necessarily mean it is already beyond the reach of newbie guitarists.
With very easy chords, this Elvis Presley song should have you mastering the basics of guitar solos in no time. The song should also be great for transporting your folks down memory lane.
10. Bad Penny by Rory Gallagher
Not many remember Rory Gallagher. Fans of Blues-rock do. In 1979, Rory released "Bad Penny" as an important part of his Top Priority album. Rory drew inspiration from folk music, acoustic, and ballads to create his own version of Blues-rock.
The intro of the song is pretty easy for a beginner guitarist. While the chords are straightforward, the song requires some pretty slick vibrato and bends. This can be very challenging for first-timers. The good news is that I have seen some people who were able to get the technique right, even with only a few tries.
The notes used in the main solo of the song are the same as the intro. The only difference is that the notes are played a full octave higher. That's a total of 12 frets where you will have to slide your fingers across the fretboard to get it right.
11. Sweet Child O' Mine by Guns n' Roses
There's no mistaking the guitar riff that allowed Guns n' Roses to continue fueling their skyrocketing success toward the heavens. From the now-iconic intro of "Sweet Child O' Mine" to the solo at 1:15, everything about this song is simply perfect from the viewpoint of an adoring rock fan.
And then there's the solo at the 2:32 mark, where Slash's phenomenal fingering and bending techniques get their share of the spotlight. Mind you; this solo takes a full minute and 5 seconds to complete. While there are no more solos after that, you can still hear the distinct sound of Slash's guitar playing as Axl Rose belts out his "where do we go now" phrase.
The licks can be tricky. That is why I recommend focusing on the intro and the first solo of the song. These should be fairly easy before you start picking on the more complex solo.
12. While My Guitar Gently Weeps by The Beatles
I love The Beatles (isn't it obvious?). And I am sure I'm not the only one who can say that "While My Guitar Gently Weeps" is one of the most soulful songs ever to come out from the band's music sheet. It may have something to do with the signature vocals of John Lennon and the string accompaniment of both McCartney and Harrison.
Lennon gave a mellow solo toward the last 30 seconds of the song. It had the same tonal attributes as the rest of the music piece, albeit in a more subdued manner. The slow and deliberate strumming should prove useful to anyone who is only learning the basics of the trade.
Not only is it a good piece to hone your skills on the lead guitar. It can also be an invaluable tool for songwriters. The lyrics build up towards a very emotional and dramatic close.
13. High and Dry by Radiohead
Want a guitar solo that's easy to learn? I suggest "High and Dry." The melody and the message are nice, too. And if you are only starting to introduce solos in your performances as a band, then this Radiohead song should give you the basics.
This slow rock masterpiece has a very simple solo that anyone who has deft fingers can learn in a matter of hours. Absolute beginners may have trouble fretting the correct strings in the proper way. Incorrect fretting of the strings can produce a high E that sounds off.
There is this remarkable feeling that the solo is there to complement the whole song. It is not just an extension of the vocals or one that breaks the monotonous nature of the melody. It is way much more than that. It gives credence to the general observation that a good solo should fit the song.
14. Come Together by The Beatles
One of The Beatles' most recognizable tunes, "Come Together," also happens to be perfect for beginning musicians. It has excellent bass and a good solo towards the latter third of the song. It ranks number 202 on the world's 500 greatest songs in history and is the band's 9th most popular song.
The solo follows the same melodic pattern as the song. There are two strings for the solo, although you can always get away with one. The secret to nailing this is by practicing your string-bending techniques. Doing so will give you that characteristic bump in the pitch of the sound.
I wouldn't be surprised if you'll have your folks dancing to the tune once you've perfected the solo. However, I do suggest learning the whole song because it is really such a beautiful, melodic, and fun piece to play with your family and friends or by yourself.
15. Hard Day's Night by The Beatles
If you think plucking the guitar strings isn't your forte and you really want to learn a guitar solo, then 'Hard Day's Night" should be perfect. You don't need to fret about fancy fingering techniques. Good, flexible wrists and a good ear for the tone are all you need to nail this Beatles classic.
Try listening to the guitar solo at the 1:30 mark of the song. There's another one at the end, too. While these guitar solos always have a fast lick to them, you can always start with a gentler and cleaner approach. You can always pick up the pace once you're already in the groove.
This is one of those songs with guitar solos that I often recommend to beginners. It has a very melodic structure that can ignite the dance floor. You don't even have to be a Beatle fan to know the song by heart.
16. Feel Fine by The Beatles
Let us get this straight. John and Paul employed Ringo's signature rhythm & blues beat in the creation of "I Feel Fine. However, this is one of the very few Beatles songs that did not include Ringo at the drums. The video shows him pedaling a stationary bike as the other Beatles members show off their skills.
The song is a rather short one. It is still nice and melodic, nevertheless. You've got to love the vocals of John and Paul that get further enhanced because of the riffs that the guitarists play. The main riff of "I Feel Fine" is a must-learn. You get this idea that a song can still be catchy even if it has a very simple structure.
This Beatles creation is not only perfect for learning how to perform a guitar solo. It can also serve as a good springboard for sharpening your skills, sliding along the fretboard.
17. Live Forever by Oasis
Most guitarists play their solos by following the melodies of the song. They may employ a slightly different variation of the notes to hold everything together. Very few artists will want to go against the natural progression of the song or create tunes that are very different from the piece. One such artist is Oasis.
Click on the link I provided here and head straight to the 1:45 section of the song. Here, you will notice how the guitar chords change, as if underscoring the significance of the solo. It gives you that remarkable sense of importance. You will never have the impression that the guitarist just decided to play the chords without so much of a thought process.
The result is a classic melody that blends surprisingly well with the sounds coming from the other instruments. Who says you need to shred to create a really good sound?
18. Seven Nation Army by The White Stripes
One of the most distinguishing characteristics of "Seven Nation Army" is its riffs. Plenty of it. There are riffs for the verse, the pre and post chorus, and even one for the bass. The chorus riff is made more fascinating with the addition of distortion and a fascinating 3-string slide.
The instrumentals are quite easy to learn, following a typical Em-G-C-B pattern. The pattern finishes off with an Am-B-E. The simplicity of the song makes it very enticing to learn. This is especially true for those who are already familiar with a guitar riff and can play it with gusto. The reason for this is that the "Seven Nation Army" has a simpler makeup than what the song suggests.
White Stripes want you to have fun with their song. You don't have to strive for perfect bends. As long as you get the tone right, this song should be fun.
19. Knockin' On Heaven's Door by Guns n' Roses
I was not sure which "Knockin' On Heaven's Door" I should include in this list. There is the original Bob Dylan song that has a more country rock feel to it. That piece is perfect for playing your guitar on a lazy Saturday afternoon. However, if you want to impress your friends or wow the crowd, then I guess you need a song that has a rock feel to it. Guns n' Roses' version seemed the perfect fit.
Now, don't ever think that this "rockier" version of the song is already devoid of meaning and feeling. It still is, and very beautiful at that, too. You get to learn two of Slash's greatest solos. Both of these solos may seem tricky at first, but they are nothing that constant practice will not solve.
The song features a nice blend of vocals and guitar, especially Axl's vocal bits underneath Slash's lead guitar.
20. Don't Stop Me Now by Queen
Generation Zyers got introduced to the powerful songs of Queen in the 2018 award-winning film "Bohemian Rhapsody." The credits featured one of Queen's most iconic songs, "Don't Stop Me Now". And while Freddie Mercury's vocals can truly bring you to Mars, it was Brian May's guitar solo that mesmerized aspiring rock guitar artists of the new millennia.
Getting the solo right can be challenging. You should know that May only plays his Red Special. This is an electric guitar that May designed and built himself. It has a very unique tone that very few other guitars can mimic. One way you can go around this issue is by cranking up your amp's gain. This should give your guitar that familiar tone.
The solo is easy to master once you get the right tone of your guitar. The final lick of the solo can be tricky to master for beginners, though.
21. We're Not Gonna Take It by Twisted Sister
I don't think I have seen a more obnoxious band than the Twisted Sister. Their costumes and styles were absolutely ridiculous. They look more like clowns than musicians and performers. However, I've got to say this band is one of the best hard rock acts of the 80s when it comes to over-the-top performances.
The band's "We're Not Gonna Take It" has a good solo at the 3-minute mark of the song. There are no substantial changes in the melody and tone of the music. It follows the tonal characteristics of the vocals. However, Twisted Sister used the whammy bar to add some fancy sounds to the solo.
Following the vocal lines should make this song an easy pick for those who want to learn a guitar solo. You can always develop your own style of guitar playing once you've mastered the techniques played in this Twisted Sister hard rock. This is one of the easiest guitar solos out there, and it's fun to play.
22. Animal by Def Leppard
One of the best things about Def Leppard is that the band has an uncanny way of creating good solos that are pretty easy to learn despite sounding very difficult to master. The result is a guitar solo that will wow your friends and acquaintances. They will think that you're already a rock star. They just don't know that the "Animal" solos you're playing are a cinch to play.
Disregard the cheesy melodies of the song and focus more on the guitar chords. Adding echo effects can give your song that nice tone. You can further elevate the piece by adding distortion. Reverb should fit nicely in the song, too. This gives the song a good 3D-like vibratory feel.
Start at the 2:25 mark of the song to have an idea about the overall makeup of the solo. You can then pick other phrases in the song to tweak and develop.
23. Highway to Hell by AC/DC
The first 10 seconds of "Highway to Hell" does not paint a very grim picture of the underworld. Instead, it gets you ready for an electrifying ride that only AC/DC is known to provide. And as soon as the 11th-second strikes, you get the rhythm from the drums that introduce you to another dimension.
There are plenty of guitar phrases to learn from in this song. You can polish your classic Blues licks as if you're an apprentice of Angus Young, Stevie Ray Vaughan, or even Jimi Hendrix. The point here is that this AC/DC masterpiece has plenty of phrases to turn into your very own guitar solo.
This song has one of the world's most iconic guitar riffs. However, I beg you not to focus only on the riffs. You should pay attention to the guitar playing throughout the song. There are gems everywhere that you can turn into yours.
24. American Idiot by Green Day
In my opinion, "American Idiot" is Green Day's most famous song. The tempo is upbeat, and the chords are pretty simple to master, too. The only thing working against newbies here is the unusually fast rhythm.
The song has several sections wherein the guitars are front and center of the piece. While I do love the vocals of Billie Joe Armstrong, it's his guitar-playing skills that I admire the most. He plays a single note in two octaves at exactly the same time. This gives the song some really nice and cool sounds.
You should listen to the guitar solo, starting at the 1:50 mark of the song. It has the same tone as the rest. However, Armstrong does give a nice twist to it to make the solo not sound boring. This is a piece worth learning to play if you want to show off to your friends.
25. We Will Rock You by Queen
More than four decades have passed since Queen released "We Will Rock You," and the song still gets played every time there is a completion involving a home team. It is a song used by home teams to taunt their opponents. And it works.
While the song features some badass bass and drum work, Queen's 1977 masterpiece features one of Brian May's most electrifying solos that start at the 1:38 mark of the song. May opens up his solo with very few chords before picking it up with his signature movements. What is crucial here is for you to pick up the notes and the rhythm. You have to strike the notes as flawlessly as possible.
The song is a testament to the power of a guitar in a song. Try imagining the song without May's solo towards the end, and you will end up with just another plain rhythm.
26. Take It Easy by The Eagles
There are a lot of Eagles songs that I love. I love "Hotel California", grew up with "New Kid In Town," and cherished singing "Love Will Keep Us Alive" with friends. However, when it comes to a great and easy guitar solo for aspiring country rock guitarists, I find the band's "Take It Easy" to be just perfect.
The band's vocal harmonies are very unique. It is like having a choir performing right in your ears, although there are only four of them. The harmony of the different voices lends beauty to the song. And when you add fascinating guitar work, you'll know you have a winner.
There are beautiful licks that pepper the breaks between vocal lines. They complement the overall beauty of the song. The solo may not be that too easy for absolute newbies. You can still learn to play it. The solo features a number of classic country licks that you can tweak.
27. Apache by The Shadows
Very few mid-20th century bands have lasted longer in their careers than the instrumental rock group, The Shadows. They started off as a backing band for Cliff Richard in 1958. Overall, the band had a total of 69 chart singles in the UK. One of The Shadows' most iconic pieces was the "Apache."
This song has a recognizable rhythm and melody. This is not surprising, since the song has been adapted and modified many times and used in movies with a Wild Wild West theme. There aren't any vocals to disrupt your concentration. You can easily pick the chords and strum the strings like Hank Marvin did.
This Shadows song is a good choice to practice your guitar-playing skills. It is also a good piece for showing off. If you really want to sound like the pros, I suggest picking up the nicest electric guitar you can find.
28. Kon Tiki by The Shadows
Listening to "Kon Tiki" by The Shadows is like being lulled by the wonderful breeze coming from the sea. It has that 'surf-guitar' vibe to it. I cannot help but close my eyes and think of spending several days on the sunny beaches of the Bahamas or any other island paradise.
Try listening to this song and you will note that the melodies are very simple and nice. The strumming pattern does not have a frenzied pace. This should make it easy for newbies to learn and master. I like the bridge of the "Kon Tiki." The slow string movements give the song a very different sound and are still beautiful.
If you want to master this song, you might want to use single-coil pickups in your guitar playing. Keep the strumming clean and add an echo or delay effect to mimic the nice tonal qualities of the song. This is easily one of my favorite easy guitar solos.
29. FBI by The Shadows
This is the third song of The Shadows that I purposely listed here. Why? For starters, the group's songs do not have any vocals. This will allow you to concentrate on learning and mastering the guitar playing techniques of the group.
I would like you to focus on the rhythms of the song that accompany the lead guitar. The sound does not drown out the lead. Neither does it get relegated as a mere background. The lead and the rhythms complement each other in a way that all songs should. To get the tone right, it may be necessary to use delays.
"FBI" starts low on the neck. Several seconds after the minute mark, the notes take on a much higher sound. It is one of the nicest ways you can add variety to the same song. It also makes it more interesting to listen to.
30. Ain't Talkin' 'Bout Love by Van Halen
This 1978 hit from Van Halen started out as a parody of punk rock. However, as Eddie Van Halen put it, "Ain't Talkin' 'Bout Love" also took them by surprise. The original piece only included two guitar chords: Am and F. Once developed, the band added G and G5.
The intro follows a very predictable Am-F-G5 pattern in fours before another quartet of Am-G. There are two solos in the song, both of which have an Am-G5 pattern. The outro also has the same pattern as the intro, making the solos very easy to master.
The solos have a characteristic fast lick towards the end. You will also have to master the riff. To make your guitar-playing sound like Eddie Van Halen, you will need to create a "swirling" effect by using a phaser pedal. Adding plenty of distortion would also give your piece a rock-star appeal.
31. It's All Over Now by The Rolling Stones
It was The Valentinos who first released "It's All Over Now" in 1964. A few months later and rock legend The Rolling Stones picked up on the tune and released their own version. The song also became The Rolling Stones' first-ever chart-buster in the UK.
The guitar solo of "It's All Over Now" starts at the 1:28 mark and runs all the way to the 1:56 point. You will love the amazing guitar playing of Keith Richards as he did one of the finest solos ever to be heard on the Blues planet. So inspiring was Richards' solo that Bruce Springsteen thought of the guitar solo as one tough act to beat.
What makes this unique is Richards' use of a 12-string guitar. It has this classic Blues rock vibe to the song that made it such a wonderful tune to dance to in the swinging 60s.
32. Paranoid by Black Sabbath
What makes "Paranoid" such an easy guitar solo to master is that this song has a lot of solos in between verses. Each solo can be 10 to 15 seconds long, allowing you to master your hammer-ons and pull-offs.
The intro of this Black Sabbath hit is a must-learn piece for any aspiring rock guitarist. The song intro is iconic as it is melodic. And when you add the bass and the drums that complement the guitar, you have a solo that fits the song so well. This is what drives the "Paranoid" forward.
The longest stretch of the solo is between 1:28 and 2:02. The bends are fast. The hammer-ons can be unforgiving and the pull-offs can fracture your fingers. I recommend going slow at first until you get the feel. You can then pick up the tempo and start hammering the chords like a pro.
33. Livin' On A Prayer by Bon Jovi
This has got to be one of Bon Jovi's most popular and most iconic songs ever. I know of famous bars and pubs playing the song whenever they have Xennials around. You may not like the fashion sense of the bands of the 80s. However, you've got to acknowledge their remarkable taste in music.
This is one of those songs that employs a "talk box" effect in the guitar play, resulting in a sound that is uncannily similar to a vocal line. If you're not sure what a "talk box" effect is, you can get away with such a technique by employing a wah pedal.
Bon Jovi's guitar solo at the 3:00 mark offers a lot of distortion, reverb, and delay. It's easy to nail these lines. The last line of the solo requires a fast legato. You can skip this and still end up with a fascinating piece.
34. Nothing Else Matters by Metallica
Like many rock star legends, Metallica's "Nothing Else Matters" comes with an introduction that sets you up for an electrifying experience. A full minute goes by without any words. The rhythm may be slow, but it sure is enough to get you dancing in your room with your eyes shut.
This is one of the very few Metallica hits where Hammet took the back seat and let James Hetfield have his day. The solos are spread throughout the piece. It has this classic melody that complements the song's mood very well. Hetfield's playmaking skills let the song build towards the chorus before it plummets for the finale.
The chords are pretty easy. There are also no fancy fingering techniques. You can always start with a simple strum before you take on a plucking adventure. Master this piece, and you'd be rocking a guitar solo in no time.
35. November Rain by Guns n' Roses
Record producers frowned when they had a taste of Queen's 6-minute masterpiece, "Bohemian Rhapsody". You could imagine how they reacted when Guns n' Roses released their 8:57 hit, "November Rain." This song hit the charts in the 1990s and became one of music history's longest songs to ever land in the Top 10.
This song features three sets of solos spread throughout the piece. However, I suggest focusing more on the two middle solos. The first of this pair of solos features melodies and themes that Slash repeated several times. This allowed the melodies to flow, giving the song a beautiful "story". You've got to love Slash's vibrato and bends. The second half comes with faster legato passages.
The second solo of the pair is similar to the first. However, Slash moved it higher on the guitar neck. This is a great and fun song to play.
36. Killer Queen by Queen
Brian May is one of the many guitarists that I admire. And while many love his electrifying solos in many Queen greats, it is his work in the "Killer Queen" that I admire the most. What makes May so remarkable is his uncanny ability to create a killer solo that never goes astray from the chords of the music piece.
Listen to the "Killer Queen" track and pay close attention to the guitar solo starting at 1:31. Freddie Mercury's characteristic vocals served to introduce the smooth melodies of Brian's solo. And when you get to the 1:48 mark, you get a taste of May's unparalleled guitar-picking prowess. The solo runs all the way to the 2:08 mark before Freddie gets in the groove again.
This is a piece that shows how a guitar solo can add to the greatness of a song without detracting from its beauty.
37. How Am I Supposed To Live Without You by Michael Bolton
I know you're already raising your eyebrows for my inclusion of Michael Bolton's hit ballad in this list. However, hear me out first. I would like you to check out the video and fast-forward it to 2:44. Continue
listening until 3:12, and you'll understand why I really had to include "How Am I Supposed To Live Without You" in this selection.
You will love Michael Landau's legato fretwork. It is a very beautiful piece that extends Bolton's melancholic tune for several tens of seconds. You could close your eyes and allow yourself to be transported to that time when someone you love finally bade you goodbye.
What makes this song easy for a guitar solo is the relatively easy chords to master. You will only have to give it your own twist to call the piece your own. Of course, you can always start with the basics.
38. Wish You Were Here by Pink Floyd
The intro of "Wish You Were Here" is an excellent illustration of an easy guitar solo. You can feel the distinct twang of the guitar strings, complete with a beautiful hint of reverb for a more fascinating take. The intro solo is also quite long. It takes a full minute and 18 seconds before you get to sing the very first lyrics of the song. That's an awesome period to showcase one's guitar-playing skills, which David Gilmour did with superb brilliance.
The solo uses a pentatonic scale in E minor. There's a sense of harmony that you can only get if you were to play several guitars at once. The double-stop licks are also noteworthy, giving the piece a beautiful melody that builds into the very first line of the lyrics.
It is not surprising why Rolling Stone placed this Pink Floyd masterpiece as the 324th greatest song in history.
39. Can't Get Enough by Bad Company
Bad Company recorded "Can't Get Enough" in November 1973. Less than a year later, the piece was already on the Billboard Hot 100, peaking at the number 5 slot. It wouldn't have reached this spot if not for the phenomenal songwriting skills of Mick Ralphs.
Knowing that the song would not sound right if he used standard tuning, Ralphs tuned it to an open C. This gave the piece its characteristic tone that would otherwise be tricky to obtain using a standard tuning. The "Can't Ge Enough's" solo is a classic Blues Rock that comes with slick bends, bluesy motifs, and tasty licks. It is quite difficult to discern where the actual solo starts since Ralphs' guitar-playing is so fluid.
The 3:12 to 3:36 section of this song is proof of the masterful fingering of Bad Company's famed guitarist. Get the tuning right, and you can easily nail this piece.
40. Let It Be by The Beatles
McCartney may have written this popular Beatles song. However, you have to give kudos to the group's guitarist, George Harrison. The Magpie did justice to McCartney's last piece before leaving the band.
Magpie did an excellent job of producing a very melodic solo that was not only appropriate to the song. He played his guitar as if it was a tribute to a departing brother and a friend. There is a masterful blend of flash and restraint, allowing the vocals to shine through while still providing enough space for the guitar to explode.
The guitar solo in "Let It Be" is pentatonic in A minor. However, it weaves through all of the song's box patterns in a very crafty way. Musicians and artists take this song as a testament to the Magpie's mastery of the guitar. Listen to the 2:00 to 2:26 segment of the song.
41. Wicked Game by Chris Isaak
Possibly one of the most prolific breakup songs of the last generation, Chris Isaak's "Wicked Game" remains to this day a classic song of love and heartbreak. Covered by high-profile bands like HIM and Stone Sour, Chris Isaak's emotional masterpiece has been included in various lists of the greatest songs of all time by companies such as NME and Rolling Stone.
Jump right into the video and listen to the slow, melancholy notes unfold before trying it for yourself. It doesn't get too crazy; Isaak lets the emotion of the song do most of the work. There's some significant string bending involved, so this song is best performed with a guitar equipped with a tremolo arm. A Strat is the guitar of choice here, with its open and airy sound and whammy bar ready to get bendy.
42. Kryptonite by 3 Doors Down
3 Doors Down unleashed this Grammy Award-winning anthem in 2000 on their album The Better Life. Singer Brad Arnold wrote the song at 15 years old about feelings of vulnerability and the desire to find inner strength. "Kryptonite" opens with a guitar riff that can only be described as 'iconic' or 'epitomizing' before heading into a very driving but beginner-friendly guitar solo.
Matt Roberts' guitar solo has one main riff that repeats twice: the first part of the riff is a simple ascending and descending run that leads into a hammer-on/pull-off section before looping back to the beginning once more. The solo is played on the low E and A strings, blending in well with the song's gritty, beefy tones.
43. More Than A Feeling by Boston
Boston recorded their original demo on equipment built and operated by guitarist Tom Scholz in his own basement. A few years later, in 1976, Boston's self-titled debut was released. It went platinum a few months later. "More Than A Feeling" became the hit single off the album, often being compared to the likes of Queen's "Bohemian Rhapsody" (also released in '76).
Mesmerizing harmonies aside, "More Than A Feeling" has a very poetic and moving guitar solo. It's fairly simple but still unique enough to throw you off if you're not used to some minor trill action. Listen to the dynamics in the solo in particular; which notes get more feeling and which notes are more subdued really add to the emotional effect of the song!
44. What If I Was Nothing by All That Remains
Late All That Remains guitarist Oli Herbert may have solidified his title as one of the greatest shredders of the modern era, but that doesn't mean he didn't have a few solos up his sleeve that were more feeling than fire. "What If I Was Nothing" is a perfect example of one such piece: moving and contemplative, staring off with a slow upward arpeggio before leaping into soaring, pleading harmonies that conclude with just a little bit of squeal and low-end growl, a solo he must have ended with a sly wink and a satisfied nod.
Watch the timing with this song, pay close attention to your cues, or make sure you're familiar enough with the song that you know when the phrases start; Oli starts playing off the 4-count beat, so be ready to jump in!
45. Top Gun Anthem by Harold Faltermeyer & Steve Stevens
Composed by Harold Faltermeyer and played by Billy Idol guitarist Steve Stevens, the 1987 Grammy Award Winning high-octane movie theme quickly became synonymous with fighter jets, volleyball, and Tom Cruise. The song is performed by a star-studded cast with Faltermeyer, who also composed the soundtrack to Beverly Hills Cop, on piano, and Stevens, whose credits include playing for Micheal Jackson, Vince Neil, Robert Palmer, and others.
Being an instrumental guitar song, the entire piece plays like one amazing guitar solo, but if you're still beginning your journey into the world of guitar solo mastery, just focus on nailing the main riff. Bring this out at a party or for your parents and they'll be sure be WOW'd!
46. That Thing You Do! by The Wonders
Back-to-back movie songs, "That Thing You Do," is the title track from the 1996 Tom Hanks comedy that follows a one-hit wonder band in the 60s on their journey from aspiring musicians to a signed, touring band and back down again. Chris Isaak has a cameo in the film as Guy's Uncle Bob, who records the band's hit single for release on 45. The song was written in the style of quintessential 60s pop-rock by Fountains of Wayne bassist Adam Schlesinger who attempted the writing process as a "personal challenge."
The lead guitar in the song is memorable and melodic, with the solo being catchy and joyful in itself. The solo itself is extremely accessible and starts out with a twice-repeated phrase before transitioning into a relatively minor phase with the song's moderate string bending and wrapping up with a tight little bow; all played on a small section of the fretboard and on just two strings.
47. Easy by The Commodores
"Easy" was written by Lionel Richie and released by The Commodores in 1977. A slow and relaxed tale of a man's feelings after a relationship ends; not distraught, but "easy like Sunday morning". "Easy" has had a lasting impact on the music scene, being covered by bands across a number of genres, including Faith No More, Boyz II Men, and Lionel Richie himself in his solo career.
The solo here is very accommodating to beginner players, so whether you've just picked up the guitar for the first time or you've been playing for years, The Commodores have you covered with a smooth, sexy solo to get you in the groove. Pay careful attention however to that quick slide up the fretboard between phrases; practice landing on the correct note and transitioning back into the main riff.
48. Folsom Prison Blues by Johnny Cash
A timeless classic by arguably one of the greatest artists who ever lived, "Folsom Prison Blues" has to be one of Cash's most iconic and enduring songs. Written while Cash was serving in the Air Force in Germany, the song would go on to sell over 3,000,000 copies. Listen to one of the most legendary performances in music history when Johnny Cash performed Folsom Prison Blues at Folsom Prison!
The guitar solo for "Folsom Prison Blues" is true to the song's roots being very bluesy and incorporating bending, slides, and short melodic phrases. Played in a simple yet rebellious spirit, it's easy to overlook how incredible guitarist Luther Perkins' technique really was.
49. Holiday by Green Day
Prolific rock band Green Day released the politically-critical "Holiday" back in 2004 on their American Idiot album. Aimed toward a scathing review of war and political power, the song condemns the manipulation of societal opinion and questions the motives behind the ongoing military conflict. The catchy and high-energy riffage from Billie Joel Armstrong creates a strong contrast from the seriousness of the lyrics!
The cinematic guitar solo serves as a climactic moment in the song, adding intensity to the song as it nears its conclusion. Being fast-paced and aggressive, mixing power chords and single notes really embodies the punk spirit of Green Day. Nonetheless, it's an incredibly beginner-friendly riff to get under your belt, so give it a shot!
50. Wake Me Up When September Ends by Green Day
Back-to-back Green Day hits! Also coming in hot off of American Idiot, "Wake Me Up When September Ends" is a sorrowful and poignant tribute to frontman Billie Joel Armstrong's father, who died in September of 1982 when Armstrong was only ten years old. The song also became synonymous with the aftermath of Hurricane Katrina (which struck the Gulf Coast in late August of 2005) after a video went viral depicting television coverage of the hurricane with the Green Day hit playing alongside.
The solo in "Wake Me Up When September Ends" is very moving and captivating, pulling energy from the mournful energy of the song and releasing it in climaxing chords that slowly slip into nothingness as the riff winds down. Put all of your heart and soul into this one; the song deserves it.
 51. The Unforgiven by Metallica
This emotional and melodic rock Ballad from heavy metal supergroup Metallica was written by all four members of the band and marked the intro to a trilogy of songs that dive into themes of inner struggle and rough introspection. James Hetfield really channels some deep childhood pain here and, after being inspired by Chris Isaak's "Wicked Game," wanted to turn more towards singing rather than screaming.
The solo for this Kirk Hammett and James Hetfield classic might look a little intimidating when looking at a tab or listening to the recording, but just remember you can always start slow and work your way up to the correct tempo as you get more comfortable. There are some pretty decent legato runs and full-step bending present here, but it's nothing you can't handle!
52. Island In The Sun by Wheezer
"Island In The Sun" was written by Wheezer frontman Rivers Cuomo and released in 2001 as a single. The song recalls a desire to escape the pressures of fame and the music industry on the beach, where Cuomo loves to be. Its catchy and uplifting vibe exudes a carefree and sunny atmosphere while incorporating elements from pop-punk and alternative rock and capturing the spirit of a relaxing day at the beach.
Jump ahead to about the 2:00 mark in the video for a quick tutorial for this melodic and easy-going solo. We're only mirroring the vocal melody here on the G and D strings, so this might just be the easiest easy guitar on this list!
53. So Far Away by Avenged Sevenfold
This emotional celebration of the life of James "The Rev" Sullivan comes from the 2010 Nightmare album but was released as a single in 2011, 2 years after Sullivan's passing. The music video shares a touching tribute to The Rev's memory as well as scenes depicting childhood memories of band practice and hanging out.
Synyster Gates is no small name in the metal community; he's very much capable of keeping up with and standing beside some of the best-known shredders in the industry, but here he dials the gain down just a bit to deliver a bendy, slidey, and emotional offering to the song. Tackle these passages and add this incredible Avenged Sevenfold piece to your repertoire.
54. Paint It Black by The Rolling Stones
This Eastern-inspired hit from The Rolling Stones was written by Mick Jagger and Keith Richards in the mid 60s and is a product of emerging interest in the sitar-driven music of classic Indian culture. "Paint It Black" hit the top of the Billboard Hot 100 chart in the US and the UK Singles Chart and quickly became one of The Rolling Stones' signature songs.
The solo adds intensity and a dynamic shift to the song while capturing the exotic and hypnotic quality of the "Paint It Black"'s overall atmosphere. A household name among guitarists, Keith Richards gives us a good run for our money with his intense right-hand technique, almost non-stop tremolo picking sections, as well as supreme melodic phrases over the minor chord progressions of the rhythm.
55. It's My Life by Bon Jovi
Right from the opening riff, this Bon Jovi hits you right in the face with its intensity and drive. Exuding a sense of empowerment and striving for the power to seize control over your own life, "It's My Life" has become an anthem for anyone ready to make a change and start living. Its uplifting and powerful message, combined with unique and captivating instrumentals, makes this song a classic in any regard.
Guitarist Richie Sambora holds nothing back when he plays, and this song, while simple and accessible to any guitarist, is no different. The solo isn't crazy, it's not all over the fretboard, but it is powerful in its message and emotion. Starting off with a volley of half-step ups and down before ending with a quick upward-trending arpeggio, you shouldn't have any problem being able to master this piece.
56. Run To You by Bryan Adams
"Run To You" has an undeniably driving rhythm and really showcases Bryan Adam's ability to write a radio-friendly rock anthem! The song reached the top 10 across several countries, including the US, UK, Canada, and Australia, and still gets radio airplay, with Adams continuing to do live shows across the country.
Adam's solo here may be the most introspective on the list; the world seems to stop when the solo begins. The music slows, the drums take on a half-time tempo, and everything else disappears for a few moments. Check out about the 2:13 mark in the video for a quick how-to for this classic rock anthem guitar lick. This solo will be no problem for you; we're sure of it!
57. Waiting On The World To Change by John Mayer
John Mayer wants to share a message of hope and positive change. Social progress, political apathy, and a very prominent guitar riff are all present in the 2007 Grammy Award-winning hit "Waiting On The World To Change." Alongside the release of the song, John Mayer started the "Back to You Fund," a charitable effort to raise money for health care, arts, and education. In 2011, the Back to You Fund donated $15,000 to the Fairfield Country Community Foundation in Mayer's home state of Connecticut.
Maybe the catchiest, funkiest and most prolific John Mayer song, "Waiting On The World To Change" has a crazy smooth solo that shouldn't take you too long to master. Crank up your treble and get on your slide game; this solo involves a lot of gliding up and down the fretboard!
It's too bad that not many music fans appreciate the true musical geniuses behind their favorite songs. Most will focus primarily on the vocals, noting the unique pitch and vocal quality of the singer. Guitar solos are specifically meant to break the monotony of a vocal solo and give the song alternative melodies that offer a very different kind of listening experience. True, there are no words that the brain can pick up and relate to one's experiences. It is the beautiful notes of the guitar that speaks directly to the soul.
Some of the songs I included in this list may be trickier to master than the others. However, patience and perseverance should see you performing these fantastic guitar solos like the pros. So, grab that guitar, flex those fingers, and get ready to bask in the spotlight.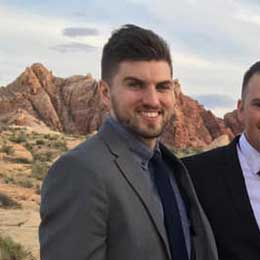 My name is Chris and I've had a passion for music and guitars for as long as I can remember. I started this website with some of my friends who are musicians, music teachers, gear heads, and music enthusiasts so we could provide high-quality guitar and music-related content.
I've been playing guitar since I was 13 years old and am an avid collector. Amps, pedals, guitars, bass, drums, microphones, studio, and recording gear, I love it all.
I was born and raised in Western Pennsylvania. My background is in Electrical Engineering, earning a Bachelor's degree from Youngstown State University. With my engineering experience, I've developed as a designer of guitar amplifiers and effects. A true passion of mine, I've designed, built, and repaired a wide range of guitar amps and electronics. Here at the Guitar Lobby, our aim is to share our passion for Music and gear with the rest of the music community.