Tremolo was initially used in classical music as a technique by string players in orchestras. Now, with tremolo pedals, you can have the same effect housed on your pedalboard, ready to go whenever you require it.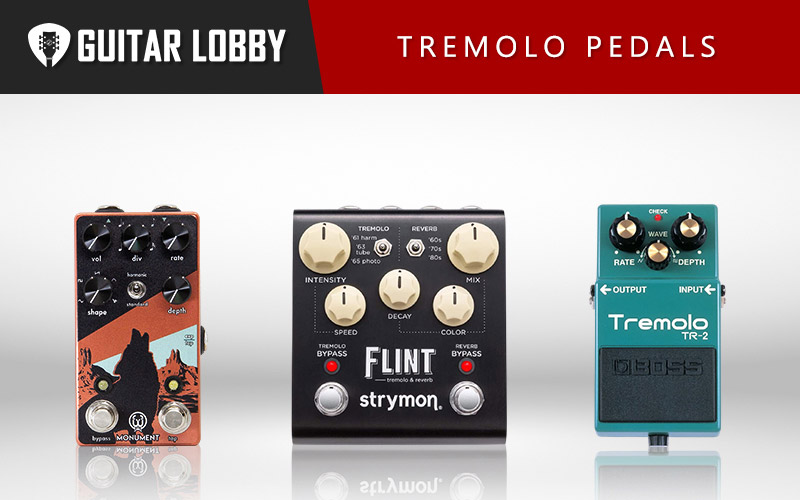 A staple of rock n roll guitar tones over the years, tremolo can interact with the natural sound of an instrument, without overpowering it like some other effects do. For this reason, it remains popular decades after Fender made it famous by installing it in their popular tube amplifiers.
Over the years I've tested dozens of these pedals, and in the rest of this article, we'll be discussing the best tremolo pedals at each price point so that you can make a calculated decision based on the abilities of each pedal. There are options to suit all musical styles, experience levels, and budgets. At the bottom of the article, we've also included a tremolo pedal buying guide for those of you who want to learn more about them before reading reviews.
Name of Product
Image of Product
Description
Price Range
Full Review
1. Strymon Flint (Best Overall)
Type: Analog
Effect: Tremolo
$300
Read Full Review Below
2. Source Audio Vertigo (Editor's Choice)
Type: Digital
Effect: Tremolo
$150
Read Full Review Below
3. TC Electronic Pipeline (Best Value)
Type: Digital
Effect: Tremolo
$130
Read Full Review Below
4. BOSS TR-2 (Best Under $100)
Type:

 Digital


Effect:

 Tremolo

$95
Read Full Review Below
5. Mooer Trelicopter (Best Under $75)
Type: Digital
Effect: Tremolo
$60
Read Full Review Below
6. Walrus Audio Monument V2
Type: Digital
Effect: Tremolo
$160
Read Full Review Below
7. Electro-Harmonix Super Pulsar
Type: Digital
Effect: Tremolo
$240
Read Full Review Below
8. Supro Tremolo
Type: Analog
Effect: Tremolo
$220
Read Full Review Below
9. Ernie Ball Expression Tremolo
Type: Digital
Effect: Tremolo
$160
Read Full Review Below
10. Dandelectro BT-1
Type: Digital
Effect: Tremolo
$40
Read Full Review Below
11. Fender Tre-Verb
Type: Digital
Effect: Tremolo
$270
Read Full Review Below
12. JHS Tidewater
Type: Digital
Effect: Tremolo
$115
Read Full Review Below
13. Fulltone Supa-Trem Jr
Type: Digital
Effect: Tremolo
$160
Read Full Review Below
14. JOYO JF-09
Type: Digital
Effect: Tremolo
$40
Read Full Review Below
15. Rowin Trelicopter
Type: Digital
Effect: Tremolo
$35
Read Full Review Below
16. Hotone Skyline Trem
Type: Digital
Effect: Tremolo
$50
Read Full Review Below
17. Coolmusic A-ME01
Type: Digital
Effect: Tremolo
$40
Read Full Review Below
Here Are the Best Guitar Tremolo Guitar Pedals
1. Strymon Flint (Best Overall)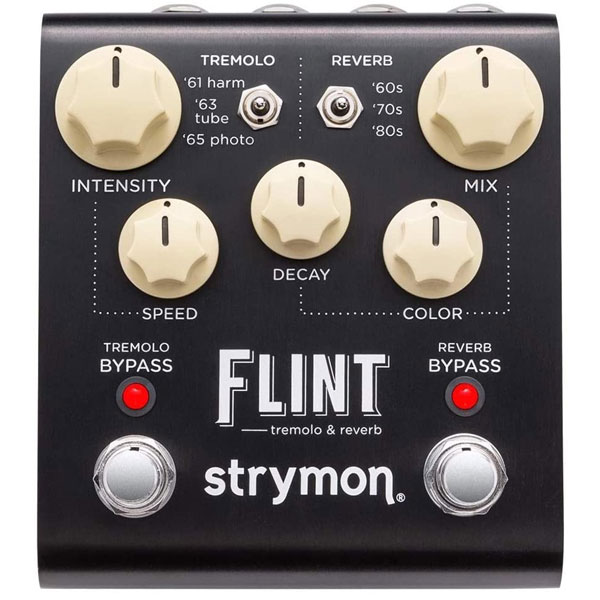 | | |
| --- | --- |
| Estimated Price | $300 |
| Type | Analog |
| Effects | Tremolo |
| Connectivity | 1 x 6.35mm Jack Input, 1 x Output |
| Power | 9 Volts DC |
My Review: When I first encountered the Strymon Flint, I could tell that it far exceeds the capabilities of your average tremolo pedal. Leaning more towards multi-effects, I discovered that it offers high-quality reverb too. At the top of the pedal, I found that there are three switches for both the tremolo and reverb units. These presets are designed based on selected eras.
When examining the tremolo side, I was able to choose between '61 harm, '63 tube, and '65 photo. Alternatively, when I switched over to the reverb section, I was excited to find that it offers individual '60s, '70s, and '80s presets. Once I'd selected my desired setting, I then found that you can then use the various controls to adjust how they sound.
There's a control for intensity, speed, decay, color, and mix. After exploring these parameters, I soon realized that the latter three affect only the reverb, while the former affects the tremolo output. I was also impressed by the fact that both effects have a footswitch to activate or bypass them, protecting the integrity of your signal in the process. There are also dual inputs and outputs, which cater for signal splitting or using an expression pedal.
There are several standout qualities that make the Strymon Flint one of the best tremolo pedals out there. Firstly, the tremolo tone sounds incredibly amp-like, and not artificial in any way, shape or form. Then there's the impeccable spring reverb, which is labeled under the "60s" setting. This stood out to me as one of the best spring reverb effects I've encountered in a long time.
The plate reverb setting wasn't quite as impressive, but it outperforms the vast majority of standalone reverb pedals nonetheless. These qualities make the Flint akin to having a tremolo and reverb unit from an old Fender Princeton tube amp on your pedalboard, and that is no exaggeration!
Who This is Best Suited for: The Strymon Flint is best suited to musicians who are considering also adding a reverb pedal to their rig. Unlike most multi-effects pedals, the Flint offers premium quality effects in both categories. It's essentially two pedals in one.
Bottom Line: With three selectable presets for both the tremolo and reverb channels, the Strymon flint pays tribute to some of the finest variations of each effect. Both channels have interdependent and interlinked controls that can dramatically alter the way your guitar sounds. Also, the addition of dual outputs makes using two amplifiers a possibility.
2. Source Audio Vertigo (Editor's Choice)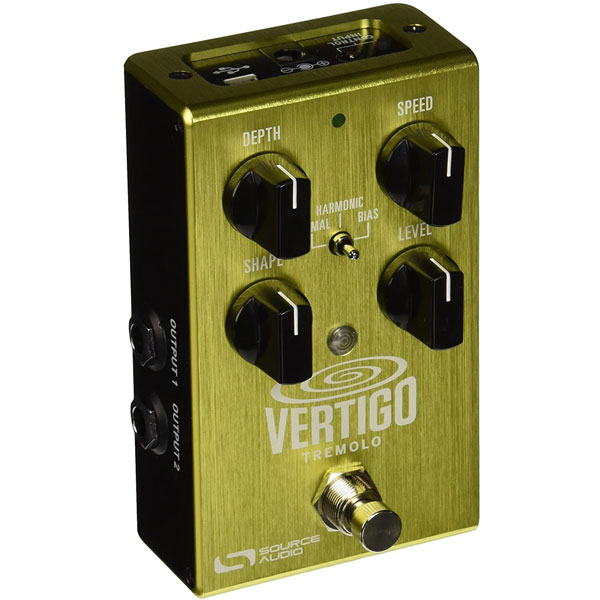 | | |
| --- | --- |
| Estimated Price | $150 |
| Type | Digital |
| Effects | Tremolo |
| Connectivity | 1 x 6.35mm Jack Input, 1 x Outputs |
| Power | 9 Volt |
My Review: At Guitar Lobby, we have long been admirers of Source Audio's ever-growing range of brilliant effects pedals. I've found them to be amongst the best on the market when it comes to performance. Although they may not have been established as long as some of their competitors, I've been impressed by the way they have quickly risen to the premier tier of audio processing. In the past, one of their creations that really impressed me was the Nemesis delay pedal, which has won many accolades and helped to propel the company to new heights.
I was therefore excited to get my hands on the Vertigo tremolo pedal. To my surprise, I can honestly say it is just as good as the Nemesis. Providing tremolo that is inspired by vintage amplifiers, it offers a host of adjustable parameters that can be used to tailor the effect to your liking. One of the things which I found out pretty quickly is that the pedal is built around a trio of distinctive modes, each of which recalls a specific circuit from the glory days of amplifier-based tremolo.
Onboard the Vertigo, I was pleased to find that there's the classic pulsating Fender Blackface mode. One of the best-known tremolo units to ever be housed in an amplifier, this mode can be used to create rhythmic tremolo of varying extremes. Another aspect I found equally as impressive is the Brownface vibrato mode which includes filter-inspired phase effects. Finally, the tube mode allowed me to produce an authentic-sounding overdriven tube bias tremolo that I found to be rich in harmonics.
All of the aforementioned modes are offered in lush stereo surround, bringing analog quality into a digital format. After playing around with the features for further tone adjustment, I discovered you can connect the Vertigo to the free Neuro Editor app on your mobile device or computer, and instantly access a range of presets, EQ units, and tap tempo. Combined with the Speed, Depth, and Level controls that are physically built into the pedal, I can safely say that you have all of the tools for creating the perfect tremolo effect at your disposal.
If there's one thing that stood out about this Vertigo pedal, it has to be the sheer volume of options it provides when you hook it up to the Neuro app. It's exceptional at creating blends of phase and tremolo, which are ideal for psych-rock tones and otherworldly effects.
It also offers an outstanding rotary effect, too. Calling the Vertigo a tremolo pedal doesn't really do it justice. It may be based around this effect, but once you start to mess around with the settings you can basically create any for of modulation that takes your fancy!
Who This is Best Suited for: Due to the multi-faceted makeup of the Source Audio Vertigo pedal, it's well suited to every type of guitarist. You'll be especially fond of this pedal if you strive to recreate the authentic-sounding tube-amp tremolo that has blessed so many of the best guitar recordings in the 60s and 70s.
Bottom Line: Tremolo pedals don't get much better than the Vertigo by Source Audio. It houses three specifically-designed circuit modes that all pay homage to the most sought-after tremolo tones of all time. Additionally, the pedal has multiple onboard controls that can further tweak the effect, and it is also USB compatible for editing in the free Neuro Editor app, which gives you access to a multitude of other processing tools.
3. TC Electronic Pipeline (Best Value)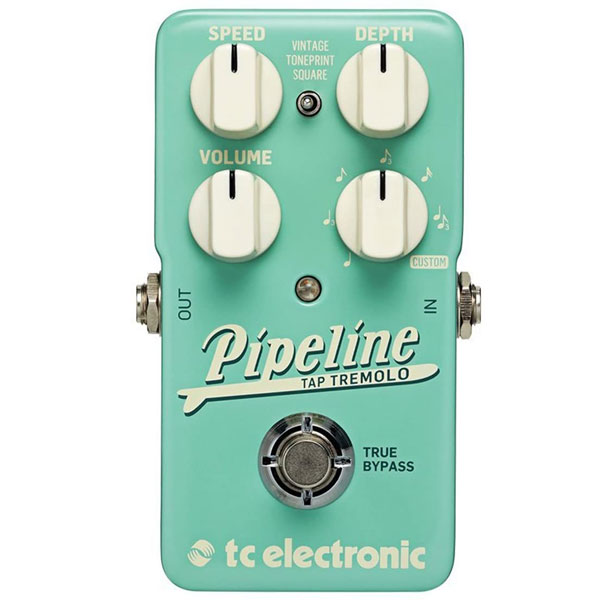 | | |
| --- | --- |
| Estimated Price | $130 |
| Type | Digital |
| Effects | Tremolo |
| Connectivity | 1 x 6.35mm Jack Input, 1 x Output |
| Power | 9 Volts DC |
My Review: As a long-time admirer of the TonePrint pedal line by TC Electronic, I was already aware that it includes some of the finest stompbox-style effects available to guitarists. Whether you're looking for dirt, reverb, modulation, or dynamic control, there's a suitable pedal for every need in this range. One criticism that I and other guitarists had of the line for a long time, was the lack of a tremolo pedal. Not anymore!
Right off the bat, I could tell that the long-awaited Pipeline brings a plethora of tremolo effects to the revered TonePrint family. You can choose between Vintage and Square modes to form the foundation of your tremolo sound, and then use the four control knobs to tailor the output to suit your intentions, a simple and effective design.
My initial impression of the Pipeline was that like all TonePrint pedals, it is extremely detailed. One feature I am particularly fond of is the rotary knob in the bottom right corner of the pedal, as this lets you choose between 6 tempo-based note subdivisions, adding rhythmic variety to your guitar. If that isn't enough, I also discovered that you can hook the pedal up to TC Electronics' TonePrint Library, where hundreds of extra settings await you.
The pedal offers true bypass switching and is made from a combination of high-quality analog and digital components, merging both technologies to create the best results. As I'd have expected from a TC pedal, the metal chassis are as solid as they come, which is ideal for touring musicians.
There are many qualities that really impressed me about the Pipeline, one being its Vintage mode. This sine wave setting sounds remarkably like the tremolo you'd find on a retro Fender valve amp, with warmth and character in abundance. Also, the freedom you get when you hook the pedal up to the TonePrint Editor allows you to create unique effects to your heart's content.
Who This is Best Suited for: I'd highly recommend the TC electronics Pipeline to guitarists who like to spend some time experimenting to find their desired sound. The six onboard modes provide you with inspiration, and each one can be tweaked until you find the right blend of speed, depth, and volume for your tremolo needs.
Bottom Line: With the classic TC design, durability, and sonic quality, the Pipeline tremolo pedal is a great choice for the price. Not only does it offer six distinctive modes, all with unique rhythmic elements, but it also provides you with hundreds more when you connect to the renowned TonePrint library, which can be done wirelessly. It also offers true bypass switching to keep your clean signal as strong as possible. This is easily one of the best tremolo pedals out there right now.
4. BOSS TR-2 (Best Under $100)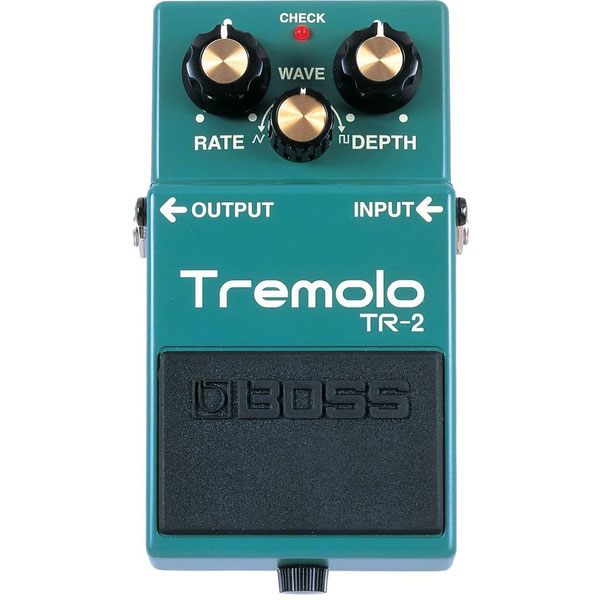 | | |
| --- | --- |
| Estimated Price | $95 |
| Type | Digital |
| Effects | Tremolo |
| Connectivity | 1 x 6.35mm Jack Input, 1 x Output |
| Power | 9 Volts DC |
My Review: Over the years I've become very familiar with Boss stompboxes, and one thing I've learned about them, is that they are amongst the most durable effects pedals to ever exist. Designed to last, and built like a tank, these pedals won't cave under the pressure of constant usage and relentless touring.
After doing some research, I quickly came to the conclusion that the TR-2 is Boss' flagship tremolo pedal. Featuring the classic, minimalist design, it offers three controls for tone adjustment. Firstly, I discovered the Rate knob, which allows you to adjust the speed of the tremolo, and how quickly the peaks and troughs in volume occur. Then there's the Wave knob, which affects the waveform of the LFO, changing it from triangle to squire, and thus, completely transforming the tone of the tremolo.
Finally, I was very impressed by the versatility of the Depth control, which can be used to add more substance to the effect. This is particularly useful if you need to beef up your tremolo for a solo, or a thick-sounding chord progression, as I often do. The pedal uses true bypass switching and can be powered either by 9 volts DC or a singular 9-volt battery.
The TR-2 is nothing fancy, but that's what makes it stand out. When you use the triangle setting, it's one of those pedals that can be "always-on", due to its subtle nature. When it's positioned after your reverb in the signal chain this pedal performs particularly impressively, as it adds movement to the signal which can really bring a melody to life.
Who This is Best Suited for: All Boss stompboxes are perfectly suited to the working musician. Thanks to their almost indestructible design, they can withstand a beating on the road, so if you're likely to be using your tremolo pedal extensively, the TR-2 might be the perfect option to consider.
Bottom Line: With a robust metal chassis, three detailed rotary controls and a compact sizing, the Boss TR-2 reinforces the reasons that this manufacturer is so well-loved in the guitar-playing community. With Rate, Depth, and Wave parameters, you can build upon the authentic-sounding tremolo that the pedal produces, and turn it whatever you desire, within reason! After testing dozens of tremolo pedals, my conclusion is that the Boss TR-2 is the best tremolo pedal under 100 dollars.
5. Mooer Trelicopter (Best Under $75)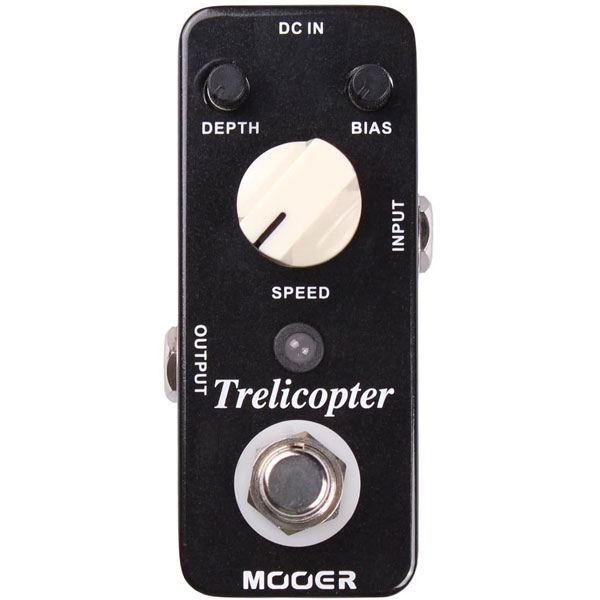 | | |
| --- | --- |
| Estimated Price | $60 |
| Type | Digital |
| Effects | Tremolo |
| Connectivity | 1 x 6.35mm Jack Input, 1 x Output |
| Power | 9 Volts DC |
My Review: It didn't take long for me to realize that the Mooer Trelicopter offers unrivaled value for money. Initially, I was almost fooled by the pedal's minute size, but I quickly realized that it is capable of producing a wide array of tremolo twangs that will bring your clean guitar sound to life.
In my opinion, one of the best features of the Trelicopter is the inclusion of bias control. Bias controls are responsible for making old vintage Fender amplifiers sound so warm and immersive, using a waveform that an asymmetrical. This addition was music to my ears, as I'm a huge fan of these vintage amps and their tone. I was impressed by the way these settings make the tremolo sound natural and authentic, rather than forced and artificial.
When examining the layout, I found that housed on the Trelicopter is a single large centerpiece control that adjusts the speed of the effect. I then noticed that in the two top corners are depth and bias knobs.
Each of these controls plays a pivotal role in creating the overall texture of the tremolo and makes it easy for you to navigate the settings to adjust them in real-time. Despite its simplistic design, by playing around with this trio of knobs, you can conjure up some smooth-sounding tremolo tones to bathe your guitar in.
Who This is Best Suited for: If you're shopping on a budget, there are few better options than the Mooer Trelicopter. Despite its modest price tag and small dimensions, this pedal offers a range of warm tremolo sounds.
Bottom Line: Mooer has coined a reputation for producing affordable and reliable effects pedals in recent years. The Helicopter provides a great balance between simple operation, and tone-sculpting abilities. With true bypass switching for tone-preservation, and a unique bias control that adds vintage authenticity to your output, it's a marvelous little pedal.
6. Walrus Audio Monument V2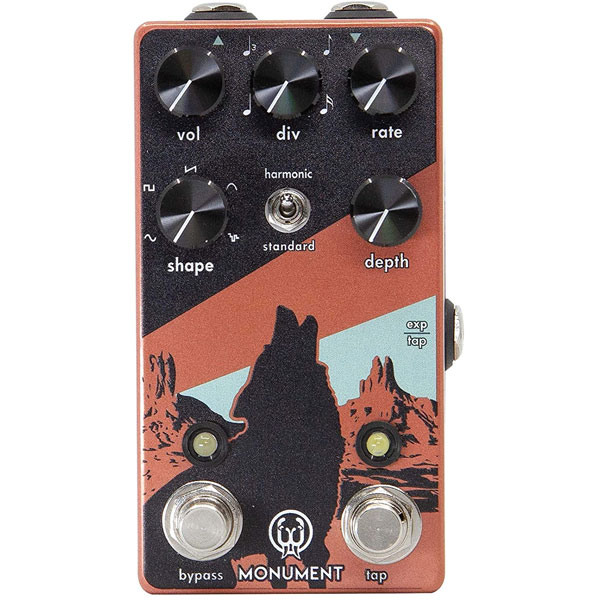 | | |
| --- | --- |
| Estimated Price | $160 |
| Type | Digital |
| Effects | Tremolo |
| Connectivity | 1 x 6.35mm Jack Input, 1 x Output |
| Power | 9 Volts DC |
My Review: I love the aesthetics of Walrus Audio's pedals. Each offering has a unique design that draws you to the pedal. However, these pedals are not just pretty to look at, they are sonically beautiful as well.
I was therefore delighted to find that the Monument V2 Harmonic Tap Tremolo pedal produces a wide spectrum of tremolo tones. Due to the versatility of the pedal, I found that you can create classic, smooth dynamic wobbles or go to the other extreme and opt for resonant shimmers with harmonic overtones. In my opinion, whichever way you use the pedal, you'll be impressed by the quality of the effect produced.
I also noticed that in order to improve the functionality of the Monument, Walrus Audio chose to shrink down the second edition to make it more pedalboard-friendly, and save some room in your signal chain for other effects. Let me be clear – this size reduction doesn't mean the number of options available has also decreased, though. They simply made the Rate, Depth, Shape, and Tap Multiplier controls more expressive so that you have the same options at your disposal with less clutter on the pedal's face.
The thing which sets the Monument apart from many other tremolo pedals is its harmonic mode. Each of the independent wave settings sounds really interesting, and even the random mode is useful in some musical situations. If you set the pedal to a slow pulsating tremolo, it acts as a rhythmic, textural tool which can be a great way to build suspense in a song.
Who This is Best Suited for: Walrus Audio's Monument V2 is well suited to guitarists with a taste for eccentricity. The flamboyant design is matched by the unique array of tremolo wobbles that the pedal is capable of producing.
Bottom Line: An improvement on the well-received original version, the Monument V2 has been condensed into a smaller housing and despite that reduction, the number of possibilities it presents has not suffered at all. With tap-tempo tremolo, three controls for adjusting the characteristics of the effect, and a switch that changes the pedal from standard to harmonic mode, there's no tremolo-based tone you can't create with the Monument V2.
Popular Related Article: The Best Electric Guitars on the Market Right Now (All Price Ranges)
7. Electro-Harmonix Super Pulsar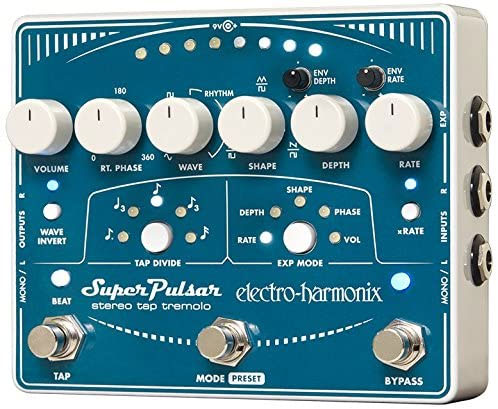 | | |
| --- | --- |
| Estimated Price | $240 |
| Type | Digital |
| Effects | Tremolo |
| Connectivity | 1 x 6.35mm Jack Input, 1 x Output |
| Power | 9 Volts DC |
My Review: Right off the bat I was excited to check out this pedal, as I'd heard that it is one of the most detailed tremolo pedals on the market. We weren't disappointed -and soon found that the Electro-Harmonix Super Pulsar combines versatility with high-end performance. Its extensiveness really impressed me, and by producing every variety of tremolo you can imagine, this pedal gives you complete control over every aspect of the effect, which is great if you're someone who likes to be very precise with your guitar tone.
One of the first things I noticed was the 8 knobs housed on the pedal which control: volume, phase, wave, shape, depth, rate, envelope depth, and envelope rate. I was particularly impressed by the ability of the envelope controls to react to the velocity of your strumming or picking, creating an immersive tremolo effect that is highly responsive and individual to your style of playing.
Another thing I found useful is that you can even connect an expression pedal to the Super Pulsar for hands-free tremolo control, which is great if you're an energetic performer who likes to interact with the audience. It also can sequence up to 16 steps using the rhythm function, so that you can set up the motion of the tremolo and trigger it at an appropriate point during a performance.
I also think the xRate mode is worth mentioning. When this mode is active, the tremolo goes into super speed and modulates the signal dramatically, which I believe is a great tool for guitarists who play textural pieces. For atmospheric built-ups or full-blow psychedelic rock-outs, this EHX pedal is well equipped. Most of the housed effects can be subjected to rever-envelope, increasing the possibilities even further.
Who This is Best Suited for: The Electro-Harmonix Super Pulsar is well-suited to guitarists who love to meticulously design their effects, rather than rely on presets. With so many adjustable features and controls, it is essentially like having a separate effects unit on your pedalboard. If you are an effects-nerd like me, you'll love this pedal.
Bottom Line: Offering a list of tremolo-producing options that is so long it's hard to fit them onto the page, the EHX Super Pulsar is unrivaled in terms of versatility. It can be used to produce standard, smooth-sounding tremolo, or you can dive into the world of psych-based effects and completely transform your guitar's tone. With tap tempo and the possibility of using an expression pedal, there's nothing that the Super Pulsar can't do.
8. Supro Tremolo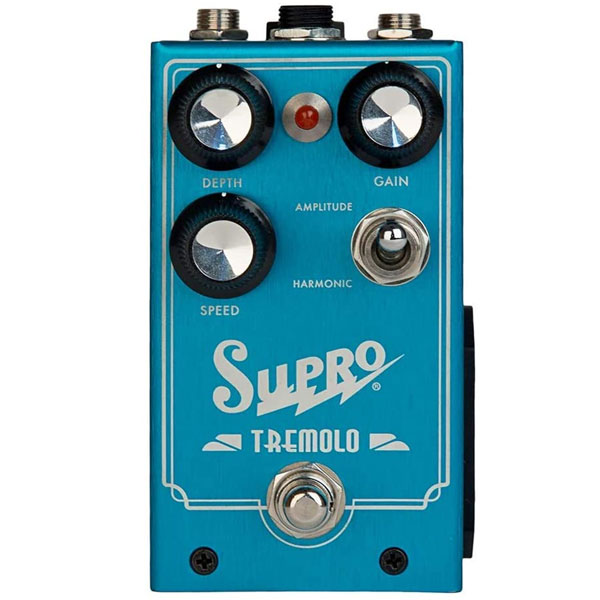 | | |
| --- | --- |
| Estimated Price | $220 |
| Type | Analog |
| Effects | Tremolo |
| Connectivity | 1 x 6.35mm Jack Input, 1 x Output |
| Power | 9 Volts DC |
My Review: As a worshipper of vintage valve tones, I was really excited by the Supro Tremolo pedal after I found out that it is designed to emulate the sound of a Class A tube amplifier circuit. Upon further research, I found that it offers a pair of unique tremolo voicings, accessed through switchable modes. One feature I found to be particularly useful was the Amplitude mode, which produces a remarkably true rendition of bias-modulated power tubes using in early Fender amps, renowned for their stellar tremolo units. This is ideal if you're trying to break away from the digital tone of many modern guitar styles.
Then there's the Harmonic mode, which I found adds more color to the output, and sounds like it's coming straight out of a 60s amplifier. To adjust the tone of both settings, you can use the gain control, which drives the output transformer to the point of saturation.
Additionally, I stumbled upon the fact that the pedal offers automatic volume compensation, so even if you push the saturation to the limits, it adjusts the dynamics to keep them consistent and avoid sudden spikes. You'll find this unique compression very useful if you're combining the tremolo with other high-gain devices like overdrive or fuzz. The expression pedal input is useful for adjusting the various settings onstage, too.
Who This is Best Suited for: If you're a fan of Fender's early 60s tube amplifiers, known for their warm, immersive, tremolo-producing capabilities, then the chances are you'll enjoy this Supro pedal. It strikes a good balance between having plenty of adjustable controls without overcomplicating things.
Bottom Line: The Supro Tremolo is a highly functional pedal, which was designed to emulate some of the most revered tremolo sounds to ever be produced. You can switch between the two vintage-style modes, and then edit the output to your liking using the four rotary controls. There's also an expression pedal input for added versatility onstage or in the studio.
9. Ernie Ball Expression Tremolo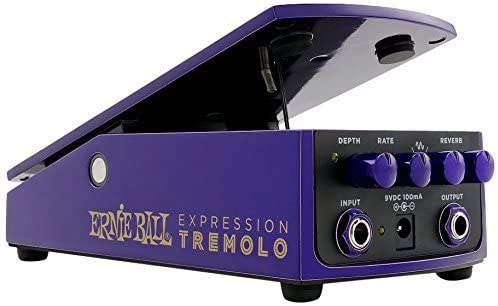 | | |
| --- | --- |
| Estimated Price | $160 |
| Type | Digital |
| Effects | Tremolo |
| Connectivity | 1 x 6.35mm Jack Input, 1 x Output |
| Power | 9 Volts DC |
My Review: I've used their products for a long time, and therefore was aware that Ernie Ball's products are known to be classy, and well-designed. Although they're arguably best known for their range of guitar and bass strings, they also produce some pretty awesome effects pedals, as I found out with the Expression Tremolo.
Right off the bat, I noticed that this product is built similarly to a wah pedal. After digging a little deeper I was intrigued to discover that this unique offering provides you with complete control over five separate waveforms. One feature I found to be useful was the sweepable foot control, which means that you can adjust every aspect of the pedal without halting your guitar playing.
I can confidently say that all of the included tremolo sounds are of the highest quality, and on top of that, there's also a built-in reverb to add a dimension of space to the effect. Compact and concise, the pedal will slot onto a busy board with no problems whatsoever. It's also housed in aircraft-grade aluminum, so if you're likely to use it extensively, you don't need to worry about wear and tear.
Who This is Best Suited for: Some guitarists like to keep their hands on their instrument at all times during a performance. If you are one of those, then the Ernie Ball Expression Tremolo is an ideal choice. With its rocker-style operation, you can control the tremolo and reverb effects without lifting a finger
Bottom Line: A unique pedal amongst mostly stompbox-style tremolo pedals, this Ernie Ball offering ensures that you can focus on your playing rather than adjusting the setting by hand. With five rich, warm-sounding modes, and an added reverb channel, it performs to a very high standard indeed.
Popular Related Article: Our Favorite Wah Pedals Right Now
10. Dandelectro BT-1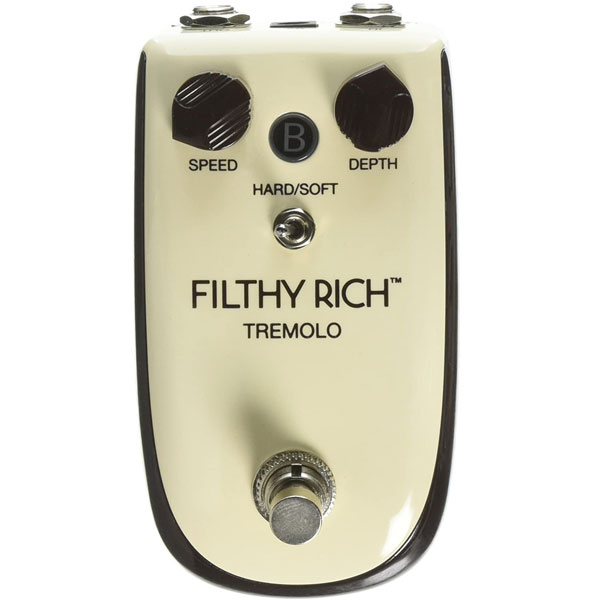 | | |
| --- | --- |
| Estimated Price | $40 |
| Type | Digital |
| Effects | Tremolo |
| Connectivity | 1 x 6.35mm Jack Input, 1 x Output |
| Power | 9 Volts DC |
My Review: The first thing that excited me about the BT-1 by Dandelectro, was finding out that it is a tribute to the company's 1940 tremolo invention. With a unique shape, design, and tone, this mini pedal offers outstanding tremolo effects at a very affordable price and is ideal for those who have a vintage taste. It's simple to operate but still manages to be versatile.
Housed in a die-cast chassis with a vintage finish, my first impression of the BT-1 was that it looks like it was made many decades ago. In terms of the sounds it produces, I found that they range from slight wobbling tremolo that adds depth to your guitar's clean tone, or on the other end of the spectrum, chaotic, rhythmic fluctuation. Having these two extremes in your arsenal means that you're not limited to one style.
Another thing that jumped out at me is that the pedal  has true bypass switching, so you don't need to worry about your tone being compromised when the pedal is inactive. It can be powered either by using a 9v DC power supply or with a 9v battery. I liked the fact that you get easy access to Speed and Depth controls, as well as a hard/soft switch which instantly changes the feel of the effect.
Who This is Best Suited for: The Danadelectro BT-1 is a great choice for guitarists who want to stay true to the original vintage tremolo tones of decades gone by.
Bottom Line: With a simple design, vintage aesthetics, and the ability to produce thick sounding tremolo, the Dandelectro BT-1 is a great little pedal. Granted, it doesn't offer the extensive number of controls you might find on a pricier option, but what it does, it does very well. The Hard/Soft switch is especially useful, allowing you to quickly jump between distinctive tremolo types instantaneously.
11. Fender Tre-Verb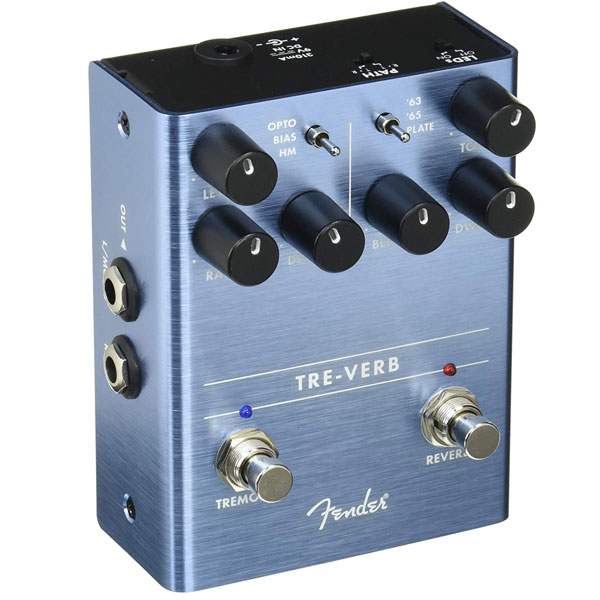 | | |
| --- | --- |
| Estimated Price | $270 |
| Type | Digital |
| Effects | Tremolo |
| Connectivity | 2 x 6.35mm Jack Input, 2 x Output |
| Power | 9 Volts DC |
My Review: From my personal experience, I was already aware that Fender's range of effects pedals are exactly what you would expect based on their guitars: elegant, classy, and extremely dependable. The Tre-Verb is a multi-functional pedal,  and I soon realized that it combines luscious reverb with expressive tremolo.
Firstly, I was really impressed by the reverb effect, which is based on the authentic spring units used in their 1963 and 1965 models. Combined with the selection of their best-loved tremolos, I found that these effects blend harmoniously to create smooth and warm layers of sonic cushions. You'll find these tones to be a great way to soften the sound of your guitar.
There's a stereo I/O included for multi-amp setups, and the pedal can even be used with a keyboard. The knobs are backlit by LEDs so that you can see them onstage, no matter how dim the lighting. Another thing that caught my attention was the tremolo rate, which can be controlled by tap tempo, so you can perfectly synchronize it with the pulse of a particular song. Finally, the rugged anodized aluminum chassis is built to stand up to heavy usage.
Who This is Best Suited for: If you're considering purchasing a reverb pedal in addition to tremolo, then why not combine the two with the Fender Tre-Verb. Despite the split-nature of the pedal, neither of the effects suffers in terms of quality, so it's a great option for guitarists who want to add to their pedalboard without cluttering it.
Bottom Line: As you'd expect from arguably the most iconic guitar manufacturer of all time, they know their stuff when it comes to effects. Reverb and tremolo units are a staple of Fender amps and have been for half a century. That's why they created this pedal, to combine all of their standout reverbs and tremolos into one place, and to allow guitarists to tweak them to suit their tastes. This is easily one of the best tremolo pedals on the market right now.
12. JHS Tidewater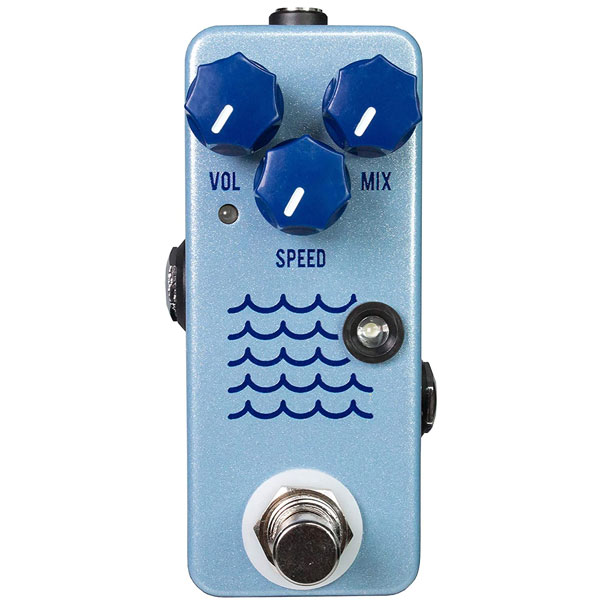 | | |
| --- | --- |
| Estimated Price | $115 |
| Type | Digital |
| Effects | Tremolo |
| Connectivity | 1 x 6.35mm Jack Input, 1 x Output |
| Power | 9 Volts DC |
My Review: After analyzing this pedal for a short time, I could tell that the compactly-sized Tidewater pedal by JHS offers pulsating tremolo, based on the revered sounds of vintage Vox and Fender amplifiers. Minimalistic in design, the Tidewater offers only the essential controls, so as not to overcomplicate things. I found this simplicity to be refreshing in a field where overcomplication is rife!
Upon inspection, I found that the onboard controls consist of Volume, Mix, and Speed. In my opinion, each of the parameters is vital to creating your ideal tremolo tone, and although there isn't a wide range of controls available, there's plenty of room for maneuver within this trio.
Delivering warmth and dimension that is a fitting tribute to vintage amplifiers, I was impressed to find that the JHS Tidewater can also be used as a preamp booster. By simply dialing in the Mix control, the tremolo becomes less noticeable and the pedal simply boosts your signal to raise it above the rest of a mix. This might be useful if you often find it frustrating when your levels are inconsistent due to contrasting pedal settings.
Who This is Best Suited for: If you value simplicity, and saving space on your pedalboard, then I would highly recommend the JHS Tidewater Mini Tremolo to you. It does everything you require from a tremolo pedal without being overly complex, and can also be used as a preamp booster if you wish.
Bottom Line: Built to recreate the classic Vox and Fender amp tremolo units of years passed, the JHS Tidewater Mini Tremolo is a little gem of a pedal. What it lacks in control options, it more than makes up for in quality. The internal DIP switches allow you to set the pace of the tremolo instantly, and the range of authentic tube tremolos sounds great with a clean guitar.
Popular Related Article: The Top Beginner Electric Guitars (All Price Ranges)
13. Fulltone Supa-Trem Jr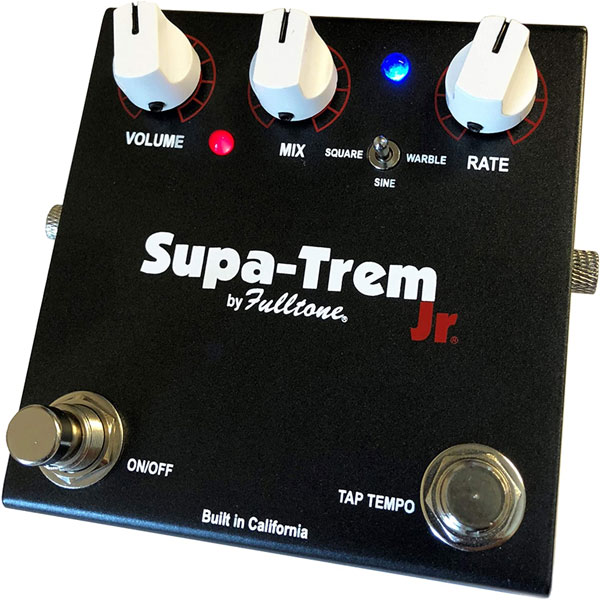 | | |
| --- | --- |
| Estimated Price | $160 |
| Type | Digital |
| Effects | Tremolo |
| Connectivity | 1 x 6.35mm Jack Input, 1 x Output |
| Power | 9 Volts DC |
My Review: Fulltone is most famous for its exceptional OCD distortion pedal, which is a device I rely on heavily for beefing up my tone. However, my findings show that they also produce some other high-end pedals that shouldn't be overlooked. In that pile, there is the Supa-Trem Jr, a smaller version of the original, which impressed me because it has just as many tone-shaping options as its bigger counterpart.
The first thing I noticed about the Fulltone Supa-Trem-Jr was its exceptional flexibility. I was surprised to find that there literally isn't an aspect of the effect that cannot be adjusted. You can choose between square, warble, and sine waveforms to instantly transform the feel. The Trem Jr boasts an incredible speed range, spanning from ultra-slow 10-second cycles to rapid paces of over 220 beats per minute. I think this makes the pedal very well suited to guitarists who like to be precise with their effects and tone, and not leave anything to chance.
At the heart of the pedal, is the sophisticated Opto-1 Photocell, designed by Fulltone. After looking into this inner component, I learned that it provides sharp sonic character and extremely responsive operation. You can also use the pedal as a competent clean boost, by cranking the internal volume control and turning down the mix control. Used in this way, the pedal provides up to 15dB of clean gain, which is enough for any genre or style of playing!
Who This is Best Suited for: The Fulltone Supa-Trem Jr is ideal for guitarists who have limited space available on their pedalboard. If you like your pedals to operate smoothly and have high-end inner circuitry, Fulltone is always a reliable choice.
Bottom Line: The Supa-Trem Jr combiner pristine quality components, streamlined operation, and an array of expressive tremolo tones. Using the Fulltone-designed photocell mechanism and boasting speed ranges that far outstretch your average tremolo pedal; this is one of the best options on the market.
Popular Related Article: 17 Chorus Pedals That You Need to Know About
14. JOYO JF-09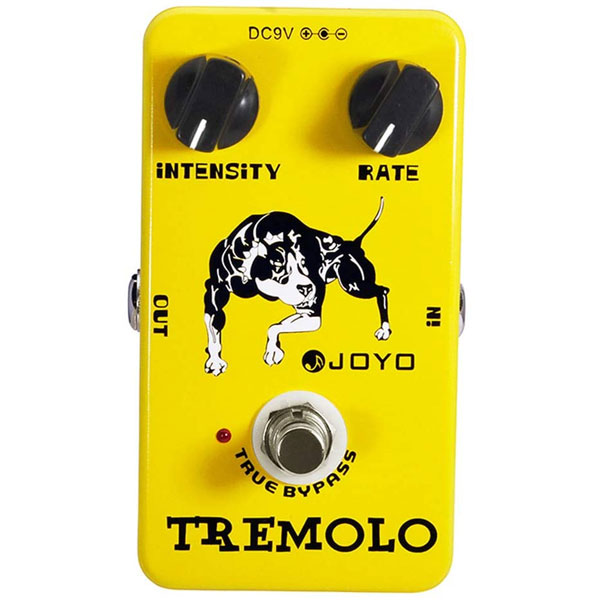 | | |
| --- | --- |
| Estimated Price | $40 |
| Type | Digital |
| Effects | Tremolo |
| Connectivity | 1 x 6.35mm Jack Input, 1 x Output |
| Power | 9 Volts DC |
My Review: Although I must admit, I wasn't expecting much from this pedal at first, I quickly found that the JOYO JF-09 is a brilliant, affordable tremolo pedal that doesn't overcomplicate things. With an interesting bulldog design and two controls for adjusting the character of the tremolo effect, I believe that this pedal provides great value for money.
Initially, I noticed the two controls positioned on the top layer of the JF-09, which are labeled Intensity and Rate. I found that the intensity control affects how prominent the fluctuations in the volume are within the tremolo effect. The rate control, on the other hand, adjusts the rate and speed of the tremolo. Although I've encountered these controls on other pedals, I found that this JOYO device offered more flexibility than the majority of similar stompboxes.
JOYO ensures that all of their affordable pedals are fitted with true bypass circuitry. This ensures that even if the pedal is not in use, your clean tone remains strong and consistent. It is housed in a sturdy aluminum chassis with a stoving varnish finish.
Who This is Best Suited for: The JOYO JF-09 is recommendable to those who don't want to spend a small fortune to get quality tremolo on their pedalboard. If you like simple operation and compact pedal sizing, the JF-09 is a great option.
Bottom Line: JOYO is renowned for its range of low-priced, high-quality effects pedals. The durable JF-09 is one of their best sellers, thanks to its simple set of responsive controls, true bypass switching, and smooth-sounding tremolo. If you're looking for the best tremolo pedal under 50 dollars, this is a solid choice.
15. Rowin Trelicopter
| | |
| --- | --- |
| Estimated Price | $35 |
| Type | Digital |
| Effects | Tremolo |
| Connectivity | 1 x 6.35mm Jack Input, 1 x Output |
| Power | 9 Volts DC |
My Review: Although the Rowin Trelicopter initially struck me as just another budget tremolo pedal, I was really impressed by how it performs reliably and requires very little experience to operate. In my opinion, these qualities make it a good option for beginner guitarists. One of the key aspects I enjoyed on this pedal was its central Speed control which can be used to quickly adjust the pace of the tremolo pulsations.
The other two controls are smaller in size, but equally as effective. I found them to be a little tricky to get the hang of, but once accustomed to their functions things became much easier. The depth control in the top left corner, affects the tone and color of the tremolo, while the bias control on the opposite side adds tube-styled wobble to your guitar's output.
True bypass switching completes the pedal, protecting your signal integrity. Also, the pedal is constructed from high-quality zinc alloy, a material known for its durability and longevity. It is powered by 9v DC or a 9-volt battery.
Who This is Best Suited for: Affordable and reliable, the Rowin Trelicopter is a good alternative to the more expensive options on this list. It's well suited to beginner guitarists or those who perhaps don't have an abundance of experience with effects pedals.
Bottom Line: The Trelicopter may be miniature, but it produces a deep range of tremolo sounds. The bias control is particularly noteworthy, as it adds tube-like saturation that resembles the tremolo units found on vintage amplifiers.
16. Hotone Skyline Trem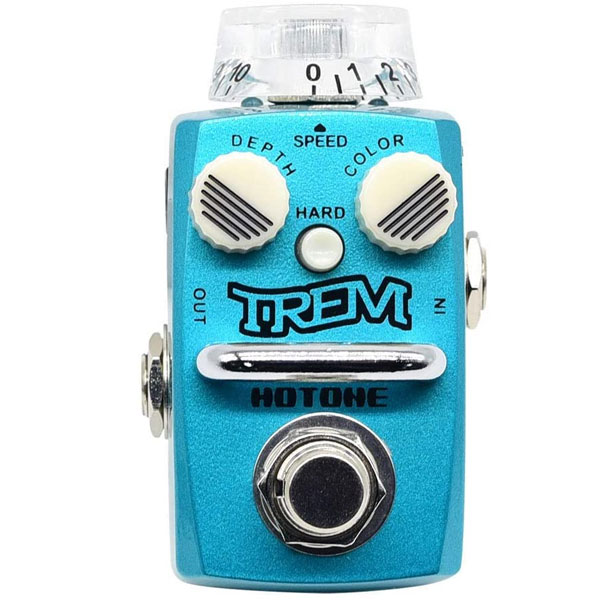 | | |
| --- | --- |
| Estimated Price | $50 |
| Type | Digital |
| Effects | Tremolo |
| Connectivity | 1 x 6.35mm Jack Input, 1 x Output |
| Power | 9 Volt DC |
My Review: The first thing I noticed about the Hotone Skyline Analog Tremolo pedal was that it has an interesting design, with optical components providing a smooth, retro tone. With three rotary controls making up the pedal's parameters, I can safely say that the Skyline offers a decent amount of tone-shaping variables.
I became more excited about this pedal when I discovered that it was designed to sound like the renowned tremolo found in Fender amps, and the Skyline has a dedicated Hard mode, which when selected, changes the tone to be wider-ranging and with a stronger pulsation. Another thing I liked about the Skyline was that it offers true bypass switching and can be powered by a 9 volt supply.
Who This is Best Suited for: If you want to recreate the sought-after tremolo produced by Fender amps of previous decades, but also don't have a lot of spare money to spend, then the Hotone Skyline Tremolo is a great option.
Bottom Line: The Hotone Skyline offers authentic-sounding analog tremolo. The standout feature of this pedal is the Hard mode, which, when selected, widens the range of the tremolo and adds more variation to the pulsation.
17. Coolmusic A-ME01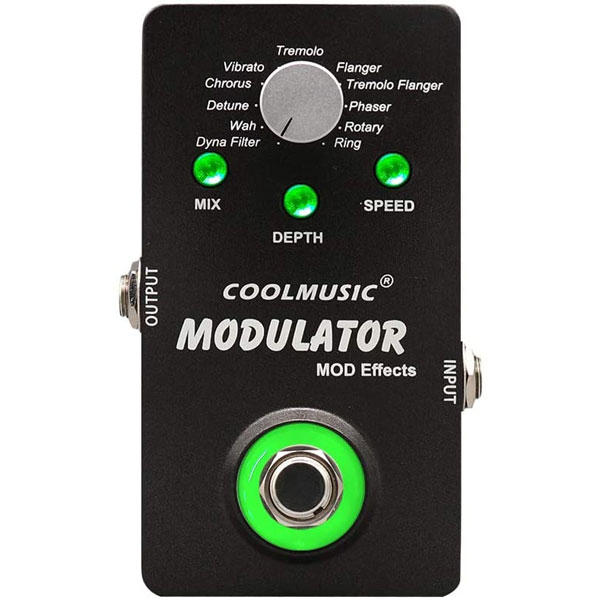 | | |
| --- | --- |
| Estimated Price | $40 |
| Type | Digital |
| Effects | Tremolo |
| Connectivity | 1 x 6.35mm Jack Input, 1 x Output |
| Power | 9 Volts DC |
My Review: After becoming familiar with the A-ME01 from Coolmusic, I found that it is a durable multi-effects pedal, that produces high-quality tremolo along with a multitude of other modulation and filter-based effects. Three controls interact with the effect chosen at any one given time, which provides you with plenty of tone-shaping options.
True bypass switching preserves your signal integrity, and the LED light indicator lets you see the current status of the pedal, even on a dimly lit stage. Moving on, I was impressed by the functionality of the controls, which are Mix, Depth and Speed, all conveniently located underneath the main effect selector. I then discovered that along with tremolo, the other effects included with the Coolmusic A-ME01 are flanging, phasers, rotary, ring, vibrato, chorus, detune, wah, and dyna filter. For such a low price, you can rarely get so many effects housed in a single pedal!
Who This is Best Suited for: I'd recommend the Cooolmusic A-ME01 to any guitarist who wants access to a multitude of effects, without having to purchase each one separately. This pedal is a great introduction to the world of effects pedals, so if you're inexperienced, it's well worth considering.
Bottom Line: The A-ME01 isn't able to compete with much pricier options in terms of quality, but it does offer such a vast range of effects that it is still worthy of a mention. Providing everything from tremolo to flangers to phaser to the chorus, the pedal leaves no stone unturned! It also provides true bypass switching for signal integrity.
Everything You Need to Know About Tremolo Pedals (Buying Guide)
Tremolo is one of the oldest and most used effects in music. Used to add warmth and variation to guitar tracks, it was a staple of early rock n roll recordings and continues to be popular in the modern era. It's use dates back way before the origins of recording, to the classical era, where it was used as a technique by string players.
In the following guide, we will dive into the finer details of tremolo. Whether you are new to the subject or already have some background knowledge, you will find the information to be useful for the search for your tremolo pedal.
Tremolo in Tube Amps
Tube amplifiers are the gold standard for guitarists. They produce a warm, authentic tone that is unrivaled, and have been at the forefront of live and recorded music for many decades. They are intrinsically linked to tremolo as an effect, as the earliest way to produce it was by using the onboard units included with these amplifiers.
Thankfully, tremolo pedals have made it possible to achieve the effect without having to transport a large tube amp wherever you go. There are two varieties of tremolo which are traditionally used on tube amps. First, there's the conventional method, and second, a method known as optical tremolo.
Optical tremolo was employed by Fender, on their Blackface and Silverface amplifiers. It works by producing the effect using a dependent resistor known as an optocoupler, sometimes referred to as a photocell.
For the optical tremolo method, an LFO is used. This device turns a bulb on and off quickly, which results in the volume of the signal also being turned up and down. The result is a smooth, refined tremolo effect which is easier to blend with other instruments.
Common Controls Found on Tremolo Pedals
On most tremolo pedals, you can expect to find several common parameters. These are usually presented as rotary knobs, which can be adjusted to alter the characteristics of the effect produced. Although there is a variance from pedal to pedal, especially in layout, here are the controls you are likely to come across.
The speed control affects how quickly the alterations in volume occur. As we've already established, tremolo works by increasing and decreasing the volume of your guitar's signal. When you turn the speed parameter up, these fluctuations become more rapid, causing the effect to become more extreme and noticeable.
The depth control alters the overall tone of the tremolo. This can be used to create darker, mysterious tremolo, or brighter, more energetic versions. Depth controls vary on each pedal, and the way they affect your signal will be different depending on the intentions of the manufacturer.
The volume control is pretty self-explanatory, but vital nonetheless. This parameter adjusts the overall level of the tremolo effect and can be used to create the perfect balance between the pedal and your other pedals. It's always a good idea to check the volume of each pedal before a performance, to avoid any dynamic inconsistencies.
Tremolo Combined with Other Effects
Combining tremolo with other effects is a great way to add more depth to your tone. One thing to bear in mind is that due to tremolo increasing the volume of your signal, you may need to alter the levels of your pedals if you do choose to combine them.
Tremolo combined with a touch of distortion or overdrive can bring your tone to life. Both of these effects add gain and warmth, and the tremolo's alteration to the volume of your tone works very nicely with them.
Likewise, combining tremolo with reverb or delay can also produce interesting results. Things can get a little messy if the decay of the reverb or delay is set to a high level, but when used subtly, they are both very compatible with tremolo.
Modulation based effects such as phasers, flangers, and chorus also merge well with tremolo. As modulation adds movement to the signal, the tremolo can interact and create smooth blends of psychedelic overtones.
Tremolo is a relatively non-invasive effect, so there's no limit to the number of other pedals it can be successfully mixed with. Again, the best way to find combinations that suit your style of playing is by experimenting and gaining an understanding of the results produced by mixing certain pedals.
Tremolo vs. Vibrato: What's the Difference?
Tremolo often gets grouped with vibrato when discussing effects pedals. It's not uncommon to find that most tremolo pedals offer vibrato too, and vice versa. Although the two effects do share certain characteristics, there are notable differences between them.
Rather than increasing and decreasing the volume of a signal like a tremolo does, vibrato causes a slight increase and decrease to the pitch. This difference is very significant. The two pedals work in the same way but are applied to different aspects of the signal.
Rotary simulator pedals essentially combine tremolo and vibrato. They increase and decrease both the volume and pitch, creating a strange-sounding, unique tone. Many guitars produce vibrato naturally, such as the Fender Stratocaster, which is fitted with a device known as a "trem arm".
Tremolo Pedals in the Record Studio
The great thing about effects pedals is that they perform both in a live-music setting and in a recording environment. The more pedals you have, the more possibilities you have at your disposal when recording. Sometimes, using a pedal can provide that spark of inspiration that a song desperately needs.
In the early days of recording guitar, engineers would rely on the inbuilt tremolo units on large tube amps to produce the effect. This method is still used today, as it is seen as the truest form of tremolo. However, for the average musician, it's not always possible to lug a large tube amp into a home studio. That's where tremolo pedals come in handy.
There are essentially two ways to use a tremolo pedal in the recording studio. First of all, you could use the more conventional method of placing a microphone in front of your amplifier, running the output from your guitar into the input of the tremolo pedal then back out of the pedal into the input of the amp. This method ensures that your tone and overall sound matches up with that of your live shows.
The only drawback of using an amplifier is that you can't go back and alter the recording after it has been captured. As long as the tone is perfect, and your choice of microphone works well, this shouldn't be a problem. Some guitarists, however, will prefer to use a second method which doesn't require an amplifier and is great for on-the-go makeshift studio setups.
This method involves simply plugging the guitar into the input of the tremolo pedal, and sending the output directly into a digital interface. The signal is not affected by the amplifier, so the tone of the guitar sounds natural and clean. This makes the tremolo effect easier to mix retrospectively. You could even record the guitar track in clean to the interface, then re-amp it and add the tremolo afterward, allowing you to mess with the settings until you produce the desired effect.
Buffered vs. True Bypass Tremolo Pedals
When effects pedals were first made widely available in the 1960s, their primitive inner circuitry caused noise issues that guitarists had to put up with. As music technology advanced in the coming years, some innovations were made which minimized this problem.
The majority of tremolo pedals will fall into one of two categories: buffered or true bypass. Both of these mechanisms are used to improve signal integrity, limit noise issues, and create the most consistent output possible. However, they are both very different in how they work, and the exact results they produce.
Firstly, buffered pedals work to strengthen your tone, send it through the signal chain, and restore its power to an optimal level. It constantly performs this function, regardless of whether the pedal is active or not. Buffered pedals are advisable for cable runs because they can preserve the signal and drive it into the amplifier without it weakening. The only danger with buffered pedals is that they are known to boost the high-end, mostly insignificantly, but some guitarists prefer to avoid them for this reason.
True bypass, on the other hand, works by allowing your guitar's signal to flow through the signal chain when the pedal is deactivated, without altering it in any way. This means it preserves your tone and combats any signal integrity degradation that may occur. The only issue with true bypass pedals is that they are ineffective when used with long cable runs. The longer the cable run, the more degradation your tone will be subjected to.
The question of whether a tremolo with a buffer or true bypass is better depends on your requirements. If you are using massive cable runs, buffered pedals are advisable. If you are using short cable runs, the true bypass will do the job.
Where to Position a Tremolo Pedal in Your Signal Chain
Although the positioning of effects pedals in a signal chain is subjective to a degree, there are a series of general rules that, if followed, will produce the cleanest, most streamlined results. Nevertheless, I would always encourage guitarists to play around with the conventional ordering of effects pedals, because they may stumble across a combination which fits perfectly with their style.
With some effects pedals, there are specific positions that are agreed to be most efficient. After the tuner pedal, it is common to start the chain with dynamic-based pedals, like compressors, EQ, limiters, and volume pedals. These pedals need to interact with the signal when it is at its cleanest, to work most effectively.
After dynamic pedals, come filters, such a wah. These pedals significantly affect the tone of the guitar, and if they were placed later in the chain, they could become unpredictable as a result of them being subjected to many other effects.
Then come any gain-based pedals. Distortion, overdrive, and fuzz fall into this category. These pedals are arguably the most transformative. After dirt, you have modulation, such as phasers, chorus, or flangers. This is where tremolo is traditionally positioned, in the gap between modulation and timing-based pedals, like delay or reverb.
Due to tremolo pedals' effect on the volume of the entire signal, it's best to place them as close to the end as possible. This means that the shift in volume won't affect the performance of the majority of other pedals on the board. As previously stated, this advice is merely conventional guidelines, and sometimes, going against the grain produces the most interesting tones.
Signal Splitting
You've probably noticed that some of the tremolo pedals I listed earlier in the article has two outputs, rather than the standard inclusion of one. The reason manufacturers use two outputs is because it allows you to split your signal using the pedal.
The advantage of splitting your signal is that it allows you to send separate outputs from the pedal, into two amplifiers. This technique is used by most guitarists who play large venues and require more power than is provided from just one amp.
If the tremolo pedal has two outputs, you can send one into your clean amp, and send your wet signal into the other. This means that you always have the option of isolating your clean or wet channels or playing them both simultaneously to add depth to your output.
For guitarists who play in bands that lack a second guitar, this method can prove to be very useful. You can always have your clean channel playing out of one amplifier, and when a song needs an extra dose of sonic-boost, add the dirty channel that plays through the other amplifier, and thickens the overall tone dramatically. By doing this, you create the illusion that two separate guitars are playing at one time, double-tracked but with different timbres due to the use of effects on one of the outputs.
Tremolo VST Plugins
The alternative method of producing tremolo using an effects pedal, or in the traditional way of using the built-in unit on an amplifier, is with VST plugins. This digital software has grown dramatically in popularity in recent years because they require no external hardware and can be applied to a recording retrospectively.
Indeed, many engineers and producers would argue that VST plugins are great tools for recording a mixing. However, using a tremolo plugin for live purposes would generally be more arduous than simply employing a pedal.
Music purists are likely to prefer using the tremolo produced by a top-tier tube amplifier, or an analog pedal. The manual aspect of physically tweaking the settings, and relying on them to produce the sound you desire, is seen as the truest way to achieve the effect.
It's worth playing around with tremolo plugins within your recording software because the process can provide useful insights into how the effect works, what the individual parameters do, and how it sounds when combined with the other effects that are built into the effects rack of a DAW or loaded in as VST plugins.
If you record the perfect guitar take but didn't use a tremolo pedal at the time, a VST provides you with the option to go back and add the effect afterward. This is where plugins are really useful, for mixing audio after the initial recording has been made, and in some cases, saving you from having to go back and re-record a useable take.
Tremolo Pedals and Keyboards
Not only is tremolo is a popular effect for electric guitars, but it also sounds great when used with a keyboard. As the frequency range of a keyboard and a guitar are pretty similar, most pedals can be interchanged between the two sound sources.
Rhodes, Wurlitzer, and other electric pianos sound great with a touch of tremolo added. The effect adds warm overtones to the output, making the sound more immersive and warm. To use a tremolo pedal with a keyboard, you simply take the output from the instrument and plug it into the input of the pedal, in the same way, you would with a guitar.
As with all effects pedals, it will take some experimentation to find the perfect settings to suit a certain keyboard voice. The settings that work with an electric guitar may need tweaking to suit the timbre of a keyboard, so you have to mess around with them to find the right balance.
Multi-Effects Pedals with Tremolo
Although the majority of the tremolo pedals featured on this list provide a singular effect, there are some which offer many other processing options additionally. Multi-effects pedals are a great way to keep your pedalboard clutter to a minimum, and they also save guitarists money compared to purchasing numerous singular pedals.
The only downside to choosing a tremolo pedal which also houses other effects is that most of the time, the increase in choice is countered by a decrease in single-effect quality. For example, if you purchase a pedal which only offers tremolo, the circuitry and inner components have been designed specifically with that effect in mind. Conversely, a pedal that houses various effects is likely to be more scattered in terms of focus, with quantity prevailing over quality.
Power Requirements
The vast majority of tremolo pedals require 9 volts DC power. This is the standard for most small to medium-sized stompboxes. Commonly, larger pedals that house multiple effects and circuits will require more power, such as 12 or 18 volts.
The simplest way to provide power to tremolo pedals is by using a dedicated power supply. This is very useful if you use multiple pedals, as the power supply can be added to your pedalboard, and connected to each pedal using small power cables.
Guitarists don't want to be wasting valuable time setting up their pedalboard before every gig, rehearsal, or recording session. Using a power supply prevents this from being required. You can set up your board initially, ordering all of the pedals to suit your liking, then attach the power pack to the pedalboard using Velcro. This means that when it comes to performing or recording, you just need to plug the power supply into the mains and you're good to go.
Another option that is offered by some tremolo pedals, is battery power. This is only featured on the pedals which require 9 volts, where the power can be provided by a singular 9-volt battery. This opens up the possibility of playing gigs on the road, where mains power is perhaps limited. Combining batteries with a power supply is the best way to ensure that the chance of wither cutting out and leaving you with no output is kept to an absolute minimum.
Tremolo Arms (Whammy Bars)
Some guitars, notably Fender Strats, come with tremolo arms. Sometimes called whammy bars, tremolo arms are attached to the guitar by a level, which allows the guitarist to vary the tension on the strings at quick speed by simply moving the bar back and forth.
These devices fall under the category of vibrato systems. Technically, a tremolo arm doesn't create the tremolo effect, but rather changes the pitch, making it vibrato. When used quickly, it does change the volume and cause it to fluctuate, so you could class this as tremolo.
Wrap Up:
There's a reason that tremolo has been around since the very beginning of recording music history, and continues to be popular today. The effect is simply timeless and adds a dimension of movement to a guitar's tone that can't be replicated.
After reading through this detailed guide on tremolo pedals, you should now have a good idea of which particular model is best suited to your needs. Once you get your hands on your new pedal, that's when the fun begins. The key to creating signature guitar tones is to experiment with your new pedal.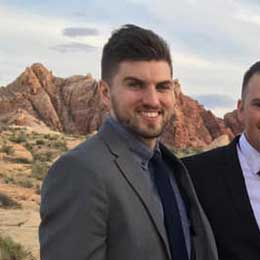 My name is Chris and I've had a passion for music and guitars for as long as I can remember. I started this website with some of my friends who are musicians, music teachers, gear heads, and music enthusiasts so we could provide high-quality guitar and music-related content.
I've been playing guitar since I was 13 years old and am an avid collector. Amps, pedals, guitars, bass, drums, microphones, studio, and recording gear, I love it all.
I was born and raised in Western Pennsylvania. My background is in Electrical Engineering, earning a Bachelor's degree from Youngstown State University. With my engineering experience, I've developed as a designer of guitar amplifiers and effects. A true passion of mine, I've designed, built, and repaired a wide range of guitar amps and electronics. Here at the Guitar Lobby, our aim is to share our passion for Music and gear with the rest of the music community.