In recent years quite a lot of people have become interested in learning how to play contemporary Christian worship music on the guitar. If you're one of those people looking for easy worship songs to play on guitar, you're in luck. There are a lot of easy songs that can be played with just 3 or 4 chords.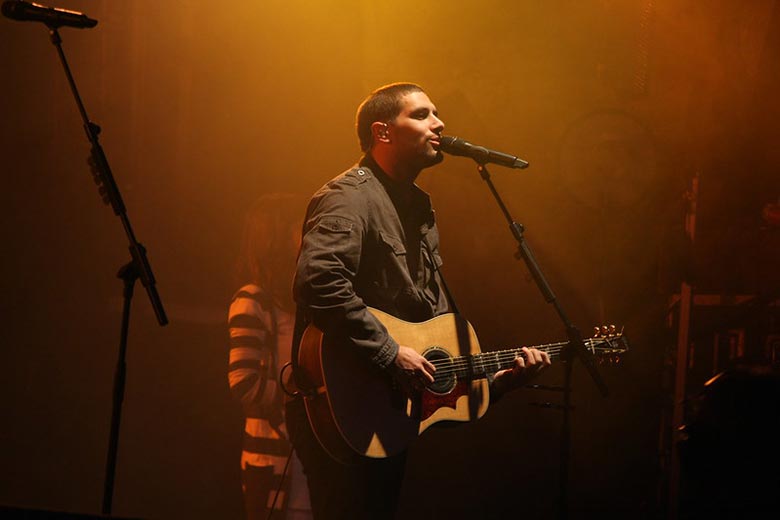 Though the truth of the matter is that, like any other instrument, learning to play the guitar takes dedication. With time and practice, you can be strumming and picking beautiful songs quicker than you might think. Let's take a look at some songs that are great for beginners below.
List of Easy Christian Worship Songs to Play on Guitar
1. Amazing Grace by Judy Collins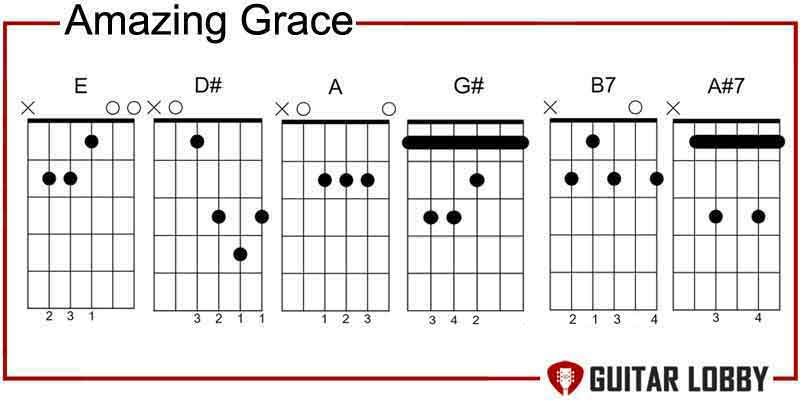 You can find the song Amazing Grace in a lot of beginner-level guitar books, and for a good reason! Published in 1779 by a man named John Newton, the song talks about redemption and forgiveness.
Since its publication, many versions of the song sung by various artists have popped up, with singer Judy Collins showing up first in Google search results.
The song gives a somewhat sad vibe, where the lyrics are from a first-person point of view. In this song, you find forgiveness in God's warm love, thus the title.
The chords are in the key of G, with the three main chords being G, D, and A7. Tomas Michaud's strumming follows a 3-count beat with a downward strum.
When you are on the D chord, strum downwards from the fourth string all the way to the first. For the G chord, you strum downwards, starting from the sixth string. Finally, the A7 note can be strummed from either the sixth string or the fifth string (as a bass note).
2. Amazing Love by Hillsong Worship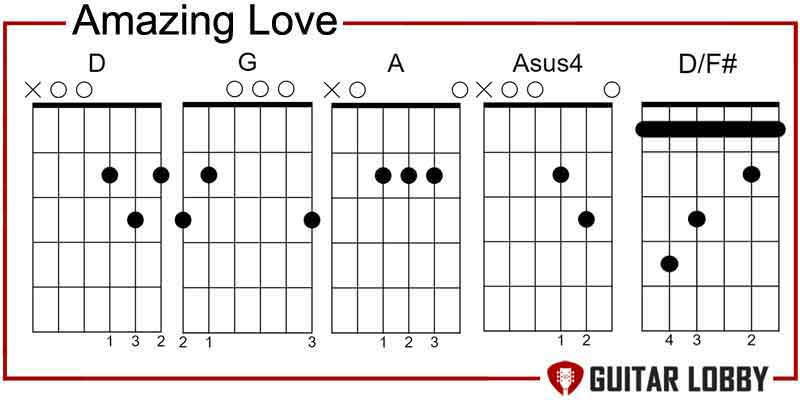 This is a worship song praising God and His amazing love. The lyrics describe how being loved by God is incredibly life-changing, while the chorus speaks about spreading God's love to the world, the wonders of His creation, and honoring Him.
Hillsong Worship released the song with the alternative title "You Are My King" in Amazing Love, their fifth album. Produced by Darlene Zschech, this album was released in 2002 under the genre "Contemporary Christian Music."
A simplified yet close-sounding version of "Amazing Love" is played with only three chords: G, A, and D. The song also follows a 4/4 time, and there are two distinct strumming patterns for the verse and chorus each. In the tutorial below, all the strings are hit during the downward strum, while only some are hit during the upward strum. The song doesn't require a capo, but you might need a guitar pick to make it less painful on your fingers.
3. How Great is Our God by Chris Tomlin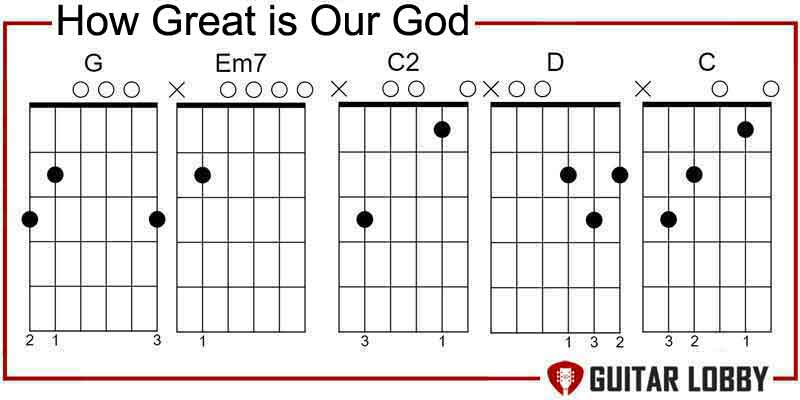 "How Great is Our God" is another Christian worship song that evidently glorifies God. For most of the song, Chris Tomlin utilizes metaphors to emphasize the grandeur of God. He personifies God as being wrapped in light, which the darkness fears, while God's also metaphorically the Lion, with His Son, Jesus, being the Lamb.
The song was released as a part of Tomlin's album "Arriving"; the same album achieved a #1 spot on Billboard's Hot Christian Songs chart. The intro makes it sound like it's a rock song, but as Tomlin begins to sing, you'll find yourself easing up to his voice and the softness of the melody.
The song is played in the key of G with four chords: G, C, Em, and D/F#. Like Here I Am to Worship by Tim Hughes, the song still follows a driving pattern. The song is not too swift, so switching between chords will be smooth once you've mastered the elemental chords.
4. Battle Hymn Of The Republic by Julia Ward Howe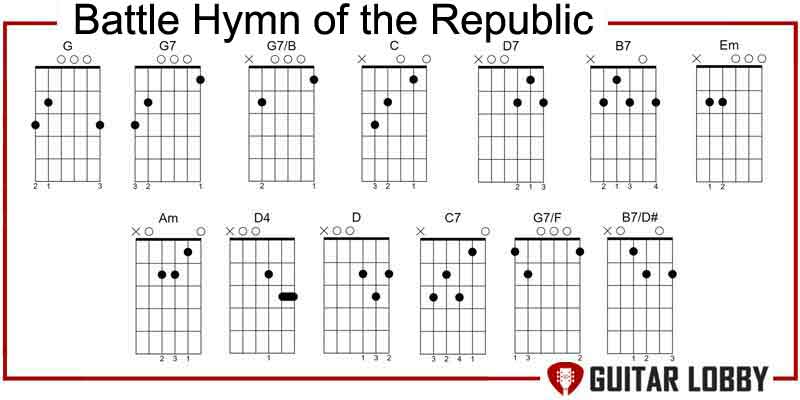 Composed and published in 1861, this song is rich in history, as it was thought of in the time of the Civil War. The lyrics allude to the judgment of God as told in the Bible, connecting it to the war the country was facing. Later into the song, the lyrics also sing about being changed by the glory and sentence of the Lord, saying that as the Lord died to make men holy, so should men fight to free those oppressed.
The song gives off a feeling of triumph and patriotism, as it is a cheerful praise song of the wrath of God upon evil.
In the tutorial by MunsonCovers on YouTube, the song follows chords G and C, with the strumming of Am and D every now and then. Since it is an upbeat song, the strumming is a bit fast. Nevertheless, you don't have to worry because the note changes aren't, as each line mostly sticks to the G note.
5. Who You Say I Am by Hillsong Worship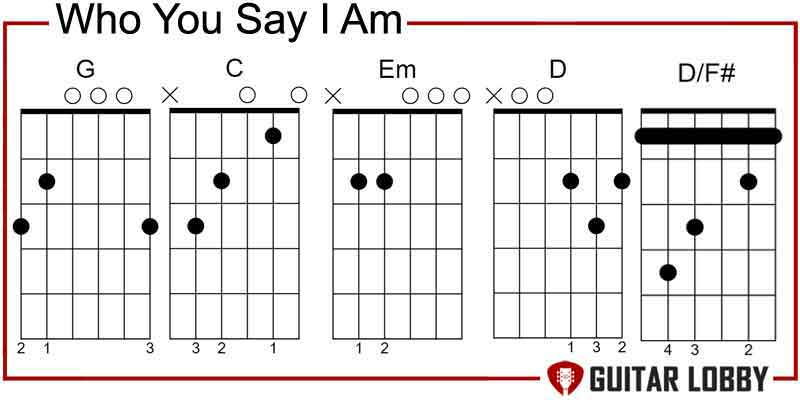 The song basically expresses being a child of God and how the singer leaves God to decide who they are as a person. It celebrates God as He frees the singer from being a slave to sin, bringing His beloved child back home. The chorus sings about Jesus, the Son of God, saying whoever He declares is free is truly free from the grasp of sin.
"Who You Say I Am" is part of the Hillsong Worship album "There is More", released in 2018 and composed by songwriters Reuben Morgan and Ben Fielding. It has been nominated for the Billboard Music Award for Top Christian Song and more.
Who You Say I Am is another easy-to-learn worship song as it only has a 4-chord progression, which is G, Em, C, and D. The song is in 6/8 time, so the strumming follows a 6-count pattern. Katie Denure of One Music School on YouTube provides an in-depth tutorial of the song, starting with finger placement for each chord and strumming.
6. Come Christians, Join to Sing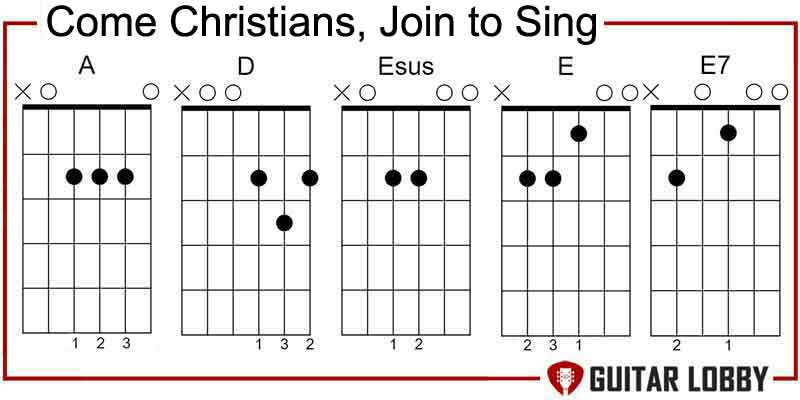 This traditional worship song composed by Christian Bateman essentially sings about the community of Christians coming together to do the simple act of extolling the Lord. It invites Christians who have the capability to gather with one another and laud Him before His throne.
Though it's not exactly super buoyant, the song does incite a happy feeling. May it be because of the invitation to go with friends and fellow children of God in adoration, or the simple admiration of God's wonders. It's a very short song with three verses, but still, try to exert all your effort into learning this one!
The song follows a 3-chord progression, which is like most of the other songs on the list. The three chords are G, D, and A, but for most of the first line, you will find yourself switching between G and D. The strumming varies for each chord, so that's bound to be rather tricky!
7. How Deep the Father's Love for Us by Stuart Townend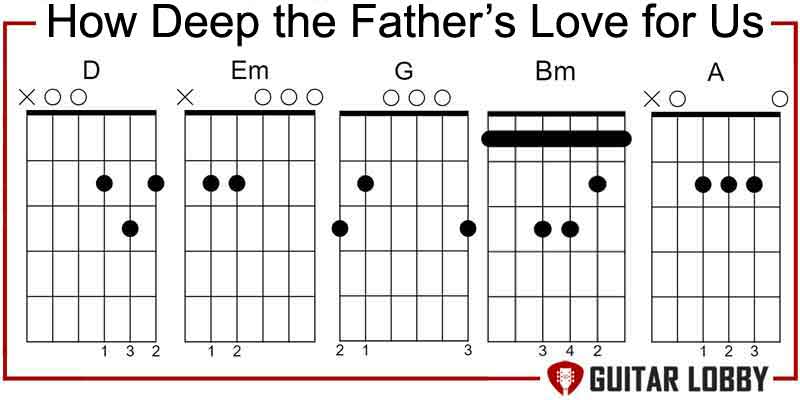 The song is a short 3-verse song that mainly talks about the sacrifice Jesus made for us by allowing Himself to be nailed on the cross. The singer is fundamentally proclaiming how God loves us so much that He would surrender His beloved Son to deliver us from trespasses. Close to the end of the song, the lyrics speak about not being able to boast about any worldly possessions — such as power or gifts — but in being loved by God and kept from sin.
This was written by Stuart Townend and released in 1990 as part of his album entitled "Say the Word." It's available on Spotify and Deezer under the genre "Christian/Gospel."
"How Deep The Father's Love for Us" is played on the guitar in the key of D, with its chord progression being: D, G, A, and Bm. It's in ¾ time, which kind of makes the strumming a little difficult to follow. Nonetheless, the song isn't too fast, so you won't feel rushed. It's good practice if you want to take on a little more challenge as a beginner guitarist!
8. How Great Thou Art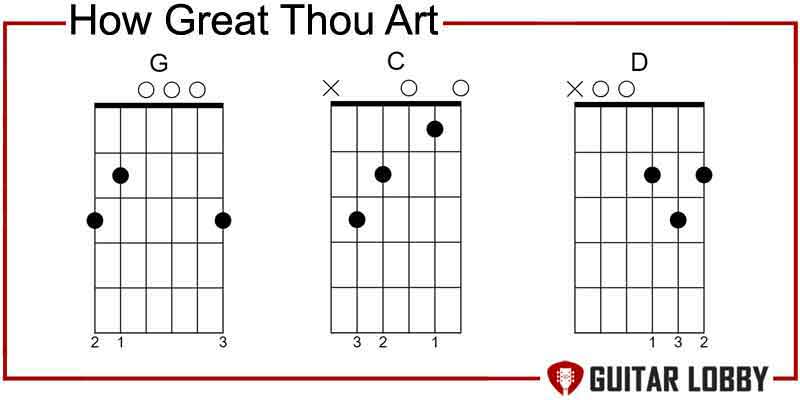 "How Great Thou Art" has been a beloved hymn for many years. It is all about reveling in God's greatness and creation. The song is originally based on a Swedish hymn written by Carl Boberg in 1885 entitled "O Store Gud." Many influential singers such as Carrie Underwood, Alan Jackson, and Chris Rice have released their take on the song for many to hear beyond the pews.
It is said that Carl Boberg drew inspiration for the hymn during a walk home from church. As he heard the church bells, a big storm rolled in. Just as soon as the storm came, it disappeared, and Carl was captivated by the beauty that God had left in its wake.
To play "How Great Thou Art" on the guitar, start by placing your capo on the second fret. The song is in the key of G and uses four easy-to-learn chords: G, C, D, and Em. If you do not want to use a capo, the song will be in the Key of A. Follow a basic strumming pattern of downstrokes on each beat, and add some variations for dynamics. If you're looking for easy worship songs to play on guitar, this is one of my top recommendations.
9. For the Beauty of the Earth by John Rutter
For the Beauty of the Earth by John Rutter is a slow and straightforward worship song about God's creations. The three main things the song is thankful for are The Lord's creation of Earth, time and beauty, and humans and love. Each verse of the song, except the chorus, acknowledges these things.
The song was originally a poem written by Folliot Pierpoint in 1864. Pierpoint was inspired to write the poem as he cherished the view of his native city (Bath, Somerset). It's a peaceful song, which makes it something I'd like to listen to as I take walks at night or dawn, appreciating all that's around me.
This is played in the key of D, which uses the chords D, G, and A. Each line of the song may demand you to change chords somewhat swiftly but typically follows a downward strum that starts from the sixth string.
10. 10,000 Reasons Bless The Lord by Matt Redman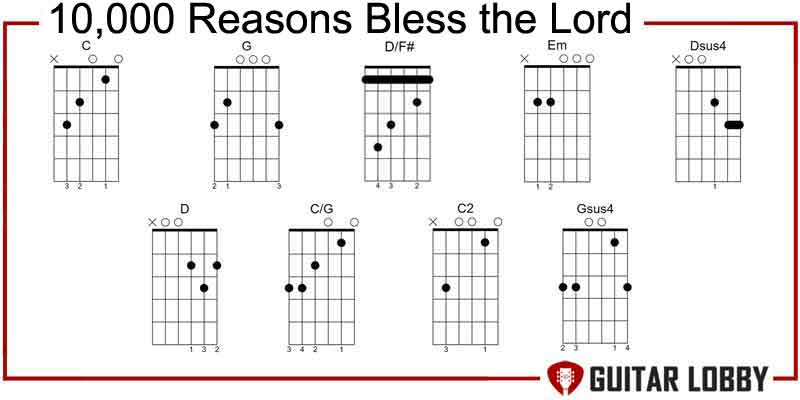 10, 000 Reasons is a song about touting the Lord for His greatness despite all that one may encounter. It's plainly about worshipping God and His name for every single day and obstacle one may face. Later into the song, you'll find some allusions to the Book of Psalms. 10, 000 Reasons is entitled as such because there are 10, 000 reasons (and even more) to praise the glory of God.
The song was composed by Matt Redman and released in the album "Spirit & Song: Disc M," which is available on Spotify and Deezer under the genre "Christian/Gospel." Despite not being cheery, the 2013 praise song makes me feel like I'm soaring and that I can do all things through Christ.
This is played with the four chords C, G, D, and Em, which will call for you to switch between them hastily, around every two seconds. The strumming follows a rapid pace as well, with the pattern "down, down, up, down" hitting every string. After you've mastered the primary chords, you can try learning this to practice your chord switching.
11. How Firm A Foundation
"How Firm A Foundation" is a classic hymn wherein, for the most part, it seems as if God Himself is communicating to both you and other listeners. The first verse discusses finding shelter in God's persevering love. The next verses may sound like coming from the Bible itself, wherein God speaks through the singer, but they're merely an interpretation of what God would say to his followers as they face their tests with Him, their creator.
This gives an assuring and encouraging vibe, as it mostly exalts God's omnipotence. It's one of those church songs that you would most probably hear from a local parish or movie scene, where the people look very happy singing it.
Played in D major, the song requires you to place a capo on the third fret. The four chords the song plays are D, G, A, and Bm, with D/F# as a bass note. The song is fun to play and played with a plucking style, which principally hits the fifth string with the thumb and those below it with the other fingers.
12. Build My Life by Housefires
Housefires sings about the prominence and incomparability of Jesus in their song "Build My Life." Early on, the lyrics talk about hailing God as being worthy of everything Christians do. The song revolves around the line "There is no one like You," revealing how God's the highest among all things seen and unseen. Later into the song, Housefires sings about letting God take control of your life, as He's a strong and loving guide.
Don't be too worried or disappointed when I say that it's played with five chords because the pace isn't too quick for beginners. The chords for this song are E, A2, Bsus, C#m, and F#m. The strumming pattern follows an 8-beat pattern, wherein you strum downwards for eight counts with an upward "and" at the end. Although this song may seem complex to look at, I promise you that it's appropriate for beginners and an easy Christian guitar song.
Popular Related Article: Beginner Guitar Chords Guide
13. I Sing The Mighty Power Of God by Isaac Watts
This is another delicate worship song that praises the miracles of God's creations. They are enumerated one by one in each line, with the bottom line stating that they're solely fruits of God's mighty power, hence the title. By the Lord's command, beauty and all those in nature are created and under his care.
Isaac Watts originally composed the song in 1715 for children. Now, I frequently hear this song as a part of a church choir's number. The song often gets me to think back to the beauty of nature, especially when it's sung with soft, angelic voices.
The song is played mostly with the three chords C, F, and G, while the chords A and D make occasional appearances in the chord chart. It's played with a plucking style, too, which eventually plucks all strings. The song has a moderate pace, so you can catch up to it with ease.
14. Here I Am to Worship by Tim Hughes
Here I Am to Worship is a song about aggrandizing Jesus' coming to Earth to save His people from sin. The song focuses on what the coming of Jesus, a King worthy of much acclaim, has done for the singer. The bridge highlights the pain of His atonement, saying that going through that's an unimaginable feat. The chorus of the songs calls to the singer and listeners alike to worship and bow down before the Lord.
The 2001 song was released under Tim Hughes' debut album "Here I Am to Worship." It appears like a love song, which indeed it is, albeit being one dedicated to God.
Lucky for you, this song is played only with the three chords: C, G, and F! The song further follows a driving strum pattern, which is a 4-beat strum pattern with four downward strums and an up strum as an after-beat four.
15. Jesus Loves Me by Anna Bartlett Warner
Jesus Loves Me is a particularly transparent song about Jesus' love for kids. The song talks about Jesus' love manifested in the Bible, wherein He claims that children are heirs to God's kingdom. At first, the song may give the impression of a song made only for children, but deeper analysis would tell you that it's also about us being protected from transgression by Jesus, as we're weak where He's strong, and He will wash away our wrongdoings as we wait by Heaven's gate as children of God.
Given its light mood and soft tune, no one would think that it was a song made for a dying child. I, too, was surprised when I found out, as its history originating from a poem written to a dying child is awfully morbid.
The song is played with only three chords: G, C, and D. It's gradual as well, with an easy-to-catch strumming pattern. You'll find yourself playing it like it's a simple nursery rhyme in no time!
16. Joyful, Joyful, We Adore Thee by Henry J. Van Dyke
The message of the song is relatively clear, as it's an accolade to the immense eminence of God. It communicates about being happy while singing devotions to the Lord, where his beautiful works are enumerated in each verse, while likewise being adopted as metaphors and personifications of the Christians.
While I was listening to the song, it sounded extremely like the song "Ode to Joy." So, I did a little digging and wasn't too surprised when I found that the composer, Henry Van Dyke, wrote the poem with the intention to musically set it to the "Ode to Joy" of Ludwig Van Beethoven. The song has a very cheerful sound which makes sense as it is entitled: joyful!
The song is played with five chords G, D, C, B, and Em. It's a lot, but switching between these isn't too much of a hassle, as the song isn't too fast. Additionally, the strumming follows an identical pattern to Jesus Loves Me, so learning that would help.
17. Leaning on The Everlasting Arms by Anthony Showalter
The song composed by Showalter expresses the safety of being embraced in the arms of the Lord. Most of the lyrics are metaphorical, wherein the singer finds happiness and peace when he leans on the everlasting arms. It sounds as if it were written to show that all because he trusted in the Lord, the singer has found nothing but happiness in his life.
Showalter was inspired to write the song when he received a letter from two of his pupils. In both pupils' letters, they tell their former teacher that their wives have died, and in reply, Showalter consoled them with the words from the Book of Deuteronomy.
The song is played with the chord family of G major, specifically chords G, C, and D, in that specific progression. The strumming pattern isn't too disparate from most of the songs that have already been mentioned, but the strumming for each note differs. Take some time to learn this, as it can be quick.
18. Cornerstone by Hillsong Worship
Cornerstone is a song about having Jesus and His love as the foundation of one's life. The cornerstone is used as a metaphor for foundation, where the singer, as a structure, is feeble without it. More metaphors are present in the song, like Jesus being an anchor to the ship (the singer) in a storm. However, the main message of the story is that one can find themselves strengthened by living on the love and Word of God.
The song was released in 2012 under the Hillsong album "Forever Reign" and can be found on Spotify and Deezer under the genre "Christian/Gospel." The song has a very emotional feel to it. As I listened to the song, I realized that I'd also be powerless with nothing to believe in.
The song is played in the key of C with four notes: C, F, Am, G. The strumming pattern for this song isn't too troublesome, as it mostly consists of downward strums, but the intensity of the strums depends on which part of the song you're in.
19. Nearer, My God, To Thee by Sarah Flower Adams
The song by Sarah Adams describes experiencing God. It's not like other songs that worship God because of the good things, as it tells about becoming closer to God in times of darkness. I think it's a wonderful Christian song about faith and suffering because our love and faith in God are tested in times when we feel abandoned, and that's something not commonly sung about.
The song was inspired by the Bible story of Jacob's dream, wherein he dreamt of Heaven, and before it was a ladder whereupon angels would ascend and descend. A lot of speculations have come up saying that the song is about encountering God in the darkest time any of us could go through facing death. The song is remarkably solemn, making it eerie and soothing at the same time.
It's played only with the three chords G, D, and C. Following an unhurried pace, the strumming pattern is "down, down-up, up, down-up." You'll surely have an effortless time with this! This is easily one of my favorite Christian guitar songs.
20. Holy Spirit by Bryan and Katie Torwalt
The song basically speaks about welcoming the Holy Spirit into one's heart and life, where the singers reveal how they found no sweeter love than in the presence of the Lord. The whole song is purely inviting the Holy Spirit to enter the singers' lives and guide them.
The song was released in 2012 with Bryan and Katie's intention of composing new songs for their small church. Therefore, they were very happy that their song had been used in many churches as worship and healing songs. I must admit, the song does make me feel uplifted, as it has a somewhat rock song feel to it as well.
The song is played in the key of G, with five of the chords being G, C, D, Am, and G/B. The strumming follows a swift yet uncomplicated pattern, and that's superb for you to see if all the time you've spent on your guitar will pay off.
21. The Old Rugged Cross by George Bennard
The song tells about the cross that Jesus was nailed on as a symbol of faith and hope, which is the greatest one to many Christians. Later into the song, the lyrics establish the cross as the anchor of one's actions throughout life and until the day one meets their journey's end in exchange for the kingdom of God.
Composed in 1912, Bennard was inspired to produce the song after facing a terrible time in his life, forcing him to reflect on Christ's very own suffering on the cross. The song has a noticeably moderate melody accompanied by a soothing voice, which makes it sound a lot like a country song to me.
The song is played with the three chords G, C, and D, with simple chord switches. The strumming pattern's gradual, with an alternating upward and downward strum hitting the sixth string all the way to the first and vice versa.
22. Rock of Ages by Augustus Toplady
Rock of Ages is a profoundly short song about surrendering oneself to the cross to be cleansed of sin. The song is quite hard to decipher, but the idea I personally get from it is that one should humble themselves before the cross, as there's nothing more that one can offer.
The song is believed to have been composed one evening when the preacher Augustus Toplady was caught climbing a gorge in the middle of a storm. While the storm was raging, he took shelter in a gap in the gorge, where he was struck with the lyrics and scribbled them down. I think the song sounds glorious and nostalgic, as it's sung with a similar style to oldies you hear in cartoon movies.
The song is played with the three basic chords G, C, and D/F#. The D chord can be played as the regular D, as D/F# is wholly a variation to make the song sound a little bit better. The strumming follows a drive pattern, which again, has a four downward strum with an upward after-beat after the fourth strum.
23. Savior, Like A Shepherd Lead Us by Dorothy Ann Thrupp
The song revolves around the metaphor of Jesus being the shepherd leading His followers as a flock of sheep. It's admitting that the singer and other devotees are unsteady and lost without the guidance of the Lord. The lyrics are mostly about being like a child who's defenseless against sin and in great need of Jesus' love.
The lyrics were written by Dorothy Ann Thrupp, and the music was composed by William Bradbury. The song was released as part of a hymnbook for children in 1836. I honestly think that it sounds like another conventional historic song.
The song is playable with three chords: G, C, and D. The chord switch happens at every line, but then again, each line is sung slowly and solemnly, so it won't be too laborious to catch up. Unlike the other songs, this will necessitate a plucking style with a pattern. Even if that's the case, don't fret about trying to learn this because it can be rather stressful if you force yourself!
24. Stand Up, Stand Up For Jesus by George Duffield Jr.
The song asks all followers of Jesus to abide in Him and fight the darkness that threatens Christianity. It calls forth His followers to act as soldiers of Christ with the mission to vanquish evil. Furthermore, the song also tells the followers that counting on one's own strength will not get them anywhere, but relying on Jesus will protect them from evil and aid in finding the glory of the Kingdom of God.
This was inspired by Duffield's associate Dudley Tyng, who spoke against the slavery issue in 1858. The title was taken from Tyng's last words, where he asked his fellow Christians to fight for what was right. I think that the song sounds a lot like a battle song instead of a hymn, which matches perfectly with its message and history!
The song is played with three chords: A, D, and E. You can add a variation to E, making it Esus, but that's only to improve its sound. This is a great song for beginners because it's slow, so the chord switches aren't too fast. The strumming pattern is composed mostly of downward strums, but after-beat upward strums might be necessary to seamlessly play the song.
25. Lord I Lift Your Name On High by MercyMe
It is a truly terse song (two verses repeated for three minutes) about praising the Lord. The second verse, however, includes a somewhat thanksgiving to Jesus for sacrificing Himself to save His people.
The song was released in 1996 by the band Mercy Me, under their album "Traces of Rain, Volume 1". Regardless of sounding like a normal worship song, it uplifts me, probably because MercyMe sang it in such a harmonious way.
Throughout the song, you'll be playing four chords (G, C, D, and Em), but one chord will only be played once (Em). The strumming requires you to strum the chords twice, but you can still add an after-beat strum to make the song sound more pleasant.
26. Trading My Sorrows by Darrell Evans
"Trading My Sorrows" is a brief song with the unmistakable theme of surrendering everything to the Lord. The song mostly communicates laying down all of one's hardships in front of the Lord — giving one's self to the Lord and trusting in Him. His child returning would certainly make Him happy.
Darrell Evans released the song in 2002 with the record label Vertical Music. I really like that the song is notably positive, which doesn't make me feel distressed about admitting that I have my own troubles and am surrendering them to Him.
The song is played with the chords: G, C, Em, and D. These are repetitive, and the song is fast, so you can use it as a test of the skills you've learned! At the end of the song, you'll be playing the F chord, too. But don't fret, as it doesn't show up much. The G and Em chords will need you to strum downwards and upwards, while C and D will be played with one or two downward strums.
27. You Said by Hillsong Worship
The song tells of all that Jesus promises those who follow him faithfully: salvation. It circulates around the Gospel verses that recount all that Jesus will grant to those who will ask.
Hillsong released it as a track on their album "By Your Side." The song sounds upbeat and a tad bit like rock music (which is a known style of Hillsong Worship, as they modernize worship songs). Every time I'll hear this being played, I'll sing my heart out with much enthusiasm!
The chords to this song are C, D, Em, and F#. It follows a 4-beat count, so the strumming pattern for it mostly alternates between downward and upward strokes. Although the pace is a little fast, you can still easily keep up with much practice.
28. Whom Shall I Fear by Chris Tomlin
This invites Christians to depend on the strength of the Lord, who, being omnipotent, can crush any enemy He faces. It's written in such a way that the singer's relationship is beyond that of a simple follower of God; he considers God as a friend who will win battles for him.
Chris Tomlin released the song in 2012 as a part of his seventh studio album, "Burning Lights." It reached the 10th spot in Billboard's US Christian Songs. The song sounds a bit like a mellow rock song, as most contemporary Christians songs do, though it still does make me want to scream the lyrics into the air in worship!
You'll just need to play with four chords from the G chord family, which are G, C, Em, and D/F#. The strumming pattern's a driving one, with a 4-beat count. There are four downward strums, with an after-beat upward strum after the fourth strum.
29. What A Friend We Have In Jesus by Joseph Scriven
The song is composed of four verses that convey the message of finding peace in following Jesus. It advises followers to never be discouraged and lay all their troubles before Him, as He is one who will carry us and make our burdens lighter.
Scriven originally wrote the hymn as a poem to console his dying mother in 1855. After publishing it anonymously, Charles Converse arranged the tune to the song in 1868. The song sounds light and comforting, which makes it something I'd listen to while taking a drive in my car.
The chord's played with the three chords of the C chord family, which are C, F/C, and the G chord. F/C is just a variation of the traditional F chord (which you can choose to play), as it makes switching between chords easier. The strumming of the song follows a folk pattern with four downward strums and upward strums after the third and fourth downward strums.
30. When I Survey the Wondrous Cross by Kathryn Scott
The song revolves around the symbol of hope for most Christians: the cross on which Jesus died. With only four verses in total, it's a concise song about experiencing and reflecting on all that happened to Jesus on the cross, which nothing in the world can ever compare to.
The song was originally composed by Isaac Watts as a poem. And while many artists have taken it upon themselves to make beautiful covers of the song, I was utterly captured by Kathryn Scott's version, as she sings it so earnestly with her angelic voice, something I'd likely relax to.
"When I Survey the Wondrous Cross" uses the basic chords D, Em, A, and G. It has a very slow pace, so you won't find yourself having a problem keeping up with the chord switching and strumming pattern.
31. Your Love Is Extravagant by Casting Crowns
The song is composed of four slow-paced verses. The meaning of the song is stark, as it's a tribute to the love that God has to offer for all those that follow Him. Finding peace and joy in the love of Christ, the singer discovers that there's no purer love like it.
The song was released in 2003 in the album "Casting Crowns." It's available on Spotify and Deezer under the genre "Christian/Gospel." The pace of the song prompted me to feel serene, which is exactly what the singer's trying to achieve with the message of the song.
The song can be played in two ways — one for advanced players and the other for beginners. For beginners, the song can be played with four chords: G, C, Em, and D. The tutorial for beginners begins at 4:40, but the tutor shows you the advanced playing method in the first half of the video.
32. The Garden by Kari Jobe
Kari Jobe's emotional ballad, "The Garden", is about finding God's light in the darkness. It's about wanting to give up but finding a sign of hope from God. Jobe writes that God has never left us in our struggles but is instead right there with us through it all.
Jobe took to Instagram to describe some of the inspiration for the song. God had used her backyard garden to remind her that He is always "pruning, planting, and watering for growth." This song is dedicated to her sister, who had a stillborn daughter during pregnancy.
The song starts with an easy eight-beat strumming pattern with four chords, C Am7, F/C, and G. The original song is in the key of C. You can add a capo to the second fret to make the song in the key of D. At the bridge; the strumming pattern goes from eight down strums to four down strums while up strumming only when switching chords.
33. Even If by MercyMe
"Even If" quickly became recognized as an award-winning Christian rock hit. The vulnerability by the singer, Bart Millard, and the theme of unwavering faith amid adversity, touched listeners' hearts far and wide. Millard explained that this song "came out of a bad day," grappling with his son's battle with diabetes.
This MercyMe hit is a reminder that even when prayers seem to go unanswered, and hope is lost, believing in God's goodness can bring strength and peace. He references the bible story of "Shadrach, Meshach, and Abednego (Daniel 3.13-18 NLT)" and how it reminded him to trust fully in the Lord's plans for his life no matter the circumstances.
To learn this song, you only need to know the simple chord progression of C, Am7, F/C, and G. Start strumming on the A string with six down strums, followed by an up strum after beat 6, and repeat the pattern. Add emphasis to the strum on beat one and four to encapsulate the movement of the song.
34. You Say by Lauren Daigle
Lauren Daigle knows how to hit you right in the feels. "You Say" is an empowering Christian song about finding your worth and identity in God's eyes, even when insecurities tell you otherwise. It's an anthem of self-acceptance and the realization that, to God, we are enough just as we are.
"You Say" was released as the lead single from Lauren Daigle's album "Look Up Child." Her inspiration was born from the struggle to balance the extreme highs and lows of her career, feeling at times that she had no roots planted. Daigle states that this song is a reminder that when she's wondering where this all leads, God's plan is the truth.
This is a great song to learn as a beginner due to its easy strumming pattern and pace. Start with the capo on the fifth fret to avoid heavy use of bar chords. The strumming pattern throughout the verses is a repetition of four down strums for each chord. In the chorus, the strumming changes to a down, down, up, down pattern. The chord progression also consists of four simple chords: C, Em, Am, and F.
35. Good Good Father by Chris Tomlin (Housefires)
This heartwarming song speaks to the incredible love and care God has for us as our Heavenly Father. Instead of an angry, distant, and fiery God, He is a gentle, all-knowing, and loving Father. God will always meet us where we are and remind us that we are loved unconditionally by Him.
"Good Good Father" was originally written by Pat Barrett and Tony Brown from the band Housefires. Chris Tomlin popularized the song in 2016, making it an award-winning hit. Tomlin talks about his admiration for Barrett and Brown's writing and makes it known that "songs like this don't come around often."
Some chords for this song are not typical for the key of G. The verses consist mainly of the chords G and Gsus with variations including C, G/B, Am, and Em in the chorus and pre-chorus. This song is in 6/8 time with a simple strumming pattern of down, up, down, up, down, up, down, up, down.
36. You Are My All In All by Dennis Jernigan
Dennis Jernigan sings about his devotion and total dependence on Jesus. For everything that happens in life, good or bad, God is there with his hand outstretched. This song explores how much we rely on Christ and how we should rejoice in His unconditional love for us.
"You Are My All in All" was written by Jernigan in 1992 and released in 2002. He wrote the song after a daily prayer meeting as a reflection of his journey with God. He is said to carry around a songwriting book everywhere he goes.
This song consists of four chords from the G Chord family: G, D/F#, Em7, and Cadd9. The chords and driving patterns repeat throughout the entire song, making it an easy one to learn. There is a four-beat strumming pattern with four down strums and an up strum added after beat four. You will want to strum harder on beats one and three to add emphasis.
37. Give Us Clean Hands by Charlie Hall
This powerful worship song calls us to strive for a Holy and pure heart. The goal is to be just as pure on the inside as we appear on the outside. If we can recognize our sins and ask for forgiveness, God can transform our heart's to be more like Him.
The song serves as a prayer. It tells us to get down on our knees and humble ourselves to His presence and realize our potential as children of God. "Give Us Clean Hands" was originally written by Charlie Hall and later performed by the beloved contemporary Christian artist Chris Tomlin.
This is another song that consists of four chords from the G chord family. They are all similar in shape, making it easier to transition from chord to chord. The progression throughout this song is G, Cadd9, D/F#, and Em7. This progression just repeats with a four-beat strumming pattern.
38. Find Me In the River by Jeremy Camp
The song "Find Me in the River" made its debut in the film "I Still Believe" in 2020. It was written by the contemporary Christian artist, Jeremy Camp and performed in the film by actor KJ Appa. The movie is a true story based on Camp's life and his wife's struggle with cancer.
The lyrics cry out to God to hear our struggles and love us no matter how broken we feel. Along with the theme of the movie, this song is about finding hope from God in the darkest of times and having the courage to reach out to Him.
There is an option to play this song in the key of D, but playing it in the key of G gives access to easier chords. The main chords throughout the entire song are G, A, and D. Don't be afraid to try your hand at some simple fingerpicking with this one. If you want to strum, make sure you do so nicely and lightly.
39. Holy Forever by Chris Tomlin
Holy Forever is based on the book of Revelation 4. The lyrics convey the eternal holiness and majesty of God that Revelation talks about. It's a song of worship and adoration, acknowledging God as the ultimate source of light and love. Tomlin claims the song as the anchor of his album "Always."
Chris Tomlin co-wrote Holy Forever with Brian Johnson, Jason Ingram, Jenn Johnson, and Phil Wickham. It peaked at number 15 on the Hot Christian Songs Chart and continues to be a hot favorite in the Christian community. Tomlin expresses that this song is what worship is all about. It is about recognizing the greatness of God and shouting it from the rooftops.
The original key of this song, D flat, may feel too high. You can use a capo on the sixth fret to play chords in the key of G. This version has a couple more chords than the other songs on this list but is still easy to learn. The chords you will use are G, Cadd9, D, Em7, G/B, and Am. Use a soft down strum for the first half of the song, and then you can make the pattern more intricate as it gets into the second verse. "Holy Forever" is easily one of the most powerful, easy worship songs ever written.
40. O Come All Ye Faithful
O Come, All Ye Faithful is a classic Christmas hymn that encourages the worship of the newborn King. It reminds us of the true reason for the Christmas season, which is to give thanks to God for the birth of Jesus Christ.
This hymn has a rich history that dates back to 1852. John Francis Wade, a hymnist from England, wrote the original Latin version of the song entitled "Adeste Fideles." Then Frederick Oakeley translated the hymn into English in the mid-19th century. It is still heard throughout the world during the Christmas season and covered by many such as Chris Tomlin, Nat King Cole, and Pentatonix.
To play this classic hymn on the acoustic guitar, start in the key of G with no capo. The chords needed for this song are simple: G, D, Em, A, and C. This is a faster-paced song with an eight-beat strumming pattern. There are eight down strums and one up strum after beat eight. Make sure to strum a little harder on beats one, four, and seven to add variation.
41. Breathe by Michael W. Smith
"Breathe" by Michael W. Smith is a song that speaks to the need for spiritual renewal and a deeper connection with God. The lyrics invite listeners to take a moment to pause, breathe, and experience God's presence. It's a song that reminds us to let go of distractions, find solace in God's love, and allow His Spirit to fill and restore us.
Marie Barnett originally wrote the song, and it was first recorded by her husband, Eddie Barnett, and their worship band, LifeWay Worship, in 1995. Michael W. Smith later covered the song for his album "Worship" in 2001, which helped popularize it in the Christian music scene.
The chords for this song consist of G, Cadd9, Em7, and D/F#. These chord shapes are great because you only need to move your third and fourth fingers to change chords. This makes chord transitioning a piece of cake. To strum, use a four-beat strumming pattern. This pattern is repeated throughout the song. To add dynamics, make sure to emphasize beats one and three when strumming.
42. Abba by Jonathan David Helser
"Abba" by Jonathan David Helser is a song that dives into our unique and deeply intimate relationship with God. The word "Abba" is an Aramaic term for "Father." This allows us to reflect on our desire to draw near to God as His child.
This song was released as part of the album "On The Shores" in 2014. Hesler explains on his website that his inspiration came from a prayer in Brennan Manning's book, "The Furious Longing of God." The prayer consists of five words, "Abba, I belong to you." He expresses that God using the word "Father" invites us into His reality, and that changes everything.
You will only need to know three simple chords for this song; G, C, and Am. The capo on the third fret makes the song in the key of B flat, which is the original key of the song. Since this song is intimate and slow, it is the perfect opportunity to learn some simple finger-picking if you haven't before. The picking pattern is simply just plucking each string from the fifth string to the first repeatedly.
43. Crown Him With Many Crowns
Crown Him with Many Crowns is a hymn based on the text of Revelation 19:12, which describes Jesus as wearing many crowns. The theme of the song acknowledges that Jesus wears crowns for all that He is and does for us. He is the Only Son, the Savior, the Lamb of God, King, Servant, and Shephard. He is many things and everything all at once. Jesus also wore a crown of thorns for our salvation. That is the ultimate symbol of unconditional and everlasting love.
The hymn was first written by Matthew Bridges and Godfrey Thring in 1851. Later, George J. Elvey composed the melody for the song. Many Christian artists have made a version of the hymn. These include Michael W. Smith with Larnelle Harris & Anointed and Chris Tomlin.
This is a simple song that you can play in different styles depending on what you want. You can play it the more traditional way with slower and more intermittent down strums, or you can add a more constant and light down strum to make it a little more contemporary and fast-paced. There are five easy chords to learn for this song, including C, Am, F, G, and D.
44. Shout to the Lord by Darlene Zschech
Shout to the Lord is an uplifting worship song that encourages believers to express their adoration for God. The lyrics rejoice in the fact that Christ is the ultimate source of inspiration and strength. It's a song that invites worshippers to lift their voices and proclaim the greatness of God.
Darlene Zschech wrote Shout to the Lord in 1993. The song quickly gained popularity within the Christian community and is still an anthem of praise in homes around the world.
This song is good for both fingerpicking and strumming. It is in the key of G and uses the four chords g, D, Em, and Cadd9. Use a four-beat strumming pattern with four down strums and one up strum after the fourth beat. To create some dynamics in the strumming, add emphasis on beats one and three. This means playing a little softer on beats two and four.
45. I Can Only Imagine by MercyMe
I Can Only Imagine is a cathartic song written by Bart Millard that explores what it would be like to stand before God in eternity and revel in His presence. He puts listeners in the space to reflect on the joy that awaits when they meet their Creator face to face. Millard was inspired by his father's late conversion before passing away from cancer. He described his father as the "Godliest man he'd ever known." This led to him imagining what it would be like to walk with Jesus in heaven.
The song gained widespread recognition and became the Christian rock band MercyMe's breakout hit after its release in 2001. It was the most-played Christian single of 2002. Its emotional impact and relatable message resonated with listeners.
To play this song, start with the capo on the second fret. It is in the key of D and uses just three simple chords of D, G, and A. In the verses, all you have to do is switch between the D chord and the G chord. The chorus chords progress from G to A to D and repeat three times. The strumming pattern of down, up, down, down, down, up is the same throughout the entire song.
46. Nobody Loves Me Like You by Chris Tomlin
Nobody Loves Me Like You is an ode to God's love for us. Chris Tomlin's lyrics describe being grateful for the beautiful things God creates in the universe. He sings about the sunrise as if God had painted it for him. He feels as though everything is a love letter from God.
The song was released in 2018 from Tomlin's album "Holy Roar." It was written by Tomlin's producer Ed Cash and his brother Scott Cash. This Christian anthem harkens to the fact that God's love is unconditional, neverending, fierce, and gentle at the same time.
The original key of this song is B with a capo on the fourth fret. If that feels too high, remove the capo and play in the key of G with the four chords: G, Cadd9, Em7, and D/F#. This is another chord arrangement where you don't have to move your third and fourth fingers much at all due to the shape of the chords. To add dynamics to the strumming, strum softer with the verses and with more power for the chorus.
47. Refiner's Fire by Brian Doerksen
This song is about the desire to do God's will. The "Refiner's Fire" in the song refers to the fire that melts down metals such as gold and silver to purify them. We are the impure and sinful metals, and God is the fire.
God knows that we possess both flaws and potential. He wants to refine us to our purest selves. This way, we can be closer to Him. Brian Doerksen is the Canadian worship leader who wrote "Refiner's Fire" in 1990. Doerksen expresses that he is ready to go into that Holy fire.
There are five simple chords to this song consisting of D, A, Bm, Em, and G. The capo is good on the second fret in the key of D. The strumming pattern sounds nice with eight beats of down, up, down, and up repeating. Add emphasis on every third down strum for a little dynamics.
48. In Jesus Name (God of Possible) by Katy Nichole
"In Jesus Name" was originally meant to be called "God of Possible." The writer and artist Katy Nichole experienced a panic attack before going into the studio to create the song. She felt God leading her to the piano. Out spilled a chorus she hadn't expected. After feeling the presence of God and calling upon His name as a source of power, she went into the studio and wrote "In Jesus Name" the way it was meant to be written.
This song was Katy Nichole's debut single, topping the Hot Christian Songs Chart as no. 1 in 2022. She co-wrote this piece with Ethan Hulse, Jeff Pardo, and David Spencer. Nichole sends out this song as a prayer for all the listeners to have God work in their lives and bring hope.
The tuning for this acoustic arrangement is a little different than the typical standard tuning. There are four easy chords, Em, Cadd9, G, and D, present throughout most of the song, except the bridge adds in an Am chord. The strumming pattern is a simple four-beat count.
49. Thank God I Do by Lauren Daigle
"Thank God I Do" is another smash hit by Lauren Daigle that showcases her vulnerability and faith as an artist. The song is about feeling alone but thanking God that He is there with her. He is her saving grace and her hope. The song expresses that even in the darkest of times, God is holding onto us and will be our lantern in the darkness.
Daigle released this song as her lead single from her album, "Lauren Daigle," in 2023. Her inspiration came out of the COVID pandemic during lockdowns. When everything felt uncertain, she had a group of people around her that "kept her head above water." Daigle feels those people were placed in her life by God for a reason.
This song originally has no capo and is in the key of G. If this is too high for your voice, place the capo on the fourth fret. This way, the song will be in the key of C and the G position. The four chords you'll need are G, Em, C, and D. The strumming pattern throughout consists only of down strokes. This makes it very simple to practice if you are a beginner. The downstrokes mimic the rhythm of the piano.
50. I Still Believe by Jeremy Camp
I Still Believe is about the realization that no matter what happens in this life, God is still the Almighty Truth. It is about practicing unwavering faith despite tragic circumstances, trusting that God has a plan.
Jeremy Camp, from the Christian rock band MercyMe, wrote this song shortly after the passing of his wife from ovarian cancer. Camp states that God spoke to his heart. God told him to sit at the piano and write for the first time since his wife's death. This song was the inspiration for the 2020 film "I Still Believe" about Camp's life story.
This strumming pattern is different from some of the others in this article. Depending on the chord you are playing, start the strum from a specific string and strum down. With chord C, pluck the D string first and flow down from there. Similarly, for chord C/B pluck the A string first and the low E string for the Em chord. Strum with three down beats and up after beats two and three.
51. What Child Is This
What Child is This is a classic Christmas Carol that was written in 1865 by William Chatterton Dix. He wrote the hymn about the story of Christmas night from the perspective of the shepherds that came to visit Jesus. The lyrics allow listeners to imagine themselves in the shepherd's shoes. What would it have been like to see baby Jesus?
The hymn was brought on by Dix's near-death experience and spiritual awakening. Reading the Bible inspired him to write hymns of his own similar to "Alleluia! Sing to Jesus!." What Child Is This has been popularized and sung by many artists such as Chris Tomlin, Andrea Bocelli, and Josh Groban.
To play this on acoustic guitar, you will need to learn the chords: Am, C, G, Em, and E. Since the arrangement is pretty low vocally, place the capo on the third fret to accommodate a higher voice. Use a three-beat strumming pattern with three down strums. On the first beat of each measure, only pluck the root note of the chord. On beats two and three, strum the rest of the strings.
52. Way Maker by Sinach
Way Maker was released in 2015 by Nigerian gospel singer, Sinach. Her goal for this song was to bless everyone with the scriptures from Genesis 5. The lyrics state, "God is here in the world," working, healing, and moving in our lives. This song is an appreciation for all that God does and a call for listeners to give praise.
The word way maker is defined as someone who makes the road or paves the way. That is who God is for us. Many artists have released their versions, including Leeland and Michael W. Smith.
To play this acoustically in the key of G, start with the capo on the fourth fret. Use a four-beat strumming pattern with down strums and an up strum after beat four. The chords you need for this song are pretty basic, consisting of Cadd9, G, D/F#, and Em7.
53. Glory To God Forever by Steve Fee and Vicky Beeching
Glory to God Forever was released by Steve Fee in 2009 inspired by the classic hymn "Glory to God." He adds a powerful Christian rock twist to the hymn. This is an upbeat worship song that feels like a prayer in itself.
Fee is exclaiming his admiration and wonderment for God's power and majesty. He is proclaiming that his life belongs to God. The repetition of the song serves as a way to praise Him. For God can do all things; he can make the impossible possible.
To play this song on guitar, you only need to know four common chords from the G chord family, including G, Cadd9, D/F#, and Em7. These chords make transitioning easy because of their shape. Don't be afraid to strum powerfully on this one and emphasize different strums to add dynamics.
54. Praise You Anywhere by Brandon Lake
Praise You Anywhere is a worship song that has some fire behind it. It was written by Brandon Lake and released in 2023. The lyrics encourage listeners to persevere and stay courageous in their faith no matter the circumstances. Surrender to God's plan even when it feels like the hardest thing to do: that is when it counts the most.
Brandon Lake is a singer-songwriter and worship pastor in Charleston, North Carolina. He started his music career learning guitar through youtube tutorials. Lake's song emphasizes that it doesn't matter where you praise God; you could be at the gas station. It's about looking up in those little moments and giving thanks to the Creator.
To play along with the original version on guitar, place your capo on the fourth fret. Don't be afraid to play around with the capo and try different frets to suit your vocal range. The only chords you'll need in "Praise You Anywhere" are G, C, D, and Em. This is an upbeat song with a fast tempo in 4/4 timing. Strum quickly in a rhythmic down-strum pattern.
55. First Things First by Consumed By Fire
First Things First was written by a trio band of brothers from Oklahoma named "Consumed By Fire." For the siblings, the important things in life came into perspective after the sudden passing of their father in 2022. Tragedy sometimes reveals what matters in life.
This song serves as a heartfelt reminder to look at life and examine what is at the top of the priority list. It is easy to get distracted, but pivotal to recognize when we've strayed from God's will. We want to be in tune with His plan and the blessings he surrounds us with, such as our loved ones and the little moments of joy we share.
The easiest way to play this song is to place the capo on the fifth fret and play G shapes. Experiment with the capo placement to fit your voice if you plan on adding vocals. This is a five-chord song consisting of G, C, Em, and Bm. It sounds nice to softly fingerpick the first half of the song and pick up strumming in the second half. The fingerpicking is not difficult to learn and can go along with the rhythm of the piano in the original recording.
56. The Lord's Prayer (It's Yours) by Matt Maher
This song is special to the writer and artist Matt Maher because it is based on the Lord's prayer, a prayer he says every day with his family. Maher explains that The Lord's prayer is "the foundation to base your practice of spirituality on. When your faith journey feels overcomplicated, look back to that simple prayer for clarity.
"The Lord's Prayer (It's Yours)" was released as Maher's third single for 2022. It has an empowering and gospel-like feel. Maher explained that the co-writing of the song involved many voice memos and calls going back in forth. This was a collaborative effort to give justice to a prayer that is said every day around the world.
This song is played acoustically in the key of A. Place the capo on the second fret to play in the G position. Don't be afraid to add some power to the strumming since this song has so much energy. For most of the verses and the bridge, the only chord to play is a G. The chorus includes the chords C, D, and Em.
57. Lord I Need You by Matt Maher
Lord I Need You is an ideal song to play for worship or reflection. It was written by Christian artist Matt Maher and released in 2013 on his album "All the People Said Amen."
The lyrics reflect our reliance on God. As sinners, we rely on His grace to heal us. It may seem stifling to think about living by God's will instead of our own, but in fact, it is the opposite. If we rely on and trust in God's plan for us, we are set free, knowing that we are in his loving hands.
This is one of those songs that makes the most waves by building it up slowly. Start with soft strums and gradually intensify them to add a power punch at the end. The capo is good on the first fret. The only chords you need to know are G, C, D, and Em.
Wrap Up:
That does it for this list; if you know of any easy Christian guitar songs that aren't on this list, let me and everyone else know in the comments below!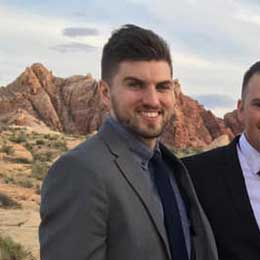 My name is Chris and I've had a passion for music and guitars for as long as I can remember. I started this website with some of my friends who are musicians, music teachers, gear heads, and music enthusiasts so we could provide high-quality guitar and music-related content.
I've been playing guitar since I was 13 years old and am an avid collector. Amps, pedals, guitars, bass, drums, microphones, studio, and recording gear, I love it all.
I was born and raised in Western Pennsylvania. My background is in Electrical Engineering, earning a Bachelor's degree from Youngstown State University. With my engineering experience, I've developed as a designer of guitar amplifiers and effects. A true passion of mine, I've designed, built, and repaired a wide range of guitar amps and electronics. Here at the Guitar Lobby, our aim is to share our passion for Music and gear with the rest of the music community.