With so many new manufacturers appearing all the time, it can be hard to keep track of which manufactures are making the best pedals. This list includes some of the classic manufacturers who have been at the forefront of guitar pedal production for countless decades and some lesser-known, newly-established brands that can rival their quality.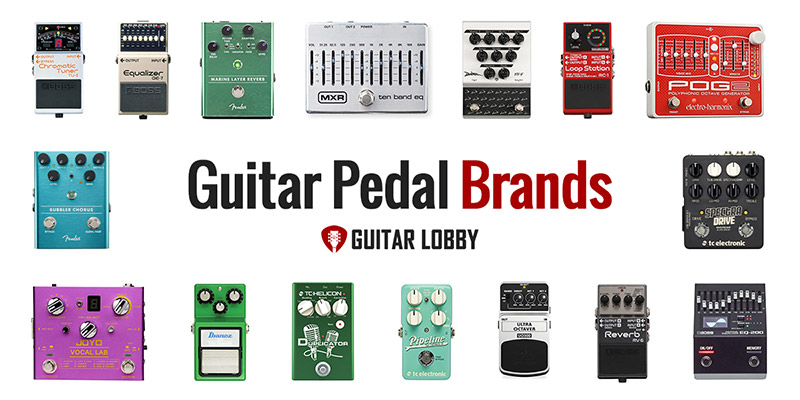 After reading this guide, you'll know all of the best guitar pedal brands and where they shine in their respective fields. This will help you to make quicker decisions when assembling your pedalboard.
Here Are the Best Guitar Pedal Brands
20. Mooer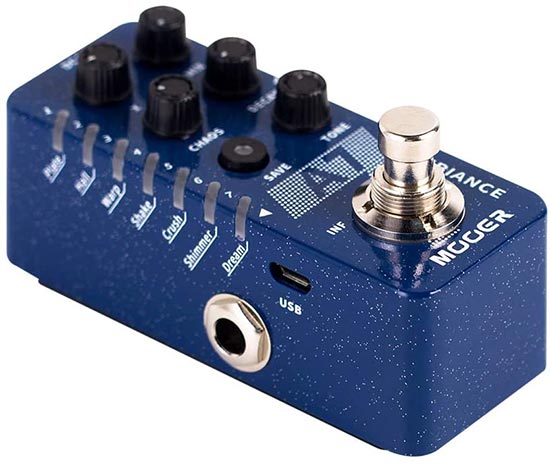 Mooer is one of the only guitar pedal brands that offer a compact pedal for every type of effect. Their Micro Series is highly comprehensive, including over 40 pedals, and spanning across the complete plethora of guitar-based effects. Their pedals come in two sizes – micro or mini, with the latter usually including more adjustable controls.
For entry-level guitar players who are taking their first foray into the world of effects pedals, Mooer is a reliable manufacturer to choose from. They focus mainly on keeping their pedals as affordable as possible and sticking to a relatively simplistic blueprint. You can learn all of the basics about shaping certain effects using the onboard controls housed on pedals in Mooer's Micro Series.
In addition to the wide range of guitar pedals that Mooer manufactures, they also produce various other instruments and accessories. These include vocal processing pedals, electronic drum samplers, pedalboard cases, and compact amplifiers.
19. Joyo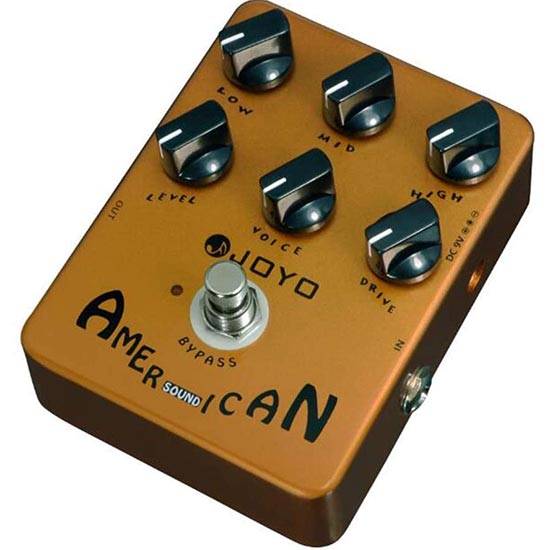 Joyo is another reasonably-priced guitar pedal brand whose products are perfectly suited for effects novices. Their line is arguably more comprehensive than Mooer's, with multiple options for each effect. Despite the low-cost of Joyo's guitar pedals, they are surprisingly robust and roadworthy. Joyo, like Mooer, also produces a range of amplifiers, electronic instruments, and other accessories.
One thing that is worth noting is that the vast majority of Joyo pedals are clones of those made by more established manufacturers. Indeed, if you're a tone purist, your integrity might not allow you to choose a replica pedal. However, if that doesn't bother you, then you can enjoy access to the classic tones of the best effects pedals of all time, at a much lower cost by opting for Joyo pedals.
18. Fulltone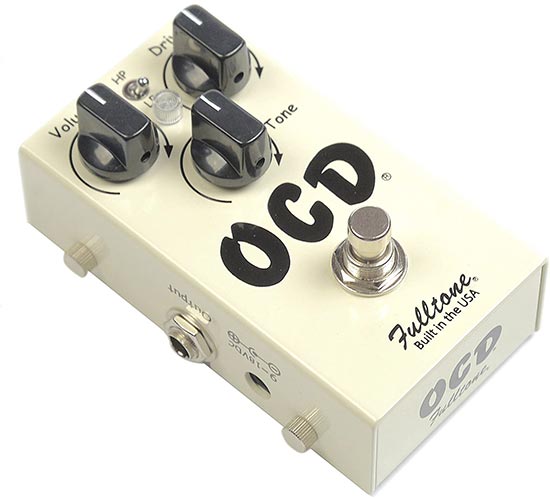 The list of guitarists who use Fulltone effects on their pedalboard is impressive. Musicians such as the late Don Felder from The Eagles and Joey Santiago of Pixies fame both utilized Fulltone's pedals onstage. Their range today includes several overdrives, distortion pedals, wah pedals, and tremolos. Their pedals are made using high-quality components and unique manufacturing techniques, all of which are custom built-in in their South Carolina factory. A highly respected and popular guitar pedal brand, Fulltone has created some of the best-loved effects in recent years. Hailing from South Carolina, Fulltone was originally formed by a session guitarist and composer who took an interest in creating his own effects pedals. The brand blossomed gradually, until the introduction of the OCD pedal which took the world by storm and propelled Fulltone into the spotlight.
17. Behringer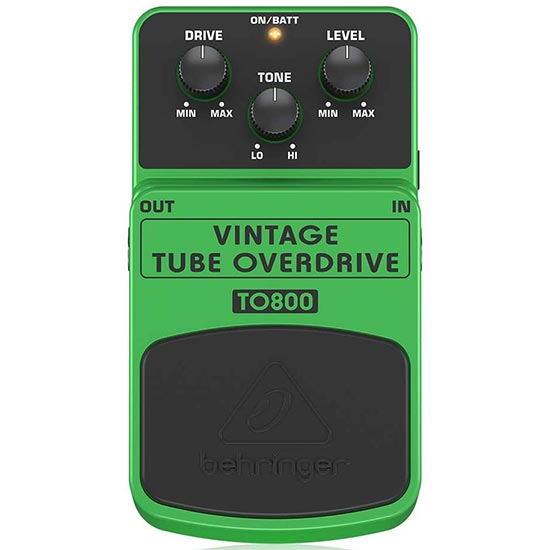 Founded in 1989 and headquartered in Germany, Behringer is a popular guitar pedal brand that also makes many other types of audio equipment. They aim to provide musicians with state-of-the-art guitar pedals and other musical equipment, without the hefty price tag. They do this by being very particular with all of the materials and components used to assemble their devices.
Many Behringer pedals are closely based on the classic guitar effects in recent history. They are renowned for taking inspiration from Boss, for example, and reverse engineering their pedals to make them more affordable and accessible to all musicians. There have been some criticisms leveled at Behringer for the flimsiness of some of their pedals, but this seems to be improving with each new model that they release.
16. Keeley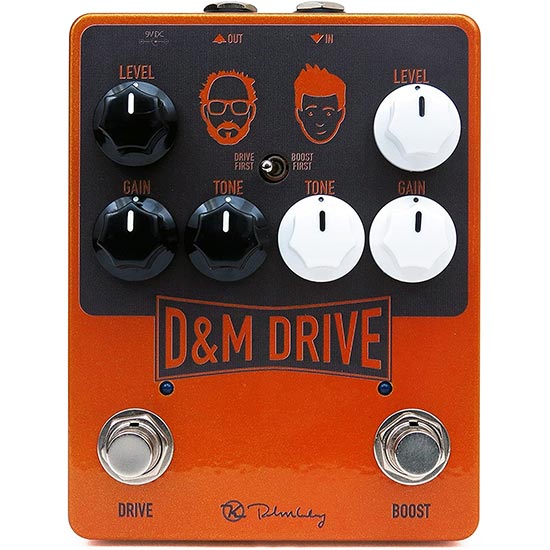 There's something about hand-built guitar pedals that makes them seem particularly special. Perhaps it's the personal touch or the knowledge that genuine care has been taken when building the pedal. Keeley is one of a few guitar pedal brands that hand-craft all of their devices. That results in their pedals being starkly unique, both in appearance and sonic quality.
Founded by an engineer named Robert Keeley, the brand has gradually grown from a part-time endeavor to a full-fledged guitar pedal producer. Their pedals feature stunning, captivating artwork, and produce a reliable blend of conventional and experimental effects.
15. SubZero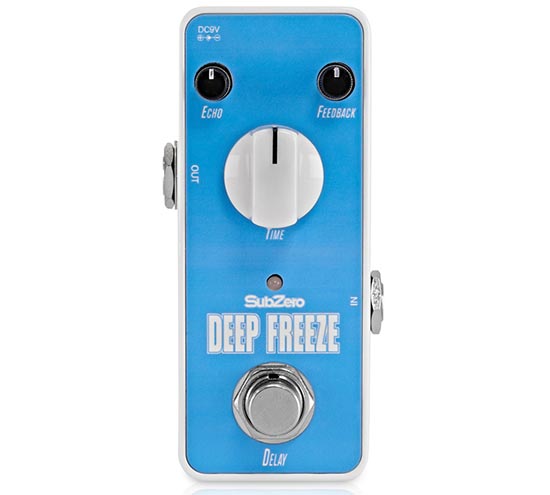 Another great guitar pedal brand that focuses mainly on affordable, entry-level effects, is SubZero. Their concise collection of pedals spans the whole range of popular guitar effects, including tuners, dynamic pedals, distortion pedals, modulation pedals, and more.
The reason that SubZero can sell their pedals at such a low price, is because they carefully choose the components to keep manufacturing costs to a minimum. Despite this, they are still robust and reliable, with a strong metal chassis protecting the inner circuitry.
SubZero also includes several features on their pedals that you'd expect to find on more expensive options. These include true bypass switching, which preserves your guitar's tonal integrity when the pedal is not in use, and switchable presets for instantly changing the tone of the chosen effect.
14. Donner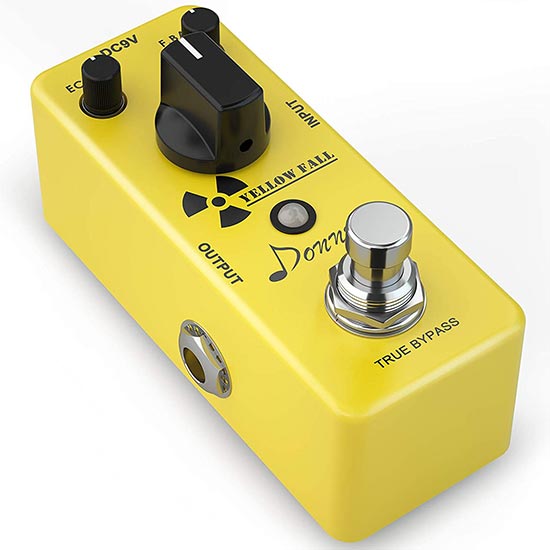 In the 2010s, there were a handful of newly-established guitar pedal brands who set out to challenge the established stalwarts of the industry. Donner managed to find a niche in the market, focusing on providing guitarists with exceptionally affordable pedals which boast impressive tonal qualities.
In addition to their ever-growing selection of high-quality guitar pedals, Donner also manufactures various instruments, such as guitars, drums, ukuleles, and amplifiers. Their experience creating instruments and amps provides them with the required knowledge to create their guitar pedals to produce the best tones possible while keeping costs to a minimum.
Less than a decade since their formation, Donner has gone on to quickly from a comprehensive range of effects pedals. Covering everything from delays, distortions, multi-FX units, and vocal pedals, they are amongst the most prolific pedal creators, and their progress doesn't look like slowing down any time soon!
13. MXR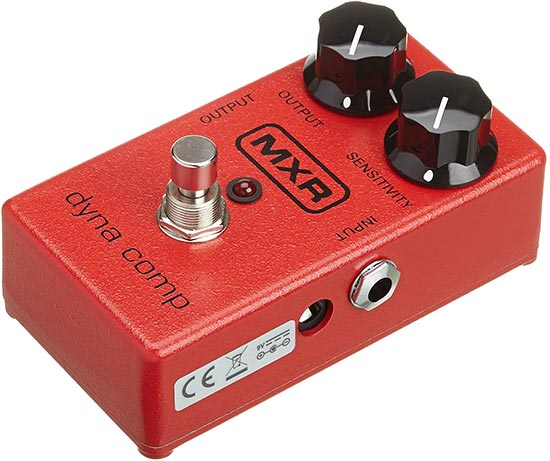 MXR is a well-respected guitar pedal brand that is now owned by Dunlop. Rather than focusing their attention on a small selection of specific effects, MXR offers a wide-spanning range of pedals, which are generally simplistic in design and very easy to use. They're also renowned for being affordable while rivaling more expensive manufacturers when it comes to tonal quality.
Included in MXR's selection of guitar pedals are various compressors, EQ, delays, distortions, reverbs, and modulation effects. Although the majority of their pedals are quite conventional in design, they do offer a few more experimental devices, like the extensive 10-band EQ pedal. Since Dunlop took over the reins, the durability of MXR pedals has been significantly bolstered, making them a great choice for touring guitarists or prolific recording artists.
12. Catalinbread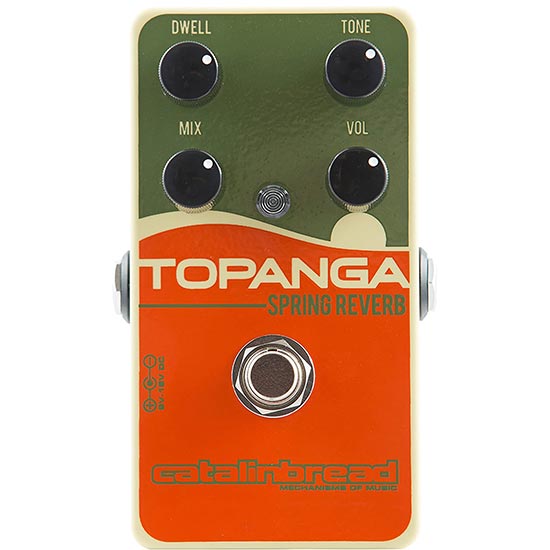 Founded in the city of Portland in the early 2000s, Catalinbread has steadily amassed a collection of high-quality guitar pedals that continue to grow in popularity. Their pedals are designed to encourage players to experiment to create unique tones, in easy-to-operate stompbox formats.
The main effects that Catalinbread focuses on are delay, modulation, fuzz, and overdrive pedals. Although they aren't yet a household name like other popular guitar pedal brands, they have a loyal and dedicated fan base of musicians who adore the unique tones produced by their devices.
One of the main factors behind Catalinbread's increasing popularity is its interesting aesthetical designs. Eye-catching and eccentric, their pedals are often covered in unique artwork that makes them instantly identifiable. Their sonic capabilities are equally as interesting, with sophisticated inner circuitry used to produce effects that stand out in the crowded pedal marketplace.
11. Fender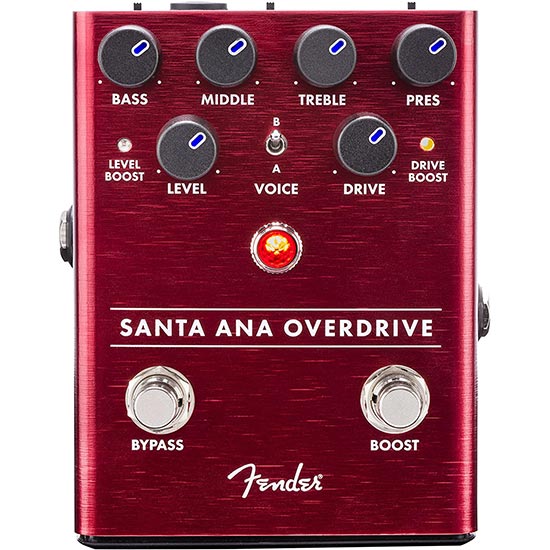 Indeed, Fender's brand is synonymous with guitars, basses, and high-end amplifiers. They've been at the forefront of instrument and amp production since the technology was in its infancy, and continue to be the leading manufacturer in the modern era. It's unsurprising, then, that when these American giants decided to turn their attention towards effects pedals, their efforts didn't disappoint.
One of the main advantages of Fender's long history of expertise in the amplifier and instrument field is that they knew exactly how to create the tones that guitarists desire. Therefore, they can transpose this knowledge into their high-end pedals, ensuring that they reach the same high standard of a Telecaster, Stratocaster, Super Reverb, or Precision bass.
The entirety of guitar pedals that Fender produces feature a distinctive, elegant aesthetical design. They often house various rotary controls which provide you with complete freedom over the nature of the effect in question. Also, their pedals boast reliable true bypass switching or buffered circuitry to keep the signal as clean and strong as possible.
10. Dunlop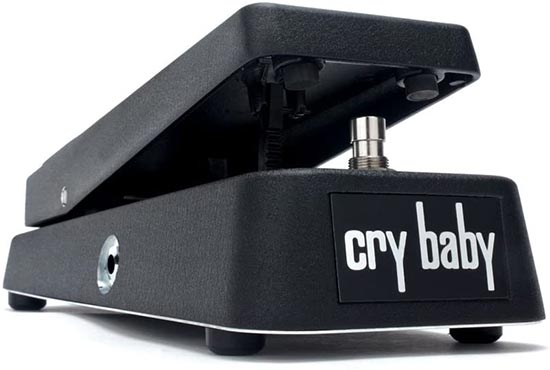 When Dunlop created Cry Baby wah pedal in the 1960s, they cemented themselves as one of the best guitar pedal brands on the market. Since then, they've gone on to produce several hugely popular pedals, to add to their range of other musical accessories. The Fuzz Face is another of their exceptional creations and combined with the Cry Baby, it created the legendary tone of perhaps the most talented guitarist of all time, Jimi Hendrix.
Dunlop's range of pedals is renowned for being particularly roadworthy, with many of their original models still functioning half a century since their creation. They may not boast the sheer extensiveness of other prolific pedal brands, but their concise selection is built to the highest standard and offered at affordable prices.
9. Earthquaker Devices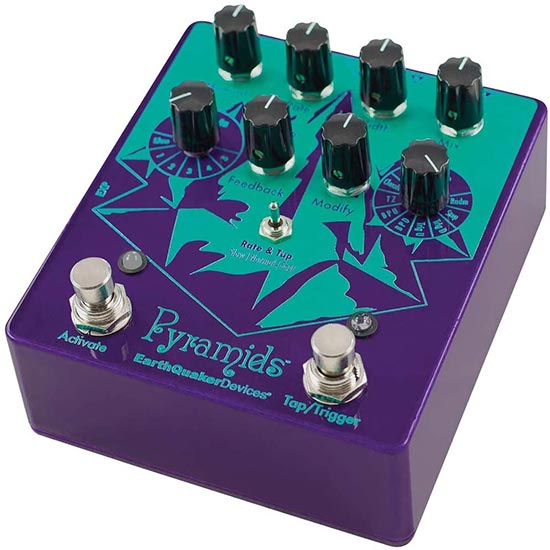 Based in Ohio, Earthquaker Devices is a boutique guitar pedal brand that has amassed a loyal following of musicians around the globe. The original catalyst for the increased popularity was the revered fuzz pedal, The Hoof. To date, Earthquaker Devices has hand-made almost 50 pedals, with each one offering unique tones and features for guitarists to enjoy.
Earthquaker Devices' rise to fame is both inspirational and impressive. Their pedals originally gained exposure on message boards and forums frequented by music purists and eventually spread into the mainstream. From the humble beginnings as a basement project in the early 2000s, the brand has grown into one of the leading suppliers of high-end effects pedals.
8. Zoom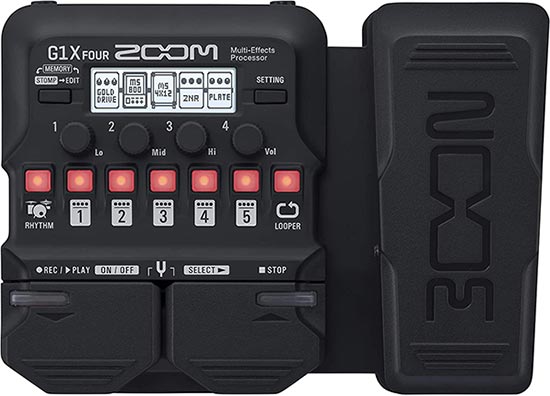 One of the challenges that guitarists are faced with when assembling their pedalboard is trying to keep costs down while maintaining the overall quality of their effects. Zoom is one of the best guitar pedal brands in the affordable category, offering a plethora of devices that cover the full range of effects and modeling units.
This Japanese-based pedal manufacturer is renowned for its detailed multi-effects units. This particular type of pedal is notoriously difficult to produce without compromising on the individual quality of the effects. However, Zoom has come up with a method of housing several effects within one pedal whilst keeping the operation simple, and the tonal quality high.
Standout Pedals:
The MS pedal series by Zoom includes some of their finest pedals. Specifically, the MS50-G is a truly brilliant multi-effects unit, which contains sophisticated algorithms designed for the purpose of recreating the legendary tones of vintage effects pedals. The operation of this pedal might be a little unfamiliar at first, but once you get the hang of it, the sonic possibilities are endless.
7. DigiTech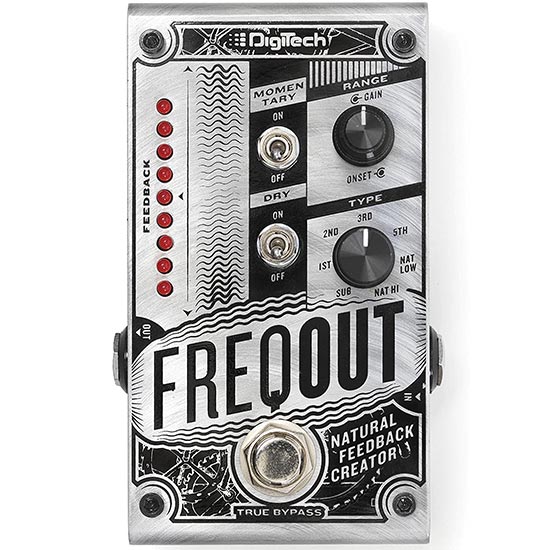 Despite the fact that DigiTech is perhaps not quite as popular as many of the other guitar pedals brands featured on this list, they are certainly amongst the most innovative and original. They're unlikely to be your go-to choice for a standard compressor or overdrive pedal, but if you're hoping to push the sonic boundaries of your guitar, DigiTech's range of slightly strange but intriguing pedals will be of great interest to you.
Many of DigiTech's guitar pedals are designed to completely transform the original tone of the instrument. Consequently, they're a great choice for musicians who love to experiment with far-out tones. Although the range they offer isn't as extensive as some of the other best guitar pedal brands, their prices are very affordable and you'll struggle to replicate their effects using any other brand's devices.
Standout Pedals:
Choosing the best guitar pedal that DigiTech produces is quite easy. The Whammy pitch shifter pedal is an exceptional device that allows you to shift the pitch of your guitar's signal up or down, while you are playing notes. It creates a unique effect, and when paired with a fuzz pedal, you get the classic tone that Jack White is renowned for.
Another DigiTech pedal that is worthy of mention is the Freqout Natural Feedback Creator. You might be wondering, why would anyone want to intentionally create feedback? With this pedal, you can control and freeze desirable feedback pedals or block out any unwanted frequencies that are marring your overall output.
6. Eventide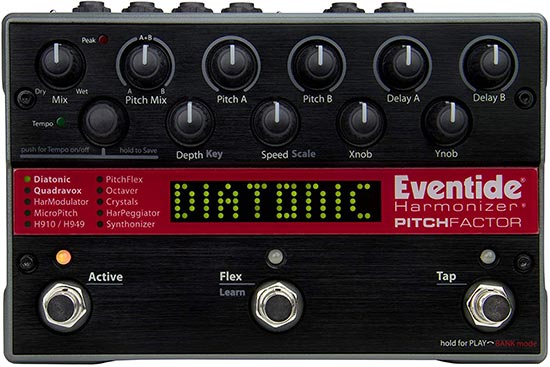 After establishing their reputation as a producer of premium outboard gear and rack-mounted effects devices, Eventide turned their attention to guitar pedals. Several of their creations are hailed as being the finest in their effects categories, a consequence of their unrivaled attention to detail.
Condensing the features of rack-mounted effects into guitar pedals is no easy task. To achieve this, Eventide had to come up with innovative layouts, multi-faceted controls, and flexible connectivity options. This commitment to producing high-quality guitar pedals has led them to become the pedal brand of choice for some exceptional musicians, including the virtuosic Steve Vai and legendary Peter Frampton.
Eventide has survived the many changes and developments in music technology since its inception in the early 1970s. As a matter of fact, when some unfortunate pedal brands have faltered and been left behind during the transition from the analog to the digital age, Eventide has flourished. That's a testament to their ability to preserve the qualities that made their analog outboard effects so popular and incorporate them into their modern, digital stompboxes.
Standout Pedals:
Two of the finest pedals that Eventide produces are the H9 Harmonizer Pedal and the wonderful Blackhole Reverb Pedal. The H9 is one of the very best guitar harmonizer pedals you'll ever play, with an array of adjustable parameters and unique blends of sounds. The Blackhole Reverb Pedal is very easy to use and is loaded with a wide range of authentic sounding reverb tones that can all be tweaked to your liking using the onboard rotary controls.
5. Walrus Audio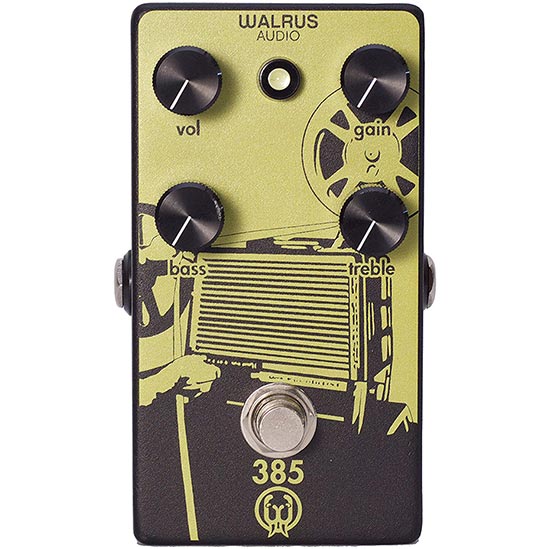 Walrus Audio is renowned for its original, eccentric pedal designs. Their guitar pedals are instantly recognizable, adding color and creativity to your pedalboard. Not to mention, they sound pretty awesome too!
The quality of Walrus Audio's guitar pedals is largely a result of their handmade composition process. Expert pedal engineers meticulously assemble their wide-spanning range of overdrives, delays, reverbs, and modulation effects. This makes them hugely popular amongst tonal purists who enjoy the sound and functionality of all-analog pedals.
In recent years, a number of newly established, new-wave guitar pedal brands have emerged to challenge the old guard. Walrus Audio is one of those brands that have managed to penetrate the pedal market with their stylish and sonically versatile effects. Starting with a small selection of flagship guitar pedals, they have expanded their range to include all of the classic effects.
Standout Pedals:
The Julia chorus pedal is certainly one of Walrus Audio's best guitar pedals. Chorus pedals can be unpredictable, but this offering is capable of producing authentic sounding modulation while not overpowering the natural tone of the guitar.
Also worthy of mention is the Audio Descent reverb and an octave pedal. With various adjustable parameters, you can blend the worlds of reverberation and pitch shifting to create unique tones that add a layer of thickness and space to your guitar's output.
4. TC Electronic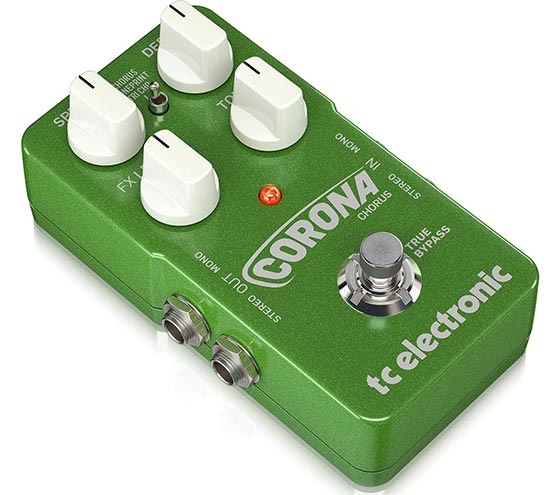 Although TC Electronic is perhaps best known for their high-quality vocal processors, they also produce some fantastic guitar pedals. In recent years, their selection has broadened, now covering all of the different effect types for guitar.
Their pedals are very reasonably priced when you consider the tonal quality that they produce. Also, TC Electronic guitar pedals are renowned for being highly durable, with their classic metal chassis providing protection to the inner components.  In the past five-or-so years, the output from TC Electronic has been nothing short of remarkable. In one year they unveiled over 10 new affordable pedals, all of which have gone on to enjoy popularity amongst the guitar playing community.
Another factor that has undoubtedly contributed to the rise of TC Electronics as a guitar pedal manufacturer is the easy operation of their effects. They commonly feature one or two rotary controls, with switches for quickly toggling between presets. For this reason, they are a popular choice for both entry-level musicians and experienced tone-sculptors alike.
Standout Pedals:
Due to the extensiveness of TC Electronic's pedal range, it's a difficult task trying to choose their best offerings. One of the finest reverb pedals available is their Hall of Fame 2, which produces authentic sounding reverberation and many adjustable settings.
Also, the Sub 'n' Up octave pedals is worth noting. This simple little stompbox is capable of producing some of the cleanest octave-shifted tones you'll ever hear, and it's a great tool for making your guitar sound more like a bass.
3. Electro Harmonix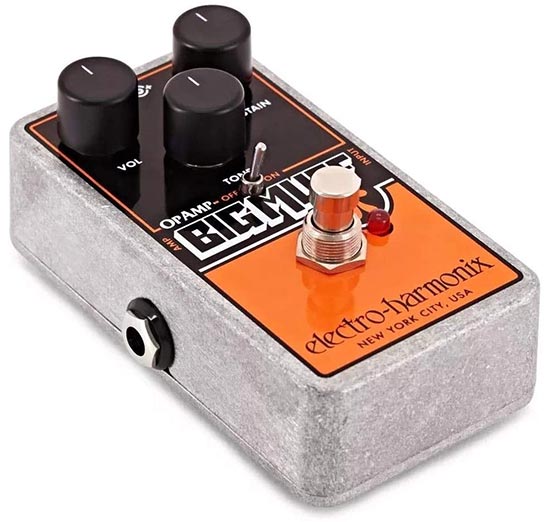 Founded in New York in 1968, this legendary guitar pedal brand has come a long way from its humble roots. What began as a small-scale experiment has now grown into one of the biggest effects pedal manufacturers in the world. Within their boundless collection of guitar pedals, EXH has produced some of the best-known pedals and been used by iconic guitarists across all genres.
Renowned for their eccentric aesthetic designs and minimalistic controls, Electro-Harmonix pedals continue to inspire new generations of guitarists. As an indicator of the brilliance of their earlier models, many of their modern versions use the fundamental designs and components that made those vintage offerings so popular.
Their range spans across every guitar pedal type, with no stone, left unturned. Whether you're looking for a simplistic reverb pedal, a reliable compressor, a complex multi-effects pedal, or a feedback generating machine, you'll find the exact thing you're looking for in EHX's comprehensive catalog.
Standout Pedals:
When talking about the best EXH guitar pedals, it's impossible to overlook the genre-defining Big Muff. This fuzz pedal set the standard for all other manufacturers and continues to be amongst the finest pedals ever to be made.
Some other standout offerings include the Cathedral reverb pedal, which offers a wide range of adjustable features. Also, the POG octave shifter is worth a mention and is a great option for guitarists who want to add a synth-like quality to their tone.
2. Strymon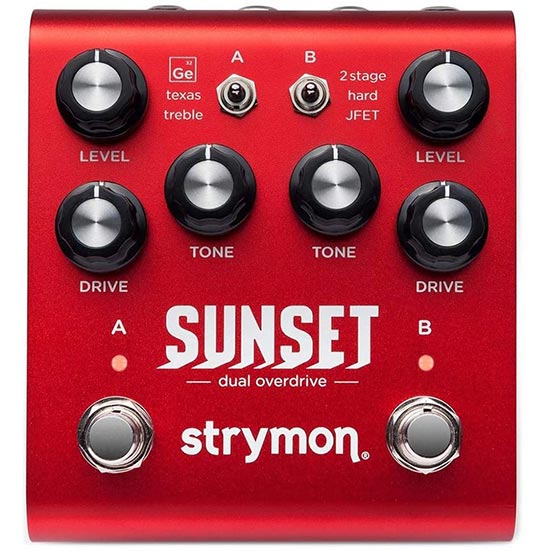 Despite being a relatively new pedal brand, Strymon has quickly established itself as one of the leading producers of high-end effects. The company was originally named Damage Control and began the Strymon line back in 2009. Their range of pedals is exquisite, and this is reflected in their price. However, this is justified purely due to the quality of the effects that they offer.
One of the main qualities associated with Strymon guitar pedals is their exceptional presets. Their engineers invest a lot of time and thought into ensuring that the presets are of the highest standard possible so that guitarists always have their desired tone ready to be unleashed. The operation of Strymon pedals is also typically smooth, with intuitive designs and controls that easy to adjust.
In addition to their smaller, single-effect guitar pedals, Strymon also produces several large, high-current pedals. These are often filled with meticulously designed presets, and offer plenty of room for adjustments based on your tonal preferences.
It's also worth mentioning that along with their vast range of guitar pedals, Strymon also produces some of the finest power supplies on the market. This is especially relevant if you choose to use several of Strymon's high-power pedals. Combining them with a Strymon power supply ensures that they receive the correct voltage and operate at their fullest potential.
Standout Pedals:
It's difficult to choose the best Strymon guitar pedals, due to the consistent quality of their entire range. With that being said, there are some pedals that stand out. The El Capistan is a particularly wonderful pedal. It produces vintage-style tape echo and houses a trio of virtual tape machine settings.
The Big Sky Multidimensional Reverberator pedal also deserves some credit. This detailed reverb offering is amongst the very best in its field. It provides you with access to authentic sounding reverbs, with a plethora of adjustable settings at your disposal.
1. BOSS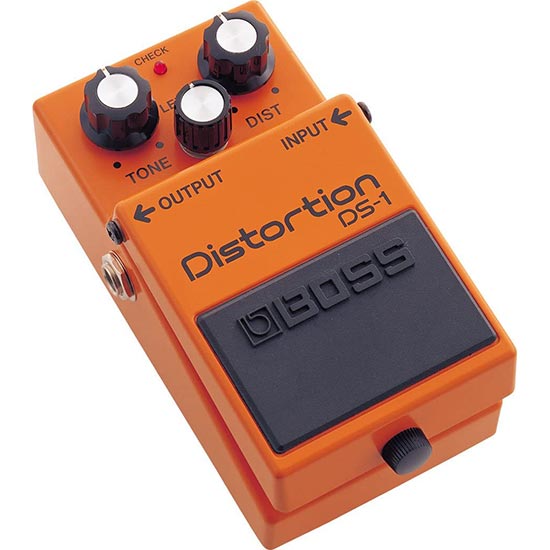 Boss is undeniably one of the most prolific producers of guitar pedals. Their extensive range of high-quality stomp boxes covers all types of effects, and their aesthetics are instantly recognizable. Perhaps their biggest strength is their ability to keep their pedals simple, while not compromising on tone and flexibility.
Since the mid-1970s when Boss designed their first guitar pedal, the B-100, they have amassed an incredibly vast collection of effects. Stylized as Compact Pedals, the range includes everything from compressors, delay pedals, multi-effects pedals, and many more. All Boss pedals use a buffered bypass, with silent footswitches installed to ensure smooth and clean operation.
Another staple feature of Boss guitar pedals is the inclusion of dual outputs and inputs. Their stompboxes are notoriously robust and resistant to the inevitable wear and tear that occurs with heavy usage. This, coupled with their relative affordability, makes Boss equally popular amongst novice guitarists and professional musicians.
In addition to their standard Compact Pedal designs, Boss is also renowned for its selection of multi-effects guitar pedals. Through decades of experience and keen attention to detail, they have managed to produce pedals that house multiple effects that maintain the quality of single-effect pedals. These multi-effects pedals can save guitarists money, and also reduce the space taken up on their pedalboard.
Standout Pedals:
Some of the flagship Boss guitar pedals include the ME-50 multi-effects unit, the DD-8 digital delay, the CS-3 compressor pedal, and the CE-2W chorus pedal. If you can think of a type of guitar effect, the chances are Boss produces a pedal for achieving that exact tone.
Other Guitar Pedal Brands
Here's a smaller list of some additional guitar pedal brands that are simply too good to leave unmentioned. Due to the sheer number of manufacturers out there, it's impossible to fit all of the best brands into one list, so here are some others that deserve mentioning.
Warm Audio
Warm Audio produces excellent outboard equipment and studio gear, but they also offer some great guitar pedals. Perhaps their finest offering is the Foxy Tone Box, which delivers authentic 70s style fuzz. Their Jet Phaser is also a very capable modulation pedal.
Ibanez
Although Ibanez is most famous for their range of top quality guitars and basses, they also produce several guitar pedals. These include the TS9 Tube Screamer, which is popular amongst metal and heavy rock guitarists, and the Mini edition of the same pedal.
Orange
Orange amplifiers defined a generation of rock guitar tones. Synonymous with the British Invasion tone of the 1960s, Orange continues to enjoy worldwide fame today. Unsurprisingly, they have turned their hand to guitar pedals. One of the best pedals they produce is the Terror Stamp 20 watt amplifier simulator, which is great for adding substance to your clean tone.
Line 6
Line 6, like Orange, are most famous for guitar and bass amps. They do, however, also produce some brilliant guitar effects devices. Most of the Line 6 guitar pedals house multiple effects, and the POD GO is a fine example of this. The pedal contains just about every form of effect you can think of and is a great central hub for any pedalboard.
Ashdown
Two particularly good guitar pedals made by Ashdown are the Triple Shot and the Newt. Both of these pedals are guitar amp modeling devices, which provide you with access to the very best of the tones produced by Ashdown's exquisite range of guitar and bass amps.
Pro Co
If you've done some prior research on guitar effects pedals, you've probably come across the Rat by Pro Co. The second edition of this gritty distortion pedal is one of the best in its field. It is also relatively affordable in comparison to many of the other best-selling distortion pedals.
Final Thoughts:
Now that you've read this comprehensive guide, you should have a good understanding of which manufacturers are the best. The great thing about assembling your pedalboard is that you can combine pedals from different manufacturers to create interesting combinations and unique tones.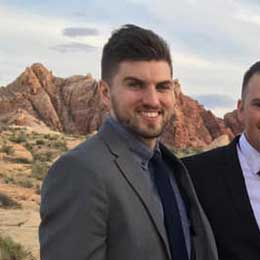 My name is Chris and I've had a passion for music and guitars for as long as I can remember. I started this website with some of my friends who are musicians, music teachers, gear heads, and music enthusiasts so we could provide high-quality guitar and music-related content.
I've been playing guitar since I was 13 years old and am an avid collector. Amps, pedals, guitars, bass, drums, microphones, studio, and recording gear, I love it all.
I was born and raised in Western Pennsylvania. My background is in Electrical Engineering, earning a Bachelor's degree from Youngstown State University. With my engineering experience, I've developed as a designer of guitar amplifiers and effects. A true passion of mine, I've designed, built, and repaired a wide range of guitar amps and electronics. Here at the Guitar Lobby, our aim is to share our passion for Music and gear with the rest of the music community.