Large stompboxes with an array of controls and features are undeniably useful, but sometimes mini guitar pedals make the best additions to a pedalboard. Many of the most popular full-sized effects pedals have been redesigned into more compact devices by manufacturers so that guitarists can access more options when shaping their tone.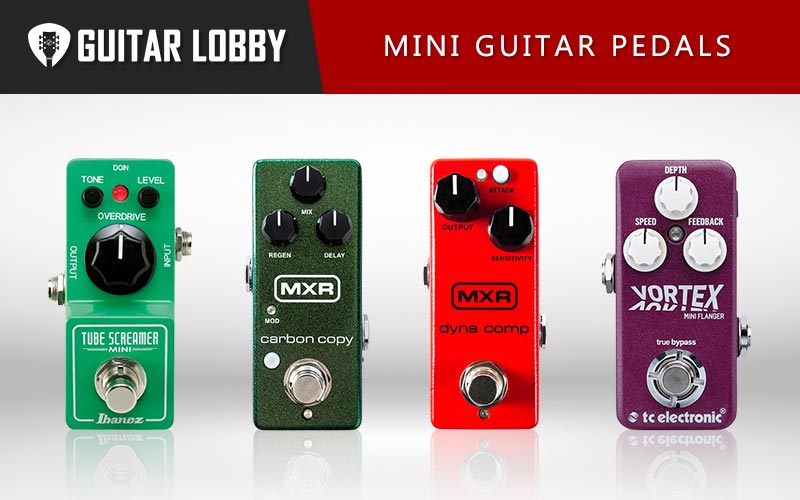 In this guide, you'll find a selection of the best mini guitar from various effects categories. These devices will help you to save space in your signal chain, whilst providing you with many of the qualities offered by full-sized pedals.
Here Are the Best Mini Guitar Pedals
1. MXR Carbon Copy Mini (Best Mini Delay)
| | |
| --- | --- |
| Estimated Price | $150 |
| Type | Analog |
| Effects | Delay |
| Connectivity | 1 x 6.35mm Jack Input, 1 x Outputs |
| Power | 9 Volt DC |
My Review: The full-sized Carbon Copy by MXR is one of my all-time favorite delay pedals, so I was very eager to check out this mini version. Thankfully, I found the most important qualities from the original device were retained in this compact pedal.
Due to the size of the Carbon Copy Mini, I expected there to be a significant reduction in the number of adjustable controls and parameters included on the pedal. To my surprise, MXR has managed to improve the functionality of the pedal with the addition of the convenient 'Bright' mode button.
The analog delay produced by this pedal is smooth and versatile, making it a good fit for almost any style of guitar playing. By tweaking the three knobs positioned at the top of the pedal, I was able to create everything from slapback delay with a short decay time to rhythmic pulsations which last long after the original note or chord is struck.
The aspect of the Carbon Copy Mini which makes it stand out amongst other small effects pedals is its irresistible warmth. Some mini pedals tend to sound a little thin, but this MXR creation sounds as full-bodied as any full-sized analog delay device on the market.
Who is this best suited for: If you're looking for the finest analog delay tones to breathe life into your guitar's clean sound, the Carbon Copy Mini is the perfect addition. It's a great choice for guitarists who combine rhythm and lead playing and is compatible with basically every style and genre.
Bottom Line: The MXR Carbon Copy Mini may be significantly smaller than its full-sized equivalent, but it doesn't compromise on versatility. With an added 'Bright' switch which acts as a treble-booster and the three classic delay parameters for shaping your timing and tone, this is a truly brilliant miniature effects pedal.
2. Xotic EP Booster Mini (Best Mini Boost)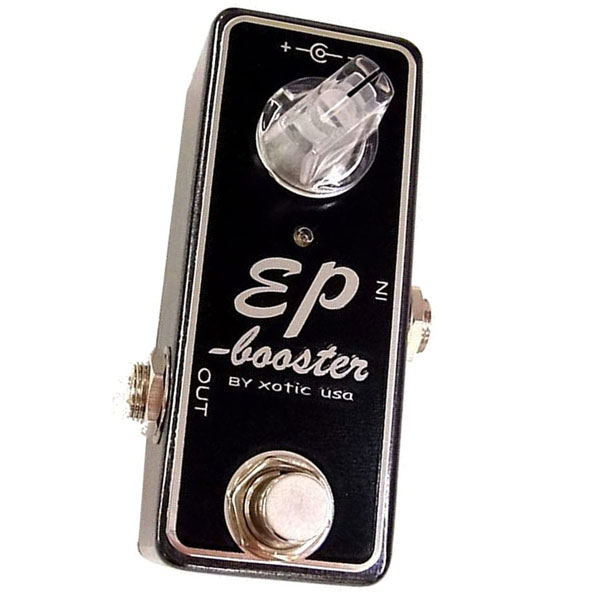 | | |
| --- | --- |
| Estimated Price | $125 |
| Type | Analog |
| Effects | Boost, Preamp |
| Connectivity | 1 x 6.35mm Jack Input, 1 x Outputs |
| Power | 9 Volt DC |
My Review: Regardless of its size, the EP Booster by Xotic is one of the best dynamic-based pedals available to guitarists. Initially, I took note of the fact that this pedal's preamp circuitry is inspired by that the iconic EP-3 tape echo device.
I must admit that before testing the EP Booster, I was wondering why Xotic chose to use a tape echo machine's preamp circuit on a pedal designed to increase volume. However, it didn't take long for me to realize that the warm, analog tone of the aforementioned device was a perfect match for a booster pedal.
The versatility of this mini booster pedal is incredibly impressive. I found it to be capable of boosting the volume of solos and lead parts so that they cut through the mix, or the pedal can be left on at all times to provide an overall thicker tone.
Another standout quality I discovered when testing the Xotic EP Booster Mini was its compatibility with other guitar effects. This device can be used with any family of effects! It enhances the prominence of distortion or overdrive pedals, adds more power and clarity to modulation effects, and allows reverbs or delays to flourish thanks to the 20dB volume increase it provides.
Who is this best suited for: The EP Booster by Xotic is a highly useful tool for any guitarist looking to ensure that their instrument is always at the required volume. This mini pedal is one of the most versatile stompboxes I've come across, and I believe that all guitarists would benefit from acquiring it.
Bottom Line: There's a reason that guitar icons like Jimi Hendrix and Eddie Van Halen would use the Echoplex delay device, without the echo. This allowed them to access the warm boost of the preamp circuit, which is essentially what the EP Booster mini offers guitarists. This pedal may be compact, but the impact it has on your tone and dynamics are substantial, to say the least!
3. Dunlop Cry Baby Mini Wah (Best Mini Wah)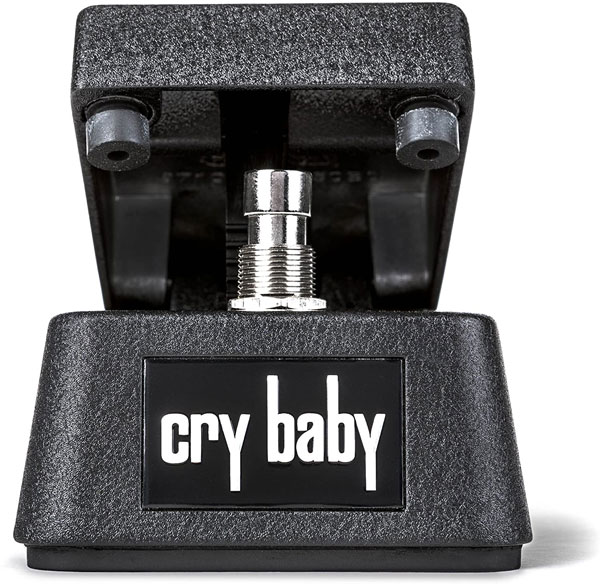 | | |
| --- | --- |
| Estimated Price | $100 |
| Type | Analog |
| Effects | Wah |
| Connectivity | 1 x 6.35mm Jack Input, 1 x Outputs |
| Power | 9 Volt DC |
My Review: When it comes to wah pedals, Dunlop's Cry Baby range is considered to be the gold standard, and for good reason. I've relied on their sturdy designs and captivating wah-wah tones on many occasions, so when I learned about the half-sized CBM95 Mini Wah, I was curious to see if it delivered the same qualities as its full-sized equivalents.
I was pleased to discover that Dunlop had used many of the mechanisms and features from their standard-sized wah pedals. Perhaps most importantly, the highly efficient red Fasel coil is included, providing the perfect balance between smooth motion and slight resistance.
Despite the smaller surface area of the rocker plate foot pedal, I was surprised to find that the control I had over the filter hadn't been noticeably compromised. I was still able to perform a full sweep, and produce the legendary cry baby wail which fits so well with fuzzy riffs and solos.
The standout feature of the Mini Cry Baby has to be its internal preset switches. I loved the classic 60's wah tones of the 'Vintage' setting and found the 'Low' setting to be an effective way to remove some of the harsher tones from the pedal's output.
Who is this best suited for: Wah pedals can be an awkward addition to a pedalboard, due to their size and the room required to use them effectively. The Cry Baby Mini is a great choice for guitarists who are lacking the space for a full-sized wah but still require the full capabilities of the full-sized version.
Bottom Line: The CBM95 Cry Baby Mini offers the classic wah effect in a compact chassis. Dunlop's distinctive design is complemented by true bypass switching, which maintains the integrity of your signal when the Cry Baby is not in use. Additionally, there are three switchable modes included with this pedal.
4. Ibanez Tube Screamer Mini (Best Mini Overdrive)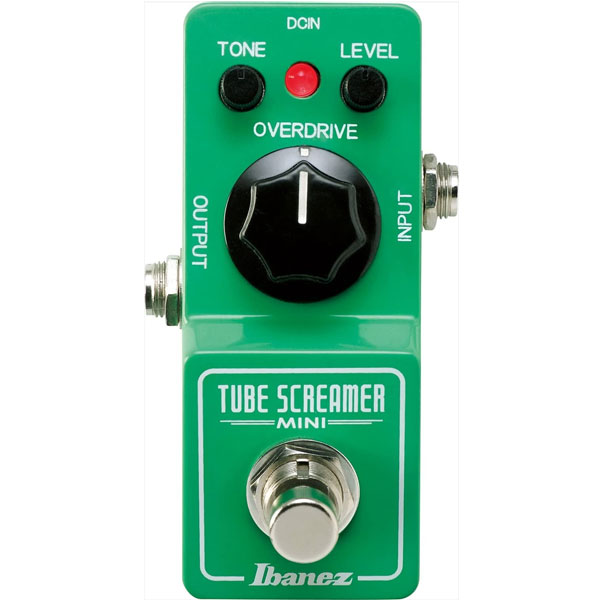 | | |
| --- | --- |
| Estimated Price | $80 |
| Type | Analog |
| Effects | Overdrive |
| Connectivity | 1 x 6.35mm Jack Input, 1 x Outputs |
| Power | 9 Volt DC |
My Review: I've used many overdrive pedals over the years, and I can confidently say that very few meet the standard set by the Tube Screamer Mini. This pedal may be tiny in terms of its dimensions, but it makes a huge difference to your guitar's tone.
I was particularly impressed by the build quality of this mini overdrive pedal. Compared to the original TS9, it sounds a little brighter, which is a welcome change for lead guitarists looking to make their melodies, riffs, and solos stand out in the mix.
One of the things which I was surprised to learn when analyzing this device, is that it uses the same internal circuitry and components as the full-sized version. This explains why there's no loss of power, warmth, or sound quality.
The Tube Screamer Mini performed incredibly well when I tested it through a tube amplifier which had the gain and volume set the values which almost pushed it into saturation. By adding the extra drive from this mini pedal, you can enjoy authentic-sounding breakups.
Who is this best suited for: I'd highly recommend the Tube Screamer Mini to guitarists who play a Fender Strat. For some reason, this pedal works incredibly well with the iconic solid-body guitar. It's also a great choice for those who need the extra drive to push their tube amp into saturation.
Bottom Line: With a minimalistic design consisting of a large rotary control and two smaller knobs, the Tube Screamer Mini may initially seem limited. However, after a few minutes of experimenting with this pedal, you'll gain access to a wide range of overdriven tones to heat your guitar's signal.
5. MXR Dyna Comp Mini (Best Mini Compressor)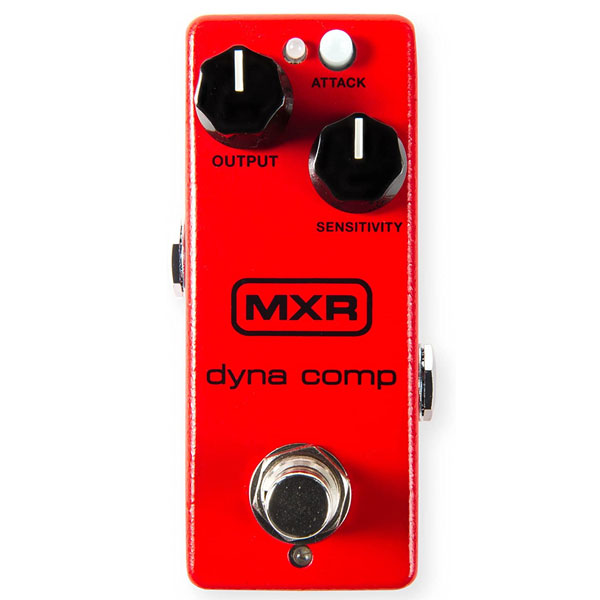 | | |
| --- | --- |
| Estimated Price | $100 |
| Type | Digital |
| Effects | Compressor |
| Connectivity | 1 x 6.35mm Jack Input, 1 x Outputs |
| Power | 9 Volt DC |
My Review: The Dyna Comp Mini is almost half the size of the original model, but offers the same level of transparency. The reduced size of this compressor pedal makes it easier to use, largely because MXR has removed some of the slightly unnecessary controls from the full-sized version.
Compressor pedals don't need to be complex, especially if you're using them with a guitar. The Dyna Comp Mini includes two large rotary knobs, one for tweaking the output volume of the pedal, and the other for adjusting the sensitivity of the compressor.
The thing that makes this mini compressor pedal so effective is the newly added 'Attack' switch, which allows you to switch between fast and slow attack times. I found this to be very useful when switching from chords to lead parts, as a faster attack suits the latter style of playing.
Who is this best suited for: I'd recommend the MXR Dyna Comp Mini to guitarists looking to control the dynamic range of their signal chain. This pedal simplifies compression brilliantly, so you don't need a wealth of experience using the effect to get the results you desire.
Bottom Line: MXR has a reputation for using high-quality components for their stompboxes, and this mini guitar compressor pedal is no exception. The rarely integrated circuit used in this pedal promotes noiseless operation and improves the dynamic range that it is capable of producing.
6. TC Electronic Vortex Mini (Best Mini Flanger)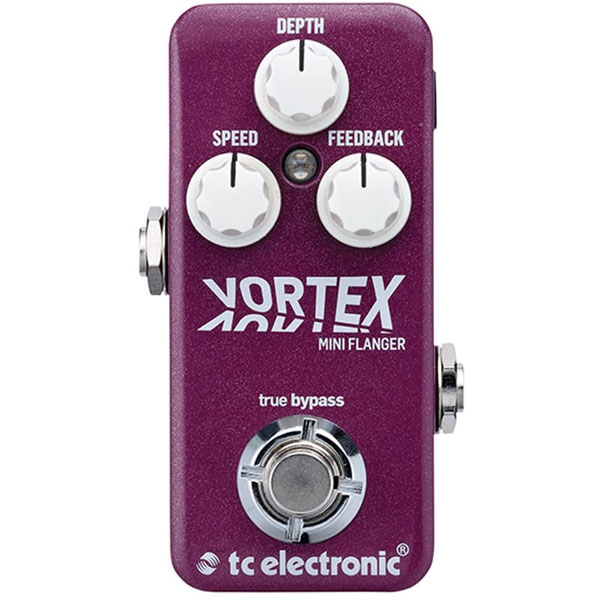 | | |
| --- | --- |
| Estimated Price | $130 |
| Type | Analog |
| Effects | Flanger |
| Connectivity | 1 x 6.35mm Jack Input, 1 x Outputs |
| Power | 9 Volt DC |
My Review: I'm a huge admirer of TC Electronic's pedals. This prolific manufacturer produces devices that push the boundaries of stereotypical guitar effects. The Vortex Mini is a unique flanger pedal, which offers a surprisingly broad range of modulated tones.
The first thing I noticed when testing this pedal was its impeccable clarity. I've experienced noise issues and muddy tones with some flanger pedals in the past, but this mini stompbox alleviated all of my worries within seconds of turning it on.
Although the Vortex Mini is smaller than most flanger pedals, TC Electronic has included the three staple controls required to shape the swirling effect. By adjusting the 'Feedback' parameter, you can create the classic jet-plane flanger tone which fits perfectly with psych-rock styles.
Who is this best suited for: Flanger pedals are a great tool for guitarists who like to keep their audience guessing, and inject a sense of motion into their playing. The Vortex Mini is ideal for musicians who want to create immersive chord patterns or melodies which don't sound plain and monotonous!
Bottom Line: With true bypass switching, a durable chassis and a considerable number of tweakable features, the Vortex Mini by TC Electronic is one of the best compact modulation devices on the market. It's also compatible with the TonePrint technology, which allows you to upload a range of presets based on popular guitarist tones.
7. JHS Mini Foot Fuzz V2 (Best Mini Fuzz)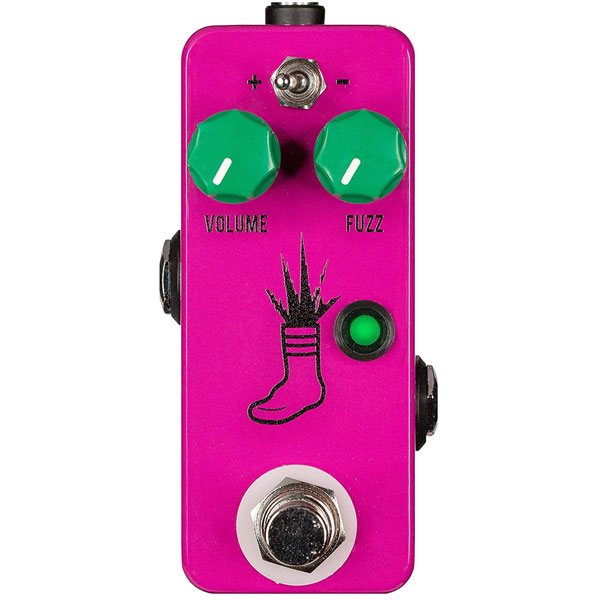 | | |
| --- | --- |
| Estimated Price | $140 |
| Type | Analog |
| Effects | Fuzz |
| Connectivity | 1 x 6.35mm Jack Input, 1 x Outputs |
| Power | 9 Volt DC |
My Review: I'm always on the lookout for capable fuzz pedals, so I was eager to test the Mini Foot Fuzz V2 by JHS. Featuring a simple two-knob design with a single switch, I found the tonal versatility of this device a pleasant surprise.
The main improvement JHS made when designing the second version of this mini guitar pedal seems to be the reduction of noise issues. Fuzz is designed to obliterate a guitar's signal and create a block-like waveform, and this pedal certainly does that, but what impressed me the most was its ability to do so without amplifying any electronic hum or hissing sounds.
Who is this best suited for: The Mini Foot Fuzz V2 is a wonderful pedal for guitarists hoping to create '60s style lead tones. If you own a wah pedal or are likely to acquire one in the future, this pedal is the perfect companion.
Bottom Line: Onboard the Mini Foot Fuzz V2, you'll find two fuzz preset modes. One of these modes sounds thicker and heavier, while the other has a thinner, more subdued tone. You can then use the two rotary controls to adjust the sweet spot of the presets, and add your flavor to the result.
8. Ibanez Mini Chorus (Best Mini Chorus)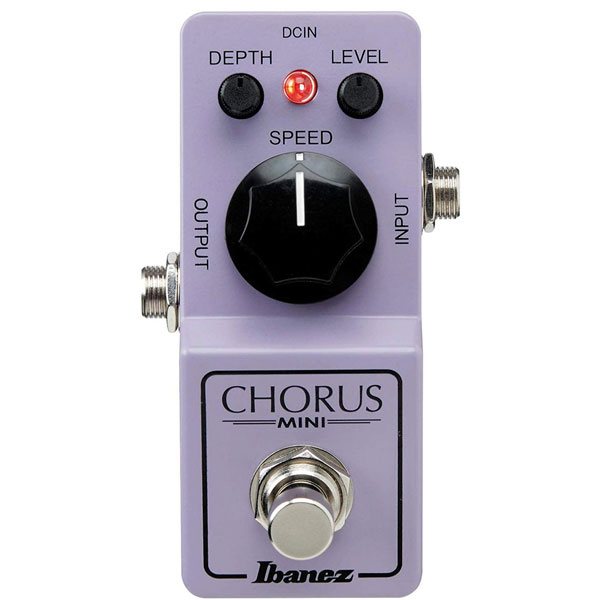 | | |
| --- | --- |
| Estimated Price | $120 |
| Type | Analog |
| Effects | Chorus |
| Connectivity | 1 x 6.35mm Jack Input, 1 x Outputs |
| Power | 9 Volt DC |
My Review: Ibanez receives many accolades for their range of electric guitars and basses, but I don't think they get the credit they deserve for their reliable stompboxes. Their mini-series includes this chorus pedal, which despite its small dimensions produces lush, warbly modulation.
It's quite remarkable that Ibanez has managed to cram three controls onto such a small pedal, but each of the controls is essential for shaping the chorus effect. This pedal also boasts true bypass switching so it won't negatively impact your signal strength when not in use.
Who is this best suited for: Perhaps you're looking for a small pedal which can make your guitar sound a little strange and off-center. The Mini Chorus by Ibanez layers your tone which modulation and offers many different variations of the popular warble-inducing effect.
Bottom Line: This Ibanez pedal keeps things very simple, with three controls and a solid, compact design. It produces a thick, lush-sounding chorus, which sounds great on both single notes and chords.
9. MXR Phase 95 (Best Mini Phaser)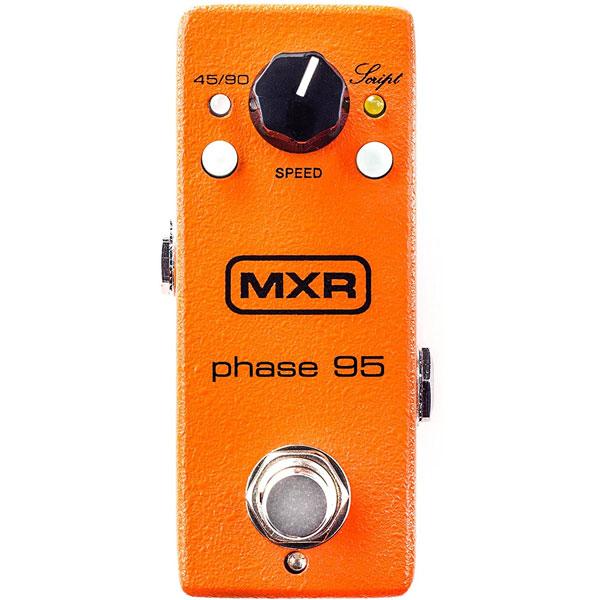 | | |
| --- | --- |
| Estimated Price | $100 |
| Type | Analog |
| Effects | Phaser |
| Connectivity | 1 x 6.35mm Jack Input, 1 x Outputs |
| Power | 9 Volt DC |
My Review: MXR's Phase 95 is a compact modulation device that includes two high-end circuits. This pedal is ideally sized to slot onto the busiest of pedalboards, and it produces a range of swirling phaser effects.
Two of the most popular phaser pedals in recent years are MXR's Phase 90 and Phase 45. Somehow, they've managed to squeeze both of those devices into the mini pedal, without overcomplicating things in the process. This allows you to create everything from long, pulsating modulating to choppy swirls of phase.
Who is this best suited for Phase 95 is the perfect addition to any guitarist's pedalboard if they're looking for a compact phaser pedal. It sounds incredible and leaves plenty of room for customization depending on your requirements.
Bottom Line: Combining two brilliant phaser pedals into one device is no easy task, but if anyone is capable of this, it would be prolific manufacturers MXR. What's more impressive is that they've managed to reduce the size of the pedal to make it easy to add to your signal chain without taking up excess space.
10. Wampler Mini Faux Spring (Best Mini Reverb)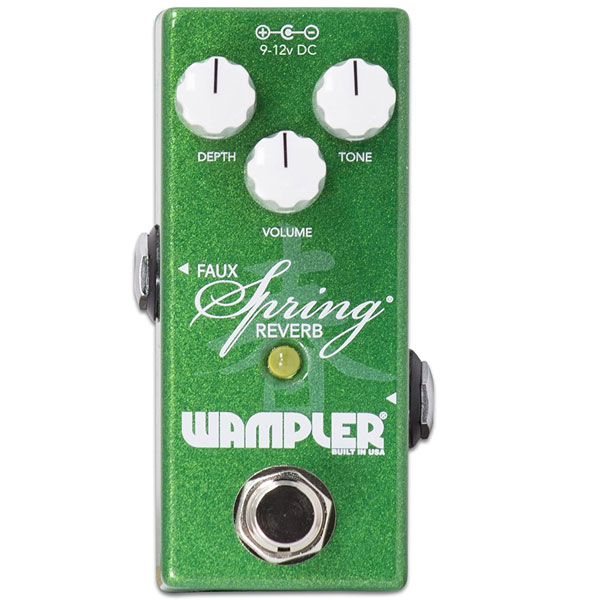 | | |
| --- | --- |
| Estimated Price | $150 |
| Type | Digital |
| Effects | Reverb |
| Connectivity | 1 x 6.35mm Jack Input, 1 x Outputs |
| Power | 9 Volt DC |
My Review: Wampler's Mini Faux Spring pedal brings the irresistible sound of spring reverb to your pedalboard. It may be compact, but this pedal can produce long reverb times which replicate the effect of long springs used in tube amplifiers.
One of the things that impressed me the most about this mini reverb pedal was its ability to retain a natural sound even when the depth and tone controls are turned up high.
Who is this best suited for: The Mini Faux Spring Reverb pedal by Wampler is highly versatile, with settings suitable for funk, blues, country, psych-rock, and jazz style guitar playing.
Bottom Line: Wampler's range of boutique effects pedals are commonly quite large, but the Mini Faux Spring Reverb deviates from the norm. It offers authentically vintage-sounding reverb, similar to that found on an old-school Fender tube amplifier.
11. Nobels ODR-Mini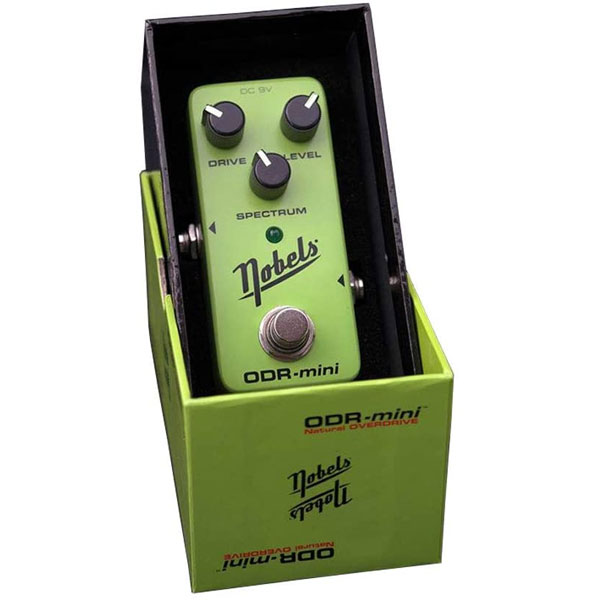 | | |
| --- | --- |
| Estimated Price | $80 |
| Type | Digital |
| Effects | Overdrive |
| Connectivity | 1 x 6.35mm Jack Input, 1 x Outputs |
| Power | 9 Volt DC |
My Review: The ODR-Mini is the first Nobels pedal I've come across, and I was instantly drawn in by its distinctive aesthetics. The pedal's design oozes class, but the real question was whether its overdrive effect would match its appearance.
I found the versatility of this mini overdrive pedal very impressive. By tweaking the three controls, you can create everything from hot country guitar tones to lo-fi saturation. It may be a small pedal in size, but the options it provides exceeded my expectations.
Who is this best suited for: If overdrive is an important part of your guitar sound, the ODR-Mini is worth considering. This pedal is a great tool for guitarists who want to push their amplifier into overdrive or add some grit to their tone.
Bottom Line: With useful features such as glow-in-the-dark controls, true bypass switching, and a lightweight design, the ODR-Mini by Nobels is one of the best overdrive pedals in its price range. This stompbox can produce a wide range of saturated tones depending on the settings of its three main controls.
12. Wampler Plexi Drive Mini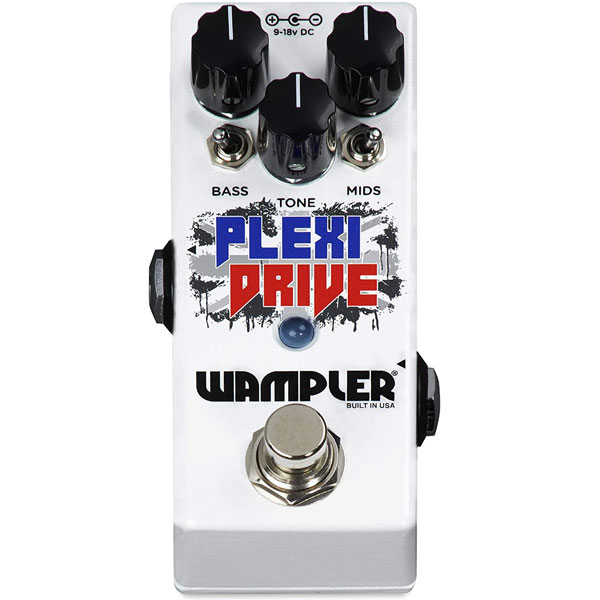 | | |
| --- | --- |
| Estimated Price | $150 |
| Type | Analog |
| Effects | Overdrive |
| Connectivity | 1 x 6.35mm Jack Input, 1 x Outputs |
| Power | 9 Volt DC |
My Review: The Plexi Drive Mini features an eye-catching design, but what impressed me the most about this pedal was its ability to transform the tone of my guitar. I discovered that this mini device can be used to boost lead parts or solos momentarily, or it can be left on to make your tone sound more gritty.
A key aspect of the Plexi Drive Mini is its two preset switches, situated on either side of the central 'Tone' control. These switches allow you to instantly cut some of the bass or mid frequencies, which in turn highlights the remaining frequency bands much like an EQ pedal would.
Who is this best suited for: If you're looking for a compact overdrive pedal which does more than simply adding heat to your signal, the Wampler Plexi Drive Mini is a solid option. This pedal is very easy to use and is therefore ideal for guitarists who like to plug in and play.
Bottom Line: Mini guitar pedals often lack the extensive controls featured on their full-sized counterparts, but Wampler has ensured that the Plexi Drive Mini can do everything you need from an overdrive pedal. It features true bypass switching for maximum signal integrity and houses an array of warm overdriven tones controlled using the selection of onboard rotary knobs and preset switches.
13. Wampler Mini Ego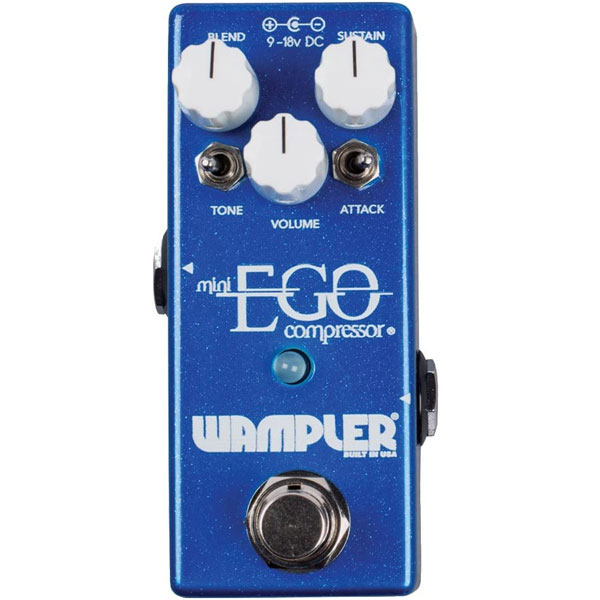 | | |
| --- | --- |
| Estimated Price | $130 |
| Type | Analog |
| Effects | Compressor |
| Connectivity | 1 x 6.35mm Jack Input, 1 x Outputs |
| Power | 9 Volt DC |
My Review: The Mini Ego uses the same circuitry as its larger predecessor, and therefore doesn't compromise on performance. The only difference between this mini guitar pedal and its full-sized sibling is that it features a limited number of controls, but I found this to be a refreshing update.
The 'Blend', 'Sustain' and 'Volume' controls are adequate tools for tweaking the nature of the compression produced by the Mini Ego. You can use this pedal to reduce the dynamic range of your guitar and prevent any notes from being too loud. Or, it can act as a tool for raising your dynamics above the rest of the mix.
Who is this best suited for: The Mini Ego is a great choice for guitarists looking to gain more control over their dynamics. This pedal isn't complex like some other compressors, so it's suitable for beginners and those who don't have much experience with compression.
Bottom Line: The Wampler Mini Ego makes it easy to raise the quieter parts of your guitar playing, and reduce the volume of the louder parts. It features a useful attack switch, which acts as a preset selector for adjusting the time it takes for the compression to kick in after a note or chord is struck.
14. MXR Booster Mini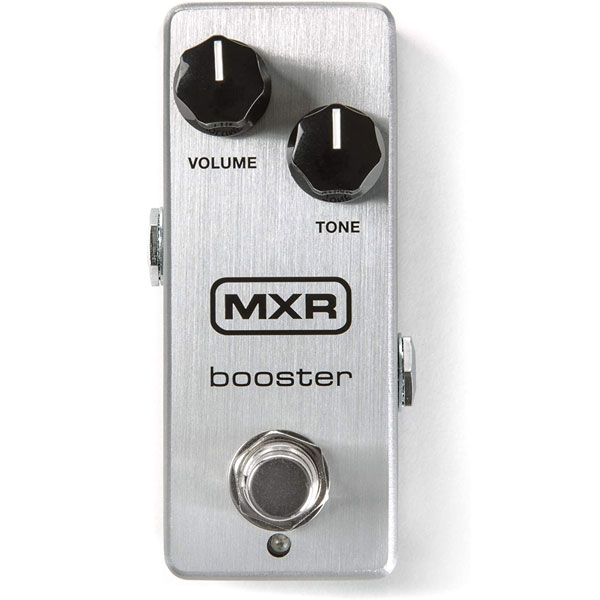 | | |
| --- | --- |
| Estimated Price | $100 |
| Type | Analog |
| Effects | Boost, Clean Boost |
| Connectivity | 1 x 6.35mm Jack Input, 1 x Outputs |
| Power | 9 Volt DC |
My Review: Right off the bat, I was intrigued by the MXR Booster Mini, mainly because it includes the same design as the iconic Micro Preamp by the same manufacturer. I found that after analyzing the boost effect offered by this pedal, it is capable of adding a new dimension to both a clean and dirty guitar tone.
With an all-analog design, the MXR Booster Mini adds a touch of warmth to your tone which makes it sound authentic. It's also one of the easiest pedals to use, and after plugging your guitar into it you'll instantly receive the benefits of the boost effect.
Who is this best suited for: Whether you're a lead guitarist looking for a quick and simple way to make your solos more prominent in the mix, or a rhythm guitarist who needs to make their chord sequences more full-bodied, this MXR booster pedal will do the trick.
Bottom Line: MXR has a long history of producing wonderful dynamic-based pedals, and this mini booster is further proof of their expertise in the field. Based on the famous MXR Micro Preamp, it sounds great with clean or dirty amp settings.
15. TC Electronic Flashback 2 Mini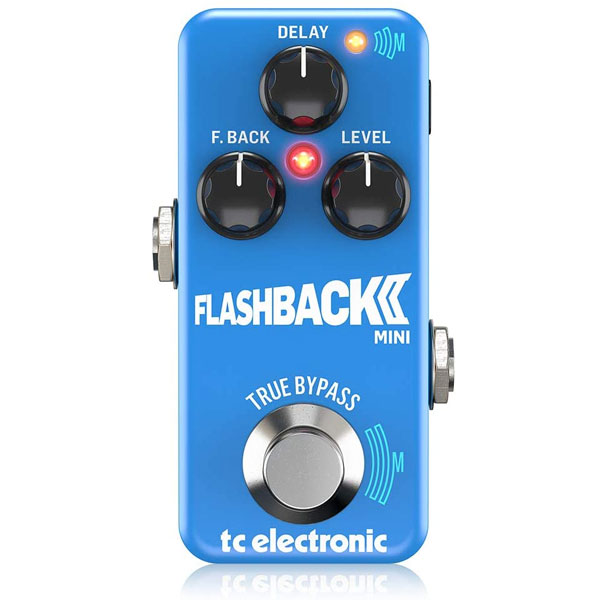 | | |
| --- | --- |
| Estimated Price | $110 |
| Type | Digital |
| Effects | Delay |
| Connectivity | 1 x 6.35mm Jack Input, 1 x Outputs |
| Power | 9 Volt DC |
My Review: The Flashback 2 Mini by TC Electronic features an innovative footswitch design which I've never seen before on an effects pedal. It allows the guitarist to transform the switch into an expression controller, which is sensitive to the pressure that is applied to it.
With an array of analog tape delay sounds, the Flashback 2 Mini is a versatile device. You can control the timing of the delay using the aforementioned footswitch expression controller, or simply predetermine the desired settings.
Who is this best suited for: I'd recommend this mini delay pedal by TC Electronic to guitarists who are fond of the vintage, analog tape delay tones from the '60s and '70s.
Bottom Line: TC Electronic has created an impressive compact delay pedal with the second edition of the Flashback Mini. It can be used to create short-lasting delays which resemble the slapback effect, or the delay time can be increased for a more dramatic result.
16. Pigtronix Philosopher's Tone Micro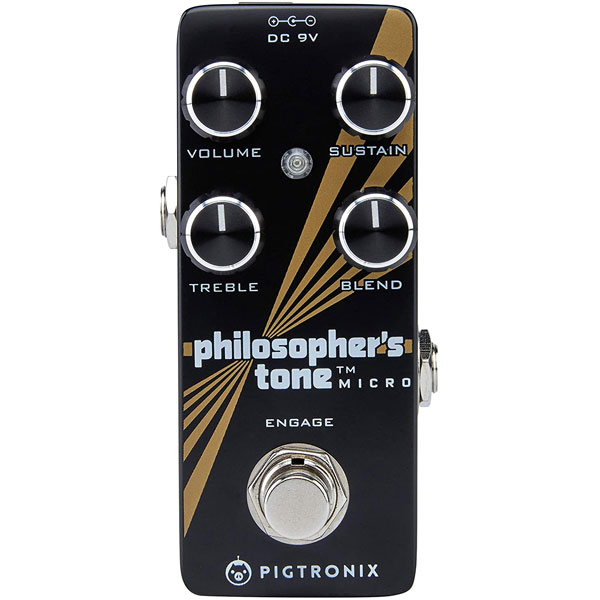 | | |
| --- | --- |
| Estimated Price | $120 |
| Type | Digital |
| Effects | Compressor |
| Connectivity | 1 x 6.35mm Jack Input, 1 x Outputs |
| Power | 9 Volt DC |
My Review: I've had the pleasure of using the Philosopher's Tone compressor in the past, and I found it to be a very capable device for controlling my guitar's dynamics. This Micro edition is much smaller than the original, but it still offers all of the main qualities.
Unlike some compressor pedals, the Philosopher's Tone Micro doesn't overly squash your guitar signal, but rather gently limits the dynamic peaks and troughs to create a smoother output.
Who is this best suited for: This mini compressor pedal is suitable for all guitarists, regardless of playing style. It features numerous adjustable controls so that it can be tailored to suit everyone's requirements.
Bottom Line: The Philosopher's Tone Micro by Pigtronix lacks the 'Grit' control from the larger original, but that's the only real difference apart from the reduced size. As a compressor, it performs very reliably and includes some extra preset switches for adjusting tonal qualities.
17. Dunlop FFM3 Jimi Hendrix Fuzz Face Mini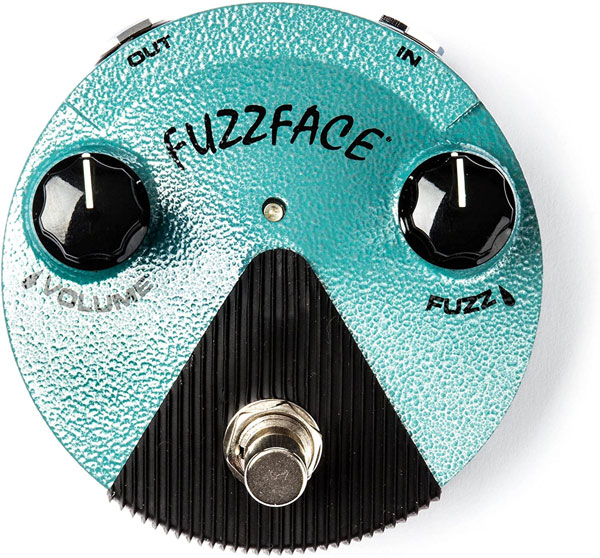 | | |
| --- | --- |
| Estimated Price | $120 |
| Type | Analog |
| Effects | Distortion, Fuzz |
| Connectivity | 1 x 6.35mm Jack Input, 1 x Outputs |
| Power | 9 Volt DC |
My Review: The Fuzz Face is one of the most iconic guitar pedals ever to be created, thanks to one man in particular – Jimi Hendrix. The legendary guitarist heavily relied on his Fuzz Face to create red-hot tones, wailing solos, and his immersive blends of rhythm and lead playing.
This Mini edition allows you to experience the classic Fuzz Face sound without taking up a large amount of space on your pedalboard.
Who is this best suited: If you're a fan of Hendrix, you'll love the fuzzy tones produced by this classic remake of the Dunlop Fuzz Face.
Bottom Line: With its instantly recognizable circular design, the Fuzz Face is considered legendary in the world of guitar effects. This mini version is a fitting tribute to the original and provides the same quality of fuzz that guitarists expect from Dunlop pedals.
The Ultimate Guide to Mini Guitar Pedals
It may seem logical that smaller-sized guitar pedals are likely to be inferior to larger devices, but this often isn't the case. In many cases, mini guitar pedals perform just as impressively as their full-sized guitar pedal counterparts.
The Pros & Cons of Mini Guitar Pedals
Mini guitar pedals offer many benefits, but there are indeed some drawbacks to these compact devices. In the following sections of this guide, I'll explore the pros and cons of mini guitar pedals so that you know what to expect if you choose to add them to your signal chain.
Saving Space
Perhaps the most obvious advantage to using mini guitar pedals is that they take up very little space on your pedalboard. This is particularly useful if you like to keep your effects pedals on a smaller-sized board, as you will be able to increase the number of dynamic and tone-shaping devices in your signal chain.
Larger pedals offer undeniable benefits, but compact alternatives are a great way to make sure you're maximizing the space you have available. The more mini pedals you incorporate into your signal chain, the more you can keep adding to your collection as your preferences change, which is inevitable for most musicians!
If you already have several bulky stompboxes taking up the majority of the space available on your pedalboard, opting for mini guitar pedals is a great way to increase the possibilities you have at your disposal without needing to upgrade to a larger board or sacrifice any of your other effects.
Keeping It Simple
It's very easy to be envious of successful guitarists when we catch a glimpse of their gigantic pedalboards which house a seemingly infinite number of effects. It's important to remember, however, that many iconic guitarists choose to keep their pedal selections simple to inspire more creativity.
Having a plethora of adjustable controls, parameters, preset switches, and other add-ons is great if you use them. In my experience, I tend to find a few settings on each pedal that fit my style and stick with them for a long period.
Using mini guitar pedals is bound to limit the number of controls featured on the device compared to full-sized equivalents. Nevertheless, manufacturers still find creative methods to ensure that their small-size stompboxes allow you to tailor the effects to suit your preferences.
Simplicity is particularly valuable for guitarists who have limited experience with effects pedals. By using smaller devices, you can build up your knowledge of the various controls and functions of each effect without becoming overwhelmed by the possibilities of full-sized guitar pedals.
Lightweight & Mobile
Most touring guitarists will agree that loading their gear in and out of gig venues is an inconvenience. After experiencing the high of playing a great show, it's hard to motivate ourselves to then pack all of our gear up and load it into our vehicle.
This task is made more arduous if our equipment is ridiculously heavy. A pedalboard that is filled with bulky guitar pedals is likely to weigh a significant amount, and when you consider the large tube amplifier and your guitar, the burden only increases!
The strain can be eased by simply using mini guitar pedals wherever possible. These devices are incredibly lightweight compared to bulkier pedals, and if you intend to include many effects in your signal chain, the more small-sized stompboxes you choose, the less strenuous setting up and packing away your gear will be.
Mini guitar pedals are an ideal choice for musicians who like to play impromptu performances when the opportunity presents itself. Having a lighter pedalboard means that you can easily transport your effects to the local open mic night, or a jam at a friend's home!
Less Controls & Parameters
As you've probably noticed by now, here at Guitar Lobby we're huge fans of mini guitar pedals. Despite our obsession with these compact stompboxes, it's important that we also discuss some of the potential downsides to using them.
Due to the reduction in the size of mini guitar pedals, manufacturers inevitably have to compromise on the number of controls they can fit onto the device. The buttons, switches, and knobs must be large enough to be easily adjustable, so only those that are the most necessary make the cut.
This could be a good thing if you often find yourself wasting time fiddling with controls on your pedals, but guitarists who enjoy sculpting their tones, they may find mini pedals a little limiting in that respect.
Furthermore, having fewer controls and parameters to tweak may become a hindrance to the development of your understanding of how effects work. A good way to counter this is by exploring the world of digital audio effects within a DAW, as they often include a wide range of adjustable features.
Limited Connectivity
The other potential drawback of using mini guitar pedals is that they often only have a simple one-input/one-output design. Larger stompboxes may offer you multiple inputs and outputs, which allow you to create effects loops or other more complex signal chain formations.
Standard 6.35mm jack plugs take up a considerable amount of room on the side of pedals, and of course, there must be space inside for the connector of the cable to reside. It's therefore impractical for manufacturers to waste valuable space by installing more ports on mini guitar pedals.
Thankfully, there are certain pedals you can use which are designed for broadening the number of connections you have to work with. ABY switchers and pedals with dual outputs allow you to experiment with effects loops and using multiple amplifiers in your rig.
Signal Chain Placement & Mini Guitar Pedals
The extra space that mini guitar pedals create allows you to organize your signal chain more creatively. Many guitarists overlook the importance of the order they choose to position their pedals in, and how dramatically it impacts the performance of the effects.
Like all music-related topics, the ordering of your pedals is subjective. You can ignore the following advice and choose to experiment with unconventional methods if you're interested in conjuring up unique tones.
The most common order of effects is as follows:
Tuner pedal
Dynamic pedals (Compressor, EQ, Noise Gate, Limiter)
Filter pedals (Wah)
Distortion pedals (Fuzz, Overdrive, Distortion)
Modulation pedals (Chorus, Phaser, Flanger, Pitch-Shifter)
Time-based pedals (Reverb, Delay)
Using this suggested signal chain order as a blueprint will ensure that each of the effects interacts with the whole chain cleanly and predictably. I'd recommend starting with this layout, then swapping devices to discover how this affects the way the pedals sound.
The great thing about mini guitar pedals is that they allow you to fit more effects into your signal chain, which means you don't need to limit your options. If you love the sound of two min delay pedals, you can
Using Mini Guitar Pedals in the Recording Studio
Professional recording studios with large analog mixing desks and acoustically treated live rooms have an undeniable appeal, but the rapid advancements in home recording equipment have made it possible to capture high-quality guitar tracks in almost any setting.
Mini guitar pedals are equally as useful for recording as they are for performing. As I mentioned earlier, their mobility makes it much easier to transport your effects pedals to a rehearsal space, gig venue, or recording session.
Directly connecting your mini guitar pedals to a recording device, like an audio interface, will allow you to easily capture the effects in real-time. Alternatively, you could record the track clean and then send them back through your effects afterward to gain more control over the sound you get.
Another way to record your mini guitar pedals would be to simply send the output into an amplifier, place a microphone somewhere near it, and then record the amplified sound into your DAW. This is a good way to ensure consistency between your life and recorded tones, providing you use the same amplifier for both endeavors.
Buffered vs. True Bypass Mini Guitar Pedals
If you're relatively new to the world of effects pedals, the terms 'buffered' and 'true bypass' may initially seem confusing.
Mini guitar pedals are most likely to feature true bypass switching, which is a design method used by manufacturers to ensure that signal strength is maintained as it passes through the chain of effects.
True bypass achieves this by simply allowing the signal to flow through the inner circuitry of the pedal when it is not being used. This prevents what is known as 'tone suck', where the pedal draws power from the signal and essentially makes it sound weaker.
Mini guitar pedals that use a buffer aim to achieve the same goal of ensuring signal strength throughout the chain. However, unlike true bypass pedals, they boost the strength of the signal before it leaves the pedal, which compensates for any loss that occurs it moves through the chain.
Powering Your Mini Guitar Pedals
Some mini guitar pedals come with a dedicated power supply, which is likely to provide 9V DC to the device. It's very uncommon for mini pedals to require any more power than that, but larger pedals may need 12V DC or more to operate efficiently.
If your pedal selection is currently modest, you may decide that it's not worth investing in a PSU to supply power to all of your pedals. On the other hand, if you're amassing a substantial collection of pedals, I'd highly recommend using a power supply unit with them.
The great thing about using a PSU with your mini guitar pedals is that you can leave them plugged in within your pedalboard so that they're instantly ready to use whenever you need them. If you have to plug each pedal in individually, the inspiration for that new guitar lick or chord sequence may have deserted you by the time you're set up!
Many mini guitar pedals can also be powered using a 9V battery, but you should avoid relying on them too much as there's always the risk that they will run flat at a vital moment in a performance or recording take.
Summary
When designing mini guitar pedals, manufacturers must carefully consider every control, switch and feature that they include on the devices. They may include fewer unnecessary frills and gimmicks, but this doesn't necessarily limit their functionality.
After reading this guide, you should now have the information you need to decide which mini guitar pedals would make worthy additions to your signal chain so that you can shape your tone exactly as you desire.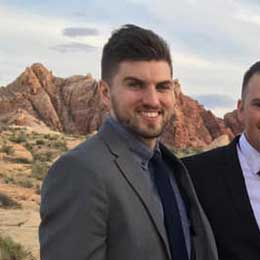 My name is Chris and I've had a passion for music and guitars for as long as I can remember. I started this website with some of my friends who are musicians, music teachers, gear heads, and music enthusiasts so we could provide high-quality guitar and music-related content.
I've been playing guitar since I was 13 years old and am an avid collector. Amps, pedals, guitars, bass, drums, microphones, studio, and recording gear, I love it all.
I was born and raised in Western Pennsylvania. My background is in Electrical Engineering, earning a Bachelor's degree from Youngstown State University. With my engineering experience, I've developed as a designer of guitar amplifiers and effects. A true passion of mine, I've designed, built, and repaired a wide range of guitar amps and electronics. Here at the Guitar Lobby, our aim is to share our passion for Music and gear with the rest of the music community.