In the world of guitar effects, pitch shifter pedals are highly underrated. They're versatile, transformative devices, which expand the tonal capabilities of your instrument.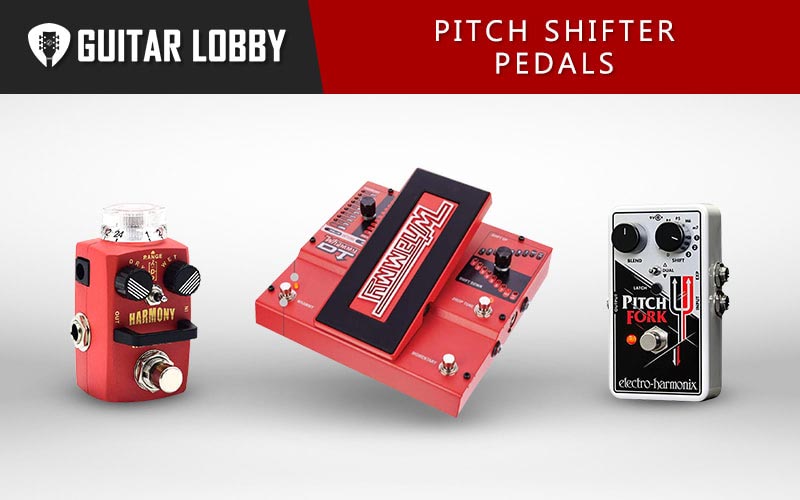 Using a pitch shifter pedal is essentially the same as adding notes to your fretboard that otherwise would be inaccessible. They allow you to soar up to high notes when soloing, or dive downwards without the need of a tremolo arm.
Over the years our team at the Guitar Lobby has tested dozens of these pedals and in this article, we'll be presenting the best pitch shifter pedals for your style of playing, along with guidance on how to choose the right one.
List of the Best Pitch Shifter Pedals
1. DigiTech Whammy DT (Best Overall)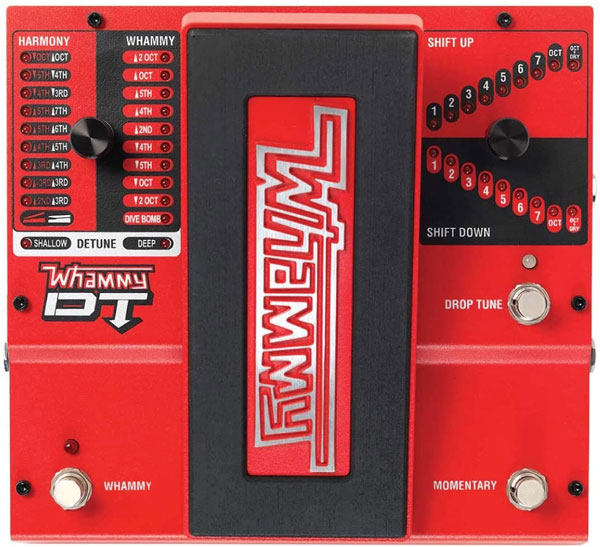 | | |
| --- | --- |
| Estimated Price | $400 |
| Type | Digital |
| Effects | Pitch Shifter |
| Connectivity | 2 x 6.35mm Jack Input, 2 x Output |
| Power | 9 Volts DC |
My Review: The Whammy range by DigiTech features some of the most unique pitch shifter pedals to ever be produced. I first came across them when analyzing the pedals used by innovative guitarist Jack White, who popularized the Whammy pedal in his solo work and with The White Stripes.
It's difficult to choose between the various editions of the Whammy, but in my opinion, the DT is the most interesting. Initially, I was under the false impression that the Whammy DT was only capable of shifting a guitar's pitch downwards, but after testing the pedal I discovered that it can also add higher notes to the dry signal.
I found the rocker plate mechanism made it much easier to control the modulations in pitch, rather than simply relying on pre-determined settings. By establishing the interval of the pitch shifter using the controls found on the right side of the pedal, I was able to switch between the more extreme alterations of the Whammy function or engage the momentary switch to make the changes more subtle.
The thing that sets the Whammy DT apart from the rest of the pitch shifter pedals featured in this guide is its impeccable ability to detune the guitar signal. While many pedals are very capable when it comes to adding higher notes, this pedal is equally proficient at adding thick, bass tones to the signal without compromising on clarity.
Who Is This Best Suited For: The Whammy DT is best suited for electric guitarists who want to have the ability to quickly shift the pitch of their instrument in either direction. With a pitch bend range of -3 to +2 octaves, and a detune range of -4 to -30 cents, this pedal is incredibly versatile.
Bottom Line: DigiTech is renowned for cramming as many features into their pedals as possible, and the Whammy DT is a prime example of this. It performs as a harmonizer, a detuner pedal, and a conventional pitch shifter, with each of these settings being easily accessible due to the intuitive footswitch-heavy design.
2. Electro-Harmonix Pitch Fork (Best Value)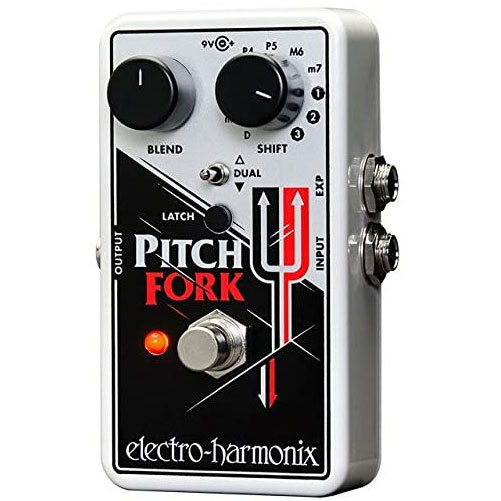 | | |
| --- | --- |
| Estimated Price | $200 |
| Type | Digital |
| Effects | Pitch Shifter |
| Connectivity | 2 x 6.35mm Jack Input, 1 x Outputs |
| Power | 9 Volt |
My Review: Electro-Harmonix is one of my all-time favorite pedal brands. Incredibly prolific, they produce effects pedals of all varieties to a very high standard. Consequently, I couldn't wait to get my hands on the Pitch Fork pedal, which is their flagship pitch shifter device.
Right off the bat, I noticed that the Pitch Fork's tracking was incredibly good. When I played a note into the pedal, the pitch shifting effect was instantaneous, with no muffling of the frequencies or unwanted noise creeping into the output.
I must admit, this pedal does take a little time to get used to. Despite it only having two rotary controls and two switches, the range of pitch-shifting effects you can achieve by adjusting these is quite incredible.
It's hard to pin down a single quality that sets this pedal apart from the rest, but if I had to choose one I'd go with the latch and momentary control. This isn't a unique feature, but I found it to be exceptionally useful when using an expression pedal with the Pitch Fork. This allowed me to switch between my dry signal and the pitch shifter effect by simply engaging the latch mode and moving the pedal.
Who Is This Best Suited For: I'd recommend the EHX Pitch Fork pedal to musicians who like to be in complete control of their effects and the way they interact with their instrument's clean tone. This pedal looks deceptively simple, but you can alter any aspect of the pitch by adjusting the various onboard settings.
Bottom Line: With a transposing range spanning over three octaves both up and down, and with the added capability of doing moving in both directions simultaneously, it's easy to see why the Pitch Fork is one of the most popular pitch shifter pedals on the market.
3. Mooer Pitch Box (Best Under $100)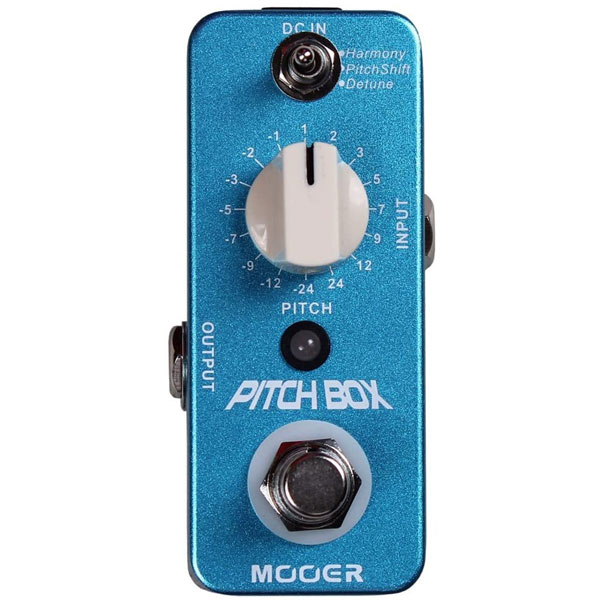 | | |
| --- | --- |
| Estimated Price | $80 |
| Type | Digital |
| Effects | Pitch Shifter, Harmonizer |
| Connectivity | 1 x 6.35mm Jack Input, 1 x Output |
| Power | 9 Volts DC |
My Review: Mooer's impressive range of compact stompboxes has caused their stock to rise significantly in recent years. I'd heard very good things about the Pitch Box and therefore was excited to see if this affordable pedal had the quality to rival other top-end devices in the pitch shifter category.
The first thing I noticed when analyzing the Pitch Box is that it is significantly smaller than most other pedals of its kind. While this limits the number of control and features that can be squeezed onto the pedal, I enjoyed the simplicity of its layout.
I was impressed with the tracking capabilities of the Pitch Box, but the standout quality was its ability to act as either a conventional pitch-shifting device or a guitar harmonizer. While combining effects on a single pedal sometimes leads to a lowering of overall quality, I didn't experience this issue when testing out the two modes included on this affordable Mooer stompbox.
Who Is This Best Suited For: Firstly, the Mooer Pitch Box is a great choice for guitarists who are running out of space on their pedalboard due to its compact size. Also, I think it would be a good fit for those who are looking for an affordable pedal that still provides extensive pitch modulation for up and down tuning.
Bottom Line: Although the Mooer Pitch Box may look simplistic, the pitch shifting effect it produces is pretty complex. With a single rotary control used for determining the interval of the pitch modulation, it's incredibly easy to use. Overall, I'd say the Mooer Pitch Box is the best pitch shifter pedal under $100.
4. Hotone Skyline Harmony (Best Under $50)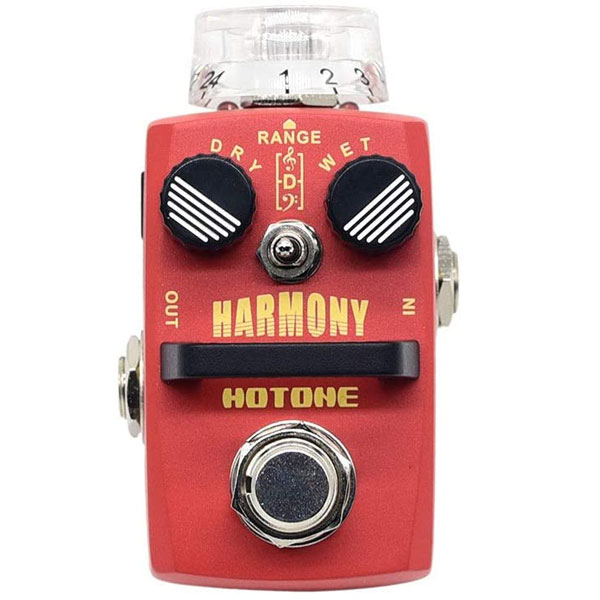 | | |
| --- | --- |
| Estimated Price | $50 |
| Type | Digital |
| Effects | Pitch Shifter, Harmonizer |
| Connectivity | 1 x 6.35mm Jack Input, 1 x Output |
| Power | 9 Volts DC |
My Review: Throughout my time as a guitarist, I don't think I've ever come across smaller pedals than those produced by Hotone. It may seem logical that such a minute device would be limited in its functionality, but after testing this pedal I can confirm that is not the case!
Central to this pitch shifter pedal are the two rotary controls that blend the dry and wet signals. I experimented with these controls to find the right blend so that the pitch shift effect didn't overpower the clean tone of my electric guitar.
The larger control found on the top of the pedal is then used to determine the range of the pitch modulation. In my opinion, the best aspect of the Hotone Skyline Harmony is how easy it is to operate. The controls are laid out in a very logical way, so you can quickly switch between pitch shifting up, detuning, or adding harmonies to your guitar melodies without any complications.
Who Is This Best Suited For: Guitarists who are looking for a bargain pitch shifter pedal should strongly consider this compact Hotone device. It may be much smaller and more affordable than most pedals in its field, but this stompbox is very capable indeed.
Bottom Line: With a pitch range spanning 24 semitones in pitch shift mode, and -25 semitones in detuning mode, the Hotone Skyline Harmony covers all bases. It features polyphonic tracking so that you can use the pedal for chords as well as single notes.
5. Red Panda Tensor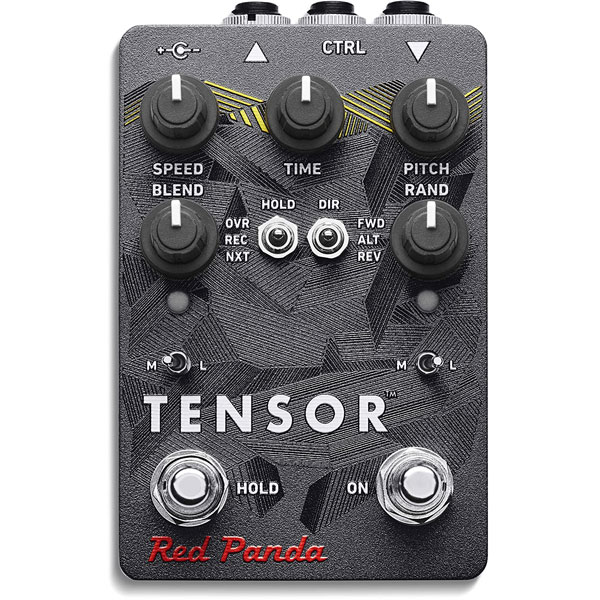 | | |
| --- | --- |
| Estimated Price | $300 |
| Type | Digital |
| Effects | Pitch Shifter, Delay |
| Connectivity | 2 x 6.35mm Jack Input, 1 x Output |
| Power | 9 Volts DC |
My Review: The Tensor by Red Panda features an eye-catching design, which instantly caught my attention. This boutique manufacturer is known for its brilliant, unusual pedals, and the Tensor is no exception to that rule.
First of all, I found it intriguing that a manufacturer would combine pitch shifting with tape delay. It's difficult to imagine how those two effects would interact with one another, but after testing this pedal I discovered that they blend very effectively. After all, vintage tape recorders and delay machines were known for causing irregularities in pitch, so the pairing of the two does make sense,
The feature that makes this Red Panda powerhouse stand out amongst the crows has to be its ability to reverse a guitar's signal. The tracking is simply brilliant and allows the pedal to do things that seem almost impossible in theory.
Who Is This Best Suited For: If you're a fan of vintage tape machines, the Rand Panda Tensor allows you to combine their distinctively warm tone with pitch shifting. This pedal has many tweakable features, so it's a good match for guitarists who enjoy sculpting every aspect of their effects.
Bottom Line: The Tensor by Red Panda is the kind of pedal that can be used in a simple way, or it can completely randomize a guitar's signal. With a range of interesting features like slicing, overdubs, reversing, and pitch modulation, this boutique pedal is one of a kind.
6. TC Electronic Brainwaves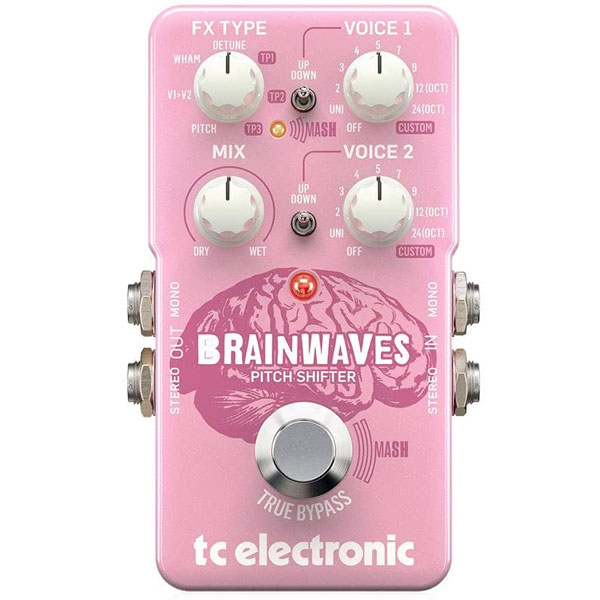 | | |
| --- | --- |
| Estimated Price | $180 |
| Type | Digital |
| Effects | Pitch Shifter, Octaver |
| Connectivity | 2 x 6.35mm Jack Input, 2 x Output |
| Power | 9 Volts DC |
My Review: At first glance, the Brainwaves pitch shifter by TC Electronic appears to be very complex. With numbers and presets dotted across its display, I was expecting a challenge when attempting to figure out what the various controls and switches do.
Thankfully, upon closer inspection, I discovered that the controls are very easy to use. Compared to most conventional pitch shifters, this pedal includes more presets. The control in the top left allowed me to toggle through the various modes, which include a Whammy-style pitch shifter, and a detuner.
The thing I found most impressive about the Brainwaves pedal was its MASH function. With this mode selected, I was able to suddenly detune by two octaves, which resembled the dive-bomb technique commonly performed with a tremolo arm.
Who Is This Best Suited For: The Brainwaves pitch shifter by TC Electronic is recommendable to any guitarist who wants access to every variety of pitch modulation possible.
Bottom Line: This pedal features a pressure-sensitive footswitch, which allows you to precisely influence the pitch shifting effect it produces. It also houses several unique algorithms based on different types of pitch shifting, which can be instantly accessed using the onboard rotary controls.
7. Whammy Richochet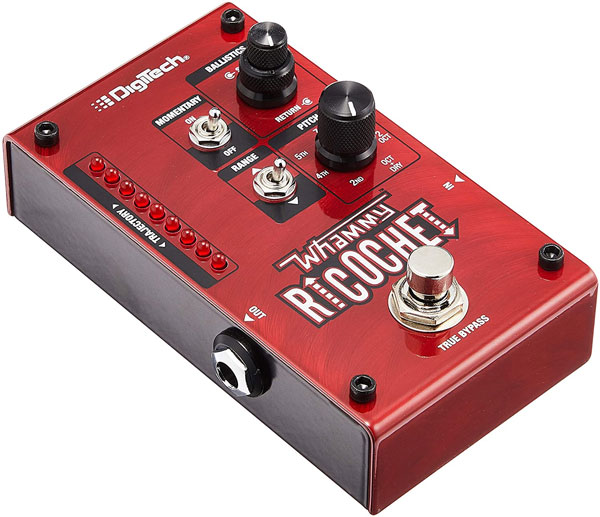 | | |
| --- | --- |
| Estimated Price | $220 |
| Type | Digital |
| Effects | Pitch Shifter |
| Connectivity | 1 x 6.35mm Jack Input, 1 x Output |
| Power | 9 Volts DC |
My Review: DigiTech's Whammy Ricochet is a multi-dimensional pitch shifter pedal. It can be used in one of two ways – either in a controlled, calculated manner or in a seemingly random frenzy of pitch-based modulation.
Compared to most of the other pedals in the popular Whammy range, this one struck me as being different. It doesn't feature the same rocker plate design as the DT or the 5th Generation models, but you can still produce the classic Whammy effect by customizing the ballistics setting.
My favorite aspect of the Whammy Ricochet which makes it such a unique device is its LED ladder display. This is used to signify the trajectory of the pitch shifting effect in real-time so that you can monitor it. When all of the features and controls are combined, this pedal produces some unique results.
Who Is This Best Suited For: This pedal is a great choice for guitarists who want access to the revered Whammy effect, in a more compact housing. It's easier to use than its larger siblings, and therefore the pedal doesn't require much time to become accustomed to.
Bottom Line: Featuring a range of useful controls, the Whammy Ricochet takes pitch shifting to another level. It includes a total of seven pitch selections, ranging from double octaves to 2nd intervals. The customizable ballistic setting acts like the rocker plate on a standard Whammy pedal, so you don't miss out on the classic effect.
8. Donner Harmonic Square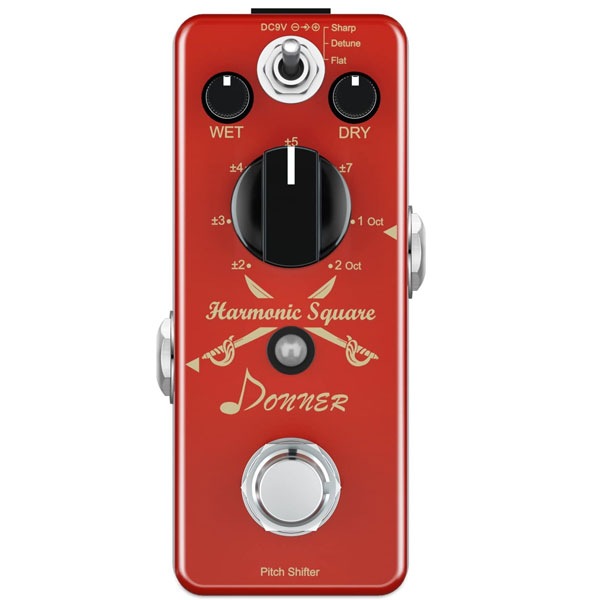 | | |
| --- | --- |
| Estimated Price | $50 |
| Type | Digital |
| Effects | Pitch Shifter, Harmonizer |
| Connectivity | 1 x 6.35mm Jack Input, 1 x Output |
| Power | 9 Volts DC |
My Review: Over the past few years, relatively newly established pedal manufacturers Donner have impressed me greatly. Their range of affordable stompboxes continues to improve, and the Harmonic Square is an example of their rapid progress.
This is a straightforward pitch shifter device, which doubles up as a guitar harmonizer. It features a simple control layout, which I found to be very efficient. Once you select your chosen interval, you can then use the wet and dry controls to ensure that the pitch shifting effect blends with your clean tone.
Who Is This Best Suited For: Donner's Harmonic Square is one of the most affordable pitch shifter pedals on the market, so I'd highly recommend it to musicians who perhaps want to invest some of their budgets into other effects too.
Bottom Line: This pedal contains 7 pitch settings, which are made up of certain intervals and there are three presets, which consist of detuning, sharp, and flat. The result is a pitch shifter pedal that is extremely easy to use and sounds very good for the price.
9. Mooer Pitch Step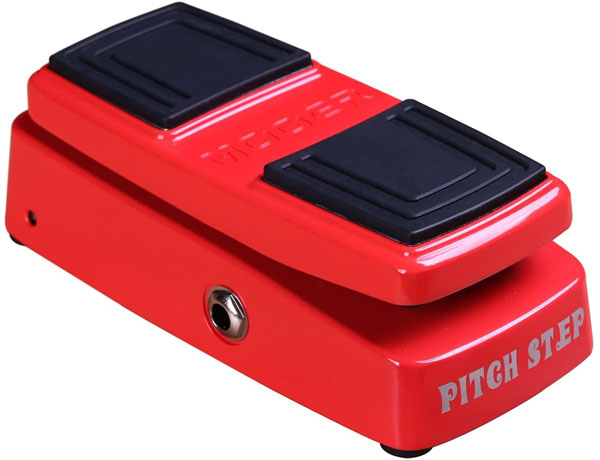 | | |
| --- | --- |
| Estimated Price | $140 |
| Type | Digital |
| Effects | Pitch Shifter |
| Connectivity | 1 x 6.35mm Jack Input, 1 x Output |
| Power | 9 Volts DC |
My Review: The Mooer Pitch Step may resemble a volume or expression pedal in appearance, but its capabilities go way beyond simply affecting the dynamics of a guitar. This device works similarly to the Whammy pedal range but is more affordable and simplistic.
One particular aspect that I enjoyed about this pedal, was the smoothness of the rocker plate mechanism which controls the speed of the pitch variations. It also features polyphonic tracking, which means that it can be used for chords in addition to solos, melodies, or riffs.
Who Is This Best Suited For: Due to the rocker plate design of the Pitch Step, guitarists who play a lot of solos and riffs in the higher frets will benefit greatly from its pitch-bending capabilities. You can use it to produce those wailing high notes that cut straight through the mix.
Bottom Line: Offering a unique blend of pitch shifting and harmonizing, the Mooer Pitch Step puts you in complete control of your guitar's tone. Whether you want to perform advanced techniques like dive bombs or tremolo, or you simply want to make your chord sequences sound more interesting, this pedal will do the job.
10. Red Panda Particle V2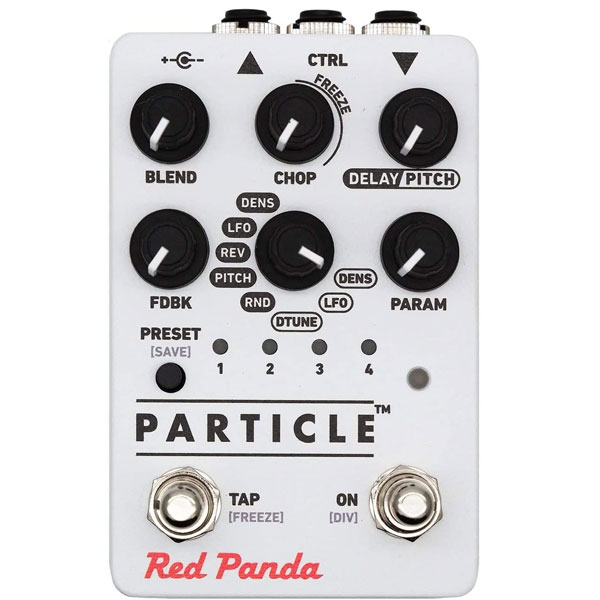 | | |
| --- | --- |
| Estimated Price | $300 |
| Type | Digital |
| Effects | Pitch Shifter, Delay |
| Connectivity | 2 x 6.35mm Jack Input, 1 x Output |
| Power | 9 Volts DC |
My Review: Granular delay and pitch shifting aren't two effects I'd expect to see find in the same pedal, but if any manufacturer can pull this obscure combination off, it's Red Panda. The Particle V2 allows you to create rhythmic delay, whilst modulating the pitch of a guitar.
Unlike any other pedal I've encountered before, this stompbox is in a league of its own. It can be used to create pure chaos or beautiful atmospheric layers of delay and pitch-shifted textures.
Who Is This Best Suited For: If you like to play dreamy chord sequences, and have grown tired of using your chorus or reverb pedals to add texture to them, the Particle V2 is the pedal for you. It transforms the guitar signal into a fluid, transient stream.
Bottom Line: As I've come to expect from Red Panda, this pitch shifter/delay combo is incredibly unique. It houses many adjustable controls used to tailor the delay times and pitch intervals, and you can save your favorite settings to the pedal's memory bank for later recall. While this is one of the more expensive products on this list, it is without a doubt one of the best pitch shifting pedals on the market right now.
11. EarthQuaker Devices Arpanoid V2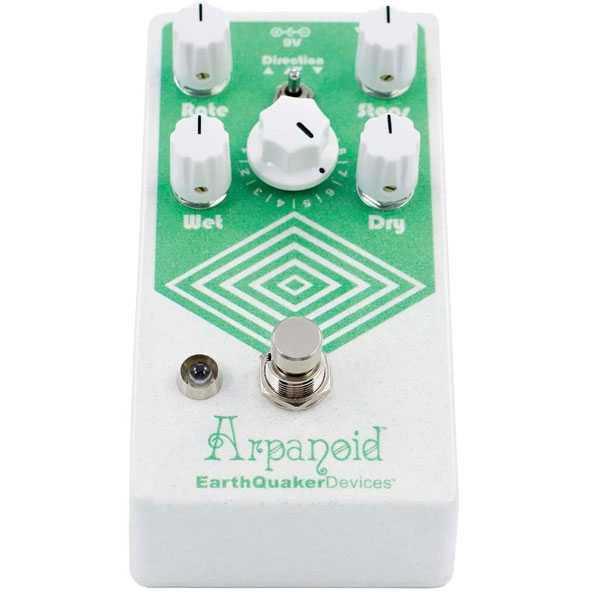 | | |
| --- | --- |
| Estimated Price | $230 |
| Type | Digital |
| Effects | Pitch Shifter, Arpeggiator |
| Connectivity | 1 x 6.35mm Jack Input, 1 x Output |
| Power | 9 Volts DC |
My Review: The Arpanoid V2 embodies everything I've come to expect from EarthQuaker Devices. It's bold, obscure, and incredibly fun to experiment with. I was pleased to learn that this edition features a newly improved circuit compared to the original, and the results are noticeable.
There are several things that I believe make this pitch-shifting pedal stand out, but the most prominent has to be the arpeggiator function. Unlike most pitch shifters, the Arpanoid modulates the notes of an instrument whilst also injecting interesting rhythmic patterns into the mix.
Who Is This Best Suited For: Due to the complex arpeggiator style pitch shifting produced by this pedal, I predict that guitarists who like to incorporate electronic musical elements into their performances will fall in love with it in an instant!
Bottom Line: This unique pitch shifter pedal by EarthQuaker Devices produces synth-like textures, which move and swirl rhythmically around the dry signal of a guitar. It also has all of the classic features like a momentary latch switch and polyphonic tracking.
12. DigiTech Whammy 5th Generation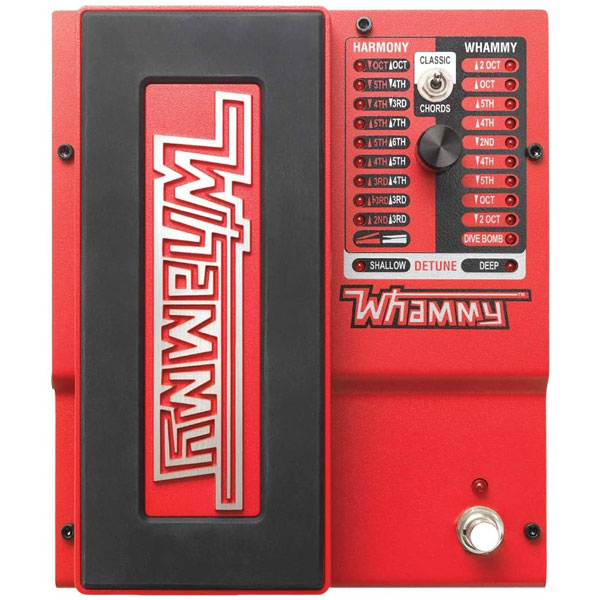 | | |
| --- | --- |
| Estimated Price | $280 |
| Type | Digital |
| Effects | Pitch Shifter |
| Connectivity | 1 x 6.35mm Jack Input, 1 x Output |
| Power | 9 Volts DC |
My Review: After four previous versions, DigiTech seems to have perfected their revered Whammy pedal with the 5th generation model. After analyzing this pedal, I noticed that they have managed to condense the controls into a more compact layout, which improves functionality and removes unnecessary distractions.
The classic Whammy rocker plate is still present, as is the interval selector and the detune switch. However, there's something a little different about this version of the Whammy, and that is the incredibly clear tone it produces.
Who Is This Best Suited For: If you play any style of rock guitar, the Whammy 5 is a perfect tool for spicing up your riffs and solos. It can make your high notes scream, or pull them down suddenly in a dive-bomb fashion.
Bottom Line: With its distinguished aesthetics and beginner-friendly controls, the 5th Generation Whammy is one of DigiTech's finest creations. The tracking of this pedal is immaculate, and it sounds great when combined with a little saturation.
Choosing the Right Pitch Shifter Pedal (Buying Guide)
Pitch shifter pedals belong to the modulation family and are often categorized with octave and harmonizer pedals. They can be used in many different ways, and provide musicians with a quick and easy method for expanding their instrument's tonal capabilities.
In the remainder of this comprehensive guide, we'll dissect pitch shifter pedals, from the most basic aspects to the more advanced concepts. After reading the following sections, you'll be equipped with all of the information you need to ensure that you choose the ideal pitch-shift pedal for your needs.
What Is a Pitch Shifter Pedal?
Put simply, a pitch shifter pedal is a device that modulates the pitch, or notes, of an instrument. They're most commonly used with electric guitar, but acoustic guitarists and bassists also often integrate them into their signal chain.
Whereas some effects pedals such as reverbs or delays affect the timing and length of the notes that are played into them, while others like distortion or overdrive add gain to the signal, a pitch shifter simply adjusts the pitch.
Unlike octave pedals, pitch shifter devices can alter the notes played by any chosen interval. This is a key aspect of the pitch shift effect which is often misunderstood, as many people confuse octave pedals with pitch shifter devices.
The benefit to using a pitch shifter is that it allows you to be very precise when establishing the alterations you would like it to make to the notes you play into the device.
How Pitch Shifter Pedals Work
To understand how pitch shifter effects pedals work, we need to discuss one key process, which is known as tracking. Tracking is used by most pedals that belong to the modulation category, including chorus, phasers, and flangers, but the way it is utilized for pitch-altering pedals is rather unique.
Tracking can be defined as the pedal's ability to detect the signal of an instrument. There are two main types of tracking used by effects manufacturers – digital, and analog. In the vast majority of cases concerning pitch shifter and octave pedals, digital tracking is used, as it tends to be more responsive and accurate.
Another reason that digital tracking is preferred for pitch-shifter pedals is that it eliminates the unpredictable warble that is commonly produced by its analog equivalent. Some musicians enjoy this side effect of the older technology, but it's simply not beneficial to pitch-shifting effects.
Tracking is integral to pitch shifter pedals because it detects the notes, frequencies, and dynamic information when a guitar or bass is played into the device. Furthermore, it then uses this detected signal as the starting point for the pitch-based alterations that are applied to it.
Once the pitch shifter pedals have tracked the original signal, the settings of the various controls decide how it will be duplicated. For example, if you set the pitch shifter interval to a minor 3rd, and played an A on your guitar, the pedal would automatically shift the pitch to a C.
A common misconception surrounding pitch-shifter pedals is that you must have an understanding of music theory to use them. While having this knowledge will undoubtedly be beneficial, it is not essential. Guitarists who play by ear or struggle with the theoretical side of things can simply experiment with different settings to find sounds they enjoy.
Finally, the tracking included on pitch shifter pedals may be either monophonic or polyphonic. The former means that it is only able to track single notes, while the latter indicates that the pedal can track chords, or several notes played simultaneously.
The advantage of using single-note tracking is that if you play a wrong note or accidentally make contact with another string, the pedal won't allow it to be detected. However, this means you can't play chords when using the pitch shifter effect if the tracking is of the monophonic variety.
Common Pitch Shifter Pedal Controls & Features
Pitch shifter pedals come in many different forms. Some include a wide range of controls and features, while others are more basic in terms of their design. The number of controls you need depends on how you intend to use the pitch shifter effect.
Some of the most common controls you'll find on pitch shifter pedals are:
Gain
Detune
Attack
Filters
The gain setting found on pitch shifter pedals is used to add a touch of saturation to the signal. This allows the effect to boost the signal slightly, making the modulated pitch more prominent in the output, and helping it to cut through the mix.
Detune controls are simply used to switch the pitch shifter to modulate the pitch down, rather than up. This is useful for guitarists looking to thicken up their tone when playing in the upper registers of their instrument's frequency range.
Attack, which is also featured on many reverb and delay pedals, alters the time it takes for the pitch shifter effect to kick in after the original note is played. You can use the attack control to soften up the effect or make it more sudden and impactful.
Filter controls are also sometimes included on pitch shifters. They affect the resonance of the signal, reducing or boosting the prominence of certain frequencies and thus drawing the listener's attention to a particular aspect of the pitch-shifted signal.
Signal Chain Position
The positions that you choose to place your effects pedals in within the signal chain are hugely impactful on the tone they produce. This is because effects interact with one another in specific ways, so careful consideration should be taken when ordering your pedals.
Pitch shifter pedals are commonly positioned towards the start of the signal chain, after tuners, and dynamic pedals such as compressors, EQ, or limiters. This is because they work well with a clean signal, without the interference of more transformative effects.
Alternatively, you may find that you achieve interesting tonal results by experimenting with the placement of a pitch shifter pedal. For example, placing a distortion or fuzz pedal in front of the pitch shifter will dramatically change the sound by saturating the signal before the pitch-based modulation.
It's most common to conclude the signal chain with timing-based effects, like reverbs and delays, which cause other pedals to become chaotic if they are placed in front of them. This rule can be broken nonetheless if that's the sound that you're aiming for.
Using Pitch Shifter Pedals with Other Effects
While some effects are incompatible with other varieties, one of the best things about pitch shifters is their ability to blend with other pedals. This is because the pitch modulation they produce is relatively noninvasive, affecting only the frequency of the note rather than the tonal characteristics.
Many guitarists enjoy combining pitch shifter pedals with gain-based effects, which include fuzz, overdrive, and distortion. The warm sound that these pedals evoke is complemented by the additional thickness provided by the pitch-based modulation.
To create atmospheric, dreamy textures, you can experiment with the combination of reverb pedals and pitch shifters. Reverb is one of the rare effect types that can be mixed with any other effect, due to the flexibility of the onboard settings.
Finally, if you're using a pitch shifter pedal to add lower frequencies to the dry guitar signal, it might be a good idea to add a compressor into the mix. This will ensure dynamic consistency and prevent certain frequencies from sounding too harsh or overpowering.
Pitch-Shifter Presets
Presets are an integral part of most effects pedals, especially those of the digital variety. A preset is simply a predetermined setting that acts as a blueprint for getting certain results from a pedal.
Pitch shifter effects can perform a wide range of alterations to the dry signal of the guitar. If you are relatively inexperienced with effects and how the different controls impact their performance, using presets is a great way to learn more about this process.
Additionally, choosing a pitch shifter pedal with built-in presets will save you time and effort. Rather than having to tweak each parameter to achieve a certain type of pitch shifting, you can select a preset which matches your intentions and use that as the foundation to build upon.
More simplistically designed pitch shifter pedals may lack the preset function, and this will likely be reflected in their price. If you'd rather set up your pedal manually, then, by all means, choose a pedal that doesn't include presets.
Bass Guitar & Pitch Shifters
If you're a bass guitarist, a pitch shifter pedal can be a very useful tool to integrate into your rig. Unlike some effects which are designed predominantly for electric guitar, many pitch shifters also perform well when used with a bass.
This is especially useful if you're in a three-piece band and need to add more treble into the mix. The strings of a bass guitar are tuned to an octave lower than an electric guitar, so it's unlikely to you'd use the pedal to shift down in pitch. However, for shifting upwards, these pedals work very well.
Buffered vs. True Bypass Pitch Shifter Pedals
If you've already amassed a selection of effects pedals, you've probably come across the terms 'buffered' and 'true bypass' before. Many musicians don't understand what this means, however, and the impact it has on their signal chain's performance.
Buffered pitch shifter pedals work by providing the signal with a boost in strength, which ensures that it doesn't diminish as it moves through the chain.
True bypass pedals achieve the same result using a different method. They simply allow the signal from the guitar to move through them when they are inactive, which prevents the dreaded 'tone suck' and ensures clarity.
If you're unsure which type of pitch shifter pedal you should use, there's a simple way to decide. True bypass works fine for cable runs that are less than 18 ½ ft in length, while buffered pedals are better for cable runs that exceed this length.
Recording a Pitch Shifter Pedal
In addition to being highly useful in a live setting, pitch shifters are also great tools to have in the recording studio. Whether you use a home recording setup or a professional studio for your recordings, there is a variety of ways you can capture the pitch shifter effect.
Firstly, perhaps the most obvious way to record your pitch shifter pedal is to follow the same blueprint you use for live shows. Simply plug the pedal into your amplifier, place a microphone in front of the cab, and connect an XLR cable to the input on an audio interface or mixer.
On the other hand, you could plug the pitch shifter pedal directly into the audio interface, effectively bypassing the need for an amplifier. This would record the clean signal from the guitar with the pitch shifter effect, and you could then use an amplifier simulation plugin to make it sound like it has been recorded through an amp.
The second method I outlined is most convenient, as it doesn't require you to transport your amplifier to the studio. If your amp is already in the studio, you might prefer the authenticity that recording through it provides.
Pitch Shifters vs. Octave Pedals vs. Harmonizers
Although pitch shifter pedals share many similarities with octave and harmonizer pedals, it's important to understand the differences between the three.
Octave pedals work in the same way as pitch shifter devices, however, rather than modulating the pitch based on semitones or other intervals, they only move it up or down by an octave. They're also usually monophonic, and can't be used for chords.
Harmonizer pedals can produce notes of varying intervals, but they can be used with chords. They also combine the dry signal with the harmonies to create new textures and have a very transformative effect on the result.
How to Supply Power to Your Pitch Shifter Pedal
Supplying power to a pitch shifter pedal is the same as any other pedal type. There are several options available, but the most reliable in my opinion is to use a power brick, or a PSU as they are commonly also called.
The second method you could use would be to use individual power supplied for each pedal in your signal chain. However, this is not the most efficient way to power a pitch shifter, as it means you'll need many plug sockets nearby, and you'll have to connect every pedal individually before a performance, rehearsal, or recording session.
Thirdly, you could rely on batteries to power your pitch shifter and other pedals. This is useful in some situations, such as when you don't have access to nearby mains power, or you're playing an unexpected gig. Nevertheless, using batteries as the sole source of power means that your un the risk of them going flat midway through a performance, which could be disastrous.
Going back to the first method I mentioned, investing in a good quality PSU is a wise move for any musician who uses a selection of effects pedals. You can mount the power brick to your pedalboard, and connect the power outputs to each pedal, including your pitch shifter.
Then, when the time comes to perform, practice, or record, all of the pedals in your signal chain are already connected to the appropriate power source. All that you need to do is plug the PSU into the mains socket, and your pitch shifter pedal, along with your other effects, will be ready to use.
Summary
Pitch shifter pedals allow you to broaden the tonal capabilities of your instrument. If you're hoping to thicken up your tone, or simply expand the range of notes that you can play at any given time, investing in one of these devices is a wise decision.
There's a lot of confusion surrounding the way that pitch shifter pedals work, and how they differ from other similar pedals, such as octave shifters or guitar harmonizers. Hopefully, this guide has given you a clear idea of the pitch shifter effect, so that you can confidently use one in the future.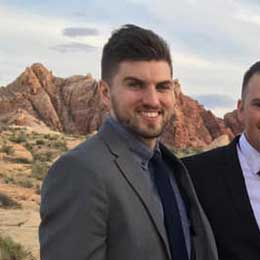 My name is Chris and I've had a passion for music and guitars for as long as I can remember. I started this website with some of my friends who are musicians, music teachers, gear heads, and music enthusiasts so we could provide high-quality guitar and music-related content.
I've been playing guitar since I was 13 years old and am an avid collector. Amps, pedals, guitars, bass, drums, microphones, studio, and recording gear, I love it all.
I was born and raised in Western Pennsylvania. My background is in Electrical Engineering, earning a Bachelor's degree from Youngstown State University. With my engineering experience, I've developed as a designer of guitar amplifiers and effects. A true passion of mine, I've designed, built, and repaired a wide range of guitar amps and electronics. Here at the Guitar Lobby, our aim is to share our passion for Music and gear with the rest of the music community.