If you're looking to skip the hassle of selling your old guitar gear yourself, one option is heading over to Guitar Center and taking advantage of their Trade In Trade Up program to sell or trade in your gear.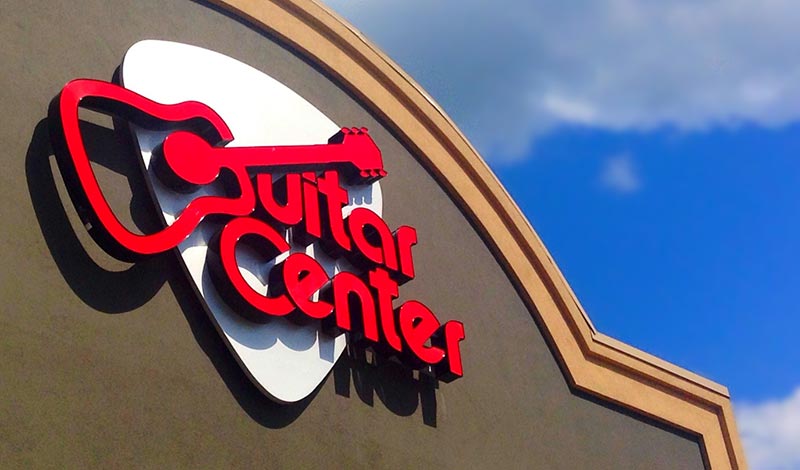 Of course, Guitar Center will only accept gear that's in a fully functional condition. Some of the surface cosmetic damage is okay, as long as the instrument, amp, or pedal functions properly.
Before heading to your local store, there are some things that you should consider. The most important is whether you'll be looking to sell your gear for cash or trade for the in-store purchase value. But whatever you decide to go with, Guitar Center's program looks to make it worthwhile. In the rest of this article, we'll discuss how much Guitar Center pays for used gear, how the process works, and whether or not it's a good option for you.
How Much Does Guitar Center Pay for Used Gear: Is It Worth It?
Now, we come to the main question here. Is selling or trading your gear over at Guitar Center stores worth it? Yes and no. It's not really a simple question to answer. The image below is a screenshot from the Guitar Center website.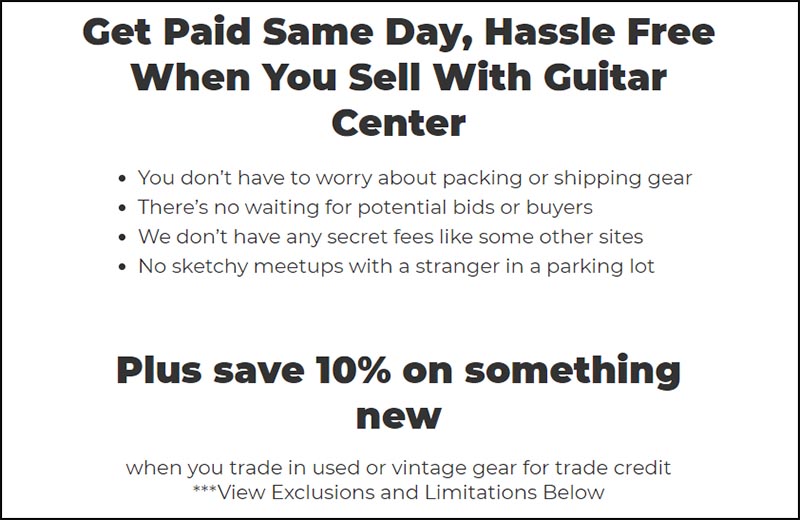 The first thing that you'll want to do is check what price your gear is selling for on other websites where used gear is sold like eBay, Craigslist, or Facebook Marketplace. Check prices for both used and new (in case the product is not discontinued). You'll have a rough estimate of how much this particular piece of gear that you have might be worth.But there is one thing that you need to bear in mind. Obviously, Guitar Center is looking for ways to earn money. So they'll purchase it from you at a slightly lower price than you could potentially get if you're selling it independently through an online ad.
As you might assume, this is an obvious downside. Who wants to get less for something that's worth more, right? Well, it's not that simple. While you might get a slightly lower price in most cases, the convenience of selling all of your gear at a reasonable price at one store has its advantages. You just go to your nearest Guitar Center store and you'll be all set. If you have four or five pieces of gear that you want to sell, it certainly beats dealing with a bunch of individual ads.
But another thing that you should bear in mind is that selling it independently through ads comes with other costs and issues. For instance, you'll often have to include the shipping costs into the price. If that's the case, then what you earn gets pretty close to what you'd get at Guitar Center anyway. So if you're close to a Guitar Center store, then it's most likely a better option to sell your gear there and get money on the spot.
Essentially, you can ask them for a price and see whether it's possible to get more through other means of selling. If you want to sell your gear fast and don't think about it. Guitar Center trade-in programs are definitely a better choice. This is especially the case if you're selling more stuff and have a Guitar Center store near you.
Ultimately, it's the best idea if you want to buy something new. You'll get decent discounts if you bring in old gear for trade-in and not cash. At the same time, it's a great idea if you want to sell your gear fast and get up to $1,000 right there on the spot.
Does Guitar Center Really Pay Up to $1,000 for Used Gear?
Yes, Up to $1000 in cash, but again, as mentioned in the previous section, they don't guarantee that they'll be able to give you up to $1000. It depends on the availability of cash in that particular store on the day of your visit.

With this in mind, I'd say the best reason to sell your gear to Guitar Center is if you're looking to buy something new from there. The second reason is if you are in a time pinch or don't have the patience or desire to list the gear on a classified to find a local buyer. Trading in or selling outright to a music shop is often the simplest approach, even though you may make a bit less on the sale.
Cases When You Should Probably Look for Other Alternatives
There are a few cases where we'd not recommend selling your gear through them. The first example is if you have vintage and expensive gear. For this purpose, it's much better to go with Reverb.com or even eBay. Guitar Center workers will always look to lower the price. What's more, you can only get up to $1,000 in cash, while the rest of the money you earn can be used for buying new gear at their stores.
Secondly, we'd not recommend them if you know that you can get a much better price somewhere else and are willing to wait a little bit. Likewise, it's also a huge problem if you don't have any Guitar Center stores near you. They won't come to your address and some potential sellers would have to travel a lot. In that case, it's probably not worth it.
What Can I Sell or Trade-in at Guitar Center?
Guitar Center stores will consider buying most music gear related to guitar, bass, drums, etc. Whether or not they will buy an item will depend on in-store inspection and appraisal.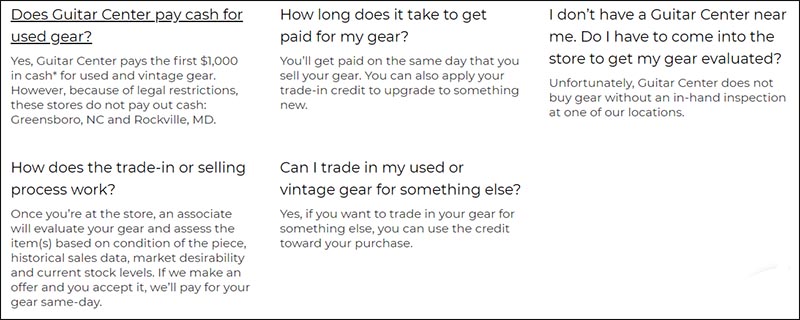 Gear That You Can't Sell or Trade at Guitar Center
However, you should also know what they don't take as this is a bit easier to outline. Guitars and guitar gear may be pretty simple, as are other things like PA systems, DJ equipment, and studio gear. But there is some gear which is too difficult to re-sell.
While the list isn't always definitive some of the items they will not buy or take in on trade include:
Acoustic pianos
Any sort of copyrighted material
Computers
Random consumer electronics
Tape recorders
Switching systems
Custom-built cables
Wireless units
Used strings
Guitar parts
Drum heads
Drum sticks
Low-end drum hardware
Upright basses
Really big mixing boards
Orchestral instruments
Of course, if you're not certain about a certain instrument or a piece of gear that you have, you can always call the store before making the trip.
Selling vs Trading in Your Gear
After the trade in value has been determined, Guitar Center workers will offer two different options. You can either sell your gear for cash or trade it for something new at their store. As far as selling for cash goes, Guitar Center can give up to $1,000 for your used gear. If it's worth more than that, then you can get the rest of the value in trade value at their store.
However, there are a couple of things that you need to bear in mind. Firstly, it's not guaranteed that the store will be able to give you up to $1,000 in cash for your gear. According to the official information shared on their website, they are allowed to give up to $1,000 only if there's enough cash available at that particular store.
It's also worth noting that there are two Guitar Center stores that won't give cash for used gear due to legal restrictions. These two stores are located in Greensboro, NC, and Rockville, MD. The rest should be able to give you cash if they have enough of it at their disposal for this purpose.
Trade Old for New
The other option includes trading your used gear for something new. The process is pretty much the same as with getting cash for it. The workers will give you their estimated price. However, instead of cash, you'll get credits for buying gear from the store.
It's a pretty simple method. In fact, we'd say that this is much simpler compared to waiting for cash. If you have something to trade and want new gear, just go to your nearest Guitar Center store.
Tips When Selling or Trading in Your Gear to Guitar Center
The main thing to know is that you can't really call your local Guitar Center and ask for a rough estimate on the gear that you have. Maybe they could potentially tell you something if you have this old specific piece of gear. But otherwise, you'll just be wasting your time.
In short, they're only doing in-person price estimates. This means that you'll need to actually go to one of their stores and bring what you're trying to sell.
Another thing to bear in mind is that you shouldn't bring broken gear. For instance, if your electric guitar has broken pickups or any other faults that will make it impossible to get any sound out of it, don't waste your time. Get it fixed first and then think about selling it. They just simply won't consider purchasing it at all.
With all this said, it's also really important to come prepared. As mentioned, you shouldn't overestimate or underestimate your gear. Before getting out there and visiting your local Guitar Center store, you should do your price research first.
If you're selling something that's still manufactured today, check out both new and used prices. The used prices are usually about 50% to 60% compared to new gear. In some cases, it could go up to 70%, but this is only with gear that has great resale value.
Don't Overestimate Your Gear's Value
It's not uncommon for guitar players to get emotionally attached to their instruments, even if they're entry-level ones by default. However, no matter how much you love this particular instrument, you can't really fight its market value. You also need to understand that Guitar Center will not offer you near full retail value.
The same can be said about random no-name instruments that someone once bought or made by hand. For instance, you might have an electric guitar that someone made on their own and that you want to get rid of. However, there's very little chance that guys at Guitar Center will be interested in buying it, even if it has some great parts. In a practical sense, they'll have a hard time re-selling for any predictable profit margin.
But Don't Underestimate Your Gear's Value Either
Another common mistake is that people go and sell highly valuable gear at a Guitar Center store, taking whatever offer is thrown at them. Sometimes the convenience of selling or trading in at Guitar Center can't be beaten. However, other times you'll have a highly valuable piece of gear that would fetch a better price on the used market with a simple post to Craigslist or Facebook marketplace. Again, do some research ahead of time on websites such as eBay and Reverb to see what recently sold listings have gone for. Do your homework and even ask questions to experts and on various forums and message boards.
How to Keep Its Price Higher
The Guitar Center trade in value will depend on a number of factors. In case you decided to go with Guitar Center's program and sell or trade your guitar, there are some things to look into first. In case you want to raise its price, or just keep it at normal levels, you'll need to keep it clean and in proper working order.
Here, we'll be looking at two important things you can do.
Cleaning Your Guitar
Cleaning your instrument can actually help you increase the price you'll get for it. Firstly, it will just look better and will pronounce all of the instrument's visual qualities, highlighting the good condition that it's in.
A clean instrument is a sign of a well-maintained instrument. Needless to say, this brings more confidence in the quality of the gear that you're selling.
Have Gear Set-Up and Properly Maintained
While you won't need to fully intonate the instrument, make sure that it's in decent condition. This means that the neck should be straight and that the fret buzz should be at minimum possible levels.
All guitar necks move over time. In case you have left your guitar without any strings for a while, the neck will bend backward. Otherwise, it tends to bend towards the body. Whatever is the case, adjust it by turning clockwise or counterclockwise for about 1/8 to ¼ of a full circle.
Setting up the bridge might be a bit more challenging. At the same time, there are plenty of different bridges as well. Fender-style hard-tail and tremolo bridges with individual string saddles are the simplest ones to set up. Essentially, make sure that the string height is at a level where there's no fret buzz. Tune-o-matic bridges (like those on Gibson and Epiphone guitars) may be a bit trickier to set up.
With that said, it's a good idea to restring your guitar if the strings on it are not in good condition. Again, this isn't just about the visual aspect. But with a good set of strings, the guitar will play well and be in better working condition for Guitar Center employees when they do their evaluation.
You can also take your instrument to a luthier to get it all set and intonated. However, if you're selling a cheap guitar, then it might not be worth the money and effort. Just make sure that the instrument is in playable condition. More expensive guitars and gear are often worth having in tip-top shape before you have them evaluated for sale, even if that means spending a little bit of money to have it gone over by a professional.
Selling Vintage Gear at Guitar Center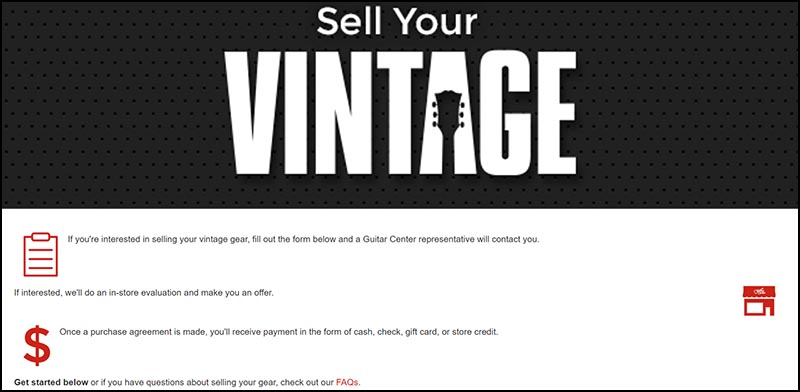 Guitar Center has a separate evaluation process for vintage gear. You can finder their Sell Vintage Gear form here for more specific information and FAQ. It's always a good idea to verify current pricing by looking at places like Reverb.com or eBay. When doing so you should always filter to see "Sold Listings" to see what similar products have actually gone for. It doesn't matter what high price certain items may be listed for. Our gear is only worth what someone is actually willing to pay for it.
Guitar Center knows this all too well, and again, you should expect to get offered as little as 50% and as much as 70% of what your instrument may be worth at retail value. In this whole equation, we also have the issue of the condition that the particular piece of gear is in. This can greatly impact the price of any piece of gear. How much demand there is for the particular gear you are selling is another important factor. Popular brands and models which will sell quickly are much more likely to get an offer.
Guitar Center Trade-In: How Does It Work?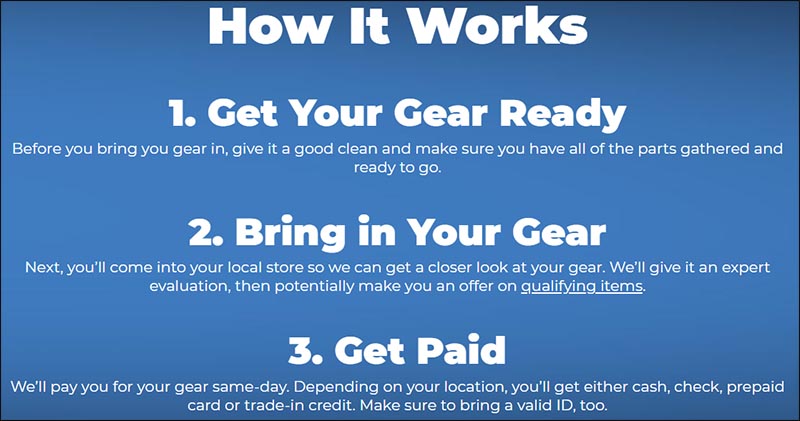 In this section, we'll talk about how the trade-in process works. Basically, all you have to do is bring in used gear into a Guitar Center location and after one of their experts evaluates it, they will tell you what it's worth. As mentioned before, you'll want to decide whether you want to trade in your guitar or get cash before you head into the store. If you decide on getting cash, you can do that but some specific terms apply.
How do I get paid for selling my guitar to Guitar Center?
One of the best things about selling used gear to Guitar Center is that it's so simple. Here is a screenshot from the Guitar Center website that explains why you might want to sell your gear there instead of listing it yourself.
Some potential sellers have also wondered whether they can shit their gear to a Guitar Center or if they can arrange to have their items picked up from their home. So far, Guitar Center has no policies in place to accommodate any such service. This may be a bit inconvenient to anyone who doesn't have a Guitar Center store in their proximity. But, unfortunately, you'll have to bring your gear to a physical store location in order to sell or trade with Guitar Center.
Guitar Center Trade in Trade up Frequently Asked Questions: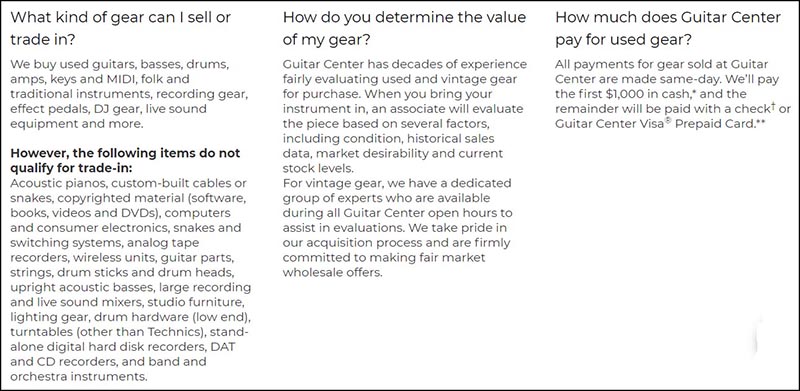 What's In It for Them?
Guitar Center is, first and foremost, a business, and although the used market is not their primary profit driver, they will still always be looking to earn a profit by re-selling your trade-ins. It's important to understand Guitar Center will not offer you full used value for your items. This is the case with any music store that buys music gear, not just Guitar Center. It's more realistic to expect offers between 50-70% of the used market price of the item. This allows enough margin for cleaning, set up, repairs these instruments and gear may need, as well as operating and processing costs associated with running the store.
After all, is said and done, there is usually not much profit left to be made on used re-sale items, but it's a valuable service they can offer customers, especially when they can offer you trade value to help you finally get your hands on that new piece of gear you've been eyeing.
Quality Standard Considerations
One of the most important things to point out is that Guitar Center is very adamant about purchasing gear that's in usable condition. It's not like they'll refuse to take a guitar that has some play wear or minor damage. However, they're looking to take gear that's in working order. Guitar Center accepts some minor damages, usually cosmetic ones, as long as the instrument works well. This means that the guitar, or any other instrument, is in a fully playable condition and has value for resale. For instance, your guitar should have a functioning bridge, pickups, electronics, all of its tuning machines working properly, and fret wire that's in usable condition.
Another thing to note is that they typically won't take random no-name instruments. If we're talking about pedals, effects, or any other electronic instruments or devices, it has to work properly and have no major damages. When you, for instance, stomp on a pedal, it should turn on without any issues. It should also work properly with both AC adapters and batteries and all of its parameter controls should be doing what they're intended.
According to the official information on their website, Guitar Center workers will evaluate what you bring to them. In some ways, it's similar to your regular pawn shops. They'll give their estimated value. Aside from the condition of the instrument, they'll also be interested more in gear that's selling better. This can be a particular series of instruments that people buy often, which increases their value.
Additionally, they claim that they have dedicated teams for vintage gear. All of the basic functional features must be in order, just like with other instruments and gear. It's only then that their teams will give you their estimated price.
Can I Trade in My Old Gear At Any Guitar Center Store?
Guitar Center will buy and trade at any of its retail stores. The first thing that you need to do is locate the store nearest to you. Then bring the used gear that you want to sell, and ask any of the retail workers for assistance with selling your items. It's as simple as that! Well, as long as the gear that you're selling is in working order and meets their criteria. Some exclusions apply, especially for their discount offer.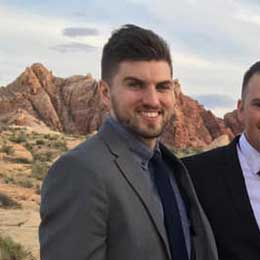 My name is Chris and I've had a passion for music and guitars for as long as I can remember. I started this website with some of my friends who are musicians, music teachers, gear heads, and music enthusiasts so we could provide high-quality guitar and music-related content.
I've been playing guitar since I was 13 years old and am an avid collector. Amps, pedals, guitars, bass, drums, microphones, studio, and recording gear, I love it all.
I was born and raised in Western Pennsylvania. My background is in Electrical Engineering, earning a Bachelor's degree from Youngstown State University. With my engineering experience, I've developed as a designer of guitar amplifiers and effects. A true passion of mine, I've designed, built, and repaired a wide range of guitar amps and electronics. Here at the Guitar Lobby, our aim is to share our passion for Music and gear with the rest of the music community.