Low action guitars come with solid advantages that make them popular among many guitarists! But how can you go about buying a good one?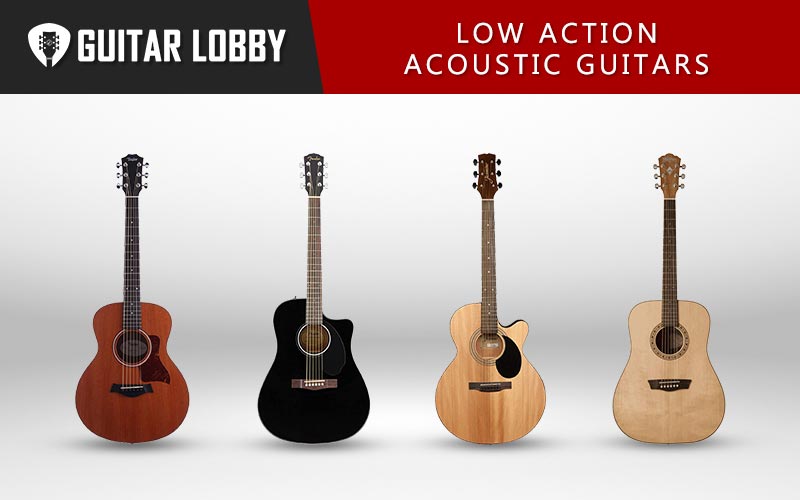 Over the years our team at Guitar Lobby has owned and tested dozens of low action guitars and in the rest of this article, we'll be giving honest reviews of the best low action acoustic guitars at each price point. If you want to learn more about them and read a detailed explanation as to what exactly is low action on a guitar, and how it's different from high action, check out our guide below the reviews.
List of the Best Acoustic Guitars with Low Action
1. Taylor 214ce-K Acoustic-electric (Best Overall)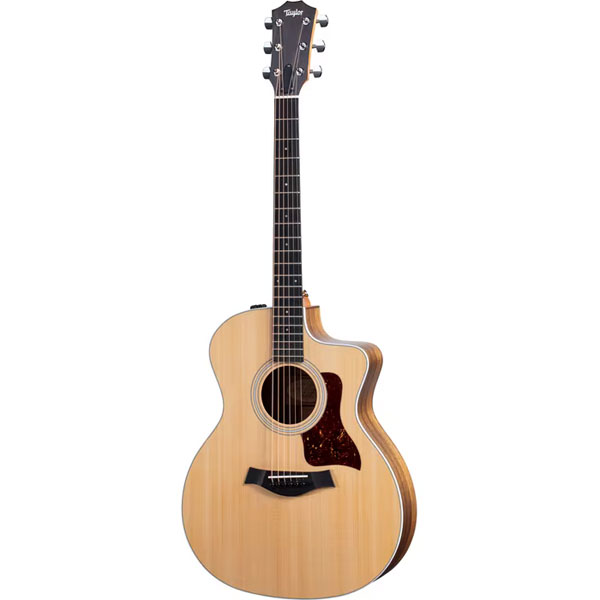 | | |
| --- | --- |
| Estimated Price | $1700 |
| Body Wood | Sitka spruce, Koa back and sides |
| Neck Wood | Tropical mahogany |
| Fingerboard Wood | West African Ebony |
| Frets | 20 |
| Case Included | Yes |
My Review: We did mention when it comes to comfort and playability, Taylor guitars are hard to beat. Taylor 214ce-K is another fantastic innovation with striking looks to match its top-shelf sound quality! It sports Taylor's signature Grand Auditorium body and has been crafted with the finest quality tonewoods- a solid Sitka spruce top with koa back and sides. The 214ce-K is also loaded with some fantastic high-end components, including proprietary ES2 electronics, making it a massive hit among recording professionals.
Overall Build & Design: The Grand Auditorium design is one of the most versatile body shapes around! It carries the width and depth of a dreadnought but with a sleeker waist for relaxed and comfortable playing. A Venetian cutaway with an incredibly smooth and fast neck opens up the fretboard for easy navigation. Light gauge Elixir Phosphor Bronze strings further lower the action to get the best out of your guitar.
Visually, this one's a looker! The koa body really catches the eye, while the satin finish, chrome tuners, an ebony bridge, and Italian Acrylic Dots fingerboard inlay give it a premium and classy appeal.
Wood Details: Taylor 214ce-K's Sitka spruce top is accompanied by a highly sought-after tropical tonewood- koa sourced from Hawaiin plantations 5,000 ft above sea level. Koa is not only known for its aesthetic appeal but also a unique tone that's a blend of mahogany and maple's tonal properties. The ultra-smooth neck has been crafted with tropical mahogany, while the fingerboard is made from West African ebony.
Tone & Sound Quality: Sonically, this guitar is extremely versatile. The Sitka-koa pairing fetches you a crisp, articulate tone with a dynamic range. In Koa, you'll find the meaty midrange of mahogany as well as the brightness of maple, making it ideal for fingerstyle and flatpicking alike. The onboard ES2 electronics do a stellar job in faithfully reproducing as well as shaping the natural sound of the guitar.
2. Yamaha APX600 Acoustic-Electric (Budget Pick)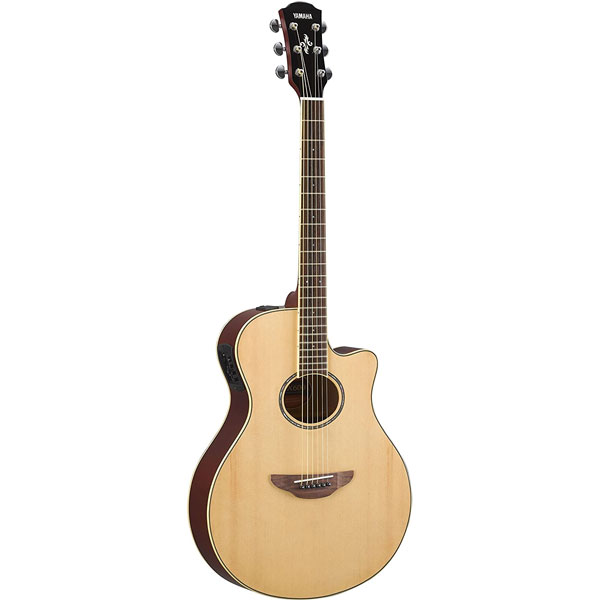 | | |
| --- | --- |
| Estimated Price | $300 |
| Body Wood | Spruce top with mahogany back and sides |
| Neck Wood | Mahogany |
| Fingerboard Wood | Rosewood |
| Frets | 22 |
| Case Included | No |
My Review: Here's an acoustic-electric that strikes all the right notes! Yamaha APX600 is an incredibly popular model in the entry-level guitar space, and for a reason. An easy-to-play design, solid build, and impressive electronics to boot make it a highly sought-after instrument. Its Thinline design and comfortable neck deliver low enough action for new learners and younger guitarists. The natural sound of the instrument is hands down best in class and stays intact even when amplified courtesy of the inhouse System 65A preamp and under-saddle piezo pickup. Finally, for doing its bit towards fostering sustainable production by sourcing local species of tonewood, I raise my hat to Yamaha!
Overall Build & Design: The iconic APX Thinline cutaway profile, 25" scale length and non-scalloped X bracing make reaching the upper frets on the fingerboard a cakewalk. A satin-finished neck with narrow string spacing plays smooth like butter! This model comes with all the bells and whistles, including an oval soundhole and a gorgeous ABS and abalone inlay to enhance aesthetics while providing meatier mid-range tones.
The guitar also comes with a rosewood bridge and die-cast chrome tuning pegs. If you do decide to buy this one, there are five awesome layouts to choose from- natural finish, vintage white, oriental blue, old violin sunburst, and classy black. All variants are a real treat to the eyes!
Wood Details: To construct the classic APX body shape, Yamaha has put high-quality laminated tonewood to good use without compromising the tone. The spruce top and mahogany back, sides, and neck are all superior quality laminate, making this a highly durable and robust construction. For APX600, Yamaha typically uses locally-sourced tonewood depending on availability. More recently, this model has been found with mahogany back, sides, and neck. The 22-fret fingerboard has been made with industry favorite rosewood.
Tone & Sound Quality: This is where APX600 truly shines! Its overall sound quality, resonance, and full-bodied, balanced tone match up to higher-end models. The tonewood cocktail gives you a sound that is powerful, rich with a thicker lower end. But the icing on the cake comes in the form of a 65A preamp and a highly sensitive under-saddle SRT piezo pickup that ensures the plugged-in sound stays true to the guitar's acoustic tone. There are some other sound goodies, too, like the 3-band EQ, controls, a mid-range frequency slider, and a convenient built-in tuner that allow you to tweak the sound to your liking.
3. Taylor GS Mini Acoustic Guitar (Best Value)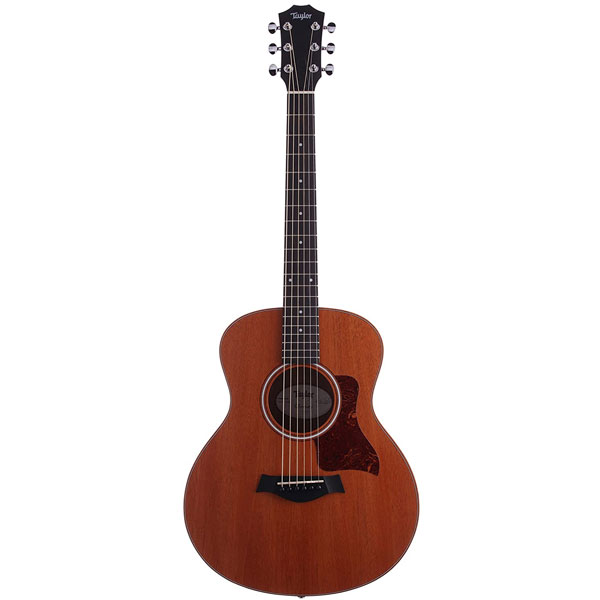 | | |
| --- | --- |
| Estimated Price | $550 |
| Body Wood | Solid mahogany top, layered Sapele back and sides |
| Neck Wood | Sapele |
| Fingerboard Wood | West African Crelicam Ebony |
| Frets | 20 |
| Case Included | Yes |
My Review: With its unique scaled-down Grand Symphony design and a surprisingly bold output for a guitar its size, Taylor GS Mini has been winning hearts since its launch in 2010. Like most Taylor guitars, this too sports the brand-patented neck to give its users an impressively low action and oodles of comfort while playing. Whether you like to strum, flatpick, or fingerpick, this immaculately built pint-sized Taylor is for you!
Overall Build & Design: Taylor has poured decades of expertise into crafting this small wonder. You get a scaled-down version of the popular GS shape with a traditional non-cutaway profile and X-bracing with a Relief Route. This type of bracing pattern is unique to Taylor, where a channel is laid out around the underside edge of the soundboard to facilitate more flexibility and tonal resonance.
We need to talk a bit more about the GS Mini's exceptional neck design, for that's what influences its action the most. The iconic soft 'V' neck profile clubbed with a narrow Nubone nut width creates a sleek feel akin to holding an electric, even with a full 56mm string spacing on the ebony bridge.
Aesthetically, this understated instrument derives most of its appeal from the deep mahogany hue beautifully complimented by a three-ring rosette and a tortoise pickguard.
Wood Details: This modern-day parlor boasts a tropical mahogany top with X laminate Sapele back and sides. The easy-to-play neck is also made from layered Sapele and paired with a 20-fret West African Crelicam Ebony, sustainably sourced from their own ebony sawmill in Cameroon.
Tone & Sound Quality: For its size, Taylor Mini packs quite a sonic punch! And what it lacks in the volume department is more than made up for by its versatile, strong, deep, and resonant tone. The choice of woods certainly plays a role here. The solid mahogany top produces a warm, mellow tone delivered with consistency and balance owing to GS Mini's Sapele body.
4. Yamaha FG800 Acoustic Guitar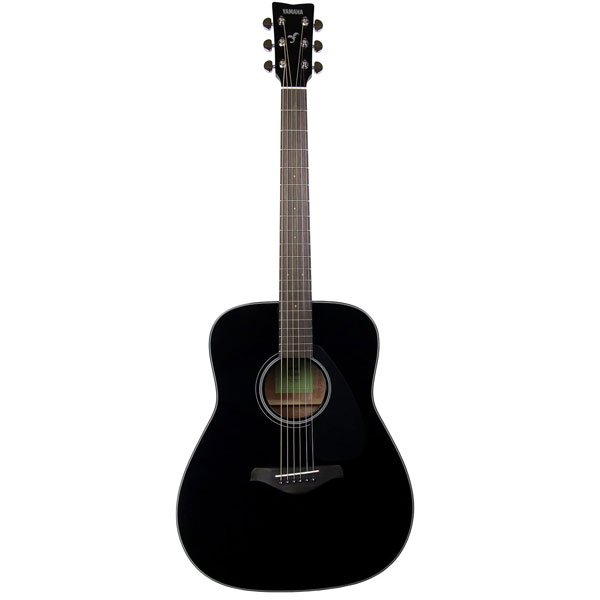 | | |
| --- | --- |
| Estimated Price | $220 |
| Body Wood | Solid Sitka spruce top, Nato back and sides |
| Neck Wood | Nato |
| Fingerboard Wood | Walnut |
| Frets | 20 |
| Case Included | No |
My Review: Yamaha's FG series has wooed and served the guitar community for over five decades. They are loved for their effortless playability, durability, and impressive sound quality, and most of all, their pocket-pleasing price. With their FG800, Yamaha has delivered another bang for the buck model with a smooth and low action. Its innovative design offers players a powerful and punchy sound with a rich low to mid-range.
Overall Build & Design: This model is available in two popular body shapes- dreadnought and concert. With the dreadnought option, what you get is a louder and more resonant sound, while the concert style is perfect for those who want a more compact profile and a balanced tone. Yamaha has thoughtfully crafted the FG800 with a modern scalloped bracing to support the guitar's solid spruce top's resonant, loud, and rich sound.
The FG800's satin-finished slim nato neck with gently rounded fret edges enhances the grip and comfort while allowing easy navigation of the fingerboard. Hardware is also on point with corrosion-resistant die-cast tuners, a tortoiseshell pickguard, and an adjustable truss rod.
Wood Details: A high-quality solid spruce wood top at under $250 is not a bad deal, won't you agree? You won't find many budget guitars with this feature. To deliver outstanding value, Yamaha has smartly paired the spruce top with cost-effective, lightweight, and reliable nato wood for the back, sides, and neck. Both the fingerboard and bridge are made from walnut. Heavy use of nato in FG800's build makes it incredibly lightweight and comfortable to hold.
Tone & Sound Quality: The overall sound quality of FG800 is pretty neat for the money you'll be shelling out! It has a full yet balanced, mellow tone where bright highs of spruce wood are nicely softened by nato, and the newly developed scalloped bracing amps up the projection, making the sound fatter and louder.
5. Martin LX1E Acoustic-electric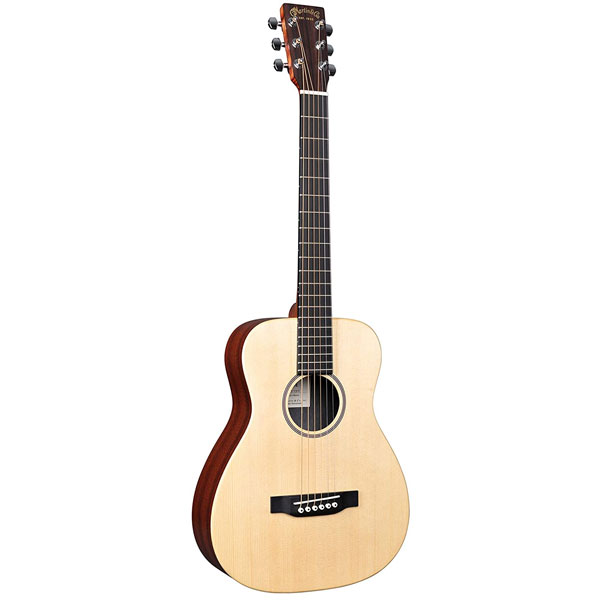 | | |
| --- | --- |
| Estimated Price | $500 |
| Body Wood | Solid Sitka spruce top with Mahogany pattern HPL textured finish back, sides |
| Neck Wood | Rust Stratabond |
| Fingerboard Wood | Richlite |
| Frets | 20 |
| Case Included | Yes |
My Review: High on quality and low on action, this little marvel is a dream buy for any budding guitarist. Produced by no less than one of the biggest names in the acoustic world, C.F. Martin & Co., the LX1E acoustic-electric has a sound that belies its size. Its cleverly crafted 23" scale length body, together with a modified low oval-shaped neck and richlite fretboard, makes for effortless fretting and bending. The electronics built into LX1E contribute to its versatility, making it stage-ready at a moment's notice. This compact acoustic also comes with a plush gig bag making it effortless to carry wherever you go.
Overall Build & Design: The Little Martin Series is a testament to Martin's 200-year-old craftsmanship. In LX1E, you get a handmade sized-down body that promises comfort without compromising on the tone. It's sturdily built while keeping the overall construction pretty lightweight. The low oval-shaped neck coupled with a mortise and tenon neck joint and hand-rubbed finish scores high on playability. Gotoh nickel tuning pegs, white Corian nut, and solid Morado bridge work well in enhancing the performance and visual appeal of the instrument.
Wood Details: With LX1E, Martin has ticked all the right boxes in delighting aspiring guitarists and smaller players with a premium product at an affordable price. The top is a hand-rubbed solid Sitka Spruce top, more often found on high-end guitars. To build the back and sides, Martin has employed mahogany pattern high-pressure laminate. This choice of material offers superior protection from heat and moisture. The rust Stratabond neck with a richlite fingerboard is easy to grip and smooth to play.
Tone & Sound Quality: As we mentioned earlier, this Little Martin may be small in size but big on tone and versatility, so much, so that popular musicians frequently use it for alternate tunings and tonal variations. The overall sound you get is bright (thanks to the spruce top!), resonant, and evenly balanced with good projection. The pre-installed and fitted Fishman Sonitone preamp and pickup system ensures Little Martin's natural voice carries through when plugged in.
6. Alvarez Artist Series AD60 Dreadnought
| | |
| --- | --- |
| Estimated Price | $350 |
| Body Wood | Sitka spruce, mahogany back and sides |
| Neck Wood | Mahogany |
| Fingerboard Wood | Rosewood |
| Frets | 21 |
| Case Included | No |
My Review: Gone are the days when buying a low out-of-box action guitar meant breaking the bank! Now, getting comfortable action that suits your style of playing is available in practically every price range. Part of the award-winning "Artist Series," Alvarez AD 60 dreadnought is a stellar guitar that offers exceptional value with its flawless design, carefully handcrafted construction quality, and astoundingly smooth playability. It is also one fine-looking guitar with a beautiful natural gloss finish, and Paua abalone and mother of pearl inlays lend for enhanced aesthetics.
Overall Build & Design: This one is a dreadnought-shaped guitar that sports a solid Sitka spruce top with a forward shifted X bracing design, not often found in models this price. This bracing style gives way to a larger soundboard area for more vibrations and sound projection. But wait, there's more! For you to get the best out of your guitar, a bi-level bridge, real bone nut, and saddle, and premium chrome die-cast tuners come in handy.
Wood Details: Solid 'A+' grade Sitka spruce ensures the top looks fabulous while rendering it stiff, sturdy and finely grained. The rest of the body, including the neck, is crafted out of mahogany. Both the bi-level bridge and fingerboard are standard rosewood.
Tone & Sound Quality: AD60's sound and responsiveness can rival many higher-end models. Great quality tonewoods, hardware, and solid build produce a sound that's rich, powerful, expressive, and balanced.
7. Martin DJR-10e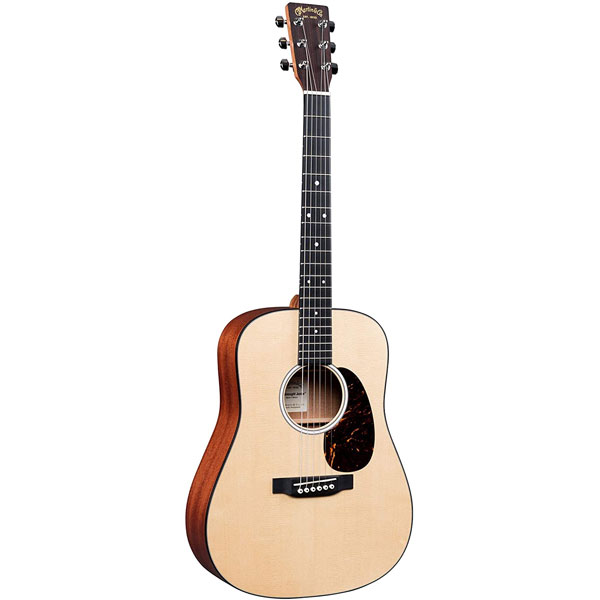 | | |
| --- | --- |
| Estimated Price | $600 |
| Body Wood | Solid Sitka spruce top, solid Sapele back and sides |
| Neck Wood | Select Hardwood |
| Fingerboard Wood | Richlite |
| Frets | 20 |
| Case Included | Yes |
My Review: If you're looking for classic dreadnought sound but in a smaller body, Martin DJR-10e is right up your alley. Handmade solid wood compact construction with a highly playable richlite fingerboard, and stellar Fishman Sonitone electronics, there's plenty to love about this Martin. With DJR-10e, Martin has delivered effortless playability, excellent projection, and a well-balanced tone in an easy-to-hold compact-sized body. The DJR-10e's unique body style is perfect for younger players, beginners, and those looking for a compact travel guitar.
Granted, it may seem a bit pricey. But when it comes to Martin, you're definitely getting more than what you pay for!
Overall Build & Design: One look at the design and build of this junior-sized dreadnought, and it's easy to see why getting one of these is money well spent. The solid wood top has a scalloped X bracing that works well in supporting the body while making the soundboard more responsive and flexible. To top it off, DJR-10e's flawlessly built taper hand-rubbed neck comes with a mortise and tenon neck joint. And chrome enclosed-gear tuners look good, and make sure your guitar is always in tune. All of these factors make this guitar a dream to hold and play for long hours at a go.
Wood Details: The top is expertly handcrafted from solid Sitka spruce, hailed for its out-of-box clear, sweet, bright voice that gets even better with time. For back and sides, mahogany is a wise pick that, with its richness and depth, brilliantly compliments spruce's tone.
Tone & Sound Quality: The tonewood cocktail of Sitka spruce top and mahogany body spell sonic magic by giving this guitar a dynamic, well-balanced tone with excellent bass. But that's not all. Fishman Sonitone onboard electronics ensure that this iconic Martin tone is faithfully reproduced whenever you decide to get the electric mode on!
8. Jasmine S34C NEX Acoustic Guitar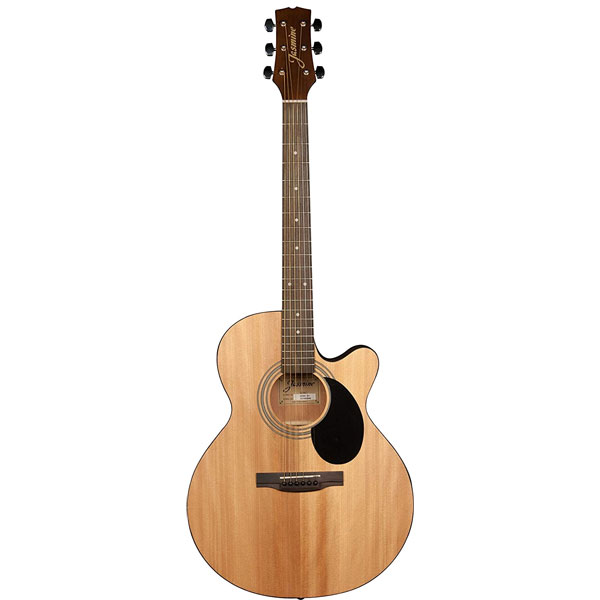 | | |
| --- | --- |
| Estimated Price | $120 |
| Body Wood | Laminate spruce top, Sapele back and sides |
| Neck Wood | Nato |
| Fingerboard Wood | Rosewood |
| Frets | 20 |
| Case Included | No |
My Review: Formerly part of top-of-the-line musical instruments manufacturers Takamine family, Jasmine guitars is a highly affordable brand with a strong focus on quality, design, and playability. With their S34C NEX, they've created a guitar that sticks to the basics and does it well, perhaps the reason why it sells like hotcakes!
Overall Build & Design: The S34C NEX is as easy on the fingers as on the pockets! A scaled-down jumbo "NEX" style with a Venetian cutaway lays the ground for low action, made even more comfortable thanks to a slim, satin-finished neck. The hardware is pretty neat too. You get corrosion-resistant chrome tuners, a rosewood bridge, and a synthetic bone nut. Overall a sturdy, well-built construction that is also visually quite appealing.
Wood Details: The S34C NEX offers you the goodness spruce in the form of a select spruce top with the brand's advanced "X" bracing. For back and sides, Jasmine relies on the durable layered Sapele. The sleek nato neck is easy to play and features a 20-fret rosewood fingerboard that's easily accessible courtesy of the Venetian cutaway profile.
Tone & Sound Quality: Jasmine S34C NEX's tone and sound output will take you by surprise! It is evenly balanced, rich with punchy lows and mids. The bracing style and satin finish work well in maximizing resonance. At such a low price and action, I anticipated some fret buzz but was pleasantly surprised to find none!
9. Taylor Academy 10E Dreadnought Acoustic-electric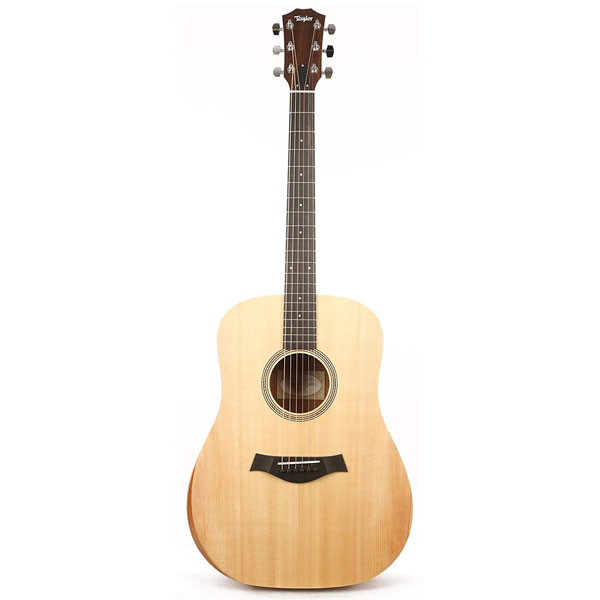 | | |
| --- | --- |
| Estimated Price | $700 |
| Body Wood | Sitka spruce top, Sapele back and sides |
| Neck Wood | Hard Rock Maple |
| Fingerboard Wood | Ebony |
| Frets | 20 |
| Case Included | Yes |
My Review: Where low action is concerned, Taylor is bound to show up for the brand has built a mighty impressive name for producing some of the most easily playable, premium guitars. Taylor Academy 10E carries forward this tradition by offering excellent playability to beginners and experienced players alike. The guitar is a trinity of superior craftsmanship, clever design, and top-notch sound quality.
Everything from the selection of finest tonewoods, slim neck profile, tone-enhancing varnish to the thoughtful addition of built-in armrest to reduce fatigue is a testament to Taylor's renowned guitar-making. And that's not only why I love it. This beauty also comes with a nifty set of proprietary ES-B onboard electronics to carry its sound to every ear around!
Overall Build & Design: The 10E screams comfort and quality right out of the box! It has a traditional dreadnought body shape with a smooth playing hard maple neck. The shorter length of neck, 1-11/16-inch nut width, and Elixir Phosphor Bronze light-gauge strings do well in lowering string action. But the design appointment that really stands out is the inclusion of an otherwise higher-end fatigue-fighting armrest feature. By cushioning the contact between the instrument and the player's arm, this armrest takes comfort to a whole new level.
Other impressive specs that come with this model are robust chrome tuners, Nubone nut, Micarta saddle, and an understated yet stunning single-ring Baltic birch rosette.
Wood Details: Taylor Academy 10E has a solid Sitka spruce top with layered Sapele back and sides. Together these tonewoods produce bright, punchy trebles with warm low end, making this instrument ideal for flatpicking and strumming. Torrefied maple has been used to construct the neck topped with a West African Crelicam Ebony fretboard. This model comes in a natural layout sealed with a flawless satin varnish.
Tone & Sound Quality: Excellent sound quality is what one expects from a Taylor, and that's precisely what you get. The 10E gets clear, resonant highs from its solid Sitka spruce soundboard and outstanding projection from the dreadnought design.
It has a more emphasized mid and upper mid presence along with deep bass tones that don't disappoint. When plugged in, the built-in ES-B preamp and pickup swoop in to amplify the guitar's natural voice with jaw-dropping precision. You also get a pretty useful onboard digital chromatic tuner with an LED display for quick and convenient tuning.
10. Yamaha FG-TA Transacoustic Dreadnought Acoustic-electric Guitar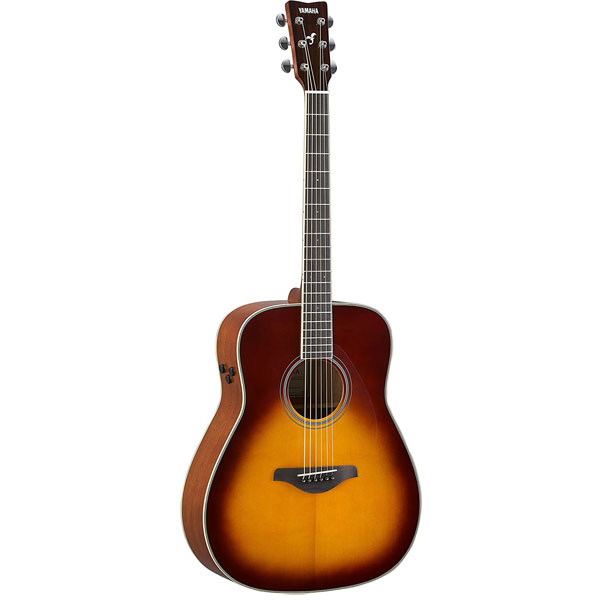 | | |
| --- | --- |
| Estimated Price | $650 |
| Body Wood | Solid spruce top, mahogany back and sides |
| Neck Wood | Nato |
| Fingerboard Wood | Rosewood |
| Frets | 20 |
| Case Included | No |
My Review: Not only does this model boast the state of art Transacoustic technology, but Yamaha FG-TA scores big on literally every department! In fact, it would by no means be an exaggeration to call the FG-TA one of the best acoustic-electric guitars overall. A full dreadnought body and improved scalloped bracing coupled with a slim neck will give you action that's super finger-friendly. And on the off-chance you find the action a tad high for your taste, you can always use the double-action truss rod or sand down the nut/saddle to lower it. An included gigbag or case would have sweetened the deal even more!
Overall Build & Design: The FG-TA sports a dreadnought body that comes with an innovative scalloped bracing for projection and resonance. Its slim nato wood neck is fast, silky smooth to maneuver, and features a bound fingerboard for comfortable fretting. Besides the eye-catching brown sunburst finish, this model is also available in vintage tint, ruby red, and black layout.
Wood Details: With the FG-TA, you get nothing but the best! The solid spruce top and high-quality laminated mahogany back and sides make the instrument durable, lightweight with a beautifully balanced sound. The pairing of tapered, sleek nato neck and rosewood bound fingerboard delivers action that's nice and low.
Tone & Sound Quality: This guitar's bright, articulate tone is on the warmer side with distinct low-mid range emphasis, all thanks to the spruce-mahogany combo. Yamaha's groundbreaking Transacoustic built-in actuator enriches this instrument's natural voice with chorus and reverb. And all of this using just the guitar's body without having to plug it in! And when you do decide to go electric, you'll be awe-struck by the accuracy and definition of proprietary System70 Transacoustic preamp and SRT piezo pickup.
11. Fender CD-60SCE Dreadnought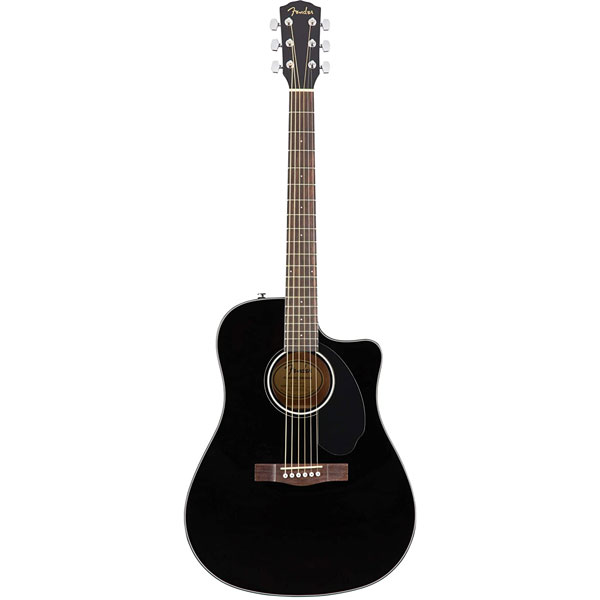 | | |
| --- | --- |
| Estimated Price | $380 |
| Body Wood | Solid spruce top, mahogany back & sides |
| Neck Wood | Mahogany |
| Fingerboard Wood | Walnut |
| Frets | 20 |
| Case Included | Yes |
My Review: By combining a clever design with its renowned craftsmanship and powerful onboard electronics, Fender has delivered a perfect starter guitar in the form of the CD-60SCE. This nifty acoustic-electric has everything a budding guitarist needs! Its solid spruce wood top and mahogany body have been designed to provide a breezy playing experience.
And the magic certainly doesn't end here! This guitar is packed with a lot of goodies to up your guitar game, including a built-in tuner and Fender exclusive CD-1 Fishman pickup/preamp system.
Overall Build & Design: This impressive all-rounder sports a dreadnought style with scalloped X-bracing and a Venetian cutaway for easy fret access. When put together with a patented easy-to-play neck with rolled fretboard edge, these factors create low action ideal for novices and seasoned players. And not to forget, the dual-action truss rod only takes the playability factor up a notch by allowing swift adjustment of the neck.
Fender is known for including great quality hardware, and it sure doesn't disappoint here. CD-60SCE features a walnut bridge and durable chrome-die cast tuning machines. The set of strings that come with this guitar are trademark Dura-Tone 880L coated 80/20. The variant we are reviewing has a classy black finish with a mother of pearl soundhole, but the CD-60SCE is also available in natural finish and an all-mahogany build.
Wood Details: For its clear, powerful, and full-bodied sound, you have Fender's blend of tonewoods to thank! The top is crafted from industry favorite solid spruce wood, while the rest of the body, including the neck, is mahogany. The 20-fret fingerboard has been made from walnut, which is not a very popular tonewood when it comes to the fretboard. Walnut fretboards are known for making the tone a tad crispier because of their grain pattern but have resilience comparable to that of rosewood.
Tone & Sound Quality: This Fender is a versatile-sounding guitar, and I am particularly struck by its fantastic range of tones. The spruce-mahogany tonewood cocktail and dreadnought style with scalloped X bracing produce a loud, resonant sound with a bright high-end. The Fishman pickup, onboard tuner, and controls work brilliantly in reproducing this classic Fender sound anywhere you want!
12. Ovation CE44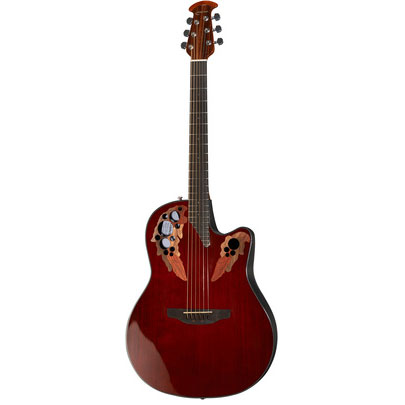 | | |
| --- | --- |
| Estimated Price | $550 |
| Body Wood | Spalted Maple top with Lyrachord back and sides |
| Neck Wood | Nato |
| Fingerboard Wood | Rosewood |
| Frets | 20-24 |
| Case Included | No |
My Review: Ovation is known to cater to more of a niche group of guitar players. Ovation is known for its signature and unique guitar designs, with a very distinctive look. With the Celebrity Elite, they have absolutely blown it out of the park in terms of tone, playability. Your hands will never get tired of playing this beautiful guitar. Ovation's guitars are made for the slightly more experienced guitar players looking for a specific sound and for those who are willing to shell out a little extra.
Ovation is known for its small team of luthiers and technicians in the US who put in their massive expertise to craft great guitars like these which are a culmination of top quality, great sound, and top craftsmanship. Even though it's in a higher range in terms of price, compared to the other guitars within this price, like the Martins, Taylors, etc, Ovation is right up there and can kick ass!
Overall Build & Design: At first glance, you are most likely to notice its multiple soundholes, it is not just a visual gimmick, there are scientific reasons for it and this design contributes to the lovely sound. You can see the Lyrachord body with a solid spruce top which is super durable and very reflective of the sound. You also find the patented Ovation saddles which give you 6 piezo crystals, one under each string which gives you such a balanced sound, the reason being, it's vibration-sensitive as opposed to pressure-sensitive.
This guitar is an absolute beauty! It contains a satin-finished neck, 10'' radius fretboard, 20 fully accessible frets, (goes up to 23 for the higher E string) an onboard 3 band EQ system, volume control, battery tester, and also a fantastic pickup to amplify your guitar, along with an inbuilt guitar tuner.
Wood Details: The fretboard is of rosewood which makes it super easy to play smooth and fast. Epaulets, made of extremely top-quality wood, cover the outline of all the soundholes which, as mentioned earlier not just contribute to looks, but mainly to that rich, lush sound. The Ovation CE44 comes in lovely colors too, mainly the reverse red burst and the reverse blue burst.
Tone & Sound Quality: It has a great sound by itself, and when plugged in, the amplification is unreal, because of the high-quality pickups, the Ovation Slimline, and the OP-4BT electronics. Ovation is one of the higher-end guitars out there and you can see it played by legends like John McLaughlin, Mark Knopfler, Lee Richards to name a few.
13. Cordoba C9 Crossover Classical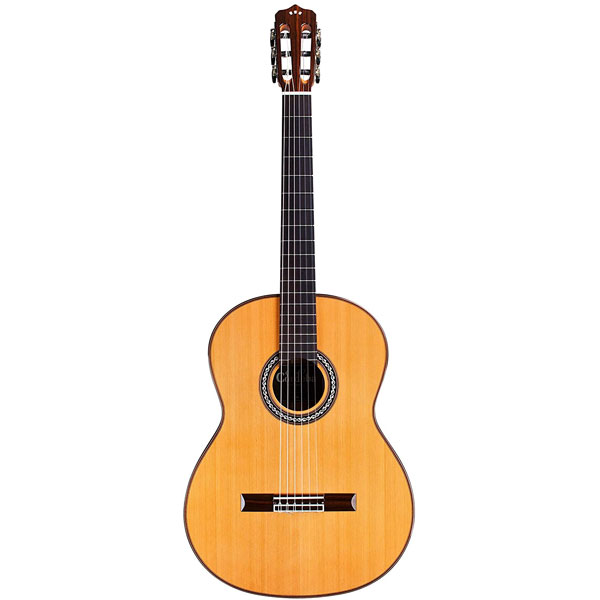 | | |
| --- | --- |
| Estimated Price | $970 |
| Body Wood | Solid Canadian Cedar Top |
| Neck Wood | Mahogany |
| Fingerboard Wood | Rosewood |
| Frets | 20 |
| Case Included | Yes |
My Review: This guitar, from the 'Luthier's collection' is an absolute delight to play. Cordoba is a lovely brand that's been around for a while now and one of the best in business when it comes to Classical guitars. Cordoba guitars have a lovely marriage of traditional designs and modern technology. The finish on the c9 is one of the best you'll get to see on a guitar of this price range. This is the perfect guitar for those of you who want to upgrade to a good concert-level Spanish guitar.
Overall Build & Design: The Cordoba c9 is a surprisingly light guitar. It has a width of 290mm and a length of 11.4'' at the upper bout and a width of 370mm and a length of 14.6'' at the lower bout. It has modern features like a two-way truss rod which ensures neck stability for a super long time. The c9 has got a slightly slimmer neck compared to traditional classical guitars, which makes it easier for those of you who are used to steel-string acoustic guitars. The switch becomes easier. The nut and saddle are made of bone. The tuning pegs are gold-toned with black buttons. The c9 has a 7/8 body size which is quite smaller than traditional classical guitars. The handmade mother of pearl weave rosette around the soundhole gives it a very retro look from the 1920s.
Wood Details: The luthier series of these Cordoba guitars are completely handmade, with woods of premium class that is selected extremely carefully. Solid Canadian Cedar Top, and solid Mahogany on the back and sides, give you a punchy mid-range tone and long sustain, with also a high gloss finish. It has an Indian Rosewood bridge and binding. The fingerboard is of Rosewood. The c9 is also available with a Solid European Spruce Top.
Tone & Sound Quality: Rich sound for this one too. The c9 can get loud too. The lows of the c9 are warm but mighty, the trebles are sweet with a lovely sustain. It has got great control over the sound, with all the registers being fairly even. This guitar is the perfect upgrade for any student.
14. Ibanez AW54CEOPN
| | |
| --- | --- |
| Estimated Price | $230 |
| Body Wood | Dreadnought |
| Neck Wood | Mahogany |
| Fingerboard Wood | Ovangkol |
| Frets | 20 |
| Case Included | No |
My Review: This guitar is a treat to your eyes and any intermediate guitarist's dream. This guitar is from Ibanez's famous Artwood series. It is a great mid-level guitar. Adding to its charm is the beautiful black and white rosette around the soundhole. The action is super low and is super easy to play. It comes with D'addario strings but I highly recommend Elixir strings for this one! Safe to say, this is one of the most affordable higher-end guitars in the game.
Overall Build & Design: The craftsmanship on this guitar is top class. It has got a nice and rustic look unlike the glossy finishes on the other guitars, which also adds to the super warm tone. The Ivorex ll nut and saddle make sure every string vibrates to its maximum, which gives you a nice long sustain. The AW54CEOPN contains the Fishman Sonicore active pickup system near the saddle. It contains a phase to reduce feedback when you are live on stage, and also a nice and cute inbuilt tuner. Whether in your living room, studio, stage, or campfire, your Ibanez is always gonna be a perfect partner.
Wood Details: The sides, back, headstock, all Mahogany, with an Ovangkol fingerboard ensure a nice aesthetic to the guitar and nice solid action. The Mahogany has a natural open-pore finish which gives it a super vintage look and contributes to the large, but super warm sound. Ovangkol in comparison is more bright sounding than Rosewood.
Tone & Sound Quality: The open-pore finish ensures that not much sound is projected, and only mellow tones are produced, resulting in a very warm sound. When plugged in, it sounds like a beast, but still keeps the warmth, with the world-class Fishman pickups and an efficient 2 band EQ. The ovangkol is a close relative of the rosewood, and it ensures a wide spectrum of highs and lows, with a relatively fuller midrange and a bright treble.
15. Washburn HarvestD7S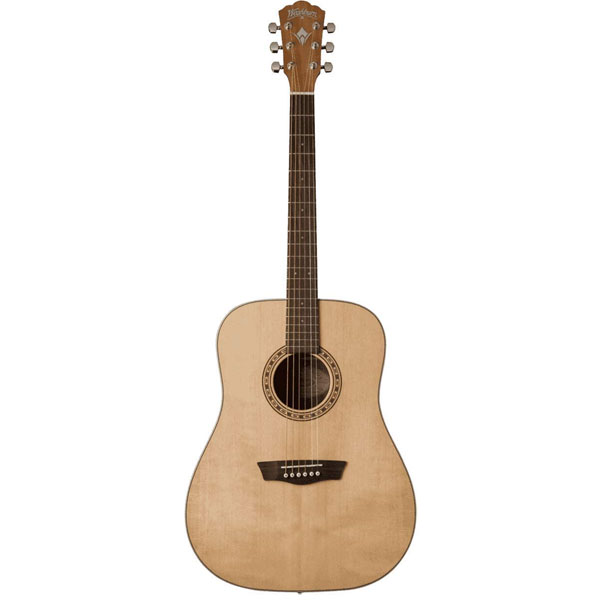 | | |
| --- | --- |
| Estimated Price | $320 |
| Body Wood | Spruce |
| Neck Wood | Mahogany |
| Fingerboard Wood | Ovangkol |
| Frets | 20 |
| Case Included | N0 |
My Review: A guitar is very personal, it needs to look good, and sounds good for you to enjoy the music. Everyone has their own taste in that sense. The Washburn Harvest D7S is truly a work of art. Washburn guitars are great for their value. And this guitar offers a perfect blend between higher and lower-end guitars. With a solid spruce top, and mahogany body this guitar definitely stands out from the other budget guitars in this range. The action is nice and low. This is in my opinion the best guitar for a beginner!
Overall Build & Design: Washburn has been making quality, affordable guitars, banjos, ukeleles, since 1883 and is one of the favorite brands among musicians. The neck is relatively smaller which makes it easier for beginners or people with smaller hands to play easier. It has very low action, with absolutely no buzzing, which makes it easier to play notes which are frets apart. The D7S comes with very efficient Chrome Diecast tuners, which will make sure you also sound good.
Wood Details: The Washburn Harvest D7S comes with a solid spruce top, and also its rosette is made of wood. The back and sides are made of Mahogany, with a nice glossy finish. It has a satin finish on the neck and a cream body binding. Its ovangkol fretboard ensures absolutely smooth movement around. The d7s has a scale length of 25.5'' and a nut width of 1.6875''. If you are looking for a good-looking, good-sounding solid top guitar that will go easy on your wallet, look nowhere. The D7S is all yours!
Tone & Sound Quality: This guitar offers good quality electronics, The Spruce top ensures that there is excellent and super clear, and large sound projection. This guitar is the best for live performances and is a super-versatile guitar, fitting into any genre. You get a brilliant sustain as a result of the mahogany neck and ovangkol fretboard, and also you'll be surprised at how loud this guitar can get. This guitar is without a doubt, value for money. Keep the music alive!
What Does Guitar "Action" Mean?
To put it simply, guitar action is the height between the fretboard and the strings. This height decides how hard you'll need to press on the strings to produce a clear sound. This means that the action of your guitar plays a big role in its playability, comfort, the playing styles possible on it, and more. That's why it's important to know the benefits of low action guitars to know whether it will be the right choice for you.
What Is Low Action On a Guitar?
Low action means that your guitar strings are closer to the fretboard – that's why you need to put very little pressure to play notes or chords. This is a HUGE benefit, especially for beginner guitarists who are just starting out with their lessons. Low action adds to your guitar's playability and makes it very comfortable to play at faster speeds.
Pro tip: While low action guitars are super smooth to play, they can lead to fret buzz if you're not careful. Fret buzz means that the string is touching the fret and vibrating AGAINST it, instead of OVER it. This creates an annoying buzzing sound and interferes with your ability to play cleanly. So I suggest making sure that your action is low enough to play comfortably, but not so low that it leads to fret buzz.
Comparing Low vs. High Action Guitars
When it comes to guitar action, you can't say that any one type of action is better than the other. Having said that, both low action and high action on the guitar come with their own benefits. It's important to see what your playing style and preferences are, so you can choose between the action that will work best for you.
Here are the qualities of high and low action guitars at a glance:
| | |
| --- | --- |
| Low Action Guitars | High Action Guitars |
| Easier to fret (ideal for longer practice sessions) | Harder to fret (may get tired quicker while playing) |
| More comfortable to play – less effort to press down strings | Harder to press down strings |
| Ideal for beginners guitarists | Can be played by intermediate to advanced guitarists |
| Help you play faster | May be tough to play faster – takes longer to press down frets |
| Ideal for playing fingerstyle guitar, fingerpicking, and solos | Stronger sound and sustain make it ideal for strumming and bluegrass flatpicking |
| May produce a lower volume than high action | Barre chords can be tougher to play |
Final Thoughts
I hope you enjoyed this blog, and it helped you choose the perfect low-action guitar for you! Getting a good quality guitar with the right action is very important – as it can inspire you to spend more time practicing and improving your skills. Here's wishing you hours and hours of blissful playing on your guitar every day!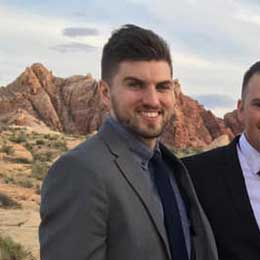 My name is Chris and I've had a passion for music and guitars for as long as I can remember. I started this website with some of my friends who are musicians, music teachers, gear heads, and music enthusiasts so we could provide high-quality guitar and music-related content.
I've been playing guitar since I was 13 years old and am an avid collector. Amps, pedals, guitars, bass, drums, microphones, studio, and recording gear, I love it all.
I was born and raised in Western Pennsylvania. My background is in Electrical Engineering, earning a Bachelor's degree from Youngstown State University. With my engineering experience, I've developed as a designer of guitar amplifiers and effects. A true passion of mine, I've designed, built, and repaired a wide range of guitar amps and electronics. Here at the Guitar Lobby, our aim is to share our passion for Music and gear with the rest of the music community.