A 12 string guitar, whether it be acoustic or electric, can open up a new avenue of sound that 6 string guitars simply cannot reach. Ringing out big thick open chords and adding a harmonic "fullness" to your tone, a 12 string guitar can be an extremely valuable addition to your guitar rack.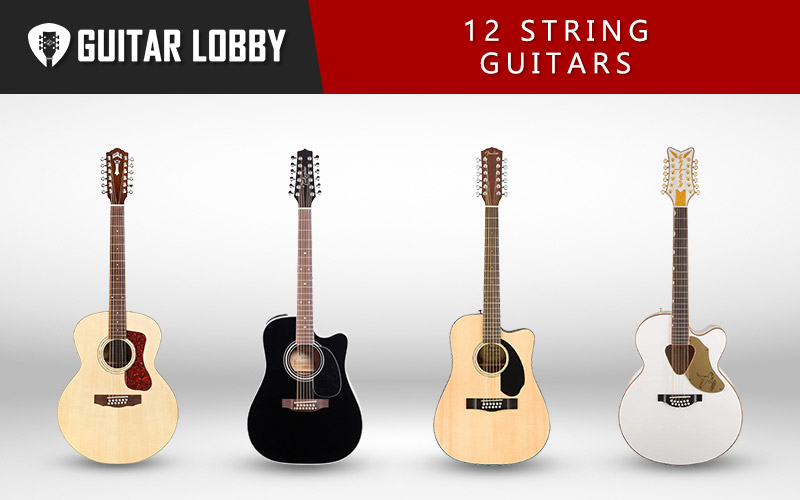 This is likely not your first guitar, but something you want to add to your collection, use in the studio, or record at home to get a massive, chorus filled sound. We'll start this article by discussing the best 12 string guitars at each price point, but if you want to learn more about them before reading reviews check out our buying guide at the bottom of the page.
Name of Product
Image of Product
Description
Price Range
Full Review
1. Seagull Coastline S12 QI (Best Value)
Body: Solid cedar top with solid cedar back and sides
Neck: Maple
$700
Read Full Review Below
2. Martin D12-28 (Best Overall)
Body: Solid Spruce top with rosewood back and sides
Neck: Maple
$3600
Read Full Review Below
3. Taylor 254ce (Editor's Choice)
Body:

 Solid Spruce top with Indian rosewood back and sides


Neck:

 Maple

$1800
Read Full Review Below
4. Guild F1512E (Best Under $1000)
Body: Solid Sitka spruce top with solid Indian rosewood back and sides
Neck: Mahogany
$1000
Read Full Review Below
5. Yamaha FG820-12 (Budget Pick)
Body: Solid spruce with mahogany back and sides
Neck: Maple
$360
Read Full Review Below
6. Martin D12X1AE
Body: Solid Sitka spruce top with rosewood HPL sides and back
Neck: Mahogany
$1100
Read Full Review Below
7. Alvarez AJ80CE12
Body: Solid sitka spruce top with maple shell
Neck: Mahogany
$550
Read Full Review Below
8. Ibanez Performance Series PF1512 Dreadnought
Body: Spruce top with mahogany back and sides
Neck: Mahogany
$230
Read Full Review Below
9. Fender CD-60SCE
Body: Sitka spruce top with mahogany back and sides
Neck: Rust burch laminate
$350
Read Full Review Below
10. Takamine GJ72CE-12NAT
Body: Solid spruce top with flame maple back and sides
Neck: Mahogany
$700
Read Full Review Below
11. Ibanez Artcore AS7312
Body: Maple
Neck: Mahogany
$500
Read Full Review Below
12. Fender CD-140SCE-12
Body: Solid spruce with rosewood back and sides
Neck: Mahogany
$430
Read Full Review Below
13. Epiphone DR-212
Body: Spruce top with mahogany back and sides
Neck: Mahogany
$270
Read Full Review Below
14. Gretsch G5022CWFE-12
Body: Solid spruce top with maple back and sides
Neck: Maple
$700
Read Full Review Below
15. Oscar Schmidt OD312CEB-A-U
Body: Select spruce with mahogany back and sides
Neck: Mahogany
$230
Read Full Review Below
16. Takamine EF381SC
Body: Solid Sitka Spruce top with solid maple back and sides
Neck: Mahogany
$1600
Read Full Review Below
17. Rickenbacker 330/12
Body: Maple top with maple back and sides
Neck: Maple
$3600
Read Full Review Below
Here Are the Best 12 String Guitars (Acoustic and Electric)
1. Seagull Coastline S12 QI (Best Value)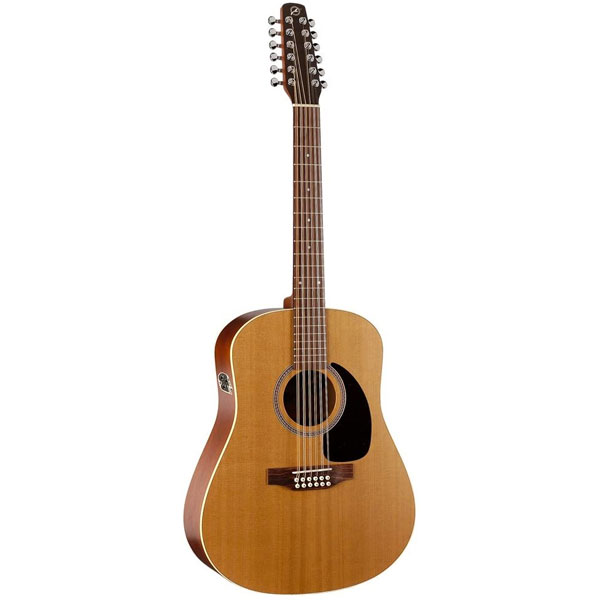 | | |
| --- | --- |
| Estimated Price | $700 |
| Body | Solid cedar top with solid cedar back and sides |
| Neck | Maple |
| Scale Length | 25" |
My Review: Everything about the S12 QI is rock solid and shows great craftsmanship. As far as 12 string guitars in the mid-price range it doesn't get better than this in terms of value. The S12 QI has plenty of girth and definition. It's a loud guitar that fills the spectrum with wonderful overtones of those secondary strings.
Key Specs and Features: For starters, Seagull handcrafts most of their guitars reaching well into the affordable range. I really like their trademark pressure tested solid cedar tops as well as solid back and sides. In the case of S12 QI, we have a wild cherry shell. This intriguing choice of tonewood extends to the neck as well. The S12 QI is your standard dreadnought in terms of body shape.
That impressive quality doesn't stop with tonewood, though. You can see plenty of it when you start looking at the hardware as well. The bridge is a massive piece made of rosewood that features a Tusq compensated saddle. The nut is also made of Tusq. On the tuning machine sides of things, we have a set of standard diecast units that are pretty sound. Key retention is great even if you go harder on those strings. On a similar note, tuning precision and gearing accuracy is well within the specs for this price range. Since this is an acoustic-electric model, there is naturally a preamp built into the guitar. The system in question is Godin QI. While it might not have the same weight as say Fishman or similar, you do get a three-band EQ which is awesome in its own right. Seagull Coastline S12 QI is rock solid. When plugged in, Godin's QI system takes over and delivers the core sound straight to the speakers.
Target Customer: It is a handmade instrument with an abundance of quality components, materials, and craftsmanship. If you are after a proper working musician's guitar on a budget, this is definitely it.
Bottom Line: Just the fact that you are dealing with a handmade instrument hints that performance is going to be above average, to say the least. I really love this guitar and highly recommend it!
2. Martin D12-28 (Best Overall)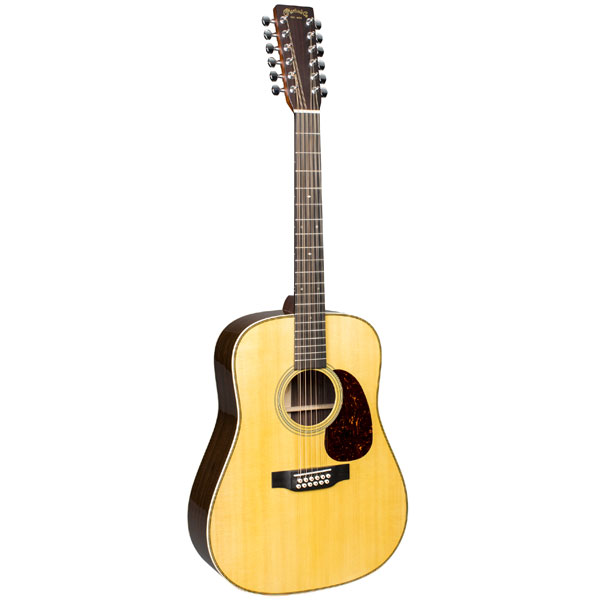 | | |
| --- | --- |
| Estimated Price | $3600 |
| Body | Solid Spruce top with rosewood back and sides |
| Neck | Maple |
| Scale Length | 25" |
My Review: Martin's D-28 is an absolutely legendary guitar, and the great news is that Martin offers a 12-string version, with largely the same specs as the original, called the D12-28. As you'd expect, straight off, the playability of this guitar is flawless. The action is low and light. The sweet tone has a richness and depth that could only inspire.
Key Specs and Features: the D12-28 boasts of a Sitka spruce top, with Indian rosewood sides, crafted into a dreadnought body. A black ebony fingerboard, inlaid with standard dot inlays, sits on a mahogany neck. The top panel is equipped with standard ivoroid binding, black plastic pickguard, and multiple rosettes. There are no electronics installed on this twelve-stringer. The bridge is made of ebony and it sports a bone saddle. The neck on this model is made of hardwood and it's equipped with a low profile contour in the back. It is topped with a 20-fret ebony fingerboard.
Unlike most other 12-strings on this list, this doesn't come with a preamp.
Target Customer: The overall sound is a little more focused on the high end, but some strumming demonstrates the supreme clarity of the chords played, making this instrument perfect for unplugged playing. Anybody with a love for acoustic playing will love this guitar.
Bottom Line: There are absolutely no frills with this guitar, it is just a solid instrument, created by loving craftsmanship, and the best quality materials. Overall, I'd say this is the best 12 string acoustic guitar on the market right now.
3. Taylor 254ce Deluxe Grand Auditorium (Editor's Choice)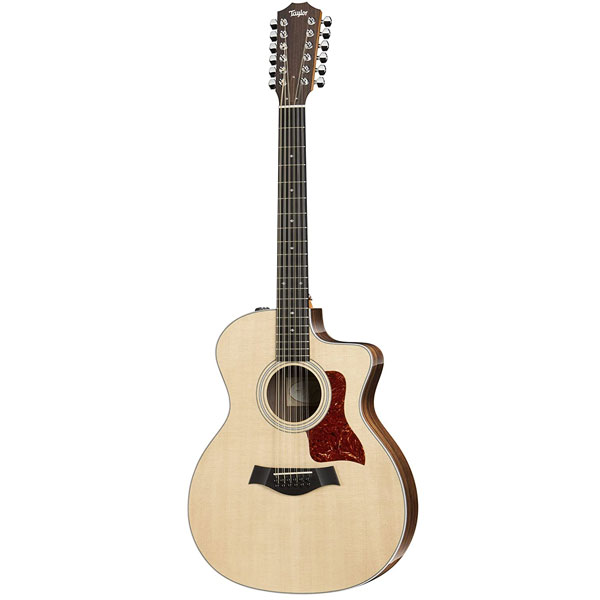 | | |
| --- | --- |
| Estimated Price | $1800 |
| Body | Solid Spruce top with Indian rosewood back and sides |
| Neck | Maple |
| Scale Length | 25.5" |
My Review: The Taylor 254ce Grand Auditorium body shape lies between a dreadnought and a Grand Concert, with claims that this is a more comfortable shape than either. Obviously, this entirely depends on personal preference. Tonally, this gives a fuller sound and slightly more volume than a dreadnought shape.
Key Specs and Features: The Taylor 254ce acoustic-electric guitar features a Grand Auditorium body made from layered Indian rosewood and Sitka spruce to strike Taylor's signature balance of body, resonance, and top-end sparkle. Sitka Spruce is the most prevalent guitar top wood of the modern era. It blends stiffness and elasticity in just the right proportions which translates into broad dynamic range with crisp articulation. Taylor's ES2 is a revolutionary pickup design that delivers the latest in Taylor's ongoing innovation in acoustic guitar amplification. The heart of the Expression System 2 is Taylor's patented behind-the-saddle pickup, which features three uniquely positioned and individually calibrated pickup sensors. Because the pickup doesn't sit under the saddle, the bottom of the saddle comes in full contact with the bridge, allowing all the nuance of the guitar's tone to come through clearly whether playing acoustically or plugged-in. The Taylor Expression System 2 operates through a proprietary 9-volt battery compartment and easy-to-use volume, and active bass and treble controls. A master volume control and a pair of tone controls let you tweak your sound and output from the stage, and a discrete phase switch provides vital onboard feedback suppression.
Target Customer: It's one you're going to keep going back to for its playability. Taylor ES2 electronics provide convenient and natural-sounding amplification for the stage and studio, and discreet tone and volume controls let you shape your sound before it hits the soundboard.
Bottom Line: Taylor does not make budget 12-strings. Taylor's 200 Series delivers all the essentials of a great guitar – exquisite playability, a full and articulate voice, impeccable intonation up the neck, and Taylor's top-of-the-line, professional-grade electronics – at a price that's within reach of many. I'd say this is the best 12 string guitar under $2000.
4. Guild F1512E (Best Under $1000)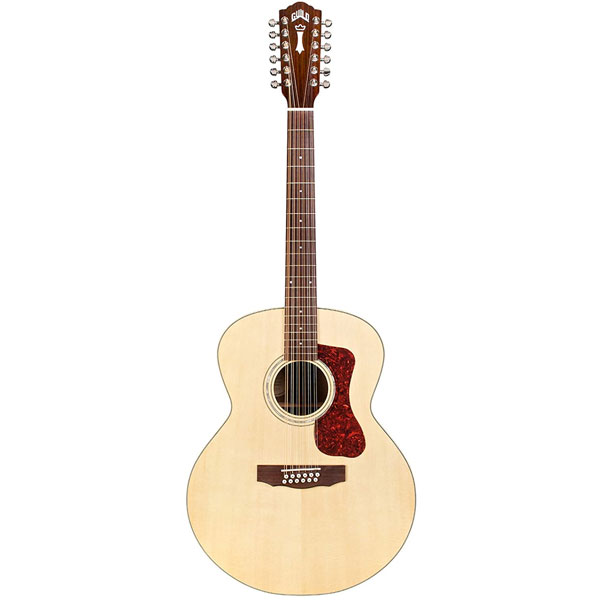 | | |
| --- | --- |
| Estimated Price | $1000 |
| Body | Solid Sitka spruce top with solid Indian rosewood back and sides |
| Neck | Mahogany |
| Scale Length | 25.5" |
My Review: The F-1512E, continues the Guild 12-string tradition and gives players all the tone and playability they've come to expect from a Guild 12-string guitar. A massive tone that has no trouble cutting through a mix, both plugged and unplugged one, beautiful piano-like tones, and just the right amount of bass. The finish and construction is as good as any other American guitar maker.
Key Specs and Features: Compared to a good number of other 12 string models out there, Guild F1512E features a somewhat more traditional design. We have a jumbo body shape that sports a solid Sitka spruce top along with solid Indian rosewood back and sides. This is a pretty interesting combination that has even more interesting consequences on the sound. The neck is a mahogany piece that comes with a vintage profile. It is somewhat beefier than what an average guitar player might be used to, but that works great with having additional 6 strings on there. In terms of build quality, fit, and finish, Guild F1512E is truly something to behold. We have a strong, stable Indian rosewood bridge that houses NuBone pins and a saddle that is made of the same material. Looking at the headstock, you will find a set of 12 high quality die-cast machines. Tuning retention is important on any guitar, but more so on something as complicated as Guild F1512E. The Guild chose the Fishman Sonitone system for this occasion, which has proven to be a very good match. It fits right in with the organic acoustics of F1512E. Fishman Sonitone offers a rock solid foundation for refined tone shaping.
Target Customer: If you are a guitar player with a passion for music this 12-string will allow you to reach for those new melodies. A supreme 12-string that is perfect for both studio and live performances.
Bottom Line: Guild's craftsmanship and overall quality is known far and wide. Their offer includes anything from standard acoustics to more unique instruments. One such instrument is Guild F1512E. This is one of the most impressive 12 string guitars you can get right now.
5. Yamaha FG820-12 (Budget Pick)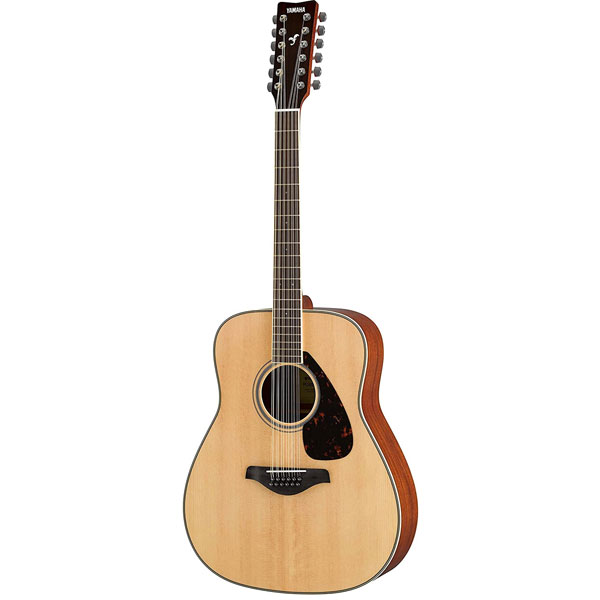 | | |
| --- | --- |
| Estimated Price | $360 |
| Body | Solid spruce with mahogany back and sides |
| Neck | Maple |
| Scale Length | 25.6'' |
My Review: The Yamaha FG820-12 is solid guitar, dreadnought style 12-string that will serve the needs of the majority of acoustic guitar players interested in exploring the different sounds generated by 12-strings.
Key Specs and Features: The body is a distinctive cream color and is perfect for beginners or as a back-up for more experienced players. This is because of the affordable price and usability. Featuring a rosewood fretboard with an adjustable truss road, this is a rustic, classical looking 12-string acoustic guitar that is able to generate a strong sound. The sound projection is enabled by the scalloped bracing that ensures low-frequency sound. This is partly why the Yamaha FG820-12 is one of the best-selling 12-string models in the world. Unlike similar-looking guitars in the same price range, this Yamaha acoustic guitar does not come with any electrical features. This may be limiting for those interested in exploring the breadth of sounds on offer from a 12-string guitar. Likewise, for those who are more interested in the acoustic sound, Yamaha has certainly sought to ensure that the acoustic sound generated by the FG820-12 is as potent as it can be. The rosewood fretboard comes with 20 frets which are slightly less than other acoustic 12-string guitars on the market but should not severely hamper your note selection in the creative process. The main advantage of the fretboard is its smoothness and usability.
Target Customer: This is what makes the Yamaha FG820-12 particularly appealing to beginners who may not have the finger strength to cope with less smooth fretboards.
Bottom Line: This guitar is a home-run for Yamaha. The quality combined with the look and price makes this guitar very attractive. Overall, I would say that this is the best cheap 12 string guitar out there right now.
6. Martin D12X1AE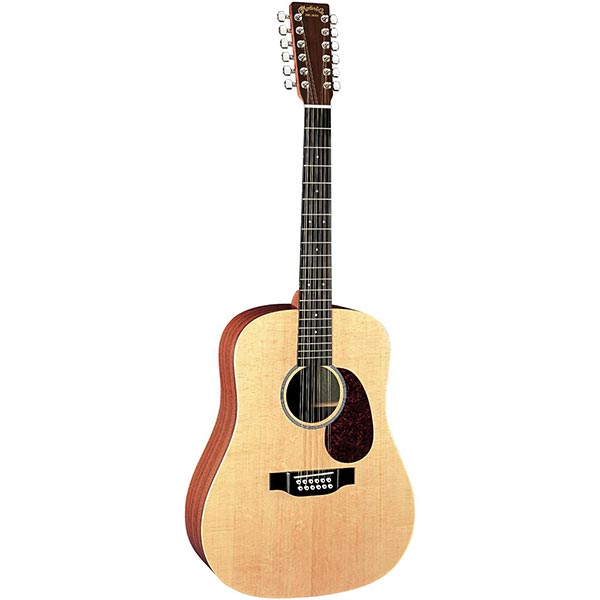 | | |
| --- | --- |
| Estimated Price | $1100 |
| Body | Solid Sitka spruce top with rosewood HPL sides and back |
| Neck | Mahogany |
| Scale Length | 25.4" |
My Review: Martin is one of those brands that is and always has been considered to be an authority when it comes to acoustic guitars. Their D12X1AE might look just like another dreadnought, however, it's anything but.
Key Specs and Features: The fact that Martin chose the dreadnought body for this build should come as no surprise to anyone. After all, they are the ones who invented this style of acoustic guitars in the first place. With that said, Martin D12X1AE does bring some surprises. It comes with a solid Sitka spruce top while the sides and back are made of rosewood HPL. HPL is a laminate. With 12 string guitars, the hardware is one of the most important factors to consider. Martin D12X1AE features a Richlite bridge that packs a set of quality plastic pins and a many times proven Tusq saddle. . Richlite, Tusq, and the rest of the synthetic alternatives work every bit as good as wood and bone, if not better in some cases. Tuning machines are standard Martin diecast units that also have a proven track record. One of the nicer surprises comes in the form of Martin's choice of electronics. They turned to Fishman and used their Sonitone package. Needless to say, it perfectly complements the acoustic properties. Fishman Sonitone is a great system usually found on more expensive models.
Target Customer: You are basically looking at a rock-solid build for live performance that can withstand the use and abuse of frequent gigging. Martin D12X1AE offers that classic dreadnought sound with much more range to it and plenty of overtones.
Bottom Line: Martin D12X1AE meets and exceeds expectations despite its somewhat unusual nature. If you are trying to find a reliable workhorse on a tighter budget, this Martin ticks all the right boxes and then some.
7. Alvarez AJ80CE12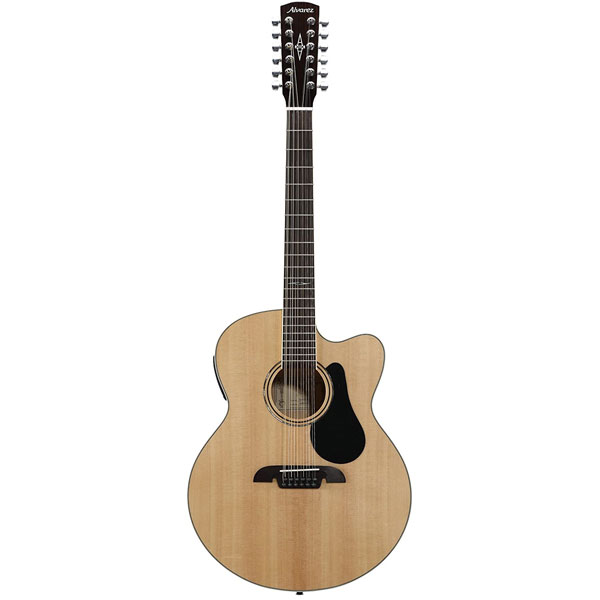 | | |
| --- | --- |
| Estimated Price | $550 |
| Body | Solid Sitka spruce top with maple shell |
| Neck | Mahogany |
| Scale Length | 25.5" |
My Review: Alvarez is one of those brands that know how to make a value product perform great, but also look good. Their AlvarezAJ80CE12 is considered to be one of the best 12 string acoustic guitars out there exactly for this reason. The sound you can expect from Alvarez AJ80CE12 is quite something.
Key Specs and Features: One thing that will draw your attention as soon as you see this guitar is its finish. There is something about a blonde natural gloss over a solid Sitka spruce top and maple shell. Alvarez went ahead and finished that stylish design with pearl binding all around, as well as a pretty attractive rosette. The neck is a mahogany piece that also features binding around its rosewood fretboard. In terms of hardware, we have more or less the standard setup. The bridge is a compact rosewood piece. Tuning machines come in the form of premium die cast units that track incredibly well and are fairly precise for the money. Alvarez used PPS synthetic bone instead of the more common Tusq or actual bone. When it comes to the on board set of electronics, L.R. Baggs has delivered once again. The model they have selected for this guitar features a three band EQ as well as a built in tuner. Even at default, or flat settings, Alvarez AJ80CE12 sounds great through an amp.
Target Customer: Alvarez AJ80CE12 has proven to be a rock solid choice. It performs when you need it to, has all the features we want to see in a modern 12 string acoustic, and it is highly reliable. The guitar sounds well balanced with plenty of definition. You will hear every little overtone even if you play more complex chords.
Bottom Line: If we were to judge guitars solely based on looks, this Alvarez would be at the very top. Alvarez AJ80CE12 is ready for serious stage work and it won't let you down in any regard.
8. Ibanez Performance Series PF1512 Dreadnought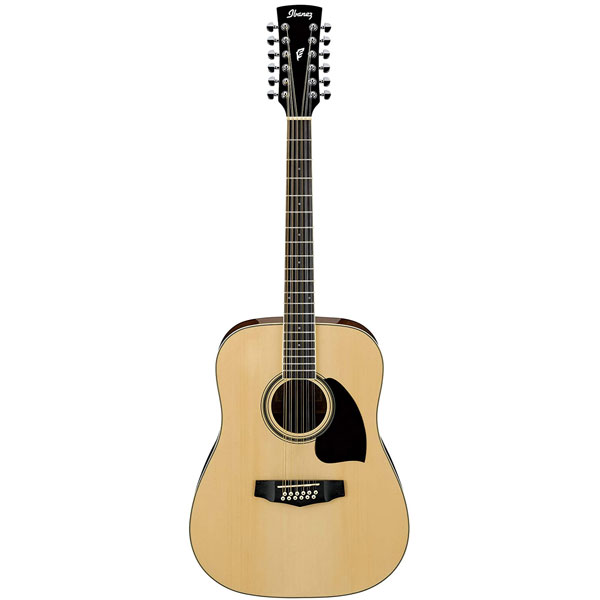 | | |
| --- | --- |
| Estimated Price | $230 |
| Body | Spruce top with mahogany back and sides |
| Neck | Mahogany |
| Scale Length | 25.5" |
My Review: The Ibanez PF1512ECE PF Electro Acoustic 12 String proves that you don't have to spend a fortune to get hold of a great quality 12 string acoustic guitar. This is the best cheap 12 string acoustic guitar on our list that doesn't suck. It won't break the bank, but the tone will surely break some hearts.
Key Specs and Features: The combination of Sitka Spruce top and Mahogany back & sides provides a well rounded, articulate tone with rich warmth. It comes with a non-cutaway dreadnought body. The entire body is finished in high gloss and it features standard binding around the top. Natural is the only color scheme available for this model. This non-cutaway flat-top guitar comes with a solid, belly-contoured bridge made of rosewood. The neck is made of mahogany to match the back and sides and it is topped with a rosewood fingerboard with the standard set of 20 frets. Die-cast tuners on the headstock are plated in chrome. This sounds incredible when played acoustically, but the Ibanez under-saddle pickup and AEQ-2T preamp handles the electric side of things, offering up a tone that accurately represents the tonal qualities of your tonewoods when played through an amplifier. The Ibanez Advantage bridge pins for easy string installation take all the fuss out of changing strings.
Target Customer: A great beginner 12 string acoustic guitar, or one to add to the collection.
Bottom Line: A very solid acoustic 12 string guitar considering the price.
9. Fender CD-60SCE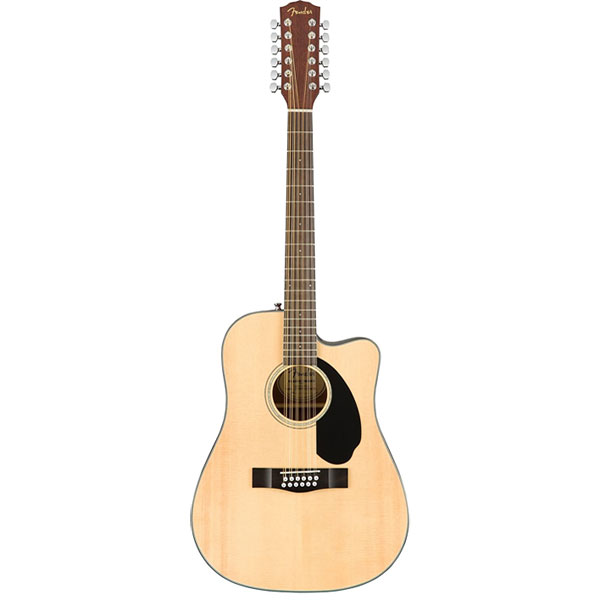 | | |
| --- | --- |
| Estimated Price | $350 |
| Body | Sitka spruce top with mahogany back and sides |
| Neck | Rust Burch laminate |
| Scale Length | 25.4" |
My Review: Another one from Fender and this time it is a 12 string beauty. The Fender CD-60SCE Dreadnought acoustic-electric 12-string guitar creates a rich and robust sound. One of the main bonuses of the Fender CD-60SCE is its environmental sustainability. Fender has used wood for the body that is sustainable wood certified ensuring players can enjoy the guitar sound while also being environmentally conscious.
Key Specs and Features: Featuring beautiful mahogany back and spruce top. The non-cutaway body gives the appearance of a classical acoustic guitar which can be an attraction to classical guitar players looking to explore the sounds of a 12-string guitar. This appearance, combined with the affordable price, is perfectly catered for aspiring guitarists who do not want a 'flashy' design, but rather a more humble, classical look. Due to the solid construction of the guitar, the CD-60SCE Dreadnought 12-string is tonally on par with more expensive options on the market. Featuring Fishmone Sontione electronics built into the design, the CD-60SCE Dreadnought is versatile in its sounds options, varying from the light small room acoustic feel to a rich loud sound that can be amplified to fill a large room. Additionally, the low-profile of the neck allows players to play the guitar for several hours at a time without encountering aching issues associated with higher profile necks. The CD-60SCE Dreadnought is perfect for those wanting to put in the hard hours of practice on a 12-string guitar.
Target Customer: The warm classical tones of the CD-60SCE Dreadnought are best served for those acclimatizing to the 12-string guitar as it may have limitations for those wanting more complex sound options.
Bottom Line: A beautiful acoustic 12 string that has a lot of sounds to offer considering the price.
10. Takamine GJ72CE-12NAT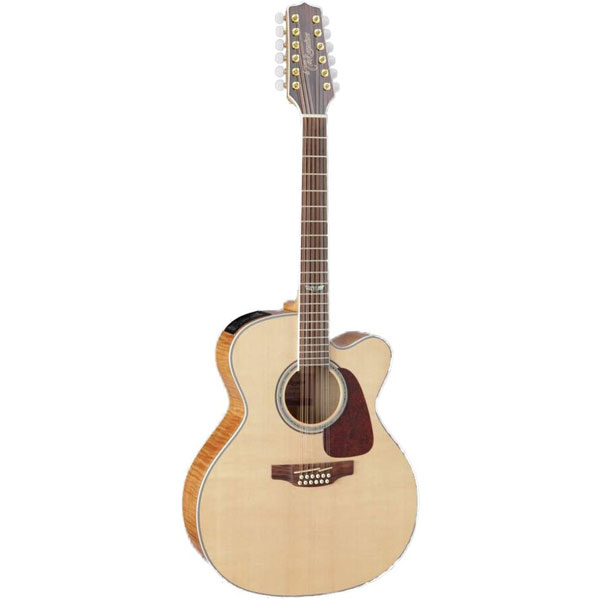 | | |
| --- | --- |
| Estimated Price | $700 |
| Body | Solid spruce top with flame maple back and sides |
| Neck | Mahogany |
| Scale Length | 25.4'' |
My Review: This guitar is purpose-built for great live performance. The sound is just amazing and rich and combined with an elegant design you get a fine package. Finished with an elegant gold touch, the Takamine GJ72CE-12NAT is a classy looking 12-string guitar that contains many visual features of a classical acoustic guitar while also appearing more modern and slick.
Key Specs and Features: The most notable modern elements of the Takamine GJ72CE-12NAT are its comprehensive electronic features. The guitar does not only have an amplification port but also a built-in tuner, EQ bypass switch, notch filter, mid-contour switch as well as three bands EQ and gain controls. This huge choice of electronics provides players of the Takamine GJ72CE-12NAT with a large variety in their sound choices. This guitar is perfect for those seeking to experiment with the 12-string sound. Given the complexity of electronic choice, to get the most out of this guitar you should also have a decent knowledge of guitar electronics. Other features that are noteworthy include the cutaway at the 12th fret which allows players to have easier access to the frets furthest away from the head, as well as the rosewood headcap which enhances the rich classical appearance of the guitar.
Target Customer: The guitar may not be perfectly suited to those who are new to 12-string guitars but is certainly an attractive proposition to experimental musicians who prioritize sound quality and versatility as well as a low-key classical appearance.
Bottom Line: The Takamine GJ72CE-12NAT provides high-quality sound, solid construction, and new upgraded electronics to give players a wide variety of choices in their 12-string guitar playing.
11. Ibanez Artcore AS7312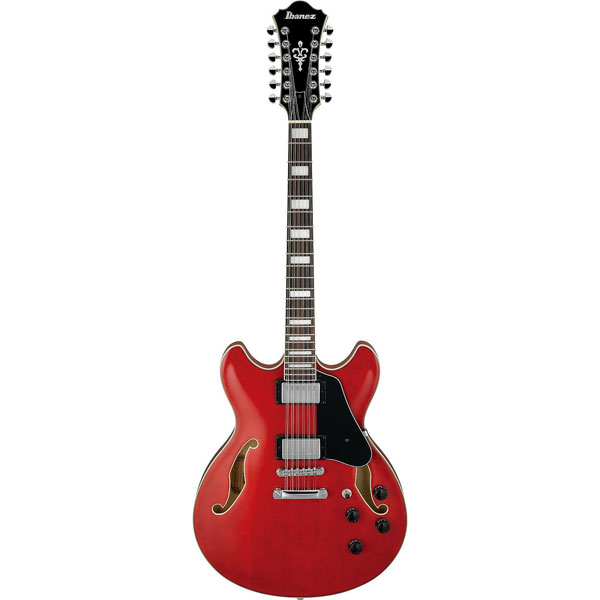 | | |
| --- | --- |
| Estimated Price | $500 |
| Body | Maple |
| Neck | Mahogany |
| Scale Length | 24.75'' |
My Review: The Ibanez Artcore AS7312 12-String Semi-Hollow Electric Guitar is designed for those wanting to incorporate 12-strings into electric guitar playing. The visual appearance of a rich red maple body gives the impression of a rock and roll electric guitar. What is attractive is that the guitar is also semi-acoustic, giving players the option to play un-amplified.
Key Specs and Features: The absence of a classical acoustic-style soundhole does prevent a rich and robust acoustic sound on this Ibanez guitar. It is definitely best played using amplifiers. The Ibanez Artcore AS7312 contains many of the features associated with electric guitars such as a comfortable neck and bound rosewood fretwork provides players with easy access to all 17 frets. The fret size of the guitar is medium, providing easier access to frets and bar chords for those who are less proficient. The use of electric features including individual volume and tone controls as well as a 3-way pickup selector, ensure that the Ibanez Artcore AS7312 is able to be highly versatile in meeting the sound needs of a variety of different guitar players. Whether playing pop, rock, funk, or sonic to name a few, the Ibanez Artcore AS7312 will provide a 12-string guitar sound.
Target Customer: For those who do not have experience or interest in electric guitar sound, this guitar is unlikely to satisfy your needs acoustically. The Ibanez Artcore AS7312 provides an affordable option for those interested in creating new and alternative electronic guitar sound.
Bottom Line: A semi-hollow guitar that has a great blend of acoustic and electric features.
12. Fender CD-140SCE-12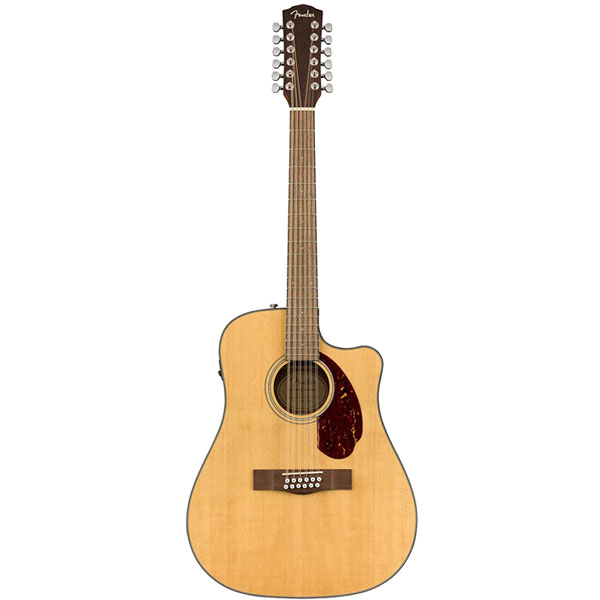 | | |
| --- | --- |
| Estimated Price | $430 |
| Body | Solid spruce with rosewood back and sides |
| Neck | Mahogany |
| Scale Length | 25.3'' |
My Review: An all-around great instrument, Fender yet again managed to create something affordable with a good quality behind it. The Fender CD-140SCE-12 is just a joy to play. The guitar has a lot of sound and projects well considering it has a single cutaway design.
Key Specs and Features: The Fender CD-140SCE-12 is a classic dreadnought style acoustic guitar with a single cutaway feature that provides players with easy access to all the frets. The neck is particularly ergonomic with rolled fingerboard edges to prevent finger problems that are commonly associated with guitar players. This is important because the transition from 6 to 12 strings often causes greater stress on the fingers as they need to push down more strings. The body of the guitar is constructed with rosewood on the back and sides which is filled with a rich brown on the outer and a sunset orange in the inner section, leaving a really slick and attractive guitar color. The Fender CD-140SCE-12 also features upgraded Fishman Presys electronics which enable players to experiment with electric sound. These electric features are however more basic compared to others in the market, leaving the Fender CD-140SCE-12's best sound to come in acrostic form. The X-bracing construction of the body ensures the Fender CD-140SCE-12 gives a rich acoustic sound that is also robust. It is only when applied to electronic form, that the variety of sound options are more limited for those seeking to maximize sound versatility from 12 strings.
Target Customer: Fender has clearly thought of beginners at the forefront of their product design, as the guitar has an easy-to-play neck that is catered to a variety of playing styles.
Bottom Line: Another quality instrument from Fender, this 12 string is as solid and affordable as they come.
13. Epiphone DR-212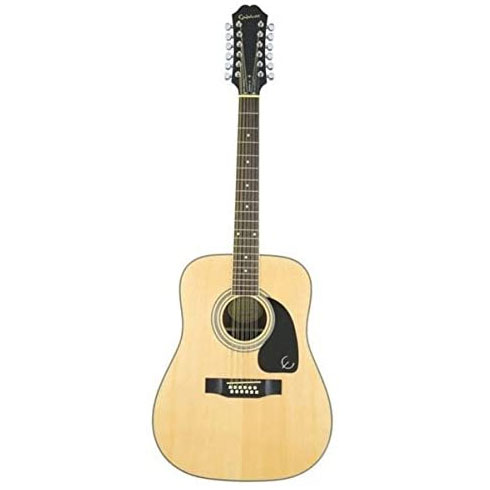 | | |
| --- | --- |
| Estimated Price | $270 |
| Body | Spruce top with mahogany back and sides |
| Neck | Mahogany |
| Scale Length | 25.5'' |
My Review: The Epiphone DR-212 is perfectly suited for those interested in blues, folk, and country music, though the sound style is not exclusive to those music genres. The strong sound generated by the guitar is a result of secure bracing that enables a smooth and robust tone.
Key Specs and Features: The Epiphone DR-212 is a classic 12-string acoustic guitar under 500 dollars that has a big and strong acoustic sound. Designed exactly the same as its 6-string relation, the 12-strong features a slick spruce top with rich mahogany back and rosewood fretboard. The shape of the body is a dreadnought, adding to the classical feel. Many guitar makers simply add 6 extra strings to a 6-string guitar which often leads to a thin sound. This is certainly not the case for the Epiphone DR-212. The most positive aspect of the Epiphone DR-212 is the lifetime warranty which is very unique among 12-string guitars currently on the market. While there are certain conditions to this warranty agreement which you should read before purchasing, the lifetime warranty does give you a certain degree of trial and error, which gives you added flexibility when purchasing. Although the Epiphone DR-212 does not have a cutaway on the body, there are 22 frets available which are higher than other 12-string guitars. This provides players with an even higher range of notes to be creative with.
Target Customer: It is a perfect looking acoustic guitar for blues, folk, and jazz for anyone interested in the rustic visual appearance.
Bottom Line: Epiphone created a very fine affordable instrument that is going to last you for a long time if you decide to invest in a 12 string.
14. Gretsch G5022CWFE-12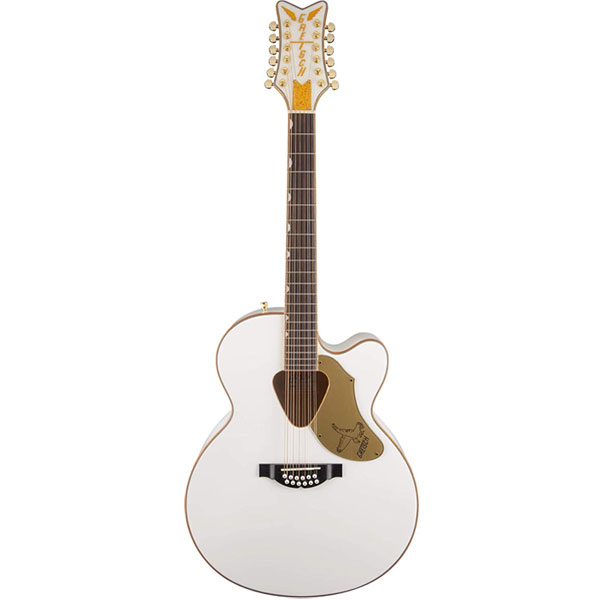 | | |
| --- | --- |
| Estimated Price | $700 |
| Body | Solid spruce top with maple back and sides |
| Neck | Maple |
| Scale Length | 25'' |
My Review: Gretsch Rancher acoustics have produced a distinctive, full tone 12-string guitar with the G5022CWFE-12 Rancher Falcon Jumbo. This guitar is perfect for those wanting to create a rich amplified sound. It is important to note that the guitar sounds equally as rich when amplified compared to acoustic.
Key Specs and Features: Designed with premium craftsmanship, the Rancher Falcon Jumbo is colored with a slick glossy white on the body with rich sparkling gold streaks on the fingerboard, top binding, sound hole, and headstock. Featuring a solid spruce top which is not normally available on guitars at this price, the Rancher Falcon Jumbo ensures richness of sound at a decent price. This spruce top is applied with scalloped X-bracing which ensures a particularly resonant and potent sound whenever you play the strings of the guitar. This potent sound is created by the bracing minimizing the damping of vibration as well as ensuring tonal balance. Other distinctive features on the Rancher Falcon Jumbo include the triangular soundhole, stylish pickguard, and the plug-in electronic feature. This is a common issue with acoustic guitars with amplification features, the Rancher Falcon Jumbo overcomes this problem. The body cutaway, which is Venetian style, is beneficial in helping players access the frets on the bottom end of the rosewood fretboard.
Target Customer: Gretsch Rancher has clearly taken the time to ensure that players have the maximum number of fret choices to increase musical possibilities on the strings.
Bottom Line: The strong craftsmanship of the Rancher Falcon Jumbo also ensures that purchasing this guitar will be purchasing a 12-string guitar for a lifetime.
15. Oscar Schmidt OD312CEB-A-U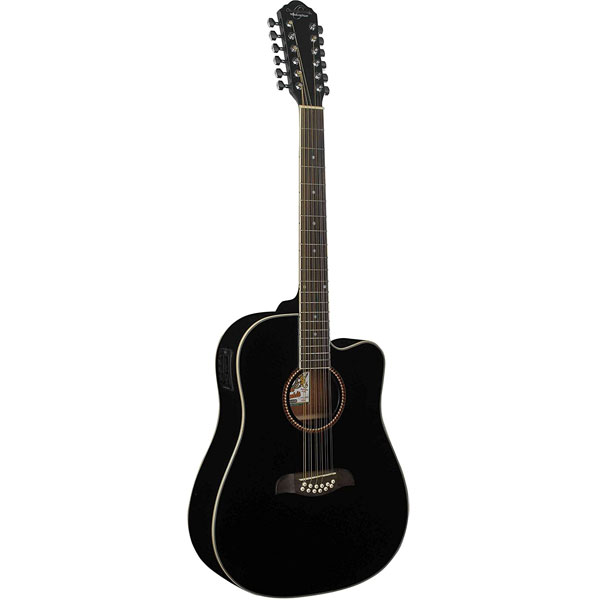 | | |
| --- | --- |
| Estimated Price | $230 |
| Body | Select spruce with mahogany back and sides |
| Neck | Mahogany |
| Scale Length | 25.5'' |
My Review: The OD312CE is known for being one of the best 12-string guitars for beginners who are also interested in experimenting with electric 12-string sounds. The OD312CE also includes electronic features for those wishing to explore electric 12-string guitar sounds.
Key Specs and Features: The OD312CE is a distinctive 12-string dreadnought with a slick black spruce finish as well as mahogany back and sides. The handcrafted guitar considers beginner guitarists at the forefront of the design by featuring a cutaway on the body to provide players with easier access to the highest frets. These include an active EQ preamp with a built-in tuner. This solves the problem of tuning which can be a common problem facing many beginner 12-string guitarists who are unable to tune by ear. The in-built tuner provides one of the most accurate tuning mechanisms. To use it effectively, make sure you are in a quiet room with no distracting sounds. There is a lifetime warranty for these parts so do make use of that offer and read the terms and conditions carefully. The five-year warranty for the guitar itself is another safety blanket for prospective buyers of the OD312CE. As it is available at a budget price, this warranty agreement gives added flexibility to those venturing into the 12-string guitar market. The most distinctive feature of the OD312CEB-A-U is the natural black color scheme.
Target Customer: This certainly marks it out compared to other affordable 12-string guitars on the market. If you want to veer away from classical acoustic guitar folk, the OD312CEB-A-U is certainly an attractive choice that will make you stand out from the crowd.
Bottom Line: As it is available at a budget price, this guitar is a perfect choice if you are planning to venture into the 12-string world. This Oscar Schmidt is a high-quality mid range affordable instrument.
16. Takamine EF381SC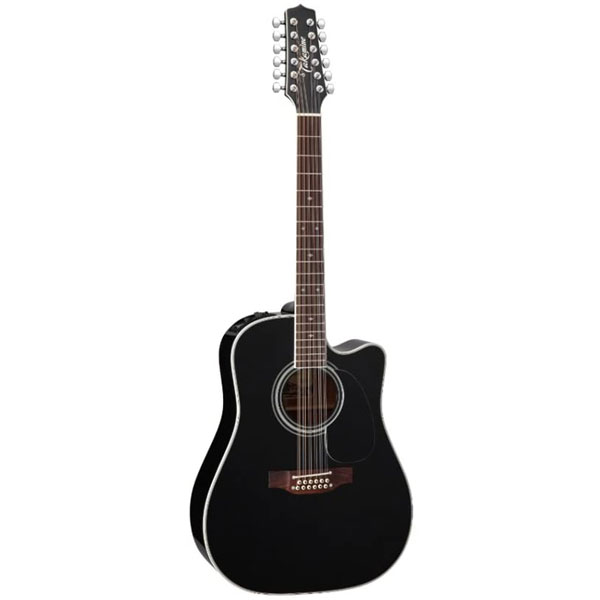 | | |
| --- | --- |
| Estimated Price | $1600 |
| Body | Solid Sitka Spruce top with solid maple back and sides |
| Neck | Mahogany |
| Scale Length | 25.5" |
My Review: If you need a proper acoustic guitar, Takamine is one of the few brands you can turn to without a moment of hesitation. The acoustic sound is just impressive. Takamine EF381SC packs a decent punch in terms of volume and projection. Once you decide to plug it in, you will find that CT4B manages to translate that acoustic tone with a high level of authenticity.
Key Specs and Features: The body is a standard dreadnought design with a cutaway that sports a nice, black finish. In terms of tonewood selection, Takamine went with a solid spruce top combined with maple back and sides. If you look closer at the top, you will see a fine white binding which gives the black finish an appropriate contrast. Build quality is great with good bracing, great attention to detail, and rock-solid quality control. The neck comes in the form of a comfortable mahogany piece with a rosewood fretboard. When put to use, it comes across as fairly playable and fast. The profile isn't all that different from a standard Takamine piece. However, it does give you good access to all 12 strings while keeping them well separated. Takamine went with a rather robust rosewood bridge, quality pins, and a wonderful saddle. On the other end, we have 12 die-casts, high-quality tuning machines that offer rock-solid key retention but also refined tuning. Takamine EF381SC is an acoustic-electric guitar, hence it comes with a built-in preamp. The unit in question is a CT4B package that features a three-band EQ and a built-in tuner. If you are wondering whether or not this set of electronics can keep up with those extra strings, you have nothing to worry about. Takamine's choice has proven to be the right one. This preamp packs just enough versatility and most importantly, great performance.
Target Customer: Takamine is built for and ready for professional stage use. Build quality is there and its tone puts it among the elite. On top of that, their choice of preamp offers a rock-solid foundation for detailed tone shaping should you need it.
Bottom Line: It is an unusually stable 12 string with plenty of range. Takamine EF381SC may not be the cheapest 12 string model out there, but it surely is among the very best. They have pretty much done everything just right with this guitar. From basic design to performance, build quality, and pure sound.
17. Rickenbacker 330/12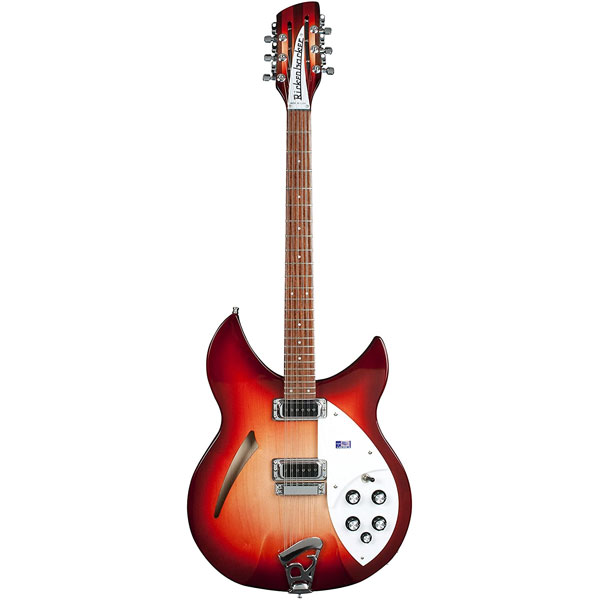 | | |
| --- | --- |
| Estimated Price | $3600 |
| Body | Maple top with maple back and sides |
| Neck | Maple |
| Scale Length | 24.75" |
My Review: There are several 12-strings in the Ricky range, but the 330/12 and its more expensive brother, the 360/12 are arguably the most iconic. Sharing many common features such as the 24-fret neck, hi-gain pickups, and maple body/rosewood fingerboard, the key difference is that the 330/12 has a standard output. Acoustically the Rickenbacker is everything you'd hope for. It rings with lots of sustain and has that archetypal jangle with a balanced tonal range.
Key Specs and Features: The 330 offers a semi-hollow body. The Rickenbacker's body is built from maple with a chambered upper bout giving it a stunning acoustic quality, accentuated by a lovely carved 'F-hole'. The set-in neck is all maple with a rosewood fretboard, 24 vintage-style frets, and a very stable dual truss rod design. The 10″ radius, 24.75" scale length, and slim profile give the neck a seriously comfortable feel for long barre chord sessions or more complex chordal efforts. Electrics are represented by two Rickenbacker high output pickups, complemented by a tone and volume pot for each. There is a three-way selector switch giving neck, bridge, and blend combinations of the two pickups. To finish the picture there is a fifth tone pot designed to adjust the volume of the neck pickup concerning a pre-selected bridge pickup lead volume setting. It can also function as a bass/treble equalization control. One of the main problems associated with all 12 string guitars is accommodating the tuning pegs. Rickenbacker has tilted every octave string's tuner by 90 degrees to allow easy access, whilst keeping the headstock a reasonable size. It's a great design and works very well. Out of the case, tuning took a while to get perfect on our sample, but once we were there the guitar stayed in tune well thanks to the choice of high-quality Schaller tuners. A six-way adjustable bridge finishes off the design featuring saddles for each string and the famous 'R' tail-piece for easy re-stringing.
Target Customer: A huge variety of tones can be achieved using the volume and tone controls for each pickup and once the fifth control has been brought into the equation you can start to dial in an individual tone. For a 12-string, this is a very versatile instrument and it rewards tonal experimentation.
Bottom Line: A premium instrument that will have a special place in any player's collection. Superb quality and sound are the features of this unique guitar. Overall, this is the best 12 string electric guitar out there right now in my opinion.
Choosing the Right 12 String Guitar (Buying Guide)
Now, as you may conclude, a greater number of strings and higher cumulative string tension complicates playing enormously. Also, fretting and pressing strings now requires much more effort, the neck is a bit wider than regular acoustic guitar (it's more like a classical guitar), so bending or soloing might be challenging for even the professional musicians.
Anyway, most of the time 12-string guitars can be seen as an accompaniment instrument but some of the musicians have managed to develop very sophisticated fingerstyle techniques, and some of them have even applied classical guitar playing techniques.
What is a 12-String Guitar?
As the name suggests, a 12-string guitar is one with 12 strings, compared to a standard six-string guitar. The overall experience of strumming a 12-string model is very satisfying. You get a rich and robust sound that you just can't achieve with a regular acoustic guitar.
However, despite six additional strings the fretboard doesn't double in width, as each of the original six strings essentially gains a little partner string that enriches the tone with a higher octave.
Look closely at a 12-string acoustic and you will notice that all of the strings are grouped into pairs. The lower four pairs (E-A-D-G) are tuned so that one string in the pair is an octave apart from its twin. The upper two pairs (B-E) are tuned in unison.
These string pairs are generally played together as one string, which, in theory, means that if you can play a standard 6-string guitar, you can play a 12-string guitar.
The first time you play one you will notice that the extra richness to the tone is much more forgiving – little errors seem to melt away into a world of overtones and jangle.
Things to Consider When Buying 12-String Guitar
When searching for 12-string guitar, there are a couple of characteristics that you might like your guitar to have. Therefore, other than the sound quality that you crave in a 12-string guitar, you should consider the playability of an instrument since they are much harder to play than a standard 6-string guitar.
There are a couple of things that may improve the playability of your instrument. In the first place, you need to search for the most comfortable neck that suits your hand. These necks of 12-string guitars are a bit wider than usual 6-string guitar necks, so that may require a bit more effort to play.
Secondly, while forming a chord you will need to press more strings than usual, and that might hurt your fingers until you adapt to it. Therefore, search for guitars that have a smaller space between strings and frets. In relation to that, softer strings may enormously improve your experience while playing.
Here are some guidelines to consider:
Body shape
There are about as many nuances to the style of an acoustic guitar body as there are companies that create them. It is important to make sure that you choose a guitar that will produce the sound you want, but also one that is comfortable for you to play whether you are sitting or standing.
The soundboard is the top portion of the body of the guitar. In general, the larger the soundboard, the deeper and louder the sound. Other styles combine a large soundboard with a narrow waist to make the guitar more comfortable.
While exact measurements may vary from one guitar manufacturer to the next, some general, popular acoustic guitar body shapes include:
Concert: Concert acoustic guitars date to 1854. Their smaller size, generally about 13-1/2″ at the lower bout, gives them a bright sound with a punchy mid-range. The smaller size is comfortable and makes these guitars very playable for smaller musicians.
Grand Concert: Grand Concert body styles are just a bit larger, generally at about 14 to 14-1/4″ at the lower bout. They still boast a good mid-range, but with a stronger sound.
Auditorium: The auditorium style is a standard mid-sized acoustic guitar, with a lower bout that is generally the same width as a dreadnought, but with a smaller waist. Sometimes referred to as an "orchestra" body, these guitars balance volume, tone, and comfort, and have been regaining popular ground in recent decades.
Grand Auditorium: The grand auditorium's lower bout is sometimes wider than the classic dreadnought's – generally 16″ – but the waist is narrower, creating a dramatic hourglass shape. These guitars have a greater range for volume and more balanced tone than smaller body styles.
Dreadnought: A common acoustic body style that makes use of a very large soundboard is the dreadnought. Dreadnoughts are distinctive for their square bouts, wide waists, and 14-fret necks. The first dreadnought was developed in 1916, and it has been gaining in popularity ever since. Dreadnoughts are very popular among bluegrass guitarists due to their powerful, driving sound.
Jumbo: These big, boomy guitars are often considered the standard "cowboy" guitars. Up to 17″ at the lower bout, these acoustic guitars project loudly and resonate deeply.
Tonewoods
An acoustic guitar's sonic fingerprint is its overall tone and resonance. It comes mainly from the type of woods used to make the body. Each has its own unique sound. This is why the wood used to make the guitar's top, sides, and back is referred to as "tonewood."
The type, quality, and combination of woods used in the construction of a guitar all help determine its tone. Entry-level models are typically made of laminated wood, which does not mature as it gets older, what you hear is what you get. Intermediate guitars, on the other hand, generally feature solid wood tops combined with laminated back and sides. And the best instruments are made of solid wood because they produce a richer and more resonant sound.
Guitar tops are most commonly made of spruce or cedar, while standard woods for the back and sides are rosewood, mahogany, and maple. Synthetic materials are also used effectively by companies like Ovation and Rainsong.
Spruce: The most common choice for an acoustic guitar top. It has a very good strength-to-weight ratio that makes it possible for the top to be relatively thin yet still be strong and very resonant. Spruce tops can take whatever you dish out and will remain responsive even when played very hard. Spruce is perfect for strumming and flatpicking styles.
Cedar: You will recognize a cedar top because it has a darker color than spruce and has a slight reddish hue. Cedar responds nicely to a light attack, and is an excellent choice for fingerpicking and lowered tension tunings. Because it is softer and not as strong as spruce, cedar can be overdriven if played too hard, causing the sound to compress and lose some integrity.
Rosewood: This dark-colored wood imparts a deep warmth and complex richness to the tone of a guitar. Brazilian rosewood is the holy grail of tonewoods and is much prized by luthiers and players alike. The scarcity of Brazilian, however, makes it very expensive. Indian rosewood has similar timbre qualities but is not as striking visually.
Mahogany: This is an excellent wood that falls in the middle of the tonal spectrum, imparting a bright and warm sound with sweet highs.
Maple: A maple body will produce a bright, dry tone with a very clear, well-defined high end. Quilted or tiger maple can be quite dramatic visually.
Synthetics: Although synthetic guitars will never totally replace the wooden variety, they have been around for decades and are quite popular. Ovation uses a fiberglass composite for the body and sides of its rounded body guitars, combined with a solid wood top, while Rainsong produces instruments made mostly of graphite.
In general, synthetic guitars are less susceptible than wood to climatic changes and offer distinctive tonal characteristics. On the other hand, they tend not to improve with age.
Neck: The neck of an acoustic guitar is joined to the guitar body and terminates at the headstock. The fretboard is mounted to the neck's top, and the back is shaped to accommodate the player's fretting hand.
Most acoustic guitars use a set neck, which means the neck is glued onto the body of the guitar. The alternative is a bolt-on neck, more commonly used with electric guitars. A heel provides additional support at the back of the neck, where it meets the body of the guitar.
The neck contains a metal truss rod that prevents it from bowing and twisting due to string tension and environmental factors. Adjusting the truss rod can correct intonation issues that prevent the instrument from being tuned properly. This truss rod can be adjusted either at the headstock or just inside the body of the guitar, at the base of the neck.
The fretboard, or fingerboard, on the top side of the neck, is usually a separate piece of wood that is glued to the neck. Fretboards are typically constructed out of rosewood or ebony.
Thin strips of metal, called frets, are embedded in the wood at half-step increments along the 12-tone scale, to indicate where different notes are played. Most guitar fretboards have inlaid dots or symbols on the odd-numbered frets, starting with the third – excluding the 11th and 13th in favor of the 12th, or the octave.
The headstock is located on the end of the neck opposite the guitar body. It is fitted with tuning keys, also known as tuners, tuning pegs, or machine heads. These adjust the tension of each string, changing their pitches. The nut is a small strip located where the headstock meets the neck, that is grooved to guide the strings onto the fretboard. On an acoustic guitar, the nut is commonly made of plastic, but it can also be bone, graphite, or any number of other materials.
Scale and Frets
The measurement of the length of the strings from the nut to the bridge is termed the guitar's "scale length." The average scale length is about 25 inches. A longer scale puts the frets slightly further apart. More significantly, a longer scale means a string needs to be stretched to a higher tension to tune to the same pitch. This can make the tone a little brighter.
Acoustic guitars, including 12-string guitars, generally have necks with 20 or 21 frets. Playing on the highest frets is a little easier with a longer scale. Again, these variations are subtle, and they might not be very important in your buying decision. Of greater importance is whether the fret ends are flush with the side of the neck and polished smoothly. That's not an issue if the neck sides have plastic binding that covers the fret ends.
Hardware
A 12-string guitar has twice as many strings to tune, so quality tuning machines are vital if you plan to spend your time playing your guitar, not tuning it. Most of the guitars reviewed have unbranded tuners, though they usually work okay. A few models have premium name-brand parts, particularly Grover tuners.
The nut and bridge saddle should be as dense as possible. This transmits the vibrating string energy to the guitar body more efficiently. For longer sustain, especially with open strings, most of the models reviewed have a plastic nut and saddle. A few are made of "synthetic bone." This is also plastic, but a much denser product that's as hard as bone.
Electronics
Most of the 12-string guitars reviewed here include a piezo pickup built into the bridge, connected to a preamp mounted in the guitar body. Preamps usually have volume, treble, and bass controls. Some include a midrange gain control and frequency range switch. Most also include an electronic tuner.
Tops – Solid vs. Laminate
The top of the guitar has the greatest impact on the tone quality of the instrument. The sound generated by the guitar's strings is transmitted by the bridge to the top where it is amplified. As discussed below under Tonewoods, the wood used for the top strongly influences the tonal characteristics of the guitar. The sound generated by the guitar's strings is transmitted by the bridge to the top where it is amplified. That is why, as mentioned above, the larger the soundboard, the larger the sound.
Acoustic guitar tops are made of either solid wood or laminate. A solid top is usually made of two, single-ply pieces of wood with their grains matched down the middle of the guitar top. A laminate top is made of several layers of wood – usually a more high-grade one on top, and several generic ones beneath – pressed together.
Laminate does not vibrate as well as solid wood does, so it does not produce as rich a sound or as great a volume. It is, however, an excellent option for beginners, to save money on a first acoustic guitar.
Neck Width and Length
The thickness and width of guitar necks vary, depending on the size of the guitar body. It will not affect the sound of the guitar, but it will affect your comfort with the instrument.
Acoustic necks are usually listed as 12- or 14-fret necks. This number refers to the number of frets above the guitar body, not the total number of frets. On a 12-fret neck, the 13th and 14th frets will be on the body, and, thus, harder to reach than on a 14-fret neck, where they are extended beyond the guitar body. If you have small hands, look for an acoustic guitar with a smaller diameter neck.
Nylon vs. Steel Strings
It is a common misconception that a new guitar player should start with nylon strings because they are easier on fingers or easier to play. But nylon strings and steel strings are not interchangeable on the same guitar, so it's not a matter of progressing from one kind of string to another with experience. What should really drive your decision is what kind of music you want to play.
Nylon strings produce a softer, mellow tone. They are often used in classical and flamenco-style guitar playing, as well as some folk music. Classical guitars have a wider neck to provide more space between the strings, and a shorter fretboard, than acoustic guitars that use steel strings.
Steel strings are more common and are usually used by rock, country, and pop musicians. Steel-string acoustic guitars create a louder, brighter tone that is commonly associated with that classic acoustic guitar sound.
Tuning of 12-string guitar
The most usual way to tune the strings of the lower four courses is in octaves, while those on the upper two courses are in unison. Therefore, the most popular standard tuning for 12-string guitars is E3•E2 A3•A2 D4•D3 G4•G3 B3•B3 E4•E4, starting from the lowest string to the highest.
Nowadays, if you want to produce the effect of a 12 string guitar, you can do it with two 6-string guitars. That is so-called Nashville tuning. You can simply tune one guitar (of course with proper strings) as 6 added strings on a 12-string guitar. That will produce a "cleaner" 12-string effect. This way of simulating 12-string guitars is commonly used for recording purposes.
Pros and cons of a 12-string guitar
As far as the pros and cons of 12-string guitars go, there aren't a lot of downsides to a 12-string. This is aside from adjusting to the extra pressure that needs to be applied to the strings. Hand cramps can sometimes occur but the benefits of a 12 string's sound when played far outweigh a little discomfort.
They're described by some as the grand piano of guitars, owing to the sheer amount of volume they produce. The addition of an extra six strings, some as an octave higher provides a fullness of sound that you really can't beat. Playing solos on a 12 string guitar can sometimes prove a little tricky, especially when you're trying to do huge dive bomb bends. However, with a little bit of practice, you'll get there.
One string solos, guitar lines, and hooks really sound great though. The best thing to do is to try one out. They're great to have in your arsenal and an awesome addition to any song.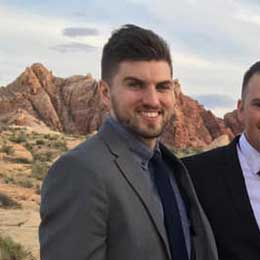 My name is Chris and I've had a passion for music and guitars for as long as I can remember. I started this website with some of my friends who are musicians, music teachers, gear heads, and music enthusiasts so we could provide high-quality guitar and music-related content.
I've been playing guitar since I was 13 years old and am an avid collector. Amps, pedals, guitars, bass, drums, microphones, studio, and recording gear, I love it all.
I was born and raised in Western Pennsylvania. My background is in Electrical Engineering, earning a Bachelor's degree from Youngstown State University. With my engineering experience, I've developed as a designer of guitar amplifiers and effects. A true passion of mine, I've designed, built, and repaired a wide range of guitar amps and electronics. Here at the Guitar Lobby, our aim is to share our passion for Music and gear with the rest of the music community.