When you start to amass a considerable collection of effects pedals, the next logical step is to mount them onto a pedalboard. Incorporating a pedalboard into your setup will leave you wondering how you ever managed to cope without one!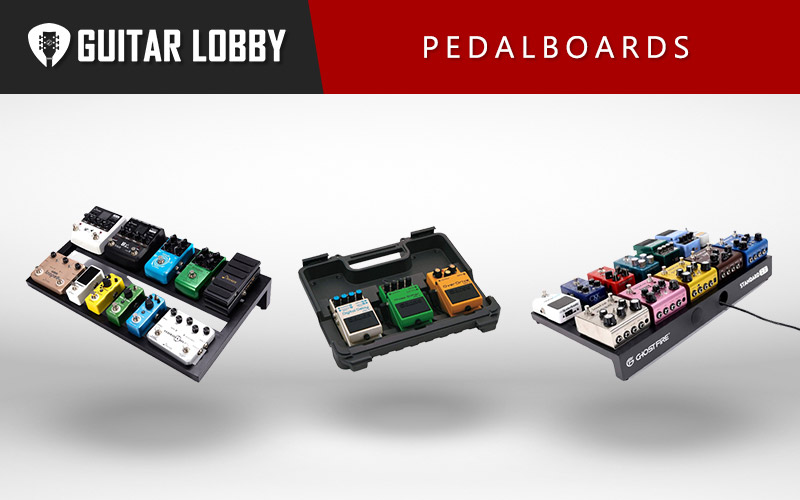 Pedalboards come in a variety of sizes and are built for specific purposes. To choose the best option for you, it's important to consider what you require depending on the effects pedals you own. In this ultimate guide, you'll find the very best selection of pedalboards on the market, so that you can provide your effects with maximum protection, and enhance the efficiency of your signal chain.
Here Are the Best Pedalboards
1. Voodoo Lab Dingbat (Best Overall)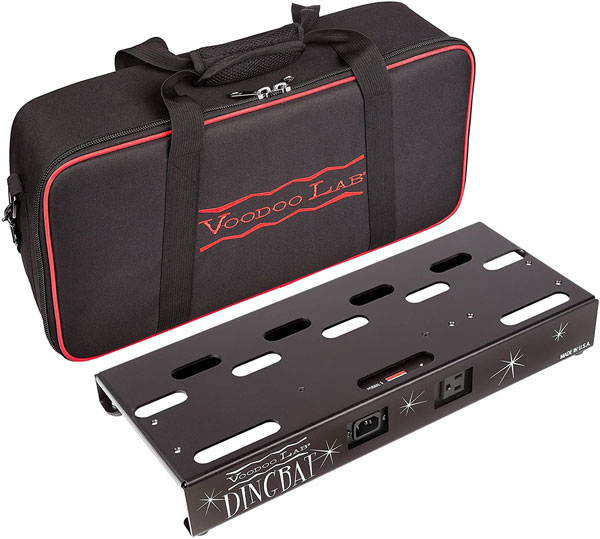 Estimated Price: $300
Material: Aluminum
Dimensions: 18 x 7.75 inches
Case: Soft Carry Case
My Review: Equipped with the highly-respected Pedal Power 2 Plus, the Dingbat by Voodoo Lab is an exceptional pedalboard. Although it is compactly designed, it still has enough space to fit a handful of your favorite effects pedals, and the reduced size makes it more mobile than larger pedalboards.
Voodoo Lab is amongst the leading producers of power supplies, so it's no surprise that they also produce fantastic pedalboards. Perhaps the best thing about the Dingbat is that you get a pre-mounted PSU – the Pedal Power 2 Plus, which is regarded as a highly reliable power supply unit.
The finest materials have been used to construct the Dingbat pedalboard. The bulk of the chassis is made from lightweight, American 6061-T6 aircraft-grade aluminum. It comes with all of the necessary mounting brackets for easy installation of the aforementioned power supply, and also includes adhesive-backed hook and loop pedal mounting fasteners.
Additionally, you also get a high-quality, padded gig bag for transporting the pedalboard. This bag is fitted with a premium YKK zipper, to ensure longevity. There are also several UV-resistant cable ties included, and tie mounts for securing your pedals firmly in place.
Who is this best suited for: The quality of the Voodoo Lab Dingbat is undeniable – but the only potential stumbling block is its size. At 18 x 7.75 inches, it is best suited to musicians who have no more than six effects pedals. In some ways, having limited space can be advantageous, as it prevents you from overindulging and using unnecessary pedals on the board.
Bottom Line: Voodoo Lab's range of power supplies is highly revered by musicians worldwide. The inclusion of their flagship Pedal Power 2 Plus with the Dingbat makes this pedalboard very hard to beat. Granted, it may be slightly smaller than some of the larger, bulkier pedalboards on this list, but it is ideally sized for easy transportation, convenient storage, and forcing you to only use the effects pedals that are vital, rather than filling your board with unnecessary effects!
2. Pedaltrain Novo 18 (Best Value)
Estimated Price: $130
Material: Aluminum
Dimensions: 18 x 14 inches
Case: Soft Carry Case
My Review: Pedaltrain produces a wide selection of high-quality pedalboards and other effects accessories. The Novo 18 is arguably their finest offering and is available at a very reasonable price. Made from aircraft-grade aluminum, the chassis has a durable matte finish. It's very solidly built, and won't buckle under the pressure of frequent usage.
Also included with the NOVO 18 is a total of 90 inches worth of professional-grade adhesive-backed loop tape. This allows you to secure your effects to the surface and eliminates any worries of them coming loose mid-performance. Despite the security of this tape, it is easy to remove if you need to rearrange the order of your pedals.
Pedaltrain has also included zip ties for further reinforcement. The pedalboard features a modified rail spacing, which is specifically designed to allow you to fit more pedals onto the surface of the board. Although this pedalboard isn't the largest on the market, you can easily fit ten regular-sized stompboxes on it, thanks largely to the innovative rail spacing design.
The soft case that is included with the NOVO 18 is also built to a very high standard. It comes with a cushioned shoulder pad, which is very forgiving and reduces tension when moving the pedalboard around. The ergonomic incline design of the NOVO 18 makes it comfortable to use and creates adequate space underneath for mounting a power supply or connecting patch cables.
Who is this best suited for: If you've got a collection of effects pedals that don't exceed ten, the NOVO 18 by Pedaltrain might be the perfect pedalboard for you. It's designed to provide maximum stability and comfort and comes with a protective carry case that makes transportation very easy indeed.
Bottom Line: It may not be the largest pedalboard on this list, but the innovative design of the NOVO 18 makes it one of the best. From the experience gained after years of producing pedalboards, Pedaltrain came up with a rail spacing method that allows more pedals to be squeezed onto the 18 x 14.5-inch board. With a high-quality gig bag and attachment accessories, it's a great choice for any musician.
3. Ghostfire Standard 2.0 (Best Under $100)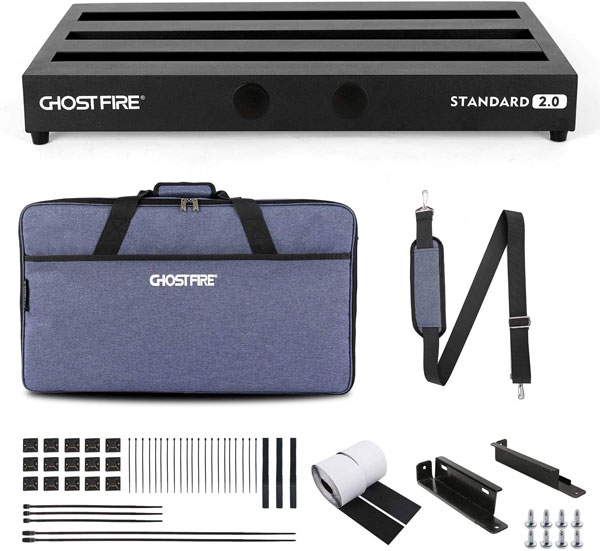 Estimated Price: $90
Material: Aluminum
Dimensions: 22 x 12.5 inches
Case: Soft Carry Case
My Review: The Ghostfire Standard 2.0 is a highly reliable pedalboard, which is large enough to facilitate a large range of effects pedals. The standout quality of this pedalboard is how lightweight it is, despite its sturdy construction.
Weighing only 3.3lbs, it is constructed from aircraft-grade aluminum. There's also an attachment bracket included, for securing your power supply unit to the underside of the board. Additionally, you also get plenty of cable ties, and 98 inches of ghost fire, professional-grade adhesive strips for firmly storing your pedals.
The carry bag that comes with the Ghostfire Standard 2.0 is made from oxford cloth. It is a heavy-duty bag, which is waterproof and padded for added protection. There's also a removable shoulder strap that makes transporting the pedalboard a breeze. You even get a special screw for securing a Crybaby-style wah pedal!
Who is this best suited for: Due to the large dimensions of the Standard 2.0, this pedalboard is highly suitable for guitarists, bassists, or keyboardists who have a substantial selection of pedals. It's a great choice for musicians who frequently move their equipment from the practice room to the stage.
Bottom Line: At 22 x 12.5 inches, the Ghostfire Standard 2.0 can facilitate a broad range of effects. It manages to combine exceptional sturdiness and durability with a lightweight design. It also comes with all of the necessary accessories required for securing pedals to the pedalboard, and a comfortable carry case with a removable shoulder strap.
4. BOSS BCB-30 (Best Under $75)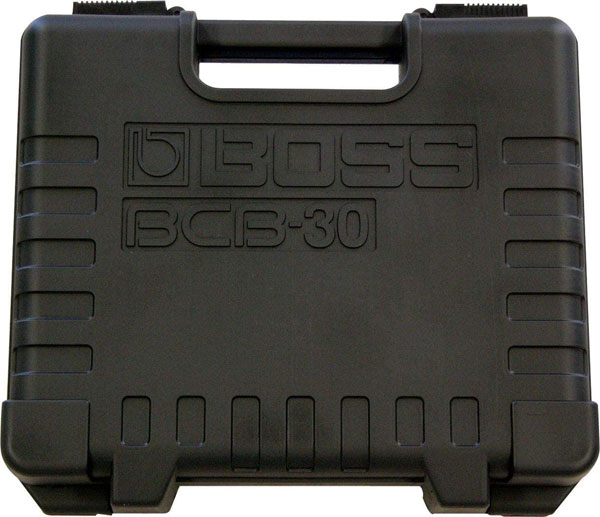 Estimated Price: $65
Material: Heavy Duty Resin
Dimensions: 13.25 x 12.5 x 3.5 inches
Case: Hard Case
My Review: BOSS is amongst the most prolific producers of effects pedals, with a vast range covering every possible processing option. In recent decades, they have cemented their reputation as innovative creators of unique effects.
It makes sense then, that they would know a thing or two about creating a pedalboard to house their effects. The BCB-30 stands out amongst the crowd, partially due to its unusual design, and also because it isn't made from the conventional materials you'd expect to find on a pedalboard.
The BCB-30 is made from heavy-duty molded resin, which deviates from the usual aluminum material used for constructing pedalboards. This results in the weight being reduced, but not as a result of durability being compromised.
Who is this best suited for: If you've got a small selection of trusty effects pedals, you'll love the conveniently-sized BOSS BCB-30. This compact pedalboard folds into a robust case, which protects all of the effects inside and makes for easy transportation.
Bottom Line: Made from heavy-duty molded resin, this gig-worthy pedalboard is a great option for storing a modest number of effects. It comes with audio cables to connect the pedals and a daisy-chain cable for powering up to three pedals. The case has a comfortable handle and two highly secure clips for ensuring that the contents are protected.
5. Soyan Large Pedal Board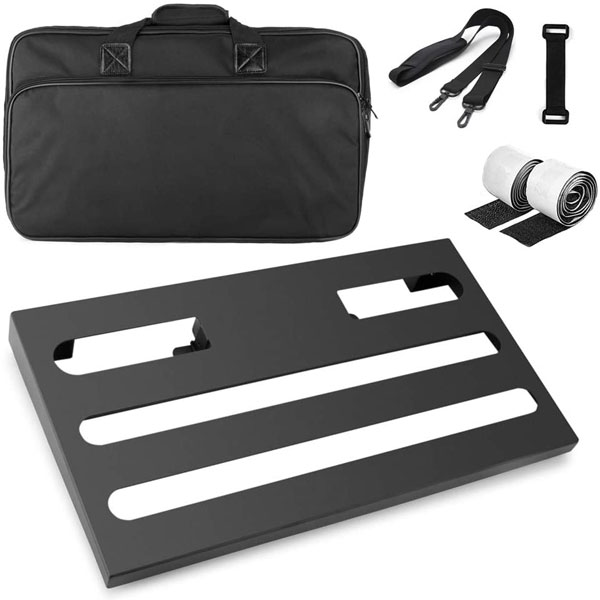 Estimated Price: $60
Material: Aluminum
Dimensions: 22 x 12.5 inches
Case: Soft Carry Case
My Review: Soyan's Large Pedal Board is an affordable option, which combines durability with convenience. This large and solid pedalboard is ideal for positioning a range of guitar or bass effects, and it has a separate compartment especially for housing a power supply on the underside.
To construct this pedalboard, Soyan used high-quality metal, which has the required robustness for holding and protecting your beloved stompboxes. It is angled to make the pedals more accessible, and allow them to be more visible on stage.
The Large Pedal Board also comes with a lightweight carrying bag, which is made from soft nylon. The detachable shoulder strap is great for carrying your pedalboard to and from the stage. It also includes plenty of self-adhesive tapes and Velcro for securing your pedals to the board.
Who is this best suited for: If you're looking for a high-quality pedalboard but perhaps don't have a large budget to spend, this offering from Soyan is a highly recommendable option. It boasts many of the qualities you'd expect from a more expensive pedalboard and has plenty of space for a range of effects pedals.
Bottom Line: With ample surface area and a lightweight yet robust design, the Large Pedal Board by Soyan is great value for money. Angled to allow access to all of your effects, this pedalboard comes with several accessories and tools that enhance its performance. These include a comfortable soft carry bag, Velcro, and adhesive tape.
6. Pedaltrain Classic 2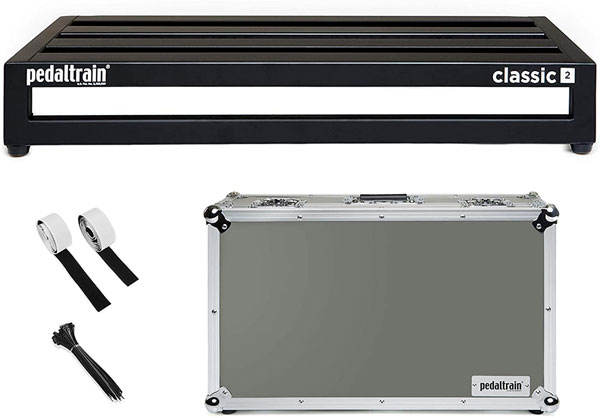 Estimated Price: $230
Material: Aluminum
Dimensions: 24 x 12.5 inches
Case: Tour Case
My Review: The Classic 2 by Pedal is a professional-grade pedalboard that comes with a fantastic tour case. Built with the level of durability associated with all of the manufacturer's pedalboards, the Classic 2 is highly reliable and very easy to set up.
Measuring 24 x 12.5 inches, it has the space required to facilitate a wide range of effects pedals. There are four rubber feet attached to each corner of the pedalboard, providing extra grip and reinforcement, and preventing it from slipping when contact is made with the pedals.
Also included with the Classic 2 is 96 inches of high-strength adhesive tape, which is ideal for attaching your pedals to the chassis. The hard case is built to the highest standard and protects your pedals on the road. It is very secure and doesn't allow the pedalboard to move at all when it is encased.
Who is this best suited for: The Pedaltrain Classic 2 is perfect for the touring musician. The pedalboard itself is highly durable and secure, but it's the hard case that accompanies it that is arguably more impressive. If you're likely to move your pedalboard from one location to another frequently, the Classic 2 is a great choice.
Bottom Line: With enough space to house a variety of effects pedals and a slightly inclined design for perfect access to the footswitches, the Classic 2 by Pedaltrain is one of the best options available to guitarists, bassists, or keyboard players. It comes with a high-quality tour case that is built to withstand the inevitable rigors of being on the road. With this pedalboard, you can rest assured that your effects won't be damaged when they're thrown into the back of the van after a night of gigging!
7. Mooer PB-05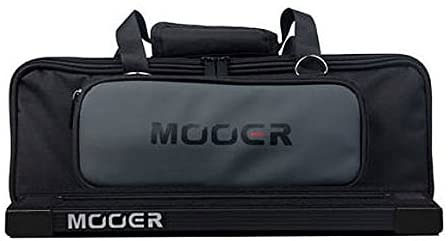 Estimated Price: $60
Material: Aluminum
Dimensions: 14 x 3.8 inches
Case: Soft Carry Case
My Review: Featuring a simplistic design, the compact PB-05 by Mooer is an affordable pedalboard which rivals much pricier options in terms of quality and performance. When designing this pedalboard, Mooer used a unique injection molding technology, which forms a rigid platform when combined with the custom aluminum alloy chassis.
The chassis is finished in matte black and has a convenient non-slip bottom design to ensure maximum stability. The PB-05 isn't the largest of pedalboards, but it can still house around 5-6 pedals quite comfortably.
The carry bag that accompanies the PB-05 is made from durable fabric. It comes with a thick shoulder strap to ease the burden when transporting your pedals and has a smooth side area which is ideal for printing the logo of your brand, or project onto.
Who is this best suited for: I'd highly recommend the Mooer PB-05 to any musicians who are looking for a high-quality pedalboard without overspending. If you intend to purchase more effects pedals in the future, this offering is a great way to save a little money to put towards them.
Bottom Line: Mooer has quickly established itself as one of the leading manufacturers of affordable music equipment in their relatively short history. The PB-05 is their flagship pedalboard, which comes with a comfortable carry bag and is adequately sized to facilitate several effects pedals.
8. Luvay XL Pedalboard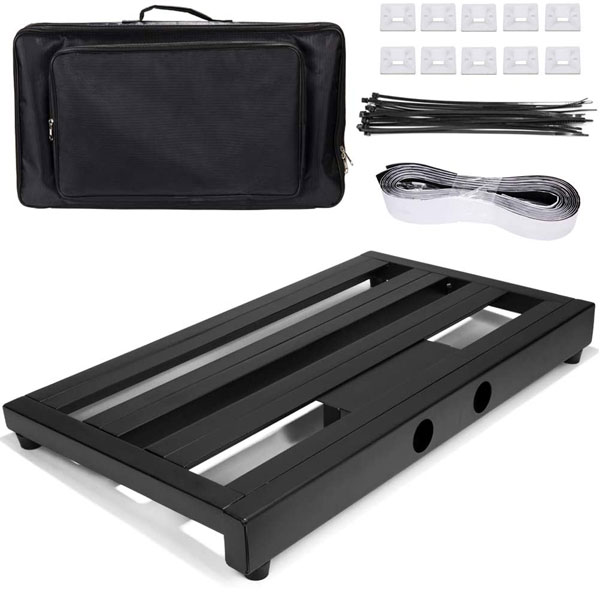 Estimated Price: $60
Material: Aluminum
Dimensions: 22 x 12.6 inches
Case: Padded Carry Case
My Review: The XL Pedalboard by Luvay, as the name suggests, is large enough for those who have large selections of pedals. Heavy-duty and made from high-quality materials, this pedalboard slots nicely into the soft carry bag that accompanies it.
The main chassis of the pedalboard is constructed from aluminum alloy. It looks stylish and distinguished and is extremely durable. The added space that you get with the XL Pedalboard is useful if you are likely to increase the number of pedals you have shortly.
Also included with this Luvay pedalboard is a pair of 60 inch Velcro straps for securely attaching your pedals to the chassis, 12 buckles, 12 ties, and an Oxford carrying bag. The bag has an ergonomic handle which makes carrying it very easy indeed.
Who is this best suited for: With its modest price tag, durable build, and a generous number of accessories, the Luvay XL Pedal Board is a great choice for all guitarists and bassists. Its large surface area also makes this pedalboard suitable for those who have a substantial collection of pedals.
Bottom Line: Affordable, reliable, and smartly designed, the XL Pedal Board by Luvay ticks all the boxes. It includes all of the equipment you need to secure your pedals in place, including plenty of Velcro, ties, and buckles. The Oxford carry bag that comes with this pedalboard is both stylish and comfortable when worn.
9. Pedaltrain Classic Jr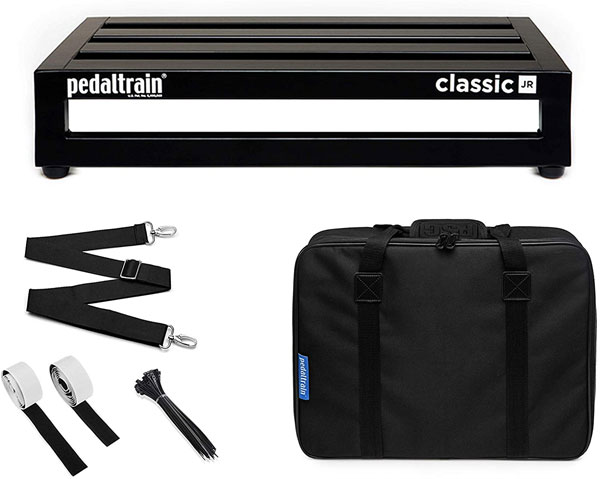 Estimated Price: $120
Material: Aluminum
Dimensions: 18 x 5 inches
Case: Soft Carry Case
My Review: One of the most popular mini pedalboards on the market, the Pedaltrain Classic Jr is a brilliantly designed piece of equipment. Featuring the classic durability that the manufacturer is renowned for, this pedalboard is guaranteed to last a long time, regardless of how much you use it.
With dimensions of 18 x 5 inches, you can slot a handful of stompboxes onto this pedalboard. If you get creative with pedal positioning, it's possible to squeeze around ten pedals on the board in total. It is constructed from aircraft-grade aluminum and has a durable, matte black finish.
Included with the Classic JR are several welcome additions. Firstly, you get a high-quality, fitted soft case. With a padded shoulder strap and a heavy-duty zipper, this bag is both comfortable and robust. There's also plenty of adhesive-backed hook-and-loop included for securing your pedals to the aluminum chassis.
Who is this best suited for: The Classic Jr is one of Pedaltrain's best pedalboards, despite its significantly reduced size. The small dimensions of this pedalboard are what make it great. If you have a small, focused selection of pedals at your disposal, the Classic Jr is worth considering.
Bottom Line: Built using high-grade aluminum, the Classic Jr by Pedaltrain is a magnificent little pedalboard. It comes with a fitted carry bag, which has reinforced stress points to prevent wear and tear. Although it may be smaller than many other pedalboards, in terms of quality, it is amongst the best on the market.
10. Donner DB-3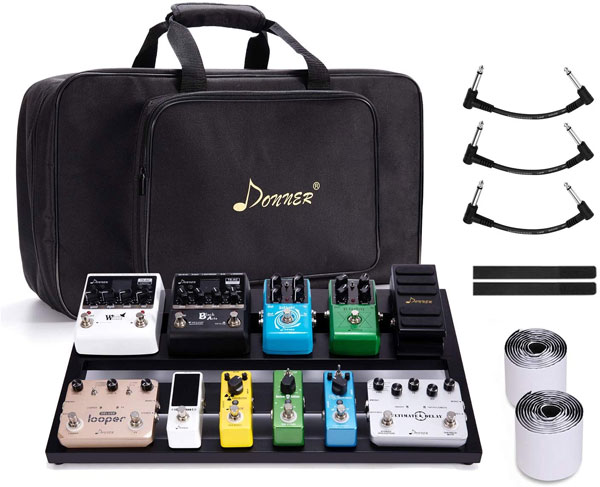 Estimated Price: $60
Material: Aluminum
Dimensions: 20 x 11.4 inches
Case: Soft Carry Case
My Review: If you're a guitar pedal fanatic, you're probably aware of the emergence of Donner, a relatively new manufacturer that produces a selection of affordable musical equipment. The DB-3 a medium-sized pedalboard designed to keep your stompboxes secure and protected.
Made from aluminum alloy, this portable pedalboard can comfortably fit around ten regular-sized effects pedals. For ease of transportation, Donner has included a canvas bag with two separate compartments and a reinforced zipper.
The handle of the canvas bag is padded with a cushioned later. Also, there is a vacant space underneath the chassis for mounting a power supply unit of your choice. To secure the power supply and the pedals, Donner provides 60 inches of professional-grade adhesive tape and zip ties for extra reinforcement.
Who is this best suited for: Donner's DB-3 pedalboard is suited to the same musicians who enjoy their range of pedals. Affordable and solidly built, it is the ideal option for those who don't have lots to spend on a pedalboard, but still need plenty of space, quality, and stability.
Bottom Line: The DB-3 is very easy to pack away into the accompanying canvas bag, and with a padded handle, it makes transporting your pedals from the rehearsal to the studio a much less arduous task. It comes with all of the required accessories for securely mounting your pedals to the board, and there is a space for a power supply to be mounted on the underside of the chassis.
11. Holeyboard 123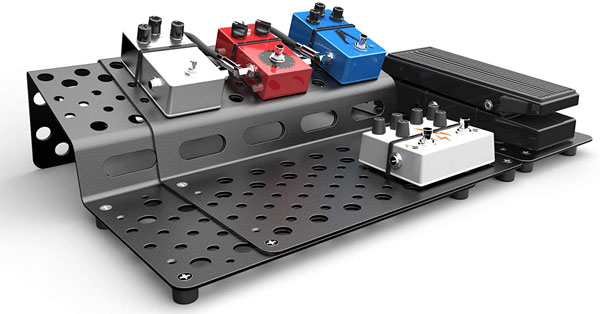 Estimated Price: $220
Material: Aluminum
Dimensions: 13 x 14 inches.,
Case: None
My Review: With its unique design, the Holeyboard 123 is an eye-catching pedalboard that allows you to adjust its size to suit the number of pedals you possess. The patented expansion system makes extending or reducing the size of the pedalboard easy and quick.
There several benefits to having a pedalboard with an adjustable size. Firstly, it means that if you add to your collection of pedals in the future, you won't need to purchase a larger pedalboard – you can simply extend the Holeyboard 123 to facilitate the new additions.
It also means that if you decide to narrow down your selection of pedals for a small show, or an intimate live performance, you can reduce the size of the pedalboard, making it easier to store and transport. This pedalboard is full of holes, which makes running patches and power cables through it much easier.
The angled top tier of the Holeyboard 123 means that a power supply can be securely mounted. There are several locations that you can attach your PSU, and no additional parts are required to do so. The hardware is made from stainless steel and the main chassis from aircraft-grade aluminum.
Who is this best suited for: The Holeyboard 123 is ideally suited to guitarists or bassists who have a considerable selection of effects pedals, and are likely to expand their collection shortly. The adjustable size of this pedalboard makes it a great option for pedal enthusiasts.
Bottom Line: It's refreshing to see a pedalboard that doesn't follow the conventional design or style, and the Holeyboard 123 is certainly unique. Littered with holes, it allows you to run cables with precision, to avoid your pedalboard becoming cluttered. With an adjustable size and Velcro-friendly sections, this pedalboard is a brilliant creation.
12. SKB PS8
Estimated Price: $125
Material: Rubber Modified Styrene
Dimensions: 19 x 12 inches
Case: Soft Carry Case
My Review: The SKB PS8 is capable of powering and housing up to eight effects pedals. A powered pedalboard saves you the hassle of having to install an external PSU. The board is made from injection-molded, eco-friendly rubber-modified styrene, creating a stable and lightweight platform for your pedals.
The PS8 comes with eight onboard output jacks, with 9 volts DC power flowing through them. There's also an external transformer which is rated at 500mA of the total current. This means you can leave all of your pedals plugged in, and set them up instantly without needing to reconnect any of the power cables.
The hook-loop surface of this SKB pedalboard measures 9 x 12 inches, which is ample room for positioning eight regular-sized pedals. You also get a useful nylon carry bag, with a heavy-duty design and an exterior zipper pocket for storing cables or other accessories.
Who is this best suited for: If you're thinking of buying a power supply for your pedalboard, why not combine the two with the SKB PS8? It comes with all of the power cables already installed, so all you need to do is hook up your pedals, and start playing.
Bottom Line: Powered pedal boards divide opinions – some argue that the power supplies included with these devices aren't as reliable as separately purchased options. However, the SKB PS8 proves the critics wrong, offering dependable power to up to eight regular-sized effects pedals. It also comes with a heavy-duty carry bag for transportation purposes.
13. Sound Town ATA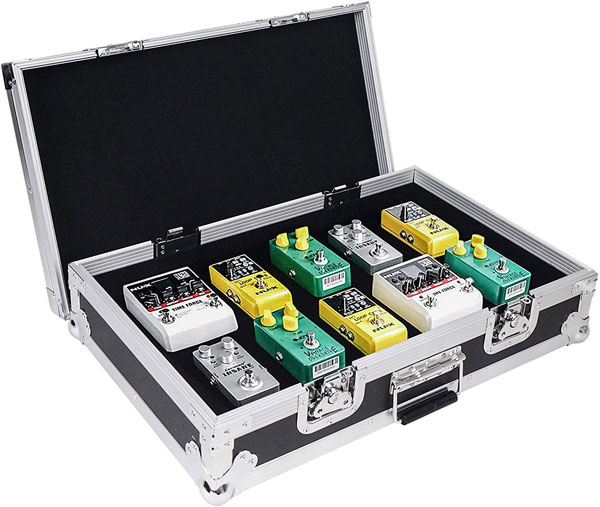 Estimated Price: $100
Material: Aluminum/Plywood
Dimensions: 24.7 x 14 inches
Case: Tour Case
My Review: Made from a blend of high-strength aluminum and plywood, the ATA by Sound Town is an all-in-one pedalboard and road case. It's incredibly sturdy and robust, providing your pedals with the ultimate protection when on the road.
The lid of the ATA Road Case removes to transform it into a pedalboard. This is a convenient feature that saves you time when packing away equipment at the end of a rehearsal, live gig, or recording session. Simply reattach the lid using the heavy-duty grip-locks, and the pedalboard becomes a convenient carry case.
The size of this pedalboard means it suitable for a collection of around 8-10 pedals. The dual-lock fastener is highly secure and ensures the protection of your effects pedals inside, where foam lining cushions any impacts that might occur.
Who is this best suited for: If you've got a medium-sized pedal collection of around 6-10 regular-sized stompboxes, the Sound Town ATA pedalboard, and hard case is worthy of your attention.
Bottom Line: Extremely durable, and conveniently versatile, this pedalboard/hard case will save you lots of time and effort. With a 3M dual lock fastener, there's no danger of your pedals being damaged inside this case. Simply lift off the top lid and the case becomes a fully functioning pedalboard. Then, when the show is over, reattach the lid and your work is done!
14. Behringer PB600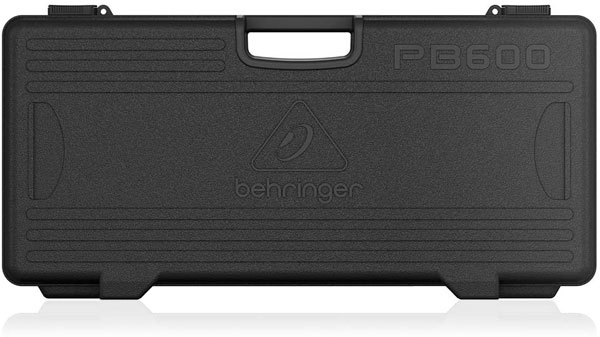 Estimated Price: $180
Material: Heavy Duty Plastic
Dimensions: 18 x 16 inches
Case: Hard Case
My Review: Behringer produces a wide variety of effects, and with their PB600, they have designed an ideal pedalboard for housing up to 6 pedals. Patch cables are included with the PB600, as is a 1.7 A power adapter that can power more than 12 devices.
Made from rigid plastic, this pedalboard is designed to withstand even the heaviest of impacts. When transporting a pedalboard, it is inevitably going to be moved around and come into contact with other pieces of equipment, so the hard-shell of the case is a very useful protective measure.
Power adapters and patch cables are especially vulnerable to wear and tear, so having them already built into the pedalboard is highly convenient. It also comes with a duffel bag to make transportation even easier.
Who is this best suited for: The Behringer PB600 is designed to cater to all of your pedal storage needs. I'd highly recommend it to musicians who have a selection of pedals that don't exceed six, and those who require a power supply and patch cables.
Bottom Line: Behringer is renowned for creating dependable equipment at reasonable prices. Their flagship pedalboard, the PB600, is a fine example of this. It contains a power supply that is capable of powering up to twelve devices, and all of the cables are already pre-installed for added convenience.
15. Gator GBP-BAK-OR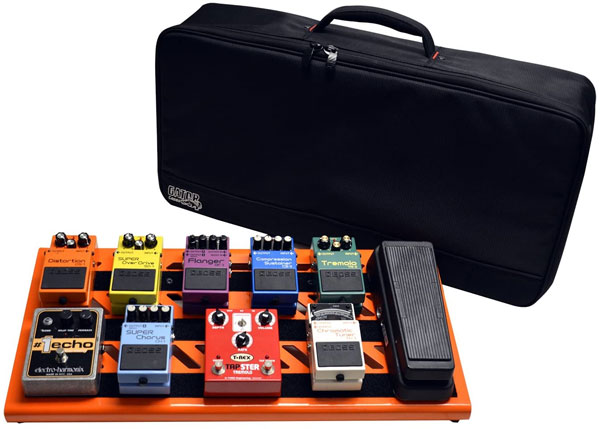 Estimated Price: $150
Material: Aluminum
Dimensions: 23 x 10 inches
Case: Soft Case
My Review: As one of the leading pedalboard manufacturers, Gator has produced a plethora of high-quality equipment designed to protect your effects pedals. The GBP-BAK-OR is a compact offering, with a unique orange and black design which evokes memories of the classic Orange amps of the British Invasion era.
The pedalboard comes with a universal mounting bracket, making the installation of a PSU very simple. It is slightly angled, which promotes easy access to all of your pedals. Also, you get a heavy-duty carry case with reinforced zippers and a cushioned handle.
Who is this best suited for: If you're a fan of the classic tones of the British Invasion style popularized in the 60s and 70s, you'll love the design of this Gator pedalboard. It's ideal for guitarists who have a medium-sized pedal collection.
Bottom Line: With its striking orange and black aesthetics and highly robust construction, the Gator GBP-BAK-OR is a fantastic pedalboard. It comes equipped with a universal mounting device for easily attaching your chosen power supply to the underside of the chassis, and a durable, soft carry bag for easily moving your pedals from one location to another.
16. Gator G-Tour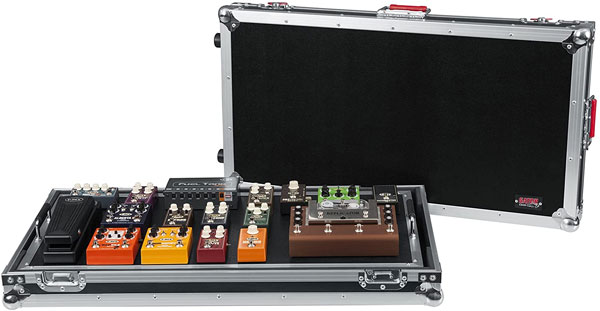 Estimated Price: $390
Material: Aluminum/plywood
Dimensions: 32 x 17 inches
Case: Tour Case
My Review: The G-Tour by Gator is part of their tour series of pedalboards, providing substantial protection to your guitar, bass, or vocal pedals. Featuring an extra-large removable pedalboard surface, it's the perfect mixture of mobility and stability.
Secured by dual lock fasteners, there's no danger of the case coming loose when in transit. The G-Tour also comes with wheels, and a pull handle, reducing the need for carrying your pedalboard. There's plenty of storage space within the hard case for cables and a PSU of your choice.
Who is this best suited for: A high-quality flight case and pedalboard, the G-Tour by Gator is well suited to professional musicians who are constantly on the move. It's one of the most secure cases available today, so if you want to provide maximum protection to your pedals, you'll love this high-end offering.
Bottom Line: With an interior that is coated in thick, shock-absorbing EVA foam, and a mixture of hard plywood with military-grade aluminum used for the pedalboard, the G-Tour is highly protective. It comes with convenient wheels installed for easy transportation, and plenty of room for extensive pedal collections and all of the cables that come with them.
17. ENO EX

Estimated Price: $30
Material: Analog
Dimensions: 14 x 5.5 inches
Case: None
My Review: ENO's EX is a basic pedalboard that performs all of the necessary functions. Although it doesn't come with various accessories and add-ons like more expensive models do, the EX's biggest strength is its simplicity.
With a rectangular gap located in the center of the aluminum alloy chassis, connecting your pedals to the PSU is very simple. The four rubber feet on each corner of the base ensure that the pedalboard won't move when in use, and you also get plenty of tie wraps for securing your devices to the chassis.
Who is this best suited for: If you're looking for a reasonably-priced pedalboard that is easy to assemble, the EX by ENO is a great choice. This simplistic pedalboard is solidly built, and comes with trape and tie wraps for easy pedal installations.
Bottom Line: Made from solid aluminum, the compactly-sized EX by ENO is an ideal platform for storing a small to the medium-sized collection of effects pedals. It is coated in a durable powder finish to ensure longevity and has four rubber feet to provide maximum stability when on stage, or in the recording studio.
The Ultimate Pedalboard Guide
Pedalboards don't get the credit they deserve. Even though they don't have any effect on your guitar or bass's tone, they are an essential tool for recording and live performance, nonetheless. Adding a reliable pedalboard to your setup makes everything feel more convenient.
As with all musical equipment and accessories, there's a vast range of pedalboards on the market. It can be just as easy to find a sub-par pedalboard that is likely to break after a short while, as it is to find an outstanding offering that will provide years of reliable usage.
In the remaining sections of this comprehensive guide, I'll provide you with all of the information you need to know on the subject of pedalboards. We'll cover how to choose the right board for your needs, which materials to look out for, how to supply your pedalboard with power, and much more.
If you're still a little unsure of which pedalboard you should go for, rest assured. After reading the remainder of this guide you'll know exactly which qualities to look for, and the negative aspects to avoid.
Why Do You Need a Pedalboard?
Let's start by establishing why guitarists, bassists, keyboardists, and vocalists can all benefit from adding a pedalboard to their setup. The obvious thing that a pedalboard offers is organization. If you've simply been assembling your effects chain on the floor up until now, you'll be well aware of the inconveniences that this results in.
When effects pedals are not secured, they tend to move every time you press the footswitch or adjust one of their onboard parameters. This can lead to several problems, including the patch cables that connect the pedals coming loose, or the pedal slipping from under your foot, resulting in your timing being detrimentally affected.
In more extreme cases, I've seen people break their effects pedals when not using a pedalboard, by slipping as they attempt to activate a pedal and putting all of their weight on the device. Whatever the scenario, one thing is for certain – using a pedalboard will drastically minimize the risk of anything going wrong.
Additionally, there is another clear reason that using a pedalboard is beneficial – time-saving. The great thing about using a pedalboard is that it allows you to leave your effects positioned in the signal chain so that they are ready to use instantly when you next require them.
Without a pedalboard, it's practically impossible to keep your pedals in the correct order. You'll have to reassemble your signal path every time you perform, rehearse or record, which takes up valuable time that could be spent in more productive ways.
Also, it's much less likely that the settings on your effects pedals will be altered when you use a pedalboard.
It can be highly frustrating when you've spent hours crafting the perfect tones by adjusting the controls on your pedals, only to find that the next time you go to use them, they've been moved around. Pedalboards preserve the settings, especially if they come with a case of some description.
How Much Space Do You Require?
When sifting through the large quantities of pedalboard available, one of the first things you need to establish is how much space you require. If you choose a board that is too small, this could mean you having to sacrifice one of your beloved effects pedals.
Therefore, it's important to plan out your pedalboard before making a purchase. If you know exactly which pedals you're going to position on the board, you can simply lay them out in the signal chain on the floor, and measure the dimensions that they fit into.
Then, you can look for pedalboards that provide you with an adequate surface area to facilitate all of your effects. A common mistake made by guitarists when purchasing a pedalboard is not thinking with foresight. Although you may only have eight stompboxes in your pedal collection currently, the chances are you'll want to broaden your sonic horizons in the not too distant future.
This is a condition that all musicians suffer from – the never-ending chase of the elusive perfect tone. If you're likely to add three or four pedals to your signal chain at some point, it's best to factor them in now so that you don't also need to reinvest in a larger pedalboard when the time comes to finally get that Big Muff or Holy Grail that you've always wanted!
Some pedalboards are designed with two tiers, which increases the amount of space you have to work with. Others are conventionally designed with a singular flat surface. Providing you've planned out your board before purchasing, and made sure that the dimensions are compatible, you can't go wrong.
Pedal Boards and Power
Many pedalboards either come with a dedicated space to fit a power supply. In some cases, the boards themselves are permanently powered with a fixed PSU. Powering your pedals is something you need to consider, as it's simply not practical to use individual plugs for all of your pedals.
Indeed, many pedals can be powered using batteries, predominantly the 9 volt DC variety. However, batteries should be used as a backup method for powering pedals, because if they're solely relied on, there's always the chance that they can run out mid-performance or during a recording, potentially ruining both scenarios.
Therefore, the best way to ensure that your pedals are powered is by installing a PSU. If the pedalboard you choose doesn't already have a space designated for a power supply, you can mount it yourself using Velcro or some other attachment method.
Keeping your power supply mounted to the pedalboard allows you to set up your effects instantly, connect the unit to a mains power source and start playing. Compared to powering each pedal with individual plugs, this method is much more convenient and time-efficient.
When choosing a power supply to pair with your pedalboard, you must consider several factors. These are:
The number of pedals you need to power
The voltage that the pedals need
The size of the power supply
The best place to position the PSU on your pedalboard
To connect your pedals to the power supply, you'll be using specific power cables. These cables come in varying lengths and with slightly modified connectors. Some pedals are designed to be used with right-angle connectors, while others may be better suited to straight connectors. Again, planning your pedalboard layout is essential to making the right choices.
Patch Cables
A fundamental part of an effects pedal signal chain is patch cables. These cables are often much smaller than your average instrument cable but use the same TRS jack connectors. They are used to link all of the various pedals together on your pedalboard, allowing the signal to flow through the entire chain.
Patch cables are undeniably essential components of a pedalboard. However, many guitarists overlook their importance and opt for cheap versions, which ultimately can lead to problems further down the line. It's always a good idea to spend a little extra on high-quality patch cables because your entire signal chain relies on them.
One of the great things about pedalboards is that they allow you to leave the patch cables connected ready for use. This means you rarely need to disconnect your pedals, which has several benefits. Firstly, it saves you time and effort before a performance or recording session. Secondly, it prevents the cables from being damaged over time, when they are disconnected and reconnected.
Patch cables are available in varying lengths. Also, they come with different connector angles so that you can keep your pedalboard tidy and organized. As you assemble your pedals, you'll probably find that some of them are better suited to right-angled patch cables, whereas others work best with the straight variety.
Oftentimes, when a musician's signal suddenly cuts out, it is due to a patch cable coming loose. Using a pedalboard prevents this from happening because it allows you to firmly position the patch cables and tuck them away so that they have very little chance of being moved when you play. It also makes it easier to find the culprit if one patch cable has malfunctioned and needs replacing.
Raised pedalboards present you with the possibility of storing your patch cables underneath the unit. This is arguably the tidiest way to connect your pedals, as it keeps any stray cables out of sight, and protects them from being unintentionally moved when you activate the footswitches on your effects pedals.
Whether you're a guitarist, bassist, keyboardist, or vocalist, one thing is for sure – you can never have too many patch cables! They are relatively inexpensive, so it's best to stock up on a variety of lengths and connector angles. That way, you always have a replacement patch cable-ready if required, and you can add more pedals to your board.
Securing Your Pedals
The most popular way to secure pedals to a pedalboard is by using strips of Velcro. Some pedalboards come with Velcro strips already attached, while others require you to stick them on the surface of the board. Strips of Velcro aren't expensive, and they usually come with an adhesive side so that you can easily stick them onto your pedals.
To keep your pedalboard as tidy as possible, you can cut the Velcro to fit the dimensions of the base of your pedals. This prevents any excess Velcro from protruding the side of the pedal and makes it less likely to tear off. You can then cover the face of the pedalboard with the other side of the Velcro, and position your pedals accordingly.
Another method used to secure pedals to the pedalboard is by using cable ties. These are made from small strips of plastic, with little teeth grips that slot into a hole and can be tightened to the optimal level. The advantage of using cable ties is that they generally take less time than applying Velcro to all of your pedals.
If you do choose to use Velcro, one thing to bear in mind is that you'll still need access to the battery of the pedal, and potentially the inner components. Therefore, if possible, you should try to leave space around the battery door and any of the screws that attach the bottom of the pedal to the chassis. This will allow you to quickly replace batteries when required, or open up the pedal to repair a faulty component.
Positioning Effects on Your Pedalboard
Pedalboards are extremely useful tools when it comes to positioning your effects. Not only do they keep all of your pedals in the same position ready to use instantly, but they also allow you to experiment with different orders whilst leaving your patch cables and power leads in one position. When you've chosen your pedalboard, the next logical step is to start planning the order of your effects in the signal chain.
Although there are some generally accepted rules regarding the order of effects, I'd encourage you to experiment. Innovation happens when musicians choose to ignore preconceived ideas and try out their methods. The results may sound great, or they may sound lackluster, but either way, you'll gain knowledge on how certain effects interact with one another.
Nevertheless, it's a good idea to begin by positioning your pedals in the conventional order and then making adjustments to analyze how different positions affect your overall tone. That way, you'll know why the effects are being produced, and you can use this knowledge to assemble your pedalboard in a way that is unique and expresses your style of playing.
The first pedal in a signal chain is the tuner. This pedal works best when it is used on your clean tone, and positioning it after other effects has no real benefits. After the tuner pedal, it is advised that you position your dynamic-based pedals. These include compressors, EQ pedals, and limiters. Then comes gain-boosting pedals, such as overdrive, fuzz, or distortion.
After the gain-boosting pedals, then comes modulation effects. This broad category includes chorus, phasers, flangers, octave pedals, and pitch shifters. These effects are followed by reverbs and delays, which complete the signal chain. Due to the transformative effects of reverb and delay, it's best to position them towards the end so that they don't interfere with the effects which precede them.
The way that you choose to order your pedals in the signal chain has a huge impact on the tone they produce. For example, if you were to position a fuzz pedal after the reverb, it would sound much more chaotic than using the conventional order. This isn't necessarily a bad thing – many of the most iconic guitar tones have come about as a result of musicians rejecting common advice.
The process of positioning your pedals on a pedalboard is highly enjoyable. You get to visually plan the orders, speculate on what sound they will result in, and then make adjustments to learn about different combinations. You can also try to recreate some of your favorite guitar or bass tones using the pedals you have at your disposal, by switching up the orders and adjusting the onboard parameters of the effects.
Pedalboard Materials
Pedalboards come in all shapes and sizes and are made from a wide range of materials. However, the most common material used is aluminum. There are different grades of aluminum, so it's entirely possible that one pedalboard could be sturdier and more durable than the next, even though they are both made from the same core material.
The reason that aluminum is the most popular choice used by pedalboard manufacturers, is because it is strong and robust, but not overly heavy like some other metals. It is also much easier to manipulate aluminum to be the perfect shape and dimensions of a pedalboard, and it is generally resistant to corrosion.
Although the vast majority of the pedalboard is made from high-strength aluminum, some combine this material with wood. Plywood is often used for the outer section of a pedalboard or the base. It is then reinforced with aluminum or a similar, more durable material. The wood that is used is likely to have been treated so that it doesn't rot or erode over time.
Like with any musical equipment, generally speaking, the more costly the item is, the better quality materials have been used to construct it. This is true with pedalboards. Many of the top-end offerings use aircraft-grade aluminum for its exceptional durability and longevity. The lower-priced pedalboards are more likely to use lesser-quality materials.
Another material that is commonly used on pedalboards is rubber. This is usually employed for the feet of the board, as it provides extra grip and prevents it from slipping when you activate your pedals using the footswitches. The number of feet that are included on a pedalboard depends on its size – larger boards will require extra grip to prevent movement onstage.
Pedalboard Cases
Although some pedalboards are sold as standalone items, many of them come with a case for transportation. The cases vary, with some build especially for touring, and others for rehearsals. You must choose a case that will provide your pedals with adequate protection, depending on how often you will be using them, and where they will be stored.
Hard cases are well suited to musicians who use their pedals frequently. They are often made from a combination of wood, plastic, and metal. Similar to flight cases for amplifiers or hard cases for instruments, they provide maximum protection to your pedalboard and prevent any of the settings from being accidentally altered when you are transporting them from one location to another.
It's also common that hard cases have a layer of cushioned foam on the inside, which further protects the pedals. If you choose to purchase a pedalboard that doesn't come with its case, make sure that you opt for one that has the correct dimensions, otherwise, your pedalboard might not fit inside and this could cause damage to your effects.
Softer cases are commonly sold with lower-priced pedalboards. Although they don't provide the reinforcement and protection that their harder equivalents do, they are still useful for moving your pedalboard around. Just be aware that a soft case may not prevent the parameters on your pedals from being adjusted unintentionally if the material comes into contact with the various knobs and sliders.
DIY Pedalboards
Many musicians like to take a DIY approach with their equipment. Custom pedal builds are becoming much more popular, as are handmade instruments and other devices. Pedalboards are also a very common piece of equipment for musicians to build themselves.
Unless you have access to high-strength metals and the tools to manipulate them, it's unlikely that you'll be able to build a pedalboard that boasts the same level of durability as the high-end options on the market. Nevertheless, building your pedalboard can be a lot of fun.
In their simplest form, pedalboards are essentially flat surfaces that provide a sturdy platform for effects pedals to reside on. In theory, you could make a simple pedalboard using a piece of wood, some Velcro strips, and some rubber feet. Although this won't provide you with the reliability of a professionally-made pedalboard, it will do the job for a short time.
Final Thoughts
For guitarists, keyboard players, bassists, and vocalists, pedalboards are essential if you want to use effects. They keep all of your pedals in one place so that you don't have to go through the rigmarole of setting up the entire effects chain before you play.
Hopefully, after reading through all of the information in this comprehensive guide, you'll be able to identify the perfect pedalboard for your requirements. Now, you can look forward to the enjoyable process of positioning all of your pedals on the board!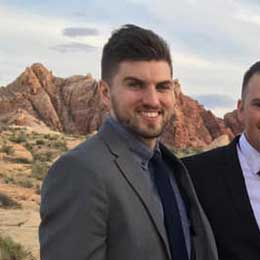 My name is Chris and I've had a passion for music and guitars for as long as I can remember. I started this website with some of my friends who are musicians, music teachers, gear heads, and music enthusiasts so we could provide high quality music related content as well as some of the most accurate and in-depth gear review and demo information on the internet.
I've been playing guitar since I was 13 (over 15 years now) and am an avid collector of all thing's guitar. Amps, Pedals, Guitars, Bass, Drums, Microphones, Studio, and recording gear, I love it all.
I was born and raised in Western Pennsylvania. My background is in Electrical Engineering earning a Bachelor's degree from Youngstown State University and with my engineering experience I've developed as a designer of guitar amplifiers and effects. A true passion of mine, I've designed, built, and repaired a wide range of guitar amps and electronics. Here at the Guitar Lobby, our aim is to share our passion for Music and gear with the rest of the music community.