The 12AX7 is one of the most influential and popular vacuum tubes used for guitar amplifiers and other audio-related equipment. This small device has played a major role in shaping many iconic electric guitar tones since it was first used many decades ago.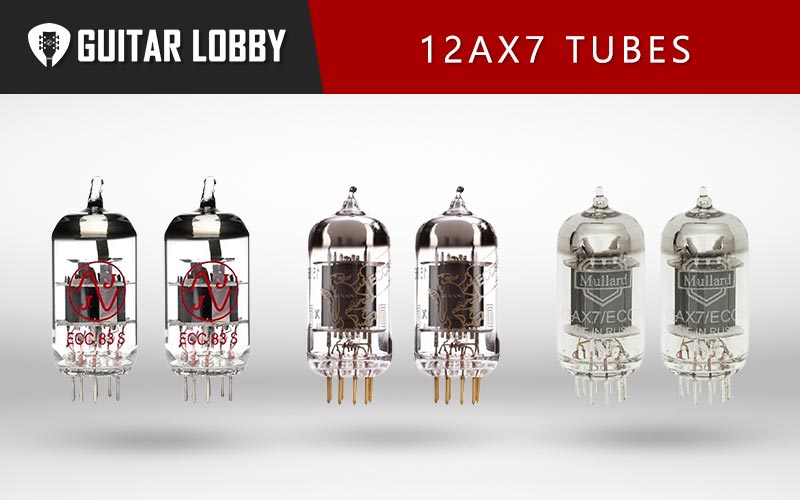 Known for its high-gain design and warm, immersive sound, the 12AX7 is used by most major amplifier manufacturers on their high-end tube amplifiers.
Over the years our team at Guitar Lobby has owned and tested many 12AX7 tubes, and in the rest of this article, we'll be sharing the best 12AX7 tubes at each price point. We'll also analyze their specifics so that you can ensure that you choose the best-suited option for your requirements.
List of the Best 12AX7 Tubes
1. Genalex Gold Lion ECC83/B759 (Best Overall)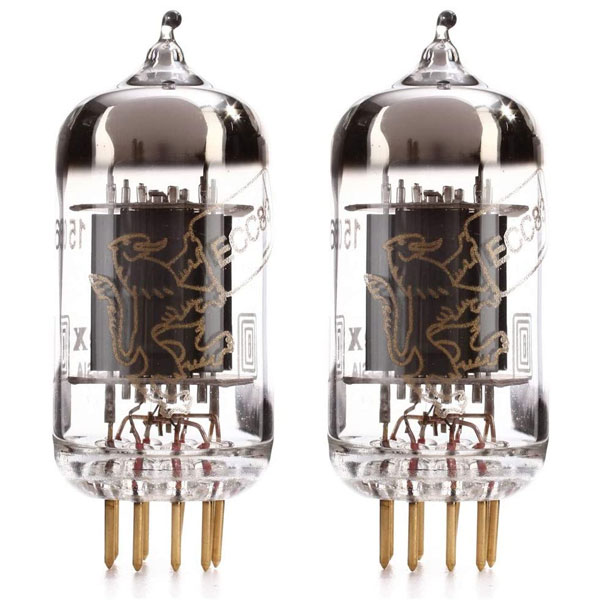 | | |
| --- | --- |
| Estimated Price | $90 |
| Quantity | 2 |
| Type | Matched Pair |
| Pins | Gold-plated |
My Review: Right off the bat, I was taken aback by the incredible sound of these Gold Lion 12AX7 vacuum tubes. The first thing that caught my attention when testing them, was their full-sounding, warm midrange which is highly detailed.
The midrange warmth of these Genalex tubes is complemented perfectly by their tight, responsive bass, and articulate highs which are tamed slightly to avoid becoming overly harsh. I also discovered that they kept microphonics to a minimum, which further improved the clarity of the amplifier.
The standout quality of the Gold Lion ECC83/B759 tubes is their reduction of noise. They have a triode balance that falls somewhere between 15% and 20%, which further contributes to their exceptional tonal and dynamic qualities.
Who is this best suited for: If you're looking for a replacement for your existing amplifier tubes that will provide you with improved definition across the frequency spectrum, the Genalex Gold Lion EXX83/B759 tubes are a perfect choice.
Bottom Line: These Genalex 12AX7 tubes will improve the performance of your amplifier in all aspects. Offering the ideal amount of heat to create authentic-sounding saturation, they are versatile and well suited to a range of guitar styles.
2. JJ 12AX7/ECC83 (Best Value)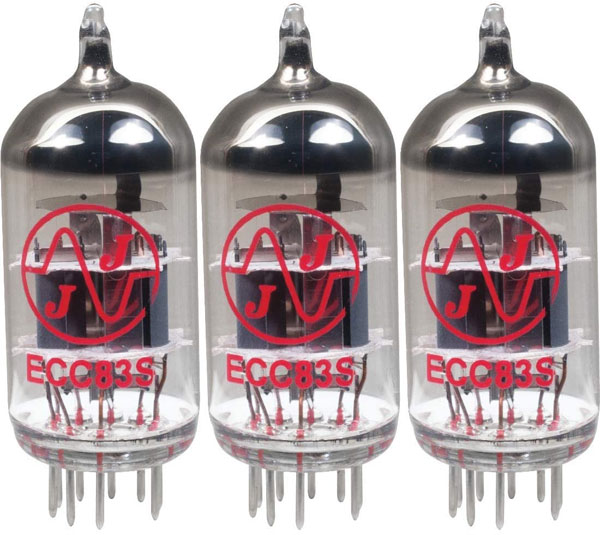 | | |
| --- | --- |
| Estimated Price | $50 |
| Quantity | 3 |
| Type | Various |
| Pins | Standard Pins |
My Review: JJ has built a reputation for being one of the most prolific producers of high-end tubes in recent years, so I was particularly keen to test their popular 12AX7's. The first thing I noticed when analyzing them, was that they have a rugged, robust built quality that is sure to withstand heavy usage.
Durability is a desirable quality when it comes to vacuum tubes, but it must be matched by the quality of tone. I was equally as impressed by the way that the 12AX7/ECC83's were able to increase the gain of my amplifier considerably, whilst remaining well balanced.
The lack of microphonic noise that these JJ 12AX7 tubes produced surprised me. Usually, high-gain vacuum tubes inevitably produce some humming and buzzing sounds, but what sets these apart from the majority of 12AX7's is their ability to retain clarity even when the amp's gain and volume settings are cranked.
Who is this best suited for: The JJ 12AX7/ECC83 tubes are best suited for guitarists who frequently use heavy gain settings. If you play heavy blues, metal, or rock, you'll love the warm, saturated tone that they deliver.
Bottom Line: Versatile and reliable, these 12AX7's have the ability to enhance any tube-driven amplifier's sonic performance. Despite their high-gain makeup, they don't obliterate the dynamics of the signal, and therefore can still be used for expressive styles of playing. In my opinion, these are the best 12AX7 tubes for the money right now.
3. Electro-Harmonix 12AX7EH (Best Under $50)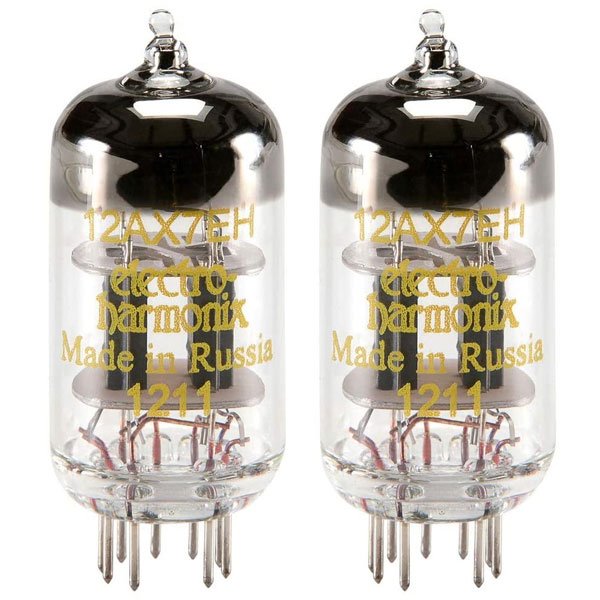 | | |
| --- | --- |
| Estimated Price | $45 |
| Quantity | 2 |
| Type | Matched Pair |
| Pins | Standard |
My Review: Electro-Harmonix is one of my all-time favorite guitar pedal manufacturers. They're renowned for innovative designs, and their creations generally produce exceptional effects and tones for a range of styles. When I discovered that they also manufacture 12AX7 tubes, I couldn't wait to get my hands on one.
I was blown away by the powerful tone that these 12AX7 tubes evoked from a guitar amplifier. They produce a highly animated sound, which I would describe as controlled chaos. For clean settings, these tubes produce a chimey high end and plenty of juice in the midrange frequencies.
Other than their affordable price, the thing that makes the EHX 12AX7EH stand out is its versatility. They perform equally as well on a clean setting for funk guitar as they do for screaming metal solos, which is a rare quality for 12AX7 tubes.
Who is this best suited for: The 12AX7EH preamp tubes are a great choice for hard rock, metal, or grunge guitarists. Their high gain output blends very nicely with a distortion or fuzz pedal, so if you enjoy using these effects I think you'll find this matched pair of 12AX7's very useful.
Bottom Line: With minimal noise issues and plenty of tonal character, these Electro-Harmonix tubes are another reminder of the manufacturer's attention to detail. They can do everything from clean tones to gritty tube saturation. These are easily some of the best 12AX7 preamp tubes out there right now.
4. JJ ECC803/12AX7 (Best Under $30)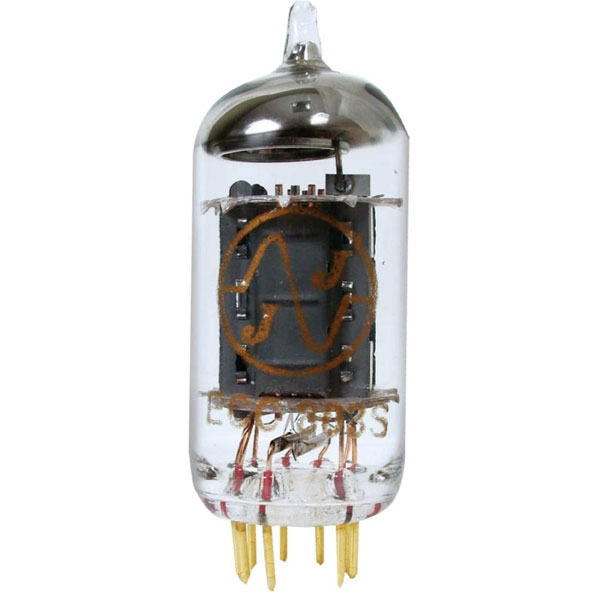 | | |
| --- | --- |
| Estimated Price | $30 |
| Quantity | 1 |
| Type | Long Plate |
| Pins | Gold-plated |
My Review: The affordable EXX803 12AX7 tube by JJ boasts a long plate structure. While I found that this does increase their susceptibility to microphonics, the other qualities of this vacuum tube compensate for this drawback.
Sonically, this tube sounds warm, immersive, and well-rounded. I found that it works best when used with high-gain amp settings, as opposed to clean tones. It can also be used in hi-fi systems or outboard gear in addition to guitar and bass amplifiers.
Like most JJ tubes, this 12AX7 is robustly built. It is also very easy to install in an amplifier and should last for a long time even if you use it extensively. Its standout quality is the amount of gain it can produce, which can be caused by digging into the strings of your guitar and increasing your playing velocity.
Who is this best suited for Due to the ECC803 being prone to microphonic noise issues, it performs best when used with a conventional tube amplifier rather than a combo amp. If you use a standard tube amp that needs a little extra heat, this tube will do the trick.
Bottom Line: JJ produces a wide range of 12AX7 tubes, each of which has slightly different characteristics. This particular model is high-gain and has no weak spots in its frequency range. Dynamically, it is perhaps not as responsive as the other tubes we've listed so far, but for the price, it is worth considering.
5. Mullard 12AX7/ECC83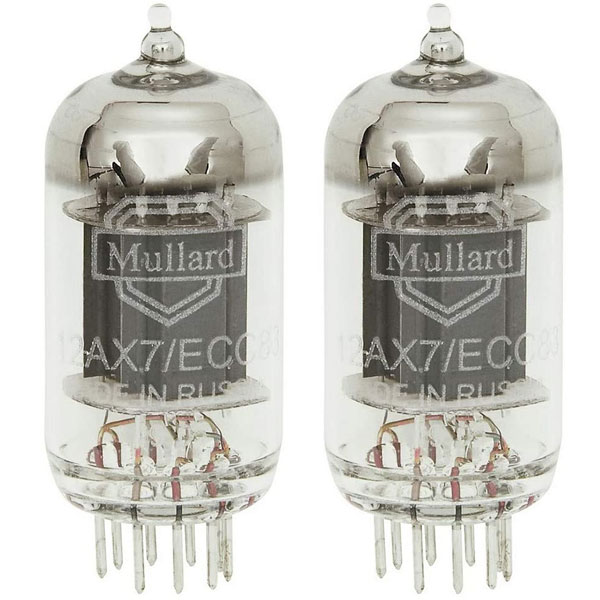 | | |
| --- | --- |
| Estimated Price | $50 |
| Quantity | 2 |
| Type | Matched Pair |
| Pins | Standard |
My Review: Before encountering the Mullard 12AX7 tubes, I was vaguely aware of their backstory. The original model was introduced way back in 1962 and became a popular tube amongst rock guitarists in the following years.
I was therefore intrigued to see whether this reissue model would live up to the high standard of its predecessor. Firstly, many of the specs are almost identical. The voltage gain of this reissue is marginally lower, but it still provided me with plenty of heat.
Despite the Mullard 12AX7 having a reputation for being grain-heavy, I was very impressed by the smooth clean tones it evoked from my amplifier. There's very little monophonic noise in the signal, which is another slightly surprising outcome that I wasn't expecting.
Who is this best suited for: Due to its long-stretching history of being used with amplifiers, I'd highly recommend this set of Mullard 12AX7's to guitarists or bassists who prefer vintage sounds. It is very similar in design to the original, and the majority of the qualities that made the 1962 model so popular have been retained.
Bottom Line: The 12AX7/ECC83 vacuum tubes by Mullard combine a durable build quality with tonal reliability. Expressive and energetic, they can be used to add warm breakups to a clean chord sequence or to ramp up the gain for a guitar solo when required.
6. Tung-Sol 12AX7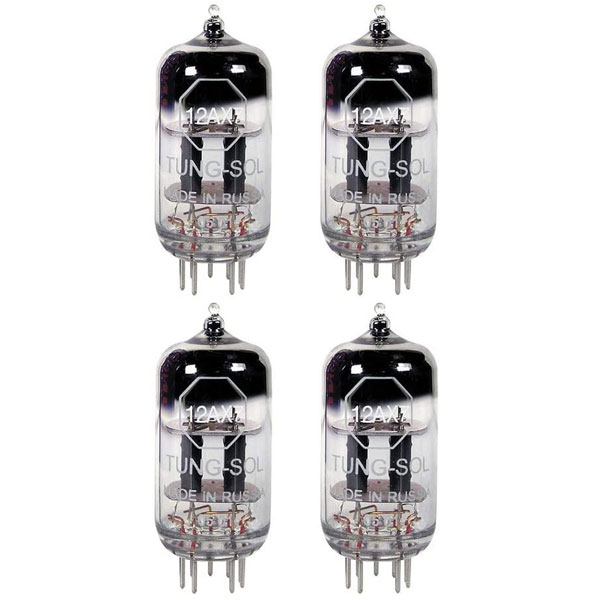 | | |
| --- | --- |
| Estimated Price | $90 |
| Quantity | 4 |
| Type | Matched Quad |
| Pins | Standard |
My Review: Tung-Sol is another highly respected tube manufacturer. Initially, I thought their 12AX7s looked a little flimsy, but upon further inspection I found them to be solid and durable. What impressed me most, however, was their sharp and pristine sound quality.
Firstly, I must stress that this matched quad of 12AX7 tubes is designed for high-gain applications. When I discovered this I anticipated microphonic noise issues, but to my surprise, the tubes produce very little unwanted noise compared to many similarly designed products.
The overall sound of these tubes could be described as open. While this is a fairly ambiguous term, I'm using it to describe the full-bodied, dynamically diverse feel that they give when paired with a tube amplifier. They also sound very bright and jangly in the high-end, which is in contrast to many high-gain 12AX7's I've used in the past.
Who is this best suited for: If you play a lot of melodies, riffs, and chords in the higher registers of your guitar's fretboard, the Tung-Sol 12AX7 are great for brightening up your tone. They are high-gain tubes, but this doesn't detract from their clarity and dynamic range too much.
Bottom Line: Tung-Sol's 12AX7 set contains four matched vacuum tubes. Compared to other tubes that are similar in design, they produce more clarity in the mids and highs, which is a refreshing change. Despite this, the tubes don't sound overly harsh and will blend in with the rest of the mix without any issues.
7. Sovtek 12AX7LPS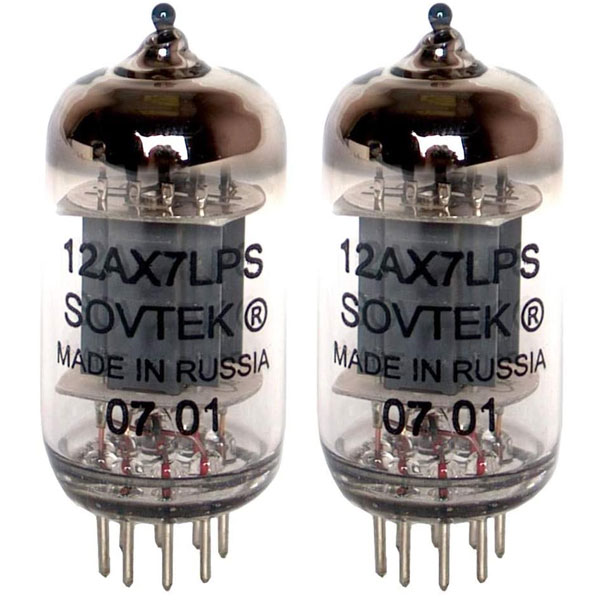 | | |
| --- | --- |
| Estimated Price | $45 |
| Quantity | 2 |
| Type | Matched Pair |
| Pins | Standard |
My Review: Sovtek's matched pair of 12AX7LPS tubes can be installed in the preamp section of an amplifier, or they can be used to replace the tubes in a spring reverb unit or a variety of outboard equipment.
The large plate design of these tubes creates a full-bodied sound, which is rich in detail. I was highly impressed by the warm saturation they produced, which didn't diminish the dynamic range or any of the natural frequencies of a tube amplifier.
Who is this best suited for: I'd strongly recommend the Sovtek 12AX7LPS tubes if you're looking to reinvigorate your amplifier's preamp section, or its onboard spring reverb unit.
Bottom Line: Made in Russia, these Sovtek 12AX7 tubes are a solid option for guitarists, keyboardists, or bassists. They enhance the finer details of an amplifier's sonic output, increasing the gain to a manageable level without flatlining the dynamics and negatively affecting the overall feel.
8. Mullard 12AX7/CV4004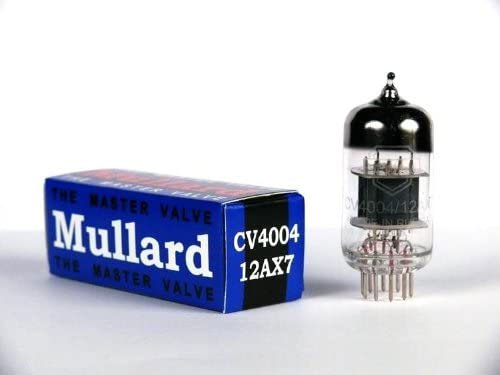 | | |
| --- | --- |
| Estimated Price | $30 |
| Quantity | 1 |
| Type | Short-plate |
| Pins | Standard |
My Review: Compared to the majority of 12AX7 tubes I've encountered, there was one significantly different quality offered by this Mullard device – incredibly tight bass frequencies. 12AX7's aren't generally associated with crisp bass, but this one delivers it in abundance.
Designed to resemble the vintage 12AX7's found in early tube amplifiers, this Mullard offering is warm enough to easily break into saturation, but it doesn't obliterate the signal like other preamp tubes have to tendency to.
Who is this best suited for: Fans of vintage Fender amplifier tones will be very fond of the warm and immersive sound that the Mullard 12AX7 tube creates. Combined with a little overdrive, this tube excels.
Bottom Line: While this Mullard 12AX7 vacuum tube is ideally suited to be installed in the preamp section of a valve amplifier, it also performs well in a hi-fi system, headphone preamp, or even a tube-driven organ.
9. Electro-Harmonix 12AX7 Gold Pin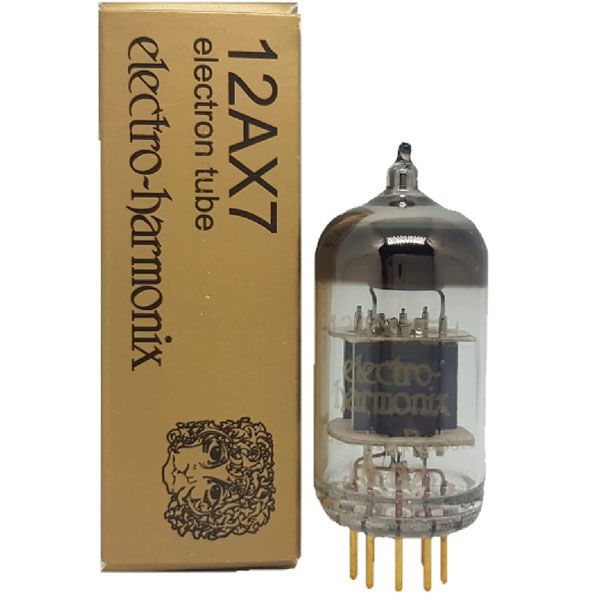 | | |
| --- | --- |
| Estimated Price | $35 |
| Quantity | 1 |
| Type | Electron Tube |
| Pins | Gold-plated |
My Review: After testing the standard Electro-Harmonix 12AX7 tubes features earlier in this article, I was able to directly compare them with this popular gold-pin edition. The main difference that I discovered was that the 12AX7 Gold Pin tubes produced more gain, which made it easier to push an amplifier into overdrive.
This increased level of gain is a result of several factors. Firstly, the short plate design makes the signal hotter after it is sent from the preamp section to the power section of the amplifier. Another significant feature is the gold pins, which increase conductivity.
By using a spiral filament, Electro-Harmonix has created a 12AX7 tube that operates almost completely noise-free. This is a rare quality for a high-gain tube, as they often fall victim to hum when used in combo amplifiers especially.
Who is this best suited for: 12AX7 tubes are generally renowned for gain-heavy tones, but I would recommend this Electro-Harmonix option to those who use clean settings often. While it can be used in overdrive, this tube boasts brilliant clarity and detail which is ideal for clean tones.
Bottom Line: The Electro-Harmonix 12AX7 Gold Pin vacuum tube is a reliable choice for electric guitar amplifiers. Each of the components used to construct the tube has been carefully chosen to limit microphonic noise, and promote tonal clarity.
10. Tung-Sol Gold 12AX7/ECC803S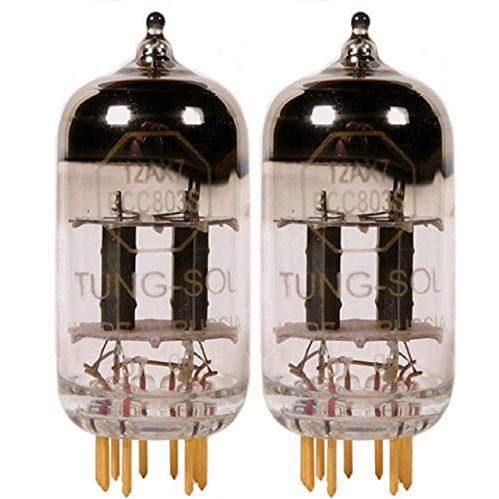 | | |
| --- | --- |
| Estimated Price | $65 |
| Quantity | 2 |
| Type | Matched Pair |
| Pins | Gold-plated |
My Review: When researching this pair of matched 12AX7 tubes, I learned that Tung-Sol has now been taken over by Electro-Harmonix. This makes perfect sense, as the gold-plated design of this vacuum tube shares many qualities with the aforementioned EHX offering.
Using balanced triods, the manufacturer has ensured a smooth, responsive sound. I could tell that they had focused on minimizing microphonic noise, which makes these tubes ideal for being placed in the preamp stage of an amplifier.
Who is this best suited for: Like Electro-Harmonix 12AX7 tubes, this set does a wonderful job of keeping noise issues to an absolute minimum. For that reason, they are well suited to tonal pursuits who want to ensure that humming and buzzing don't tarnish the sound of their instrument.
Bottom Line: With gold-plated pins, balanced triodes, and exceptionally low microphonics, the Tung-Sold Gold 12AX7's are great value for money. They slot into an amplifier's preamp section with no issues, and can also be used in spring reverb units or other external effect units.
11. Svetlana 12AX7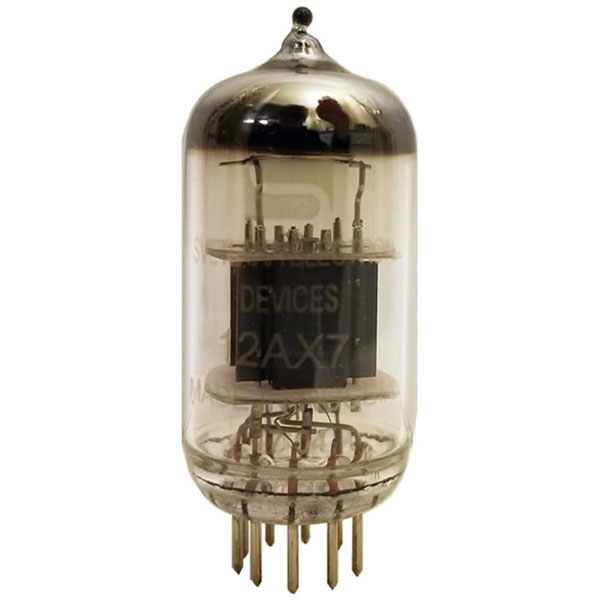 | | |
| --- | --- |
| Estimated Price | $25 |
| Quantity | 1 |
| Type | Regular-pin |
| Pins | Standard |
My Review: Made in Russia and built upon years of trial and error, the 12AX7 by Svetlana is one of the best low-priced tubes in its category. Very similar in design to the Tung-Sol 12AX7, this tube has a slightly smoother, more fluid tone, with less gain.
Some 12AX7's can get a little grainy when too much mid-range or treble is added into the mix, but I found that this Svetlana offering avoided that potential issue. The highs are very defined when this tube is installed in the preamp section and can be overdriven easily by using a gain-based pedal.
Another impressive quality offered by this affordable vacuum tube is its ability to limit microphonics without sounding overly compressed. The dynamics are quite expressive, and there are very few noises added to the signal when volume or gain settings are cranked.
Who is this best suited for: If you're looking for a 12AX7 tube that isn't as gain-heavy as most of the JJ, Tung-Sol, or Electro-Harmonix products, this Svetlana offering is a good middle ground. It is less gritty in tone than most 12AX7's, making it suitable for both rhythm and lead guitar playing.
Bottom Line: With exceptionally low microphonics, a decent amount of gain, and a balanced frequency output, the Svetlana 12AZX7 is a reliable choice. It's also very good value considering the quality of tone it produces.
12. Tung-Sol Reissue 12AX7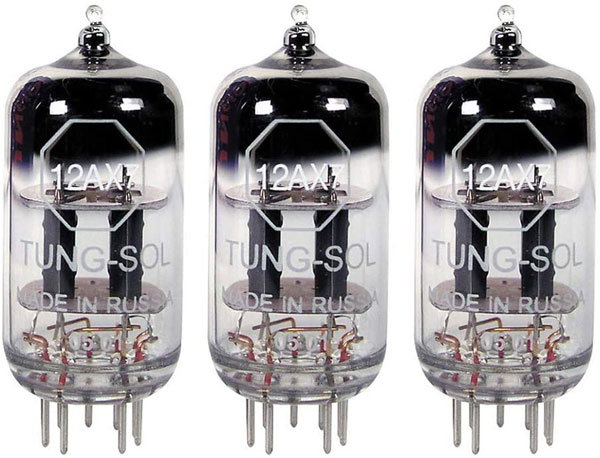 | | |
| --- | --- |
| Estimated Price | $75 |
| Quantity | 3 |
| Type | Matched Trio |
| Pins | Standard |
My Review: Finally, we have another Tung-Sol 12AX7 to complete our list. This model is a reissue of the Vintage NOS Tung-Sol 12AX7, which was very popular when it was first released. While many of the components and design features remain, there are some noticeable differences compared to the original.
Like most Tung-Sol tubes, this product is versatile. It can be used traditionally, by installing it in the preamp section of your tube amplifier. Alternatively, you can install it in tube-driven hi-fi equipment, instruments, or outboard gear.
Tung-Sol has utilized a combination of balanced triods and low microphonics to ensure a clean, warm tone. The mid-range and treble frequencies are particularly expressive and will add a touch of sparkle to your tube amp's output.
Who is this best suited for: This matched trio of Tung-Sol 12AX7's pay homage to vintage tubes from decades gone by, so I'd recommend them to guitarists or audiophiles who enjoy the warm, authentic sound of retro gear.
Bottom Line: Tung-Sol has done a great job recreating their vintage 12AX7 tubes. Versatile and robust, they're unlikely to need replacing for a long time, and once they've been worn in after a few hours of use, they sound incredibly warm and colorful.
Choosing the Right 12AX7 Tubes – Essential Information
The 12AX7 tube is the most popularly used vacuum tube for musical and audio purposes. If you own a tube amplifier, preamp, or another tube-driven device, the chances are it will contain one or several 12AX7s.
There are many reasons for the popularity of 12AX7 tubes, but perhaps the most obvious is the impact they have on a device's sound. In the remaining sections of this article, we'll cover all of the important information on these highly popular dual-triode vacuum tubes.
Vacuum Tubes – The Basics
Before we get into the specifics of 12AX7 tubes, we need to cover the basic principles of vacuum tubes in general. Vacuum tubes are most commonly used in tube amplifiers, or valve amplifiers as they are also commonly named.
Located within the inner circuitry of the amplifier, vacuum tubes are small devices that are hidden out of sight. However, they are integral to the function and sound of any tube-driven guitar, bass, or keyboard amplifier.
Additionally, these tubes are also used in some preamplifiers, headphone amps, and in some cases, they are built into instruments.
When instrument amplification first became a possibility, vacuum tubes were the dominant force for a couple of decades. As amplifier technology progressed in the 60s and 70s, a new variety, known as the "solid-state" amplifier began to overtake vacuum tubes in popularity.
Solid-state amps don't use any tubes or valves, and they are significantly less bulky or heavy compared to their tube-driven equivalents. Despite these conveniences, tube-driven amplifiers and equipment continue to be hugely popular amongst musicians because its authentic, warm sound simply cannot be replicated using solid-state technology.
The Tube Sound
There's no denying that vacuum tubes are less efficient, and more hassle than solid-state amps. They inevitably wear out after a while and need to be replaced. Also, you have to wait for them to warm up before you can start using your amplifier.
While they may be higher maintenance than solid-state amps, there's one important reason that vacuum tubes continue to be popular amongst musicians and audiophiles – their sound.
You simply cannot replicate the authentic sound of vacuum tubes with solid-state, transistor-based technology. Even the most sophisticated VST plugins that aim to recreate the tube sound always fall short of the mark.
Vacuum tubes produce a warm sound, which is responsive to the dynamics of a musician's playing. One of their most desirable aspects is tube saturation, which occurs which gain is applied to the vacuum tubes, causing them to heat up and overdrive. This process has been responsible for many of the most iconic guitar and bass tones in the history of popular music.
The History of 12AX7 Tubes
The original triode vacuum tube dates back to 1907. Five years later, its compatibility with amplifiers was discovered. This marked a significant development in the world of vacuum tubes, which transformed everyday electrical items such as telephones and radios.
Fast forward to the late 1940s, and the 12AX7 dual-triode was invented. This tube in particular revolutionized amplifier technology and would go on to have a huge influence on both recorded music, and the use of amplifiers in a live performance.
12AX7A Tubes
There are several varieties of 12AX7 tubes, which are differentiated by adding a suffix to the name. The 12AX7A is a popular type, and originally included a mechanism that controlled its increase of heat so that it would be more effective when used in a series filament circuit.
A series filament circuit reduced the cost of the tube and was therefore commonly found in affordable tube-powered radios. In guitar and bass amplifiers today, it is no longer used.
In the early days of vacuum tube production, suffixes were used to signify a different design. Conversely, these days they are often used by manufacturers simply to categorize their 12AX7 tubes and are therefore less significant.
The only letter that is still commonly attached to 12AX7 tubes to signify an alternative design is the "S". This letter is added to identify tubes that use a spiraled heater. It's worth noting that in recent years, the vast majority of 12AX7 tube manufacturers have moved towards using spiraled heater filaments, so this suffix has also become less impactful.
12AX7 vs. 12AT7 Tubes
On the surface, 12AX7 tubes appear to be almost identical to 12AT7 tubes. These two, along with the 12AU7 which I'll discuss in the following section, are based on the same design. They each have a total of nine contacts, twin triode tubes.
Many musicians choose to swap their 12AX7 tubes for those of the 12AT7 variety. Compared to the 12AX7, this vacuum tube has a reduced gain output, which is rated at 60 as opposed to the 12AX7 which is rated at 100.
Despite the lower gain output of the 12AT7, the tube provides increased headroom when used in a guitar or bass amp. You'll also gain an increased current output, and perhaps more significantly, higher fidelity, which increases the overall clarity of the device.
The higher fidelity provided by the 12AT7 tube makes it a popular choice for a range of recording equipment and outboard gear. This includes:
Compressors
Microphone & headphone preamps
Spring reverb units
Other outboard effects units
Similar to the 12AX7, the 12AT7 is available in many different variations which cater to specific applications and achieve slightly different sonic results. This may be a lower noise production, or a warmer, more gritty tone.
12AX7 vs. 12AU7 Tubes
12AU7 tubes are also closely related to the 12AX7, but again, despite their shared qualities, these two vacuum tubes produce significantly different results. The 12AU7 has an even lower gain output than the aforementioned 12AT7, at 20. This is much lower than the 12AX7 which has an amplification factor of 100.
Consequently, it's unlikely that you'll find a 12AU7 that is used as a preamp tube. The most common application for this tube is driving a spring reverb unit on a guitar amplifier, which is a task that doesn't require a great deal of gain output.
The 12AU7 is also commonly used in a specific part of an amp, which is known as the phase inverter section. This vacuum tube is perfectly suited to this, as it offers exceptional headroom and crystal clear, high fidelity sonic qualities.
The high fidelity of the 12AU7 makes it a great choice for home audio systems, and recording gear that relies on having a clean, pristine sound. It produces just enough current to drive a speaker or a set of headphones, in addition to smaller tube amplifiers for practicing at home.
ECC83 & 12AX7 – The Same Vaccum Tube? 
On your search for 12AX7 tubes, you'll likely come across the ECC83 label constantly. This can be confusing, as the two are essentially identical. Both have two of the same triodes, with an equally high voltage gain.
The simple explanation as to why there are two identical vacuum tubes with different names is that the 12AX7 is often used by American manufacturers, while the ECC83 is more common amongst British manufacturers.
Other than that, there is no difference between the two. So if you find yourself trying to choose between a 12AX7 and an ECC83 vacuum tube, you can save yourself the headache by knowing that they are the same thing with a different label!
Technical Aspects of 12AX7 Tubes
After reading up to this point in our guide to the best 12AX7 tubes, you should now have a basic understanding of what these devices are capable of, and how you can use them for your music-related requirements.
Now, I'll explain some of the more technical aspects of this popular vacuum tube. Firstly, one of the reasons that the 12AX7 is used so heavily by amplifier and recording equipment designers is due to it having a pair of identical valves contained in a single envelope.
This facilitates having two separate gain stages, using a single 12AX7 tube. The benefit of having two gain stages is that it reduces the amount of space that the tubes require within an amplifier. To illustrate this point, if the amp designers were unable to use two gain stages in a single valve, they would likely need to use over ten vales to achieve the same results!
The 12AX7 is technically a dual high-gain triode vacuum tube. To simplify, this means that:
It has a pair of valves contained in a single envelope
It produces a considerable amount of gain
It contains three electrodes for each valve – cathode, anode, and grid
What is Microphonic Noise? 
Some 12AX7 tubes are described as "microphonic". This term can be confusing if you aren't aware of its implications, and it's important to understand what it means before you invest in this type of vacuum tube.
The term microphonic is used to describe the process of a vacuum tube transforming mechanical vibrations into feedback, or another noise that is considered undesirable. Technically, every vacuum tube produces at least a tiny amount of microphonic noise, but it is more noticeable with some 12AX7s.
The majority of microphonic 12AX7s are used for high-gain preamp stages on guitar amplifiers. These preamps are commonly situated close to the input of the amplifier, which is common in combo amps containing both the cab and speaker.
Microphonic 12AX7 tubes are generally undesirable, but some musicians may enjoy the unpredictable, rough tone that they evoke. If the tube becomes microphonic over time, it may be a sign that it needs some attention or even needs to be replaced.
Alternatively, a microphonic tube that cannot be used in the preamp position may be better suited to a preamp stage that comes further down the line of the signal chain. This is because the amplification process will raise the level of the guitar signal, which minimizes the tube's microphonics.
The Lifespan of 12AX7 Tubes
Unfortunately, it's impossible to say how long a 12AX7 tube will last. Their longevity depends on several factors, such as the frequency that they're used, how much gain, drive, and volume they are used to produce, whether they're moved around often, and general wear and tear.
Some 12AX7 tubes may last you for years before they need replacing, while others may malfunction in a matter of months. This is the main disadvantage to using tube amplifiers as opposed to solid-state, transistor-based amps.
Nevertheless, most musicians use vacuum tubes like the 12AX7 because they prefer the warm, authentic tone they are capable of producing. This makes the replacement process, and the extra cost involved worthwhile.
Signs That Your 12AX7 Needs Replacing
When a 12AX7 is becoming worn out and needs replacing, it is unlikely to stop working completely. This may lead you to put up with a bad tube for a while, which significantly impacts the sound of an amplifier or other tube-driven device. Thankfully, there are some signs that you can look out for which indicate it's time to swap your 12AX7 for a new one.
Firstly, the most common indicator that a 12AX7 is nearing the end of its lifespan is if your amplifier is producing unwanted noise. This could be in the form of hissing, electronic humming, crackling, or popping.
Additionally, you might notice that the overall volume of the amplifier is lower than it was when you first got it, or when you initially installed the 12AX7 tubes that are currently in use. Other factors could cause volume reduction, but in most cases, it is related to the condition of the 12AX7 tubes.
Another tell-tale sign that your 12AX7 needs replacing is if the physical appearance of the tube has changed. For example, if you notice that the 12AX7 is glowing more brightly or dimmer than any of the other tubes, this indicates a problem.
The tone of an amplifier or other tube-driven device will also suffer as a result of a bad 12AX7 tube. Perhaps the sound has become less bright and responsive, and the dynamic range is reduced so that it no longer has the natural sound that it did when new tubes were installed.
Finally, in some extreme cases, the amplifier or device may even fail to turn on if the 12AX7 tube is completely worn out. Before you take the device apart, it's best to seek the opinion of a professional as you may make the problem worse if you are inexperienced with the inner components of the device.
Summary
12AX7 tubes have consistently been used for amplifiers and other music-related gear for many decades. Their longevity is a result of the stellar tone that they produce, and despite all of the advances in amplifier technology, there is yet to be a more capable device discovered.
The key to choosing the best 12AX7 tubes is establishing the qualities that you require. If you're looking for maximum heat and saturation, you'll need to choose a variety that offers this, or if you want a cost-effective option, then look for the most durable and reliable 12AX7 model.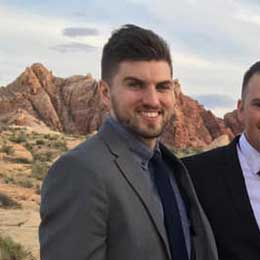 My name is Chris and I've had a passion for music and guitars for as long as I can remember. I started this website with some of my friends who are musicians, music teachers, gear heads, and music enthusiasts so we could provide high-quality guitar and music-related content.
I've been playing guitar since I was 13 years old and am an avid collector. Amps, pedals, guitars, bass, drums, microphones, studio, and recording gear, I love it all.
I was born and raised in Western Pennsylvania. My background is in Electrical Engineering, earning a Bachelor's degree from Youngstown State University. With my engineering experience, I've developed as a designer of guitar amplifiers and effects. A true passion of mine, I've designed, built, and repaired a wide range of guitar amps and electronics. Here at the Guitar Lobby, our aim is to share our passion for Music and gear with the rest of the music community.