5 string bass guitars are fairly popular due to their ability to offer an extended lower range than 4 strings. While 4 string bass guitars are far more popular, the 5 string bass is a fun instrument to play, allows for more tones to be created, and for many worth the investment.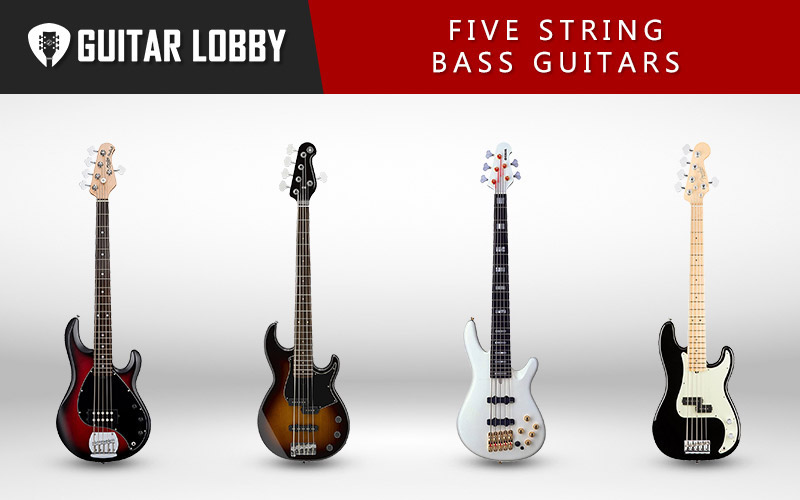 I'll start this article by jumping into reviews on the best 5 string bass guitars at different price points, but if you want to learn more about them before reading reviews, check out our 5 string bass guitar buying guide at the bottom of the page.
Here Are the Best 5 String Bass Guitars
1. Yamaha BBNE2 Nathan East Signature (Best Overall)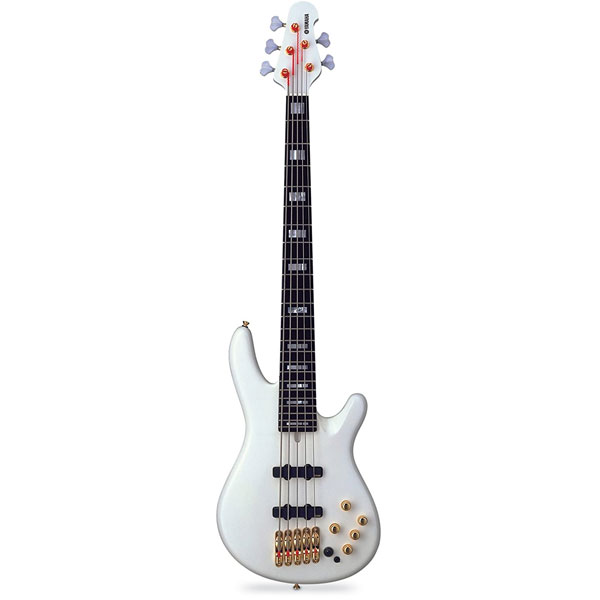 | | |
| --- | --- |
| Estimated Price | $2500 |
| Body Material | Maple/Alder |
| Neck Material | Maple/Mahogany |
| Fretboard | Ebony |
| Pickup Configuration | 2x Alnico V Stack |
My Review: If you're looking for a 5 string bass, this Yamaha's signature model of virtuoso bassist Nathan East should be near the top of your list. It's an all-around amazing bass in both aesthetics and sound. East co-designed this 5-string bass with Yamaha using Nathan's preferences and expertise and the result is something truly remarkable. The bass has a warm punchy tone and is super comfortable to play. The options you have with this thing are vast. If you don't know who Nathan East, is go check him out.
Key Specs and Features: The design of the bass is just classy and modern. The front and back sections of the body have been contoured slightly for maximum comfort. The body of the bass is made from a maple/alder combination with a beautiful gloss polyurethane finish. The 24-fret fingerboard is complimented by a 5-piece maple and mahogany neck. The fretboard is decorated with figured Abalone blocks and the scale length is 34".
The BBNE2 gets its punchy, warm tone from the Alnico V Humbucker pickups and the onboard active preamp system. This system allows you to create a range of diverse tones and sounds by adjusting the blend knobs and EQ parameters. The bass has a bunch of controls, a master volume knob, P.U. balancer, 3-Band EQ, mid-cut frequency controls, and a mid-cut On/Off switch. Most of the hardware is gold-colored giving the bass that luxury look.
Target Customer: This high-end instrument deserves hands that are experienced in grooving, but its playability would lend itself well to a less experienced player extremely well. As long as you can afford the price tag this should be considered an option for you. It is perfect for live playing or doing studio work. It can work in all environments and combined with a good amp it can bring the house down.
Bottom Line: In terms of playability, you'd have to go a long way to find a more comfortable 5 string bass than the BBNE2. A beautiful instrument indeed, the sound and the quality speak for itself. Nathan East and Yamaha outdid themselves.
2. Fender Precision Bass V (Best Value)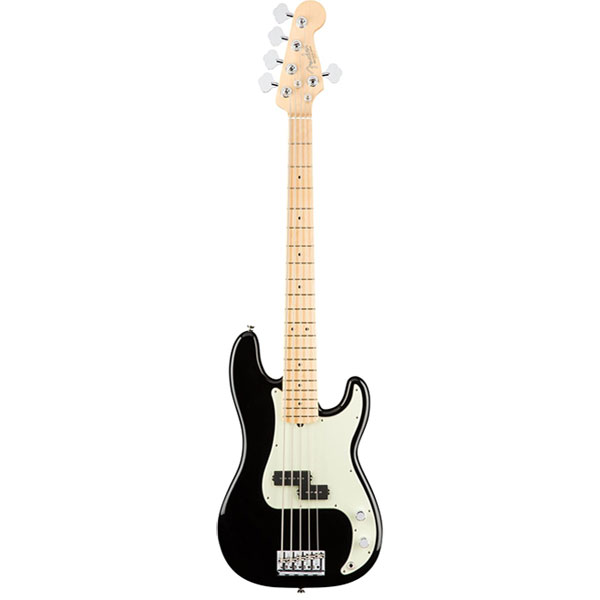 | | |
| --- | --- |
| Estimated Price | $1600 |
| Body Material | Alder |
| Neck Material | Maple |
| Fretboard | Rosewood |
| Pickup Configuration | V-Mod split-coil |
My Review: Fender's 5-string version of their legendary P-bass pays homage to the models of old while incorporating some modern improvements. The first thing that struck me about this bass guitar is its retro design and the second thing was, of course, the sound. Just WOW. It is massive and thick as expected from a Fender.
Key Specs and Features: The Precision bass V's body is made from alder with a gloss finish. Maple has been used to create a bulky neck. The C-profile neck is based on the 1963 precision bass, which instantly gives it a nostalgic feel. The neck has also been fitted with graphite rods which add more stability. The fretboard is made out of rosewood with the classic dot inlays and 20 frets. Fender went with their 34" scale length which works so well on all of their basses.
The singular V-Mod split-coil pickup is responsible for the sound you get. There is a crisp articulation in the mid-highs and a warm, jazzy hum in the lower registers. The controls are fairly minimal, with just a master volume and master tone knob installed, but there is little need for tonal adjustment with a Precision-bass. 5-string HiMass vintage-style bridge is responsible for added longevity and intonation stability. The fluted tuners are installed to maintain the tension on string posts.
Target Customer: If you are an advanced bass player who plays any style you simply are going to love this bass. The sound is just so good for any type of technique. It is a bit higher on price than other reasons but with good reason, I'm confident you won't regret investing in an instrument like this.
Bottom Line: This bass carries the Fender vibe with pride, It reminds me of the older Fenders except it has a low B string which makes it even better. Overall, this is easily one of the best 5 string bass guitars for the money and I highly recommend it.
3. Ibanez SR2405W (Editor's Choice)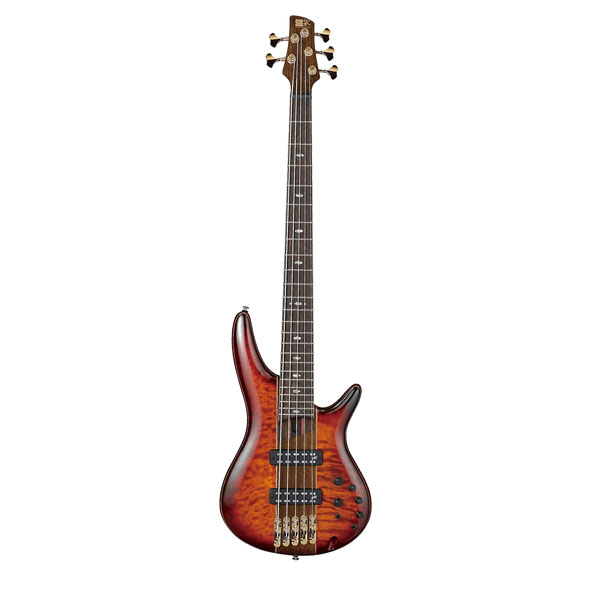 | | |
| --- | --- |
| Estimated Price | $1600 |
| Body Material | Mahagony/PangaPanga/Maple |
| Neck Material | 5-piece laminate Panga Panga/purpleheart |
| Fretboard | Panga Panga |
| Pickup Configuration | 2x Aguilar Super Double single-Coil |
My Review: This bass is exceptionally built, I'm impressed. The combination of exotic woods used in the construction and the hardware makes this bass just beautiful. It is a little on the pricy side but you get a lot of bass for the price. It is super-playable with amazing EQ and tonal possibilities. I feel it can be played in any style of music which is a surprise considering it is an Ibanez bass. The bass is slightly heavy but that explains the thick sound you get. This SR model looks great, feels fabulous, and sits comfortably against the player. The passive performance is impressive, and although it doesn't quite have the sonic punch that the active EQ offers, the natural response works in its favor.
Key Specs and Features: The body of the bass is something else. It is made with a combination of mahogany core, Panga Panga, and maple top. The Brown Topaz finish stands out alongside the figured maple top. The panga and purpleheart five-piece laminate neck feels rigid, while the neck pocket looks very solid and tightly attached. The neck does feel heavy which is understandable considering the wood used for the build. The abalone oval front-facing position markers with white dots sit along the side edge and decorate the fretboard beautifully.
The fretboard is also made out of Panga Panga. Up top, you've got a set of gold Gotoh tuners that helps hold tune very well. Along with the tuners, the Ibanez MR5S Mono-rail bridge allows for a three-way adjustment to be made. The Aguilar Super Double Single-Coil pickups give the bass its unique sound and punch along with the Ibanez Custom Electronics 3-band EQ. Volume and pickup pan controls are backed up by a three-band EQ, a three-band mid-frequency selector switch, and an active/passive switch. The treble control acts as a passive tone control in passive mode.
Target Customer: Pick players will find plenty of useful tones to play with, while fingerstyle and slap-and-tap fiends will not be left wanting. It will catch the eye of newcomers and seasoned veterans alike.
Bottom Line: As you might expect from the SR Premium line, the SR2405W is a meticulous bass that feels stage-ready out of the box, and it is well-tooled to make full use of your stage and studio time. This bass certainly scores in the looks department as well as it sounds.
4. Sterling by Music Man RAY35-NT (Best Under $1000)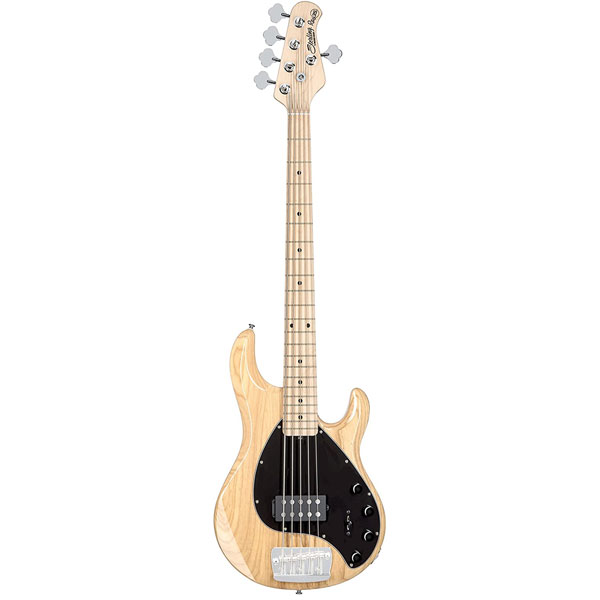 | | |
| --- | --- |
| Estimated Price | $1000 |
| Body Material | Swamp Ash |
| Neck Material | Maple |
| Fretboard | Rosewood |
| Pickup Configuration | Music Man humbucker |
My Review: The Sterling by Music Man RAY35-NT Bass is a variation on the original, but at the same time it is its unique instrument. Sterling created an amazing instrument that is competitive to any other bass in its price range out there. The thing I like the most about the RAY35-NT is the sound. The sound of the bass is extremely well fitted for some power metal and rock and roll performances.
Key Specs and Features: The double-cutaway body shape with the rounded bottom is popular and useful, and rather beautiful. The bass body is made out of swamp ash, which is a popular ash present in a lot of bass guitars. It is popular for a combination of reasons, the biggest being of course the sound the swamp ash resonates with. The tonewood has a powerful resonance with the tones in the middle range. The neck of the bass is of traditional make, with the tonewood of choice being the traditional maple. The neck is bolted onto the body, and the fretboard is made out of a very nice and smooth rosewood.
The bass is fitted with a single humbucker pickup located at the bridge. The controls on the bass are fairly detailed, providing the instrument with a nice level of customizability. The musician gets a single volume control and three-band EQs for the treble, mid and low tones of the guitar. The tuning machine of the guitar is designed to look great on the instrument, which it does. The tuning stability is great so that you don't have to worry too much about tuning your guitar often. The guitar comes with a music man designed for the bass bridge.
Target Customer: Highly recommended for the metalhead. The single humbucker is powerful enough to provide strong output, with a nice level of dynamic range.
Bottom Line: Overall this is a great instrument that provides a nice variation in the Sterling by Music Man RAY series. The quality is superb and the sound is mean and heavy.
5. Sterling by Music Man SUB Ray5 (Budget Pick)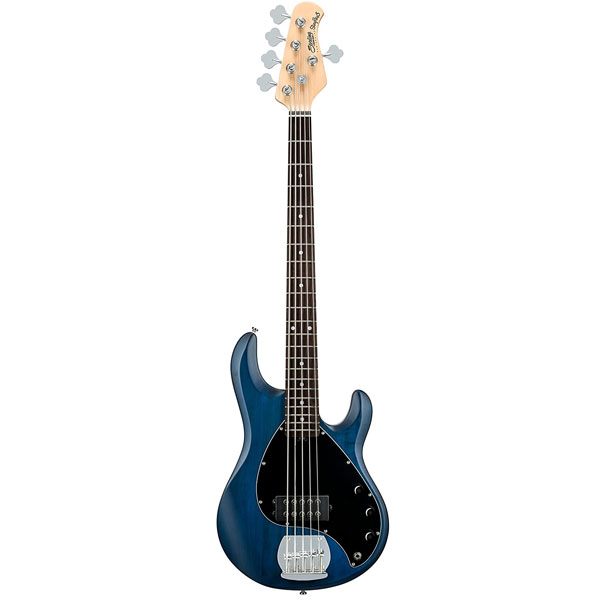 | | |
| --- | --- |
| Estimated Price | $350 |
| Body Material | Basswood |
| Neck Material | Maple |
| Fretboard | Maple |
| Pickup Configuration | H-1 ceramic humbucker |
My Review: It feels like a Music Man instrument in every way, robust and quality built it packs a punch for the price. The punchy low end is still there although there is no midrange EQ, the bass performs quite nicely. It has quite a round tone when both EQ settings are set flat which I like. The lower B string can put on quite a display regardless of the lack of midrange EQ. It's not a finesse instrument but it covers that with its playability and performance.
Key Specs and Features: The body is made from basswood while both the neck and the fretboard are from maple giving it that nice bright color. The fret dots are black which I think is a nice contrast with the white satin-finished maple neck. You can find them on the fretboard and the side of the neck. The frets on the fretboard are nice with no sharp ends and the body feels quite comfortable when you strap on the bass.
With the basic headstock bias, the style of the bass is what you would expect out of a Music Man bass, a robust and sturdy modern version of a Fender Jazz bass. It's 9 pounds heavy which is an average weight. The fretboard contains 21 frets and it's a long-scale (34"). It has a 2 band active EQ which gives the player the freedom to sculpt their tone. The active preamp has controls for volume, bass, and treble which offer maximum flexibility in finding your sound. It has one humbucker that is positioned closer to the bridge that delivers that punchy bright tone.
Target Customer: A good buy for players that gig and travel a lot and need a sturdy instrument that can handle the strains of transport, it can make up for much more expensive instruments with its affordable price and consistent quality.
Bottom Line: You can't make a bad call with this one, for the price range you get a solid instrument that is going to last.
6. ESP LTD F-205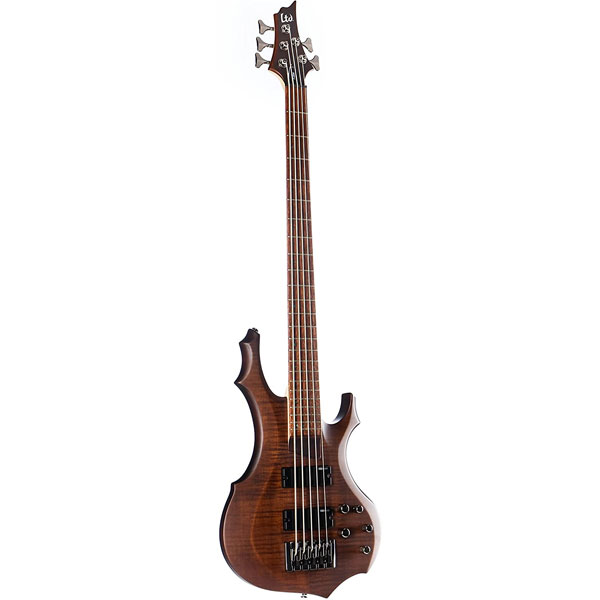 | | |
| --- | --- |
| Estimated Price | $600 |
| Body Material | Ash body with Maple top |
| Neck Material | 5-Piece Maple/Jatob |
| Fretboard | Roasted Jatoba |
| Pickup Configuration | 2x ESP Designed SB-5B humbucker |
My Review: ESP continues to just absolutely blow me away with their designs and quality. The first thing that caught my eye was the body design that is made out of ash body with a spalted maple top that makes this bass look incredibly menacing. It is just effortless to play and so smooth perfectly made for maximum comfort. The bass shows its real character when you play it, it has great low end and articulation. The thing I love about it is the versatility, I just feel it can perform well in different settings and musical styles. The ESP Designed SB-5N Humbucker pickups work best in a metal or rock setting in my humble opinion.
Key Specs and Features: The ESP LTD F-205 body is made out of Ash with a beautiful spalted maple top and it features a 5-Piece maple/jatoba neck with a roasted jatoba fretboard which is neat. It contains Abalone offset dots that help you to find the way around the fretboard. The thin, U-shaped neck has 24 extra-jumbo frets that are all about comfort and speed. The neck construction is and quite innovative and the radius of the fretboard is 15.7".
The satin finish is flawless the frets have no sharp edges and are polished to be smooth as possible. LTD BB-605 bridge does the job perfectly, keeping the intonation well. The bass sounds perfectly balanced especially when amped up. The bass is equipped with two specially designed ESP Designed SB-5N humbucker pickups and a 3-band active EQ. The controls along the 3-band active EQ are a master volume knob and one balance knob.
Target Customer: If you are looking for a bass that has the looks as well as the sound, don't hesitate. It is by far one of the most affordable menacing-looking basses out there. For people who just want to hold that low-end and growl this bass is a perfect choice.
Bottom Line: Beautiful, powerful, versatile you are hardly going to find a better bass for the price. The quality of the build along with the affordable price makes this one attractive, as it looks attractive to players who like some menacing feel.
7. Ibanez GSRM25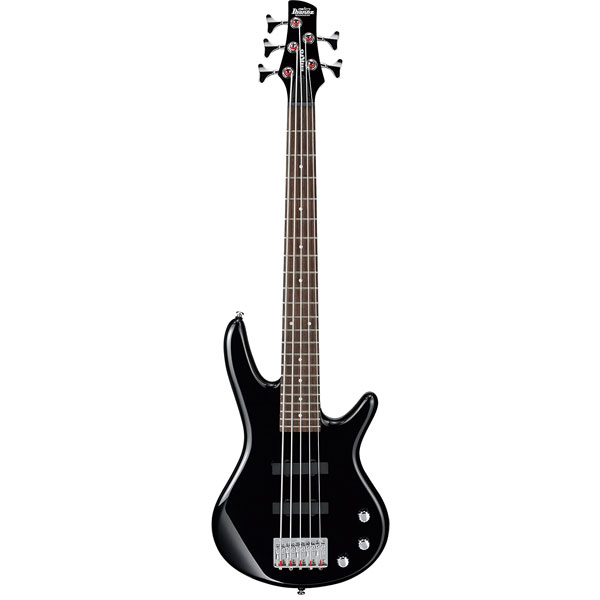 | | |
| --- | --- |
| Estimated Price | $450 |
| Body Material | Poplar |
| Neck Material | Maple |
| Fretboard | Jatoba |
| Pickup Configuration | 2x Standard J5 single-coil |
My Review: This Ibanez bass came as surprise to me considering it is a short-scale five-string bass that is quite light easy to carry. It is an entry-level bass but still, it provides a wide range of tone shaping, it has a nice warm sound with a good low-end response. For the price range of course there are going to be limitations on what you can do, but still, the dual single-coil pickups will give you a lot of possibilities in different musical styles. Ibanez tried to make a bass with a little bit of everything which I think is a good thing as that is something quintessential for beginner bass players.
Key Specs and Features: The body is a smaller size according to the shorter scale neck made out of poplar which is quite light and it gives the bass a warm tone with good presence. The rounded edges of the body make it comfortable to hold and play as the bass sits nicely on the shoulders. The body has a nice gloss polyurethane finish. The thin short-scale neck is made out of maple whit white dot inlays on a smooth jatoba fretboard. There are 22 medium-jumbo frets with a scale length of 28.6". The pickup setup is two single-coil magnets, at the bridge and neck positions. It has a plastic nut and a set of Ibanez die-cast tuning machines that hold the intonation with a B15 Fixed Bridge.
Target Customer: It is an overall great beginner's bass, with good playability, smooth neck, and design. The shorter scale makes for great playability and its light body and frame are lightweight.
Bottom Line: Great compact size makes it fit for carrying outside and using in space-restricted home studios. The sturdy and loud Ibanez GSRM25BK is a real hit for the money. This is simply a great value bass.
8. Schecter Stiletto Studio-5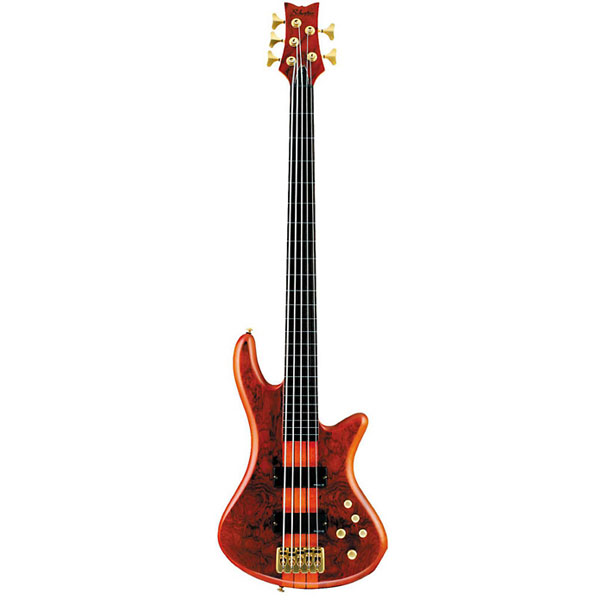 | | |
| --- | --- |
| Estimated Price | $900 |
| Body Material | Mahogany with Bubinga top |
| Neck Material | Maple/Walnut Multi-ply |
| Fretboard | Rosewood |
| Pickup Configuration | 2x EMG humbucker |
My Review: With the Stiletto Studio-5, Schecter gifts the bass community a sleek bass with enough tonal options to fit within just about any style of music. The instrument is super comfortable and smooth. I love the design and the sound you get from the two EMGs' is super refined. The fifth string works so well, it has a lot of sustain and depth which is something even some more expensive basses don't have. The South Koreans do know how to produce quality instruments.
Key Specs and Features: Featuring neck-through construction, the body of the Stiletto is made from mahogany with a Bubinga top along with a laminate maple and walnut neck. The result is a very attractive bass that has excellent vibration transfer. The Honey Satin finish is particularly satisfying. This is a bass that's designed for all levels of bass players, as the true rosewood fingerboard is smooth and offers great playability with the abalone offset dots.
The intonation on the bass is kept by the Schecter tuner along with the Diamond Custom bass bridge. The Stiletto offers a great deal of tone shaping, starting with two EMG Hz pickups that are controlled with blend control, a master volume, and an active 3-band EQ. Aiding to the visual impact is the satin gold hardware, featuring a Diamond bridge along with Schecter tuners.
Target Customer: If you are an intermediate to a pro player, this bass should be a great buy for you. With its player-friendly features, it will certainly help you develop your skills to the next level. It works well in a live or a studio setting as the name suggests.
Bottom Line: The Stiletto Studio-5 may not be the most expensive or well-built bass out there, but it's a great combination of good looks and impressive features. The tone controls give you a tonality that is not found in many bass guitars. It is playable and comfortable for every buck.
9. Yamaha BB435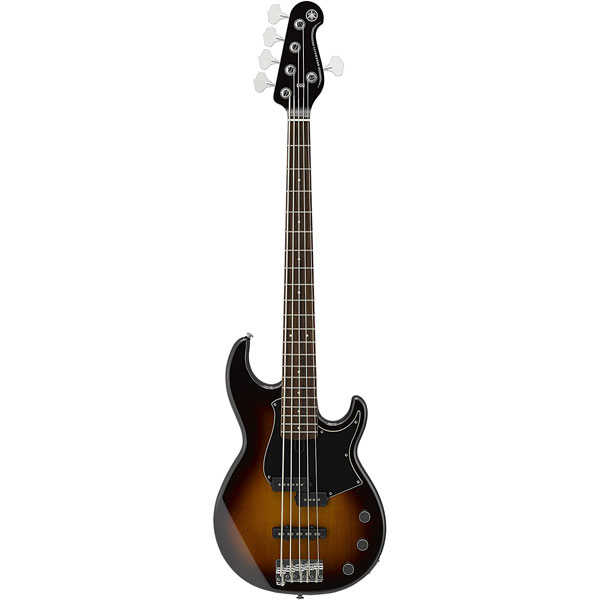 | | |
| --- | --- |
| Estimated Price | $550 |
| Body Material | Alder |
| Neck Material | 5-piece Maple/Mahogany |
| Fretboard | Rosewood |
| Pickup Configuration | VSP5n Alnico V split-coil, VSC5b Alnico V single-coil |
My Review: Yamaha has yet again produced a true workhorse in the bass world. BB435 is an instrument that with its solid build, and affordable price, manages to find a way into a diverse range of players. It has the classic Yamaha qualities, a solid built, and a solid massive sound. Easy controls, easy to use, and on top of it all an affordable price. The BB435 nails that vintage-modern vibe, it has a timeless quality. The low B string is tight and works so well.
Key Specs and Features: The BB435 basses have bodies made of alder, alder is known to have a resonant, balanced, and full-bodied tone, with a slight emphasis on the upper midrange because of its dense grain. It also has a sharp attack and excellent sustain. The shape of the body is simple and well-balanced with a gloss polyurethane finish. The neck is made from sturdy solid maple with a six bolt-on system and a silky smooth satin polyurethane finish.
Topping the neck is a rosewood fretboard with dot inlays and a 10" radius. Featuring chrome hardware it's equipped with a vintage-style bridge with four fully adjustable saddles. The standard covered die-cast tuners on the headstock do their job well. The Yamaha BB435 has fitted rather interesting Pickup Configuration. The bass has a VSP5n Alnico V Split-coil at the neck position and a VSC5b Alnico V Single-coil at the bridge, giving the bass that P bass feel. Both of the pickups are passive so configuration is good as it lets you explore the wide range of tones you can make on this bass, not like a set of active electronics but still very good. You do get a master tone control knob and two volume controls, one for each pickup.
Target Customer: The BB435 would make a superlative choice for any player looking for their first five-string. If you are a beginner I would recommend you getting this bass, it is quite simple and ready to play the moment you take it out of the case.
Bottom Line: The BB435 with its vintage vibe and quality overall is a super affordable choice. The effort Yamaha put in this bass shows off. Getting this bass will make you use the instrument for years to come without worrying too much about it giving up on you. Hands down, this is one of the best 5 string bass guitars out there.
10. Schecter Omen Extreme-5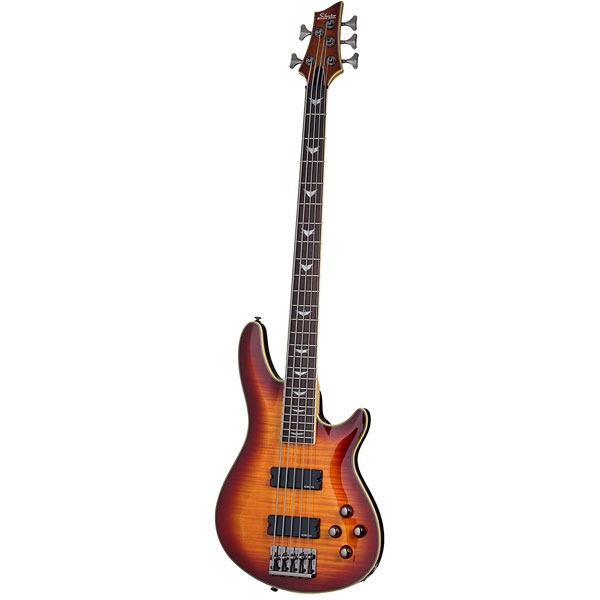 | | |
| --- | --- |
| Estimated Price | $550 |
| Body Material | Mahogany with Maple top |
| Neck Material | Maple |
| Fretboard | Rosewood |
| Pickup Configuration | 2x Schecter Diamond Bass humbucker |
My Review: This Schecter just shows how much you get for such a medium-priced instrument. The bass feels solid with an unbelievably low end, especially on the low B string. It is just perfect for playing with a pick or fingerstyle. One thing that sets this guitar apart is the 34″ scale. The scale not only makes the very high registers of the 24 fret fretboard more easily playable, but it adds to the purpose for which it was intended. Combined with some nice amp or pedalboard, you can play anything with this bass. You get a very refined, solid tone that has a warm feel to it, which is perfect for harder music such as rock and metal.
Key Specs and Features: The body is made out of mahogany, with a sweet looking quilted maple top. The warmth of the mahogany body spills over to the rest of the tones, creating a well rounded, beautiful sound for the bass. The neck is set and sports a rosewood fretboard with rather cool Vector inlays. The mahogany/maple combination is not light but the bass is balanced perfectly. Some features on the Omen Extreme-5 that came as a surprise is the 14" radius and the six bolt-on neck system, with the 35" scale length.
The main selling points of this bass are the Schecter Diamond Bass humbucker pickups that come with it. Schecter Diamond Bass humbucker pickups offer great versatility and tone properties and allow for a wide range of tonal shaping. Tuners are also Schecter's design and are pretty decent themselves. Hardware comes in either chrome or black chrome depending on which finish option you go for.
Target Customer: A very good choice for both professional and intermediate players, this bass is capable of keeping up with just about anything. It can work well for live gigs or studio recordings, best used by the metal bassist that likes to shred.
Bottom Line: This Schecter Omen is a solid bass for every penny you pay. It's versatile, playable, with a heavy low end. It performs amazingly in different musical departments, an affordable bass that can last for a long time.
11. ESP LTD B-205SM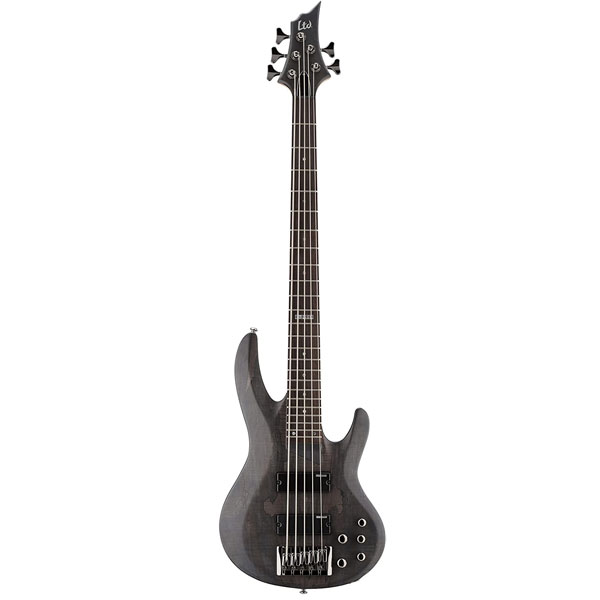 | | |
| --- | --- |
| Estimated Price | $560 |
| Body Material | Ash with Maple top |
| Neck Material | 5-piece Maple/Jatoba |
| Fretboard | Rosewood |
| Pickup Configuration | ESP Passive SB-5N humbucker, ESP Passive SB-5B humbucker |
My Review: Let me tell you this LTD is a head-turner. I love the design and the look of this bass. Not only does the wood grain gives the bass a unique look, but the HS pickups make the bass sound unique also. I liked the balance between the body and neck and the tonal options you get with the humbucker pickups.
Key Specs and Features: The bass is lightly stained with the unique grain of its solid ash with spalted maple topped shining through. The satin-finished spalted maple top provides a unique feel to the bass. The rosewood fingerboard is smooth and easy to glide over, and the frets have an excellent mounting depth allowing for slapping action making the bass ideal for slapping techniques. The neck is a beautiful 5-piece combination of maple and Jatoba, attached to the body by a bolt-on system.
It is decorated with classic dot inlays. It has good neck intonation, and the tuning hardware is a robust black nickel that keeps the tension perfectly. This ESP LTD B-205SM sports enclosed soap-bar style bass pickups the bridge is a passive ESP LTD SB-5 and the neck an active SB-5N that works with its ABQ-3 a 3-band EQ. This Pickup Configuration makes the bass perform well in different styles of music. The controls come in a way of one volume, one tone knob, and ABQ-3 Active EQ knobs.
Target Customer: I feel this bass would serve equally well both players who are doing live gigs or those that like to record stuff in the studio. As an affordable mid-price bass, it is best utilized by intermediate players who have experience with active electronics.
Bottom Line: The ESP LTD B-205SM is an excellent quality humbucking option with fat bass that works well in different settings making this bass extremely attractive. With the looks and the sound, you get from this thing the Bottom Line is that is an instrument worth investing in.
12. Dean Edge 09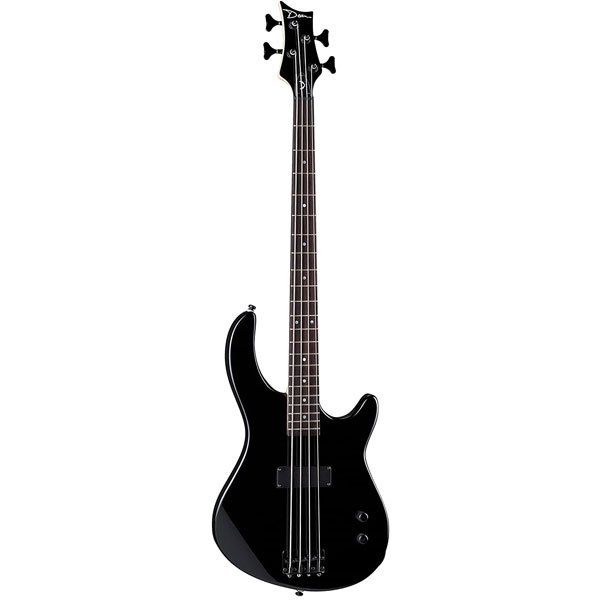 | | |
| --- | --- |
| Estimated Price | $200 |
| Body Material | Basswood/Mahagony |
| Neck Material | Maple |
| Fretboard | Rosewood |
| Pickup Configuration | Single soapbar pickup |
My Review: The pure performance of the Dean Edge E09M is what really caught my attention. Almost everything was better than expected, the single pickup had enough punch and the satin finish of the bass is so smooth. In my opinion, the warm tone is perfect for blues and rock music, with the simple tone controls you can really meld the tone the way you want. It is thick, warm, and all kinds of groovy. The low tones and the high tones are equally expressive. The bass comes with both four-string and five-string options. You get a lot of range with the five-string.
Key Specs and Features: The design of this bass is not meant to be attractive, but effective. Some people dislike it but in my opinion, it's cool in its own minimalistic way. The top wing of the guitar is large while the lower wing is small and short. The body is made out of basswood and mahogany giving it wonderful resonance with the lower tones of an instrument, which is a lovely quality to have in a bass guitar.
The smooth and finely tuned bolt-on neck made from maple wood, featuring a fingerboard made from rosewood and vintage abalone-dotted inlays with 22 frets. The hardware is pretty standard, a vintage-style bridge with four fully adjustable saddles and a set of die-cast tuning machines on the headstock. The bass is equipped with Dean sourced soap-bar form passive mode pickup which allows the bass to be responsive and highly adaptable to different styles of music. The controls are quite basic and come in the form of volume and treble controls.
Target Customer: This is a great practice bass for those who need an inexpensive setup and is getting a five-string for the first time. It is very affordable and made for long playing sessions without compromising on sound quality or your overall experience.
Bottom Line: The Dean Edge 09 has good tuning, sounds great, and it's well built and sturdy. The best part, all of this offered at a very affordable price range a true bang for the buck bass guitar. For all the beginner musicians looking to buy their first five-string, this can be a perfect pick.
13. Yamaha TRBX 305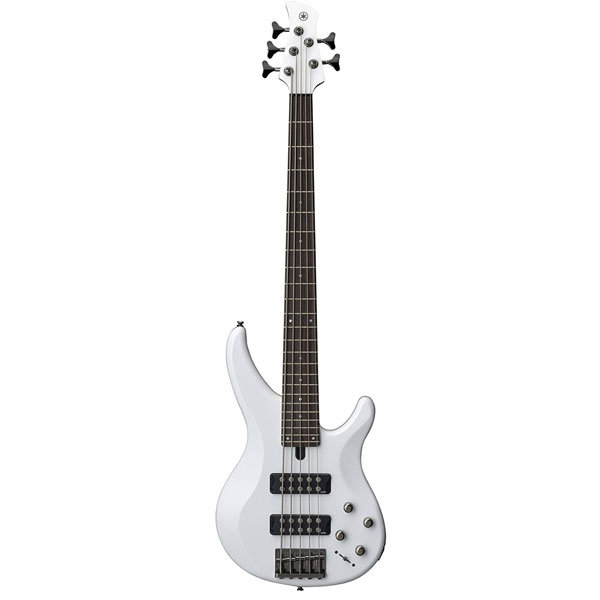 | | |
| --- | --- |
| Estimated Price | $400 |
| Body Material | Mahogany |
| Neck Material | Maple/Mahogany 5-piece neck |
| Fretboard | Rosewood |
| Pickup Configuration | 2x MHB3n ceramic humbucker |
My Review: It's one solid bass, featuring a nice curvy body shape with a fine cutaway for fretboard access when soloing. It looks sleek and easy to wear, and the finish looks nice. It has a great powerful tone, clean and resonant. I think it can do well in most musical areas, it lacks a little finesse but for this price range, it sure does play well and sounds punchy. I like the slap feature it has on its EQ switch, a really cool addition.
Key Specs and Features: The guitar ways around 12 pounds, which is an above-average weight for a five-string bass. The body is made from mahogany and it has a deep cutaway which really looks stylish and has a good function. TRBX uses a precision fitted bolt-on neck joint for maximum adjustability and clear, punchy tone, the 5-piece mixture between maple and mahogany is quite comfortable for faster fingerboard action. It is a long-scale (34") bass with a smooth rosewood fretboard with 24 frets and it has dots on the fretboard that allow for better playability.
It has an active 2-band EQ and a 5-way performance EQ switch which is a unique addition that surprised me, it allows for better tone control and tone creating when playing different musical styles. The 5-way EQ switch has built-in presets for different playing techniques, solo feature, finger, flat, pick and slap. Each one of the presets changes the tone significantly. The two M3 oversized ceramic humbuckers perform quite well and deliver a solid tone without any hum. The pickups also have a built-in thumb rest which is a nice feature.
Target Customer: Yamaha sure does know how to produce quality instruments in the more affordable price range as the Yamaha TRBX305 MGR is an instrument for bass players on an intermediate semi-professional type level, also studio musicians can find it handy doing sessions.
Bottom Line: Easy to play, good tone controls, looks nice, well balanced, a good buy.
14. Squier Classic Vibe '70s Jazz Bass V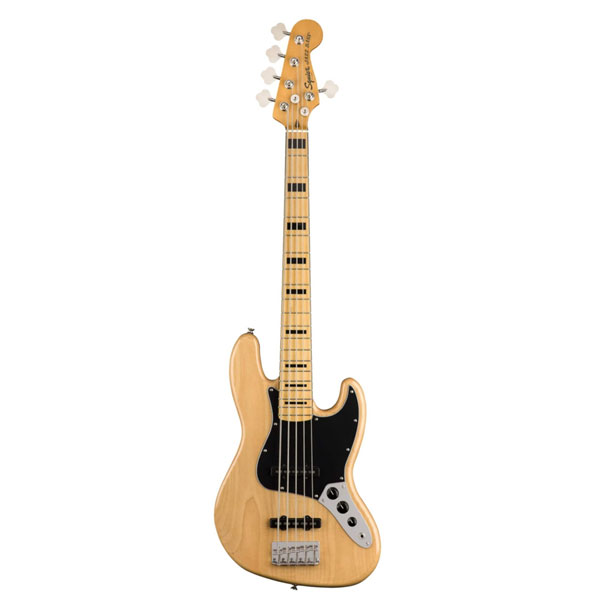 | | |
| --- | --- |
| Estimated Price | $450 |
| Body Material | Maple |
| Neck Material | Maple |
| Fretboard | Maple |
| Pickup Configuration | 2x Fender Alnico single-coil |
My Review: This Squier Classic Vibe 5-string electric bass guitar is exceptionally well manufactured the fret intonation is very accurate and the material used is of excellent quality. It is solidly built, a wooden beauty with retro aesthetics which I like very much. The sound it produces is as expected from Fender, solid and thick. The playability is awesome and the single-coil setup works as expected. The tone is clean and the controls are easy to make your favorite sound.
Key Specs and Features: The body of the bass is made out of soft maple, topped with a gloss polyurethane finish. It is a three-piece body which can be seen because of the natural finish. The Classic Jazz 5-string bass guitar has a spacious maple fretboard, including the over-sized block-like inlays sits on a C-shaped maple neck with a scale length of 34". The Classic Vibe Jazz is equipped with two fender single-coil pickups that deliver a tremendous clean bass tone ideal for jazz and other styles of music. It has the classic Fender-designed three-ply pickguard, and a five saddle, fixed-bridge all hardware is heavy-duty, making it a durable option. The controls are simple, two volume knobs and a master tone-shaping knob.
Target Customer: For intermediate to beginner players that would love to get their hands on a five-string, this is a must buy. The affordable price combined with the quality and the sound makes this bass very attractive.
Bottom Line: This Fender Vintage is considerably well-made. The bass tone is beautiful as is the playability once tweaked to preference. Fender bass guitars are usually a good win, and I recommend this Squier by Fender Vintage Modified Jazz bass model wholeheartedly.
Choosing the Right 5 String Bass Guitar (Buying Guide)
How to Recognize a Good Bass?
You need to know there are so many things that go into creating a great bass guitar. I could probably write a very long article about all of the different things that go into creating a good bass guitar. However, the word "good" is a term that is loosely defined and can mean different things to different people.
For me, one of the most important things that go into making a good bass guitar is the types of woods that are used to make the neck and the body of the guitar. For example, cheaper bass guitars have an alder body or basswood body. However, more expensive bass guitars will use maple or mahogany. However, if a guitar is or isn't equipped with these woods or any other special factors shouldn't be the make or break for you. Before making any final decision on one singular bass guitar, you should head over to your local guitar shop to try playing different bass guitars that use different tonewoods.
For example, a bass guitar that is built with mahogany is going to produce a warmer sound than a bass guitar that's built with swamp ash, which produces a brighter sound compared to mahogany. Just from the different pickup options alone, you are going to find many different choices of bass guitars to choose from, which can become pretty overwhelming.
You can choose from either humbucker or single-coil bass guitars, as well as an active or a passive design. Single coil bass guitars are a classic bass guitar pickup that has single-coil pickups and one magnet that produces an even and bright sound quality. On the other hand, humbuckers have a rounded and fatter sound. A lot of musicians really enjoy using the humbucker because it helps to cancel out any background interference, but the sound that the humbucker pickups produce at higher volumes can sound a bit muddy.
Features to Consider
Wood
The wood that the bass is comprised of will have a major impact on a lot of key tonal considerations. There are models made from everything from alder to maple wood. Each wood has a specific tonal quality and resonance, and this will impact the overall sound quality your bass produces.
Bass Scale Length
This is a consideration for two major reasons, the length, and ease of lay. If you are a younger player or a player with small hands, you may not be able to bridge the space of a traditional 34" scale length. This means you will want to go with a bass guitar model that has a short scale length.
Controls
This is also about the experience. If you are just starting, you will want to choose a five-string bass that allows for easy control. This means knobs and controls that do not get in the way of focusing on the strings and notes themselves. If you are a little more advanced, you can take a chance and go with a little more in-depth control capabilities.
What Are the Differences Between All These Bass Guitars?
There are so many variations when it comes to the five-string bass that you may be surprised. Let's start with the material the bass is made with. There is also the question of construction, including the neck.
Some of these models will be a bolt-on neck, some may be a set-neck, and still, others will be a thru-body. The most common construction is a bolt-on neck. Other things that can vary between brands and models are things like:
Scale Length
Bridge
Pickups
Passive or active electronics
So, as you can see, there is a lot of versatility and variety when you are looking at five-string basses and each model has its unique qualities. The models below come in all different styles and shapes, as well as wood types. Let's talk about how to choose the right five-string bass for you.
What five-string is for me?
The truth is, this all depends on you. However, there are a few things that may make the choice a little easier when considering a traditional four-string, a five-string, or even a six-string bass for your musical needs. The first is your experience level. If you are just starting, then a simple, traditional four-string is best for you.
Once you have mastered that, then you can consider moving up to the best model. Other things to think about are weight and expense. If you are just starting and are not used to carrying the weight of the four-string, then adding the extra weight of a five or six-string maybe a little too much. Plus, the extra-stringed basses are in a higher cost range. So, our suggestion is if you are just starting, stick with the traditional then work your way up to the next level.
The last thing you want to do is jump into a decision you may regret later, especially when you are spending your hard-earned money. Making sure you know what to look for and how to choose the right five-string bass is as simple as paying attention to some key features and factors when it comes to this musical instrument. On the list, I complied there are some high-end, mid, and affordable options for you to choose from.
Do you want a fretted or fretless?
Most of these factors have to do with the level of experience you bring to the table. One feature to think about is whether you want a fretless or fretted bass. Most normal basses come with frets. This makes it easy to find the notes and make that bass sing. But with a fretless, you are flying a little blind. That is why if you are a newer player, choosing a fretted option may be the best choice for you.
Why are there a different number of strings?
The first electric bass guitar that was ever produced was created with four strings and for a long period, that's all there were, were four-string bass guitars. The reason why there are more strings on a bass guitar is to add more range to the instrument. It is simple, having a larger range means that musicians can play further into the bass range or even the treble range. Another added benefit of having a bass guitar with more than four strings is that your hands don't have to work as hard shifting around the neck of the bass guitar as much.
Five and six-stringed guitars began to take off in the 1980s, as bassists were in huge competition with electric keyboards. A lot of bass guitarists were being replaced in bands by computers and keyboards, as they had more of a range than a standard four-string bass guitar did. To keep up with the competition, bassists began to add more strings to their guitars, to have a broader range. The fifth string that bass players added allowed the musicians to reach further into the bass range, while the sixth string allowed musicians to reach into the treble range with more ease.
How many strings are enough?
There truly is no definitive answer to this question, as you can choose between a four-string bass, a five-string bass, or a six-string bass. The decision you end up making will ultimately depend on your budget, your experience, and your style. If you are just starting out playing bass guitar, I suggest that you stick with a four-string bass, especially if you have no musical experience whatsoever.
Just sticking with four guitar strings will keep your learning experience simple and less aggregating. There is still a whole range of notes and chords that you can play on four strings; most famous rock and metal bands have a bass guitar that only has four strings. Having fewer strings means that you have less to worry about when you're performing live, which means that you can enjoy rocking out even more. Also, playing on a four-stringed bass guitar really will allow new musicians to refine proper playing techniques, as well as having the ability to develop a personal playing style.
On the other hand, if you have some musical experience, preferably with a bass guitar, you can upgrade to a five or six-string bass guitar. Five strings will allow you to play more notes than the four-string guitar, but the six-string bass guitar will allow you to play the most notes out of all three options. Your fingers are going to do have to do a lot more stretching around the neck of the guitar, which is going to take some practice, especially if you're not used to laying a guitar with that many strings.
If you've never played bass guitar, I would highly recommend that you start with a four-stringed guitar. Even if you have experience playing an acoustic guitar or an electric guitar, learning bass guitar will be a brand new experience where you're going to have to learn to shape and refine your playing techniques. Five and six-string guitars are really great to use if you're looking to specifically play metal, heavy metal, or rock. Having the extra string will allow you to reach all of those lower notes without having to spend any time de-tuning and re-tuning your guitar.
Is a five string harder to play than a four string?
Yes, a bass guitar is harder to play when it has more than four strings to play. You have more strings to keep control or, as well as more strings to memorize when playing without looking. A lot of beginners don't realize that there's a lot more work when you have five or six strings to play, instead of just four; you have more strings that you have to worry about keeping quiet, while also making sure that the strings you're playing have the notes ring out. The more strings you have on a bass guitar, the closer the strings get, which makes playing certain styles like slap bass a lot more difficult.
The neck on the bass guitar will get wider and you have to have a higher accuracy rate; this means that you have to do more stretching and reaching on the neck of the bass with your fingers, which may be tricky if you have smaller hands. I always suggest that beginners start out with four strings because you can always switch up what you're playing in the future, as switching from a four to six-string isn't too hard.
What is the Difference Between Passive Pickups and Active Pickups?
A passive pickup provides bass guitars with a more traditional bass guitar sound since they've been around since the creation of the bass guitar. If you are a musician who is looking for a warm bass tone that has some punch to it, without having to sacrifice any dynamic range, the passive pickup is most likely the best pickup for you.
Active pickups are newer on the market and they typically come with built-in preamps that are powered by separate energy sources, which are typically batteries. Active pickups provide musicians with clear, bright, and large tone control. The preamp that's installed in the active pickup has a much large volume output compared to the passive pickup.
Your choice between an active pickup and a passive pickup is truly up to each bass player's taste. I highly suggest that you check out a bass guitar that has an active pickup and passive pickup to figure out which bass guitar you like better.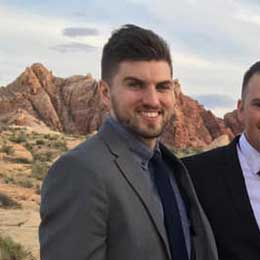 My name is Chris and I've had a passion for music and guitars for as long as I can remember. I started this website with some of my friends who are musicians, music teachers, gear heads, and music enthusiasts so we could provide high-quality guitar and music-related content.
I've been playing guitar since I was 13 years old and am an avid collector. Amps, pedals, guitars, bass, drums, microphones, studio, and recording gear, I love it all.
I was born and raised in Western Pennsylvania. My background is in Electrical Engineering, earning a Bachelor's degree from Youngstown State University. With my engineering experience, I've developed as a designer of guitar amplifiers and effects. A true passion of mine, I've designed, built, and repaired a wide range of guitar amps and electronics. Here at the Guitar Lobby, our aim is to share our passion for Music and gear with the rest of the music community.