Rhythm and blues, also known as R&B, has always been one of my favorite music genres to play on the guitar. Classic R&B came from the African-American community and naturally was full of struggle, loss, love, and overcoming. Over time, the genre has evolved, merging with hip-hop and soul music, giving it a more modern sound.

We've put together a massive list of easy R&B guitar songs below that are a ton of fun to learn.
1. Ain't No Sunshine by Bill Withers
"Ain't No Sunshine" creates a very interesting laid-back atmosphere in the beginning, but when the other instruments kick in, you can definitely feel the full power of the song, especially Bill's voice cutting through the instrumental part.
You can see that the song's structure and chords are really basic. The key of the song is A minor. It follows a simple chord progression that includes the chords A minor, E minor, G major, and D major. These are really simple open chords that most musicians learn in their early stages. However, don't think that it makes the song unworthy of your attention; the real situation is quite the opposite because it teaches you to create something powerful and memorable while keeping everything uncomplicated and unique.
2. Stand by Me by Ben E. King
"Stand by Me" is the song you might have heard about so many times. It is really popular and memorable due to the feelings it plays with and the atmosphere it creates. Also, it's worth mentioning that it's really groovy and soulful, which is also one of the reasons why it became so famous and likable.
The song's chords are also simple major and minor triads. They feature no additional notes except for the first, the second, and the third, although there's one thing you should pay attention to if you are a complete beginner: the chord progression comes to the point where you will need to use a barre chord, which is F#m in this particular case. There's also a great intro that instantly grabs attention and immerses you right into the main part.
3. If I Ain't Got You by Alicia Keys
"If I Ain't Got You" by Alicia Keys is an absolute gem among R&B songs and is definitely one that I truly recommend you get familiar with in case you still aren't. Even though the song was originally performed on the piano, it's absolutely possible to translate its soulful essence to the guitar, as many different players did in their cover videos and live performances.
The chord progression is very stable, and it always keeps you on track, providing a great foundation for other sounds to build on, especially considering the absence of chord extensions. The song is in the key of G major, which is a pretty good choice, in my opinion, for something as memorable and popular.
4. Easy by Lionel Richie
"Easy" by Lionel Richie is a very good choice for you if you like something smooth, groovy, and even a bit laid-back. The song is indeed very enjoyable for both the listener and the guitarist.
Most of the chords are pretty straightforward, being simple triads, which I am sure you know how to play without any assistance. The composition's tempo is not very fast, giving you some time to breathe and think about the next chord you need to play in order to keep the performance as cohesive and beautiful as the original one featured on the actual recording. Don't forget to sprinkle it with some of your creative additions, such as playing around with fingerpicking and strumming. That will make you sound really unique and interesting.
5. On & On by Erykah Badu
This song is a very interesting and unusual composition, and I can easily explain why. If you look closely at the chords, you might see that the song only consists of three chords. You may think, "So, where is the creativity and uniqueness you were talking about? Well, if you have at least a slight understanding of music theory, you might see that the key of the song is B major, but the only chord featuring B as the root note is B7, which is a dominant one. A dominant chord, being a tonic one, is not a very frequent thing to see in music, especially in modern ones. Physically, the song is really easy to play, and the only things you really need are your desire to learn and your guitar, which should be in standard tuning.
6. I Can't Help Myself (Sugar Pie Honey Bunch) by Four Tops
"I Can't Help Myself (Sugar Pie Honey Bunch)" is a song you might think of as a very catchy and soulful one, which is a really good two-word description that illustrates the main characteristics of the song in quite a short way.
The chord progression repeats throughout the whole composition, creating a solid ground for letting other sounds bring the song forward and be something that stands out and spices up the sound. The key chosen here is a great choice to play a song in for a beginner since it won't confuse you with any sharp notes due to their absence in the C Major scale. To replicate the strumming pattern, you can use a simple combination of upstrokes and downstrokes, which you can even easily pick up by ear.
7. My Girl by The Temptations
"My Girl" is a very beautiful song, not only in terms of the vocal performance but also the instrumental part, particularly the guitar part, which is the main point of our discussion.
You can see that the chord progression is really powerful and even relatively simple because it features a little bit of overused modern progression from the tonic chord, which is C major in this particular case, to the subdominant chord of F major, and then in the end, you can hear the transition to the fifth chord, which is G major, one that has the subdominant function in this key, being introductory of the main tension, which wants to be resolved back to the tonic chord, making the progression to be repeated over and over again. Yes, the song features multiple chords that have slightly bigger names, but if you look at them, you will see that in order to play them, you will sometimes need to lift only one of your fingers, and it will already create a different spectrum of sounds.
8. Blinding Lights by The Weeknd
"Blinding Lights" is a very popular song that many of us have already heard long before from various different sources, but now let's break it down in terms of the instrumental part, which certainly makes a huge impact on the personality of the composition.
The song has a simple chord progression, but it still includes something that spices it up—yes, I am talking about the capo on the third fret, which makes the song sound the way it does on your guitar. In order to play the song, you should be familiar with the most basic costs, and I guess after you manage to do it, you are all good to go and learn this piece of music!
9. Just The Way You Are by Bruno Mars
The next song is by a very popular musician that you must be familiar with. It is called "Just the Way You Are," and in my opinion, you can find many interesting things to think of, especially when you analyze art created by someone as famous and influential as Bruno Mars.
The song is really accessible for many people, especially when you look at the list of chords, which consists of only three. However, it's not just a blunt and simple chord progression since it features the Bm7 chord, which is one of my personal favorites due to its magical sound that doesn't sound like anything else. The song is also played in standard tuning, so you won't need to overthink the process of actually learning the instrumental part.
10. Nice & Slow by Usher
The next pick of mine is called "Nice & Slow," which is a very popular R&B song by Usher, released in 1997. The guitar part in the song is really groovy and perfectly timed, sitting right between other instruments and creating a pretty good, spicey sound.
The song revolves around the F minor key, as does the guitar part. In addition to this, I want to talk a little bit more about the chords themselves; they are only minor seventh ones, which is a very interesting choice for such a song. In order to play the riff of the song, you will also need to learn hammer-ons and pull-offs, which will make the things you play sound as good and vibey as the original version of the track.
11. Hit The Road Jack by Ray Charles
You have heard this song so many times before. Whether it was on the radio, coffee shop, or record store, you had a great chance of hearing this tune repeated over and over again due to its huge popularity among early R&B songs. Yes, I am talking about "Hit the Road, Jack."
The guitar part, as well as the one for bass, is one of the main building blocks of the whole composition, so it's really important to get a good grasp on what's going on there. You should not encounter any problems with memorizing the chord structure or the chords themselves because the progression is pretty much all about simple major and minor triads, with an exception for the E7 chord, which provides a good transitional feeling. In order to play this chord, you can just lift your third finger when you are playing the E major chord, and voila, you've got it.
12. Unchained Melody by The Righteous Brothers
The next song is representative of something that came from the past. It is called "Unchained Melody," and it is a classic song that was written in 1965. You will have a lot of fun learning this song as a guitar player, primarily because it is perfectly balanced for the level of beginners and intermediate players. You will see that it has basic chords, but the list still features some ones that are in the barre shape, as well as a dominant chord, which consists of the first, the third, the fifth, and the flat seventh note of the Ionian major scale. All these small yet noticeable things drive the song forward, making it not only accessible but also interesting to learn and perform.
13. Billie Jean by Michael Jackson
The next song is in a very interesting key, in my opinion, which is F# minor. In my opinion, it's not a very frequent scenario to see many similar songs in that particular one, but that's the thing that only makes the song even more worthy of our attention here. It is called Billie Jean," and the author is Michael Jackson. Oh, I am kidding; of course, you know the song; it's one of the most popular compositions of all time.
There are many ways to play the song, but within the framework of the list, we're presenting you with the easiest one so you can immediately pick up the groove of the song and replicate that. You can see that in order to play that song, you will also have to put your capo on the second fret of your standard-tuned guitar (in this particular case).
14. Let's Get It On by Marvin Gaye
The next artist is probably one that has appeared on your playlist at least once since his name is one of the most popular ones in the music industry's R&B field. As soon as you've learned to play the song, you might find that it sounds really groovy and smooth, even relaxing in some sort of way.
Even though there might seem to be many chords featured on the list, if you really look at them attentively, you will see that the only difficulty they may bring you is that F#m is mostly played as a barre chord, but I don't really think that will stop you from learning this amazing piece of music.
15. Cupid by Sam Cooke
"Cupid" is one of the songs you can instantly recognize right from the beginning since the composition contains a really catchy tune, which sets a great foundation for the rest of the song and kind of guides us toward its future development.
The chords you will use to play the song are really easy to learn and even pick up by ear in case you forget what goes next at a particular moment while playing the song. The melody is built that way, so it sounds quite comforting. This is created by many factors, but one of them is that the main movement and chord changes happen at the same place on the fretboard, making the progression sound cohesive and pleasant.
16. Can't Feel My Face by The Weeknd
"Can't Feel My Face" is another well-known song written by The Weeknd, which we all had already heard of before it was mentioned on the list. This is also representative of the newer music because it was released in 2015.
The song is really groovy and catchy. It instantly grabs your attention with a very cool yet extremely simple chord progression, which you can actually learn really fast with no difficulties at all. You may easily find chords for this song by following the attached link.
Once you get comfortable with the basics of music, try using your knowledge of scales and experimenting with different notes and movements by injecting them inside the section, creating something unique and interesting while at the same time referring back to the original idea of the song that is presented here.
17. Lovely Day by Bill Withers
This song is a very interesting and enjoyable song to play; however, in my opinion, it is more for intermediate guitar players because of certain reasons.
Firstly, the chord progression is a little bit more complex here, but not as much as you might think, because basic knowledge of music theory, and especially shapes on the guitar, will make the process of learning them much easier. Besides, the main progression changes all the time and does not repeat constantly throughout the song. However, the rhythm of the composition is very smooth and not fast-paced, so you can breathe out and just focus on the exact thing you need to do here: feel it and play along with these emotions.
18. Video by India.Arie
The next song waiting for us to talk about it is "Video," made by India.Arie. As for me, the song is great to listen to in order to uplift your mood and take some tension off yourself because its sound really succeeds in these two things, as well as being just a pretty good and minimalistic song.
The chords of the song will not constantly be frustrating you while playing the guitar part because even though there are mostly complex chords there, they are really easy to memorize, which expands the spectrum of chords you know how to play. For sure, you can also shape the chords differently here, as long as you follow the chord formula.
19. Fallin' by Alicia Keys
The next song is an absolute legend in the field of R&B. It's personally one of my favorite songs by Alicia Keys. Yes, "Fallin'" was originally played on the piano, but as you can see, the song is so popular that so many people transposed the instrumental part to the guitar so it doesn't sound unfamiliar or clashy.
It's definitely not a hard song to play; I mean, the chord progression features only two chords, which are Em and Bm7. Considering this, you can see that you don't even have to put your hand away from the second fret of your guitar because both of the chords can be played there. That is a great example of a song that can stick to minimalism yet still be exciting and powerful.
20. Pony by Ginuwine
The next one is a pretty interesting song to play as a guitarist. "Pony" by Ginuwine is in the key of C# Minor, which makes it a little bit more distinctive in terms of the sound everything is supposed to revolve around. The chords are really simple, and the number of them is really low, or, to be precise, it equals four.
The triads themselves are not really hard, but you will have to know how to use barre chords in order to play them since all of these four are usually played this way. The tuning of your guitar should be standard in order to sound like the actual recording. My advice is to stick to the tempo of the song and be attentive to the chord changes.
21. If You Don't Know Me by Now by Harold Melvin & The Blue Notes
The next song was created by artists working in tandem. It usually signifies that a piece of art is created in a very thoughtful and distinct way because it combines the creative power of two or more artists. This composition is a good representative of that.
Even though ..the moment passed me by… sorry, I cannot get this song out of my head. Even though the chords might seem to have really hard and nerdy names, don't worry, because if you look at them a little bit more closely, you will see that there are only two slightly more complex chords and only one chord written with a slash—this is called an "inverted" chord. You can see them a lot in music, actually. It's really simple—just play the E major chord and put one of your fingers on the second fret of the sixth string, and you are good to go!
22. Isn't It A Pity by George Harrison
"Isn't It a Pity" is a composition with a very beautiful yet pretty much simple chord progression that truly gives the song its unique color. Even though you would never think of George Harrison as an R&B artist, if you listen to the track, you can definitely recognize something familiar for yourself if you are a frequent listener of such a genre of music.
The chords are perfect for being played on the guitar because the sound this instrument gives them truly suits them. You might need to know some music theory in order to understand what's going on in the chord progression itself because it features, for example, the chord called Em6, which is a very distinct one, in my opinion, because of the particular intervals this song is built of.
23. With You by Chris Brown
Chris Brown is a popular R&B artist that you might have already heard of so many times. Well, another one won't make his music worse or less suitable for the list, will it? The track has a very catchy melody, as do most of the popular songs; to be honest, that's why they are so.
You can easily see that the chord list consists of three chords, which have only one thing that might be a little bit harder for beginners: barre shapes, but I guess that if you have been with us long enough, you have already learned them since it's not as complex as so many people think. Really, just put in a little bit more strength, and everything will work out. It's all about practice.
24. Kiss by Prince
It's time to throw some really big names around. Do you still remember Prince's music? Well, if not, you should definitely listen to some of his bangers or check them out if you haven't done that before.
The intro riff is originally played on a clean electric guitar, and, as you can see, it perfectly gets its job done: introducing us to the composition and its own world created by the author. The lick itself is really funky, and you can see that in order to play it, you should learn how to mute certain notes so they don't disturb the chord structure and make the piece sound unpleasant and dissonant. The chords used throughout the track will require you to do the same, actually, because they are not open-shaped, as with some of the previous examples.
25. Un-Break My Heart by Toni Braxton
Waited for some heartbreaks? Well, wait a bit more because the song's name speaks for itself perfectly, letting us know it's not the one. However, "Un-Break My Heart" is still a ballad song, which is really beautiful, by the way.
One of the reasons this song truly works is that the choice of the key is perfect: B minor, which is a really sad and solemn one, allowing you to jump from one chord of the progression to another while still being in the same mood, which is really what makes music so beautiful in general. Returning to the physical representation of the chords on your fretboard, I can say that you shouldn't encounter many troubles with making it sound on your instrument because there are no chord extensions, which makes the song pretty much accessible to a wider range of people.
26. Crazy In Love by Beyoncé
The next song is really big. I guess that you have already heard it on the radio or somewhere at a coffee shop. "Crazy in Love" is what it is called, and, in my opinion, this is a really great track to start with if you are more into popular music but want to make a subtle transition to something more specific and narrow.
The guitar section here is in the key of D minor, which is a really interesting choice for such a song because, usually, it is considered to be one of the darkest keys that exist in modern music. Anyway, the chords themselves are pretty easy, except for some cases that might take some of your time to understand but are not really hard to play physically. Also, the shapes you may see there should be familiar to you because the song was originally played in standard tuning.
27. All Of Me by John Legend
The next choice of mine is really romantic, and I truly like it. It evokes something really tender inside of me. "All of Me" by John Legend is a song that you might associate with piano primarily; however, you can easily adapt the chords to guitar, as, for example, Boyce Avenue did (the cover is really good, though).
The chord progression is beautifully simple and magical; it only features one inversion, which truly makes the sound of the chord changes better and more cohesive. The inversion itself is really easy if you use its open shape (you can experiment and choose the ones that fit your style, as long as they follow the chord formula).
28. Under The Boardwalk by The Drifters
This one is by The Drifters. The track might be one that you can learn in one sitting because of its simplicity, which can truly be heard right off the bat, but it is, in my personal opinion, what makes songs like that really good. Sometimes, you are just so tired of constant analysis and practice that you just want to have fun and enjoy playing music.
The guitar part will require you to have the following things: your guitar in standard tuning, the ability to play basic and some more complex chords, plus the desire to learn it. Actually, the chord progression is really warm, in my opinion, and it feels like something you are so familiar with that it makes you smile.
29. So Sick by Ne-Yo
This song is one that I truly think most of the people reading this article can play. However, it doesn't mean that its accessibility is a bad thing; in my opinion, it's usually a positive characteristic, depending on the particular case.
The guitar section in "So Sick" perfectly fits the vibe of the track, as if it were its homeland.
The song requires you to put your capo on the 6th fret, creating a very cool vibe.
You can see that the chord progression, as I said before, is really simple, and I suppose that you will learn this song really quickly. The tuning of the song is standard. The composition can be played either by fingerpicking or just strumming if that feels comfortable to you.
30. Knock On Wood by Eddie Floyd
This composition is called "Knock on Wood," and it was written by Eddie Floyd, who is a good R&B/Soul artist you might have heard before. I personally like this song, and I feel like there are a lot of things that I can say about it, but let's still keep it concise.
The song is really groovy and rhythmic, and I think that the key of E major and the chords that it consists of making the composition's personality even more developed, even considering the fact that, in my own experience, I haven't seen many R&B songs in this key. The tuning of your guitar should remain standard, and feel free to use an electric guitar since it will make the sound even more authentic and close to the original recording we're referring to.
31. Gravity by John Mayer
Oh, boy, this song is an absolute banger. If you are a guitar player, this track is a must-know composition that will allow you to improve your guitar playing skills while keeping you sane and not discouraged by a fast tempo or sudden changes in chords. "Gravity" is a song that many people wouldn't think of as an easy one, and it certainly isn't for beginners, but I think it's the best option if you are on the verge of the "beginner" and "intermediate" levels.
The song is in the key of C major. The guitar part is played in such a soulful, blues-influenced way that you might immediately fall in love with it, as many people have already done. The chords played here are not in open shapes, so be ready for that since it is mainly played on the electric guitar.
32. Dock Of The Bay by Otis Redding
The song "Dock of the Bay" contains a very interesting vibe within itself, in my opinion. When you listen to the song for the first time, you might hear something resembling the "Creep" chord progression, but then the song says, "No," and we are already moving backward in a very interesting and fast way.
The chord progression is relatively simple. However, it includes a lot of barre chords, which are most suitable for the general vibe of the composition. I certainly think that if you nail the skill of playing these chords in barre shapes, the song will be a very easy one for you to learn. Trust me, you'll have a lot of fun changing these chords "falling" down the neck.
Popular Related Article: Easy Pop Guitar Songs That Are Fun to Learn
33. Soul Man by Sam & Dave
The song we are about to discuss is a very catchy and upbeat one called "Soul Man" by Sam & Dave. This one is a good choice for you if you are the one who truly loves such music and wants to start playing something of that genre, but most of the songs you see are complicated. This one might seem pretty fast in the beginning, but after some practice, you forget about it and get used to changing the chords with such speed. The thing you truly need to speed up the process of doing that is feeling the groove. It sounds cliche, but it really works; believe me, it's the truth. Once you really get the feeling of the song, you don't have to count like crazy every time.
34. Never Too Much by Luther Vandross
The next song is one of the grooviest I've ever heard. It is also one that includes a guitar part that you first think is harder than it actually is. The composition I'm talking about is "Never Too Much. As a guitar player, you can improve your playing skills by learning that song, especially if you are an intermediate guitarist who knows some shapes here and there and is eager to learn something new from the world of R&B.
As I said, the guitar section sounds harder than it actually is; however, you still need to practice that song a little bit more than simple four-chord songs because it features a very cool riff that includes movements like slides and mutes. If you're looking for easy R&B songs to play on the guitar, this is one I highly recommend learning.
35. Lean On Me by Bill Withers
The next track we are going to be discussing on the list is "Lean on Me" by Bill Withers. I truly like the song, and I think that it is really suitable for beginners and can improve certain skills I'm about to mention.
First, it can improve the velocity with which you hit the strings while strumming the chords. Second, you can practice chords you already know but interpreted in a different way, with cool transitions between them. Also, the chords themselves are really simple; you can easily learn this song in literally one sitting and have so many positive emotions while playing it in the future. The song is in standard tuning, which means that your strings, starting from the thickest one, are tuned as EADGBE, which should already sound pretty familiar to you.
36. What's Going On by Marvin Gaye
The next one is by the artist we've already talked about a lot, but I still can't get his songs out of my mind and leave them unnoticed because they are truly representative of what R&B sounds like to me. I also suppose that many people think the same; maybe that's why this musician is so popular.
The guitar section is divided into two parts: rhythm and solo. If you are a beginner and just want to get a brief grasp on the essence of the song, I suggest you learn the rhythm part first. Not only will it improve your guitar skills, but it will also expand your knowledge of different shapes of more fancy chords, whose presence is truly felt throughout the song.
37. Use Me by Bill Withers
The next one is a really good song to learn for those who like simplicity and some sort of minimalism. The composition "Use Me" is a great example of how you can build a track using only two chords—in this particular case, Em7 and A7. The seventh notes, as you can see, fit the track in an incredible way, creating a very cool vibe that spans throughout the whole song.
In order to play that song, you should just feel the rhythm and not fall out of beat, and I guess that's it because those two things are what really make up for a good performance. You can also experiment with adding some slide movements to the chord progression because creativity can make the sound even better by adding sonic diversity.
38. What's Love Got To Do With It by Tina Turner
And, of course, I couldn't forget about such a big name in the music industry as Tina Turner and her song "What's Love Got to Do with It" in particular. The thing I like about it is that, unlike many R&B songs, this one is really accessible and can be played even by a person who isn't that into music theory and other complex musical stuff.
In order to play that song, you should put your capo on the fourth fret of your guitar, and here we go: you are all set to start the journey of learning the song because the tuning of your instrument should remain standard, so you don't have to spend time sitting and playing around with tuners.
39. Sexual Healing by Marvin Gaye
The name of this song has immediately captured your attention, hasn't it? "Sexual Healing" contains not only a catchy name but also a very good instrumental part that is pretty much accessible for a lot of players, including ones who are not that good at complex music theory concepts yet.
The chord progression isn't hard. The coolest part is the riff that you can hear at the beginning. It is a really good one to start with if you want to improve your skills at playing parts that use both chords and simple licks in between them. In my opinion, this song sounds good on both an acoustic and electric guitar, so it also leaves much room for experimentation.
Popular Article: Easy Guitar Songs Every Beginner Should Master
40. Cruisin' by Smokey Robinson
Oh, what an intro! If you'd listened to the song before you started reading this, you'd know what I am talking about. The song "Cruisin'" is written by Smokey Robinson, and it is one that truly deserves your attention as a guitar player, especially if you want to improve your ability to play riffs but still aren't at a high level of agility.
You will need to jump across the fretboard a lot for that song but believe me, it's worth it because, at least to me, it brings a lot of joy and pleasure when I'm playing it, especially when I just want to relax and have fun without diving deep into analyzing music theory concepts, etc.
41. Dancing In The Moonlight by Toploader
The next song is a perfect combination of simple chords, a beautiful key, and the incorporation of small riffs that diversify the sound. In order to get to the original sound of "Dancing in the Moonlight" by Toploader, you will have to use your capo. Put it on the third fret, and you are good to go!
You might be a little bit confused by the G chord inversion, which you can encounter if you follow the attached link. Don't worry; it's not a necessary aspect of the chord progression; it is there just to make the composition more smooth. However, you can go without it since the difference is minimal due to the way it is played; it's created by simply muting the G string in the open G chord shape.
42. I Will Always Love You by Whitney Houston
I am almost one hundred percent sure that you are familiar with this song; you have at least heard it once on the radio or in the movie called "The Bodyguard." Yes, the song I am talking about is "I Will Always Love You" by the amazing Whitney Houston, who was a very skilled and impressive musician.
Even though the vocal line of the composition is pretty difficult and powerful, the instrumental part, even though it includes some complexities, such as sus chords and adding seventh notes to the triads used throughout the track, isn't that hard if you dedicate enough of your attention and time to that. You will need to use a capo and have your guitar tuned to standard.
43. Back To Black by Amy Winehouse
The name of this track actually reminds me of AC/DC's very famous composition, but it's not our guest for today's list. But "Back to Black" by Amy Winehouse definitely is. It's in a completely different genre. Also, it's very soulful and groovy.
As you can see with your own eyes, it doesn't have many complications; however, you still have to learn barre chords in order to play it correctly. But, as I mentioned so many times before, it is not a skill you should be afraid of learning at all.
The tuning of your guitar should remain standard; therefore, it makes it really convenient to play that song since you can save so much time, which is certainly a good thing.
44. Thinkin Bout You by Frank Ocean
The next composition is by a very experimental artist who is not afraid of taking certain turns in the creation process of a song.
The song is in the key of C Major, which makes it really easy for beginners to analyze it and come up with certain conclusions on why the chord progression used in the track works and how it fits the actual mood and idea put into the heart of it.
The chords themselves are going to be your sweetest friends in that particular aspect because they are ones that most beginners will already be familiar with, such as E minor, C major, etc. Some of you even learned that as your first chords ever. You may also find versions of chords and tabs that sound closer to the original song, but the one presented here is one of the easiest to play.
45. Waterfalls by TLC
The name "Waterfalls" is really beautiful, in my opinion. It is written by TLC, who is a very good R&B artist and has created many cool songs that are definitely worth your listening.
As with many songs on that list, you are left with a great deal of room for experimentation since there are not many chords there for it to clash with; to be precise, the guitar part consists of four chords that are all simple triads, so it also won't be a very hard one for beginners. The key of C# major gives it a very interesting sound, which is often described as "happy" and "innocent." I think that you can definitely succeed in learning and performing it in the future.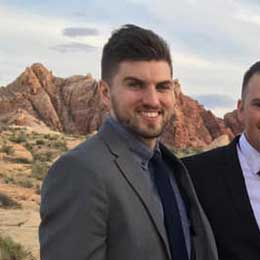 My name is Chris and I've had a passion for music and guitars for as long as I can remember. I started this website with some of my friends who are musicians, music teachers, gear heads, and music enthusiasts so we could provide high-quality guitar and music-related content.
I've been playing guitar since I was 13 years old and am an avid collector. Amps, pedals, guitars, bass, drums, microphones, studio, and recording gear, I love it all.
I was born and raised in Western Pennsylvania. My background is in Electrical Engineering, earning a Bachelor's degree from Youngstown State University. With my engineering experience, I've developed as a designer of guitar amplifiers and effects. A true passion of mine, I've designed, built, and repaired a wide range of guitar amps and electronics. Here at the Guitar Lobby, our aim is to share our passion for Music and gear with the rest of the music community.