When choosing a new amp, often the biggest factor to consider is your budget. If you are on a budget, you may be worried about the quality of the amp you can afford. While it could seem to be a pretty daunting task to find something that's both "good" and "cheap", once you start to look at today's market, you'll realize just how many great amps there are at a relatively low price point.
Many of today's amp manufacturers have started to introduce product lines focused on budget amps that are very well made and produce a great sound. In this article, we'll show you the best cheap guitar amps and explain what features they have so you can easily find the right amp for your needs.
Here Are the Best Cheap Guitar Amps
1. Boss Katana-50 MkII (Best Value)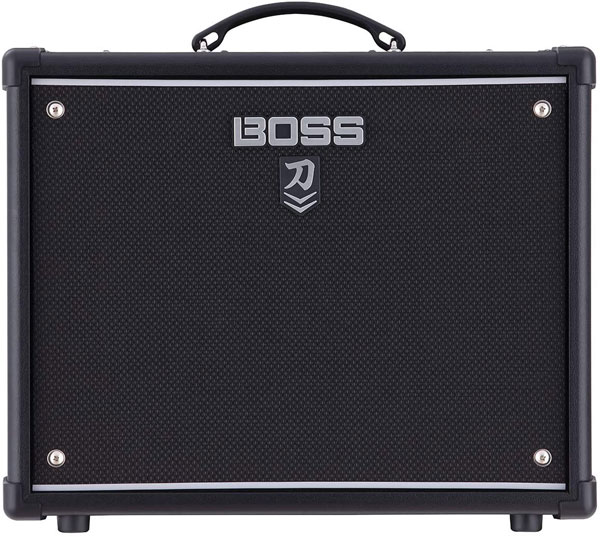 | | |
| --- | --- |
| Estimated Price | $230 |
| Power | 50W (25W / 0.5W Attenuation) |
| Speaker | 1 x 12." |
| Effects | Modulation, Delay, 60 BOSS Effects (Tone Studio Software) |
| Input | 1 x 1/4″ (Instrument), 1 x 1/4″ (PowerAmp), 1 x 1/8″ (Aux) |
| Outputs | 1 x 1/4″ (rec/headphones) |
| Weight | 25.6 Lbs. |
Review: The Boss Katana-50 MkII is an extremely versatile combo amplifier packed with all sorts of really neat tools for guitarists, including Boss' guitar effect processing giving players over 60 different effect pedals. At its core, the Katana-50 is a 50W amp with a built-in power attenuator. "What does this mean for me as a player?" you might be asking yourself. While it might sound like nothing special, this power attenuator allows players to raise or lower the power output from half power to 25W or even lower the power to 0.5W if you were so inclined.
This ability to change the output is great for players who need a jack-of-all-trades amplifier that is great for practicing at lower power output and is great in a band setting that can blend well higher power and volume outputs. Like I mentioned previously, the Katana-50 allows players to utilize over 60 different effects right from the amp itself via the amps software editor. This gives players the freedom to tweak and adjust their effects to find the perfect sound they are looking for with only a few turns of a dial.
Boss Also added built-in amp modeling to the Katana-50 giving players the freedom to choose different vices from clean to lead, and it even includes a setting that is meant for acoustic-electric guitars. Much like the different effect pedals in the amp, the different modulations allow players to get an extremely specific sound that fits whatever genre they might be playing or find a specific sound that fits whatever venue they might be playing in.
Pros: The Boss Katana-50 MkII is described by many as the most versatile amp in this price range, and with its feature set. Owners of this amp are pleased because they do not need to have smaller practice amps. They can use this one amp for both practice and gigging. While most are happy with its clean tones, many are satisfied with its mid to high-gain sound. The ability to pick and choose various effects makes this amp a great choice for any player.
Cons: I should note that while the amp's interface is easy to use, getting a handle on its software editor may require extra effort. As expected, when the amp is being played at the lower power settings, I have noticed that the sound does not sound the greatest.
Final Verdict: With its power attenuation and versatile digital sound processing, the Boss Katana-50 MkII is quite easy to recommend.
2. Positive Grid Spark (Editor's Choice)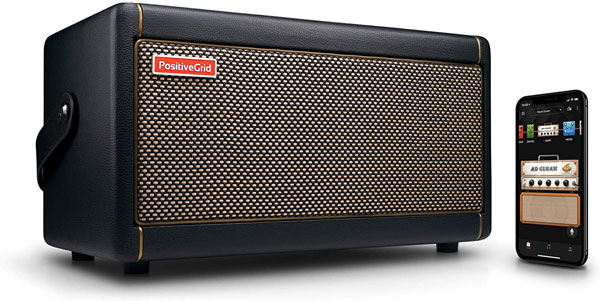 | | |
| --- | --- |
| Estimated Price | $280 |
| Power | 40W |
| Speaker | 2 x 4″ Custom Designed Speakers |
| Effects | 40 Effects (Noise Gate, Compressor, Distortion, Modulation, Delay, Reverb) |
| Input | 1/4″ Guitar Input 1/8″ Aux Input |
| Outputs | 1/8″ Headphone |
| Weight | 11.46 Lbs. |
Review: Much like the THR30ii by Yamaha, the Positive Grid Spark is truly an all-in-one unit. Apart from your guitar, instrument cable, and your smartphone, nothing else is required to have nearly unlimited guitar tones right out of the box. With a built-in tuner and dozens of onboard and am simulations, and even a massive library of user-created sounds online. You can even save up to four presets if you like to keep your staple tones handy.
Each of the 40 digital pedals and 30 amps Positive Grid modeled bears a striking resemblance to beloved tube amps and Stompboxes in the physical universe. You can simulate Vox, Fender, Marshall, and other famed amp tones easily, and the built-in overdrive, Delay, and reverb effects sound like pedals you may recognize from Boss and the like.
One thing both the Yamaha and the Spark have in common is a USB output. The Spark works as its audio interface for guitars if you plug it into your laptop, so recording quick demos is an absolute breeze. It even comes with a lightweight version of Presonus' Studio One, which happens to be my favorite recording software at the moment, thanks to its simple drag-and-drop interface. I love using the app to play along with various backing tracks, especially since there is a little independent volume control for Bluetooth audio. It makes balancing it with my guitar super easy. There is even a headphone jack should you need to practice in total silence.
All this, combined with the massive number of tones available in the tone library, means there is no guitar style the Spark cannot help you work on somehow. It practically begs you to try things you otherwise wouldn't.
For less than $300, you can practice, record, and be inspired, from the smallest bedrooms to the biggest. If you do not already have a practice amp, save the money you would spend on a couple of pedals and buy one of these—you will not regret it.
Pros: Compact, beautiful design. Easy-to-use app. Dozens of great amps and pedals modeled. There are a vast number of user-created sounds to explore. It acts as a Bluetooth speaker at the same time as an amp for playing along. Tons of great practice tools. Built-in tuner. It works as a USB interface for guitar recording and comes with Studio One Prime software.
Cons: No battery for portable performances. No direct outputs for plugging into a PA system.
Final Verdict: While it might not have the ability to be the perfect portable amp and lacks the outputs for plugging into a PA system, the Positive Grid Spark makes up for this with all of its different effects and that are crammed into this thing. It makes a perfect practice amp and is great for home recording. With the large amounts of effects, you can get the perfect sound for you. This is easily one of the best cheap guitar amps out there right now.
3. Orange Crush 35 RT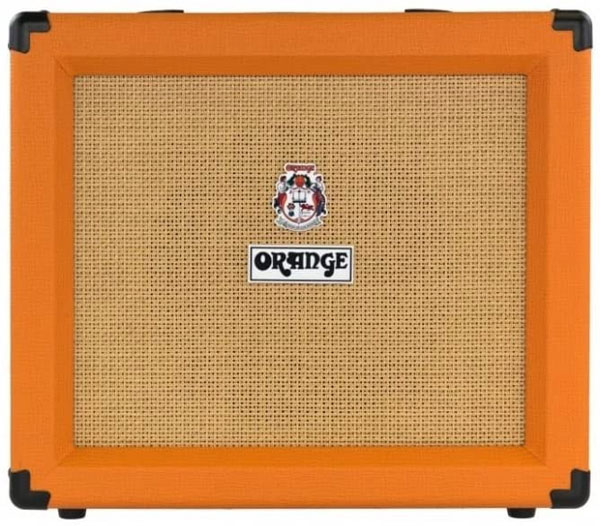 | | |
| --- | --- |
| Estimated Price | $260 |
| Power | 35W |
| Speaker | 1 x 10″ |
| Effects | Reverb |
| Input | 1 x 1/4″, 1 x 1/8″ (Aux) |
| Outputs | 1 x 1/4″ (Headphones/Line) |
| Weight | 25lbs. |
Review: Orange keeps things pretty straightforward with the Orange Crush 35RT. With no modeling features on this amp, it makes things complicated. The 35T depends on a 4-stage analog preamp circuit, which gives it a streamlined yet familiar tone. While this amp does not have as many features as other amps in this price range, the simplicity you get from the 35T makes up for it. The 35T, as the name implies, is a 35W amp with a 1 x 10″ combo configuration.
It works as a great practice amp and gives enough volume for jamming in a group session. While it might not have many extras built-in, too, such as an onboard tuner, to make sure you will always be in tune. Another nice feature included with the 35T is a cabinet emulated headphone output and built-in reverb allowing players to have a great sound whether you are practicing through headphones or having a jam session with friends.
Pros: All response to the Orange Crush 35T has been overwhelmingly positive, with its standout trait being its incredible sound quality. This amp sounds great no matter what genre you choose to play. Some users have noted that it has a fantastic tone for blues, rock, and other similar styles. Ease of use and the amp's aesthetics are also major selling points that I have noticed while using this amp. The amp itself looks amazing orange keeps its classic look with the dark orange shell and light orange tweed for the speaker cover. It has a vintage look that makes you feel like you own an extremely luxurious amp at a fraction of the cost.
Cons: While the Crush 35RT is a great amp, it does have some shortcomings. While the amp sounds great while playing the amp, I have noticed that the amp's bass emphasis is a bit too high, which can be compensated if you adjust the bass EQ knob. I have found that the amp sounds better when playing loud with a band but is much harder to give a good tone when trying to play quietly.
Final Verdict: The Orange Crush 35RT is a great amp for every player, especially those who are not looking for a complex amp. The 35RT is great for any player who wants an all-around useful amp for practicing or jam sessions. With pros that greatly outweigh any con, this amp is outstanding in aesthetics and overall build quality. The 35RT works well for all players in any genre.
4. Roland Cube Street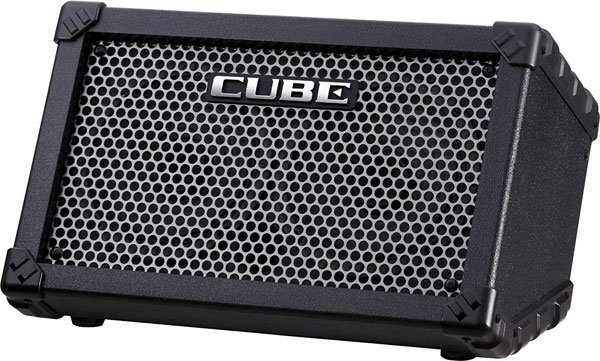 | | |
| --- | --- |
| Estimated Price | $300 |
| Power | 5W |
| Speaker | 2 x 6.5W |
| Effects | Chorus, Flanger, Phaser, Tremolo, Delay, Reverb |
| Input | 1 x 1/4″, 1 x XLR-1/4″ combo 1 x 1/8″ (aux) |
| Outputs | 1 x 1/4″ Headphones |
| Weight | 11.46 lbs. |
Review: While expensive amplifiers are the dream of many guitarists, it is not always practical for everyone. If an amp designed for home, street, or stage is what you are after, then the Roland Cube Street is the perfect option for you. With a rugged design that makes it great for portable use, whether outside busking on the street or performing on stage, the Cube Street has all the power and tone you could want. While the Cube Street controls are a bit extensive, they are segregated and very straightforward to use. The controls sit at the top of the amp for easy access.
There are EQ controls for bass, middle, and treble and rotary controls for the effects, Delay, and reverb on the guitar channel. In addition, the amp also includes different amp model settings to allow players to find the right sound to fit their style. The control panel's left side is a section dedicated to mic controls, including 2-band EQ for bass and treble, with Delay, reverb, and volume. The controls might be overwhelming at first, but I have to say that that solid, responsive, and extremely easy to understand after getting some time to learn them.
While this might be a small amp, the Cube Street offers players many really useful features. Starting with the basics, this amp is voiced by two high-performance 6.5-inch speakers with 5W of power. The Cube Street also comes in a stylish black case with a silver grille that looks pretty great for an amp at this price point. The Cube Street also works out very well as an amp for busking with amazing 15-hour battery life, lets street performers go out and play without worrying about running out of juice mid-set.
There is plenty of tone coming from this small amp that is helped by the eight amp models and EQ controls. The Cube Street gives players a range of options, from warm, mellow, clean tones to intense high-gain distortion for heavy rock and metal. The range of effects is not vast, but what is included is enough for good sound shaping. It may not be the loudest amp in this price range; it certainly fills a huge space. While you may be able to find more powerful and more versatile amps at this price point, the overall package Roland offers with the Cube Street supersedes anything else you could find. Although this amp is intended for players on the go, the Cube Street proves to be a reliable great sounding amp that will serve you for years to come.
Pros: The Roland Cube Street is great for the value; it has incredible build quality for its size and is great for a portable amp. For an amp of this size, it puts out an incredible tone. With its built-in effects, this amp is great for all genres.
Cons: The only issue that I have found with the Roland Cube Street is that due to its size, it does not have much of a bottom-end even with adjustments for the onboard EQ although, it should be expected. One other small drawback is the lack of a line-out jack, which may be a small bother. It could influence some players in the choice of an amp.
Final Verdict: If you are looking for an affordable and easily portable amp, the Roland Cube Street is the perfect amp for you. With its built-in effects and small stature, Cube Street is perfect for buskers and street performers alike.
5. Marshall Code50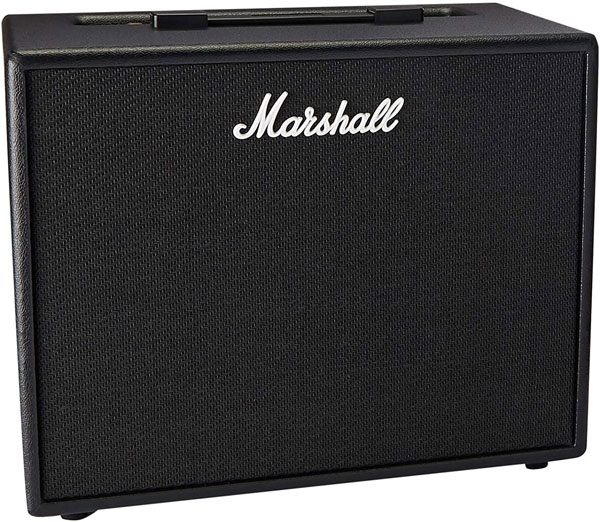 | | |
| --- | --- |
| Estimated Price | $300 |
| Power | 50W |
| Speaker | 1 x 12″ |
| Effects | 24 (5 Simultaneous) |
| Input | 1 x 1/4″, 1 x 1/8″ (Aux), Bluetooth |
| Outputs | 1 x 1/4″ (Headphones) |
| Weight | 28.6 Lbs. |
Review: Marshall has been a staple in the guitar world for nearly 50 years, making some of the world's finest quality amplifiers. Marshall continues to be a go-to provider of premium amplifiers worldwide. While Marshall is known for their high-end amplifiers, they have not limited themselves to just luxury models. Marshall has also decided recently to move into making premium budget amps, including the highly-rated Marshall Code50.
The Code50 is not your typical one-trick pony. This amp lets you mix and match virtual amplifier elements (14 preamps, four power amps, and eight cabinets) via Softube's digital sound processing, allowing for a wide array of tones. It also lets you use five virtual effect pedals concurrently, which you can choose from its 24 built-in effects. That is a lot of power for the money, which is nice considering that it comes with big brand backing. Finally, this amp comes equipped with convenient wireless app control and music streaming via Bluetooth, making pairing seamless and user friendly.
Pros: Sonic versatility gets mentioned a lot, which also translates to good value, as many rightly point out. I was extremely impressed with its recreation of classic Marshall crunch tones.
Cons: some of the amp's presets are unappealing to tone purists, especially those unreasonably looking for natural tube amp warmth from a budget solid-state amp. I wish for the controls to be a bit more intuitive, with some noting that getting the amp to sound good requires more time than expected.
Final Verdict: If you are looking for an affordable yet versatile amp with big-name backing, then the Marshall Code50 is right for you. Marshall made an affordable amp without sacrificing the quality you come to know and respect from Marshall. With a multitude of different effects and modeling features, the Code50 can fit any genre you can think of and then some. The Code50 has plenty of options and an incredible tone making it nearly impossible to go wrong with this amp.
6. VOX VT40X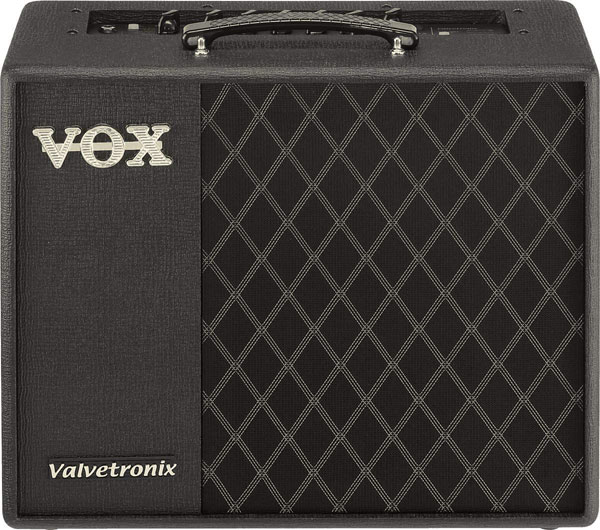 | | |
| --- | --- |
| Estimated Price | $250 |
| Power | 40W |
| Speaker | 1 x 12″ |
| Effects | 13 (3 Simultaneous) |
| Input | 1 x 1/4″, 1 x 1/8″ (aux) |
| Outputs | 1 x 1/8″ (Headphones) |
| Weight | 20.94 Lbs. |
Review: The Vox VT40X is a tube/digital hybrid, sporting a genuine 12AX7 preamp tube with built-in DSP for amp modeling and effects. This melding of old and new technology allows the amp to retain the vibe of classic tube amps while having modern amp modelers' flexibility. Speaking of flexibility, the Vox VT40X lets you choose from 11 preloaded amp models (expandable to 20 via its software editor) and 13 effects – all of which are customizable via the software editor. Having this editor means you are getting a tube amp and a versatile guitar rig all in a compact and, more importantly, affordable package. With its power rating and rich feature set, the Vox VT40X is easily the best value tube amp on this recommendation list.
Pros: Reviews of the Vox VT40X continue to be overwhelmingly favorable, pointing to the amp's value for money as its best trait. It is no surprise that it can reproduce the jangly bright tones of classic Vox amps, impressing even the experts. Simultaneously, other fans of the amp report that it is relatively easy to craft good sounds with its interface.
Cons: I have noticed that the cabinet components rattle, but it may be due to some small parts coming loose on the inside, which can be fixed. Thankfully, the rattling is not much of a dealbreaker as you are getting a nice set of tubes in this amp.
Final Verdict: Even though this is a tube amp, it has surprisingly large amounts of versatility. This amp can blend well and puts out enough power to fit well in any situation you might find yourself in. While rattling in the amp is slightly concerning, I have come to find that it is a pretty easy, quick fix. Not to mention you get a great set of tubes and plenty of amp models and effects, making it great for any player.
7. Marshall Origin 5C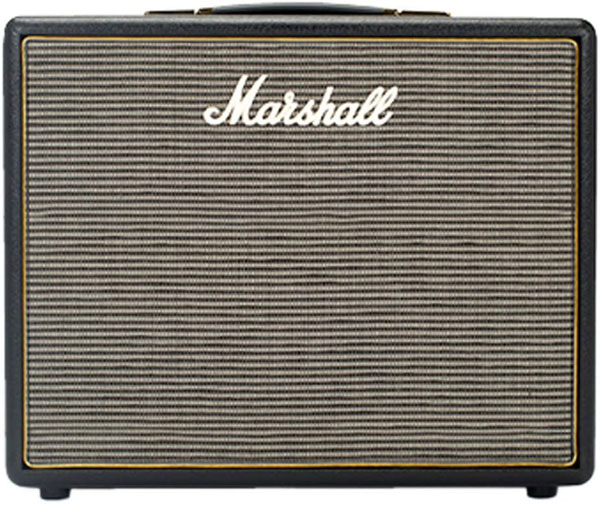 | | |
| --- | --- |
| Estimated Price | $300 |
| Power | 5W |
| Speaker | 1 x 8″ Celestion Eight-15 |
| Effects | None |
| Input | 1 x 1/4″ |
| Outputs | 1 x 1/4″ (Internal Speaker) |
| Weight | 20.7 Lbs. |
Review: There's no denying the iconic status of the Marshall brand, so when they make an affordable tube amp like the Origin5C, it's only natural for it to get a lot of attention. The 5 Watt amplifier section features a familiar combination of two ECC83 preamp tubes and a single EL84 power tube. The amplifier section drives an 8″ Celestion Eight-15 speaker that's tweaked for British crunch tones. While 5W and 8″ may seem low volume on paper, tube amps are usually louder than their solid-state counterparts. Marshall installed a power attenuator switch so that you can crank the amp at lower power settings. Other features include 3-band EQ with presence control, tilt control for blending normal and bright tones, and it ships with a footswitch included.
Pros: Getting a Celestion equipped all-tube Marshall amp in this price range is already a good reason to buy this amp, I love the overall quality and appeal of the amp itself, but more importantly, it is well received for its tone. Interestingly, it is preferred for its low to mid-gain tones instead of the usual mid to high gain tones that Marshall is known for. You get a luxurious amp without breaking the bank.
Cons: Don't expect too much low end with its 5W power rating and small 8″ speaker. Having such a small wattage and speaker size makes for some pretty rough sounding high gain. Being this small means, you also have to make some EQ adjustments to get the right sound you are looking for.
Final Verdict: While the Origin5C is a small amp compared to some of the other amps on this list, you are getting a great amp for the price and the pedigree of the Marshall name. With its Celestion eight-15 speaker, you get a surprising amount of power for the size.
8. VOX AV15
| | |
| --- | --- |
| Estimated Price | $250 |
| Power | 15W |
| Speaker | 1 x 8″ |
| Effects | Reverb, Delay, Modulation |
| Input | 1 x 1/4″, 1 x 1/8″ (Aux) |
| Outputs | 1 x 1/8″ (Headphones) |
| Weight | 16.98 Lbs. |
Review: The Vox AV15 combines modern amp modeling with classic tube circuitry, featuring a real 12AX7 tube in the preamp section. The 12AX78 helps the amp add tube-like warmth to their amp models, including emulations of popular Vox amps like the AC15 and AC30. The amp modeling feature expands your tone option to emulations of amps from other makers, covering everything from British to American voicings. There is even a Bias and reactor switch that lets you adjust tube response and damping for even more control over the resulting tone. Other Controls include 3-band EQ, Bright and Fat switch, and gain. Finally, the amp is equipped with adjustable power levels, which can get cranked tones at lower volumes.
Pros: Versatility is the Vox AV15's strong point, and it does so while still appealing to those who prefer the tone of genuine tube equipped amps. While it's expected for users to appreciate its Vox clean tone, it is surprising to see many commendations that point to its tone in mid and high gain settings.
Cons: Since this amp is equipped with a preamp tube, it will require replacement or maintenance in the future. I have found that this amp sounds much better after swapping out the default preamp tube.
Final Verdict: Vox has out-done themselves with the AV15, having such a small amp with all of the tonal options that come with a tube amp. While replacing amp tubes is a little bit of a pain, the sound and power you get out of such a small amp surely outweigh that issue.
9. Fender Mustang GT40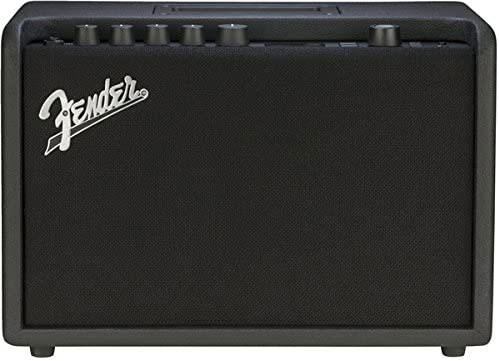 | | |
| --- | --- |
| Estimated Price | $270 |
| Power | 40W (2x20W stereo) |
| Speaker | 2×6.5 Fender Special Design |
| Effects | 46 |
| Input | 1 x 1/4″, 1 x 1/8″ (Aux) |
| Outputs | 1 x 1/8″ (Headphones) |
| Weight | 17 Lbs. |
Review: While Fender is known for its Tube Amps, many tend to forget that Fender has a great selection of digital amps as well. Fender first introduced the Mustang series digital amps in 2010 and was introduced primarily for beginners and budget-conscious players looking for a versatile amp for practice and home recording. With the introduction of the GT line of Mustang amps, theses have grown into something more than just a practice amp, and the GT line can now stand up to whatever you can throw at it.
The GT40 is a small and portable amp that is still great for practice and home recording, and now with the added benefit of having enough volume and power to serve well as a great amp to gig with. Not only do GT models offer more power behind their sound, but they also have a smorgasbord of new features that make this amp extremely versatile. With built-in wi-fi capabilities, compatibility with the free Fender tone amp, and an upgraded full-color display.
The GT40 is a 40W amp with two 6.5-inch speakers while also including five front-panel control knobs (Gain, volume, treble, bass, master). Fender also included a digital engine that provides 21 different amp models and 46 effect models while also including multiple effect pedals. Multiple effects can be used simultaneously, including ones from Stompbox (distortion/overdrive, compressor, wah), Modulation (chorus, phaser, flanger, tremolo, pitch shift, etc.), Delay, and Reverb categories. While this seems like a lot to take in, the amps interface is extremely easy to use and user friendly, making it a great all-around amp.
The Fender Mustang GT40 is an all-around fantastic amp that does a great job combining essential, classic amp and effect models that gives this amp many different sound and tonal options. All of the included presets are well programmed and well-thought-out, but if you are looking for more, the Fender Tone app offers a vast selection of presets that will scratch the itch you have for more tonal options. The GT 40's speakers, in particular, deliver a crisp and clear tone ideal for practicing solo or playing along with recordings or backing tracks, making this amp a great choice for someone who needs a great practice amp.
Pros: Plenty of presets, great sounding speakers, and a multitude of effects built-in to the amp. What more could you ask for in a budget amp?
Cons: Many reviewers consider the tone to be a little "Hi-FI," and I can understand where they are coming from. The amp itself does not sound bad by any means, but some settings sound like they are artificial. While that is to be expected from a digital amp, some players could turn it off.
Final Verdict: Whether you are looking for a digital amp for home practice and recording use or a versatile amp for gigging, Fender's new Mustang GT Series amps offer a huge selection of great sounds and creative power for incredibly affordable prices.
10. Line 6 Spider V 60 MkII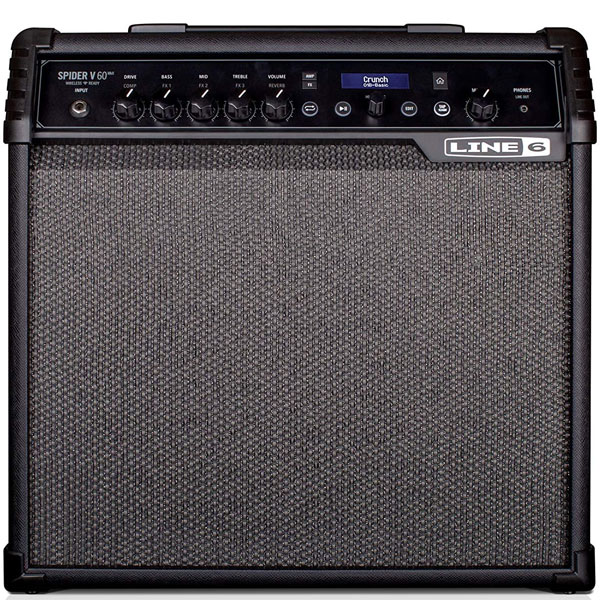 | | |
| --- | --- |
| Estimated Price | $320 |
| Power | 60W |
| Speaker | 1 x 10″ Woofer, 1 x Tweeter |
| Effects | Over 100 Effects Models |
| Input | 1 x 1/4″, 1 x 1/8″ (aux in) |
| Outputs | 1 x 1/8″ |
| Weight | 20.5 Lbs. |
Review: One of the most popular budget amps today is the spider V 60 from line 6, the best-known brand for its modeling amps and multi-effect pedals. The Spider V 60 is a newly updated solid-state combo amp loaded with features making it extremely versatile while being at a price that will not break the bank. The Spider V 60 offers an upgraded streamlined control panel, with standard amp controls, consisting of a drive, bass, mid, treble, volume, and master volume knobs while offering a separate set of controls for amp modeling effects, tuner, and looping.
The Spider V 60 has color-coded EQ controls for effects when holding the FX button making EQ changes quick and effortless once you get the hang of it. This amp also offers a small backlit LCD panel that offers information on various effects and presets.
The Spider V 60 has an updated design that looks more sleek and sophisticated than previous iterations. It has an all-black vinyl covering, matte black control knobs, a black and silver grill, and a subtle Line 6 logo on the right-hand side. Inside the amp sits a single 10″ speaker with a separate high-frequency tweeter, offering a full 60 watt of power. Looks and power aside, the tonal range of this amp is what impresses me the most.
The spider V 60 offers more than 200 amps, cabs, and effect models. The Spider V 60 delivers an incredible amount of sound combinations with 100 different high-quality presets. The Spider V 60 also offers players a built-in tuner and metronome, making sure you are always practicing correctly. What makes this amp over the top is the built-in drum loop system to make practice sessions a little more fun and even give you a hand while recording and missing a drummer. Throw in a USB port for recording and playback options, and a port to plug in an iPod/MP3 player gives players a really solid overall package at a price that does not break the bank.
The Presets offered on the Line 6 Spider V 60 have been designed to emulate some of the most iconic guitarists' setups with mind-boggling accuracy. While some are a little off, they are easily tweaked to meet each player's needs. At its core, the Spider V 60 sounds quite natural with a great dynamic response. It may not have a tube amp's warmth or character, but playing on this amp sound fantastic on either electric or acoustic guitar. With its 60 watts of power, the Spider V 60 can handle most venues in terms of sound output, but off-stage is where this amp shines. With the multitude of presets and effects, it is excellent. It allows players to explore their creative side at home or in the studio, and like I previously mentioned, the drum loops work well if you find yourself without a drummer.
Pros: Like many of the amps on this list, the Spider V 60 offers players a large number of great-sounding presets and effects that make playing any genre easy, and with some of the more practical features such as a built-in tuner and metronome, and the drum-loop machine makes home use and studio use where this amp excels.
Cons: One of the biggest downsides I have noticed with the Spider V 60 is that some of the presets sound a little duller than I would like, granted that the dull sound came straight out of the box. With some tweaking to the EQ, these sounds can be adjusted to sound better, but that brings me to the amps' second shortcoming. Making adjustments to the EQ settings take a little time to get used to. I noticed myself becoming slightly frustrated with the interface initially, but the more I used it, I noticed that it was pretty intuitive.
Final Verdict: At such a reasonable price, it is hard to find many faults with the Spider V 60. While this may be a solid-state combo amp, it has outstanding power and tonal versatility that can put some of the other amps in this price range to shame. With Enough effects, drum loops, and practical extras, this amp is pretty incredible and will fulfill all of your needs for the foreseeable future.
11. Fender Champion 50XL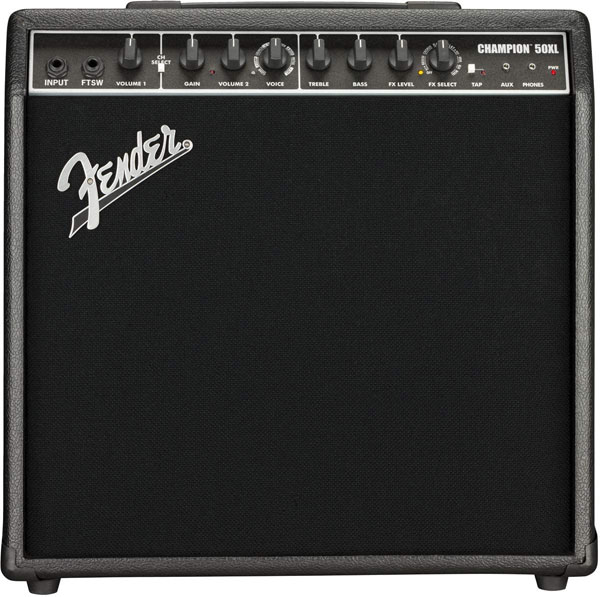 | | |
| --- | --- |
| Estimated Price | $230 |
| Power | 50W |
| Speaker | 1 x 12″ Celestion Midnight 60 |
| Effects | Delay/Echo, Chorus, Tremolo, Vibratone, Reverb |
| Input | 1 x 1/4″ (instrument), 1 x 1/8″ (aux in) |
| Outputs | 1 x 1/8″ |
Review: The Fender Champion series of amps have been popular among players for years. The Champion 50XL is a versatile, high-quality solid-state amp that is perfect for players who are looking for a lot of power on a budget. With its larger cabinet size and special Celestion speaker, the Champion 50XL pushes out 50 watts of power with plenty of voicings and effects that make this amp a great choice for players on a budget.
Like the rest of the champion lineup models, this amp features a sleek all-black styling that sells the luxury aesthetic. Fender did not skimp on the effects and voices in the amp either. The voice knob features 12 different amp sounds, ranging from clean tones to hard rock crunch. The Champion 50XL offers some features unique to this model, such as the effects built into the voice knob. Players have the ability to dial in compression, overdrive, distortion, and octaves into certain voices while still having a separate effects knob. This dial offers another dozen ways to customize your sound to make it perfect for you with basic effects like reverb, tremolo, and Delay nestled alongside more unique options like flange, Vibratone, chorus wah.
Unlike other Champion models, the Champion 50XL utilizes a unique Celestion Midnight 60 12″ speaker. With the increased Cabinet size, this amp moves a lot more sound than many other models. Pair that with the sleek black aesthetic, this amp is a pretty clear choice.
The Controls on this amp are instantly familiar for anyone who has ever played a Fender solid-state amp. This Particular amp offers two separate channels. The first Channel offers clean tones only while the second houses overdrive and gains voicings, while both have access to the EQ system and effect knobs. Each Channel maintains its volume knob, but a channel select light and button differentiate the two settings. A great feature this the Champion 50XL boasts is a select voice dial for the second Channel that offers much heavier tones and settings. The dial contains 12 separate amps ranging from clean, getting heavier from left to right.
The Champion 50XL offers great tonal flexibility that fits well in any genre. It offers the traditional sparkling Fender clean tones while also delivering some serious crunch and overdrive. Articulation and definition are incredible as well. Each note shimmers and has a great presence when dialed in. With some EQ adjustment, this amp could fit well in warmer styles such as jazz. With the gain turned up, the amp delivers a vibrant crunch while the notes still keep their clarity. This amp sounds great in any voicing. Whether it is classic rock or metal, this amp can deliver.
Pros: A great speaker and a large number of voicings and effects make this amp a great choice for any player. The high sound output makes the Champion 50XL great for performances in any venue.
Cons: I have noticed in my time using the Champion XL the only real issue comes from the second Channel. While the large amounts of effects are great to play around with, some are pretty subpar unless you tweak them, and even then, they do not break that subpar mark.
Final Verdict: The Fender Champion 50XL delivers a wide variety of tones the fit well in any genre. What sets the 50XL apart from the other models in the champion lineup is the fuller Celestion speaker, added versatility from its built-in effects, and sleek, luxurious all-black styling. The Fender Champion 50XL sits at a sub-$300 price, making it the perfect option for any player looking for a larger amp with this much versatility without breaking the bank.
12. Monoprice 611815 15-watt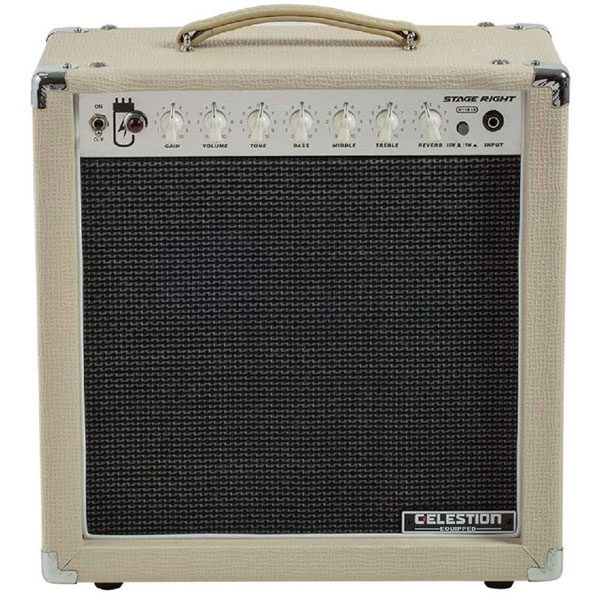 | | |
| --- | --- |
| Estimated Price | $260 |
| Power | 15W |
| Speaker | 1 x 12″ |
| Effects | Reverb |
| Input | 1 x 1/4″ |
| Outputs | 1 x 1/4″ Speaker Out, Effects Loop |
| Weight | 31.62 lbs. |
Review: While hybrid amps provide more functionality, they still cannot replace the appeal of a genuine all-tube circuit amp. And the Monoprice 611815 gives you just that, a straightforward all-tube guitar combo amp that continues to rate well in the sub $300 price range. The preamp section houses three ECC83 tubes, while the power section has two EL84 tubes, a potent combination used on many classic amps. But what is interesting is the amp's 12″ speaker, a Celestion Red Truvox 1215, quite the catch for something so affordable. Other features include basic 3-band EQ and built-in spring reverb.
Pros: In terms of specs and value for money, there is simply no amp that can beat the Monoprice 611815 in this price range. But it is not just about good spec sheets. As seen in its high ratings, it is hard to deny that these specs translate well in real-life use. The tone is its strength, specifically its low to mid-gain tones, which, together with its warmth and dynamics – work well with many musical styles. One of my favorite things about this amp is the quality of its spring reverb.
Cons: Some report getting better results by replacing the default tubes in the amp. Many other reviewers have noted that while switching out the tubes increases cost, the improvement in tone is well worth the extra investment.
Final Verdict: Before writing this article, I had never heard of the Monoprice brand, and now I am honestly surprised by the incredible tone you get out of this amp. It is something I would recommend checking out.
13. Peavey Vypyr VIP 2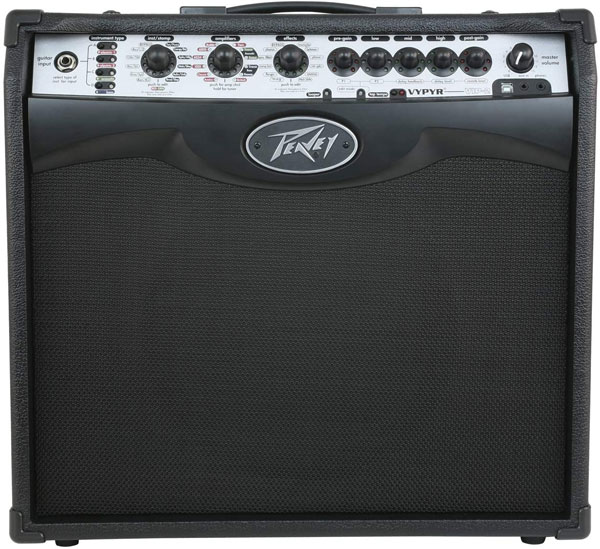 | | |
| --- | --- |
| Estimated Price | $250 |
| Power | 40W |
| Speaker | 1 x 12″ |
| Effects | 25 onboard effects (4 Simultaneously) |
| Input | 1 x 1/4″ (instrument), 1 x 1/8″ (aux) |
| Outputs | 1 x 1/8″ |
| Weight | 29 Lbs. |
Review: Peavey is a multinational brand that can do it all. With Peavey's flexibility, it is hard to categorize them into a particular sound or genre. While this could be an issue for some brands, for Peavey, cost-effective production gives them a real advantage when building small amps.
The Vypyr VIP 2 illustrates Peavey's attention to detail when manufacturing quality budget gear. It gives players as many features as possible without compromising quality. The Vypyr VIP 2 offers 36 different amp models that make it useful for electric guitar, acoustic guitar. To my surprise, it even works well for bass guitar giving players a hybrid guitar, acoustic, and bass amp. Since
Peavey implemented their Variable Instrument Input technology, which gives acoustic and bass players a natural-sounding tone without needing a separate amp.
In terms of Tonality, the Vypyr VIP 2 features 32-bit floating-point SHARC processors for the amp modeling and Peavey's TransTube analog circuitry adding tube-like sound and characteristics of the resulting tones. This amp is rated at 40 watts, making it big enough to produce enough band practice and small venue gigs. With its USB connectivity, 25 different effects, and looper feature, the Vypyr VIP 2 has plenty of features making it extremely versatile for any situation you might find yourself in. Not to mention that these effects and the loop feature can all be activated via a pedal.
Pros: With Peavey's variable instrument technology, the Vypyr VIP 2 allows players to have a multi-functional amp for all of your gear, which is loud enough to be used in any small venue situation or practicing group setting.
Cons: One big issue I have noticed with the Vypyr is that on certain presets with a pedal, the volume drop significantly, which can be very frustrating when getting your sound settled where you want it, and then the volume drops the moment you stomp on the pedal.
Final Verdict: While this amp does have some volume and pedal issues, it is still a fantastic amp that fulfills all needs you could need out of your amp. With plenty of effects and a solid price point, the Vypyr VIP 2 by Peavey is a solid choice for any player.
14. Yamaha THR5A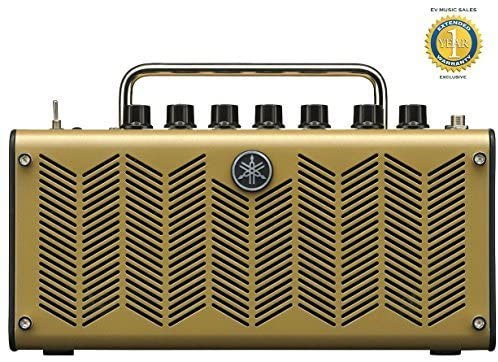 | | |
| --- | --- |
| Estimated Price | $200 |
| Power | 10W |
| Speaker | 2 x 3." |
| Effects | compression, chorus, flanger, phase shifter, tremolo, Delay, reverb |
| Input | 1 x 1/4″, 1 x 1/8″ (Stereo) |
| Headphones | 1 x ¼." |
| EQ | 1-Band |
My Review: The Yamaha THR5A is a battery-powered amp geared toward acoustic players. It is becoming more commonplace in the world of acoustic guitar performance, so it is no surprise that players would want a nice acoustic amp for home use. The THR5A gives players the chance to practice under similar conditions in which they perform, allowing players to use plenty of accessories, including loopers and effect pedals, or enjoy a larger sound for their acoustic guitar.
Yamaha gave guitarists all of the larger than life power and sound quality that you would come to expect from a much larger PA system in an incredibly small package. While the THR series was created with electric guitars in mind, introducing the THR5A brings the concept to acoustic players broadening the horizons of many more players looking for a portable amp solution.
The THR5A is incredibly small, looking more like a lunch box than an amplifier. When I first saw this amp, I almost thought it was ahead for a speaker cabinet, but it was all self-contained, with a pair of small three-inch speakers in the unit. The next surprise I got from this amp came in the form of a nice warm glow of tubes that slowly fades in. While these lights might be from LEDs, they look great and give the amp a premium look and feel.  While looking at this amp, I had my reservations about such a small package's sound quality. While the amp might not rival a full PA system or a larger high-powered amp, the sound and volume that came out of this amp filled the room from only two extremely small speakers.
The THR5A has inputs and controls line the top of the box, starting with the power switch, a ¼-inch input jack, stereo auxiliary input, and headphone output. A five-position switch allows you to select from different mic models, including Condenser, Dynamic, and Tube, as well as a Nylon setting and a Clean electric guitar mode. The amp has a confusingly named Master volume, which appears to be input gain (or channel volume), as well as a Volume control, which affects the overall output level. The effects controls are unusual in that they combine multiple effects in a single knob. For example, the DLY/Rev (delay/reverb) control is off when fully counter-clockwise, bringing in progressively louder delays when turned clockwise and gradually adding reverb. Turning the knob further moves to a hall reverb with no delay, starting with a low mix and adding more and more reverb as you continue to turn clockwise. The compressor/chorus knob acts similarly, with compression increasing as you turn the dial, changing into the chorus. While switching around, your effects on a dial might seem confusing at first, but you will get used to it the more you use it.
This amp has a ridiculous tone and volume for its size, and with its roughly 6-hour battery life on eight AA-Sized batteries, it makes it a no brainer for acoustic players.
Pros: The THR5A is a fantastic amp for acoustic guitar players for players looking for an easily portable amp with a decent number of effects put in.
Cons: The battery life on this amp is not nearly as long as I would have hoped, unfortunately, but as it is running on 6 AA batteries, it is to be expected
Final Verdict: If you are looking for a great compact and portable amp, then the THR5A b Yamaha is perfect for you. With plenty of built-in effects, this amp is great for buskers and street performers alike.
Choosing the Right Cheap Amp (Buying Guide)
Solid-state Or tube?
Solid-state circuitry can produce superior clean power at a much more affordable price. Simultaneously, today's scarcity of vacuum tube manufacturers tends to make tube-based amps more expensive than a comparably powered solid-state amplifier. This has led to some interesting hybrids in which the basic tone is produced by a tube-driven preamp, while the power amp is solid-state. Still, the majority of "serious" players will almost always lean towards a tube amp. However, the attitude changes as manufacturers turn out amazing new amps based on cutting-edge technology. In the end, choosing an amp with the tones you like, whether solid-state or tube, is the most important thing.
Solid-state amps
These amps are called solid-state because they use transistors for their preamp and power sections. They are very reliable and seldom need repairs. They often have a very clean tone, although many come with a "distortion" also. These amps are popular with players looking for a sturdy, reliable touring amp. Most lower-cost "practice" amps are solid-state.
Tube amps
Many guitarists prefer tube amps for their warm, fat tone and "organic" distortion. Tube amps usually sound louder than solid-state amps of the same wattage and have a definite "feel" that you do not get from solid-state amps. Most tube amps have separate channels that can switch from clean to distorted tones instantly. Tube performance can deteriorate over time, so tubes need to change occasionally.
Modeling amps
Modeling amps use digital processors to simulate the sound of old-fashioned tube technology. Using software that "models" the sound of tube amplifiers (and cabinets), these amps put the sound of multiple amps in one box. Modeling amps are programmable and often have built-in digital effects such as Delay, chorus, etc. Some include digital or analog outputs with speaker simulation for going direct into a recording interface or PA system.
Hybrid amps
Combining the best of each type of amp into one package, these amps use an actual tube in conjunction with the solid-state power section of their amps. Many hybrid amps use a tube in the preamp section and solid-state circuitry in the power section to create a tube tone without requiring the use of power tubes.
Speakers: Does size matter?
Different size speakers produce different sounds. Smaller speakers can produce higher frequencies than larger speakers, so a tweeter is small, and a woofer is large. So in the real world, a 10″ speaker will generally produce a better "top end" than a 15″ speaker. There is also a difference between an open-backed cabinet and a closed-cabinet design, which is why certain amps, like a 4 x 10″ Bassman with an open back, will sound different than a 2 x 12″ Bassman with a closed cabinet. And even though speakers may be the same size, they can still have different sound characteristics.
Many blues players swear by those old open-backed 4 x 10″ Fender amps, as they can produce a range of tones from smooth to searing. If you want a big rock sound, you'll likely want to plug your guitar into a 100-watt head with one, or two, 4 x 12″ cabinets. One well-known guitarist preferred four 4 x 12″ cabinets, which may explain his current hearing problems. Today manufacturers can custom tweak their amps by combining a certain size cabinet with a certain size set of speakers.
Other Options
Other additional features you might encounter include:
Reverb units
Some amps use spring reverbs, which can be very natural sounding, while others use digital reverb.
Effects loops
These jacks allow you to add stomp boxes or rack units after the amp's preamp section to avoid amplifying any effect noise.
Channel switching
These amps allow you to switch between different preamp channels, usually going from a clean tone to a distorted one. Check to see if a footswitch is included. Digital amps often require the purchase of an additional multi-function footswitch to change tones remotely.
Built-in effects
Many amps are famous for their built-in effects. Tremolo is another effect many amps features (great for surf guitar.) Modeling amps usually contain multiple built-in digital effects.
Hopefully, this has given you a better idea of what to look for out of your next amp. There are plenty of choices out there for a musician on a budget. My biggest piece of advice is to go to your local music store and see if you can test some of them out. While some of these amps might not be available to be tested in your local shop, check out some videos online. There is plenty of video reviews online that will answer any questions you might have while also allowing you to hear what the amp sounds like. While this is not as helpful playing the amp yourself, it will give you a better idea of what kind of sound you will get out of the amp. This article should set you on the right track. Good luck and happy playing!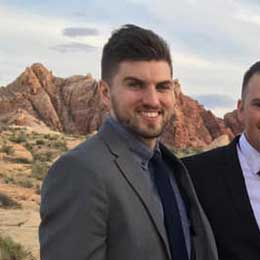 My name is Chris and I've had a passion for music and guitars for as long as I can remember. I started this website with some of my friends who are musicians, music teachers, gear heads, and music enthusiasts so we could provide high-quality guitar and music-related content.
I've been playing guitar since I was 13 years old and am an avid collector. Amps, pedals, guitars, bass, drums, microphones, studio, and recording gear, I love it all.
I was born and raised in Western Pennsylvania. My background is in Electrical Engineering, earning a Bachelor's degree from Youngstown State University. With my engineering experience, I've developed as a designer of guitar amplifiers and effects. A true passion of mine, I've designed, built, and repaired a wide range of guitar amps and electronics. Here at the Guitar Lobby, our aim is to share our passion for Music and gear with the rest of the music community.