Playing a fretless bass guitar can be a challenge compared to playing a fretted bass, but it's a challenge many players find to be extremely rewarding. It's a different feel and sound that some prefer. It will certainly take some getting used to but if you are an experienced bass player and are up for a challenge then I highly recommend picking up a fretless bass!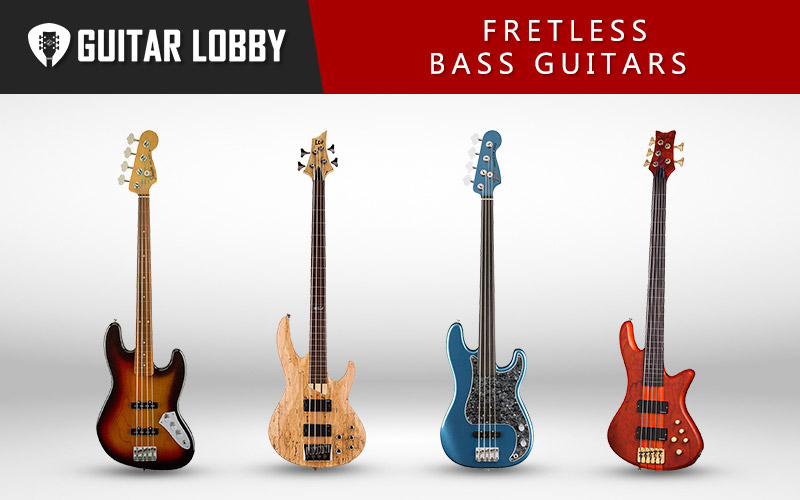 I'll start this article by jumping straight into reviews on the best fretless bass guitars at different price points, but if you want to learn more about them before reading reviews, check out our fretless bass buying guide at the bottom of the page.
Name of Product
Image of Product
Description
Price Range
Full Review
1. Fender Player Fretless Jazz Bass Guitar (Best Value)
Body: Alder
Fretboard: Pau Ferro
$700
Read Full Review Below
2. Ernie Ball Music Man Stingray H Fretless BFR (Editor's Choice)
Body: Ash
Fretboard: Roasted Maple
$2600
Read Full Review Below
3. Ibanez SR375E SR Standard Fretless (Best Under $500)
Body: Maple
Fretboard: Rosewood
$500
Read Full Review Below
4. Schecter Guitar Research Stiletto Studio-5 Fretless Bass (Best Under $1000)
Body: Mahogany with Bubinga top
Fretboard: Rosewood
$900
Read Full Review Below
5. NS CR5 RADIUS Fretless Bass (Best Headless)
Body: Maple
Fretboard: Ebony
$3000
Read Full Review Below
6. Ibanez Bass Workshop SRH500F Fretless Bass (Best Semi-Hollow)
Body: Spruce top, mahogany sides and back
Fretboard: Panga
$700
Read Full Review Below
7. Fender Tony Franklin Fretless Precision Bass
Body: Alder
Fretboard: Ebony
$1700
Read Full Review Below
8. ESP LTD B-204SM
Body: Ash body with maple top
Fretboard: Roasted Jatoba
$500
Read Full Review Below
9. Fender Jaco Pastorius Fretless Jazz Bass
Body: Alder
Fretboard: Pau Ferro
$1800
Read Full Review Below
10. Squier Classic Vibe 60's Fretless Jazz Bass
Body: Poplar
Fretboard: Indian Laurel
$400
Read Full Review Below
11. Rogue LX200BF Fretless Series III
Body: Basswood
Fretboard: Rosewood
$300
Read Full Review Below
12. Stagg BC300FL Fretless 4-String Fusion
Body: Alder
Fretboard: Rosewood
$250
Read Full Review Below
13. Gold Tone ME-BassFL Solid Body MicroBass Fretless
Body: Mahogany
Fretboard: Walnut
$300
Read Full Review Below
14. Sire Marcus Miller V9
Body: Alder with maple top
Fretboard: Ebony
$700
Read Full Review Below
Here Are the Best Fretless Bass Guitars
1. Fender Player Fretless Jazz Bass Guitar (Best Value)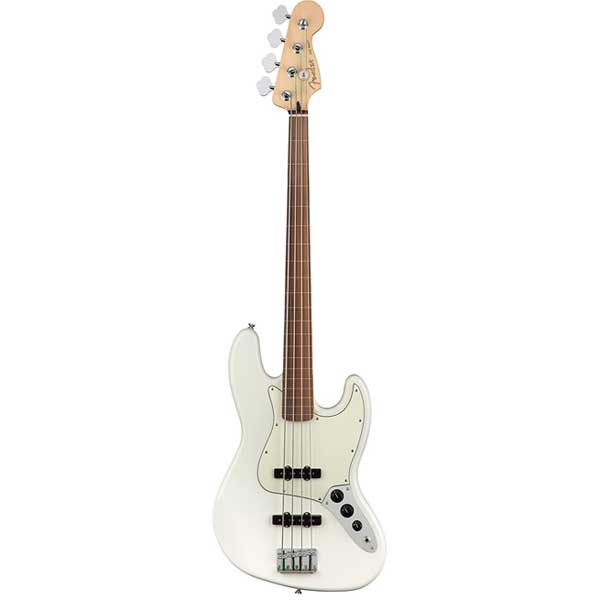 | | |
| --- | --- |
| Estimated Price | $700 |
| Body Material | Alder |
| Fretboard | Pau Ferro |
| Pickup Configuration | 2x Alnico single-coil |
My Review: This Player Series product is Fender's first market entry for this type of fretless bass. The Fender Player Series has become well known for offering musicians a product that uses all of the high-quality materials and specs needed for function, playability, and tone while holding back on features that only have a major impact on aesthetics or collectability. The result is a great playing and sounding instrument for an incredible value. I was blown away by some of the features this bass has to offer.
Key Specs and Features: Starting out with the alder body, it's a Fender Jazz and that says enough. It has an iconic design that has been a Fender hallmark since the initial release in 1960. The modern C-shaped neck is constructed from a strong piece of maple, and it has a Pau Ferro fingerboard as well. Pau Ferro doesn't roll off the tongue as rosewood does, but it's a more than capable alternative with a similar tone structure.
Featured pickups on the Player Fretless Jazz were specifically designed for the Player series, using Alnico magnets in a single-coil configuration, one in the bridge and one in the middle position. Controls are decidedly vintage with two volume knobs one for each pickup, along with a master tone. The chrome-plated hardware carries on the vintage vibe, with open-gear tuning machines and a bridge that features individual string saddles for action and intonation adjustments.
Target Customer: For players that can't get enough of that vintage Fender sound and feel, this is a great pick. It can work great in different musical styles.
Bottom Line: What you get for the relatively low price is impressive with this bass. The Fender Player Fretless Jazz Bass combines classic Fender styling in a very functional mid-level fretless bass model that is worthy of being a part of any discerning bass player's collection. The bottom line is, if you're looking for the best fretless bass for the money, look no further!
2. Ernie Ball Music Man Stingray H Fretless BFR (Editor's Choice)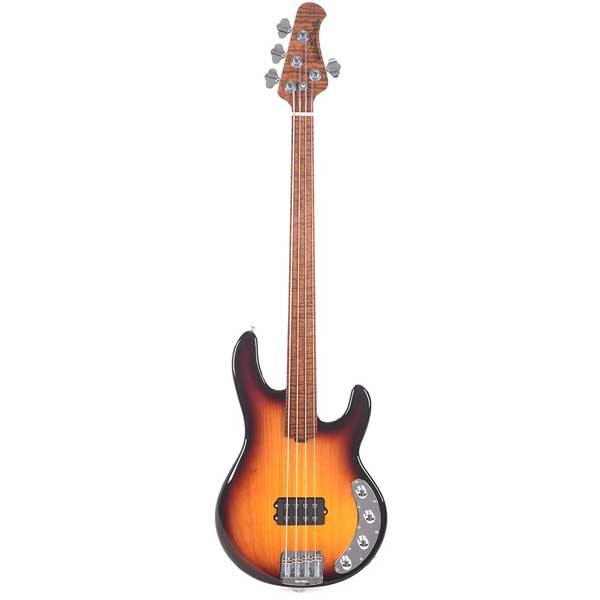 | | |
| --- | --- |
| Estimated Price | $2600 |
| Body Material | Ash |
| Fretboard | Roasted Maple |
| Pickup Configuration | Ernie Ball humbucker |
My Review: The Ernie Ball Music Man is an absolute icon when it comes to bass guitars, usually for their fretted models which countless famous artists have played on records for generations. The fretless model, however, is something quite special aswell. I personally love Music Man basses so this one comes as a breath of fresh air to me.
Key Specs and Features: The first thing that catches your eye with this bass is the unusual figured neck made from roasted maple back to front. Normally, guitar makers tend to stick with the more traditional oil and wax coating. This model includes a polyester coating which will ensure it stays in pristine condition for decades. The double-cutaway body is made from ash, which is rarely used on modern production bass guitars today. Ash is a harder tonewood known for producing a good balance between brightness and warmth, it's harder to work with as manufacturing goes, but delivers an incredible sustain and blend of tones.
Ernie Ball is known for high-end electronics, and the featured humbucker on this model is no exception. They've added neodymium magnets that deliver a much higher output which filters through an 18 volt 3-band EQ, delivering ultra-clean notes without any overload. The controls include a master volume, treble, mids, and bass. This helps to get tones that are as sonically impressive as the visual beauty of the body. You'll find a Music Man vintage bridge with a string-thru design, and custom tuners as well.
Target Customer: I would recommend this bass to virtually anybody that knows how to play and is looking for an electric fretless bass, whether you are traditionally a stand up bass player looking to plug in, or an electric bass player looking to add a high quality fretless bass to your rack. The price tag is a little hefty but this bass is of the highest design and build quality and will likely be an attractive option for experienced players looking for a professional-grade instrument.
Bottom Line: A very nice instrument, which is expected from Music Man, this fretless bass works so well in different musical settings. With great built quality and sound Music Man shows why they are at the top of the bass game.
3. Ibanez SR375E SR Standard Fretless (Best Under $500)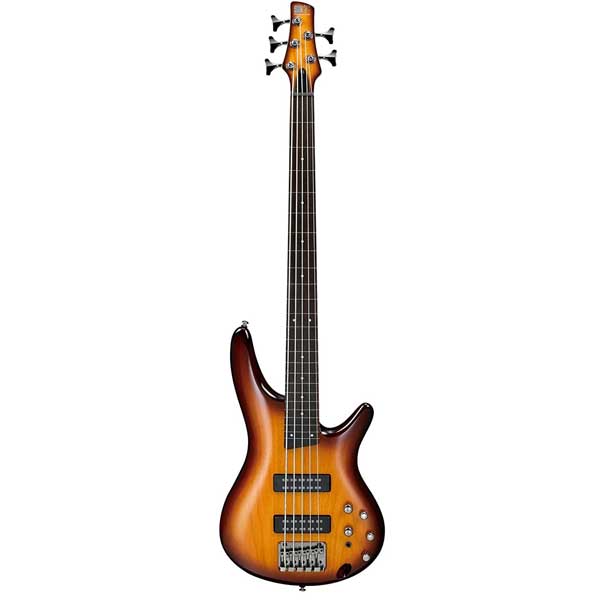 | | |
| --- | --- |
| Estimated Price | $500 |
| Body Material | Maple |
| Fretboard | Rosewood |
| Pickup Configuration | 2x PowerSpan humbucker |
My Review: This fretless is by Ibanez who continues to provide relatively affordable basses of excellent quality. They put some work into detail on this one, especially considering the price. The bass is stylish and has a sound that backs up the looks. The neck is playable and smooth. I especially love the brown burst finish. The two humbuckers work well, the sound is smooth but it also has a nice punch.
Key Specs and Features: Ibanez went with their modern design for this one. The double-cutaway really lets you test your soloing skills. The body is made out of maple and is quite light. The neck is sturdy 5-piece maple/rosewood SR4 neck with a rosewood fretboard. The Accu-cast B125 bridge provides awesome string vibration transfer and precise intonation. The nice thing about the PowerSpan humbucker pickups is the rich sound you get. You can also create a pure single-coil sound, or an enhanced single coil sound with the controls at your disposal. The all Cosmo black hardware adds a hint of stealth to the bass.
Target Customer: It is a 5 stringed electric guitar which is a suitable option for both the new learners and intermediate players. If you aspire to deliver a rich and warm tone and powerfully projected clear sound, this is a reliable choice.
Bottom Line: The Ibanez SR375E is one of the most widely used models of fretless bass guitars. If you want to purchase a sturdy, easy to haul and exquisite guitar for long-term use, the Ibanez SR375E is worth a try. If you're looking for the best fretless bass under $500, this is my top choice.
Popular Related Article: Our Favorite Bass Amps on the Market (All Price Ranges)
4. Schecter Guitar Research Stiletto Studio-5 (Best Under $1000)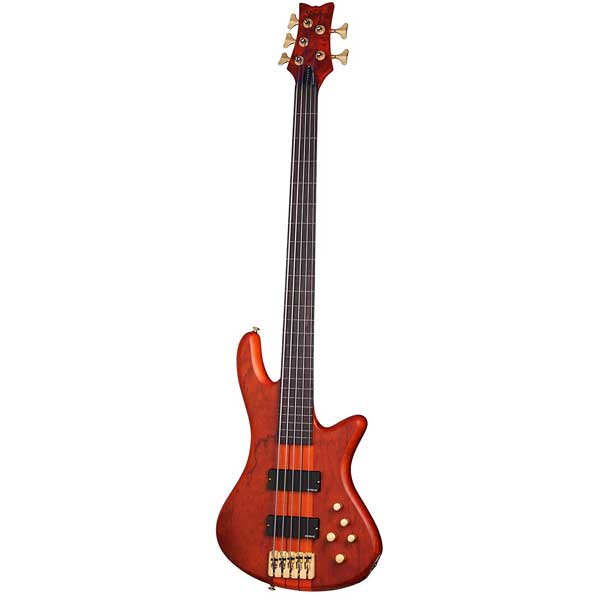 | | |
| --- | --- |
| Estimated Price | $900 |
| Body Material | Mahogany with Bubinga top |
| Fretboard | Rosewood |
| Pickup Configuration | 2x EMG humbucker |
My Review: With the Stiletto Studio-5 Fretless Bass, Schecter gifts the bass community with a sleek fretless bass with enough tonal options to fit within just about any style of music. The instrument is super comfortable and smooth. I love the design and the sound you get from the two EMGs' is super refined.
Key Specs and Features: Featuring neck-through construction, the body of the Stiletto is made from mahogany with a Bubinga top along with a laminate maple and walnut neck. The result is a very attractive bass and resonates extremely well. The Honey Satin finish is particularly satisfying. This is a bass that's designed for the beginner level fretless player, as the true rosewood fingerboard has lines in it to depict fret locations.
Intonation on a fretless bass is one of the hardest things to pull off, and having the lines as a guide is a great help to keep things sounding in tune. The Stiletto offers a great deal of tone shaping, starting off with two EMG Hz pickups that are controlled with blend control, a master volume, and an active 3-band EQ. Aiding the visual impact is the satin gold hardware, featuring a Diamond bridge along with Grover tuners for maximum stability.
Target Customer: If you are a beginner fretless player, this bass should be a great buy for you. With its player-friendly features, it will certainly help you develop your skills.
Bottom Line: The Stiletto Fretless may not be the most expensive or well-built bass out there, but it's a great combination of good looks and impressive features that emits a character that is hard to deny. It is playable and comfortable for every buck.
5. NS CR5 RADIUS Fretless Bass (Best Headless)

| | |
| --- | --- |
| Estimated Price | $3000 |
| Body Material | Maple |
| Fretboard | Ebony |
| Pickup Configuration | 2x EMG humbucker |
My Review: Ned Steinberger came to prominence in the '80s with his innovative headless guitars. While they aren't found on every stage these days, there's no doubt that his tradition for shaking things up continues. The proof of that is the CR5 RADIUS Fretless Bass. Pretty much every aspect of the CR5 is unique when compared to the competition. As I love 5-string basses this fretless hits the spot for me.
Key Specs and Features: Starting off with the body, it has a maple construction with a flamed top for visual effect, while having a convex radius on the back for comfort along with an extremely well-balanced design. The neck is just as smooth, featuring a solid piece of maple with a super-strong carbon-fiber core. The fingerboard is true ebony, and the headstock if of course not existent. As with most NS Design instruments, there isn't a headstock and instead, the ball ends of the strings seat into an aluminum head plate.
If you've never played a headless guitar or bass, you might be wondering how to tune the instrument. The patented tuning mechanism is incredibly stable, and it's integrated into the bridge assembly. It works similar to Floyd Rose on electric guitars. NS Design partnered with EMG to create a combination of magnetic pickups along with a piezo element that is mounted close to the bridge. The EMG' coupled with the 18V preamp, provides a tonal range that may be beyond what most other basses can deliver.
Target Customer: If you want a premium instrument, this bass is just an incredible buy. It is a pro-level instrument with amazing playability and tone that would lend itself well to players of all skill levels.
Bottom Line: Overall the CR5 is a top-tier, pro-level instrument in my opinion. It does costs more, but it's hard to debate the level of quality and craftsmanship. It isn't as budget-friendly as some of the more affordable picks on this but it certainly the type of purchase you could see yourself proudly passing down to your kids. Truly an incredible instrument. This is easily one of the best fretless bass guitars on the market, regardless of price.
Popular Related Article: Our Favorite Bass Compressor Pedals
6. Ibanez Bass Workshop SRH500F Fretless Bass (Best Semi-Hollow)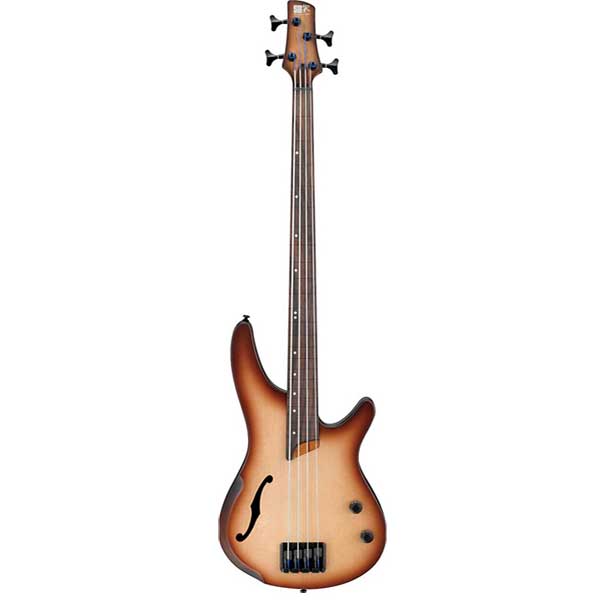 | | |
| --- | --- |
| Estimated Price | $700 |
| Body Material | Spruce top, mahogany sides and back |
| Fretboard | Panga |
| Pickup Configuration | AeroSilk piezo |
My Review: The Ibanez Bass Workshop SRH500F is loaded with a ton of distinctive features that easily places it near the top of the competition in its price range. Ibanez did a terrific job with this affordable fretless bass.
Key Specs and Features: This fretless bass has a semi-hollow body design with an f-hole, using spruce for the top and mahogany for the sides and back. That alone is something you won't find in most other fretless basses or even fretted basses. The body produces a full tone when played unplugged. The neck itself is made from a jatoba and walnut combination, and the fingerboard is made from Panga a rosewood alternative. You can tell that the SRH500F is geared to make fretless bass players out of any good bass player, and that's thanks mostly to the unique design of the fingerboard itself.
Not only does it have dot inlays that act as fret markers it also has small black lines that are visual indicators of where to position your fingers to get the right note intonation. Electronics on the SRH500F are out of the ordinary as well, as it uses an AeroSilk piezo set up in the bridge. That alone produces an atypical tone, and it can be shaped even further with single volume and tone control knobs. Further adjustments can be made via trim pots under the rear cover that let you tweak the gain for each individual string.
Target Customer: This incredible instrument is a great buy for intermediate players who are looking to try out their skills on a fretless. With its affordable price, it's a must buy.
Bottom Line: In my opinion, all of these features make the SRH500F simply out of the park when compared to competing fretless bass models, regardless of the price range.
7. Fender Tony Franklin Fretless Precision Bass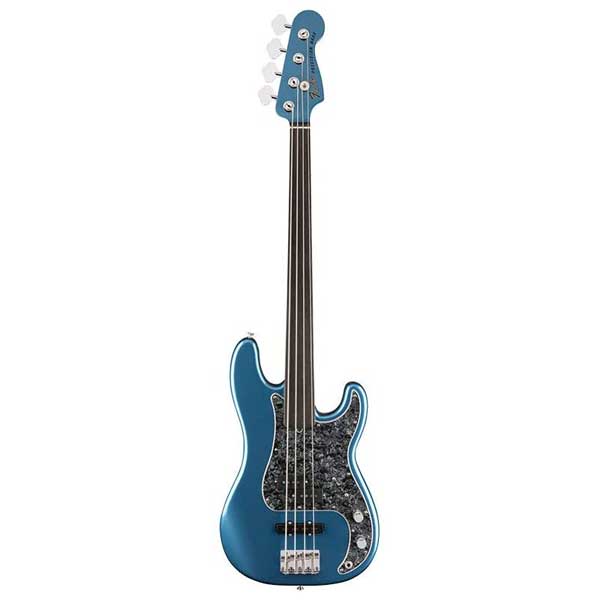 | | |
| --- | --- |
| Estimated Price | $1700 |
| Body Material | Alder |
| Fretboard | Ebony |
| Pickup Configuration | Tony Franklin J bass single-coil, P bass split-coil |
My Review: This Tony Franklin signature precision bass from Fender plays like a dream. It's arguably one of the best options in its price range. One look at it and you'll instantly see the fabulous build quality. As a fan of Tony Franklin, I'm very satisfied with what Fender managed to pull here. It doesn't feature the classic split single-coil P-Bass pickups. Tony Franklin's signature jazz bass pickup gives the bass it's signature punchy, deep tone.
Key Specs and Features: The structure consists of a robust alder body with the classic Fender design. The body sports the standard C-shape profile maple neck with an unfinished ebony fretboard which gives the guitar that vintage vibe. The fingerboard comprises of ebony and contains dots as position markers. The pickup setup on the bass is interesting, a Tony Franklin Jazz Bass single-coil bridge pickup and a Precision Bass split single-coil middle pickup. Some of the other specific features include vintage tuners and three directional blade switch for that provides the player with enhanced control over the performance.
Target Customer: Keep in mind that as it's not a beginners' bass, the fret lines aren't marked, despite it being a fretless model. For those who want to purchase a robust quality guitar with enhanced sound clarity and easy functionality, this is what you need.
Bottom Line: All in all, the Tony Franklin signature model is a great choice if you're ready to invest in a premium product as you don't want to sacrifice sound or playability.
Popular Related Article: Easiest Bass Guitar Songs for Beginners
8. ESP LTD B-204SM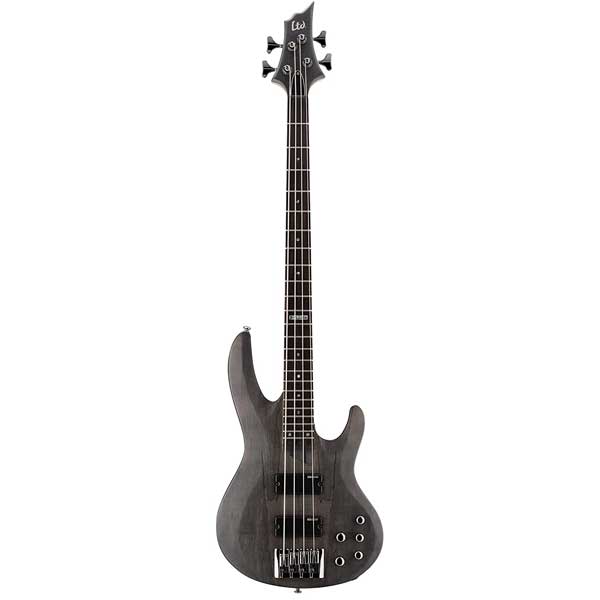 | | |
| --- | --- |
| Estimated Price | $500 |
| Body Material | Ash body with maple top |
| Fretboard | Roasted Jatoba |
| Pickup Configuration | ESP Designed SB-4N Humbucker, ESP Designed SB-4B Humbucker |
My Review: Let me tell you, this ESP LTD's B-204SM is a premium quality fretless bass. The people at ESP have gone out of their way to create this fretless model. The bass boasts a stunning natural look and tonal warmth which I find perfect for multiple genres. The standouts are the ESP electronics followed by a powerful 3-band active EQ section which provides diverse tone-shaping options to help you groove.
Key Specs and Features: With a satin-finished maple top and ash body, this bass looks just as good as it sounds. The neck is composed of five-piece maple and jatoba, a perfect combination of materials that makes it possible to play this fretless bass for long periods of time without hand fatigue setting in. The fingerboard is made from roasted jatoba and allows your fretting hand to effortlessly glide through the notes.
The ESP LTD B-204SM produces a soil, well-balanced response across the frets, with a particularly warm mid-tone output perfect for smooth, jazzy styles of playing. Two ESP Designed humbucker pickups are installed in this fretless bass, and an active EQ is also built-in to give you control over your tonal output. The controls are pretty basic, master volume knob, tonal control knob followed by 3-band Active EQ knobs. The finishing touches are added by the classy black nickel hardware.
Target Customer: As bass that is on the affordable side, a lot of diverse players can enjoy this fretless. From beginner to intermediate players, this bass can be a great investment.
Bottom Line: The LTD B-204SM Fretless has a look and sound that's unique among basses in this price range. The people back in ESP can be proud of their product, as it hits a really nice spot in the bass community.
9. Fender Jaco Pastorius Fretless Jazz Bass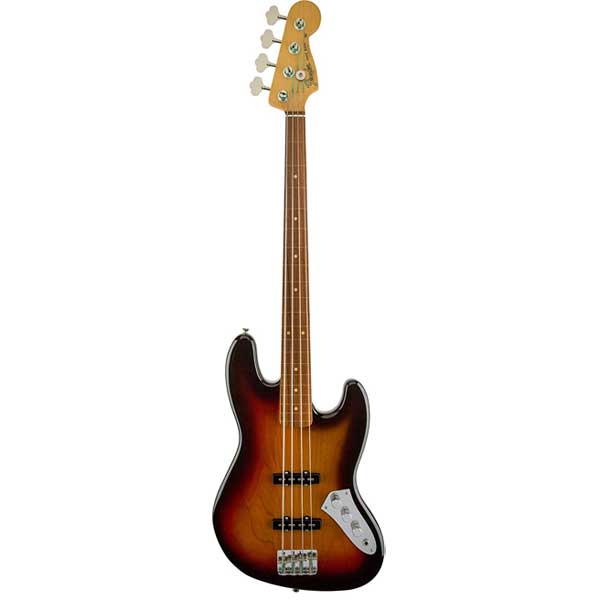 | | |
| --- | --- |
| Estimated Price | $1800 |
| Body Material | Alder |
| Fretboard | Pau Ferro |
| Pickup Configuration | 2x Vintage Jazz Bass Single-coil |
My Review: If you're a professional musician that puts quality over price, you're exactly who Fender had in mind when creating this instrument. Fender paid tribute to one of the most influential bassists of all time with this fretless bass. As a big fan of Jaco Pastorious, this bass is I feel a beautiful tribute to him.
Key Specs and Features: It sports some of the most recognizable features of his original Jazz Bass – signature 3-color sunburst, Jaco Tribute neck plate. The sunburst color and lacquer finish add to the visual appeal. This whole instrument feels extremely well-made and plays perfectly. The body is made out of alder. The C-shape maple neck is a bolt-on and it carries a Pau Ferro fretboard with classic dot inlays. The neck joint is adorned with a special Jaco Tribute neck plate. The scale length is 34". As for the pickups they are in the classic Jaco setup, two Vintage Jazz Bass Single-coils. The controls are basic, 2 volume knobs, and a tone control knob.
Target Customer: This beautiful Jaco Pastorious model is for bassists who want a bass with a story behind it. The classy design with a beautiful outlook, solid structure, and immaculate functioning makes this bass perfect for intermediate players.
Bottom Line: Although the price is a bit high, the quality of sound and impeccable functionality make the guitar worthy of your investment. If you are looking for unmatched functional quality with a fantastic sound and excellent tonal characteristics, this one is a credible choice. The Fender Jaco Pastorius Fretless Jazz Bass is a fitting tribute to this master player, whose creativity and playing are considered some of the best the world has ever seen.
10. Squier Classic Vibe 60's Fretless Jazz Bass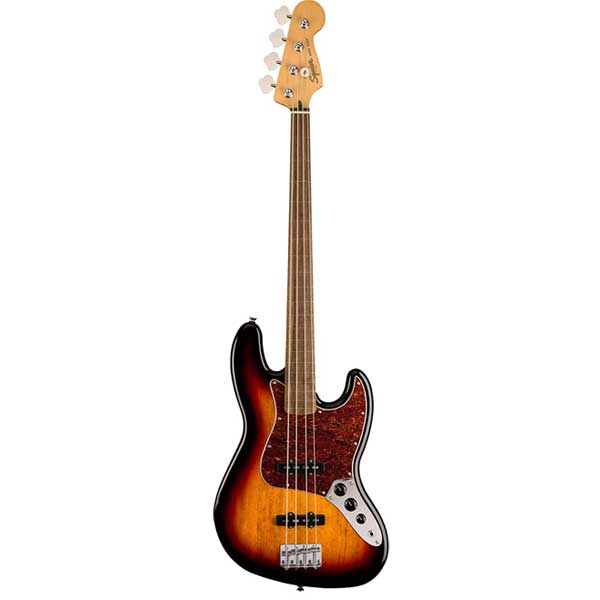 | | |
| --- | --- |
| Estimated Price | $400 |
| Body Material | Poplar |
| Fretboard | Indian Laurel |
| Pickup Configuration | 2x Fender-designed Alnico single-coil pickup |
My Review: The authentic 1960's look is just perfect for me, as someone who loves Fender instruments all around, this fretless model hits my sweet spot. Apart from the vintage design, the sound you get from this thing is massive.
Key Specs and Features: The body is made out of poplar with a retro tint-gloss finish on the neck. With that, you get a fretless bass with an authentic 1960's aura. All of the design has been handled by Fender, so you can be sure that the Classic Vibe has been made with due care and attention to detail. There's no shortage of comfort and playability with the Squier Classic Vibe 60's bass. The neck profile is C-shaped made out of maple with a scale length of 34". The fret lines are clearly marked on an Indian Laurel fretboard.
You'll have no problem being accurate with your finger placement. The powerful tone of this fretless bass is largely down to its Fender-designed, dual alnico single-coil pickups. I'm a big fan of Fender's range of bass guitar pickups, and these particular ones produce a full-bodied warm tone that has an overall jazz bass feel. The 60's feel of this fretless bass comes from a combination of the vintage-styled, nickel-plated hardware and headstock markings.
Target Customer: A player-friendly bass, carrying the vintage vibe of the old-school Fender basses, this fretless model is an amazing buy. It can work great for players that are just starting out on their fretless journey.
Bottom Line: The Squier Classic Vibe 60's fretless bass is a tributary model celebrating a decade since it was first produced. Combining the smooth playability which made it so popular among bassists initially with tonal versatility, this fretless bass guitar is of a quality that belies its affordable price.
11. Rogue LX200BF Fretless Series III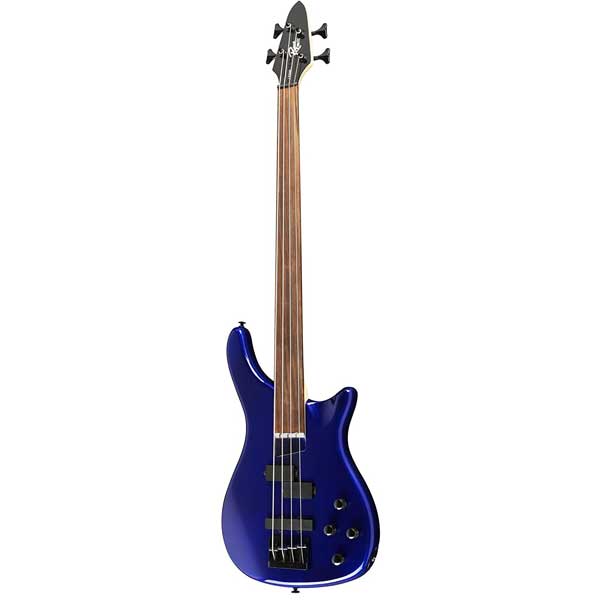 | | |
| --- | --- |
| Estimated Price | $300 |
| Body Material | Basswood |
| Fretboard | Rosewood |
| Pickup Configuration | Single-coil, split-coil |
My Review: Believe me this instrument is capable of producing a solid tone. It combines J-style and P-style pickups that work well with the body tonewood and the rest of the construction. As this is my first time coming across this brand I was pleasantly surprised. For the bass that is in this price range, the build quality is actually really nice.
Key Specs and Features: The guitar has a sturdy basswood body. The dual cutaway design makes the guitar look distinctive. The fretless bolt-on neck consists of maple, and the fingerboard is made of rosewood which is a great choice of wood for long-term use. It has an adjustable high mass saddle bridge and humbucker pickup in J style at the bridge position and a split-coil neck pickup in P style at the neck. It has 2 volume and 2 tone controls, die-cast machine heads, and black hardware.
Target Customer: An entry-level fretless bass that is perfect if you're just learning to play this instrument and you're not sure whether you're going to like it. The initial level players should give this one a try and enjoy the powerful and bright sound with a warm tone.
Bottom Line: It comes at a very reasonable price, so even if you end up disliking the idea of a fretless bass you won't have wasted a fortune on an instrument you'll never play again. This bass doesn't impress with tone quality like some other entries on the list, but it can give you a great picture of how it feels to play a fretless bass at a decent price.
12. Stagg BC300FL Fretless 4-String Fusion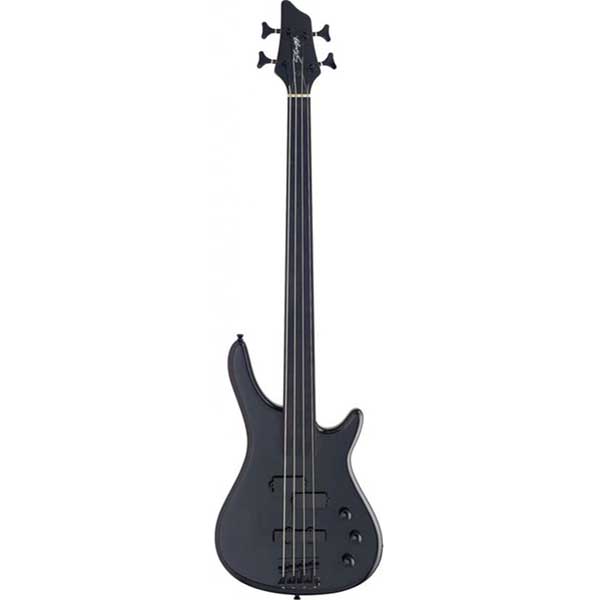 | | |
| --- | --- |
| Estimated Price | $250 |
| Body Material | Alder |
| Fretboard | Rosewood |
| Pickup Configuration | Single-coil, split-coil |
My Review: Don't let the price fool you, this is a well-built instrument. Stagg showed their quality and attention to detail in building something that is in an affordable price range. The quality is good and the sound you get from this fretless is impressive considering the price. I like the simple looks, the design is cool. The pickups along with the electronics work quite nicely. You get a full smooth sound.
Key Specs and Features: The guitar is made up of a solid alder body. The bass is lightweight and comfortable to hold. The design combined with a black satin finish makes this bass classy. The bolt-on hard maple sports a fingerboard made out of rosewood. The neck is playable and smooth. As for the pickups they went with a classic setup, a single-coil at the bridge and a split-coil in the middle, give the bass that P bass feel. It has basic controls, 2 volume and 1 tone control knobs. All of the hardware is black.
Target Customer: As this is fretless in the affordable range it is a great starting point for new players that want to try something new. I would recommend, as with the low price you get a lot of quality. Easy playability makes the guitar perfect for new learners.
Bottom Line: Stagg presents this elegant, classy, and sturdy model of fretless guitar at a low price. For the price, it is a good buy.
13. Gold Tone ME-BassFL Solid Body MicroBass Fretless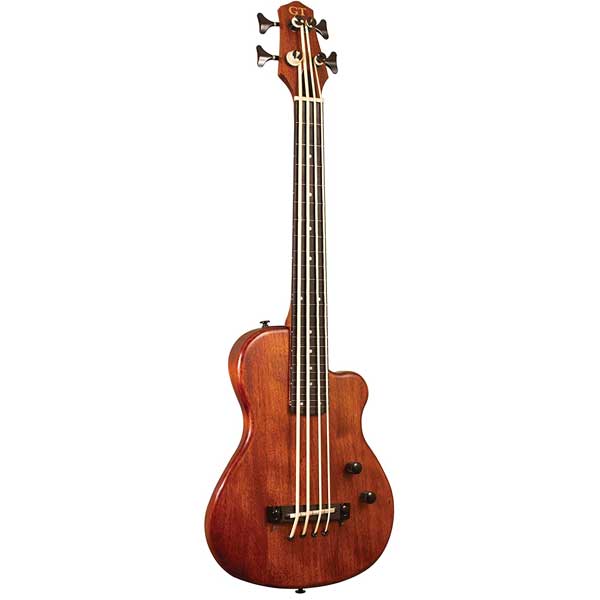 | | |
| --- | --- |
| Estimated Price | $300 |
| Body Material | Mahogany |
| Fretboard | Walnut |
| Pickup Configuration | Piezo Transducer |
My Review: A really beautiful bass by the Gold tone. This little thing is amazing. With its interesting looks and sound, it caught my attention. This Golden Tone model offers you a blend of style, playability, and high functionality.
Key Specs and Features: The body of this little killer is made out of solid mahogany. It is made to last a long time. Golden Tone went with an interesting design with the bigger upper wing. The neck is made out of Nato with a beautiful walnut fretboard that contains 20 frets. The scale length is 23" making it a short-scale. It has dot inlays for better playability. The Butterfly Bass-Style tuners are a cool feature. Onboard there is a Piezo Transducer and Electric tuner along with slide control for adjusting EQ and volume. The bridge system is made adjustable for your convenience. All of the hardware is black.
Target Customer: The microscale fretless bass is an excellent pick for the pro players who can afford to spend a significant amount of cash on a fully functional and beautiful guitar.
Bottom Line: If you are in search of easy to play, good quality fretless bass at a fair rate, this one can best serve your needs. The model presented by Golden Tone offers a fantastic blend of style, strength, quality, and high functionality.
14. Sire Marcus Miller V9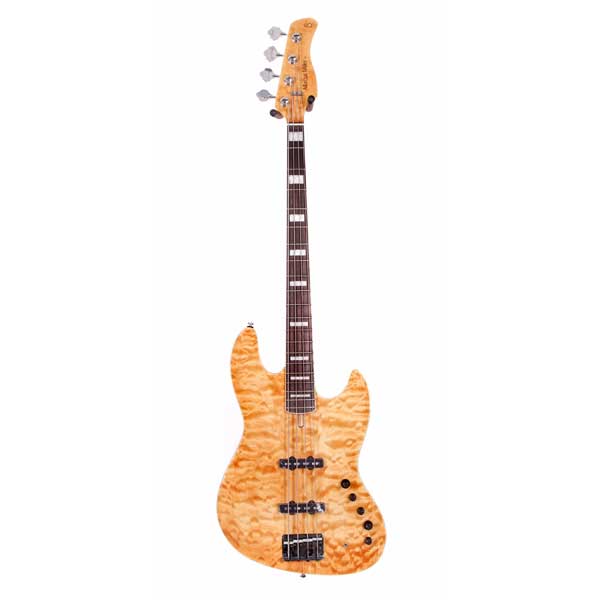 | | |
| --- | --- |
| Estimated Price | $700 |
| Body Material | Alder with maple top |
| Fretboard | Ebony |
| Pickup Configuration | 2x Marcus Super Jazz single-coil |
My Review: Who doesn't love Marcus Miller? That is another reason to check this classic beauty out. The vintage/modern design combined with the sound you get just makes you want to play a Marcus tune. The sound you get from this fretless is rich, bright, and vibrant. The fretless is comfy and super playable which is to be expected from a bass that carries the name of the famous bass player.
Key Specs and Features: The body consists of American Alder mad with top-quality manufacturing material that makes the body sturdy. The bass comes in Sunburst brown satin finish. The neck is made of single piece hard maple with a beautiful ebony fretboard that adds to the value of the guitar. The scale is 34". The awesome Marcus Super Jazz single-coil pickups give this bass that strong recognizable sound. A 3 band EQ with multiple tone controls allows you to have total command in finding and getting the tone you want. The Sire preamp is powered by an 18v battery that enables the player to attain unaltered natural sound with a strong and powerful output.
Target Customer: For fans of the master Marcus Miller this bass is just a must buy, considering the price and the quality you get. I would recommend any players that are somewhat experienced in playing fretless to try this bass out.
Bottom Line: It is among the most stylish and widely used fretless basses out there. If you are looking for a decent and high-quality guitar at a reasonable price, you should invest in this 4 stringed bad boy.
Choosing a Fretless Bass Guitar (Buying Guide)
This section is for those of you who want to learn more about fretless bass guitars before reading reviews.
The first thing you are wondering if you are new to all this bass stuff is what is a fretless bass? It is pretty basic. A fretless bass has no frets over the fretboard, making the fretboard smooth.
Frets are the metal wires up and down the neck of the bass beneath the bass strings. Their purpose is to accurately divide up the notes on each string when you press the string down. Without frets, it is up to the player to accurately find and play the notes up and down each string making sure they are in tune.
Frets are used in modern western instruments like the bass or the guitar to create proper note intervals. The traditional Western chromatic scale has 12 tones from octave to octave, and that's what you get with a fretted instrument.
The note played at the 12th fret is an exact octave of the open string, and all of the frets in between are placed to divide the string length to produce the remaining 11 semitones.
With a fretless bass, the limitation of having just those 12 tones available is eliminated and therefore granting you more possibilities when playing different musical styles. On a fretless, you can get all of the microtones that are 'in-between' the regular notes. You'll find that playing one provides options for both sound and technique that you just can't get from a traditional fretted bass. Many famous players such as Jaco Pastorious opted for a fretless bass because of its unique sound and capabilities.
Bass Tonewoods
The type of wood that is used in the body of the bass guitar will impact its tone and resonance. New players don't need to be too concerned with the type of wood used for their bass guitar body. But if you are looking for a specific sound from your bass, then the body wood could be an important factor.
Alder: Alder is often used for bass guitar bodies. It creates a very balanced tone, with great clarity and a very full sound.
Agathis: Agathis is a popular body wood because it is relatively inexpensive. It provides a fairly balanced tone with a slight emphasis on low-mid tones that gives it a rich sound.
Ash: There are several species of ash used on bass guitar bodies, with subtle differences, but in general the wood produces a bright, full sound, similar to alder. Swamp ash is especially desirable due to its beautiful grain.
Basswood: Frequently used on less expensive instruments, it is a softer wood that does not resonate as much as other tonewood options. Some bass players think this creates a flat sound, while others feel the short sustain is ideal for fast, complex playing techniques.
Mahogany: Mahogany is a popular tonewood for bass guitars because it produces a soft, warm tone that emphasizes the low-mid and lower-range tones, and creates longer sustain. It is a dense wood, however, and will feel heavier on your shoulder than ash or agathis.
Maple: Maple is also a dense wood, so it creates a well-sustained sound like mahogany. Maple, however, produces a bright, clear tone that many musicians find valuable in a studio setting.
Many other kinds of wood are used for bass bodies. High-end models may be made of exotic species such as Bubinga, wenge, koa, or cocobolo.
Bass Guitar Parts
It's important to have a good understanding of the basic parts of a bass guitar before you start shopping. Understanding how the instrument is designed and built, and knowing what the different parts are called will help you ask good questions and make informed decisions.
Neck: The neck of a bass guitar, like the neck of any guitar, includes the headstock, fretboard, and internal truss rod, which connect to the body of the bass.
There are three kinds of bass guitar necks, their names indicating the manner in which the neck attaches to the body:
Bolt-on neck: Most basses have bolt-on necks, which means the neck is bolted onto the body. The bolts should keep the neck stable and not allow it to shift up or down. A solid, tight connection between the neck and the body is essential. It is also good to have more rather than less overlap of neck and body for greater stability, better string vibration transfer, and enhanced sustain.
Set neck: Some bass guitars have set necks, meaning the neck is attached to the body with a mortise or dovetail joint rather than being bolted to it. A set neck creates better resonance and sustain, but can be more difficult to adjust.
Thru-body neck: Thru-body necks are found on higher-end bass guitars. This type of neck continues as one continuous piece through the body. Wings are attached to each side of it to form the upper and lower parts of the body. With a thru-body neck, there is no joint between the neck and body that can inhibit vibration, resulting in better response and sustain.
Bass Scale Lengths Explained:
The scale is the length between the nut (the notched piece between the fretboard and the headstock) and the bridge where the strings are anchored at the tail end of the body. The most common scale length is 34″.
There are a few short-scale basses, such as the Fender Mustang, various Hofner Violin Bass models, or the Gibson EBO, that are around 30″. These are a good choice for young players with small hands who may have trouble playing a standard-size instrument.
A long-scale neck usually has a 35″ scale. This longer scale gives you a few more frets and is most often used for five- and six-string basses because it improves string tension and minimizes floppiness on the low strings.
Headstock: The headstock is the wide portion at the top of the neck, where the bass strings terminate at tuning pegs. These tuning pegs—also called tuning keys, tuning machines, or tuners—adjust the tension of each string, changing the pitch. The strings are routed down the neck by the nut—a notched strip of hard plastic or bone attached to the top of the fretboard where the headstock meets the rest of the neck.
Fretboard: As we are talking about fretless bass guitars that don't have frets it is still good to know what the fretboard is. The fretboard or fingerboard is usually a thin piece of wood that is typically rosewood, maple, or ebony. All are excellent woods for the purpose but can vary in quality. The best fretboards are smooth, hard, and dense so that they wear slowly. Fretboards are usually arched from side to side.
This arch is called the radius, referring to an imaginary circle that would be formed if the arch of the fretboard were extended to make a circle. Some bass fretboards are close to flat, while others may have a radius as short as ten inches. The shorter the radius, the more pronounced the arch of the fretboard. The fretboard is embedded with frets which are narrow strips of metal. These frets divide the neck into half-step increments and determine where each note is played along the length of the neck. Some basses have fretboards that are an integral part of the neck rather than being a separate glued-on layer.
Truss Rod: Inside the neck is a metal truss rod that helps prevent the neck from bending or twisting. Bass strings are thicker than guitar strings and create a lot of tension on the neck. Truss rod adjustments allow the neck to be straightened if it becomes bowed or twisted, and are also used when adjusting string height for optimal playability.
Bass Bridges: The bass guitar's strings terminate at the bridge, where their vibrations are transmitted to the body creating the resonance and tone that the pickups capture and amplify. The strings pass over notches, called bridge saddles, which can be moved up and down to adjust the action, or forward and back to adjust the intonation. Better bridges are made of brass and are often plated with chrome or nickel silver. A bridge with more mass and weight will usually anchor the strings better and transfer more vibration from the strings to the body.
There are three different bridge types on most electric bass guitars:
Through-bridge: On a through-bridge, the strings are threaded through the back of the bridge, and over the saddles.
String-through body: On a string-through-body bridge, the strings are fed through the body of the bass and over the saddles.
Bridge and tailpiece combination: A bridge and tailpiece combination feeds the strings through a separate tailpiece that's unconnected to the saddles.
Common Questions About Fretless Bass Guitars (FAQ)
In the next segment, I'll try to answer some of the most common questions you can ask yourself before getting a fretless bass. I guess this will be most helpful to players who are getting fretless for the first time, but also I feel even intermediate bassists can find out something new.
Single-Coil Or Humbucker?
Pickups are electromagnetic devices that capture the sound created by the vibrating strings and body of the bass, converting it to an electronic signal. Most bass guitars have two sets of pickups to provide a greater tonal range. Pickups nearer the fretboard have a smooth, low-end sound, while the pickups closer to the bridge have an edgy, mid-to-high-end tone.
The most common types of pickups are single-coil and humbuckers, and most others are simply variations on one of these two types.
Single-coils were the first kind of pickups and the most simple. Each pickup has only one coil and one magnet, which creates a bright, focused sound. Single-coil pickups can be noisy, however, which is why humbucking pickups were developed.
Humbucking pickups were created in an effort to cancel the hum or noise of the single-coil, but they also have a fatter sound in addition to being more noise-free. The humbucker sound can get muddy at higher volumes though.
One common variation is the split-coil (the design found on the Fender Precision Bass). It is a single-coil wired to function like a humbucker. Two halves of the pickup are separated and one side is reversed in polarity to the other. Thus, you get a tone that is closer to the single-coil sound but with the quietness of the humbucker.
Passive vs. Active?
The terms active and passive refer to the preamp circuitry of the bass. The preamp boosts the pickups' output and provides tone-shaping controls.
Passive preamp systems operate without any power source and have fewer controls, usually a volume knob, a tone knob, and a blend control if there are two pickups. One advantage of the passive bass is that it doesn't depend on a battery that can die in the middle of a gig. Another plus is the simplicity of operation. Passive electronics have a more traditional low-fi sound that some players to the hi-fi sound of active electronics.
Active basses need power, usually provided by an onboard battery. The advantage of an active preamp system is stronger output and more control over tone shaping. Active basses often have separate EQ controls divided into frequency bands, such as low-, mid-, and high-frequency boost/cut controls. They can also have contour switches which instantly reshape the EQ profile. Some have controls that let you change the wiring of your pickups on the fly from series to parallel for dramatic tonal shifts. A coil tap switch found on some basses with active electronics deactivates one set of coils in a humbucking pickup to make it sound like a single-coil.
Do I Want Fretted Or Fretless?
Playing fretless bass is at least a little more difficult than playing fretted bass. If you are buying your first bass, you probably don't want a fretless bass unless you know for sure that's the sound you're after. It takes a good bit of extra practice to accurately play the notes on fretless bass. When you miss the notes or play sloppily you can sound pretty bad. This can be very frustrating, but with enough practice, it can sound amazing.
If you do want to play fretless bass, consider that playing a fretted bass first can help you eventually play fretless bass better. By practicing for a while on a fretted bass, you will learn to hear notes played accurately in-tune and get used to positions around the fretboard that can later help you find your way on the fretless. When you switch to fretless, you will be able to mentally hear the notes better before you play them. Hearing in your head what you want to come out from the bass is really important. In that way, practicing on a fretted bass is going to help you develop that skill.
Some playing styles don't work well on fretless bass while others sound awesome. On a lot of fretless basses, it is difficult (not impossible) to get a good slap bass tone. Tapping is a bit more challenging. And playing chords in-tune can be really tricky, but when done right it can sound really good. Everything is possible with a fretless as long as you put in the time practicing.
If you've been playing bass for a while and are considering if a fretless will be easy to learn, a good way to judge is how easily you are able to tune your bass. If tuning accurately by ear is a struggle, you can guess tuning every note you play will also be some work.
Why Should You Play A Fretless Bass?
There are several reasons why a bass player may choose to go the fretless route. It certainly isn't the most common way to go, for sure, but there are aspects that are particularly attractive.
A Bigger Range Of Frequencies: Let's say you want to raise the pitch of a note in a smooth manner. The best way to accomplish this on a regular basis would be to bend the string or do a vibrato technique. While the same thing on a fretless is so much easier as there are no frets. What you can't do on a fretted bass is lower the pitch in that same way. Bending raises string tension, therefore a higher note. With a fretless bass, you can simply do a controlled slide down the neck. Since there are no frets to limit which notes can be played, the transition on the pitch will be just as smooth as bending up.
No Fret Buzz: One of the most annoying things with any bass or guitar is fret buzz. Especially when you put on a set of brand new strings, the buzz can sometimes be very annoying. Sometimes it seems like no matter what you do you just can't get rid of it. Well with a fretless bass you don't need to worry about that, all you get is clean smooth sound.
Helps You Develop Hearing Skills: Since frets are used to give precise note intonation, that safety net is completely gone with a fretless bass. That means you have to develop your ear and your technique to play the notes in exactly the right location on the neck to give your notes the correct pitch. Let's say you're playing live and you notice that one of your strings is slightly out of tune. You can easily make it until the song is over if you simply adjust your finger position to play a little sharp or flat to make up the difference.
Why Would You Want A Fretless Bass Anyway?
The fretless bass has a different sound to it. It has a real warm singing quality to it. You can smoothly slide from note to note. Fretless bass has a lot of subtlety and nuance. Some amazing fretless bass players are Jaco Pastorius, Michael Manring, Mick Karn, Les Claypool, John Giblin, and Percy Jones. If you haven't heard of them go and find some of their stuff to really hear the sound and possibilities of a fretless bass. It's really a beautiful sounding instrument which is well worth the extra practice. In my opinion, I would recommend it to intermediate players that are ready to go to the next step in their playing.
Can A Fretted Bass Become Fretless?
One of the questions I get asked a lot is "Is it possible to take the frets out of a bass and make it into a fretless?" Of course, it is possible. You just need the skills to do it. I wouldn't recommend it if you don't have experience with fretted instruments. If you have the skills necessary, and the thought of doing surgery on one of your instruments doesn't scare you, you can give it a try. I would recommend you to try with a cheaper instrument first. Or do the best option possible and give your bass to an experienced luthier that can do the job right.
What Are The Best Strings For A Fretless Bass?
To get the best sound out of your fretless you need to know which strings to use. Knowing what type of music you are going to play is also important when choosing your strings. As some strings produce totally unique sounds I'm going to explain which ones I think are the best for fretless playing.
Roundwounds are steel strings that have around wrap around a core wire. Most of the modern strings that players use are steel strings. These strings tend to produce the brightest sound, but they also have the roughest surface which means more finger noise when sliding up and down and potential wear on the fingerboard of a fretless over extended periods of time.
Flatwounds are constructed in the same manner as roundwounds, but they have an ultra-smooth finish and therefore may tend to sound warmer and are often the safer choice. Other strings that work well on Fretless are coated strings and tapewounds (steel strings wrapped in a flat nylon tape) which are often the safest option as far as fretboard wear is concerned.
Be prepared for a much more muted tone, though. Also, there's no denying that they will feel a lot smoother under your fingers. As with most things, in the end, the best strings will be the ones that feel the best to your fingers and sound the best to your ears.
Bottom Line: Fretless bass guitars can be wonderfully expressive instruments that can produce tones that can be far beyond what a traditional fretted one will give you. They can be a good way to take the skills which a studied bass player has already developed and expand on them, resulting in a greater tonal palette to work from. More possibilities mean more ways to express your creativity.
They aren't for everyone though, as held evident by the relatively limited amount of models that are commercially available. That's not a bad thing as that only enhances their unique nature and skills needed to play them.
It may go without saying that knowing what to look for in a good fretless bass guitar may be a challenge, and that's one reason why I think most of the basses deserve to be on this list. These are incredible instruments that would make a great addition to any aspiring bassists' collection. The fretless bass is as weird and wonderful as anything in the world of its fretted counterpart.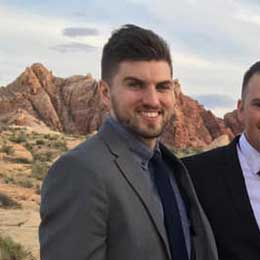 My name is Chris and I've had a passion for music and guitars for as long as I can remember. I started this website with some of my friends who are musicians, music teachers, gear heads, and music enthusiasts so we could provide high-quality guitar and music-related content.
I've been playing guitar since I was 13 years old and am an avid collector. Amps, pedals, guitars, bass, drums, microphones, studio, and recording gear, I love it all.
I was born and raised in Western Pennsylvania. My background is in Electrical Engineering, earning a Bachelor's degree from Youngstown State University. With my engineering experience, I've developed as a designer of guitar amplifiers and effects. A true passion of mine, I've designed, built, and repaired a wide range of guitar amps and electronics. Here at the Guitar Lobby, our aim is to share our passion for Music and gear with the rest of the music community.