When it comes to creating unique guitar tones, effects pedals provide musicians with the platform to express themselves in an original and interesting way. Indeed, amplifiers and guitars have a notable impact on the tone and style of a guitarist, but when you throw effects pedals into the mix, a new dimension of possibilities opens up for the musician.
Multi-effects pedals are perhaps the most transformative tool a guitarist can acquire. Unlike individually-purposed stompboxes, multi-effects units provide a musician with seemingly limitless options that can be incorporated into their live set, or recordings.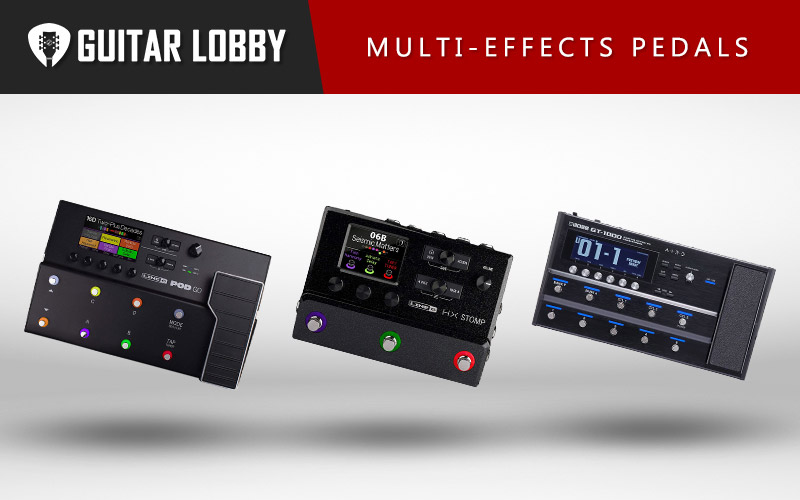 One of the downsides to multi-effects pedals in years gone by was that the quality of the individual effects seemed to suffer as a result of the manufacturer's focusing on the whole pedal, unlike dedicated stompboxes that were designed for a sole purpose. As digital technology has improved, this issue has been greatly diminished, and now there is a multitude of high-performance multi-effects pedals that sound great.
Whether you're looking for an all-in-one hub to control every aspect of your guitar's tone, or you simply want an introduction to effects pedals and how they work, this ultimate guide to multi-effects pedals contains everything you need to know to make a calculated decision. I'll start by jumping straight into reviews on the best multi-effects pedals at different price points, but if you want to learn more about how to choose the right one for you before reading reviews, check out our multi-effects pedal information guide at the bottom of the page.
Here Are the Best Multi-Effects Pedals
1. Line 6 Helix (Best Overall)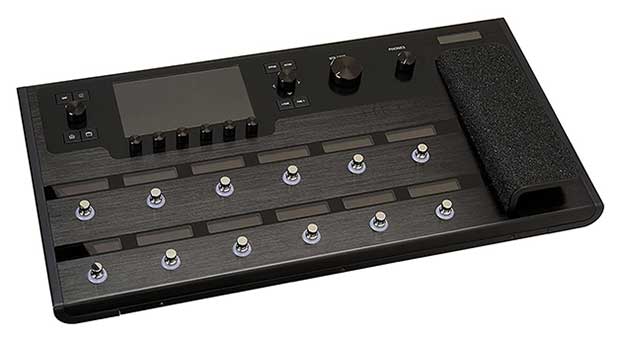 | | |
| --- | --- |
| Estimated Price | $1700 |
| Type | Digital |
| Effects | Multi-FX |
| Connectivity | Multiple Jack & XLR Inputs, Outputs, Send & Return Channels |
| Power | 9 Volts DC |
My Review: The Helix pedal by Line 6 is considered by many to be the most powerful multi-effects processor ever to be manufactured. It performs multiple functions and is so extensive that it removes the need for having any other pedals on your pedalboard.
You can use the Helix as a streamlined controller for all of your effects, or as a pristine-quality audio interface for recording guitars in the studio. With a brand newly designed HX modeling engine installed, the Helix is filled with many simulations of modern and vintage amplifiers, classic cabs, legendary recording microphones, and of course, a huge range of effects.
The Helix is Line 6's flagship piece of equipment. It almost seems unfair to refer to it as a pedal, because it has the power and function of a powerful computer. This is heard especially in the amplifier simulations, where you can hear every slight detail that gives that particular model its distinctive character. The attention to detail is exceptional, with compression settings and interactions between different components all considered.
Although the vast spread of controls on the Helix may look slightly daunting at first, it doesn't take long to familiarize yourself with its functions thanks to the intuitive layout. 12 footswitches with LCD display screens make it possible to control the Helix without having to use your hands, with each of the switches custom-assignable. The Helix is built with components of the highest quality. It's a truly wonderful experience using this pedal.
Who This is Best Suited For: The Line 6 Helix probably isn't the best choice for a beginner looking to ease themselves into guitar effects pedals. It's also significantly higher in price than most of the other options. However, if you want one of the best multi-effects pedals that money can buy, and the prospect of embarking on a journey of learning and shaping your own sound excites you, then I would strongly recommend the Line 6 Helix.
Bottom Line: There are so many great features and unique capabilities of the Line 6 Helix that it would be difficult to fit them onto one page. A marvelous tool both in the studio and on the stage, this extensive processor has every connectivity option covered, produces effects and simulators of the highest quality, is built as solid as a rock, and performs in an intuitive and easily operable way.
2. BOSS GT-1000 (Editor's Choice)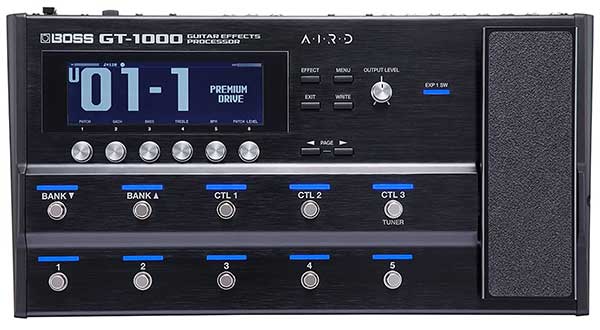 | | |
| --- | --- |
| Estimated Price | $1200 |
| Type | Digital |
| Effects | Multi-FX |
| Connectivity | 2 x 6.35mm Jack Input, 2 x Output |
| Power | 9 Volts DC |
My Review: The BOSS GT-1000 multi-effects processor features a mixture of awe-inspiring effects and modeling capabilities that will completely reshape the tone and quality of your guitar. With the ultra-powerful 32-bit/96kHz processor, the GT-1000 reproduces each model with a real authenticity that will leave the audience wondering where those sounds are coming from!
When you incorporate the GT-1000 into your studio setup, it shows its incredible versatility. With USB connectivity, you can simply hook the pedal up to a Mac/PC then suddenly you are presented with a plethora of direct-recording options and detailed tonal editing.
The GT-1000 could also be used as a direct replacement for your pedalboard. Instead of lugging around multiple individual pedals, you can place this BOSS pedal into a case and control every aspect of your live sound using only the GT-1000. Every part of the set can be meticulously pre-prepared using the automation and preset saving abilities, to ensure that your performance goes as smoothly as possible.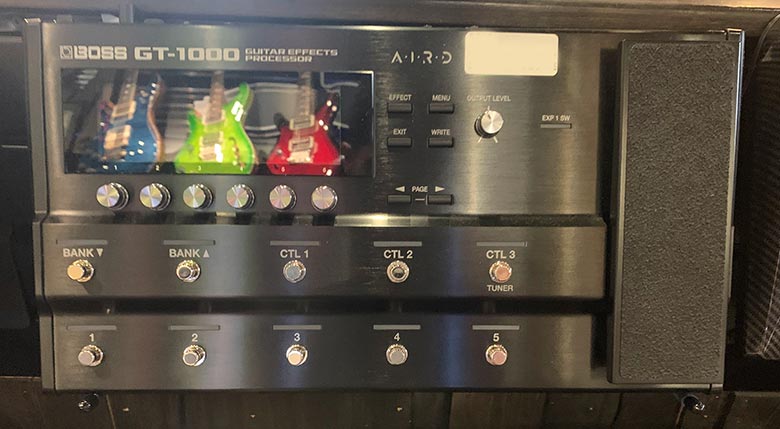 Who This is Best Suited For: Perhaps the BOSS GT-1000 is not the best option for those shopping on a budget, but for those shopping for quality, it's up there with the best offerings on this list. If you would rather have on a singular hub where all of your effects needs are taken care of without having to memorize the settings of multiple pedals, the GT-1000 is a perfect solution.
Bottom Line: In comparison to some of the other pedals on our list, the BOSS GT-1000 may seem a little extortionately priced. But I can assure you, you are paying for the quality. The functionality, intuitive controls, pristine modeling, and the unfathomable number of effects make it one of the greatest multi-effects pedals out there.
3. Line 6 HX Stomp (Best Value)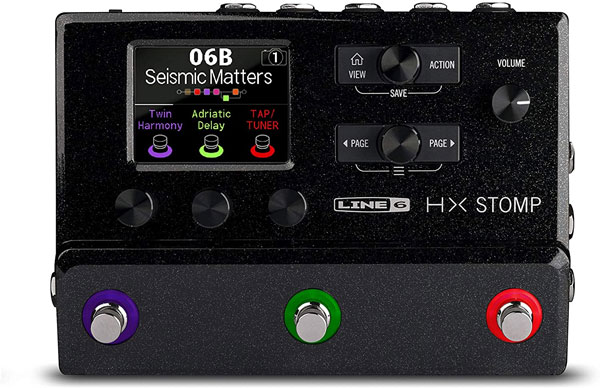 | | |
| --- | --- |
| Estimated Price | $650 |
| Type | Digital |
| Effects | Multi-FX |
| Connectivity | 2 x 6.35mm Jack Input, 2 x Output |
| Power | 9 Volts DC |
My Review: If you've heard of Line 6 before, it was likely to be due to their range of digital amplifiers that are known for being crammed with effect-producing options. The HX Stomp pedal solidifies their position as guitar-effects experts, borrowing features from their revered Helix amplifier models and housing them in a compact unit.
With the HX Stomp, you get access to over 300 effects and amplifier models. Due to this pedal using the same HX Modeling technology as the Helix guitar processor, you can guarantee that the quality of each individual effect will stand up to any scrutiny. And when you consider that the HX Stomp is probably only a fifth of the size of the Helix, it's a pretty impressive accomplishment.
Thanks to the compact size, you'll have no problems squeezing this Line 6 pedal onto a crowded pedalboard. When the HX Stomp is combined with other Line 6 processing pedals, it really flourishes. That's not to say it won't perform to a high standard as a standalone multi-effects unit, though. The knobs and buttons are all easy to operate and LED-lit footswitches add to the functionality of this detailed pedal.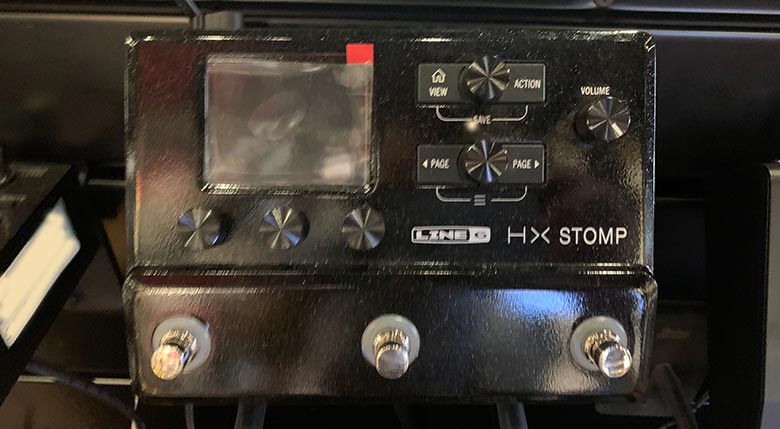 Who This is Best Suited For: The Line 6 HX Stomp is a brilliant multi-effects pedal that is well suited to guitarists of all abilities, experience levels, and styles. It's the type of pedal that can be operated on a very simplistic level, or when you engage all of the various features, it becomes more sophisticated and complex.
Bottom Line: The HX Stomp provides you with a substantial assortment of processing options, with over 300 total effects and amp simulations built-in. Using the powerful processor found in the Helix many years ago, but with modern advancements, this pedal acts as a central hub for a guitarist's effects and simulation needs.
Popular Related Article: The 17 Best Phaser Pedals Currently on the Market
4. Line 6 Pod Go (Best Under $500)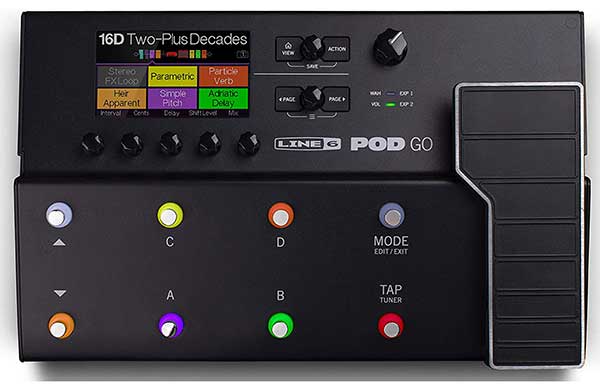 | | |
| --- | --- |
| Estimated Price | $500 |
| Type | Digital |
| Effects | Multi-FX |
| Connectivity | 2 x 6.35mm Jack Input, 2 x Output |
| Power | 9 Volts DC |
My Review: The Pod Go is another awesome multi-effects pedal by Line 6. Pairing the classic controls with a color screen LCD display, this pedal is very easy to use. Whether you intend to run live effects into an external amplifier, use modeled amps for recording and performing, or blasting out Helix-inspired tones through direct input, the Pod can do it all, and more.
This pedal boasts the HX Family sound library, which is overflowing with natural-sounding amplifier models, effects to suit every genre and purpose, and many other tone-sculpting parameters. You get access to classic Line 6 amplifiers like the Plexi Lead and the Treadplate that can then be colored using any effects of your choice. It essentially allows you to take a classic amp, use it as a blank canvas and add your colors to create original tones.
With a total of eight stompbox-style footswitches, each with separate colored outlines, you can control the pedal's performance in real-time. The tap-tempo switch is useful for syncing the tempos of any timing-based effects such as delay and reverbs, while the onboard tuner provides a quick and easy way to manage your tonality.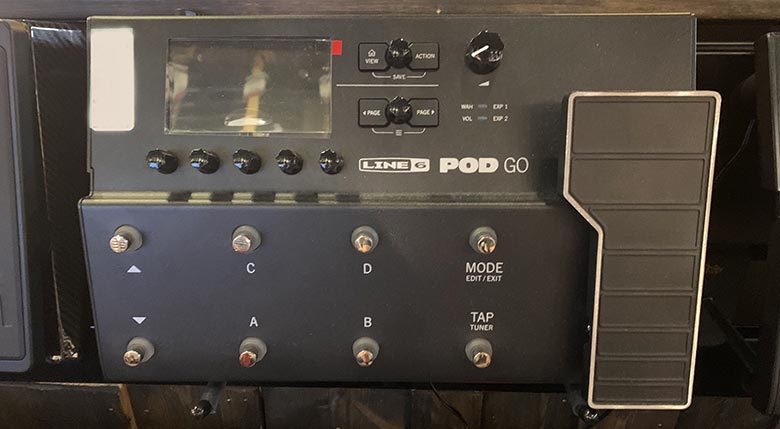 Who This is Best Suited For: If you find yourself somewhere in between wanting a simple, affordable multi-effects pedal and splashing out on a top-end, high-powered unit, the Line 6 Pod Go is the perfect meeting point. It's compact, easy to use, and the tones it can produce sound startlingly good.
Bottom Line: The Line 6 Pod Go floor processor is a highly popular choice amongst guitarists, thanks mainly to its naturally smooth operation and selection of crisp effects. You get access to the full Helix sound library that includes many of Line-6's best amps from recent decades. The controls and footswitches make operating the pedal a joy to behold. It's also designed to be as lightweight as possible while retaining the durability required to withstand the bumps and scrapes of touring.
5. Zoom G3Xn (Best Under $300)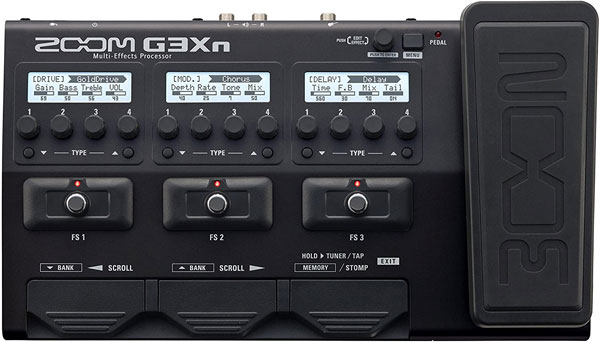 | | |
| --- | --- |
| Estimated Price | $220 |
| Type | Digital |
| Effects | Multi FX |
| Connectivity | 1 x 6.35mm Jack Input, 2 x Outputs |
| Power | 9 Volt |
My Review: The Zoom G3Xn combines an array of multi-effect options with a pedalboard layout, making it an all-in-one processing hub for a guitar. It almost doesn't seem accurate to call it a pedal, due to the sheer amount of processing tools it provides. Not only is it stacked with high-quality effects, but it also doubles up as an amp simulator, and is a force to be reckoned with in the recording studio.
With three extra-large LCD display screens, you can see the current settings and adjust them by tweaking the various rotary knobs and buttons that they are surrounded by. There are four footswitches to give the pedal an authentic stompbox feel, only on a much larger scale. An onboard tuner, loop station, and rhythmic pattern generator add to the interactive experience of the G3Xn.
The extensive range of effects available with this Zoom pedal includes reverb, overdrive, phaser, and delay, amongst others. You can use seven of the effects simultaneously, creating unique blends and combinations. Along with the various effects, you also get 25 amp simulator combinations, including British half stacks and American high-gain combo amps.
The G3Xn is capable of storing up to 150 effect chains into the preset memory bank for later use. This means you can premeditate your processing for every point of a set, and rest assured that the pedal will deliver with a few button pushes. There's also the addition of a built-in expression pedal, which gives you complete creative control over the various aspects of each effect.
Who This is Best Suited For: The Zoom G3Xn is an absolute powerhouse of a multi-effects pedal, and I'd recommend it to musicians who want complete dominion over the effects processing of their instrument.
Bottom Line: With just about every effect you can imagine installed in the G3Xn, and multiple additional features, this pedal is hard to beat. It's as much of a weapon in the studio as it is on the stage, and with so many preset saving options you can pre-plan every sonic detail with ultimate precision.
Popular Related Article: The Best EQ Pedals (All Price Ranges)
6. Digitech Element XP (Best Under $200)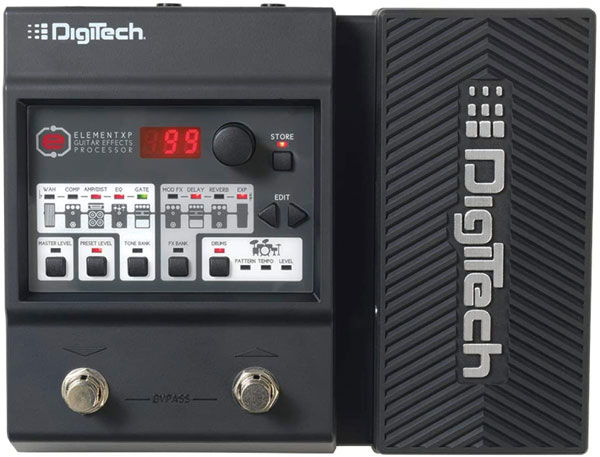 | | |
| --- | --- |
| Estimated Price | $200 |
| Type | Digital |
| Effects | Multi-FX |
| Connectivity | 1 x 6.35mm Jack Input, 1 x Output |
| Power | 9 Volts DC |
My Review: The Element XP by Digitech is a highly recommendable multi-effects pedal that provides guitarists with a hub to cater for all their processing needs. The pedal has a massive 37 effect options to choose from, in addition to 12 amp simulations and 9 speaker cabinets.
There's also a tuner included with the pedal and a headphone jack for silent practicing. With 100 presets to use as the foundations for building your effects, you won't get bored of experimenting with the Element XP. You can also save up to 100 of your custom presets, then access them instantaneously when the need arises.
This Digitech multi-effects pedal is a valuable tool when integrated into your practice routine, too. With a selection of drum tracks to jam along to, you can perfect your timing and technique. The expression pedal adds a dynamic edge to your performances and can be used to control the Whammy and Wah-Wah effects. With everything from reverb to fuzz included, there's no effect that the Element XP can't produce.
Who This is Best Suited For: It can sometimes be daunting when a multi-effects pedal has a multitude of controls and options onboard, but the Digitech Element XP is very simple to operate considering the wide range of effects it houses. Therefore, I'd suggest this pedal for anyone who wants straightforward functionality without compromising on detail.
Bottom Line: The Digitech Element XP comprehensive, classy, and intuitive. It houses an impressive number of effects, with all of the classic covered and many less common procession options too. With a range of connectivity options, a built-in expression pedal, and practice tools, it's a great option for guitarists of all abilities. Overall, I'd say that this is the best multi-effects pedal under 200 dollars.
7. Zoom G1X Four (Best Under $150)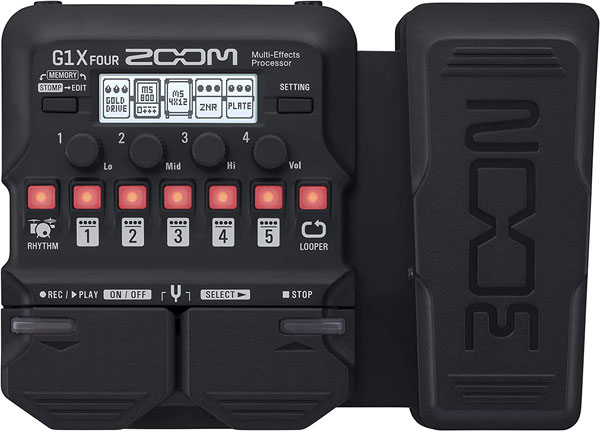 | | |
| --- | --- |
| Estimated Price | $110 |
| Type | Digital |
| Effects | Multi-FX |
| Connectivity | 1x 6.35mm Jack Input, 1 x Output |
| Power | 9 Volts DC |
My Review: The G1X by Zoom is a compact multi-effects processor that boasts over 70 onboard effects. The intuitive design allows you to control delay, wah, volume, and pitch-based effects in real-time with the integrated expression pedal. The sounds produced range from understated boosts to tone-warping mayhem and everything in between.
In addition to a large number of processing effects, there are also 13 classic amplifier and cabinet models to choose from. These are particularly useful tools in the recording studio and can save you the hassle of plugging into an amp to get authentic sounding projection from your electric guitar.
Zoom also installed 68 drum patterns, all with adjustable tempos and grooves – a perfect practice tool to keep your timing on point or gain inspiration for new compositions. The 30-second looper allows you to create arrangements with multiple tracks, another great addition to a composer's arsenal. When you stumble upon an effect setting that you like, simply save it to one of the 50 user-created preset patches which can be instantly recalled at a later date.
Who This is Best Suited For: The Zoom G1X is recommendable to guitarists or bassists who intend to use their multi-effect processor both for recording and performing live. Its generous number of savable presets and drum loops make it the perfect companion for a songwriter trying to figure out the best melodies or chord sequences for a new track.
Bottom Line: Indeed, there are more complex and extensive options than the Zoom G1X, but few can rival its functionality. With a simple control panel and compact size, it's hard not to be impressed at how Zoom has managed to make such a detailed pedal fit into a relatively small housing.
Popular Related Article: The Best Overdrive Pedals (All Price Ranges)
8. SONICAKE RockStage (Best Under $100)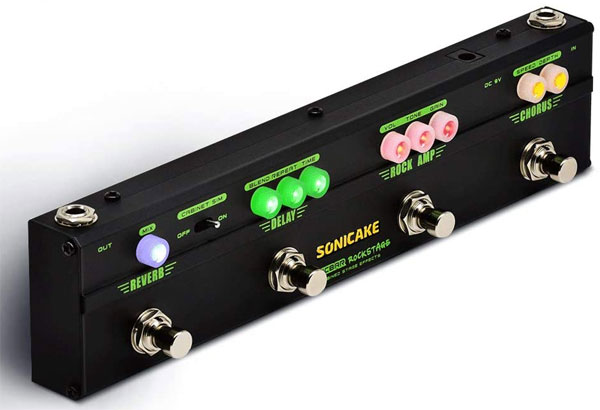 | | |
| --- | --- |
| Estimated Price | $90 |
| Type | Digital |
| Effects | Multi-FX |
| Connectivity | 1 x 6.35mm Jack Input, 1 x Output |
| Power | 9 Volts DC |
My Review: The RockStage pedal by Sonicake is an affordable option that rivals its more expensive counterparts in quality and quantity. Best suited to rock guitarists, this multi-effects pedal is capable of producing analog-style distortion to your pedalboard, along with an array of other processing possibilities.
Alongside the distortion, there's a BBD-style analog chorus effect that adds a warm, dreamy feel to an electric guitar. Then there's up to 500ms of delay and multiple reverb settings to introduce some space into the mix. Both of the previously mentioned effects run on digital algorithms but are based on authentic analog models.
Another strength of the Sonicake Rockstage is its durability. This pedal is built to take all of the punishment you can throw its way, on the road, or in the practice room. The LED-backlit knobs provide a clear indication of which effects are currently activated, an especially useful addition if you often play on dimly lit stages. With a cab simulator also installed, you don't need an external amp to enjoy the effects that the RockStage has to offer.
Who This is Best Suited For: If you want access to all of the most commonly used electric guitar effects without having to spend a small fortune, the Sonicake Rockstage bridges the gap between basic entry-level multi-effects pedals and more expensive models.
Bottom Line: The RockStage has a range of quality-sounding effects to choose from, including delays, reverbs, chorus, and distortion. All of the effects are digitally produced, but inspired by analog models of years gone by. The backlit controls add a nice touch to this pedal, and its extremely durable housing makes it a good choice for musicians who spend a lot of time traveling around with their equipment.
9. BOSS ME-80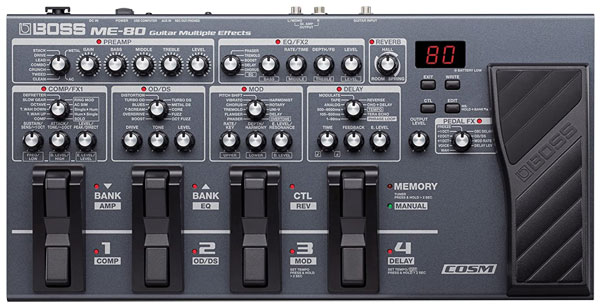 | | |
| --- | --- |
| Estimated Price | $350 |
| Type | Digital |
| Effects | Multi-F |
| Connectivity | 1 x 6.35mm Jack Input, 2 x Output |
| Power | 9 Volts DC |
My Review: It was only a matter of time before guitar-pedal experts BOSS made an appearance on this list. Renowned for their extensive range of reliable stompboxes, BOSS has translated their expertise into an all-inclusive pedal.
At first glance, the ME-80 looks more like an effects unit you'd find on a rack in a professional recording studio than a guitar pedal. Its large dimensions are necessary for housing the four expression footswitches along the bottom row, and above them is an array of rotary knobs all serving particular functions. The COSM preamp section is great for building amplifier tones, and the effects can be toggled using the footswitches.
With high-quality offerings of compression, distortion, modulation, and delay effects, each section of the ME-80 is dedicated to a specific purpose, controlling all of the individual parameters so that you can quickly transform the tone of your instrument.
The ME-80 sounds great when used with electric guitars, but it's also compatible with bass and keyboards. In fact, there's no reason it couldn't be used to process vocals or drum overheads for recording purposes. It's akin to having Ableton Live's effects rack on your pedalboard!
Who This is Best Suited For: If you're a multi-instrumentalist and do al lot of recording, I'd highly recommend that you consider the BOSS ME-80. Although it's designed for an electric guitar, it can produce some really interesting results when you use it in less orthodox ways.
Bottom Line: Most guitarists agree that BOSS is one of the most consistent producers of effects pedals, and the ME-80 further reinforces this statement. With expressive footswitches, rotary knobs that control every segment of the effects, and a large number of quality processing options, what's not to love about this exceptional multi-effects processor?
10. Donner Alpha Cruncher 3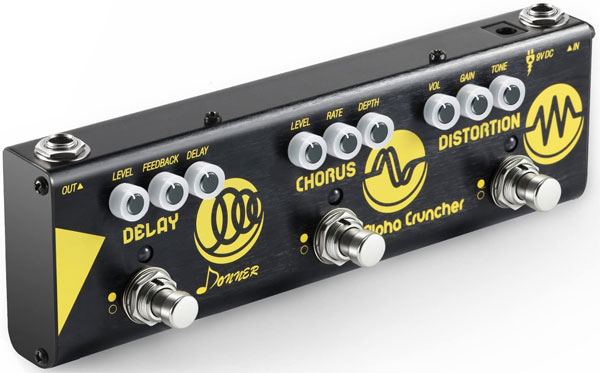 | | |
| --- | --- |
| Estimated Price | $65 |
| Type | Digital |
| Effects | Multi-FX |
| Connectivity | 1 x 6.35mm Jack Input, 1 x Output |
| Power | 9 Volts DC |
My Review: The smartly designed Alpha Cruncher 3 by Donner is based around a trio of high-quality digital effects – delay, chorus, and distortion. Within each of these effects, three controls are responsible for adjusting the main characteristics that shape your tone.
The delay channel has an analog voicing, paying homage to the spacey units of vintage recording studios. It varies between short tape echo and long, drawn-out pulsations. The chorus channel adds a touch a warm warble to your guitar, and when pushed to the extremes it enters Hendrix-style psych-tones. The Distortion channel can be used for adding thick undertones to your output or creating a fire-bathed crunch.
For such a low-priced option, Donner has taken real care with the construction of the Cruncher 3 multi effects pedal. The chassis is made from whole aluminum alloy, boasting strength, and stability. The addition of a smart LED indicator makes it clearly visible when the pedal is turned on or off.
Who This is Best Suited For: Donner's pedals are best suited to guitarists who are taking their first steps into the world of effects, thanks to their simplistic design and easy to operate controls. If delay, chorus, and distortion are three of your most desirable effects, this pedal could be the perfect option for you.
Bottom Line: The Donner Alpha Cruncher 3 is an affordable entry-level multi-effects unit that has a minimalistic layout and produces three distinctive effects. It's durable, stylish, and highly functional, but you don't get the multitude of options provided by more expensive options.
11. Mooer GE150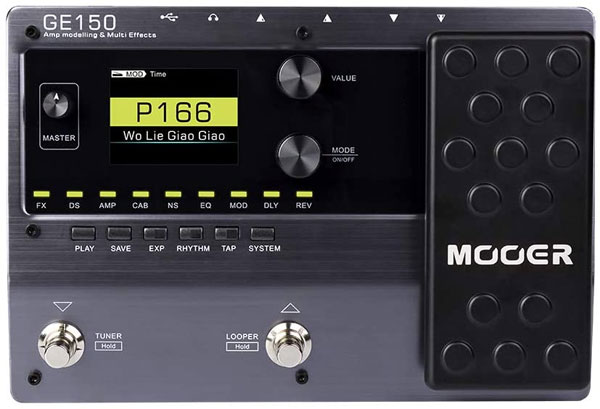 | | |
| --- | --- |
| Estimated Price | $170 |
| Type | Digital |
| Effects | Multi-FX |
| Connectivity | 1 x 6.35mm Jack Input, 2 x Output |
| Power | 9 Volts DC |
My Review: Mooer's GE150 is an amp-modeling multi-effects unit that houses a total of 55 authentic sounding amplifier models. Using their revered non-linear digital modeling technology from the PREAMP series, Mooer has created a detailed processing unit that provides guitarists with multiple sound-editing options for recording and playing live.
The two footswitches at the bottom of the GE150 allow you to toggle through the various simulations without having to bend down and hand-operated the pedal. With nine effect categories and over 150 total effects, you can transform your guitar into anything you desire. 200 preset patches allow you to save any of your preferred settings within the internal memory bank, and the tap tempo function is useful for locking in delays with the rest of your band or to a backing track.
Who This is Best Suited For: A good quality amp is an expensive investment, and if you don't own one at present, the Mooer GE150 has got you covered. It's the perfect option for guitarists who want to access classic amplifier tones without having to splash out on a genuine tube amp.
Bottom Line: The GE150 by Mooer is filled with interesting features. With over 150 total effects, there's no limit to the number of unique sounds you can create with this multi-effects pedal. And when you do stumble across one that takes your fancy, simply save it to one of the 200 user assignable preset slots and it'll be stored forever.
12. NUX Cerberus

| | |
| --- | --- |
| Estimated Price | $300 |
| Type | Digital |
| Effects | Multi-FX |
| Connectivity | 2 x 6.35mm Jack Input, 2 x Output |
| Power | 9 Volts DC |
My Review: NUX's reputation as a producer of high-quality pedals and recording equipment continues to grow, with the Cerberus multi-effects unit being their latest top-end offering. The Cerberus is built around a quartet of effects, each with several rotary knobs and switches to control their individual aspects.
On the far left of the pedal, you have the Delay channel, which contains a switch to select presets from three decades 60s, 70s, and 80s. There's also a timing knob that signifies the rhythm of the delay, where you can select ½ notes, ¼ note, and so on. Next to the Delay channel is the Reverb channel which is activated by flicking a switch, where you can choose from spring, hall, and plate reverbs. Decay control is used to lengthen or shorten the tail of the effect.
Next to the Delay channel is the Modulation section. This is home to Chorus and Mod FX. The Chorus effect has three settings, ranging from subtle to extreme, with Rate and Depth knobs used to adjust the prominence. The Mod FX contains a phaser and two filters. These are also selected using a switch and can be altered using the dedicated rotary controls that surround them.
On the right section of the pedal, you'll find the Distortion channel. Instead of having switches, this effect has buttons that activate different amp simulations and thus ramp up the presence of the distorted tones. The Routing section lets you choose between overdrive or classic distortion. Finally, there's a small LCD screen in the top right corner of the pedal, where you can toggle through or save presets.
Who This is Best Suited For: Are you the kind of guitarist who likes to stand out and enter into unchartered territory? The NUX Cerberus is unique, thanks to its ability to combine effects by simply pushing the dedicated footswitch. And with multiple rotary knobs and switches for tweaking the effects, the possibilities are almost endless.
Bottom Line: The Cerberus is a quite brilliant multi-effects pedal by NUX. It houses four effects categories Delay, Mod, Dist, and Drive. Each of these categories then branches off into multiple variations, including Reverb, Chorus, and Distortion. It's built like a tank and produces even tones across the frequency spectrum. All in all, this is easily one of the best multi-effects pedals under $300.
13. VOX Stomplab 2G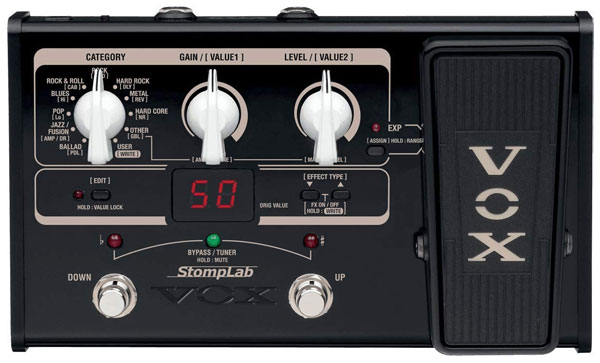 | | |
| --- | --- |
| Estimated Price | $90 |
| Type | Digital |
| Effects | Multi-FX |
| Connectivity | 1 x 6.35mm Jack Input, 1 x Output |
| Power | 9 Volts DC |
My Review: This compact offering from VOX is ideal for musicians who desire a wide variety of processing options in a relatively small housing. It uses the exact same sound engine found in VOX's VT+ and ToneLab multi-effects pedal, both well respected for their attention to detail.
The layout of the Stomplab 2G is both intuitive and easy to navigate. It offers over 100 effects presets which suit a range of musical styles and genres. These programmable effects can then be adjusted to your liking using the various controls and parameters present on the pedal. The sounds are categorized by style, with rock, blues metal, and jazz titles. Within each section is an array of presets ranging from slight undertones to transformational sounds.
There's also the useful addition of a built-in tuner and a headphone amplifier for practicing in an environment when you can't make too much noise. The pedal can be powered either by an AC adapter of 4 AA batteries, making it a good choice for buskers and remote performers.
Who This is Best Suited For: If you're a little pressed for space on your pedalboard but still want to add a reliable multi-effects unit to your rig, the compact Stomlab 2G is the perfect combination of size and detail.
Bottom Line: Although VOX is best known for its extensive range of high-end amplifiers, the Stomplab 2G proves that they also know a thing or two about effects pedals. It boasts a rugged construction and has a built in tuner. The expression pedal is a nice touch that allows you to control the effects in real time.
14. Mooer GE100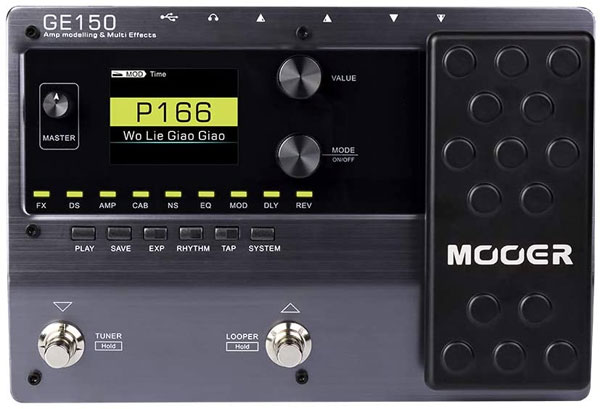 | | |
| --- | --- |
| Estimated Price | $100 |
| Type | Digital |
| Effects | Multi-FX |
| Connectivity | 1 x 6.35mm Jack Input, 1 x Output |
| Power | 9 Volts DC |
My Review: The Mooer GE100 is a versatile multi-effects pedal that is both portable and compact. It eliminates the need for having multiple individual pedals present on your pedalboard, which is useful if you are a little tight for space.
The GE100 has 8 effect modules that contain a total of 66 unique effects. These include chorus, filters, flangers, EQ, modulation, reverb, and delay. Each of the said effects has an expression pedal that can be assigned to them for tweaking the various parameters.
On top of the wide range of effects, the GE100 also has a Scales & Chord library. This useful songwriting tool presents you with chord sequences in your selected keys and is a great way to think outside of the box when it comes to composing. There's also a 180 second looper and drum machine to further enhance your songwriting process.
Who This is Best Suited For: I'd highly recommend the Mooer GE100 multi-effects pedal to anyone who wants to improve their songwriting whilst getting access to a range of effects. It's full of great features that will inspire you to broaden your composing knowledge.
Bottom Line: Fairly low-priced and brimming with useful functions, the Mooer GE100 is an authentic multi-effects pedal that boasts a wide range of processing options. The Chord & Scale library is a particularly eye-catching feature and coupled with the looper & drum machine, it makes for a great tool for coming up with new ideas.
15. NUX MG-100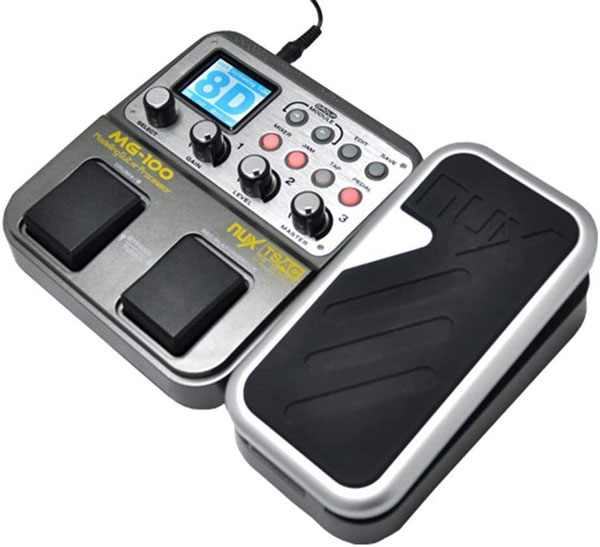 | | |
| --- | --- |
| Estimated Price | $100 |
| Type | Digital |
| Effects | Multi-FX |
| Connectivity | 1 x 6.35mm Jack Input, 1 x Output |
| Power | 9 Volts DC |
My Review: NUX returns to our list of multi-effects pedals with their vintage-style MG-100. This microprocessor produces a power that belies its compact size, with a total of 58 high-quality effects onboard the pedal. Eight of these effects can be used simultaneously, so you can guarantee that you'll come up with some tones that are totally unique when combining them.
The vintage 3-band passive EQ is a highly valuable tool for tailoring the frequency response of your electric guitar. Unlike some 3-band EQs, it doesn't make the tone sound artificial when certain bands are boosted or reduced in the mix.
There's also a built-in drum machine with a tap tempo switch, which is great for perfecting your timing or coming up with new ideas to take to the studio. The phase loop lasts for up to 40 seconds and can be used to create swirling tornados of ambient tones. Additionally, NUX has installed a smooth expression pedal on the MG-100, which can be used to open and close filters, change the wet/dry amount of your chosen effect, or adjust the overall volume.
Admittedly, the design of the NUX MG-100 is a little on the strange side. It resembles a vintage children's toy in some ways, but don't let that put you off. Inside the seemingly primitive housing is a world of processing possibilities that sound pristine when combining with an electric guitar.
Who This is Best Suited For: If EQ is one of the desired effects that you want from a multi-effects processor, the NUX MG-100 has a high-quality unit that is great for sculpting the frequency output of your instrument.
Bottom Line: The MG-100 by NUX looks simplistic, but when you get into the features and controls of the pedal it soon becomes apparent that it is highly sophisticated and detailed. With built-in EQ, drum machines, and many other effects that can all be controlled by an expression pedal, it performs like a pedal with a much heftier price tag. This is easily one of the best guitar multi-effects pedals out there.
16. Zoom G5n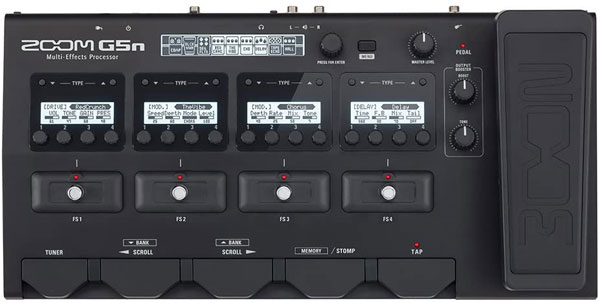 | | |
| --- | --- |
| Estimated Price | $330 |
| Type | Digital |
| Effects | Multi-FX |
| Connectivity | 2 x 6.35mm Jack Input, 2 x Output |
| Power | 9 Volts DC |
My Review: The G5n is another unique offering from Zoom. With 100 presets based on the signal chains of some of the world's best known guitarists, this next-generation amplifier modeler produces simulations of the highest quality.
The G5n is different from most other multi-effects pedals. It re-creates the sounds and characteristics of five highly respected tube amplifiers and five impulses of speaker cabinets. These authentic recreations are joined by a total of 68 processing effects, all in pristine 24-bit quality and with numerous tweakable tone options.
The thing that stands out about the G5n is its comprehensive number of features. Contained within the pedal are an 80-second stereo looper, a tuner, a stereo headphone output, and USB connectivity. The presets can be used as building blocks for creating your own individual tones, which can then be saved for instant recall.
Who This is Best Suited For: Songwriters, producers, and modern-day guitarists will find the Zoom G5n to be a valuable addition to their setup. Whether you're in need of some inspiration in terms of tone, or you'd like to record a new idea into your DAW with authentic sounding amp simulation, this pedal can do it all.
Bottom Line: The Zoom G5n is the type of pedal that instantly transforms the way you play, write, and record guitar parts. Granted, many amp simulation pedals lack a natural character that a genuine cab and speaker provide, but Zoom has managed to emulate classic tones with commendable quality.
17. Fender Downtown Express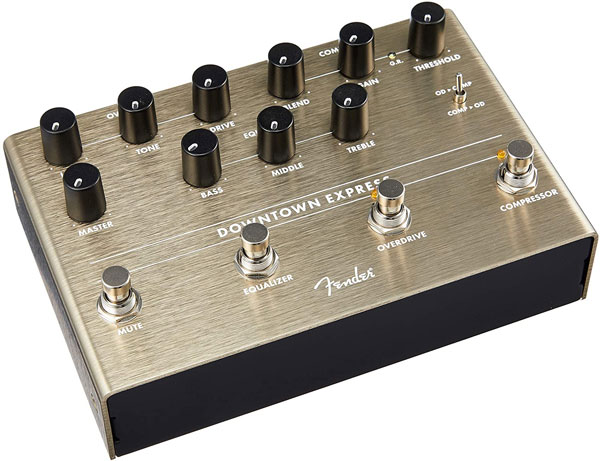 | | |
| --- | --- |
| Estimated Price | $250 |
| Type | Digital |
| Effects | Multi-FX |
| Connectivity | 1 x 6.35mm Jack Input, 2 x Output |
| Power | 9 Volts DC |
My Review: It wouldn't be right to complete this list without including one that is specifically designed for bass guitar. The Fender Downtown Express, with its Alex Aguilar-designed circuitry, is a processing hub for shaping the tone of a 4-string.
Focusing on a trio of bass-friendly effects, the Downtown Express allows you to add compression, overdrive, and frequency shaping via the 3-band EQ. Each of these effects is activated using a switch and can be produced alongside one another for dramatic effect. And if you need to tune your bass on stage, you can simply use the mute switch to kill the signal while you do.
The Fender Downtown Express is fitted with a direct output, making for easy integration into your recording studio setup or onstage rig. This versatile multi-effects bass pedal also provides you with the option of reordering the overdrive and compressor circuits, so that you have maximum flexibility within your signal chain.
As you'd expect with a Fender product, the Downtown Express is solidly constructed. Made from anodized aluminum, it combines durability with mobility. Each of the control knobs is LED-backlit so that you can instantly see the settings of the pedal on stage.
Who This is Best Suited For: Bassists of all styles will find the Fender Downtown Express to be a worthy addition to their pedalboard. If compression, overdrive, and EQ are three of the most important bass effects in your opinion, the Downtown Express will fulfill your needs.
Bottom Line: The Fender Downtown Express bass multi-effects pedal is based around three of the most compatible effects with bass guitar. It also features numerous perks that make it a useful tool both in a recording scenario or while performing.
18. Valeton GP-100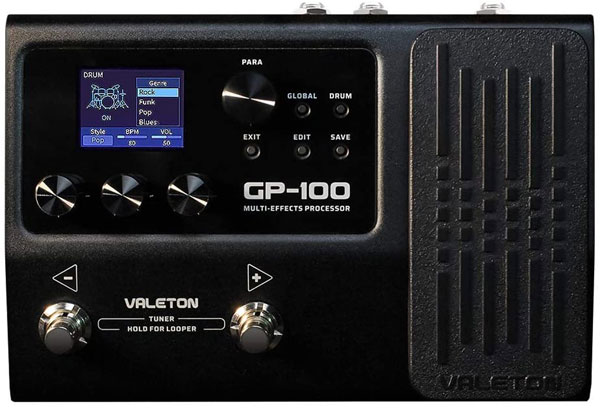 | | |
| --- | --- |
| Estimated Price | $150 |
| Type | Digital |
| Effects | Multi-FX |
| Connectivity | 1 x 6.35mm Jack Input, 2 x Output |
| Power | 9 Volts DC |
My Review: The Valeton GP-100 contains some classic rock effects in a simple compact box. When constructing the pedal, Valeton installed its high-powered HD Digital Modeling system to handle a large number of simulations and presets stored within the GP-100.
The pedal delivers over 140 selections of effects, which include 45 iconic guitar, bass, and acoustic amplifier simulations that are instantly recognizable. There's also a total of 40 pristine factory cab IRs, and many other processing options available. The preset bank consists of 99 factory offerings, with an additional 99 spaces for user built-presets.
Another interesting aspect of the GP-100 is its pre-effects looper. This means that when you toggle between the various effects and patches, the tone of the loop then responds by changing too. The result is a much more streamlined and convenient looping process that is bound to provide ample inspiration and spark off new ideas. To cap it all off, Valeton has installed a chromatic tuner and added a number of connectivity options including a headphone output and a stereo aux output.
Who This is Best Suited For: The Valeton GP-100 is the perfect choice for guitarists or bassists who have some limited experience with multi-effects pedals, and want access to a wide range of processing options without being overwhelmed by unnecessary amounts of controls and parameters.
Bottom Line: Quantity and quality aren't always on par with each other, but with the GP-100, Valeton has proved that both can co-exist in the same pedal. With hundreds of simulations, effects, and functions to choose from, this multi-effect hub has the power to revolutionize the sound of your guitar.
19. Behringer FX600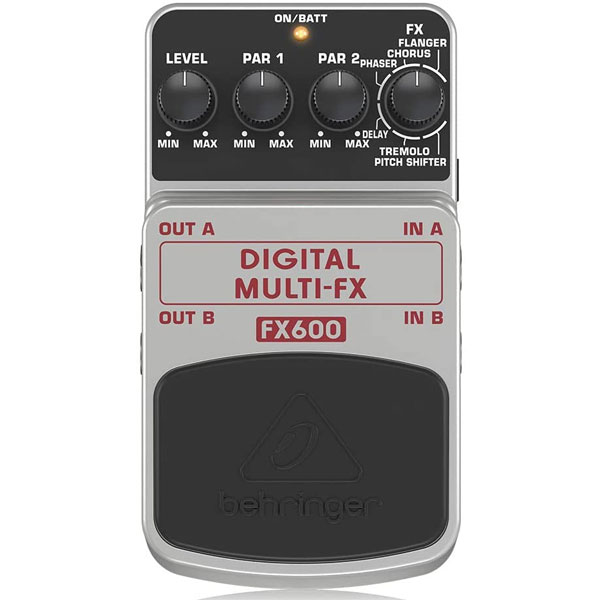 | | |
| --- | --- |
| Estimated Price | $75 |
| Type | Digital |
| Effects | Multi-FX |
| Connectivity | 1 x 6.35mm Jack Input, 1 x Output |
| Power | 9 Volts DC |
My Review: With the FX600 multi-effects pedal by Behringer, you get all of the capabilities of a studio effects processor on your pedalboard, at a much more affordable price. This durable hub is very easy to operate, with intuitively laid-out controls and clear effect labeling. Featuring a 24-bit, high resolution stereo FX engine, the pedal is capable of producing a wide range of effects, from space to dirt, to modulation.
Some of the effects included with the FX600 are pitch-shifters, flangers, chorus, phasers, delays, and tremolos. The modulation-based effects are especially worth mentioning, as their quality is so good that it rivals stompboxes specifically dedicated to phase or flange. The pitch-shifter also performs to a high standard, and when combined with an expression pedal you can use it similar to a Whammy pedal in the spirit of Jack White.
The pedal's centerpiece is the rotary knob which can be used to toggle between the 6 built-in effects. The two parameter dials can then be used to fine-tune the slight nuances of the effect, while the level control affects how much of it is present within the mix. The LED indicator signifies whether the pedal is on or off, and true bypass switching protects your signal integrity.
Who This is Best Suited For: Behringer pedals are renowned for their simplicity, so I'd recommend the FX600 to guitarists who are many not overly experienced with effects pedals and want an easy introduction.
Bottom Line: The Behringer FX600 is built around 6 core effects, all of which can be adjusted accordingly to create unique tones. These effects include chorus, phase, flange, delay, pitch-shift, and tremolo. Although it's very simple to operate, the mixtures of effects that the FX600 is capable of producing are intriguing and complex.
20. Ammoon PockRock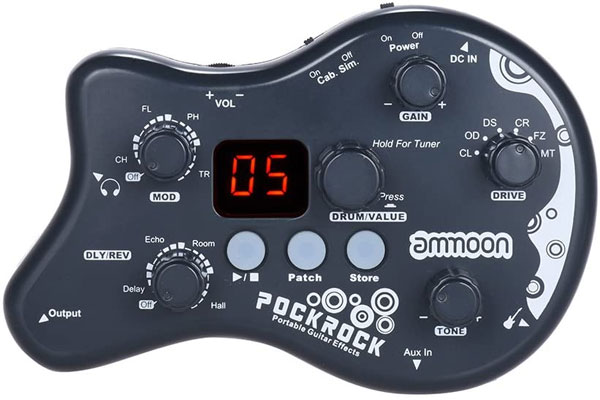 | | |
| --- | --- |
| Estimated Price | $40 |
| Type | Digital |
| Effects | Multi-FX |
| Connectivity | 1 x 6.35mm Jack Input, 2 x Output |
| Power | 9 Volts DC |
My Review: The final entry on this definitive list of multi-effects pedals is the affordable and uniquely designed PockRock by ammoon. At first glance, you'd be forgiven for thinking this pedal was made for Guitar Hero. It's uncommon shape and appearance resembles the body of a guitar, giving it a toy-like appearance.
However, as the saying goes, don't judge a book by its cover. The PockRock multi-effects pedal contains a surprisingly comprehensive range of processing and effect-building options. The sound library consists of 5 effect modules. These modules each house 15 effect types, varying from timing-based effects like reverb and delay to dynamic processors like compressors, to aggressive overdriven break-ups.
Not only does the ammoon PockRock contain an impressive assembly of effects, but it also has a detailed drum sample section. In total there are 40 specifically chosen drum rhythms, each with tweakable qualities like tuning and timing. These rhythms touch upon a number of styles and genres, providing you with the perfect practice platform to perfect your timing and technical skills to the backing tracks. The addition of headphone stereo inputs is also useful for practicing in quiet settings.
Who This is Best Suited For: The ammoon PockRock is well suited to guitarists who are just dipping their toes into the water for the first time, and starting their journey of exploring effects and processing. It's easy to use, filled with helpful practice tools, and even offers silent operating via the headphone jacks for private rehearsing.
Bottom Line: Although the ammoon PockRock has an interesting choice of aesthetics, there's no questioning the sheer range of processing options it provides. With simple rotary knob and button controls, this multi-effects pedal provides a great introduction to tone-sculpting. It's a great tool both in the studio, on the stage, and in the practice room.
Choosing the Right Multi-Effects Pedal (Buying Guide)
In this section, we'll cover all the most important things you should know before choosing a multi-effects pedal.
Multi-Effects pedals are an invaluable tool for guitarists and bassists to bring seemingly limitless possibilities to their sonic foundations. Instead of spending time sifting through the wide range of individual stompboxes to compose your pedalboard, you can simply choose an all-in-one solution, usually for less cost.
In the past, some guitarists avoided multi-effects pedals because their abilities were considered to be watered-down, due to the focus being on many different processing options rather than a sole-purpose. As technology has improved and manufacturers have learned new ways to create authentic sounding digital pedals, the gap between multi-effects and single effects pedals has been bridged.
In the remainder of this article, we'll delve into every aspect of multi-effects pedals, so that you can make an informed decision when choosing the right one for you. It doesn't matter if you are inexperienced with pedals, or like myself are a little obsessed with them. The following guide will start with the basics and provide you with all of the knowledge you could ever need on this subject.
Why Choose Multi-Effects over Singular Pedals?
Choosing between a multi-effects unit and compact pedals is a dilemma that every guitarist is faced with. Of course, there's also the option of combining the two. As somewhat of a pedal fanatic, I find the experience of building up my pedalboard very enjoyable, considering each individual pedal to be an element that creates the whole. This approach gives you complete freedom over your processing options, but buying singular pedals also has its undeniable drawbacks.
Firstly, it's likely that if you purchase many compact pedals to make up your pedalboard, you'll end up spending more than you would by purchasing a multi-effects unit. If finances aren't a factor, then you could also consider incorporating a multi-effects unit into your existing rig to get the best of both worlds.
Functionality is a quality that depends largely on the particular pedal in question. Generally speaking, a multi-effects pedal will be easier to use onstage than having many different pedals and trying to remember what they all do. Provided that a multi-effects pedal is operable by footswitches, you can control the effects in real-time with maximum efficiency. If you have a stacked pedalboard, on the other hand, you have to memorize the locations of the pedals, what their functions are, and also whether they are on/off at certain points during a set.
Multi-Effect Processors
One of the main components of a multi-effects pedal is the processor. This is responsible for calculating and formulating each effect, thus producing the desired sound. The quality of the processor installed in a multi-effects pedal varies greatly from model to model and is usually reflected by the price.
Entry-level, affordable multi-effects pedals will have less powerful processors, resulting in the effects somewhat lacking in detail. The less powerful and advanced the processor, the lower the number of tone-sculpting options the pedal is capable of producing. Basic multi effects pedals are likely to have the capacity to house a handful of effects and presets, with limited customization options.
At the other end of the spectrum, more expensive multi-effects pedals will generally provide you with an array of options thanks to the more sophisticated processors they employ. The more powerful the processor, the more control you have over the nature of the individual effects. The quality and detail also improve with a high-end processor, and the possibility of undesirable results is therefore greatly diminished.
Some guitarists prefer their multi-effects pedals to be simple and primitive, so going for a cheaper option with a less powerful processor would be a good fit for them. For someone who has more experience with effects, it might be a better idea to consider a more sophisticated option with a high-end processor, as this will provide more sonic possibilities.
Multi-Effect Converters
Another component that is found within all multi-effects pedals is a pair of converters. Along with the processor, these converters play a large role in determining the capabilities of the pedal. One of the converters is dedicated to converting the instrument's tone from analog to digital so that it can be processed.
The second converter then converts the signal back to analog, so that it is audible at the output end. Much like processors, the quality of converters generally increases with the price, but the overall standard has to be decent in all models to ensure that the pedal functions correctly.
Digital Connectivity
Many of the multi-effects pedals I previously reviewed have various digital connection options so that you can gain further control over them by hooking the pedal up to external devices or interfaces. Some multi-effects pedals are capable of recording straight into a computer without the need for an audio interface.
The most popular digital connection method is via USB. This is usually employed for patch updating, linking the pedal with your DAW for recording purposes. Patch updates are an essential part of multi-effects because the software can perform certain functions much quicker than the pedal can alone.
In some cases, you can link the pedal up to software on your computer and then download external patches and integrate them into the pedal. These may be presets based on famous artist's sounds, or specifically designed effects for certain genres and styles.
Another bonus of USB connectivity is that on some pedals you can connect them to your computer and use them as an Audio Interface. Due to the high power processors and converters that are required in a multi-effects unit, they can act as an interface and you can usually record audio through them.
MIDI connectivity is also commonly present on multi-effects pedals, particularly the high-end offerings. MIDI is a valuable tool that allows you to control the effects using an external MIDI keyboard or controller. This is great for musicians who will be predominantly using their multi-effects pedal in the recording studio, as it allows you to configure and map the controls to more convenient keyboards or MIDI controllers for maximum efficiency.
The Four-Cable Method and Multi-Effects Pedals
The 4-cable method is a great way to connect your pedalboard to your amplifier whilst gaining maximum control over the order of the effects. You can choose which effects pedals go before the pre-amp and which come after it in the amplifier's dedicated effects loop.
Due to the diverse nature of multi-effects pedals, there's no right or wrong place to position them. They are equally suited to be placed before the pre-amp, or in the effects loop of the amplifier. Generally speaking, effects like overdrive, wah-wah, and compression sound better when they are plugged into the front of an amplifier, whereas modulation and time-based effects like delay or reverb sound better in the effects loop.
Where you position your multi-effects pedal depends on which specific effects you intend to use it for most frequently. For example, if you find that you often use it for spacey delays, it should probably be positioned in the effects loop, but if you're using it for distorted guitar solos before the pre-amp would be better suited.
That's where the 4-cable method comes in. It allows you to place your effects in their absolute best position, to achieve the best results. So what's the method?
You need four cables and an amplifier with a dedicated effect loop input. You then take one cable and connect your guitar to the pedals prior to the amplifier. The second cable then connects the pedals you want to go before the preamp, to the standard amplifier input. The third cable connects the "send" from the amplifier effects loop to the second group of pedals that you wish to position after the pre-amp. Finally, the fourth cable connects the second group of pedals back to the "return" input of your amp's effect loop.
The result is that all of the pedals you chose in group 1 (compressor, wah, dirt) are all working independently to the pedals in group 2 (reverb, delay, modulation) which are directly going into the amp's effects loop. So the first group of pedals won't be messed up by the second group, and vise versa. This creates a smoother, cleaner sound that is much more reliable than a messy pedalboard.
Multi Effects Parameters and Controls
Although there's a lot of variation from one multi-effects pedal to another, you'll find that there are a number of controls and parameters that are commonly installed for tweaking the characteristics of the effects.
Many of the pedals will use digital screens to provide you with a menu, where you can toggle through each individual effect. Depending on the effect you choose, you will be able to adjust the
Gain
Wet/Dry
Depth
Rate
Tone
Time
Saving presets is a common feature on multi-effects pedals. This allows you to store your preferred settings in the unit's internal memory bank so that you can quickly access them at a later date. The number of presets that can be saved will depend on the quality of the pedal and how large its memory capacity is.
Until you actually have the multi-effects pedal in your possession, it's difficult to learn how the various controls work. The best way to do this is by setting aside a few hours, plugging in your instrument, and figuring out what happens to your tone when you apply the effects. This is a very enjoyable undertaking, so I would make sure you have no commitments for a good period of time because it's easy to get carried away and lose yourself in the world of effects!
Multi-Effects Pedals and Other Instruments
The greatest attribute of multi-effects pedals is their versatility. They provide you with a whole host of processing options in one compact pedal. On top of their convenience, they can also be used with many instruments and are not simply limited to an electric guitar.
Using multi-effects pedals with a bass guitar can produce some interesting results. The low-end frequency response of a bass interacts with the effects differently to that of an electric 6-string. You could also use the pedal with an electric-acoustic guitar, although it might be necessary to have an external EQ pedal to iron out any of the inconsistent frequencies caused by the pickup.
It's also an option to use multi-effects pedals with keyboards. If you play psychedelic styles of music, then adding far-out effects to an electric piano or Wurlitzer sound can be a very effective way to mesmerize an audience. You could also theoretically use a multi-effects pedal on vocals, although feedback may be an issue so you might need to use it together with a feedback suppressor pedal or some kind of noise limiting device.
Finally, you could also experiment with using a multi-effects pedal on recorded drums. With electronic drums becoming the norm for producers and bedroom musicians, processing them with pedals is a great way to make the samples stand out and sound unique.
Where to Place a Multi-Effects Pedal in Your Signal Chain
It's usually pretty straightforward deciding where to position effects pedals in your signal chain. Indeed, there's no one-size-fits-all approach, and many musicians prefer to tear up the rulebook and use unorthodox methods to find interesting and unique sounds. Generally speaking though, the way to position effects is by placing dynamic pedals (compressors, EQ) at the start of the signal chain, then dirt based pedals (distortion, overdrive, fuzz), modulation pedals (chorus, phasers, flangers), and finally timing-based pedals (delay, reverb).
So where does a pedal that combines all of the aforementioned effects into one unit fit in? Integrating a multi-effects pedal into your signal chain depends on which of the onboard effects you are most likely to use most frequently. If you are using a modern amplifier with an effects loop, it's a good idea to run any dirt, boost or compression pedals into the front of the amp and have your multi-effects unit run into the modulation loop along with delay and reverb.
Expression Pedals and Multi-Effects
If a multi-effects pedal has a built-in expression pedal, this provides you with a seamless method of controlling the characteristics of the individual effects. Expression pedals are great for adjusting dynamics in real-time, but can also be used for opening/closing filters, creating a wah-wah effect, adjusting the wet/dry of an effect, or simply adding or removing volume.
Some multi-effects units come with expression pedals already built-in, but if you find that the one you are thinking about adding to your pedalboard doesn't have one included, it might still facilitate connecting one externally. Check out the specifications to see whether it has an expression/foot pedal input, then you can purchase one for a relatively inexpensive cost and use it to control the effects.
Dual Outputs and Dual Amplifiers
Many multi-effects pedals, especially the higher-end models, have multiple inputs and outputs. Commonly, these pedals come with dual-outputs for the purpose of signal splitting. Why would a guitarist want to split their signal? Well, doing so can open up a whole new world of sonic possibilities.
Having dual outputs means that you can use dual amplifiers. It might seem like a self-indulgent move for a guitarist who isn't playing sold out arenas to use two amplifiers, but rather than just being a gimmick, it's actually a great way to thicken your tone. If a multi-effects pedal facilitates this, you can take your unprocessed signal out of the pedal and into an amp to create your "clean" channel. This will simply play your guitar's clean tone with whatever effects pedal are positioned before the multi-effects pedal in your signal chain.
The second output can then be sent into another amplifier, to create your FX or "dirt" channel. This signal will be affected by the multi-effects pedal and any other pedals that come after it in the signal chain. Now you have successfully split your signal and sent it to two separate amps.
If you play in a band in which you are the sole guitarist, and sometimes get frustrated that there isn't a second guitarist on stage to play underneath your soaring riffs or screaming solos, signal splitting and using a dual-amplifier setup is the best way to solve this issue. You can set it up so that your clean channel is playing constantly underneath your FX channel, creating the illusion that there's an extra guitar onstage.
This is also very useful if you are a bassist in a band with limited guitarists. You can use the multi-effects pedal to split the signal so that your clean bass keeps playing through one amplifier, then when you turn on the FX channel it adds more power without losing any of the low-end thickness.
Multi-Effects Pedals in the Recording Studio
Multi-effects pedals are not only very useful in a live performance setting, but also in the recording studio. Granted, with the variety of VST plugins available within popular DAWs today, many producers prefer to use internal digital processing to add effects to their guitars and other audio tracks. However, using external pedals also has its undeniable benefits.
The main advantage of using a multi-effects pedal rather than solely relying on software is that you can transfer your preferred setting straight from the stage to a recording. Having a signature sound is very important to guitarists, especially in the modern era when pretty much anyone can pick up an instrument, record, and release music. So using a multi-effects pedal to find unique tones helps you stand out amongst the crowd.
There are essentially two methods you can use to incorporate a multi-effects pedal into your recordings. Firstly, you can record it in the traditional way – by simply taking a line out of the pedal into an amplifier and setting up a microphone in front of the speaker. This will arguably produce the most accurate representation of your on-stage sound, providing you are using your regular amp for the recording. When using this method, it's important to recognize that both the amplifier and the microphone you choose will have a notable impact on the overall tone produced.
When recording a multi-effects pedal through an amplifier, you can tweak the EQ channels, onboard effects units, and gain settings on the amp to affect the coloration of the output. Whether you use a dynamic microphone or a condenser, and the quality of that particular model will also have an effect on the recording.
The second method you could use to record a multi-effects pedal is by simply plugging your guitar or bass straight into the input, then plugging the output of the pedal straight into the direct input (D.I) of your audio interface. This removes the need for an amplifier or microphone which is convenient, but on the other hand, it means that you don't get the amp's influence on your tone which may be a significant part of your individual sound.
When you record via direct input, you get the cleanest representation of the multi-effects pedal possible. This is because the signal path is only affected by the guitar, the pedal, and the input. This creates more of a blank canvas, which you can process retrospectively without having to factor in the characteristics of the amplifier or microphone.
I advocate using all kinds of effects pedals in the recording studio. Multi-effects pedals are especially handy due to a large number of processing options they provide you with. If you don't have access to lots of VST plugins or don't want to splash out on them, multi-effects pedals are the perfect alternative. You can use them on just about every sound source imaginable, and experimenting in the studio is one of the most rewarding processing for a musician or producer, in my opinion.
Which Other Effects are Compatible with Multi Effects Pedals?
Due to the notable variation in the effects that each multi-FX pedal can produce, you might feel the need to combine singular effects with your new pedal. For example, wah-wah is only featured on a small number of multi-effects pedals.
Combining other effects with your multi-effects pedal is pretty straightforward. Providing the volume and gain settings are checked for consistency, there's no reason you couldn't have multiple other pedals alongside your multi-FX.
It's important to bear in mind that some pedals will affect all of the processing options on a multi-effects pedal if they are placed before them in the signal chain. For instance, if you put a compression and EQ pedal before it, then any effect produced by the multi-effect pedal will be compressed or equalized accordingly.
With that being said, I'd encourage you to experiment with pedal combinations. Even if a certain effect, like fuzz, for example, is already present on the multi-effect pedal, you might find that mixing it with a singular fuzz pedal gives your tone even more ferocity.
Power:
The most common power requirements for a multi-effects pedal is 9 volts, although some need 12 or 18 volts in rare cases. The best way to power your pedals is with a power supply that provides different voltage levels.
However, if you would rather use batteries, most of the pedals listed above will facilitate this. There's always the risk of batteries running out though, so it's best to combine them with a power supply. Some pedals come with specific supplies, but you can also purchase them separately for a relatively low cost.
Final Thoughts:
Whichever of the multi-effects pedals reviewed in this article you decide to add to your pedalboard, I'm sure that it will bring you many hours of fun experimentation? Multi-effects pedals are a great tool both on the stage and in the studio, so adding one to your rig is a very wise move. Thanks for reading, and I hope this article has helped to guide you towards the perfect multi-effects pedal for your needs.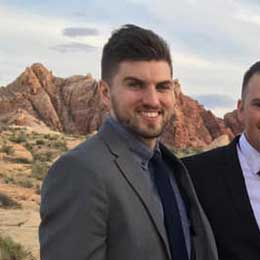 My name is Chris and I've had a passion for music and guitars for as long as I can remember. I started this website with some of my friends who are musicians, music teachers, gear heads, and music enthusiasts so we could provide high-quality guitar and music-related content.
I've been playing guitar since I was 13 years old and am an avid collector. Amps, pedals, guitars, bass, drums, microphones, studio, and recording gear, I love it all.
I was born and raised in Western Pennsylvania. My background is in Electrical Engineering, earning a Bachelor's degree from Youngstown State University. With my engineering experience, I've developed as a designer of guitar amplifiers and effects. A true passion of mine, I've designed, built, and repaired a wide range of guitar amps and electronics. Here at the Guitar Lobby, our aim is to share our passion for Music and gear with the rest of the music community.