Aspiring rock stars and live band performers should always consider two things whenever starting on their journey. The first is to get a good electric guitar that they can get familiar with and comfortable playing. The second is to choose the right songs to help you learn the fundamentals of playing an electric guitar.
You'll master hammers-on, bends, slides, and a variety of fingerstyles. You will also need to strengthen your sense of rhythm, as well as a few other basics of electric guitar playing.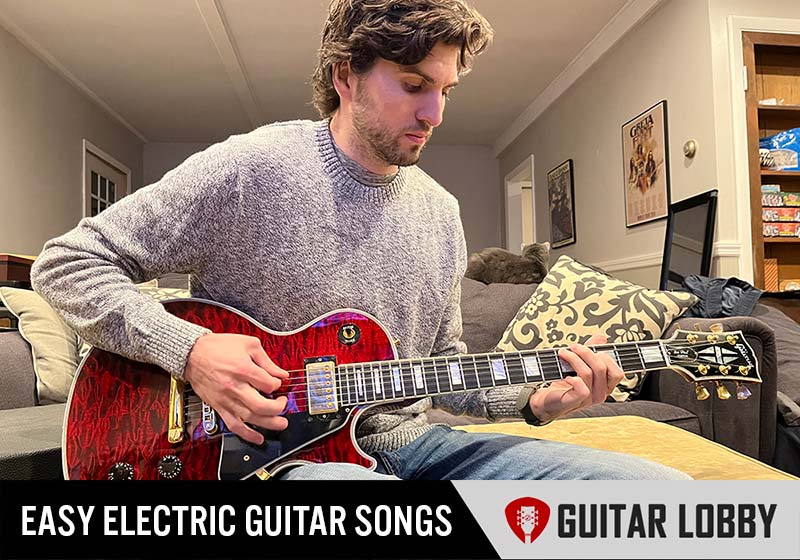 You can play almost any song on an electric guitar. However, if you're a beginner, you'd be better off starting with easier songs and slowly working your way up to more advanced songs. This will give you the confidence you need to tackle more complicated guitar-playing techniques that other songs demand.
Here is a list of some fun to play and easy electric guitar songs for beginners. Even if you don't land on the world stage, these songs can surely be an instant hit with your family and friends.
Here is a List of Easy Electric Guitar Songs
1. Back in Black By AC/DC

Song Overview: AC/DC wrote this song as a tribute to Bon Scott, the band's former lead vocalist. The song is best known for its phenomenal guitar riff right in the intro. Many hailed the song as having one of the greatest guitar riffs of all time. The song fuses the elements of metal and rock to produce a song that appeals to anyone and everyone.
The main chords that make up the guitar riffs are A, D, and E. This is a song that is perfect for beginning electric guitarists. The guitar riff climbs towards the chorus. It may take some time to master all these riffs, but this song will be incredibly fun to learn and play and have you feeling like a rock star with how great you sound.
2. Otherside by Red Hot Chili Peppers

Want to add Red Hot Chili Peppers to your setlist without losing your sleep over tricks and embellishments? Then we've got just the song for you. "Otherside" was the band's tribute to former band member Hillel Slovak who tragically passed away from a drug overdose. As a founding guitarist, Slovak had a huge influence on shaping the band's signature funk-rock sound.
In terms of playability, we know emulating John Frusciante can get quite technical because of his love for pull-offs and hammer-ons. However, this is one of his simpler, nonetheless powerful performances. To play this song, you'll work around Am, F, C, G, A, and Em chords. Watch the above chords to learn our favorite track from RHCP's Californication.
3. Whole Lotta Love by Led Zeppelin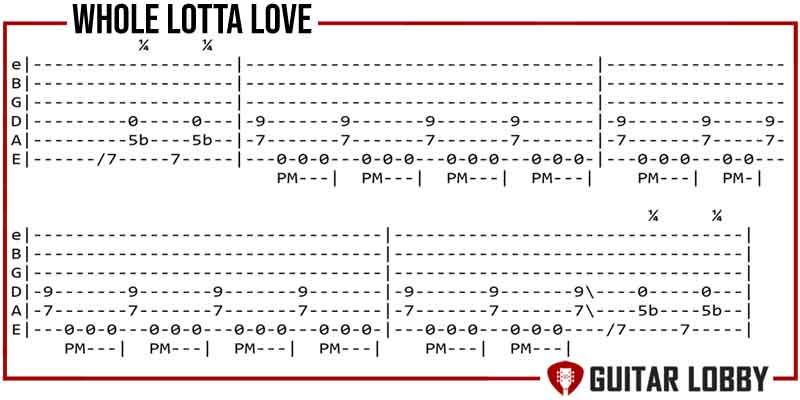 Song Overview: A personal favorite, this song is easily one of the best songs that any beginner electric guitarist can learn. The riff is both catchy and timeless. What is more astonishing is the fact that the guitar riff provides the strong hook of the masterpiece. I doubt that you can master Jimmy's phenomenal lead guitar playing skills after only a few practice sessions. However, it is very possible to master the song's opening riff in a matter of minutes. And once you get the hang of it, learning the rest of the song should be easy.
This song is one of Led Zeppelin's greatest pieces. Rolling Stone magazine ranked the song at number 75 in the platform's 500 all-time greatest. BBC Radio 2 recognized the guitar riff of the song as the greatest in the history of music. That's more than enough reason to include this song in your guitar playing repertoire.
4. Knockin' On Heaven's Door by Guns N' Roses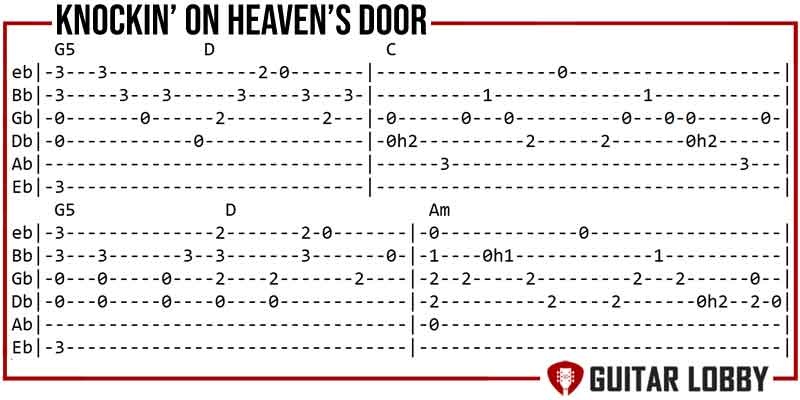 Song Overview: An incredible piece to start learning how to play the electric guitar and one of the many songs that defined Bob Dylan's legendary musical career. First released in 1973, the song has been covered by so many artists, providing the piece with their own magical interpretation. It is also proof of the remarkable popularity of Dylan's songs. One of the best covers I have ever seen about the song is the one by Guns n' Roses, which the band released in 1990.
Learning to play this song is crucial to aspiring guitarists. It has one of the most popular riffs on the planet. It also teaches you several of the basic techniques that you will use in your electric guitar playing. There's a combination of strumming and fingerpicking. The fretting movements are not very complicated. And the sound it produces, even if you start slow, will still be so beautiful.
5. Californication By Red Hot Chili Peppers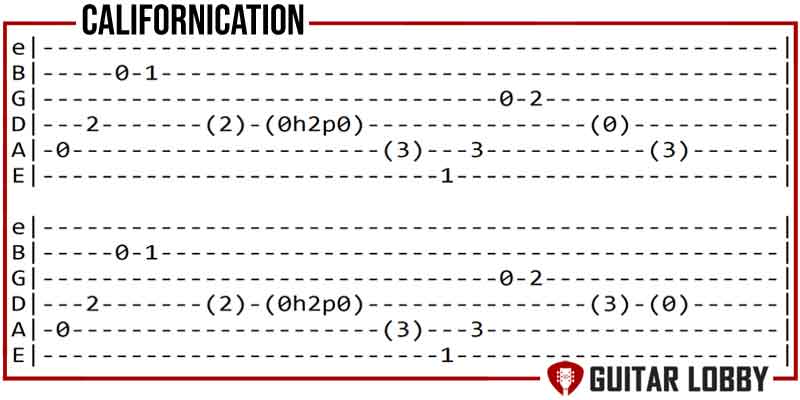 Song Overview: It is almost impossible to think about Red Hot Chili Peppers without their 1999 hit song Californication. Sure, the band has many other remarkable songs. However, it is Californication that captured the fancy of many people at the turn of the new millennium. Personally, I love the tune and its relaxed vibe.
The song starts by picking both the Am and the F chords for a full 12 measures. You can then move on to an easy pattern of C-G-Dm-Am before you go back to the original Am-F chord for 8 full measures. There is a strumming pattern for the pre-chorus, too. This goes on for about 12 measures. Once you get these basics, you should be able to play the song's guitar solo that spans a whopping 16 measures. These should help you build on your skills as an electric guitarist.
6. Creep by Radiohead
Song Overview: Another choice for easy electric guitar songs is this 1992 piece from Radiohead. It wasn't a commercial success at first. However, the band re-released the song a year later and that's when people started getting the good vibes from the song.
Creep has a very easy-to-follow rhythm. You will never find yourself coercing your fingers to move on the fretboard at a frenzied pace. This is one of those musical pieces that are not only great for beginning electric guitarists. It is also a good piece for learning and mastering basic rhythm. One essential technique here is the fingerpick. It produces a subtler sound than using a pick. The chords are as elementary as a birthday song. Try to learn a few variations to help improve the overall melody of the song. You should be ready to rock your house in a few days.
7. Cherub Rock by Smashing Pumpkins
Song Overview: You'll appreciate Billy Corgan's uncanny ability to combine pop hooks and amazing hard rock riffs in this masterpiece by the Smashing Pumpkins. Released in 1993, Cherub Rock earned a Grammy nomination for the best performance in hard rock. Corgan performed the song using standard tuning. However, he played the E octave at the 7th fret. This song is a great introduction to aspiring guitarists who want to introduce classic arena rock and shoegazing in their future creations.
The strumming pattern is an easy one for beginners. The fretting movements will require some finger and wrist flexibility. You may also want to introduce a slide in between the chords. The song also serves as a learning tool for practicing basic fingerstyles. And with its smashing melodies, this is one song worth playing during large gatherings. It's one cool way to wow your guests. Overall, this is an easy electric guitar song that's fun and easy to master.
8. Blitzkrieg Bop by Ramones
Song Overview: I love the very funky tune of this song by the Ramones. The punk rock band released this song in 1976, and I still cannot help tapping my foot to the beat every time I hear it getting played on the airwaves. It has a very simple structure, consisting only of three chords to make a single pattern. The song is very popular in many sporting and athletic events. The lively beat of the song makes it an excellent rallying cry for a team that is playing catch-up.
The 3-chord pattern of the song also makes it a great piece for beginning guitarists. Master the A5, E5, and D5 chords, and you are all set to rock this piece. The most fun part about playing this song is that you can employ powerful strumming blows. That's what we call a high-energy, rock-star performance.
9. Wild Thing by The Troggs

Song Overview: Wild Things is one of those songs that sounds great on an acoustic guitar. And if you wish to turn it into a performance piece, it will sound even more wonderful on an electric guitar. This 1966 song was written by Chip Taylor. The Troggs were not the original recorders of the song, however. It was the Wild Ones in 1965. Unfortunately, the original song did not chart. On the other hand, The Troggs' version peaked the Hot 100 of Billboard. The song also happens to be on Rolling Stone's list of all-time greatest songs.
Like the Blitzkrieg Bop, Wild Thing only comes with a three-chord pattern. Newbies should never have any problems playing the song. There are also no fancy fingering techniques required. All you ever need is familiarity with the chords and the uninhibited desire to play the electric guitar.
10. I Can't Get No Satisfaction by The Rolling Stones

Song Overview: Fans of Keith Richards love this song. It has one of Richards' most iconic guitar riffs ever. I personally love the rock-meets-soul vibe of the song that further cemented the band's place in the world of rock n' roll. Hearing the song the first time gives you a buzzsaw impression. Give it a few more seconds, and the song will grow on you. It would be almost impossible to get that catchy guitar riff out of your head.
What is most amazing about this 1965 song is that it is the most fun and easiest beginner electric guitar song anyone can play. You only need to focus on a single string to play the iconic riff. You can play the song with gusto, hammering the strings as strong as you want. It is also possible to give it a few twists. For now, it would be best to focus on the rhythm.
11. Smoke on The Water by Deep Purple
Song Overview: Following in the footsteps of the legendary Rolling Stones is Deep Purple. This English hard rock band released Smoke on the Water in 1973. Total Guitar ranked this song as the 4th greatest guitar riffs of all time. The Rolling Stones magazine also included this Deep Purple song in its list of mankind's 500 greatest songs.
Ritchie Blackmore wrote the riff in G minor, incorporating a blues scale melody that uses only 4 notes. Blackmore harmonized the notes in parallel fourths. What many of us don't know is that Blackmore drew inspiration from Beethoven's Symphony No. 5. He inverted the melodies of the classical piece to create a power chord riff that has become as timeless as Beethoven's masterpiece. Beginner guitarists will find playing the chord progression relatively easy. Learning a single section is enough to play the entire song. It's very fun, too.
12. Roxanne By the Police
Song Overview: Sting wrote Roxanne in 1978 when he was still a member of The Police. The lyrical theme is very close to the 1990 Richard Gere-Julia Roberts film Pretty Woman. This song is one of history's greatest rock songs. This is a rock song with elements of reggae that will make you feel like taking to the dance floor.
The intro is very easy to play in the electric guitar. What is very important is to master the fingering technique of the song to achieve the characteristic electro sound of the song. It requires the lifting of the fretting fingers lightly to stop the strings from producing an extended note with each strum. The song also requires mastery of the guitar pick, although you can always employ a fingerpicking method. This is a fun song to play on any occasion.
13. Right Through You by Alanis Morissette
Song Overview: This song is one of the tracks on the album that launched Alanis Morissette to international stardom in 1995. It showed the influences of pop rock and post-grunge in both the song's structure and harmonics. The song features different musical instruments that blend harmoniously like that of the instruments in an orchestra.
Like many Morissette songs, Right Through You comes with chords that aren't that difficult to first-timers. The strumming pattern is also as straightforward as any other song. The key to playing this song on an electric guitar is to master the rhythm. It should never pose a problem since the rhythm is also predictable. What newbies will appreciate is that the song provides them with a good introductory piece for playing the electric guitar with abandon. You can be as carefree as you like when playing this song along with your friends.
14. Hotel California By Eagles
Song Overview: Anyone who wants to learn to play the guitar should include this 1977 classic in his or her list. While an acoustic guitar is perfect for playing this song, doing the fingerstyle on an electric guitar is worth it. After all, the original recording of this song featured an extended section that saw Joe Walsh and Don Felder interplaying with their electric guitars. The song has also one of the longest codas in the world. This led to the guitar section being voted as one of music history's best solos.
Hotel California teaches you a lot of things about playing the electric guitar. From the classic picking techniques to the precise fretting movements, you'll have most of the basics covered. Some folks may find the fingering techniques to be complicated. All you ever really need is the patience to learn the basics before you can start notching it up a bit.
15. Rockin' In The Free World by Neil Young
Song Overview: There's no doubt that this song is one of Neil Young's best. It ranks in the middle of the pack of Rolling Stone's 500 all-time greatest songs. Young released two versions of this song. If you're into playing the acoustic guitar, then you should pick the version with an acoustic arrangement. Newbie electric guitarists will find the electric version of the song to be an excellent piece. The popularity of Young's song has led to its extended use in the political arena in the US.
Beginner guitarists will never have problems with the song's strumming patterns. It is a good exercise for developing your guitar playing skills. The song also has modest fingerstyle sections that are perfect for improving finger coordination and flexibility. Overall, I would say this is a great electric guitar song for beginners.
16. Iron Man by Black Sabbath
Song Overview: This Black Sabbath masterpiece has a very iconic riff that is perfect for aspiring heavy metal guitarists. Ozzy Osbourne described the power guitar riff of the song as a big iron bloke. And true enough, this song has one of the "heaviest" guitars works on the planet. Fans of Tony Stark's Iron Man should be familiar with the song. Although the song was written and released in 1971, Iron Man did feature in the end credits of the first installment of the Iron Man trilogy. The Iron Man 2 trailer also featured this Black Sabbath song.
You'll learn to love Tony Iommi's guitar playing skills. The chords are a breeze to play. The song itself is fun to learn as it is very easy to pick up a few guitar tricks. You can use and incorporate these tricks in your own electric guitar playing.
17. Girls Just Want to Have Fun by Cyndy Lauper
Song Overview: I bet you didn't know that this Cyndy Lauper song was recorded first by Robert Hazard in 1979. Hazard's original version did not do well in the charts. It was in 1983, when Lauper decided to record it, that the song became an instant hit. The song has a very fun and upbeat vibe. It also became the anthem of a growing feminist movement, leading to the song being covered by at least 30 different artists.
Learning to play this song on an electric guitar is not only easy. It is also very fun. However, the song does require your fingers to be as flexible as possible. This is especially true when playing the verse. There are certain sections of the song that offer some sort of respite for your fingers. It's the hammers-on and bends that will keep you glued to your electric guitar.
18. (Don't Fear) The Reaper by Blue Oyster Cult
Song Overview: I love the tune and melody of this 1976 song. I also like its message having to do with eternal love as well as the inevitability of our end. It is for this reason that the song has a very eerie, almost haunting vibe. Don't let it spook you because this is one of the all-time greatest songs, according to Rolling Stone.
The song is perfect for learning a few fingerstyle techniques. This song is even better for those who already have a basic knowledge of arpeggios. You can always strengthen your arpeggio-picking capabilities while also harnessing your palm muting skills. The intro comes with a very lovely and easy strum. The chords are excellent for beginners, and the tune is something that will have you sitting back, reflecting on life. This is a great learning song for a beginning electric guitarist.
Popular Related Article: Our Favorite Easy Guitar Songs
19. Lonely Day by System Of A Down
Song Overview: Some of us would like to envision ourselves as masters of harmonic distortions, emphatic beats, and extended guitar solos. If you're one of these folks, then you should start your heavy metal journey with this song by System of a Down. Lonely Day is not as loud as the conventional metal music we know. It has a very soft and slow melody that makes it more like a slow rock or even a ballad.
For starters, the song lasts less than 3 minutes. You could easily practice the different sections of the song without getting bored. The chords are also easy, requiring only basic fretting and fingerstyle techniques. What is essential to learn in this song is its rhythm. The intro and verses are easy pickings. You'll get a taste of being a rock star when you start playing the chorus. That should really be fun.
20. Nothing Else Matters by Metallica
Song Overview: A staple in many of Metallica's live performances, this song is a great beginner piece for those who would like to embark on a journey playing the electric guitar. I love the intro of this song. The arpeggio in E minor is always a great start to any song. Whenever Metallica performs the song live, they often transpose it about half a step lower. The song starts with a low E on an open string. An open G follows before the high E gets strung.
Playing the intro alone is enough to get everyone vibing. It has this eerie feel to it that strikes the soul. And we're not talking about bass here. The way the progression of the notes is enough to awaken the senses. And when you start playing the individual notes, you get a melody that sounds more like a lullaby than a heavy metal song.
21. The One I Love by R.E.M.
Song Overview: I cannot think of any other song with a very catchy tune than this R.E.M. masterpiece. It has that lovely rhythm that is enough to bob your head around. That is why many people fell in love with the song, especially its refrain. What many don't realize is that this is not really a love song. And that the refrain does not necessarily mean an allusion to one's beloved. In fact, the song has a darker and more manipulative undertone.
Regardless, this R.E.M. song is still great for budding electric guitarists. It teaches you about rhythm and how the perfect timing of the fingerpick can produce a beautiful sound. You'll also love the interplay between the low registers and the high notes of the song. It creates an acoustic masterpiece that is a lot like the music created by multiple instruments.
22. I Saw Her Standing There by The Beatles
Song Overview: There are many reasons why this Beatles song is Rolling Stone's 139th greatest song in the history of man. Written by Paul McCartney, this song remains a must-learn for many aspiring musicians. There are many guitar tricks you can learn from this song. You also get to appreciate McCartney's guitar chord selections. It is also a great tool for learning how John Lennon combines classic rock leads and a boogie-style rhythm to create a masterpiece that still enjoys significant airtime in the 21st century.
It is a must that you already have a fair grasp of the basics of guitar playing before you take on this song. This Beatles classic is going to test the coordination of your fretting fingers. Your playing fingers will also have to be on point when picking or strumming the correct strings. Master these techniques, and you're ready to play more complex songs.
23. Comedown by Bush
Song Overview: Gavin Rossdale drew inspiration from his recent breakup to write a song that shows both regret and celebration. The 1995 song has been a favorite of many people after a breakup. The song reached the top of the Alternative Songs of Billboard for that year. It also landed the number 2 spot on the mainstream rock tracks while also breaching Hot 100 at the 30th spot.
The intro of this Bush song will test your fingerstyle. The harmonics are quite tricky. However, nothing is impossible if you find the determination to push through. The verses take on a slower groove. The alternating fast and slow rhythm of the song hallmarks the ups and downs of a relationship. There are power chords throughout the song. This is perfect for learning a few tricks and strengthening a beginner guitarist's rhythm chops.
24. Sultans of Swing by Dire Straits
Song Overview: This is Dire Straits' most impressive and most popular song. The guitar solo of this song virtually introduced British rockers to the rest of the world. Even people who had never heard of Dire Straits before were instantly mesmerized by the band's mastery of the guitar. And who would have thought that one can create a hit song in an open-tuned guitar.
The song's chord progression is ideal for beginners as it is easy to follow. There are no significant differences in the chords between different verses and different choruses. This is also a great piece for mastering a triad of guitar riffs, focusing mainly on second inversions. Plus, the Andalucian cadence of the song gives it a very nice flamenco-like vibe. I wouldn't blame you if you suddenly find yourself favoring jazz after learning to play this song.
25. Last Nite By the Strokes
Song Overview: This song may not have the popularity of the other songs in this list. However, it has one of the simplest riffs you can ever play on an electric guitar. While its chart performance is average at best, Last Nite does enjoy being listed as one of Rolling Stone magazine's 500 greatest songs in history. Last Nite landed at number 478.
The main riff of the song comes with classic downward strumming strokes. It would be best to have one of your friends to play another electric guitar to give that awesome two-guitar effect. It is more harmonious that way. Regardless, learning Last Nite should be easy-peasy for absolute beginners. The song introduces you to the technique of chord anticipation and prepares you to play other songs. It also strengthens your skills using the patterns of 16th note strumming, all while having fun playing it.
26. Europa by Carlos Santana
Song Overview: I decided to include one of Carlos Santana's greatest works because of the very nature of the song. Europa is an instrumental rock classic that topped the Spanish Singles chart in 1976. This instrumental music has many similarities to Joseph Kosma's Autumn Leaves, a well-known jazz standard. What I find very interesting about this piece is the Picardy cadence that punctuates the end of each verse. It is a fabulous piece worth playing on an electric guitar.
The chord progression of the song is slick. It incorporates a descending pattern of suspensions. Based in the key of C minor, Europa is one of the beautiful guitar instrumentals you can ever play. It has a complex harmonic that can be tricky to master. You can still nail this piece with constant practice and focus on the unique fingerstyle techniques of the song.
27. Zombie by The Cranberries
Song Overview: Very few people know the reason behind the writing of "Zombie". Dolores O'Riordan wrote the song as a condemnation against the twin IRA bombings in 1993. The Cranberries song became a huge hit in the US, Australia, France, Germany, Denmark, and Belgium. And who doesn't love its melody? Add the vocals and you have a great song to play with your buddies.
I have met a lot of very prolific electric guitarists who say that they started their careers learning the original 1994 "Zombie". And it is easy to see why. This song has very simple chords that can be made more powerful by the different sound effects that one can produce only with an electric guitar. The song doesn't require fancy fingerstyles. There are a few layering sounds that give the song multitonal characteristics. This makes the song a cinch to learn.
28. You've Got Another Thing Comin' By Judas Priest
Song Overview: From the 1950s to the 1980s, it is never easy for non-US artists to break into the charts in the US. They've got to have a phenomenal song to appeal to the US masses. One such artist is Judas Priest. This is a West Midlands-based heavy metal band that is now recognized as one of the world's all-time greatest metal bands. The band released this song in 1982 and hit the charts straightaway.
There is no escaping the almost hypnotic rhythm of this Judas Priest song. Listening to the song will have you beating to the rhythm. And if you're in your car, be mindful of your gas as the beat of this song will make you want to step on it. This exhilarating feeling is something that you can also get when you learn to play this fantastic song.
29. All the Small Things by Blink 182
Song Overview: This is one of the most fun electric guitar songs I have ever learned. The song is a great exercise of timing and coordination, not to mention the accuracy and precision of your fingerstyle. However, the melody that it produces is something that any fan of hard rock can appreciate. It is electrifying and satisfying at the same time. It would be almost impossible to prevent your friends from turning your home into a disco house once you've learned how to play this like a pro.
Tom DeLonge wrote and composed the song as a piece for his girlfriend. The intention was for the song to gain substantial radio airtime. It accomplished more than that. This song peaked at the number 6 spot of the Hot 100 of Billboard. It also fared well on the UK Singles Chart, reaching the 2nd top spot.
30. It Hurts Me Too by Elmore James
Song Overview: This masterpiece by Elmore James is one of the world's most interpreted songs. It gives it the distinction of being a blues standard. And why not? This song was first written and recorded by Tampa Red in 1940. The original eight-bar blues version had a mid-tempo and featured a slide guitar. One of the most popular artists who was able to give the song justice was Elmore James in 1957 by improving on the song's slide guide techniques.
Many of the legendary blues artists and rock and roll legends of the second half of the 20th century drew their inspiration from the guitar works of this song. It is a great tool for learning the basics of the shuffle pattern. You'll also learn the downstrum technique, a crucial element of many rock and roll and blues songs.
31. Master of Puppets by Metallica
Song Overview: A 6-time certified platinum song, Master of Puppets is a piece that is great for beginner heavy metal electric guitarists. Music experts claim that this song is key to the consolidation of the thrash metal scene in the US. It is one of history's most influential songs in the heavy metal genre. It is so influential that the Library of Congress deemed it fitting to preserve the original recording. Only the best songs get stored in the national archives.
Playing the chords of the song is like playing one of AC/DC's signature riffs. You will have to forgive Hetfield's outrageous vocals. Just focus on the song's rhythm and you'll have one of the best beats for any electric guitar song. The song is also great for polishing one's arpeggio picking and fingerstyle technique as well as a few other guitar basics. This is easily one of my favorite easy electric guitar songs for beginners.
32. My Best Friend's Girl by The Cars
Song Overview: If you listen to the lyrics of this 1978 song very well, I am pretty sure you may know of someone who may have had the same predicament as the song's subject. While Ric Ocasek said that he did not experience getting dumped for his best friend, he knew that the experience is quite common. It is this 'relevance' that saw the song reached the top of the charts in the UK and barged into the Hot 100 of the US at number 35.
The song gets introduced with lower register guitar chords. The two-bar chord progression seamlessly moves in the key of F. The intro lasts a full 8 bars before the song's electrifying lead guitar lick kicks in. You can start learning the intro before you move on to the rhythm and the fills. You can then start conquering the solo like a real pro.
33. This Means War by Avenged Sevenfold
Song Overview: This is another good piece for aspiring heavy metal guitarists. It was released in 2014 and featured in the video game, WWE 2K15. There are a lot of controversies surrounding this song. There are several music publications that criticized the track because of its uncanny similarities to one of Metallica's songs in the 1990s. The lead vocalist of Machine Head also called the song a ripoff. However, one cannot deny that the song has a lot of things to offer, especially to aspiring electric guitarists.
The song has a slow-paced guitar riff. Newbies will have an easy time picking up the rhythm and the fingerstyle of the piece. And if you use the right electric guitar, you could easily unleash all the power and the angst of a heavy metal musician. This is also a song that's worth singing along to.
34. Low by Cracker
Song Overview: Most people think that Low is about drugs because of the "being stone" phrase in the lyrics. They often hear the phrase as "being stoned", which has a darker meaning. This didn't stop the 1993 song from hitting the charts. In 1994, Low reached Hot 100's number 64 spot. It is also Billboard's number 3 modern rock track in 1993.
The song focuses more on the downbeat than the upbeat, making it easier for newbies to play and master. And with only four chords to really focus on – D, C, E, and G – learning to play the intro of this Cracker song should be done with in as short as a few hours. The verses and the chorus will require a few different techniques. The bends and the hammers-on should help you get a feel for what a true electric guitarist does when on the stage.
35. Two Tickets to Paradise by Eddie Money
Song Overview: If you can envision yourself as a master of several guitar licks, then you should check out this 1977 song by Eddie Money. While the song is already a dinosaur by today's standards, one can never argue that many rock musicians today owe some of their riffs, bends, and licks from Two Tickets. This is the signature song of Eddie Money himself. And it would be nice to learn a few tricks by listening to and learning from his song.
The song offers a great way to reinforce your rhythm skills. You can then start picking up the pace and the sound you create will still be awesome. The piece is also excellent for those who are aspiring to become lead guitarists. The riffs on the chorus are fun. They use open chords that are spectacular to play with aggressive, powerful strumming.
36. I Can't Quit You Baby by Willie Dixon
Song Overview: It is easy to see why many aspiring electric guitarists want to master performing guitar licks. This is a technique that embellishes the melody that the guitar plays. Most guitarists improvise their licks, instead of following the notations of a certain song. And if you also want to develop your guitar licking abilities, then you need Willie Dixon's 1956 song to give you a few basics. With only G-C-D chords to play, the song is also one of the easiest to play.
I can count at least 5 different licks that you can learn from this 1950s song. There are several techniques that you will learn. First, there's the arpeggio picking that is crucial to creating the wonderful sound associated with this piece. There are also the fretting techniques that will exercise your fingers as they move across the fretboard to press the correct strings.
It should be easy for any beginner to master the different basic techniques of playing the electric guitar using any of these songs. And if you find some of them to be tricky, worry not.
You'll be able to master them with due diligence, patience, and perseverance.
37. Rock You Like a Hurricane by The Scorpions
Before this guitar-heavy tune hit the airwaves, Scorpions had already released eight studio albums. However, it was their ninth album with hits like "Still Loving You" and "Rock You Like a Hurricane" that proved to be the gamechanger for this German hard rock band.
Armed with cool riffs and a catchy sing-along chorus, "Rock You Like a Hurricane" became the band's first single to crack the top 25 on Billboard Hot 100 charts. It is a great starting point for beginners, especially those who know the basics of power chords. Besides closed power chords, learning palm muting will help you play this song like a pro. Check out the tabs and the video lesson to get started.
38. Sunshine of Your Love by Cream
You cannot have a beginner-friendly song list and not have this 1967 crowd-puller on it! "Sunshine of Your Love" by the British band Cream is their most recognizable tune, with a permanent spot in The Rock and Roll Hall of Fame.
For those of you who don't know about Cream – they were an iconic supergroup powered by the combined earth-shattering talent of three musical heavyweights – guitarist Eric Clapton, bassist John Bruce, and drummer Ginger Baker, who were each masters of their craft.
This popular classic showcases their experiments with psychedelic, pop, and blues instead of the usual rock. "Sunshine of Your Love" also packs one of the most loved bass riffs in music history. Beginners can play this timeless lick on their electric guitar with a bit of practice. It's based on the D Blues scale. Check out the tutorial above to learn more!
39. Communication Breakdown by Led Zeppelin
While "Whole Lotta Love" might be one of Led Zeppelin's greatest works but this early staple from their eponymous debut album is arguably their easiest, guitar-wise. A B-side wonder, "Communication Breakdown" became an anthem for the young and restless and a frequent fixture at the band's live gigs.
The entire song centers around a fast-paced downstroke opening riff and a hard-hitting solo by the mighty Jimmy Page. For now, let's park the solo and work on perfecting the more doable power chord riff. Set your guitar to an overdrive setting before you get started. The tutorial above will help you nail the speed and a couple of other fundamental techniques to master the riff.
40. Eye of the Tiger by Survivor
Even those who haven't watched Rocky would have heard this song in the background of motivational videos. The memorable opening riff has made Survivor's "Eye of the Tiger" as legendary as Sylvester Stallone's Rocky Balboa. The title track of the third installment in the sports drama franchise is an adrenaline-pumping ride through and through. It catapulted Survivor to international fame, peaking at number 2 on the charts and selling over 9 million copies across the globe.
In playability, this song is well within reach of new guitarists with fairly straightforward power chords. You'll just need to work on perfecting the alternate picking pattern. Here's a little tip – if you aren't yet comfortable with power chords, you can play a simplified version of the opening riff using just the thick E string. Go on, grab your guitar and get playing!
41. Seven Nation Army by White Stripes
White Stripes' "Seven Nation Army's" simple drum beats and energetic riffs have made it one of the most ubiquitous sounds heard in sports arenas. It's a groovy ride with lyrics that you can't help singing along to!
Musically, this song showcases the duo's knack for making the best of their resources. It's clever how without a bassist, they created a killer descending bass riff that powers the entire song.
The ultra-cool bassline was played by frontman Jack White on his hollow-body electric paired to a whammy pedal taken down an octave. Both riff and solo are perfect for beginners. You can emulate the riff on your electric without a whammy pedal. Check out the tabs and video above to learn a simplified version of this amazing rock anthem.
42. Sympathy for the Devil by The Rolling Stones
Rolling Stones have always loved flirting with controversy, haven't they? And the eerie lyrics to "Sympathy for the Devil" is an excellent example of just how much. The song talks about the most gruesome of world-changing events from the point of view of Satan and how he had a hand in shaping them. The dark lyrics obviously didn't go down well with many people who felt the band was touching upon occult and unsettling theme for no apparent reason.
If you isolate the eerie lyrics, everything else about the song is quite upbeat. It's a rock samba driven by groovy beats, cymbals, blazing riffs – the works. Beginners will enjoy playing this famous Rolling Stones tune as it can be simplified without losing the essence of the original. You'll need E, A, and D for the verses and a B chord in the chorus. If you cannot play the barre chord, use the easier B7 chord to get the job done.
43. Smells Like Teen Spirit by Nirvana
Though no one has quite cracked the meaning behind this cryptic song but "Smells Like Teen Spirit" remains to this date one of the most recognizable as well as overplayed songs ever! We won't go so far as to say those who haven't heard it might be living under a rock, but, yes, its ubiquity is unavoidable.
With catchy riffs and smashing vocals, this insanely popular grunge rocker has inspired a whole generation of guitarists. Not only did this song put the alt-rock giants Nirvana on the map, but it also introduced the world to grunge. Even decades after its release, this lead single from the band's second album Nevermind continues to pop up in many "best of" "the greatest songs" lists.
If you want to learn Kurt Cobain's pounding riffs, you don't need to be an advanced-level player. There are plenty of tutorials that have simplified the song for beginners. You can play it with or without a capo with easy open chords. The tutorial above will show you how!
44. T.N.T by AC/DC
Explosive vocals, driving riffs, and quirky lyrics, TNT is AC/DC at their most musically adventurous selves. Released as the lead single off their second album, this is one of the more accessible tunes by the Australian hard rock band, centered around a mind-blowing three-chord riff unleashed by the famous Angus Young.
Angus, alongside his rhythm guitarist brother Malcolm, is hailed as the most iconic guitar duo, credited for producing some of the catchiest hooks, riffs, and expressive rhythms in rock. This song will allow you to explore both Angus's riff and Malcolm's rock'n'roll rhythm in a way that's kind to beginners. You'll also pick up the technique of palm muting along the way, that'll come in handy when playing rock music.
45. The Trooper by Iron Maiden
Surprise! Surprise! We've found an easy Iron Maiden song to add some heavy metal to your repertoire. Released by the famous English band in 1983, "The Trooper" chronicled the 1854 Crimean War, more specifically, the historic cavalry charge by the British troops. It was the second single off their fourth studio album, Piece of Mind, eventually becoming so popular that a line of premium beer "Trooper" was launched by the band.
For us, it's the trademark galloping rhythm and harmonized riffs that make it fun to learn and play. You can play it solo or take a crack at harmonizing the main riff with a friend. Granted, some might find the original track challenging, but it is still one of the easiest songs to start your Iron Maiden journey. Remember to practice with a metronome to nail the tricky rhythm.
46. Runnin' Down a Dream by Tom Petty
Conquering hearts both as a frontman of a prominent band as well as a solo act speaks volumes about the indisputable musical genius of Tom Petty. The raging success of "Free Fallin'" and "Runnin' Down a Dream" from his solo debut album Full Moon Fever, showed that the legend had it in him to make great rock even outside of the Heartbreakers' band.
Before jumping on to learn the entire song, how about starting with the main riff? You can play it using just the 6th string and working on getting the tempo right. We've linked up a tutorial that teaches you a one-string version of the riff, but you can access lessons that break down the entire song for you in a beginner-friendly way.
47. Another One Bites the Dust by Queen
Queen has been widely heralded as one of the best rock bands of all time, having produced one memorable masterpiece after another. Their 1980 best-selling single, "Another One Bites the Dust," is a masterclass in hit songwriting, packed with all elements to get the crowd going.
This song was John Deacon's contribution to the band's enviable discography with his bass riff and anthemic lyrics playing a big part in the song's success. Fun fact – this song was slated to be the title track for Rocky III before getting replaced by Survivor's "Eye of the Tiger."
"Another One Bites the Dust" might be a bass-driven affair, but you can play a simple rendition of the riff and the funky rhythm on your electric guitar. It might seem tricky at first but with a bit of practice, you should be able to get this one down.
48. Simple Man by Lynyrd Skynyrd
Lynyrd Skynyrd's Simple Man is one of those songs that leaves a lasting impression on the listeners. Propelled by evocative lyrics where the narrator recollects the pearls of wisdom shared by his mother on how to lead a kind, honest, and meaningful life. Together with "Sweet Home Alabama" and "Free Bird," "Simple Man" made the Southern rock band a household name.
This song is as beautiful to hear as it is to play. You can strum these three chords – C, G, and Am, or play them in an arpeggio pattern by picking the notes individually. While the strumming pattern is super easy, mastering the arpeggios may take some practice. The video lesson here will show both styles to help you choose the one more in sync with your skills.
49. Last Resort by Papa Roach
The debut single by the American nu metal band Papa Roach is also their biggest hit. Written by frontman Jacoby Shaddix, "Last Resort" lyrics lament how emotional and mental distress sometimes drives people to do the unthinkable – hurt themselves. Jacoby's angsty vocals did perfect justice to the song's intense lyrics. Meanwhile, lead guitarist Jerry Horton's super catchy and energetic riffs inspired many to pick a guitar for the first time.
If the main riff reminds you of Iron Maiden's Genghis Khan, then you aren't alone. The band has clarified that resemblance to the Maiden track, if any, was purely unintentional. For the fans of rap metal and nu metal genre, we cannot recommend a better song to enhance your skills, such as playing power chords in drop D tuning. If you're wondering how to tune your guitar down to D-A-D-G-B-E, then the tutorial above will help you.
50. Brain Stew by Green Day
Green Day's "Brain Stew" had an interesting release as a joint single with "Jaded." Written by Billy Joe Armstrong, the song's mind-bending lyrics deal with the theme of insomnia and its effects on sanity and physical health. Musically, it's a solid punk jam with easy power-chords fuelled riffs that you'll enjoy playing.
The main riff has been a somewhat divisive topic in punk rock circles since the song's release. Many argue that it bears an uncanny similarity to Chicago's "25 or 6 to 4," while some feel it sounds a bit like "Babe, I'm Gonna Leave You." Whatever may be the case, it's a super fun song to add a bit of punk to your arsenal. It's in an alternate tuning, so before getting started, tune your guitar down a half step to bring it to an E flat tuning – Eb-Ab-Db-Gb-Bb-Eb.
51. I Love Rock 'N' Roll by Joan Jett & The Blackhearts
Loud power chords, catchy riffs, assertive lyrics, and Joan Jett's in-your-face swagger turned an obscure song into the ultimate ode to rock and roll. But this wasn't a Jett original but a cover.
"I Love Rock and Roll" was originally released by a British glam group, the Arrows, in 1975. While on tour with the Runways, Jett watched the Arrows perform their version on the TV and became enamored with it. Six years later, after forming the Blackhearts, Jett released her rendition, a platinum-certified chart-topper that, in turn, inspired a slew of covers.
In playability, it's beginner-level stuff made up of three easy chords. In fact, for many of you, this will be a great introduction to power chords and palm muting. All in all, a surefire crowd-pleaser that doesn't take long to master.
52. Simple Man by Lynyrd Skynyrd
Knock it out of the park with this beautiful classic by Lynyrd Skynyrd, which also happens to be one of their most popular singles. "Simple Man" is a heartfelt song about a mother sharing life's lessons with her son, which leaves quite an impression on the listeners.
It's not hard to make out that the advice and values shared in the song are pretty personal to the songwriter, which in this case, were penned by Ronnie Von Zatt after his grandmom's passing.
In terms of guitars, there's a lot going on: licks, harmonies, and solos. Thankfully it's also one of those tracks that can be simplified to the extent of making it perfect for beginners. The easy version requires you to work with C, G, and Am chords. You'll need to tune your guitar a half step down to an E-flat tuning before getting on with the lesson.
53. 505 by Arctic Monkeys
Many call "505" the easiest Arctic Monkeys song, and I cannot agree more! It's not their more popular record, but certainly the most beginner-friendly. Two open chords, a D minor, and an E minor are all you need to get the job done.
Not just the most accessible, but this track is also the most underrated composition in the Sheffield-based rock band's catalog. "505" was their first attempt at a love song. Not a cheesy love song, mind you. It's a reflective, heartbreaking composition featuring a mesmerizing organ, a progressing tempo, and Alex Turner's passionate voice tying all the elements together.
54. What's My Age Again by Blink 182
Released in 1999, "What's My Age Again" is an ode to the complexities of growing up. It remains to this date, one of Blink 182's biggest hits, hailed for taking the entire pop-punk genre mainstream. Surprisingly, it took the band's bassist Mark Hoppus only 5 minutes to write it.
In playability, this Blink 182 tune is trickier than "All the Small Things." But its distinctive melody and crowd-wooing qualities make it worth going that extra mile. You can skip the arpeggiated opening riff and jump straight to the power chords. But give the intro riff a shot once you're through with the simpler parts.
55. With or Without You by U2
It won't be wrong to call U2's "With or Without You" a love ballad that gives couples a reality check by sharing the classic signs of a troubled relationship. With its thought-provoking lyrics and a melody to match, the tune took the world by storm, becoming the first chart-topper for the Irish rock giants in the U.S. It also occupies a spot in Rolling Stone magazine's coveted list of "The 500 Greatest Songs of All Time."
For me, what stuck the most was The Edge's wailing Infinity guitar and how beautifully it mirrored the achy lyrics. But park all that for now, along with the embellishments, as you get through this tune with just four chords – D, A, Bm, and G. You'll learn how to play Bm, a barre chord that every beginner should know. The chugging you picked up while learning the Summer of 69 will come in handy now.
56. Rebel Rebel by David Bowie
If you're looking for a tune that's beginner-friendly yet has the ability to dazzle the crowd, look no further than David Bowie's "Rebel Rebel."
For starters, it features one of the most recognizable guitar riffs in the history of music! This jangly riff was composed by Bowie to load up the song with a Rolling Stone-esque hook. Or maybe he was just looking to ruffle some feathers and irk Mick Jagger (which he apparently did!)
No matter what Bowie's intention behind the song was, "Rebel Rebel" is an earworm that will never go away. The Keith Richards-inspired riff repeats throughout the song and is super simple to play. Learn it using D, E, A, and Bm chords by tuning into the lesson above.
57. Watermelon Sugar by Harry Styles
"Watermelon Sugar" celebrates summer in all its glory, thanks to an infectious melody, playful lyrics, and Harry Styles' fabulously raspy voice, not to mention the delicious title. This funk-pop marvel featured in Styles' second studio album, becoming the first U.S. chart-topping hit for the English singer as well as fetching him a Grammy.
The upbeat track's brain-lodging hooks wooed anyone who listened, a zoomer or a baby boomer. There's also something very '70s about its sound, driven by horns and guitars. You only need to master a four-chord progression to play it. The chords are Dm7, Am7, C, and G. If you don't know how to play these, go ahead and check out the tutorial above.
58. Love on the Weekend by John Mayer
All those in awe of John Mayer's phenomenal guitar prowess but find most of his tracks hard to play, your prayers have been answered!
Mayer's The Search for Everything album is home to a charming three-chord wonder steeped in pure romance. With a simple melody, Mayer's raspy vocals, and a lovely guitar tone with reverb and delay, "Love on the Weekend," gives off a mellow vibe that makes it stick.
For absolute beginners, I recommend learning the straightforward strumming parts. Once you're through with it and still feeling adventurous, do try out the riffs. The lesson here will walk you through all the parts, the simple as well as the challenging ones.
59. Every Breath You Take by Police
If Queen's "We Are the Champions" is considered the catchiest song ever, this Sting hit is hailed as the "Ultimate All-Round Song." And there's actual science to back up both claims! According to a study by a research team at Aarhus University in Denmark, people like listening to energetic songs in the morning, fast-paced tracks in the afternoon, and dance jams in the evening.
With a mid-tempo groove and smooth-sailing sonic qualities, "Every Breath You Take" is a rare song that can be enjoyed any time of the day. No wonder this immortal classic has always dominated radio airwaves and is recognized by BMI as the most-played song in radio history. You'll be using a bunch of Add9 chords to play this one. Just keep in mind that the guitars in the original are tuned half step down, but you can play in standard tuning as well if you're okay with sounding a bit brighter.
60. Boulevard of Broken Dreams by Green Day
Some songs never die, and "Boulevard of Broken Dreams" is one of them. One of the biggest reasons behind the record-shattering popularity of this melodic punk-rock anthem was how well it resonated with the youth living away from home." The lyrics were inspired by Green Day frontman Billie Joe Armstrong's struggles with loneliness and homesickness while living in a new city.
This song is set in a common 4/4 timing, but keep a metronome handy when practicing the rhythm. What's great about this song is that it sounds as impressive on an acoustic as it does on an electric. If you want to get the unmistakable intro tone right, you'll need to add in the tremolo effect. Check out the tutorial to know more.
61. Summer of 69 by Bryan Adams
Canadian singer-songwriter Bryan Adams has produced many hits, but the up-tempo "Summer of 69" is pure hook heaven. Just reading the title opens floodgates of memories for anyone who grew up in the '80s and '90s.
On the face of it, the song seems to be about someone who can't decide whether to lead a regular life or leave everything behind in pursuit of fame. But if fan theories are to be believed, the song is racier than it lets on.
Familiarity with power chords will be a huge advantage while learning this song. There's plenty of chugging here, a helpful technique for those who are into heavier jams.
62. Believer by Imagine Dragons
Even before "Believer" hit the airwaves, Imagine Dragons had become quite a mainstream sensation thanks to "Radioactive" and "Demons." But as the best-selling singles of all time, the commercial success of this pop-rock banger far surpassed the other two. Because let's face it: this song is the very definition of a crowd-puller!
Its catchy melody and adrenaline-pumping chorus get you going for the day. Plus, the deeply relatable lyrics inspire listeners to draw from their struggles and rise above to become the best versions of themselves. You can rock this one out on an acoustic or electric, and it'll sound equally fantastic. Remember to place a capo on the first fret to play along with the original.
63. Moves Like Jagger by Maroon 5
"Moves Like Jagger" was born from Adam Levine's wish to foray into the electropop and disco territory, roping in the talented Christina Aguilera to add the sassiness.
The song is designed to draw listeners to the dance floor with the whistling intro, delicious synth hooks, funky rhythm, and the duo's electrifying vocals. It went on to become Maroon 5's most commercially successful song, ahead of "Sugar" and "Girls Like You."
Here's what I love most about this one: It's straight-up a two-chord song. In fact, there's one chord shape that powers most of the song. You'll just have to play it in two different ways. Tune into the video lesson above for a better idea of how to play the chord shapes and work out the cool rhythm.
64. Thunderstruck by AC/DC
Angus Young's iconic solos and his brother Malcolm's flawless rhythm guitar playing have powered many AC/DC masterpieces, including this one. But while most songs in their catalog are tough to play, "Thunderstruck" from The Razors Edge is a live staple that's relatively kind to beginners.
In the case of "Thunderstruck," it's the rhythm that gets you! Malcolm's parts are trickier than Angus' lead and were written before everything else. The rest of the song was built from there. So for beginners, I recommend starting with the intro. Although perfecting the speedy riff will take practice, so don't lose patience. Here's a great tutorial on how to play the intro fast.
65. Roll with It by Oasis
The release of the second single from Morning Glory? sparked a series of events widely publicized as "The Battle of Britpop." A rival band, Blur, moved up the release of their "Country House" intentionally to outshine "Roll with It" on the charts. To Oasis' songwriter and lead vocalist Noel Gallagher's dismay, Blur's single clocked higher sales than theirs.
Sonically, this track doesn't feature among Oasis' bests, but its easy and catchy electric parts make a great addition to a beginner's repertoire. For the most part, you'll only need to play open chord shapes. It also has a lovely solo that won't take too long to master.
66. Beat It by Michael Jackson
King of Pop's vault is teeming with unforgettable masterpieces that'll stay around till the end of time. But the one I am talking about is no pop song, but an arena rocker with its own solo!
"Beat It" stands out in Michael Jackson's discography as the only track with a solo, that too not by a session guitarist but by the iconic Eddie Van Halen. The 20-second virtuosic solo and Jackson's unparalleled pop abilities catapulted this rocker into one of the biggest-selling singles of all time.
When you get down to playing it, you'll realize how easy it is. Beginners might want to set EVH's extended solo aside for now and get started on the riff and rhythm.
67. Undone (Sweater Song) by Weezer
Weezer's curiously titled debut single is a must-learn for any beginner looking for simple electric tunes mainly because it features a repetitive riff that only gets louder and bigger as the song progresses.
"Undone" received heavy rotation on MTV and radio, becoming a breakthrough song for the alt-rock band. While the lyrics carried the straightforwardness of The Velvet Underground, the riff sounded as if it came straight out of a Metallica track.
To play this song as they do, you'll have to tune your guitar a half step down to E flat tuning: Eb, Ab, Db, Gb, Eb. The tabs and tutorial will simplify things for you.
68. Drain You by Nirvana
This was the 8th track on Nirvana's seminal Nevermind, and like most songs on that album, it struck a chord far and wide.
On the surface, "Drain You" sounds like a love song, but listen to it closely, and it reveals itself to be a commentary on our specie's inherent selfishness. This song is one of Kurt Cobain's favorites, and the band played it in nearly every live performance in Nirvana's short-lived existence.
What I love most about this grunge gem is that it sounds harder than it is to play, at least for those who can tackle their power chords. And isn't that what every beginner is looking for? Songs that are easy to master but can impress a crowd. If you're looking for beginner electric guitar songs, this is a great one and one I often recommend to my students.
69. Jailbreak by Thin Lizzy
Thin Lizzy, an Irish rock band from Dublin, was responsible for unleashing some of the most formidable hard rock classics. For those unfamiliar with their work, I recommend tuning in to "Jailbreak."
The 1974 hit shares its title with the album it's in. It's about a prison break with all the trappings of Thin Lizzy: prominent riffs, harmonizing guitars, wah-wah, tough guy lyrics, and a rousing chorus that make it instantly likable.
You can skip the trickier parts for now and work on the rhythm, which is fueled by a bunch of easy power chords. The tutorial above will break it down for you.
70. Dive by Ed Sheeran
This might be news to those who think that Ed Sheeran only records acoustic jams, but there are quite a few fantastic electric guitar pieces like "Dive" in his catalog.
This underrated piece from the wildly popular ÷ album is home to beautiful riffs and a stunning solo by an unknown guitarist, credited by Sheeran as Angelo Mysterioso. The rhythm goes in triple meter but has a straightforward strumming pattern.
Place a capo on the 4th fret to make it trouble-free. However, if you're up for a challenge, I recommend attempting the tricky yet accessible solo. If you add it to your practice routine, you'll have it done and dusted in no time.
71. Fever by The Cramps
It's easy to impress a crowd, even as a beginner guitarist. How? Just learn as many instantly recognizable riffs and licks as you can on an electric guitar. Having a good number of popular riffs in your arsenal does wonders for one's confidence. On that note, check out "Fever" by The Cramps. The American rock band's wacky, unhinged, yet incredibly catchy sound was a fascinating brew of psychobilly, punk, and garage rock.
The track that we have here was actually the group's distinctive take on a widely covered R&B tune. They turned the original on its head, adding a gothic organ, cool guitar riffs, and intense vocals. The main riff is built on an E minor pentatonic scale and is super easy to play. It also repeats throughout the track. Check out the tutorial and tabs above to learn the riff note-for-note.
72. Another Brick in the Wall (Part 2) by Pink Floyd
Pink Floyd's commentary on the formal education system is nothing short of a masterpiece. The protest song was penned by bassist Roger Waters and appeared as part two in a three-part composition on the band's most iconic album, The Wall. Besides the catchy 4/4 drum beat and fantastic guitar parts, what clicked the most with the listeners was the clever use of an actual school choir to sing some of the verses. There's also that iconic solo by David Gilmour that has inspired a generation of rock guitar players.
It showcases the influential guitarist employing his go-to techniques like wide-interval string bends, funky double-stops, and palm mutes. You can skip the solo for now and get back to it when you're comfortable with these techniques. Everything else is pretty straightforward. You can learn the lead parts and simple barre chords by checking out the tutorial above.
73. Fortunate Son by Creedence Clearwater Revival
The Vietnam War inspired many rock ballads. Musical heavyweights like The Rolling Stones, The Doors, Jimi Hendrix, Bob Dylan, and many more used their influence to speak out on the social and political turmoil associated with the 20-year-long conflict Creedence Clearwater Revival too, did their bit by recording their 1969 anti-war anthem "Fortunate Son."
Written by the famous John Fogerty, the ballad held up a mirror to the wealthy and powerful who stayed off the military draft, leaving only the less privileged to fight the war. Not surprisingly, it became a signature CCR tune and one of their most-loved hits. The song houses two easy but impressive solos, and if you know your power chords and palm mutes, you can master the guitar parts in no time.
74. Love Yourself by Justin Bieber
This salty kiss-off tune from Justin Bieber's vault conquered the charts and spent 24 weeks in the top 10 on the US Billboard Hot 100. Not a shocker considering the pop earworm was a result of a songwriting collaboration between Bieber, Ed Sheeran, and Benny Blanco. It's a perfect tune for anyone who wants to learn a beautiful fingerstyle melody on their electric.
It has an ultra-minimal arrangement with just an electric guitar and trumpets powering the show, besides Bieber's swoon-worthy vocals. Most of the song is played using fingerpicking and percussive rhythm with a hand slap. You'll also find power chords in the pre-chorus. The tutorial will break down the tune for you.
75. Breaking the Law by Judas Priest
"Breaking the Law" showcases that the iconic Judas Priest can evoke rage and angst in under three minutes, armed with simple but effective guitars. It doesn't have overwhelming techniques or ornamentation, and yet you'll find it on the dream list of every budding guitarist. I say it's the magic of that iconic minor-key riff, driving rhythm, pounding drums, and that fist-pumping chorus. It's so perfectly formulated that it feels like you're listening to pop metal. As far as playing goes, familiarity with power chords and palm mutes will surely tip things in your favor.
76. Immigrant Song by Led Zeppelin
You won't find many beginner-friendly tunes in the legendary Jimmy Page's vault, but if you do, make sure you add them to your repertoire right away, like this 1970 catchy rocker from Led Zeppelin III album. It blazes away in under two and a half minutes but leaves a long-lasting impact on the listeners. From Page's killer licks and riff to Plant's agitated vocals, every element of the song is catchy to the core.
Lyrically, the song compares the band's journey on the road to the Viking conquests. The main riff is repetitive and can be mastered even by beginners with consistent practice, but emulating Page's playing style will require you to know intermediate-level skills. The tutorial will show you a simplified way to play the riff and impress your audience.
77. Are You Gonna Be My Girl by Jet
In a short career, Jet made some wonderful garage rock tunes before bowing out of the scene. However, the one Jet track that has survived the test of time came from the band's second studio album. With its killer guitar riffs and Motown beats, "Are You Gonna Be My Girl" made its way around the globe, increasing the Aussie band's reach far beyond their homeland.
It became their highest charting single on the US Billboard charts and got featured in several TV commercials. It's a power chord workout – nothing you shouldn't be able to master with regular practice. It'll also help you get familiar with useful techniques like syncopated strumming and double-stop bends.
78. The One I Love by R.E.M
Despite being around since 1980, popularity only came knocking on R.E.M's door after the release of this single. "The One I Love" showcased the band's clever songwriting and powerful instrumentation characteristics. It's not actually a love song, as most people think, but an unsettling piece about manipulating and using people.
With a punchy drum intro and melodic riffs, the song acted as a passport to mainstream audiences and international stardom for the band. The main riff that drives this tune was composed by Peter Buck on his porch. It was the first piece of the song, and the rest of the tune just fell into place.
79. You Really Got Me by The Kinks
The Kinks had a dream run spanning three decades, where they topped the charts and won numerous awards. But some of their greatest works came from their garage rock days. "You Really Got Me" is an excellent example of that. It was released in 1964 and featured one of the most iconic guitar riffs in the history of music.
The riff was originally meant for a saxophone to lend a jazzy tinge to the song but was swapped for a fuzz guitar. And thank god for that! 'Cause I can't imagine what rock 'n' roll would've been without that tasty riff! Power chords inject a high dose of energetic awesomeness from the word go. You can learn it step-by-step with the help of the tab and video lesson above.
80. Come As You Are by Nirvana
Well, I am aware I've got quite a few Nirvana tracks on this list. But hey, we're talking about impressive yet easy electric songs, right? So, that pretty much qualifies the entire Nevermind album for you. "Come As You Are" was released as the second single, further boosting the band's already skyrocketing popularity. It was the perfect follow-up to the greatest piece of grunge ever to be recorded, "Smells Like Teen Spirit," with killer basslines and power chord-driven riffage.
Together, the two smash hits changed the landscape by decimating glam rock and catapulting grunge into the mainstream spotlight. Here's some trivia for you: The main riff on "Come As You Are" was borrowed from post-punk band Killing Joke's "Eighties." So, learning it would give you access to not one but two great rockers. Not bad, eh?
81. Sweet Home Chicago by Eric Clapton
As a beginner electric guitarist, perhaps the first scale you should learn on your guitar should be E minor pentatonic in open positions. Why? Because it uses only open strings, which are incredibly easy to play, and I am sure you would already be familiar with them by now. Once you learn it, you can play a host of bluesy riffs like this one right here. The groovy and soulful "Sweet Home Chicago" is a blues standard, first recorded way back in 1936 by Robert Johnson.
Out of many covers that followed Johnson's original, the one by Eric Clapton is my absolute favorite. Clapton has often cited Johnson as an influence, and this song does absolute justice to his admiration for the blues musician. Be sure to click on the tutorial above to learn the easy pentatonic lead in Clapton's version.
82. Sweet Child O Mine by Guns 'N' Roses
You're looking at one of the most recognizable songs from the famous American rock band Guns 'N' Roses' discography. In the journey of "Sweet Child O Mine," Slash's iconic riff came first, and the rest of the song just flowed from there. It's not an exaggeration to say that every aspiring guitarist dreams of emulating Slash's melodic riff and luminous solo in this track.
Well, if you're a beginner, mastering the top hat-donning guitar icon's chops would take more time, skills, and practice. But what I can offer you is a simplified chord-based arrangement that instantly puts this track within your reach – basically, the rhythm section that follows the intro lead line. The tutorial above will break it down for you.
83. Chasing Cars by Snow Patrol
An unapologetically romantic song with a short and sweet length, a simple yet catchy melody, and swoon-worthy vocals – that pretty much sums up why this Snow Patrol 2006 earworm was crowned as one of the most popular radio tracks of the 21st Century in the UK.
It's one of those songs that sound as awesome on electric as an acoustic, as there's a lot of strumming. The electric guitar, however, will give you a chance to attempt the song's delightful lead line. Three basic chord shapes (A, E, and D) and one simple strumming is all you need to nail the rhythm. Once you've perfected the rhythm, move on to the lead line, as shown in the tutorial.
84. Run Rudolph Run by Chuck Berry
I know it's still quite a way off to the festive season, but it's never too early or late to learn a Christmas classic. The song here is an endearing piece by the rock and roll pioneer Chuck Berry. There are a lot of elements in "Run Rudolph Run," especially the 12-bar blues, that make it sound quite similar to Berry's other iconic tune, Johnny B Goode. So if you already know the beginner version of Johnny B Goode, this one should feel like a cakewalk.
Based on the fictional character of "Rudolph the Red-Nosed Reindeer," this was the first ever rock and roll Christmas record and has been covered by the likes of Bon Jovi, Bryan Adams, and Keith Richards. Now, you can't expect a Berry tune to be beginner fare, but the tutorial shows you how to play it in the most simplified way possible. The tabs above break down the original recording in the key of C. Meanwhile, the tutorial shows you an easier arrangement in A. If you want to jam along with the original, just put a capo on the 3rd fret, and you're good to go.
85. La Bamba by Ritchie Valens
I am sure most of you would be familiar with this song or would have heard a repurposed arrangement in other classics, such as Twist and Shout by the Beatles. But for those who aren't: "La Bamba" is an 18th-century Mexican folk song, made famous as an up-tempo rock and roll banger by Ritchie Valens in 1958. It kicks off with an irresistibly catchy riff.
While a major chunk of the song can be played with a three-chord rhythm, learning the riff is trickier. It's centered on a C major scale and involves a lot of down-picking. I recommend spending some time practicing the C major scale to speed things up. The chords you'll be using for this tune are C, F, and G.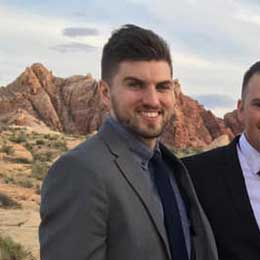 My name is Chris and I've had a passion for music and guitars for as long as I can remember. I started this website with some of my friends who are musicians, music teachers, gear heads, and music enthusiasts so we could provide high-quality guitar and music-related content.
I've been playing guitar since I was 13 years old and am an avid collector. Amps, pedals, guitars, bass, drums, microphones, studio, and recording gear, I love it all.
I was born and raised in Western Pennsylvania. My background is in Electrical Engineering, earning a Bachelor's degree from Youngstown State University. With my engineering experience, I've developed as a designer of guitar amplifiers and effects. A true passion of mine, I've designed, built, and repaired a wide range of guitar amps and electronics. Here at the Guitar Lobby, our aim is to share our passion for Music and gear with the rest of the music community.