Not to be confused with the term "popular music," pop music in and of itself is its own genre within popular music defined by the basic songwriting format of verse-chorus, with repeated hooks and a generally short length.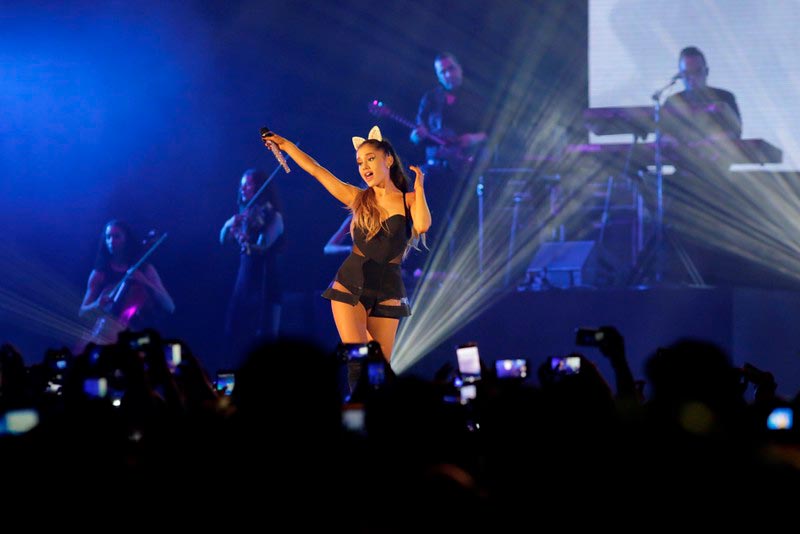 Often associated with other genres such as rock, dance, country and urban, pop music as we know it today rose from the youth-oriented music styles that were popularized in the United States and the United Kingdom during the 1950s and 1960s, such as rock and roll. With a wide variety of subgenres such as dance-pop, experimental pop, baroque pop, indie pop and pop punk, the pop genre has dominated the mainstream music charts and radios since its stylistic evolution in the 1980s.
These are some of the world's greatest female pop singers that have defined the pop music sound throughout the past six decades.
Here Are the Top Female Pop Singers of All Time
24. Billie Eilish
One of the world's newest pop sensations, Billie Eilish Pirate Baird O'Connell (known professionally as Billie Eilish) has taken the globe by storm with her ethereal vocal style and innovative experimental and dark pop themes in her music.
Having been homeschooled, Eilish was able to focus on her passion for music at a young age alongside her older brother Finneas. At the age of 11 she wrote her first song and at the age of 13 she began writing music regularly with the help of her brother who had been writing and performing music with his own band, the Slightlys. She released her first single later that year on SoundCloud, Ocean Eyes, which received wide acclaim and attention.
Eilish continued to released singles before her debut studio album in 2019 at the age of 17, When We All Fall Asleep, Where Do We Go?, which topped the US Billboard 200, featuring the hit singles Bad Guy, Bury a Friend and You Should See Me in a Crown. Eilish became the youngest music artist in history to win all four general field categories at the Grammy Awards and currently stands as the 9th most popular artist in the world on Spotify.
23. Ariana Grande
With over 90 billion streams across music streaming services and sales of over 85 million records, Ariana Grande-Butera is one of the world's most popular pop artists to date, having dominated the genre with her influential music and fashion style.
As a child, Grande participated in musical theatre at the Fort Lauderdale Children's Theater where she held lead roles in their productions of The Wizard of Oz, Beauty and the Beast and Annie. At the age of 13 Grande was focusing on pursuing a music career and traveled to Los Angeles in hopes of producing an R&B album, but instead was cast in the hit Nickelodeon television series Victorious, playing the role of Cat Valentine. Following Victorious, Grande reprised her role of Valentine for the spinoff series Sam & Cat until the series end in 2014.
In 2013 Grande recorded and released her debut studio album, Yours Truly, which reached number one on the US Billboard 200 albums chart and featured the hit single, The Way. In 2014 she released her second studio album, My Everything, which featured the hits Bang Bang, Problem and Break Free.
Grande has since become one of the most popular artists of the 2010s, as she is the most streamed female artist on Apple Music and Spotify and has won 2 Grammy Awards. In both 2016 and 2019, Time Magazine named Grande as one of the most influential people in the world. The Miami New Times has stated that "of all the biggest pop stars of the past 20 years, Grande has made the most convincing transition from ingénue to independent female artist," and Bloomberg stated that Grande is truly "the first pop diva of the streaming generation."
22. Lana Del Rey
Perhaps one of pop's most unique artists, Elizabeth Woolridge Grant (known professionally as Lana Del Rey) is known for her exploration of sadness, glamor and romance within her music.
During her childhood, Del Rey performed in her church choir as their cantor. After graduating high school, she lived with her aunt and uncle in Long Island, New York where she was taught how to play the guitar and began writing her own songs. In 2005 Del Rey moved to New York City and released her eponymous debut studio album, though it was until she was signed with Interscope and Polydor Records and released her 2012 album, Born to Die, that she received major international success.
The album featured her hit Summertime Sadness, which reached the top-ten on the Billboard Hot 100. She has since released seven studio albums with her eighth, Blue Banisters, scheduled to be released in 2021.
Praised by rock legend Bruce Springsteen as one of the greatest songwriters in the US, Lana Del Rey has gone on to become one of pop's biggest stars, with The Guardian stating that Del Rey's "pure female haze is a hallmark of the defiant female pop stars to come."
21. Katy Perry
Having originally started off as a gospel singer, Katheryn Elizabeth Hudson (known professionally as Katy Perry) is now one of the world's most successful female pop stars and has sold over 143 million records globally.
During her childhood, Perry was encouraged to stray away from listening to secular music and instead listen solely to gospel, though she listened to some popular music with her friends from time to time. She began vocal training at the age of nine, got her first guitar at the age of 13 and sang in her local church choir until the age of 17.
In 2008 Perry released her debut pop album, One of the Boys, which pushed her into the public eye with songs such as I Kissed a Girl, Ur So Gay and Hot n Cold becoming major hits. Perry broke into the mainstream with her 2010 album Teenage Dream which feature five chart-topping hit songs, the first ever album to do so by a female artist.
Billboard has said that Perry is "the rare celebrity who seems to have enormous popularity but genuine ground-level interaction with her adoring KatyCats."
20. Rihanna
One of the greatest selling music artists of all time, Robyn Rihanna Fenty (known professionally as Rihanna) rose to stardom with her skilled mixture of pop, R&B and dance music genres.
Growing up in Bridgetown, Barbados, Rihanna often listened to reggae music and decided that instead of finishing high school, she would attempt to pursue a career in music. She was discovered by American music producer Evan Rogers who helped her move to the US in 2005. She released her debut studio album, Music of the Sun, which featured her hit single Pon de Replay which rose to number two on the Billboard Hot 100 chart.
Rihanna's career developed quickly as she received her first Grammy Award just two years later for her hit single Umbrella which catapulted her into the global spotlight. She has since spawned numerous hit singles, including Only Girl (In the World), S&M, We Found Love, Rude Boy and Diamonds. She has also become a successful businesswoman and legend in the fashion and beauty communities across the globe with her notorious fashion and cosmetics brands, Fenty and Fenty Beauty.
As described by Time Magazine, "She's one of the coolest, hottest, most talented, most listened to, most followed, most impressive artists at work today, but she does it in her own stride. She gives to her fans, friends and foundation not just herself but her energy and spirit."
19. Lady Gaga
Known for her eccentric fashion style and versatility in her music and vocal abilities, Stefani Joanne Angelina Germanotta (known professionally as Lady Gaga) has become one of the world's biggest pop sensations and was the fourth highest-earning female artist of the 2010s.
At the age of four Gaga started taking piano lessons and began creating her own music by ear, as she preferred to do so over reading physical sheet music. As a teenager she performed in numerous theatre productions, was enrolled in a Creative Arts Camp and studied method acting at the Lee Strasberg Theatre and Film Institute for ten years.
It wasn't until 2008 that Gaga rose to fame, as she released her debut studio album, The Fame, which included the chart-topping hit songs Poker Face and Just Dance. She was an immediate success in the music industry and has since sold over 124 million records and has earned 12 Grammy Awards.
As stated in The New Yorker, "Lady Gaga blazed a trail for truculent pop stars by treating her own celebrity as an evolving art project," and Rolling Stone Magazine describes Gaga's legacy by stating that "it's hard to remember a world where we didn't have Gaga, although we're pretty sure it was a lot more boring." Lady Gaga is easily one of the best female pop singers of all time.
18. Christina Aguilera
Known as a powerhouse singer for her soulful and rich vocal style, Christina María Aguilera is known as the "Voice of a Generation" for her revival of teen pop music during the late 1990s.
During her childhood, Aguilera was fascinated by blues and soul records that her grandmother bought and began practicing singing. She performed at numerous talent shows before joining the cast of The Mickey Mouse Club alongside Britney Spears, Justin Timberlake and Ryan Gosling. She was selected to sing the theme song, Reflection, for the animated Disney film Mulan in 1998.
Aguilera released her eponymous debut studio album in 1999 which featured three number one hit singles, What a Girl Wants, Genie in a Bottle and Come On Over Baby (All I Want Is You) which launched her career, leading her to later become the most successful female artist in 2003.
In 2009 Aguilera was recognized by Billboard as the 20th most successful music artist of the 2000s, with sales of over 75 million records and a multitude of awards. In 2013 she was selected as one of the most influential people in the world by Time Magazine. As stated in Vice Magazine, "Aguilera dominated mainstream pop-related discussions. [Her] perfectly packaged music and looks appealed to tweens and teens who wanted to be like the pretty, chart-topping pop stars plastered everywhere."
17. Shakira
Referred to as the "Queen of Latin Music," Shakira Isabel Mebarak Ripoll has become an international success with her versatile and widely diverse music catalog of over 145 songs.
At the age of four, Shakira began writing poetry and later received her first typewriter at the age of seven. It was around this time that her father brought her along to a local Middle Eastern restaurant where she started dancing on the table along to the sound of a doumbek, a traditional drum used in Middle Eastern music. It was this particular event that sparked Shakira's desire to become a performer.
With her professional career having started when she was 13 years old, Shakira became a breakthrough international sensation when she released her debut English language album, Laundry Service, which reached number three on the U.S. Billboard 200 chart.
Shakira has since sold over 75 million records worldwide, has received 12 Latin Grammy Awards, seven Billboard Music Awards and three Grammy Awards and made history with her song Hips Don't Lie, which was the most-played pop song during a single week in American radio history.
16. Alicia Keys
Singer-songwriter Alicia Augello Cook (known professionally as Alicia Keys) is known by many as one of the world's greatest pop singers, though she's also acclaimed for her philanthropy, activism and humanitarian work.
Keys was classically trained in piano and by the age of 12, she was composing and performing her own music, having been inspired by her mother's favorite records by Billie Holiday, Louis Armstrong and Ella Fitzgerald. At the age of 20 in 2001 she released her debut studio album, Songs in A Mirror, which eared five Grammy Awards the following year.
She has since sold over 90 million records globally making her one of the greatest selling artists of all time, with some of her most famous songs being Girl on Fire, Empire State of Mind, No One, If I Ain't Got You and My Boo. Keys has received a total of 17 NAACP Image Awards, 15 Grammy Awards and 12 ASCAP Awards. She also notably co-founded the nonprofit organization Keep a Child Alive and is was awarded Ambassador of Conscience by Amnesty International.
Keys has since been credited as a multifaceted artist, with The Times stating that her debut album "spoke from a soul that seemed way beyond its years," and that her follow up album, The Diary of Alicia keys, "confirmed her place in musical history."
15. Jennifer Lopez
Also known as J. Lo, Jennifer Lynn Lopez is considered a pop culture icon for her dynamic music career that launched her into the public eye in the early 2000s.
Having grown up in a Puerto Rican household, Lopez has said that there was "lots of music" around her growing up, and that she was always "encouraged to sing, dance, and create their own plays for family events." Lopez left college to pursue a professional dance career, became the most successful Latin actress of the 1990s and then transitioned into her music career in 1999 with her album On the 6.
Since J. Lo's launch into the music world, she has sold over 70 million records and has been referred to as a "triple threat entertainer" for her major success in dance, acting and singing. She is now known as the most influential Latin American entertainer in North America and was ranked as the most powerful celebrity in the world in 2012 by Forbes Magazine.
Time Magazine listed J. Lo as one of the most influential Hispanic women in America, stating "why, because over a decade ago, she was an anonymous background dancer on the second-rated sketch-comedy show. Today she's known by two syllables."
14. Taylor Swift
Known for her more narrative songwriting style about love and life's hardships, Taylor Alison Swift is one of the best-selling artists of all time with her record sales surpassing 200 million globally.
Swift was involved in musical theatre at the age of nine and frequented New York City for acting and vocal lessons. She soon strayed from musical theatre to focus more on country music when she was taught to play the guitar at the age of 12. Swift moved to Nashville in 2004 at the age of 15 to become a songwriter but began working with Big Machine Records the following year and released her eponymous debut studio album in 2006 which featured her earliest hits, Teardrops on My Guitar and Our Song.
Swift became an international sensation immediately following the release of her debut studio album and has since landed numerous top-ten hits across the Billboard charts, including Shake It Off, Blank Space, We Are Never Ever Getting Back Together and I Knew You Were Trouble. She has won 11 Grammy Awards, 25 Billboard Music Awards, which is the most wins by a woman, and 32 American Music Awards, the most wins by a single artist.
13. Gwen Stefani
Known for her work as a solo artist and as the lead vocalist of the band No Doubt, Gwen Renée Stefani has become a household name since her musical debut in the 1990s.
During her childhood, Stefani was introduced to American folk by her parents and fell in love with artists such as Emmylou Harris and Bob Dylan. Her brother Eric formed the ska band No Doubt before leaving to pursue a career in animation, which Stefani took over. The band released Tragic Kingdom in 1995 which rose to international success and launched Stefani into stardom.
Stefani went on to begin her solo career in 2004, releasing the album Love. Angel. Music. Baby., which included the hit songs Hollaback Girl and Rich Girl. Since embarking on her solo career, Stefani has received three Grammy Awards, two Billboard Music Awards and has since sold over 30 million albums worldwide.
Now referred to as the "Pop Princess," Stefani has become one of the greatest pop singers of all time, with AXS stating that Stefani is a "powerhouse vocalist with an incredible range."
12. Britney Spears
Often referred to as the "Princess of Pop," Britney Jean Spears is known for influencing the revival of teen pop music throughout the late 1990s and early 2000s making her one of the world's biggest pop icons.
At the age of three Spears began taking dance lessons and went on to partake in gymnastics and voice training. At the age of eight, Spears and her mother traveled to Atlanta, Georgia where she auditioned to be on The Mickey Mouse Club which she was featured on from 1992 to 1994.
In 1999 Spears made history with her debut studio album, …Baby One More Time, which debuted at number one on the U.S. Billboard 200 and became the best-selling album of all time by a teenage artist. She has since sold over 100 million albums across the globe, making her one of the world's greatest selling artists of all time.
According to Glamour Magazine, "when she emerged onto the scene in 1999 with …Baby One More Time, the world hadn't seen a performer like her. Not since Madonna had a female artist affected the genre so profoundly."
11. Adele
Known for her rich, soulful voice, Adele Laurie Blue Adkins (known professionally by her first name Adele) is one of the best-selling music artists in the world, having won 15 Grammy Awards and sold over 120 million records.
At the age of four Adele began singing and was admittedly obsessed with music. She often played the guitar and sang for her friends before attending the BRIT School for Performing Arts & Technology where she studied alongside Jessie J and Leona Lewis. She went on to sign with XL Recordings after graduating and released her debut studio album, 19, which featured her first hit song, Hometown Glory.
Adele won Best New Artist and Best Female Pop Vocal Performance at the 2009 Grammy Awards, catapulting her into the international spotlight. She released her second studio album, 21, in 2011 which held the top position on the Billboard Albums chart longer than any album since 1985 in the US and is now certified Diamond. Having sold over 31 million copies alone, the album is the best-selling of the 21st century and features the songs, Rolling in the Deep, Set Fire to the Rain and Someone Like You.
Billboard has stated that "she was a unique presence not only in 2011, but in all of 21st century pop: a preternaturally gifted singer and songwriter with a leave-it-all-on-the-floor approach to recording and performing, and also an earthy, relatable and strangely unassuming personality both on and off the stage."
10. Amy Winehouse
Amy Jade Winehouse was known primarily for her eclectic mixing of the soul, blues, rhythm and jazz genres and her contralto vocals, making her one of the most unique female pop singers on this list.
Winehouse was introduced to jazz at a young age, as many of her uncles were professional jazz musicians, and her paternal grandmother was a singer. She went on to attend the Susi Earnshaw Theatre School where she learned to tap dance and received vocal training. At 14 she bought her own guitar and began writing and performing her own music.
Debuting with her album Frank in 2003 pushed Winehouse into the mainstream, as the album became a major success in the UK. Her second album Back to Black, which featured her hit song Rehab, was released in 2006, saw international success and has since become one of the greatest selling albums in UK history.
Winehouse tragically passed at the age of 27 in 2011, though her legacy continues to live on through her music. In 2014, a bronze statue was unveiled of her in her honor in Camden Town, north London. Her father stated at the time that "Amy was in love with Camden and it is the place her fans from all over the world will [now] associate her with."
9. Mariah Carey
Singer-songwriter and actress Mariah Carey is known as the "Songbird Supreme" for her mind-blowing five-octave vocal range and utilization of the whistle register which has led her to have an extensive history topping the Billboard charts as one of the world's greatest pop stars.
As a child, Carey excelled in the fine arts and dabbled in songwriting and poetry throughout high school. Her mother, a classically trained opera singer, helped Carey begin vocal training after graduating.
In 1990 Carey released her eponymous debut studio album which helped her rise to stardom, with her later albums featuring some of her most loved singles, such as All I Want for Christmas Is You, Hero, Fantasy and We Belong Together. Having sold over 200 million records across the globe, Mariah Carey currently holds the record for the most number-one hit singles on the Billboard charts by a solo artist, female songwriter and producer.
As stated in Vice Magazine regarding Carey's legacy, "when she entered the music world, [she] was a marketing dream. Like many of the black women before her, Carey fought for creative control of her career and brought hip-hop to a pop audience not out of necessity, but because it was a part of her identity."
8. Beyoncé
Known as "Queen Bey" and noted as "the most important and compelling popular musician of the twenty-first century" by The New Yorker, Beyoncé Giselle Knowles-Carter is one of the best-selling female pop artists of all time for her distinctive vocal style creation of the staccato rap-singing style that continues to dominate the R&B, pop and rap genres today.
Beyoncé got her start during her childhood, as she competed and performed in numerous dancing and singing competitions. In the late 1990s she joined the female pop group Destiny's Child as their lead vocalist, protruding her into the mainstream.
After the groups split in 2006, Beyoncé began focusing on her solo career and released numerous hit singles, including Halo, Single Ladies (Put a Ring on It), Crazy In Love and If I Were a Boy. She has since become one of the world's greatest selling artists of all time, selling over 118 million records and receiving 31 BET Awards, 28 Grammy Awards, 26 MTV Video Music Awards and 24 NAACP Image Awards.
Billboard named Beyoncé as the highest-earning black musician of all time in 2014, and in 2020 she was featured on Time Magazine's list of "100 women who defined the last century."
7. Céline Dion
Known for her dynamic, technically-sound vocals, the "Queen of Power Ballads" Céline Marie Claudette Dion is the best-selling Canadian recording artist of all time and is credited for introducing francophone music to numerous non-francophone countries across the world.
Having emerged as a local teen star for her French albums during the 1980s, Dion saw international success when she won both the 1982 Yamaha World Popular Song Festival and the 1988 Eurovision Song Contest. She released her debut English album, Unison, just two years later.
During the 1990s she saw worldwide success for her albums Falling into You and Let's Talk About Love, as well as for her now hit singles The Power of Love, I'm Your Angel and My Heart Will Go On which was featured in the Academy Award winning 1997 film, Titanic.
Now regarded as one of the most successful vocalists in pop music, Dion has sold over 200 million albums, wither her 1995 French album D'eux being the best-selling French-language album of all time. MTV has stated that "Céline Dion is better than almost anyone at capitalizing on pop's ability to articulate feelings in sensational, over-the-top ways."
6. Janet Jackson
The youngest child of the world-famous Jackson family, Janet Damita Jo Jackson, has become synonymous with her contemporary and socially mindful music which designated her as a role model for 1980s youth which has since made her one of the greatest selling music artists across the globe.
Getting a start in her career performing on the television show The Jacksons in 1976, Jackson went on to begin her solo music career in 1982 when she signed with &M Records. Using elements of rhythm and blues, disco, rap and funk, Jackson saw major success with her 1986 album Control and her 1989 album Rhythm Nation 1814.
Jackson's solo career blossomed, as by the end of the 1990s, she was one of the most successful recording artists. She has since sold over 100 million records and is the only artist in the history of the Billboard chart to have seven singles from one album reach the top five on the chart.
Allmusic has stated that "despite being born into a family of entertainers, Jackson has managed to emerge a 'superstar' in her own right, rivaling not only several female recording artists including Madonna and Whitney Houston, but also her brother."
5. Cher
Known as the "Goddess of Pop," Cherilyn Sarkisian (known professionally as Cher) has become one of the biggest names in pop music, having molded to different appearances and music styles throughout her lengthy six-decade-long music career.
Getting her start in acting at the age of 16 after moving to Los Angeles, Cher met her husband Sonny Bono in 1962 when he was working for record producer Phil Spector. The duo had a massively successful career together, as they performed together as Sonny and Cher supported by their television program The Sonny & Cher Comedy Hour before the couple divorced in 1975.
Cher's solo career has since taken off, having released a variety of hit singles, from her 1967 track You Better Sit Down Kids to her surprising 1998 dance-pop hit Believe. She is now one of the world's best-selling music artists, and has become widely known for her acting career, starring in movies such as Moonstruck (1987), Mermaids (1990) and Burlesque (2010).
Rolling Stone Magazine has stated that "there are no other careers remotely like hers in the history of pop music," and that Cher is "the one-woman embodiment of the whole gaudy story of pop music."
4. Madonna
Regarded as "one of the most influential figures in popular culture," and the "Queen of Pop," Madonna Louise Ciccone (known professionally as Madonna) is known for forever transforming the pop genre with her groundbreaking religious, political, social and sexual themes that dominate her music and look.
After taking ballet lessons throughout her childhood, Madonna moved to New York City in the late 1970s in hopes of igniting a career in modern dance. Having performed briefly for the rock bands Emmy and Breakfast Club, Madonna went on to produce her first solo work in 1983, her debut studio album, Madonna. She quickly rose to stardom and released number-one hit songs such as Like a Prayer, Like a Virgin, Hung Up, Material Girl and La Isla Bonita.
Since gaining a cult following in the early 1980s, Madonna has sold over 300 million records across the globe, making her the greatest selling female recording artist of all time as well as the highest-grossing solo touring artist of all time with a revenue of over $1.4 billion from concert tickets alone.
Madonna has been described by journalist Rodrigo Fresàn as "one of the classic symbols of Made in USA" and in 2012 she was ranked by VH1 as "the greatest woman in music."
3. Diana Ross
Having risen to fame from her work as the lead singer of Motown's most successful act, The Supremes, Diana Ross has been named as the "Female Entertainer of the Century" by Billboard and has been featured in the Guinness Book of World Records for having the most hits out of any female artist in the US and UK Billboard charts.
Ross began her music career when she joined the Primettes at the age of 15, later joining The Supremes in 1959. The group has since become one of the world's greatest selling all female groups of all time.
In 1970 Ross began her solo career and released her eponymous studio album which featured two of her greatest songs, Ain't No Mountain High Enough and Reach Out and Touch (Somebody's Hand).
Having been named as an influence for some of the world's greatest pop stars such as Michael Jackson, Madonna and Beyoncé, Diana Ross' name has gone down in history as one of the greatest female pop artists of all time. In 2016 Ross received the United States' highest civilian honor, the Presidential Medal of Freedom, from former President Barack Obama. Diana Ross certainly deserves a spot as one of the best female pop singers ever.
2. Aretha Franklin
Known by many as the "Queen of Soul," Aretha Louise Franklin was the first woman to be inducted into the Rock and Roll Hall of Fame in 1987 and has been noted by Rolling Stone Magazine as "the greatest singer of her generation."
Franklin began singing at a young age at her local church and was managed by her father at the age of twelve when they began touring across the country to perform at numerous churches. At the age of 18 Franklin aspired to make pop music and moved to New York. Though her career had a slow start, she signed with Atlantic Records where she released some of her most well-known songs to date, such as Think, I Say a Little Prayer, and (You Make Me Feel Like) A Natural Woman.
As stated in The New Yorker, "nobody embodies more fully the connection between the African-American spiritual, the blues, R&B, rock and roll, the way that hardship and sorrow were transformed into something full of beauty and hope."
Franklin died at the age of 76 in 2018. A televised memorial service was held for the legendary singer. Artists such as Ariana Grande, Stevie Wonder and Jennifer Hudson performed renditions of Franklins music as a tribute to the late singer.
1. Whitney Houston
Known as the top-selling R&B female music artist of the 20th century for her mighty, soulful take on the pop genre, Whitney Elizabeth Houston has gone down in history as one of the greatest female vocalists and pop singers of all time.
Performing for the first time at the age of eleven in her junior gospel choir at the New Hope Baptist Church in her hometown of Newark, New Jersey ignited Houston's adoration for music performance. Her mother taught her to sing throughout her youth, and she took inspiration from artists such as Roberta Flack, Gladys Knight and Chaka Khan.
Houston began performing as a solo artist at the age of 19, recording the studio albums Whitney Houston in 1985 and Whitney in 1987, which have since become two of the greatest-selling albums of all time.
Now considered to be a cultural icon, Whitney Houston has become a household name in pop and R&B since she gained her footing in the mid 1980s. Despite her tragic passing in 2012, Houston's music continues to define the American pop and R&B music genres, having paved the way for future pop artists alike.
Wrap Up
That does it for this list. Let us know your favorite female pop stars in the comments below.
Growing up in a small town in South Carolina with little to do, I spent the majority of my adolescence listening to music and writing stories. I began playing the violin in the 5th grade which helped me grow to appreciate modern music's roots from an early age. At the age of 12 my older brother introduced me to the music he grew up with; Nu Metal, Grunge, 90's Hip-Hop, Rap and Classic Rock. I became infatuated and embarked on my own music journey, discovering who I truly was along the way. During college I developed a passion for journalism, which I've now been lucky enough to merge with my love for music here at Guitar Lobby.