Powering your pedals correctly is essential to achieving the best possible performance out of your equipment. The most efficient way to provide your pedals with a good clean power source is by using a dedicated power supply. These devices come in a variety of sizes and shapes and have differing qualities. Identifying the ideal power supply for your rig can be a tricky endeavor. There are many variables depending on your setup, such as the number of pedals you use, their power requirements, and the size of your pedalboard.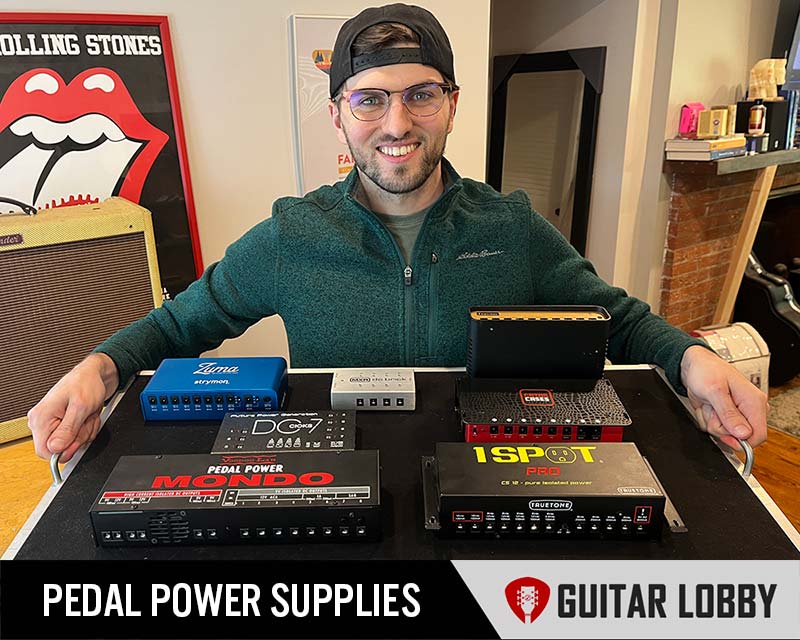 Over the years, our team at Guitar Lobby has tested thousands of pedals and pedalboard configurations, and in this article, we'll be discussing the best guitar pedal power supply at each price point. Regardless of your guitar rig, you'll find the perfect power supply to meet your needs. If you'd prefer to read more about pedalboard power supplies before diving straight into product reviews, you can start by reading our comprehensive guide on choosing the right power supply at the bottom of the page.
On that note, here's my take on 8 of the most notable power supplies in the market to keep your board layout optimized and well-powered. Some of them were already a part of my arsenal, while others I bought and tested extensively to give you as objective a review as possible.
Here Are the Best Pedal Power Supplies
1. Voodoo Lab Pedal Power Mondo (Best Overall)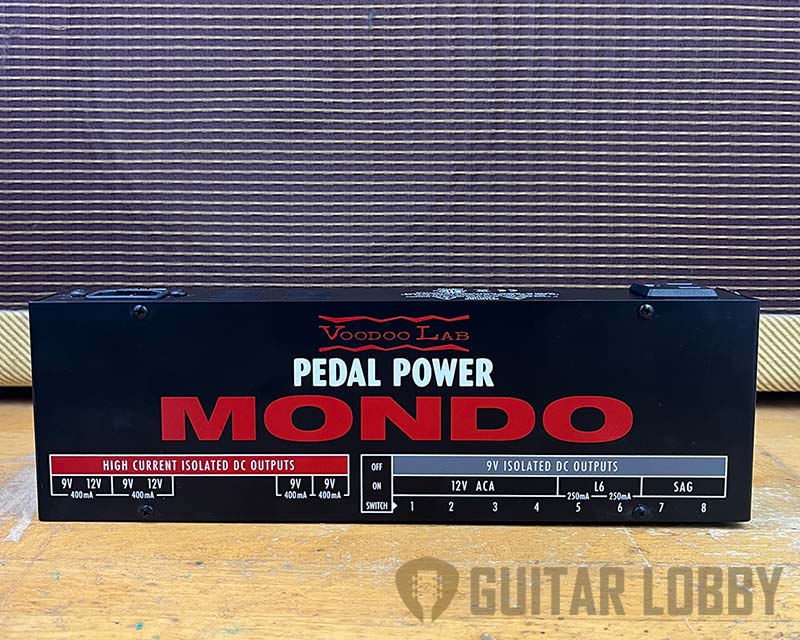 | | |
| --- | --- |
| Estimated Price | $280 |
| Connector | Power Cord |
| Output Voltage | 4-9V, 9V, 12V, 12-16V |
| Output Current | 100mA, 100mA (with SAG), 250mA, 400mA |
| Number of outputs | 12 |
Voodoo Labs have been helping touring musicians set up their ideal pedal rig since the '80s. Their popular effects pedals, pedalboards, and power supplies have long been the weapons of choice for many music icons and professional guitarists. I would argue a large factor behind their success is that each product is handmade, robust, and packed with high-quality components produced in their Northern California plant. Voodoo Labs' power supplies, especially, are a big hit. I appreciate the durability and reliability they've brought time and time again to my pedalboards over the years.
So what better way to kick off this list than by talking about their most popular power supply? The Pedal Power Mondo is a rugged and dependable workhorse capable of powering just about any pedalboard I would realistically assemble and gig with. I've owned and used this unit for a few years now. With a total of 12 isolated outputs, this unit has handled some of the most power-hungry pedalboard setups I've ever assembled. Out of those 12, there are 6 outputs that can supply up to 250mA and 400mA that I would consider "high-current," which I would typically need for some of the hungrier digital stompboxes I've acquired. Realistically, I typically only have 1 or 2 pedals on any particular board setup that requires up to 400mA, but it never hurts to have the extra space. It's uncommon that I need 12V outputs, I typically run the Mondo with all 12 isolated outputs as 9V each, but I do appreciate the versatility this unit offers to adjust the output voltage for 8 of the 12 outputs at the flick of a switch.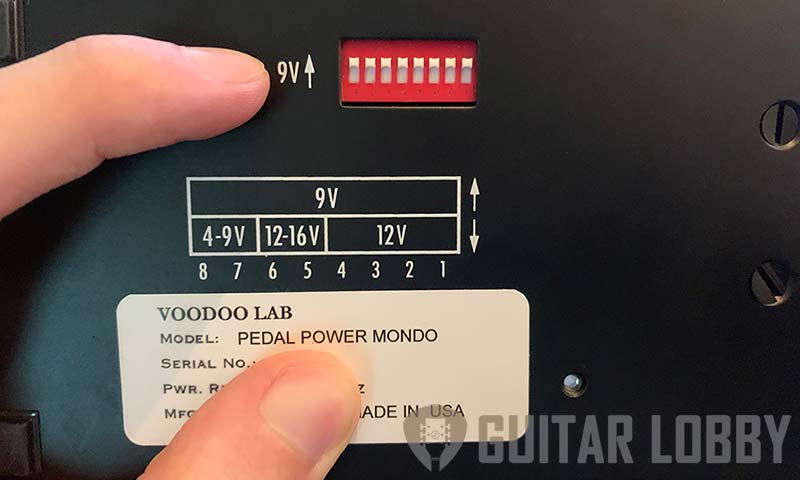 Pedal Power Mondo's noise-free performance also gets my vote. The complete isolation of the outputs eliminated the risk of ground loops and minimized any electrical hum from marring my guitar's tone. And it's all thanks to the large, toroidal transformers and all-linear power supply. Not a surprise, considering Voodoo is big on linear regulators. The tricky part is that linear, transformer-based power supplies produce a lot of heat. And while that is an issue with most linear power supplies, the Mondo is designed with an internal thermometer that controls an internal fan when it's time to circulate cool air into the enclosure. Those who tour extensively and perform outdoors will certainly appreciate the ruggedness and unwavering performance of this unit.
At the end of the day, what sets the Mondo apart from other power supplies is its proven reliability combined with its ability to power some of the most extensive ranges of effects pedals. Even if you own a modest selection of pedals, choosing the Mondo will make it easy to add more pedals to your signal chain without having to purchase a larger power supply.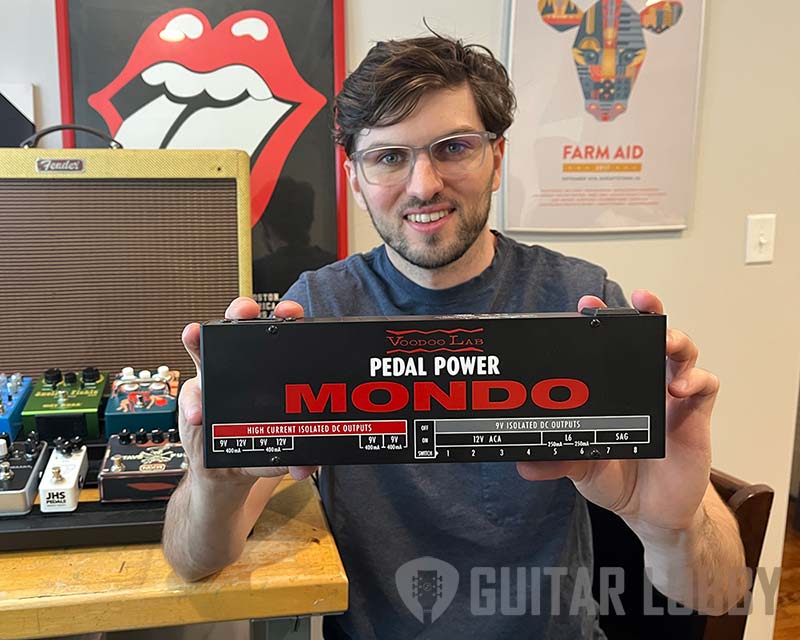 Who is this best suited for: The Voodoo Lab Pedal Power Mondo is ideal for guitarists or bassists who have a wide selection of pedals on their board. It is capable of powering all types of pedals, from your average 9-volt stompbox to modern digital units with large onboard processors. For beginners, it might seem a bit of an overkill right now, but if you're serious about your guitar journey, why not invest in a reliable, well-behaved power supply right away?
Bottom Line: With a total of 12 isolated outputs, voltage variations suited to all pedal types, and high-quality, handmade engineering, the Pedal Power Mondo is a versatile workhorse. It keeps noise to a minimum and makes sure your pedals get the clean and efficient powering they need. The use of high-quality toroidal transformers ensures the best sound quality possible, even if your pedalboard is bursting at its seams.
2. Truetone 1 Spot Pro CS12 (Best Value)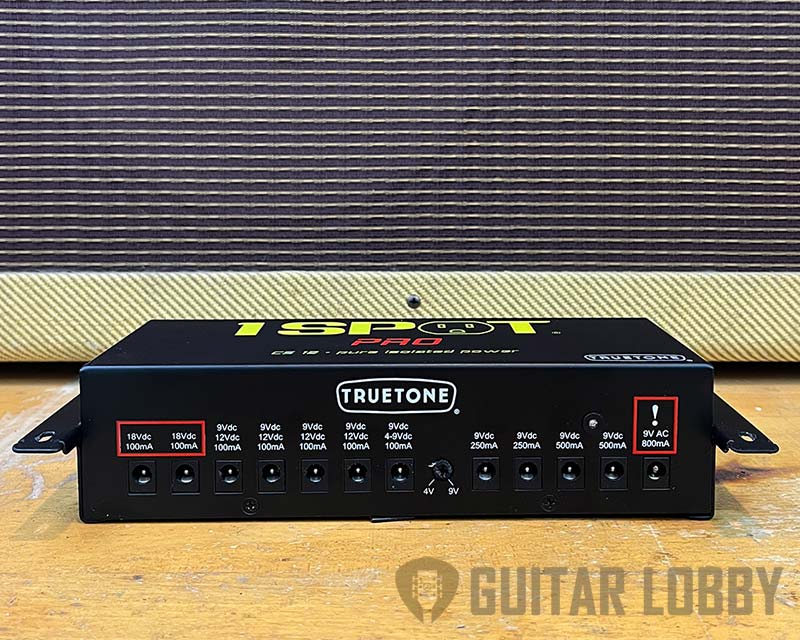 | | |
| --- | --- |
| Estimated Price | $199 |
| Connector | Power Cord |
| Output Voltage | 4-9V, 9V, 12V, 18V DC, 9V AC |
| Output Current | 100mA, 250mA, 500mA |
| Number of outputs | 12 |
My Review: Along with the Mondo we just looked at, the Truetone 1 Spot Pro CS12 is a power supply I have owned for several years and highly recommend! The CS12 can power a wide variety of my effects pedals, as it offers a combination of high current and voltage outputs. The 12 fully isolated outlets cater to the pedal power requirement of most of the board configurations I regularly use. I always like a power supply that offers some versatility, so I like that the CS12 offers four switchable outs between 9V and 12V operations with 100mA current draw, two standard 9V out with 250mA current, two high-current 9V outs with 500mA each, and two 18V 100mA outputs ready for high gain pedals.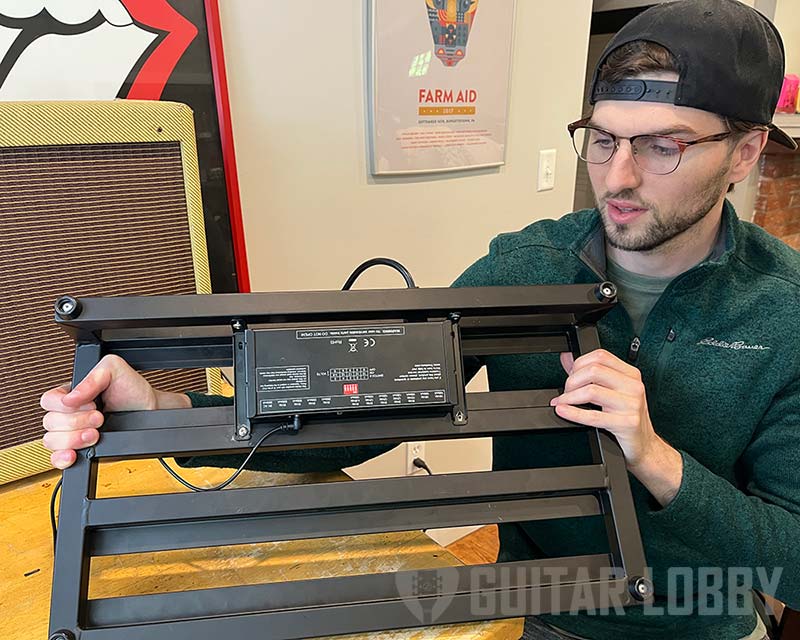 The CS12 also caters to pedals with unique power requirements, and this is where it gets really interesting. You know how some fuzz pedals sound best when they're on old batteries. Well, in CS12, you get a single variable 4-9V output to improve the tone of your fuzz pedal by starving it. That's not all. You also get a 9V AC output which will save you the trouble of getting a separate wall wart to fuel pedals that run on AC power.
In terms of engineering, CS12 is indeed solidly built, which is true for most power supplies in the 1 Spot range. Its large metal casing ensures longevity and protects the inner components, which does wonders for my peace of mind as someone who uses their pedals a lot. Inside CS12's box, you'll get all the necessary cables, converter plugs, and adapters to cover a wide range of pedals as well as mounting brackets for Pedaltrain pedalboards.
Who is this best suited for: The Truetone 1 Spot Pro CS12 is the most extensive offering in the revered 1 Spot line. I recommend it for gigging guitarists who use a multitude of effects pedals that require a power supply that offers a vast number of outputs as well as a switchable input for worldwide use. The CS12 can power up to 12 pedals simultaneously while maintaining an energy-efficient approach and guarding the signal against undesirable noise.
Bottom Line: Truetone is renowned for designing its power supplies using only the best quality components. The CS12 lives up to that reputation. At its max, CS12 can wield an isolated power of 3000mA with several customizable outputs to power any combination of digital and analog pedals. That too in the most efficient way possible. It does all of this without being overly bulky or heavy.
3. Cioks DC-7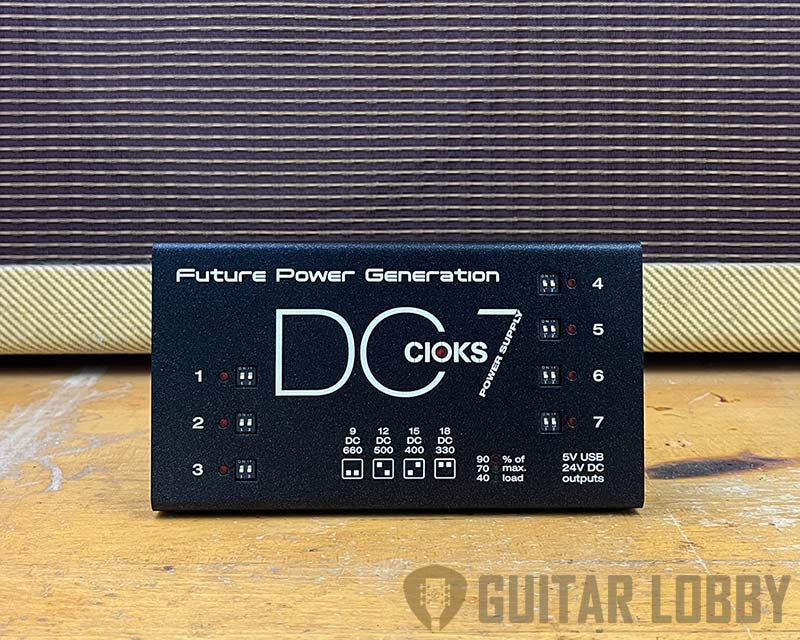 | | |
| --- | --- |
| Estimated Price | $249 |
| Connector | Power Cord |
| Output Voltage | 9V, 12V, 15V, 18V, 24V DC pass thru |
| Output Current | 330mA-660mA |
| Number of outputs | 7 |
My Review: Founded in 1991, CIOKS is a Denmark-based company known for its wide bouquet of power supplies. While their first product was the 5 9V outlet CIOKS Baby, the brand wasted no time in riding the popularity wave of digital effects pedal by launching their Big John and Double Jack power supplies. Whether you're a beginner compiling your first rig or a seasoned gigging musician, chances are you'll find the perfect power supply for your pedalboard in CIOKS' vault.
My goal behind testing the DC-7 was to figure out if the ultra-slim, feature-rich unit lived up to the hype. Right off the bat, the DC-7 comes off as the Swiss Army Knife of power supplies. It's compact with a 1-inch profile and weighs only 1.1. Tucking it underneath my pedal rig was a hassle-free process, and it came with the mounting hardware I needed.
As the name suggests, the DC-7 packs seven power outs, all of which are isolated. There's another bonus in the form of a 5V USB port that comes in handy to power tabs and smartphones. Each output is 6W but can be switched individually between 9V, 12V, 15V, and 18V for maximum versatility. I was able to do all the switching effortlessly using the indented dip switches that sit right on the top panel. This is a bit different than some of the units I reviewed above, which used a single two-way switch to switch between 2 supply voltage options. The DC-7 is designed with pair of switches per channel, which allows me to switch between 4 different voltage options for each individual channel based on the configuration of the switches.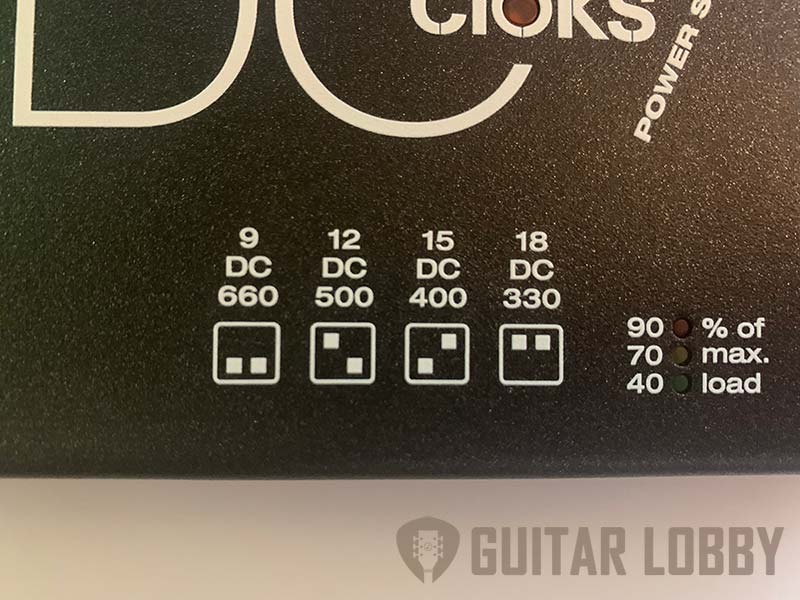 If I had to get a bit into the technology of things, the design of the DC-7 implements a 2-stage switch-mode power supply topology. This is a more sophisticated type of converter circuit than you will find in most other power supplies on the market. It utilizes additional rectifiers and transistors to more effectively isolate the input power to the module from the DC power it supplies to your pedals. This works brilliantly in filtering out unwanted noise.
I liked the LED indicators on this one, which keep you clued into the status of each outlet. The LEDs stay glowing when everything is fine, but start dimming if you start hitting the current limit. If the LED shuts off completely, you know there's been an overload situation. To test this feature, I was able to see the LED turn off if I tried to power a digital unit that was too current hungry for the channel but had trouble getting a channel to hit just near the current limit to see the LED dim. So I ended up having to simulate this with a test equipment setup to verify its functionality, but it worked like a charm! The unit let me know which channel was overloaded or short-circuited or on the edge of being so, which is especially useful if you are powering multiple pedals in a chain and can immediately diagnose which pedal is not powered properly.
An added safety measure, there's an LED inside the 'O' of CIOKS. This is a global status LED that's been put in place to let you know when you cross 48W. This device also comes with an in-built 3-LED to help you stay on top of the total power load. You only need to worry when all three LEDs start glowing red, meaning the power load has reached 90%. Last but not least, the DC-7 feature mains input capable of handling any power you throw at it from 90 to 265V AC. The box also had 12 flex cables of varying types, including a three-way daisy chain.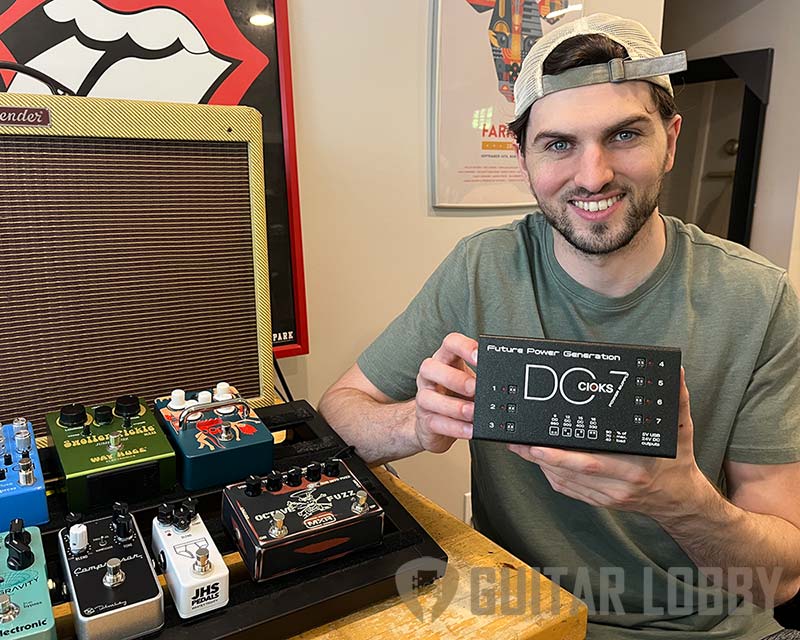 One last feature I wanted to highlight was the 24V aux output which will be helpful in all those situations when seven aren't enough for my whole board. All you need to do is to expand the DC power by plugging in compatible units like CIOKS 4, CIOKS 8, and Crux. At any point in time, the max output you can draw is 48W, and there's a monitoring system to keep all this in check. While the DC-7 is extremely well designed, making expansion easy to do, I feel that one of the biggest negative buying factors for this unit is that the base unit only provides 7 outputs, whereas competing products in a similar price range tend to offer closer to 12 outputs. The fact that I need to pay an additional $130+ for a CIOKS 4, on top of what I paid for the DC-7, in order to power a similar number of pedals as units such as the Voodoo Labs Mondo or the Truetone CS12 are capable of is a significant decision making factor for me and will be for a lot of buyers.
Who is this best suited for: The DC-7 is chock-full of highly usable features, and the small footprint gets a huge tick from me. 330mA at 18V and 660mA at 9v, this unit has the ability to power any pedal in your rig. Anyone from beginner to seasoned musicians will find plenty of functionality in this expandable power supply unit.
Bottom Line: For its slimline profile, D7 boasts impressive functionality in the form of 7 outs with four different voltages, a USB outlet, and an aux output. Whether you use an analog or digital pedal, play at home, or rock out at international venues, this power generation unit is one you should highly consider if you can afford the above-average price tag.
4. Strymon Zuma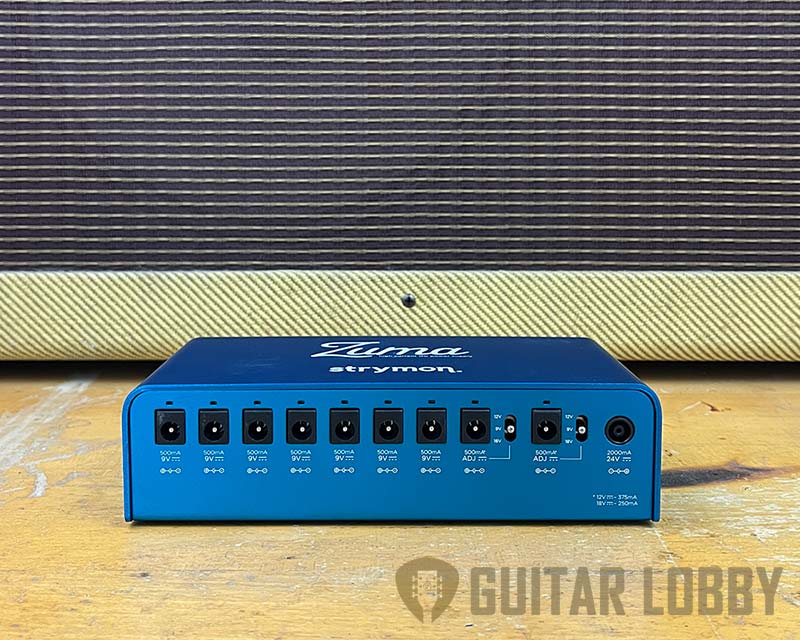 | | |
| --- | --- |
| Estimated Price | $280 |
| Connector | Power Cord |
| Output Voltage | 9V, 12V, 18V |
| Output Current | 500mA each |
| Number of outputs | 9 |
My Review: My first impression of Zuma was that this is a guitar pedal power supply that scores high in all of my ranking categories. This didn't come as a surprise to me as I am a big fan of the brand's pedals. The boutique brand is hailed for its high-precision, multi-effects functionality, and aesthetics. The one downside to Strymon products is that they often command a pretty penny, and can require more of a learning curve than what a lot of novice or intermediate guitarists will need. Most Strymon and other boutique brand pedals have high-current requirements, so I appreciated that each output has a high enough max current output rating to power just about any pedal ill ever need. That's really one of the key buying factors for me with this power supply, is it's seven 9V outputs, each of which can supply a staggering 500mA of current. The vast majority of my pedals require 9v, but the Zuma has been thoughtfully designed with two additional outputs, with the same 500mA max current, but are switchable 3-way between 9V/12V/18V.
This has worked excellently for me, as most of the digital pedals I've been acquiring lately require in the range of 300mA or more. It's important to remember that the voltage requirement of your pedal needs to be the exact voltage and polarity supplied by the output you are using, whereas the current rating on the power supplies output is the maximum that it is capable of supplying. So at 500mA max current to each output, The Zuma gives me the flexibility to not worry as much about having enough high-current channels when I'm using a board setup with a lot of pedals with different needs. If the power supply output is capable of supplying greater than or equal to the current then the pedal wants to draw, then the pedal only draws the amount of current it needs as long as the power supply output has the ability to supply the current.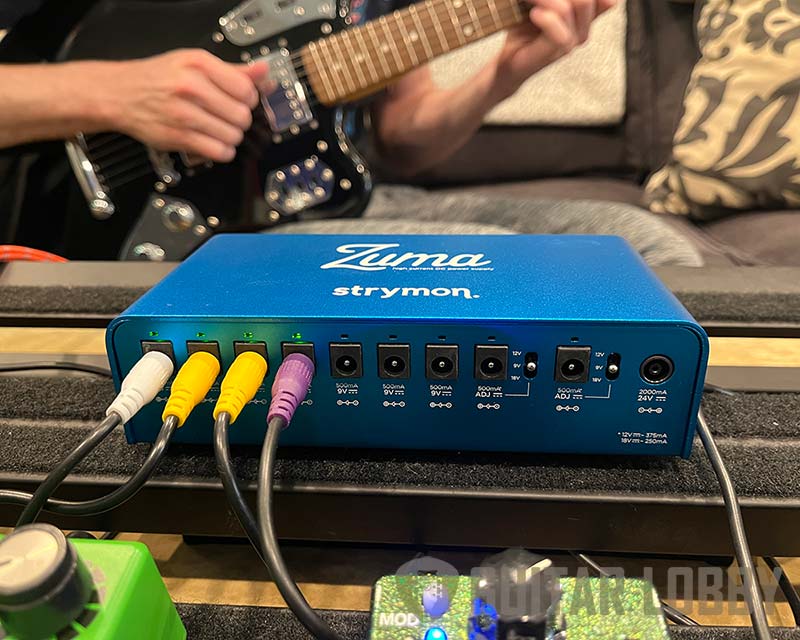 Speaking of current draw, Zuma comes with an LED warning system, which is a feature I appreciate seeing on a unit of its price. The LEDs on top of each output turn green when you plug in the cord and turn off when you unplug. If your pedal is still plugged in and the indicator has shut off, that just means it is drawing more current than what's available.
Out of all the power supplies Strymon has launched so far, Zuma is by far the most popular. It's packed with features that I find extremely useful and convenient, which make it a steal in my book when comparing it to similarly priced products. With nine individually isolated outputs, 3-way switchable voltage control, and road-ready rugged construction, Zuma is tailor-made for gigging musicians like me. The 3-way switch mode feature is a rare inclusion on most power supplies, and it's great for quickly tweaking the settings to cater to larger or smaller voltage pedals without needing to disconnect your cables. In other words, no matter which part of the world you're touring, Zuma has you covered.
Oh, and Zuma kills it in the noise (lack of) department! The power supply utilizes dual-isolation topology and multi-stage filtering to kill all the unwanted hum and buzz from your pedalboard. What you're left with is clean, dead-quiet power. So far, Zuma offers more than enough current for my pedalboard. But just in case some of you need more power, all you need to do is use the 24V throughput jack to add another compatible power supply like Strymon Ojai.
Who is this best suited for: Because it can simultaneously power up to 9 high-draw pedals and adapt to different voltages, I recommend Zuma for guitarists, bassists, and keyboard players that tour a lot and have many power-hungry pedals in their arsenal. Plus, with the multi-stage filtering and dual isolation, you get clean, stable power with the ability to keep up with your growing pedal rig.
Like Strymon's prized line of pedals, it's incredibly well designed and built. Zuma may stretch your budget but should provide reliable performance year after year.
Bottom Line: When designing the Zuma, Strymon tapped into their wealth of pedal-manufacturing knowledge to create one of the very best pedal power supplies on the market today. It comes with versatile power-generating options and a plethora of protective mechanisms that ensure the best quality operation possible. This is one of the pedal power supplies out there.
Plus, it's built like a tank and looks great. And whether you choose to mount it on top of the pedal board or underneath, like me, Zuma's anodized aluminum chassis feels rugged enough to shield the circuitry for many years to come.
5. MXR M237 DC Brick (Best Under $100)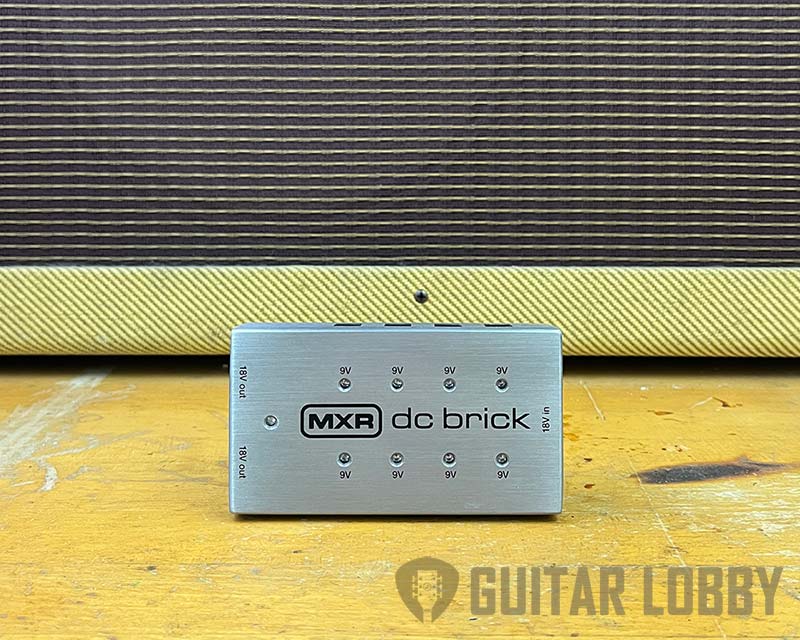 | | |
| --- | --- |
| Estimated Price | $99 |
| Connector | Power Cord |
| Output voltage | 9V, 18V |
| Output Current | 150mA, 400mA |
| Number of outputs | 10 |
My Review: As someone who uses and reviews a lot of guitar pedals, I'm always looking for a power supply unit that's dependable, affordable, and offers plenty of current draw. The MXR M237 DC brick fits the bill, boasting an eye-catching brushed steel housing. It's sleek, compact, and doesn't take up unnecessary room on the pedalboard. For its size and price tag, I was blown away by this power supply brick's specs.
The M237 is a cleverly designed unit offering a wide range of voltage power options and way more features to keep small and mid-sized guitar and bass rigs well-fed vs. previous models. Yeah, I am talking about the DCB10 model. As popular as the DCB10 was, the DC Brick trumps it in both ease of operation and functionality. Why do I say this? Well, For starters, this improved version has more outputs to power a pedalboard. There are 10 of them, eight 9V outs and two 18V outputs. And on the off chance that even this power setup isn't enough to fuel your rig, the M237 has plenty of room to grow. You also don't have to bother packing the extension cable, as this unit comes with all essential cabling in the form of 9V power chords.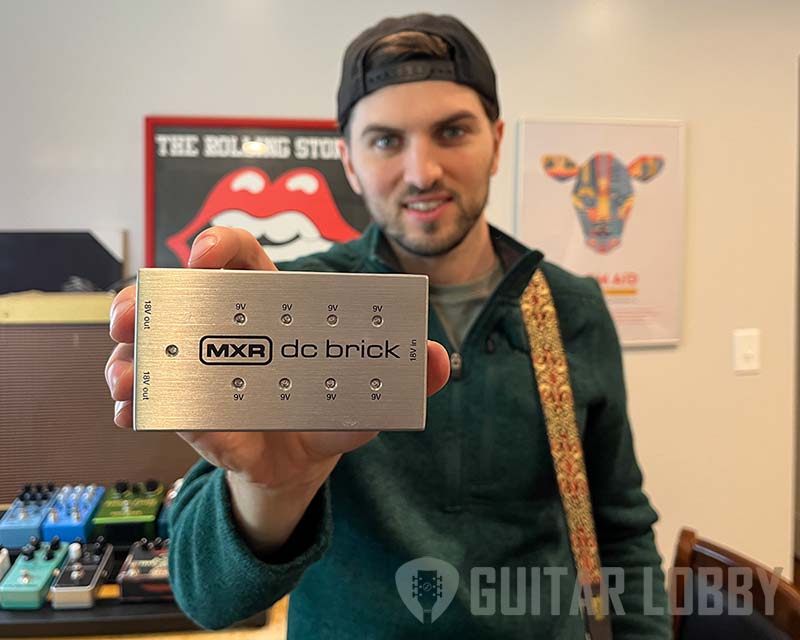 Another thing that seemed pretty cool to me about this power block is the LED warning system that helps you stay on top of the voltage situation. With this feature, you'll never have to worry about performance interruptions because of a short-circuited pedal. How this works is that each output is fitted with an LED indicator that lights up if a short occurs, which is excellent as it allows me to quickly troubleshoot as well as fix the problem.
Who is this best suited for: If I had to pick just one feature that had me sold, it would have to be the ten isolated jacks of various voltages in a compact body. There are power supplies that cost way more than the MXR DC Brick and still don't offer these many outs. These isolated outs worked like magic in killing extra noise and feedback. Who'll benefit the most from this power supply brick? I'll say any musician with a fairly large selection of pedals looking to save space on their pedalboard.
Bottom Line: MXR DC Brick is a well-engineered power supply built using high-quality components and at incredible value which made this my pick for the best power supply under $100 category. Not only does it provide power to up to 10 pedals, but it also alerts you on the status of each output via red LED indicators. After spending a good amount of time with the MXR DC Brick, I can confidently say it's one of the best pedalboard power supplies on the market right now, especially considering its price.
Popular Related Article: Distortion Pedals You Should Know About
6. Friedman Power Grid 10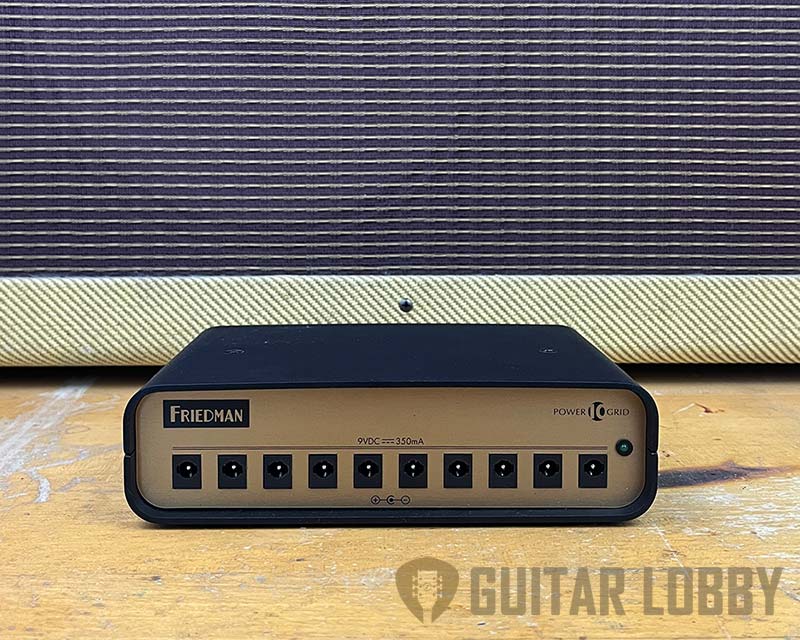 | | |
| --- | --- |
| Estimated Price | $220 |
| Connector | Power Cord |
| Output voltage | 350mA per 9V |
| Number of outputs | 10 |
My Review: Founded by amp wizard Dave Friedman, Friedman Amplification has become a globally renowned boutique amp brand with a star-studded client list that includes icons like Jerry Cantrell and Steve Stevens. While amps and pedals are the jewels in the Friedman crown, their pedalboards and power supplies have also gained quite a fan following. The Power Grid 10 is the first-ever power supply unit launched by the brand and is said to have been created to address common drawbacks in other units that Dave Friedman struggled with while powering his pedals.
When I bought the Power Grid 10, what drew me to it were its ten isolated 9V outputs, each designed to power up to 350 mA pedals or a total of 3500 mA. Enough to power all pedals on my board, including the high-draw Strymons and Eventide. On the off chance you own an 18V pedal, this unit also comes with a compatible cable to help you out. It is built like a tank but incredibly light thanks to an advanced switch mode power supply instead of the traditional one, which involves heavy toroidal transformers.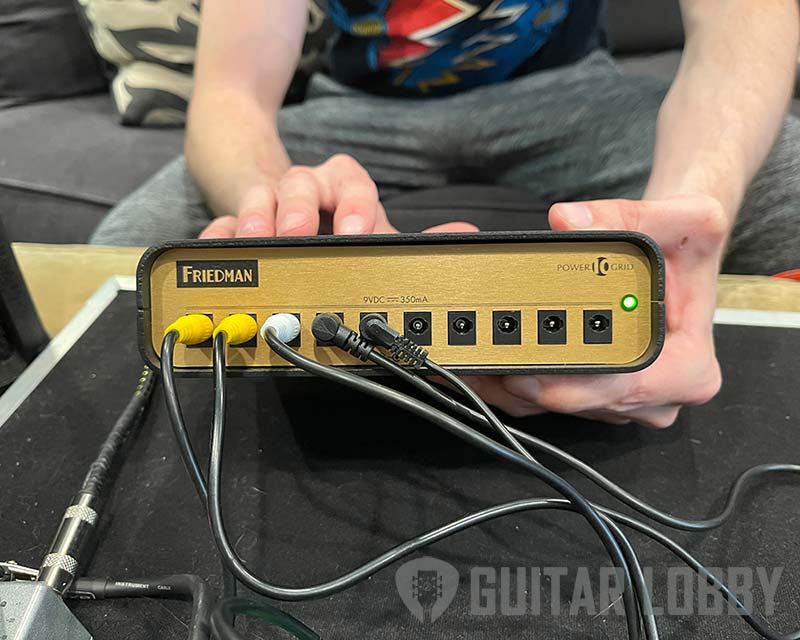 Another thing I really liked about this device is zero interference or hum, even when all my pedals – overdrives, fuzz, and delay are plugged in. I kept all of them on and cranked them up to check for unwanted noise. What I got was dead silence all the way. I found it easy to set it up underneath my pedalboard, which would be the case for most boards. But just in case that doesn't work for you, place the unit on the board with a couple of pedals on top of it.
If you're a touring musician, you'll love the Power Grid 10, especially because of its universal power ranging from 100-240V. This essentially means you can plug it anywhere in the world without bothering with bulky power converters. All these features add up to an ultra-dependable and noise-free power unit for small to mid-sized pedalboards.
Who is this best suited for: In my opinion, the Power Grid 10 is perfect for working musicians or anyone with an extensive collection of mid to high mA draw stompboxes. It uses a versatile switch power supply, making it a better fit for a modern-day pedalboard. What's more, it accepts 100-240 V without switching, meaning your pedals will stay powered no matter what part of the globe you're touring.
Bottom Line: The reason why the Power Grid 10 cracks my list of top power supplies is simple; it's packed with functionality and incredibly easy to use. It's one of the very few power supply units I can safely recommend fit for mounting other pedals. It's been a part of the rig for quite some time, and everything is going pretty solid!
7. Gator GTR-PWR-8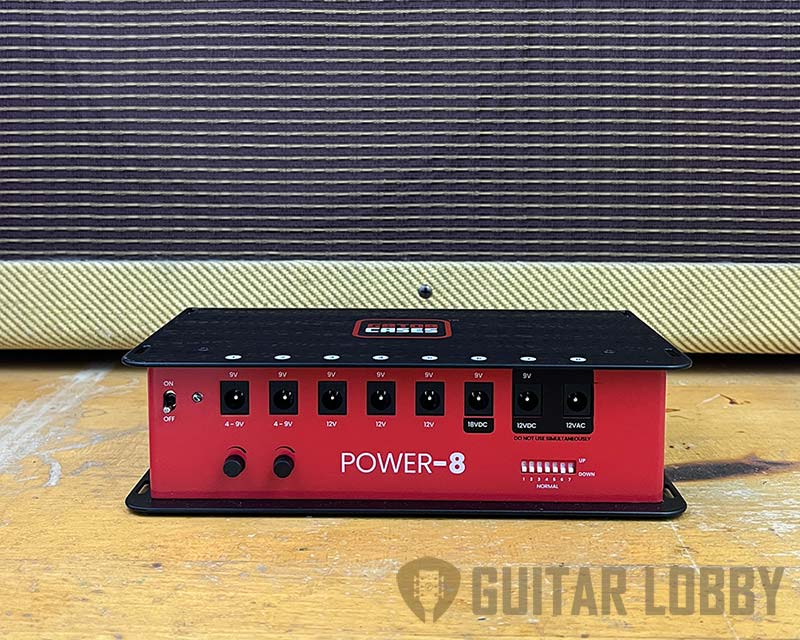 | | |
| --- | --- |
| Estimated Price | $120 |
| Connector | Power Cord |
| Output Voltage | 4-9V, 9V, 12V, 18V, 12VAC |
| Output Current | 120mA, 250mA |
| Number of outputs | 8 |
My Review: Gator may not be as famous as Voodoo or as high-end as Strymon, but it means business when it comes to power supplies, and the PWR-8 is no exception. It is a tad chunky; I'll give you that, but also ridiculously solid thanks to its solid metal body and slotted venting for heat dissipation. Apart from its rugged construction, PWR-8 comes loaded with every important spec to keep my mid-sized pedalboard running smoothly.
All of PWR-8's outputs are isolated with a wide selection of current draws to keep even the most demanding stomps satiated with clean, low-noise, rock-steady power. In the past, I've had the chance to use PWR-8's compact cousin, PWR-5, which is great for smaller pedal boards. However, for anything mid to large-sized setup, PWR-8 is a better pick. You get eight outputs cranking a total output of 1600mA, while individually, the current draws range from 120mA all the way to 500mA.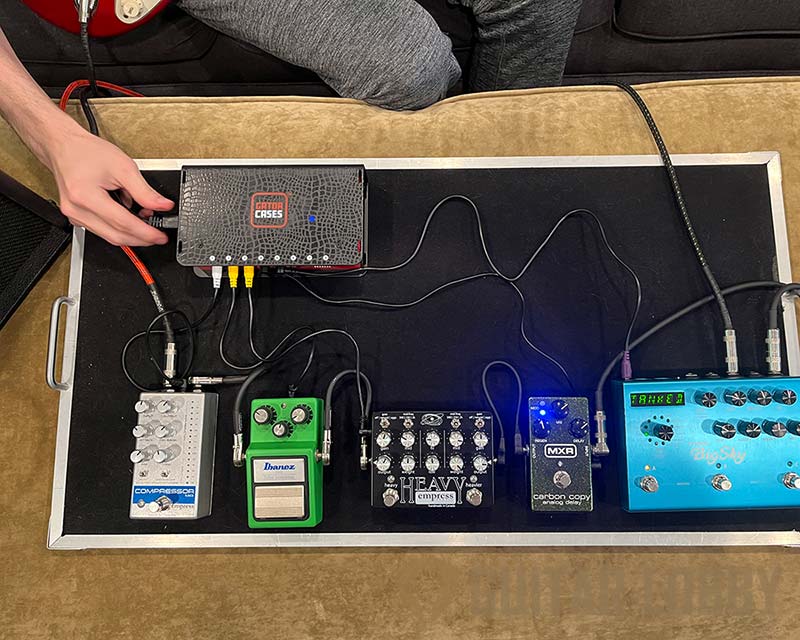 In terms of voltage, four outs are switchable between 9V and 12V operations, a single outlet with 9V/18V, and two outlets with SAG mode. With the help of the adjustable SAG knob, I was able to simulate a dying battery through the variable 4V-9V output. Why did I do that? Because some fuzz pedals sound awesome on starving batteries, and with SAG outs, I was able to dial in the perfect tone with my older overdrive pedals.
The 12V AC with 500mA output was another feature I really appreciated. Because honestly, you don't get a lot of power bricks that can fuel both DC and AC, and many of us own pedals that run on AC. By offering seven isolated outs for DC pedals and one output for AC, the PWR-8 stands out tall. A quick tip, if you find it too bulky or don't have room under your board, you can mount it directly on the board using the integrated slots.
Who is this best suited for: In my opinion, the PWR-8 is an excellent pick for both beginners and seasoned guitarists to run small to medium-sized boards. Those building a new board will appreciate the ease of operations and the fact that the unit comes with all sorts of cables you might need. That said, if most of your pedal collection has high-draw stomps, you'll find more value in Strymon Zuma, provided you're willing to stretch your budget.
Bottom Line: For its price, this Gator unit brings plenty of power and functionality to the table. Seven isolated outlets cover a range of 120mA to 500mA, while the input allows you to switch from 115V to 240V. All this adds up to a disruption-free, low-noise performance wherever you go. The Gator-GTR-PWR-8 is easily one of the best guitar pedal power supplies out there right now.
8. Voodoo Lab Pedal Power 2 Plus
| | |
| --- | --- |
| Estimated Price | $199 |
| Connector | Power Cord |
| Output Voltage | 9V, 12V |
| Output Current | 100mA, 250mA |
| Number of outputs | 8 |
My Review: Voodoo Lab's power supplies have been the industry staple for decades, perfecting power supply isolation with each model. It's true they still rely on an old-school linear supply mode, but that's what makes their power supplies easy to use and so affordable. Take the Pedal Power 2; the reason why this one cracks my list of top power supplies is simple; it's packed with functionality and retails at a pocket-pleasing price. That and the fact that it's the oldest part of my pedal rig! And it's still going pretty solid!
When I bought the Pedal Power 2 plus, and it's been quite a few years, what attracted me the most to the unit was its size and practicality and the fact that it includes eight 9V outputs, each of which is isolated. Out of the eight outs, six can be switched to a 12V. I also got two 250 mA outputs for my higher-draw pedals and two outputs with SAG control to drop the voltage down all the way to 1V for vintage fuzz pedals.
I found the Pedal Power 2 incredibly easy to use and mess around with. It's solidly built, almost bulletproof, and hasn't ever broken down on me. The linear mode and custom-designed toroidal transformers really make the tone department shine. Together they keep the outs regulated and highly filtered to promote the cleanest power transfer possible and make sure electronic hum doesn't make its way in. On the other hand, linear mode power units aren't very energy-efficient and release a ton of heat during operation. Voodoo takes care of the safety bit by building enough checks in place to keep each output protected from the potential issue of short-circuiting.
All these features add up to an ultra-dependable and low-noise power unit for small to mid-sized pedalboards. That said, if you own power-hungry effects pedals and budget is not that much of an issue, then you're probably better off with a switch-mode power unit.
Who is this best suited for: In my opinion, the Pedal Power 2 Plus might come up short if you have a super-extensive collection of digital pedals and higher mA draw stompboxes. In that case, you can always opt for Voodoo's Pedal Power 3, which is a better fit for high-draw pedals. Otherwise, for most analog and digital pedals, the eight 9v outputs offered by this power supply should suffice. Seasoned musicians that tour a lot could also buy it as an additional power supply unit for a large and diverse pedal rig.
Bottom Line: There's a reason the Pedal Power 2 Plus remains an industry standard. For decades, it's helped guitarists power old-school overdrives (thanks to SAG control) as well as modern digital pedals. With high-quality inner components, the classic Voodoo Lab design, and an ultra-robust metal chassis, the Pedal Power 2 Plus is easily one of the most dependable options in the market.
Name of Product
Image of Product
Description
Price Range
Full Review
1. Voodoo Lab Pedal Power Mondo (Best Overall)

Voltage: 9V, 12V
Number of outputs: 6

$280
Read Full Review Above
2. Truetone 1 Spot Pro CS12
Voltage: 9V, 12V, 18V
Number of outputs:

 12

$180
Read Full Review Above
3. Cioks DC-7
Voltage: 9V, 12V, 15V, 18V, 24VDC pass thru
Number of outputs:

7

$249
Read Full Review Above
4. Strymon Zuma
Voltage: 9V, 12V, 18V
Number of outputs:

 9

$280
Read Full Review Above
5. MXR M237 DC Brick (Best Under $100)
Voltage: 9V, 18V
Number of outputs:

 10

$99
Read Full Review Above
6. Friedman Power Grid 10
Voltage: 9V
Number of outputs:

10

$220
Read Full Review Above
7. Gator Power-8
Voltage: 4-9V, 9V, 12V, 18V, 12VAC
Number of outputs:

 7

$120
Read Full Review Above
Considerations When Choosing a Pedalboard Power Supply
There comes the point for every guitarist when their pedalboard begins to look a little crowded, and using singular power cables or batteries is no longer a viable option. Thankfully, pedal power supplies are specifically designed to solve that problem.
Noise issues are common when using multiple pedals, so it's important to choose a power supply that minimizes their occurrence. In the remainder of this guide, we'll cover all of the concepts that are relevant to pedal power supplies so that you can make an informed choice.
Why You Need a Power Supply
Guitar pedal power supplies are essential pieces of equipment if you want to use various pedals in your signal chain. These devices provide your pedals will power from a mains electricity source. Although there is a wide variety of and styles and types, power supplies all perform the same basic function of providing the correct voltage to your effects.
Why is it necessary to get a good quality power supply? The main reason is that due to the diversity of pedal manufacturers today, pedals vary in terms of their power requirements. Granted, the majority use standard 9v DC, but there are many modern, digital pedals that require additional voltage, such as 12v or even 18v.
To get the best out of your pedals and avoid any power issues from occurring, it's important to supply each pedal with the correct voltage. Although some may work using an inferior power supply with the wrong voltage, this will likely hinder their ability to produce their intended tonal adjustments or effect.
Power supplies are sometimes referred to as "power bricks." The majority of them are highly versatile devices that are compatible with almost all pedals, but if your signal chain is made up of a mixture of different varieties of effects, it's a good idea to determine what you need from a power supply to successfully provide the voltage to all of your pedals.
If you only own one pedal, you can power it using a singular plug power supply. However, once you start to increase your selection, it will become more and more of an inconvenience having to plug each pedal in individually. That's when it's time to consider a power supply. They streamline the process, save you time when setting up your pedalboard, and perform much more consistently than using several singular plugs or batteries.
It's a good idea to err on the side of caution when using a power supply with your pedals for the first time. Sending too much voltage through a pedal can potentially damage it, so it's worth double-checking before you make the connection.
Output Voltages
The vast majority of modern pedals require 9v DC for power. With that being said, larger pedals like multi-effects devices often demand a greater voltage of 12v, 18v, or 24v in some rare cases. You can find the recommended voltage of any pedal by reading the number situated next to the power input.
The amount of current that a power supply can provide is measured in Amps. Each pedal will need a specific amount of amps to ensure that it works to its full capacity. Analog pedals are renowned for using a minimal electrical current.
In comparison, their digital counterparts are notorious for requiring large currents to properly function. This varies from pedal to pedal, and, in many cases, the effect in question will impact how much current is required. For example, space-based effects like reverbs are likely to require the largest amount of current.
When the full current output of the power supply is being used, this is likely to cause problems. For that reason, it's important to choose a power supply that is capable of producing an adequate current output to cater to all of your pedals. The supplies featured in this article all provide adequate current for large pedal setups.
Number of Power Outputs
One important factor to consider before you decide on a pedal power supply is how many outputs you require. Some power supplies offer extensive outputs, while others are designed from smaller signal chains. If it's likely that you will be adding to your pedal collection sometime soon, it's probably a good idea to get a power supply that leaves some space for new additions.
The next thing you need to consider once you've determined how many outputs are needed is what voltage those outputs need to be. Many power supplies have switches that allow you to adjust the voltage of certain outputs. Others simply have a set number of 9v outputs and potentially a smaller number of 8v, 12v, 18v, and 24v outputs for you to choose from.
Choosing the right power supply requires some foresight. If you have a specific pedal on your wishlist, it is a good idea to do some prior research, and find out what output voltage it requires. That way, you can make sure that the power supply you choose has an adequate number of outputs to facilitate any future purchases you might make.
Positioning a Power Supply
A power supply needs to be positioned close enough to your pedals so that the cables can easily reach them. Ideally, the power supply should be fixed onto your pedalboard, as this will save you time and effort every time you use it.
Some power supplies come with attachments, and some have pre-made holes for screwing them onto your board. The advantage of this is that you can leave all of your pedals connected to the supply ready to use whenever you need them.
Another popular method of attaching power supplies to pedalboards is by using Velcro. You can purchase stick-on adhesive Velcro strips for little cost, attach them to your power supply and then mount it onto your pedalboard. This is less secure than using screws, but also less invasive and pretty reliable nonetheless.
If you don't own a pedalboard, it's going to be difficult to use your power supply effectively. It's not advised to have your power supply loose on the floor when performing, as the connections could easily be broken if you accidentally make contact with it. For this reason, purchasing a pedalboard to mount your power supply securely is by far the most effective and safe option.
Signal Chain Positioning
One thing that is likely to massively impact the effectiveness of your power supply is how you choose to position your pedals. This needs to be predetermined before you connect your pedals to the power supply because the cables from the outputs need to be ordered in a way that doesn't put a strain on the connectors and doesn't leave cables loosely stretched across your pedalboard.
Although there's no one-size-fits-all method to positioning effects in your signal chain, there are some generally accepted guidelines that, when followed, produce reliable results and allow the individual effects pedals to work in the way that they are intended to.
I'd encourage you to experiment with the order of your pedals purely for the reason that it's a great way to learn about how different combination produces various results. Some of the most innovative guitar tones have come about as a result of accidental pedal positioning. After all, the tone is a subjective matter which comes down to personal preference.
With that being said, the common order for a signal chain is as follows: firstly, you have dynamic-based pedals like compressors and EQ, then come any filter-based effects like a wah pedal, next are pitch shifters and volume pedals, followed by overdrive, fuzz, or distortion.
After gain-based pedals are modulation effects like chorus, flangers, and phasers. They are then followed by reverb and delay pedals. This order is conventionally used to produce the classic effect of each pedal, but as I mentioned before, you can conjure up some very interesting sounds by tweaking the positions of certain effects.
A good thing to remember is that whichever effects come first will influence the sound of those that follow it. That's why compressors and EQ are usually placed at the start of the signal path – because, generally, it's desirable to have consistent dynamics throughout your pedalboard.
Depending on where you choose to position your pedal power supply, you may need to use longer cables to reach the desired pedal. Power supplies that offer 12v or 18v outputs in addition to the standard 9v may have the specific outputs for these voltages positioned at one end of the unit. This may mean that the cable has to stretch across other pedals to reach the correct one. This is why signal chain positioning and your power supply location need to be considered.
Types of Effects Pedals You Are Likely to Use with a Power Supply
To fully understand the importance of a good power supply, it's necessary for us to briefly look at the different varieties of effects pedals. There is a multitude of different pedal types and effects categories that you will potentially use with your pedal power supply. Although the power supply won't directly impact the tones produced by certain pedals, it's still important to understand the different types and what they do to set up your rig in the best way possible.
The main types of effects that you are likely to use with your pedal power supply are:
Gain-based effects
Modulation effects
Space-based effects
Dynamic effects
Loopers
Let's briefly overview each of these effects to get a basic understanding of which would be best for you to combine with your power supply.
Gain-based effects
Gain-based effects pedals include distortion, overdrive, and fuzz. These effects are often used for guitar solos and are common in multiple genres. They cause the signal of a guitar or bass to be saturated so that clipping occurs.
Overdrive is more subtle than fuzz, and it causes slight break-ups in the signal which results in a warm, authentic-sounding tone. It is produced by many vintage amplifiers when the tubes inside the amp heat up and are forced into overdrive.
Fuzz pedals produce high-gain and completely transform the sound of a guitar. They are great for boosting the signal above the rest of a band, for a section within a song when the guitar needs to stand out. Fuzz is popularly used by blues and rock musicians, and many great pedals offer this effect.
Modulation Effects
Modulation effects include a wide range of popular pedals. They work by altering the character of your tone and can be used to produce a multitude of sounds. Chorus, phasers, and flangers are three of the most popular modulation effects. They all work similarly by duplicating the original signal and outputting with different timing. These effects are common in psychedelic genres of music.
Tremolo and vibrato are another pair of well-known modulation effects. These two cause subtle alterations to the output, adding color and motion. Vibrato is commonly included on vintage tube amplifiers.
There are other varieties of modulation effects, including rotary, auto-panning, and filtering. Each of these affects the way that the sound is outputted, making it feel as though the motion of the signal is fluctuating.
Wah is another popular modulation-based effect popularized by Jimi Hendrix in the 1960s. This pedal is unique, as it is operated by foot. The guitarist or bassist uses a rocker plate to open and close a filter, which changes the frequency output in response to their motions.
Octave and pitch-shifting pedals are another two modulation effects that you could potentially use with your power supply. These work by duplicating the original signal and altering its pitch to create the illusion that multiple sound sources are being expressed simultaneously.
Space-based effects
The two main space-based effects that you are likely to use with your pedal power supply are reverb and delay. These are two of the most commonly used pedals, and both are based on natural sounds that occur as a result of particular acoustic environments.
If you choose to use reverb pedals with your power supply, you will have at your disposal the ability to create ambient tones that decay much longer than the original sound source. There are many variations of reverb, which are characterized by the length of time that they occur, and the coloration they cause to the tone.
Spring reverb, hall reverb, and plate reverb are three of the most common types. Spring reverb, like tremolo, was built into vintage tube amplifiers of decades gone by. It allows a guitarist to soften their tone and add warmth to it.
If you decide to use your power supply to provide the necessary voltage to a delay pedal, you will gain access to a plethora of sonic options. Delay, as its name suggests, causes the signal to be played back after the original. This creates feedback, which can then be altered using the various controls on the pedal.
Delay is intrinsically linked with tempo, and many pedals come with tap tempo functions that allow you to synchronize the effect with the speed of a particular song. You can edit the length of the delays, ranging from tight and rhythmic to long and chaotic.
Dynamic effects
Dynamic effects have arguably the least impact on tone, but they are essential nonetheless. They form the foundation for the other, more prominent effects to do their jobs. Some of the main types of dynamic effects are compressors, EQ, volume boosters, and limiters.
Compression is the unsung hero of any guitarist's pedalboard. In my opinion, it's a wise choice to use a compression pedal with your power supply for the simple reason that it gives you complete control over the volume and dynamic range of your instrument.
Compressor pedals work by creating a limit within which the sounds are dynamically altered. By setting the threshold and ratio parameters, you control which volumes of sounds are raised to the optimal level and pull any overly loud sounds back down for consistency.
EQ is another pedal that you should consider using with your power supply. This provides you with the means to adjust each frequency band and in the process, alter the output based on the settings that you choose.
The great thing about EQ pedals is that it allows you to quickly sort out any problems caused by obtrusive or weak frequencies. If, for example, you are using an amplifier that you're not familiar with, the EQ pedal allows you to adjust the frequency output to regain your preferred tone.
Volume boosters, as you can probably guess, provide you with an instant increase in volume. This is useful when you're playing a solo or during a section in a song where your instrument needs to stand out. You simply stomp on the volume pedal, and the signal is instantaneously amplified.
Limiters work similarly to compressors. They prevent your output from passing a certain volume. This can be a useful pedal to pair with your power supply, especially if you are playing in a setting where it is undesirable for there to be sudden spikes in the volume level.
Loopers
Loopers are another type of pedal that you might want to consider using with your power supply. These devices allow you to record audio loops in real time and create layers of sound. Loopers are great solutions for solo musicians who feel that their live shows would benefit from the accompaniment.
These pedals are usually operated using a foot pedal, which, when pressed, begins the looping process. You then record the loop, and when the pedal is pressed again, it repeats at that point. Some of the more extensive looper pedals are likely to require larger voltages from your power supply.
There are many looper pedals out there that you could use with a power supply; some have onboard effects units, while others are more primitively designed. It's worth considering adding one to your pedalboard because they offer great benefits for practicing and jamming in your own company.
True Bypass 
No matter how capable a power supply is, if it is being used with pedals that don't combat electronic noise, the overall output will be significantly compromised. You've probably come across pedals that are described as "true bypass" before. This innovation is largely responsible for the clean and efficient output of the majority of modern effects pedals.
When effects pedals were first manufactured, there were many issues regarding signal integrity and electronic noise. Regardless of how effective the power supply that was used with these pedals was, they were still prone to producing hum, buzz, and hiss. True bypass switching was invented as a practical way to alleviate these issues.
To do this, the pedals are fitted with a particular type of switching, which causes a separate signal to be routed through the pedal's inner circuitry. Occasionally, it is routed directly from the input to the output. This requires a mechanism known as a double-pole throw switch, which enables the pedal to move through the main circuit while bypassing it when it is not in use.
The signal is then sent straight to the amp and doesn't adversely affect the clarity of any other pedals. This is reflected in the output, which lacks interference or undesirable noise and stays true to the original signal produced by the combination of the power supply, instrument, and pedal.
Buffering
Buffering is another popular technique that is used to minimize the issues surrounding electrical currents and signal integrity. This method allows the electricity to pass from the power supply, through the effects pedal signal path, and out of the amplifier without being tarnished by unwanted noises.
Buffers achieve a similar result to true-bypass pedals, but they do so using a contrasting process. Buffered inputs place minimal loading on a guitar or other instrument. This preserves the tone and prevents it from being colored by outside influences.
Many effects pedals have buffers built into their inner circuitry. However, if you own a pedal that doesn't and is causing issues with your signal integrity, you can purchase a standalone buffer pedal, which is placed within your signal chain and performs the function on all of the pedals that follow it.
The more effects pedals you use, the more likely there are to be noise issues present in your output. This is also true when using pedal power supplies unless each output is completely isolated and therefore will be unaffected by the power supply to other pedals in the signal chain.
Cables
One of the most important components of any guitar or bass rig is the cables, although they are often overlooked. Many power supplies come with the necessary cables for connecting your pedals to the outputs.
The cables that are used to link your pedals in a signal chain are called patch cables. These feature the standard 6.35mm jack connector. Good quality patch cables ensure that unwanted electrical noise is kept to a minimum.
It's especially important to choose high-quality cables if you are running longer signal chains with many effects pedals. Generally speaking, longer signal chains are more prone to noise issues, so you need to ensure that the cables can handle this sufficiently.
Another factor to consider is the length of the power cables you use. When assembling your pedalboard, each effects pedal needs to reach the dedicated output of the power supply. For this to be possible, you'll likely need various lengths of cable. Some also come with right-angle connectors so that you can position them without putting a strain on the connection and therefore prevent wear and tear from occurring.
Signal Splitting
Once you've successfully hooked up each pedal to a suitable output on your power supply, you can consider other options regarding your effects loop. Many pedals offer two outputs, which are accommodated for signal splitting.
Signal splitting, as the term suggests, is a technique used to separate the output of a pedal and redirect the signal into an amplifier. The technique is commonly used by guitarists and bassists who require a thicker tone, as it allows them to send their dry signal into one amplifier and their wet signal into another.
When you use dual outputs for this purpose, you can keep your clean tone playing through one amplifier while the effects only play out of a separate one. This creates the illusion that two instruments are playing simultaneously, so when you stomp on your chosen effects pedal, it layers your dry signal instead of blending with it.
In bands that have one guitarist, this technique can be a very useful way to ensure that the output remains strong. When the time comes for a guitar solo or single-note melody, having the clean channel playing at the same time adds substance to the output.
Not all pedals offer dual outputs, and it's important to position them so that the ones that do can still reach the power supply. It's a good idea to experiment with your setup until you find the perfect combination of effects to send through the additional amplifier.
Battery-Powered Pedals
Although using a power supply with your pedals is undoubtedly the most effective method, some pedals are capable of being powered by a 9-volt battery. This allows them to be used when there is no external power available.
It's recommendable to combine the use of a power supply with a battery whenever possible. The power supply is the predominant source, but if, for some reason, a fault occurs and the power cuts out, the installed battery is there to carry the burden.
The problem with relying solely on batteries to power your pedals is that you never know when they might run out. This can be disastrous onstage during a live performance, as it can potentially result in it your single cutting out completely or, in the best-case scenario, one of your pedals being rendered useless for the rest of the gig.
Summary:
Although they may not be regarded as being exciting, like tone-bending effects pedals, power supplies are vital nonetheless. If the source of power that your pedals receive is of a high standard and consistent, they are likely to function at a much higher level.
All of the power supplies featured in this article are well-suited to certain requirements. It's a case of doing your research and choosing one that will accommodate all of your effects pedals. Then you can enjoy the convenience of always having your pedals ready to go.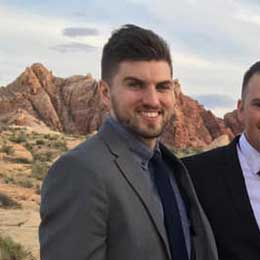 My name is Chris and I've had a passion for music and guitars for as long as I can remember. I started this website with some of my friends who are musicians, music teachers, gear heads, and music enthusiasts so we could provide high-quality guitar and music-related content.
I've been playing guitar since I was 13 years old and am an avid collector. Amps, pedals, guitars, bass, drums, microphones, studio, and recording gear, I love it all.
I was born and raised in Western Pennsylvania. My background is in Electrical Engineering, earning a Bachelor's degree from Youngstown State University. With my engineering experience, I've developed as a designer of guitar amplifiers and effects. A true passion of mine, I've designed, built, and repaired a wide range of guitar amps and electronics. Here at the Guitar Lobby, our aim is to share our passion for Music and gear with the rest of the music community.