Many electric guitarists have experienced the frustration of wanting to play their instrument, but being unable to do so due to their environment. Listening to someone practicing guitar through an amp can be an annoyance for housemates, neighbors, or other people nearby. Thankfully, there's a simple solution, guitar headphone amps.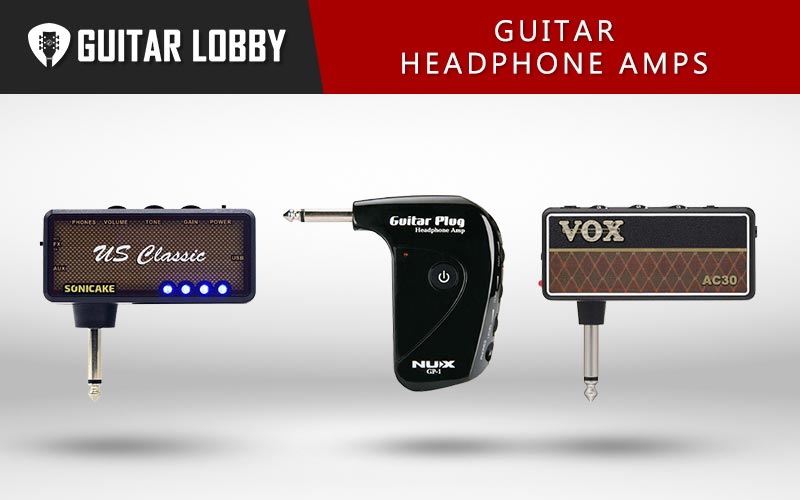 These compact-designed devices make it possible to practice your guitar silently and on the move. Over the years our team at Guitar Lobby has tested dozens of them and in this article, we'll be sharing our favorites at each price point so you can decide which is best suited for your requirements.
Name of Product
Image of Product
Description
Price Range
Full Review
1. VOX amPlug 2 AC30 (Editor's Choice)
Modes: 3
Effects: Chorus, Delay & Reverb
$60
Read Full Review Below
2. Blackstar amPlug2 FLY (Best Value)
Modes: 3
Effects: Delay, Reverb & Chorus
$60
Read Full Review Below
3. Sonicake US Classic (Best Under $30)
Modes: 1
Effects: Chorus
$30
Read Full Review Below
4. NUX GP-1 (Best Under $20)
Modes: 1
Effects: Distortion
$20
Read Full Review Below
5. Valeton Rushead Max
Modes: 3
Effects: Chorus, Tremolo, Flanger, Reverb & Delay
$35
Read Full Review Below
6. Dunlop Rockman Guitar Ace
Modes: 1
Effects: Compression & Distortion
$70
Read Full Review Below
7. VOX amPlug 2 Classic Rock
Modes: 3
Effects: Chorus, Reverb & Delay
$60
Read Full Review Below
8. Electro-Harmonix Headphone Amp
Modes: 1
Effects: None
$60
Read Full Review Below
9. Lekato Guitar Headphone Amp
Modes: 10
Effects: Chorus, Phaser, Delay & Reverb
$45
Read Full Review Below
10. Kithouse B6
Modes: 5
Effects: Chorus, Flanger, & Wah
$40
Read Full Review Below
11. Traveler Guitar TGA-1E
Modes: 1
Effects: Distortion
$30
Read Full Review Below
12. Sonicake Brit Drive
Modes: 1
Effects: Chorus
$25
Read Full Review Below
List of the Best Headphone Guitar Amps
1. VOX amPlug 2 AC30 (Editor's Choice)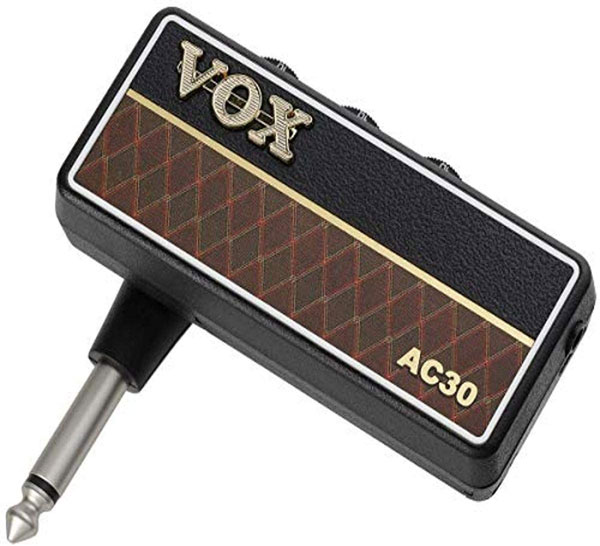 | | |
| --- | --- |
| Estimated Price | $60 |
| Number of Modes | 3 |
| Effects | Chorus, Delay & Reverb |
| Connectivity | 1 x 6.35mm Jack Input, 1 x 3.5mm Headphone Output |
| Power | 2 x AAA Batteries |
My Review: The VOX AC30 was first introduced in 1958, and has gone on to become one of the most popular tube amplifiers to ever be produced. Famous for its classic British tone and jangly high end, the amp has amassed somewhat of a cult following in the sixty-plus years. As someone who has had the pleasure of using the AC30 on many occasions, I was excited to see if the ampPlug headphone amp edition lived up to the high standard of its full-sized equivalent. After a few minutes of testing the device, I was highly impressed by its versatility and the quality of its tone.
The Vox ampPlug AC30 includes three onboard effects – chorus, reverb, and delay. When adding these to the warm, clean tone of the headphone amp, I was blown away by their quality. The reverb in particular sounds so good that I believe it could rival many effects pedals and outboard devices. Another thing that sold me on this compact headphone guitar amp was its 15-hour battery life using a pair of AAA batteries. If you practice for one hour per day, you'll get over two weeks of use before you need to replace the batteries for a new set.
Who is this best suited for: The amPlug AC30 is a great choice for all types of rock guitarists. If you're a fan of the classic British invasion guitar tone that took the world by storm in the 60s and 70s, this compact, convenient version is recommendable.
Bottom Line: Offering a warm, slightly overdriven tone that is remarkably similar to that of a vintage AC30, the amPlug headphone amplifier by Vox is a wonderful tool for guitarists. It houses three versatile effects, plays for 15 hours on a set of batteries, and includes an auxiliary input for connecting external sound sources. Finally, the integrated jack makes hooking the device up to your electric guitar a breeze! This is easily one of the best guitar headphone amps out there right now and my personal favorite.
2. Blackstar amPlug2 FLY (Best Value)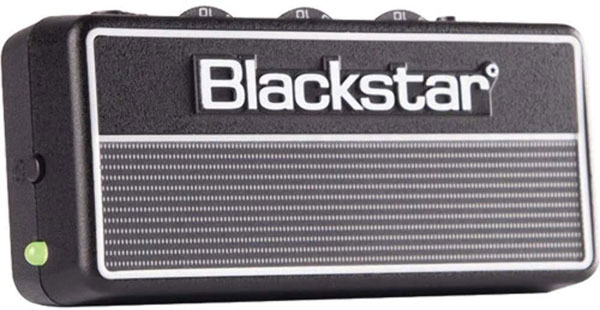 | | |
| --- | --- |
| Estimated Price | $60 |
| Number of Modes | 3 |
| Effects | Delay, Reverb & Chorus |
| Connectivity | 1 x 6.35mm Jack Input, 1 x 3.5mm Headphone Output |
| Power | 2 x AA Batteries |
My Review: Compared to the Vox amPlug range, Blackstar's equivalent is almost identical in terms of dimensions and design. However, when testing this headphone amp I noticed some key differences which make the amPlug2 FLY unique. First off, the simplicity of this device was something I found very convenient. To enjoy the pristine Blackstar tone, all I had to do was plug my guitar into the pre-connected jack plug, hook up my headphones, and start playing. Blackstar amps are renowned for their classic, gritty tones, and this has translated over to the format of a headphone amplifier seamlessly.
I also enjoyed experimenting with the onboard effects included on the amPlug2 FLY. Firstly, there are three different varieties of chorus to choose from, each producing a slightly different flavor of lush modulation. Three delay types accompany the chorus, and I particularly liked the slapback option for chorus sequences. Then, there's an airy trio of reverbs to add atmospheric qualities to your guitar parts. After spending some time getting used to the amPlug 2, I noticed another useful aspect, labeled the Infinite Shape Feature. Blackstar included this to make it possible for guitarists to instantly switch between the thick American style varieties of their amps, or the slightly compressed, tighter-sounding British varieties.
Who is this best suited for: The Blackstar amPlug 2 FLY is suitable for heavy rock, heavy blues, and metal guitarists. It produces the classic, high-energy Blackstar tone, with two core settings based on the American and British sounds.
Bottom Line: Everything about this Blackstar guitar headphone amplifier is easy to use and understand, but the tones it produces are far from basic. With several customizable aspects including a generous nine effect settings, this portable amp is a perfect tool for composing or rehearsing in any setting.
3. Sonicake US Classic (Best Under $30)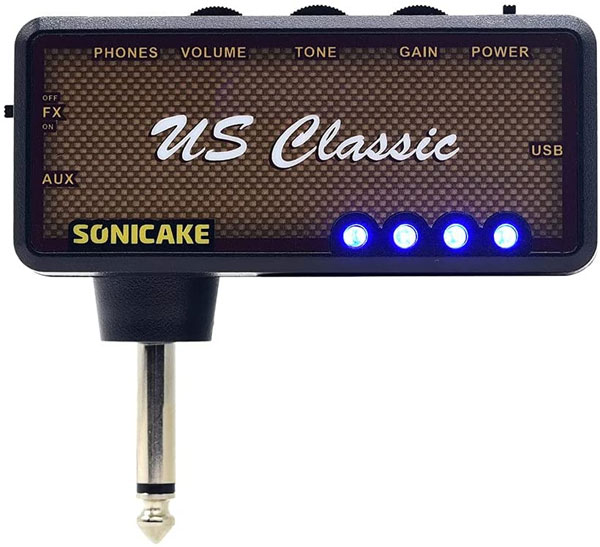 | | |
| --- | --- |
| Estimated Price | $30 |
| Number of Modes | 1 |
| Effects | Chorus |
| Connectivity | 1 x 6.35mm Jack Input, 1 x 3.5mm Headphone Output |
| Power | USB chargeable |
My Review: I've used many Sonicake effects pedals in the past, and have been impressed by their quality especially considering their affordable price tags. The US Classic guitar headphone amp has emerged as one of their most popular creations, so I was eager to put it to the test. Right off the bat, I found the smooth, clean tones of this compact amp very appealing. When playing rhythm guitar, I enjoyed the layer of warm saturation that occurred when digging into the strings, which closely resembled a genuine tube amplifier.
The only thing I wish that the manufacturer had addressed is the very subtle white noise that occurs when the volume of the amp is turned up. However, this isn't too much of an issue, as it only occurs when you reach volumes that aren't advisable due to the potential for damaging your ears. Providing you use the US Classic at a reasonable volume, the sound quality is fine. Another aspect of the Sonicake US Classic that I enjoyed is auxiliary input, which allows you to connect a phone or MP3 player to jam along to backing tracks. This is an invaluable tool for rehearsing, learning new material, or ensuring that your timing is right by using click tracks when practicing.
Who is this best suited for: I'd highly recommend the Sonicake US Classic to guitarists who are looking for an affordable headphone amp that performs to the standard of more expensive options. This device is very easy to use thanks to its intuitive design, so if you value simplicity it's worth considering.
Bottom Line: Despite its pocket-sized dimensions and affordable price, the US Classic by Sonicake is a fantastic guitar headphone amp. It provides you with the full tonal power of an American combo amp and even has a tweed cloth covering. No batteries are required thanks to the USB chargeable design of this device, and you get up to 5 hours of continuous playing on a single full charge. Overall I'd say this is the best headphone guitar amp under $30
4. NUX GP-1 (Best Under $20)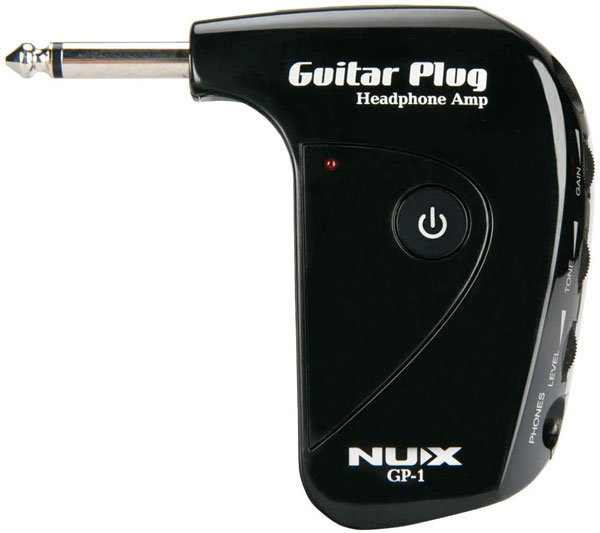 | | |
| --- | --- |
| Estimated Price | $20 |
| Number of Modes | 1 |
| Effects | Distortion |
| Connectivity | 1 x 6.35mm Jack Input, 1 x 3.5mm Headphone Output |
| Power | 2 x AAA Batteries |
My Review: At Guitar Lobby, we're constantly on the lookout for affordable gear that performs to a higher standard than its price tag suggests. After experiencing the powerful, crunchy tone of the NUX GP-1, I can confirm that this mini amp fits the aforementioned category. Granted, the GP-1 doesn't include many of the fancy features found on other high-end guitar headphone amplifiers. Nevertheless, its simplicity is a strength, rather than a weakness. Weighing 43lbs, it's incredibly portable and suitable for any environment, whether you're traveling or staying at a friend's house.
When I realized that this amp only included one effect, I thought that this may be a limitation on its capabilities. However, I was so impressed by the distortion that it produces, that it compensated for the lack of other processing options. Another incredible capability of this guitar headphone amp is its battery life. With a pair of AAA batteries, it can run for 40 hours of consistent playing time, meaning you don't need to worry about replacing them very often. Compared to most other similarly priced options, this amp boasts superior power efficiency.
Who is this best suited for: If you're looking for a simple and affordable guitar headphone amplifier, the NUX GP-1 is a great choice. The controls are incredibly easy to use, and they last for up to 40 hours of playing time.
Bottom Line: With the NUX GP-1, you can connect an external sound source to play along to audio tracks. The warm, distorted tone of the amp sounds realistic, and it features a highly portable design so that you can use it on the move.
5. Valeton Rushead Max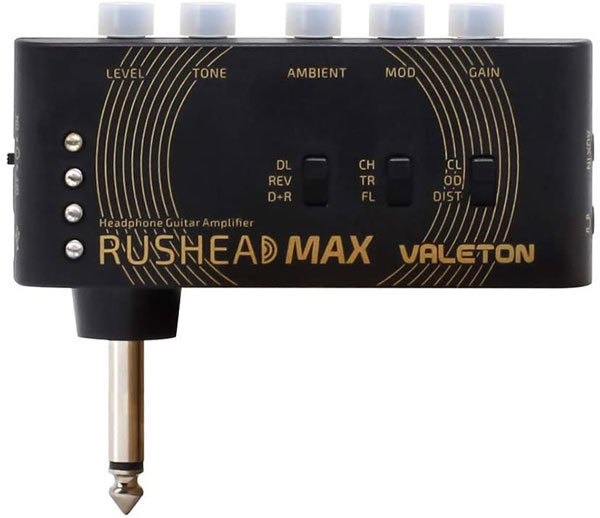 | | |
| --- | --- |
| Estimated Price | $35 |
| Number of Modes | 3 |
| Effects | Chorus, Tremolo, Flanger, Reverb & Delay |
| Connectivity | 1 x 6.35mm Jack Input, 1 x 3.5mm Headphone Output |
| Power | USB chargeable |
My Review: Valeton's Rushead Max is a multi-faceted amplifier, which includes a range of tweakable features. I was initially drawn to this device due to its intuitive layout, with five rotary controls on the rear panel, and three switches on the top. The switches are used for toggling between various settings, with one for timing-based effects, another for modulation effects, and the third for gain effects. I found this design very easy to use, and it's incredibly useful when trying to find the right sound for a riff or chord pattern.
The inclusion of an aux input makes it possible to hook up a laptop, MP3 player, phone, or tablet so that you can play along with existing audio tracks. Furthermore, the device has a USB charger port that provides up to 5 hours of playing time, so that your practice sessions won't be interrupted by a lack of power.
Who is this best suited for: The RH-100 Rushead by up-and-coming manufacturer Valeton is best suited for guitarists who enjoy adding effects to their instrument's signal. With a selection of effects including reverbs, delays, chorus, and overdrive, this headphone amplifier covers all bases.
Bottom Line: When designing the Rushead guitar headphone amp, Valeton created various models based on some of the world's best-known tube amplifiers. This, combined with the versatile effects unit, makes it possible to access a variety of high-quality tones quickly and easily.
6. Dunlop Rockman Guitar Ace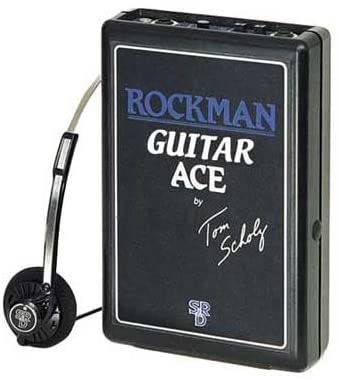 | | |
| --- | --- |
| Estimated Price | $70 |
| Number of Modes | 1 |
| Effects | Compression & Distortion |
| Connectivity | 1 x 6.35mm Jack Input, 1 x 3.5mm Headphone Output |
| Power | 9v Battery |
My Review: I'd heard many positive things about the original Rockman portable guitar amplifier that was a hit amongst musicians in the 1980s, and I, therefore, wanted to see if the new edition lived up to the standard set by its predecessor. Firstly, the thing I found most appealing about this headphone amp was its clean setting. In many cases, compact guitar amplifiers lack the clarity of a full-sized model when the clean channel is in use, but I was pleased to discover that the Rockman Guitar Ace produced a well-rounded tone with a prominent midrange.
Moving on to the distortion channel, I was surprised by the lack of harsh frequencies. The gain sounds pretty natural considering the size of this amplifier, and the sustain produced on this setting sounded great when I rang out a chord or played a long-lasting bend in the higher frets.
Who is this best suited for: If you're not overly concerned with having lots of controls and features on your headphone guitar amp, the Dunlop Rockman Guitar Ace is a perfect choice. It combines great-sounding clean settings with killer distortion, so you can switch between the two with confidence when playing your instrument through this compact amp.
Bottom Line: This Dunlop Rockman headphone amplifier includes various distortion presets, including 'Crunch', 'Semi Distortion', and 'Full Distortion'. Additionally, it houses a clean amplifier setting. Each of these modes sounds realistic compared to a real guitar amplifier. Moreover, it can be powered either by a 9-volt battery or with a power supply unit.
7. VOX amPlug 2 Classic Rock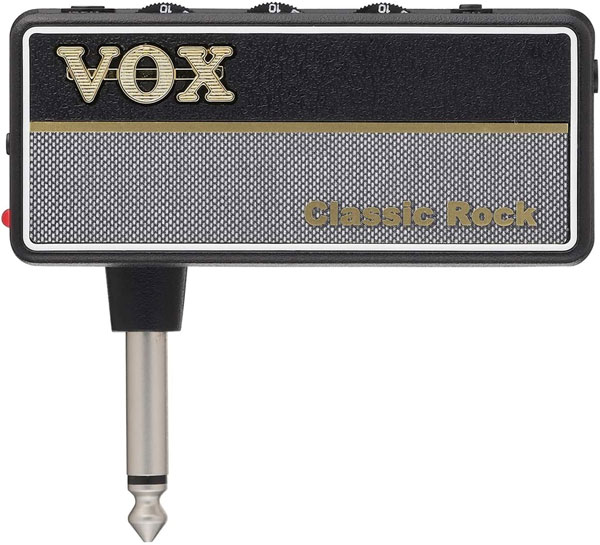 | | |
| --- | --- |
| Estimated Price | $60 |
| Number of Modes | 3 |
| Effects | Chorus, Reverb & Delay |
| Connectivity | 1 x 6.35mm Jack Input, 1 x 3.5mm Headphone Output |
| Power | 2 x AAA Batteries |
My Review: VOX's amPlug range includes many different models, each of which is targeted toward certain styles of guitar playing. When I compared the amPlug 2 Classic Rock to the aforementioned AC30 model, I found some key differences between the two. After a short time playing through this headphone amp, one of the things I noticed was the smoothness of the distortion is produced. Classic rock is a gain-heavy genre, but they still need to be dynamic range so that the guitar tone doesn't become overly compressed, and I found that this VOX amp found that balance perfectly.
The foldaway jack plug was another feature I enjoyed because it prevents the connector from being broken when the device is being moved around or stored. The three staple effects that VOX includes on all of their headphone amplifiers – reverb, delay, and chorus, are split into three subcategories, increasing the versatility of this compact device.
Who is this best suited for: I'd recommend the amPlug 2 Classic Rock to those who are looking for a solid, reliable guitar tone. There's nothing too flashy about the sound this amp produces, but it's ideal for powerful riffs, saturated solos, and smooth chord sequences.
Bottom Line: Conveniently designed and robustly built, the amPlug 2 Classic Rock performs to a very high standard. It boasts up to 15 hours of continuous playing time before a fresh pair of AAA batteries runs flat, and its built-in jack connector folds away for added protection.
8. Electro-Harmonix Headphone Amp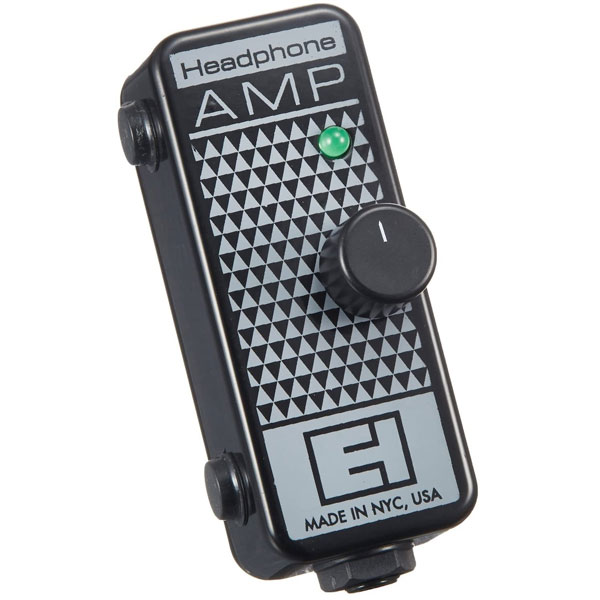 | | |
| --- | --- |
| Estimated Price | $60 |
| Number of Modes | 1 |
| Effects | None |
| Connectivity | 1 x 6.35mm Jack Input, 1 x 3.5mm Headphone Output |
| Power | 9v Battery |
My Review: Electro-Harmonix is a company I hold in high regard, as they produce some of the finest effects pedals in the world. They're not known for their amplifiers, however, so I was intrigued by the prospect of their guitar headphone amp. I was surprised by the lightweight of this device, as it resembles an EHX stompbox in appearance, but is much less heavy. The build quality is amazing, with a solid chassis and a high-quality jack plug for connecting your guitar.
Perhaps the only limitation is the lack of controls included on the amp, but I found its simple design quite refreshing. The level control is all that is required to enjoy clean, amplified tones, with no added complications to distract you from your playing.
Who is this best suited for: The Electro-Harmonix Headphone Amp is arguably the most simple to use out of all of the inclusions on our list. Consequently, it's best suited to guitarists who don't want to waste time tweaking settings but would rather plug in and play.
Bottom Line: Boasting one of the best reputations of all guitar pedal brands, it's no surprise that Electro-Harmonix has transferred its knowledge into the field of headphone amplifiers. This device is durable, reliable, and sounds incredibly clear when you plug your electric guitar into it.
9. Lekato Guitar Headphone Amp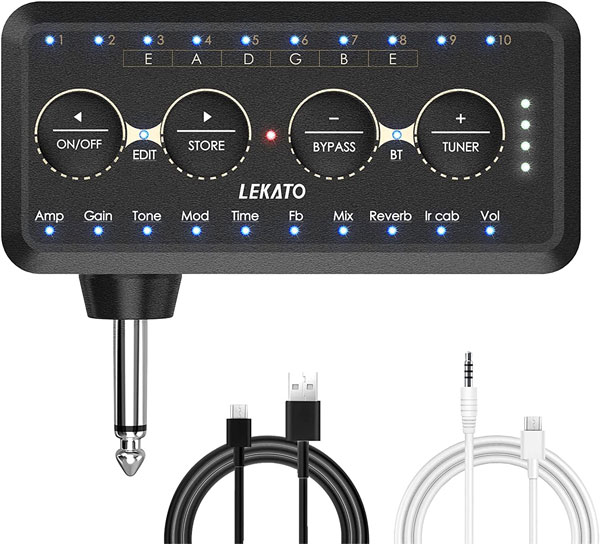 | | |
| --- | --- |
| Estimated Price | $45 |
| Number of Modes | 10 |
| Effects | Chorus, Phaser, Delay & Reverb |
| Connectivity | 1 x 6.35mm Jack Input, 1 x 3.5mm Headphone Output |
| Power | Micro USB chargeable |
My Review: When I first got my hands on Lekato's headphone amp, the interesting LED design caught my attention. The control panel of this device is littered with numbers and settings, which makes it seem a little complicated. Once I started using the amp, I realized that it wasn't as complex as I'd expected. The standout quality of the Lekato Guitar Headphone Amp is its diverse, extensive range of presets. It includes overdrive, distortion, phaser, chorus, reverb, and delay effects, making it as detailed as a multi-effects pedal.
Additionally, there's an onboard tuner which is a real game-changer. Headphone amplifiers are designed to be used anywhere, so having a tuner built in to the device is highly convenient especially if you don't have your tuner pedal to hand.
Who is this best suited for: Guitarists who like to use many different effects and amplifier tones will love the comprehensive selection offered by this compact Lekato Guitar Headphone Amp. It's a little more complicated to use than most of its competitors, but that shouldn't deter you if you're experienced with amplifier controls and settings.
Bottom Line: With a diverse range of amp models and onboard effects, this Lekato amplifier is one of the most detailed devices of its kind. It is charged using a micro USB cable and can be used for up to 5 hours on a single full charge.
10. Kithouse B6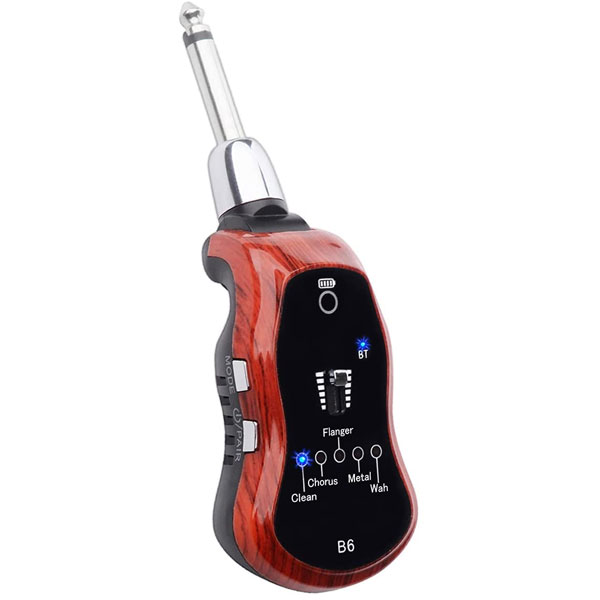 | | |
| --- | --- |
| Estimated Price | $40 |
| Number of Modes | 5 |
| Effects | Chorus, Flanger, & Wah |
| Connectivity | 1 x 6.35mm Jack Input, 1 x 3.5mm Headphone Output |
| Power | USB rechargable |
My Review: The B6 guitar headphone amp by Kithouse may be tiny in size, but it houses a surprisingly vast selection of tones and sounds. Boasting Bluetooth connectivity, I like that the fact that this amp can be connected to wireless headphones to eliminate the nuisance of cables interfering with your playing. The five onboard presets include a clean setting, chorus, flanger, wah, and a more distorted metal setting. The latter two stood out to me, as it's quite rare to find a headphone amplifier that has an auto-wah feature and a high-gain metal preset.
Inside the B6, there is a rechargeable lithium battery. After a full charge using a USB cable, the amp can run for an impressive 16 hours, so there's no chance of your practice session getting abruptly interrupted by a power shortage.
Who is this best suited for: Easy to use and versatile, the B6 by Kithouse is well suited to any guitarist looking to make their practice routine more interesting. It contains a diverse mixture of amp models and effects and is the perfect size for playing in any setting or scenario.
Bottom Line: With its robust design, built-in jack cable, and long battery life, the Kithouse B6 is a great companion for electric guitarists of all styles. It offers the possibility of connection to Bluetooth headphones or speakers so that you can enjoy the high-quality amplified tones without having to plug in your chosen listening device. The Kithouse B6 is easily one of the best headphone guitar amps out there right now.
11. Traveler Guitar TGA-1E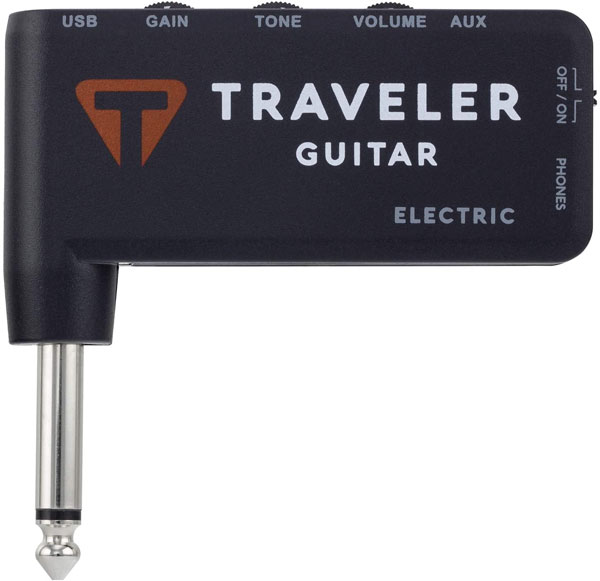 | | |
| --- | --- |
| Estimated Price | $30 |
| Number of Modes | 1 |
| Effects | Distortion |
| Connectivity | 1 x 6.35mm Jack Input, 1 x 3.5mm Headphone Output |
| Power | USB rechargable |
My Review: The Traveler Guitar TGA-1E is designed to allow guitarists to jam, rehearse, and compose wherever they are. It includes adjustable controls for gain, tone, and volume so that you can customize the output to suit your needs. There's also a useful auxiliary input for connecting other audio devices so that you can play along to other music or a metronome. To charge this device, you simply need a USB cable, and one full charge grants your hours of playing time.
Although there are no onboard effects included with this amp, I found that that didn't diminish its quality. Having fewer controls and features made it easier to simply hook up a guitar and start playing.
Who is this best suited for: The TGA-1E by Traveler Guitar is a great piece of equipment for musicians who are often on the road. Designed to be as mobile as possible, this device is lightweight and compact, so you don't need to worry about storage space.
Bottom Line: With an aux input, three controls, and a USB charger, the TGA-1E is a simple but effective headphone guitar amplifier. It lasts for up to four hours on a single full charge and produces a crisp, reliable tone.
12. Sonicake Brit Drive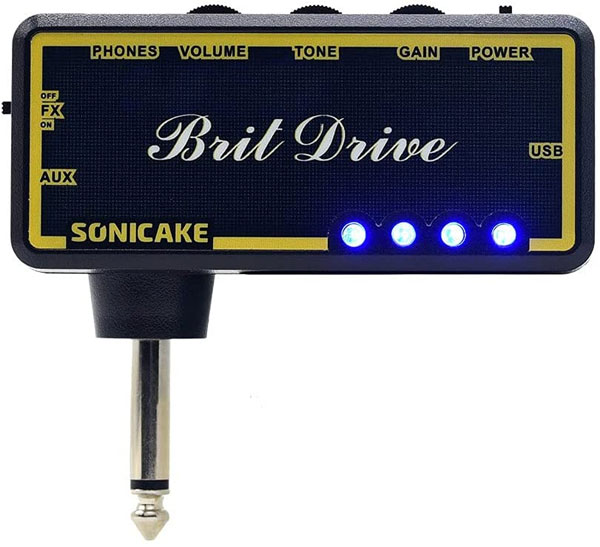 | | |
| --- | --- |
| Estimated Price | $25 |
| Number of Modes | 1 |
| Effects | Chorus |
| Connectivity | 1 x 6.35mm Jack Input, 1 x 3.5mm Headphone Output |
| Power | USB chargeable |
My Review: Sonicake's range of compact guitar headphone amplifiers is designed to cater to specific styles and genres. The Brit Drive edition produces classic British guitar tones, which sound like a combination of VOX and Orange tube amps. I like the simplicity of this amp's design. The rear panel includes three controls, which adjust the tone, volume, and gain settings. Then, on the left-hand side of the amp, there's a three-way switch for engaging the onboard chorus effects, to add color to your electric guitar's signal.
The built-in jack cable means that you don't need to carry a guitar lead around with you to use this amplifier, simply plug it into your guitar and you're ready to go. There's also an auxiliary output and input, which can be used for recording or playing along to backing tracks.
Who is this best suited for: The Sonicake Brit Drive is a perfect option for musicians who like a midrange heavy tone with plenty of character and a little gain. If you're a fan of the classic British Invasion amplifier sound, this compact headphone amp will likely satisfy your needs.
Bottom Line: To charge the Sonicake Brit Drive, all that you need to do is connect it to a USB charger. After a single full charge, you'll be able to play for up to 5 hours continuously before the battery runs out, enjoying the range of crunchy classic tones this device has in its arsenal. If you need a reliable electric guitar headphone amp this is a great option.
The Ultimate Guitar Headphone Amp Guide
Guitar headphone amplifiers are highly useful tools for practicing and recording. In situations where using a solid-state or tube amplifier isn't appropriate, these compact devices allow you to continue to develop your skills without disturbing the neighbors or the people you live with.
What is a Guitar Headphone Amp?
Unlike acoustic guitar which projects sound through resonance within their soundhole, electric guitars rely on the vibrations from their strings being received by a set of pickups, then transmitted to an amplifier through an audio signal.
A guitar headphone amp performs the same function as any other amplifier, however, it is significantly smaller, and rather than outputting the sound through a speaker, it is designed to play it back through a set of headphones.
The Benefits of Silent Practice
Most guitarists experience the frustration of wanting to practice their instrument, but being prevented from doing so because it is likely to annoy other people nearby. This could be neighbors hearing it through the wall, or others who live in the same home as you.
Indeed, it's possible to practice scales and chord sequences without plugging in an electric guitar. The issue with this, however, is that you're only hearing the vibrations of the strings, rather than the amplified tone of the instrument.
If you only practice electric guitar unplugged, when you come to use an amplifier you might find that this highlights mistakes or bad habits that you've picked up due to not being able to hear your instrument's output.
Consequently, using a headphone amplifier to practice guitar provides you with two key benefits – you can hear your playing clearly with all of the tonal characteristics of a guitar amp, and also you avoid disturbing others with a loud noise.
Practicing silently is also very convenient if you're traveling, perhaps as a touring musician, or on some other long journey. You can use that time productively by practicing different techniques, learning new material, or composing your pieces while in transit.
Popular Related Article: The Best Beginner Electric Guitars
How Guitar Headphone Amps Work
Although guitar headphone amplifiers don't include many of the components you'd find in standard guitar amps, they essentially work in the same way. The lack of speakers, woofers, tubes, and bulky power cables means that most headphone amps for guitar can comfortably fit into your pocket.
A guitar headphone amp works by firstly receiving the signal from your guitar. This process involves vibrations from the strings being received by the pickups, which often include magnetic poles. The poles create a magnetic field, which is disturbed when you make contact with the strings.
The magnetic field then creates a small current of electricity, in the pickup's coil. Due to the weakness of this current, an amplifier is required to strengthen it so that it becomes audible.
As the signal enters the guitar headphone amp through the jack input, the inner circuitry then amplifies it by a large amount, sometimes twenty or even up to fifty times its original strength. Then, when you put the headphones on, you can hear the amplified tone of your guitar.
Guitar headphone amps also feature preamp and power amp sections. The former amplifies the initial signal from the guitar so that the latter can be successfully driven. Additionally, the preamp section of the headphone amp also plays a major role in shaping the tone, dynamics, and coloration of the amplified guitar sound.
It would be accurate to say that although guitar headphone amps don't have speakers to output the sound, this component has simply been replaced by a headphone output. Everything else works in basically the same way.
Common Controls & Features
Guitar headphone amplifiers include many of the same controls found on regular amps. The most common include:
Volume/Level
Gain
Effects
EQ
Mode
The volume control is used to determine how loud the audio coming through your headphones is. The difference between headphone amplifiers and conventional guitar amps is that the master volume adjusts the headphone output rather than the output from the speaker cabinet.
Gain is used to add saturation to the guitar signal. This was first used by tube amplifier manufacturers, who would use the gain setting to heat the valves within the amp, causing them to overdrive and produce a warmer tone. Headphone amps for guitar often use digital gain to create a similar effect.
If a guitar headphone amp has onboard effects, there's likely to be controls for activating them and also for adjusting their prominence in the mix. This may be in the form of a switch, or a rotary selector if many effects are included.
EQ controls are also commonly featured on headphone amps, similar to standard guitar amps. They allow you to increase or decrease the prominence of specific frequency bands from the guitar's output, for example, the bass, mid and treble frequencies.
Finally, if the guitar headphone amp includes multiple presets or amp models, there is likely to be a selector control for toggling through them. They may be listed as clean or dirty channels or based on other popular amplifiers' sounds.
Guitar Headphone Amps & Connectivity
One of the most important considerations you need to make when choosing the best-suited headphone amp to play your guitar through is whether it provides the necessary connectivity options for your needs.
Generally speaking, these amps have one input and one output. The input is most likely to be a ¼ inch jack connector, which is often already connected to the amp. All you need to do is plug the other end into your guitar's output jack.
The output from the amplifier is where the headphones are connected. Most amps have 3.5mm headphone outputs, which are the same as the ones you'd find on most mobile phones or tablets. If your headphone connector is larger or smaller than the output plug, you'll need to purchase an adapter to use them.
Along with the standard input and output configuration, guitar headphone amps may also facilitate USB connectivity. This can be used to hook the amp up to a computer, perhaps to access the manufacturer's software and potentially download new presets to the device.
Powering Your Guitar Headphone Amp
Mobility is an undeniable contributor to a guitar headphone amplifier's appeal. Therefore, you mustn't need to plug the device in when using it. If this was the case, you'd need to carry a power supply with you and hope that there was mains power nearby.
Thankfully, the manufacturers of these compact amplifiers design them so that they can be used anywhere, without needing to be plugged into a power source. They achieve this by using one of two methods.
Firstly, many headphone guitar amps are battery-powered. They may run off a singular 9-volt battery, or multiple AA or AAA batteries. On average, you can get around forty hours of continuous use from a fresh set of batteries when using your amp.
The alternative to using AA, AAA, or 9-volt batteries is to have a fixed lithium battery within the amplifier, which can be charged using a cable. This is most commonly a USB or mini USB cable, which can be plugged into any power source to charge the battery.
The latter method is useful as it saves you money in the long run, and prevents you from having to change batteries periodically. However, some may find it more convenient than remembering to charge their amplifier every 5-10 hours, and of course needing to carry the charger cable with them at all times.
Recording Guitar With a Headphone Amplifier
Another advantage of using a headphone amplifier is that it allows you to record your guitar parts quickly and easily by pairing the device with an audio interface. The headphone output is essentially an auxiliary output, so you can use a 3.5mm aux cable to send it into the input on your recording device.
While this may not get you the authentic tone of a Fender tube amplifier, you can lay down ideas very easily using this method. Furthermore, rather than simply recording into your audio interface clean, you can color the tone using the amplifier and its onboard controls.
In the era of digital recording, nothing is off-limits. If you capture a guitar part using your headphone amp, you can then use EQ, compression, and other processing tools within your chosen DAW to make it sound more refined.
Recording an electric guitar directly into an audio interface often sounds thin and lifeless, so having access to amplifier tones in a compact, portable format is a great tool for songwriters and composers.
Bluetooth & Wireless Headphones
The lack of cables required to use a headphone guitar amplifier is one of their many desirable features. To make this convenient design a step further, many amp manufacturers make their devices Bluetooth compatible, so that you can use wireless headphones when playing electric guitar through them.
Using wired headphones while playing guitar can be a frustrating experience, as the wire often dangles down across the fretboard or interferes with your strumming hand. Thankfully, being able to connect wireless headphones or earbuds to a guitar amp eliminates this problem.
Most of the headphone guitar amplifiers that boast Bluetooth connectivity will include a small button that is held down while the device pairs with the headphones. Once they're connected, you can move around while playing guitar through the amp without worrying about the cable coming loose or impeding you while playing.
Guitar Amps vs. Headphone Amps
Most solid-state guitar amps have a headphone output and can be used for silent practice. This may lead some guitarists to the conclusion that they don't need a guitar headphone amp, because they can achieve the same results using their existing guitar amplifier.
While this is true to an extent, standard guitar amps are much heavier and larger than the headphone-exclusive devices featured in this guide. This means that their portability is significantly compromised.
Guitar headphone amplifiers shouldn't be regarded as an alternative or replacement to solid-state or tube guitar amps, but rather an additional tool to use when necessary or appropriate. Having both types of guitar amps as part of your rig means you'll be able to practice, record, and perform in all situations.
Assessing Your Needs & Requirements
When a musician invests in a new piece of equipment, whether it is an instrument, amplifier, cable, or microphone, they must consider exactly what they want to use the device or item for. Choosing equipment based purely on appearance or reputation may leave you disappointed if it doesn't match your style in other areas.
Headphone Guitar amps may all look similar and have roughly the same dimensions, but the settings, presets, and tones they offer vary dramatically. Hence, it's imperative to establish what you need from the device before investing in it.
If you're a metal guitarist who requires plenty of distortion and gains for playing riffs and solos, you should look for a headphone amp that includes settings to facilitate this. Likewise, if you play funk or jazz guitar, you'll probably benefit from using a headphone amp with a clean setting and effects like chorus, reverb, and phasers.
Headphone Quality
No matter how capable the compact guitar amplifier that you choose is, it won't perform to its fullest potential unless you pair it with a good set of headphones.
For example, using a cheap set of earbuds will mean that you don't get to enjoy the full frequency output of the guitar amplifier. The bass will be weakened, and the treble frequencies may sound harsh to your ears.
Choosing a set of headphones that have a wide frequency response is vital if you want to experience an accurate representation of your electric guitar's tone. You don't need to spend a fortune to achieve this, just be sure to check the specifications of the headphones before buying so that they are sure to match your needs.
Amp Modelling Explained
Amp modeling is the process of recreating settings, tones, and other sonic characteristics of guitar amplifiers. Manufacturers of headphone guitar amps do this to increase the number of presets available to guitarists when using their devices.
If you've used DAWs to record music, you've probably come across digital amp modeling before. VST plugins are used to provide musicians with access to specific amplifier sounds, without actually having to purchase a vintage tube amplifier and record it through a ribbon microphone, for example.
If you enjoy having a wide range of presets and amplifier settings to choose from, it's probably a good idea to choose a guitar headphone amp that includes modeling. Some amplifiers will include clean settings, gain-heavy settings, and other classic sounds for guitarists to enjoy.
Onboard Effects
Effects are a huge part of most electric guitarists' setup. They can be used to transform the tone of the guitar in many different ways, expanding the number of options that the guitarist has in their arsenal.
It would be possible to use effects pedals with a guitar headphone amplifier, but this may be impractical in many situations. One of the most appealing qualities of these amps is their mobility, which would be eradicated if you had to carry your pedalboard around all of the time!
That's why many of these compact amplifiers include onboard effects. This removes the need for using effects pedals but still allows you to access a range of processing tools to color the sound of your electric guitar.
The most common effects included on these amplifiers are from the modulation and timing categories. Chorus, phasers, and vibrato are popular choices, and also reverbs and delays.
While the onboard effects may not live up to the high standard of boutique pedals, they sound good enough for rehearsing and composting purposes. Sometimes, all that a riff or chords sequence needs is a touch of reverb or some warbly chorus and it comes to life!
Protecting Your Ears
When using headphone guitar amplifiers, it's vitally important to take the necessary measures to protect your ears. As someone who experiences tinnitus due to not being aware of the damage loud noises can do to our hearing, I'd strongly recommend learning about safe volumes.
The issue with playing electric guitar through headphones is that it's easy to underestimate how loud the sound is because we don't hear it reflecting against any surfaces.
By comparison, when a guitar is played through an amplifier's speaker, it reverberates against all of the surfaces in the space, and we can instantly recognize if it's too loud. Headphones project the sound directly into your ear canal, blocking out many of the background noises in the process.
Everything sounds 'better' when we turn up the volume, especially when playing electric guitar. However, it's simply not worth risking damaging your hearing for the sake of a few extra decibels or to hear every detail of your playing. Instead, you should aim to find a volume that allows you to hear your guitar but doesn't completely drown out background noise.
As a musician, your ears are incredibly important. If your hearing is damaged, it could seriously impact the way you play, so taking care of them is a wise move in the short and long term.
Clean Headphone Amp Settings
For genres like funk, jazz, and blues, a clean amp setting is often desirable. This means that the signal from the electric guitar is amplified without adding distortion or saturation. Most headphone amplifiers have a default clean setting, in addition to other more gain-heavy channels.
Playing electric guitar in a clean setting is a great way to hear all of the finer details. When effects are applied, the output becomes less clear, which is good for masking mistakes but not so good if you're trying to assess your performance to improve certain aspects or techniques.
Distorted Headphone Amp Settings
Along with clean settings, guitar headphone amps are also likely to include distorted presets. When a guitar signal is distorted, it simply means that gain is added to it which causes the peaks and troughs of the waveform to clip.
Overdrive is the most common form of distortion that used for electric guitar. It was first discovered when vintage tube amplifiers were pushed to their limits, causing the valves inside them to heat up due to being overdriven, and consequently produce a warm, saturated tone.
While headphone amplifiers don't usually include the tubes you'd find in a standard amplifier, they simulate this sound by adding digital distortion to the signal. This allows you to enjoy the desirable overdriven tone without needing a bulky tube amp.
More extreme versions of distortion are used in genres like heavy rock, heavy blues, and metal. The signal of the guitar is pushed to the point where the waveform clips dramatically, causing a thick sound with a limited dynamic range.
Wrap Up
For developing your skills, practicing techniques, and composing new material, headphone guitar amplifiers are a brilliant tool. These compact devices allow you to play in situations and environments that aren't suitable for loud volumes.
Now that you've absorbed all of the information in this guide, you can identify the guitar headphone amplifier that best suits your requirements.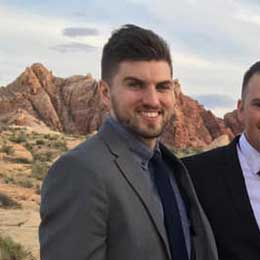 My name is Chris and I've had a passion for music and guitars for as long as I can remember. I started this website with some of my friends who are musicians, music teachers, gear heads, and music enthusiasts so we could provide high-quality guitar and music-related content.
I've been playing guitar since I was 13 years old and am an avid collector. Amps, pedals, guitars, bass, drums, microphones, studio, and recording gear, I love it all.
I was born and raised in Western Pennsylvania. My background is in Electrical Engineering, earning a Bachelor's degree from Youngstown State University. With my engineering experience, I've developed as a designer of guitar amplifiers and effects. A true passion of mine, I've designed, built, and repaired a wide range of guitar amps and electronics. Here at the Guitar Lobby, our aim is to share our passion for Music and gear with the rest of the music community.