Blues legends are known to establish long and loyal connections with their instruments. Stevie Ray Vaughn, and his Strat-heavy collection of vintage and custom guitars, are an iconic representation of the blues mythos. Decades of jamming in murky, cramped, smoke-filled clubs, in and out of vans, car trunks, exposed to all kinds of weather, inevitably infuses a fundamental character to these instruments that can seemingly bring them to life in a way.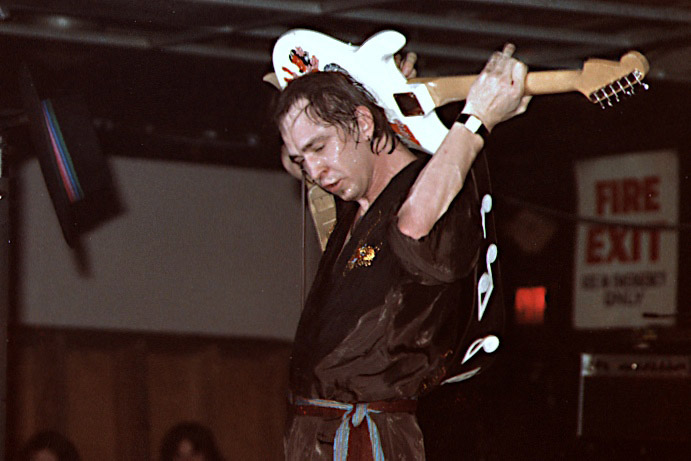 Vaughan, following in the significant footsteps of B.B. King, Albert King, and Lonnie Mack incorporated a mythical collection of gear to create a revolutionary anthology of music, influencing a worthy faction of descendants, including Joe Bonamassa, Kenny Wayne Shepherd, and Johny Lang.
What Guitar Did Stevie Ray Vaughan Play?
Stevie Ray Vaughan is best known for playing Fender Stratocaster guitars. He collected quite a few as his career skyrocketed and he became renowned as one of the world's most powerful performers of his time.
In his own words "The Stratocaster can handle anything I manage to throw at it". He also acquired several other model guitars which he played periodically throughout the years. See the full list of SRV guitars below.
1963 Fender Sunburst Stratocaster "Number One"

Finish: Three-tone Sunburst/Worn Relic
Years Used: 1973 to 1990
One of the most iconic and storied guitars in rock and blues history, "Number One" is a brilliant combination of vintage Strat parts, battle scars, burns, and ornamentation. This guitar landed in Stevie's hands after he discovered the discarded six-string in Ray Henning's Heart of Texas music store in 1973. Hennig famously disclosed that soft-rock crooner Christopher Cross had traded in the "POS" and was happy to gift it to Vaughan.
Vaughan honed his playing on this guitar, also referred to as "The First Wife," with Paul Ray and the Cobras, until 1977. He left to form Triple Threat Review, a four-piece precursor to Double Trouble, which transitioned when bassist W.C. Clark left the band. Double Trouble endured a few changes in personnel before settling into its final iteration of Chris Layton and Tommy Shannon in late 1980/early 1981.
The world would have to wait a decade to be appropriately introduced to Number One, courtesy of David Bowie's March 1983 release, "Let's Dance." Three months later, Stevie Ray Vaughan and Double Trouble unleashed "Texas Flood," immediately stunning the rock and blues world from the driving opening riff of "Love Struck Baby."
Number One's original 1963 Stratocaster body featured a standard, three-tone Sunburst-finish on a solid alder body, a white pickguard, and a maple neck with a 21-fret rosewood fingerboard. Kluson single-line tuners, a trio of black-bottom single-coil pickups, and a right-handed tremolo bar rounded out the specs.
By the time Henning passed Number One to Stevie, the finish had already taken a beating, the original neck replaced with a '62 neck, and the pickups swapped up for '59s. Overhauls continued for the life of guitar, including the early addition of his shimmering "SRV" logo, a left-handed, gold-plated whammy bar, and a black pickguard. Vaughan often remarked, "it was rebuilt more times than a custom Chevy." Shattered whammy bars and worn frets were repeatedly replaced by one of his main techs, Rene Martinez. Martinez frequently relied on Dunlop 6100 fret wire and Fender Schaller Elite Gold tuner pegs.
Although Stevie continued to add iconic guitars to his arsenal, Number One led the way on each of his studio albums and international tours. Fittingly, Number One is in the protective possession of Jimmie Vaughan. This is easily one of the most recognizable SRV guitars of all time.
1963 Fender Stratocaster "The Lenny"

Finish: Originally 3-tone Sunburst – Refinished to a Dark Natural Finish
Years Used: 1980 to 1990
Stevie reportedly fell for the '63 Strat in 1979 when he found it for sale at a local pawn shop for $350. Beyond his means at the time, he continued to covet the guitar until he was gifted it by surprise by his wife, Lenora ("Lenny"), and a handful of friends who bought it for him as a gift in October 1980. SRV called upon Lenny when he recorded several of his more personal, emotive compositions, including the eponymous "Lenny" (reportedly written the night he received the guitar) and "Riviera Paradise."
The stock '63 Strat's featured a slightly beefier neck, an update from the annual thinning that had occurred with earlier models, and a rosewood fingerboard. A dark natural finish replaced the original Sunburst, accented by an eccentric, hand-carved etching below the bridge. Vintage '63 Strat's continue to produce a distinct, lush, luminous ring on the high end. Stevie eventually swapped the original neck for a maple 1950's Fender piece he'd received from Billy Gibbons.
This guitar's legacy alone makes it a treasured and unique collectible, but its mystique and value multiplied when Mickey Mantle signed the back of the guitar in April 1985 after Vaughan played the national anthem at the season opener for the Houston Astros. Guitar Center purchased Lenny for $623,500 in 2004. It is currently on display in the Austin Guitar Center, West Anderson Lane. Guitar Center eventually partnered with the master-builder team from Fender Custom Shop to produce a Lenny reissue in 2007, with a list price of $17,000. This is one of my favorite Stevie Ray Vaughan guitars.
1959 Fender Stratocaster "Yellow"
Finish: 3-tone Sunburst (original), Repainted Yellow
Years Used: 1981 to 1985
Charley Wirz, the owner of Dallas' Charley's Guitar Shop and Stevie's other chief guitar tech, gave the yellow 1959 Strat to Stevie in 1981. Wirz had purchased the guitar from Vanilla Fudge co-founder and lead guitarist Vince Martell. After buying the guitar from Martell, Wirz remodified the body with a yellow paint jo, replaced the humbuckers with a Fender single-coil neck pickup, and added a Charvel tremolo bridge. In 1981, Charley gave the guitar to Stevie, who added his trademark initials on the pickguard between the bridge and pickup.
The stock mid-1959 model, Stevie's oldest Strat, featured a new Brazilian rosewood fingerboard and "clay" dot fingerboard markers. Fender also opted for a less-than-popular thinner neck, a laminated 3-layer celluloid pickguard, and what turned out to be a fickle, fade-prone red pigment in the sunburst finish that eventually marred the original 1959 surface. The '59 also included the killer hand-wound single-coil pickups that ultimately found a home in Number One.
Legend has it that Stevie used Yellow for the studio recordings of "Honey Bee" for Couldn't Stand the Weather and "Tell Me" for Texas Flood, in addition to many live performances.
Yellow was stolen in 1985 at the Albany International Airport in New York but was later recovered and is now on display in the Las Vegas Hard Rock Cafe.
Custom Build Stratocaster By Charley Wirz "Charley"

Finish: White
Years Used: 1984 to 1990
Charley was a custom-built conglomeration of Fender and other spare parts, hand-crafted by Charley Wirz for Stevie in 1984. This stick of white lightning boasted a white, Strat-tyle body, "hardtail" with a rosewood neck. Wirz incorporated modified Seymour Duncan "lipstick" tube pickups, a hula girl sticker, and an engraved neckplate that read, "To Stevie Ray Vaughan, more in '84."
This incredibly personal treasure doesn't carry the same performance credentials as his collection of Fenders, but Stevie paid tribute to Charley on Soul to Soul's "Life Without You" in 1985.
Rumor has it that Charley, as with much of Stevie's gear, is in Jimmie Vaughan's possession. Charley's and Rene Martinez joined forces in 2003 to produce a limited edition of "Charley," releasing a mere 23 units selling for $2,500 each. Rene and the former owner of Charley's created an additional ten guitars in 2005.
1962 Fender Stratocaster "Red"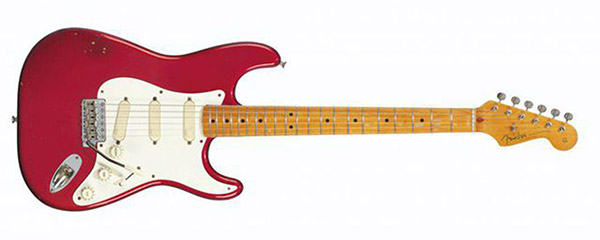 Finish: Sunburst, Repainted in Fiesta Red
Years Used: 1983 to 1989
In 1989, Number One's 1962 neck finally surrendered after countless re-fret jobs. The guitar neck on "Red" sealed its claim to fame by sacrificing itself to keep Stevie's prized Strat in business. This contribution would be short-lived, as Number One's transplanted neck was shattered in a stage accident the following year.
Stevie found this particular guitar, again, at Charley's Guitar Shop in 1983. Originally a class Sunburst Strat, Vaughan commissioned Fender to strip the finish and repaint it in Fiesta Red, cementing the guitar's new handle, "Red." The remainder of the guitar remained stock until Stevie installed a left-handed neck and added the requisite SRV stickers on the white pickguard.
The 1962 Stratocasters were delivered with a solid Alder body, Maple neck with Rosewood veneer fingerboards, and three single-coil pickups. Jimi Hendrix, Buddy Holly, and Bob Dylan, among other legends, favored the opulent ferocity of the '62 Strat.
Hamiltone Custom James Hamilton "The Main"

Finish: Sunburst
Years Used: 1984 to Unspecified
The generosity of Billy Gibbons is legendary. In 1984, Billy engaged master builder James Hamilton of Hamiltone Guitars to build a Stratocaster-style monster for Vaughan. Hamilton delivered a stunning design, featuring a red mahogany sunburst finish, a gorgeous ebony fretboard inlaid with a scripted "Stevie Ray Vaughan" in mother-of-pearl, and subtle crème binding. Five years in the making, Hamilton eventually had to revise the design to include Stevie's middle name when he began using it professionally.
Hamilton originally equipped the build – what SRV would name "The Main"- with three EMG pre-amped pickups. Stevie received the guitar just before shooting the music video for "Couldn't Stand the Weather." As he and the crew were planning the shoot, Stevie decided he didn't want to risk getting Number One wet and swapped it for The Main. Water damaged the pickups during the filming – a bit of a blessing since Vaughan wasn't particularly pleased with the EMGs – and he replaced them with vintage Fender single-coils.
The Main's striking and exclusive design made it a frequent choice for later photo shoots and live performances. Hamilton claimed Stevie was so pleased with the gift that he immediately took it on stage with him for a performance at the University of Buffalo. It soon became his go-to for renditions of "Couldn't Stand the Weather" and "Cold Shot." Around 2009, a representative from Hamiltone stated he believed Jimmie still owned The Main. This is another one of the more recognizable SRV guitars.
Gibson Robert Johnson Tribute L-1

Finish: Dark Two-Tone Sunburst
Years Used: 1983 to Unspecified
Only months before his passing in January 1990, Stevie went on to play at MTV Unplugged where for the first time he would publicly play an entirely acoustic set with few renditions, a couple of classic blues tunes and some new material from The Sky is Crying. Nevertheless, the L-1 acoustic made a first appearance in 1983 on a strange video of him improvising on a blues scale. How Vaughan came across this acoustic piece remains a mystery, but it certainly came as shocking back then, considering that Stevie was and still is, one of the pioneers of electrified blues-rock.
Whatever happened to this guitar remains a mystery, there's little information about it, especially since Gibson made few issues of this model and they now have a legendary status just like Johnson himself. It is unknown even if this guitar belonged to Stevie Ray in the first place, but its bleak nature only feeds the lore behind it.
1961 Fender Stratocaster "Scotch"
Finish: Butterscotch
Years Used: 1985 to 1990
Stevie picked up Scotch, a 1961 Fender Stratocaster while touring along the east coast in the fall of 1985. Initially targeted to be a prize presented at a concert, SRV fell in love with the guitar and chose a different guitar for the prize. Similar to Red, Scotch was stock, aside from the finish, when Stevie took possession. He asked Rene Martinez to replace the original white pickguard with a tiger-striped option similar to Buddy Guy's. Martinez had created the custom pickguard and adorned it with the gold SRV decal.
The 1961 Stratocasters featured the standard tri-tone Sunburst, maple neck, and a slab rosewood fretboard, a favorite of many players. This release included several innovative design features, including a progressive neck design, enhanced adjustable pickups, and the built-in tremolo.
Scotch became the stand-in for Number One when Stevie's main guitar was malfunctioning. He also showcased Scotch when playing "Superstition" and "Leave My Girl Alone" live. This one is in Jimmie's hands, too.
While the catalog above dominated the majority of Stevie Ray Vaughan's 20-year career, he played the field a bit with a few other models. Stevie was spotted playing a 1952 Les Paul Gold Top, a 1954 Les Paul TV Model, plus a 1960 Rickenbacker 360 Capri and a Rickenbacker Stereo Prototype. A few other Gibson's showed up on tours, like the 1971 Flying V Medallion Edition, a customized 1964 Firebird, and a wayward green Les Paul. Oddballs such as the Robin Doubleneck Octave and the Danelectro 1960's Longhorn Doubleneck surfaced in the late 1980s. None of these reputable options could muster the magic that Stevie produced with his Strats.
Related Article: Brian May Guitars and Gear List
Guild Acoustic JF6512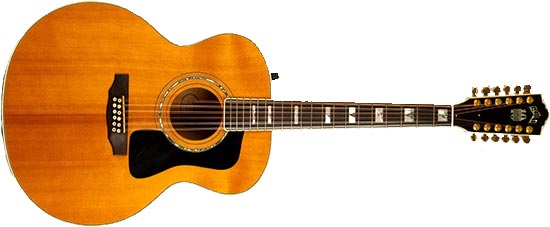 Finish: All Natural
Years Used: Unspecified to 1990
With a mysterious background to Stevie Ray's guitar catalog, this Guild 12 string staple showed the world an unseen side to his music. It was the first time he played a thorough acoustic show with this as a single guitar some of his most iconic tunes with unseen fashion just six months before his death.
This Guild sat through an 8-track setlist on one of MTV's Unplugged most iconic and memorable performances where Joey Satriani joined him to play Proud and Joy, The Feeling, and May This Be Love.
As for its current whereabouts, there's little to no information about this Guild 12 string.
Table Showing the Guitars Stevie Ray Vaughan Used at Each Point of His Career
| Make | Model | Color/Finish | Years |
| --- | --- | --- | --- |
| Fender | Sunburst Stratocaster "Number One" | Three-tone Sunburst/Worn Relic | 1973 to 1990 |
| Fender | 1963 Stratocaster "The Lenny" | 3-tone Sunburst – Refinished to a Dark Natural Finish | 1980 to 1990 |
| Fender | 1963 Stratocaster "Yellow" | 3-Tone Sunburst (original), Repainted Yellow | 1981 to 1985 |
| Fender | 1962 Stratocaster "Red" | Sunburst, Repainted in Fiesta Red | 1983 to 1989 |
| Gibson | Robert Johnson Tribute L-1 | Dark Two Tone Sunburst | 1983 to Unspecified |
| Charley Wirz | Custom Build Stratocaster | White | 1984 to 1990 |
| Hamiltone | Custom James Hamilton "The Main" | Sunburst | 1984 to Unspecified |
| Fender | 1961 Stratocaster "Scotch" | Butterscotch | 1985 to 1990 |
| Guild | Acoustic JF6512 | All Natural | Unspecified to 1990 |
Stevie Ray Vaughan Gear and Amps Overview
Similar to his loyalty to the Stratocaster, Stevie's amp choices remained consistent through his career, depending on Fenders, Marshalls, and later custom Dumbles, to maintain and enhance his striking tone. Contrary to typical rigs, Vaughan stated, "I use the Fenders for distortion and the Marshall for clarity."
Stevie's early rig setup is more of an enigma than the evolution of his guitar choices. He mentions being partial to Marshall "years ago" in an interview in 1988. His pre-recording career likely included various Fender tube amps, Marshalls, and whatever was available to plug into at the next gig. The history becomes a bit clearer in the early 1980s.
1960s Fender Super Reverb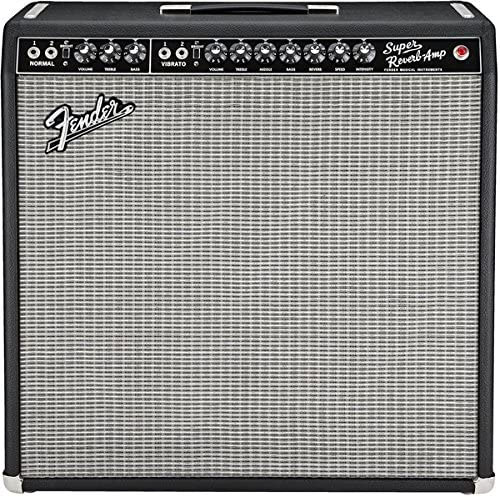 Years used: Unspecified to 1990
We do know that Stevie was favoring a 1960s Super Reverb before he discovered the Marshal 4140 Club and Country amp. This workhorse would later become a key player in Vaughan's studio and performance rigs. Stevie loved the Super Reverb's super clean tone and massive headroom. After the release of Texas Flood, when Double Trouble began playing larger rooms, he added a second Super Reverb to accompany the Vibroverbs. The Super Reverbs remained a staple of his live rigs until his final tour in 1990.
The Super Reverbs hit the scene in 1963, with four roaring speakers and reverb and vibrato channels. Versatility and warmth made the Super Reverb's a top choice of budding rockers.
Marshall 4140 Club and Country
Years Used: 1980/81 to 1983
The 4140 delivered Stevie's clean channel. While often accused of being Marshall's take on the Fender Twin Reverb, this amp drove a pair of 12-inch Celestion G12-80 speakers via KT77 tubes and 100 watts of power and produced a unique tone. This model offered a somewhat funky brown vinyl casing and tan grille cloth.
Stevie had planned to tour with this amp during David Bowie's "Serious Moonlight" tour, asking his crew to paint the frame black and the grill grey. While neither Stevie nor the amp made the trip, the custom paint job remained. Stevie traded the Marshall in 1983. It is currently a part of the Stevie Ray Vaughan museum exhibit.
1964 Fender Vibroverb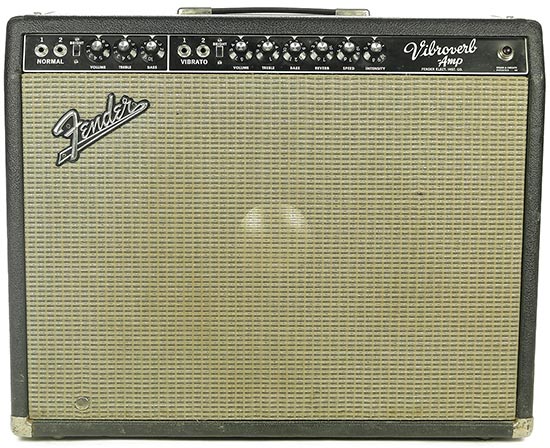 Years Used: 1984 to 1990
The yang to Number One's yin, the '64 Vibroverb screamed Stevie's unforgettable tone on Texas Flood. Two channels of 40-watt combo heaven streamed through the pair of Vibroverbs Vaughan employed. Frequently, Vaughan would run one unit more distorted than the other. The '64 model introduced a change in speakers, from a pair of 10" Oxfords to a single 15" Jensen or JBL, an AA763 circuit, and 12AT7 tubes for the phase inverter and reverb. Cesar Diaz, Stevie's amp guru, made modifications to the amps Stevie used. While his main amps changed over the following years, Vaughan relied on a single Vibroverb to drive the Vibratone rotating speaker cabinet.
Despite featuring the first built-in reverb, sales of the Vibroverb were disappointing, and Fender stopped production after two years.
Dumble Steel String Singer, "King Tone Consoul"
Years Used: 1984 to 1990
Howard Dumble was already an established legend and amplifier wizard when Stevie first plugged into Jackson Browne's 300-watt Dumbleland while recording Texas Flood in 1982. He ended up exploiting this behemoth on nearly every track of the album. Today, Dumble amps can command well over $200,000.
Stevie was reportedly drawn to the Dumble's ability to maintain and clarify immaculate tone as he pounded the span of the fretboard. He eventually ordered his own custom unit from Dumble, choosing a Steel String Singer head (one of a dozen in existence), reinforced by 6550 tubes and a crunching 150-watts of power. This head typically drove Vaughan's custom 4×12 cabinet, built with Electro-voice cones. The Steel String Singer quickly became SRV's preferred clean amp. He added an identical Dumble two years later.
Related Article: What Guitar Did Prince Play?
Fender Twin Reverb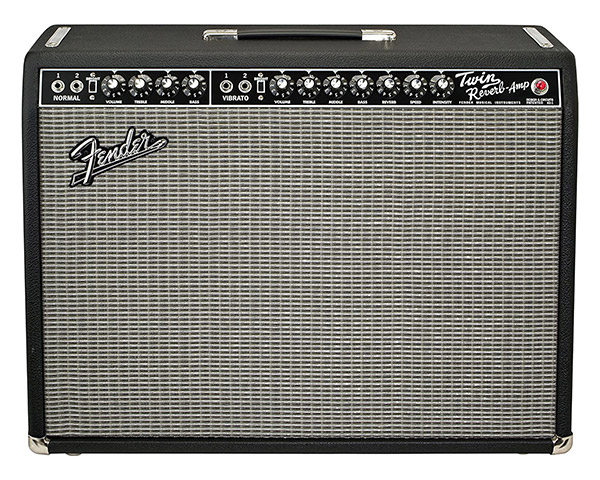 Years Used: 1985 to 1987
Essentially touring options for Vaughan, he chose a duo of Fender Twin Reverbs for performances in Japan in 1985. He paired a mid-60s 85-watt with a late-70s 100-watt rather than using his Dumble Steel String Singer. The amps vanished after the tour but returned when Stevie swapped out his Vibroverbs.
Stevie Ray Vaughan Pedals and Effects Overview
Jim Dunlop Wah GCB95
Years Used: 1982 to 1990
Stevie's first foray into effects pedals supposedly occurred while playing with Paul Ray and the Cobras in the mid-70s, when he experimented with a Wah Wah. It wasn't until the early 80s when he began performing "Voodoo Child (Slight Return)" that Stevie started regularly using the pedal. It's believed that his early Wah was a Cry Baby, but Stevie shifted to Vox models a bit later. Stevie eventually acquired Hendrix's V846 from Jimmie. Jim Dunlop designed a limited edition Cry Baby for Vaughan in 1987 to spur his creativity.
Fuzz Face/Texas Square Face
Years Used: 1987 to 1990

Stevie also experimented with a Dallas-Arbiter Fuzz Face pedal in the late 80s, but the electronics struggled to match the elements Stevie encountered on stage. Cesar Diaz eventually modified the pedal to withstand the rigors of the road. Diaz's modifications evolved into his custom pedal, the Diaz Texas Square Face.
Popular Related Article: Randy Rhoads Guitars and Gear List
Fender Vibratone
Years Used: 1984 to 1990
In the late 60s and early 70s, this Fender offering attempted to mimic the rotating speaker tone of the famous Leslie cabinets. Stevie used this effect on "Couldn't Stand the Weather" and "Cold Shot" with The Main.`
SRV Guitar Playing Journey
The aficionados among us are well aware that Stevie's older brother, Jimmie, was responsible for providing the gateway drug that lured a 6-year-old Stevie into the lair of guitar nirvana. Years later and one of the most remarkable blues-inspired tune catalog to show as evidence, SRV became one of the most influential musicians of contemporary rock music.
In 1971, Stevie swapped a misc guitar known as "Jimbo" for a '63 Epiphone Riviera, a decision he appeared to regret immediately. The Epiphone seemed to rarely see the light of day, and the Nocaster, despite Vaughan's efforts to reclaim it, never surfaced during his lifetime. This relic was sold to an anonymous bidder for $250,000 in 2018 in Dallas. Fender released a limited 70th Anniversary Edition of the Broadcaster in 2020, listing for $1.999.99.
Around the time Vaughan joined Cast of Thousands in the later 1970s, he began to favor a red 1960's Royal Artist semi-hollow body. By early 1971, Stevie formed his band Blackbird. The Royal Artist was replaced, or augmented, by a 1954 Les Paul TV Model and a 1952 Les Paul Gold top. The legend holds that he continued to play these instruments with Krackerjack (1972) and The Nightcrawlers (1973) until the legendary Strat lineage began in 1973.
Wrap Up
While it can be easy to oversimplify Steve Ray Vaughan's tone by slapping the "Strat and Fender" label on it, it's clear that Vaughan developed his signature sound early on and carefully nurtured it through a variety of almost organic embellishments, modifications, and composites. He seemed to be a magnet for the perfect tools, aided by the careful eyes and hands of masters such as Charley Wirz, Rene Martinez, and Billy Gibbons. So often, he appeared to be in the right place at the right time – to find Number One, discover Dumbles, and inherit the Nocaster. Likely, Stevie would still have made his indelible mark on modern blues playing with and through just about any combination.
Vaughan's legacy started amidst the decade of the 80s, when he was dubbed as "Texas favorite adoptive son" now a few decades in, his title remains as one of the most influential guitarists of his generation. Reportedly SRV had a largely autodidactic quality which helped him experiment without boundaries, undoubtedly, this paid off on a massive scale. Being praised by his peers and idols, B.B King and Eric Clapton, Vaughan inspired the likes of Pearl Jam's Mike McCready, John Mayer, and young star Gary Clark JR. who stated "If you listen to his records and watch his videos, you can tell he's just giving you everything he had. His passion is overwhelming."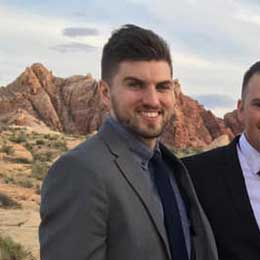 My name is Chris and I've had a passion for music and guitars for as long as I can remember. I started this website with some of my friends who are musicians, music teachers, gear heads, and music enthusiasts so we could provide high-quality guitar and music-related content.
I've been playing guitar since I was 13 years old and am an avid collector. Amps, pedals, guitars, bass, drums, microphones, studio, and recording gear, I love it all.
I was born and raised in Western Pennsylvania. My background is in Electrical Engineering, earning a Bachelor's degree from Youngstown State University. With my engineering experience, I've developed as a designer of guitar amplifiers and effects. A true passion of mine, I've designed, built, and repaired a wide range of guitar amps and electronics. Here at the Guitar Lobby, our aim is to share our passion for Music and gear with the rest of the music community.