The Gibson Les Paul has built a legendary reputation since it was first introduced to the masses in the 1950s. Despite the advancements in production techniques and guitar components, the pickups used in this iconic solid body guitar have remained relatively consistent.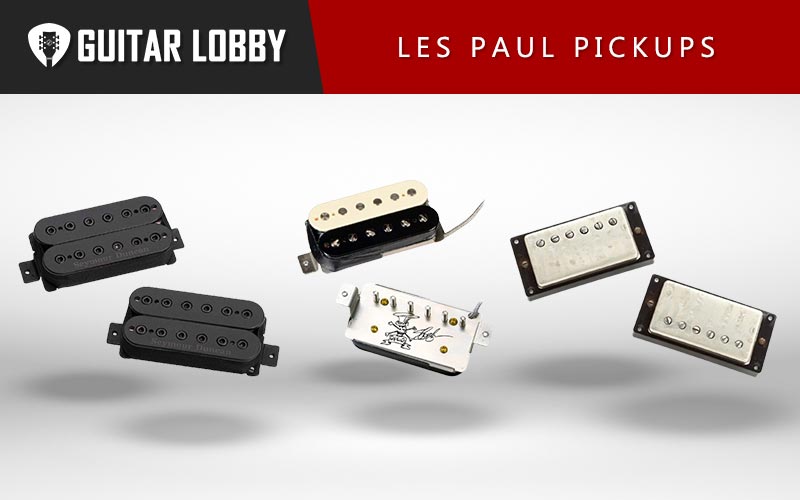 Just as the single-coil pickups used in Fender's Telecaster and Stratocaster defined the sound of those guitars, the PAF-style humbuckers used in the Les Paul have had a huge impact on its signature tone.
Over the years our team at Guitar Lobby has owned and tested dozens of these pickups, and in the rest of this article, I'll present you with the best pickups for Les Paul guitars at each price point.
Here Are The Best Les Paul Pickups
1. Seymour Duncan Antiquity (Best Overall)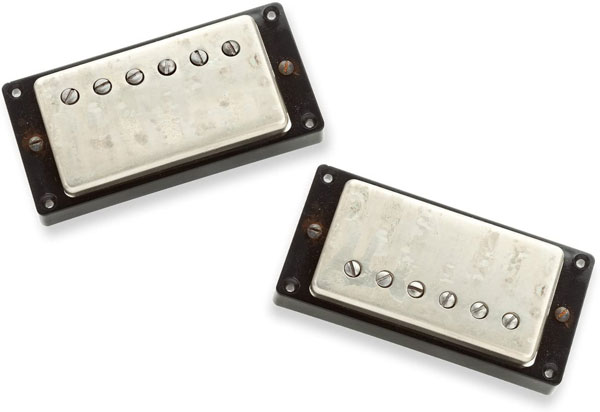 | | |
| --- | --- |
| Estimated Price | $270 |
| Type | Humbucker |
| Position | Bridge & Neck |
My Review: Being a Seymour Duncan fanatic, I was extremely eager to put the Antiquity humbuckers to the test. After installing them on a Les Paul, I was instantly drawn to the smooth, mellow tone that these pickups produced across the fretboard.
One of the qualities which stood out to me when testing the Antiquity pickups was their impeccable balanced. Their frequency response is impressively even, which makes them an ideal choice for all-rounder guitarists who combine lead and rhythm playing on their Les Paul.
I also found that the Alnico II magnet, which has been customized and aged by Seymour Duncan, added an open feel to the treble end of the Les Paul. This allowed me to play chord shapes high up the fretboard without encountering harshness or a lack of note articulation.
The thing which separates the Seymour Duncan Antiquity from their other Les Paul pickups, and those made by other manufacturers, is their ability to hone in on the vintage harmonics of this classic guitar. When I combined the pickups with a tube amplifier and cranked the gain, I was very impressed by the way they retained the smoothness of the Les Paul, while responding to the breakups.
Who is this best suited for: Due to the versatility and overall balance of the Antiquity pickups, I'd recommend them to guitarists who combine several styles of playing. They don't produce a huge amount of gain, and so metal and heavy rock are perhaps not their strongest points, but for playing any other style of music, these pickups are a great choice. These are easily some of the best pickups for Les Paul guitars that money can buy.
Bottom Line: Seymour Duncan is by far the most prolific producer of Les Paul-compatible pickups, and the Antiquity humbuckers are one of their best creations. With aged Alnico II magnets and vintage output coils, they produce a wide range of warm tones with an abundance of articulation and clarity.
2. Seymour Duncan Pearly Gates (Best Value)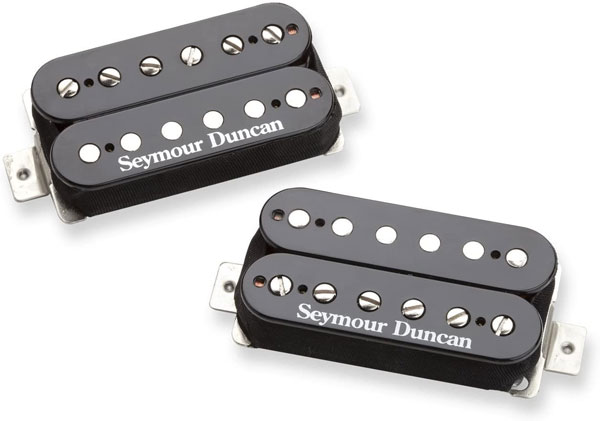 | | |
| --- | --- |
| Estimated Price | $200 |
| Type | Humbucker |
| Position | Bridge & Neck |
My Review: Compared to the aforementioned Antiquity pickups by Seymour Duncan, I found their Pearly Gates humbuckers to produce tones that sounded more lively. I was impressed by the way they stay true to the vintage sound of the Les Paul, which I discovered to be a result of their moderate output of 7500 kΩ.
When testing the results of these pickups on the mid and treble ranges of the Les Paul, I instantly noticed that the resonant frequency remained high as I moved through the upper pentatonic scale positions. This ensures that Les Paul's lower frequencies don't overpower the higher tones, which adds clarity to solos and high-end riffs.
Another aspect of the Pearly Gates pickups that impressed me was their compatibility with a variety of gain settings. Whilst man Les Paul pickups sound best when combined with high-gain settings or effects pedals, these Seymour Duncan humbuckers possess the rare quality of sounding sharp, crisp, and powerful with or without gain.
Identifying the standout quality which separates the Pearly Gates pickups from most other Les Paul humbuckers is difficult, as they are great all-rounders. If I had to choose one, I'd go with their ability to create authentic-sounding rock n' roll tones by highlighting the warmth and thickness of the classic Gibson guitar.
Who is this best suited for: Fans of vintage Les Paul tones from the '60s and '70s are likely to enjoy the sound of the Pearly Gates humbucker pickups. They can be used for a variety so styles, including classic rock, blues, hard rock, and metal due to their compatibility with many different gain settings. This pickup set is a pretty great value as well making them some of the best pickups for Epiphone Les Paul upgrade projects, or just an all-around versatile replacement set for your Gibson.
Bottom Line: Offering the perfect amount of punch, power, and heat, Seymour Duncan's Pearly Gates pickups are a great option for Les Paul players. Utilizing an Alnico II bar magnet, these pickups offer more drive than your average passive humbuckers. There is a slight emphasis on the mid-range of the Les Paul, but this doesn't detract clarity from the bass and treble frequencies. I'd say these are the best Les Paul pickups for the money right now.
3. Gibson BurstBuckers (Best Les Paul Pickup for Classic Rock)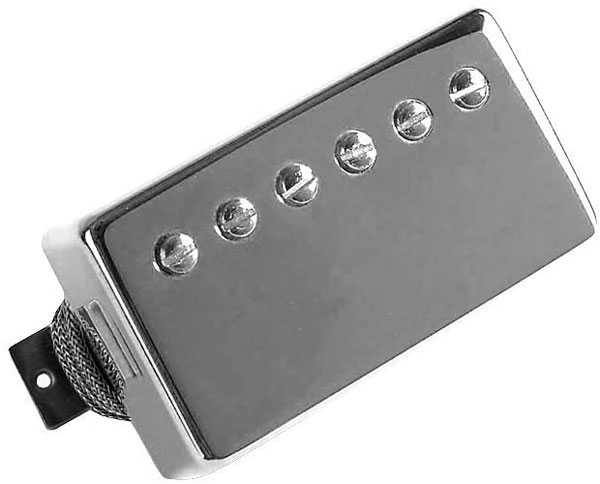 | | |
| --- | --- |
| Estimated Price | $220 |
| Type | Humbucker |
| Position | Bridge |
My Review: If anyone knows how to design a great pickup for the Les Paul, it's Gibson. With over half a century of experience in building humbuckers for their legendary solid body guitar, the manufacturer's knowledge is indisputable.
Consequently, I was eager to find out how the BurstBucker bridge pickup interacted with the Les Paul. When installed in the neck position, I was instantly drawn to the soft attack that the pickup produced. This created a rubbery, vintage tone, which I believe sounds best when combined with a touch of reverb and compression.
The medium-output makeup of the BurstBucker leads me to the conclusion that it can be used for multiple styles of playing with a Les Paul. After learning it has an Alnico V magnet, it made sense that the mid-range had a compressed yet prominent quality to it.
There are many P.A.F replicas on the market that promise to get you that authentic vintage Les Paul tone, but I haven't come across many that can do it quite as convincingly as the Gibson BurstBucker in the bridge position.
Who is this best suited for: If you're looking for a neck pickup to add a touch of vintage warmth to your Les Paul's output, the Gibson BurstBucker is an option worth considering. For straight-up rock n' roll tones, this pickup performs excellently. These are some of the best Les Paul pickups for classic rock.
Bottom Line: The Gibson Burstbucker neck pickup is a versatile option that produces several noticeable sonic enhancements. Firstly, the boosted mid-range allows you to control the saturation you get from the combination of a Les Paul with a tube amplifier. Also, the Alnico V magnet provides a little compression to control the dynamics of the guitar. Gibson Burstbuckers are some of the best pickups for Les Paul guitars you'll find.
4. Fishman Fluence (Best Noiseless Les Paul Pickups)
| | |
| --- | --- |
| Estimated Price | $250 |
| Type | Humbuckers |
| Position | Bridge & Neck |
My Review: I've used many Fishman electric guitar pickups over the past 12 months, and have always found them to be remarkably consistent in terms of quality and sonic attributes. My first impression of the Fluence pickups when I paired them with a Les Paul was very positive indeed.
I tested the Fluence pickups using the Les Paul in several different tunings and found them to be highly versatile. Even when playing in C standard, they combined with the Les Paul to create thick and clear tones without any muddiness. This quality also translated onto recordings, which allowed me to tune down further than I usually would when capturing the sound of a Les Paul.
The mid-range of the Les Paul sounded a little less bright than it did when I was using Seymour Duncan's humbuckers. This increased the prominence of the bass notes when I played power chords, which added a new layer of thickness.
One quality that I believe sets the Fishman Fluence pickups apart from other Les Paul-compatible devices is their noiseless performance. Many pickups claim to keep hum and buzz to a minimum, but in my experience, very few stay true to that promise as vigilantly as Fishman does with these modern humbuckers.
Who is this best suited for: If you're looking for distinctive tonal differences between your bridge, middle, and neck pickups on your Les Paul, the Fluence humbuckers deliver this in abundance. They're a great choice for those who enjoy dropping tunings, too.
Bottom Line: Offering a wide range of expressive tones, the Fishman Fluence humbuckers slot onto a Gibson or Epiphone Les Paul effortlessly. Their ceramic magnet design sounds brilliant when you play jangly chord progressions, and the tight bass allows the treble end of the guitar to flourish.
5. Tonerider AC4 Alnico IV Classic Vintage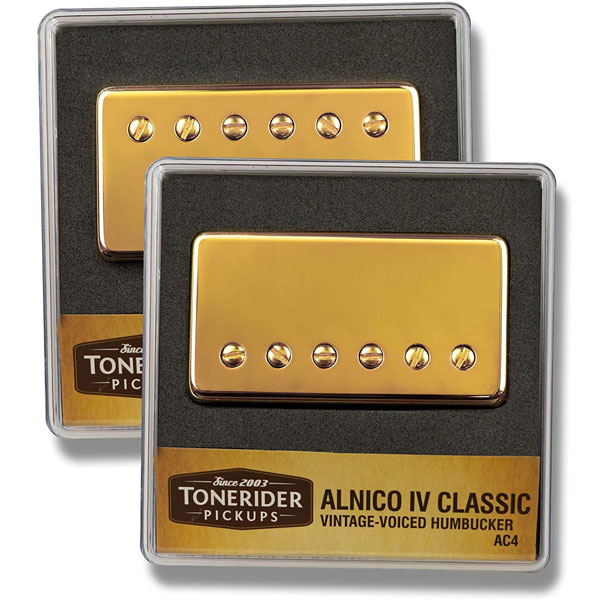 | | |
| --- | --- |
| Estimated Price | $120 |
| Type | Humbucker |
| Position | Bridge & Neck |
My Review: Many Les Paul pickups use Alnico II magnets, but Tonerider opted for Alnico IVs when designing the AC4 Classic Vintage humbuckers. I found this intriguing, as using the stronger version of the Alnico magnet commonly results in more compression and a more prominent mid-range.
After researching these pickups, I found that they do indeed provide the Les Paul with a slight mid-range boost. They also reduce the overall dynamic range of the guitar, but I found this to be less extreme than many other Alnico IV humbuckers I've encountered in the past.
I concluded that the injection of more mid-range frequencies into the output of the Les Paul makes these Tonerider humbuckers very adept at pushing a tube amplifier into saturation. Despite the slight compression, I found that digging into the strings resulted in a growling tone which sounds great when playing heavy chord patterns.
The thing which sets the Alnico IV Classics from the majority of other Les Paul pickups is their ability to tame the bass frequencies of the legendary instrument, which some find to be a little messy. This is most evident when using the neck pickup.
Who is this best suited for: The Alnico IV Classic Humbuckers by Tonerider are a solid choice for blues, hard rock, and metal guitarists. If you use a tube amplifier and enjoy pushing the device into overdrive, these pickups will not disappoint you.
Bottom Line: Pickup manufacturers rarely opt for Alnico IV magnets when creating humbuckers for Les Paul's and similar solid body axes. However, Tonerider made this bold decision, and it certainly paid off. With plenty of midrange growl, pleasing harmonics across the board, and a tightened bass response that minimizes muddiness, these pickups are a force to be reckoned with.
Popular Related Article: The Best Les Paul Style Guitars on the Market Right Now
6. Seymour Duncan SH-1 '59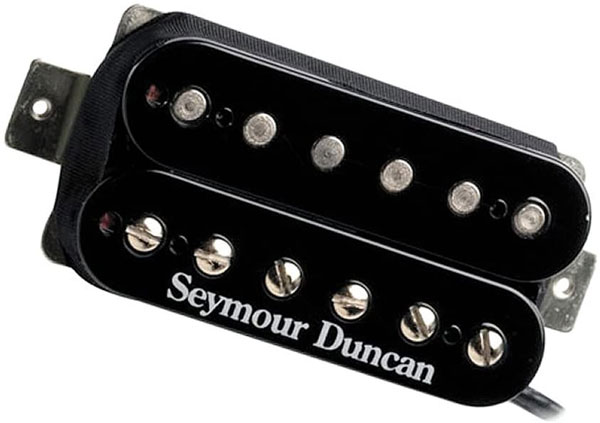 | | |
| --- | --- |
| Estimated Price | $150 |
| Type | Humbucker |
| Position | Bridge & Neck |
My Review: The SH-1 '59 bridge pickup is designed to evoke the tonal qualities of the earlier Les Paul pickups. I was already aware of the manufacturer's attention to detail before testing this humbucker, but the vintage qualities it extracts from the Les Paul surprised me nonetheless.
As with all HH configurations, the performance of the SH-1 '59 bridge pickup is largely dependent on the quality of the neck pickup it is paired with. I tried it with several combinations and concluded that providing the neck pickup you use doesn't have an excessively high output, it will blend nicely with the SH-1 '59.
I also found that the '59 produces some interesting results when combined with a distortion or overdrive pedal. When playing punk rhythm guitar, with chugging chord sequences focused predominantly in the lower registers, the pickup sounds brilliant.
The quality which differentiates this Seymour Duncan bridge pickup from other options is its ability to extract every ounce of sustain from the Les Paul, especially in the higher registers. When the bridge pickup is selected, you can access the warm tones which defined the early era of rock n roll guitar.
Who is this best suited for: Like most Seymour Duncan pickups, the '59 is highly versatile. Although it is designed predominantly for reproducing tones from the late '50s, it also makes a great hard rock, punk, and metal pickup.
Bottom Line: The SH-1 '59 utilizes the warm and tight sounds produced by its Alnico V magnet, creating a tone that oozes the vintage character. When used in the bridge position, it adds openness to chords and plenty of high-end clarity for playing melodies and lead lines.
7. EMG James Hetfield Signature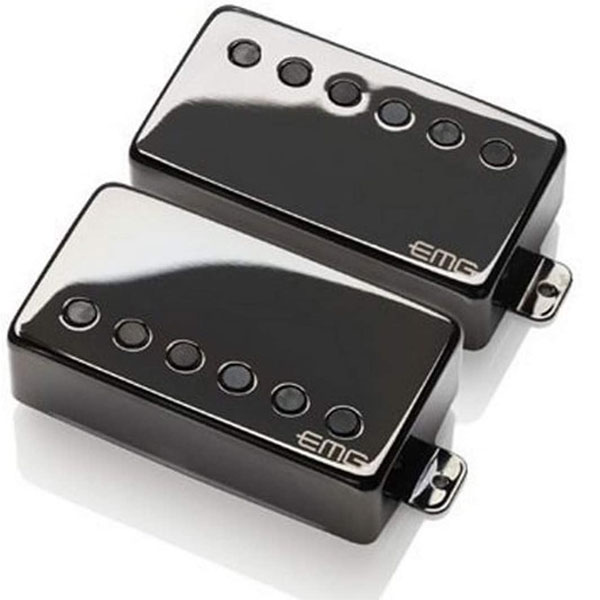 | | |
| --- | --- |
| Estimated Price | $250 |
| Type | Humbuckers |
| Position | Bridge & Neck |
My Review: At Guitar Lobby, we're constantly on the lookout for high-gain humbuckers which ensure that your tone cuts through the mix. When I first came across the James Hetfield Signature pickups by prolific manufacturers EMG, I wanted to find out whether they were compatible with a Les Paul.
One of my only criticisms of EMG pickups that I've tasted in the past is that they tend to be more compressed than other manufacturer's offerings, like Seymour Duncan or Fishman. However, I was pleased to discover that the James Hetfield Signature set produced a more organic and natural dynamic range.
The Les Paul is an extremely expressive instrument, and its naturally long sustain is what makes it such a great choice for lead guitarists. I found that these EMG pickups enhanced this quality noticeably, making riffs, licks and melodies sound even sweeter with the Les Paul.
Although I associated James Hetfield with red-hot rock riffs and high-gain tones, the thing which surprised me the most about these pickups is how good they sound when played in a clean setting. This allowed me to switch from distorted back to clean without worrying about the tonal quality and dynamics being inconsistent.
Who is this best suited for: I'd highly recommend these EMG pickups to Les Paul players who often jump from high-gain settings to clean tones. Whether you do this by using distortion pedals or simply switching the channel on your amplifier, the James Hetfield Signature pickups will do the job.
Bottom Line: Due to the influence of Metallica's James Hetfield, these pickups deviate from what we've come to expect from EMG. Their understated appearance blends seamlessly into the body of a Les Paul, and they enhance the core qualities of the guitar, including its attack, low-end power, and single-note sustain.
8. Seymour Duncan Jeff Loomis Blackouts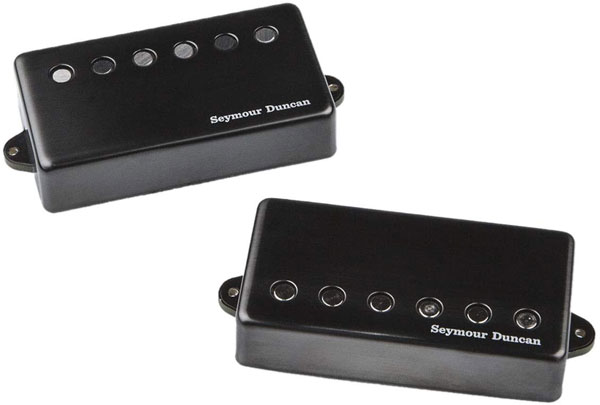 | | |
| --- | --- |
| Estimated Price | $250 |
| Type | Humbucker |
| Position | Bridge & Neck |
My Review: Right off the bat, I could tell that the Blackouts by Seymour Duncan pull no punches when it comes to tone. The Les Paul doesn't get the credit it deserves as a metal guitar in my opinion, so it was refreshing to find these powerful humbuckers designed for high-gain tones.
The first thing I noticed about the sound that these pickups combine with the Les Paul to create was the impeccable clarity. All across the fretboard of the Les Paul, the pickups provide stellar note separation which I found very useful when playing arpeggios or other fast picking techniques.
Jeff Loomis' catalog includes some of the most innovative guitar work in the metal and heavy rock genres. I was very impressed by the dynamic range of his signature pickups and found that combining them with high-gain pedals such as distortion or fuzz leads to a huge and powerful Les Paul tone.
Who is this best suited for: The Jeff Loomis Blackouts by Seymour Duncan are ideally suited for technical Les Paul guitarists. They sound incredible when plenty of gain is added to the signal, and their attention to detail ensures that even the fastest riffs are projected with clarity.
Bottom Line: Jeff Loomis is renowned for being very precise with his guitar tone. It should come as no surprise then, that his signature humbuckers sound very unique compared to most other Les Paul compatible pickups. The Alnico V magnets add tightness and control, while the high-output design ensures a substantial sound.
Popular Related Article: Roundup Of Our Favorite Humbucker Pickups
9. Seymour Duncan Mark Holcomb Alpha & Omega
| | |
| --- | --- |
| Estimated Price | $250 |
| Type | Humbucker |
| Position | Bridge & Neck |
My Review: What initially caught my eye when I saw the Alpha & Omega Mark Holcomb signature pickups was their modern, discreet aesthetics. The matte black finish will slot onto the body of a Les Paul, regardless of its color. However, I wish that Seymour Duncan had made the matte finish more durable, as it is quite easy to scratch when installing them.
I must admit I hadn't listened to much of Holocomb's guitar playing, but after checking out his band, Periphery, I began to understand the sound he is trying to produce with these Seymour Duncan Humbuckers.
I experimented with the tone and volume controls on the Les Paul while using these speakers through a tube amplifier, and the results were highly impressive. Not for the faint-hearted, the neck pickup produces warm, fuzzy tones, while the second humbucker in the bridge position transforms the Les Paul into a powerhouse that is sure to get you in trouble with the neighbors!
Who is this best suited for: Metal and hard rock guitarists will enjoy the powerful chugging tones produced by the Mark Holcomb Alpha & Omega humbuckers. They highlight the rough, gritty aspects of the Les Paul and evoke some serious gain from the guitar.
Bottom Line: When designing these pickups, Seymour Duncan and Mark Holcomb set out to create a bridge and neck humbucker set which interact sonically with one another to shape the sound of the guitar. Using ceramic magnets and high output, they were able to produce a high-octane pickup set that is perfectly suited to a Les Paul.
10. DiMarzio DP103 PAF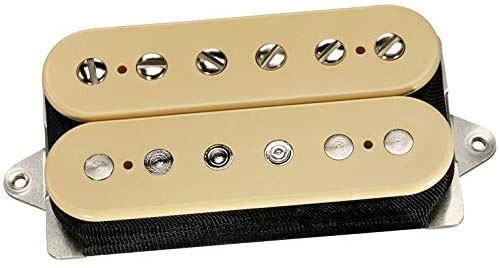 | | |
| --- | --- |
| Estimated Price | $80 |
| Type | Humbucker |
| Position | Bridge & Neck |
My Review: DiMarzio's DP103 PAF pickups struck me as an interesting choice for the Gibson Les Paul. I was already aware of the significance of PAF pickups in Gibson's history – they were used heavily in the late 1950s and early 1960s on most of the manufacturer's high-end guitars.
I found that there are two ways you can use the DP103 PAF pickups to shape the tone of a Les Paul. Firstly, when using one in the neck position paired with a higher output humbucker in the bridge position, I was able to find a dynamic and tonal balance which resulted in smooth chords with plenty of sustain.
When I installed the second DP103 PAF humbucker in the bridge position, this resulted in slightly more volume coming from the bridge than the neck. I enjoyed the low-end boost that these pickups created, which is ideal for playing riffs in the bass end of Les Paul's fretboard. The thing that makes these DiMarzio pickups stand out is the dynamic control they provide, which allows you to control the volume of the Les Paul based on strumming velocity.
Who is this best suited for: DiMarzio's DP103 PAF pickups are a great choice for Les Paul guitarists who don't require too much gain and distortion from their rig. They sound smooth and refined, making them suitable for playing rhythm guitar on a clean channel.
Bottom Line: Based on Seth Lover's iconic PAF humbucker pickups from the 1950s, these DiMarzio devices are rooted in vintage tonality. Compared to many other Les Paul humbuckers, they have a weak magnetic field, which makes them sound a little more like single-coil pickups.
Popular Related Article: Overview Of The Different Types Of Pickups
11. EVH Frankenstein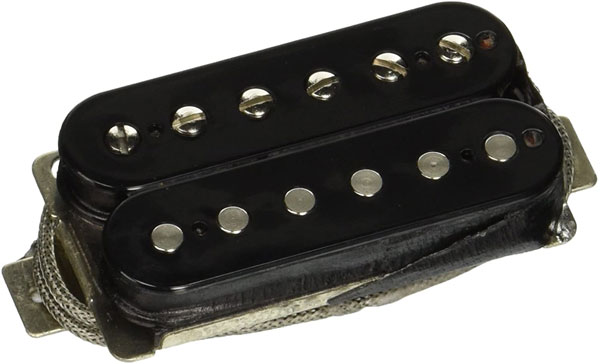 | | |
| --- | --- |
| Estimated Price | $170 |
| Type | Humbucker |
| Position | Bridge |
My Review: Widely regarded as one of the most iconic and innovative Les Paul guitarists of all time, Eddie Van Halen's tone is simply legendary. The EVH Frankenstein bridge pickup aims to recreate his red-hot tone, so I decided to see whether it delivered on this promise.
I discovered that the Frankenstein humbucker is extremely versatile, producing everything from smooth clean tones for playing chord patterns, to crunchy gain when the volume pot is cranked up. As far as blues and hard rock Les Paul pickups go, this bridge humbucker is up there with the best offerings of the market.
Who is this best suited for: Fans of Eddie Van Halen will love the EVH Frankenstein humbucker. A multi-faceted pickup, it can be used to create a wide range of tones with a Gibson or Epiphone Les Paul.
Bottom Line: When I think of Eddie Van Halen's guitar tone, the first quality that springs to mind is power. The Frankenstein pickup is a direct recreation of the pickup Van Halen used on his Gibson Les Paul, and it doesn't disappoint.
12. Seymour Duncan Dave Mustaine Thrash Factor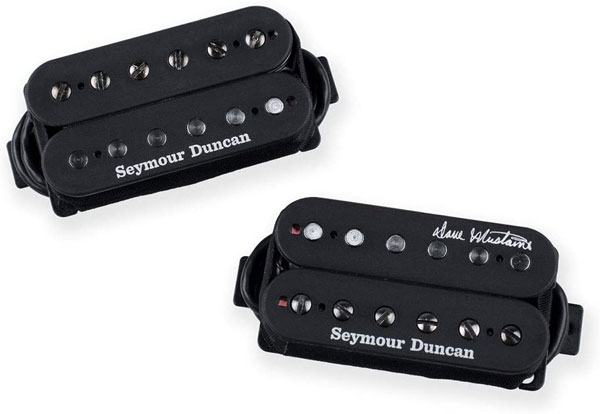 | | |
| --- | --- |
| Estimated Price | $200 |
| Type | Humbucker |
| Position | Bridge & Neck |
My Review: After closely analyzing the Dave Mustaine Thrash Factor pickups by Seymour Duncan, I was very impressed by the powerful sounds they created when combined with a Les Paul. The passive design of these humbuckers creates a scratchy tone, that sounds huge when combined with gain from a tube amp or an overdrive pedal.
Despite the energetic tone of these pickups, I discovered that you can also use them to create warm chord sequences by selecting the bridge position and dialing in the tone pot on your Les Paul. For this reason, they transcend your average thrash metal pickups and can be used for a broad range of styles.
Who is this best suited for: Megadeath's Dave Mustaine is renowned for his huge-sounding riffs and killer lead guitar tone. If you're looking to get close to his gain-heavy trash metal tone, these Seymour Duncan signature pickups are recommendable.
Bottom Line: With a classy matte black design and a scratchy, percussive tone, the Thrash Factor pickups by Seymour Duncan are a great choice for Les Paul guitarists looking to push their guitar to its sonic limits. The Alnico V magnets ensure dynamic control, and the medium-high output makeup of these humbuckers ensures a strong low end and powerful highs.
Popular Related Article: Humbucker vs P90 vs Single Coil Explained
13. Seymour Duncan Seth Lover Signature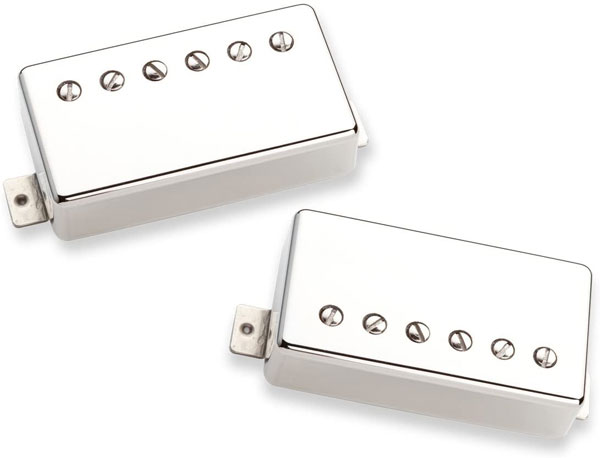 | | |
| --- | --- |
| Estimated Price | $220 |
| Type | Humbucker |
| Position | Bridge & Neck |
My Review: The Seth Lover Signature pickups take inspiration from the original Gibson pickups, with a distinctive PAF design. The first thing I noticed about these humbuckers is that they are suitable for a wide range of genres, including jazz, rock, and blues.
I found that these pickups performed best when the tone pot on a Les Paul is set to a medium level. This reduces the harshness of the high-end frequencies and creates a warm blend of harmonics, which sounds great for lead and rhythm combination playing.
Who is this best suited for: If you enjoy playing your Les Paul on a clean amp setting, the Seth Lover Signature humbuckers by Seymour Duncan are worth considering. With a warm, mellow output, they allow the natural sonic qualities of the classic Gibson guitar to be expressed without constraint.
Bottom Line: PAF Les Paul pickups create an unmistakable tone. These Seymour Duncan pickups aim to recreate the bluesy sounds of decades gone by, and they achieve this thanks to the medium output and Alnico II bar magnet.
14. EMG Zakk Wylde Signature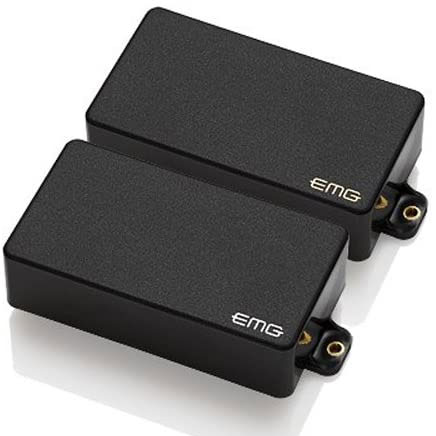 | | |
| --- | --- |
| Estimated Price | $200 |
| Type | Humbucker |
| Position | Bridge & Neck |
My Review: It didn't take long for me to realize that EMG's Zakk Wylde Signature pickups differ from the vast majority of humbuckers suitable for installation on a Gibson Les Paul. I noticed that they produce a more balanced sound than your average humbucker, which is most evident on the bridge pickup.
The long sustain of the Les Paul is enhanced by these pickups, which allowed me to ring out chords for a greater length of time than usual. This quality also translates into playing lead guitar. When the gain is added to the signal, I found that the Zakk Wylde Signature pickups sounded consistent a powerful.
Who is this best suited for If you're already contented with the sound of your Les Paul but simply want to install a set of pickups which increase your sustain and tonal power, the EMG Zakk Wylde Signature humbuckers are a great option to consider.
Bottom Line: The Zakk Wylde Signature pickup set is a flawless recreation of this iconic guitarist's preferred humbuckers. Wylde's input in the design process of these pickups is instantly evident, with long sustain and warm, saturated tones being easily accessible.
15. Seymour Duncan Slash Signature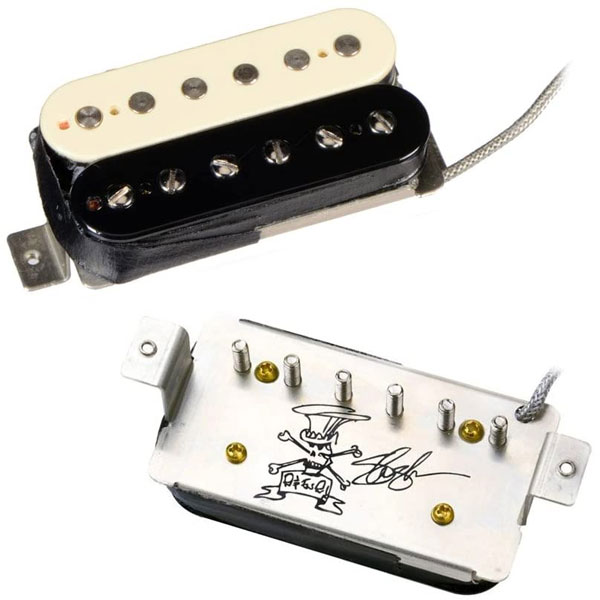 | | |
| --- | --- |
| Estimated Price | $210 |
| Type | Humbucker |
| Position | Bridge & Neck |
My Review: I can't think of many Les Paul guitarists who are as well known as Slash, so I was expecting big things from his signature pickup collaboration with Seymour Duncan. Within minutes of installing these humbuckers on the Gibson Les Paul, I could tell that they weren't going to disappoint.
I was particularly impressed with the versatility offered by these pickups. Firstly, when experimenting with rhythm guitar tone on the Les Paul, I found that they easily moved into crunchy distortion whilst preserving the clarity of each chord. For solos and lead parts, the pickups sound creamy and smooth.
Who is this best suited for: Les Paul guitarists who like to switch between playing rhythm and lead parts will enjoy the versatility of the Slash Signature humbuckers. They allow you to control the attack and sharpness of your tone by alternating between the pickup selectors on the guitar.
Bottom Line: Slash is renowned for having a distinctive tone, and his input into the design process of these Seymour Duncan-made pickups is instantly apparent. Using Alnico II Pro magnets, they don't sound overly compressed. The medium output makes them capable of producing smooth clean tones or taking on the gain from an amp or effects pedal.
16. Seymour Duncan Vintage Blues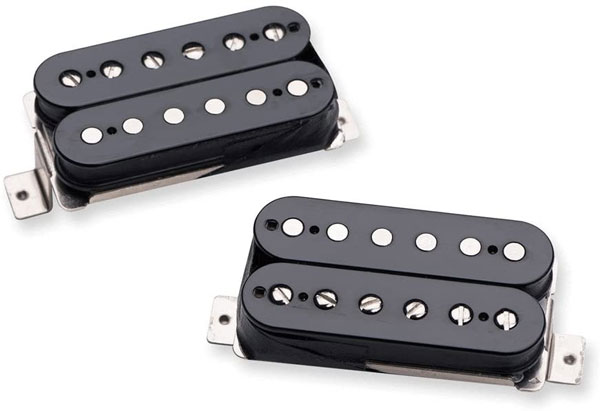 | | |
| --- | --- |
| Estimated Price | $150 |
| Type | Humbucker |
| Position | Bridge & Neck |
My Review: The Vintage Blues pickups are another example of Seymour Duncan's unrivaled expertise in their field. When installed on a Les Paul, they reduce muddiness in the bass frequencies and boost the natural sweet spots of the guitar's midrange and high-end.
One thing in particular which impressed me about these pickups is the control you get over the tone they produce through the adjustment of the tone and volume pots on the Les Paul. I found that they were able to cut through the mix with ease thanks to the slight increase in brightness they evoke from the classic Gibson solid body guitar.
Who is this best suited for: The Seymour Duncan Vintage Blues pickups are a great choice for Les Paul guitarists who like to rely on their clean tone rather than heavily using effects pedals. They're suitable for jazz, blues, rock, and funk thanks to their sonic versatility.
Bottom Line: With a pair of calibrated SH1 '59 pickups included in the set, the Seymour Duncan Vintage Blues provide thick humbucker tones with plenty of room for adjustment. The manufacturer took inspiration from the vintage PAF humbuckers installed on the earlier Les Paul models, allowing you to access classic rock and blues tones with ease.
17. Seymour Duncan JB and Jazz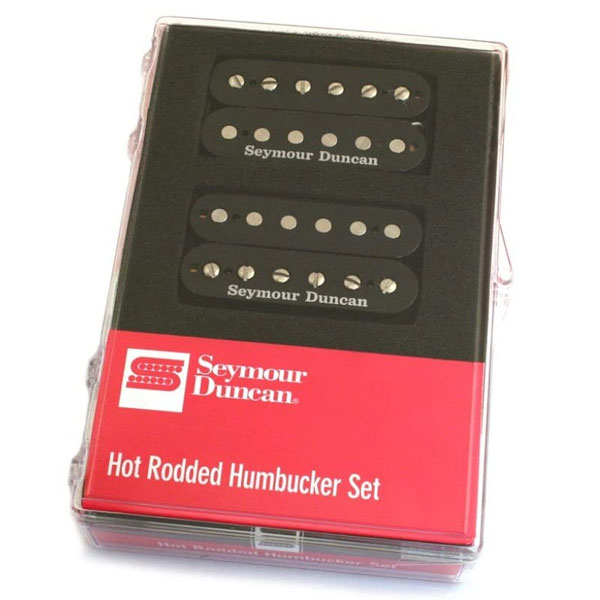 | | |
| --- | --- |
| Estimated Price | $140 |
| Type | Humbucker |
| Position | Bridge & Neck |
My Review: Before encountering the JB and Jazz Hot Rodded Humbucker pickup set, I was aware of the history surrounding them. Seymour Duncan created these pickups in the 1970s, and he has stated that the combination of the SH-4 JB in the bridge position with the SH2n Jazz in the neck is one of his favorite humbucker pairs.
Unsurprisingly, my findings show that these pickups slot nicely onto a Gibson Les Paul. They inject a vintage character into the guitar's tone, honing in on the prominent mid-range and allowing the high-end to be open and expressive.
Who is this best suited for: Although they're aimed at jazz guitarists, this set of pickups are great all-rounders. If you enjoy switching up your style when playing a Les Paul, the two p[ickups in this set will increase the number of tonal options you have to work with.
Bottom Line: The JB and Jazz pickup set includes two of Seymour Duncan's most popular inventions to date. With a classic vintage tone and appearance, they take the Les Paul back to its roots. Chords sound chunky and smooth, while melodies sound articulate no matter where you find yourself on Les Paul's fretboard.
Choosing the Right Les Paul Pickups – Ultimate Guide
The Les Paul has cemented its legacy as one of the most iconic and popular electric guitars of the past century. Renowned for its powerful tone, versatility, and exceptional sustain, this solid body axe has been at the forefront of guitar music since the birth of rock n' roll.
Along with Fender's Telecaster and Stratocaster, the Gibson Les Paul was one of the first mass-produced solid-body electric guitars. Its single-cutaway body design makes the guitar instantly recognizable, and it has been used across a wide range of genres, from blues to metal.
Although the design and construction of the Les Paul is an undeniable reason for its popularity, the guitar's tone is largely a result of its dual-humbucker pickup configuration. Many pickups have been used with a Les Paul, which is a testament to its versatility.
The Les Paul Tone
Distinctive features and stellar playability are certainly two major reasons that the Les Paul is superior to most other electric guitars, but the quality which sets it apart is its unmistakable tone. Indeed, there are many customizations that a guitarist can make to change the way the Les Paul sounds, but its core tonal qualities remain.
The first thing that comes to mind when discussing the tone of a Les Paul is thickness. With its conventional pickup assembly of HH or dual-humbuckers, it produces fat sounds in the bass, mids, and treble frequencies.
The Les Paul tone is also often described as a 'snarl', which is an appropriate word to use. For chugging rhythm guitar or fast-paced chord sequences, the Les Paul is one of the very best options money can buy. It responds to the velocity of your playing and is great at pushing a tube amplifier into saturation.
Lead guitarists will find the incredible sustain that the Les Paul produces to be the perfect complement to their single-note melodies and solos. It's a popular choice amongst metal guitarists, with all of the aggression and heat required for shredding and playing powerful riffs.
Les Paul Pickups – A Brief History
Early Les Paul guitars commonly had PAF humbucker pickups installed on them. This unique device was originally designed by Seth Lover, in 1955. Lover set out to create a pickup that provided the same level of tonal quality as the P90, which was used by Gibson in the 1930s and 1940s.
The P90, like the single-coil pickups used by Gibson's main rival, Fender, was prone to noise issues due to 60-cycle hum interference. The PAF pickup was designed to combat these issues using a "hum-bucking" design.
From 1957 to 1960 the PAF was used in all Gibson Les Paul standard guitars, and this pickup was largely responsible for the famous rock n' roll tones that the guitar became known for. In the early 1960s, Gibson replaced the PAF with a Patent Number pickup, which is essentially the same device with some improvements made.
Single Coil vs. Humbucker
You've probably noticed that almost all of the suitable pickups for the Les Paul are of the humbucker variety. Some guitarists have experimented with using dual-single coils, but this is rare. Les Paul's are designed to facilitate a pair of humbuckers, for several reasons.
When electric guitars were first mass-produced, Fender used single-coil pickups in their most popular guitars, the Telecaster and Stratocaster. These pickups provided the signature tones of their guitars, but one issue that commonly arose was electronic hum and noise being present in the output.
Gibson, therefore, opted for the PAF pickup, which is a special type of humbucker. In contrast to single-coil pickups which work by detecting the vibrations of the guitar string and amplifying them into sound, the humbuckers used on the Les Paul have two coils. This pair of coils is then wound and assembled to cancel out the noise produced by the individual pickups.
The Gibson Les Paul soon gained a reputation for being a low-noise, high-clarity instrument. In the modern era of its production, Gibson still predominantly sticks with the PAF style humbuckers which helped propel the guitar to stardom upon its original release.
Pickup Positions
Gibson and Epiphone Les Paul's include a 3-way toggle switch for selecting different pickup positions. This switch can be used to instantly switch between the neck, bridge, and middle positions, making the chosen pickup more prominent in the output of the guitar.
Toggling between different pickups is a highly useful tool for Les Paul guitarists. Generally speaking, the bridge pickup of a Les Paul often produces a brighter tone in comparison to the neck pickup, which tends to sound warmer and more mellow.
Therefore, many lead guitarists prefer to switch to the bridge pickup on their Les Paul when playing solos or melodies. This pickup is also popular amongst metal and heavy rock guitarists, as it adds power to riffs and helps them to cut through the mix when playing with a live band.
The neck pickup of the Les Paul is better suited to playing rhythm guitar. It is also commonly favored by guitarists who use the Les Paul with a clean channel on their amplifier. For genres such as funk, soul, R & B, or jazz, the neck pickup is often utilized.
The middle pickup position on a Gibson Les Paul essentially blends the sounds of the neck and bridge pickups to create a mixture of the two. This position is a good starting point for guitarists who are new to the instrument, as it allows you to figure out which pickups work best for your style of playing.
Magnet Types
In addition to the obvious factors which impact the performance of pickups when installed on a Les Paul, such as the manufacturer, output rating, and position, there is another major contributor to the overall sound – the type of magnet.
Magnets are a hugely influential component within any Les Paul pickup. There are several different types, all of which offer distinctive sonic qualities. It's a good idea to learn about the various types of magnets so that you can ensure you choose pickups that include the best-suited options for your Les Paul.
Alnico II
Alnico II magnets are the second weakest in the alnico series. It is considered to produce a "vintage" tone and has been used in many Les Paul models by Gibson over the years. This magnet tends to increase the prominence of the mid-range frequencies and softening the high-end.
In terms of its impact on the low-end of a Les Paul, an Alnico II magnet is likely to allow the frequencies to have more space to move. This lack of tightness can sometimes result in a muddy low-end, but it is a distinctive characteristic of rubbery vintage guitar tones.
PAF pickups often include Alnico II magnets to enhance their vintage tones. The Les Paul is a highly versatile guitar, but it is most commonly associated with rock n' roll tones of the early 60s, so it makes sense that many pickup manufacturers would try to recreate this by using Alnico II magnets.
Alnico IV
Another commonly used magnet in Les Paul pickups is the alnico IV. This magnet is stronger than the aforementioned alnico II, and it is considered to be the most balanced in the series. This balance refers to the tonal qualities of the magnet, due to its even frequency response across the fretboard.
The treble and bass frequencies of the Les Paul sound more pronounced, punchy, and tighter when the Alnico II magnet is used. IN comparison to the Alnico II, the midrange is more balanced and doesn't play such a prominent role in the overall output.
The alnico IV magnet is often used in modern Les Paul pickups, as it is good at balancing out overwound pickups and softening the attack they produce.
Alnico V
Perhaps the most commonly used magnet in Les Paul pickups is the alnico V. This magnet is the strongest of all alnico magnets. It produces a very good balance of mids, lows, and highs, and creates an open top-end which sounds great with a Les Paul.
This magnet type is used by manufacturers to brighten up the tone of their humbuckers. They are used frequently in high-output humbuckers, as these tend to sound a little dark when a weaker magnet is installed within them.
The Alnico V magnet is commonly associated with Fender, but Gibson has also utilized it frequently for their guitar pickups. Seymour Duncan, EMG, and ToneRider all frequently use Alnico V magnets in their pickups.
Ceramic
Ceramic magnets are a popular alternative to the alnico varieties. By comparison, ceramic magnets produce a stronger magnetic field than their alnico counterparts. This results in a hotter tone, with increased prominence in the treble range.
The argument over which type of magnet is best has been going on for decades, but in reality, it comes down to personal preference. Humbuckers that use ceramic magnets are often of the high output variety and are favored by lead guitarists.
The high-end frequencies are often compromised in high output humbuckers or P90s, so using ceramic magnets is an effective way to compensate for this. For crunchy Les Paul tones used in metal, hard rock, or heavy blues styles, ceramic magnets are a good choice.
Pole Pieces
Another important component in a Les Paul guitar pickup is the pole pieces. This term includes all of the screws, poles, and posts which run through the coil in the Les Paul's pickup, and are used for magnetic conductance for the strings of the guitar.
In most Les Paul humbuckers, you'll find two pole pieces for each string. In some cases, the magnets within the pickup act as the pole pieces too, and in these instances, they are secured within the middle of the pickup's coil.
Pole pieces are made from either adjustable bolts or steel rods. They are positioned to run straight through the pickup's coil, where they come into contact with the magnet, and this creates the magnetic field of the pickup.
Windings
In the vast majority of cases, Les Paul pickups are wound by machines which ensure the correct number of turns occur and that the movement is consistent. A specific type of copper wire is used to ensure the voice of the pickup is as intended.
The more the pickup is wound, the higher the output is. High output humbuckers produce a darker tone, which makes it easier to create breakups with a Les Paul. Comparatively, the fewer windings the pickup has, the lower its output will be and the tone will be smoother and more subdued.
Pickups & Effects Pedals
Effects pedals are an essential part of most electric guitarist's rigs. They allow you to shape the tone of your guitar deliberately, and create unique sounds to match your playing style. With so many effects pedals to choose from, assembling your pedalboard can be a difficult task.
The pickups you choose to install on your Les Paul will have an impact on the performance of your effects pedals. For example, a high output humbucker paired with a distortion pedal will create a more saturated, gain-heavy tone than a low output humbucker would.
If the pickup that you choose to install on your Les Paul increases the prominence of certain frequencies, such as the midrange of the guitar, you may need to pair it with an EQ pedal so that you can create a better tonal balance.
Humbuckers tend to sound smooth and creamy, which makes them highly compatible with a range of pedal types. Reverbs and delays are likely to blend beautifully with Les Paul humbuckers, so this may be a combination you'd like to play around with.
Some pickups also compress the sound of the Les Paul's strings, so you may not need to use the guitar with a compressor pedal if the pickup is already performing that function for you. However, pickups that produce less consistent dynamics will probably benefit from being paired with a compressor pedal.
EMG Les Paul Pickups
One of the most popular pickup manufacturers is EMG. Founded in 1976, they quickly rose to prominence in the hard rock and metal scene, with their active pickups becoming extremely popular. Guitarists such as David Gilmour, Prince, and Zakk Wylde are amongst the most famous EMG users.
The reason that EMG is renowned for producing pickups suitable for use with a Gibson Les Paul is that their humbuckers tend to have high outputs. This means that you can easily create crunchy rhythm guitar tones by pairing them with a Les Paul.
Seymour Duncan Les Paul Pickups
Seymour Duncan is hands down the most prolific producer of Les Paul-suitable pickups. Their catalog includes an array of humbuckers, all of which have varying specs and designs, and are specifically geared toward certain styles of Les Paul guitar players.
The company has been at the forefront of the pickup industry for half a century, and many iconic musicians use their devices. Many Seymour Duncan pickups are based on early models which were designed by their founder who the company is named after.
Wrap Up
There's no denying the brilliance of the Gibson Les Paul. Its longevity and continued popularity are an indicator of the sheer class of the guitar. Combining impeccable tone with smooth playability, it's easy to see why guitarists continue to hold this instrument in such high regard over fifty years since its inception.
After reading this detailed guide, you should be equipped with all of the knowledge you need to choose the best-suited set of pickups for your Les Paul. All of the options included on this list are of the highest quality, so I'm sure you'll be elated with your final choice!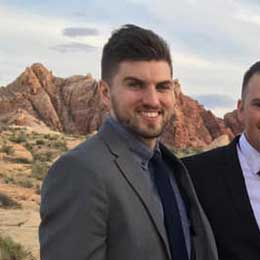 My name is Chris and I've had a passion for music and guitars for as long as I can remember. I started this website with some of my friends who are musicians, music teachers, gear heads, and music enthusiasts so we could provide high-quality guitar and music-related content.
I've been playing guitar since I was 13 years old and am an avid collector. Amps, pedals, guitars, bass, drums, microphones, studio, and recording gear, I love it all.
I was born and raised in Western Pennsylvania. My background is in Electrical Engineering, earning a Bachelor's degree from Youngstown State University. With my engineering experience, I've developed as a designer of guitar amplifiers and effects. A true passion of mine, I've designed, built, and repaired a wide range of guitar amps and electronics. Here at the Guitar Lobby, our aim is to share our passion for Music and gear with the rest of the music community.