As musicians, we take our hard-earned money to buy our instruments to continue our craft. While this is something we love doing it is quite an investment for our guitars with some Telecasters cost thousands of dollars. So how do you protect that investment? You get a case!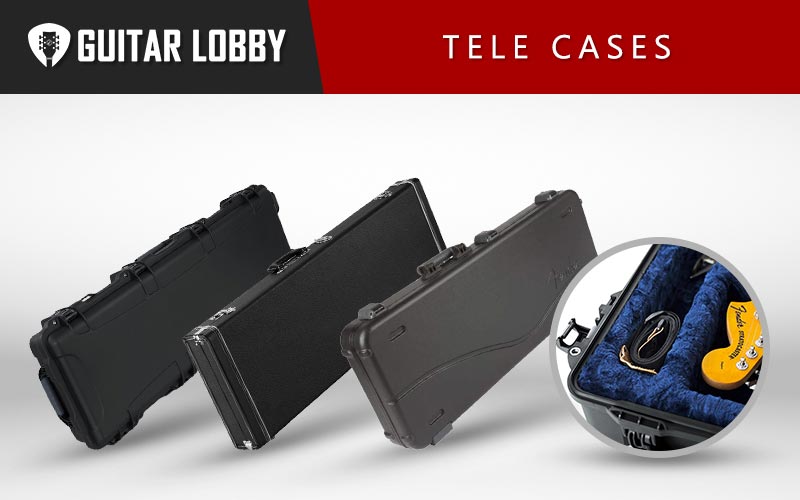 As traveling musicians having a durable, lightweight reliable case is instrumental (pun intended) to keep your telecaster guitar safe from the wear and tear of the road. Over the years I've owned and tested many different cases for my telecasters, and in this article, I'll be sharing what I believe are the best telecaster guitar cases at each price point.
Here Are the Best Fender Telecaster Guitar Cases
1. Fender Deluxe Molded Case (Best Overall)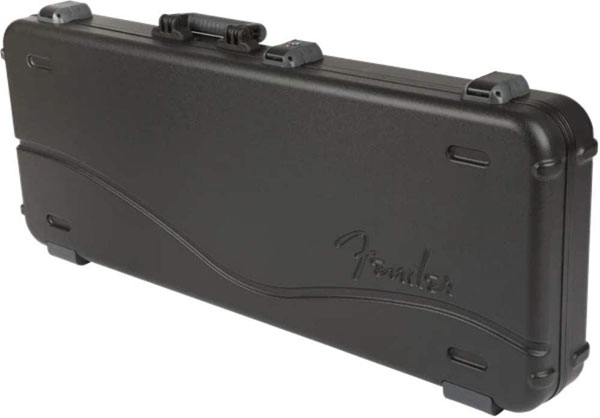 | | |
| --- | --- |
| Estimated Price | $200 |
| Exterior Length | 44.5" |
| Exterior Width | 18.5" |
| Exterior Depth | 6" |
| Internal Materials | Polyester Plush Material |
| External Materials | ATA Molded Polyethylene Shell |
| Handles/Straps | 1x Handle |
| Pockets | 1x Interior Center Accessory Area |
| Weight | 6.6 lbs. |
My Review: The Fender Deluxe Molded Case is a wonderful telecaster case that gives you all the amenities any gigging player needs. With great protection and a snug fit for your telecaster.
The Plush neck rest cradles the neck and keeps it safe from drops. The locks and the other hardware on the case are great as well I have not had any issues with these locking mechanisms, they are sturdy and stay in place and the TSA lock is a great addition for guitarists that do a lot of traveling especially flying.
These TSA locks are useful as if airport security cannot get into your case if it is locked, they will not have to break it to get inside the case. I love that this case offers a large spot at the top for the headstock keeping it safe. This case also offers a large compartment for players to keep extra picks, capos, etc.
While this case does offer many wonderful amenities for players it does have some drawbacks. The plush interior is great at keeping the guitar protected, but I have noticed that out of the box this polyester plush has a slight odor, which if you let it air out for a day does not cause any issue.
Pros: The TSA approved locks make traveling much safer for your instrument, plus the case cradles your telecaster perfectly
Cons: A bit pricey
2. Fender Classic Series Wood Case (Best Value)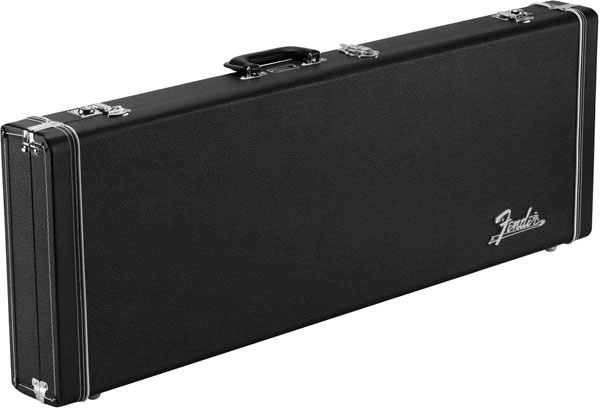 | | |
| --- | --- |
| Estimated Price | $160 |
| Exterior Length | 42.6" |
| Exterior Width | 16.6" |
| Exterior Depth | 5.2" |
| Internal Materials | Crushed Acrylic Plush |
| External Materials | 3-Ply Hardshell wood with Vinyl Covering |
| Handles/Straps | 1x Handle |
| Pockets | 1x Interior compartment |
| Weight | 11.0 lbs. |
My Review: The Fender Classic series wood case is an all-around good case that will get the job done when it comes down to protection. Fitting both Fender Stratocaster and Telecaster models Comfortably.
The Case itself comes in a variety of colors and material choices, from black vinyl, yellow tweed, or my favorite model the royal blue vinyl with brown vinyl edging giving it a regal look to match your Tele's beauty.
The inside is pretty nice to look at as well. Crushed acrylic plush protects your guitar and keeps it scratch-free and secure while traveling. The only real complaint I have with case is something that doesn't seem to be a common theme. When I received my case it was covered with staple holes, while they do not cause integral issues with the case itself, it was disheartening to receive my brand new case in the mail only to find it had some cosmetic issues.
From my personal experience, I have also noticed that the plush interior wears down faster than I'd like which is also slightly disheartening. Will this case protect your guitar even with all of these slight issues? Most definitely!
The Fender Classic Series wood case still offers great protection for your Telecaster with a relatively lightweight design to make sure that your guitar is safe while gigging
Pros: Sturdy case with a wide selection of colors that fit any preference. Your Telecaster will fit snuggly in the case with no wiggle room.
Cons: Nothing really, a few QA issues that I discussed above.
3. Gator Journeyman Deluxe Wood Case (Budget Pick)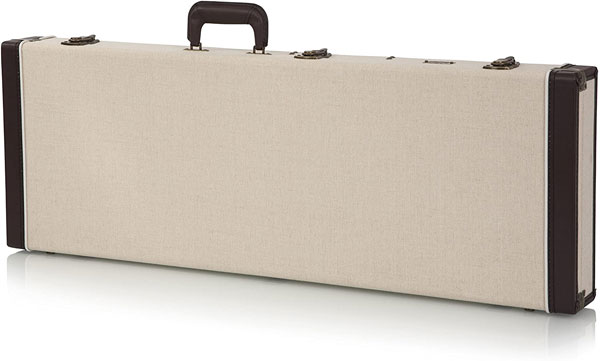 | | |
| --- | --- |
| Estimated Price | $130 |
| Exterior Length | 42" |
| Exterior Width | 16.50" |
| Exterior Depth | 4.75" |
| Internal Materials | Royal Blue Crushed Velvet with Padding |
| External Materials | Pebble Weave Burlap Covered Wood |
| Handles/Straps | 1x Handle |
| Pockets | 1x Interior Pocket |
| Weight | 11.8 Lbs. |
My Review: The Gator journeyman Deluxe wood case is a step up from their other deluxe wood case below on this list.
The Journeyman's traditionally constructed multi-ply wood shell keeps your double-cutaway electric guitar safe from whatever you can throw at it. The light beige, pebble weave, burlap-covered exterior accented by deep brown espresso trim hearkens back to the class and elegance of another era.
Antique brass hardware and lockable latches have the patina you would find on a vintage case without the rust and rot. On the inside, your instrument lays in pillow-soft luxury surrounded by plush, royal blue crushed velvet, ensuring your case will never be responsible for finish scratches.
With antique brass hard were paired with the outer appearance of the case you have a quality vintage-looking case with enough protection to keep your tele looking good for years to come the issue I have with this case is the neck support.
The support itself is made out of a cellular fiber foam, which normally is not a big deal at all. What I have found with this support is that over time it begins to wear down, and as it does the support of your neck slowly goes away. While this case looks nice I would recommend using it only as transport and not keeping your guitar in the case for long periods. I'd say it's the best telecaster case for those on a tight budget.
Pros: Vintage look
Cons: Not the best neck support over time
4. Fender G&G Deluxe Hardshell Case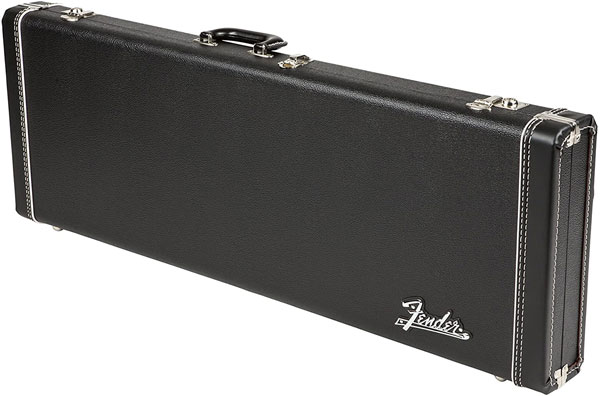 | | |
| --- | --- |
| Estimated Price | $260 |
| Exterior Length | 49.25" |
| Exterior Width | 18.75" |
| Exterior Depth | 4.142 |
| Internal Materials | Colored Plush |
| External Materials | 3-Ply Hardshell Wood with Leather End Caps |
| Handles/Straps | 1x Handle |
| Pockets | 1x Interior Accessory Pocket |
| Weight | 11 lbs. |
My Review: The Fender G&G Hardshell Case is the premium line of cases. G&G has been manufacturing cases for Fender instruments starting all the way back in 1952 as a luxury option with great protection to keep your Telecaster safe.
First the good: It is made to be period correct by one of the original manufactures. Wood panels, colorful plush interior, leather handle, and end caps, and metal snap latches. It is a beautiful thing to behold.
If you are a collector with a vintage fanaticism who demands things the way they used to be when Leo Fender shipped out the original guitars, you will love this case!
Now for the not-so-good, the guitar fits loosely inside the case and can move around while transporting.
The case is heavy by modern standards due to the construction and materials, yet much less protective than modern cases. The latches are finicky in that they sometimes do not want to open. The handle is not the most comfortable when carrying long distances mostly due to the thin design and weight of the case.
Two finicky latches and a swing gate in the center do not inspire confidence while carrying. If you are using this case, I will recommend carrying it with the lid facing your body so if it ever opens unintentionally.
While I love the vintage look and feel of the case, I wanted more protection out of this case. At this price, the protection you are given does not feel adequate.
Pros: Great Vintage look and feel
Cons: Weight
5. Fender Telecaster Thermometer Case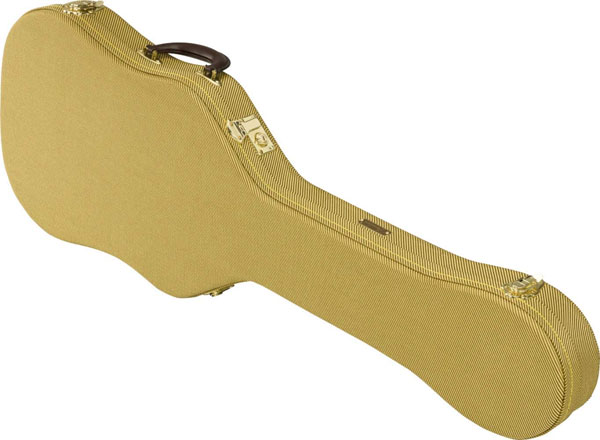 | | |
| --- | --- |
| Estimated Price | $180 |
| Exterior Length | 42" |
| Exterior Width | 16" |
| Exterior Depth | 5.5" |
| Internal Materials | Gold Plush Lining |
| External Materials | Tweed-Wrapped Birch Plywood |
| Handles/Straps | 1x Handle |
| Pockets | 1x Storage Compartment |
| Weight | 8.3 lbs. |
My Review: The Fender Telecaster Thermometer Case is another great case that offers players a vintage look and feel. This case offers a minimalistic approach to the guitar case formula, with its smaller stature this case fits your telecaster snuggly without any wiggle room.
While the case is not as big as some of the other cases on this list it does offer the same amount of protection as the other cases. With its tweed-wrapped birch plywood, this case offers a good amount of protection with a classy vintage look that is bound to turn some heads. But with the good, there must come some bad.
While this case does offer solid protection and good looks some of the parts bring down my overall satisfaction with this case. I had noticed that the locking mechanisms, as well as the handle on this case, were a bit flimsy, which causes some concerns with the safety of your guitar later down the road.
The last thing any musician wants is for their expensive guitar to take a nosedive due to issues with their case flying open due to flimsy locks.
This is a case that I would recommend to someone who does not do a lot of travel with their guitar as the wear on the case over time could come back to bite you later. The next big issue I have with this case is the price.
Coming in at $179.99 it certainly is not a cheap case, and with a lack of storage compartments being that the one included in this case is exceedingly small, it really brings down the appeal slightly.
All in all, the Fender Telecaster case is a pretty solid choice for guitarists who enjoy the vintage look with good protection who do not mind shelling a little more cash for looks.
Pros: Classic Vintage look, Solid Protection, Form Fitting,
Cons: Limited Storage inside case
6. Gator Titan Series Case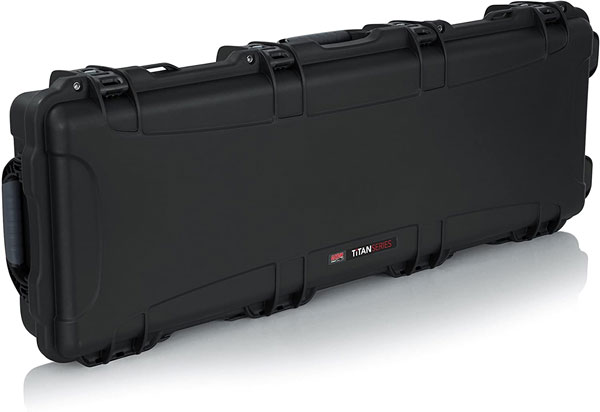 | | |
| --- | --- |
| Estimated Price | $330 |
| Exterior Length | 47.1" |
| Exterior Width | 17.3" |
| Exterior Depth | 7.6" |
| Internal Materials | Blue Plush |
| External Materials | NK-7 Resin |
| Handles/Straps | 1x Handle |
| Pockets | 2x interior pockets |
| Weight | 22 lbs. |
Pros: lightweight, water-proof
Cons: Bulky, weight
7. Gator GTSA-GTRELEC ATA Molded Guitar Case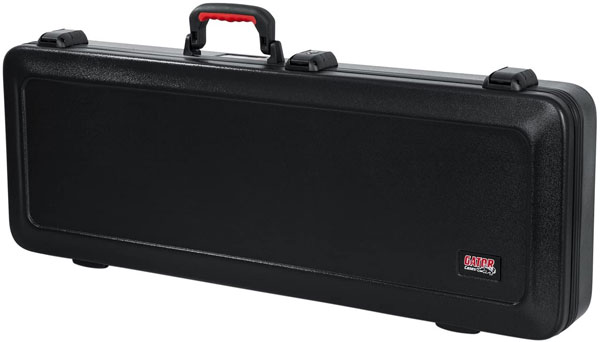 | | |
| --- | --- |
| Estimated Price | $170 |
| Exterior Length | 41" |
| Exterior Width | 16.5" |
| Exterior Depth | 6" |
| Internal Materials | Thick Black Plush |
| External Materials | ATA Military Grade Molded Polyethylene |
| Handles/Straps | 1 x Ergo-grip Injection Molded Handle |
| Pockets | 2x Interior Pockets |
| Weight | 13.6 lbs. |
My Review: Whether you fly with your guitar or just want a rugged case for it, the Gator TSA/ATA series has your number.
This deluxe case's internal cavity provides a secure fit for your Strat, Tele, or like-styled guitar, and features a plush black interior to prevent scuffs and a neck cradle to prevent warping.
The tough, molded polyethylene shell that is built to military and ATA spec will give you peace of mind when you are sitting on the plane, and the TSA-approved locking center latch could save you some headaches at the airport.
A comfortable injection-molded ergonomic handle makes this guitar case easy to carry through the airport or to the stage. Sweetwater guitarists stand behind their Gator TSA/ATA cases for their exceptional strength and protection in transit.
Fits Stratocaster, Telecaster, and similarly styled guitars much like the previous gator case it gives truly little leeway when it comes to space in the case, your Tele will fit like a glove, with its Molded polyethylene exterior it is built tough to military and ATA specifications, so you know that where your guitar is protected.
The case also uses a TSA-approved locking center latch for inconvenience-free travel for those musicians who find themselves on the road more often than most.
The Plush interior prevents scratches and scuffs to the finish of your guitar, when you are taking your guitar anywhere you want every aspect of your guitar to look perfect at every performance.
The case also offers a neck cradle to protect the most delicate and important part of the guitar, preventing any warping and breaking. With an ergonomic injection-molded handle you will have no issues comfortably transporting your guitar.
What I found myself wanting out of this case was more storage space, the compartments were exceedingly small, without much room except for picks and a tuner and not much else
Pros: Great protection for the price
Cons: Lack of storage space
8. Fender CEO Flight Case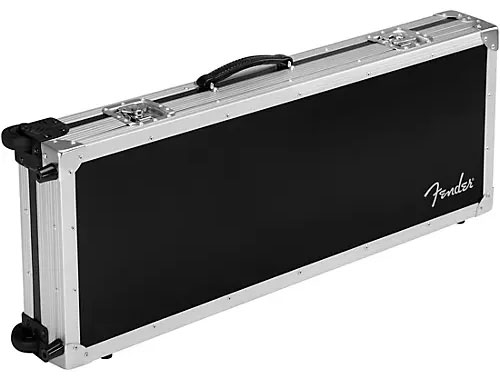 | | |
| --- | --- |
| Estimated Price | $600 |
| Exterior Length | 41.7" |
| Exterior Width | 16.9" |
| Exterior Depth | 5.15" |
| Internal Materials | Grey Plush Lining |
| External Materials | 5mm Laminated Birch with Aluminum Edges |
| Handles/Straps | 2x Vegan Leather Handles |
| Pockets | 1x Storage Compartment |
| Weight | 23.1 lbs. |
My Review: If you are wanting to treat your Telecaster to top-level protection as it travels look no further than CEO Flight Case with Wheels from Fender.
This ultra-rugged case is made from 5mm laminated birch plywood, reinforced with extruded aluminum on its edges to ensure your instrument is protected from the inevitable dings and dents of getting to and from the gig.
The tank of this case also features electroplated steel hardware and locking butterfly latches, giving you the peace of mind that it will stay firmly closed during handling. And for those longer walks across the airport or to the stage, the CEO case comes with rugged wheels that get you there smoothly and effortlessly.
While traveling as a musician there are many things that can take a toll on the control knobs and surface of your guitar— the proper function and the stage-ready appearance both are at stake when your instrument goes from point A to B.
With the CEO Flight Case, your instrument and its components are pampered by a plush polyester lining over EPS foam. While this a fantastic, rugged case the biggest issues I have with it are the weight of the case and the price.
Being as rugged as it is, the fact that the case is heavy should come as no surprise, and while it normally would not be for me, the weight made the case feel unbalanced, feeling very front heavy making it feel awkward to carry at times.
Not to mention the price of this sucker, a whopping $599.99! If you are a traveling musician with a lot of high-end guitars it would be completely understandable for you to own a case such as this, after all, how do you put a price on protection?
But as a local player that does not do a lot of traveling, I would suggest looking at some of the other selections on this list just due to price alone.
Pros: incredible protection, comfortable heavy-duty handles, wheels
Cons: Price, Weight/Awkward to carry
9. SKB 1SKB-66 Pro Rectangular Case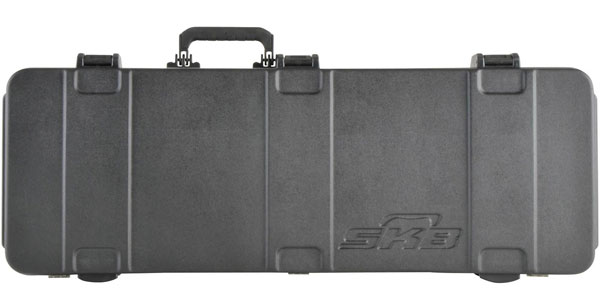 | | |
| --- | --- |
| Estimated Price | $187 |
| Exterior Length | 42.25" |
| Exterior Width | 16.5" |
| Exterior Depth | 5.5" |
| Internal Materials | EPS Foam with Plush Covering |
| External Materials | ABS Exterior Shell |
| Handles/Straps | 1x Cushioned Rubber Handle |
| Pockets | 1x Interior Pocket |
| Weight | 9.0 lbs. |
My Review: The SKB 1SKB-66PRO guitar case keeps your Stratocaster or Telecaster safe while providing lightweight and secure transport.
The exterior of the 1SKB-66PRO is crafted with durable and lightweight ABS plastic. You can feel secure knowing that the TSA-approved locking trigger latches will withstand any punishment from air travel.
You are ready to lug your Tele anywhere with the cushion grip handle. The interior is covered in plush and securely fits the body and neck for unrivaled support.
Feel confident taking your axe anywhere with the SKB 1SKB-66PRO. With a rugged ABS exterior shell, your Telecaster will be safe during any of your travels making it great for traveling musicians.
With its Fiberglass reinforced large nylon trigger release latches this case has no issues staying locked so you have no accidental spills while carrying your guitar in the case. The locks in this case are also TSA accepted locks making airport travel a breeze.
If you have had issues in the past with your case having issues with the hand getting loose or falling apart after time, you no longer need to worry the 1SKB-66 Pro has an Indestructible cushioned rubber over-molded handle. This handle is extremely making carrying it long distances no longer a struggle.
The 1SKN-66 Pro also includes a rigid EPS foam interior with plush covering giving players a soft interior to keep their guitar safe from scratches. I am not happy with the alignment of the aluminum strips.
For whatever reason, they do not seem to line up well when my guitar is in the case and my 60s vibe squire Tele seems to fit well but I have to push a bit on the latch by the body to get the case to align properly.
Once it is latched, everything is great. This is slightly frustrating as it feels like you need to put some force on your guitar to get the case to shut properly.
This case also has a massive accessory compartment with plenty of room for straps, picks, tuner, tools, Etc. But there also lies another problem while these compartments are deep they have no lid or cover to keep your accessories from flying all over your case in transport which could damage your guitar.
I feel that if SKB would put a nice liftable lid over the compartments it would solve a lot of the problems. All in all, for the price you are getting a very safe case with some minor issues that are easy to look past with all of the other features you get out of this case.
Pros: Sturdy Latches/locks, Protective body
Cons: Case Alignment, Lack of containment for accessories
10. Gator Deluxe Wood Guitar Case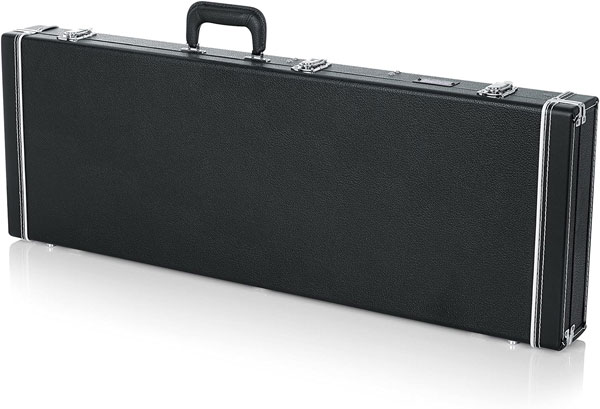 | | |
| --- | --- |
| Estimated Price | $110 |
| Exterior Length | 42" |
| Exterior Width | 16" |
| Exterior Depth | 4.75" |
| Internal Materials | Plush Covered EPS Foam |
| External Materials | 5 Ply Plywood |
| Handles/Straps | 1x Handle |
| Pockets | 1x Accessory Compartment |
| Weight | 10.8 lbs. |
My Review: With its classic shape, rugged black Tolex exterior, and elegant contrast stitching, the Gator GW-ELECTRIC case is a head-turner.
The GW-ELECTRIC's heavy-duty plywood construction and plush padded interior shield your guitar from elemental forces and gravity, keeping it clean, dry, and safe from injury.
The interior storage compartment gives you a convenient place to stash your guitar picks, extra strings, and all the other must-have gig accessories. And since this case has a locking latch, it is also ideal for storing your vintage guitar collection at home, safeguarding your instrument, and putting your mind at ease.
With its Rugged plywood construction, the deluxe wood case by Gator Cases you are getting a decent amount of protection with some drawbacks we'll mention in a minute. Normally with these wood cases, you have a much heavier case compared to ABS cases, but this case weighs in at a relatively light 10.8 pounds.
The Deluxe wood case also has a plush-lined interior that is easy on your finish keeping it scratch-free. With its Ergonomically designed padded carrying handle makes long walks a relatively easy task to take.
The biggest complaint I have with this case is that after a while of using this case it starts to feel pretty flimsy especially when the case is open, making it hard to recommend this case for someone who does a lot of long-distance traveling as the wear and tear from travel could damage your case and guitar.
I would recommend this case to someone who does more small local venues.
Pros: Looks nice, ample storage space
Cons: flimsy body construction
11. Gator Lightweight Case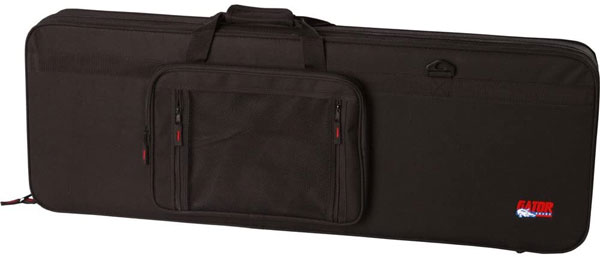 | | |
| --- | --- |
| Estimated Price | $100 |
| Exterior Length | 41" |
| Exterior Width | 16" |
| Exterior Depth | 6.38" |
| Internal Materials | EPS Foam |
| External Materials | Nylon |
| Handles/Straps | 2x Handles 1x Strap |
| Pockets | 2x Exterior Pockets 2x Interior Pockets |
| Weight | 6.4 lbs. |
My Review: The Gator Lightweight case offers players reliable protection with a minimalistic approach. The 600-Denier nylon outer shell is just the start of the protective powers of the Lightweight case.
Soft and strong – EPS foam padding forms a barrier between your guitar and the thumps and bumps that happen when you are on the go. The foam also provides support and protection for the most vulnerable part of your instrument – the neck – ensuring your guitar stays ready to play.
Two accessory pockets grace the front of the GL-ELECTRIC giving you plenty of space for your cables, pedals, and strap. The pockets and the case are secured with heavy-duty zippers for easy loading and unloading of your precious passenger.
For transport, choose between a sturdy parachute-nylon web handle or a removable shoulder strap. Gator Cases are made to withstand anything, making the lightweight and durable GL-ELECTRIC a must-have piece of gear for your gigging life.
This is a perfect cross between a hard case and gig bag offering convenience and protection for your Telecaster. Having a semi-rigid, firm construction of dense EPS foam keeps its shape and protects from impacts.
The plush interior of the case supports and reinforces without scratching your guitar's finish like most cases you see on the market.
This case also uses a nylon web handle and comfortable removable shoulder strap gives you carrying options, and due to the lightweight of this case using this strap is not a burden on the player so walking to the gig or rehearsal is a breeze.
The Gator lightweight also has plenty of storage space for accessories with its two zippered accessory pockets for all of your gig essentials, and not to mention the other two storage compartments on the inside of the case to make sure you have everything you need for whatever your gig throws at you.
The only thing that disappointed me with this case is that the zippers on the accessory pockets of the case tend to get stuck pretty frequently which makes getting to your picks, tuner, Etc. a pain, which is frustrating when you are trying to be quick while getting ready.
Pros: Lightweight, easy to carry
Cons: Zippers are not the greatest
12. Gator G-Tour ELEC Road Case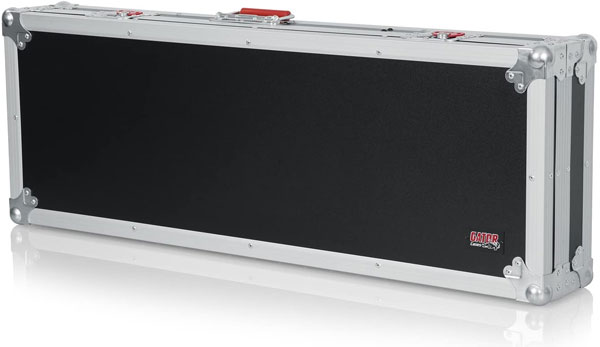 | | |
| --- | --- |
| Estimated Price | $340 |
| Exterior Length | 42.13″ |
| Exterior Width | 15.75" |
| Exterior Depth | 6.89" |
| Internal Materials | Plush Covered EPS foam |
| External Materials | Plywood with PVC |
| Handles/Straps | 1x Handle |
| Pockets | 1x Interior Pocket |
| Weight | 24.20 lbs. |
My Review: Gator's G-TOUR ELEC double-cutaway electric guitar case has you and your instruments ready for the road.
With rugged, road-case-quality wood construction, your guitar will enjoy the same protection as the mixing console, processing racks, and all of the other critical pieces of your touring show.
Gator made sure the G-TOUR has everything you look for when choosing a guitar case to travel with. When you are ready to step up to the big boy of cases, slip your axe into Gator's G-TOUR ELEC double-cutaway electric guitar case.
With this rugged tour-style electric guitar case, you will have no worries about the road-readiness of your rig. The heavy-duty laminate plywood construction with PVC coating keeps your precious guitar safe from impalement and moisture.
The tongue and groove extrusion aluminum valance offers maximum stability and closes the case completely, sealing out potentially damaging elements. Reinforced corners help the G-TOUR play well with other cases whether you are loading up a hatchback or a semi.
The sturdy spring-loaded handle stays out of the way – when your case is buried under the drums you will not have to worry about it breaking. Recessed, durable zinc-plated hardware will not rust or break easily, keeping your guitar secure inside the case.
Inside the G-TOUR is an interior luxurious enough for the most fragile of vintage finishes and a neck cut-away makes sure your instrument is stable during transport.
You will have safe and solid protection and storage for your Telecaster Heavy-duty plywood construction with PVC laminated exterior for durability gives you telecaster great protection while staying relatively low weight.
With its cut-out neck slot, your guitar will no longer be slipping around in the case keeping it securely in place. The G-tour's Tongue and groove extrusion aluminum valance gives your case strength keeping it ready for anything you can throw at it.
With its spring-loaded rubber-gripped handle packing and storing is easy as well as easy comfortable carrying.
Reinforced corners and heavy-duty commercial grade plated hardware keep your case in peak condition for lasting performance the case has a Convenient accessory compartment for small gig necessities, but for as large as the case is the storage compartment was slightly too small for my liking.
I feel that if you have a case of this size the compartment for your accessories should be a little larger than what you are given.
Pros: Great protection, weight
Cons: Storage compartments.
13. Gator GC-ELECA ABS Double Cutaway Electric Guitar Case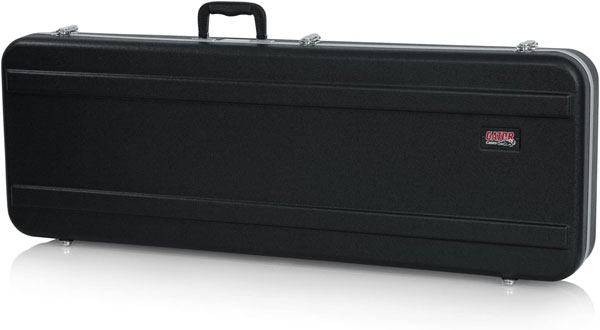 | | |
| --- | --- |
| Estimated Price | $130 |
| Exterior Length | 40.75" |
| Exterior Width | 15.25" |
| Exterior Depth | 5.25" |
| Internal Materials | Plush Covered EPS Foam |
| External Materials | Deluxe ABS Plastic |
| Handles/Straps | 1x Handle |
| Pockets | 2x Interior Pockets |
| Weight | 11 Lbs. |
My Review: The Gator GC-ELECA ABS molded hardshell case is designed to fit your Telecaster With its universal-fit EPS protective foam interior, the GC-ELECA's interior "molds" itself to your guitar, cushioning it in secure comfort.
You can rest assured, knowing that your precious guitar is safe from the abuses of the road. As an economy class case this case by Gator uses a Deluxe ABS exterior unlike the other two Gator cases which use a higher graded ABS exterior, but rest assured this case still offers superior protection for your instrument.
With its Heavy-duty aluminum valance, this case will close tight to fight the elements and keep your guitar safe wherever you go. With its Through-bolted handle, you have a comfortable yet strong and durable handle that will withstand whatever you can throw at it.
This Gator case uses an EPS foam interior with a deep plush lining that protects the finish and keeps bumps from bruising your instrument.
Although it does do a great job keeping your guitar scratch-free, I would have liked to see a rest at the top of the case to sit on to keep your guitar in place.
A much-needed improvement over the previous Gator Case the Accessory compartment is large enough for all of your gig necessities.
For an economy-level case, I had my worries about the chrome plated lockable latches on this case, and while they are not quite as heavy-duty as its more expensive brethren, they do hold up fairly well over time.
Pros: Price, storage compartment
Cons: lack of interior support
Choosing the Right Case for a Telecaster Guitar
Hard vs. Soft Cases
In most cases, there are three types of cases to choose from: hard, soft, and flight cases. If you likely will not be traveling long distances with their guitar, you might opt for something lighter like a gig bag or lighter hard case. While a hard case will offer your guitar the most protection, often a nice heavy-duty gig bag will offer a nice balance of protection and portability.
Although hard guitar cases are a bit more expensive than their soft counterparts, they will do a better job protecting your guitar from damage. And, at the end of the day, purchasing a slightly more expensive case that does a better job of protecting your guitar is more cost-effective than repeatedly repairing a guitar that is damaged by a soft gig bag.
Although a hard case can be more difficult to handle, it will protect your guitar from high-impact accidents and rough handling. But, as always, you should choose a case that best matches your needs. If you only transport your guitar to and from lessons, a soft guitar case should suffice.
Gig Bags
If you decided to purchase a soft guitar case, there are a few things to pay attention to. Typically made of lightweight material, such as nylon, a soft guitar case should include plenty of padding for extra protection. One benefit of soft guitar cases, in addition to their lower cost, is the storage space.
Many Gig bags have zippered pockets to store things like picks, strings, and cleaning cloths. When shopping for a gig bag, look out for detachable shoulder straps, sturdy handles, soft interiors, and a hook for hanging. Avoid purchasing a soft guitar case that does not have much padding and be sure to purchase one that fits your guitar snugly, as too much wiggle room can increase the probability of a damaged instrument.
Hard Guitar Cases
Since they offer the ultimate in protection from bumps, drops, and rapid changes in temperature and humidity, Hard Cases are often favored by professionals and amateurs alike. While the storage may be limited, they are the best choice for most guitar players- especially those who have spent a good amount on their guitar.
The obvious advantages have already been listed, but there are a few not-so-obvious advantages to hard guitar cases, including travel and climate protection. Extremely dry or humid climates are your guitar's worse enemy, and, in most cases, a hard guitar case will offer protection.
Note: if you live in an excessively dry climate, consider purchasing a guitar humidifier- it will offer further protection from cracks and damage. Other things to keep an eye out for include sturdy latches and hinges, storage compartments under the neck, soft interiors, and a comfortable handle.
Flight Bags & Hybrid Cases
While soft and hard cases are suitable for most modes of transportation, they are by no means appropriate for air travel. Most airlines will refuse to check-in an instrument that is not in an approved flight case.
If you plan on taking their guitar on airplanes, you should invest in a case that is appropriate for air travel. These types of cases have heavy-duty internal padding and feature reinforced metal corners.
Finally, a hybrid case is essentially a combination of a hard and soft case. It features the best parts of both cases, including durable exterior material and protective internal shells.
Find the Right Size
Once you have decided between a hard or soft case, the next thing to think about is size. Buyers need to make sure they are purchasing the right size guitar case, as an ill-fitting case may cause unnecessary damage to the guitar.
While measuring the guitar is the best way to determine its size, some manufacturers, like Fender and Gibson, manufacture cases that are built specifically to match the dimensions of their guitars. In some cases, manufacturers' dimensions vary from each other, so it is always a good idea to contact the manufacturer directly about their measurements.
If you are purchasing a case in-store, take your guitar with you to make sure the guitar snugly fits into the case. It is important to remember that electric and acoustic guitars are different sizes, so make sure to purchase a case that is "made" for your type of guitar.
Benefits of a Guitar Case
Aside from protecting the guitar during transit, a guitar case can help keep your guitar clean and is a great place to store your guitar in both the short and long term.
Many musicians will carry their guitar to and from practices and performances and keeping it in a guitar case during transit will ensure it won't get scratched or damaged during the process.
Another reason to keep a guitar in its case when it is not being used is to prevent the accumulation of dust. While cleaning your guitar with a cleansing cloth will suffice, it is best to avoid the accumulation of dust, if possible. Finally, guitar cases, especially hard ones, are the perfect place to store your guitar.
Whether it is in your closet for a few months or a storage unit for a year, a guitar case will keep mold and dust away, while protecting the guitar from damage. For extra protection, purchase a guitar case with a lock.
Wrap Up
While Buying a guitar case might seem like a fairly simple process there are plenty of things you need to look for when it comes to choosing the correct case for you. Let me know if you have any questions or comments below. And as always, good luck and happy playing!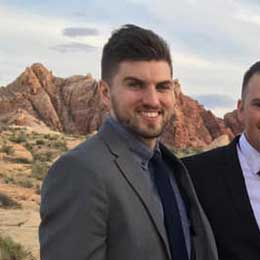 My name is Chris and I've had a passion for music and guitars for as long as I can remember. I started this website with some of my friends who are musicians, music teachers, gear heads, and music enthusiasts so we could provide high-quality guitar and music-related content.
I've been playing guitar since I was 13 years old and am an avid collector. Amps, pedals, guitars, bass, drums, microphones, studio, and recording gear, I love it all.
I was born and raised in Western Pennsylvania. My background is in Electrical Engineering, earning a Bachelor's degree from Youngstown State University. With my engineering experience, I've developed as a designer of guitar amplifiers and effects. A true passion of mine, I've designed, built, and repaired a wide range of guitar amps and electronics. Here at the Guitar Lobby, our aim is to share our passion for Music and gear with the rest of the music community.