It's been rightly said that music expresses that which cannot be said, and this is even truer when it comes to love songs. Whether you're in the throes of young love or have been married for 25 years, dedicating a love song to the man in your life is sure to set his heart aflutter.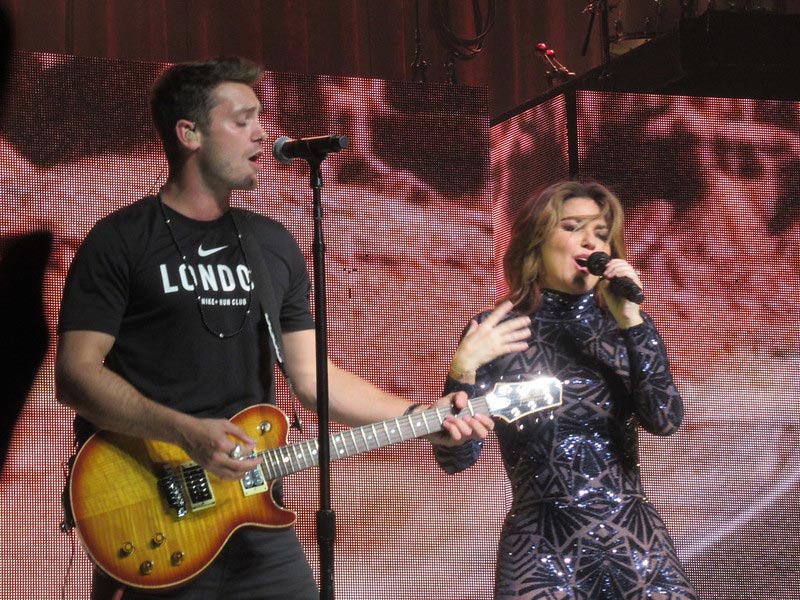 To help you celebrate your love, we've put together a list of over 25 evergreen love songs for him that are must-haves on your romantic playlist. From sweet, acoustic tracks, sultry blues to high-energy rock, these love songs are a fabulous way to show your boyfriend or husband just how much you love and care for them. So without further ado, let's jump right in!
Here Are the Best Love Songs for Him
1. Time After Time by Eva Cassidy Cover
Album: Time After Time
Genre: Adult Alternative
While the original version of this track, written and sung by the inimitable Cindy Lauper, is iconic in its own right, Eva Cassidy's rendition takes this song and gives it an ethereal, bittersweet depth that I found myself drawn to, time after time.
Accompanied only by her tasteful acoustic guitar playing, Cassidy sings of finding herself drifting in and out of her loved one's life, because of several reasons. But no matter what the future brings, she sings of always being there to catch her love, should he fall and feel lost. To me personally, this track becomes even more poignant because of Cassidy's unfortunate and early demise – such stellar talent was taken away too soon.
If you find yourself in such a bittersweet situation in your love life, this song will offer you understanding and some much-needed solace. And needless to say, Cassidy's singular, mellifluous voice will be sure to resonate in your soul, long after the song finishes.
2. You're The One I Want by John Travolta
Movie: Grease
Genre: Pop, Disco
Love songs don't always have to be slow and mushy – they can also be naughty and electrifying! And that's exactly the vibe of this legendary song from the movie 'Grease' that made every guy imagine himself as Travolta, and every girl as Olivia Newton-John.
The classic retro, disco vibe of this song celebrates the mischievous dating dance that happens between two people who are attracted to each other and when they're still sizing each other up. They sure have the hots for each other but are also trying to play the game and make sure that the guy's love for her will hold true in the long haul.
I love the spicy vibe of this evergreen track and love the fact that the actors have it themselves. And a major reason for the track's cult status is also because of the way the song is visualized in the movie. A strapping young Traveolta pursuing a gorgeous Olivia, as she pretends to think things over is impossible not to love. This song is sure to remind even long-term couples of their good old days!
3. Natural Woman by Aretha Franklin
Album: Lady Soul
Genre: Classic Soul
When we're talking love songs, there's no way it can't have the Queen of Soul, Aretha Franklin on the list! Natural Woman is a powerful celebration of a woman who feels loved and desired by her man in every way, and oh boy, does Franklin capture that joy and ecstasy in her singing!
The lilting keys, steady 3/4 beat and horn section rises and falls like a tidal wave as the song progresses, eventually building to a grand chorus full of rich, layered vocal harmonies.
This song is a lovely mix of sweet and spice, and a few songs revel in a woman's complex inner world and sensuality as beautifully as this song does. So if your man makes you feel like a natural, red-blooded woman, this song is the perfect way of letting him know it.
4. At Last by Etta James
Album: At Last!
Genre: Jazz, Soul
An evergreen classic covered by the legendary Etta James in 1960, this song perfectly captures the rapture and dizziness of falling in love. This song was originally written in 1942 by Mark Gordon and Harry Warren, but Etta Jame's soulful version is perhaps the most famous cover till today.
What I love about this song is how she expresses the rush of being head over heels in love, where every little thing about your man. From how his smile melts your heart to how thrilled you are to have finally found the 'one', at last! The track has a lush, soulful hollywood-esque style, and opens with an iconic orchestral melody, followed soon after by Etta's rich, molten gold voice.
Popular Related Article: The Best Songs About New Beginnings
5. Closer by Corinne Bailey Rae
Album: The Sea
Genre: R&B/Soul, Pop
This sultry number by Corinne Bailey Rae is such an underrated love song, it's criminal! This is a song about two people who definitely share a sizzling chemistry, but the girl wants to invite him to explore the deeper aspects of love together!
This is definitely not a sugary, mushy love song, but one that talks about more sensual and tense aspects of love, where you can't wait to get closer to your guy, but you can't figure out what's holding him back.
6. Come Away With Me by Norah Jones
Album: Come Away With Me
Genre: Jazz, Pop, Soul
This iconic track from Norah's debut album catapulted her to unprecedented grammy and chart-topping success. It's hard not to be mesmerized by Norah's sensitive, sweet, smokey voice, especially in a beautifully written song such as this.
This woman is my personal hero not only because of her enormous talent, but also because of how humble and down-to-earth she is. In this mellow, slow track, Jones talks about building an imaginary, dream world, away from the harsh realities of life, where only she and her love exist.
Together, they cherish and observe the simple things, and enjoy being in the moment. The magic of this song is conjured with minimal accompaniment of keys (performed by Jones), bass and drums played with brushes, which allows Jone's vocals to shine through.
7. If I Ain't Got You by Alicia Keys
Album: The Diary of Alicia Keys
Genre: R&B, Soul
What a powerful love song this is! Alicia knocks it right out of the park with this Grammy-winning song that has gone on to become a cult classic. I love the message it conveys – she talks about loving someone truly for who they are, not for what the benefits they offer to you. No amount of material wealth, success, or fame will mean anything without having your true love by your side to celebrate it with.
The simple yet iconic piano riff played at the very beginning shows how the simplest of musical elements, when executed well, can take a song from good to great! Key's soaring, powerful, emotive vocals beautifully convey the truth in the lyrics. All the other musical elements play an important but minimal role to allow Keys to seize our hearts with her words.
This song is my absolute go-to whenever I'm missing my sweetheart, and if you're missing your man, you should definitely send this track across to him. It's a lovely way to reaffirm your love, and that you hold it sacred and overall otherworldly matters.
8. I Just Called To Say I Love You by Stevie Wonder
Album: The Woman In Red
Genre: Pop
There's a reason why everyone says 'Old is Gold'. This classic, mushy love song is an all-time favorite, for love – young, old, and everything in between. No matter how many times you listen to this song, it stirs something very real within me.
And why not, the song is all about not waiting for a reason to tell your partner how much you love them. Why wait for a day like Valentine's Day to make your partner feel special? This song beautifully expresses that with the right person, even the most ordinary days feel like a celebration. Just pick up the phone and tell them how special they are to you!
Stevie Wonder's warm voice glides over this bright and sunny Grammy-winning track that's laden with plenty of soaring vocal harmonies for that goosebumpy effect! The simple drum rhythm and endless synth layers create a plush, warm and fuzzy vibe that a comforting love song should feel like.
9. The Time Of My Life by OST 'Dirty Dancing' Bill Medley & Jennifer Warnes
Movie: Dirty Dancing
Genre: Soft Rock
If you ever need a song that celebrates the thrill of finally finding the one, then 'The Time of My Life' has got you covered. This worldwide hit has won an Oscar, Golden Globe, and countless other awards, and it's easy to see why. The passion with which both Medley and Warnes have sung this track can make anyone believe in the power of love.
The lyrics convey how two people madly in love just can't seem to get enough of each other. And the way the song has been picturized in 'Dirty Dancing's finale scene had immortalized it forever. The way Patrick Swaye and Jennifer Grey light the dancing stage on fire is unforgettable, while all their friends can be seen cheering them on.
The upbeat, mid tempo rhythm of the song and the soft rock instrumentation is timeless if you ask me. Even in 2020, this song can melt your boyfriend's heart if you dedicate it to him, or better still sing a few lines! This is easily one of the best love songs for him.
10. Be My Baby by The Ronettes
Album: Presenting the Fabulous Ronettes Featuring Veronica
Genre: Pop
I discovered this gem of a song by pure accident. Here I was, a regular teen girl with her radio by the bedside, doing nothing in particular on a summer day. And this adorable song pops up, with three gorgeous, playful voices promising their love to the world, if they choose to be with them!
'Be my baby' is a track by the American all woman group, the Ronettes, who released this song in the 60s. The lyrics will be relatable to anyone who's completely smitten by a crush, and the melody is incredibly catchy and hummable. Its orchestral instrumentation, signature drum rhythm, and lush backing vocals made it an all-round hit.
So it's no wonder that this track is considered as one of the greatest pop songs of the 60s, and got The Ronettes inducted into the hall of fame.
11. Better Together by Jack Johnson
Album: In Between Dreams
Genre: Singer-Songwriter, Acoustic Pop
Jack Johnson's laidback, acoustic music is perfect to kick back and relax to, and 'Better Together' is one of my favorite love songs. What I love about Johnson's style is that his down to earth, genuine personality is palpable even in his songs. Better Together perfectly captures his unpretentious self, where he's trying his best to express his endless love for his soulmate!
Played on a trusty acoustic guitar, this mellow song expresses that while you may not be able to guarantee what the future holds, there's one that you know for sure – any day is better when you experience it with your soulmate.
The song's honest lyrics explore the beauty in the simplest of daily moments – such as watching your partner sleeping next to you. Without using any lofty praises or complicated words, this song clearly expresses just how much your special someone means to you.
12. How Deep Is Your Love by Bee Gees
Movie: Saturday Night Fever
Genre: Rock
This is one 'deep' song, in many ways! A worldwide hit by the iconic group The BeeGees, this pop ballad uses dreamy piano chords and a gentle rhythm to create something truly unforgettable. Some may find the song a tad repetitive, but to me, the loop-like structure of the song only serves to highlight its beauty.
The lyrics are quite intense, and talk about how two lovers know each others' deepest selves and feel safe and comfort in the knowledge of their love. So if you're looking for a song that expresses how much you trust your lovebird, this is the one!
The number has the classic BeeGee vocal style, with the three brothers singing the chorus in unison, with the verses being sung by each in turns. It was featured in the cult classic Saturday Night Fever, and enjoyed chart topping success for several weeks in many countries.
13. Truly, Madly, Deeply by Savage Garden
Album: Maschi contro Femmine/Femmine contro Maschi
Genre: Adult Contemporary Pop
"Simplicity is the ultimate sophistication", goes the saying, and this song by the American duo, Savage Garden, expresses it best! No fancy instruments, honest to heart lyrics, and soulful singing – Truly Madly Deeply is the chicken soup of love songs. It's warm, comforting, and familiar.
Why dance around in convoluted ways when you can be honest about how you feel? The lyrics convey this sentiment really well – and express how you wish for this bond to grow deeper as time passes by.
Since this track was released in 2009, it's neither too old, nor too new. As a result, most millennials may not have stumbled upon this song. But explore Savage Garden's songs, especially this one, and you'll realize what you'd been missing out on.
14. Make You Feel My Love by Adele
Album: Adele
Genre: Pop
Love is not always rainbow and sunshine – there are grey, dark days too. And on such days, a song like this one can truly make your partner feel cared for and understood. This song was originally written by Bob Dylan, but Adele's version takes the lyrics and their meaning to a whole new level, thanks to her raw, emotive singing.
When you think that she recorded and released this song at the age of 19, it just gives you a glimpse into the singer's incredible talent and gift. Even though this a love song, its melody and chords have a melancholic undercurrent to it. Adele's version has a solitary violin intertwining with her vocals towards the end, and that just strikes the heart so powerfully.
Don't let the song's overall heavy feel stop you from sharing it with your man. Such songs have a rare quality of speaking volumes with their lyrics and minimal feel. It's sure to elicit an emotional response, I guarantee you of that.
15. Lucky by Colbie Caillat & Jason Mraz
Album: We Sing. We Dance. We Steal Things.
Genre: Pop, Singer-Songwriter
When two of the pop world's sunniest-sounding singers make a love song together, you HAVE to give it a listen! 'Lucky' is a gorgeous little love song that celebrates a relationship that's full of friendship, comfort, and togetherness. This duet is one of my favorites because Jason and Colbie's voices blend so darn well together.
Both the musicians are very talented musicians in their own right, but the way their harmonies sound so effortlessly entwined makes us wonder why such a duet didn't happen sooner!
The song is also accompanied by a sweet little video that shows Mraz wandering in the beautiful streets of Prague, getting ready to meet someone. Meanwhile, Caillat serenades us in a sunny beachside haven. All in all, a wonderfully bright song that you must make your boyfriend listen to.
16. Kiss Me by Sixpence None The Richer
Album: Sixpence None The Richer
Genre: Pop Rock
This wonderfully romantic ditty was released by the American Pop Rock band, Sixpence None The Richer on their self-titled album. Just 10 seconds into the track, and it already feels like a warm hug on a wintry day. The lead singer Leigh Nash's whimsical, soft voice captures the innocence of young love, and so do the lyrics.
The guitars and a steady rock beat add a bit of weight to this otherwise dreamy track, and the end result is lush and heart-warming. The song also has a touch of country in its overall style, and it's natural thanks to the country-roots of the Texas-based band.
I really like how this song conjures a magical moment out of simple everyday elements – the singer imagines the perfect moment to share a kiss with her love – under the moonlight, by the fields, as the fireflies dance all around them. I don't care if you call it cliche, the song just makes it work! Whether you've just started dating your guy, and have been together for years, this track is sure to make him smile.
17. A Thousand Years by Christina Perri
Album: The Twilight Saga: Breaking Dawn (Part I)
Genre: Pop
Whether you loved or hated the Twilight movie series, I'm sure most people would've enjoyed this lovely song from the movie that caught their attention. A Thousand Years was written by Christina Perri for the Twilight Saga's penultimate version, and the track has had over a billion and a half plays on Youtube alone, and become a worldwide hit.
It might appear to be a typical piano love ballad at first, but it progresses from a solo piano accompaniment to a more atmospheric melody as the song progresses. I, for one, quite like the lyrics, their phrasing, and the lush string section that plays throughout the track.
Sure, the lyrics talk about waiting for someone for a thousand years to be with them – but hey, we're talking about love songs here. When you're expressing your love, exaggerating things is not exactly criminal! I also like the fact that it conveys that to experience true, authentic love, you may have you be vulnerable as well – and there's courage in taking a leap of faith.
18. You're Still The One by Shania Twain
Album: Come On Over
Genre: Country Pop
Shania Twain is the queen of country music, at least to me, and one listen to this evergreen song is enough to explain why. You're still the one is a heartfelt song that celebrates a love that overcame all odds, no matter how challenging the hurdles.
Framed by a laidback 4/4 drum beat, sparse keys and a steady acoustic rhythm, this song is stellar in its simplicity. Shania's signature southern twang is so delightfully pronounced in the track, and it's one of the things I love about her singing.
The lyrics unfold gracefully throughout the track, talking about how a couple proved the naysayers wrong by growing their bond stronger with time and being each other's confidant and soulmate even after all these years. The video features a gorgeous young Shania sitting by the seaside, and her mystery hunk whose face is never revealed. Even though the song was released way back in 1997, it's 'still the one' I listen to when my boyfriend isn't around and I miss him tonnes. This is one of my favorite country love songs for him.
19. Love Me Like You Do by Ellie Goulding
Album: Fifty Shades of Grey
Genre: Electro Pop
A grand sounding love song from a very steamy movie, Love Me Like You Do is a worldwide hit sung by Ellie Goulding, and was released as part of the soundtrack for the movie Fifty Shades of Grey.
This passion-filled electro pop track features massive synth layers and a mid-tempo drum beat that pulses through the song, and has a sweet, lingering melody that you will be humming for days. Goulding's delicate vocals add an interesting depth to the track, striking a cool balance between innocent love and fiery red passion. Me likey!
The lyrics capture the angst and passion of love, when one just can't get enough of their love. It starts off with Goulding's singing in a heartfelt, soft manner, and the song builds up to a crescendo and explodes in the second chorus, with massive vocal harmonies and the singer switching to an octave higher to add to the urgency in the lyrics.
20. Eternal Flame by The Bangles
Album: Everything
Genre: Soft Rock
While I love all the songs on this list, 'Eternal Flame' holds a special soft corner in my heart. The Bangles is one of my all-time favorite rock bands, and this song is so rich in all aspects – the songwriting, the lyrics, the vocal performance.
The very first verse is enough to reel you in. Why? Because it genuinely sounds like the heartfelt musings of a woman who is deep in love, with her love by her side, never wanting to let go of this feeling. As you delve more and more into the track, it grows more rousing and emphatic in its declaration of love.
The way the chord progression travels through the song, especially when the part that goes "say my name, sun shines through the rain" strikes still gives me goosebumps every time I give the track a listen. They've beautifully played with major and minor melodic elements to create something that is a true celebration of authentic love. If you truly get butterflies when you're around your man, then dedicate this song to him – I promise you won't regret it.
21. Love Story by Taylor Swift
Album: Fearless
Genre: Country Pop
With a title like that, it's impossible to not add this track to our list of 25 love songs! Love Story by Taylor Swift is one of the best selling singles of all time, and the track captured the imagination and hearts globally, but especially amongst young women. Swift has a knack for creating catchy hooks, and with this song, she manages to weave a magical fairytale love story, complete with villains, struggle, and an ultimate happy ever after.
Frankly, who won't imagine themselves as a princess of their own love story? This is an upbeat, perky song that continues to build in intensity as the story unfolds. Swift's emotive singing is what brings this Romeo-and-Juliet-inspired song to life.
The music video also did wonders to spread the song like wildfire, with its girl-meet-boy story but with a victorian-era twist. If you're looking for a sweet love song that talks about the ultimate triumph of love over society's disapproval, then you can't go wrong with this pop superhit! This is one of the most popular country love songs for him ever.
22. Because You Loved Me by Celine Dion
Album: Falling Into You
Genre: Pop
Celine is one of THE OG singing divas to me, and her incredibly successful career is filled with heartfelt romantic songs. So it was obviously quite tough for me to choose one track from her repertoire to add to the list. But I stand by this incredible love song, as it captures so many aspects of what makes Celine's music so praise-worthy.
'Because You Love Me' is a song about gratitude, and true love gives you a lot to be grateful for. Dion sings lovingly about all the times her soulmate has been her rock, and always been there for her when she needed him the most. I love how the song's melody and the lyrics are so in sync with each other, made gold by Dion's flawless, rich voice.
Sometimes, when we spend day in day out with your partner, it's easy to take them for granted. But this song reminds you what a truly rare and special thing it is to have an ever-supportive life-affirming soulmate by your side. If you're looking for a way to say thank you to the special man in your life, then this song could say it all on your behalf.
23. Whatta Man by Salt N Pepa
Album: Very Necessary
Genre: Hip hop
Oh, this is one fiery song that's been described as being 'so sexy it hurts' by AllMusic! There's just no way you can't groove to this track, and in my humble opinion, is a fabulous and tongue-in-cheek way to celebrate the man in your life. I'm sure you've heard the iconic hook in TV shows and ads.
Originally written by Dave Crawford, the all-women rap group Salt-n-Pepa sampled and reinterpreted the track in their style and the rest is history. The track is a 5 minute long tribute to the quintessential Mr. Perfect – a handsome man with a scorching style and a heart of gold. I love the way Salt-n-Pepa not only hype up their respective men but also playfully diss their exes who fade into nothingness in comparison.
What boyfriend wouldn't like to hear such a hype song aimed at them? I assure you that you can't go wrong with this song, it's one of the best love songs for him out there.
24. I Will Always Love You by Whitney Houston
Movie: Bodyguard
Genre: Pop
When it comes to melting people's hearts with one's voice alone, the inimitable Whitney Houston stands in a league all of her own. This song 'I Will Always Love You' is a living, breathing testimony not only of her vocal prowess, but the way she fills each and every word with so much meaning and emotion.
Not many people know that this song has been originally written and sung by another legend, Dolly Parton, back in 1973. While her song was a chart topping success as well, I have a weakness for Houston's powerful rendition. One can't help but be completely mesmerized by the way the song starts – no instruments, and only Houston's vocals having us hanging onto her each word. Once the soft strings and keys unfold, the song's melody and vocals both grow more and more powerful. And that sweet saxophone solo kicks in just at the right place.
Although the song has a bittersweet theme, I'd say it is a beautiful track to remember a partner by. The movie, Bodyguard, that her version was recorded for only gave the song even more meaning.
25. Young And Beautiful by Lana Del Rey
Movie: The Great Gatsby
Genre: Cinematic Pop
True love doesn't run skin deep, it touches the deepest recesses of your soul. In a world that puts so much pressure on women to look aesthetically perfect all the time, it's natural to wonder if we will still be loved, cherished, and understood for who we are even as we age and the much-glorified youth fades away. This is the theme that Lane Del Rey tackles in her chart-topping song 'Young and Beautiful'.
This track is so lush and cinematic, it makes for the perfect accompaniment as the OST of the movie 'The Great Gatsby'. Lana's emotive, haunting singing together with the larger than life string orchestra envelops me emotionally every time I give this song a run.
I love the poignancy of this slow-burning song – looking back at the carefree adventures of one's youth, and wondering if the bond forged years ago will still last when life's many battles have worn you down physically. A must-have on your love song playlist, especially when you're in the mood for something profound.
26. Hello by Lionel Richie
Album: Can't Slow Down
Genre: Pop
Even though it was released way back in 1983, 'Hello' still remains an iconic and much-loved love song. The song tells the story of someone who secretly harbors love and affection for a special someone, but is too shy to tell them how they feel. So if you find yourself in a similar dilemma, then I'm sure you'll relate to the angst and hope in its lyrics.
The song's line 'hello, is it me you're looking for' is very memorable and often used in pop culture. The music is also quite fitting, it starts off with a supposedly one-sided confession of love, that is later revealed to be a mutual affection.
27. Unconditionally by Katy Perry
Album: Prism
Genre: Pop
No one is perfect, but when we start dating someone, we often put up our best selves. But a big part of letting someone into your life involves letting go, opening up, and being vulnerable enough to share the good, bad, and the ugly inside you. The song 'Unconditionally' by Katy Perry expresses this sentiment really well. The song was released in 2013 and received chart-topping acclaim in several countries.
The song's lyrics convey how as time passes by, you'll see the insecurities, flaws, and less than ideal habits of your partner. But does that mean you jump ship and run away? No! It's all the more to unconditionally embrace each for the fallible, human souls that we are – that's how love deepens and grows. Katy Perry's powerful vocals express this unconditional, strong love really well.
28. Crazy For You by Madonna
Album: Vision
Genre: Pop
This list has quite a bit of music royalty in here, so the Queen of Pop deserves a seat too! Crazy for you is a classic 80's pop ballad, but sung and delivered in the quintessential sassy and quirky Madonna's style. The song earned Madonna her very first Grammy as well.
The song's overall arrangement is bright and so heavily nostalgic of 80's pop. Lyrically, it's a celebration of sizzling physical chemistry, sung by the woman directly to her man. This is one of the few songs from the 1980's where a female vocalist has sung so openly about the topic, and you can trust Madonna to lead the way.
So if you're looking to dedicate a quirky ballad to your mate, this is one that you should definitely give a spin to!
29. Crazy Little Thing Called Love
Album: Bohemian Rhapsody
Genre: Rockabilly, Classic Rock
To me, this is one of the most fun and uplifting songs about love that you can legit dance to. And when it comes to unforgettable classics, you can't go wrong with Queen and with Freddie Mercury's molten gold voice!
The lyrics have a really fun progression – they start off with the singer not knowing how to handle the wild emotions that falling in love involves. He calls it a crazy little thing. But, later down the song, something magical happens – he begins to enjoy the feeling and embraces the fever that it brings.
The quintessential rockabilly style of this love song will get you tapping your feet in no time, and Brian May's rocking guitar solo just adds fuel to the fire. Sure, the song is written with a female protagonist in mind, but that shouldn't stop you from flipping the script and serenading your man with it!
Final Thoughts
So, there you go! We hope you found many songs from this list that you'd like to add to your playlist. Falling in love has got to be one of most wonderful, emotionally charged experiences that life has to offer. Dedicating a heartfelt love song to your partner is a beautiful way to celebrate your bond!