Innovative in every sense of the word, Eddie Van Halen, known affectionately by many of his fans as EVH, was an absolutely revolutionary guitar mind. The impact of his life's work in Rock and Roll has played an astronomical role in shaping the way we play and even build guitars today. He's truly one of the few icons who changed the way we perceive the guitar as an instrument. Unapologetically unique, Eddie forged his own style and sound which has influenced countless guitarists worldwide over nearly five decades.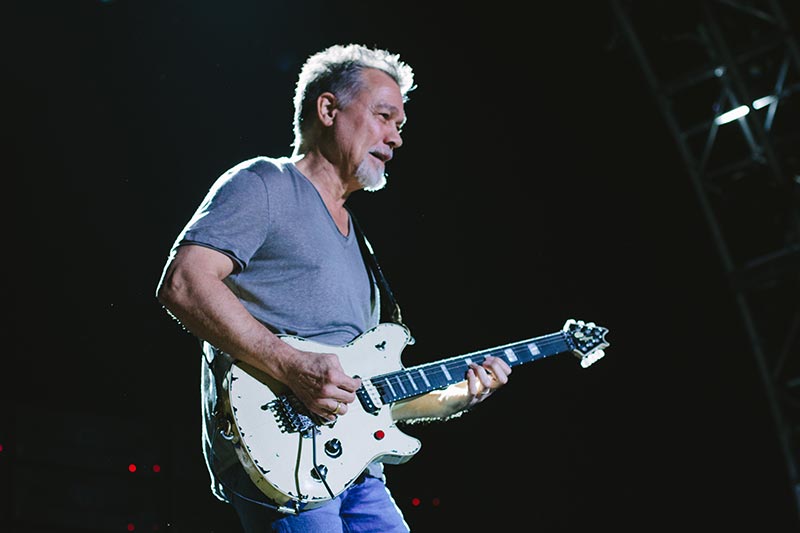 All legends deserve to harbor elements of mystique and wonder, especially Eddie. There is a gigantic asterisk on the following chronology: The information shared by Eddie, an unreliable narrator, and the hundreds of professional and amateur biographers who have attempted to document his gear accurately is riddled with inconsistencies, contradictions, and gaping holes, as it should be with the story of any mastermind. Some of this disinformation was fueled by David Lee Roth's early advice to EVH to lie during interviews and Eddie's desire to keep some of his gear configurations and solutions secret. We have attempted to capture the spirit and relative accuracy of the main guitars, amps, and effects Eddie used throughout his career.
What Guitars Did Eddie Van Halen Play?
Eddie Van Halen is most known for playing his self-built Frankenstrat guitars. Later in his career, after starting his own brand of "EVH" gear, he played primarily EVH Wolfgang guitars. Eddie designed and built much of his own gear throughout his legendary career.
See the full list of notable Eddie Van Halen guitars below.
EVH "Frankenstrat"

Finish: White and Black Stripes
Years Used: 1975 to 1979
The tale of the "Frankenstrat" or "Frankenstein" guitar is fraught with rumor, dubious memories, misquotes, and drunk history. We'll try to stick to the more substantiated claims in this account.
As he continued to grow frustrated with the limitations of off-the-shelf guitars and his own modifications, Eddie made a critical purchase from the Charvel team, acquiring a cast-off Boogie Bodies Strat-style body and a maple neck/fingerboard for $130. One of his early goals was to maintain elements of the Fender body while exploiting the power of the Gibson humbucker pickups.
The experimentation and legend continued to evolve. Eddie pulled the PAF pickup from his Gibson ES-335 and secured it in a gaping hole near the bridge. The Boogie Body was made from ash, and the neck was maple. Eddie said, "I took a PAF out of an ES-335 and the vibrato out of a Fifties Strat when I made my Frankenstein guitar", Eddie said in an interview with Guitar Aficionado Magazine. It was a creation like no other in the rock and roll world. The combination of Eddie's ferocious playing and the stunning salvaged appearance of his guitar stunned his contemporaries and fans.
Eddie's innovations prompted scores of imitators, something that caused him frustration in the early years. He would continue to upgrade and experiment with the original Frankenstrat until 1979 when the red, white, and black version was unleashed.
Eddie Van Halen "Frankenstrat" version 2, aka Frank 2

Finish: Custom White Striped Artwork
Years Used: 1979 to 1983
Sometime around 1979, Eddie refinished the Frankenstrat with Red to add to the taped off black and white original custom paint job. He also continued to modify and experiment. One of the more significant evolutions made was the addition of a Floyd Rose bridge and locking nut system. He famously employed a quarter to close the gap between the bridge and body on one model. Eddie also filled the neck and middle pickup cavities with dormant pickups to throw off the copycats and eventually settled on a Gibson PAF. Eddie also redesigned the pickguard, landing on a modified Strat-style for the final iteration. Around the time Diver Down was released, Eddie installed a Kramer hockey-stick neck.
The new iteration of Frankenstein would continue to play a leading role in Eddie's recording and performances until he retired the guitar when it began to struggle with life on the road.
EVH Wolfgang USA

Finish: White / Stealth Black
Years Used: 2015 to 2020
After an entire career perfecting his last signature model, Eddie came up with this Stealth model variation, one that would become his latest, most iconic guitar, one that would appear with him in almost every performance, rotating with other Wolfgang variations.
By 2015, Eddie had expected to tour again with the Stealth, but Chip Ellis delivered another surprise, creating a relic'd white Wolfgang USA with a new red kill switch. "I wanted a white guitar that was relic'd", Eddie told Guitar World Magazine. Ellis' work would be so spot-on in terms of sound and overall delivery, from this point on it would become the basis of every Wolfgang model.
Similar to the Stealth, the white USA included the ebony fretboard, "high-performance upgrade" pot, low friction volume pot. "It's the only volume pot I've found where I can play Cathedral without any crackle or pop," Eddie said upon the release of the EVH Wolfgang USA. EVH produced a minimal 20-piece run of replicas in 2016, priced at nearly $14.000.
This incredible design shows up in many of the photos of Edward in his last few years.
Kramer 5150 Baretta

Finish: Custom White Striped Artwork
Years Used: 1983 to 1991
Although Frankenstein remained a favorite of Edward's and his fans, Eddie's deal with Kramer in 1982 enabled him to design and build a formidable alternative, his first real signature guitar. In a 2014 Guitar Aficionado interview, "It's a workhorse. It served me for a very long time.", Eddie said of his Kramer. As soon as he found this guitar on his hands, he immediately retired the Hammer, and so this professional rendition of the Frankenstrat is the one that appeared in most of the music video of the golden age of Van Halen.
Kramer did have a Baretta model in 1982. It's actually a custom design created by Eddie, influenced by the Pacer body, and produced in the New Jersey Kramer factory. Eddie's 5150 design became the Baretta, which was formally introduced later in 1983. The first 5150 had a poplar body, the customary maple neck and fingerboard, Gotoh tuners, a single Seymour Duncan SH-11 pickup, and a Floyd Rose FRT-100. The hockey stick headstock was believed to be a version of the Danelectro head he installed on the Charvel Star. This is easily one of the most legendary Eddie Van Halen guitars of all time.
1975 Ibanez 2459 Destroyer "The Shark"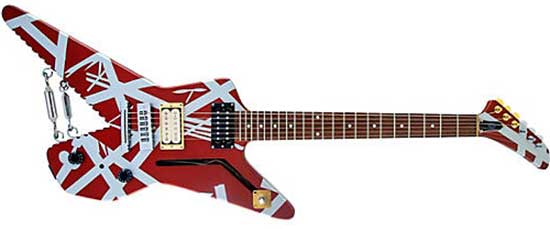 Finish: Red, White Stripes Custom Artwork
Years Used: 1975 to 1977
Frankenstein partnered with another monster on Van Halen's debut album. As Eddie described, the '75 Ibanez 2459 Destroyer was a big part of their sound. Its use became very prominent on their first album especially in certain songs like You Really Got Me. He also performed a significant amount of surgery on the Destroyer, continually swapping out pickups, painting and repainting the body, and finally slicing a giant chunk from the tail to create an Explorer/Flying V mashup. That last major modification sparked the nickname, "The Shark."
"I used that a lot on the first album. I played it on every song that doesn't have any vibrato-bar parts on it, like 'You Really Got Me.' I can't remember what pickups were in it when I recorded the album – I was always changing them – but that was before I cut that big chunk out of it." – Eddie Van Halen in an interview with Guitar Aficionado Magazine
While Eddie showcased The Shark on the cover of the band's third album, "Women and Children First," the chainsaw hack that created The Shark also took a chunk out of the guitar's tone. Eddie set The Shark aside and focused on Frankenstein as he dreamed up new creations. The Shark's current whereabouts remain something of a mystery.
1978 Charvel Star with Danelectro Neck

Finish: White Stripes Black Background
Years Used: 1978 to 1980
In between recording and touring in the late 70s, Eddie embarked upon another design project. Eddie told the press that the first thing he did when he got his Charvel Star, was to replace the neck with a Danelectro one right off the bat, it is safe to say, however, that the then inexperienced Van Halen did this through Mr. Charvel himself.
Wayne Charvel's son, Michael, has recounted a story about the Star. "Ed would often come into the old [Charvel] shop to visit my father," According to Michael, Eddie was a real tinker, so ultimately his father got to the point that he just settled things by switching the neck. Eddie played the modified Charvel Star through much of the 1980 World Invasion Tour in support of "Women and Children First."
1979 Eddie Van Halen II "Bumblebee"

Finish: Yellow/ Black stripes
Years Used: 1979 to 2004
Discontent with the limitations of his existing guitars, Eddie embarked on a mission to build a new instrument. He now had the means to order a custom job and returned to Wayne Charvel to complete the build. Charvel's initial design included Eddie's request to rear-load the electronics to keep the body face lean without a pickguard. He included a maple neck and fingerboard, a single Mighty Mite humbucker, a Charvel tremolo bridge, and Schaller tuners.
Eddie explained how he made additional modifications to Charvel's original product in a 1980 Guitar Player interview. "I made the yellow-and-black Strat. It has an ash body by Charvel. It was my idea to have it rear-loaded so I wouldn't have to have a pickguard" Charvel however, supported Eddie on the making of this guitar, and it provided most of the materials and features for it.
The pickups for the Bumblebee were taken in fact from his very first guitar, it was a more friendly alternative than the originally offered Di Marzio pickups from the guitar manufacturer. Reportedly, Eddie hated distorted pickups, he preferred a clean sound he could work on from scratch, so he decided to keep his PAF mics.
When Dimebag Darrell, guitarist for Pantera who credited Eddie for his metallicized chops, was murdered in 2004, Eddie gave Bumblebee to the family to bury along with Dime. In 2019, EVH released a limited edition of the '79 Bumblebee tribute guitar.
Peavey EVH Wolfgang

Finish: Sunburst /Amber / Red / Black
Years Used: 1996 to 2004
Leading into and following through the Van Halen hiatus, Eddie could have holed up with his mishmash of custom creations, Fender's, Les Paul's, Kramer's, and everything else he'd amassed during the previous two decades. Instead, he signed a deal with Peavey to begin producing the EVH Wolfgang, named after his then 5-year old who would turn into the band's future bassist and an array of amplifiers. Before Chip Ellis started getting involved in the design of the Wolfgang model in the years following, the Peavey-Van Halen partnership had a massive trial and error process that never really satisfied Eddie, or at least as far as popular conception is concerned.
Peavey manufactured the guitars in the Mississippi and followed a design closely aligned with the Music Man EVH Signature. The offset Basswood body was topped with maple, and the neck and fingerboards were made out of maple. Eddie selected a pair of Alnico-V custom-wound Peavey humbuckers and a Peavey/Floyd Rose double-locking whammy, including the D-Tuna, to provide his magic.
The falling out between Eddie and Hartley Peavey, the founder and genius behind Peavey, came to happen due to a pair of opinionated perfectionists who failed to agree or compromise on design decisions. Eddie spoke about his frustration with the quality of the Peavey guitars in his 2016 Music Radar interview. Reportedly, Peavey guitars completely redesigned the Wolfgang model instead of simply perfecting its faulty aspects, or offering any new upgraded features. Needless to say, the partnership would never flourish again.
EVH Wolfgang Stealth

Finish: Black
Years Used: 2011 to 2020
EVH/Fender released two new Wolfgang models in March 2011, the USA Custom and Stealth builds. The all-black Stealth was the first of Eddie's guitars to include the ebony fretboard. The remaining specs for the Stealth were the same, or slightly modified versions, of the components in the original EVH Wolfgang.
"I used a Wolfgang Stealth with an ebony fingerboard on our entire 2012 tour." – Eddie said of the guitar. Before that, pretty much all of his guitars, or at least most of them had a maple neck and fingerboard and were strictly made by him. This is yet another of his guitars that made an impact on his more mature career towards his final years.
EVH Frankenstein Rude

Finish: Black and White Circles
Years Used: 1981 to Unspecified
There are more pictures floating around than facts available about the black and white "EVH Rude" guitar. A few fans and photographers have managed to capture several instances in 1981 where Eddie played what looks like a distant cousin of the original Frankenstrat. The headstock could be a modified, left-handed Music Man design. The 12th fret dots also closely match those on the Music Man maple necks. Eddie supposedly named this instrument after his long-time guitar tech, Rudy Leiren, and played it during the 1981 Fair Warning tour. While there isn't much known about this guitar I personally think it's one of the coolest looking Eddie Van Halen guitars.
Earnie Ball Music Man Eddie Van Halen Signature

Finish: Gold
Years Used: 1990 to 1996
Eddie made the move to Music Man in 1990, reportedly motivated by Kramer's financial struggles and a serious accounting disagreement. Music Man offered him his next foray into a signature series, the Eddie VH Signature. He elaborated on this new model in a 1991 Guitar Player interview. "I was not looking for a company that would pay me a bunch of money and just put my name on a guitar. I was really concerned about quality."
Eddie opted for a basswood body with a maple overlay, the requisite maple neck and fingerboard, a Floyd Rose, a pair of DiMarzio humbucker pickups, and Schaller tuners on the 4-up, 2-down headstock. The Music Man signature was also the first to feature the "D-Tuna," an option on the Floyd Rose that automatically dropped the low E string to D. The body design of the Eddie VH Signature was a precursor to the later body shapes featured on the Fender/EVH models.
When talking to Ernie Ball, Van Halen drew the line from the very start, he said that the guitars wouldn't be made available for sale unless he was completely blown by it. And so his Music Man six-string would deliver diligently, to the point that Eddie's perfectionism would have to be put on hold for nearly a decade. During the 90s, this model became Eddie's main guitar for both stage and recording sessions and completely replaced his more classical Frankenstrats.
One of EVH's goals was to create a guitar that other players could purchase whilst knowing they were playing the same instrument as Eddie, an interesting transition and maturation from his days of attempting to fool copiers. Unfortunately, Ernie Ball Music Man also failed to meet Eddie's expectations. Production delays and limitations, often resulting in buyers waiting up to 18 months before delivery, was a no-go for Eddie.
Steinberger GL-2T

Finish: Red / Black /Custom Graphics
Years Used: 1986 to 1987
Geddy Lee, David Gilmore, Allan Holdsworth, and dozens of other high-regard guitarists have called upon Steinberger to produce one of their highly recognizable "headless" guitars. Eddie followed suit in 1986 and his signature custom-made artwork was imprinted in this model for the official music video of Summer Nights and thus immortalized.
Built by Jeff Babicz from Steinberger, Eddie's GL-2T came about after he struggled to play a stock version. Eddie played this guitar on several 5150 songs and during the "Live Without a Net" tour in 1981. Eddie continued to use the guitar into the mid-90s. Reportedly, Eddie worked on this particular guitar with Ned Steinberger himself to add a little personal touch to the design on it. According to Van Halen, Ned was the kind of engineer that would over-engineer certain things.
Babicz received a call from Edward in 2015 asking if he'd restore his original work. He jumped at the chance. It is believed to stand along with Eddie's extensive collection of guitars at 5150.
Teisco Del Rey WG-4L

Finish: Sunburst
Years Used: 1967 to 1969
The story begins in 1967 when Eddie turned 12 and got his first guitar, a Teisco Del Ray WG-4L. Despite being sold by Sears, which remarkably furnished countless future guitar virtuosos with their first axes, the Teisco Del Rey proved to be a practical introduction to the six-string for Eddie. The Japanese-made Del Rey boasted four pickups, a solid white pickguard, a row of rocker switches for pickup control, and a rubber-tipped whammy bar. These models were nearly near carbon copies of the Ibanez 3904, also produced in Japan in the mid-60s.
Eddie claimed at one point that his first guitar was a 12-string, but he proceeded to yank 6 of the strings off because the store, Lafayette Music, didn't have the 6-string he wanted. However, a photo of him with the guitar, standing next to his mother, clearly features a 6-string headstock. Teisco did manufacture a 12-string model, the red burst 2-pickup version, but it isn't what Eddie's holding this photo.
1968 Gibson Les Paul Standard

Finish: Goldtop
Years Used: 1969 to 1976
The Teisco managed to satisfy Eddie as he wandered through the house, experimenting and teaching himself to play. As one of Eddie's earliest guitars, the background on this Les Paul has a self-made man touch to it. A then youngster, and desired fueled Eddie took on a paper route to save some money and get himself this particular more affordable Gibson guitar since his parents couldn't afford it. After a year or so he also had to go make some money to get his P-90 pickups to replace the original ones.
Eddie has famously recounted his infatuation with Eric Clapton, his performance, and his guitar. "I was a total Eric Clapton freak, and I saw old pictures of him playing a Les Paul." Jan Van Halen bought the Les Paul in 1969 from Music for Everyone for $400.00, trading in a Bundy flute and, presumably, the original Teisco.
The '68 was equipped with Kluson double rings tuners, a single-piece mahogany-body and neck, the small 50s-style headstock, and two single-coil Gibson P-90 pickups. "That was the first guitar I experimented with," Eddie said of his Les Paul. With this in mind, the transformation took some effort. Eddie didn't own a router, so he resorted to the next best thing, a chisel, to create space for the humbucker. In one interview, Eddie claims he painted the Les Paul and added white tape.
Before the formation of Van Halen, between 1972 and 1974, Eddie and Alex played in a succession of early bands, including The Broken Combs, The Trojan Rubber Co., and Genesis. Eddie continued to play the Les Paul during this period and into the beginning of Van Halen. In 1974, David Lee Roth joined what was still Genesis, and original bassist Mark Stone was replaced with Michael Anthony. The band changed their name to Mammoth after discovering that there happened to be another band named Genesis.
1958 Fender Stratocaster

Finish: Sunburst
Years Used: 1973 to Unspecified
Eddie used one of the most popular and collectible electric guitars, a 1958 Fender Stratocaster, as his follow-up guitar to the Les Paul. A handful of black and white photos floating around the internet show Eddie playing this particular guitar. His disappointment with a number of the Strat's standard features prompted his next foray into guitar transformation.
"From there, I bought a Strat, and the rest of the guys in the band hated the way it sounded! And I couldn't really handle the hum" – Eddie shared in a 2016 Guitar Player interview
Eddie had to tinker and adjust his playing style to keep the guitar in tune and exploit the whammy bar, which was the main reason he kept it in the first place.
Ultimately, the 58 Strat with Eddie's modifications failed to meet his high expectations. His search continued. From word of mouth, Eddie had heard of some "Charvel place" where he could take his guitar and make some lab work on it, so at this point, it's only safe to assume that it was one of the many guitars that were involved in the making of the legendary Frankenstrat.
1960's Gibson ES-335

Finish: Sunburst
Years Used: 1973
Eddie's ES-335 played a short-lived but critical role in his playing. For one, it clashed with the band's style. His bandmates teased him about looking like Roy Orbison and told him to either wear dark sunglasses or ditch the guitar. It would become an essential donor for the forthcoming Frankenstrat.
Eddie's 335 included the tremolo bar option. At one point, he reputedly sawed the system in half to apply the whammy to the lower three strings before using it as a spare part for his iconic creations. Eddie's next stop was a visit to the Charvel shop on the border of San Dimas and Glendora, California.
1955 Les Paul Junior

Finish: Sunburst
Years Used: 1974 to 1981
There are claims that this model is all over Van Halen's debut record, often based upon outtakes from the album's promotional photo sessions. Eddie mentioned these Les Pauls in a 1980 interview where he talked about adding a 58 Les Paul and a 335 to his catalog.
The Les Paul Juniors were produced with mahogany bodies and necks, plus rosewood fingerboards. Consistent with Edward's early preference for single pickups, the Juniors included one dog-eared P-90 pickup, tone and volume control knobs, and a stud-mounted bridge.
DragonSnake
Finish: Multi-Colored Dragon Design
Years Used: 1980 to 1981
More of a novelty rather than a serious component of Eddie's history, the DragonSnake was a design Eddie used when he commissioned John Sterry, a furniture-maker, to create a museum-worthy design. A bit like Nessie, there are only a few photos of Eddie actually playing this guitar. Its claim to fame was being featured on the cover of the January '81 issue of Guitar World. The DragonSnake's whereabouts are equally fuzzy. One rumor has it safely confined at the 5150 studio.
Rasta/Unchained
Finish: Black / White in Rasta Artwork
Years Used: 1981 to 1982
The Unchained "circle guitar" reared its head around the same time as the Rude axe. It became immediately recognizable after appearing in the video for Unchained in 1981. The sleek black and white paint job, a hip progression from the original Frankenstrat paint and tape job, and the "Bye See Ya Later" note to fans on the back, was emblematic of the "Fair Warning" Tour.
At some point during the tour, Eddie transformed the guitar into the Rasta. He repainted it using colors from the Jamaican flag: red, yellow, green, and black. The new version featured a Floyd Rose and a Schaller humbucker. The Rasta received more mainstream attention when it appeared in a 1982 issue of LIFE Magazine.
According to Dweezil Zappa, who was gifted the guitar, Eddie complained that it was too heavy, around 14 pounds. Heavier than nearly any Les Paul. EVH Gear released a replica of the Circles design in 2014 that boasted a lighter basswood body, maple neck and fretboard, EVH Floyd Rose, and a single EVH Wolfgang Humbucker.
Popular Related Article: What Guitars And Gear Did Randy Rhoads Use
Gibson Custom Mini Les Paul

Finish: Goldtop
Years Used: 1981 to Unspecified
With a prelude featuring one of Eddie's most beautiful instrumentals, Van Halen's 1982 track, Little Guitars was also recorded with a custom-built mini Les Paul. David Peschulat, a guitar wizard from Nashville, built the original gold top. He shared the story with Halo Guitars of hunting down Eddie to show him his creation when they were on tour. The legend follows an eager Eddie Van Halen that hustled his friends and bandmates to show them a hyped guitar case that surprised everyone when they gazed on this rare Les Paul.
What made this guitar even rarer for us spectators and fans is an unfamiliar image of Eddie playing one of these instead of his more iconic models. Wolfgang shared several photos from his dad's guitar collection on Instagram in 2015, including a red mini Les Paul shot. It's likely that both minis are still in the family's possession.
Gibson EBS-1275 Doubleneck

Finish: Natural Sunburst
Years Used: 1982
Gibson produced the first 6/12-string 1275's in 1962, often referred to as the SG double-neck because of the body shape. It has been the choice of many premier players, including Pete Townshend, Don Felder, Eric Lifeson, Ace Frehley, and Slash.
Eddie included the double-neck in his arsenal when recording "Diver Down." According to Eddie, this was the guitar he used to record in that entire album. Later on, however, he fell out of love with it when he found his designated double-neck guitar, a Kramer one made under his preferred specs.
1958 Gibson Flying V

Finish: Natural
Years Used: 1982 to 1984
Eddie holds this guitar on the cover of the January 1984 Guitar World magazine. Another myth has followed the life of this particular instrument. Eddie reportedly bought this vintage Gibson from Dan Martin in St. Louis in July 1982. Dan sought out Eddie when Van Halen was scheduled for a local tour stop, finagling a meeting with Eddie through guitar tech Rudy Leiren. Dan's grandson claims EVH paid $10,000 for the Flying V, one of 12 prototypes, and later bought several other guitars from Martin.
Eddie spotlighted the Flying V during the recording of "1984" on Hot for Teacher and Drop Dead Legs. This guitar's current owner and location haven't been confirmed, but given that a similar collectible was listed for over $400,000 on Reverb, it may still be with the family.
Popular Related Article: Complete Joe Perry Guitar Rig Rundown
Kramer Doubleneck
Finish: One Red, One Yellow
Years Used: 1983 to 1991
After Eddie hooked up with Kramer, he found an opportunity to build a new double-neck. He explained, "I used that live to play Secrets off from "Diver Down." On the record, I used a Gibson double-neck. I had that before the Panama 5150 guitar, so it's probably the first guitar I ever got from Kramer. Other than this guitar, no one at Kramer built any of my Kramer guitars. I built two of them myself. Every other Kramer that's out there that's supposedly one of my guitars is a fake."
Earnie Ball Music Man Eddie VH Doubleneck
Finish: Purple Quilt
Years Used: 1990 to 1991
Having moved on from Kramer and still wanting a double-neck for live shows, Eddie worked with Music Man to build a replacement. This particular model featured a baritone 6-string on the top and an EVH signature set-up on the bottom. The 1999 DVD Right Here, Right Now, shot during the "For Unlawful Carnal Knowledge" tour, includes footage of Eddie playing this guitar on Spanked. Other than the live shows, this guitar didn't receive much airtime or discussion. Rumor has it that only two were made for Eddie. Specs aren't readily available, but it's a fair assumption that they followed those of the six-string model.
Charvel EVH Art Series


Finish: Multiple Custom Artworks
Years Used: 2004 to 2012
In 2004, Van Halen resurfaced, announcing a reunion tour with former lead singer Sammy Hagar. Eddie continued to explore ways to deliver exclusive, prime guitars to his fans and collectors and devised a way to go a step beyond just selling the same models he used. He would sell guitars he actually played. Eddie reunited with Charvel, who had been purchased by Fender in 2002, to recreate three of his classic guitars, both Frankensteins and the Bumblebee. The intent was for Eddie to play the guitars at some point during the 2004 Van Halen Summer Tour, autograph them, and then auction them on eBay.
The builds included many of the elements that Eddie had built into his recent signature models. Basswood bodies, maple necks and fingerboards, a Floyd Rose, Schaller tuners, and now a Fender humbucker.
Fender EVH Frankenstein Replica

Finish: Red, Black, White stripes Custom Artwork
Years Used: 2007 to 2020
In a complete turn of events, Eddie returned to Fender in 2006 and embarked upon another design and innovation phase that would take him through the end of his career. Their first joint project was the production of 300 Frankenstein replicas. All 300 sold for $25,000 each in 15 minutes. A marketing rep for Fender reported in a Guitar World interview that the replicas were so faithful to the original that Eddie mistook a replica for the real thing.
Fender EVH Wolfgang

Finish: White/ Black/ and Tobacco Burst
Years Used: 2009 to 2011
Two years after the Frankenstein replicas were released, Eddie and Fender picked up where he had left off with Peavey and developed the EVH Wolfgang. The first Wolfgang models were produced with basswood bodies, maple necks and fretboards, EVH designed Floyd Rose, custom Gotoh tuners, and two EVH humbucking pickups. The maple fretboards were replaced by ebony pieces a few years later. Eddie reportedly played prototypes of the EVH Wolfgang during the 2007 and 2008 tours.
Chip Ellis from Fender elaborated on the changes they made when creating the new Wolfgang. Apparently, around 90% of the features were modified, including small details. About the only thing we kept was the silhouette, and the materials were pretty much the same, but we played with top thickness, we played with different finishes, we had nicer aesthetics—nicer woods, nicer binding—and we spent over a year just testing pickups, trying to land on the right ones. I've never worked so hard to get approval on a guitar for production."
Ellis added that they looked to Seymour Duncan to create pickups for the new guitar but couldn't find what Eddie was listening for. DiMarzio struck out, too. Finally, a Fender engineer built prototypes and struck gold.
Don Musser Custom Acoustic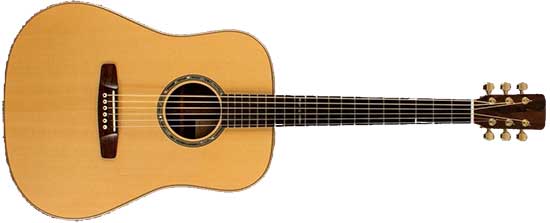 Finish: Natural
Years Used: 1985 to 1995
Don Musser began building beautiful acoustic guitars in Colorado in 1976, creating his first model for actor Peter Fonda. Musser is known to source his own wood for each guitar. From models currently for sale online, it appears Musser preferred mahogany necks and Schaller tuners. There is a single photo of Eddie playing this guitar with his wife, Valerie Bertinelli, in the 1980s. In a Guitar World interview from 1995, Eddie stated that he played this guitar (incorrectly labeling it a "South American" guitar) on Take Me Back from "Balance," Van Halen's tenth studio album. He picked up the Musser from Norm's Rare Guitars in Los Angeles.
Table Showing Each of the Guitars Eddie Van Halen Played at Each Point in His Career
| Make | Model | Color/Finish | Years |
| --- | --- | --- | --- |
| Teisco | Del Rey WG-4L | Sunburst | 1967 to 1969 |
| Gibson | Les Paul Standard | Goldtop | 1969 to 1976 |
| Fender | 1958 Stratocaster | Sunburst | 1973 to Unspecified |
| Gibson | 1960s ES-335 | Sunburst | 1973 |
| Gibson | Les Paul Junior | Sunburst | 1974 |
| EVH | "Frankenstrat" | White and Black Stripes | 1975 to 1979 |
| Ibanez | 1975 2459 Destroyer, "The Shark" | Red, White Stripes Custom Artwork | 1975 to 1977 |
| Charvel | 1979 Star with Danelectro Neck | White Stripes Black Background | 1978 to 1980 |
| EVH | Frankenstein (v2) | Custom White Striped Artwork | 1979 to 1983 |
| EVH | II "Bumblebee" | Yellow/Black stripes | 1979 to 2004 |
| EVH | DragonSnake | Multi-colored dragon design | 1980 to 1981 |
| EVH | Frankenstein Rude | Black and White Circles | 1981 to Unspecified |
| Gibson | Custom Mini Les Paul | Goldtop | 1981 to Unspecified |
| EVH | Rasta/Unchained | Black/White in Rasta Artwork | 1981 to 1982 |
| Gibson | EBS-1275 Doubleneck | Natural Sunburst | 1982 |
| Gibson | 1958 Flying V | Natural | 1982 to 1984 |
| Kramer | 5150 Baretta | Custom White Striped Artwork | 1983 to 1991 |
| Kramer | Doubleneck | One Red, One Yellow | 1983 to 1991 |
| Don Musser | Custom Acoustic | Natural | 1985 to 1995 |
| Steinberger | GL-2T | Red/Black/Custom Graphics | 1986 to 1987 |
| Earnie Ball | Music Man Eddie Van Halen Signature | Opaque Gold | 1990 to 1996 |
| Ernie Ball | Music Man Eddie VH Doubleneck | Purple Quilt | 1990 to 1991 |
| Peavey | EVH Wolfgang | Sunburst /Amber / Red/ Black | 1996 to 2004 |
| Charvel | EVH Art Series | Multiple Custom Artworks  | 2004 to 2012 |
| Fender | EVH Frankenstein Replica | Red,Black,White stripes Custom Artwork | 2007 to 2020 |
| Fender | EVH Wolfgang | White/ Black/ and Tobacco Burst | 2009 to 2011 |
| EVH | Wolfgang Stealth | Black | 2011 to 2020 |
| EVH | Wolfgang USA | White | 2015 to 2020 |
Eddie Van Halen Amplifier Overview
When Eddie acquired his first guitar, the Teisco Del Ray, he didn't have enough money for an amp, so he claims to have played the guitar on a table that resonated the sound. In a 2017 Musician's Friend interview, he commented that his first amp was not an amp but rather a homemade stereo setup that included a Radio Shack adapter and an AUX.
1963 Fender Bandmaster

Years Used: 1972 to 2000
This is one of Eddie's earliest amps, and he once revealed his dual use of the amp, using the Bandmaster through the Marshall.
Eddie added, "My dog Monty would sit down next to me, and he dug it. When I wrote the intro to 'Women in Love,' he was sitting there with his ears perked up, like the RCA Victor dog. That Bandmaster was more important than my Marshall head because I wrote everything with it."
In a 2017 Smithsonian interview, Eddie described his infatuation with Marshalls. A 100-watt Marshall head arrived in the music shop where he worked, and he fell in love with it. When he saved enough to buy the unit, he took it home and realized it was too loud for their live gigs. Eddie found another Marshall listed in the newspaper and decided to give it a try. It turned out that the new amp was built for the UK and wired for 220 volts. He tracked down a Variac transformer and used it to manually adjust the wattage while he played.
1968 Marshall Super Lead 100 Model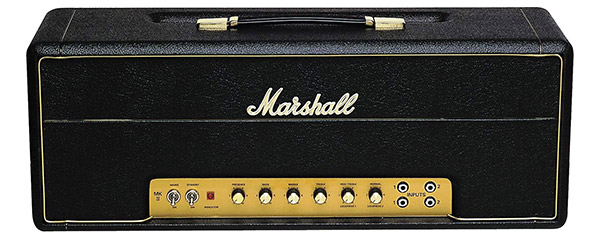 Years used: 1972 to 2007
Eddie's loyalty to Marshall remained fairly consistent from the beginning until the development of the EVH lines. He used the 1968 Marshall Super Lead 100 Model 1959 on their first album, typically driving through Marshall cabinets that featured Celestion 30s.
Eddie described his early rig in a 1978 Steve Rosen Class Rock interview, revealing his possession of six rebuilt Marshalls to make them sound louder. Eddie later specified that these amps had six heads hooked to six cabinets and added voltage generators that allow to up the intensity the amp should take.
For the electrical engineer-types and massive gear heads, there are dozens of analyses out there that detail how EVH cobbled his heads, preamps, and cabinets to create the "brown sound." It included an MXR Flanger, MXR Phaser, Echoplex tape echo; all run through the Marshalls.
Soldano SLO 100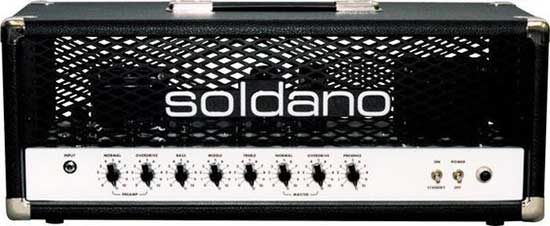 Years Used: 1991
Eddie conducted a short experiment with Michael Soldano's boutique amps in and around the time of "For Unlawful Carnal Knowledge." Soldano was hired to fix Eddie's Marshall, and he put the Soldano's to the test in the meantime. Although EVH was initially very enthusiastic about the SLO 100s, his interest quickly waned, and he began work on the Peavey 5150.
Peavey 5150 and 5150 II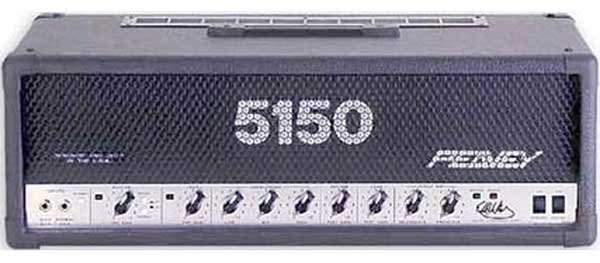 Years Used: 1992 to 2004
Eddie partnered with Peavey in the early 1990s to build a signature amp, the 5150. This amp initially ran four Sylvania 6L6 Power Tubes and a handful of 12AX7 tubes in the preamp. The second iteration, the 5150 II, was introduced in 1999 and boasted several modifications to improve the clean channel and tube installation.
EVH 5150 III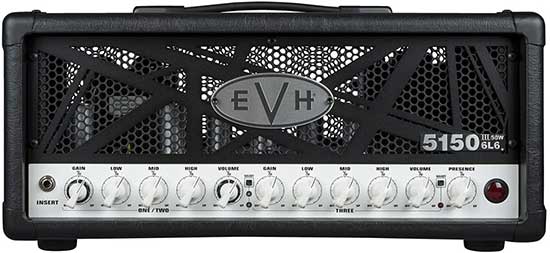 Years Used: 2007 to 2020
After severing his ties with Peavey in 2004, Edward rekindled his relationship with Fender to build his signature guitars and amplifiers. By 2007, Eddie and Fender released the first version of the 5150 III. It delivered the signature EVH tone through 100 watts of chest-thumping power. The 5150 III features three channels, with number three featuring the enigmatic "brown sound." The EVH III, through multiple design iterations over the past dozen years, continues to be the flagship amp for the EVH brand.
Pedals/Effects
Unlike kindred tinkerers such as The Edge and Tom Morello, Eddie Van Halen tended to pursue the singular ideal tone that lived in his brain. A tone that thrived on consistency, superior craftsmanship, and durability. For Eddie, pedals played an essential role in discovering and maintaining that tone but rarely seemed to be the focus of his attention.
As Edward described his early rig in the '78 Rosen interview, he used a few effects, including the MXR phase shifter, a flanger, and two Echoplexes, all with intent to modify the sound a little extra. Eddie also remarked that just about everything he uses is MXR as it was the only thing he could manage to afford.
Eddie also explained his approach to effects in a 1980 Guitar Player interview, explaining that he enjoyed making the best out of cheap units and effects, adding that he would always look to the cheapest thing, this would also give it a classic Van Halen sound. Eddie remarked that he was able to squeeze out rather particular sounds from cheap appliances, which wasn't the case for more expensive music appliances.
As Eddie's recording and stage rigs evolved, he augmented his original chain with advanced rack delay units such as the Roland SDE-3000 and Lexicon PCM70. During his final tours with Van Halen, Eddie's pedalboard typically included the MXR EVH Phase 90, MXR EVH117 Flanger, Boss OC-3 Super Octave, Boss Chorus Ensemble, MXR Analog Chorus, and MXR EVH signature Cry Baby.
Wrap Up:
Eddie first introduced his legendary stories in a 2016 interview with Stuart Williams. "Let me start at the beginning. When I first started playing guitar, I was at the local music store, which wasn't even a music store; it was kind of like a Radio Shack that also sold musical instruments. It was called Lafayette Music." -Eddie Van Halen in Total Guitar Magazine
It's always interesting to hear guitar god after guitar god talking about how the essence of their playing, their tone, their styles are evident regardless of what guitar they pick up. Similarly, none of us will sound exactly like EVH simply by building or buying the exact guitars he played, as every player has their one-of-a-kind touch.
For Eddie, the guitar was his canvas, a platform to sculpt, accessorize, experiment, and thrash upon. His flair for self-made engineering and artistry gave us a collection of immediately recognizable guitars, hot rod vehicles that delivered a litany of unrivaled grooves, solos, and riffs that stood apart from every genre of music.
When Eddie Van Halen passed away in 2020, the world was already reeling from soul-crushing isolation, fear, uncertainty, and confusion. His rather sudden departure left a jarring void in rock and roll, one equally as astonishing as the revelation of Van Halen's 1978 track, Eruption. At that point in time, it felt as if we could hardly afford to lose another genius.
We can thank Eddie's big brother Alex for inadvertently luring Eddie from his first drum kit. As legends often evolve, the facts, the dates, the circumstances don't always jibe. In interviews, Eddie would contradict something he had mentioned a few years earlier. The truth is somewhere in-between, but it's the theme, the hardware, and the spirit that are important in the story of his gear.
It's rather difficult to imagine the magnitude of sorcery and lore infused within the scores of guitars that are probably resting inside Eddie's 5150 studio.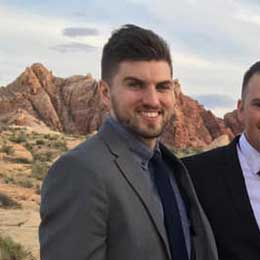 My name is Chris and I've had a passion for music and guitars for as long as I can remember. I started this website with some of my friends who are musicians, music teachers, gear heads, and music enthusiasts so we could provide high-quality guitar and music-related content.
I've been playing guitar since I was 13 years old and am an avid collector. Amps, pedals, guitars, bass, drums, microphones, studio, and recording gear, I love it all.
I was born and raised in Western Pennsylvania. My background is in Electrical Engineering, earning a Bachelor's degree from Youngstown State University. With my engineering experience, I've developed as a designer of guitar amplifiers and effects. A true passion of mine, I've designed, built, and repaired a wide range of guitar amps and electronics. Here at the Guitar Lobby, our aim is to share our passion for Music and gear with the rest of the music community.