A good practice amp will offer you just the right amount of output power without sacrificing tone, all without annoying your neighbors or roommates. There have never been as many great options available for low wattage practice amps as there is on the market today. Whether you're looking for something micro/portable, something tube-driven, or a modeling amp with tons of versatility, we'll find something perfect for you.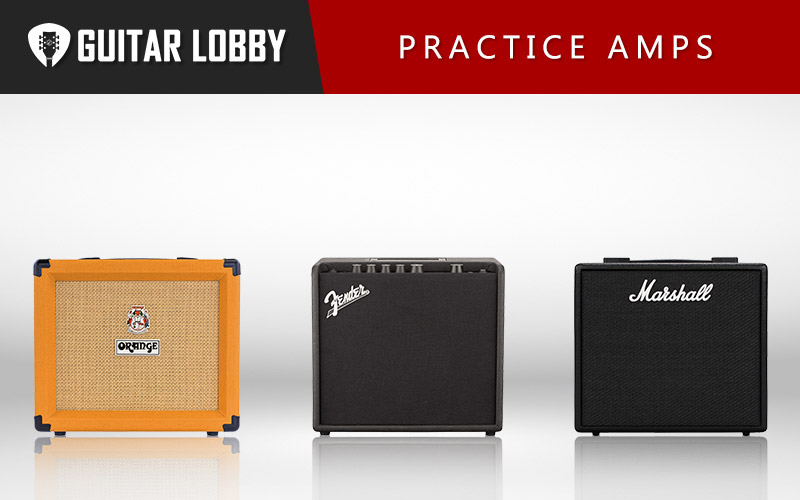 I'll start this article by jumping straight into the best practice amps at each price point, but if you want to learn more about what to look for in an amp before reading reviews, check out our practice amp buying guide at bottom of the page here.
Here Are the Best Practice Amps
1. Fender Super Champ X2 (Best Overall)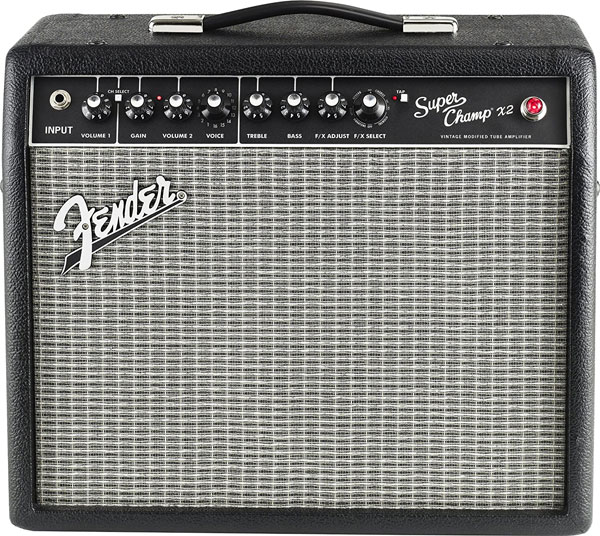 | | |
| --- | --- |
| Estimated Price | $400 |
| Type | Hybrid amp |
| Configuration | Combo |
| Output | 15 watts |
| Speakers | 1×10 inches |
| Number of Channels | 2 |
| Weight | 23 lbs. |
My Review: They don't call this Fender practice amp "Champ" for nothing. While it has one of the oldest designs on this list when it comes to amp technology, the Super Champ X2 more than makes up for it with its hybrid-like features. Yes, this is a tube amp that behaves pretty much like a hybrid.
At the core of the Super Champ X2 is a single 12AX7 preamp tube that delivers amazing clarity and purity of the tones. And when you pair it with a couple of 6V6 power tubes, you get an amp-speaker combo that can blast the competition to smithereens. This Fender unit features a larger-than-usual speaker. And while it is quite hefty, the Champ X2 is still portable enough to be carried around wherever you want to practice.
Features: This amp offers 16 amp types, 15 sound effects, 1 12AX7 preamp tube, 2 6V6 power tubes, tap tempo, and USB connectivity.
Bottom Line: The Fender Super Champ X2 is a versatile hybrid amp that makes for more engaging practice sessions. While the high –gain sounds are not that great, it makes up for it in terms of gorgeous clean sounds and the ability to record your creations.
2. Marshall Code 25 (Best Value)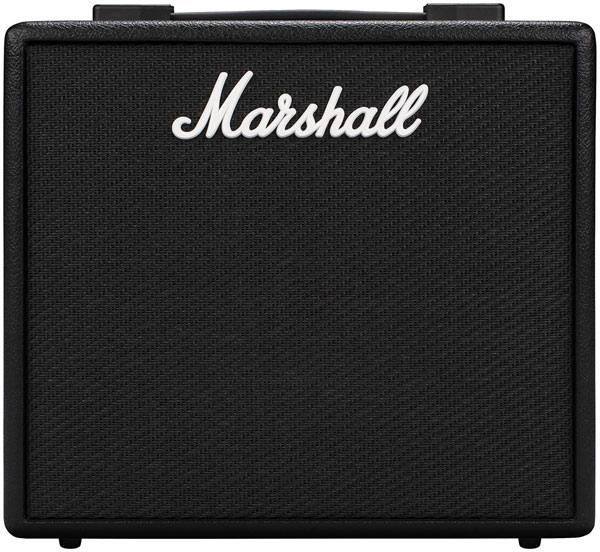 | | |
| --- | --- |
| Estimated Price | $250 |
| Type | Modeling amp |
| Configuration | Combo |
| Output | 25 watts |
| Speakers | 1×10 inches |
| Number of Channels | 1 |
| Weight | 13.4 lbs. |
My Review: I can say that Marshall relied on its decades-old tradition of making reliable and performance-driven amplifiers in the making of the Code 25. This is a very simple modeling amp that takes axe practices to a whole new level.
You won't believe how many amp models the Code 25 contains. The preamp models include those of the Silver Jubilee, the JCM800, and the Bluesbreaker Plexi. These alone will already have you playing like Slash, Eric Clapton, and the other rock and metal legends of the 80s. As if this isn't enough, Marshall also included four power amps. Try your hand on a British EL34 or stay loyal to the American 6L6-like power amp response.
There are also speaker cabinet models that further expand the fascinating amp modeling capabilities of the Code 25. Tweaking this amp is also easy, fun, and very intuitive. Beginner guitar players will have a heyday sampling the different tones in Marshall's arsenal. And if you're a lazybones like me, you'll appreciate the Bluetooth and USB connectivity of this amp.
Bottom Line: The Marshall Code 25 is a fine practice amp for the money as it is very easy to use and a good travel companion, too. This is a mini rig that is a great introduction to the classic tones of Marshall.
Features: The Marshall Code 25 offers 14 preamp models, 8 speaker emulations, 4 power amp models, as well as 24 digital sound effects.
3. Orange Amps Crush 20RT (Best Under $200)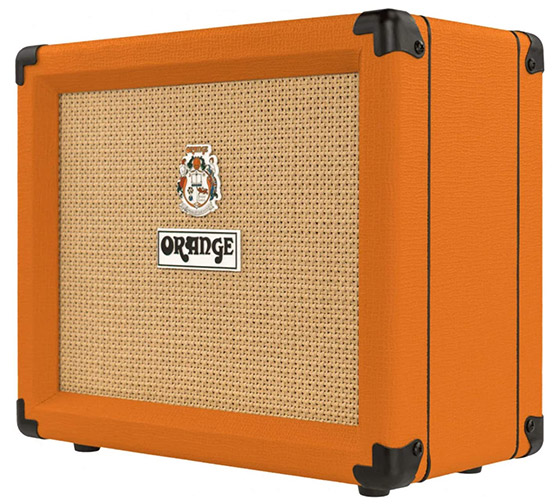 | | |
| --- | --- |
| Estimated Price | $190 |
| Type | Solid-state Amp |
| Configuration | Combo |
| Output | 20 watts |
| Speakers | One 8'' Orange Voice of the World |
| Number of Channels | 2 |
| Weight | 15.65 pounds |
My Review: First and foremost, I want to point out that Orange Amps also makes a slightly smaller practice amp called the Crush 12. The only other major difference is that the Crush 20RT has a slightly higher power output and two channels, compared to the Crush 12 which only has one. You can find the Crush 12 on Amazon here if you're interested in a smaller practice amp.
Orange Amps is a British amp company that I've been a fan of ever seen since I got my hand on one of their amps for the first time. The company has been around since the late 1960s and ever since, continues to grow in popularity. The company is best known for producing quality tube amps and solid-state practice amps that deliver a classic British crunch tone.
The Orange Crush 20RT is one of the newer models in the Crush series and is packed with features. The relatively small amp comes in at a weight of 15.65 lbs, which makes it a rather portable amp.
Whether you are looking for more of a clean tone or a high gain tone, this is a versatile practice amp that will work well for rock, metal, rock, and blues guitarists.
Features: Headphone jack, two channels, built-in Reverb, onboard tuner, and more.
Bottom Line: Orange amps are easily some of the best practice amps in terms of value. If you're looking for a reliable amp for rock, metal, or even blues this is an excellent choice.
4. Yamaha THR10 II Wireless (Editor's Choice)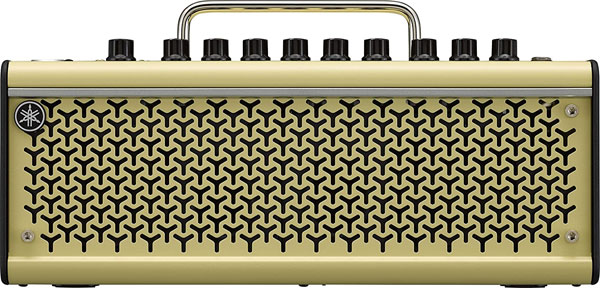 | | |
| --- | --- |
| Estimated Price | $450 |
| Type | Modeling amp |
| Configuration | Combo |
| Output | 20 watts (15 watts on battery) |
| Speakers | 2×3 inches |
| Number of Channels | 1, with 5 preset user buttons |
| Weight | 7.06 lbs. |
My Review: This Japanese brand is creating an acoustic tsunami that is more than ready to knock off well-established cross-Pacific amplifiers from their pedestals. Yes, the THR10 II Wireless is no Fender nor a Marshall. However, it does have its own feature set that has made a name for itself.
I love the THR10 II's ability to capture tube amp like guitar tones with its sophisticated virtual circuitry modeling. You'll find the amp emulation capabilities and built in sound effects of the THR10 II to be just what you need to make your guitar practice session simple and fun. The sound that this combo amp delivers is also louder than similarly-rated cabinets. It's proof of Yamaha's unique understanding of the needs of a growing community of guitar players.
Controlling the different presets, EQ settings, effects, and emulations is so much easier with the THR Remote app installed in your mobile phone. If you prefer you can tweak in you tone using a smartphone touchscreen rather than the physical knobs. Of course, you can always choose to fine-tune the amp with its array of buttons and dials on top. I also like the idea that I don't have to be a slave of electrical outlets anymore. This amp already comes with a rechargeable battery that is perfect for the touring guitar player.
Features: This amp uses Proprietary Virtual Circuit Modeling technology and has a 3-band EQ, 2 reverbs, 3 bass amp emulations, 15 tube amp emulations, 3 acoustic-electric mic models, 8 sound effects, 2-channel USB playback and recording, and has a 6-hour battery playtime.
Bottom Line: Despite the hefty price tag of the THR10 II Wireless, it remains one of the best amplifiers you can bring home. It is an excellent recording tool, complete with great-sounding amp emulator, wireless capability, exceptional portability, and amazing playback.
5. Fender Mustang LT25 (Best Under $150)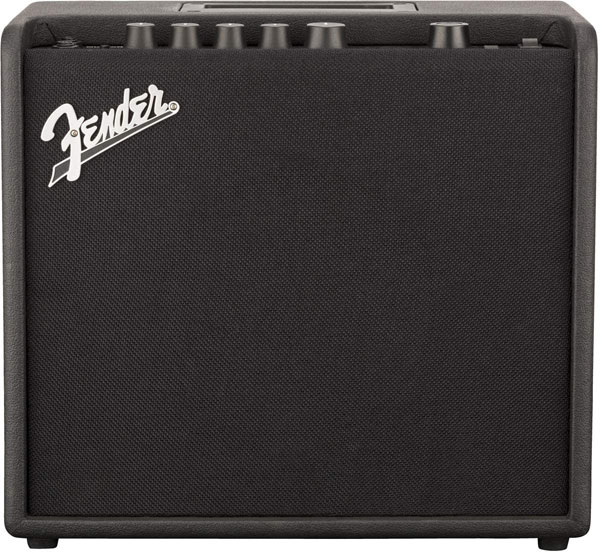 | | |
| --- | --- |
| Estimated Price | $150 |
| Type | Modeling amp |
| Configuration | Combo |
| Output | 25 watts |
| Speakers | 1×8 inches |
| Number of Channels | 1 |
| Weight | 14.9 lbs. |
My Review: A lot of people love the Mustang LT25. It is not a Mustang V, but it sure provides versatility in terms of built in tone controls and effects. With an amazing array of sound effects and presets that go with its amp emulators, this Fender amp is sure to be an instant hit among newbies and pros alike.
At first glance, the LT25 looks like a very simple rig. It only has 6 dials at the top of its boxy frame. What many of us don't realize is that Fender designed the LT25 with a unique wireless editor.
The LT25 has a more modern look compared to the classic Fender. It has a nice black finish and a very sturdy frame. It is not as lightweight as the other amps in this list. However, it still makes for a great travel companion.
Features: The Fender Mustang comes loaded with 50 presets, 25 sound effects, 20 amp models, 3-band EQ, USB, tap tempo, and a built-in chromatic tuner.
Bottom Line: The Mustang LT25 is an admirable practice amp that offers intuitive controls and classic tone sensibilities. It is excellent at emulating many of Fender's clean tones and also does an excellent job in delivering overdriven sounds.
6. BOSS Katana Compact (Best Micro Amp)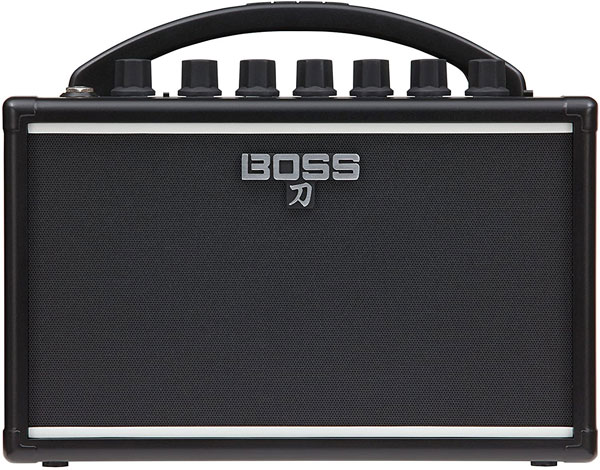 | | |
| --- | --- |
| Estimated Price | $100 |
| Type | Solid-state amp |
| Configuration | Combo |
| Output | 7 watts |
| Speakers | 1×4 inches |
| Number of Channels | 1 |
| Weight | 3.3 lbs. |
My Review: Get ready to be amazed at the powerful sounds that the Katana Compact can deliver. This practice amp has one of the smallest built-in speakers in this list yet delivers big when needed. You'll appreciate the rich and full sound that it delivers, making you think that this dwarfish amp is indeed a giant.
One thing I appreciate about the Katana Compact is its clean, minimalist design with a hint of retro. It is as clean looking as it is remarkable in the clean tone that this small amp can produce. And if you're in the mood for some Slash-like performance, you can always crank up the gain for a great distortion tone!
As a portable amp, I like the use of two power sources. You can easily swap the DC power supply with half a dozen alkaline batteries. This is a rig that provides tetherless entertainment on the go. It offers expressive sound in a small package.
Features: Has a 3-band EQ, tape-style delay, 3-band analog tone stack, multistage analog gain, and runs on 6xAA batteries or 9V 350mAh DC power supply.
Bottom Line: The BOSS Katana Compact is best for guitar players who want a reliable and portable amp they can use practicing at home or on the road. It allows for multiple device inputs to make jamming more fun.
7. Monoprice 611815 Stage Right (Best Practice Tube Amp)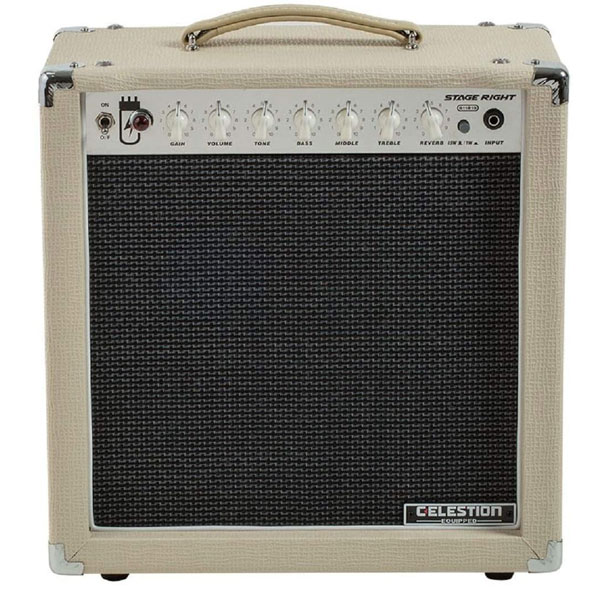 | | |
| --- | --- |
| Estimated Price | $250 |
| Type | Tube amp |
| Configuration | Combo |
| Output | 15 watts |
| Speakers | 1×12 inches Celestion |
| Weight | 31.62 lbs. |
My Review: Monoprice is hardly the brand that you'd expect to offer a reliable practice amp. After all, this is a brand that is more like AmazonBasics, being an online retailer that focuses on the selling of consumer electronics with generic brands. Nevertheless, its 611815 Stage Right is a very pleasant surprise.
The Stage Right is a great amp for people who prefer old-fashioned amplifier technologies, such as tube amps. The sound is warm, rich, and full. There's no need to add effects if you're only after the cleanest possible sounds. It can replicate the tone of your guitar in the most natural way. I find this quite exceptional, considering most of the practice amps on the market are of the modeling type.
One thing that may surprise you about the Stage Right is its humongous speaker. In fact, it has the largest diameter of speakers in this list. And we're not talking about just any speaker. This is a Celestion – a British brand well-known for its professional loudspeakers. The addition of a spring reverb and FX loop also gives you the versatility you need in improving the overall quality of your music.
Features: Onboard Spring reverb, FX loop, 3 12AX7 preamp tubes, and 2 EL84 power tubes. An all tube amplifier.
Bottom Line: Despite having twice the price tag of a Fender Mustang 1 V2, the Stage Right is still a good choice if you're after clean and powerful sounds. It also has enough controls to let you enjoy your guitar playing.
8. Blackstar Fly 3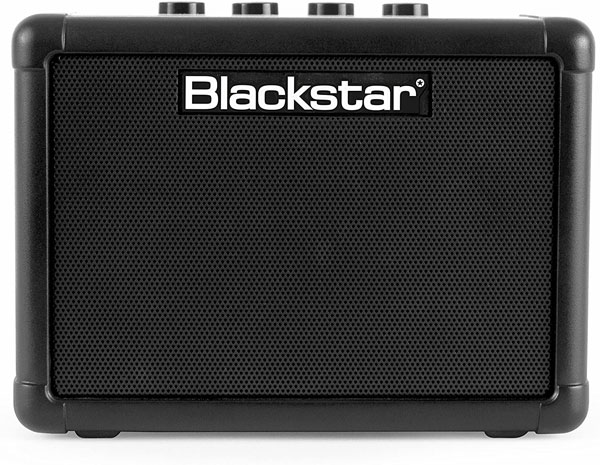 | | |
| --- | --- |
| Estimated Price | $70 |
| Type | Solid-state amp |
| Configuration | Combo |
| Output | 3 watts |
| Speakers | 1×3 inches |
| Number of Channels | 2 |
| Weight | 1.98 lbs. |
My Review: One of the things that I look for in a practice amp is portability. The Fly 3 has it. It is small and lightweight, yet packs enough punch to make my travels a lot more engaging and worthwhile.
Inside the Fly 3's dwarfish casing is a speaker that produces sounds louder than what amps with bigger speakers can offer. I also find it amazing that Blackstar included a line in port for MP3 and other mobile devices. What I really love is the inclusion of an Emulated Output jack. I can easily plug in my stereo headphones and execute a variety of riffs on my guitar. The good news is that I can always crank up the volume without ever causing alarm and scandal in the hotel that I am staying in.
The dual channel design of the Fly 3 is also commendable. You can easily pick between pure, clean tones and the electrifying performance of an overdriven riff. I don't even have to worry about its power supply. I can pack half a dozen AA batteries and have the rig running for several hours; although, the DC power supply can really be handy.
Features: This Amp features proprietary ISF (Infinite Shape Feature) function, stereo speaker expansion, gain, volume, EQ, delay, overdrive, and runs on AA batteries or a 6.5-volt DC power supply.
Bottom Line: The Fly 3 offers the best value in terms of performance, price, and the ultimate in portability. This is the perfect amp that doubles as a traveling companion, capable of transforming any travel accommodation into a mini studio.
9. Peavey VyPyr VIP 1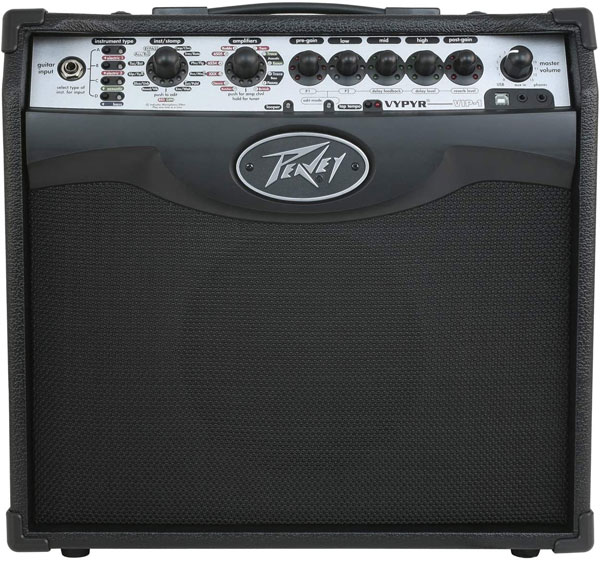 | | |
| --- | --- |
| Estimated Price | $150 |
| Type | Modeling amp |
| Configuration | Combo |
| Output | 20 watts |
| Speakers | 1×8 inches |
| Number of Channels | 4 |
| Weight | 19.55 lbs. |
My Review: At less than $200, the VyPyr VIP 1 can blast more expensive practice amps out of the water. It has a party-worthy interface that gives you an amazing display of lights. There is no need to look at the individual knobs to know that the amp is working. The flashing lights are enough to tell you that it does. Peavey designed the interface to make sound shaping a lot more convenient without the need to connect the amp to a laptop.
Beyond the flashy interface of the VyPyr is a modeling architecture that brings to fore unique advances. What astonished me is the VyPyr's ability to morph from an ordinary electric guitar amp to either an acoustic amp or even a bass amp. Leading brands can only wish they had this technology. You get three different instruments from a single device.
I also find it fascinating to see that the VyPyr allows bidirectional data transmission. Practicing the different backing tracks that I've downloaded and then recording them is also easy with this amp. It's like having a professional studio amp right in your home.
Features: This amp offers 36 amp models, 16 presets, 25 sound effects, 6 acoustic amp models, 6 bass amp models, 3-band EQ, Variable Instrument Performance system, built-in looper, tap tempo, enhanced chromatic tuner, 32-bit SHARC processor, Transtube analog circuitry, USB connectivity, WYSIWYG control interface, and optional Sanpera foot controller.
Bottom Line: The VyPyr VIP 1 is the epitome of revolutionary modeling versatility that is perfect for home and studio use. And if you would like to be adamant about it, this amp can also function as a worthy rig for a limited performance on the live stage.
10. Fender Frontman 10G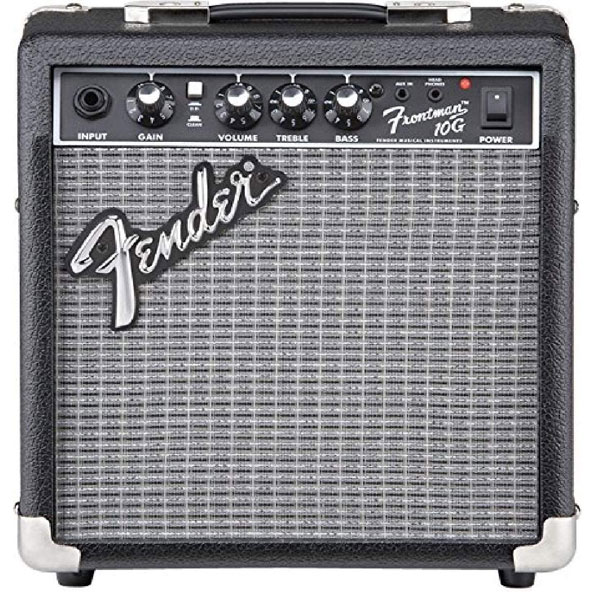 | | |
| --- | --- |
| Estimated Price | $70 |
| Type | Solid-state amp |
| Configuration | Combo |
| Output | 10 watts |
| Speakers | 1×6 inches |
| Number of Channels | 1, with overdrive button |
| Weight | 8.5 lbs. |
My Review: It's quite difficult to get your hands on a Fender. This is a brand that is already synonymous with music instruments. The brand's amplifiers are some of the best in this music-crazed planet of ours. With the Frontman 10G, you get the same quality audio technology and reliable craftsmanship that you can expect from Fender without the hefty price tag of other giants in the guitar amp industry.
Don't ever think that the price of the Frontman 10G correlates with its performance or that it is only for beginner guitarists. You'll be surprised by the power of this system. The design is a classic Fender –very solid and well built. You'll never fret with the controls, as everything is responsive. I like that the Frontman 10G gives me the ability to use my headphones for a more immersive and silent practicing.
I know the Frontman 10G doesn't offer that many sound effects. However, the way it can produce clean tones is simply breathtaking. Rock fans will also love the tube-emulated overdrive of the Frontman 10G. And if you're into heavy metal and blues, the ultra-saturated distortion that this amp delivers will blow you away.
Features: This amp has a 2-band EQ, overdrive select switch, gain, CD and media player connectivity, and silent practice headphone connection.
Bottom Line: The Fender Frontman 10G is a practice amp that's not only great for beginners and budget-conscious artists. This is a reliable amplifier that can deliver amazing sounds with enough features to make your jamming worthwhile.
11. Fender Mustang 1 V2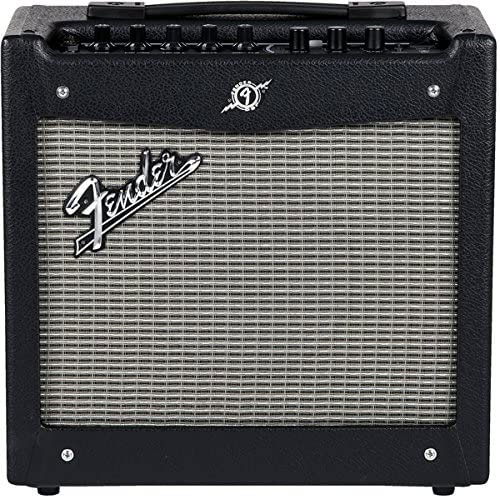 | | |
| --- | --- |
| Estimated Price | $125 |
| Type | Modeling amp |
| Configuration | Combo |
| Output | 20 watts |
| Speakers | 1×8 inches |
| Number of Channels | 1 |
| Weight | 17 lbs. |
My Review: For those who wish the Frontman 10G being more versatile, the Mustang 1 V2 is a great option. This Fender practice amp has just the right power output to make concert-like sounds in your home without getting your neighbors to call the police. It also has several features that can inspire you to make more music or even to experiment with your sound.
What I like the most about the Mustang 1 V2 is its number of emulated amps and presets. You can have the whole day trying out different configurations and you will still be left with a hundred more to try for the next few days. The sound effects are classic Fender, while the USB connectivity adds a touch of 21st century technology to its classic design.
Fancy pushing your metal songs like the badasses of the concert stage? The Mustang 1 V2 can do that with its high-gain distortion. And if you prefer clean tones, this amp can provide you that, too. This is a device that makes it super easy to become a rock star even though you are only in the comfort of your home.
Features: This amp comes packed with 24 presets. 17 amp models, 44 sound effects, 2-band EQ, USB connectivity, Fender FUSE, and a built-in chromatic tuner.
Bottom Line: Practicing your guitar no longer has to be a boring and dull affair. This Fender amplifier features many of the remarkable elements of the Mustang series, packed into a very convenient and compact unit.
12. VOX V9160 Pathfinder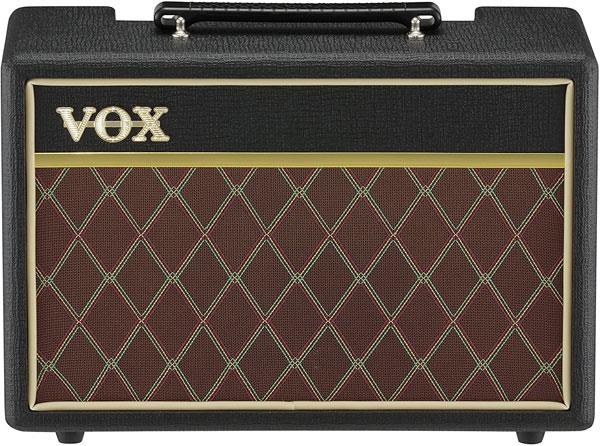 | | |
| --- | --- |
| Estimated Price | $90 |
| Type | Solid-state amp |
| Configuration | Combo |
| Output | 10 watts |
| Speakers | 1×6.5 inches |
| Number of Channels | 1 |
| Weight | 11.9 lbs. |
My Review: The VOX Pathfinder has many of the desirable characteristics of a reliable solid-state amp in a neat and portable package. It has this unmistakable tone that can make guitar playing even more exciting. It is not for the gig-minded axe player, though. Nevertheless, it is still an exceptional miniature rig that can bring out the rock star in you.
Its low profile and vintage looks can be an awesome display piece in the living room. Hang your guitar above it and you've got an easy conversation piece. Despite its size, the V9160 has a gigantic sound. I have heard several 20-watt amps before and the sound they produce was somewhat lame compared to what the VOX delivers. You'll never have to crank the volume to the hilt to get that awesome feel. Dialing it halfway is enough.
And if ever the neighbors complain about the noise coming from your home, you can easily plug in your favorite stereo headphones. This should make for a more engaging, private practice session.
Features: Has a 2-band EQ, gain, clean and overdrive switch.
Bottom Line: The VOX V9160 Pathfinder delivers punchy and warm distortion and chime-y and clean tones without so much of an effort from your part. And while it doesn't have fancy sound effects to stir your creativity, it remains an excellent buy for anyone who want a simple performance-oriented amp in the home.
13. Marshall MG30GFX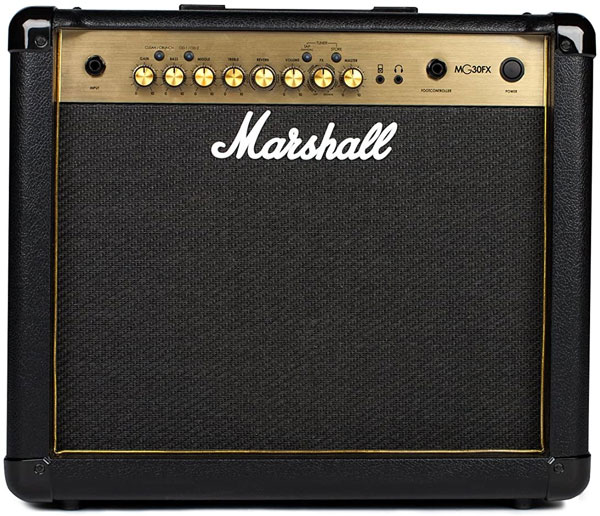 | | |
| --- | --- |
| Estimated Price | $230 |
| Type | Solid-state amp |
| Configuration | Combo |
| Output | 30 watts |
| Speakers | 1×10 inches |
| Number of Channels | 4 |
| Weight | 23.8 lbs. |
My Review: Despite the growing popularity of modeling amps, many guitarists still prefer the clean tones of solid-state amp technologies. Very few companies can provide powerful and reliable solid-state amps as efficiently and effectively as Marshall. The company's MG30GFX brings together many of the wonderful qualities of a solid-state amp at a price that is more reasonable than others.
There are only four sound effects in the MG30GFX. I know this isn't sufficient for some beginners who like experimenting with their sounds. However, you should check out the number of channels that this amp has. Four channels should be enough to let you create and play different effects. I love the crunch channel as it delivers a meaty overdrive, perfect for executing many of Slash's signature riffs. Then there is the pair of OD channels that can give your sound the purest distortion you can imagine if there is such a thing.
The Clean channel is definitely something else. I would say that this one's insanely good. It delivers a nice sweet punch that you can discern in the spectrum's upper end. The tone is both clear and well defined. The Crunch channel also sounds very natural and organic. It's something that I know serious guitar players will love.
Features: This great practice amp comes loaded with a 3-band EQ, 4 sound effects, tap tempo, onboard chromatic tuner, flanger, phaser, chorus, delay, AUX in and headphone inputs, and an optional footswitch.
Bottom Line: The Marshall MG30GFX provides a more modern take on reliable solid-state amps. It has a reasonable price, excellent fidelity to classic Marshall tones, and multiple channels that can enhance your musical creativity.
14. Line 6 Spider V 20 MkII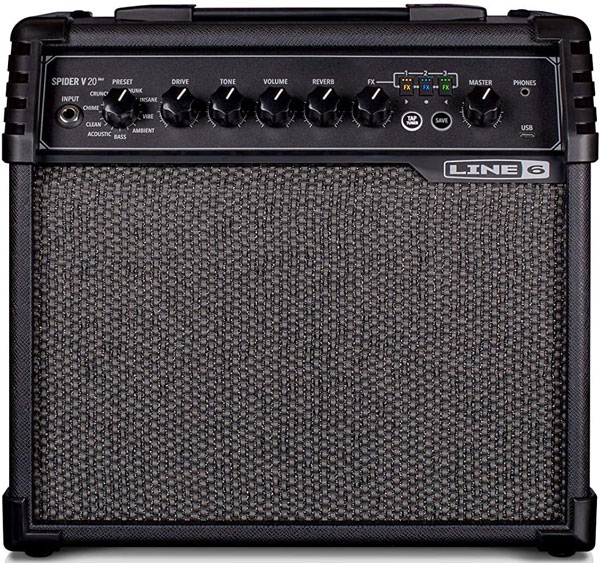 | | |
| --- | --- |
| Estimated Price | $160 |
| Type | Modeling amp |
| Configuration | Combo |
| Output | 20 watts |
| Speakers | 1×8 inches with subwoofer and 1 high-frequency tweeter |
| Number of Channels | 1 |
| Weight | 16.2 lbs. |
My Review: You don't need to spend a fortune to get a multitude of amazing studio-quality sounds. All you need is the Line 6 Spider V 20 MkII and you're on your way to creating sounds with warm and punchy tones. And if your strings are sounding wobbly, the Spider V makes it easy to put everything in order.
This practice amp offers excellent value for its price. You need to check out its Spider V Remote app. This software is your window to an amazing collection of amps and digital sound effects. This is on top of the 16 that already comes with the MkII. The sounds you create will never be boring. The tones are both inspiring and authentic, making the amp a worthy companion in your pursuit for perfecting your licks.
I admire Line 6's integration of a technology that facilitates mobile device connectivity. Recording and editing your musical creations is now more fun than ever before with this practice amp. You'll have to devote several weeks just to learn all the possible combinations at your disposal.
Features: This little solid-state amp comes with 16 presets, independent reverb, Classic speaker mode, tap tempo, chromatic tuner, and there's also the Spider V remote app with access to 200+ downloadable effects and presets.
Bottom Line: The Spider V 20 MkII continues with Line 6's tradition of feature-filled and cost-effective products. This is a practice amp that is perfect for any guitar player, whether you're a budding newbie or a seasoned pro.
15. Roland Micro Cube GX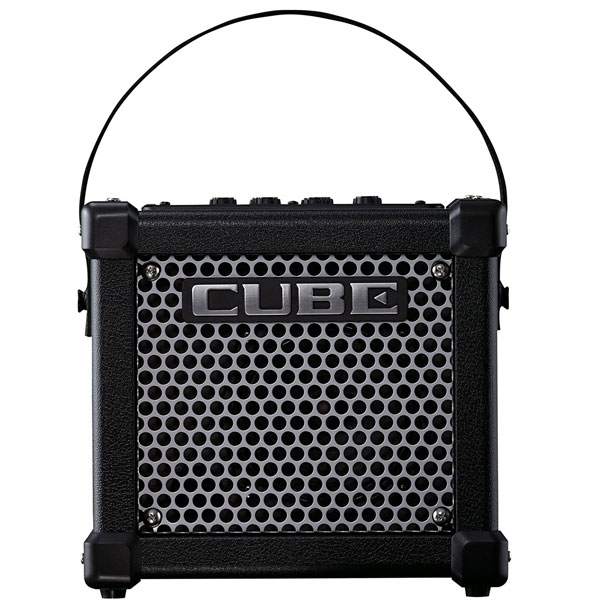 | | |
| --- | --- |
| Estimated Price | $160 |
| Type | Modeling amp |
| Configuration | Combo |
| Output | 3 watts |
| Speakers | 1×5 inches |
| Number of Channels | 1 |
| Weight | 8/0 lbs. |
My Review: Roland's Micro Cube GX is not your quintessential practice amp. In fact, most people I've spoken with think that it's nothing more than a Bluetooth speaker. Worse, there have been people who think it's a toy. I forgive them, of course. The Micro Cube GX does look like a child's plaything, only it isn't.
This is a remarkable modeling amp that features the revolutionary Composite Object Sound Modeling technology. This system allows the amp to reproduce the classic tones of the amps of yesteryears. I find it very appealing to people who still consider the sound technology of the past to be far superior to contemporary devices when it comes to fidelity to natural sound. True enough, the sound that this combo produces is as close to what you would get when you play your guitar unplugged. The difference is that the sound's louder.
I know you will also love the i-CUBE Link interface of the Micro Cube GX. It's like a mini computer that also acts as the amp's editor and recorder. What's cooler is that the link also allows you to transform this device into an amplifier for your home entertainment system.
Features: The Roland Mico Cube offers 8 COSM amp tones, 8 DSP effects, i-CUBE link, memory function, onboard chromatic tuner, battery-powered, as well as the CUBE JAM app.
Bottom Line: A blast from the past, the Micro Cube GX is every traveling guitar player's best companion for playing the axe in a hotel room. It's small, compact, and powerful enough to give you a performance that can rival that of a professional studio rig.
16. Roland Cube Street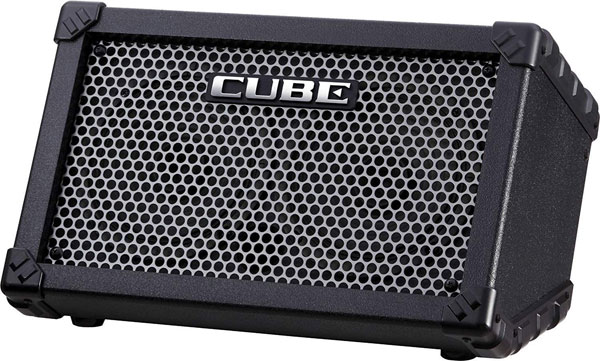 | | |
| --- | --- |
| Estimated Price | $300 |
| Type | Modeling amp |
| Configuration | Combo |
| Output | 5 watts |
| Speakers | 2×6.5 inches |
| Number of Channels | 2 |
| Weight | 15.18 lbs. |
My Review: The Roland Cube Street is unlike any other modeling practice amps you may have already seen. Roland ditched the traditional boxy upright design of the cabinet in favor of a slanted form. It looks like the speakers on concert stages.
Don't underestimate the Cube Street. It may only have 5 watts of power, but it sure can blast the roof off any stadium. There's the standard EQ controls to go with its 8 COSM amp emulations. What I absolutely love about the Cube Street is its dual channel design. The mic channel gives you access to four control settings. You also get access to 6 control settings when you switch the Cube Street to the guitar channel.
I find the Cube Street to be perfect for impromptu street performances. You can easily lay it on the pavement and start playing right away. No plugs to worry about. No wires to fret with. It's a rig designed and built for the traveling guitar player and street performer.
Features: With this amp, you'll get 8 COSM amp models, 6 digital sound effects, built-in chromatic tuner, and has a 15-hr 6xAA battery playtime.
Bottom Line: The Roland Cube Street is a worthy small rig that feels right at home in the house as it does on the street during small live performances. Its main draw is its mic channel that eliminates the need for a separate device for microphones.
17. Orange Micro Terror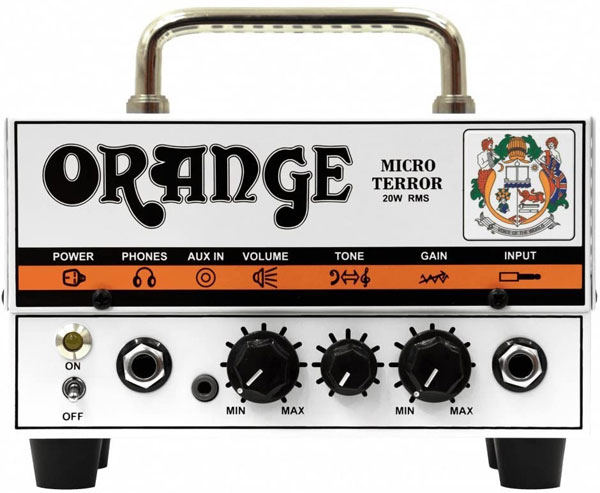 | | |
| --- | --- |
| Estimated Price | $150 |
| Type | Hybrid amp |
| Configuration | Head unit only |
| Output | 20 watts |
| Speakers | N.A. |
| Number of Channels | 1 |
| Weight | 1.87 lbs. |
My Review: The Micro Terror is a head unit-only hybrid amp that is more powerful than any of the amps with higher wattage ratings on the market. And while it can be a worthy rig for your next gig, the Micro Terror will never be too cumbersome to take on your adventures.
I love the compact design of this practice amp. It looks like a kid's lunchbox. Inside its unassuming housing is a technology that brings unparalleled tone clarity and exceptional dynamics. Its RMS solid state output works well with any speaker cabinet that has a rating of at least 8 ohms.
The Micro Terror is not only great in terms of giving you amazing sound. You can also plug in your audio player or your smartphone to make your practice sessions even more engaging.
Features: A simple tube hybrid amplifier head unit, the orange micro terror uses 12AX7 tube preamp and comes with gain, tone, and volume controls. Does have a headphone jack which is great for silent practice sessions.
Bottom Line: The Orange Micro Terror is the wonderful choice for those who want a hybrid amp that they can connect to different types and configurations of speakers. It offers a huge headroom and a creamy midrange that even rock legends will appreciate.
Choosing the Right Practice Amp (Buying Guide)
Choosing the best practice amp can be very tricky for beginners. Sure, there are always the big-name brands to choose from. These brands have been around a lot longer than your grandparents have been on Earth. This doesn't make the selection process any easier. There are also other factors that can keep your mind preoccupied for several days and complicate the buying process.
I prepared this section to help you gain a better understanding of practice amps and why I think it is always a good idea that you buy one. I'll also share with some of the important things that you have to look for in a guitar practice amp. Hopefully, you'll find the information I share in this section to be useful. If not, you can always skip this part and head straight to the product reviews section.
Do You Need a Practice Amp?
I know what you're thinking. Why get a practice amp when you can buy a rig that is more than capable of performing on the concert stage? You can use a Marshall or a Fender stack if you like. However, that would be like owning a car that can go 200 MPH and you can only drive it for 30 MPH because of speed restrictions. That's the same thing when you use an amplifier in your house. You cannot create a concert-level noise without getting the police right at your front door.
Think of the practice amp as a scaled-down or a powered-down version of live performance rigs. It allows you to hear the sounds that you are producing without being a nuisance to the rest of the world. You can shape the sound, apply effects, edit, record, and do whatever you like.
You can do all of these things without ever bothering your neighbors, who might be compelled to call the police for disrupting the peace in the neighborhood.
Most practice amps are also portable. They are small, compact, and lightweight. These characteristics make for a good travel companion. You'll never worry about excess luggage or even strain in carrying your other stuff. Playing your guitar wherever you are should be a cinch with a practice amp.
Types of Practice Amps
One of the things that any potential buyer of a practice amp needs to think about is the type of device that is best suited for their needs. When it comes to practice amps, there are four general types you should know. They are as follows.
Solid-state Amps
You may recognize this amp from the one that your grandpa or uncle used during his teens. It is an analog type of sound-strengthening device that consists of several transistors. These transistors are important in the amplification of both the power and preamp sections of the practice amp.
One advantage of solid-state amps is reliability. You will never have to worry about the amp breaking down or requiring extensive repairs. These amps are a favorite among touring guitarists because of their sturdiness and reliability. These practice amps are also less expensive than other types and can produce a surprisingly clean tone. Some may also offer distortion to help improve the qualities of the sound you produce.
Tube Amps
Seasoned guitar players prefer tube amps because of the warm and fat tones that these amps produce. The distortion that the amp produces is also more 'organic' or more natural than what you would get from a solid-state amp. The sound is also louder than a solid-state amp, even though they may have the same wattage.
Many amps of this type have separate channels. These channels allow for the switching of the tones from clean ones to distorted versions. The main issue with tube amps is that their performance tends to deteriorate over time. This requires occasional replacement of the tubes.
Modeling Amps
These are the go-to practice amps of guitar players who want optimum flexibility in shaping or creating the sound that they like. Modeling amps are digital amps that use advanced technologies to simulate or mimic the sound of conventional tube amps. You can have many types of amps programmed into the device. You only need to select the one that is best for a specific genre of music or even style of playing the guitar.
Modeling amps can provide almost everything that you could ever need from a studio amp. Fancy clean rhythm tones? The modeling amp can give you that. You can also get different sound effects, such as chorus, flange, delay, phase, and reverb, among others. It is also possible to program the effects that you want. And if you choose the right modeling amp, you can also enjoy simulated speaker function. There are analog and/or digital outputs that you can connect to a PA system or even a recording interface.
Because of these features, it's not uncommon for modeling practice amps to be more expensive than other amp types.
Hybrid Amps
This type of practice amp has one of the most revolutionary designs. Some people often mistake it for modeling amps. However, this is not at all accurate. Keep in mind that modeling amps are digital amplifiers that simulate the different qualities of a tube amp.
A hybrid amp is different because it combines the reliability of a solid-state amp and the beautiful tones of a tube amp. In other words, a hybrid amp features two very distinct components or sections that work together to bring out the best possible performance from a guitar amp. The preamp section consists of a tube, while the power section features the circuitry of solid-state amps.
Practice Amp Configurations
Once you have decided on the type of practice amp you want to get, it's time to decide on the type of configuration that is best for you. There are two types of amp configurations on the market.
Combo
This is by far the most preferred configuration of a practice amp by many guitarists, both novice and professionals alike. A combo practice amp consists of an amplifier and a speaker in a single enclosure. There's no need to connect the device to another speaker, since it already has one.
The main advantage of combo amps is portability and convenience. You can bring the device and never worry about sourcing a loudspeaker for the amplifier. It can also be a real space-saver. You will never fret about connecting wires and other stuff.
The downside is that the size of the box or compartment will determine the size of the speaker. The smaller the size of the box, the smaller the speaker that it can contain. This is not an issue if you will only be using the amp to practice in your room.
Head + Cabinet
Another configuration of practice amps is the head + cabinet. You have two separate devices. One is the amplifier and the other one is the speaker cabinet.
The obvious advantage of this configuration is its stackability. You can connect two different speakers to the same amplifier to get a louder sound. It is also easy to connect the amplifier to any speaker, as long as they have the same type of port.
Speaker cabinets can also come in different configurations. For example, a speaker cabinet labeled as 2×12 means that the system has two 12-inch speakers in the cabinet. A 4×8 speaker cabinet will have four 8-inch speakers.
In general, practice amps should not have more than two speakers in a speaker cabinet. Having more speakers than two can already be a professional rig. Most practice amps only have one speaker.
Other Considerations when Buying a Practice Amp
Buying a practice amp requires more than knowing the type and configuration of amps. It also requires an understanding of a few basic things. I know some of these considerations can be quite technical for the absolute beginner. So, we'll try to keep things simple.
Power
It should already be apparent that practice amps are less powerful than professional rigs. By power we mean the number of watts that the amplifier provides to the speaker. In general, the higher the wattage rating of the amp, the more powerful it is. This also translates to louder sound.
Professional amps typically come with a 30 to 100 watt rating. Practice amps will have a wattage rating less than that. However, there are also practice amps that have a power of more than 30 watts. You will have to consider other factors when you encounter such amps.
The ideal wattage of a practice amp will depend on your needs. For example, a 20-watt amplifier is already good for playing the guitar in your home. It is loud enough without causing a stir in the neighborhood.
If you have a recording studio, a practice amp with less power is ideal. This is because of the unique characteristics of a recording studio. It has excellent sound isolation that is ideal for eliminating external noises and focusing only on the sounds produced in the room. Most practice amps for the studio have a power rating of 10 to 15 watts.
For beginners, I recommend a 5- to 10- watt practice amplifier. This is perfect for learning and polishing your guitar chops without bothering those who are nearby.
Speaker Size and Power
Most of the speakers that you will see in practice amps are between 8 and 10 inches in diameter. There are also products that have a speaker with a smaller diameter. What is very important here is to make sure that the power requirements of the speaker match the power output of the amplifier.
What many guitar players recommend is to get an amplifier that can produce at least an equal amount of power as that of the speaker. For instance, if the speaker has a rating of 30 watts, then the amplifier should also have a power rating of 30 watts. The ideal is to get an amp that can deliver as much as twice the power requirement of a speaker. In our example, you can get an amp with a 60 watt rating to power the 30-watt speaker.
Speaker size is not an issue if you are going to buy a combo or a head + cabinet configuration of practice amp. Manufacturers already give you the best possible combination of amplifier and speaker to produce an amazing sound, even at lower volumes.
The issue is when you buy an amplifier-only unit. In such a case, you will have to be careful about the selection of the speaker size and power rating.
Features
I mentioned that amplifiers do not only strengthen or make a sound louder. Many of the amplifiers we have today also have different features that allow users to be as creative as they want. This is especially true for the modeling type of amps. These products have different control knobs, sliders, or switches that help shape the final sound produced by the speaker. Some of the more common amplifier features are the following.
EQ Controls
Short for 'equalization', the EQ controls of an amplifier let you shape the tone of the sound that your guitar produces. The typical EQ settings you will see in an amp are bass, treble, and bass. There are some products that may provide additional settings.
Tweaking these settings can give you the kind of sound that is perfect for a particular genre of music. For example, you can set the bass and treble to 4, the mid to 6, and the gain to 5 to create a sound that is perfect for rock songs.
You can also use these control settings to account for the type of room that you want to simulate. It is possible to dial in the settings to mimic the sound produced in a studio, a concert hall, in your bedroom, or in any environment.
Distortion
Rock stars and heavy metal bands are known for their extensive use of distortion. This is a type of audio signal processing that increases the gain of the amplified electrical signal. It produces a gritty, growling, or fuzzy tone. It is a very popular sound effect in hard rock, rockabilly, blues, acid rock, hardcore punk, heavy metal, and punk rock music.
Most performers use a distortion guitar pedal. You no longer need such an accessory if the practice amp already has it.
Multiple Channels
Always be on the lookout for this particular feature because it gives you the ability to use different sounds in your guitar playing. Such amps often come with a foot switch. You toggle between the different channels to produce different sounds.
There are also practice amps that may only have a single channel. This is perfectly okay, provided they also have a mechanism that allows you to turn on or off the guitar sound effects. You can go from a distorted tone to a very clean one with a simple press on the foot switch.
Reverb
Most practice amplifiers come with a reverb sound effect. Reverb provides your music with an echo-like effect. It adds dimensionality to the song, as if you are playing it in a concert stage.
Reverb adds depth, spaciousness, and fullness to a sound. It can also add sustain to the sound that your guitar produces. Reverb can also smoothen the hiccups that can occur with less-than-phenomenal guitar playing.
Digital Effects
High-end practice amps come with more than a simple EQ controls and distortion and reverb sound effects. These amps can also provide you with different sound effects that can translate to more beautiful and amazing sounds.
The core audio effects include modulation effects, spectral effects, dynamic effects, time-based effects, and filters.
The EQ controls we mentioned above are an example of spectral effects. Reverb is a time-based sound effect, while distortion is a type of dynamic sound effects.
Panning is excellent for creating the illusion of movement. Delay sound effects are good for filling out certain parts of a song. Chorus sound effects are ideal for widening stereo image. It can also add movement and complexity to your sound.
Compression effects are good for polishing the sound. It produces a punchier sound by attenuating the loud parts and boosting the quiet parts of a sound. In short, compression reduces a sound signal's dynamic range.
Tremolo gives sound a sense of drama, movement, or tension. The sound you create is more percussive and rhythmic, almost pulsating.
Other digital sound effects that a practice amp can provide include phasing, flanging, and audio filters.
Overall Quality:
It goes without saying that the practice amp you buy should be of exceptional quality. Pay attention to the overall build quality of the cabinet. This is where reputable brands can have an edge over other companies.
Well-known brands have a track record for producing high-quality amplifiers. For example, Marshall and Fender are two companies that you can always rely on to produce good quality products.
If you're not sure about the quality of the amp you are buying, read the customer reviews. You should be able to learn a thing or two about an amplifier's overall quality from the real-life experiences of owners.
Did any of these practice amps interest you? I'm sure you already have an eye on a few of them. And if you think there are other practice amps out there that are more suitable to your needs, go ahead and use the buying guide I shared with you.
Keep an eye on the type and the configuration of the practice amp you want to buy. You can then check the other requirements, such as output, size of speakers, number of channels, EQ settings, controls, sound effects, and other features. You'll eventually get the right practice amp to help you solidify your guitar playing.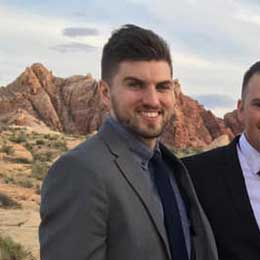 My name is Chris and I've had a passion for music and guitars for as long as I can remember. I started this website with some of my friends who are musicians, music teachers, gear heads, and music enthusiasts so we could provide high-quality guitar and music-related content.
I've been playing guitar since I was 13 years old and am an avid collector. Amps, pedals, guitars, bass, drums, microphones, studio, and recording gear, I love it all.
I was born and raised in Western Pennsylvania. My background is in Electrical Engineering, earning a Bachelor's degree from Youngstown State University. With my engineering experience, I've developed as a designer of guitar amplifiers and effects. A true passion of mine, I've designed, built, and repaired a wide range of guitar amps and electronics. Here at the Guitar Lobby, our aim is to share our passion for Music and gear with the rest of the music community.