If you're on this page, you're a fan of the Red Hot Chilli Peppers, a.k.a. RHCP, just like me! Founded in 1983, this band has revolutionized the concept of alternative funk rock music altogether in the most unimaginable way. To date, the band has 13 albums registered under its name.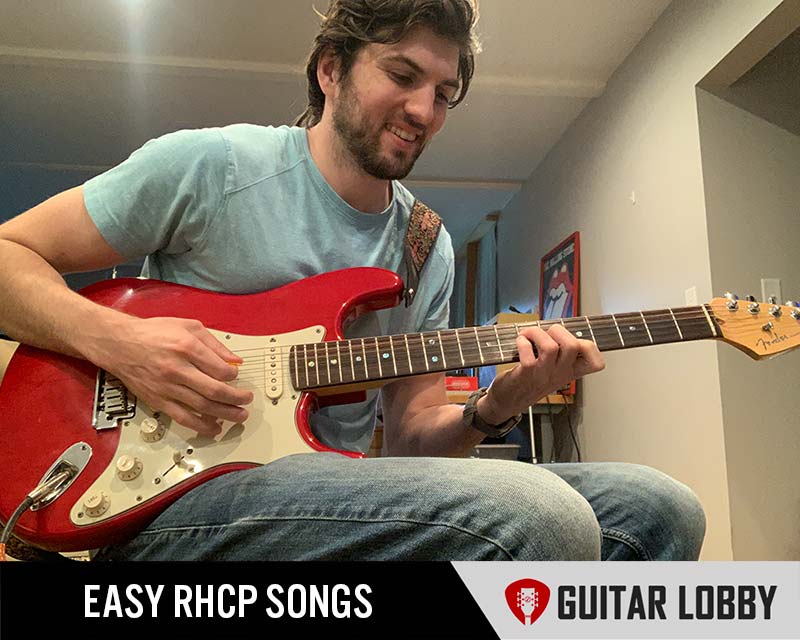 If you're looking for easy Red Hot Chili Peppers guitar songs, you're in the right place. I know RHCP songs are well-known for their electric sound, but you can also play most of their hits on acoustic guitar!
1. Otherside
Otherside, a widely-popular song from Red Hot Chili Peppers has always been one of my favorite RHCP songs on guitar. Drummer Chad Smith, guitarist John Frusciante, lead vocalist Anthony Kiedis, and bassist Flea composed and launched this one-of-a-kind song. I always find it easy to play on the guitar as the chord progression is quite simple, and the strumming won't need much practice.
If you listen to the chorus closely, you'll realize how Kiedis (vocalist) wants to leave everything behind and move on to a better, fresh start. The lyrics perfectly describe how Kiedis suffered from addiction before and wishes to leave all that behind. So, when playing it on guitar, remember that: it has a melodic riff, the chorus must be catchy as hell, and the bass line should be upbeat.
2. Parallel Universe
If you're a die-hard fan of RHCP, you must have heard 'Parallel Universe' from their 1999 album 'Californication.' This engaging and amusing track starts off with muted picking and eventually unfolds. Have you heard its lyrics? Ooff! They are simply packed with next-level imagery and reflect the concept of parallel reality. Frusciante did justice to the track with his heavily distorted guitar tones.
My favorite part of this song is where he sings, "Far away you were made in a sea, just like me." Why? It's a melancholy resembling the feeling of being alone. I know the song wasn't a hit back then, but Flea's bass screams full jazz during the live performance, making it an all-time favorite of fans like me.
3. By The Way
Another basic RHCP song with incredible sound quality is By the Way. The words of the song, which has a very appealing and uplifting tune, discuss the pleasures and difficulties of daily living. Your rapidity and precision skills will undoubtedly increase if you learn this song, in my opinion.
Frusciante wrote the majority of the songs and musical arrangements on this album. The tune has funky strumming and two- or three-chord progressions. Throughout the song, he uses ghost notes and rhythms. On this one, Frusciante is simply outstanding. You'll soon realize it's not as difficult as it originally appears. Watch the above guitar lesson, which goes over everything in great depth.
4. Californication
Another popular game that doesn't take advanced abilities to play is Californication. To be really honest, this song has one of the simplest riffs in the entire RHCP career. One of the group's most well-known songs, it is the title track from the band's seventh studio album.
It was one of the first songs he co-wrote with Frusciante after the guitarist returned to the group, but it ended up being the final one they recorded for the album since they couldn't come up with the perfect arrangement. The song's recognizable arpeggio melody opens the song.
It serves as the foundation for the song's composition, and there is also a fantastic guitar solo. It's simple to play this one. Play along!
5. Get on Top
Since their early days, RHCP has combined several musical genres, but their 1999 song "Get On Top" took their band to new heights. John Frusciante, the band's guitarist and lead vocalist Anthony Kiedis composed this wonderful song.
What I loved the most about this song was how they expressed their struggles with drug addiction and how they desired so hard to recover from it. This is truly an inspiration, as the song's theme is the perception that you can accomplish anything you desire.
To play the song, I use a range of strumming patterns. However, I suggest a downstrum on each chord's initial beat and an upstrum on the subsequent two.
6. Road Trippin
This song is a slower, more folky ballad. It debuted in 2000 and was included on the record Californication. Before 2004, the band only played this live four times; they never did it again. Instead of using a guitar pick, you should practice strumming with your fingers.
This music will suit you just well! Witnessing the band members performing an entire acoustic song as a unit is amazing. The song has a lot of arpeggios and melodic chord progressions, making it an intermediate song to perform. Spend some time honing it, and I urge you to.
The same fingerstyle pattern is used in a wide variety of tunes, so if you master it, it will be quite helpful for your continued development as a guitarist.
7. My Friends
The song is a hymn to the strength of friendship and has grown to be a fan favorite. It was released in 1995 as the fourth single from their fifth studio album, One Hot Minute. Anthony Kiedis, the song's lead singer, reflected on the value of friendship in his words, and the chorus sums it up wonderfully.
An acoustic arpeggio intro sets the tone for the song and returns throughout as the song's main motif. In this course, Navarro excelled. The acoustic guitar is the finest instrument for this ballad, and only little chord knowledge is needed.
I'm sure you'll be able to figure out all of the hammer-ons and pull-offs very rapidly, even though they could be challenging at first.
8. Scar Tissue
Released in 1999, "Scar Tissue" by RHCP is a cult-classic song with references to deceased guitarist Dave Navarro. The song's lyrics represent Kiedis' past drug use and his enduring emotions of estrangement. Composed by the band's lead vocalist Anthony Kiedis, this song emerged as their first single off their album – Californication.
The song's musical style is a fusion of rap, rock, and funk, and it features a standout guitar riff that has evolved as one of the band's most recognizable trademarks. The song features lovely lead guitar solos that are both simplistic and soothing. I assure you that playing this one will be all fun.
Also, take my advice and pay close attention to the chorus section. This will help you play the fifth chord right, which is the core of this song.
9. Dark Necessities
It's time to try something fresh! Since most of the songs on today's list are from previous RHCP albums, learning something more recent would also be fantastic. Their 2016 album The Getaway contains the song The Dark Necessities. There are also some really fantastic licks in there, despite John Frusciante not being a band member at the time.
It sends a strong message of accepting oneself and accepting one's hardships in life. With a funk-rock groove and a memorable chorus, it features the signature Red Hot Chili Peppers feel. Frusciante is absent for this song; Josh Klinghoffer performs on the guitars. His playing style blends in well with the band's musical philosophy. The melody is straightforward, and the rhythm is funk.
10. Sir Psycho Sexy
One of the Red Hot Chili Peppers' longest tracks, "Sir Psycho Sexy," clocks in at more than eight minutes. Given that this is the group behind "Party On Your Pussy," it's also among the most raunchy songs.
A slightly overstated version of Kiedis tells the story of "Sir Psycho Sexy" as the narrator, proudly recounting tales of crazy sexual adventures. Even after being stopped, he joins a female police officer. He sings, "She stuck my butt with her enormous black stick.
Kiedis was questioned about whether it was safe for children to listen to the song in a 1994 Rolling Stone interview. If you ask my opinion, of course NOT!
11. Under The Bridge
I have to admit that one of my favorite Red Hot Chili Peppers songs is Under The Bridge. The guitar section by John Frusciante in the verse is legendary! It's actually not that bad, despite the fact that it seems quite complicated to newbies.
In the studio where that album was being recorded, the recently sober Kiedis came into Flea and Frusciante smoking pot. On the trip home, he freestyled a poem and a melody "to deal with my own anguish." One of the group's most recognizable and well-liked songs, the song is a reflective ballad that expresses loneliness and regret.
The guitar arrangements on the song are masterful. It is clear how talented a guitarist, Frusciante is. It has groovy chord progressions sprinkled with a few tunes and licks here and there.
12. Aeroplane
RHCP's sixth album, One Hot Minute, has the incredibly fantastic song Aeroplane. RHCP has also composed a range of music videos for this track, including animated ones and live performances. This RHCP song topped the UK Singles Chart by bagging the fifth position back then. Eventually, it became the band's debut on the UK's Top 10 Singles Chart.
The song's groovy bassline and pounding rhythm propel its appealing chorus. The song's lyrics discuss the idea of fleeing the ordinary and traveling to a place of freedom. Even though it's not as well-known as their biggest successes, this song is nonetheless extremely unique and interesting to learn. Also, it's not very difficult! Please feel free to check out the tabs that are included in the guitar lesson above.
13. Stadium Arcadium
This song, which shares the same name as the 2006 album, is not the most well-known, yet it is also charming and catchy. Stadium Arcadium is an easy song written in the key of A major. Its entrance uses a two-chord arpeggio in the keys of F# and A, and it ends with two open chords in the keys of A and E major.
Even though this song includes multiple guitars on the recording, the main guitar is what plays the arpeggios and chords in the intro, which also serves as the verse. This song's solo features a gentle pentatonic pattern that is quite simple to play, and the background chords are also straightforward but broken into several sections. This is one of my favorite easy electric guitar songs to play because I've always been a big fan of the song.
14. Snow (Hey Oh)
Even though learning to ski on snow is difficult, I believe it is always advisable to pursue even the most difficult tracks. This track was an impeccable hit for the Red Hot Chili Peppers, featuring one of their most recognizable riffs ever. Besides fans like me, this song is probably well-known to everyone.
The tune features a fantastic Frusciante melody. While playing, it makes you feel perfect. Despite sounding difficult, learning to play is extremely simple. Don't worry about the quick tempo; simply focus on hitting every note. You'll eventually be able to play it at its maximum speed.
And if you did, congratulations; it's a significant accomplishment!
15. Black Summer
The brilliant Frusciante is back and playing. Here is a 2022 release that Rick Rubin recorded at California's Shangri-La Studios. On the album Unlimited Love, the song may be found. The 16-year wait was worth it because Unlimited Love's "Black Summer" was the band's first brand-new song with Frusciante.
When the errant guitarist returned to the Chili Peppers, he brought the song's framework with him, and Kiedis, Flea, and Smith leaped on it. The outcome is the band's most vital—and RHCP-sounding—song in a long time, driven by Flea's slinking bassline and Frusciante's melodic but confrontational chords.
Here, Frusciante uses a half-step lower tune. Hendrix-inspired chord progressions and wild solos are being played on this song. How driven he is is audible.
16. Can't Stop
Red Hot Chili Peppers' "Can't Stop" needs no introduction as such. Although it's not the simplest music on the list today, it's still worthwhile learning. This song, in my opinion, best showcases Frusciante's flair. The lead vocalist Anthony Kiedis sings the song's popular chorus, which is what gives it its funky, lively rhythm.
The lesson above includes guitar tabs, so it should be quite beneficial to you as you study. Play these notes slowly, if possible. The main difficulty in this situation is having to essentially strum all the strings while playing only one note at a time. Therefore, you'll need to learn how to use your left hand to muffle the remaining strings effortlessly. Can't Stop is easily one of the best Red Hot Chili Peppers songs of all time.
17. The Zephyr Song
Red Hot Chili Peppers By The Way album, released in 2002, features an extremely interesting song called The Zephyr Song. It's not overly difficult and only uses simple chords and single notes. After listening to this RHCP track numerous times, I found that it features the band's distinctive funk-rock style, and the guitar and bass lines are particularly catchy.
A guitar intro opens the song. On this track, John Frusciante plays a variety of arpeggios in addition to straightforward chords that initially appear to need sophisticated finger placements. Before the bridge, there is a little easy solo as well.
You can try it out even if you're a novice since I learned it faster and better when I was a beginner. You'll be able to figure it out with the help of the above lesson!
18. Dani California
Really simple and enjoyable to play in Dani, California. Really basic power chords make up most of the tune. It could be a little more difficult to play the solo sections by John Frusciante, but with enough practice, you'll be able to do it. I love the guitar solo of this song, as it is an excellent combination of rock, punk, and funk.
Oh! I was also touched and driven by the song's lyrics as it tells about a girl named Dani who moved to California to lead a wild lifestyle. The band members perform historical rock bands and artist classics in the music video for the song. It includes easy-to-learn alternative rock themes and basic funky beats.
19. Blood Sugar Sex Magik
Another old yet excellent Red Hot Chili Peppers song. Red Hot Chili Peppers went from unknowns to household names because of Blood Sugar Sex Magik, largely because of the inescapable power ballad "Under the Bridge."The song was included on their 1995 fifth album, Blood Sugar Sex Magik.
Although this song is not very well known, it is nonetheless worthwhile to learn because it has some fantastic guitar licks. Kiedis continues by claiming that each woman "has a piece of Aphrodite" that she may "copulate to create a state of sexual light."The song has a great heavy-metal vibe and flow.
Rap, rock, metal, and funk components are all present at once! And you won't ever question the incredibleness of the song.
20. My Friends
My Friends is a lovely song, even if it isn't as well-known as other Red Hot Chili Peppers' biggest songs. The acoustic guitar is the finest instrument for this ballad, and only little chord knowledge is needed. I'm sure you'll be able to figure out all of the hammer-ons and pull-offs very rapidly, even though they could be challenging at first.
Anthony Kiedis, the song's lead singer, reflected on the value of friendship in his words, and the chorus sums it up wonderfully. An acoustic arpeggio intro sets the tone for the song and returns throughout as the song's main motif. Electric guitars can also play wonderful solos and melodic rhythms while being slightly distorted. On this track, Navarro performed a terrific job.
21. Higher Ground
The Red Hot Chili Peppers' bouncy, funk-inspired song "Higher Ground" is taken from their 1989 album Mother's Milk. Bassist Flea and lead vocalist Anthony Kiedisco-composed the song, which served as the album's lead single. It was also used in the film Back to the Future Part II, and many other musicians, like Stevie Wonder, have covered it.
And in some respects, it was, with the clavinet from the original being replaced with Flea's precise-strike slapping and Frusciente's metal power chords giving the song a wholly modern vibe. This crazy funk music can be found on the group's fourth album, Mother's Milk. Learn this bizarre tune if you get the chance!
22. Around The World
This song may be found on the California album. It was published by Warner Bros. in 1999, and Rubin produced it. Kiedis explained to a reporter who inquired about this song in 1999 that "there were a lot of romantic feelings intertwined with sexual rhythms and melodies."
That pretty much sums up "California Girls," a song by the Chili Peps that was reworked for the late Nineties with lyrics about boning in Switzerland, Sicily, "the woods of Wisconsin," and other picturesque locations. I think the band went a little crazy on this one.
It will wow you in the first 20 seconds alone. The bass solo opens the song before the guitar and drums are added. Don't pass up the opportunity to play this song!
23. Suck My Kiss
The Red Hot Chili Peppers' song "Suck My Kiss" was included on their album Blood Sugar Sex Magik in 1992. Lead vocalist Anthony Kiedis, guitarist John Frusciante, and bassist Flea all contributed to its composition. I love the catchy guitar riff of this song infused with a funky bassline.
I feel it's a perfect representation of the band's funk-influenced style. Kiedis sings lines like "Suck my kiss, taste my spice" and "I could be your boyfriend, if you'd be my girlfriend" in the song's humorous exploration of sex.
The band Red Hot Chilli Peppers is the ideal choice to perform the song, which has a big metal funk atmosphere from the early 1990s. Playing the riffs and finger placements is not difficult. They consist of bends and slides as well as basic strumming.
24. Soul to Squeeze
"Soul to Squeeze" was a song that was recorded during the Blood Sugar Sex Magik sessions but wasn't released as a single until two years later, when it unexpectedly appeared on the Coneheads soundtrack. It sounded slightly like a continuation of "Under the Bridge." Anthony Kiedis, the band's lead singer, claimed that the song he wrote is about a consensual connection he had with a woman.
Just like me, every other RHCP fan loves this song for its groovy bass and enchanting chorus. Maybe that's why this song is so popular to date. I love how this track is an intriguing musical fusion of several parts. It begins with an almost country-like guitar intro before transitioning to a rock sound from the 1990s.
25. Wet Sand
Wet Sand is a track from RHCP's 2006 album Stadium Arcadium. This one is another Red Hot Chili Peppers song that is manageable for beginning guitarists. It also demonstrates how important simplicity is in music. With this album, RHCP won many prizes and enjoyed great success.
The chord progression used in the song is made up of simple chords. In addition, brief fills and licks are between each chord change. The alone is really cozy as well. Even though this song merely has a basic chord progression, it sounds fantastic!
You will undoubtedly benefit from the lesson above in order to learn how to play it.
26. Look Around
I'm quite sure you've heard of the RHCP album titled 'I'm With You.' If not, you must check it out, especially its cult-classic release 'Look Around' from 2011. Every member of the band has contributed to the song's composition, making it their fourth single hit release.
I love this song's appealing chorus and enticing groove, especially the mid-tempo rocker that sounds splendid when I play this song on guitar. The best part about the song is the lyrics: spend some time observing and enjoying the splendor and magnificence of everything around us.
Flea contributes a prominent bass line to the song, and John Frusciante plays a soaring guitar solo. It has a distinct percussion component and some of the band's recognizable vocal harmonies. I find "Look Around" to be a very fun guitar song to play.
27. Give It Away
Red Hot Chili Peppers' "Give It Away" is a timeless song performed for many years. It was made available in 1991 as the band's fifth album, Blood Sugar Sex Magik, lead single.
Their most well-known song, the lead single from Blood Sugar Sex Magik in 1991, encapsulated their freaky-styley funk at its most sociable. The song's funk-influenced sound, which has come to represent the band's sound, was composed by guitarist John Frusciante and lead singer Anthony Kiedis.
In this song, the guitars are simple. It is incredible how Frusciante can play something so basic and make it sound powerful. Another timeless RHCP piece features little licks and funky rhythms.
28. Knock Me Down
The Red Hot Chili Peppers faced the risk of becoming a party band with a "What consequences?" outlook before 1989's Mother's Milk. But with the 1988 death by drug overdose of guitarist Hillel Slovak and the departure of Irons, the band took a close look at themselves and came up with this sobering narrative of hubris and addiction.
Kiedis begged in the chorus, "If you see me getting mighty, if you see me getting high/Knock me down." I am not greater than life. He recorded a duet for "Knock Me Down" with Frusciante, who is currently a member of the band Pepper: If you listen to the original, you can hear Frusciante smother Kiedis. "Knock Me Down" is still one of the band's most self-aware songs, regardless of who is singing.
29. Rivers Of Avalon
For those unaware, Rivers of Avalon is a B-side of The Zephyr Song, and none of the albums featured it. The first three notes of the song's opening guitar riff are the same as those of the song "Pure Imagination" from the 1971 movie Willy Wonka & the Chocolate Factory.
This is undoubtedly one of the songs you should try if you're seeking simple Red Hot Chili Peppers guitar tunes to learn and play. This piece's beginning riff is just amazing! Even though Frusciante played that song using a vibrato pedal, you may still learn it without special equipment!
I recommend thoroughly listening to the entire song since it's amazing.
30. Goodbye Angels
The Getaway, the band's 2017 album, contains this song. The band continues to play in this manner. TOTA directs the musical video. The relationship between Australian model Helena Vestergaard and Anthony Kiedis ended, according to the song.
The Verve's "Serpentine" provided the inspiration for the song. On this track, the electric guitar is played by Josh Klinghoffer. Amazingly, the band can still locate talented guitarists who fit the band's style of music in Frusciante's absence.
Although the song's solo is quite straightforward, it can be difficult to play at first. Practice it slowly at first, and as you become more comfortable, speed it up faster. I suggest using a metronome for a consistent beat.
31. Tell Me Baby
A wonderful illustration of the band's distinctive funk-rock style is "Tell Me Baby" by Red Hot Chili Peppers. As the opening track for their ninth studio album, Stadium Arcadium, it was released in 2006. In addition to Kiedis' distinctive rap-style vocals, the song has a snappy guitar melody and a groovy bass line.
They had the good fortune to record this massive track in 2005 with Rick Rubin's ears and hands. The next year, it reached its highest point on charts in Venezuela, the US, and Canada. Am is the key in which the song is written. For the majority of the song, Frusciante plays two-string melodies.
Also, he performs other passages with weird rhythms and ghost notes.
32. Show Me Your Soul
The third single from their 1991 album, Blood Sugar Sex Magik, was made available. The theme of the song is discovering acceptance and love. As a delightfully sentimental Valentine's song, "Show Me Your Soul" was unusual for the Chili Peppers' song catalog then. Perhaps not the most romantic metaphor ever, "Into my life, you were injected," Kiedis wonders.
"Now I smile from your love/We have connected on a soul level!" The Incredible Bongo Band's "Apache" song influenced the beginning guitar riff. When playing the chords, be gentle. Strumming too forcefully will result in muddying the sound, so be careful. When playing the chords, make certain to strum all the strings. This will contribute to a richer sound.
33. Funky Monks
Another old yet excellent Red Hot Chili Peppers song. The song was included on their 1995 fifth album, Blood Sugar Sex Magik. Although this song is not very well known, it is nonetheless worthwhile to learn because it has some fantastic guitar licks.
The band's time residing in a monastery in South Beach, California, inspired the song. John Frusciante came up with the beginning riff of the song while honing his guitar skills in the monastery's cellar. The lyrics of the song discuss the band's quest to define its style and identity.
To play the tune, you can utilize a variety of strumming techniques. I added a few muted strums to add some variation to the sound.
34. Universally Speaking
Since its release in 2002, the iconic rock anthem "Universally Speaking" by The Red Hot Chili Peppers has been a fan favorite. It is noted for its funk-infused rock and roll style. The band's distinctive style is perfectly exemplified in this song from the album By the Way.
The message in the lyrics is that love has the ability to unite people despite their differences. Anthony Kiedis sings in his distinctive rap style, and the song has a superb guitar solo by the band's veteran guitarist John Frusciante.
The cheery psychedelia of the Beatles can be heard in this song. It is built on a series of melodic interludes and an old-fashioned-sounding chord sequence. This RHCP song sounds like it's from a bygone era of psychedelia.
35. Breaking the Girl
From the group's 1992 album Blood Sugar Sex Magik, here is a ballad with a catchy melody. For his troubled previous relationship, Kiedis created the lyrics. The song's lyrics discuss relationship agony, vulnerability, and the dread of being wounded.
With soulful vocals and a strong beat, the song's music is influenced by funk and reggae. This song's structure is reminiscent of Led Zeppelin ballads, and the 12-string guitar used in its performance evokes comparable emotions. Flute and Mellotron were also used.
The chord progression is convenient for creating a more straightforward acoustic rendition. Till you master them, slowly repeat the strumming pattern and chord patterns. Once you've mastered the fundamentals, you can play the song more quickly. If you're looking for RHCP songs that are easy to play on acoustic guitar, then definitely try playing "Breaking the Girl."
36. Sikamikanico
Blood Sugar Sex Magik probably found "Sikamikanico," three and a half minutes of pure thrash-funk, too hot to handle. Hence, the group initially released it as the B side to "Under the Bridge" before adding it to Wayne's World soundtrack.
However, as an independent song, it explodes in a manner that few Chili Peppers songs do as Frusciante plays scratchy guitar against Smith's funky drums, finally locking into a new punk rhythm on the chorus that is as exciting as anything Suicidal Tendencies or Dead Kennedys ever created.
Red Hot Chili Peppers' song Sikamikanico has a sophisticated guitar riff and is fast-paced and groovy. With hammer-ons and pull-offs for added interest, the E string is used for the primary riff. The song is in the major key of G.
37. The Adventures Of Rain Dance Maggie
Red Hot Chili Peppers' 2011 album, I'm With You, contains the song "The Adventures of Rain Dance Maggie." It debuted as the album's lead single at the top of the US Alternative Songs list. A great guitar solo, a funky bass line, and a catchy chorus are all present in this funk-rock tune.
The narrative in the lyrics is about a woman who is trying to find a way to make it rain. Lead vocalist Anthony Kiedis and guitarist John Frusciante co-wrote the song, which Rick Rubin also produced. Keep an eye on the chords' timing. Every chord must be played for a total of four beats because the song is in a 4/4 time signature. Need to maintain a constant speed? I suggest using a metronome.
38. Hump De Bump
This band does funk and rock in an ideal way. Even with the roots, they still have something fresh to give. The album Stadium Arcadium, this song was released in 2007. A full funk progression—half barres, ghost notes, quick tempo—forms the foundation of the song.
Also fantastic is the guitar tone. I enjoy listening to this song whenever I feel low, as it makes me realize that life is all about having good times! Plus, I love the song's musical style, inspired by hip-hop, rock, and funk.
The song's lyrics are humorous and clever, making all kinds of references to things like food, drugs, and sex. To achieve a decent sound, use a medium-to-heavy pick. Strumming with a consistent rhythm and occasional syncopation is acceptable. Find a strumming pattern you enjoy by experimenting with several ones.
39. Behind the Sun
On "Behind the Sun," Slovak performed sitar, giving the song a psychedelic twist that blended well with the band's natural funk and Prince's Around the World in a Day album, which was released a few years previously.
Instead of singing about raspberry berets and his "pop life," as did Prince, Kiedis sung about talking dolphins that live behind the sun, embracing real hallucinogenic psychedelia. The song was the first Slovak-era song to chart when it was released as a single in 1992, at the height of Blood Sugar fever, peaking at Number Seven on the Billboard Alternative list.
I suggest using a medium- to heavy-weight pick for a decent tone. Also, keep a consistent rhythm while strumming, take my advice, and use some syncopation.
40. Desecration Smile
From the album Stadium Arcadium, here is a more folk-oriented, psychedelic rock song. This song has a unique music video. Gus Van Sant, a renowned filmmaker, collaborated with the band. The song is about being imprisoned in a world where you don't belong and the negative aspects of popularity and prosperity. I don't remember which one, but I first heard this song in a TV series.
What I find interesting is that the song's opening riff was influenced by the song "Pure Imagination" from the 1971 movie Willy Wonka & the Chocolate Factory. An acoustic sequence serves as the foundation for the song's opening. The electric guitar gradually begins to play tinny tunes in the background with the second stanza and develops on it.
41. Fight Like a Brave
Anthony Kiedis and Flea wrote the song on Kiedis' struggle with heroin addiction. It was made available as the follow-up single to the band's Mother's Milk album. The song is about overcoming hardship and defending your beliefs.
The song's music has a powerful beat and angry vocals that are punk rock and funk influenced. Ensure you are comfortable with the fundamental chords in the key of E minor because the song is in that key.
Do not be concerned if you are unable to play the entire guitar solo at once because it is pretty difficult. Learn the first few bars with the utmost attention, then, as you improve, add more. Don't be frightened to have fun and enjoy yourself; playing the song is a lot of fun!
42. Readymade
One of the rarest songs that Frusciante has recorded on a Gibson Les Paul is this one. Their ninth studio album contains it. The bottom groove establishes the foundation for the rest of the song's instrumentation. It is categorized as a funk metal song.
The chorus's quick strumming and the guitar solo are two challenging passages in the song. Make sure to use a gentle touch when playing the chords to avoid muffling the sound. The band's aim to produce something fresh and original is the subject of the song. The song's fast pulse and appealing chorus are influenced by punk rock, alternative rock, and funk music.
43. This Velvet Glove
Here is a song that Kiedis composed for her wife and in which she made reference to John. On the Stadium Arcadium tour that followed, they gave this song a few live performances. Klinghoffer was using an acoustic guitar to play it. Playing the guitar on this song is a ton of fun.
The song is composed entirely of easy, lively rhythms and straightforward melodies. The strumming pattern is quite straightforward, with downstrums on the first and third beats of each measure and upstrums on the second and fourth.
The chorus's quick strumming and the guitar solo are two challenging passages in the song. It's crucial to start practicing the song gently before stepping up the tempo as you become more proficient.
44. Johnny, Kick a Hole In the Sky
The Chilis had previously proclaimed their appreciation for Stevie Wonder and Jimi Hendrix on Mother's Milk when they used those inspirations to their advantage on the album's final tune, "Johnny, Kick a Hole in the Sky."
The formula for everything they did on their subsequent album, Blood Sugar Sex Magik, was laid out by the way they mixed Wonder-style soul and Hendrix-like wah-wah guitar with Kiedis' fascination with hip-hop (and fascination with his ancestral American roots) and Flea's bass-slapping Bootsy Collins devotion.
45. Porcelain
Another downtempo song from RHCP's album Californication is this one. Check out this beginner tune right away; it is really simple. It's difficult to imagine the band moving further away from their chest-popping funk-rock with this delicate song, which consists of a rippling guitar motif, a reflective bass, and Keidis' hushed vocals.
The song's development is so silky smooth that it makes you melt. It moves at a very slow pace with simple guitar picking. The strumming pattern is rather straightforward, with downstrums on each measure's first and third beats and upstrums on the second and fourth. Frusciante merely embellishes the musical ambiance.
46. Sick Love
This 2016 song has a lovely melody. Elton John and the band worked together on this song. He contributed vocals to the song, and they collaborated on the writing. It is included in the collection The Getaway. The guitars on this song were written and played by Bernie Taupin.
He implemented a somewhat different tone setup compared to most RHCP songs. Using the tabs above, the neck position can be switched between reverb and a flanged, distorted tone. The fingerpicking in the verses and the guitar solo are two challenging passages in the song.
Try slowing down and then gradually raising the speed as you become more comfortable if you're having problems with the fingerpicking in the verses.
47. Throw Away Your Television
This By the Way deep cut was made restless by Flea's fretful bass riff. Even though he and Smith are locked into the tightest of grooves, "Throw Away Your Television" sounds like it is only a few seconds away from disintegrating.
That's a positive thing in this situation because it allowed the band to rediscover their erratic beginnings, resulting in one of their most chaotic studio recordings. (The song also killed when performed live, as in this instance from Slane Castle in Ireland in 2003.)
The song's lyrics are rife with references to TV: Kiedis talks of "repeats" and "intermissions." He was probably referring to severing a link bound to drug addiction, though.
48. Don't Forget Me
On the band's album By the Way, the song is the fifth track. Like many RHCP albums, it was produced in Los Angeles, California, and released in 2002. The song, which Anthony Kiedis and Flea co-wrote, is about Kiedis' struggle with drug addiction.
This song's guitar has a straightforward grunge vibe. With a wonderful mood, Frusciante effortlessly plays melodies with delays and slightly distorted rhythms.
Keep in mind the entire bend and hold in some areas. Although the opening riff is very simplistic, I feel that accuracy is more significant for this song. Yes, I agree the chorus is more difficult, so learning it is also incredibly gratifying. I suggest bringing that into your playing since the song has a lot of passion and emotion.
49. If You Have To Ask
Here is another song from the 1993 album by the group that is strictly funk rap metal. I can't stop listening to this record. All of the sounds—grooves, riffs, and sound—are superb! You should also check out this song's disco and Friday night fever mixes.
Frusciante performs a groovy, subdued rhythm throughout the entire song. With the addition of the other instruments, a chaotic, funky world is created that you can't help but dance to. The feeling of being able to perform this on a guitar is also ideal.
50. Easily
Perfect sequencing is one of the features that has made Californication last. The Chilis bring things back to life midway through the album, just as the melancholy grandeur of the title tune starts to make you feel a little down.
Remembering "the story of a woman on the morning of a war/Remind me if you will exactly what we're fighting for?" while Frusciante shreds, Flea bops, Smith keeps it steady, and Kiedis performs. The answer can be found in the free, wild rock and roll brotherhood heard on "Easily."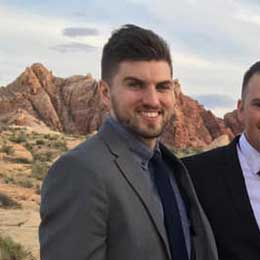 My name is Chris and I've had a passion for music and guitars for as long as I can remember. I started this website with some of my friends who are musicians, music teachers, gear heads, and music enthusiasts so we could provide high-quality guitar and music-related content.
I've been playing guitar since I was 13 years old and am an avid collector. Amps, pedals, guitars, bass, drums, microphones, studio, and recording gear, I love it all.
I was born and raised in Western Pennsylvania. My background is in Electrical Engineering, earning a Bachelor's degree from Youngstown State University. With my engineering experience, I've developed as a designer of guitar amplifiers and effects. A true passion of mine, I've designed, built, and repaired a wide range of guitar amps and electronics. Here at the Guitar Lobby, our aim is to share our passion for Music and gear with the rest of the music community.